MARVEL REISSUES NEW 'AVENGERS: ENDGAME' POSTER AFTER BACKLASH FROM DANAI GURIRA CREDIT OMISSION
03/14/19 @ 9:22 pm EST
Source:
Deadline
| Categories:
Marvel
|
Comments
(0) |
E-mail Article
|
Add a Comment
This morning, we had a great gift from Marvel Studios in the form of a poster for
Avengers: Endgame
.
Then someone somewhere noticed, and said, "What the hey!" And social media was off!
So now Marvel Studios has released a NEWER new poster fo
r Avengers: Endgame
following said backlash after it was noticed that Danai Gurira, while featured on the poster, was the only cast member not credited on the top line of the poster.
The actress' character Okoye was a standout in the
Black Panther
standalone and represented the franchise on the poster, seemingly because T'Challa / Black Panther himself was one the ones who ended up disappearing at the end of
Infinity War
.
"She should have been up there all this time," the studio posted on its social media platforms after re-issuing the new poster with Gurira's name included. That poster is below.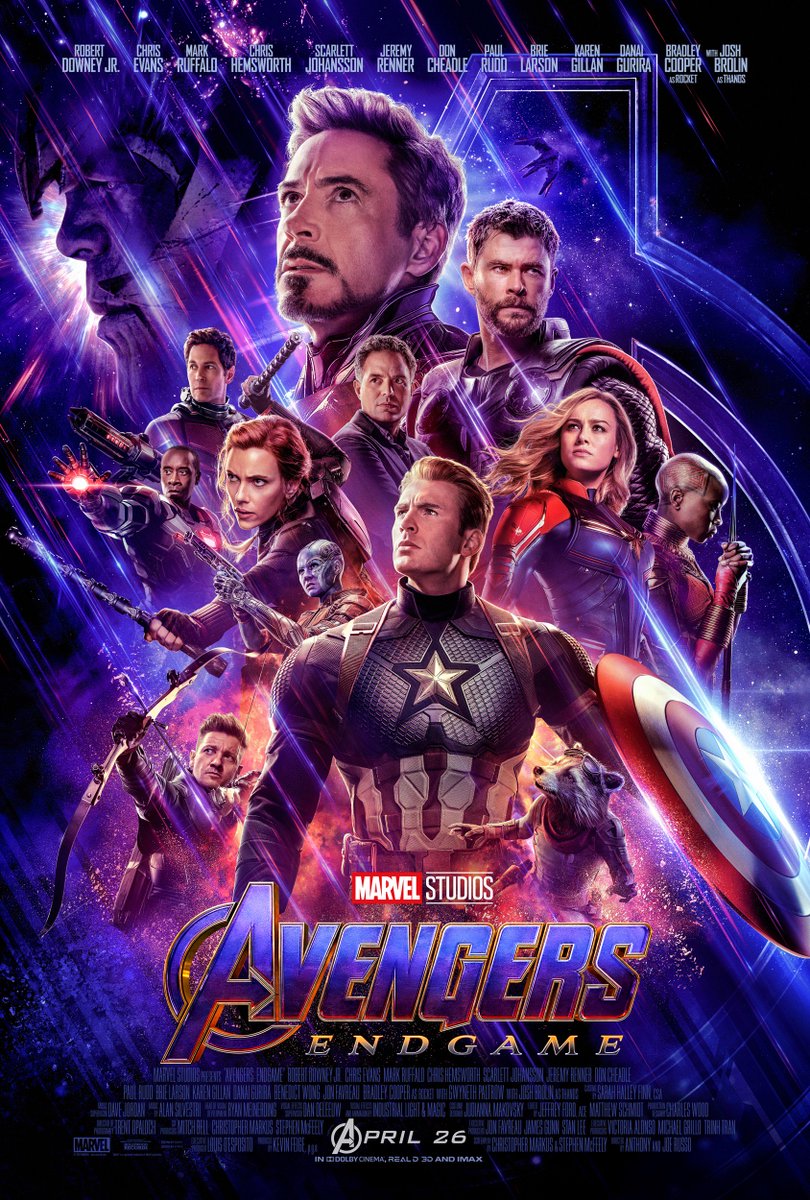 BOOM! STUDIOS REVEALS A NEW LOOK AT BEN 10: FOR SCIENCE! ORIGINAL GRAPHIC NOVEL
07/23/19 @ 3:14 pm EST
Source:
BOOM! Studios
| Categories:
MIsc
|
Comments
(0) |
E-mail Article
|
Add a Comment
​
BOOM! Studios today revealed a brand new look at BEN 10™: FOR SCIENCE!, the latest middle grade original graphic novel based on Cartoon Network's global hit series, from Rainbow Award-winning writer CB Lee (
Not Your Sidekick
) and artist Mattia Di Meo (
Adventure Time™/Regular Show™
), available July 24, 2019.
Ben and Gwen go undercover at the Stars Beyond Science Camp when rumors of a strange monster kidnapping robots reaches them. Despite his apprehension at doing science projects during summer vacation, Ben quickly makes a lot of new friends in the Robotics track. But when his friend Jesse's robot goes missing, Ben and Gwen will have to use all the tools in their arsenal to deal with what comes next.
BEN 10™: FOR SCIENCE! is the second original graphic novel release from the partnership between BOOM! Studios and Cartoon Network, following the debut ofBEN 10™: THE TRUTH IS OUT THERE from Lee and artist Lidan Chen, which is currently available everywhere books are sold.
Cartoon Network's
Ben 10
has been greenlit for a fourth season and is expected to premiere globally beginning 2020. The new season will follow Ben, his cousin Gwen and Grandpa Max on adventures to some of the world's most popular destinations including Italy, Japan and Mexico. Season four will continue to empower its worldwide fanbase through new alien transformations, action-packed battles with villains and more.
Ben 10
is produced by Cartoon Network Studios and created and executive produced by Man of Action Entertainment.
BEN 10™: FOR SCIENCE! is the latest release from BOOM! Studios' award-winning KaBOOM! imprint, home to comics for middle grade and younger readers including licensed series such as
Adventure Time, Steven Universe, Regular Show
and
Over The Garden Wall
, along with original series like
Pandora's Legacy
by Kara Leopard, Kelly & Nichole Matthews,
Bodie Troll
by Jay Fosgitt,
Ruinworld
by Derek Laufman, and
The Deep
by Tom Taylor and James Brouwer.
Print copies of BEN 10™: FOR SCIENCE! will be available for sale on July 24, 2019 at local comic book shops (use
comicshoplocator.com
to find the nearest one), on July 30, 2019 at bookstores, and the BOOM! Studios webstore. Digital copies can be purchased from content providers, including comiXology, iBooks, Google Play, and the BOOM! Studios app.
THE PEANUTS GANG TO RETURN TO THEATERS FOR 50TH ANNIVERSARY
07/23/19 @ 9:35 am EST
Source:
Broadway World
| Categories:
MIsc
|
Comments
(0) |
E-mail Article
|
Add a Comment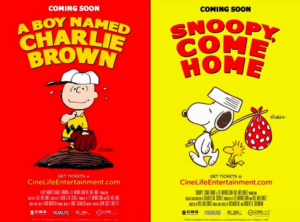 CineLife Entertainment, the event cinema division of Spotlight Cinema Networks, has partnered with CBS Home Entertainment as the exclusive theatrical distributor throughout North America for two Peanuts features:
A Boy Named Charlie Brown (1969)
and
Snoopy, Come Home (1972)
. This is the first time the digitally remastered films have been available for theatrical bookings since their original release dates.
Enjoying its 50th Anniversary, Peanuts' first animated feature,
A Boy Named Charlie Brown,
will re-open in theaters on August 18, 21 and 24, 2019;
Snoopy, Come Home
is set to re-open on September 29, October 3 and 5, 2019.
Created by the late Charles M. Schulz, one of the comic world's most influential cartoonists, Peanuts became one of the most popular comic strips of all time and its characters -- Charlie Brown, Snoopy, Lucy, Linus, Peppermint Patty, Woodstock and Pigpen -- among the most beloved.
POLICE CHASE 'JOKER' WEARING HALLOWEEN MASK, GREEN WIG
07/23/19 @ 9:22 am EST
Source:
CBS Los Angeles
| Categories:
DC
|
Comments
(0) |
E-mail Article
|
Add a Comment
A bizarre chase started in Orange County, California, just before 3 p.m. June 20 with a man spotted riding on the sunroof of a BMW. The chase lasted for about an hour, making its way to Venice Beach.
Minutes later a masked man resembling the villain The Joker of
Batman
fame got out of the car and started taking a stroll down the beach.
Officers kept their distance but kept an eye on the man. So did beachgoers who started to gather around the man (he was, after all ,wearing a green wig and a mask), cheer him on, get high-fives and applaud.
Dozens of people followed the masked man towards the water's edge and many recorded the bizarre encounter with police on their cellphones.
Police arrested him on the sand after threatening to Tase him. He took off his shirt and went to his knees and was arrested without further incident. (via
CBS Los Angeles
)
'LEGENDS OF TOMORROW' SEASON 5'S BIG-BAD HAS BEEN CONFIRMED
07/23/19 @ 9:07 am EST
Source:
We Got This Covered
| Categories:
DC
|
Comments
(0) |
E-mail Article
|
Add a Comment
Despite
Legends of Tomorrow
not conducting a Comic-Con panel of its own this past weekend, there is some news to share regarding the series from
We Got This Covered
.
Since season 4 concluded, fans have assumed that Astra will be the big-bad once the saga resumes. After all, when we last saw the little girl who was condemned to Hell, it was revealed that she actually aged up – and thrived – while there. Not only that, but she'll soon unleash some of history's most vile people on the timestream.
Executive producer Keto Shimizu has confirmed this by saying, "We're so excited about having Astra back this season as our big-bad. A lot of what Constantine is going to be dealing with this is season is his very complicated relationship with her and a desire to save her despite all the pain and trouble she's putting us through."
Legends of Tomorrow
commences its fifth season in early 2020 on The CW.
ELIZABETH TULLOCH WILL RETURN AS LOIS LANE IN 'CRISIS ON INFINITE EARTHS' CROSSOVER
07/23/19 @ 8:55 am EST
Source:
Entertainment Weekly
| Categories:
DC
|
Comments
(0) |
E-mail Article
|
Add a Comment
EW
is reporting that Elizabeth Tulloch will reprise her role as Lois Lane in "Crisis on Infinite Earths," which will also feature Tyler Hoechlin's Superman. Not only that, but we'll also meet Clark and Lois' child in the five-hour, multiverse-threatening event.
Tulloch made her debut as the iconic
Daily Planet
reporter in last year's "Elseworlds" crossover, appearing in
The Flash
and
Supergirl
hours. At the end of the topsy-turvy three-parter, Clark and Lois moved to Argo City, the last remnant of Krypton, because Lois was pregnant and they wanted her to give birth there, away from Earth's yellow sun.
"Crisis on Infinite Earths" — which includes
Arrow
,
The Flash
,
Supergirl
,
Legends of Tomorrow
, and
Batwoman
— will air in the winter over two months on The CW.
SPAWN #300 J. SCOTT CAMPBELL COVER REVEALED
07/22/19 @ 9:35 pm EST
Source:
Image
| Categories:
Spawn
|
Comments
(0) |
E-mail Article
|
Add a Comment
Image Comics is pleased to reveal the highly-anticipated J. Scott Campbell cover for the upcoming milestone SPAWN #300 issue by Todd McFarlane, President at Image Comics and creator of SPAWN. This is just the first of many exciting cover reveals to come on the #Roadto300!
The record-setting SPAWN #300 hits stores on Wednesday, August 28. The final order cutoff for retailers is Monday, August 5.
SPAWN #300 CVR A MCFARLANE - Diamond Code JUN190014
SPAWN #300 CVR B B&W MCFARLANE - Diamond Code JUN190015
SPAWN #300 CVR C CAPULLO - Diamond Code JUN190016
SPAWN #300 CVR D CAPULLO VIRGIN - Diamond Code JUN190017
SPAWN #300 CVR E CAPULLO & MCFARLANE - Diamond Code JUN190018
SPAWN #300 CVR F B&W CAPULLO & MCFARLANE - Diamond Code JUN190019
SPAWN #300 CVR G CAMPBELL -
Diamond Code JUN190020
SPAWN #300 CVR H OPENA - Diamond Code JUN190021
SPAWN #300 CVR I ALEXANDER - Diamond Code JUN190022
SPAWN #300 CVR J PARODY VAR MCFARLANE - JUN190023
Momentum and frenzied buzz surrounding the classic antihero series continues to build leading into historic SPAWN #300 and record-breaking SPAWN #301 when SPAWN becomes the longest running creator-owned comic in the world.
This stunning cover by fan-favorite, best-selling artist J. Scott Campbell showcases Todd McFarlane's dark hero in a stunning, heroic pose in front of an ornate stained glass window featuring various allies and villains from SPAWN's long history.
The celebration of SPAWN's 300th and 301st issues is just beginning. More art and cover reveals will be shared over the coming weeks as the road to comic book history nears its destination.
SPAWN is currently being adapted for film—a gritty, R-rated reimagining—which will mark Image President, co-founder and SPAWN creator, Todd McFarlane's film directorial debut. McFarlane, an Emmy/Grammy-winning producer/director is also on board as screenwriter and producer.
SPAWN sold an unprecedented 1.7 million copies at the time it was released and is one of the world's best-selling and longest-running monthly comic books, with hundreds of millions sold worldwide in more than 120 countries, and 15 different languages.
The comic became an Emmy Award-winning animated series on HBO and a New Line Cinema feature film that grossed more than $100 million. McFarlane went on to direct and produce award-winning and critically acclaimed projects for top movie studios and record labels.
VALIANT ANNOUNCES THE BLOODSHOT #1-12 PREORDER BUNDLE
07/23/19 @ 8:28 am EST
Source:
Valiant
| Categories:
MIsc
|
Comments
(0) |
E-mail Article
|
Add a Comment
#1 Preorder Cover by Tim Sale #2 Preorder Cover by Brett Booth
Extraordinary covers. Extra content. Same price!
Valiant is proud to announce the
BLOODSHOT #1-12 PREORDER EDITION BUNDLE
, the latest in the publisher's initiative to allow readers to order a complete story arc or an entire run of a limited series in advance. The BLOODSHOT PREORDER EDITION issues will feature covers drawn by
Tim Sale
(
Batman
),
Brett Booth
(
Teen Titans
),
Tim Seeley
(
Hack/Slash
), and other amazing artists! In addition to the eye-catching covers, each monthly issue will contain eight extra pages that are packed with bonus features including creator commentary, behind-the-scenes looks at the creation of the comics, character designs, and more for just $3.99!
Written by
Tim Seeley
(
Revival
) and with the first six issues illustrated by
Brett Booth
(
The Flash
), the Bundle is available to preorder now at local comic book shops by the final order cutoff (FOC) date of Monday, September 2nd. Issue #1 is set to debut on Wednesday, September 25th.
BLOODSHOT #1Written by
TIM SEELEY
Art by
BRETT BOOTH
Cover A by
DECLAN SHALVEY (JUL192282)
Cover B by
DAVE JOHNSON (JUL192283)
Cover C by
HANNAH TEMPLER (JUL192284)
Cover D by
JONBOY MEYERS (JUL192285)
Carbon Fiber Finish Variant by
JONBOY MEYERS (JUL192288)
Also available
BLANK COVER (JUL192286)
$3.99 32 pgs. T+ On Sale SEPTEMBER 25th (FOC – SEPTEMBER 2nd)
Cover A by Declan Shalvey Cover B by Dave Johnson Cover C by Hannah Templer
Cover D by Jonboy Meyers Carbon Fiber Finish Variant by Jonboy Meyers
BLOODSHOT #1-12 PREORDER EDITION BUNDLEWritten by
TIM SEELEY
Art by
BRETT BOOTH (#1-6)
Covers by
TIM SALE (Issue #1: JUL192288), BRETT BOOTH, TIM SEELEY$3.99 each [12 Issues] 40 pgs. each T+ Issue #1 On Sale SEPTEMBER 25th (FOC – SEPTEMBER 2nd)
'LORD OF THE RINGS' SERIES AT AMAZON TAPS FIRST CAST MEMBER
07/22/19 @ 9:16 pm EST
Source:
Variety
| Categories:
Lord of The Rings
|
Comments
(0) |
E-mail Article
|
Add a Comment
Variety
reports that Markella Kavenagh is in talks for a role in the upcoming epic fantasy series,
Lord of the Rings
. Details of Kavenagh's character are being kept under wraps, but sources say she would be playing a character named Tyra.
Kavenagh is known for having previously starred in the sequel series to the Australian film
Romper Stomper
as well as for roles in the shows
Picnic at Hanging Rock
and
The Cry
.
Amazon and reps for Kavenagh declined to comment.
PREDATORS ATTACK (AGAIN!) IN THIS WEEK'S NEW COMICS
07/22/19 @ 9:12 pm EST
Source:
Archie Comics
| Categories:
Archie
|
Comments
(0) |
E-mail Article
|
Add a Comment
ARCHIE VS. PREDATOR 2 #1 (OF 5)
Betty, Veronica, and Predator-Archie have been left in the wreckage of their town, all their friends dead. Normally, they'd just go down Memory Lane and get home again where everything's okay, but that's no longer an option. It isn't until they find an undamaged car and drive it down a different road where they can finally return to Riverdale—but their hometown feels different. And it's made even more bizarre when they come face-to-face with a few people they'd never expect: themselves. Only different, newer versions. Little do they know, Predators on Mars are watching them—planning their next attack.
Script: Alex de Campi
Art: Robert Hack, Kelly Fitzpatrick, Jack Morelli
Cover: Robert Hack, Kelly Fitzpatrick
Variant Covers: Rick Burchett, Derek Charm, Francesco Francavilla, Dan Parent, Billy Tucci
On Sale Date: 7/24
32-page, full color comic
$3.99 U.S.
MARVEL SAYS" LONG LIVE THE KING
07/22/19 @ 9:09 pm EST
Source:
Marvel
| Categories:
Marvel
|
Comments
(0) |
E-mail Article
|
Add a Comment