5 MINUTES WITH: CAESAR RODRIGUEZ AND RICHARD ISANOVE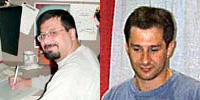 Today, we're taking a brief detour in our regular interview feature to spotlight two of comics unsung heroes: color artists Caesar Rodriguez and Richard Isanove.
Both men have provided color work for a variety of companies over the last several years, but have now turned their attention to Dynamite Entertainment and the relaunch of Red Sonja.
We spent a few minutes with both colorists, and will also be presenting a piece featuring the cover artists for this brand-new comic book sensation.
DF: CAESAR, TELL US ABOUT YOURSELF.
CAESAR RODRIGUEZ: I started collecting comics since I was 4 years old, and my comic book collection was so big that I couldn't store them anymore, so [in] 1990, I opened a comic shop. There, I met several artists doing many things such as painting for galleries, graphics for media, sculpture for effects, etc. I began collaborating with some of these people and did several different freelance jobs for them. One of them was J.D. Smith who had just moved out from Maryland. He was looking for freelance work and landed a Dracula job with Dark Horse. Because I was at school studying photoshop and was doing illustration, we talked a lot about the comic book medium and some time later, he started working for Top Cow. I sold the store sometime after, so that I could continue on my freelance work which was doing really well.
My first published comic work was as a penciller for Click comics, with the now famous Joe Casey, on the Chosen. Later, J.D. Smith was getting so busy that he needed an assistant, and I just happened to be around to help out with some color separations. My first color work was on Tao for Top Cow, but the first one under my own name was on a comic called Athena, with Wayne Cash who did Harry The Cop for Slave Labor Comics. Quickly after that I did color work on Gazillion for Image, 2 projects for Topps comics and the production work and background color assists for J.D Smith on Witchblade, Tao, and Fathom. Through J.D., I met Richard Isanove, Steve Firchow and many other people along the way. I ended up doing all of their color sep work while still drawing and coloring for various toy, apparel, and ad companies.
In San Diego, I ran into Brandon Peterson of whom I was a big fan. I showed him my portfolio and later he hired me at Crossgen. Brandon was a great person to work with as an Art Director. He was willing to let us be ourselves and not follow a "look". At Crossgen, I worked on Scion and Sojourn for a while and later moved back to L. A. Since returning, I did some more coloring for them on R.A. Salvatore's Demon Wars, and did part of a one shot over Steve McNiven for Ruse. A bit after that; and before Crossgen's dissolve I did a lot of ghost work with several other colorists; doing backgrounds or figures for them on various mainstream and independent titles, as well as doing all kinds of other illustrations for CD covers, animation designs, spot illustrations, maquettes, web design, and photography for studios out here in L.A.
DF: HOW DID YOU COME TO WORK ON THE RED SONJA PROJECT?
CAESAR RODRIGUEZ: Well, I talk pretty often with Richard Isanove. He thought of me when the project was starting out and suggested I give Dynamite a call.
RICHARD ISANOVE: I am a huge R.E. Howard Fan, I wrote my thesis in College about him and his work. So I jumped on the occasion when they offered me the project. My schedule didn't allow me to do it but I wanted to help out.
I talk regularly with Caesar and I really like his coloring work. Since Crossgen's demise, I felt his potential was going to waste so I got him in contact with Dynamite. We wanted to do something in the vain of Origin, so I showed Caesar a few tricks and now we go back and forth. The goal is to do a few issues like that and then let Caesar take it on his own. I'm mostly helping him get started with the whole digital painting thing so he can go on and do his own stuff.
DF: DESCRIBE SONJA'S WORLD AS YOU SEE IT. HOW DOES YOUR WORK HELP BRING THAT WORLD TO LIFE?
CAESAR RODRIGUEZ:I see a lot of fluidity in [Red Sonja interior artist] Mel Rubi's work and I just try to do something that will hopefully add to what is on the page.
RICHARD ISANOVE: As I said I love Heroic Fantasy. Red Sonja has the right mixture of sexuality and violence. It's fun to play with that within the boundaries of a PG-13 universe. I'm not interested in doing porn or gore. I find sex fun to do but kinda boring to read. I also find appropriate, in the wake of the FCC crackdown on indecency, to explore the boundaries of fantasies and titillate our minds with something else than daily prayers and pledges of allegiance.
DF: TO YOU, WHAT DOES MEL RUBI'S ARTWORK BRING TO THE PROJECT?
CAESAR RODRIGUEZ: Mel Rubi's art is organic and open which allows for a flexible canvas. I really like the energy he conveys. As the book moves along I hope to add some other color techniques that I touched upon toward the end of my run on Sojourn.
RICHARD ISANOVE: He's a strong storyteller and he does great monsters. So it's efficient and fun. what more could you ask?
DF: RICHARD, WE UNDERSTAND YOU'RE WORKING ON A SONJA COVER OF YOUR OWN, HOW'S THAT COMING ALONG?
RICHARD ISANOVE: I'm working on the drawing right now, which for me is the longest part then the painting goes pretty fast. The technique will be probably similar to what I did on the Origin piece, maybe a little looser. I've recently done a couple of covers for Army of Darkness that I'm technically pretty happy with. My main influence is Frazetta, but I'm also looking at John Buscema for this project. Buscema (on Savage Sword of Conan) was the first penciller to make me realize that Comics could be Art
DF: ANY OTHER PROJECTS TO PLUG?
CAESAR RODRIGUEZ: I'm working on conceptual work for animations, but I really have a nicely illustrated children's book called Eddie Kingfisher that I hope to finish this year in an animated style.
RICHARD ISANOVE: I started on Shindo last year and I'll be done this summer. There was a lot of growing pains as it is my first endeavor into penciling on that scale but things are starting to flow. We're looking at a September release in France and we're setting things up for a US release too.
Be sure to Check out DF's complete selection of Red Sonja Comics and Collectibles!