DF INTERVIEW: MOLLY CRABAPPLE

SEND THIS TO A FRIEND!
By Brian Hofacker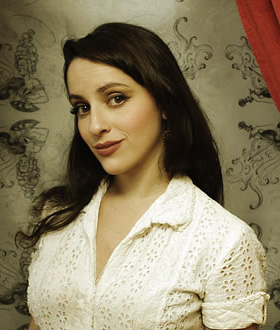 Molly Crabapple is an award-winning artist, writer and the founder of Dr. Sketchy's Anti-Art School. She is the author of Dr. Sketchy's Official Rainy Day Colouring Book, the heavily illustrated companion volume to Dr. Sketchy's, as well as the artist for Backstage, a murder mystery webcomic set in the burlesque halls of old New York. Her surreal, sexy Victoriana hangs in lowbrow galleries across the country, as well as at the Coney Island Museum and the Museum of American Illustration. Despite an adult sense of humor, Molly has illustrated a children's book for Umbrelly Press, and is working on a second. In her free time, Molly enjoys drinking coffee, drawing mean pictures and planning how to conquer Russia in the winter. She is hard at work on her next book, on how to make a living making pictures.

Dynamic Forces' Brian Hofacker caught up with Molly, who was kind enough to spare a minute to discuss her upcoming project with Marvel Comics, give some advice on web comics and discuss the unique style of her work and career.

BH: Warren Ellis described you as a "major new illustrator", and you've done work for New York Times and Wall Street Journal and even Marvel Comics. For anyone unfamiliar with the art of Molly Crabapple, how would you describe your style and where can comic fans find your work?



MC: I do saucy, sarcastic Victoriana, with lots of boobs and flying monkeys. A noble comics fan can find my first book at Jim Hanleys Universe, Forbidden Planet, Quimbys, Meltdown Comics, and lots of other wonderful independent comics shops.

I also did a 4-pager for Marvel Comics' upcoming Indie Anthology. Webcomics geeks can find me serialized every Thursday on Act-i-vate. If you see me at a con, by God, say hello!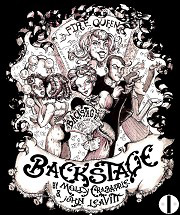 BH: You're the artist for the webcomic, Backstage, with John Leavitt. Can you give us the lowdown on Backstage?


MC: Backstage is a murder mystery set in the seedy burlesque halls of old New York. Solicited (then rejected by) Zuda, Backstage debuted two months ago on Act-i-vate. Doing a page a week is kicking my ass, but I think I'm in love with comics.

BH: Does Backstage compare to any mainstream print comics?



MC: While I hope people compare us with Bryan Talbot and League of Extraordinary Gentleman, I'll take what I can get.

BH: Do you have any advice for an artist or writer looking to start a webcomic?

MC: Gee, Backstage is my fun (as opposed to commercial whoring) project, so I'm not sure if I have any amazing advice.

Do it, put it up, promote it on lots of blogs?



BH: Rumor has it you're a Sandman fan. Do you currently read any other comics?

MC: League of Extraordinary Gentleman, Persopolis, and, most recently, Dan Goldman's omnipresent Shooting War.



BH: Most of your work is adult nature, but you've done some work for children's books, right?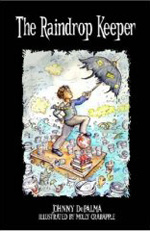 MC: I've illustrated a half dozen books- two of which are children's books, and two of which are sex ed ones.

You can see me at my whimsical, curlicued best doing illustrations for Umbrelly Press ( www.johnnydepalma.com)



BH: Your work includes Burlesque, Circus and Rock show posters. What's the most famous or favorite poster you've done?

MC: I'm not sure about famous, but my favorite project so far has been the program cover for the Dances of Vice festival (featuring Rasputina). You can see the art sans type at http://a31.ac-images.myspacecdn.com/images01/128/l_cd6a03633ae6cd3dd94b7fd65376a496.jpg

BH: You are the founder of Dr. Sketchy's Anti-Art School, a cabaret-life-drawing class with nearly 50 branches around the world. How did this come about and what is the whole idea behind it?



MC: I used to work as a naked model, but found that sterile life-classes bored me to tears.

So I started the first Dr. Sketchy's two years ago in Brooklyn, and since then it's spread faster than syphillis in a frat house.


BH: Aside from illustrating and painting posters, portraits, pin ups and comics, you have a myriad of unique talents and interests. What else is Molly Crabapple all about?



MC: Caffeine and bad temper : )

I occasionally still model and dance burlesque, though "pretty-girl" jobs are usually more effort than I can muster.

Sometimes I write articles that get me in trouble. Other than that, I shoot off my mouth on a freelance basis.



BH: Other than comic shops, book stores and online, where can we see your work next?

MC: Demimonde, at Arena Studios in Soho, is a show of my new fine art (www.mollycrabapple.com/content/art.php ) opening in February. If you're in New York check it out, because those pieces are massive. Other than that, you can see me at Dr. Sketchy's, every other Saturday afternoon.

BH: Thanks!!!!



---
NEW! 1. 12/04/2019 - CHRISTOPHER HASTINGS
2. 12/02/2019 - MARTIN SIMMONDS
3. 11/25/2019 - BENJAMIN PERCY