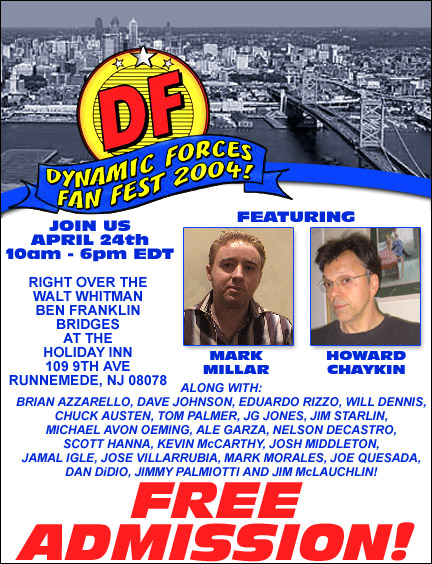 DF Fan Fest 2004 Exclusives - Check 'em out here!
This Just In!
With the date for the DF Fan Fest fast approaching, the company announced today several new additions to the already incredible creative line-up!From Marvel Comics, the one and only Joe Quesada will be on hand for the last two hours (approximately 4:00 PM EST until 6:00 PM EST) of the show (signing a limit of 3 items per fan); From DC Comics, Editorial VP Dan DiDio will be around (in the afternoon) and creator Jimmy Palmiotti will be on hand to meet, greet and sign for the fans in attendance and from Top Cow Productions, flying in from the sunny state of California will be Editor-In-Chief McLauchlin!
More information here:
http://www.dynamicforces.com/htmlfiles/fanfestpress041904.html
Scheduled for April 24, 2004 10am - 6pm EDT
Dynamic Forces presents the most Dynamic Fan Festival of all time!
- Featuring guest creators: Brian Azzarello, Dave Johnson, Eduardo Risso Risso, Will Dennis, Nelson DeCastro, Chuck Austen, * Mark Millar, Tom Palmer, JG Jones, Jim Starlin, Michael Van Oeming, Ale Garza, Howard Chaykin, Scott Hanna, Kevin McCarthy, Josh Middleton, Jamal Igle, Jose Villarrubia, Mark Morales, Joe Quesada , Dan DiDio, Jimmy Palmiotti, Jim McLauchlin, Tommy Castrillo, Rodney Ramos, Andy MacDonald and Ivan Brandon!
Check out some of our Fan Fest related items right here: http://www.dynamicforces.com/htmlfiles/c-Fan_Fest_Products.html
- FREE ADMISSION
- Dealers tables available at $200.00 per table - less than 40 tables available.
* Tentatively scheduled. Artist list is subject to change.
DF is looking for Volunteers! Contact 856.312.1040 x 103 or fanfest@dynamicforces.com for details!
Special Room Rates Available, contact the Runnemede Holiday Inn @ 856.939.4200 and mention Dynamic Forces Fan Fest for the Special Rate!
Located at the Holiday Inn in Runnemede, NJ
Need Directions? Enter your address below: