HUNTER/KILLER #2 LINSNER FOIL SIGNED BY JOSEPH MICHAEL LINSNER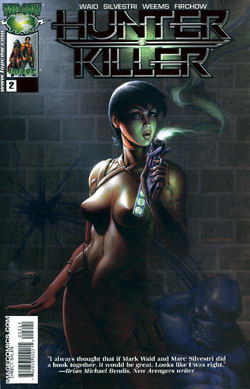 PRICE:
$16.99
Samantha Argent and her Hunter/Killer team were in hot pursuit of The Catalog -the only known knock list of all Ultra-Sapiens their powers and their current locations. To their stunned surprise they found the Catalog in a remote ranch house in Montana -not in electronic form but instead imprinted directly into the genetic code of a second-generation Ultra-Sapien named Ellis. Ellis' parents sacrificed their lives to protect Ellis from abduction and were willing to sacrifice Ellis' life as well rather than have their boy fall into Samantha's hands.

This limited edition Linsner cover is not only available here as a limited foil edition but for a special price we have it signed by Linsner Himself! Add one to your collection today!

OR BUY TWO - AND RECEIVE 2 BONUS LIMITED EDITION Top Cow COMICS - FOR JUST $29.99!