ARMY OF DARKNESS: ASHES 2 ASHES #2 DF EXCLUSIVE PHOTO COVER!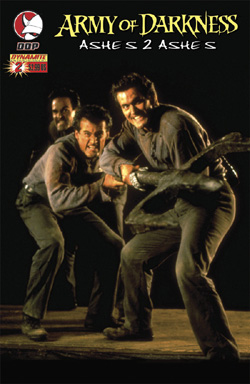 PRICE:
$6.99
Written by Andy (Danger Girl) Hartnell, illustrated by red-hot newcomer Nick Bradshaw, finished and colored by Etienne St-Laurent - this is the biggest comic launch of the year!

Continuing Ash's newest groovy adventure, as our "fearless" hero gets a "do-over" to set right a new problem caused by his misspeaking those notorious MAGIC WORDS and is charged with the unusual task of returning to a certain CABIN IN THE WOODS on the fateful night he first learned of the existence of DEADITES and The Book of the Dead - in order to make certain the events that led up to Ash's initial trip to the past take place - only THIS time, the Deadites will be waiting for him!

This special DF Exclusive Edition features an all-new photo cover from Army of Darkness, and is sealed with a certificate of authenticity!