CHECK OUT COMIC VINE'S REVIEW OF FLASH GORDON
12/01/11 @ 1:56 pm EST
Source:
Comic Vine
| Categories:
Flash Gordon Zeitgeist
|
Comments
(0) |
E-mail Article
|
Add a Comment
THE Comic Vine Review by Tony 'G-Man' Guerrero
If you ever seen Flash Gordon in animated, live-action or printed form, you will be in for a treat. If you're not familiar with the characters, get ready to meet them for the first time.
Whether you've read any of Flash Gordon's old exploits or watched the 80s movie or various animated attempts, the idea is known to pretty much everyone. Flash Gordon is a normal human who has been placed in a situation to save Earth from invaders.
The Good
Dynamite has revived several franchises over the years and many have been with great success. While I was never a true die-hard Flash Gordon fan, I became more than familiar with the characters due to the different portrayals over the years. I've enjoyed the different revivals Dynamite has taken with old properties and thought I'd give this series a shot, mainly due to Francesco Francavilla's involvement with the variant covers. I was more than pleasantly surprised.
The first wise decision was to keep this grounded in the original time period of 1934. The issue captures the feeling of what a Flash Gordon story should be like. The art is amazing. Daniel Indro is a name you should take note of. He gives that painted feel full of detail yet still remains true to the pulp-feel of the time period. Check out the first five pages below.For the full review visit
Comic Vine
!
EVANS WANTS MORE CAPTAIN AMERICA CAMEOS; ESPECIALLY IN "SPIDER-MAN: HOMECOMING"
05/25/16 @ 4:11 pm EST
Source:
Comic Book Resources
| Categories:
Captain Amerca
|
Comments
(0) |
E-mail Article
|
Add a Comment
In a new video, Chris Evans expresses interest in Captain America making more cameos across the Marvel Cinematic Universe, suggesting a possible team-up with the Guardians of the Galaxy, or -- more likely, as he admits -- with Spider-Man in the upcoming Jon Watts-directed "Spider-Man: Homecoming."
"Guardians would be fun, wouldn't it?" Evans told MTV News, when asked about Cap appearing in other Marvel movies. He added, "...but it's very outer spacey. Cap's more of an Earth-bound guy."
Evans continued, "Maybe the next Spider-Mans. Those are going to be fantastic, and I think Tom [Holland]'s just a great actor, so that might be a fun one to pop up into."
Video:
https://youtu.be/OOkIvI2EYdQ
FIRST 'STAR TREK BEYOND' CHARACTER POSTERS FEATURE DR. MCCOY & JAYLAH
05/25/16 @ 4:05 pm EST
Source:
Comic Book Resources
| Categories:
Star Trek
|
Comments
(0) |
E-mail Article
|
Add a Comment
Paramount Pictures has dropped the first official character posters for "Star Trek Beyond," spotlighting Karl Urban's ("Dredd") Dr. Leonard "Bones" McCoy and Sofia Boutella's ("Kingsman: The Secret Service") new alien warrior character, Jaylah.
BREAKING: NEW "LUKE CAGE" PHOTOS REVEAL CLASSIC MARVEL COMICS VILLAIN
05/25/16 @ 4:01 pm EST
Source:
Comic Book Resources
| Categories:
Power Man
|
Comments
(0) |
E-mail Article
|
Add a Comment
This fall, "Luke Cage" will lead a Netflix series following his appearance on "Jessica Jones," and that means he'll be getting a few villains of his own. New photos from the set of show reveal Erik LaRay Harvey in costume as Willis Styker, a Marvel villain who goes by Diamondback in the comics.The images surfaced on Cinefilos as well as Twitter and show Harvey wearing a solid gray uniform and helmet. In some of the photos, his jacket is slightly unzipped, revealing a ribbed yellow shirt underneath.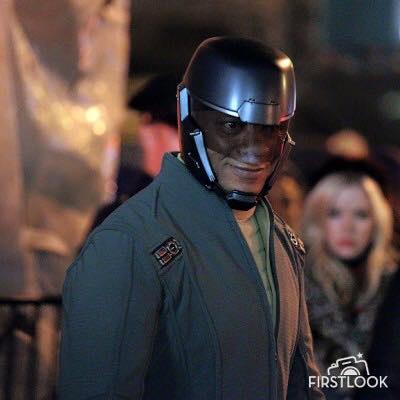 In the comics, Diamondback is a member of the Serpent Society, a business enterprise of criminals and mercenaries -- and he isn't the only member of the group slated to appear in the show. Last September, "House of Card's" Mahershala Ali joined show as Cornell "Cottonmouth" Stokes, who is described as "a Harlem nightclub owner" who will "become an unexpected foe in Luke's life when Stokes' criminal activities threaten Luke's world."

Executive produced by Cheo Hodari Coker and produced by Marvel Television in association with ABC Studios, "Luke Cage" stars Colter, Alfre Woodard, Mahershala Ali and Simone Missick. The series will premiere on September 30.
BBC'S 'DIRK GENTLY' ADAPTATION ROUNDS OUT ITS CAST
05/25/16 @ 1:28 pm EST
Source:
Comic Book Resources
| Categories:
MIsc
|
Comments
(0) |
E-mail Article
|
Add a Comment
BBC America has filled its cast for the upcoming eight-episode "Dirk Gently" TV series, based on the "Dirk Gently's Holistic Detective Agency" novels by "Hitchhiker's Guide To The Galaxy" author Douglas Adams, and subsequent comics published by IDW Entertainment.
According to Deadline, joining Samuel Barnett, Hannah Marks and Elijah Wood for the comedic thriller are Neil Brown Jr. ("Straight Outta Compton") as Estevez, Richard Schiff ("The West Wing") as Zimmerfield, Jade Eshete ("Shades of Blue") as Farah Black, Mpho Koaho as Ken, Fiona Dourif ("When We Rise") as Bart Curlish, Michael Eklund ("The Call II") as Martin, Miguel Sandoval as Colonel Scott Riggins, Dustin Milligan ("Schitt's Creek") as Sergeant Hugo Friedkin and Aaron Douglas ("Battlestar Galactica") as Gordon Rimmer.
"Dirk Gently's Holistic Detective Agency" is a comedic thriller that follows the bizarre adventures of eccentric detective Dirk Gently and his reluctant assistant Todd as they work their way through one big, seemingly insane, mystery.
Max Landis ("Chronicle") is writing and executive producing the "Dirk Gently" adaptation for BBC America. AMC Studios, Ideate Media and IDW Entertainment are co-producing the series, with Circle of Confusion ("The Walking Dead"). Also executive producing are Ideate's Arvind Ethan David and Zainir Aminullah, IDW's Ted Adams and David Ozer, and Circle of Confusion's and David Alpert and Rick Jacobs.
'FAST & FURIOUS' PRODUCER TEASES DWAYNE JOHNSON'S ROLE, POSSIBLE SPINOFF
05/25/16 @ 1:25 pm EST
Source:
Comic Book Resources
| Categories:
MIsc
|
Comments
(0) |
E-mail Article
|
Add a Comment
Production on "Fast 8″ has already begun in Cuba. In addition to a new villain played by Charlize Theron, the eighth installment in the action franchise will feature even more of Dwayne Johnson's character, Hobbs.
Consulting producer Hiram Garcia spoke with ComicBook.com about the Rock's popular character, revealing that the Diplomatic Security Services officer will play a bigger role in "Fast 8″ than he did in "Furious 7."
"On the last movie, due to schedule restraints, we were only able to play on it for a couple weeks," said Garcia. "In this one, we're really spread throughout the movie, so it's great to be back up here and we'll be back on set on Wednesday."
Garcia has also been working with "Fast 8″ screenwriter Chris Morgan on the character, which he calls "one of our all-time favorite characters."
"Hobbs was one of the first characters we merged together on and when 'Fast' approached [Dwayne Johnson], telling him about the character they wanted to create, [Dwayne Johnson] and I were able to sit down and craft this guy that we would just laugh out loud at the lines we would come up with," said Garcia. "When you can say you're gonna put a hurt on someone so bad you'll make their mama wish they kept their legs closed, stuff like that where we can't even finish the line before laughing — that's the fun we love."There's been talk of a spinoff film starring Johnson as Hobbs, and Garcia says that he's had conversations with the actor about that possibility.
"There's a real goal for that and we can have enough fun with that where we've earned that now with the audience. He's a beloved enough character that they'd love to see what a ride with him would be like in his world," said Garcia. He added that there's "tons of history" ready to be explored fully, and that fans will "see a little bit more in ['Fast 8′] but ultimately we want to take that ride and spin him off and have some fun with it."
"Fast 8″ opens on April 14, 2017.
SONY EXEC: ONLINE HATE FOR 'GHOSTBUSTERS' TRAILER IS 'TINY PERCENTAGE' OF AUDIENCE
05/25/16 @ 1:21 pm EST
Source:
Comic Book Resources
| Categories:
MIsc
|
Comments
(0) |
E-mail Article
|
Add a Comment
Discussing some of the online rage over the new "Ghostbusters" reboot, a Sony executive revealed the actual numbers for the trailer, and how they compare to the people actually talking about it.
"What tends to happen with a beloved property is the fanboy or the fangirl shows up and says, 'How dare you remake this?'" Sony marketing exec Dwight Caines said toThe Hollywood Reporter.
Breaking down the math of the viewership vs. the actual online hate, Caines added, "The first trailer got 70 million views. The number of people talking: less than 100,000, and they are trying to define the experience."
Caines' discussion with THR dropped ahead of the "Ghostbusters" cast's appearance today on "Ellen."
"Ghostbusters" hits theaters on July 15, 2016.
MYSTIQUE CLAIMS SHE'S NO HERO IN NEW "X-MEN: APOCALYPSE" CLIP
05/25/16 @ 1:17 pm EST
Source:
Comic Book Resources
| Categories:
X-Men
|
Comments
(0) |
E-mail Article
|
Add a Comment
In a new clip from "X-Men: Apocalypse," Mystique recalls a time when she was a member of the X-Men and tries to tell the younger mutants that she's no hero. However, they won't have any of it and let her know how she's changed their lives.
Video:
https://youtu.be/lvtGeUgmm3I
MARVEL NOW! RETURNS IN FALL 2016
05/25/16 @ 1:08 pm EST
Source:
Comicbook
| Categories:
Marvel Now Point One
|
Comments
(0) |
E-mail Article
|
Add a Comment
A new teaser revealed on the back cover of a promotional
Daily Bugle
item given away at comic shops today reveals that, mere months after the new omniverse was born for All-New Marvel, it looks like another relaunch is on the horizon. Not only that, but the relaunch process has now apparently become cyclical, with Fall 2016 seeing the return of the Marvel NOW! banner.
The original Marvel NOW! followed the
Avengers vs. X-Men
event in Fall 2012. The relaunch didn't alter continuity, but heralded a wave of new titles from the publisher, featuring mostly new status quos for the characters and new creator pairings to breathe fresh life into Marvel's line. A year later, Marvel doubled down on the branding with an additional wave of titles labelled "All-New Marvel NOW!" In 2014, Marvel went to the well once again, launching "Avengers NOW!" after the
Avengers & X-Men: AXIS
event. This third wave of titles introduced new versions of the Avengers' core trinity, with the inverted Tony Stark as the Superior Iron Man, Jane Foster as Thor, and Sam Wilson as Captain America.
We can only speculate, but we imagine the new Marvel NOW! will take a similar approach to the original, offering new books, creative teams, and takes on classic characters without altering the actual fabric of the in-universe reality. Which creators will be involved and how the status quo will be changed remains to be seen.
GEOFF JOHNS CLARIFIES TO SETH MEYERS THAT DC UNIVERSE REBIRTH IS NOT A REBOOT
05/25/16 @ 1:04 pm EST
Source:
Comicbook
| Categories:
DC
|
Comments
(0) |
E-mail Article
|
Add a Comment
Geoff Johns brought his A game with DC's Rebirth special, and he recently stopped by the Late Show with Seth Meyers to talk about the project.
Meyers, a self-professed comic fan, asked Johns about what sets Rebirth apart from other events that seek to restart their respective universes.
Video:
https://youtu.be/Bge-LAgnUrw
When asked if this was, in fact, starting over, Geoff Johns quickly responded: "No, thank God. I think with all comics, like comics to me are like an apple a day keeps the doctor away, comic books to me are that apple. I feel like superheroes are, they're junk food that is really good for you. People think they are just for pop and awe, but they actually mean something, they're inspirational, and DC Comics, like in the DNA are all about hope and inspiration, and we needed to get back to that, and so the comic books, they're not rebooting, which is a dirty word, that's a swear word in the comic book world, because it means that everything you've ever read and bought doesn't exist anymore, but the relaunch is just approaching it with a new light and bringing every character that hasn't been around back."
Meyer's then asked Johns if he felt a significant weight when putting together this project, and in getting these characters just right.
"Absolutely. Yeah, because you love it, and the only reason, like when you're a kid and you saw another kid reading a comic book, you go talk to him. And when I moved to a new school and didn't have anyone to talk to, I saw a kid reading a comic book and he became my best friend because of that. It's like music, it brings people together, and to me there is a big responsibility because you want to share the love for these characters with other people.
"DC Universe Rebirth #1 is out in comic stores today.
BATMAN V SUPERMAN, CIVIL WAR, DEADPOOL, AND FANTASTIC FOUR NOMINATED FOR TEEN CHOICE AWARDS
05/25/16 @ 12:58 pm EST
Source:
Comicbook
| Categories:
MIsc
|
Comments
(0) |
E-mail Article
|
Add a Comment
The first wave of nominees for the Teen Choice 2016 Awards have been announced, and superhero films are well represented.
Captain America: Civil War
and
Batman v. Superman: Dawn of Justice
lead the film category with four nominations each, Fox's
Deadpool
earned three nomination, and
Fantastic Four
made the ballot as well.
Batman v. Superman: Dawn of Justice
is nominated for Choice Movie: Sci-Fi/Fantasy, and both Ben Affleck and Henry Cavill's performances in the film were nominated for Choice Movie Actor: Sci-Fi/Fantasy. Amy Adams earned a nomination for Choice Movie Actress: Sci-Fi/Fantasy.
Captain America: Civil War
is also nominated for Choice Movie: Sci-Fi/Fantasy, with leads Chris Evans and Robert Downey Jr. also earning Choice Movie Actor: Sci-Fi/Fantasy nominations. Scarlett Johansson earned a nomination for Choice Movie Actress: Sci-Fi/Fantasy.
Deadpool
is nominated in three categories. The film itself earned a nomination for Choice Movie: Action/Adventure, while Ryan Reynolds earned a nomination for Choice Movie Actor: Action Adventure, and Morena Baccarin earned a nomination for Choice Movie Actress: Action/Adventure.
Fantastic Four
earned a single nomination in the Choice Movie: Sci-Fi/Fantasy category.
Other nominees include
Star Wars Episode VII: The Force Awakens
,
Arrow
,
The Flash
, and
The Walking Dead
.
The Teen Choice 2016 Awards ceremony airs live Sunday, July 31 at 8 p.m. ET on Fox.