VAMPIRELLA STRIKES! INTERVIEW WITH TOM SNIEGOSKI
11/26/12 @ 6:25 pm EST
Source:
Previews World
| Categories:
Vampirella
|
Comments
(0) |
E-mail Article
|
Add a Comment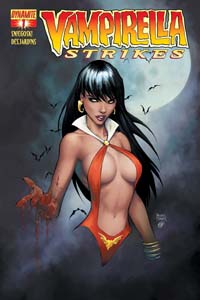 Tom Sniegoski has returned as scribe of Vampirella with Vampirella Strikes #1. Dynamite is so excited to have one of Vampirella's most important writers return to the charcter and he is joined by super hot artist Johnny D! Check out the recent video interview of Tom on Previews World website. Just follow the link to watch!
http://www.previewsworld.com/Home/1/1/71/977?articleID=127548
ECCC: "EPIC KILL" CREATOR RAFFAELE IENCO BUILDS "MECHANISM" AT HEAVY METAL
03/27/15 @ 10:53 pm EST
Source:
Comic Book Resources
| Categories:
MIsc
|
Comments
(0) |
E-mail Article
|
Add a Comment
Raffaele Ienco plans to bring some robotic metal to Heavy Metal Comics with his creator-owned ongoing series "Mechanism." The tale of a pair of police shepherding around an experimental robot cop in a world practically overrun by lizard-like aliens will be written and drawn by Ienco whose other credits include the Image Comics series "Epic Kill" and issues of "Fantastic Four" at Marvel.
Launching on July 1, "Mechanism" marks the second announced comic project at Heavy Metal (the first being the second series of Steve Seeley and Michael Moreci's "Hoax Hunters," formerly from Image). The move into creator-owned comics was announced last year after Kevin Eastman sold Heavy Metal to David Boxermbaum and Jeff Krelitz.
In light of the Ienco announcement, CBR News talked briefly with Krelitz about what Heavy Metal is looking for when it comes to their new comic line and the benefits they offer the creator.
"Heavy Metal is a company founded by creators," Krelitz said, noting past contributors like Moebius, Philippe Druillet and Eastman. "We are about supporting the creators. That is why our deal is the most advantageous. Unlike our competitors who charge thousands an issue for a creator-owned publishing model, if Heavy Metal likes your comic, we will simply charge you $1 to publish it. Beyond that, should creators want it, we have a tremendous amount of resource in the form of media and merchandising opportunities — brand building tools that we will help use to really develop and expand not just a comic, but a brand."
ECCC: MORE DARK HORSE ANNOUNCEMENTS TODAY
03/27/15 @ 10:33 pm EST
Source:
Comic Book Resources
| Categories:
Dark Horse
|
Comments
(0) |
E-mail Article
|
Add a Comment
This year's Emerald City Comicon is a newsworthy one for Dark Horse Comics. Friday evening in Seattle, the publisher made the official announcements of 10 new series, which were unveiled at various online media outlets earlier -- including the return of Eric Powell's "Chimichanga" and Ryan K. Lindsay and Owen Gieni's "Negative Space."
Among Dark Horse's other ECCC announcements include the return of "Barb Wire," a character with more than 20 years of history at Dark Horse, and the subject of a reviled 1996 film starring Pamela Anderson. The new "Barb Wire" series is set to debut in July, from the creative team of writer Chris Warner and artist Patrick Olliffe, with a cover to #1 by Adam Hughes.


From left: Promotional art from "Barb Wire," "Adam3," "Power Cubed" and "King Tiger."

The coming months will also bring two new series from two veteran illustrators, both taking on writing duties along with art. Scott Kolins, the artist of Dark Horse's freshly debuted "Past Aways," is taking on sci-fi series "Adam.3," slated to debut in August. "Power Cubed," scheduled to premiere in September, is the latest project from Aaron Lopresti, dubbed a "comical coming-of-age tale in a fantastic sci-fi universe."Longtime Dark Horse editor Randy Stradley writes the newly announced, August-debuting series "King Tiger," illustrated by Doug Wheatley. The official description asks, "A monstrous secret from King Tiger's past has found the mystic warrior, but can Tiger's skills and sorcery triumph against an unthinkable supernatural obscenity linked to his own destiny?"More new concepts from Dark Horse include "Zodiac Starforce" from "Bravest Warriors" veterans Kevin Panetta and Paulina Ganucheau, slated to debut in August. The book stars "an elite group of teenage girls with magical powers who have sworn to protect our planet against dark creatures. . . as long as they can get out of class!"


From left: Promotional art from "Zodiac Starforce," "Death Head," "The Tomorrows" and "The Steam Man."


Writers Zack Keller and Nick Keller team for horror series "Death Head," scheduled out from Dark Horse in July and illustrated by Joanna Estep. "The Tomorrows," a speculative future series also scheduled for July, is from writer Curt Pires and drawn by a different artist each issue, starting with Jason Copland. Later in the year, steampunk/alien invasion/vampire/western series "The Steam Man" is targeted for an October release, from co-writers Mark Miller and Joe R. Lansdale, and illustrated by "Sex" artist Piotr Kowalski.
ECCC: NICK AND ZACK KELLER BRING DEATH HEAD TO DARK HORSE COMICS
03/27/15 @ 10:15 pm EST
Source:
Crave
| Categories:
Dark Horse
|
Comments
(0) |
E-mail Article
|
Add a Comment
Today is the first day of Emerald City Comicon in Seattle, and Dark Horse Comics will be unveiling a number of new projects this weekend. CraveOnline presented one of the first Dark Horse ECCC announcements:
Death Head
.
Written and created by brothers Nick and Zack Keller,
Death Head
follows Niles and Justin Burton, a married couple who go on a trip without their kids and stumble across something malevolent in an abandoned village.
But when the couple escape from the village with a plague doctor's mask, the real horror begins… and it extends to their teenage daughter, Maggie and their young son, Bee.
Somehow, the Plague Doctor has followed the Burtons home and the family's survival is in jeopardy…
The Keller brothers are best known for their work on the hit YouTube animated series
Dick Figures
, and the subsequent
Dick Figures
animated movie. The artist for
Death Head
is Joanna Estep, and the miniseries is set to debut in July 2015.
THE WALKING DEAD COMICS' ENDING WON'T BE SPOILED BY THE TV SHOW
03/27/15 @ 10:01 pm EST
Source:
Comicbook
| Categories:
Walking Dead
|
Comments
(0) |
E-mail Article
|
Add a Comment
While
Game of Thrones
creator George R. R. Martin had some advice for survivors on
The Walking Dead
recently, there are still some areas where he might be able to learn from Robert Kirkman's zombie survival drama.
Like, for instance, how to deal with the reality that novels and comic books can run indefinitely, while the budgetary restrictions of TV mean most TV series cannot.
When producers recently acknowledged that the
Game of Thrones
TV series will spoil the as-yet-unfinished novel series on which it's based, we remembered that Robert Kirkman once said that can't happen on AMC's
The Walking Dead
.
"I think it would be impossible for any way that the show would end to spoil the comic. I think they are both very separate," Kirkman told ComicBook.com when we asked him about this very issue at 2012's New York Comic Con. "I have certain endings in mind for the comic book. I have different events that I want to get to and if I haven't gotten to them yet when the show is wrapping up I'm just not going to tell anyone in the writers' room what my idea is for how I would wrap up the comic book. If they come up with anything similar, I'll be like, 'I don't like that, let's not do that,' and try to steer them away from it. So I think it'll be pretty easy to keep them separate but that is something that has occurred to me, that I have thought about."
The Walking Dead
, from Image Comics' Skybound imprint, is nearing 150 issues and is several storylines ahead of the TV series, as well as a five-year time jump that could provide some minor logistical problems to do on TV. The TV series on which it's based, which will wrap its fifth season this weekend, is loosely adapting a storyline that took place between issues 73 and 77 or so.
The season finale of
The Walking Dead
airs Sunday night at 9 p.m. ET/PT on AMC.
IS THE TRUE MASTERMIND BEHIND BATMAN ETERNAL FINALLY REVEALED?
03/27/15 @ 9:51 pm EST
Source:
DC
| Categories:
DC
|
Comments
(0) |
E-mail Article
|
Add a Comment
In last week's issue, BATMAN ETERNAL #50 came to a jaw-dropping conclusion when Cluemaster, aka Arthur Brown, stepped out of the shadows and revealed himself to be the mastermind behind every step of Gotham's demise.
But, in this week's BATMAN ETERNAL #51, we learn how complex an evil master plan can be.
As the penultimate issue of this year-long weekly series opens, we see how hopeless it is for Batman. He's tied up, weak from his most recent battles, and hasn't slept in over 36 hours. Remember way back to BATMAN ETERNAL #1's opening page:
"Your allies have been slaughtered. Your city is burning to the ground. I have taken everything from you, piece by piece. Watch, Bruce… Watch as you lose everything."
Yes, that was Cluemaster speaking.
We feel a glimmer of hope when Bruce heroically breaks free of his chains, but that hope is quickly crushed when Cluemaster gets the upper hand and it's only a matter of seconds before he pulls the trigger to end Batman's life.
But, right before the gun goes off, a shadowy figure appears behind Arthur and...You have to check it out!! We can't spoil this! It turns out that Cluemaster isn't the brains behind the operation after all!
See below as the mastermind behind Gotham's descent into madness is revealed to be……Lincoln March, still claiming to be Thomas Wayne, Jr.
With Bruce so battered, how will he beat March? We know he has to, but what will become of Gotham if he doesn't?
BATMAN ETERNAL #51, written by James Tynion IV and Scott Snyder and illustrated by Alvaro Martinez Bueno, is available in stores now.
JAMES BOND HAS A SECRET IN FIRST 'SPECTRE' TRAILER
03/27/15 @ 9:29 pm EST
Source:
Comic Book Resources
| Categories:
James Bond
|
Comments
(0) |
E-mail Article
|
Add a Comment
24 films later, and the James Bond franchise is coming full circle.
Today, MGM released the first trailer for Daniel Craig's latest outing as 007:
Spectre
. Coming as it does on the heels of 2012's classic Bond-establishing
Skyfall
, the film
from returning director Sam Mendes brings the classic super spy into conflict with his longtime film foes S.P.E.C.T.R.E.
The trailer picks up shortly after the events of
Skyfall
, with Moneypenny (Naomie Harris) handing Bond some personal effects and alluding to a secret he can't share with anyone. From there he goes on a journey of sorts, threatening Mr. White (Jesper Christensen) with an insignia ring, which prompts White to tell Bond he is a "kite dancing in a hurricane."
The trailer wraps up with a series of shots that will be sure to please those wary of conspiratorial groups before a figure cloaked in shadow, presumably Christoph Waltz's Oberhauser, welcomes Bond to his lair as he implies they have a shared history.
"WALKING DEAD" SPINOFF TITLE REVEALED
03/27/15 @ 9:10 pm EST
Source:
Comic Book Resources
| Categories:
Walking Dead
|
Comments
(0) |
E-mail Article
|
Add a Comment


Variety has reported that the soon-to-debut spinoff of "The Walking Dead" will be titled "Fear the Walking Dead." "Walking Dead" creator and "Fear the Walking Dead" executive producer Robert Kirkman has also confirmed the series' title via Twitter"

IT'S OFFICIAL! The walking dead companion show on AMC is called FEAR THE WALKING DEAD! Expect more news very soon! #FearTheWalkingDead— Robert Kirkman (@RobertKirkman) March 27, 2015"

The update comes just hours after the announcement that the first promo for the new series will airduring this Sunday's 90 minute "Walking Dead" season finale.

Set in Los Angeles prior to the massive zombie outbreak featured in "The Walking Dead," the spinoff series will star Cliff Curtis as divorced teacher Sean Cabrera and Kim Dickens as the female lead, a guidance counselor named Nancy. Frank Dillane and Alycia Debnam Carey are also attached to star as Dickens' children, Nick and Ashley.

"We're thrilled to bring audiences worldwide 'Fear The Walking Dead' within 24 hours of the U.S. premiere so that fans can experience the excitement of one of the year's most anticipated new dramas together exclusively on AMC Global," said Bruce Tuchman, President of AMC and Sundance Channel Global, in the announcement. "AMC has created some of the most compelling programming on television in recent years, and this new show will perfectly complement the popular films and exclusive original series showcased on the network."
MASI OKA TO RETURN AS HIRO FOR 'HEROES REBORN'
03/27/15 @ 9:00 pm EST
Source:
Comic Book Resources
| Categories:
MIsc
|
Comments
(0) |
E-mail Article
|
Add a Comment
"Heroes" veteran
Masi Oka will reprise his role as fan-favorite character Hiro Nakamura on NBC's upcoming revival "Heroes Reborn," Deadline reports.
He joins a cast that includes fellow returning star Jack Coleman as Noah Bennet, and franchise newcomers Zachary Levi, Danika Yarosh, Judith Shekoni, Robbie Kay, Ryan Guzma, Gatlin Green and Henry Zebrowski. Series creator Tim Kring is also on board.
"I'm excited to return to my 'Heroes' roots," Oka, who now co-stars on "Hawaii Five-0," said in a statement. "Hiro Nakamura was such an inspirational role to play, and I'm hoping the fans will enjoy seeing him back on TV
.""
"The character of Hiro Nakamura was such a huge part of the first series' success, and a gigantic fan favorite
," Kring added. "We felt the fans would really love seeing him back in action again."
The 13-episode "Heroes Reborn" will premiere later this year on NBC.
RYAN REYNOLDS REVEALS OFFICIAL DEADPOOL COSTUME
03/27/15 @ 8:53 pm EST
Source:
Comicbook
| Categories:
Deadpool
|
Comments
(0) |
E-mail Article
|
Add a Comment
Deadpool star Ryan Reynolds has released the first image of the movie's official costume.
Deadpool can be seen in Reynold's tweet above, lounging seductively on a bearskin rug.
Based upon Marvel Comics' most unconventional anti-hero,
Deadpool tells the origin story of former Special Forces operative turned mercenary Wade Wilson.

Reynolds will star as Wilson opposite Morena Baccarin as Copycat, T.J. Miller as Weasel, and Gina Carano as Angel Dust.

Deadpool opens February 12, 2016.
A DANGEROUS ODYSSEY ACROSS BATTLEWORLD IN RED SKULL #1
03/27/15 @ 8:43 pm EST
Source:
Marvel
| Categories:
Marvel
|
Comments
(0) |
E-mail Article
|
Add a Comment
Hushed whispers cut across Battleworld. One of the most vile villains in history still draws breath. But how can this be? He should be dead! And yet his legend grows even larger in the pages of
RED SKULL #1
– a brand new Secret Wars limited series beginning this July! Writer Josh Williamson and artist Luca Pizzar bring you a twisted tale from the bowels of Battleworld!
The Red Skull should be dead. Banished beyond the Shield long ago, if the zombies haven't gotten to him, the Ultron robots or Annihilation bugs should have! Any yet word has reached the other side that he still lives, quietly amassing his forces, prepared to strike!
Now, a team of unlikely villains – Magneto, Winter Soldier, Lady Deathstrike, Electro, Moonstone and Jack O'Lantern will venture beyond safety to find the truth for themselves. Only problem – beyond the Shield, nobody ever comes back alive!
"I'll be honest, this book is super dark," promises writer Josh Williamson in an interview with Marvel.com. "It matches what you'd expect a book based around someone as horrible as the Red Skull. Prepare for a very twisted tale. If you're a fan of my books you know I enjoy writing some pretty dark characters in some very messed up situations. Marvel has let me do that here as well."
Witness the true horrors of Battleworld this July as Williamson & Pizzari unleash
RED SKULL #1
on the masses!
RED SKULL #1 (of 3) Written by JOSHUA WILLIAMS Penciled by LUCA PIZZARI Cover by RILEY ROSSMO On Sale in JULY!