VAMPIRELLA STRIKES! INTERVIEW WITH TOM SNIEGOSKI
11/26/12 @ 6:25 pm EST
Source:
Previews World
| Categories:
Vampirella
|
Comments
(0) |
E-mail Article
|
Add a Comment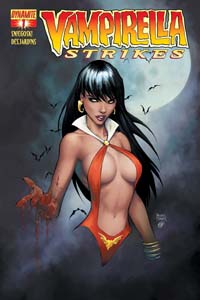 Tom Sniegoski has returned as scribe of Vampirella with Vampirella Strikes #1. Dynamite is so excited to have one of Vampirella's most important writers return to the charcter and he is joined by super hot artist Johnny D! Check out the recent video interview of Tom on Previews World website. Just follow the link to watch!
http://www.previewsworld.com/Home/1/1/71/977?articleID=127548
THE WALKING DEAD SEASON 6: FIRST LOOK AT DARYL, MAGGIE, & GLENN
07/02/15 @ 12:03 pm EST
Source:
Comicbook
| Categories:
Walking Dead
|
Comments
(0) |
E-mail Article
|
Add a Comment
AMC has released the first images from Season 6 of
The Walking Dead
, featuring Daryl (Norman Reedus), Glenn (Steven Yuen), and Maggie (Lauren Cohan).As noted in the report from EW, the Maggie appears to be inside of Alexandria. With gun drawn, you have to wonder who she's aiming at. Glenn, also with weapon drawn, is sporting some nasty facial wounds, which may or may not be left over from his scuffle with Nicholas.AMC will released the first trailer for Season 6 at Comic-Con International: San Diego next week.
The Walking Dead
will return to AMC this fall.
BATMAN V. SUPERMAN RELEASES NEW LEX LUTHOR IMAGE
07/02/15 @ 11:42 am EST
Source:
Comicbook
| Categories:
Batman Superman
|
Comments
(0) |
E-mail Article
|
Add a Comment
Batman V. Superman: Dawn of Justice
has released a new photo of Jessie Eisenberg at Lex Luthor.
The Social Network
actor will bring Superman—and the entire DC Universe's—chief nemesis to life in the upcoming DC Comics film. This new photo surprisingly show's Eisenberg's Luthor with a full head of hair, contradicting an earlier official photo in which he is bald (seen above). Maybe he's taking the Gene Hackman route and sporting a wig?
The Eisenberg image follows two new images from Entertainment Weekly's upcoming cover story. Batman V. Superman. Dawn of Justice hits theaters on March 25, 2016.
BREAKING: BATMAN V SUPERMAN FEATURED ON EW COMIC CON COVER
07/02/15 @ 11:37 am EST
Source:
Comicbook
| Categories:
Batman Superman
|
Comments
(0) |
E-mail Article
|
Add a Comment
The cover of
Entertainment Weekly
's geek-centric "Comic Con issue," due in your mailbox Friday, will feature the cast of
Batman V Superman: Dawn of Justice
.Henry Cavill appears as Superman, with Ben Affleck's Batman and Gal Gadot's Wonder Woman. Each of the characters have been revealed individually before, but this is their first time sharing a space in live action.
A geeky movie or TV show typically grabs the cover on Comic Con week, although the most recent issue featured David Duchovny and Gillian Anderson from
The X-Files
, suggesting that competition for the honor may be expanding out to earlier weeks around Comic Con as well. Don't be too surprised if at some point soon, projects actually announced at Comic Con start to get covers in the weeks following the event.
DYNAMITE ANNOUNCES FULL CREATIVE TEAM FOR ALIENS / VAMPIRELLA
07/02/15 @ 11:30 am EST
Source:
Dynamite
| Categories:
Dynamite
|
Comments
(0) |
E-mail Article
|
Add a Comment
Dynamite Entertainment is proud to announce the full creative team for
Aliens / Vampirella
, the upcoming horror crossover between their classic comic book heroine an the Xenomorph monsters from Dark Horse Comics' long-running comic book, based on the renowned film series. Corinna Bechko (
Star Wars: Legacy
) will steer the series with her scripts, while artist Javier García-Miranda will provide the atmophere and action. Also, artist Gabriel Hardman will provide the distinctive covers worthy of the tradition of horror excellence that both long-standing terror icons represent.
As established in
Aliens / Vampirella
#1, humans have begun to colonize Mars, but something ancient and sinister got there first. Vampirella, a supernatural exterminator, is faced with a mystery only she can solve... and the bloody realization that some monsters should never be awakened.
Bechko has been writing comics since her horror graphic novel
Heathentown
was published by Image/Shadowline in 2009. Since then, she has worked for numerous comics publishers including Marvel, DC, Boom, Dark Horse, and Dynamite on titles such as
Planet of the Apes
,
Star Wars: Legacy
,
Savage Hulk
, and
Invisible Republic
. Her background is in zoology. She lives in Los Angeles with her husband and a small menagerie.
Javier García-Miranda is a relative newcomer to the comic book industry, but has been making waves with his work on several Dynamite horror titles. He has illustrated
Aliens / Vampirella
's raven-haired heroine before as part of the anniversary
Vampirella
#100 celebration. In addition, García-Miranda chronicled the fall and resurrection of Chaos! Comics' resident bat-winged villainess in the
Purgatori
miniseries, and worked on Dynamite's premier bad boy in
Evil Ernie
(Vol. 2) #6.
"I couldn't be happier to be teamed with Javier," says writer Corinna Bechko. "His work has an energy that is necessary for this story, and he's great at creating a really creepy feel for the scenes that require it. Plus, both his Vampirella and his Xenomorphs are gorgeous."
Gabriel Hardman, cover artist for the entire
Aliens / Vampirella
series, is a prolific creator in the comic book industry, plus a frequent contributor to the film industry. A comic book writer and artist, he has worked on such titles as
Kinski
,
Invisible Republic
,
Star Wars: Legacy
,
Planet of the Apes
, and
Savage Hulk
. He also served as storyboard artist for the films
Inception
,
Interstellar
,
Tropic Thunder
, and
X2
.
Aliens / Vampirella #1
will be solicited in Diamond Comic Distributors' July
Previews
catalog, the premiere source of merchandise for the comic book specialty market, corresponding to items shipping in September 2015. Comic book fans are encouraged to reserve copies of
Aliens / Vampirella
with their local comic book retailers.
Aliens / Vampirella
will also be available for individual customer purchase through digital platforms courtesy of Comixology, Dynamite Digital, iVerse, and Dark Horse Digital.
BREAKING: WOLFINGER'S STUNNING CHRISTOPHER REEVE SUPERMAN PORTRAIT DEBUTS IN THE CBR SPEAKEASY
07/01/15 @ 5:24 pm EST
Source:
Comic Book Resources
| Categories:
Superman
|
Comments
(0) |
E-mail Article
|
Add a Comment
When Jonah Weiland said he was commissioning portraits of some of comics culture's superstars to decorate the "CBR Speakeasy," who knew what we were in for. Now we have artist Terry Wolfinger's work blowing my mind. before, It nearly takes my breath away, and I am not even seeing the real portrait!
Wolfinger so beautifully captured so many nuances to many's all-time favorite Superman, Christopher Reeve -- the man most responsible for many folks' love of the Man of Steel -- that they're well worth unpacking for study. Take a good look.
Artwork © 2015 Terry Wolfinger.
Superman © 2014 DC Comics. All Rights Reserved
MATT WAGNER DISCUSSES THE SPIRIT AND WRITING PULP CHARACTERS
07/01/15 @ 5:11 pm EST
Source:
Comic Vine
| Categories:
Dynamite
|
Comments
(0) |
E-mail Article
|
Add a Comment
Writer Matt Wagner discusses The Spirit #1, on sale now!
BYRON BREWER: First, Matt, what does it mean to you as a writer to be a part of returning this iconic character to the printed page for Dynamite?MATT WAGNER:
I've been a fan of Will Eisner and The Spiritsince I was in my early teens. I first discovered the character and his unique adventures via the over-sized B&W reprints of the early 1970s and I was blown away by the artistry of a true story-teller at the absolute peak of his powers and career. I never thought I'd ever contribute anything of my own to that legacy and, in fact, whenDynamite first approached me about this gig, my first response was to say "No." I didn't feel I could add anything to the already fantastic body of work that Eisner had created over the years.But…Dynamite publisher Nick Barrucci and Editor-in-Chief Joe Rybandt were very persistent—"We think you're perfect for this!" In the end, I came up with an approach and storyline that I feel adds something new to the existing canon of Spirit material. I'm thrilled and honored to be on board for this 12-issue arc.
BB: Tell us your perspective: Who is The Spirit?MW:
Well, initially at least, I go about examining that question and his persona via the thoughts, memories and actions of his familiar cast of supporting characters. He's obviously had a huge effect not only on Central City, his main base of operations, but also those who know and love him.The Spirit himself is a very kinetic character, always on the go and always thrusting himself into the jaws of danger almost without a thought for his own safety. He's also got a real boyish element to his persona which makes him totally fun to write. And, of course, he's an absolute magnet for the ladies…most of them from the wrong side of the law.
BB: Can you give us a non-spoilery hint at what your initial storyline involves?MW:
At the start of our tale, The Spirit has been missing in action and presumed dead for nearly two years. He just vanished without a trace and no one has a clue as to what happened to him. As I said earlier, the lead-in to our story focuses on the strip's supporting cast of characters; Commissioner and Ellen Dolan, Ebony White, Officer Klink and Sammy. All of them have tried their best to move on with their lives in the face of this devastating loss but The Spirit's presence still looms large in their rear-view mirrors. I don't want to spoil too much by saying any more but that certainly provides a big mystery to be unraveled.
BB: Is there any extra difficulty in making these pulp characters with built-in fan bases palatable to new readers? How do you achieve that balance?MW:
This set-up gives me the opportunity to re-introduce not only The Spirit's world and his pals but also a cross-section of the most infamous members of his rogue's gallery. It is a bit of a balancing act, trying to write for longtime fans as well as new readers but, in the end, I just try to pen the sort of story that I'd want to read myself. If it's not interesting to me first…I can't make it interesting to my readers.
BB: How is it working with artist Dan Schkade? Why is he the right artist for The Spirit?MW:
We had quite a lengthy search for the perfect artist on this book. The Spirit stands as a classic example of comics noir and adventure but there was also a huge cartoony element that ran throughout the narrative. We found a lot of talented artists that could handle the former but fell flat in regards to the latter. My son, Brennan Wagner, was always on deck to color this project and he kept pushing me to consider Dan Schkade, who is a friend of his. The funny part is, I'd met Dan several years ago when he'd shown me some of his work at a convention, long before he and my son ever even met!It turned out to be the right choice because Dan brings all this elements I mentioned to the drawing board while still injecting a healthy amount of his own sensibilities to the mix. His work is quite a bit different from the standard mainstream look-du-jour but I think that really makes it stand out. He's a really enthusiastic collaborator and in fact, since he lives in the same area as I do, we get together once a week to go over his pages in person.He's super receptive to any guidance I might give him and is really giving this book his all. And his work combined with my son's coloring is a real match made in heaven. Their styles blend seamlessly and the results are lush and evocative.
Check out the rest of the preview below.
BREAKING: MARVEL RELEASES "ALL09NEW, ALL-DIFFERENT" ART, CREATIVE TEAMS
07/01/15 @ 3:19 pm EST
Source:
Comic Book Resources
| Categories:
Marvel
|
Comments
(0) |
E-mail Article
|
Add a Comment
Marvel has been unveiling select new series over the past few weeks, leading up to the revelation of the company's full new October slate. On Tuesday, scanned pages from the special preview magazine featuring its post-"Secret Wars" lineup appeared online. The magazine, which was distributed to comic retailers ahead of today's on-sale date, contains information about the titles the publisher will be shipping in October, once the publisher's line-wide event concludes
.
A-Force #1
W: G. Willow Wilson
A: Jorge Molina
CA: Victor Ibanez
"A-Force to be reckoned with…"
All-New Wolverine #1
W: Tom Taylor A: David Lopez
CA: David Marquez
"Best there is at what she does"
Star-Lord #1
W: Sam Humphries
A: Javier Garron
CA: Dave Johnson
"Feels like the first time. Feels like the very first time."
All-New Hawkeye #1
W: Jeff Lemire A: Ramon Perez
"Hawkeye vs. Hawkeye"
Previously listed as
"Hawkeye"Karnak #1
W: Warren Ellis A: Gerardo Zaffino CA: David Aja
"The flaw in all things"
Nova #1
W: Sean Ryan A: Cory Smith CA: Humberto Ramos
"The family business…"
Carnage #1
W: Gerry Conway A: Mike Perkins CA: Mike Del Mundo
"Descent into madness…"
Ultimates #1
W: Al Ewing A: Kenneth Rocafort
"Ultimate problems need Ultimate solutions."
Venom: Spaceknight #1
W: Robbie Thompson A: Ariel Olivetti
"Sometimes a hero needs a little space…"
Spider-Man 2099 #1
W: Peter David A: Will Sliney CA: Francesco Mattina
"Smack to the future."
Spider-Woman #1
W: Dennis Hopeless A: Javier Rodriguez
"Parent by day. Hero by night."
Web Warriors #1
W: Mike Costa A: David Baldeon CA: Juian Totino Tedesco
"Defending the Spider-Verse"
Amazing Spider-Man #1
W: Dan Slott A: Giuseppe Camuncoli CA: Alex Ross
"Your friendly neighborhood just got bigger."
Daredevil #1
W: Charles Soule A: Ron Garney
"The devil's apprentice"
Howling Commandos of S.H.I.E.L.D. #1
W: Frank Barbiere A: Brent Schoonover
"To fight the monsters of the world…We need the monsters of the night!"
Ant-Man #1
W: Nick Spencer A: Ramon Rosanas CA: Mark Brooks
"Once a criminal…?"
Silk #1
W: Robbie Thompson A: Stacey Lee CA: Helen Chen
"The Sinister Silk"
Spider-Man #1
W: Brian Michael Bendis A: Sara Pichelli
"Welcome to the Marvel Universe, Miles Morales. Hope you survive the experience!"
Uncanny Avengers #1
W: Gerry Duggan A: Ryan Stegman
"Fighting for Humanity, Inhumanity, Mutants…and Deadpool"
Uncanny X-Men #1
W: Cullen Bunn A: Greg Land
"Bigger threats require more threatening X-Men."
All-New X-Men #1
W: Dennis Hopeless A: Mark Bagley
"On a mission to make their own future"
Hitting the road are the teenage Beast, Cyclops, Angel and Iceman along with X-23 in her new Wolverine suit.
Extraordinary X-Men #1
W: Jeff Lemire A: Humberto Ramos
"Still hated. Still feared. Still standing."
Featuring adult Iceman, Storm, Colossus, Magik, Old Man Logan, teen Jean Grey and Nightcrawler.
Old Man Logan #1
W: Jeff Lemire A: Andrea Sorrentino"Older. Wiser. Sharper.""Older. Wiser. Sharper.
Illuminati #1
W: Josh Williamson A: Shawn Crystal CA: Riley Rossmo
"Forever evil."
New Avengers #1
W: Al Ewing A: Gerardo Sandoval
"Avengers Idea Mechanics. We A.I.M. To Help."
Sam Wilson, Captain America #1
W: Nick Spencer A: Daniel Acuña
"Who do you stand with?"
Guardians of the Galaxy #1
W: Brian Michael Bendis A: Valerio Schiti
"The raccoon's in charge."
Scarlet Witch #1
W: James Robinson CA: Kevin Wada
"Seeing red…"
Spider-Gwen #1
W: Jason Latour A: Robbi Rodriguez
"The Secret History of Gwen Stacy and Peter Parker!"
Angela: Asgard's Assassin #1
W: Marguerite Bennett A: Kim Jacinto & Stephanie Hans CA: Julian Totino Tedesco
"Hel hath a new fury."
Drax #1
W: CM Punk with Cullen Bunn CA: Ed McGuinness
"Best in the galaxy"
Ms. Marvel #1
W: G. Willow Wilson A: Takeshi Miyazawa & Adrian Alphona CA: Takeshi Miyazawa
"CRUSHED IT.
"
Deadpool #1
W: Gerry Duggan A: Mike Hawthorne CA: Tony Moore
"More Deadpool than you wanted"
Howard the Duck #1 (Yes, Again.)
W: Chip Zdarsky A: Joe Quinones
"Howard, uh, gets a new hat…"
Squadron Supreme #1
W: James Robinson A: Leonard Kirk CA: Alex Ross
"Sole survivors of their own worlds, they'll do ANYTHING to protect this one."
Agents of S.H.I.E.L.D. #1
W: Marc Guggenheim CA: Mike Norton
"Keeps your friends close and your enemies closer."
The Mighty Thor #1
W: Jason Aaron A: Russell Dauterman
"The flash may be weak but the thunder is strong."
Vision #1
W: Tom King A: Gabriel H. Walta CA: Marcos Martin
"A bold new Vision for the Marvel Universe."
Captain Marvel #1
W: Tara Butters & Michele Fazekas A: Kris Anka
"Captain Marvel rises."
Contest of Champions #1
W: Al Ewing A: Paco Medina
"When heroes gather…"
Uncanny Inhumans #1
W: Charles Soule A: St
eve McNiven
"The silence is broken."
All-New All-Different Avengers #1
W: Mark Waid A: Adam Kubert, Mahmud Asrar CA: Alex Ross
"Earth's mightiest most dedicated heroes."
As previously revealed, the new Avengers lineup is Thor (Jane Foster), Vision, Ms. Marvel, Spider-Man (Miles Morales), Nova, Iron Man and Captain America (Sam Wilson).
Doctor Strange #1
W: Jason Aaron A: Chris Bachalo
"Some surgery requires a scalpel -- some, an axe."
The Totally Awesome Hulk #1
W: Greg Pak A: Frank Cho
"Who is the Hulk?"
Invincible Iron Man #1
W: Brian Michael Bendis A: David Marquez"Upgrade."
GUARDIANS OF GALAXY DIRECTOR JAMES GUNN CALLS ANT-MAN A COMPLETE BLAST
07/01/15 @ 2:14 pm EST
Source:
Comicbook
| Categories:
Marvel
|
Comments
(0) |
E-mail Article
|
Add a Comment
Guardians of the Galaxy
director James Gunn is one of the lucky few who have seen
Ant-Man
already, and he's giving it a pretty strong.
On Facebook, Gunn wrote about the film, saying that it may be Marvel's best since the first
Iron Man
.
Ant-Man may just be my favorite Marvel film since Jon Favreau's Iron Man (well, maybe excluding one film to which I'm partial). Honestly, the movie is a complete blast! I was so happy after seeing it. It's never boring for a second and it's hilarious and warm throughout. It doesn't get caught up in the webbing of its own science-fiction concept like so many movies do these days, remaining simple and elegant. It's a part of the Marvel universe without being ruled by that fact. Paul Rudd is nuanced and charming and funny and is a surprisingly natural fit as a modern superhero (side-fact - Paul must be a nice guy, because he and I dated the same girl in college, and yet I still love him). Michael Peña KILLS IT - this movie is going to make him a huge star. My old pal Judy Greer (she was Deadly Girl to my Minute Man in The Specials (film) many moons ago) is great in a small role. And Michael Douglas is awesome. I think all of Peyton Reed's years directing have led him to making something as deft and nimble and joyous as this; he did an incredible job. And, despite Edgar Wright's parting from Marvel, his spirit is felt through the entire project, and there is no doubt everyone owes him a huge debt of gratitude. I left the theater incredibly happy. So often I see movies by people I love which are just okay - it's great to love a movie as much as I love the people who made it.
TANK GIRL DIRECTOR RETURNING FOR DOCTOR WHO SERIES 9 FINALE
07/01/15 @ 2:10 pm EST
Source:
Comicbook
| Categories:
MIsc
|
Comments
(0) |
E-mail Article
|
Add a Comment
Tank Girl
director Rachel Talalay will direct the two-part Series 9 finale of
Doctor Who
, the BBC announced. Talalay also direct last series' two-part finale, "Dark Water/Death in Heaven."
Episodes 11 and 12 of
Doctor Who
Series 9 are now filming. The episodes are being written by showrunner Steven Moffat, who promises that episode 11 will have a cliffhanger that fans won't see coming.
Talalay tweeted about her return, making a reference to the alien race called the Silence.
The Doctor (Peter Capaldi) and Clara (Jenna Coleman) will return for
Doctor Who
Series 9 this fall.
FEAR THE WALKING DEAD TO BE A FAMILY DRAMA, THREE NEW PHOTOS RELEASED
07/01/15 @ 2:04 pm EST
Source:
Comicbook
| Categories:
Walking Dead
|
Comments
(0) |
E-mail Article
|
Add a Comment
The photos feature Alycia Debnam Carey as Alicia, Kim Dickens as Alicia's mother Madison, and Cliff Curtis as Madison's boyfriend Travis.
Showrunner Dave Erickson also spoke to EW about how the relationships between these characters fuel the series.
"Ultimately, it's a family drama," says Erickson. "One of the things that Robert [Kirkman] and I discussed from the very beginning was, we're starting a little earlier in the apocalypse. And what that allowed us to do in the pilot and season 1 is establish our core family, establish the problems and the conflicts that they have, and really let that be the initial world that we live in. And we layer in the onset of the apocalypse, we layer in our first walkers, but it's really an effort to exacerbate the problems that already exist with Kim Dickens' character and Cliff Curtis' character and their sort of dysfunctional blended family. It's really filtering the apocalypse through that."
Fear the Walking Dead
will premiere on AMC in Aug.