VAMPIRELLA STRIKES! INTERVIEW WITH TOM SNIEGOSKI
11/26/12 @ 6:25 pm EST
Source:
Previews World
| Categories:
Vampirella
|
Comments
(0) |
E-mail Article
|
Add a Comment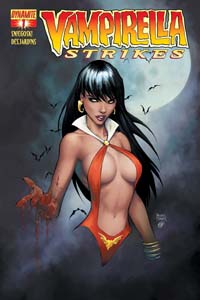 Tom Sniegoski has returned as scribe of Vampirella with Vampirella Strikes #1. Dynamite is so excited to have one of Vampirella's most important writers return to the charcter and he is joined by super hot artist Johnny D! Check out the recent video interview of Tom on Previews World website. Just follow the link to watch!
http://www.previewsworld.com/Home/1/1/71/977?articleID=127548
OLIVE SILVERLOCK, WE KNOW WHAT YOU DID LAST SUMMER…
11/28/14 @ 9:03 pm EST
Source:
DC
| Categories:
DC
|
Comments
(0) |
E-mail Article
|
Add a Comment
SPOILER ALERT:
If you have not read ARKHAM MANOR #2 yet and do not wish to know what happens, stop reading this post now (major spoilers ahead! Again!). If you've been keeping up with the brand new comic book series, GOTHAM ACADEMY, hen you're familiar with the question on everyone's lips: What Happened to Olive Silverlock Last Summer?! Sorry to tease, but we actually don't know what happened to Olive Silverlock last summer!For those who need a quick recap - Olive Silverlock, a second year student at Gotham Academy, has returned to the new school year after experiencing a mysterious event during her summer break. While none of her schoolmates are aware of the event, they do notice a personality change in Olive from last year. Olive's new behavior indicates that whatever happened to her was bad. REALLY, REALLY bad. Check out GOTHAM ACADEMY #1-2 to get caught up. The mystery continues in this week's ARKHAM MANOR #2 as we get a brief but possibly important clue. Bruce Wayne, posing as a patient in Arkham Manor (aka the relocated Arkham Asylum), stumbles upon Sybil Silverlock, who's in a coma!! Is this Olive's mother?And is this a clue to the ongoing mystery? What could have happened to put Sybil Silverlock in Arkham? And why is Sybil referred to as "Calamity"? ARKHAM MANOR #2, written by Gerry Duggan and illustrated by Shawn Crystal, is available in stores now. And look for GOTHAM ACADEMY #3, on shelves next Wednesday!
SUPERMAN BROUGHT DOWN BY A FRIEND?
11/28/14 @ 8:56 pm EST
Source:
DC
| Categories:
Superman
|
Comments
(0) |
E-mail Article
|
Add a Comment
SPOILER ALERT:
If you have not read SUPERMAN #36 yet and do not wish to know what happens, stop reading this post now (major spoilers ahead!).
In last month's we questioned whether Ulysses exodus proposition was too good to be true. IS leaving Earth the only way to solve Earth's problems?
The people of earth who witnessed Ulysses' broadcast seem to have liked what they heard…
"The Men of Tomorrow" continues in Chapter SUPERMAN #36, with droves of people flocking to Ulysses' spaceship, eager to join the expedition to the Fourth Dimension. The scene is quite chaotic as people beg Ulysses to choose them over others.
However, despite Ulysses public invitation to the entire world, apparently 'all earthlings' don't include Ulysses' mother and father. As Ulysses returns to his parents' house after his speech, he tells them they can't accompany him to the Fourth Dimension – for their own safety.
Wait, didn't' Ulysses just publicly declare his world to be a safe haven? How is he protecting his parents by not letting them join the mass departure?
To add more mystery to Ulysses' actions, Ulysses turns on Superman after Superman confronts him about his parents and his exodus announcement… Where is this violence coming from?
As Ulysses totally loses his cool, see below as a fight ensues between Ulysses and Superman, leaving Superman in shreds! What is going on? What does Ulysses mean by saying Earth must pay? Sound off in the comments below!
SUPERMAN #36, written by Geoff Johns and illustrated by John Romita Jr. is available in stores now.
JIM STARLIN: 'MARVEL BASICALLY HAS THREE THANOSES'
11/28/14 @ 8:47 pm EST
Source:
Newsarama
| Categories:
Thanos
|
Comments
(0) |
E-mail Article
|
Add a Comment
Gentle reader, if you are like us at Dynamic Forces, you have been quite confused since the Mad Titan, Thanos, made that secret appearance in the back of the
Avengers
movie and began setting the comics on fire again,.
Are we getting more Thanosi? Will the REAL Thanos please stand up?
Unlike a lot of creators, fan favorite cosmic scribe and Thanos creator Jim Starlin addresses the problem head-on in an interview with Newsarama. Says the Creator:
"If you look closely, you'll see that Marvel basically has three Thanoses. There is the 1970s Thanos appearing in the movies. This is before he got the Infinity Gauntlet. Then there are the Thanos stories I'm telling. And finally, there is the Thanos that appears in the mainstream Marvel stories. All three seem to coexist easily enough, so..."
Works for us at Dynamic Forces! Stay tuned …
KATHRYN LEIGH SCOTT TO APPEAR ON MARVEL'S AGENTS OF SHIELD
11/26/14 @ 10:32 pm EST
Source:
Bleeding Cool
| Categories:
Marvel
|
Comments
(0) |
E-mail Article
|
Add a Comment
This is an interesting story for a unique source – a
Dark Shadows
fan site – that has information about
Marvel's Agents of SHIELD
.
The report says that actress
Kathryn Leigh Scott
, who played
Maggie Evans
on
Dark Shadows
, has been cast in the mid-season premiere of
Agents of SHIELD
scheduled to air March 3rd. We don't know who she is playing, but she had this to say:
"The show is so secretive that I was never given a script, only my dialogue! I am going to respect their desire to keep the story a surprise … besides, I can't provide a synopsis because I have no idea what the story is. My episode will air mid-season and I will supply more information as I get it."
When the show does return, it will be roughly two months prior to
Avengers: Age of Ultron
so it is possible that plot for the episode and maybe even her role is starting to set up for the film. We know how drastically
Captain America: The Winter Soldier
changed the show last season, it would only stand to reason that the show will have strong ties to the
Avengers
sequel.
FOX CASTS OSCAR ISAAC TO PLAY APOCALYSE
11/26/14 @ 10:03 pm EST
Source:
Bleeding Cool
| Categories:
X-Men
|
Comments
(0) |
E-mail Article
|
Add a Comment
Oscar Isaac
(
Star Wars: The Force Awakens
) has signed on to play
Apocalypse
in the upcoming
X-Men: Age Of Apocalypse,
according to Variety.

The film will be based on a Simon Kinberg script and directed by Bryan Singer. It's set in the 1980s and will likely feature Michael Fassbender, Jennifer Lawrenceand James McAvoy as well as younger versions of familiar characters from the franchise.

Besides the upcoming Star Wars film, Isaac also has A Most Violent Yearbeing released in December which could put the actor in the running for some major awards.


'CONSTANTINE' SHOWRUNNER ASKS FOR SUPPORT AFTER FIRST SEASON ENDED AT 13 EPISODES
11/26/14 @ 9:53 pm EST
Source:
ICv2
| Categories:
Constantine
|
Comments
(0) |
E-mail Article
|
Add a Comment


Constantine showrunner Daniel Cerone is asking fans for support to ensure that the show returns for a second season, after production on the first season was ended at the original order of 13 episodes. The order might have been expected to be increased to a full 26 episodes, but the show premiered in late October, and the network was not ready to increase its commitment (or cancel the show) after only four episodes had aired. So production was halted after 13 episodes, but the show still has a chance to return next year, according to Deadline.

Initial ratings on the show have been solid, but apparently not strong enough to get an immediate vote of confidence from NBC.

Now a full-throated effort to rally fans has begun, starting with Cerone's Twitter page, where he's been using the #SaveConstantine hashtage and urging fans to watch to keep the ratings up and convince NBC to continue the show. "We will return if enuf fans watch live 'n rewatch (stream till you drop)," he said. "NBC wants our success and DC is beast. Won't say Die."
'JUSTICE LEAGUE: DARK' SCRIPT COMPLETE
11/26/14 @ 9:50 pm EST
Source:
ICv2
| Categories:
DC
|
Comments
(0) |
E-mail Article
|
Add a Comment
Guillermo del Toro has confirmed that the screenplay for his DC Comics Justice League: Dark adaptation has been completed, and has been sent to Warner Bros. for weekend reads, Forbes is reporting.

Tentatively titled Dark Universe, updates have been sporadic, with the most recent being del Toro's confirmation this summer that the project was still in the works. He confirmed at that time that the film will not be set in continuity with the TV adaptation of NBC's Constantine, which itself is currently sitting in a bit of limbo.

The Dark Universe film was not explicitly named in Warner Bros. recent five year date reservation slate.
TEXAS DA COMICS THEFT - THE SEQUEL
11/26/14 @ 9:47 pm EST
Source:
ICv2
| Categories:
MIsc
|
Comments
(0) |
E-mail Article
|
Add a Comment
A second investigator from the Harris County, Texas District Attorney's office has been indicted in the theft of valuable comics stolen from evidence, according to The Houston Chronicle, Dustin Deutsch was indicted by a Harris County grand jury this week for felony theft by a public servant and tampering with evidence.

The comics came from the collection of Anthony Chiafalo, a corrupt attorney who was convicted of embezzling $9 million from a client and using the money to buy collectables (among other goodies), including a Detective #27 worth $850,000 and other key books.

Deutsch's former partner at the DA's office, Lonnie Blevins, stole comics worth over $5,000 from an evidence locker for the Chiofalo case and was found out after selling the comics at a convention in Chicago. Blevins pleaded guilty in the theft in May, and is currently awaiting sentencing. Blevins' sentencing was delayed because he was cooperating with investigators; his former partner's indictment is presumably an outcome of that cooperation. Deutsch was suspended after Blevins' arrest, and later resigned, but was not accused in the incident until now. (Via ICv2)
JAMES CAMERON SAYS AVATAR SEQUELS WILL MAKE 'YOU S**T YOURSELF'
11/26/14 @ 9:42 pm EST
Source:
IGN
| Categories:
MIsc
|
Comments
(0) |
E-mail Article
|
Add a Comment


Avatar director James Cameron says his planned trilogy of sequels will have a very, um, specific effect on the viewer.

"They're gonna be bitchin'. You will s**t yourself with your mouth wide open," the Oscar-winning filmmaker told Empire.

Cameron also said that he has decided against shooting the film in the 60 frames-per-second frame rate, opting to shoot it at 48 fps instead.

He also revealed the curious process of working with four screenwriters Rick Jaffa, Amanda Silver, Josh Friedman and Shane Salerno on writing Avatar 2-4,

"I think we met for seven months and we whiteboarded out every scene in every film together," Cameron said, "and I didn't assign each writer which film they were going to work on until the last day. I knew if I assigned them their scripts ahead of time, they'd tune out every time we were talking about the other movie."
A STONE OF INFINITE POWER WILL CHANGE THE WORLD OR DESTROY IT
11/26/14 @ 9:22 pm EST
Source:
Afterburn
| Categories:
MIsc
|
Comments
(0) |
E-mail Article
|
Add a Comment
New to Afteburn this February, 2015 comes from Robert W. Hickey and Tom & Mary Bierbaum's a tale of Time Travel, Enhancers and Unity - STORMQUEST: TIMESTORM.
When an experiment with an unearthly stone goes terribly wrong, a family, victims of their own curiosity, struggles through an adventure in time as each member adapts to new abilities and meeting both new friends and foes along the way. This is the beginnings of the StormQuest Foundation, a team assembled to monitor and protect the ominous time storm.
STORMQUEST: TIMESTORM
is the starting point that leads directly into an all new series from Afterburn PARDOX WARS shipping summer of 2015.
Robert W. Hickey (Paradox Wars), Tom & Mary Bierbaum (Legion of Superheroes), Greg Land (Iron Man, Avengers), Willie Peppers (Southern Knights), Bill Nichols, Jerry Foley
StormQuest: Timestorm Graphic Novel #1 - 160 pgs, Full Color, Soft Cover, Perfect Binding. - SRP $19.99