VAMPIRELLA STRIKES! INTERVIEW WITH TOM SNIEGOSKI
11/26/12 @ 6:25 pm EST
Source:
Previews World
| Categories:
Vampirella
|
Comments
(0) |
E-mail Article
|
Add a Comment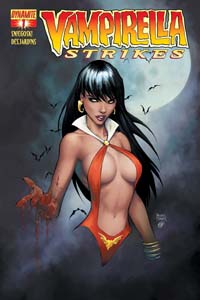 Tom Sniegoski has returned as scribe of Vampirella with Vampirella Strikes #1. Dynamite is so excited to have one of Vampirella's most important writers return to the charcter and he is joined by super hot artist Johnny D! Check out the recent video interview of Tom on Previews World website. Just follow the link to watch!
http://www.previewsworld.com/Home/1/1/71/977?articleID=127548
TITAN COMICS LAUNCHING BEST OF BRITISH THIS MAY
02/28/15 @ 8:23 pm EST
Source:
Flickering Myth
| Categories:
MIsc
|
Comments
(0) |
E-mail Article
|
Add a Comment
Launching this May from Titan Comics is the Best of British month, which will see some amazingly talented people being celebrated,whilst supporting bold new visions!
With such names as Si Spurrier, PJ Holden, Rob Williams, D'Israeli, Alan Martin, Monty Nero plus many more appearing, this is going to be quite exciting.
Best Of British month will be supported with promotions, events and it'll be kicking off with Free Comic Book Day.
GOD IS DEAD IN THIS TPB (VOLUME 5)
02/28/15 @ 8:17 pm EST
Source:
Avatar
| Categories:
MIsc
|
Comments
(0) |
E-mail Article
|
Add a Comment
Mike Costa's unbelievable ongoing story of divine wrath begins to draw all of its myriad strings together for what is the culmination of centuries worth of god wars on Earth.
The war ravaged planet has endured more than anyone could have imagined at the hands of the greedy gods. But now the master plans of the most devious dieties begin to unfold as century old machinations begin to be revealed.
What will happen in a world where the gods ravage mortals like playthings? You can find out in God is Dead Vol 5 TP due in comic shops this May!
ALAN MOORE'S PROVIDENCE #1 FROM AVATAR
02/28/15 @ 8:14 pm EST
Source:
Avatar
| Categories:
MIsc
|
Comments
(0) |
E-mail Article
|
Add a Comment
Avatar Press is proud to announce the long awaited Alan Moore original Lovecrafitan horror series, Providence is finally here! Over two years of development has lead us to a pivotal point in comic book history. Alan Moore, the man who redefined comic books, once again joins his artistic collaborator Jacen Burrows to create an unparalleled work of fiction.

Providence #1:

The most important work of 2015 begins here with the longrrival of Alan Moore's breathtaking epic PROVIDENCE with his artistic partner Jacen Burrows. In his most carefully considered work in decades, Moore deconstructs all of Lovecraft's concepts, reinventing the entirety of his work inside a painstakinglyramework of American history. Both sequel and prequel to NEONOMICON, PROVIDENCE begins in 1919 and blends the mythical visions of HPL flawlessly into the cauldron of racial and sexual intolerance that defined that era on the East Coast of America. Every line from artist Jacen Burrows is perfectly honed to complete this immersive experience. The result is a breathtaking masterpiece of sequential art that will define modern horror for this generation. Invoking a comparison it to a prior literary masterpiece is not something to be handled lightly, but in scope, importance and execution: Providence is the Watchmen of horror.

Moore has designed every cover, every single page, and every nuance of this work to create his most fully-realized vision to date. There are no ads, all 32 pages are written by Moore, and Jacen Burrows has spent the past two years slaving over the finest detail possible on the pages. The entire work is already written, intricately crafted to tie the most nuanced threads together over the breadth of theries. Painstakingly researched, meticulously produced, this is a sequential masterpiece that will serve as important a call to the next generation of comic book writers as Watchmen did 30 years ago: this is a definitive demonstration of just how good a comic book can be. Available with Regular, Pantheon, Portrait, Dreamscape Wraparound, Women of HPL, and a special Ancient Tome Incentive cover, all by collaborator Jacen Burrows.




HARRISON FORD TO REPRISE ROLE IN "BLADE RUNNER" SEQUEL
02/28/15 @ 8:01 pm EST
Source:
CBS News
| Categories:
MIsc
|
Comments
(0) |
E-mail Article
|
Add a Comment
Harrison Ford is set to reprise his role as Rick Deckard in a sequel to the dystopian, neo-noir "Blade Runner," more than 31 years after the film first premiered.
Ridley Scott directed the 1982 movie, which was adapted from the Philip K. Dick novel "Do Androids Dream of Electric Sheep."
Alcon Entertainment announced Ford's role Thursday and said Scott will serve as an executive producer on the sequel.
Production on the film will begin in the summer of 2016.
Hampton Francher, who co-wrote the original, and Michael Green have written a script based on an idea from Francher and Scott.
The story will take place several decades after the events at the conclusion of the 1982 film.
A director has not yet been cofimed for the project.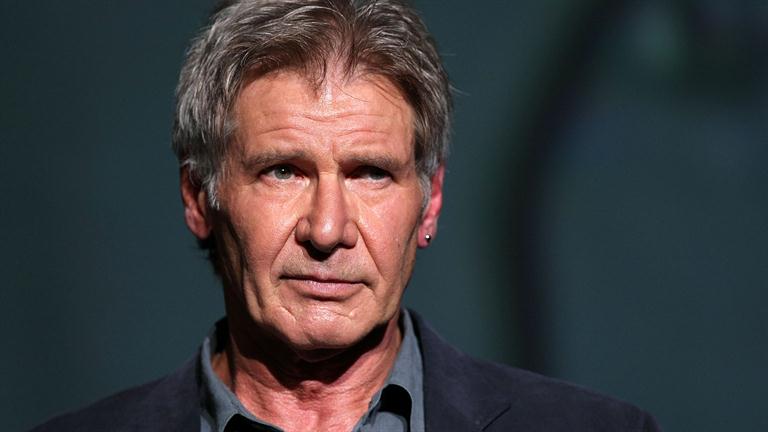 DANIEL CRAIG REPORTEDLY INJURED FILMING "SPECTRE" IN ROME
02/28/15 @ 7:51 pm EST
Source:
CBS News
| Categories:
MIsc
|
Comments
(0) |
E-mail Article
|
Add a Comment
James Bond's newest nemesis isn't a super villain or fellow spy -- it's the cobblestoned streets of Rome.

Current 007 Daniel Craig was reportedly injured in the Eternal City while filming a car chase scene for "Spectre," the next installment in the Bond franchise. The accident is said to have taken place earlier this week while Craig was riding in one of the Aston Martin DB10 cars custom made for the film, according to Italy's La Repubblica. The car hit one of the Rome's notorious potholes, causing the British star to hit his head on the car's interior.Craig was seen by a doctor, according to Britain's Telegraph, and flew to London the next day, as had been slated on the production's timetable.

The Aston Martin was being driven by a stuntman sitting in a metal cage fixed to the roof of the car when the alleged incident happened, the Telegraph reports.

The reported mishap has revived a longtime controversy in Rome over thesanpietrini, as the potholes are called.








"THIS ISSUE PLAYS OUT MORE LIKE A HORROR FILM" – TROY BROWNFIELD ON BLOOD QUEEN VS DRACULA #3
02/28/15 @ 7:31 pm EST
Source:
Bleeding Cool
| Categories:
Blood Queen Vs Dracula
|
Comments
(0) |
E-mail Article
|
Add a Comment
Troy Brownfield
based the character of the
Blood Queen
on one of the most prolific, real-life serial killers in history,
Elizabeth Bathory
. Now he's taken that character and put her up against one of the most prolific killers in literature,
Count Dracula
.
Byron Brewer
chatted with Brownfield about the third issue in this Vs. series for
Dynamite Entertainment
Cover art by
Jay Anacleto
and
Fabiano Neves
.
Dynamite May 2015 Interview: Troy Brownfield @ Blood Queen vs. Dracula #3
BYRON BREWER: In May, Troy, we are at #3, the penultimate issue in this miniseries. What can we look forward to by way of excitement to prepare for our journey's end?TROY BROWNFIELD:
This issue plays out more like a horror film. After turning two of Elizabeth's students in the previous issue, Dracula's back for revenge, and of course, blood. It's a bit of a twist on "something's haunting the castle" kind of stories with Elizabeth as our extremely capable "Final Girl".
BB: Drac "lays siege to the Blood Queen's castle" this issue? Ouch! Difficult scene to write, sir?TB:
Not really, because I had such a great time with it. There's a sequence on the castle stairs in partial darkness that was my favorite thing to put together for the issue. I'm really looking forward to seeing how the excellent team of Kewber Baal, Kirsty Swan and Marshall Dillon makes it all look. They are incredible talents and half of the fun is seeing how they interpret the ideas.
BB: A little bat told me Elizabeth may have a surprise for the Lord of the Undead as he tries to get her to join his unholy army. Any non-spoilery hints? (smile)TB:
I won't say much, except that you can NEVER count the Blood Queen out. If you look back to her previous series, she was responsible for outwitting and defeating a number of seemingly stronger opponents. She vanquished her own mentor, she handily took down the king's wizard, and in the interim, she won herself a kingdom. She does not treat opposition lightly. Even if that opposition is the Lord of Vampires.
BB:
You seem to love these period-shrouded sagas. How much time do you put into your research?
TB:
Can I just say "a lot"? (
laughs
) It's important to me as both a writer AND a reader to get things right, or as close to right as I can. Here's an example: I was a teenager in the 1980s, and more recent films that take place in the '80s frequently bug me because they act as if "The 80s" all happened at the same time. It's not true; there were phases and movements in culture. If you do a scene in 1982, you can't have The Pixies on the radio, for example; they didn't form until '86. And so on. With this, Kewber and I were sensitive to era-appropriate armor and weaponry. Like the cannon in #1; I was so happy to find that that monster fit the timeline.
BB: How has it been working on this with artist Kewber Baal?TB:
He's okay. (
laughs
) Kewber is great. He's very focused on doing the best possible job. He's always asking me about sketches and finished pages; he wants me to see everything as it happens to make sure that he's realizing what I "saw" as writer and to make sure that there isn't anything that he needs to change, etc. He excels at the action and suspense.
BB:
Will, as with the end of her last mini, the saga of the Blood Queen continue elsewhere? If so, where and when?TB:
We can't say for certain at this point, but if Dynamite wants to have me do more
Blood Queen
, I know EXACTLY what we would do next.
STAR WARS #1 GETS A REPRINT – MAY THE FOURTH BE WITH YOU
02/28/15 @ 7:25 pm EST
Source:
Bleeding Cool
| Categories:
Star Wars
|
Comments
(0) |
E-mail Article
|
Add a Comment
Both
Darth Vader
#1 and #2 have sold out and gone to second printings.
They are joined by
Spider-Gwen
#1 which has just as predictably gone to second printing.
And
Star Wars
#1? Gone to a fourth printing.
Expect them all to arrive instore on April 1st.
HERE ARE YOUR FAVORITE NFL PLAYERS AS YOUR FAVORITE SUPERHEROES
02/28/15 @ 1:43 pm EST
Source:
Comic Book Resources
| Categories:
MIsc
|
Comments
(0) |
E-mail Article
|
Add a Comment
For many, stars of professional sports
are the closest things to real life superheroes. They're bigger, stronger, and faster than seems humanly possible. They're able to perform feats beyond the capabilities of your average individual, jumping and twisting and barreling through opponents.
But just imagine: If the stars of the NFL really
were
superheroes of comic book lore, who would be whom? The folks at NFL Memes went and matched up the biggest names in football
with the biggest characters in comics to answer that question with these incredible mashup renditions. Some are obvious, like Calvin Johnson as Megatron and Cam Newton as Superman, but others are pretty spot on. There's Odell Beckham Jr. as Spider-Man, Peyton Manning as Iron Man, Rob Gronkowski as Thor, and – perhaps best of all – Andrew Luck as the Beast.
RED SONJA FILM GETS NEW SCREENWRITER
02/28/15 @ 1:31 pm EST
Source:
Bleeding Cool
| Categories:
Red Sonja
|
Comments
(0) |
E-mail Article
|
Add a Comment
A new
Red Sonja
film has been in the works for quite some time now. It once had
Robert Rodriguez
(
Sin City
) attached to direct as a potential vehicle for his then-girlfriend
Rose McGowan
. At another point writer / director
Doug Aarniokoski
was working on it… but the project set up with
Nu Image
/
Millennium Films
just hasn't moved forward much.
Word now is that
Christopher Cosmos
has been brought on as screenwriter. Cosmos is a former VP of the managment-production company
Benderspink
who left to pursue screenwriting. He sold his first script,
The Fall
, a post-apocalyptic thriller in 2012.
Red Sonja was created by
Roy Thomas
and
Barry Windsor-Smith
, basing her on the
Robert E. Howard
character of
Red Sonya of Rogatino
from the 1934 short story
Shadow Of The Vulture
. She first appeared in
Conan The Barbarian
#23 in 1973 for
Marvel Comics
and eventually lead to the 1985 film starring
Brigitte Nielson
.
The character's popularity waned for a while until around 2005 when
Dynamite Entertainment
secured the rights from
Red Sonja LLC
to publish new comics about the heroine. Dynamite has continued to publish the character for 10 years including the current on-going series by
Gail Simone
and
Walter Geovani
as well as including her in their newest event series
Swords of Sorrow
.
CALIBER TO RELEASE 2 NEW GRAPHIC NOVELS AND A COMIC WRITING GUIDE
02/28/15 @ 1:26 pm EST
Source:
Bleeding Cool
| Categories:
MIsc
|
Comments
(0) |
E-mail Article
|
Add a Comment
Caliber Comics
is bringing three new books to the comic market:
Nain Rouge: The Red Legend
,
Knights of the Skull: Tales of the Waffen SS
and
Comics Writing: Communicating With Comic Books
.
Nain Rouge: The Red Legend
by
Josef Bastian
,
Carl Winans
and
Patrick McEvoy
is the story of two average middle schoolers on a field trip to the Detroit Institue of Arts when they encounter the Nain Rogue (French for Red Dwarf). The Nain Rogue, as the "Steward of Straits", was responsible for keeping harmony and balance in the natural world but when Antoine de Mothe Cadillac and French settlers arrived in the 1600s, a quarrel began and soon this turned into an angry brawl. It is said that as The Nain Rouge was chased away, a curse was flung from its lips onto the entire region of Detroit. The curse, it is rumored, befalls anyone who creates evil of their own will, and this will empower the Nain Rouge with greater strength throughout the centuries. And during the course of these centuries it has appeared to unsuspecting residences just prior to tragedy or misery befalling the person or area…
Knights of the Skull: Tales of the Waffen SS
by
Wayne Vansant
is collection of tales involving the German Waffen SS panzer tank units from World War II. Here Vansant brings us main stories called Battle Group Peiper and Witches' Caldron, along with three short tales. Knights of the Skull covers the war experiences of young German troops on the Eastern Front; to the massacre of American troops near Malmedy on the Western Front; to the harsh conditions of a crushing winter and engagements against an unrelenting Soviet troop onslaught in the Battle of Cherkassy.
Comics Writing: Communicating With Comic Books
unveils the basics in comics writing from
Steven Philip Jones
, a professional comic book writer and instructor. Comics Writing shows you the step-by-step process of creating a comics script and how it is turned into a finished comics page. With the help of examples and comic book illustrations, this book will introduce you to: the different styles of comic book scripts; the tools of cartoon communications like panels, borders, and speech balloons; how to write a story as a comics script; the collaborative process between writer and artists; how to find and develop ideas for your comics stories; tips on creating characters; how to avoid common mistakes new comics writers often make; and other tips of the trade. If you're a writer wanting to find out how to write comic books, or if you are any kind of communicator wanting to learn the basics of communicating by using the comics medium Comics Writing can be a valuable tool.