VAMPIRELLA STRIKES! INTERVIEW WITH TOM SNIEGOSKI
11/26/12 @ 6:25 pm EST
Source:
Previews World
| Categories:
Vampirella
|
Comments
(0) |
E-mail Article
|
Add a Comment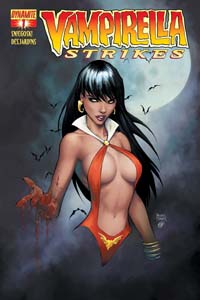 Tom Sniegoski has returned as scribe of Vampirella with Vampirella Strikes #1. Dynamite is so excited to have one of Vampirella's most important writers return to the charcter and he is joined by super hot artist Johnny D! Check out the recent video interview of Tom on Previews World website. Just follow the link to watch!
http://www.previewsworld.com/Home/1/1/71/977?articleID=127548
THE RETURN OF BIG BANG COMICS WITH BIG BANG UNIVERSE
01/24/15 @ 12:44 pm EST
Source:
Bleeding Cool
| Categories:
MIsc
|
Comments
(0) |
E-mail Article
|
Add a Comment
Big Bang Comics first appeared in 1994, with a five issue mini-series from Caliber Comics. Two years later the second series came out from Image Comics, helped by the fact that co-creator Gary Carlson first published Savage Dragon and Youngblood in his Megaton Comics anthology,

The series ran intermittedly from 1993 until 2001, concluding with a Big Bang Comics Vs. 1963 issue #35 and a series of specials. After this, Carlson and Chris Ecker self published comics as Big Bang Presents and ran an accompanying webcomic strip.

But in April, the series returns from AC Comics as Big Bang Universe.
DARK HORSE AND NAUGHTY DOG JOIN FORCES FOR THE ART OF THE UNCHARTED TRILOGY
01/24/15 @ 12:37 pm EST
Source:
Dark Horse
| Categories:
Dark Horse
|
Comments
(0) |
E-mail Article
|
Add a Comment
Hot off the success of
The Art of The Last of Us
and
The Art of Naughty Dog
, Dark Horse Comics and Naughty Dog are launching
The Art of the UNCHARTED
Trilogy
in April 2015.
A breathtaking, comprehensive exploration into the critically acclaimed UNCHARTED™ video game franchise,
The Art of the UNCHARTED
Trilogy
offers a detailed look at the art of one of the most exciting game series of this generation. Filled with never-before-seen art from Naughty Dog spanning UNCHARTED: Drake's Fortune™, UNCHARTED 2: Among Thieves™, and UNCHARTED 3: Drake's Deception™, with insightful commentary from the games' creators, this epic volume is an incredible opportunity to own a piece of UNCHARTED history.
"With each UNCHARTED game we make we strive to set a new bar for video game art, design, and tech," said Erick Pangilinan, art director at Naughty Dog. "This book is an inside look at our creative process, the technology, and the artistry that goes into making Nathan Drake's adventures come to life. Fans of the series and art in general will find many hidden treasures in this book."
Available in April,
The Art of the UNCHARTED Trilogy
retails for $39.99.
DARK HORSE ANNOUNCES THE ART OF SATOSHI KON
01/24/15 @ 12:35 pm EST
Source:
Dark Horse
| Categories:
Dark Horse
|
Comments
(0) |
E-mail Article
|
Add a Comment
This August, Dark Horse remembers an animation legend and his works with
The Art of Satoshi Kon
.
A director who blazed a brilliant animation career before his tragic passing in 2010, Kon is immortalized in this special hardcover volume that covers the whole of his incredible career. Encompassing everything from illustrations for his movies
Perfect Blue
,
Tokyo Godfathers
,
Millennium Actress
, and
Paprika
and his television series
Paranoia Agent
, to his manga, commercial art, and more,
The Art of Satoshi Kon
is an oversized, 136-page tribute to a master of anime filmmaking.
Including a special appreciation from Darren Aronofsky,
The Art of Satoshi Kon
celebrates a lifetime of Kon's work, including several little-known and incomplete projects.
The Art of Satoshi Kon
retails for $29.99.
ODDLY NORMAL CONJURES UP ADVENTURE IN MARCH
01/24/15 @ 12:34 pm EST
Source:
Image
| Categories:
Image
|
Comments
(0) |
E-mail Article
|
Add a Comment
The charming and otherworldly ODDLY NORMAL by Otis Frampton tells the story of a girl who doesn't feel like she fits in, no matter where she goes. The young heroine of the March graphic novel from Image Comics endures the bullying of other kids for her green hair and pointed ears. Oddly got those traits from her mother, who is a witch, but didn't get the ability to use magic along with them. Or so she thought.
A fateful wish on her 10th birthday leads to her parents disappearing, and Oddly must travel with her eccentric Auntie to Fignation, the weird world of supernatural beings, to find out how to get them back — if she can get them back. There, as the first "Earther" that her new classmates have ever seen, Oddly feels as much of an outsider as ever.
"Oddly's parents may have had a fairy tale romance, but kids (especially kids whose parents are from different cultures) often have to blaze their own trail," Frampton said in an interview at the Los Angeles Times' Hero Complex. "The Oddly we meet at the start of the story is a sullen, reclusive kid. She's become somewhat numb to insults and really doesn't do much to make friends."
How will Oddly navigate the perils of a magical middle school
and
find her parents? And will she ever find a place where she's accepted? One thing is sure, though — Oddly is going to have to learn to stand up for who she is if she's ever going to have any hope of being happy, wherever she ends up.
Perfect for fans of Raina Telgemeier's graphic novels and A Wrinkle in Time, ODDLY NORMAL, BOOK 1 will be in comic book stores on March 11 and in bookstores on March 24. It is specially priced at $9.99 and available for pre-order now.
THRILLING ADVENTURE HOUR… SPARKS NEVADA: MARSHAL ON MARS #1—TWO VARIANTS REVEALED!
01/24/15 @ 12:24 pm EST
Source:
Image
| Categories:
Image
|
Comments
(0) |
E-mail Article
|
Add a Comment
Ben Acker and Ben Blacker's all-new series inspired by the hit Nerdist podcast Thrilling Adventure Hour to be titled THE THRILLING ADVENTURE HOUR PRESENTS… SPARKS NEVADA: MARSHAL ON MARS featuring a variant cover by Jamie McKelvie and a photo variant of both creators in retro Thrilling Adventure Hour style.
In SPARKS NEVADA: MARSHAL ON MARS #1 you'll want to shine your astro spurs and don your robot fists! Justice rides a rocket steed across the crimson plains of the fourth planet, where one man brings fear to robots and aliens...and hope to humans who make this frontier planet their home. He is...SPARKS NEVADA: MARSHAL ON MARS by Acker & Blacker, J. Bone, Jordie Bellaire & Marshall Dillon.
THRILLING ADVENTURE HOUR...SPARKS NEVADA: MARSHAL ON MARS #1 will be available on February 18. Cover A can be ordered with Diamond Code DEC140625. Cover B by Jamie McKelvie can be ordered with Diamond Code DEC148194. Cover C can be ordered with Diamond Code DEC148195.
EVEN SUPERMAN'S JOKER HAS IT OUT FOR BATMAN
01/24/15 @ 12:19 pm EST
Source:
DC
| Categories:
Batman Superman
|
Comments
(0) |
E-mail Article
|
Add a Comment
Since BATMAN/SUPERMAN #16, Superman has been on a wild goose chase trying to find the one responsible for destroying the people closest to him.
With the mysterious villain revealing himself to be more and more like Batman's famous villain, The Joker, it's no wonder why Superman seeks Batman's help to catch him.
Superman's hunt for his "Joker" continues in BATMAN/SUPERMAN #18.Heeding Batman's warning that his "Joker" is out to harm those most vulnerable in his life, Superman rushes to save the one person the team believes to be most dearest to him: Lois Lane.
Rushing to save Lois, the Super Heroes quickly find out "Superman's Joker" may be more complex than they had originally thought…
Taking the group by surprise with a Kandorian bullet, see below as Batman uses Lois as bait to lure "Superman's Joker" only to find that he himself was the real target!
Who is "Superman's Joker?" Are we any closer to finding out? Will the superheroes save the Kandorians before they're all used as bullets?
BATMAN/SUPERMAN #18, written by Greg Pak and illustrated by Ardian Syaf, is available in stores now.
THE NOCTURNALS RETURN DOWN A SINISTER PATH
01/23/15 @ 7:43 pm EST
Source:
Bluewater
| Categories:
MIsc
|
Comments
(0) |
E-mail Article
|
Add a Comment
On the heels of the release of
Enchantress
and
Nocturnals: Legend
, a Kickstarter campaign to fund the next hard-boiled tale from Dan Brereton's Nocturnals rocketed past the initial funding goal in less than 72 hours.
The Sinister Path
will be the first original story centered around Brereton's band of Halloween-inspired pulp/horror characters since 2008. First published in 1994, the Nocturnals have become the greatest single work produced yet by painter and writer Dan Brereton, also known for his work on
Batman: Thrillkiller, Superman and Batman: Legends of the World's Finest,
and
JLA: Seven Caskets
.
The Nocturnals tells the story of occult adventurer Doc Horror, his clairvoyant daughter Eve (aka Halloween Girl), her silent guardian Gunwitch, and their band of monstrous allies as they deal with aliens, mobsters, and, of course, creatures of the night.
Sinister Path will see the return of fan-favorites like Polychrome, Starfish, Firelion, and the Raccoon as well as the addition of Jammybottoms, another doll in Eve's menagerie of possessed poppets linked to the phantasms that now stalk her. A new band of elder Nocturnals will also emerge as the Children of the Judge, a malevolent mirror version of Horror's group. Sinister Path is now projected to unlock its' third stretch-goal in as many weeks which will include an expanded 80 page fully-painted layout available only through the Kickstarter Project. Brereton stated earlier this week, "material previously slated to be cut from the script will now be restored making the project even more lush and involved. The swell of support has been simply amazing and incredible!"
Pledge levels range from a $5 PDF copy up to $7,000 that includes the painted original art used for the book's wraparound cover. Other pledge levels included sketched versions, blank covers for future art acquisition, and original art.
RIFF WITH 'MYSTERY SCIENCE THEATER 3000' CREATOR JOEL HODGSON AT WIZARD WORLD PHILADELPHIA
01/23/15 @ 7:27 pm EST
Source:
Wizard World
| Categories:
MIsc
|
Comments
(0) |
E-mail Article
|
Add a Comment
It's been named one of the "top 100 TV shows of all time" on numerous lists, and now "Mystery Science Theater 3000" gets the Wizard World treatment when creator Joel Hodgson appears at Wizard World Comic Con Philadelphia, May 8-10.

Also the host of the venerable, Peabody-award winning series for its first 100 episodes, Hodgson began as a stand-up comedian, appearing on "HBO's Young Comedians Special" as well as "the Late Show with David Letterman" on CBS and NBC's "Saturday Night Live". Joel also had several appearances on the beloved "Freaks and Geeks" TV series on NBC.

He has also served as a writer for more than 100 episodes of Jimmy Kimmel Live.

In addition to meeting fans, signing autographs and posing for photo ops, Hodgson will host a special MST3K Q&A during the event at the Pennyslvania Convention Center.
CINDY MOON SWINGS SOLO IN YOUR FIRST LOOK AT SILK #1
01/23/15 @ 7:15 pm EST
Source:
Marvel
| Categories:
Marvel
|
Comments
(0) |
E-mail Article
|
Add a Comment
This February, straight from the pages of
Amazing Spider-Man
and
Spider-Verse
comes a brand new ongoing series starring the newest heroine of the Marvel Universe. Today, Marvel is proud to present your first look at
SILK #1
, the new series writer Robbie Thompson (writer for TV's
Supernatural)
and rising star artist Stacey Lee!
Cindy Moon exploded out of her bunker and into the
Marvel Universe in the pages of
Amazing Spideer-Man
and she never looked back. Bit by the same radioactive spider that gave Peter Parker his powers on that fateful day, she's spent her years locked away in a bunker, safe from the threat of Morlun and the Inheritors. Since then, she's saved Peter Parker's life (more than once), fought alongside Spider-Woman, braved the Spider-Verse and more!
"Cindy fascinates me," says series writer Robbie Thompson, in an interview. "She gave up 10 years of her life and the world moved on without her. What does that do to a person?"
Now, Cindy is back in New York City, patrolling it's rooftops as SILK! And she's going to make up for lost time. Searching for her past, defining her own future, and webbing wrong-doers along the way. Now is your chance to hop on board one of the slickest new launches of 2015 as
SILK #1
swings in to comic shops this February!
SILK #1 (DEC140837) Written by ROBBIE THOMPSON Art by STACEY LEE Cover by DAVE JOHNSON Variant Covers by STACEY LEE (DEC140838) And SKOTTIE YOUNG (DEC140839) FOC – 1/26/15, On Sale – 02/18/15
THE FUTURE OF THE MARVEL UNIVERSE UNFOLDS IN 'WARZONES'
01/23/15 @ 7:06 pm EST
Source:
Marvel
| Categories:
Marvel
|
Comments
(0) |
E-mail Article
|
Add a Comment
The future begins here! When everything ends, there is only Secret Wars. Today, Marvel is proud to announce
WARZONES!
, the final umbrella of titles launching during Secret Wars!
WARZONES!
joins
LAST DAYS
and
BATTLEWORLD
as the three different categories of titles launching throughout Secret Wars, each with their own unique type of story to tell!
"If you want a glimpse of what the future holds, you'll find it in the
WARZONES
titles," says Marvel Editor-in-Chief Axel Alonso. "Our creators let their imaginations run wild as they lay down the foundations for the future. Whether we're revisiting the most popular events from Marvel's past or telling completely new stories, you won't believe what we've got in store for you."
All that remains in the cosmos is Battleworld, the strange, patchwork realm playing host to countless realities, all existing side-by-side, fused into a single planet! Titles carrying the
WARZONES!
banner tell stories of the individual dominions of Battleworld. What happens within their borders? What heroes guard their skies? What villains conspire within? How does over 75 years of Marvel's epic history play out now that Battleworld is all there is?
"To be clear,
WARZONES!
titles
are
NOT fill-ins
.
These are the event caliber books, magnified to the Nth degree," says Marvel SVP Sales & Marketing David Gabriel. "
Secret Wars
has afforded us a completely unique opportunity to tell huge, epic, event-sized stories within the framework of this new, patchwork planet – events within events. These titles will lay the building blocks and groundwork for what's next, if that gives any indication of how important they are!"
While the Secret Wars rage on, the foundation of a new Marvel Universe take shape within the war-torn domains across Battleworld. The future of Marvel begins in the
WARZONES!