VAMPIRELLA STRIKES! INTERVIEW WITH TOM SNIEGOSKI
11/26/12 @ 6:25 pm EST
Source:
Previews World
| Categories:
Vampirella
|
Comments
(0) |
E-mail Article
|
Add a Comment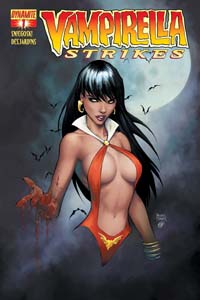 Tom Sniegoski has returned as scribe of Vampirella with Vampirella Strikes #1. Dynamite is so excited to have one of Vampirella's most important writers return to the charcter and he is joined by super hot artist Johnny D! Check out the recent video interview of Tom on Previews World website. Just follow the link to watch!
http://www.previewsworld.com/Home/1/1/71/977?articleID=127548
FIRST PHOTOS OF FINN JONES AS IRON FIST EMERGE
05/02/16 @ 4:55 pm EST
Source:
Bleeding Cool
| Categories:
Iron Fist
|
Comments
(0) |
E-mail Article
|
Add a Comment
Comingsoon.net has posted a few photos of actor
Finn Jones
as Danny Rand in
Marvel
and
Netflix
's upcoming
Iron Fist.

As this photo illustrates, Danny looks a little unkempt. Or, at least, a little more casual than most of the people we've seen on the streets of Marvel's Manhattan. In the series, Danny returns to New York after a number of years away. He will bring his mastery of martial arts and the Iron Fist to the city's criminal underworld.
Iron Fist
will debut on Netflix in 2017.
INTERNATIONAL TEASER FOR FLASH, ARROW AND LEGENDS HAS SPOILERISH RETURNS
05/02/16 @ 4:52 pm EST
Source:
Bleeding Cool
| Categories:
DC
|
Comments
(0) |
E-mail Article
|
Add a Comment
A Youtube channel called
Arrowverse
has posted an international teaser for
The Flash
/
Arrow
/
Legends of Tomorrow
. And the footage shows some potential spoilers for two characters' returns.
If you don't want to know, don't click the video or go any further in the article.
Video:
https://www.youtube.com/watch?feature=player_embedded&v=xVzvzf0b1lU
So, the two things we at DF News caught were a brief glimpse of
Deathstroke
fighting a tuxedo wearing
Oliver Queen
and
Barry Allen
in his
Flash
costume talking to his mother. Now we know that it's this year's Barry as he has the white symbol on his chest. And we know he disappears for a bit coming up. Maybe the two are tied together?
As for Deathstroke, this could be a lot of things from
Damien Darhk
using illusions, to someone else in the costume to a brief return of
Manu Bennett
. But the actor wasn't happy with the last time he was on the show and how easily he was beaten by Oliver and Thea. So his return is questionable. But it would also be appropriate as he has appeared in all three of the last seasons.
With only 4 episodes left of
The Flash
and
Arrow
and 3 left of
Legends
, we should have answers pretty soon.
OUTCAST TO PREMIERE ON CINEMAX IN JUNE; FIRST FOUR EPISODE TITLES RELEASED
05/02/16 @ 4:45 pm EST
Source:
Bleeding Cool
| Categories:
Outcast
|
Comments
(0) |
E-mail Article
|
Add a Comment
Cinemax
announced today that
Outcast
, based on the comic book series by
Robert Kirman
and
Paul Azaceta
will debut June 3rd.
The series was also picked up for a second season back in March.The series stars
Patrick Fugit
as Kyle Barnes, a young man plagued by demonic possession all his life. With the help of Reverend Anderson, a preacher with demons of his own, Kyle embarks on a journey to find answers and regain the normal life he lost.
Philip Glenister
and
Gabriel Bateman
also star.
The cable outlet also made available the titles and short synopses of the first four episodes:
Episode #1: "A Darkness Surrounds Him"Kyle Barnes confronts a possession case and begins to delve into the secrets of his past.Written by Robert Kirkman; directed by Adam Wingard.Episode #2: "(I Remember) When She Loved Me"Kyle questions his family history.Written by Jeff Vlaming; directed by Howie Deutch.Episode #3: "All Alone Now"Kyle and Reverend Anderson confront an unusual possession.Written by Chris Black; directed by Howie Deutch.Episode #4: "A Wrath Unseen"The intrigue in Rome intensifies as Anderson discovers shocking information about someone close to him. Megan (Wrenn Schmidt) conceals a secret.Written Robert Kirkman; directed by Julius Ramsay.
The entirety of the show's ten-episode first season will air on Cinemax.
NEVER TELL STORM YOU'RE SAVING M&M'S FOR A RAINY DAY….
05/02/16 @ 4:41 pm EST
Source:
Bleeding Cool
| Categories:
X-Men
|
Comments
(0) |
E-mail Article
|
Add a Comment
INTRODUCING A BLACK, FEMALE IRON MAN FOR 2016 – NAME WITHHELD (SPOILERS)
05/02/16 @ 4:38 pm EST
Source:
Bleeding Cool
| Categories:
Invincible Iron Man
|
Comments
(0) |
E-mail Article
|
Add a Comment
At the end of
Invincible Iron Man
#7, we met a new character, Riri Williams. who appeared to be building an Iron Man suit of her own in her college dorm.
This is the cover to this week's
Invincible Iron Man
#9.
Some have speculated that this is Mary Jane Watson in the suit. With the resultant Iron Mary memes. But it's not.
It's Riri. And it's enough to get her kicked out of school. Even if her character doesn't have a name yet.
CHADWICK BOSEMAN WANTED TO PLAY BLACK PANTHER YEARS BEFORE HE WAS CAST
05/02/16 @ 4:26 pm EST
Source:
Comic Book Resources
| Categories:
Black Panther
|
Comments
(0) |
E-mail Article
|
Add a Comment
Chadwick Boseman landed the role of a lifetime when he was cast as Marvel's T'Challa/Black Panther. Not only is T'Challa a significant character in the comics and the cinematic universe, but he's an African King, and including him in the films is great step forward for diversity.
In this new interview from "LIVE with Kelly and Michael," Boseman shares the unique story of how he first discovered the "Black Panther" comics and how he got a call from Marvel to play T'Challa. "A security guard on 'Gods of Egypt' placed his original 'Black Panther' comic in my dressing room, told me to read it, and told me that one day I would play Black Panther."
Video:
https://youtu.be/bLQavRhiCzo
"CIVIL WAR'S" EVANS, OLSEN GET PRANKED ON "ELLEN"
05/02/16 @ 4:22 pm EST
Source:
Comic Book Resources
| Categories:
Civil War
|
Comments
(0) |
E-mail Article
|
Add a Comment
Chris Evans
loves
scaring people, and Ellen DeGeneres is not one to say no to a good prank. That's led to the pair teaming up on a number of occasions to give Evans' fellow Marvel stars a good spook. In a recent episode of "Ellen," Evans appeared alongside his "Captain America: Civil War" co-star Elizabeth Olsen -- and he got a taste of his own medicine.
But before Evans himself got a jolt, "Ellen" replayed Evans scaring Scarlett Johansson during an earlier appearance
and
Evans' getting the drop on Olsen just before the show's taping. And then, the tables turned with the help of a cheap Iron Man costume. Oh how the mighty get scared...
Video:
http://ellentube.com/videos/0_v4b32inn
LIEFELD EXPLAINS WHY HE DIDN'T WANT CABLE IN THE FIRST "DEADPOOL" MOVIE
05/02/16 @ 4:13 pm EST
Source:
Comic Book Resources
| Categories:
Deadpool and Cable
|
Comments
(0) |
E-mail Article
|
Add a Comment
Despite being teased in the post-credits scene -- and promised for the sequel -- Cable didn't get to make his cinematic debut in the first "Deadpool" movie. However, the studio and creatives working on the project did discuss a possible Cable appearance -- but it turns out comic book co-creator Rob Liefeld, among others, fought against the idea.
Revealing that he wanted to hold off on Cable to give Ryan Reynolds a better chance to shine in the film, Liefeld told Inverse, "Half of us believed the movie should involve Cable. I could feel Cable breathing down my neck. I said, 'No. Don't put Cable in the first movie.' If Cable comes later, great. 'Deadpool' is a vehicle for Ryan to shine. Cable bogs it down, I'm not sure it works as a first film with a general audience. I got in the car and I said, 'Did I really just kill the appearance of my other more popular character?'"
"Deadpool" is currently in theaters. Its sequel, tentatively titled "Deadpool 2," is scheduled for a 2017 release.
ANT-MAN GETS UNDER IRON MAN'S ARMOR IN NEW "CAPTAIN AMERICA: CIVIL WAR" TV SPOT
05/02/16 @ 4:08 pm EST
Source:
Comic Book Resources
| Categories:
Civil War
|
Comments
(0) |
E-mail Article
|
Add a Comment
Disney and Marvel have released a new "Captain America: Civil War" TV spot five days ahead of the film's premiere in the U.S.
The latest spot, titled "Fantastic Abilities," features new footage of Ant-Man shrinking down and slipping in between the cracks of Iron Man's armor.
Check out the new promo here:
https://youtu.be/57fCFXFdpZA
KEVIN SMITH BROUGHT 'INFECTIOUS' POSITIVE ENERGY TO "THE FLASH"
05/02/16 @ 4:05 pm EST
Source:
Comic Book Resources
| Categories:
Flash
|
Comments
(0) |
E-mail Article
|
Add a Comment
On May 10, Kevin Smith's episode of "The Flash" will hit the small screen, but -- until then -- the cast and crew of the show continues to sing his praises. Carlos Valdes, who plays Cisco Ramon, joined in by discussing his experience with the director, just how Smith brought such a positive energy to the episode and more.
"I had no expectations and literally no idea what to expect, and he came on board and it was the best directing experience that I've had on the show, personally," Valdes told TVLine. "He killed it, knocked it out of the park, man. He was so giving as a director, so trusting. He essentially allowed so many of the people working on the show to have the freedom to tell this story the way that they knew how. We've been telling this story and living with these characters for two years now, so we know this show pretty well."
"Usually, somebody will come in and sort of enact their vision of this story and have their say in how they want to frame the story, but Kevin's approach was unique in that he allowed us as a collective team, as a group of over 100 crew and cast, to feel out this story," he continued. "It was very hands-off at times, and that made for some great work. And not only that, he was very big in encouraging a positive energy on the set. Before we'd roll, he'd be like, 'Best job in the world, people!' and that's infectious."
In an earlier interview, executive producer Andrew Kreisberg and star Tom Cavanagh also weighed in on Smith's work on "The Flash." "Kevin, he's such a fan of this show -- like, in a way that humbles me beyond my wildest expectations, to be able to sit in a room with him and talk to him and think about how often I quote him and quote his movies, and how he was who I wanted to be when I was in college," Kreisberg recalled. "To sit down with him and have him speak about this show so lovingly, and so intelligently, and so deeply -- he didn't approach this in like, 'Well, here's my chance to put my stamp on it,' or 'Here's my change to "Clerks"-ify it. His biggest drive -- and I hope it's okay for me to say this -- was like, he just didn't want to mess it up because he's such a fan."
"You rarely get that experience. Jesse Martin said, 'I always feel like I'm energized about "The Flash." I'm completely reinvigorated just being around that man for eight shooting days.' I think all of us felt that way," added Cavanagh. "It was rare that you see that -- I don't want to necessarily say 'enthusiasm' as the way to describe it -- just the gratitude. Kevin Smith proceeds from gratitude," the actor continued. "I feel -- I've always said a set is the place that outs you as a person. You can be a certain way, but after 17-hour days for four months, your true personality will come out. This guy -- he's a good human being. He's incredible to work with."
Starring Grant Gustin, Carlos Valdes and Jesse L. Martin, "The Flash" airs Tuesdays at 8 pm EST on The CW. (Via CBR)