VAMPIRELLA STRIKES! INTERVIEW WITH TOM SNIEGOSKI
11/26/12 @ 6:25 pm EST
Source:
Previews World
| Categories:
Vampirella
|
Comments
(0) |
E-mail Article
|
Add a Comment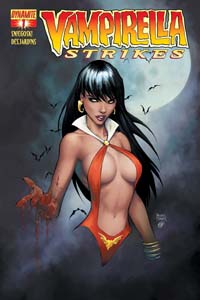 Tom Sniegoski has returned as scribe of Vampirella with Vampirella Strikes #1. Dynamite is so excited to have one of Vampirella's most important writers return to the charcter and he is joined by super hot artist Johnny D! Check out the recent video interview of Tom on Previews World website. Just follow the link to watch!
http://www.previewsworld.com/Home/1/1/71/977?articleID=127548
WALTER KOENIG, TIM RUSS, ROBERT PICARDO JOIN NEW FACES FOR INDEPENDENT STAR TREK PILOT
07/28/15 @ 11:08 pm EST
Source:
Bleeding Cool
| Categories:
Star Trek
|
Comments
(0) |
E-mail Article
|
Add a Comment
The team which gave us the fan-film
Star Trek: Of Gods and Men
, announced a new professionally produced television pilot to be presented for a possible online series.
Press Release:
"It has been seven long years since Enterprise left the air, and though we've had the recent big screen adaptation of Gene Roddenberry's futuristic vision (and the sequel coming next year), we feel the true home of Star Trek is as a continuing episodic series. The goal of this project is to make that happen.
"Fans have been anxiously waiting for this soon-to-be cult classic feature by multi-award-winning director, Tim Russ, which will premiere on Saturday, August 1, 2015 at the historical Crest Theatre in Westwood, California."
It added that
Star Trek: Renegades
is an independent online show that will be released on DVD/Blu-ray.
A special fan screening at will run before the 7pm premiere, at 4:30pm
The film stars Adrienne Wilkinson (Xena: Warrior Princess, Star Wars: The Clone Wars) as Captain Lexxa Singh. The Renegades' antagonist in the film, Borrada, is played by Bruce A. Young (The Sentinel, NYPD Blue).
Also in the cast are Walter Koenig (Chekov, Original Series), Tim Russ (Tuvok, Voyager), Gary Graham (Alien Nation; Soval, Enterprise), Robert Picardo (The Doctor, Voyager), Sean Young (Blade Runner, Dune), Manu Intiraymi (Icheb, Voyager), Corin Nemec (Stargate SG-1, Parker Lewis Can't Lose), Edward Furlong (Terminator 2: Judgement Day), Courtney Peldon (Entourage, Home Improvement), Chasty Ballesteros (Final Destination 5, The Newsroom), Kevin Fry (Eraser, Sons of Anarchy), Larissa Gomes (Saw VI, Saw 3D), actress/stunt performer Tarah Paige (Make It or Break It, Rise of the Planet of the Apes), Vic Mignogna (Dragonball Z, Star Trek Continues), Rico E. Anderson (Star Trek 2009, Dollhouse), Richard Herd (Admiral Paris, Voyager), Herbert Jefferson Jr (Battlestar Galactica) and more.
A NEW MARVEL SEASON EVERY SIX MONTHS FROM NETFLIX
07/28/15 @ 10:55 pm EST
Source:
Bleeding Cool
| Categories:
Marvel
|
Comments
(0) |
E-mail Article
|
Add a Comment
While at the
Television Critic's Association
today, head of
Netflix
content
Ted Sarandos
told the audience, including
Variety's Laura Prudom
, that
Marvel's Jessica Jones
will debut by the end of 2015 and that ideally there would be a new Marvel series every six months. Once all four of the series have been launched, they will crossover in
the Defenders
, but some series will have multiple seasons before that happens as is the case with
Marvel's Daredevil
.
Also there appeared to be a quick glimpse of
Krysten Ritter
as
Jessica Jones
in the sizzle reel. Netflix will most likely release that to the internet soon.
THIS WEEK FROM AVATAR PRESS – CROSSED: BADLANDS #81 AND #82
07/28/15 @ 10:51 pm EST
Source:
Bleeding Cool
| Categories:
MIsc
|
Comments
(0) |
E-mail Article
|
Add a Comment
This week from
Avatar Press
we have two issues of
Crossed: Badlands
which kick off a new story arc both written and drawn by
Mike Wolfer
.
Crossed: Badlands #81
A new story arc "The Lesser of Two Evils" written and illustrated by Mike Wolfer begins here! Sometimes a group of people can be too clever for their own good. When a motley band of commuters are stranded on a partially collapsed overpass they soon discover that the situation may be a blessing. With the Crossed unable to reach them, they seem relatively safe. But are forced to see the horrors playing out all around them. But in a Crossed world, safety is an illusion that is oft shattered in horrific fashion. Available with Art Deco Limited Edition by Michael DiPascale, Regular and a special Red Crossed Incentive Cover by Christian Zanier, Wraparound by Nahuel Lopez and Torture cover by Raulo Caceres. Also, starting this issue, there is a special C-Day Worldwide cover by Facundo Percio that looks at the first day of the outbreak in different countries and locations around the World!
Crossed: Badlands #82
After admitting two women into their defensible stronghold atop a collapsed bridge, an uneasy alliance of survivors discovers just how the women successfully navigated through the horrors on the ground below- They followed the advice of their "bible," a best-selling, "zombie survival guide" novel. Fiction or not, the book could be the answer to saving all of their lives in the wasteland ruled by the maniacal Crossed! Available with Regular Cover by Christian Zanier, Wraparound& Torture Covers by Raulo Caceres, C-Day Worldwide Cover by Facundo Percio, Art Deco Cover by Michael Dipascale, and Red Crossed Incentive Cover also by Zanier
"A SILLY, GROTESQUE LOST CHAPTER." – MARK RAHNER TALKS VAMPIRELLA / ARMY OF DARKNESS
07/28/15 @ 10:38 pm EST
Source:
Bleeding Cool
| Categories:
Dynamite
|
Comments
(0) |
E-mail Article
|
Add a Comment
Mark Rahner
has been responsible for bringing together two horror icons for
Dynamite
. Now the writer talks about the series and the meeting of
Ash Williams
and
Vampirella
. Cover art by
Tim Seeley
.
BYRON BREWER: Mark, in October you reach the climax of this mini with Ash and Vampirella. Did you tell the story you wanted to tell?MARK RAHNER:
No, I wanted to tell an uplifting story of the power of love and the beauty of faith, or the beauty of love and power of faith. But this filthy, violent, profane monster adventure came spilling out of me instead.The story was meant to fit seamlessly within the canonical
Army of Darkness
movie – a lost chapter. A silly, grotesque lost chapter. We learn that Vampi is collateral damage from Ash's idiocy in handling the Necronomicon Ex Mortis. In that sense, it was a satisfying climax. Was it good for you, too?By the way, I'm also pleased that the aftertaste of this story will be lingering in fans' mouths when the new
Ash vs. Evil Dead
series starts.ADVERTISEMENT
BB: What was the greatest challenge? Introducing Vampirella into one of Ash's world or introducing Ash's broad humor into the monstrous world of Vampi?
MR:
Finding a way to get Ash into Vampi's skimpy red outfit was the greatest challenge, and I was forced to abandon that. But now you have that visual in your mind.And they clearly don't fit anywhere in each other's worlds – which is where the fun comes in. She's a no-nonsense vampire, and the Necronomicon has transformed and possessed her at the outset. She's furious with Ash for bringing her to 1300 A.D., thinks he's a dimwit and really doesn't like this wise-cracking jerk. But she needs him alive if she wants to get back to where she belongs.
BB: If given a choice, which of the two characters would you like to do an ongoing with and why?MR:
What is this,
Sophie's Choice
? You can't make me choose between my children, damn you!I've written plenty of Vampi – in fact, go get the
Vampirella Bites
collection right now! And I've also written Ash in
Army of Darkness/Reanimator
, which I especially dug because I put him right into the narrator/assistant's role in the original H.P. Lovecraft tale. Believe it or not, I like 'em both. I also like writing humor. I did a lot of that in my previous career as a newspaper hack, and don't see a ton in mainstream comics. Much of the Vampi I've written has been satire, and I'd like to take her in a darker direction at some point. Ash is pretty much outright comedy. I'd be happy to spend more time with either one.
BB: There is always something special about a Vampirella team-up. Why does this iconic character remain one of the favorites for writers to play with in the toy boxMR:
I cannot deconstruct pleasure, sir.
BB: How did you find artist Jethro Morales' interpretation of Ash and Vampi?MR:
I've worked with him before, and I think he just keeps getting better. (I think I've said that before, too, but it's true!) I was especially tickled seeing his depictions of Ash as I described him in the script: drunk, cocky, buffoonish, cool … I didn't want it overly cartoonish, and I think Jethro struck just the right balance.
BB: A lot of possessed monks around Issue 4. Just saying … (lol)MR:
You were thinking monks are scary enough on their own. But possessed monks who have also invoked something awful that they can't control? Pass the diapers!
For more on
Vampierlla / Army of Darkness
,
click here
.
'SHAFT' GETTING REMAKE FROM 'BLACK-ISH' CREATOR
07/28/15 @ 10:34 pm EST
Source:
The Hollywood Reporter
| Categories:
Shaft
|
Comments
(0) |
E-mail Article
|
Add a Comment
New Line wants to give you the shaft.
The company, which opens the reboot of
Vacation
on Wednesday, is in development on a reboot of
Shaft
, the cult Blaxploitation movie from the 1970s.
Black-ish
creator
Kenya Barris
and
Alex Barnow
, an executive producer-writer on ABC's
The Goldbergs
, have been tapped to write the script.
John Davis
, who is producing the upcoming
Man from U.N.C.L.E.
reboot and the new take on
Frankenstein
with
Victor Frankenstein
, is producing with
Ira Napoliello.
The original movie told of a private detective named John Shaft, played by
Richard Roundtree
, who is hired to find a missing girl in Harlem. The movie was on the leading edge of Blaxploitation, a new genre that seemed to embrace and empower a rising black culture (although some said it only enforced stereotypes). The soundtrack by
Isaac Hayes
(the theme is one of filmdom's classics) also contributed to the film's cult status.
Shaft
got a slick and polished 21st century reboot in 2000 when
John Singleton
directed
Samuel L. Jackson
, who played the nephew of the character.
This new iteration will have a comedic tone but will retain its action roots.
Richard Brener
and
Samuel J. Brown
are overseeing for the studio.
CHRIS PINE CLOSES DEAL TO STAR OPPOSITE GAL GADOT IN 'WONDER WOMAN'
07/28/15 @ 10:28 pm EST
Source:
The Wrap
| Categories:
Wonder Woman
|
Comments
(0) |
E-mail Article
|
Add a Comment
Chris Pine has closed a deal to play Steve Trevor opposite Gal Gadot in "Wonder Woman," The Wrap is reporting. Pine joins the DC Movie Universe in a multi-picture deal that includes sequel options, according to insiders.
A representative for Warner Bros. did not immediately respond to a request for comment.
Steve Trevor will be no mere love interest for Gadot's Diana Prince, as there will be plenty of action to keep him busy, though plot details remain under wraps.
Wonder Woman will be introduced in next year's "Batman v Superman: Dawn of Justice" before her solo movie hits theaters on June 23, 2017.
CHANNING TATUM SUPERHERO MOVIE 'GAMBIT' IN JEOPARDY AS DEAL UNRAVELS
07/28/15 @ 10:23 pm EST
Source:
The Wrap
| Categories:
X-Men
|
Comments
(0) |
E-mail Article
|
Add a Comment
Channing Tatum's "Gambit" deal is in jeopardy of falling apart and he is planning to exit the comic book project at 20th Century Fox, an individual with knowledge of the situation has told TheWrap.
The studio had been in the process of testing young actresses to star alongside Tatum, including Lea Seydoux, but insiders suggest that director Rupert Wyatt will soon have to find a new leading man.
It is unclear whether Tatum and his producing partner Reid Carolin plan to remain involved in a producing capacity, or whether Simon Kinberg and Lauren Shuler Donner will move forward on their own.
Representatives for 20th Century Fox and Tatum could not immediately be reached for comment.
One individual close to the project told TheWrap that Tatum's reps are still in active discussions with the studio but acknowledged that "something is up." The situation will have to be resolved quickly, as "Gambit" is slated for release on Oct. 7, 2016.
Tatum recently appeared at Comic Con to hype his turn as New Orleans thief Remy LeBeau, aka Gambit. The character was originally played by Taylor Kitsch in 2009's "X-Men Origins: Wolverine."
WEREWOLF COMIC 'BROOKLYN ANIMAL CONTROL' ORDERED TO PILOT AT USA NETWORK
07/28/15 @ 2:08 pm EST
Source:
The Hollywood Reporter
| Categories:
MIsc
|
Comments
(0) |
E-mail Article
|
Add a Comment
USA Network continues to get darker.
The NBCUniversal-owned cable network has handed out a pilot order to
Brooklyn Animal Control
, based on the IDW Publishing comic book of the same name,
The Hollywood Reporter
has learned.
The drama follows a secret subdivision of the NYPD that serves as social services for the city's werewolves. The drama will explore the lives of the case officers and the secret, insular werewolf community Kveld-Ulf, who are living deep in the borough.
Brooklyn
will focus on city politics, immigrant communities and families divided by ambition, secrecy and tradition.
Brooklyn
will be written and exec produced by comic book creator
JT Petty
(
Spliter Cell
), with
David S. Goyer
(
Batman v. Superman
,
DaVinci's Demons
), Circle of Confusion's
Rick Jacobs
(
Spare Parts
) and
David Alpert
(
The Walking Dead
) attached to exec produce alongside IDW Entertainment's
David Ozer
and
Ted Adams
. The drama is a co-production between Universal Cable Productions and IDW Entertainment.
"Fans of the comic book know that
Brooklyn Animal Control
is a thriller anchored inside the world of New York organized crime families," said
Jackie de Crinis
, executive vp original programming. "At its core, it is a family drama, albeit an unconventional one."
Brooklyn
was one first titles IDW identified to bring to the small screen after launching its TV divisionwith Circle of Confusion (
The Walking Dead
)
attached to oversee packaging and creative development of some of its more than 300 titles. The comic publisher also has a first-look development deal in place with Entertainment One, with whom it is partnering to bring
V-Wars
to the screen.
Brooklyn
becomes USA's fourth pilot order of the season and joins
Poor Richard's Almanack; Falling Water
, from
Gale Anne Hurd
,
Blake Masters
and the late
Henry Bromell
; and
Paradise Pictures
, from
Suits
duo
Aaron Korsh
and
Rick Muirragui
. The cabler is also searching for a lead for its
Shooter
update.
THREE NEW BATMAN V. SUPERMAN IMAGES RELEASED
07/28/15 @ 2:02 pm EST
Source:
Comicbook
| Categories:
Batman Superman
|
Comments
(0) |
E-mail Article
|
Add a Comment
Warner Bros. has released new images from
Batman v. Superman: Dawn of Justice
(via Empire).
The images feature both titular heroes – Batman (Ben Affleck) and Superman (Henry Cavill) – as well as villainous mastermind Lex Luthor (Jesse Eisenberg). Check out all three images below.
In
Batman v. Superman: Dawn of Justice
, following the destruction of Metropolis, Batman embarks on a personal vendetta against Superman.
BEFORE HE WAS AMAZING…HE WAS SPIDEY!
07/28/15 @ 1:57 pm EST
Source:
Marvel
| Categories:
Spider-Man
|
Comments
(0) |
E-mail Article
|
Add a Comment
Today, he's the world's greatest super hero. But long before he swung from rooftops as the Amazing Spider-Man, he was just a spider-powered teenager who knew that "with great power must also come great responsibility." Today, Marvel is pleased to announce
SPIDEY #1
– a brand-new ongoing series launching as part of All-New, All-Different Marvel! Follow the adventures of teenaged Peter Parker in a new series set within continuity from rising star writer Robbie Thompson (TV's
Supernatural, Silk)
and blockbuster Marvel Young Gun artist Nick Bradshaw (
Wolverine and the X-Men
,
Guardians of the Galaxy
)!
"Everyone remembers their FIRST Spider-Man comic," says Marvel Editor-in-Chief Axel Alonso. "SPIDEY aims to be perfect as someone's first Spider-Man comic, or their one thousandth. We're not looking to re-tell stories here. What Robbie [Thompson] and Nick [Bradshaw] have put together is an exciting new take on Spider-Man at his arguably most iconic incarnation, and will feel fresh to new and old fans alike."
Class is in session as two of the hottest creators in comics take Peter back to school for a classic and iconic take on the Spider-Man mythology. Familiar faces and new characters populate Peter Parker's world as he balances his double life as a high school student and the high-flying, web-swinging new hero Spider-Man!
"Out of the 700+ issues of AMAZING SPIDER-MAN" shares Spider-Man Editor Nick Lowe, "Peter Parker was only in high school for thirty issues! Stan and Steve covered a lot, but there's a lot of the high school and early super hero experience still on the table."
Iconic villains, a classic supporting cast, the ol' Parker Luck and more are back! Don't miss one moment of these bombastic new adventures as Thompson and Bradshaw create a legend of their own when
SPIDEY #1
comes to comic shops later this year!
SPIDEY #1 Written by ROBBIE THOMPSON
Art & Cover by NICK BRADSHAW
On Sale This Fall!