PLAYBOY! SIDESHOW COLLECTIBLES! VAMPIRELLA!
11/05/12 @ 2:23 pm EST
Source:
Playboy
| Categories:
Vampirella
|
Comments
(0) |
E-mail Article
|
Add a Comment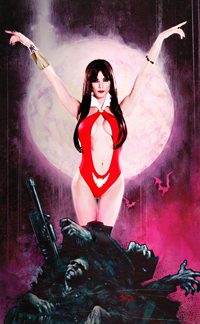 She's here! In the Flesh! The incredibly sexy LeAnna Vamp has brought Vampirella to life in this amazing pictorial on Playboy.com. Along with Sideshow Collectibles and us at Dynamite, they are offering an amazing giveaway for the Vampirella Premium Format satue. To celebrate this Playboy has put together an amazing photoshoot with LeAnna Vamp, the ghoul of you dreams! Check out the link to take you to the hottest, most seductive photoshoot of Vampirella cosplay you have ever seen! Vampirella's fans are going to love this and if you aren't a fan you will be sure to become one. Find out details for entering the contest to win this hot collectible and you can also download some freebie hot LeAnna wallpapers on the site. This is the biggest premiere of a Vampirella model ever seen in the character's history so go check it out and Happy belated Halloween to all you fans out there.
NOVA619 CELEBRATES 40 YEARS OF THE MAN CALLED NOVA
04/28/16 @ 8:17 pm EST
Source:
Nova Prime Page
| Categories:
MIsc
|
Comments
(0) |
E-mail Article
|
Add a Comment
STARTING THIS SATURDAY, APRIL 30 -- THE BEGINNING OF THE PATH! NOVA619 NO.31!
This season's big arc story finally arrives, celebrating 40 years of the Man Called Nova, Rich Rider - The Human Rocket!
Two timelines will collide as Classic Nova619 takes on his first dangerous mission for the Xandarian secret service - The Specultoria - with diasterous consequences! Consequences which will ripple through time and space to affect the life of his counterpart nine years into the future! Guest staring Queen Adora! The Worldmind! The deadly Diamondhead! Powerhouse! Veradiane! Kree Monks! And more.
PLOT/ SCRIPT - Daz Blackburn
ART - Al Whincup
LETTERS - Philip Charles
NOVA619 LOGO - Chris Anderson
Variant Cover - Emiliano Correa
Plus: The Wonder Worlock takes on the Great Goff Conspiracy! Part 1. Written by Byron Brewer with a cover by Israel Huertas!
ONLINE SATURDAY at NOVA PRIME PAGE and NOVA PRIME DA.
VANDAL SAVAGE UNLEASHES THE LEVIATHAN ON "DC'S LEGENDS OF TOMORROW"
04/28/16 @ 5:54 pm EST
Source:
Comic Book Resources
| Categories:
DC
|
Comments
(0) |
E-mail Article
|
Add a Comment
The namesake for tonight's "DC's Legends of Tomorrow" -- the Leviathan -- is revealed in a new featurette for the game-changing episode.
The spoiler-filled video also reveals how the Legends discover the existence of Savage's daughter, Cassandra, and how a present from the immortal to his child may end up spelling his doom.
Video:
https://youtu.be/o6-J8ejOK-4
"DC'S LEGENDS OF TOMORROW" DISCOVER ANOTHER WAY TO STOP SAVAGE IN NEW CLIP
04/28/16 @ 5:49 pm EST
Source:
Comic Book Resources
| Categories:
DC
|
Comments
(0) |
E-mail Article
|
Add a Comment
In the next episode of "DC's Legends of Tomorrow," Rip Hunter takes the team to "London 2166," three months before his family was killed. A new clip from the episode finds Kendra discovering a deadly piece of jewelry, even as Gideon locates what's left of the resistance.
Video:
https://youtu.be/1Q4N4qpA6A0
KIDS STAGE THEIR OWN 'CIVIL WAR' IN THIS FUN TV AD
04/28/16 @ 5:46 pm EST
Source:
Comic Book Resources
| Categories:
Civil War
|
Comments
(0) |
E-mail Article
|
Add a Comment
Like virtually everyone else, Target is gearing up for the premiere next month of
Captain America: Civil War
. But, as Target is a retail chain, its preparation takes the form of a TV commercial — a cute one at that.
Called "United We Play," the new 30-second spot depicts kids on the world's greatest playground (at "Target Academy," no less) using their imaginations, and official Marvel costumes, toys and accessories, to stage their
own
Civil War. Naturally, that takes the form of a game of tag.
While the focus is on a pint-sized Captain America, whose primary (ahem)
target
is Iron Man, we also get cameos by wee versions of Black Widow, Spider-Man, Falcon, War Machine, among others. However, in what's
probably
a spoiler for
Civil War
, the climactic showdown is interrupted by … the bell.
Video:
https://youtu.be/rZNI34G5_4M
MADS MIKKELSEN REVEALS 'ROGUE ONE: A STAR WARS STORY' ROLE
04/28/16 @ 5:37 pm EST
Source:
Comic Book Resources
| Categories:
Star Wars
|
Comments
(0) |
E-mail Article
|
Add a Comment
Much about "Rogue One: A Star Wars Story," the first standalone anthology film in the franchise, remains a mystery. The first trailer has been released, but that only revealed the name of Felicity Jones' character, Jyn Erso. And while we still don't know the
name
of Mads Mikkelsen's character, who was also absent from the "Rogue One" trailer, we now know
who
he is.
During an appearance on SkyNews, Mikkelsen talked about the secrecy around the "Star Wars" film, which is set just prior to 1977's "Star Wars." "I can say absolutely nothing about it," said Mikkelsen. "I can but then I'd have to kill you and all the audience." Mikkelsen relented a little after being asked about his decision to join the cast. "I read the script and it was very beautiful, and Felicity is playing this lovely, strong woman and I play… her father. And that was too much, I'm sorry."
So yes, Mikkelsen will be playing Jyn Erso's father — although most likely an absentee one, as the trailer points out that Erso has been "on her own" since she was 15 years old. Further details about Mikkelsen's character, like whether or not he's a Rebel, an Imperial or something else entirely, remain unknown.
RIAN JOHNSON REVEALS NEW PHOTOS FROM 'STAR WARS: EPISODE VIII' SET
04/28/16 @ 5:33 pm EST
Source:
Comic Book Resources
| Categories:
Star Wars
|
Comments
(0) |
E-mail Article
|
Add a Comment
Director Rian Johnson has marked the midway point of principal photography with the release of two new images from the set of "Star Wars: Episode VIII."
"I can't believe we're halfway through the shoot," he wrote on his blog. "(We're halfway through the shoot!)"
The first photo shows part of an X-wing (note the the droid barely visible in back), while the second is a bit more difficult to identify. My best guess is a station on a First Order vessel, or wherever General Hux, Kylo Ren and the survivors of Starkiller Base fled following the events of "The Force Awakens."
Unlike the super-secretive J.J. Abrams, Johnson has been more forthcoming when it comes to glimpses of the film set. He previously offered a peek at the cockpit of the Millennium Falcon, and a look at Maz Kanata (on monitors, anyway).
"Star Wars: Episode VIII" opens Dec. 15, 2017.
ALICIA VIKANDER CAST AS LARA CROFT IN TOMB RAIDER
04/28/16 @ 5:28 pm EST
Source:
Deadline
| Categories:
MIsc
|
Comments
(0) |
E-mail Article
|
Add a Comment
Alicia Vikander has been cast today as Lara Croft for MGM, Warner Bros and GK Films in
Tomb Raider
. The reboot will tell the story of a young and untested Lara Croft fighting to survive her first adventure. Roar Uthaug (
The Wave
) is directing. MGM and Warner Bros are co-producing the film with MGM overseeing production. They acquired film rights from GK Films, which had previously purchased film rights in 2011 from Square Enix LTD. Graham King is serving as producer.
This is the latest plum role for Vikander, and arguably her highest-profile one yet. She next co-stars in
Jason Bourne
opposite Matt Damon. Her success continues to rise following a successful 2015 that saw her performance in Tom Hooper's
The Danish Girl
win an Academy Award for best supporting actress as well as a memorable turn in
Ex Machina
as possibly the best-looking and ruthless robot in the history of cinema. She also has
The Light Between Oceans
opposite Michael Fassbender in the pipelines. That film has been generating awards-season buzz even though it will not be released before the end of the year.
This was a role that every young actress was after with Daisy Ridley, Cara Delevigne, Emilia Clarke and Saoirse Ronan all rumored at some point. Vikander looks a strong choice for this potential franchise, given she has form with a perfect English accent. She is currently filming
Submergence
for Wim Wenders opposite James McAvoy.
THE WONDER WORLOCK IN NEW 6-PART ARC, 'THE GREAT GOFF CONSPIRACY'
04/28/16 @ 5:09 pm EST
Source:
Nova Prime Page
| Categories:
MIsc
|
Comments
(0) |
E-mail Article
|
Add a Comment
THE WONDER WORLOCK, the most powerful cosmic conjurer in comics, hits the farthest reaches of the cosmos again Saturday, April 30, for the first of a six-part arc destined to change the Dark Mage and his friends in the highest reaches of the star-spanning GOFF EMPIRE forever!
For years, he has been the power behind the crown of PRINCESS ENID of Goff. Now the stars are aligning, old allies are returning and a long-ripening plan of government conspiracy is coming to fruition, all under the noses of the powerful imperium! Who is this treasonous high official of the Goff Empire? You would not believe us if we told you!
As if that were not bad enough, the Wonder Worlock's most powerful foe is unbelivably back from the dead. KAT'WALLIDUR RETURNS! And he is gunning for the galactic guardian of the spaceways in the worst way. But will it be the Wonder Worlock who pays the ultimate price, or ... a friend held most dear? Whatever the outcome, Death will welcome a beloved hero into her realm ... SATURDAY!
Join writer/creator BYRON BREWER for the beginning of this enthralling six-parter as a slowly developed minor plot thread of the Wonder Worlock saga comes roaring to the front burner!
THE GREAT GOFF CONSPIRACY! Part 1. Written by Byron Brewer with a dazzling cover by WW artist supreme ISRAEL HUERTAS!
PLUS, in NOVA619: Rich Rider in The Path, Part 1 of 6, as we celebrate 40 years of the Man Called Nova! By Daz Blackburn (W), Al Whincup (A) and Philip Charles (L)
ONLINE at NOVA PRIME PAGE and NOVA PRIME DA
'THE OMEN' PREQUEL IN THE WORKS
04/28/16 @ 12:41 pm EST
Source:
The Hollywood Reporter
| Categories:
MIsc
|
Comments
(0) |
E-mail Article
|
Add a Comment
Forty years after it was first released,
The Omen
is coming back to the big screen as a prequel that is being pieced together by 20th Century Fox.
Antonio Campos, the indie filmmaker who most recently directed the Sundance movie
Christine
, is in negotiations to helm the supernatural horror thriller titled
The First Omen
, which is being produced by David Goyer and his Phantom Four banner.
The original movie starred the great Gregory Peck as an ambassador who comes to believe that his 5-year-old son may be the living embodiment of the Antichrist.
The movie, directed by Richard Donner (who would later go on to helm
Superman
,
The Goonies
and the
Lethal Weapon
movies), was one of the biggest hits of the year and considered one of the scariest movies of the decade. It introduced Damien, the name of the son, into the pop culture lexicon, and preyed on fears of baby swapping and evil nannies.
Omen
spawned two sequels and a series of novels. Fox remade the movie once before, in a 2006 iteration directed by John Moore and starring Liev Schreiber and Julia Stiles. Fox is currently airing a TV version of
The Omen
titled
Damien
, helmed by
The Walking Dead
's Glen Mazzara.
Ben Jacoby wrote the script for the prequel.
Campos is a player in the indie sphere and was a producer on movies such as
Martha Marcy May Marlene.
He previously directed 2012's
Simon Killer
. His drama
Christine
starred Rebecca Hall and Michael C. Hall (no relation) and premiered at this year's Sundance Film Festival, where distribution outfit The Orchard snapped up domestic rights.
'PEANUTS' GANG HEADS BACK TO TV ON BOOMERANG
04/28/16 @ 12:37 pm EST
Source:
Comic Book Resources
| Categories:
MIsc
|
Comments
(0) |
E-mail Article
|
Add a Comment
Charles M. Schulz's beloved "Peanuts" characters are headed to Boomerang next month in a series of animated shorts that will air for the first time in English.
Produced by Normaal Animation Studios for French public broadcaster France Télévisions, the 90-second shorts are adapted directly from Schulz's comic strips. Boomerang parent company Turner Broadcasting announced the deal to air the 500 shorts last fall.
"Peanuts" will premiere Monday, May 9, on Boomerang, with new episodes debuting daily at 11:30 a.m. ET/8:30 a.m. PT. Viewers will be able to catch a sneak peek on Cartoon Network the week of May 9 at 10:30 a.m. ET/PT, with select shorts also appearing on the Cartoon Network video app.
The series joins a Boomerang lineup that includes "Be Cool, Scooby-Doo!," "Bunnicula," "The Tom and Jerry Show" and "Wabbit."