PLAYBOY! SIDESHOW COLLECTIBLES! VAMPIRELLA!
11/05/12 @ 2:23 pm EST
Source:
Playboy
| Categories:
Vampirella
|
Comments
(0) |
E-mail Article
|
Add a Comment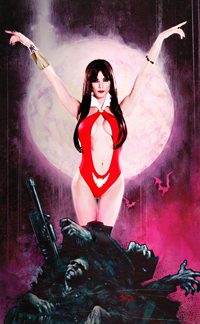 She's here! In the Flesh! The incredibly sexy LeAnna Vamp has brought Vampirella to life in this amazing pictorial on Playboy.com. Along with Sideshow Collectibles and us at Dynamite, they are offering an amazing giveaway for the Vampirella Premium Format satue. To celebrate this Playboy has put together an amazing photoshoot with LeAnna Vamp, the ghoul of you dreams! Check out the link to take you to the hottest, most seductive photoshoot of Vampirella cosplay you have ever seen! Vampirella's fans are going to love this and if you aren't a fan you will be sure to become one. Find out details for entering the contest to win this hot collectible and you can also download some freebie hot LeAnna wallpapers on the site. This is the biggest premiere of a Vampirella model ever seen in the character's history so go check it out and Happy belated Halloween to all you fans out there.
THOR: RAGNAROK TO REPORTEDLY HAVE PLANET HULK ELEMENT IN IT
05/31/16 @ 2:39 pm EST
Source:
Comicbook
| Categories:
Thor
|
Comments
(0) |
E-mail Article
|
Add a Comment
Just as
Captain America: Civil War
was more than just a solo outing for the character, it appears that
Thor: Ragnarok
will follow the same framework, and will be more of an ensemble film.
The latest news from the film comes courtesy of JoBlo.com. Their sources indicate the film will be a mashup of the Ragnarok storyline from the comics and the fan favorite Planet Hulk story by Greg Pak. The sources say that the film will definitely have a Planet Hulk element and that Thor will "definitely be involved in some gladiatorial games run by the Grandmaster", who is played by Jeff Goldblum in Ragnarok.
The source also adds that Hulk (played by Mark Ruffalo) will have a costume similar to his look in Planet Hulk, with the more primal accessories and the one-sided armor covering his left arm. No details have been revealed about how either one gets to the planet, but once they get there fans will recognize pieces of both well-regarded storylines. Thor is attempting to find the ultimate weapon to stop Ragnarok and reset the universe, and that takes him in some way to this planet.
Chris Hemsworth's Thor will also have a different look once he's on the planet, evidently sporting a shaved head. Expect a different look for Tessa Thompson's debuting Valkyrie as well, who will be sporting war paint and will skew towards a more primal look as well, as opposed to her comic version's more nordic armor.
Thor Ragnarok is set to release on November 3rd, 2017.
TRANSFORMERS: THE LAST KNIGHT VILLAIN REVEALED
05/31/16 @ 2:34 pm EST
Source:
Comicbook
| Categories:
Transformers
|
Comments
(0) |
E-mail Article
|
Add a Comment


The villain of Transformers: The Last Knight was revealed Tuesday afternoon by Producer/Director Michael Bay. Megatron will return to the series after his apparent death and transformation in a previous film. Bay announced the film is officially beginning production this week.

In Transformers: Dark of the Moon, the third film in the series, Megatron tried to restore Cybertron, and take over Earth. Optimus Prime wasn't having it, though, and took the Decepticons leader's head off with his axe. Megatron's head kept the evil 'bot alive, though, and in Age of Extinction, he went into the Galvatron body. Returning as Megatron is no small feat - he'll need to restore his entire previous body to do it.

Transformers: The Last Knight had a teaser over the weekend that said in Morse code, "I'm coming for you May 31," and apparently that message was being sent by Megatron. The movie will be the first to come out of Paramount's new writers room for the Transformers franchise, that featured writers like Akiva Goldsman, Christina Hodson, Robert Kirkman, Zak Penn, Jeff Pinkner, and more. Bay returns to direct the film, which he says will be his last in production. He's been revealing information on his instagram account slowly this month. In the latest teaser, Megatron's face is accompanied by a strange guttural growling sound, not unlike what's been used for dinosaurs in other films.

The film is due out on June 23, 2017, a date previously held by Warner Bros.' Wonder Woman live-action film, which bumped its release up by a few weeks in response. It's the first of three films, including a Bumblebee spin-off and a proper Transformers 6 that came out of the writers room. With Optimus Prime heading into space at the end ofExtinction, Bumblebee will be the leader of the Autobots on Earth at the start of this film.
KAMALA CHOOSES A SIDE IN YOUR FIRST LOOK AT MS. MARVEL #8
05/31/16 @ 2:27 pm EST
Source:
Marvel
| Categories:
Ms. Marvel
|
Comments
(0) |
E-mail Article
|
Add a Comment
This June, as the blockbuster
Civil War II
heats up, Kamala Khan gets called to the front lines to join the fray! Today, Marvel is pleased to present your first look inside
MS. MARVEL #8
– a
Civil War II
tie-in from creators G. Willow Wilson, Takeshi Miyazawa and Adrian Alphona! A new Inhuman has emerged, one with the power to predict the future. The heroes of the Marvel Universe are faced with a choice. Wield this new power to change the future as they see fit, or reject it – and allow tomorrow to unfold unaltered. As the battle lines are drawn, which side will Kamala choose? Is she ready to take a stand against her idol and mentor, Captain Marvel? Find out this June as Civil War II comes to Jersey City in
MS. MARVEL #8
!
MS. MARVEL #8 (APR160894)Written by G. WILLOW WILSON
Art by TAKESHI MIYAZAWA & ADRIAN ALPHONA
Cover by CAMERON STEWARTCivil War Reenactment Variant by SIYA OUM (APR160895)On-Sale – 06/22/16
LAUREL'S DEATH 'WAS ONE OF THE MOST DIFFICULT THINGS' TO FILM ON "ARROW," SAYS HOLLAND
05/31/16 @ 11:57 am EST
Source:
Comic Book Resources
| Categories:
Arrow
|
Comments
(0) |
E-mail Article
|
Add a Comment
When "Arrow" season four kicked off, it promised a major death by the season finale -- and, boy, did it deliver. At last weekend's MCM Comic Con, Willa Holland weighed in on why Black Canary's death and Katie Cassidy'ssubsequent departure from the show was the worst one yet, next year's four-way crossover event and more.
As to Laurel's death, Holland said, "That was one of the most difficult things that any of us ever had to film, not that any of the deaths have been easy -- we lost Tommy after season one, we lost Moira after season two -- but this was four years in, so we were all so close at this point. More than ever, this time it felt like losing a limb.
"But, you know, she has her Black Siren thing coming up on 'The Flash,' which is pretty amazing, and I know that CW ad DC and the whole love to keep bringing people back and play around with the characters and popping us from show to show, so I'm quite excited to see what they're going to do with her character," she added. "I don't know where she's going to end up, but it's great to know she's still with us. It's not like she's gone."
Holland also discussed the upcoming crossover between "Arrow," "The Flash," "DC's Legends of Tomorrow" and "Supergirl," saying, "We're all very excited to be popping into each other's realms. All I've got to say is I want to be on Earth-2, so as long as that happens, I'm happy. It seems so much better than regular Earth!
"The actual building of the crossovers and shoving it into our seasons... it's a very difficult thing, because we're all of a sudden not making one hour of television in eight days; we're somehow supposed to accomplish double the amount with twice the amount of people," she continued. "In the end, tiringly, it's worth it."
Katrina Law, who plays recurring character Nyssa al Ghul, pitched in, "Everyone is completely shattered, but the honest-to-goodness response from every single one of them is we love doing the crossovers, because the fans appreciate it so much."
DISNEY EXECS WORRIED ABOUT 'ROGUE ONE,' ORDER EXPENSIVE RESHOOTS
05/31/16 @ 11:49 am EST
Source:
Comic Book Resources
| Categories:
Star Wars
|
Comments
(0) |
E-mail Article
|
Add a Comment
The first "Star Wars" anthology film is rumored to be headed back to reshoots following a less-than-positive reaction from Disney execs. An unnamed source has informed Page Six that "Rogue One: A Star Wars Story" will undergo four weeks of "expensive reshoots" in July.
The source said that execs are not happy with the first cut, and that it "has fallen short of what J.J. Abrams did with 'Star Wars: Episode VII — The Force Awakens.'" The source claims that Disney isn't taking a "back seat" and "is demanding changes, as the movie isn't testing well."
A separate unnamed source, this one from Disney, said that additional shooting was always anticipated and is being done to ensure that "Rogue One" is "the absolute best it can be." They added, "Coming off 'The Force Awakens,' there's an incredibly high bar for this movie and we have a responsibility to the franchise and to the fans to deliver the best possible movie we can."
Set outside of the main sequel trilogy that began with "Star Wars: The Force Awakens," "Rogue One" is set just before 1977's "Star Wars" and details the Rebel plot to steal the Death Star plans from the Empire. The film follows a cast of totally original characters, although it's rumored that Darth Vader — and possibly Han Solo — could appear in the film.
Directed by Gareth Edwards ("Godzilla," "Monsters") from a script by Gary Whitta and Chris Weitz, "Rogue One" stars Felicity Jones, Mads Mikkelsen, Alan Tudyk, Donnie Yen, Forest Whitaker, Diego Luna and Riz Ahmed."Rogue One: A Star Wars Story" opens Dec. 16.
MIKE MIGNOLA ON "HELLBOY 3'S" ODDS: "I'LL BELIEVE IT WHEN I SEE IT"
05/31/16 @ 11:45 am EST
Source:
Comic Book Resources
| Categories:
Hellboy
|
Comments
(0) |
E-mail Article
|
Add a Comment
Ever since the release of 2008's "Hellboy: The Golden Army," there has been nonstop talk of the still-unmade "Hellboy 3." Just a quick glance at our "Hellboy 3" tag reveals that it's a popular area of discussion almost any time franchise star Ron Perlman is interviewed -- even though he now admits that it will "probably never happen."
In an interview with The Guardian, "Hellboy" creator Mike Mignola discussed the odds of seeing another adaptation of his comic series. "Occasionally there are still some discussions about film or TV, but I'll believe it when I see it," said Mignola, who said that both he and "Hellboy" film star Ron Perlman don't have the power to get a third film going.
Mignola added that while he appreciates the attention and enthusiasm generated every time Perlman brings up "Hellboy 3," he's doesn't want "anybody ever again talk to me about doing a Kickstarter. We're talking about hundreds of millions of dollars; I don't see raising it in nickels and dimes. 'What do you mean you're not making a third one? Those movies were so good!' They didn't make a lot of money, and that's one of the big things people look for."
Mignola says the fact that he got two "Hellboy" films a "miracle" and that their existence shows the "power" of director Guillermo del Toro. "Back then, he was just a super enthusiastic guy who'd made a couple of pretty funky monster movies. But he was persuasive as hell and he fought like a dog to get these things made," said Mignola of the director.
Mignola also discussed his initial thoughts way back when Dark Horse optioned the first "Hellboy" film from him. "I thought: 'This is the greatest scam I'm ever going to run! You're going to give me money so you can maybe make a movie, but we all know you're never going to make the movie, so you're going to pay me money again, for nothing? That's great!' [But] then when they actually made the movie, holy sh*t. Now it's scary."
Mignola says he was afraid that the "Hellboy" film would "make 'Howard the Duck' look like 'Gone With the Wind'" and tank interest in his comic series. "I made up a new character and everything I had planned to do with Hellboy, I could roll over into this other character," said Mignola of his backup plan. "We eventually started doing it as a comic: 'Joe Golem, Occult Detective.' I made up this golem character I was going to do as a comic, and then I was going to do it as a novel, but really it was sitting off to the side, waiting for Hellboy to tank huge. For a long time he was just sitting on the sidelines, as my lifeboat." Thankfully, the "Hellboy" film didn't "destroy" the comic, and Mignola didn't have to execute his backup plan.
"SUICIDE SQUAD" IS TWITTER'S MOST ANTICIPATED SUMMER MOVIE
05/31/16 @ 11:41 am EST
Source:
Comic Book Resources
| Categories:
Suicide Squad
|
Comments
(0) |
E-mail Article
|
Add a Comment
The summer movie season has begun and with it comes a number of major offerings from major movie studios -- with many comic-based movies among them. One particular comic movie has risen above all the other summer releases to become the most talked about film on Twitter. As reported by USA Today, Twitter has revealed that "Suicide Squad" -- the film starring Jared Leto, Will Smith, Margot Robbie and more as a ragtag band of villains-turned-quasi-heroes -- has become the most tweeted-about summer movie.
The film, which opens in August, had one million tweets posted about it between March 1 and May 26. The Joker Twitter emoji and the hashtag #JokerWasHere helped bolster the conversation, as did Joker actor Jared Leto's massive Twitter following. A trailer released for the film in April had almost 130K retweets and over 170K likes.
Coming up behind "Suicide Squad" were the also much-discussed "Finding Dory" (869,000 tweets) and "Ghostbusters" (329,000 tweets). "Suicide Squad's" claim to fame also comes as two other much tweeted about have entered theaters; "Captain America: Civil War" scored 10.4 million tweets during the sample period, and "X-Men: Apocalypse" also broke the million mark with 1.8 million tweets.
Directed by David Ayer and starring Jared Leto, Will Smith, Margot Robbie, Viola Davis and more, "Suicide Squad" opens on August 5.
MARVEL STUDIOS PAVED THE WAY FOR "THE BOYS" TV ADAPTATION, SAYS CO-CREATOR GARTH ENNIS
05/31/16 @ 11:38 am EST
Source:
Comic Book Resources
| Categories:
Dynamite
|
Comments
(0) |
E-mail Article
|
Add a Comment
A TV adaptation of Dynamite Entertainment's "The Boys" is currently in development at Cinemax, and -- according to Garth Ennis, who co-created the series with Darick Robertson -- it wouldn't have gotten this far without Marvel Studios' recent success.
"Ten years ago, if you introduced 'The Boys' to a mainstream audience, they would've been mystified," Ennis explained to The Hollywood Reporter. "They would be able to identify roughly who was standing in for Batman, Superman, the Hulk, probably Spider-Man and Captain America. Not beyond that. Now, 10 years on, with the success of the various franchises, mainstream audiences have been educated in the world of superheroes. So when an Iron Man-esque guy pops up, they'll know who that is. That's going to be simpler."
However, that doesn't mean it'll be a simple process overall. Ennis believes the struggle with adapting the comic will lie in "making 'The Boys' look as good as a superhero movie. It's less grounded than 'Preacher' in that regard."
"We're in a similar place with it now where we were with 'Preacher,'" added executive producer Seth Rogen. "Now that we've convinced everyone to let us adapt this into a show, what are we actually going to do?"
Ennis also succinctly summed up the premise of the show with an unofficial tagline: "Sick of superheroes? Because we are."
Dynamite Entertainment's "The Boys," which ran for 72 issues from 2008 to 2012, depicted a world wherein superheroes had become amoral celebrities that often engaged in destructive and selfish behavior. The Boys are a CIA squad that keeps those heroes in check, taking them out permanently if need be.
Seth Rogen, Evan Goldberg and Neal Moritz are involved in the new series, and Rogen and Goldberg helped develop the adaptation along with "Supernatural's" Eric Kripke. Kripke will also write for the series and serve as executive producer. Rogen and Goldberg, who recently directed the pilot for AMC's "Preacher," will direct the pilot for the Cinemax series. Ennis and Robertson will serve as co-executive producers. Additionally, Original Film's Moritz, Pavun Shetty and Ori Marmur; Point Grey's Rogen, Goldberg and James Weaver; as well as Ken Levin and Kickstarter's Jason Netter are on board as EPs.
FIRST PHOTOS OF "HARRY POTTER AND THE CURSED CHILD'S" MAIN CAST UNVEILED
05/31/16 @ 11:31 am EST
Source:
Comic Book Resources
| Categories:
MIsc
|
Comments
(0) |
E-mail Article
|
Add a Comment
There's a little magic happening on the London stage. On
Pottermore
, J.K. Rowling unveiled the first photos of "Harry Potter and theCursed Child's" main cast, including Jamie Parker as Harry Potter, Poppy Miller as his wife Ginny and Sam Clemmett as their son Albus Severus Potter.
As to Harry's new look, Parker said, "With all the character's costumes we want them to be instantly familiar when people see them, so that people feel like the story's safe in our hands, and that we're taking that responsibility seriously.'"
"It's a unique gig in the sense that you have seven volumes of backstory that you get to bring on with you. And we were all very keen to make sure that the first time you see Harry it just feels right," he added.
Of Miller, Rowling shared, "I think a lot of people would like to have Poppy's Ginny for a mother. Kind and cool, exactly as I imagined her."
"There's much I could say about Sam-as-Albus, but we'd be into spoiler territory so quickly I'll just say we couldn't have cast better," she added.
Written by Rowling and Jack Thorne, "Cursed Child" picks up just after the epilogue of "Harry Potter and the Deathly Hallows," where an adult Harry waves off his children at Platform Nine and Three-Quarters.
"Harry Potter and the Cursed Child" opens July 30 at the Palace Theatre in London.
R2-D2 DEBUTS BOBA FETT-INSPIRED REDESIGN AT MEGACON
05/31/16 @ 3:18 am EST
Source:
Comic Book Resources
| Categories:
Star Wars
|
Comments
(0) |
E-mail Article
|
Add a Comment