PLAYBOY! SIDESHOW COLLECTIBLES! VAMPIRELLA!
11/05/12 @ 2:23 pm EST
Source:
Playboy
| Categories:
Vampirella
|
Comments
(0) |
E-mail Article
|
Add a Comment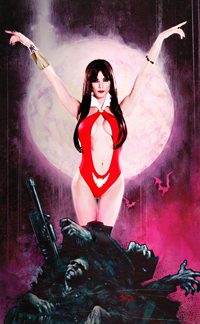 She's here! In the Flesh! The incredibly sexy LeAnna Vamp has brought Vampirella to life in this amazing pictorial on Playboy.com. Along with Sideshow Collectibles and us at Dynamite, they are offering an amazing giveaway for the Vampirella Premium Format satue. To celebrate this Playboy has put together an amazing photoshoot with LeAnna Vamp, the ghoul of you dreams! Check out the link to take you to the hottest, most seductive photoshoot of Vampirella cosplay you have ever seen! Vampirella's fans are going to love this and if you aren't a fan you will be sure to become one. Find out details for entering the contest to win this hot collectible and you can also download some freebie hot LeAnna wallpapers on the site. This is the biggest premiere of a Vampirella model ever seen in the character's history so go check it out and Happy belated Halloween to all you fans out there.
MORE AWESOMENESS ANNOUNCED FOR MALTA COMIC CON 2014
10/23/14 @ 10:39 pm EST
Source:
Malta Comic Con
| Categories:
MIsc
|
Comments
(0) |
E-mail Article
|
Add a Comment


Wicked Comics is proud to announce that French digital artist Jean-Louis Mast (Original Sin: Secret Avengers), inker supreme Dave Llung, Italian illustrator Luciano Regazzoni (Alpha Agency) and the Palermo based collective Grafimated Cartoon (I Vespri Siciliani) will be joining Yishan Li, Rufus Dayglo, Andrew Wildman, Guillermo Ortego, Steve Scott, Mickey Lam, Mike Collins, Cliodhna, Dave Taylor, Christian Ward, John-Paul Kamath, Michael Dialynas, Lew Stringer, Daniela "Iella" Attard, Mario Alberti, Gabriel Hernandez Walta, Gordon Rennie, Emma Beeb, Jason Howard, Richard Starkings, Tim Perkins, Sean Azzopardi El Torres, Amigo Comics, Jenika Ioffreda, Stephanie Cooke, Gianluca Maconi, Mike Lawson, the School of Bitches, and Marianne Galea as guests for the Malta Comic Con (MCC) 2014 which will be held on Saturday 29th and Sunday 30th November at St. James Cavalier (all floors), Valletta, between 10am – 6pm on Saturday and 11am – 7pm on Sunday.

Jean-Louis Mast:

Mast is a French digital artist who has been working on the web since he was a little 16-year-old punk (recently on "Watchmen 3″, French webcomics "L'Affaire DSK", "Gonzoo" and "La Synthèse des Auteurs BD").


He's a storyboard artist for Marvel digital line: the Infinite Comics.


He worked with Geoffo on "Amazing Spider-Man: Who Am I?", "Ultimate Spider-Man Infinite", "Iron Man: Fatal Frontier", "Original Sin: Secret Avengers", "Thanos: A god up there listening", and "All-New Captain America: Fear Him!". He is also scheduled to work on more titles which will be announced shortly.


Mast is also the co-cartoonist of Jim The Duck's comic strips, from NBC's famous TV show Community.

Dave Lung:

Dave Lung is a veteran in the independent comic scene, having freelanced for several of the biggest companies in the industry and has worked with some of the most talented artists in comics today. Dave has a BA. Hons. in Fine Art and Graphic Design, and is multi-talented artist who currently splits his time between pencils and inking. He is currently working on 3 of his own graphic novels, each of which are under solicitation to one of the biggest alternative comic publications in the industry. Dave is best known as a uniquely talented inker with an intricate and dark style which is easily recognizable.

Luciano Regazzoni:

Luciano Regazzoni was born in 1959 and graduated at the School of Comics of Milan.

Since 1985 he has been teaching anatomy applied to comics and illustration technique at the same school and at The European Design Institute. In the 2005 he became part of the teaching staff of the School of Comics of Palermo/Grafimated Cartoon. Between 2007-2008 he worked as a Costume Designer for the movie "Dark Resurrection". In 2013 he started to work with Sergio Bonelli Editor: He illustrated issue 29 of "Alpha Agency", a spin-off of the regular series Nathan Never, titled "The Trial". He collaborates as a storyboard artist, illustrator and visualizer for several ad agencies and major Italian comic publishers.

Grafimated Cartoon:

Salvatore Di Marco and Antonino Pirrotta come to Malta on behalf of the Palermo based Grafimated Cartoon. Grafimated Cartoon is a cooperative society that produces, promotes and diffuses animated films and comics. Grafimated Cartoon was founded in January 2001 by professionals of the field. With over fifteen years experience, they have participated in several national and international animated film festivals with short author films, in particular the short film "Saudates du sud" with which it took part in the competition in Annecy 97 edition. They have cooperated in the production of important animated series and feature films such as: The Triplets, Cocco Bill, I Cuccioli, La Gabbianella e il Gatto, Aida degli alberi, etc... Grafmated Cartoon also produced "I Vespri Siciliani" and are working on the upcoming feature animated movie "Pinocchio" by Enzo D'Alo. With "School of Comics-Scuola del Fumetto" they teach the skills to create comics, from pencils to colouring and lettering. In fact in 2011, the school also started publishing comics created by their students. Their students and collaborators have worked with such editors as Panini Kids, Ape Entertainment, Disney, Marvel Comics, Marathon, Bluewaters, Cronaca di Topolinia, Dc Comics, etc... Other activities organized in collaboration with several public schools in Sicily, are comics and animated cartoon workshops where students create short films in which some of them won prizes in their respective categories.
ARCHIE COMICS COME TO TELEVISION WITH 'RIVERDALE' TV SERIES
10/23/14 @ 9:33 pm EST
Source:
Archie Comics
| Categories:
MIsc
|
Comments
(0) |
E-mail Article
|
Add a Comment
The news is out: "Riverdale," a one-hour drama based on the iconic Archie comic book characters, has landed at Fox. Warner Brothers Studios is producing along with studio-based Berlanti Productions.
"Riverdale" offers a bold, subversive take on Archie, Betty, Veronica, and their friends, exploring the surrealistic twists of small-town life plus the darkness and weirdness bubbling beneath Riverdale's wholesome facade. Set in the present in the small fictional town of Riverdale, New York. The show will focus on the eternal love triangle of Archie Andrews, girl-next-door Betty Cooper, and rich socialite Veronica Lodge, and will include the entire cast of characters from the comic books—including Archie's rival, Reggie Mantle, and his slacker best friend, Jughead Jones. Popular gay character Kevin Keller will also play a pivotal role. In addition to the core cast, "Riverdale" will introduce other characters from Archie Comics' expansive library, including Josie and the Pussycats.
The show will be produced by Greg Berlanti's Berlanti Productions ("Arrow," "The Flash"), written by Roberto Aguirre-Sacasa ("Glee," "Looking").
Bertlanti's track record as a producer includes a number of small-town teen dramas, such as the acclaimed "Jack & Bobby" and "Dawson's Creek" and superhero fare pulled from the four-color pages of legendary comic books like "Arrow" and "The Flash." Aguirre-Sacasa, in addition to being the Chief Creative Officer at Archie Comics, also writes two of the publisher's best-selling titles - the horror series
Afterlife with Archie
and
Chilling Adventures of Sabrina
. He spent three years as a writer on "Glee" and penned the remake of teen-angst classic "Carrie" and the cult horror classic "The Town that Dreaded Sundown," as well as the Broadway-bound musical adaptation of "American Psycho."
"This is a historic moment for Archie Comics, and we couldn't be happier to partner with FOX, Warner Bros. and Greg Berlanti to bring our characters to television," said Archie Comics Publisher/Co-CEO Jon Goldwater. "Greg and Roberto are experts when it comes to making great, compelling television and bringing beloved comic book creations to life on the screen. They're the perfect team to welcome viewers to 'Riverdale.'"
"This is something we've been working on for awhile now, figuring out the best way to bring these characters to life for what will be, essentially, the first time," Aguirre-Sacasa said. "The entire team working on 'Riverdale' is as passionate about Archie as Jon and I are, so it feels like the stars have finally aligned for Archie and the rest of the gang."
SPIDER-GWEN SELLS OUT ONCE AGAIN
10/23/14 @ 9:28 pm EST
Source:
Marvel
| Categories:
Edge of The Spider-Verse
|
Comments
(0) |
E-mail Article
|
Add a Comment
The buzz continues to grow from all corners of the comic book industry and beyond for Gwen Stacy: The Sensational Spider Woman! Before she swings again in her new ongoing series this February – fans will get another chance to experience her very first adventure! Today, Marvel is pleased to announce that due to overwhelming demand,
EDGE OF SPIDER-VERSE #2
will return for a third printing! Jason Latour, Robbi Rodriguez and Rico Renzi craft an instant-fan favorite that has the whole world talking!
Before February's eagerly anticipated
Spider-Gwen #1,
catch up with the breakout star of
Spider-Verse
as she swings headlong into the biggest Spider-Man event of all time! Don't believe us? Here's what the critics had to say about her massively buzzed about first appearance:
"Face it Marvel, you hit the jackpot"
– ComicBook.com
"Latour, Rodriguez, Renzi and Cowles have done a masterful job of crafting a world readers should want to dive into." –
Multiversity Comics
"…everything you didn't know you wanted in a Spider-book"
– Comic Book Resources
"This comic had pretty tremendous expectations set by readers ahead of time, and luckily, it lives up to them in full"
– IGN
"
10/10
" – ComicVine
As the
Spider-Verse
looms, meet one of its breakout stars as Gwen Stacy swings headlong into the biggest Spider-Man event of all time. Now is your chance to experience the issue that has everyone raving! Be there when Gwen Stacy dons her hood as Spider-Woman one more time as
EDGE OF SPIDER-VERSE #2
returns to comic shops in October!
ANOTHER MARVEL TEASER: ATTILAN RISING
10/23/14 @ 9:22 pm EST
Source:
Marvel
| Categories:
Marvel
|
Comments
(0) |
E-mail Article
|
Add a Comment
Another teaser, this time of Inhumans origin. Stay tuned!
DISNEY'S FROZEN GRAPHIC NOVEL GETS OVER 100,000 PREORDERS
10/22/14 @ 3:21 pm EST
Source:
Bleeding Cool
| Categories:
MIsc
|
Comments
(0) |
E-mail Article
|
Add a Comment
Bleeding Cool reported recently that Joe Books had the rights to create a graphic novel based on Disney's blockbuster,
Frozen.
In fact it's technically known as a Cinebook, panels created directly from the frames of a movie, then lettered and composed like a comic. An adaptation couldn't be more direct. It is over 300 pages liong and sells for $14.99.
No wonder orders are high. We've been told pre-orders have topped six figures. It's out for Christmas
.
And if you readers just can't manage 376 pages of
Frozen
, then there's a 48 page comic book (using actually drawn comic book pages) out in January, reprinting a European adaptation, from Joe Books as well, for $4.99.
CONSTANTIN, DARK HORSE TEAM FOR 'POLAR' GRAPHIC NOVEL ADAPTATION
10/22/14 @ 2:56 pm EST
Source:
Deadline
| Categories:
Dark Horse
|
Comments
(0) |
E-mail Article
|
Add a Comment
Constantin Film and Dark Horse have pacted on noir spy revenge tale
Polar
, adapted from the celebrated Dark Horse Comics graphic novel
Polar: Came From The Cold
by Victor Santos. The action-thriller follows a master assassin named Black Kaiser who's forced out of retirement by an assassination attempt by a crew of younger hitmen. Constantin sprung for a script by Jayson Rothwell (
Malice In Wonderland, Silent Night
) and with Dark Horse are now eyeing directors for a spring 2015 shoot.
The stylized
Polar
originated as a free "silent" web comic before Dark Horse published it as a graphic novel in 2013, adding dialogue. Constantin's Robert Kulzer will produce with Jeremy Bolt (
Resident Evil
) and Dark Horse Entertainment's Mike Richardson and Keith Goldberg. Rothwell is repped by WME.
SO GOOD, IT'S CRIMINAL
10/22/14 @ 2:48 pm EST
Source:
Image
| Categories:
Image
|
Comments
(0) |
E-mail Article
|
Add a Comment
Image Comics is thrilled to announce that CRIMINAL, the award-winning series by Ed Brubaker and Sean Phillips, is finally returning to print in beautifully designed new editions, beginning in January.

And to celebrate the return of the comic that solidified their reputations as Masters of Noir, Brubaker and Phillips, along with colorist Elizabeth Breitweiser, are creating a special 48-page one-shot sure to excite diehard fans and pull in new readers alike. For the true CRIMINAL fanatic, a special CRIMINAL: SAVAGE EDITION magazine-sized variant will also be available.

It's 1976, and Teeg Lawless is doing 30 days in county jail with a price on his head; his only safe company from the savagery: a beat-up old comic magazine his dead cellmate left behind. It's CRIMINAL like you've never seen it before, with a comic within the comic and all those slick '70s thrills!

"We've been planning the return of CRIMINAL for the past year, and I couldn't let the launch go by without returning to our underworld for a new story," said Brubaker. "With FATALE and THE FADE OUT, we've been hearing from a lot of new readers, so it couldn't be a better time to get the thing we're most known for back on the shelves."

CRIMINAL one-shot will be available on 1/28 and can be pre-ordered with Diamond Code NOV140567. The magazine-sized SAVAGE EDITION will be available on 1/28 as well and can be pre-ordered with Diamond Code NOV140568. CRIMINAL, VOL. 1: COWARD trade paperback will be available on 1/28 as well and can be pre-ordered with Diamond Code NOV140569.
A SUPERHERO FOR THE 21ST CENTURY IN THE BOUNCE
10/22/14 @ 2:45 pm EST
Source:
Image
| Categories:
Image
|
Comments
(0) |
E-mail Article
|
Add a Comment
Jasper Jenkins is a pretty typical 20-something—who just happens to have gained superpowers through very surreal circumstances. When he's not hanging out and doing a lot of nothing, Jasper puts on a costume and hits the streets as The Bounce, a superhero in a world that's not used to super-powered heroes and villains. And it's this slacker and this world that Joe Casey (SEX, BUTCHER BAKER THE RIGHTEOUS MAKER) and David Messina explore in their super-sized Image Comics graphic novel THE BOUNCE, out this winter.
Jenkins may be a slacker superhero, but THE BOUNCE is loaded with depth, as Casey and Messina explore what would make a person put on a costume and fight crime, and what it's like for him—and a handful of other newly super-empowered—to live a double life. Throw in some good old-fashioned superheroic action, and you have a superhero comic for the 21st century, reimagined, revamped, revved and ready to impart its secrets.
THE BOUNCE collects all 12 issues of the groundbreaking series. It will be in comic book stores on November 19 and in bookstores on December 2.
IXTH GENERATION BURSTS ONTO SCENE
10/22/14 @ 2:33 pm EST
Source:
Image
| Categories:
Image
|
Comments
(0) |
E-mail Article
|
Add a Comment
Writer Matt Hawkins (THINK TANK) pens a new Top Cow IX Utopia—built on a history of genocide and featuring haunting artwork by Stjepan Sejic—in IXTH GENERATION, coming this January.
Set in the future, IXTH GENERATION inhabits a world where there is no more natural death, no needs unfilled and everything you could ever want is yours… as long as you're one of the ones chosen to live in this new Utopia and you're willing to subjugate yourself to these new self-proclaimed gods with "IX"s emblazoned on them.
Do the ends truly justify the means? Is a utopia built on genocide worth the price? Aphrodite, Velocity, Hades, and the other Nines establish fiefdoms in this new world and attempt to rule. Their internal clashes have escalated, but they are forced to put that aside as they face off against the relentless hordes of The Darkness. The sins of the past have come to claim those who would pretend to be Gods. The cybernetic future established in APHRODITE IX and CYBER FORCE finally comes face-to-face with the supernatural ARTIFACTS side of the Top Cow universe.
IXTH GENERATION #1 arrives in stores this 1/7 and can be pre-ordered using Diamond Code NOV140555.
DC'S 'CYBORG,' RAY FISHER, DIDN'T KNOW HE WAS GETTING HIS OWN MOVIE
10/22/14 @ 2:22 pm EST
Source:
Entertainment Weekly
| Categories:
DC
|
Comments
(0) |
E-mail Article
|
Add a Comment
Nobody told Ray Fisher the plan. The 27-year-old had no idea he was set to explode into Hollywood movie stardom, top-lining as the title character in a
Cyborg
movie set for release in 2020. In fact, producers called the New Jersey-born theater actor on Oct. 15 with the heads-up only hours before Warner Bros. publicly revealed its slate of mega-budget superhero movies tied to the DC Cinematic Universe—
Wonder Woman
,
The Justice League
,
Suicide Squad
, and
Shazam
among them.
"I didn't know the extent to which DC and WB had planned on taking my character," says Fisher, who was hired in March to cameo as Cyborg in
Batman v Superman: Dawn of Justice
. "When I signed on, I just wanted to be part of this world. But that specific information, I found out then and there. I didn't think I'd be getting my own stand-alone film."
Now, Fisher ranks as the first African-American to score a non-ensemble superhero flick since Will Smith's booze-swilling screw-up vigilante
Hancock
in 2008. Not bad for a classically trained actor and veteran of the Shakespeare Theater of New Jersey with precisely zero feature film roles to his credit.