PLAYBOY! SIDESHOW COLLECTIBLES! VAMPIRELLA!
11/05/12 @ 2:23 pm EST
Source:
Playboy
| Categories:
Vampirella
|
Comments
(0) |
E-mail Article
|
Add a Comment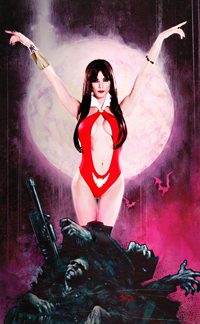 She's here! In the Flesh! The incredibly sexy LeAnna Vamp has brought Vampirella to life in this amazing pictorial on Playboy.com. Along with Sideshow Collectibles and us at Dynamite, they are offering an amazing giveaway for the Vampirella Premium Format satue. To celebrate this Playboy has put together an amazing photoshoot with LeAnna Vamp, the ghoul of you dreams! Check out the link to take you to the hottest, most seductive photoshoot of Vampirella cosplay you have ever seen! Vampirella's fans are going to love this and if you aren't a fan you will be sure to become one. Find out details for entering the contest to win this hot collectible and you can also download some freebie hot LeAnna wallpapers on the site. This is the biggest premiere of a Vampirella model ever seen in the character's history so go check it out and Happy belated Halloween to all you fans out there.
DF REVIEW: GUARDIANS OF THE GALAXY #21
11/20/14 @ 11:52 pm EST
Source:
Dynamic Forces
| Categories:
Guardians of the Galaxy
|
Comments
(0) |
E-mail Article
|
Add a Comment
By BYRON BREWER
With the mystery of Richard Rider behind us (however you feel about that as a fan), it's good to be heading into a new cosmic adventure of the Guardians of the Galaxy, one that promises to reveal the origin of the symbiote of longtime Venom fame.
Even Brian Michael Bendis himself seems to be excited about this and the Black Vortex storyline coming up.
In
Guardians
#21, we have the first part of "Planet of the Symbiotes" which finds the ebony alien slowly taking over our boy Flash Thompson. I am always glad when Bendis uses Knowhere because you never know what Easter Eggs you're going to find. Example: Could that be Cosmo in a cameo taking a sniff of an unidentified pooch?
The riddle of the symbiote's behavior continues as we see one of the best uses of our gal Gamora by Bendis to date. She suddenly seems like her early self from the pages of
Warlock
: wild, unencumbered and truly the Most Dangerous Woman in the Universe! As she says to the symbiote during the fierce battle: "Come on."
I like what I saw in #21 and I like where the future is going for this magazine. All you DnA nay-sayers, take note!
DYNAMITE BUYS THE ATLAS COMICS TRADEMARK FROM JEFFREY STEVENS
11/20/14 @ 8:43 pm EST
Source:
Bleeding Cool
| Categories:
Dynamite
|
Comments
(0) |
E-mail Article
|
Add a Comment


A few folk have been after the Atlas Comics trademark. The second name of the company that would become Marvel Comics.

Marvel's founder Martin Goodman revived the name in 1974 after selling Marvel. The line soon folded.

In 2002, small press publisher Jeffrey Stevens registered the trademark and had it accepted. In 2010, Marvel tried to get it back and failed. In 2012, Martin's grandson Jason Goodman also tried and failed.

Then came Dynamite Entertainment CEO and publisher Nick Barrucci, who collects trademarks like some folk collect variant covers, with a long line in revived characters and publishing lines. He learnt from the previous two attempts – and bought the trademark.

Stay tuned to DF News for more!
FOUR ADDED TO THE CAST OF 'OUTCAST' PILOT; KIRKMAN WRITING
11/20/14 @ 8:37 pm EST
Source:
ICv2
| Categories:
Image
|
Comments
(0) |
E-mail Article
|
Add a Comment
It appears that Robert Kirkman has finished the major casting on his pilot episode ofOutcast, his new exorcism drama for Cinemax. Just two weeks ago the casting of Patrick Fugit (Gone Girl) as chief protagonist Kyle Barnes and Phillip Glenister (Life on Mars) as the evangelical preacher Reverend Anderson was announced.

Today, according to The Hollywood Reporter, four more key roles were cast including that of Megan Holter, Kyle's adoptive sister, a child psychologist, who will be played by Wrenn Schmidt. Also joining the cast is Law and Order Criminal Intent's Julia Crockett, who will play Kyle's damaged and raving mother Sarah Barnes, as well as Kip Pardue (Ray Donovan), who will play Mark Holter, a skeptical cop and the husband of Kyle's sister Megan, and Reg. E. Cathy (House of Cards), who will play Giles, the chief of police, who believes that there is some truth to stories of demonic possession.

Kirkman is writing the script for the Outcast pilot, the first time that he has written a pilot. Cinemax bought the rights to Outcastbefore the first issue of the comic series was even published
VALIANT AND IGN PRESENT TALES OF THE VALIANT – A NEW WEEKLY WEBCOMIC BY MATT KINDT & PERE PEREZ
11/20/14 @ 8:33 pm EST
Source:
Valiant
| Categories:
MIsc
|
Comments
(0) |
E-mail Article
|
Add a Comment


This December, a battle ten millennia in the making begins in THE VALIANT #1 by New York Times best-selling writers Jeff Lemire & Matt Kindt and Eisner Award-winning artist Paolo Rivera…but, first, meet the blockbuster heroes behind THE VALIANT in a new weekly webcomic exclusively at IGN! Valiant is proud to announce IGN PRESENTS TALES OF THE VALIANT -- an all-new, four-part webcomic counting down to the release of THE VALIANT #1 by New York Times best-selling writerMatt Kindt (THE VALIANT, RAI) and Harvey Award-nominated rising star Pere Perez (HARBINGER WARS, ARCHER & ARMSTRONG), debuting exclusively at IGN each Wednesday!

"THE VALIANT is a ground-level introduction to Valiant's most iconic and enduring characters," said Valiant CEO & Chief Creative Officer Dinesh Shamdasani. "True to form, Jeff Lemire, Matt Kindt, and Paolo Rivera have crafted a story that is a true epic, covering centuries of history and drawing nearly all of Valiant's most important heroes and villains into the fray. Now, in concert with IGN, we're excited to zero in individually on each of the series' primary leads – the Eternal Warrior, Bloodshot, Geomancer, and Ninjak – for an intimate adventure preceding the events of THE VALIANT #1. Matt and Pere have expertly captured what makes these characters tick, and IGN PRESENTS TALES OF THE VALIANT is a perfect short-form introduction to the stage and setting of THE VALIANT before issue #1 arrives in December."

The Eternal Warrior has protected the Earth for more than 10,000 years. A master of countless weapons and long forgotten martial arts, he is guided by the Geomancers – those who speak for the Earth. During his long watch, the Eternal Warrior has failed three times. Each time, the Geomancer was killed…and a new dark age for humanity began. Each time, he was unable to stop The Immortal Enemy – a monstrous force of nature. A civilization killer. A horror that appears differently each time it arrives…and whose seemingly only purpose is to bring disorder and darkness to the world. Now, the time has come for The Immortal Enemy to return once more. But, this time, the Eternal Warrior will be ready. This time, he has a force greater than any single warrior. This time, he has…THE VALIANT.

But before THE VALIANT begin their star-crossed showdown with the Immoral Enemy on December 10th, meet each of the series' most important players in the exclusive TALES OF THE VALIANTwebcomic, beginning today at IGN! Eternal Warrior. Bloodshot. Geomancer. Ninjak. United to prevent the dawn of a new Dark Age for mankind, each of these fearless heroes is stepping to the fore for a special standalone adventure detailing their origin and escapades prior to THE VALIANT #1 with a new installment of IGN PRESENTS TALES OF THE VALIANT each Wednesday!

The adventure begins right now in the first installment of IGN PRESENTS TALES OF THE VALIANT by Matt Kindt and Pere Perez.
OUTCAST BY KIRKMAN & AZACETA ROCKETS UP THE CHARTS
11/20/14 @ 8:26 pm EST
Source:
Image
| Categories:
Image
|
Comments
(0) |
E-mail Article
|
Add a Comment
The second issue and fifth issue of Robert Kirkman and Paul Azaceta's bestselling horror series, OUTCAST BY KIRKMAN & AZACETA, are being rushed to a third and second printing respectively in order to meet escalating customer demand. Due to the huge success in sales, the series is poised to follow THE WALKING DEAD in becoming another entertainment phenomenon with the forthcoming TV series pilot already in development. OUTCAST BY KIRKMAN & AZACETA is sending readers into comics stores everywhere in droves.
The chilling series follows a tormented Kyle Barnes—a man with a burdensome gift—and the regularly occurring demonic possessions he encounters.
In issue #2, Kyle Barnes is still reeling from the revelations about demonic possession last issue and what they may mean about the time his mother was possessed.
In issue #5, Kyle and Reverend Anderson travel further into this world and the true nature of things starts to reveal itself. The truth is more terrifying than they could have imagined.
OUTCAST BY KIRKMAN & AZACETA #2 and #5 are also available for purchase across all digital platforms, including the Image Comics website (imagecomics.com), the official Image Comics iOS app, Comixology's website (comixology.com), iOS, Android, and Google Play.
OUTCAST BY KIRKMAN & AZACETA #1, 5th printing is available still with Diamond Code AUG148326.
OUTCAST BY KIRKMAN & AZACETA #2, 3rd printing (Diamond Code OCT148181) will be available on 12/17.
OUTCAST BY KIRKMAN & AZACETA #3, 2nd printing is available with Diamond Code JUL148428.
OUTCAST BY KIRKMAN & AZACETA #4, 2nd printing is available with Diamond Code AUG148350.
OUTCAST BY KIRKMAN & AZACETA #5, 2nd printing (Diamond Code OCT148182) will be available on 12/17.
OUTCAST BY KIRKMAN & AZACETA #6 is available for pre-order with Diamond Code SEP140739. The final order cutoff deadline for retailers is 12/17.
MARVEL IS ACTUALLY GOING TO PUBLISH THAT SEXIST SPIDER-WOMAN COVER
11/20/14 @ 8:17 pm EST
Source:
Time
| Categories:
Spider-Woman
|
Comments
(0) |
E-mail Article
|
Add a Comment
Remember that ludicrously objectified version of the Spider-Woman No. 1 cover from August—the one that made Spider-Woman's bottom look like an apple? The alternate cover that drew fan outrage is now getting published on Thursday with one major tweak: The words "Spider-Woman" will now cover the offending derriere.
It's unclear what Marvel hoped to accomplish by the strategic positioning of the title: Perhaps it thought nobody would notice.
Marvel Comics and Marvel Studios have made headlines this year for embracing their female heroes: In July, Marvel Comics revealed that a woman would be taking up the hammer of Thor, and earlier this month the studio announced a Captain Marvel movie slated for 2017, the first female-centric film from the studio. Even the announcement of the Spider-Woman cover at San Diego Comic Con was enthusiastically received by female fans of the comic who were excited that a female character in the Spider-Man universe was getting a big PR bump.
That's why female fans are particularly disappointed in the company for overly-sexualizing what they hoped would be an empowering female character on the cover. Even worse, artist Milo Manara seems to have based the cover on an erotic image he had drawn earlier in his career of a nude woman lying bottom-up in front of a gang of men. The woman-focused entertainment site, The Mary Sue, even mocked the image with sexual memes.
DEADPOOL GETS WORDY FOR HIS OWN ORIGINAL PROSE NOVEL IN 2015
11/20/14 @ 3:07 pm EST
Source:
Marvel
| Categories:
Marvel
|
Comments
(0) |
E-mail Article
|
Add a Comment
Sure, he's got his own comic series. Sure, he's one of the world's most popular super heroes. But you know what he's not? Fine literature.
Well, let's fix that!
That's right: In 2015, the Merc With a Mouth is conquering the world of prose fiction with
DEADPOOL: PAWS
, an all-new original story penned by novelist and comic-book writer Stefan Petrucha (
Teen, Inc., X-Files).
Something is turning the city's dogs into giant, bloodthirsty killing machines. And Deadpool is charged with taking care of business. Only thing is – Deadpool
likes
dogs. He doesn't want to kill them. Now, people – that's a different story. He can kill loads of people. At least the ones who deserve it. So what we've got here is a genuine character dilemma.
"Deadpool is such a fun character that transcends the comics themselves," says Marvel SVP Sales & Marketing David Gabriel. "When we were discussing which characters should get the prose treatment, Wade Wilson was always right near the top. From the first chapter, the book has everything you love about Deadpool, and I can't wait for fans to get their hands on it."
In 2015, be there when the Merc With a Mouth conquers the brave new world of prose.
DEADPOOL: PAWS
brings you a disturbing tale of mutated canines…and the regenerating, loudmouthed mercenaries who love them.
DEADPOOL: PAWS PROSE NOVEL HC
Written by STEFAN PETRUCHA
On Sale 08/05/2015!
THE MAD TITAN'S QUEST CONTINUES IN THANOS: THE INFINITY RELATIVITY OGN
11/20/14 @ 11:58 am EST
Source:
Marvel
| Categories:
Thanos
|
Comments
(0) |
E-mail Article
|
Add a Comment
This coming June, the Mad Titan continues his crusade for untold power as legendary creator Jim Starlin returns for
THANOS: THE INFINITY RELATIVITY OGN
, a brand-new, full-length original graphic novel! Following up 2014's New York Times Bestselling
Thanos: The Infinity Revelation,
this new original graphic novel marks another stellar offering from Marvel's all-new OGN line, featuring the world's most popular super heroes brought to life by the industry's most popular creators and debuting in a high-end, oversized format featuring sophisticated packaging and design.
Annihilus, lord of the Negative Zone has re-ascended to power, more dangerous and more deadly than ever before. When he and his Negative Zone armies make another, renewed assault on our universe in search of a source of infinite power, a fragile alliance of the universe's most unlikely protectors will form to stop him.
Now the Guardians of the Galaxy, Gladiator the Majestor of the Shi'ar Empire, and Adam Warlock and more must unite like never before! Only Adam Warlock's complex cycle of death and rebirth has left him more confused than ever before. What is his purpose in the universe? Why is he here? With his Infinity Watch reunited alongside the Guardians of the Galaxy, between them they may hold the key to ending the threat of Annihilus once and for all – but to do so they'll need to enlist the help of another. Could it be that the fate of everything lies in the hands…of Thanos?
Find out when comic legend Jim Starlin returns for his next cosmic epic this coming June for
THANOS: THE INFINITY RELATIVITY OGN
!
THANOS: THE INFINITY RELATIVITY OGN
Written by JIM STARLIN Art & Cover by JIM STARLIN On-Sale June 2015!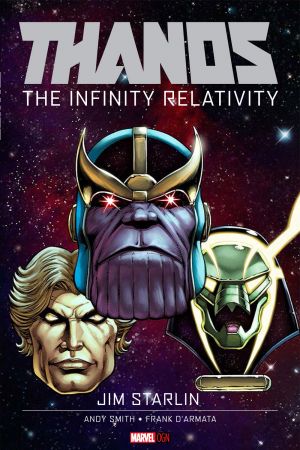 STORMQUEST CREATORS TOGETHER AT CAVALCADE OF COMICS
11/20/14 @ 11:51 am EST
Source:
Afterburn
| Categories:
MIsc
|
Comments
(0) |
E-mail Article
|
Add a Comment
On Saturday November, 22nd, Bill Nichols, Willie Peppers and Robert W. Hickey part of the creative team from the STORMQUEST Graphic Novel and SKYSTORM ORIGINS #1 will be together for the final time this year.

The 1st annual Cavalcade of Comics Convention in Louisville, KY offers the creators a chance to unite and display the collected volume of STORMQUEST. "The STORMQUEST Graphic Novel is the starting point for the SkyStorm Universe." replied Robert W. Hickey, "From this story everything changes for our characters and we get to show the readers within the pages of SKYSTORM ORIGINS which ships March, 2015 exactly what changes and what's on the horizon." finished Robert.

But you don't have to wait until 2015 to see the artwork and see what SkyStorm and its publisher Afterburn has coming out to stores. Bill, Willie and Robert will have pages from the SKYSTORM ORIGINS #1 story on display along with a few copies of STORMQUEST Graphic Novels Kickstarter volume for sale.

Don't miss this great opportunity to get in on the ground floor.

Cavalcade of Comics Louisville, KY November 22 @ the Ramada Plaza Louisville - Triple Crown Pavilion and stop by the Afterburn/SkyStorm tables.

NIGHTCRAWLER CANCELLED IN MARCH 2015?
11/19/14 @ 11:01 pm EST
Source:
Bleeding Cool
| Categories:
Nightcrawler
|
Comments
(0) |
E-mail Article
|
Add a Comment


Chris Claremont posted on Facebook about his battles with international flights, whereupon he was asked, and replied,

Danny Occhipinti:

Write a post about what are our thoughts on the newest Nightcrawler!! I liked it!! Lol. (Claremont easter eggs!!)

Chris Claremont:

Danny – very glad you liked it. I guess my basic thought is that it's a pity there won't be a Nightcrawler Year 2.

February has a Nightcrawler #11 solicited,

NIGHTCRAWLER #11
CHRIS CLAREMONT (w)
TODD NAUCK (a/C)
• The Shadow King. The Crimson Pirates. The forces of Heaven and Hell. Nightcrawler is cutting through his foes to protect those nearest and dearest to him.
• But in his struggles with his return from the afterlife, will Nightcrawler take his one-man-war too far?
32 PGS./Rated T+ …$3.99

Previously we had been informed that Nightcrawler would be going up to at least issue 12.

Maybe it won't go any further?

We were told to expect a number of cancellations in March, and we already lost Elektra in February. (via Bleeding Cool)