PLAYBOY! SIDESHOW COLLECTIBLES! VAMPIRELLA!
11/05/12 @ 2:23 pm EST
Source:
Playboy
| Categories:
Vampirella
|
Comments
(0) |
E-mail Article
|
Add a Comment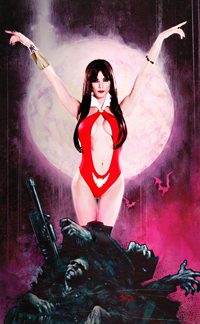 She's here! In the Flesh! The incredibly sexy LeAnna Vamp has brought Vampirella to life in this amazing pictorial on Playboy.com. Along with Sideshow Collectibles and us at Dynamite, they are offering an amazing giveaway for the Vampirella Premium Format satue. To celebrate this Playboy has put together an amazing photoshoot with LeAnna Vamp, the ghoul of you dreams! Check out the link to take you to the hottest, most seductive photoshoot of Vampirella cosplay you have ever seen! Vampirella's fans are going to love this and if you aren't a fan you will be sure to become one. Find out details for entering the contest to win this hot collectible and you can also download some freebie hot LeAnna wallpapers on the site. This is the biggest premiere of a Vampirella model ever seen in the character's history so go check it out and Happy belated Halloween to all you fans out there.
VIN DIESEL TEASES HANNIBAL THE CONQUEROR AS HIS NEXT BIG FRANCHISE
08/30/14 @ 11:54 am EST
Source:
Comicbook
| Categories:
MIsc
|
Comments
(0) |
E-mail Article
|
Add a Comment


With Guardians of the Galaxy now the #1 film of 2014 at the U.S. box office, Vin Diesel seems ready to launch his next big franchise. While Vin Diesel might be best known for the Fast & Furious movies, he's been leveraging his success with that franchise to get another project off the ground.

On Friday, Vin Diesel posted a video of himself enjoying a very scenic ride. However, the camera kept panning down to a poster for Hannibal the Conqueror. Hannibal the Conqueror is about a Carthaginian general who led an army, complete with war elephants, across the Alps to attack Rome in the 3rd Century BC.

Could THIS be Vin Diesel's next BIG THING? We'll see.
COMIC BOOK COLLECTION STOLEN
08/30/14 @ 11:33 am EST
Source:
WHIO
| Categories:
MIsc
|
Comments
(0) |
E-mail Article
|
Add a Comment


A man called Dayton (Ohio) police to report that his $140,000 comic book collection was stolen from his apartment, WHIO reports.

The East Fourth Street resident was told to leave his apartment while his ex-girlfriend moved out after they broke up yesterday, according to a police report.

When he returned, he reportedly got into a physical altercation with her family, and then found his box of comic books, including an X-Men #1, missing, the report states.
PATRICK WARBURTON SET TO RETURN IN THE TICK
08/30/14 @ 5:44 am EST
Source:
People
| Categories:
MIsc
|
Comments
(0) |
E-mail Article
|
Add a Comment
The Tick is back to save the day. No lie! At least according to People.com.
Broad-shouldered Patrick Warburton only sported his blue antennae for one season the first go-around, but the critically-acclaimed superhero parody is now being revived on Amazon, People.com reported.
The cult-classic series is based on a comic book by Ben Edlund and was first brought to television as an animated series that enjoyed three seasons of success in the mid 1990s. In early 2012, Fox canceled Warburton's live-action version (which also starred a pre-
Lost
Nestor Carbonnell) after just nine episodes.
Mayhap the Tick will fair better in these pop culture-friendly times?
CANADA INTRODUCES SUPERMAN COINS FEATURING ICONIC DC COVERS
08/30/14 @ 5:19 am EST
Source:
CBR
| Categories:
Superman
|
Comments
(0) |
E-mail Article
|
Add a Comment


Less than a year after unveiling seven collector coins celebrating the 75th anniversary of the Man of Steel, CBR's Robot 6 reports that at Fan Expo in Toronto the Royal Canadian mint introduced four more, featuring iconic Superman comic book covers.

The superhero's milestone anniversary and Toronto roots were also celebrated last year with a set of stamps from Canada Posts. Although Superman was created in 1933 by Jerry Siegel and Joe Shuster when they were teenagers living in Cleveland, Shuster was actually born in Toronto, and lived there until age 9 or 10. He worked as a newspaper boy for the Toronto Daily Star, whose building served as a model for the Daily Planet (originally called the Daily Star).
LEVINE BRINGS HIS 'BOWERY BOYS' TO DARK HORSE
08/30/14 @ 5:10 am EST
Source:
CBR
| Categories:
Dark Horse
|
Comments
(0) |
E-mail Article
|
Add a Comment


Comic Book Resources is reporting that Cory Levine, Ian Bertram and Brent McKee's "Bowery Boys" are back, and at Dark Horse Comics.

The story takes all the elements of antebellum New York City and houses them inside the coming-of-age story of Niko McGovern, who must band together with a group of street youths in a life-or-death battle after his father, William, is unjustly accused of murder.Collected for the first time in a hardcover by Dark Horse, Bowery Boys has been running as a webcomic since 2013.

Although updates stopped at the end of the series' third book, Levine has restarted the online serialization as the series heads to its fifth book conclusion.

The Dark Horse collection contains the full five books as well as some new, extra material, CBR said.
WESLEY SNIPES BACK FOR FOURTH 'BLADE'
08/30/14 @ 5:02 am EST
Source:
Toronto Sun
| Categories:
Blade
|
Comments
(0) |
E-mail Article
|
Add a Comment
Actor Wesley Snipes is reportedly set to reprise his role as vampire hunter Blade in a fourth installment of the franchise.
The Expendables
3 star will net a $3 million pay check for his return to the film series, according to the New York Daily News.
Snipes recently spoke about his desire to return to the franchise, telling MTV.com, "I'd be open to it. I think we've got some stones left unturned and there's some latitude left for us to build on and I'd love to get back in the suit again and do some things I've learned how to do now that I didn't know how to do then."
FREE FROM DYNAMITE ON BLEEDING COOL – KIRBY: GENESIS #0
08/30/14 @ 4:48 am EST
Source:
Bleeding Cool
| Categories:
Dynamite
|
Comments
(0) |
E-mail Article
|
Add a Comment
Hey, what is the coolest thing online right now? Think King, Kirby, Birthday, Dynamite and Bleeding Cool!
Though
Jack Kirby's
birthday was yesterday,
Dynamite
wanted to do one more free comic in honor of
The King
.
Kirby: Genesis
#0 was the kicking off point for Dynamite's big Kirby-centric event from a few years back. The issue was written by
Kurt Busiek
with
Alex Ross
doing pencils and covers and
Jackson Herbert
doing inks.
Most of the event are part of the
Kirby: Genesis
sale on Comixology this weekend. It ends Sunday.
DRAGON CON BEGINS IN ATLANTA, GA
08/30/14 @ 4:38 am EST
Source:
WLTZ
| Categories:
MIsc
|
Comments
(0) |
E-mail Article
|
Add a Comment
Shazam and dozens of other superheroes hit the streets of downtown Atlanta today as Dragon Con begins.
Dragon Con prides itself on being fan-focused and family-friendly, with one of the world's biggest "cosplay" events, a huge costume parade through the city.
The convention runs through Labor Day.
DF REVIEW: SILVER SURFER #5
08/30/14 @ 12:05 pm EST
Source:
Dynamic Forces
| Categories:
Silver Surfer
|
Comments
(0) |
E-mail Article
|
Add a Comment
By BYRON BREWER
Yeah, yeah, I have heard it all!
"It's not the angst-ridden Silver Surfer we Marvelites love."
"It's not the same with him making jokes."
"It's not Stan Lee's Silver Surfer!"
Well, neither was the volume written by the likes of Steve Englehart, Jim Starlin and others, and that one lasted longer print-count-wise than any.
And actually writer Dan Slott's
Silver Surfer
has a lot in common with Englehart's in that they are both light-hearted, based in space for the most part, and explore the Surfer as a person rather than a cosmic power.
That said, I must admit Slott's first arc was pretty weird, wild stuff. I am still getting used to Dawn Greenwood, not to mention those oddball versions of Doc Strange and Hulk that guest starred this time around, but on the whole I must say that
Silver Surfer
#5 was probably one of the more entertaining mags I read this entire month.
I love the way Slott handled Dawn's dad and sister, not to mention Nightmare and Shuma-Gorath.
And the art by Michael and Laura Allred brings this light-hearted version to life like no other artist possible could. I mean, let's face it, if the art was too realistic – say, ala
Annihilation
– the book would not be light-hearted or funny, even with the same script.
While I like the fact that Slott will be exploring new corners of the Marvel U., I would still like to see the cosmic conquerors we know and love here occasionally. I mean, the Surfer is the stick when it comes to measuring an entity's power and I want to see the Kree, Brood, etc etc going against that. How about Surfer vs. Gladiator? Wild!
The Surfer and Dawn are now ready for traveling. Let's hope readers will stick with the book so we can see some of those uncharted Marvel Universe corners, okay?
'THE GREATEST AMERICAN HERO' GETS FOX REMAKE
08/29/14 @ 11:42 pm EST
Source:
Deadline
| Categories:
MIsc
|
Comments
(0) |
E-mail Article
|
Add a Comment
A Steven J. Cannell cult classic is getting a reboot at Fox.
The network has given a put pilot commitment to
The Greatest American Hero
, a new take on the 1981 sci-fi dramedy, which is being shepherded by Phil Lord and Chris Miller, directors of the successful feature franchise based on another '80s TV series by Cannell,
21 Jump Street.
Lord and Miller will executive produce the hour-long action comedy alongside Cannell's daughter, television director Tawnia McKiernan.
Written/exec produced by Rodney Rothman and produced by 20th TV, the new
Hero
will chronicle inner-city teacher Isaac's adventures after his discovery of a superhero suit that gives him superhuman abilities. Unfortunately for Isaac, he hates wearing the suit and has to learn how to use its powers by trial and error because he quickly misplaces the suit's instructions. He also has to deal with a government handler who has very different objectives than him and struggles as to whether he should use his newfound gifts to help others or just himself.