PLAYBOY! SIDESHOW COLLECTIBLES! VAMPIRELLA!
11/05/12 @ 2:23 pm EST
Source:
Playboy
| Categories:
Vampirella
|
Comments
(0) |
E-mail Article
|
Add a Comment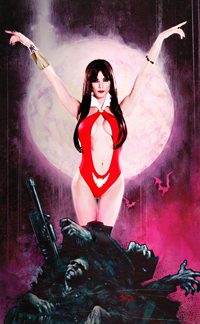 She's here! In the Flesh! The incredibly sexy LeAnna Vamp has brought Vampirella to life in this amazing pictorial on Playboy.com. Along with Sideshow Collectibles and us at Dynamite, they are offering an amazing giveaway for the Vampirella Premium Format satue. To celebrate this Playboy has put together an amazing photoshoot with LeAnna Vamp, the ghoul of you dreams! Check out the link to take you to the hottest, most seductive photoshoot of Vampirella cosplay you have ever seen! Vampirella's fans are going to love this and if you aren't a fan you will be sure to become one. Find out details for entering the contest to win this hot collectible and you can also download some freebie hot LeAnna wallpapers on the site. This is the biggest premiere of a Vampirella model ever seen in the character's history so go check it out and Happy belated Halloween to all you fans out there.
GAMBIT MOVIE OFFICIAL WITH CHANNING TATUM TO STAR
10/31/14 @ 9:12 pm EST
Source:
Bleeding Cool
| Categories:
Marvel
|
Comments
(0) |
E-mail Article
|
Add a Comment
Folks over at Deadline are telling us that Fox has officially greenlit a
Gambit
movie starring
Channing Tatum
and have assigned
Josh Zetumer
(
Robocop
) to write the script.
The script will be based on a treatment done by
Chris Claremont
who created the character along with
Jim Lee
back in 1990.
Gambit
, also known as
Remy LeBeau
, has the ability to charge objects with kinetic energy that explodes on impact. An ability he likes to use with playing cards.
"I FELL IN LOVE WITH PAT SAVAGE WHEN I WAS ABOUT 10 YEARS OLD" – DAVID WALKER TALKS DOC SAVAGE
10/31/14 @ 9:07 pm EST
Source:
Bleeding Cool
| Categories:
Doc Savage
|
Comments
(0) |
E-mail Article
|
Add a Comment
In December
Dynamite
has a new
Doc Savage
Special
coming out written by
David Walker
.
Byron Brewer
caught up with the writer to talk about the special and the
Woman of Bronze
.
BYRON BREWER: Doc Savage is all over the place these days, David. Tell us a little about how this "special" came about.David Walker:
When Dynamite first acquired the rights to Doc Savage, I asked them if they had any plans for Pat Savage. They told me that Pat was going play a significant role in Chris Roberson's run, but they hoped to do more with her in the future. I asked that they keep me in mind. Clearly, they kept me in mind.
BB: As I understand it, Pat Savage, Doc's cousin, is the star here. How did Pat get the spotlight?David Walker:
Pat got the spotlight because she deserves the spotlight. She was first introduced in 1934—that makes her older than Wonder Woman, Batgirl, Supergirl, or just about any other female hero. But with only a few exceptions, Pat has never had the spotlight. I've wanted to see a really fun solo adventure for Pat Savage since I was a kid.
BB: Doc has been working in all time periods. Where are we in time with Pat?David Walker:
This story is set in the 1930s. I wanted Pat to be fairly young, and still in a place where Doc doesn't take her very seriously. Chris Roberson did a great job of making Pat a much more viable and active member of the team. He did what I would've done, had I been writing a Doc Savage story. But since this is a Pat story, I decided to set it at a time when her role wasn't clearly defined. I also like the fact that during this time period, women were expected to be either the damsel in distress, the love interest, or the femme fatale, and Pat is none of these.
BB: Tell us a little about your perceptions of Pat as a character. She has been around quite awhile.David Walker:
I fell in love with Pat Savage when I was about 10-years-old, right when I started reading Doc Savage books. She seemed like the coolest character ever, and I actually started writing and drawing my own Pat Savage comic. Somewhere, I still have a picture I drew of her. When I got older, and reread some of those adventures, I realized that Pat was never fully utilized as well as she could've been. Those stories were written in the 1930s and 40s, and with only one or two exceptions, Pat never really got to prove herself. She would be present, but somewhat marginalized. She wasn't the superhero I had remembered her being when I was a kid. I wanted the opportunity to have her become a bit more of a badass.
BB: Will we see Doc and the boys in this special at all?David Walker:
Doc makes a brief appearance, but I made a conscious decision not to have him be an active part of the action. A huge part of the story is Pat proving that she's capable of doing anything Doc or the Fantastic Five can do, but there's no way she could do that with them present. Instead, I introduced two sidekicks for Pat to have—and I think these two, who happen to be cousins as well, will say something special about Pat and the company she keeps.
BB: Can you give us any inkling of the big bad here?David Walker:
Like I said, this story takes place in the 1930s. The bad guys are Japanese spies, who have a small army of ninjas at their disposal. Seriously. Because of the era, I wrestled with having her go up against Nazis, and in an early draft of the story, the villains were very much sinister Nazis right out of "Raiders of the Lost Ark." I wanted to try something different, and at that time in history, Japan had invaded China and Hong Kong, which gave me an excuse to bring in ninjas.
BB: Why is artist Kewber Baal right for this book?David Walker:
First of all, Kewber does great action sequences. There's also a moody intensity to his non-action sequences. That combination plays well to the story, because it is a combination of action, as well as being a very emotional journey for Pat. It was really important for me that we have an artist that didn't draw Pat like a sex object. She needs to be a badass. Everything I've seen of Kewber's other work tells me he's the right person for the job.
BB: More and more these days, we are seeing strong females becoming leads in comics. Would you write a Pat Savage comic should the opportunity present itself?David Walker:
Is that a trick question? Of course I would. I introduced two supporting characters, just in case Dynamite ever asked me to do another Pat Savage story. I'd like to give her a team of her own, which would be very different from Doc's team. But also I'd like to give readers a positive female hero to inspire them. I think it is important for all readers to see strong representations of women. I also think the comic industry as a whole needs to recognize that there are a lot of girls and women who read comics, and then cater to that market, without pandering. Not every girl wants to be a princess or have a pet pony—some want to go on adventures, blow things up, and kick a bunch of butt.
MARK WAID & JOHN ROGERS' THRILLBENT COMES TO PRINT AT IDW
10/31/14 @ 8:59 pm EST
Source:
IDW
| Categories:
IDW
|
Comments
(0) |
E-mail Article
|
Add a Comment


In 2012, award-winning comics writer Mark Waid and writer/producer John Rogers launched Thrillbent, a digital comics webportal and an experiment in new-media comic-book publishing. Their mission statement: "To challenge 75 years' worth of accepted 'rules' about what comics are and aren't."

The commitment to this challenge continues as Thrillbent and IDW Publishing partner to bring these unique digital comics to print starting spring 2015.

"I love print comics," said Waid, whose own personal collection is legendary. "While we have always proudly been digital-first, print was always in Thrillbent's business plan–but for a start-up company like ours, it was cost-prohibitive. Once we proved our commitment to ongoing content–Thrillbent currently hosts literally hundreds of new comics, with more added every week–we were courted by several print publishers looking to partner. IDW was the clear choice–its track record for innovation is unbeatable and undeniable."

Over the past two years, Thrillbent has worked with more than 60 creators to publish nearly 20 ongoing digital-only series (and counting) that span all genres, from horror to humor to high adventure. The first series slated for print release under this partnership will be Empire Volume Two and Insufferable, both written by Waid.

Empire Volume Two is a sequel to the Eisner-nominated series co-created by Waid and artist Barry Kitson from 2000, which Waid describes as "the single most-asked about project in my career–'When's Empire coming back?' is the one question I know I'll hear at every convention or store signing". Waid and Kitson have joined forces once again in 2014 to deliver new installments that continue the saga of Golgoth, a remorseless villain whose plans for world domination have won him the planet Earth… and made him the target of every inhabitant. As a kickoff to the larger Thrillbent partnership, IDW will produce an all-new edition of the long-sold-out Empire Volume One and launch it just ahead of Empire v2. Both books will debut next spring.

Also by Waid, with co-creator Peter Krause, Insufferable is a series that explores what happens when a crime fighter's sidekick grows up to be less a hero constantly at war with his mentor–and what it would take to draw the two back together again for one last adventure. Krause, also Waid's partner in crime on the 2007 series Irredemable, provides the artwork on this unique look at the superhero genre.

"In addition to being one of the best comic-book writers in modern times, Mark Waid has also proven himself with Thrillbent to be one of the smarter forward-thinkers in comics," said Chris Ryall, IDW's Chief Creative Officer/Editor-in-Chief. "We're very happy to be partnered with Mark, John Rogers and all the other great Thrillbent creators to help bring their work to comic fans in this way."
EC ARCHIVES FEATURED IN THE NEW YORK TIMES
10/31/14 @ 8:51 pm EST
Source:
Dark Horse
| Categories:
Dark Horse
|
Comments
(0) |
E-mail Article
|
Add a Comment
Dark Horse Comics, based in Milwaukie, Ore., reprints classic EC horror, crime, science fiction and war comics from the 1950s in full, redigitized color.EC was best-known for over-the-top horror comics like Tales From the Crypt, Vault of Horror and Haunt of Fear. "EC's horror comics are historically one of the greatest of all comic lines," said Daniel Chabon, who edits the EC Archives. "The talent behind the stories was phenomenal."Mr. Chabon added that EC was controversial as well as influential. "No one else was publishing anything remotely similar," he said. "Adult issues were being confronted for the first time in sequential comic-book literature, including war, racism and graphic death. There existed a certain shock value and maturity that attracted a specific fan base, particularly in the postwar decade of the 1950s. It may be that adults with limited interest in comics, or who had outgrown them, saw that these horror comics were not just for children but were for mature readers, too."
DC'S 'BATMAN: ETERNAL' CONFIRMED FOR SECOND RUN
10/31/14 @ 8:37 pm EST
Source:
Hollywood Reporter
| Categories:
Batman
|
Comments
(0) |
E-mail Article
|
Add a Comment


Batman: Eternal may not last forever, but it'll definitely live on past its original end date.

The weekly series centering on the DC Entertainment hero and his supporting cast was confirmed to continue past its initially announced conclusion by writer Scott Snyder during a Reddit AMA session.

"The [first] story ends in March and then we'll do a year 2 after a break," he wrote. "We have to get WAY ahead on a weekly series before it starts coming out."

Eternal was originally announced as a yearlong series celebrating Batman's 75th anniversary last year. Since launch, it has not only been a significant sales success for DC, but also the launchpad for both new series (Arkham Manor and the forthcoming Gotham by Midnight) and overhauls of existing titles (Catwoman).

Snyder's confirmation means that Batman: Eternalwill be the first weekly superhero title from either DC or Marvel to last beyond a year since Action Comics Weekly, which ran for 42 weeks in the late 1980s.
AVENGERS VS. X-MEN #1 – SUMMER 2015
10/31/14 @ 8:02 pm EST
Source:
Marvel
| Categories:
Marvel
|
Comments
(0) |
E-mail Article
|
Add a Comment
It looks like Earth's Mightiest Heroes and the Children of the Atom are coming back for a rematch -- or are they? Marvel Comics has released a new teaser for
Avengers vs. X-Men
, coming in summer 2015.
As with many of the teasers Marvel has released over the past few weeks, this one is a call back to previous Marvel event.
Stay tuned to Dynamic Forces!
ALL-NEW CAPTAIN AMERICA: FEAR HIM SOARS AS MARVEL'S NEWEST INFINITE COMIC SERIES
10/31/14 @ 7:55 pm EST
Source:
Marvel
| Categories:
Captain Amerca
|
Comments
(0) |
E-mail Article
|
Add a Comment
Suit up for an epic like no other as Sam Wilson steps into the boots of Captain America and wields the shield for the first time in All-New Captain America: Fear Him -- the newest genre defining Infinite Comic series hitting digital devices today! You heard right – the first three issues of
All-New Captain America: Fear Him
are on-sale now and available for download! Following the successes of other Infinite Comic titles, All-New Captain America: Fear Him embraces the latest form of comic book storytelling using tablets and smartphones as a new canvas! Each new Marvel Infinite Comic continues to push comics forward, taking advantage of modern technology while staying true to the medium's greatest strengths!
Before the highly anticipated
All-New Captain America #1
hits comic shops in November, be there for Sam Wilson's very first adventure as Captain America as fan-favorite writer Dennis Hopeless (
Avengers Undercover, Spider-Woman)
joins artist Szymon Kudranski (
Spawn)
to
bring you his first harrowing days in a high-flying adventure only an
Infinite Comic
could contain!
An old villain has returned to feed on the city's fear. The Scarecrow – a violent psychopath and his army of bloodthirsty terror crows wreaks havoc on the city. It's up to the All-New Captain America and his partner Nomad to put a stop to him. Which might be easier if they got along with each other.
To stop the Scarecrow – Sam Wilson's mission will take him all across New York City, from the skies above its choked rooftops to its dark, sinister sewer tunnels. Though he now wears the flag, does he have what it takes to be Captain America? Find out in All-New Captain America: Fear Him– on-sale now!
Available right at your fingertips, these new
Infinite Comics
will be available for purchase this today on the Marvel Comics app.
THE WONDER WORLOCK FACES 'THE GHOST SHIP OF ABELL 520'
10/31/14 @ 1:32 am EST
Source:
ISSUU
| Categories:
Nova
|
Comments
(0) |
E-mail Article
|
Add a Comment
Dynamic Forces'
own humble interviewer,
Byron Brewer,
has a special ghost story for you this Halloween, featuring his longtime space wizard character,
The Wonder Worlock!
This cosmic creep trip aboard an apparently derelict starship harkens back to "the things that go bump in the night." Rarely is the Dark Mage uncertain of things, but he is literally lost in space as we join him in his battle with forces beyond his knowledge … or are they?
"The Ghost Ship of Abell 520" starring The Wonder Worlock is written by Brewer with art by
Art Lenn, Raz Xion
and
Darren Blackburn
.
All this is part of a Halloween Special edition of
Nova 619,
the online comic done by Nova fans for Nova fans from around the globe, all working for free for the love of Richard Rider and his cosmic capers.
Nova 619 is a webcomic, heralded into shape by
Darren Blackburn
and ably supported by a cadre of Nova Cadets who are devoted Nova/Marvel Cosmic fans -- most of whom hang out at the Nova Prime group at
Deviant Art.
Set in the post-war cosmic landscape after the original ground-breaking Marvel Comics event,
Annihilation
, the webcomic charts a different path for Richard Rider, the last Nova Centurion, taking dangling concepts from
Annihilation
and weaving them into a new path for the Human Rocket to travel down, opening up new stories as well as exploring those "missing pieces" that flew out of the Annihilation War.
Featured alongside Richard 619 (named thus since the Marvel U. has been designated as 616) are some familiar faces: Peter Quill returning as Richard's right-hand man, Emperor Ronan, Gamora, and few favorites from the United Front, some characters from the distant Marvel Cosmic past as well as new original characters, heroes and villains, planets and locations -- all created by the 619 team, who literally span the globe from the Scottish highlands to the tip of the Australian islands.
And for those that know their Nova history, some returning characters from the halcyon days of the 1970s, as well as storylines down the way to try and flesh out Xandarian history.
Since the publication of
Guardians of the Galaxy
#20, we know the fate of Richard Rider 616. But there is still a light burning bright in Universe 619, and Blackburn and team invite you to join us monthly or thereabouts on the
Nova Prime Page
, ISSUU and a growing number of sites.
The
Nova 619 Halloween Special --
and
The Wonder Worlock
(not a part of 619, but closely associated with the brand) can be seen
by clicking here.
Look for the 619 each month (or thereabouts). Like our Nova 619 salaries, it costs nothing!
THE WONDER WORLOCK by artist Sash Scott/Concept by Byron Brewer
"I AM VIBRATING WITH EXCITEMENT AND FEAR…" – NATE COSBY TALKS PRINCE VALIANT
10/30/14 @ 9:09 pm EST
Source:
Bleeding Cool
| Categories:
King Prince Valiant
|
Comments
(0) |
E-mail Article
|
Add a Comment
The man behind the relaunch of the
Gold Key
comics for
Dynamite, Nate Cosby,
is going to be writing the new take on
Prince Valiant
as part of the
King Features
launch next year.
Byron Brewer
chatted with Cosby about the project and the character.
BYRON BREWER:
First of all, Nate, I would like to congratulate you on the success of the Gold Key comics, which you edit and package. How does it feel to be part of the rebirth of an iconic comic book universe like Gold Key?
NATE COSBY:
Thanks! It's been a blast. I got to bring in my buddies Greg Pak and Fred Van Lente, got to meet and work with the talented Frank Barbiere, and it's always an honor anytime y'get to work with Mark Waid. And Mirko Colak, Cory Smith, Roberto Castro, Joe Bennett and Jonathan Lau and several other artists, the colorists and letterer Marshall Dillon, everybody's been doing great work. I had no real previous knowledge or experience with the Gold Key characters, but I think sometimes it's good to have fresh eyes on pre-existing characters, and try to recognize what makes characters and worlds tick, what still works, what can be trimmed from history to make the stories seem modern but timeless. Always a fun challenge, especially when you get to work with talented collaborators. I'm very lucky that Dynamite entrusted us with Gold Key.
BB:
And now you are participating in this celebration of the 100th anniversary of King Feature Syndicate with Dynamite. Can you tell me how you became involved?
NC:
I'm also the packager/editor of the
Kings Watch
miniseries and the current
Flash Gordon
series, and when Dynamite told me that more characters in the line might be available, I was foaming at the mouth with excitement. I LOVE all these King characters, and have since I was a kid. We've got an excellent opportunity to build and expand the new King line, with the same sense of fun and whimsy established by Jeff Parker, Marc Laming, Jordan Boyd, Evan Shaner, Jordie Bellaire and Simon Bowland in
Kings Watch
and
Flash
.
BB:
You will be writing the 4-issue mini-series saluting Prince Valiant. Was this your selection, and if so why this character?
NC:
Yeah, I was going through the casting process, first by reading some old King comics …like 1930s old. I kept looking through the old
Prince Valiant
strips, and all these memories of reading them as a kid in the Sunday paper came rushing back, and I looked at this one particular shot of Valiant and just thought, "Val." I felt shorthand with the guy, and I understood what his goals and weaknesses and strengths were. And then I figured out how he's gonna ultimately meet up with the rest of the King characters, and from there I felt I could handle the story.Of all the characters, The Phantom is probably my favorite…but Val's the one I can relate to the most.
BB:
Tell us your interpretation of this iconic newspaper comic strip and comic book hero.
NC:
Val's an orphan. A son. A spy. A liar. A hero. A bragger. A prince. A peasant. Brash. Insecure. Resolute. And he will dare ANY adventure.
BB:
What type of swashbuckling derring-do will be going on in this storyline?
NC:
By Page 2 of Issue #1, Val will already be hip-deep in trouble. He can't stop fighting for some reason. There'll be Vikings and savage Britons and lizards and witches and knights and thieves and wizards and demons and pretty much everybody Val meets wants to take a swing at him. And he's happy to reply in kind.
BB:
Tell us a little about the "big-bad" in the mini.
NC:
No way! That'd be cheating. I will say that Val's gonna have his Singing Sword out a LOT. He's from the times of King Arthur and the Knights of the Round Table. Plenty of quests and villains for Val to lay low with a grin on his face.
BB:
Are you looking forward to working with artist Ron Salas?
NC:
No. I am VIBRATING with EXCITEMENT and FEAR to be working with Ron Salas. I've worked with him a little in the past, and always been a fan. He's unbelievably great at picture-drawing. But I really think this is his best work ever. I'm sweating bullets every time I send script to him, worried he's not gonna like it. But he's been turning in some gorgeous, gorgeous pages.
BB:
I cannot even imagine how Prince Valiant's book will dovetail with the rest of the King crew in a crossover at the end. Can you enlighten?
NC:
I can say…if you pick up the
Flash Gordon
Annual, you'll get a glimpse of how Val might be meeting up with the rest of the King's heroes…and who he might be picking up as a sidekick along the way.
'BIG HERO 6' COMIC PRICES TESTING MARKET AS DISNEY PLANS MERCH BARRAGE
10/30/14 @ 8:54 pm EST
Source:
ICv2
| Categories:
MIsc
|
Comments
(0) |
E-mail Article
|
Add a Comment
In the lead-up to the November 7th debut of the Big Hero 6 movie, comic prices on the (sort of) source material are testing the market, even as the first new movie-based products hit the shelves.
CGC 9.8 prices for the 1998 Sunfire & Big Hero Six #1 (1 of 3) by Scott Lobdell are at around $450 and up on a variety of sites. Non-certified copies of the first issue start at $64.99 on Amazon, or 24.99 on eBay. Even the more recent 2008 Marvel Comics' miniseries written by Chris Claremont, with art by David Nakayam, is commanding relatively high prices for comics from the period. Big Hero 6 #1 (of 5) starts at $46.00 on Amazon, $45.00 on MyComicShop.com, $34.20 on MileHighComics.com and $34.99 on ebay.