PLAYBOY! SIDESHOW COLLECTIBLES! VAMPIRELLA!
11/05/12 @ 2:23 pm EST
Source:
Playboy
| Categories:
Vampirella
|
Comments
(0) |
E-mail Article
|
Add a Comment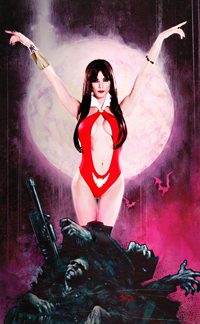 She's here! In the Flesh! The incredibly sexy LeAnna Vamp has brought Vampirella to life in this amazing pictorial on Playboy.com. Along with Sideshow Collectibles and us at Dynamite, they are offering an amazing giveaway for the Vampirella Premium Format satue. To celebrate this Playboy has put together an amazing photoshoot with LeAnna Vamp, the ghoul of you dreams! Check out the link to take you to the hottest, most seductive photoshoot of Vampirella cosplay you have ever seen! Vampirella's fans are going to love this and if you aren't a fan you will be sure to become one. Find out details for entering the contest to win this hot collectible and you can also download some freebie hot LeAnna wallpapers on the site. This is the biggest premiere of a Vampirella model ever seen in the character's history so go check it out and Happy belated Halloween to all you fans out there.
DF REVIEW: SANDMAN: OVERTURE #3
07/31/14 @ 1:19 pm EST
Source:
Dynamic Forces
| Categories:
Sandman Overture
|
Comments
(0) |
E-mail Article
|
Add a Comment
By Byron Brewer
Sandman: Overture
from Vertigo is almost too cosmic for the human mind to contain. That has been part and parcel of Neil Gaiman's
Sandman
. Like the ending of
2001: A Space Odyssey
, it is just too much to conceive, much less absorb.
Or so it would seem.
But
Overture
#3 finds Gaiman almost struggling to reign in the cosmic beauty of the work by focusing on Morpheus' quest to save the multiverse and giving our sometimes too aloof and inscrutable hero some very interesting allies who are more than reflections of humanistic characteristics. First we had Cat!Dream, who is, true to name, a quixotic iteration of a
Dream Weaver
type of character, affecting the mind with all its doubts and hopes.
And speaking of Hope, I think our cat's sidekick Hope, more of the down-to-earth variant, will quickly become not only my favorite character in the adventure but Gaiman's POV character since she can ask all the questions we as readers may be wondering about. Plus, really, what is a dream without the imagination of a kid? The kid inside all of us?
Just one of the many statements (philosophies?) underlying in this book as we see a more direct storytelling form by the scribe. Metallic beetle-things, barbarians, warriors, even the Green Lantern Corps prepare for a war of cosmic scope, but also show Gaiman approaching
Overture
in more of a traditional comic book-y style a ways from the far more literary original
Sandman
.
That is not a bad thing here as the reader – at least one – finds himself liking the new characters AND Morpheus that much more!
Of course, the treat for the mind and eye is the art of J.H. Williams III, which seems to continue to have a mutant morphing power where it is needed. From the cosmic scope of the armies gathering (anyone reminded of Frank Brunner and his brief stay on
Doctor Strange
?), to a more Marc Silvestri sketchiness as the trio of companions trod an alien desert, to the Disneyesque fairy tale trappings during Morpheus' recollection of a lost love.
In all this, Williams is aided and abetted by
Overture's
unsung hero, colorist superb Dave Stewart.
Sandman: Overture
#3 is truly a cosmic feast for the mind and eye, as well as for the imagination. For the kid inside all of us.
OLD FRIENDS & NEW FOES IN INHUMAN #4
07/31/14 @ 1:11 pm EST
Source:
Marvel
| Categories:
Inhumanity
|
Comments
(0) |
E-mail Article
|
Add a Comment


Marvel is pleased to present INHUMAN #4, from critically acclaimed creators Charles Soule and Ryan Stegman!

Inhumans are being hunted across the globe, snatched up by those who would use their powers for ill. As Medusa struggles to rebuild the Inhuman kingdom from her new seat of power in New Attlian, there are those who would seek to depose her. And Attilan will receive a visitor from another royal kingdom – The Mighty Thor, Prince of Asgard! But does he come this time as friend…or foe?

And who is the mysterious Inhuman named Reader, with the power to bring to life anything he reads? Operating in secret, the spreading cloud of Terrigen Mists have forced him out of hiding. But who will he side with?

Don't miss one moment of the action as Marvel artist Ryan Stegman takes over series art duties this August with inhuman #4!!

INHUMAN #4 (MAY140855) Written by CHARLES SOULE, Art & Cover by RYAN STEGMAN, Variant Cover by JOE MADURIERA (MAY140856), FOC 8/04/14, ON-SALE 08/27/13
MARVEL SEES RED ACROSS THE SPIDER-VERSE WITH SCARLET SPIDERS #1
07/31/14 @ 11:37 am EST
Source:
Marvel
| Categories:
Scarlet Spider
|
Comments
(0) |
E-mail Article
|
Add a Comment


Announced this year at San Diego Comic-Con, Marvel is excited to announce a brand new limited series spinning out of the events of Spider-Verse, SCARLET SPIDERS, written by Mike Costa (Superior Spider-Man Team-Up Special, A+X) and artist Paco Diaz (Superior Spider-Man).

This November, Kaine, the Ultimate Universe's Jessica Drew, and an alternate universe Ben Reilly undertake a quest to stop the evil behind the events of Spider-Verse once and for all -- a quest so dangerous that not all of them will make it out alive!

"Obviously I can't give too much away just yet, but the group in SCARLET SPIDERS plays a very important role in stopping Morlun," said Editor Devin Lewis. "Without this group of three and their mission, there's a decent chance that the Spider-Men from across the multiverse won't even survive Morlun's assault."

In addition to stopping one of the most fearsome spider-villains in recent years, our heroes will have to learn to cope with one another and that even though they are clones of Peter Parker, they still come from different universes and boast distinctly different personalities.

"Kaine really serves as the entry point for readers to this group," Lewis elaborates. "He's a mainstay in the Marvel Universe, now, so that gives him a unique perspective on the events of Spider-Verse as they unfold."

"The Ben Reilly in this story is from a universe where Peter Parker never returned from his time in Oregon during the Clone Saga," he continues. "When we were having our first conversations on the phone, Mike [Costa] was intent on working out who this guy is. How does he think? What's his outlook and how is it different from the Peter Parker we all know and love?"

"Ultimate Jessica Drew has already had a pretty rough go of it herself, and one of the things Mike and I discussed and were intent on bringing to the fore was her sense of identity, especially now that she has seen there's a multiverse rife with Spider-People," concludes Lewis.

SCARLET SPIDER #1 arrives in local comic book retailers this November and will also include a code for a free digital copy of the very same comic on the Marvel Comics App for iOS and Android devices.

SCARLET SPIDERS #1 (of 3)
Written by MIKE COSTA
Art by PACO DIAZ
Cover by DAVID NAKAYAMA
Variant Cover by MARK BAGLEY
FRED VAN LENTE TALKS MAGNUS: ROBOT FIGHTER
07/31/14 @ 9:06 am EST
Source:
Bleeding Cool
| Categories:
Magnus
|
Comments
(0) |
E-mail Article
|
Add a Comment
Part of the
Gold Key
revival at
Dynamite
is
Magnus: Robot Hunter.
The rebirth of the character has been in the hands of
Fred Van Lente
. Now
Byron Brewer
talks with the writer about the future for the classic comic character.
BYRON BREWER: Fred, of all the Gold Key Universe revivals (perhaps that is not the right term), as a reader I have found Magnus: Robot Hunter to be one of the most involving. Have you been having fun with this character?FRED VAN LENTE:
Thanks! Yes, I very much have. I enjoyed the original Russ Manning stories when I was a kid (in reprints, I'm not that old) and bringing his world to a new generation has been extremely gratifying.
BB: The revival of the Gold Key Universe certainly has been well embraced by the fans of modern comics. Were you expecting that when you signed on?FVL:
You know, you start coming up with these concepts and stories in the hopes that it'll be well-received by readers, but it's always gratifying — and relieving! — when they are. So you definitely never take that for granted. It's been awesome how well received Magnus has been.
BB: July's special Zero Issue has its origins in a celebration of Dynamite's grand 10th anniversary. How does it feel to be part of that?FVL:
Very flattering. Doing a standalone story so early in the comic's run that wasn't really connected to anything else was a bit of a challenge, but fortunately we hit upon the idea of doing it as a bit of backstory of the North Am religion, which of course is such a huge part of the robot society there.
BB: I enjoy the juxtaposition between Magnus' worlds and how robots are humans are robots. Is this hard to deal with or do you enjoy the story elements that North Am offers?FVL:
That's a great way of putting it! Yeah, at the heart of this story are the questions of what makes humans human, can a copy be better than the original, and is there such as thing as The Essential? I'm as attracted to the philosophical and psychological aspects of the series as the action and satire.
BB: So, Fred, what can you tell us about the dread … Butcher Bloc? (Someone has been watching Chopped on Food Network, lol.) And should I ask about "soft" robots?FVL:
Is that a thing on the show? I've never seen it, but given the title I'm not surprised…The title for this second arc is UNCANNY VALLEY. For those of you who aren't familiar with the term, I won't spoil any surprises, but suffice it to say it involves the Transmechs, an offshoot of the robot religion who believe in incorporating human tissue into their chassis. They get those tissue from victims thrown to the Butcher's Bloc, where they are enhanced with a brush with their own mortality. Robots don't really understand death, you see, since they can always be rebuilt, and the Transmechs like to observe it in action — that's what Butcher's Bloc is for.So, suffice it to say, Butcher's Bloc is pretty horrifying, and Magnus may not survive. For one thing, there are no robots down there, and his powers of communication and weakness-finding only work on artificial intelligences…Soft robot! I know this term. And yes, it is important. But I can say no more for now…
BB: What is it like working with Cory Smith?FVL:
An absolute joy. His designs are amazing, his compositions are incredibly dramatic, and his acting is never less than soulfully empathic. This is the beginning of his superstardom, so snatch up those issues of Magnus before they quintuple in value as his early work!!
BB: In this world of angst and struggle, there have not been a lot of opportunities for the ol' FVL sense of humor ala Hercules (although the FVL wit has been rampant). Do you foresee things lightening up for our hero even for one issue?FVL:
Well, I don't really agree with your premise too much (we have this H8R character, after all) but as Magnus goes into Butcher's Bloc if anything things are getting to get a bit grimmer — and he may learn some unpleasant truths before this arc is over, that will change him forever. (You've never heard a comics writer say that before, right?!)
BB: After all he has suffered thus far, what is next for Russell Magnus?FVL:
He's currently on a quest to find his robot father, 1A. And once they meet up, all of North Am should tremble, because some metal butt will begin to seriously be kicked.
DF REVIEW: DETECTIVE COMICS ANNUAL #3
07/30/14 @ 10:36 pm EST
Source:
Dynamic Forces
| Categories:
Detective Comics
|
Comments
(0) |
E-mail Article
|
Add a Comment
By Byron Brewer
Everybody wants to be somebody, especially in the big city.
I've been wondering since I first entered a version of Gotham City with ABC TV's campy but entertaining
Batman
why the criminals of that fine metropolis wore such colorful costumes and were such goofballs. The Riddle and Joker would virtually threaten everything they had built for the sake of the game: the riddle, the joke. Ridiculous.
Now I know.
Now that is not the main story of
Detective Comics Annual
#3, but there is a delightful undercurrent of crooks talking with crooks in the book in which they share their wants and desires. Chief among them is not gold, silver, money or even power. Nope, it's the previously stated: Everyone wants to be someone.
And there is my answer.
As for this annual, writer Brian Buccellato does the brave (and bold) thing by connecting it tentatively to the ongoing Icarus storyline in the regular title, and that is to be respected. Annuals appearing in the midst of a longform saga that are not part of continuity tend to get the cold shoulder at the LCS and quickly forgotten by those who did read it. And let's face the world today, folks: for five bucks, this story better matter!
And matter it does as the Dark Knight battles to keep Icarus off the streets of Gotham, relating (as the criminals do) with Gothamites of high and low degree along the way.
This annual offers a unique if sometimes taken for granted view of the criminals of Gotham, as well as its protector. Makers of the
Gotham
TV show might want to read this issue.
Batman and Buccellato are at their best, and even the three teams of artists didn't hurt!
GEOFF JOHNS ANNOUNCES THE DARKSEID WAR
07/30/14 @ 8:22 pm EST
Source:
Bleeding Cool
| Categories:
Justice League
|
Comments
(0) |
E-mail Article
|
Add a Comment
This is a tweet from DC's Geoff Johns today:
"Justice League #33 out today! Lex Luthor's run at joining the team continues, the Darkseid War approaches and fun chaos w/the Doom Patrol!"
Add that to this scene from the book mentioned above:
The result MAY be said Darlseid War, which would probably mean the storyline Johns has been hinting at since Justice League #1 (2011).
We'll see.
MARVEL TRADEMARKS ... SQUIRREL GIRL??
07/30/14 @ 8:15 pm EST
Source:
Bleeding Cool
| Categories:
Marvel
|
Comments
(0) |
E-mail Article
|
Add a Comment


Marvel Comics usually registers trademarks to protect TV and film rights rather than comic book rights, unless there's a specific threat.

Which is why its trademark registry is full of Age Of Ultron, Guardians Of The Galaxy, Rocket Raccoon, Agent Carter, Big Hero 6 and registered Gifted right now.

Oh, and Squirrel Girl.

Squirrel Girl??

So what is in this hero/babysitter's future? Toon, film, TV ... Lego movie?
WORD BALLOON PRESENTS RARE COMIC BOOK DOCUMENTARY
07/30/14 @ 8:08 pm EST
Source:
Bleeding Cool
| Categories:
MIsc
|
Comments
(0) |
E-mail Article
|
Add a Comment


A real rarity was present at the SCDD last Thursday night.

John Siuntres of Word Balloon Podcast presented "The World of Comic Books," a fascinating documentary created in 1977 and 1978 for the Canadian TV show Behind the Scene.

This 20-minute short was narrated by comedy icon Jonathan Winters and included footage shot in DC and Marvel offices, as well as footage of conventions.

Ahh, the memories of the "House of Ideas" and its "Distinguished Competition."
'PUPPET MASTER' COMICS COMING FROM ACTION LAB
07/30/14 @ 8:02 pm EST
Source:
ICv2
| Categories:
MIsc
|
Comments
(0) |
E-mail Article
|
Add a Comment
At their Comic-Con panel, Action Lab Entertainment announced a license to bring Full Moon's Puppet Master franchise to comics.

The comic series will be written and edited by Shawn Gabborin (Fracture, Snowed In), with artists picked by series creator Charles Band.

Puppet Master is the story of elderly puppet maker Andre Toulon, who uses an ancient Egyptian potion to bring his puppets to life.
'ESCAPE FROM NEW YORK' COMIC IN DECEMBER
07/30/14 @ 7:59 pm EST
Source:
ICv2
| Categories:
MIsc
|
Comments
(0) |
E-mail Article
|
Add a Comment
BOOM! Studios announced it will be releasing a comic series based on the cult-classic film Escape from New York, debuting in December.

The series will be written by Christopher Sebela (High Crimes, Dead Letters), with an artist to be named later. The two covers pictured here are by Tim Bradstreet and Riley Rossmo.

Released in 1981, the John Carpenter sci-fi/action flick was set in the (then) near future of 1997, when after rampant crime and a natural disaster, Manhattan has been turned into a maximum-security prison for lifers. But when Air Force One crashes on the island, ex-special forces soldier turned rebel Snake Plissken is given a deal that if he can rescue the President from the island, he'll receive a pardon. The trick is that he has 22 hours to do it, before the President's captors execute him.