SUNDAY BLOODY RISQUE SUNDAY
10/28/12 @ 6:54 pm EST
Source:
dynamicforces.com
|
Comments
(0) |
E-mail Article
|
Add a Comment
Halloween is just around the corner and what better way to celebrate than with a blood laden batch of books! Today's DF Daily Special is a stellar collection of crimson red, blood soaked gems! Signed editions! Retailer Incentives! DF Exclusives! Blood Red variants! PLUS SIXTY BONUS RANDOM COMICS! All topped off with a BRAND NEW never before offered BLOODY RISQUE VAMPIRELLA #1, hand-drawn by Ken Haeser! This SIXTY NINE book set has a combined regular MSRP of over $350, but is available today, for just $99.69 in honor of Vampirella's first appearance in September 1969! Don't hesitate, only 10 of these sets are available today!http://www.dynamicforces.com/htmlfiles/infoforspecial.html
ARCHER & ARMSTRONG HEAD FOR A COULROPHOBIC'S NIGHTMARE… CLOWNTOWN
06/30/16 @ 3:07 pm EST
Source:
Bleeding Cool
| Categories:
MIsc
|
Comments
(0) |
E-mail Article
|
Add a Comment
If you suffer from
Coulrophobia
, you may want to skip this particular article… because
Archer & Armstrong
are going to
Clowntown
.
Valiant sent
Bleeding Cool
an early preview of the next story arc for
A&A: The Adventures of Archer & Armstrong
.
Next Stop Clowntown
starts in issue #6 and is by writer
Rafer Roberts
and artist
Mike Norton
.
They've got lions. They've got bears. Oh, and malformed mutant clones too! Oh my! Valiant's mismatched pair of conspiracy-smashing heroes thought they'd stumbled into an ordinary roadside funfair…but now Archer & Armstrong are about to become the star attractions of a midway where mad science and illicit experimentation rule the day!Archer & Armstrong are on the hunt for Armstrong's long-lost wife, and the clues have put them on the trail of America's craziest traveling circus! But it's not just clowns, carnies, and strongmen lurking under the Big Top… When the world's premier adventure duo discover dozens of mutated Armstrong doppelgängers secretly running the show, all heck is bound to break loose! And it's o
nly going to get worse when Davey the Mackerel returns with a shocking new set of secrets about Armstrong's bottomless satchel…and what else might be soon plotting its escape!
The new arc begins on August 10th and ships with covers by
David Lafuente
(
Ultimate Spider-Man
),
Darick Robertson
(
The Boys
),
Pere Perez
(
Faith
), Rafer Roberts (
Plastic Farm
), and
Diego Latorre
(
Dante's Inferno
).
DAVE MCKEAN PAINTS JIM HENSON'S LABYRINTH COMIC VARIANT COVER
06/30/16 @ 2:57 pm EST
Source:
Bleeding Cool
| Categories:
MIsc
|
Comments
(0) |
E-mail Article
|
Add a Comment
BOOM! Studios is publishing a
Jim Henson's Labyrinth
comic for the 30th Anniversary of the film, and in memory of
David Bowie
.
By
Jonathan Case, Cory Godbey
and others, BOOM is also adding an untiered variant cover by
Sandman
's
Dave McKean
…
TYLER KIRKHAM SHARES HIS RETAILER EXCLUSIVE JUSTICE LEAGUE #1 COVER
06/30/16 @ 2:53 pm EST
Source:
Bleeding Cool
| Categories:
Justice League
|
Comments
(0) |
E-mail Article
|
Add a Comment
Over on his Facebook yesterday, artist
Tyler Kirkham
shared his
Justice League#1 Rebirth
variant cover that was colored by
Tomeu Morey
. This kicks off the new
Extinction Machine
story arc by
Tony S. Daniel
and
Bryan Hitch
. The cover is for us --
Dynamic Forces
-- and can be
ordered here
or a CGC graded version is
available here
.
Kirkham started his career working on the indy comic
The Gift
with
Raven Gregory
before becoming part of
Top Cow
and eventually doing work for
Marvel
and
DC
. Kirkham has worked on titles such as
Strykeforce
,
Tomb Raider
,
The Darkness
,
Transformers
,
Amazing Spiderman
,
X-Men Phoenix Warsong
, and
Ultimate Fantastic 4
to name just a few.
DC COMICS, PROTECTING THE SUPERMAN SHIELD TRADEMARK
06/30/16 @ 2:46 pm EST
Source:
Bleeding Cool
| Categories:
DC
|
Comments
(0) |
E-mail Article
|
Add a Comment
DC Comics does like its Superman shield logo.
And looks harshly at anyone who might come close trying to use it in their own trademarks…Such this registration for the Super Sports League using this logo.
A clothing line from Aqua Beba
The mascot for Move Solutions
Diamond seller Casale, Mitchell
And E-cigarettes company Captain Obvious
Plenty of businesses do seem to use the shield or similar unchallenged.
The rule seems to be – use it, just don't try and trademark it yourself!
SCARLETT JOHANSSON IS THE HIGHEST-GROSSING ACTRESS OF ALL TIME
06/30/16 @ 2:40 pm EST
Source:
Comic Book Resources
| Categories:
Avengers
|
Comments
(0) |
E-mail Article
|
Add a Comment
Scarlett Johansson, whose films range from blockbusters like "Captain America: Civil War" to indie fare like "Her," has been named the highest-grossing actress of all time.
The accolade comes from Box Office Mojo's updated list of top-earning actors, which places at No. 10 with a $3.3 billion North American total, led by "Marvel's The Avengers." The 31-year-old actress also counts among her credits such commercial hits as "Avengers: Age of Ultron," "Captain America: The Winter Soldier," "Iron Man 2," "The Jungle Book" and "Lucy."
Johansson, who began her film career as a child in the mid-1990s, is the youngest performer to appear in the Top 30 — and the only woman in the Top 10. She comes in well ahead of such actors as Chris Evans (No. 48), Leonardo DiCaprio (No. 42), Will Smith (No. 24) and Matt Damon (No. 20).
Harrison Ford tops the list with $4.87 billion domestically, followed by Samuel L. Jackson ($4.65 billion), Morgan Freeman ($4.4 billion), Tom Hanks ($4.3 billion) and Robert Downey Jr. ($3.9 billion).
Johansson will next be seen in the U.S. adaptation of "Ghost in the Shell."
ZOINKS! 'SCOOBY SNACK' HAS BEEN ADDED TO THE OXFORD DICTIONARY
06/30/16 @ 2:35 pm EST
Source:
Comic Book Resources
| Categories:
Scooby Doo
|
Comments
(0) |
E-mail Article
|
Add a Comment
We finally know where to find Scooby Doo, everyone — in the Oxford Dictionary. The term "Scooby snack" has been added to the latest edition of the comprehensive dictionary series, thus making the term for Scooby's favorite snack an official word in the English language.
The official definition for "Scooby snack" says, "A snack, esp. given as a reward or inducement; spec. a bite-sized treat or a large multilayered sandwich (likened to those eaten by the cartoon character Scooby Doo)… Also: food eaten to satisfy a hunger induced by drinking, smoking, or drug use."
Take a look at a screenshot of the entry (via Fun Lovin' Criminals) below: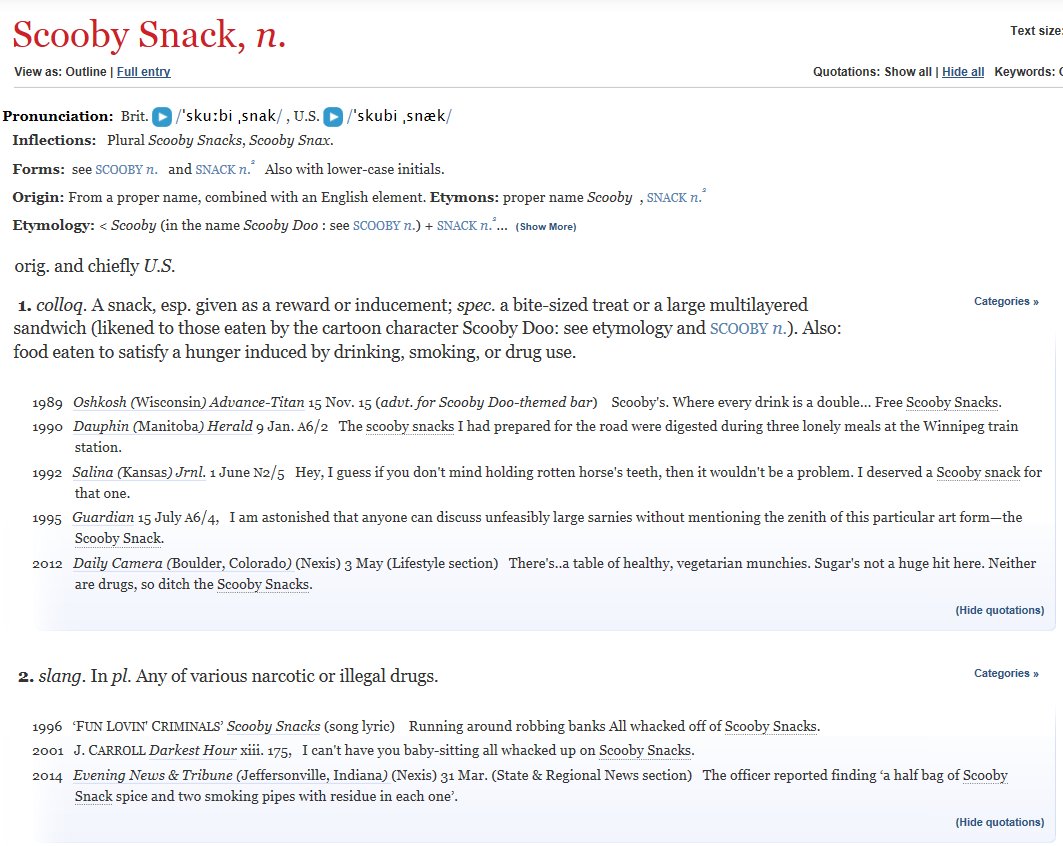 LETO'S JOKER SMILE TERRIFIES IN INTERNATIONAL "SUICIDE SQUAD" POSTERS
06/30/16 @ 2:24 pm EST
Source:
Comic Book Resources
| Categories:
Suicide Squad
|
Comments
(0) |
E-mail Article
|
Add a Comment
A psychedelic color palette collides with creepy, boyish charm in the latest international promotional posters for the upcoming "Suicide Squad" movie. Naturally, Jared Leto's Joker is front and center, showing off his battered grill (presumably Batman-related).
The iconic madman hovers over the remainder of the eponymous Suicide Squad like an unnerving, ever present yearbook photo. The distinctly pink and green image, first reported byBatman-News, is part of the international marketing push for the movie, and a similar version is currently featured prominently on the film's Twitter page. There's a yellow and orange variant, too, just in time for the summer months.
"Suicide Squad" is an adaptation of the DC Comics series of the same name, in which supervillains universe are released from prison to perform clandestine operations for the United States government. The film stars Jared Leto as Joker; Margot Robbie as Harley Quinn; andWill Smith as Deadshot, Viola Davis as Amanda Waller, and more. It's written and directed byDavid Ayer.
"Suicide Squad" releases in the United States on August 5, 2016.
BLACK WIDOW IS AN AVENGING BADASS IN "CAPTAIN AMERICA: CIVIL WAR" CONCEPT ART
06/30/16 @ 2:19 pm EST
Source:
Comic Book Resources
| Categories:
Civil War
|
Comments
(0) |
E-mail Article
|
Add a Comment
The latest offering of "Captain America: Civil War" concept art from Andy Park shows off a gun-wielding Black Widow (Scarlett Johansson) in a portrait that captures the essence of the character's badassery in every one of her Marvel Cinematic Universe appearances.
The design is incredibly similar to Black Widow's final look in "Civil War," with the exception of the costume's wristbands and highlighted stitching, which appeared far less metallic and defined in the finished film.
Take a look at Park's Black Widow "Civil War" concept art below: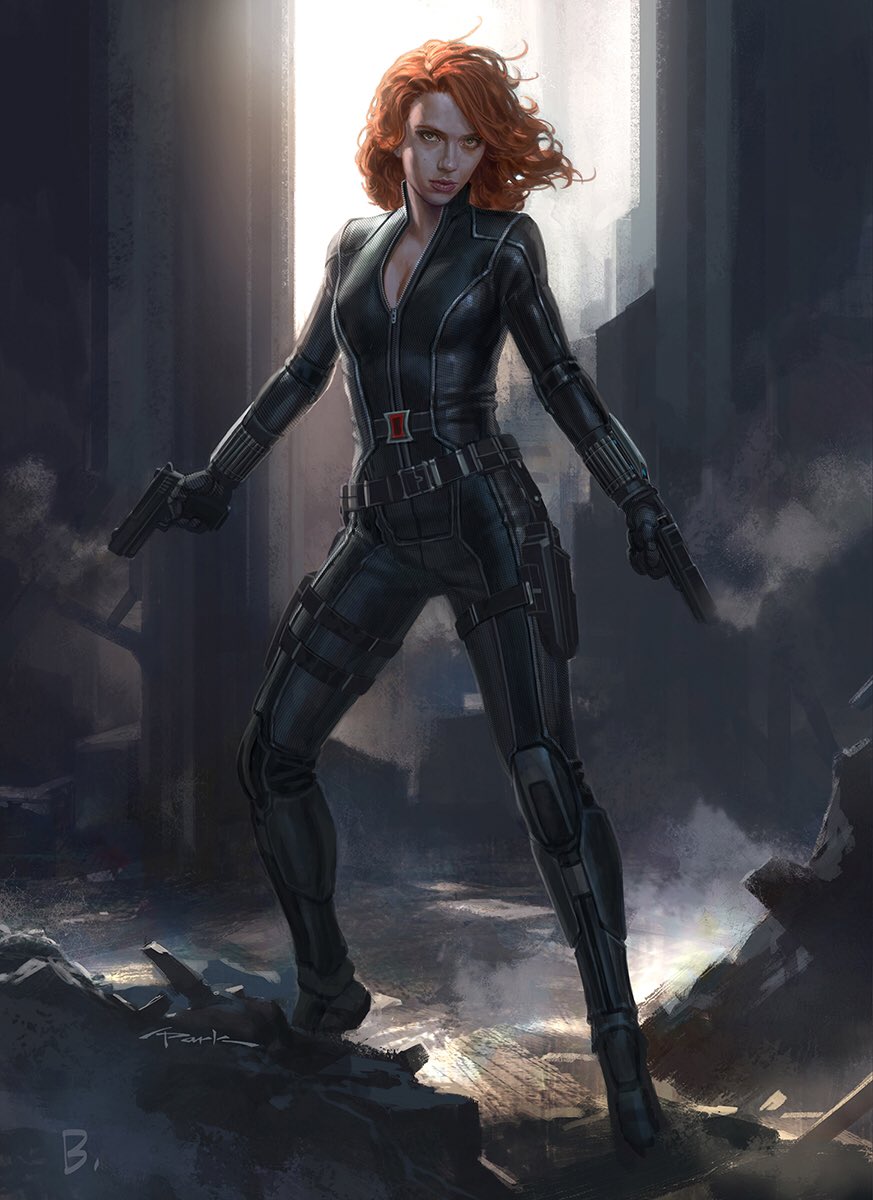 Black Widow next appears in "Avengers: Infinity War," hitting theaters on May 4, 2018.
STARZ BRINGING 'AMERICAN GODS' & 'ASH VS EVIL DEAD' TO COMIC-CON
06/30/16 @ 2:12 pm EST
Source:
Deadline
| Categories:
MIsc
|
Comments
(0) |
E-mail Article
|
Add a Comment
Hot off their big multi-billion dollar deal with Lionsgate, Starz are heading back to Comic-Con later this month with a new property and a veteran. No
Outlander
this year, but the cabler's
American Gods
and
Ash vs. Evil Dead
will be both be in the San Diego Convention Center on SDCC weekend.
Adapted from Neil Gaiman's acclaimed and Comic-Con fav 2001 novel of the same name,
American Gods
will be in making its debut in Room 6BCF on July 22 at 3:15 PM. Gaiman, who is an EP on the 2017 premiering show, will be there, along with showrunner and SDCC alum from his
Hannibal
days Bryan Fuller. Joining the duo will be stars Ian McShane, Ricky Whittle as well as Yetide Badaki, Pablo Shreiber, Bruce Langley, and Michael Green. I hear footage of the series will be shown, though no indication yet if it is a full-on trailer or a tease. The
Gods
gang will also be signing autographs at the Starz booth on the convention floor that same day at 4:45 PM.
Perpetual tease, Bruce Campbell put on a masterful show last year at SDCC as the jaw with a man talked up the as yet unseen
Ash vs. Evil Dead
and then dropped a trailer
.
Now, with Season 1 on the horror movie adaptation done and Season 2 on the way, Campbell is back. Joining him in Room 6A on July 23 at 6:45 PM will be co-star Lucy Lawless plus Ray Santiago, Dana DeLorenzo, Ted Raimi and Michelle Hurd. Campbell may have some iconic competition as the
Six Million Dollar Man
himself Lee Majors, who is joining
Ash
in Season 2, will also be on the
Evil Dead
panel. As well as an autograph session in the Ash cabin in San Diego's Petco Park at 2 PM on that Saturday, there will also be an
Ash vs. Evil Dead
screening at 10 PM that night in Room 6DE.
Comic-Con 2016 runs from July 21 – 24, with a preview night on July 20.
DEADPOOL: TOO SOON? #1 – THE NEWEST MARVEL INFINITE COMIC ON SALE NEXT WEEK
06/30/16 @ 2:00 pm EST
Source:
Marvel
| Categories:
Deadpool
|
Comments
(0) |
E-mail Article
|
Add a Comment
It's the Deadpool team-up you've all been waiting for! The Merc With a Mouth joins forces with the likes of Squirrel Girl, Rocket Raccoon, Groot, Ant-Man, Howard the Duck and the Punisher to solve a murder most foul in
DEADPOOL: TOO SOON? #1
– the newest Marvel Infinite Comic coming to digital devices everywhere on July 6th! Marvel newcomer Joshua Corin joins artist Todd Nauck for a tale mystery & mayhem in the mighty Marvel manner!
Someone has murdered the Forbush Man! Could someone be targeting some of the Marvel Universe's funniest heroes for death? That's certainly what Deadpool thinks – and he's gathered a number of characters in a spooky old mansion (naturally) to help crack the case. Good thing Deadpool is known for his world renowned investigative skills! But as more bodies start turning up, can these heroes solve the mystery before their goose is cooked?
Specifically designed and optimized for digital devices,
DEADPOOL: TOO SOON?
joins the ranks of other Marvel Infinite Comics such as
X-Men '92
,
Deadpool & Cable: Split Second
and many more. Utilizing the latest technologies to create dynamic new storytelling possibilities – Marvel Infinite Comics push the boundaries of what's possible with digital comics. Never experienced a Marvel Infinite Comic? Now's the perfect time to jump in!
Don't miss
DEADPOOL: TOO SOON? #1
– on-sale next Wednesday, July 6th! !
DEADPOOL: TOO SOON? #1
Written by JOSHUA CORIN
Art by TODD NAUCK
Cover by PEPE LARRAZ
On Sale July 6th!