SUNDAY BLOODY RISQUE SUNDAY
10/28/12 @ 6:54 pm EST
Source:
dynamicforces.com
|
Comments
(0) |
E-mail Article
|
Add a Comment
Halloween is just around the corner and what better way to celebrate than with a blood laden batch of books! Today's DF Daily Special is a stellar collection of crimson red, blood soaked gems! Signed editions! Retailer Incentives! DF Exclusives! Blood Red variants! PLUS SIXTY BONUS RANDOM COMICS! All topped off with a BRAND NEW never before offered BLOODY RISQUE VAMPIRELLA #1, hand-drawn by Ken Haeser! This SIXTY NINE book set has a combined regular MSRP of over $350, but is available today, for just $99.69 in honor of Vampirella's first appearance in September 1969! Don't hesitate, only 10 of these sets are available today!http://www.dynamicforces.com/htmlfiles/infoforspecial.html
CHEMISTRY PH.D. STUDENT ILLUSTRATES HER THESIS IN COMIC BOOK
04/21/15 @ 12:53 pm EST
Source:
ABC News
| Categories:
MIsc
|
Comments
(0) |
E-mail Article
|
Add a Comment
Late last spring, a doctoral student worked late into the night. As she doodled, her chemistry thesis took on a life of its own, transforming into a comic book.
Veronica Berns, 28, was working on her Ph. D. in chemistry at the University of
Wisconsin
-Madison. Berns said she long struggled to explain her work to her parents and friends. The self-described comic book fan said she began drafting her thesis on quasicrystals — a subset of crystals that diverge from the usual structural characteristics of crystals. Berns quickly concluded that she would be best able to describe the oddball compounds with illustrations.
"They're not very well-polished illustrations. That's on purpose," Berns said. "I wanted it to be like I'm explaining on the back of an envelope."
And on many occasions, it was on the back of an envelope or on a napkin that she doodled sketches of the chemical bonds to better show her parents what she was working on in the lab. Jody Berns, Veronica's mother, said their family has a history of doodling and has shared comics for years.
Berns surprised her family with her comic book "Atomic Size Matters" at her graduation last year. The book depicts cartoons of Berns wearing various costumes and uses humor as well as simple comparisons to describe elaborate chemistry.
"We're just really proud that she can take something so complex and put it into a fun visual explanation that everyone can enjoy," Jody Berns said.
Veronica Berns' professor Danny Fredrickson said Berns was the first of his students to construct her thesis in an artistic way. He said often it is difficult for scientists to explain what they do with proper context.
"If it's worth doing, we should be able to explain it," Fredrickson said.
And he said Berns managed to accomplish that.
Berns said he hopes other scientists will find ways to illustrate what they're doing in the lab. She now lives in Chicago and works as a chemist. Berns also writes a blog in which she uses comics to explain the work of
Nobel Prize
winning scientists.
Berns started a Kickstarter fundraising campaign to finance printing a small batch of the books. She said she wanted to raise $5,965 to cover the costs of professional printing. The website says she has raised more than $14,000.
TIGER TAMER & COMIC BOOK HEROINE RAISES RAPE AWARENESS IN PRIYA'S SHAKTI
04/21/15 @ 12:42 pm EST
Source:
Paste Magazine
| Categories:
MIsc
|
Comments
(0) |
E-mail Article
|
Add a Comment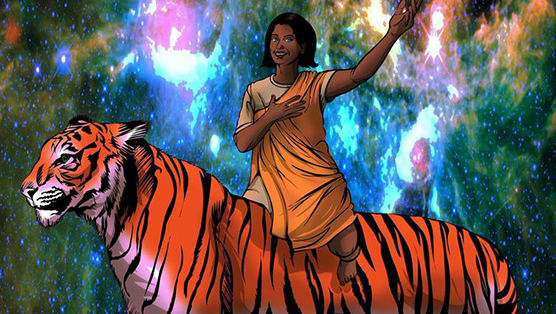 The victim had suffered a horrific death. The attackers were unrepentant. The citizens had taken to the streets.
Back in his home town of New Delhi, documentarian Ram Devineni was working on an unrelated project he, and the entire country of India, were suddenly rocked by the news of a brutal gang rape that claimed the life of a local young woman. For a short time, Devineni pondered putting a halt to the film he was working on, and instead turn his lens toward India's sexual violence crisis.
At one of the protests, Devineni approached a policeman watching over the growing mob. "I asked him what he thought about it all—the girl, the rapists, the protestors," Devineni told Paste during a recent phone interview. "The policeman said something that has stuck with me ever since: 'No good girl walks home alone at night.' Implying she either deserved it, or provoked the rape. And that got me thinking that the problem of sexual violence in India and other cultures is a cultural problem, not a legal issue."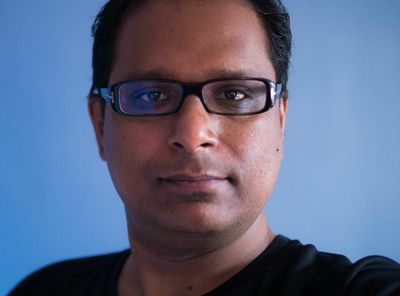 Devineni also began to think that a documentary would be the wrong medium for telling a story about this deep-seeded issue. Instead, he swapped his camera and tripod for pages of panels and dialogue bubbles. The documentarian decided to create the story of Priya, an Indian rape survivor who teams with Hindu Gods to seek justice. The project has proven to be an international breakthrough, with over 250 news outlets rushing to book interviews with Devineni about the unique project.
He enlisted comic book artist Dan Goldman to sketch the project, featuring lush drawings of the Hindu Gods and striking animals. He then recruited a cutting edge tech team to lace the book's panels with'augmented reality' coding, allowing viewers to scan the pages with their cell phones and see video interviews with the rape survivors that Devineni conducted while researching the story.
MARVEL RECRUITS ITALIAN SOCCER STARS FOR 'AGE OF ULTRON' PROMO SPOT
04/21/15 @ 12:22 pm EST
Source:
Comic Book Resources
| Categories:
Age of Ultron
|
Comments
(0) |
E-mail Article
|
Add a Comment
Never let it be said that Disney and Marvel Studios don't know their market. To help promote the release this week of Avengers: Age of Ultron in Italy, they enlist a quartet of soccer stars.
For the promo spot Juventus Football Club's Andrea Pirlo gets a boost from some custom Stark technology, Arturo Vidal sports an eye patch (and, apparently, moves) like Nick Fury, and Claudio Marchisio slings Captain America's shield to block Giorgio Chiellini's kick.
NICOLE PERLMAN & MEG LEFAUVE TO WRITE MARVEL'S 'CAPTAIN MARVEL'
04/20/15 @ 8:41 pm EST
Source:
Marvel
| Categories:
Captain Marvel
|
Comments
(0) |
E-mail Article
|
Add a Comment
Nicole Perlman & Meg LeFauve will together write Marvel's "Captain Marvel," in theaters November 2, 2018, bringing Carol Danvers to the big screen in her first solo cinematic adventure.
Fans will recognize Perlman as the co-writer of Marvel's "Guardians of the Galaxy," last year's smash hit introducing audiences to Star-Lord and his crew, while LeFauve most recently co-wrote Disney•Pixar's next original film "Inside Out," which will premiere at the Cannes Film Festival in May before heading to theaters June 19.
BREAKING: PALICKI & BLOOD REPORTEDLY TO STAR IN "AGENTS OF SHIELD" SPINOFF
04/20/15 @ 8:34 pm EST
Source:
Comic Book Resources
| Categories:
SHIELD
|
Comments
(0) |
E-mail Article
|
Add a Comment
The first reported details of ABC's in-development "Marvel's Agents of S.H.I.E.L.D."spinoff have arrived courtesy of Deadline, who report Adrianne Palicki and Nick Blood are "finalizing deals" to star in the show. Marvel, ABC and representatives for both actors declined comment in Deadline's story.
Palicki and Blood joined "Agents of S.H.I.E.L.D." in its current second season, as the former married couple of S.H.I.E.L.D. veteran Bobbi Morse/Mockingbird and mercenary agent Lance Hunter. The pilot is currently being written by "Agents of S.H.I.E.L.D." executive producer Jeffrey Bell and co-executive producer Paul Zbyszewski, who developed the series, and Deadline reports ABC will likely wait to make a decision on the series until the script is finished. Zbyszewski is reportedly expected to serve as showrunner if the series is picked up.
A third season of "Agents of S.H.I.E.L.D." has not yet been made official.
HUGH JACKMAN'S 'PAN' MOVES BACK FROM SUMMER TO FALL
04/20/15 @ 8:27 pm EST
Source:
Variety
| Categories:
MIsc
|
Comments
(0) |
E-mail Article
|
Add a Comment
Warner Bros. has pushed back the release date of "Pan" to October in an effort to avoid a big crowd at the summer box office.
The Peter Pan original tale, directed by Joe Wright, will now open Oct. 9, 2015, instead of July 24. Co-starring Hugh Jackman and Garrett Hedlund, the
3D
adventure pic was surrounded by tentpoles like Marvel's "Ant-Man" and Paramount's "Mission: Impossible" sequel.
"We wanted to give 'Pan' the space to extend its theatrical run, so taking it out of the cluttered summer season made the most sense," WB distribution exec Dan Fellman said.
Screenwriter Jason Fuchs penned the new take on the classic story. Set during WWII, it follows an orphan who is kidnapped by pirates and brought to Neverland, where he discovers he's destined to save the land from the pirate Blackbeard (Jackman).
Hedlund plays a young Hook in the film, while Levi Miller stars as Peter Pan. The 3D feature also features Rooney Mara and Amanda Seyfried.
Greg Berlanti, Paul Webster and Sarah Schechter are producing "Pan," with Courtenay Valenti and Andrew Fischel overseeing for the studio.
The movie was shot last year in London.
RAMPAGING WARZONES! FULL OF DEADLY HULKS – YOUR NEW LOOK AT PLANET HULK #1
04/20/15 @ 8:23 pm EST
Source:
Marvel
| Categories:
Hulk
|
Comments
(0) |
E-mail Article
|
Add a Comment
This May, embark on a desperate mission into uncharted territory as
PLANET HULK #1
smashes its way into the WARZONES! Be there when Sam Humphries and Mark Lamming take you Greenland – Battleworld's inhospitable northernmost territory. Teeming with an unchecked population of raging Hulks – their unparalleled destruction is the stuff of legend. Now, a battle-worn gladiator named Steve Rogers and his steadfast companion Devil Dinosaur must venture deep within Greenland's borders in hopes of rescuing a friend. Only an army of Hulks now stand between them and their goal!
Plus – don't miss a special back-up story this issue from fan-favorite creators Greg Pak (
Incredible Hulk, Storm)
and Takeshi Miyazawa (
Ms. Marvel, Runaways)
! Explore the untold history of Greenland. What secrets does it hold? What caused this untold outbreak of Hulks? Those answers and more lie in the pages of
PLANET HULK #1
this May!
PLANET HULK #1 (MAR150672)Written by SAM HUMPHRIES & GREG PAK
Art by MARK LAMMING & TAKESHI MIYAZAWA
Cover by MIKE DEL MUNDO
Variant Covers by MUKESH SINGH (MAR150673) & SKOTTIE YOUNG (MAR150675)Blank Variant Also Available (MAR150674)FOC – 04/27/15, On-Sale – 05/20/15
BATMAN LEGO MOVIE, 'LEGO' SEQUEL GET RELEASE DATES
04/20/15 @ 8:17 pm EST
Source:
Variety
| Categories:
Batman
|
Comments
(0) |
E-mail Article
|
Add a Comment
Warner Bros. has set the release dates for the next three "Lego" films through 2018, with the first an untitled Batman Lego movie that will bow on Feb. 10, 2017.
Warners has also moved the Lego spinoff "Ninjago" from fall 2016 to Sept. 22, 2017, and dated "The Lego Movie Sequel" for May 18, 2018.
"We are very excited about dating our upcoming Lego animated features, which already have a worldwide fan following, built on the foundation of the first film," said Dan Fellman, president of domestic distribution at Warner Bros. "These three films already in the pipeline are just the beginning of a creative and diverse animation slate that will be delighting audiences for years to come."
Last October, Warner Bros. chairman-CEO Kevin Tsujihara unveiled a slate that included 10 DC pics, three "Harry Potter" spinoffs and a slew of "Lego" features and made it clear that these franchises would play a major role in Warner Bros.' model for the next half decade.
"The Lego Movie," released last year, was a hit both critically and commercially, grossing $468 million worldwide.
FISTS WILL FLY ON BATTLEWORLD! YOUR NEW LOOK AT MASTER OF KUNG-FU #1
04/20/15 @ 3:49 pm EST
Source:
Marvel
| Categories:
Marvel
|
Comments
(0) |
E-mail Article
|
Add a Comment
Can one man stand against the might of an entire empire? Find out this May, as
Shang-Chi
is unleashed in
MASTER OF KUNG-FU #1
, a new 4-issue Secret Wars limited series! Creators Haden Blackman (
Elektra)
and Dalibor Talajic (
Deadpool Kills the Marvel Universe)
take you on a wild martial arts thrill ride through the mystical land of K'un Lun. Once the most prized student in all of K'un Lun, Shang-Chi now wanders the streets as a derelict. Cast out and forsaken, Shang-Chi and others shunned like him will rise up to dethrone the evil Emperor Zu. One problem – Zu is Shang-Chi's father! Things are going to get messy. Can one beaten-down man become a MASTER? As the Secret Wars begin, step into the arena and find out who will be…
MASTER OF KUNG-FU
! The story begins this May!
MASTER OF KUNG-FU #1 (MAR150636)
Written by HADEN BLACKMAN
Art by DALIBOR TALAJIC
Cover by FRANCESCO FRANCAVILLA
Variant Cover by BUTCH GUICE (MAR150637)FOC – 04/27/15, On Sale – 05/20/15
HASBRO CEO CONFIRMS PLANS FOR 'TRANSFORMERS' CINEMATIC UNIVERSE
04/20/15 @ 3:42 pm EST
Source:
Comic Book Resources
| Categories:
Transformers
|
Comments
(0) |
E-mail Article
|
Add a Comment
Hasbro CEO
Brian Goldner has officially confirmed plans for a 'Transformers' expanded universe.
At the 2015 Q1 Earnings Conference Call, TFW2005 reports that Goldner's answer to a question revealed plans for the "Transformers" expanded universe and a tentative release date for "Transformers 5."
"Our plan with the studio and filmakers you may have heard some writers being hired and we have in fact brought in Akiva Goldsman to lead a group of writers to really create a strategic plan around Transformers. We think there are any number of stories to be told from the brand that has been around for 30 years with amazing canon and mythology. We would expect the sequel to the Transformers movie
[TF4] to happen in 2017."
Rumors about a "Transformers" expanded universe first circulated when Paramount Pictures hired Akiva Goldsman to create a "writers' room" for the franchise with director Michael Bay, executive producer Steven Spielberg and producer Lorenzo di Bonaventura. According to the rumor, the studio wants to fast-track several sequels and spinoffs.