DYNAMITE NEWS!
11/23/12 @ 11:23 am EST
Source:
Dynamite
|
Comments
(0) |
E-mail Article
|
Add a Comment
Dynamite really made waves at New York Comic-Con, headlined by our news of Rick Remender writing Devolution for Dynamite with artist Paul Renaud! Pictured below is the Devolution cover by Jae Lee!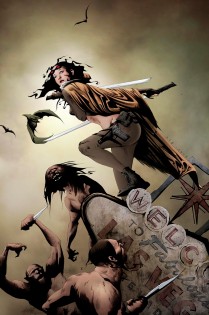 Dynamite made so many fantastic announcements, that it was listed in the 10 Biggest New York Comic Con news list for Newsarama!
http://www.newsarama.com/comics/10-biggest-news-new-york-comic-con-2012-1.html
For anyone who missed any of our announcements, Comics Alliance posted a HUGE article listing our announcements!
http://www.comicsalliance.com/2012/10/17/dynamite-entertainment-new-york-comic-con-2012-remender-devolution-waid-green-hornet-wagner-shadow-year-one/
At NYCC Dynamite had a panel to discuss their upcoming launches! And Tim Seeley was there to talk about his upcoming Hack/Slash/AOD series!
http://www.comicbookresources.com/?page=article&id=41665
Garth Ennis talks about his upcoming crime series, Red Team, at Newsarama!
http://www.newsarama.com/comics/nycc-2012-garth-ennis-red-team-interview.html
Mark Waid talks more about his upcoming run on Green Hornet at CBR!
http://www.comicbookresources.com/?page=article&id=41801
Dan Abnett and Andy Lanning discuss their upcoming run on Battlestar Galactica at Dynamite in an interview at Newsarama!
http://www.newsarama.com/comics/nycc-2012-dna-battlestar-galactica-interview.html
Fred Van Lente talks about his upcoming zombie series for Dynamite at MTV Geek!
http://geek-news.mtv.com/2012/10/11/nycc-fred-van-lente-zombies-dynamite/
MTV Geek finds out more about the upcoming Grimm comic book series from Dynamite!
http://geek-news.mtv.com/2012/10/22/interview-grimm-producers-dynamite-comic-book/
Jesse Blaze Snider talks Evil Ernie at Ain't It Cool News and Bloody Disgusting!
http://www.aintitcool.com/node/58973
http://bloody-disgusting.com/news/3197098/exclusive-interview-writer-jesse-blaze-snider-resurrects-evil-ernie/
Leah Moore and John Reppion discuss their new upcoming Dynamite series, Sherlock Holmes: The Liverpool Demon at CBR!
http://www.comicbookresources.com/?page=article&id=41790
Rich Johnston praises Francesco Francavilla's cover to Dark Shadows #8 and Dan Brereton's cover for Evil Ernie #1!
"LIKE" DYNAMITE'S FACEBOOK PAGE TODAY!!!
http://www.facebook.com/dynamitecomics
DYNAMITE ENTERTAINMENT AND HUMBLE BUNDLE PACK NEW BUNDLE WITH THE BIGGEST NAMES IN FICTION
02/10/16 @ 3:12 pm EST
Source:
Dynamite
| Categories:
Dynamite
|
Comments
(0) |
E-mail Article
|
Add a Comment
Dynamite Entertainment again partners with Humble Bundle for one of the most jam-packed collections of comics and prose yet! This latest offering features some of the biggest authors in the publisher's catalog, giving readers approximately $250 in content for a fraction of the cover price for fans to pay what YOU want for each bundle, and introduce yourself to Dynamite's library of literary titles!
"It's always a lot of fun to work with our good friends over at Dynamite," says Kelley Allen, Director of Books at Humble Bundle. "This promotion is chock-filled with mega star authors, artists and creators to the hilt!"
"Dynamite has been incredibly fortunate to work with some of the greatest names in fiction," says Dynamite CEO/Publisher Nick Barrucci. "This year marks the fifth anniversary of
New York Times
Best-seller Charlaine Harris' first-ever graphic novel adaptation of her series,
Grave Sight
, as well as the anniversary of Dean Koontz's incredibly suspenseful graphic novel adaptation of Fear Nothing. We wanted to mark the occasion by gathering together the work of numerous phenomenal writers into one great bundle, titles like
Shaft: A Complicated Man
(the 2015 Glyph Award winner by writer David Walker) and
Legends of Red Sonja
(a celebration of so many sensational authors, spearheaded by the talented Gail Simone). This will give fiction fans a low cost way to check out Dynamite's wide catalog of literary all-stars, and all in support of three great causes. This bundle is packed with something for fans of comics and prose! And with this bundle, we are also supporting 3 GREAT charitable organizations that we feel help those in need - The Make-A-Wish Foundation, The Comic Book Legal Defense Fund and Doctor's Without Borders."
The "pay what you want" model offers readers the chance to unlock over 120 comics, and over 3,500 pages of content. This will give graphic lit fans access to:
•
Charlaine Harris' Grave Sight Part 1
by Charlaine Harris
•
The Shadow Vol 1: Fire of Creation
by Garth Ennis and Aaron Campbell
•
Patricia Briggs' Mercy Thomson: Hopcross Jilly
by Patricia Briggs
•
The Complete Alice in Wonderland
by Lewis Carroll, Leah Moore, and John Reppion
•
Sherlock Holmes: Year One
by Sir Arthur Conan Doyle and Scott Beatty
•
The Spider Vol. 1: Terror of the Zombie Queen
by David Liss and Francesco Francavilla
•
Tom Clancy's Splinter Cell: Echoes
by Tom Clancy
As the bundle progresses, there will be a running average. For those who pay more than the average price will also unlock these additional titles:
•
Jim Butcher's The Dresden Files: Ghoul Goblin
by Jim Butcher
•
Robert Jordan's Wheel of Time
#1-6, 1.5 by Robert Jordan
•
Justice Inc. Vol. 1
by Michael Uslan
•
Legenderry: A Steampunk Adventure
by Bill Willingham and Joe Benitez
•
Shaft: A Complicated Man
by David F. Walker
•
The Shadow Vol. 2
by Victor Gischler and Alex Ross
•
Dean Koontz's Fear Nothing
by Dean Koontz
•
Kevin Smith's Green Hornet Vol. 2: Wearing o' the Green
by Kevin Smith
•
Vampirella Master Series Vol. 1
by Grant Morrison and Mark Millar
•
Twilight Zone Vol. 2: The Way In
by J. Michael Straczynski
$15 or more will get you:
•
Game of Thrones
#1-4 by George R.R. Martin and Daniel Abraham
•
Django/Zorro Collection
by Quentin Tarantino and Matt Wagner
•
The Last Temptation
by Neil Gaiman and Alice Cooper
•
Legends of Red Sonja Collection
by Gail Simone, Kelly Sue DeConnick, Nancy A. Collins, Marjorie Liu, and Blair Butler
•
Vampirella Master Series Vol. 4: Visionaries
by Alan Moore, Jeph Loeb, Kurt Busiek, and Christopher Priest
As an added value, Dynamite and Humble Bundle will make a mid-promotion announcement, adding additional titles to be unlocked for anyone who purchases above the average price at that time! All who purchase at this tier or higher will be granted access to these special additions, regardless of when they buy in!
Visit
https://www.humblebundle.com/books/dynamite3_bookbundle
today to start your collection of Dynamite comics, graphic novels, and prose! Upon purchase, you can choose where the money goes-between Dynamite and three charitable causes (Comic Book Legal Defense Fund, Doctors Without Borders, and the Make-A-Wish Foundation) via the PayPal Giving Fund.
GAIL SIMONE REFLECTS ON LEGENDS OF RED SONJA
EXCLUSIVELY TO PROMOTE THE BEST-SELLING AUTHORS BUNDLE
"So, we wanted to do something very special for the 40th anniversary of Red Sonja's creation, and I had this idea, what if we did an anthology, like the classic sword and sorcery black and white magazines, but with the stories all connected by a theme? That seemed exciting, but because it was Sonja, I wanted also to do something that would have been nearly impossible 40 years ago...have all the writers be women. But would it work? Would there be enough great female writers who wanted to write about the She-Devil (and her infamous chain mail bikini)?
"I needn't have worried. I made a list of brilliant writers whose work I loved, and within a day, everyone answered back with an enthusiastic HELL, YES. We got some of my favorite prose writers, like Nancy Collins and Mercedes Lackey, as well as Meljean Brooke and Tamora Pierce in their first-ever comics work. We got comics superstars like Kelly Sue DeConnick and Marjorie Liu. We got Devin Grayson, ace Batman writer, back in the medium she loves after years away. We got people from games and television, it was just a killer line-up, every one a samurai. It was as much fun to create as it was to read. That line-up may never happen again, it was just once-in-a-lifetime.
"And it was all for the love of a redhead with a sword. Thanks, Dynamite, for allowing us to run through the village, creating havoc on the populace. It was indeed, the best of times!"
Gail Simone got her start in comics writing for Bongo Comics, home of
The Simpsons
. Following her time there, Simone entered the mainstream comics world with a run on Marvel Comics'
Deadpool
, and later,
Agent X
. Perhaps best known for known for runs on DC's
Birds of Prey
,
Secret Six
,
Wonder Woman
, and
Batgirl
, Simone made a much-publicized move to reimagine the classic
Red Sonja
character at Dynamite in 2013 with the launch of a series that spanned nineteen issues. The debut chapter was met with immediate critical acclaim and an impressive, immediate sell-out of its 35,000-unit first printing. On two occasions since, she has assembled teams of fiction's top female writers -- well-respected professionals from the prose, fantasy gaming, and comic book worlds -- for collaborative projects at Dynamite, the aforementioned
Legends of Red Sonja
and the epic
Swords of Sorrow
event in the summer of 2015.
DEAN KOONTZ REFLECTS ON FEAR NOTHINGEXCLUSIVELY TO PROMOTE THE BEST-SELLING AUTHORS BUNDLE
"Dynamite's graphic novel adaptation of
Fear Nothing
knocks it out of the park. Sophisticated, engrossing, and fun. It pushed all my buttons -- the right ones!"
When he was a senior in college, Dean Koontz won an Atlantic Monthly fiction competition and has been writing ever since. His books are published in 38 languages and he has sold over 450 million copies to date. Fourteen of his novels have risen to number one on the
New York Times
hardcover best-seller list (
One Door Away
From Heaven
,
From the Corner of His Eye
,
Midnight
,
Cold Fire
,
The Bad Place
,
Hideaway
,
Dragon Tears
,
Intensity
,
Sole Survivor
,
The Husband
,
Odd Hours
,
Relentless
,
What the Night Knows
, and
77 Shadow Street
), making him one of only a dozen writers ever to have achieved that milestone. Sixteen of his books have risen to the number one position in paperback. His books have also been major best-sellers in countries as diverse as Japan and Sweden.
'WINX CLUB' TO GET BIG SCREEN, LIVE-ACTION TREATMENT VIA HOLLYWOOD GANG
02/10/16 @ 2:55 pm EST
Source:
Deadline
| Categories:
MIsc
|
Comments
(0) |
E-mail Article
|
Add a Comment
Warner Bros.-based Hollywood Gang have partnered with Italy's Rainbow Group to develop and produce a live-action motion picture inspired by the animated and popular global
Winx Club
TV series. This comes after Netflix recently announcedthat it ordered two seasons of programming this year for a Winx Club spin-off animated series from Rainbow called
Winx Club Wow:
World of Winx
. The original animated series ran on Nickelodeon for about five years. The property heavily draws in a young, female demographic.
The series is set in a vividly imagined world, where Bloom, a girl from Earth crosses into a Magical Dimension to enroll at Alfea College — the best school for fairies in all the realms. At Alfea College, Bloom and her fairy friends form the Winx Club. Each of Bloom's magical friends possess powers unique to their character as they join together to form the Winx Club.
Hollywood Gang President Gianni Nunnari and The Rainbow Group Founder and CEO Iginio Straffi put the deal together. Straffi called a live-action version of the series "a dream of mine since the very beginning."
"NEW GALACTIC ORDER" STARTS NOW – YOUR FIRST LOOK AT GUARDIANS OF THE GALAXY #6
02/10/16 @ 1:31 pm EST
Source:
Marvel
| Categories:
Guardians of the Galaxy
|
Comments
(0) |
E-mail Article
|
Add a Comment
Peter Quill may be back with the team, but things are anything but back to normal for the Guardians. Today, Marvel is pleased to present your first look at
GUARDIANS OF THE GALAXY #6
– the first chapter of "New Galactic Order"! Blockbuster creators Brian Michael Bendis and Valerio Schiti take you on the next chapter of this interstellar rollercoaster! Removed from power as the emperor of Spartax, can Peter Quill readjust to life among the stars? Which nefarious alien race will step up to fill the power vacuum left in his absence? More importantly – Peter Quill and Kitty Pryde come face-to-face for the first time in nearly eight months! Are the Guardians of the Galaxy big enough for two Star-Lords? Those answers and more this March as "New Galactic Order" kicks off in
GUARDIANS OF THE GALAXY #6
!
GUARDIANS OF THE GALAXY #6 (JAN160814)Written by BRIAN MICHAEL BENDISArt by VALERIO SCHITI
Cover by ART ADAMS
Variant Cover by JAMAL CAMPBELL (JAN160815)Story Thus Far Variant by VALERIO SCHITI (JAN160816)Classic Artist Variant by GREG HILDEBRANT (JAN160817)Women of Power Variant by SIYA OUM (JAN160818)FOC – 02/15/16, On-Sale – 03/09/16
'AGENT CARTER' STAR HAYLEY ATWELL TO TOPLINE ABC DRAMA PILOT 'CONVICTION'
02/10/16 @ 1:23 pm EST
Source:
Deadline
| Categories:
MIsc
|
Comments
(0) |
E-mail Article
|
Add a Comment
Hayley Atwell, star of ABC's Marvel drama series
Agent Carter,
has been tapped as the lead of another ABC drama project, legal drama
Conviction,
where Atwell's character coincidentally is also named Carter. The Mark Gordon Co. is producing with ABC Studios.
Agent Carter
, now in its second cycle, is drawing pretty modest ratings and does not look likely for a Season 3 pickup. In case of a series order for
Conviction
and an improbable renewal of the Marvel drama, ABC sources indicate there is a scenario in which she could possibly do both shows, potentially both as limited runs. But Atwell's casting as the lead of a new project by the same network and studio indicate that
Agent Carter
is probably going away, and they want to keep its star on its roster of leading ladies.
REYNOLDS SAYS A BOYFRIEND "WOULD BE GREAT" FOR DEADPOOL
02/10/16 @ 1:20 pm EST
Source:
Comic Book Resources
| Categories:
Deadpool
|
Comments
(0) |
E-mail Article
|
Add a Comment
"Deadpool" director Tim Miller has weighed in on the movie version of the Merc with a Mouth's sexuality, and now star Ryan Reynoldshas as well.
The actor recently commented on Deadpool's pansexuality in the comics, telling Variety, "I love that about Deadpool. I love that he can break any boundary. In the future, I hope we get to do that more," he said, referencing Deadpool's monogamous relationship with a girlfriend, Vanessa (Morena Baccarin), in the film.
Reynolds added that it would be "nice" for Wade Wilson to have a male love interest in the future, saying he "certainly wouldn't be the guy standing in the way of that. That would be great."
There have been numerous hints about Deadpool's sexuality over the years, most of which have been documented online. Variety notes that the film makes similar "winks" towards Deadpool's sexuality, which is in line with director Miller's comments about his DP being pansexual. Screenwriter Rhett Reese and producer Simon Kinberg also had comments on the matter for Variety.
"We knew that was part of the comics," said Reese. "We wanted to honor that in the movie. But we did it in subtle ways." Kinberg added, "There's veiled references to it in this film. It's in the DNA of the character." The producer also said he would not rule out giving Wade Wilson a malelove interest in future films.
"Deadpool" opens in theaters on February 12.
STAR WARS: EPISODE VIII OFFICIALLY BEGINS PRINCIPAL PHOTOGRAPHY
02/10/16 @ 1:17 pm EST
Source:
Comicbook
| Categories:
Star Wars
|
Comments
(0) |
E-mail Article
|
Add a Comment
Star Wars: The Force Awakens
was an unqualified success, and now it's time to look to the future. Rian Johnson has written the script for
Star Wars: Episode VIII
, and now moves into the director chair as the film has officially launched principal photography.
The cameras being turned on was announced by Disney CEO Bob Iger during the quarterly earnings call - and guess what? Disney had a pretty good fourth quarter of 2015. That's largely on
The Force Awakens
' $2 billion global box office cume, plus over $3 billion in consumer products. Now, it's full speed ahead on the next two chapters of the third
Star Wars
trilogy.
"There is no better way to propel this franchise into the future than producing quality products. Filming of
Star Wars: Episode VIII
, the next chapter of the legendary saga, has just commenced and will be in theaters December 2017. And production of
Episode IX
, a 2019 release, has also begun," Iger said on the call.
Rogue One
, meanwhile, is not quite wrapped, but Iger said they "absolutely love what [they've] seen so far." He also said the next stand-alone story in the
Star Wars
saga is in preproduction. Interestingly, despite moving
Episode VIII
to a December release, Iger re-iterated that the second stand-alone film, a Han Solo origin story, is set "for release in May of 2018."
THE MOMENT "BATMAN" FANS HAVE WAITED FOR HAS FINALLY ARRIVED
02/10/16 @ 1:11 pm EST
Source:
Comic Book Resources
| Categories:
Batman
|
Comments
(0) |
E-mail Article
|
Add a Comment
SPOILER WARNING:
This article contains major spoilers for "Batman" #49, on sale today.
It's been known for a while now that Bruce Wayne would return as Batman in "Batman" #50, but exactly how has remained a mystery. After all, as a result of last year's near-fatal "Endgame" storyline, he was left missing both his memories of his time as the Dark Knight and his sharply honed crime fighting abilities, resulting in a Bruce Wayne blissfully ignorant of his tumultuous life.
This week's "Batman" #49, from the reunited "Swamp Thing" team of Scott Snyder and Yanick Paquette (along with a co-writer credit for Snyder's frequent collaborator James Tynion IV), answers how Bruce ends up back under the cape and cowl. In an unconventional narrative that incorporates a parallel story of a futuristic dream sequence, Bruce Wayne learns that he had invented a complex machine to bring back Batman if needed. Of course, Alfred had destroyed the machine, fully intending to never allow his ward to ever fall back into the dangerous and dark world he had been freed of. Whoever, Bruce learns the machine has a back-up -- but it can only be activated by Alfred himself.
Alfred is understandably extremely hesitant at the prospect, but eventually goes through with theactivation when he realizes it's what pre-memory loss Bruce would truly want. The process effectively "kills" the pure, un-traumatized Bruce Wayne the world has known since he returned last year. Once that persona has been erased, the machine restores a back-up of Batman's mind from right before the "Endgame" conflict with the Joker.
Alfred is unable to bring himself to initiate the final step --essentially killing the Bruce who stands before him -- to bring back Batman, having been so relieved by Bruce's peaceful Batman-less existence. He's spared that action by Julie Madison, Bruce's love interest of late, who shows up in the Batcave (establishing that she is fully aware of Bruce's secret identity) and pushes the fateful button.
With Batman back and headed into battle with Mr. Bloom -- alongside Jim Gordon, who has been filling the Bat-role in recent issues -- the question remains of how this newly rebooted Batman may be different going forward, and whether he will truly not remember any of his recent experiences. Bruce tells Alfred before he triggers the machine that he'll become a "better Batman than I ever was before," but what that means remains a mystery -- for the moment. (Via CBR)
Longtime series artist Greg Capullo returns for the Snyder-written "Batman" #50, scheduled for release on March 23.
MARVEL UNLEASHES WAVE OF "APOCALYPSE WARS" VARIANT COVERS
02/10/16 @ 1:03 pm EST
Source:
Comic Book Resources
| Categories:
X-Men
|
Comments
(0) |
E-mail Article
|
Add a Comment
As part of Marvel's upcoming X-Men event "Apocalypse Wars," 23 series will receive variant covers reimagining their titular characters as either Horsemen of Apocalypse or citizens of the "Age of Apocalypse" timeline. IGN has debuted the first seven covers.
The first batch of variants feature Apocalyptic takes on "Amazing Spider-Man," "Captain America: Steve Rogers," "Guardians of the Galaxy," "Uncanny X-Men," "Astonishing Ant-Man," "All-New, All-Different Avengers" and "All-New X-Men."
"Amazing Spider-Man" #12 variant cover by Jamal Campbell
"All-New X-Men" #9 variant cover by Pasqual Ferry
"Uncanny X-Men" #7 variant cover by Ryan Sook
"All-New, All-Different Avengers" #9 variant cover by Khoi Pham
"Captain America: Steve Rogers" #1 variant cover by Paul Renaud
"Guardians of the Galaxy" #8 variant cover by Dale Keown
"The Astonishing Ant-Man" #8 variant cover by Will Sliney
The "Apocalypse Wars" crossover starts in May with "Extraordinary X-Men" and then continues through "All-New X-Men" and "Uncanny X-Men" throughout the summer.
May will also see the following issues receive tie-in variants: "Black Panther" #2, "Black Widow" #3, "Captain Marvel" #5, "Daredevil" #7, "Deadpool" #11, "Doctor Strange" #8, "Extraordinary X-Men" #10, "Howard the Duck" #7, "Invincible Iron Man" #9, "Ms. Marvel" #7, "Power Man and Iron Fist" #4, "The Punisher" #1, "Spider-Gwen" #8, "Thunderbolts" #1, "Totally Awesome Hulk" #7 and "Uncanny Inhumans" #8.
BEATLES-INSPIRED ANIMATED MUSICAL KIDS SERIES 'BEAT BUGS' SET AT NETFLIX WITH EDDIE VEDDER, P!NK AND MORE
02/10/16 @ 12:55 pm EST
Source:
Deadline
| Categories:
MIsc
|
Comments
(0) |
E-mail Article
|
Add a Comment
Beat Bugs,
an animated kids series inspired by the songs of the Beatles, will premiere on Netflix this summer, with artists Eddie Vedder, Pink, Sia, James Corden and more adding their voices.
Josh Wakely will direct, write and produce the series via his Grace: A Storytelling Company, which he co-owns with
Beat Bugs
executive producer Trevor Roy. Film and TV production group Thunderbird co-produces with Beyond Screen Production. The series follows Grace's deal with Sony/ATV Music Publishing for worldwide rights to record covers of the Beatles song catalog for the production.
Video:
https://youtu.be/Iu-5mkWii0c
DEADPOOL SEQUEL WILL INCLUDE CABLE
02/10/16 @ 2:20 am EST
Source:
Comicbook
| Categories:
Deadpool and Cable
|
Comments
(0) |
E-mail Article
|
Add a Comment
On Tuesday, reports hit the web that Fox has greenlit a Deadpool sequel. But ComicBook.com is reporting that the X-Men character, Cable, will be joining him.

No actor or even role size for the time-traveling mutant, son of X-Men's Cyclops and his wife Madelyne Pryor (a clone of Jean Grey), has been mentioned. But CB notes that the X-Man Colossus has a signficant role in the coming Deadpool movie.

No other information was available. Stay tuned to DF News for more.