DYNAMITE NEWS!
11/23/12 @ 11:23 am EST
Source:
Dynamite
|
Comments
(0) |
E-mail Article
|
Add a Comment
Dynamite really made waves at New York Comic-Con, headlined by our news of Rick Remender writing Devolution for Dynamite with artist Paul Renaud! Pictured below is the Devolution cover by Jae Lee!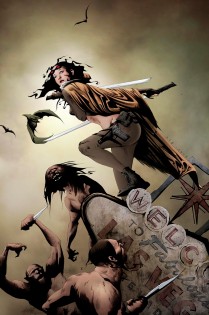 Dynamite made so many fantastic announcements, that it was listed in the 10 Biggest New York Comic Con news list for Newsarama!
http://www.newsarama.com/comics/10-biggest-news-new-york-comic-con-2012-1.html
For anyone who missed any of our announcements, Comics Alliance posted a HUGE article listing our announcements!
http://www.comicsalliance.com/2012/10/17/dynamite-entertainment-new-york-comic-con-2012-remender-devolution-waid-green-hornet-wagner-shadow-year-one/
At NYCC Dynamite had a panel to discuss their upcoming launches! And Tim Seeley was there to talk about his upcoming Hack/Slash/AOD series!
http://www.comicbookresources.com/?page=article&id=41665
Garth Ennis talks about his upcoming crime series, Red Team, at Newsarama!
http://www.newsarama.com/comics/nycc-2012-garth-ennis-red-team-interview.html
Mark Waid talks more about his upcoming run on Green Hornet at CBR!
http://www.comicbookresources.com/?page=article&id=41801
Dan Abnett and Andy Lanning discuss their upcoming run on Battlestar Galactica at Dynamite in an interview at Newsarama!
http://www.newsarama.com/comics/nycc-2012-dna-battlestar-galactica-interview.html
Fred Van Lente talks about his upcoming zombie series for Dynamite at MTV Geek!
http://geek-news.mtv.com/2012/10/11/nycc-fred-van-lente-zombies-dynamite/
MTV Geek finds out more about the upcoming Grimm comic book series from Dynamite!
http://geek-news.mtv.com/2012/10/22/interview-grimm-producers-dynamite-comic-book/
Jesse Blaze Snider talks Evil Ernie at Ain't It Cool News and Bloody Disgusting!
http://www.aintitcool.com/node/58973
http://bloody-disgusting.com/news/3197098/exclusive-interview-writer-jesse-blaze-snider-resurrects-evil-ernie/
Leah Moore and John Reppion discuss their new upcoming Dynamite series, Sherlock Holmes: The Liverpool Demon at CBR!
http://www.comicbookresources.com/?page=article&id=41790
Rich Johnston praises Francesco Francavilla's cover to Dark Shadows #8 and Dan Brereton's cover for Evil Ernie #1!
"LIKE" DYNAMITE'S FACEBOOK PAGE TODAY!!!
http://www.facebook.com/dynamitecomics
FIRST LOOK AT ALICE COOPER #2 AND RED SONJA: THE BLACK TOWER #2
09/20/14 @ 8:01 pm EST
Source:
Bleeding Cool
| Categories:
Dynamite
|
Comments
(0) |
E-mail Article
|
Add a Comment
Bleeding Cool has an exclusive first look at two upcoming Dynamite books that both have their final order cutoff (FOC) this week.

Both of them are also getting variant covers to help increase orders. Red Sonja: The Black Tower #2 by Frank Tieri, Cezar Razek & Amanda Connor and Alice Cooper #2 by Joe Harris, Eman Casallos & Ardian Syaf.

Click here to see them on Bleeding Cool!
YOUR COMICS EVENTS AT THE BROOKLYN BOOK FESTIVAL ON SUNDAY
09/20/14 @ 7:55 pm EST
Source:
Bleeding Cool
| Categories:
MIsc
|
Comments
(0) |
E-mail Article
|
Add a Comment


Sunday, Sept, 21, sees the return of the Brooklyn Book Festival in NY. The day is a gracious experience wandering among publisher tents, meandering to panels with cultured and interesting authors, surrounding Borough Hall in Brooklyn. In essence, it's the beginning of autumn for book lovers in New York, and for some time now comics have found a home and quite a deal of respect at the Brooklyn Book Festival.

Look out for many signings happening at publisher booths and after panels as well–it's a great place to pick up a new graphic novel and have it inscribed or doodled in. With local bookstores and publishers like Abrams Books, DC Entertainment, Drawn and Quarterly, Fantagraphics Books, Koyama Press, McSweeney's, NBM, Papercutz, TOON Books, and more.

Comics Quick Draw 10:00am

Critically acclaimed syndicated cartoonist Jerry Craft (The Zero Degree Zombie Zone), Eisner Award winner Ursula Vernon (Dragonbreath), and Ben Hatke, author of the American Library Association Notable Children's Book Zita the Spacegirl square off against each other in a lively drawing contest inspired by suggestions from the audience. Moderated by PW Comics Editor, Calvin Reid.

Single Facing City: Coming of Age Comics 10:00am

New graphic narratives by popular comics creators Mike Dawson (Angie Bongiolatti), Michael Cho(Shoplifter), and MariNaomi (Dragon's Breath ) follow the lives of very different young women, all striving for their place, identity, and their own way to change the world—some fictional, some confessional, all unforgettable. Moderated by Nicole Rudick, The Paris Review. Featuring screen projection.

Dystopian Adventure Comics 12:00pm

Alternative reality stories from genre-bending, cult comics superstars Brandon Graham (Multiple Warheads), Farel Dalrymple (The Wrenchies) and Amy Reeder (Rocket Girl). Discover the amazing worlds of these ongoing series and epic graphic novels. Moderated by Calvin Reid, Publishers Weekly Comics World. Featuring screen projection.

Sex, Drugs, Dysfunctional Families—Plus Witches! 1:00pm

Hilarious stories from the altcomics universe, from leading-edge indie artists you love to read online (or to find as beloved mini comics passed creator-to-fan): Julia Wertz (Museum of Mistakes), Simon Hanselmann (MegaHex), coming from Australia, and Jennifer Cruté (Jennifer's Journal). Moderated by Jonathan W. Gray. Featuring screen projection.

Draw Your Own Cartoons! (workshop) 2:00pm

Award-winning syndicated cartoonist and illustrator of The Zero Degree Zombie Zone, Jerry Craftshares his experiences as a cartoonist and illustrator. Craft will give you instructions on how to use simple shapes to create your own cool comic book characters.Losing and

Finding Yourself: Comics of Heartbreak and Healing 2:00pm

Three award-winning artists offer their stories of traveling the world, through illness, anxiety, love, family, loss, and survival. Gabrielle Bell (Truth is Fragmentary), Mana Neyestani (An Iranian Metamorphosis), John Porcellino (Hospital Suite), and Anya Ulinich (Lena Finkle's Magic Barrel). Moderated by Bill Kartalopoulos, ed., Best American Comics. Featuring screen projection.

Great Debates: Comic Books on Historical Controversy 3:00pm

Who shot JFK? Who was the 5th Beatle? How can a wife forgive her husband, her husband forgive God? From global politics to pop music to personal immigrant stories of the early Lower East Side, these new graphic nonfiction books offer fascinating, carefully researched, beautifully drawn histories of never-settled debates. With Vivek Tiwary (The Fifth Beatle), Dan Mishkin (The Warren Commission Report), and Liana Finck (A Bintel Brief). Moderated by Heidi MacDonald, Publishers Weekly, The Beat. Featuring screen projection.

Virtuosos: Comics Creators that Defy Classification 3:00pm

Award-winning artists Charles Burns (Sugar Skull), Eleanor Davis (How to be Happy) and Paul Pope (Battling Boy) are some of the most exciting creators on the scene today, helping to define indie, literary comics while also defying genre classification. Join them as they talk about how they orchestrate their art. Moderated by Lisa Lucas, Guernica Magazine. Featuring screen projection.

Jonathan Lethem and Jules Feiffer in Conversation 4:00pm

Jules Feiffer (Kill My Mother), one of the most influential editorial cartoonists of our time, and novelist and essayist Jonathan Lethem (Dissident Gardens) discuss the power of satire, dissent in their work, and the influence of cultural and political collisions. Moderated by Ken Chen, Asian American Writers Workshop.

Calling All Creators: Intellectual Property Legal Advice 5:00pm

You may have come to earth with the ideas and the talent, but you need to learn how to navigate the legal pitfalls of protecting intellectual properties – from development to distribution and delivery. Michael C. Donaldson (The American Bar Association's Legal Guiide to Intependent Filmmaking) is passionate about helping creators navigate the legal side of the business and has worked with everyone from Oliver Stone to Lawrence Bender. The first tip is "Don't miss this program." Moderated by Christina Mulligan,Brooklyn Law School.
LONG BEACH COMIC CON TO ANNOUNCE DWAYNE MCDUFFIE AWARD
09/20/14 @ 7:29 pm EST
Source:
Bleeding Cool
| Categories:
MIsc
|
Comments
(0) |
E-mail Article
|
Add a Comment
Long Beach Comic Con
has announced that they are going to be announcing a
Dwayne McDuffie Award
. McDuffie was a comic and television writer who created the animated TV series
Static Shock
as well as co-founding
Milestone Comics
, the first minority owned and operated comic publisher. He passed away one day after his 49th birthday in 2011 after complications from emergency heart surgery.
Details of the award will be announced at Long Beach Comic Con on Saturday, September 27th at 10:30 am PST. The event will be attended by Long Beach Comic Con co-founders
Martha Donato
and
Phil Lawrence
; prominent comics and animation professionals
Neo Edmund
,
Joan Hilty
,
Joseph Illidge
,
Heidi MacDonald
,
Glen Murakami
,
Eugene Son
,
William J. Watkins
, and
Len Wein
; plus
Charlotte Fullerton McDuffie
and
Matt Wayne
.
MARK MILLAR 'STARLIGHT' MOVIE NABS 'STAR WARS' WRITER
09/20/14 @ 7:23 pm EST
Source:
ICv2
| Categories:
MIsc
|
Comments
(0) |
E-mail Article
|
Add a Comment


Gary Whitta, who was recent signed as the writer on the first stand-alone Star Wars movie, will write the script for a film adaptation of Mark Millar'sStarlight, The Hollywood Reporter (via ICv2) is reporting.

Twentieth Century Fox acquired the rights for the Millarworld Universe title before the Image comic debuted. Simon Kinberg (X-Men: First Class, X-Men: Days of Future Past) was named as producer, with Steve Asbell overseeing for Fox.

The Starlight comic is the first in an interlinking group of eight or nine "Millarworld" titles and tells the story of aging space hero Duke McQueen, who is invited back to space for one final adventure.
'SLEEPY HOLLOW' TO BE SUBJECT OF BOOM! STUDIOS PRODUCED COMIC BOOK MINSERIES
09/20/14 @ 4:42 pm EST
Source:
CelebrityCafe
| Categories:
MIsc
|
Comments
(0) |
E-mail Article
|
Add a Comment
BOOM! Studios is releasing a comic book miniseries to the Fox television show
Sleepy Hollow
in conjunction to the show's second season premiere date on Sept. 22.
As does the television show, the comic series focuses around the characters Ichabod Crane and Jenny Mills as they solve mysteries.
According to The Hollywood Reporter (via CelebrityCafe.com), each short story takes place prior to the events of the show's first season.
Two of the prologues have already been released online through the Sleepy Hollow Facebook page and BOOM! Studio's Tumblr page. These two shorts were written by Mike Johnson with art by Matías Bergara. Five shorts are planned, with a print collection to be available in the future.
Another
Sleepy Hollow
miniseries is also to be released by BOOM!, the plot to take place during the show's first season. The AV Club reports that
Batgirl
's Marguerite Bennett will be writing the series along with art by
Venom
's Jorge Coelho. Noelle Stevenson of the web-comic
Nimona
is also set to contribute to the series.
EXPLORE LIFE, CLONES, IMMORTALITY WITH ETERNAL - BOOM! STUDIOS' NEWEST SERIES
09/20/14 @ 4:35 pm EST
Source:
Newsarama
| Categories:
MIsc
|
Comments
(0) |
E-mail Article
|
Add a Comment


Writer William Harms (Wolverine, InFamous) will be bringing some of his sci-fi flair over to BOOM! Studios in December with ETERNAL.

Harms asks a big "what if" with this upcoming title being "what if we never had to die".

Teaming up with artist Giovanni Valleta (Dark Horse Presents), they bring us to two-hundred years in the future where the rich can prolong their lives through a cloning process.
WONDER WOMAN: FROM GOD OF WAR TO GOD OF PEACE
09/20/14 @ 4:23 pm EST
Source:
DC
| Categories:
Wonder Woman
|
Comments
(0) |
E-mail Article
|
Add a Comment
If you have not read SUPERMAN/WONDER WOMAN: FUTURES END #1 yet and do not wish to know what happens, stop reading this post now. Don't say we didn't warn ya! lol
Five years from now, in WONDER WOMAN: FUTURES END #1, we find the Amazon Princess embracing her "God of War" persona as she is entrenched in an epic battle with the evil Nemesis.
Or so we may think ...
Bracing for a deadly blood fest, the opening pages of SUPERMAN/WONDER WOMAN: FUTURES END #1 reveal that Wonder Woman has actually been infected by Nemesis and has been imagining the entire battle in her head!
Coming to terms with reality, Wonder Woman finds one truth in her delusions: Nemesis is still the enemy.
Witnessing the devastation around her, Wonder Woman realizes that there's only one last hope to stop Nemesis, and it's not war… it's peace!
With Nemesis' army closing in on her, see below as Wonder Woman embraces the fallen spirit of Eirene and transforms into the "God of Peace!" How will peace defeat Nemesis' army? Is her new persona permanent?
SUPERMAN/WONDER WOMAN: FUTURES END #1, written by Charles Soule, and illustrated by Rags Morales, Jose Marzan & Batt, is available in stores now.
A NEW SEASON 2 POSTER FOR 'AGENTS OF S.H.I.E.L.D.'
09/20/14 @ 4:08 pm EST
Source:
Marvel
| Categories:
Marvel
|
Comments
(0) |
E-mail Article
|
Add a Comment
The second season premiere of "Marvel's Agents of S.H.I.E.L.D." is just days away and ABC has unveiled the official poster for the second season.
Clark Gregg's Agent Coulson stands with his team in the poster, a team now on the run from Hydra and other forces out to bring them down.
The new season returns September 23rd.
CONSTANTINE CASTING CALL SEEKS NEWBORNS AND INFANTS
09/19/14 @ 5:16 pm EST
Source:
Bleeding Cool
| Categories:
Constantine
|
Comments
(0) |
E-mail Article
|
Add a Comment


A casting call has gone out for dark haired or hispanic newborns or infants to appear as a featured role in an upcoming episode of NBC's new series Constantine. The filming dates for the casting call are Sept 22nd, 24th, 25th and October 1st and 2nd.

Constantine, starring Matt Ryan, isn't set to premier until October 24th. So with the slight reworking of the pilot to explain the change of cast, this might be one of the first few episodes of the season.
DOCTOR WHO CHRISTMAS SPECIAL ADDS FROST AND TROUGHTON
09/19/14 @ 5:08 pm EST
Source:
Bleeding Cool
| Categories:
Doctor Who
|
Comments
(0) |
E-mail Article
|
Add a Comment


The BBC announced the cast for this year's Doctor Who Christmas episode and two names jump out.

Nick Frost (The World's End) will reunite with Steven Moffat for the production which has begun filming.

The second name that jumped out is the recently returned to acting Michael Troughton (The New Statesman). The name Troughton is of course very familiar to Whovians as Michael's father Patrick Troughton played the second incarnation of the Doctor.

The cast will also include Natalie Gumede, Faye Marsay and Nathan McMullen.