DYNAMITE NEWS!
11/23/12 @ 11:23 am EST
Source:
Dynamite
|
Comments
(0) |
E-mail Article
|
Add a Comment
Dynamite really made waves at New York Comic-Con, headlined by our news of Rick Remender writing Devolution for Dynamite with artist Paul Renaud! Pictured below is the Devolution cover by Jae Lee!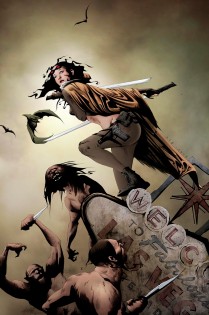 Dynamite made so many fantastic announcements, that it was listed in the 10 Biggest New York Comic Con news list for Newsarama!
http://www.newsarama.com/comics/10-biggest-news-new-york-comic-con-2012-1.html
For anyone who missed any of our announcements, Comics Alliance posted a HUGE article listing our announcements!
http://www.comicsalliance.com/2012/10/17/dynamite-entertainment-new-york-comic-con-2012-remender-devolution-waid-green-hornet-wagner-shadow-year-one/
At NYCC Dynamite had a panel to discuss their upcoming launches! And Tim Seeley was there to talk about his upcoming Hack/Slash/AOD series!
http://www.comicbookresources.com/?page=article&id=41665
Garth Ennis talks about his upcoming crime series, Red Team, at Newsarama!
http://www.newsarama.com/comics/nycc-2012-garth-ennis-red-team-interview.html
Mark Waid talks more about his upcoming run on Green Hornet at CBR!
http://www.comicbookresources.com/?page=article&id=41801
Dan Abnett and Andy Lanning discuss their upcoming run on Battlestar Galactica at Dynamite in an interview at Newsarama!
http://www.newsarama.com/comics/nycc-2012-dna-battlestar-galactica-interview.html
Fred Van Lente talks about his upcoming zombie series for Dynamite at MTV Geek!
http://geek-news.mtv.com/2012/10/11/nycc-fred-van-lente-zombies-dynamite/
MTV Geek finds out more about the upcoming Grimm comic book series from Dynamite!
http://geek-news.mtv.com/2012/10/22/interview-grimm-producers-dynamite-comic-book/
Jesse Blaze Snider talks Evil Ernie at Ain't It Cool News and Bloody Disgusting!
http://www.aintitcool.com/node/58973
http://bloody-disgusting.com/news/3197098/exclusive-interview-writer-jesse-blaze-snider-resurrects-evil-ernie/
Leah Moore and John Reppion discuss their new upcoming Dynamite series, Sherlock Holmes: The Liverpool Demon at CBR!
http://www.comicbookresources.com/?page=article&id=41790
Rich Johnston praises Francesco Francavilla's cover to Dark Shadows #8 and Dan Brereton's cover for Evil Ernie #1!
"LIKE" DYNAMITE'S FACEBOOK PAGE TODAY!!!
http://www.facebook.com/dynamitecomics
LBCC: MIGNOLA CELEBRATES TWO DECADES OF
09/30/14 @ 6:07 pm EST
Source:
Comic Book Resources
| Categories:
Hellboy
|
Comments
(0) |
E-mail Article
|
Add a Comment
From comic books to two Hollywood productions, Hellboy has garnered an enormous fan following over the last two decades.
At this year's Long Beach Comic Con, Hero Complex's Patrick Kevin Day served as moderator for an intimate but light hearted discussion with creator Mike Mignola about Hellboy and the world he's created at Dark Horse Comics.
Day began the panel with a challenge to Mignola. "Since the title of the panel is 'Hellboy in Hell: 20 Years of Hellboy,' talk about the origins of Hellboy.""I like the title, as if 20 Years of Hellboy made it hell," Mignola said with a laugh. "Sometimes that can be the case."
Asked how difficult it is to write stories for Hellboy, Mignola talked about how his writer side and his artist side aren't always perfectly in sync. "In the course of the average shower I can plot ten years of Hellboy, and then I'll spend three days drawing one page," Mignola said. "I gotta stop the brain from plotting issue #9000 because I'm still on issue #7."
Fore more of this story,
click here.
For DYNAMIC FORCE'S interview with Dark Horse Editor SCOTT ALLIE on 20 Years of Hellboy, click here.
THE CYBORG SUPER SOLDIER IS REBORN THIS OCTOBER IN DEATHLOK #1
09/30/14 @ 5:54 pm EST
Source:
Marvel
| Categories:
Deathlok
|
Comments
(0) |
E-mail Article
|
Add a Comment
He is the perfect killing machine. The apex weapon. The demolisher. Only he doesn't know it! This October, a new legend is born in
DEATHLOK #1
– the first explosive issue in an all-new ongoing series! Launching as part of the Avengers NOW! initiative, critically acclaimed creators Nathan Edmondson (
Black Widow
,
The Punisher
) and Mike Perkins (
Captain America
,
Stephen King's The Stand
) provide a brand new spin on Deathlok like you've never seen him before!
After Michael Collins – there was Henry Hayes. A war veteran, a single parent. A good man who though he'd left his war behind. As a field medic, he has traveled to war zones to heal the wounded, unaware of his true purpose. Unbeknownst to him, he has been transformed and twisted into a new weapon for a new war –
DEATHLOK
! Operative, fighter, assassin and more – he is whatever his mysterious handlers need him to be.
Utilized as a deadly weapon rented out to the highest bidder, Hayes travels the globe toppling dictators and destabilizing regimes – his memories erased after each mission. All in the name of his mysterious corporate masters. Yet as he slowly uncovers the truth about his existence, he'll struggle with the knowledge he's been transformed into the ultimate weapon of mass destruction – and expose the disturbing legacy of the many Deathloks that came before him.
Hunted by S.H.I.E.L.D. and unaware of his true purpose, the one man army will be forced to choose – is he man…or machine? The answer lies in the high-octane first issue as the next blockbuster Avengers NOW! series debuts this October in
DEATHLOK #1
!
DEATHLOK #1 (AUG140761)Written by NATHAN EDMONDSON Art & Cover by MIKE PERKINS
Variant Covers by CLAYTON CRAIN (AUG140762) And SKOTTIE YOUNG (AUG140763) Design Variant by MIKE PERKINS (AUG140765)
Hasbro Variant Also Available (AUG140764)
FOC – 10/06/14, On-Sale – 10/29/14
To read DYNAMIC FORCES' interview with NATHAN EDMONDSON on DEATHLOK, click here.
STRAY BULLETS AIMS FOR THE GUT
09/30/14 @ 3:38 pm EST
Source:
Image
| Categories:
Image
|
Comments
(0) |
E-mail Article
|
Add a Comment
David Lapham's rich, influential crime series STRAY BULLETS returned to comic book stands in March 2014, with the launch of its first new story arc in nine years, "Killers." Whether newly-hipped to STRAY BULLETS or longtime fans, readers can now get new editions of the classic story arcs from Image Comics, beginning in October with STRAY BULLETS VOLUME 1: INNOCENCE OF NIHILISM.
Follow the lost lives of people who are savagely torn apart by events beyond their control. As the innocent world of an imaginative little girl is shattered when she witnesses a brutal double murder. Or an introverted young boy on the verge of manhood gets a lesson on just how far is too far when he falls for a needy woman who lives in the fast lane. Or party with a pair of low-rent hoods who learn about what is really important in life just when they shouldn't. And even learn the story of the most infamous gangster who ever lived, Amy Racecar, who talks to God, lunches with the President, and just may be responsible for the end of the world.
STRAY BULLETS won the 1996 Eisner Award for Best Writer/Artist, and the trade paperback collection STRAY BULLETS: INNOCENCE OF NIHILISM won the 1997 Eisner Award for Best Graphic Album-Reprint. Its trademark dark, neo-noir themes and nonlinear storytelling have been likened to the storytelling styles of Quentin Tarantino and David Lynch.
STRAY BULLETS VOLUME 1: INNOCENCE OF NIHILISM will be in comic book stores on October 29 and in bookstores on November 11. It is available for pre-order now.
HALFWAY THROUGH A LEGENDARY JOURNEY
09/30/14 @ 3:33 pm EST
Source:
Dark Horse
| Categories:
Dark Horse
|
Comments
(0) |
E-mail Article
|
Add a Comment
Vol. 6 of the Lone Wolf and Cub Omnibus hits stores this week. The bare facts begin with it being 700 pages for $19.99—tremendous value for the reader. Six volumes times 700 pages is 4200 pages—and that's only the halfway point of the story. But if you feel intimidated to even start this series, here's another fact: Lone Wolf and Cub isn't just Dark Horse's best-selling manga; with over 1.3 million copies in print, it's the company's best-selling title, ever, period. Dark Horse releases a tremendous variety of books. Some are just books of their time, and some will only appeal to certain readers. But Dark Horse is inspired by the history of comics worldwide, and they're driven to publish, whenever it can, those classic works that have stood the test of decades.Lone Wolf and Cub represents the reasons Dark Horse wanted to release manga in the first place. In fact, publisher Mike Richardson was fascinated by Lone Wolf and Cub long before there even was a Dark Horse, discovering the manga in the early 1970s when a copy of the Japanese magazine it originally ran in made its way to a used book store in Portland. As many of you know, Lone Wolf and Cub is the story of Itto Ogami, samurai and former court executioner to the Tokugawa shogun. Framed by his enemies and ordered to commit the gruesome ritual suicide of seppuku, he instead escapes and takes his little son, Daigoro, with him. Roaming the byways of Japan as "Lone Wolf and Cub," he becomes an assassin killing for 500 pieces of gold, as he tries to gradually untangle the conspiracy that put him on the run. Vol. 6 of the omnibus ends on a dramatic moment in the plot, as Itto and Daigoro are drawn into a trap by his arch-enemy Retsudo, lord of the scheming Yagyu clan. Yet with a dozen blades pointed at him, Ogami has a secret more deadly even than his sword.But Lone Wolf and Cub didn't earn its epic status only through the twists and turns of its plot; it's a story not just of its main characters, but of the many people they meet along the way, whose lives feel just as real. As with some of the best historical fiction, Lone Wolf and Cub is a rich exercise in world-building—not of an imaginary world, but through the rediscovery of a past that seems a realm of fantasy now, yet once lived and breathed.
DOMINIC COOPER OFFICIALLY JOINS CAST OF MARVEL'S AGENT CARTER
09/30/14 @ 2:18 pm EST
Source:
Bleeding Cool
| Categories:
Marvel
|
Comments
(0) |
E-mail Article
|
Add a Comment
Marvel has announced that Dominic Cooperwill be reprising his role of Howard Stark on the upcoming Marvel's Agent Carter series for ABC.

Cooper first played Stark in Captain America: The First Avenger and again in the Marvel One-Shot: Agent Carter.

Cooper joins Hayley Atwell asAgent Peggy Carter, Chad Michael Murray asSSR Agent Jack Thompson, Enver Gjokaj asSSR Agent Daniel Sousa, James D'Arcy as Edwin Jarvis, and Shea Whigham as SSR Chief Roger Dooley.


FRED VAN LENTE IN THE BLEEDING COOL INTERVIEW ON RESURRECTIONISTS
09/30/14 @ 2:14 pm EST
Source:
Bleeding Cool
| Categories:
MIsc
|
Comments
(0) |
E-mail Article
|
Add a Comment
Over at
Bleeding Cool
, Fred Van Lente talks about his new Dark Horse book
Resurrectionists
. To read it,
click here.
To read the
Dynamic Forces
interview with FVL on
Resurrectionists
,
click here.
THE AVENGER 101 – MARK RAHNER TALKS THE AVENGER SPECIAL: A DYNAMITE INTERVIEW ON BLEEDING COOL
09/30/14 @ 12:02 pm EST
Source:
Bleeding Cool
| Categories:
Dynamite
|
Comments
(0) |
E-mail Article
|
Add a Comment
Coming off of
Justice Inc
by
Michael Uslan
,
Dynamite Entertainment
is giving each
the Shadow
,
Doc Savage
and
The Avenger
their own special one shot.
Mark Rahner
is handling
Richard Benson
and
Byron Brewer
talked with the writer about the special and the history of the character
.
BYRON BREWER: Mark, not a lot of folks know the Avenger as opposed to, say, Doc Savage or the Shadow. Tell us a little about this pulp-era character.Mark Rahner:
He's more obscure, but was always more interesting to me. The Avenger debuted in 1939 – the same year as Batman. In some ways, he's similar. In others, he's even more grim and obsessed, with no soft alter ego.Here's some Avenger 101:Richard Benson was a rich industrialist and adventurer whose wife and daughter were killed by criminal scum. The trauma of the loss turned his skin and hair white, leaving the flesh of his face malleable, so that he can mold it to impersonate people. He's not a big guy – 5-foot-8 and 160 pounds – but he's remarkably strong and athletic. His dead, expressionless face and icy eyes, should make for a look that's as unsettling as it is cool.
Benson uses a variety of then-futuristic gadgets, along with his best friends, "Ike" the knife and "Mike" the gun. Ike is hollow-handled for throwing. Mike is a streamlined .22 pistol he uses to "crease" skulls instead of killing. Think of how annoying getting "creased" would be.He's got a diverse crew of memorable characters – especially for the '30s and '40s – whose lives have all been scarred by crime. They're completely devoted to him.
BB: So how did this special come into being? Was it something you pitched?Mark Rahner:
I had mentioned the character from time to time as a natural fit in Dynamite's roster – if not a glaring omission from it! I chimed in with some background info about him. There've been assorted fits and starts with The Avenger and Justice Inc. in comics over the decades, and I really wanted Dynamite to have the definitive, satisfying one, like they've done with other pulp characters.
BB: Michael Uslan recently wrote the Justice Inc. series which featured the Avenger, Doc Savage and the Shadow. Does this special spin off from there, or is it totally self-contained?Mark Rahner:
Totally self-contained, with no other guest-heroes. Benson is The Man here. "The Television Killers" hews closely to the original novels and his origin.
BB: So tell us a little about this special.Mark Rahner:
It's 1939, and a new device called "television" has been introduced to the public at the incredible (retro) futuristic World's Fair in New York! The Avenger and his crew must figure out and stop whatever's turning people into berserk flesh-eaters. At the same time, a new client comes to Justice Inc. for help: singer Billie Holiday. She's scheduled to sing her controversial new song, "Strange Fruit" on an early television broadcast, and a gang of racist killers will do anything to keep her out of America's living rooms. It's a big 48-pager, so Benson needed two cases at once.
BB: Any hints at the big-bad here?Mark Rahner:
There's the gang-leader, named Even, who wants to kill Bille – and anyone who helps her. There's another to be discovered as Benson unravels the grisly mystery of the zombified New Yorkers – and one rip-roaring confrontation in a bizarre setting.
BB: Were you a fan of the Avenger, or even familiar with him before this project?Mark Rahner:
Since childhood. I think the 1972 paperback reprints were some of the first books I ever read. Other kids start on the classics. I went for the pulps. Each one of those covers is iconic. Later, I hoarded most of the original pulp magazines. I loved revisiting them as an adult so much that I had to be torn away from them to start writing.
BB: How did you enjoy working with artist Edu Menna?
Mark Rahner:
Edu illustrated stories in both of my TWILIGHT ZONE specials. Once you see the knockout work he did on "Cold Calculation" in the new volume called "Lost Tales," you'll be dying to see what he does with The Avenger.
BB: Hey! And famed singer Billie Holiday is in this! Do any research about this great star?Mark Rahner:
I'm a chronic over-researcher, from my years as a reporter. But spending time researching someone you're already into barely counts as work. She had a rough life, her habits with self-medication and men didn't make it any easier, and she died young. She was also tough, living in an era when black people in America had to endure what, to a lot of us now, is an unimaginable amount of disrespect. And here's some smart alec trivia: Dynamite wanted a holiday story – so I gave them Billie Holiday!
"I EVEN RE-WATCHED THE SHADOW ALEC BALDWIN MOVIE" – MICHAEL MORECI ON WRITING THE SHADOW: A DYNAMITE INTERVIEW ON BLEEDING COOL
09/30/14 @ 11:52 am EST
Source:
Bleeding Cool
| Categories:
Shadow
|
Comments
(0) |
E-mail Article
|
Add a Comment
Another special spinning out of
Justice Inc
will be a one-shot for
The Shadow
written by
Michael Moreci
. The writer has plans on doing a very different and unique
Shadow
story and
Byron Brewer
got to ask him about it
.
BYRON BREWER: Michael, the Shadow is really one of Dynamite's signature characters. He certainly has a lot of print projects during this 10th anniversary of the company. What makes this 48-page special stand out, in your mind (besides you wrote it, lol).
MICHAEL MORECI:
I can't remember any story—and maybe I'm wrong—that didn't center around The Shadow. Which makes sense—he is the star of his universe. But, he also has a rich world that he inhabits with a ton of colorful characters to play with and mythology to explore, sort of like Batman. That's what makes this story a little different; it has all the elements you'd expect from a Shadow story—pulpy fun, mystery, suspense, adventure—but executed through the supporting characters. If you're a fan of the history, this will be a really cool issue to check out
.
BB: The spotlight is on the agents here. I like that. Who will we see? Margo, Cliff, Jericho? Who else?MM:
We've got Miles in there as well! Jericho and Cliff make a fun duo to write, and it was a blast being able to pair Miles and Margo.
BB: So, no Shadow at all?MM:
Oh, he's in there, I couldn't resist. I may or may not ever be able to write Shadow again (which has been a dream of mine, along with Doc Savage), so I had to at least include him a little bit. He does play a role, but it's his agents' story.
BB: Tell us a little about the story.MM:
Without giving any spoilers, the story centers on a mysterious crime syndicate that has the city in a death grip. No one, not even The Shadow, knows who is behind this crime ring. Circumstances give the Shadow's trusted agents the opportunity to step up and play a leading role rather than follow the Shadow. With the syndicate plotting a major heist and its villainous leader plotting his final move to take over the city, the agents have to use all their skills to keep the city—and the world—safe. It has humor, action, crime, everything you'd expect.
BB: Any special inspiration from former Shadow tales or other media inspire this tale?MM:
Nothing specific, no. When I got the assignment, I went and re-read a bunch of classic Shadow stories, in comics and prose (including Ennis's awesome story from Dynamite), and I even re-watched The Shadow Alec Baldwin movie—which I still thing is pretty great. I'm really glad I did, because it help me capture that Shadow feel, mixing the pulp noir and pulp adventure traditions. I think the latter, the adventure part, has gotten lost at times in favor of straight crime. It was good to be reminded of how much fun The Shadow can be, especially his supporting cast.
BB: I take it thiswill be one of those great globe-trotting tales. Where are you taking us?MM:
Well, of course we'll be hitting the mean streets of New York, but our characters will also find adventure in a mysterious mountain in China…
BB: How successful was Anthony Marques in translating your story to the comic book page?MM:
Anthony is terrific; we've been wanting to team up on a project for awhile now, and it's been a blast to collaborate with him. He shares my passion for this universe, and it shows on the page; his work is loose and fun and really nailing the look and feel I had hoped for. I think Shadow fans are going to love what he's bringing to the table.
BB: What is it about pulp characters like the Shadow that makes them so enjoyable to write for today's comics scribes?
MM:
You know, I'm not sure. There's a lot of reasons, and I'm sure every creator who works on these characters can cite something different. For one thing, personally, I grew up on the pulps. They were always around, so I have a deep-seeded fondness for the worlds of The Shadow, Doc Savage, Phantom, etc. And those worlds are the foundations for so much of what exists in comics today, without question.What it comes down to, for me—regardless of nostalgia—is the strength of these characters. There's a reason they've last this long—they're amazing. They are so rich and fun and thrilling, so smart and heroic and cool. Being able to contribute to this tradition is a unique pleasure, and I can't wait for readers to check out this story!
GUARDIANS OF THE GALAXY SCREENWRITER, NICOLE PERLMAN, TO WRITE GAMORA COMIC FOR MARVEL
09/30/14 @ 11:43 am EST
Source:
Bleeding Cool
| Categories:
Guardians of The Galaxy
|
Comments
(0) |
E-mail Article
|
Add a Comment
After launching two new series --
Rocket Raccoon
and
The Legendary Star-Lord --
as well as continuing
Guardians Of The Galaxy
, we have been led to understand that Marvel will add a fourth title starring daughter-of-Thanos
Gamora
.
And it will be written by the co-screenwriter of the
Guardians Of The Galaxy
movie,
Nicole Perlman
, who was rather shunted to the side during the PR process of the movie.
Yet it was she who first developed the Guardians as a movie and saw their potential to be the hit they were.
And now she's writing one of the comics that first inspired her. Expect an announcement during or just before the New York Comic Con.
VALIANT TO LAUNCH IMPERIUM AT NYCC
09/30/14 @ 11:36 am EST
Source:
Bleeding Cool
| Categories:
MIsc
|
Comments
(0) |
E-mail Article
|
Add a Comment


All we have is the name. Imperium.

And the publisher. Valiant.

And that Valiant will be publishing something called Imperium.

They have already announced their first title not based on a previous iteration of Valiant, in Punk Mambo.

And now we seem to have a second – or the name of another crossover? (via Bleeding Cool)