DYNAMITE NEWS!
11/23/12 @ 11:23 am EST
Source:
Dynamite
|
Comments
(0) |
E-mail Article
|
Add a Comment
Dynamite really made waves at New York Comic-Con, headlined by our news of Rick Remender writing Devolution for Dynamite with artist Paul Renaud! Pictured below is the Devolution cover by Jae Lee!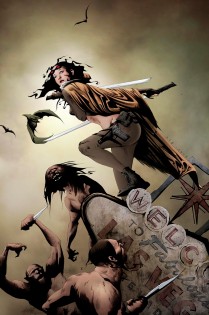 Dynamite made so many fantastic announcements, that it was listed in the 10 Biggest New York Comic Con news list for Newsarama!
http://www.newsarama.com/comics/10-biggest-news-new-york-comic-con-2012-1.html
For anyone who missed any of our announcements, Comics Alliance posted a HUGE article listing our announcements!
http://www.comicsalliance.com/2012/10/17/dynamite-entertainment-new-york-comic-con-2012-remender-devolution-waid-green-hornet-wagner-shadow-year-one/
At NYCC Dynamite had a panel to discuss their upcoming launches! And Tim Seeley was there to talk about his upcoming Hack/Slash/AOD series!
http://www.comicbookresources.com/?page=article&id=41665
Garth Ennis talks about his upcoming crime series, Red Team, at Newsarama!
http://www.newsarama.com/comics/nycc-2012-garth-ennis-red-team-interview.html
Mark Waid talks more about his upcoming run on Green Hornet at CBR!
http://www.comicbookresources.com/?page=article&id=41801
Dan Abnett and Andy Lanning discuss their upcoming run on Battlestar Galactica at Dynamite in an interview at Newsarama!
http://www.newsarama.com/comics/nycc-2012-dna-battlestar-galactica-interview.html
Fred Van Lente talks about his upcoming zombie series for Dynamite at MTV Geek!
http://geek-news.mtv.com/2012/10/11/nycc-fred-van-lente-zombies-dynamite/
MTV Geek finds out more about the upcoming Grimm comic book series from Dynamite!
http://geek-news.mtv.com/2012/10/22/interview-grimm-producers-dynamite-comic-book/
Jesse Blaze Snider talks Evil Ernie at Ain't It Cool News and Bloody Disgusting!
http://www.aintitcool.com/node/58973
http://bloody-disgusting.com/news/3197098/exclusive-interview-writer-jesse-blaze-snider-resurrects-evil-ernie/
Leah Moore and John Reppion discuss their new upcoming Dynamite series, Sherlock Holmes: The Liverpool Demon at CBR!
http://www.comicbookresources.com/?page=article&id=41790
Rich Johnston praises Francesco Francavilla's cover to Dark Shadows #8 and Dan Brereton's cover for Evil Ernie #1!
"LIKE" DYNAMITE'S FACEBOOK PAGE TODAY!!!
http://www.facebook.com/dynamitecomics
SECRET TIME TRAVELING TALE OF EVA BELL REVEALED IN UNCANNY X-MEN ANNUAL #1
07/29/14 @ 5:29 pm EST
Source:
Marvel
| Categories:
Uncanny X-Men
|
Comments
(0) |
E-mail Article
|
Add a Comment


This December, spinning directly out of the pages of the New York Times Bestselling Uncanny X-Men, superstar writer Brian Michael Bendis teams with critically-acclaimed artist Andrea Sorrentino to finally answer one of the burning questions on fan's minds – what happened to Eva Bell?

Revealed this past weekend at San Diego Comic-Con, the answers you've been waiting for are in the oversized UNCANNY X-MEN ANNUAL #1 – and the accidental adventures of the young, time-travelling X-Man will shock you!

"It is the utmost grandest X-Men tradition to have your mutant power be the coolest thing about you and the scariest thing," says writer Brian Michael Bendis. "It was only a matter of time before [Eva] was thrust into a situation that revealed the scary side of time related powers."

Unable to fully control her powers, Eva Bell, Codename: Tempus had disappeared in the blink of an eye during an X-Men training mission. Though she re-appeared moments later, she had aged many years. Trapped in her own time bubble, Tempus embarked on a journey into the far future of the Marvel Universe. A journey that would change the young X-Man forever! This oversized annual also marks the first ever Marvel project for critically acclaimed artist Andrea Sorrentino (Green Arrow).

"Andrea is someone we've been dying to work with for some time," says Executive Editor Mike Marts. "It seemed like the perfect tale to capitalize on Andrea's strengths as an artist, especially his talent of establishing expansive and panoramic settings – which this issue has PLENTY of!"

How long was Eva trapped inside her temporal sphere? What horrors did she witness in an uncertain and dangerous future? And more importantly – why would she keep it a secret from her teammates? All will be revealed when Eva Bell takes center stage in Bendis & Sorrentino's UNCANNY X-MEN ANNUAL #1 – and she'll never be the same again!

UNCANNY X-MEN ANNUAL #1
Written by BRIAN MICHAEL BENDISArt & Cover by ANDREA SORRENTINO
Coming in December!
MAD TITAN RETURNS IN 'THANOS: THE INFINITY REVELATION' OGN
07/29/14 @ 5:19 pm EST
Source:
Marvel
| Categories:
Thanos
|
Comments
(0) |
E-mail Article
|
Add a Comment
Next week, the Mad Titan embarks on a new journey. But first, Marvel is proud to present
Thanos: The Infinity Revelation OGN
– the next original graphic novel in Marvel's all new OGN line.
Featuring the world's most popular characters brought to life by the best creators, Marvel's new OGNs debut in a high-end, oversized format featuring sophisticated packaging and design.
Thanos: The Infinity Revelation OGN
sees comic master Jim Starlin (
The Infinity Gauntlet, Captain Marvel)
return to his most famous creation Thanos for an all-new adventure and a new quest for one of the galaxy's most ruthless villans. A crusade that will cross paths with the Guardians of the Galaxy, Adam Warlock, the Silver Surfer, the Annihilators and ultimately his one true love, Death!
With his once sworn enemy Adam Warlock at his side, Thanos will square off against the most powerful beings in the universe. But to what ends? And when the dust settles, what will remain? Prepare yourself as comic legend Jim Starlin returns to the cosmic arena for a tale of death and rebirth that will leave the Mad Titan changed in
Thanos: The Infinity Revelation OGN
!
THANOS: THE INFINITY REVELATION OGN
is on sale wherever comics and books are sold next Wednesday, August 6th! THANOS: THE INFINITY REVELATION OGN (APR140765)
Written by JIM STARLIN
Art & Cover by JIM STARLINOn Sale 08/06/14!
PRATT, SALDANA RING OPENING BELL AT NY STOCK EXCHANGE
07/29/14 @ 4:43 pm EST
Source:
Marvel
| Categories:
Guardians of The Galaxy
|
Comments
(0) |
E-mail Article
|
Add a Comment
The Guardians of the Galaxy came to Wall Street today.

This morning, Chris Pratt and Zoe Saldana, stars of Marvel's "Guardians of the Galaxy," joined Marvel Entertainment executives to ring the Opening Bell at the NYSE.

Marvel Studios' latest highly-anticipated film "Guardians of the Galaxy" hits theaters nationwide this Friday, August 1.
ANGELA: ASGARD'S ASSASSIN #1 – AN EXPLOSIVE NEW SERIES
07/29/14 @ 4:37 pm EST
Source:
Marvel
| Categories:
Marvel
|
Comments
(0) |
E-mail Article
|
Add a Comment


This coming November, the Marvel Universe's newest star is about to show you why she's the most dangerous in ANGELA: ASGARD'S ASSASSIN #1 – the newest ongoing series launching as part of Avengers NOW! The star-studded creative team of Kieron Gillen, Marguerite Bennett, Phil Jimenez and Stephanie Hans show you a side of Angela you've never seen before, as she cuts a bloody swath across the Marvel Universe!

The finest warrior of the Tenth Realm, she has been trained all her life to hate Asgard with every fiber of her being. But following the events of Original Sin: Thor & Loki – The Tenth Realm, she must confront the truth of her lineage. She is the daughter of Odin. The sister of Thor. An Asgardian. Now, she has been cast out from the Tenth Realm, and wants nothing to do with Asgard. What does she want? A clean slate. And she'll cut down anyone in the Ten Realms who stands in her way!

"The story is Angela is basically on the run," says co-writer Kieron Gillen of the first arc. "It gives her a chance to interact with a lot of different people so by the end of the first arc we really get a sense of who Angela is vis-à-vis the Marvel Universe. This is how she interacts with Asgardians, this is how she interacts with Angels. This is how she interacts with the Guardians and the cosmic stuff. Here is how she interacts with the Earth. You get a sense of who she is and where she fits into the larger picture."

Superstar writer Kieron Gillen returns to Asgard following his critically acclaimed run on Journey Into Mystery along with rising star writer Marguerite Bennett and the out of this world art team of Phil Jimenez & Stephanie Hans! Each issue features a main story drawn by Jimenez with a second story drawn by Hans!

As the newest star of the Marvel Universe prepares to take center stage, no fan can afford to miss the ongoing adventures of the angelic warrior when ANGELA: ASGARD'S ASSASSIN #1 explodes on to comic shop shelves and digital devices this November!

ANGELA: ASGARD'S ASSASSIN #1 Written by KIERON GILLEN & MARGUERITE BENNETT, Art by PHIL JIMENEZ & STEPHANIE HANS, Variant Cover by STEPHANIE HANS, On-Sale November 2015!
STAR WARS RETURNS TO MARVEL WITH THREE NEW SERIES
07/28/14 @ 6:02 pm EST
Source:
Marvel
| Categories:
Star Wars
|
Comments
(0) |
E-mail Article
|
Add a Comment


Lucasfilm Ltd. and Marvel Entertainment are extremely proud to announce the iconic Star Wars franchise will return to Marvel in 2015 with a line-up of three comic book titles chronicling the adventures of a galaxy far, far away.

Beginning in January 2015, prepare for STAR WARS by writer Jason Aaron (Thor, Original Sin), artist John Cassaday (Astonishing X-Men) and colorist Laura Martin, DARTH VADER by writer Kieron Gillen and artist Salvador Larroca and PRINCESS LEIA by writer Mark Waid and artist Terry Dodson. Taking place immediately after the events of Star Wars: A New Hope, the Force returns to Marvel in January with three new series spotlighting beloved characters from the iconic trilogy! Created in close partnership with Lucasfilm, the three new Star Wars series will exist as part of the canon for the Star Wars universe!

It all starts this January when Jason Aaron, John Cassaday and Laura Martin take fans back to the days following the destruction of the first Death Star in STAR WARS! Discussing the flagship series, said writer Jason Aaron, "Every story is about the characters, and we'll focus on all the old favorites. There will be big moments for everyone, from Han to R2-D2. But a major part of the narrative will be driven by Luke Skywalker and his journey of discovery, a journey that will decide the fate of the entire galaxy."

However, the return of the Rebel Alliance to Marvel Comics also invites the return of its opposition, the Imperial Forces of the Galactic Empire and in February 2015, Kieron Gillen plans to delve into the psyche of one of the vilest villains of all time with the new ongoing series DARTH VADER. Witness the struggle for the freedom of an entire galaxy – from the Dark Side! "Vader's the sole survivor of the greatest military disaster in history – and a disaster that he definitely had a hand in by letting the rebels escape with the plans for the Death Star. This is not a thing which leaves you in anybody's good books, let alone the Emperor's," says writer Kieron Gillen. "The great thing about this period [between Star Wars: A New Hope and Star Wars: The Empire Strikes Back] is what we don't see on the screen. Vader learns who Luke Skywalker is at some point between the two movies, to choose but one example."

Then, in March 2015, Mark Waid & Terry Dodson bring you the harrowing tale of loss and hope in the 5-issue limited series PRINCESS LEIA! Fresh from the Rebel Alliance's victory at the Battle of Yavin, Leia must confront the reality that her homeworld has been destroyed. But in the light of such tragedy, there is always hope. Skilled equally with diplomacy as she is a blaster, witness the rise of one of the greatest heroines in history as she takes her rightful place as one of the Alliance's peerless leaders! "Does she choose to be a Princess of nothing – or does she set out to rebuild her heritage and civilization?" says writer Mark Waid.

Again, the world of Luke, Han, Chewbacca, Leia and even Vader make their historic return to the House of Ideas beginning next year! Take your first step into a larger world with STAR WARS #1,DARTH VADER #1 and PRINCESS LEIA #1 in 2015!

STAR WARS #1 Written by JASON AARON, Art & Cover by JOHN CASSADAY, Coming January 2015!

DARTH VADER #1 Written by KIERON GILLEN, Art by SALVADOR LARROCA, Cover by ADI GRANOV. Coming February 2015!

PRINCESS LEIA #1 (of 5) Written by MARK WAID, Art & Cover by TERRY DODSON, Coming March 2015!
MARC ANDREYKO ON 'CHASTITY': A DYNAMITE INTERVIEW IN BLEEDING COOL
07/28/14 @ 2:38 pm EST
Source:
Bleeding Cool
|
Comments
(0) |
E-mail Article
|
Add a Comment
Marc Andreyko
has built a reputation for writing strong female characters. Add that to his familiarity with the existing universe and he was the perfect choice to bring back the
Chaos! Comics
character of
Chastity
for
Dynamite Entertainment
. He chatted with
Byron Brewer
about changing the character's backstory and what makes her someone wants to write.
BYRON BREWER: Marc, were you familiar with any of the Chaos! Characters before you began writing Chastity?MARC ANDREYKO:
Oh, for sure. I even wrote some Purgatori and Lady Death minis for Brian Pulido back in the 90's.
BB: Has it been fun to write a character like Chastity Marks in this era of Twilight and warm fuzzies about bloodsuckers, only to discover the gritty, bloody truth?MA:
Absolutely! And by starting in the mid-80's, I'm able to tell a story without internet and cellphones. It's amazing how technology has become such a crutch and, occasionally a deus ex machina, in contemporary storytelling. Not having it was actually exciting.
BB: What characteristics about Chastity make her someone you want to write about?MA:
A teenager over her head in circumstances she doesn't fully understand? Tragedy? Powers that are a curse as much as a blessing? This is the stuff great comics have been made of forever!
BB: Do you find any similarities of your iteration of Batwoman in Chastity? For some reason, I seem to pick up the same vibes.MA:
Not consciously, both are tough women who do their best to adapt to their circumstances, but their journeys couldn't be more different.
BB: With Chastity, it seems to me that you as a writer took the current conventions of vampires and vampire fiction and spun them into a new backstory for the character in a way that seems a seamless blend of the old and new. What changes did you make from the 1980s Chastity?MA:
Her 90's origin had sexual abuse in it and, personally, that was a little too Rob Zombie and mean to want to bring forth. And a little "on the nose". Her emotionally abusive and distant mother in the new backstory works better IMHO. The sex stuff always felt shocking for shock's sake and diminished Chas' journey. Sexual victimization, especially in female led stories, is a trope that can work, rarely, with the right story, but it wasn't a critical component here.I wanted to remain faithful to the tone of the original character, but excising the sex abuse stuff makes the story less… i dunno, "icky"?
BB: Chastity vs. … her little brother? Wow.MA:
Thanks. This is a horror book after all. Lol. And he was inspired by those creepy, floating vampire kids from the "'Salem's Lot" TV movie that scared the hell out of me when I was a kid.
BB: When will we learn more about the Council?MA:
Eventually….
BB: Have you been happy with the book under the artistic touch of Dave Acosta?MA:
Oh, yeah. Dave's style is so visceral and captures the rawness of the stories, both emotionally and physically.
GARBAGE PAIL KIDS GET A COMIC-BOOK SERIES AT IDW!
07/28/14 @ 2:14 pm EST
Source:
IDW
| Categories:
IDW
|
Comments
(0) |
E-mail Article
|
Add a Comment
Topps' Garbage Pail Kids, the 1980s sensation, will have readers squirming with delight this winter as the obscene adolescents star in a brand-new comic-book series from IDW Publishing. With the likes of Adam Bomb, Leaky Lindsay, and New Wave Dave populating the Garbage Pail Kids universe, the delightfully deformed and often downright disgusting Kids are set to make their mark on the world of comics, just in time for their 30th Anniversary in 2015!

"As a child of the Eighties, I was at ground zero for theGarbage Pail Kids phenomenon," series editor Denton J. Tipton said. "The profoundly irreverent stickers spoke directly to the rascal inside each and every one of my classmates, and helped us drive our teachers to the brink of insanity. I couldn't be more happy to be working with some of the giants of alternative comics to push the buttons of an entirely new generation of educators, many of which likely remember when the poo-covered sneaker was on the other foot."

Created by Pulitzer Prize-winning cartoonist Art Spiegelman and a group of avant garde humorists including Mark Newgarden, John Pound, Tom Bunkand others, the Garbage Pail Kids debuted in 1985 from Topps, as the furor for trading cards was at an all-time high. Like MAD Magazine and Topps' own Wacky Packages before it, Garbage Pail Kids succeeded as a tongue-in-cheek send-up of pop culture, depicting quite the opposite of the "cute" approach to all-ages entertainment of the day.

"Having grown up with GPK and sharing my name with the flagship character, I can say it's no small honor to help shepherd the Garbage Pail Kids into their first ever comic book," said Topps' Adam Levine, Head of Outbound Licensing. "It's going to be a real treat to see our friends at IDW flesh out the world of the Garbage Pail Kids so that after 30 years we can finally find out who all of these weird little guys are."

Hate cartoonist Peter Bagge, who provided the initial image of all-new character Comic-Con Ron, will be a part of the new series, planned as an anthology of loosely connected stories by a variety of talented creators from around the industry, including some of Topps' official "GPK" artists.
ANGRY BIRDS TRANSFORMERS BRINGS MAYHEM TO COMICS
07/28/14 @ 2:07 pm EST
Source:
IDW
| Categories:
IDW
|
Comments
(0) |
E-mail Article
|
Add a Comment
Spinning out of the show-stopping announcement at this year's Licensing Expo, Rovio Entertainment and Hasbro, Inc. have teamed up to bring together two of the world's largest and most popular entertainment brands with ANGRY BIRDS TRANSFORMERS! This fall, IDW will bring the mayhem to comics with the brand-new series, ANGRY BIRDS TRANSFORMERS, expanding on the unexpected backgrounds of this explosive crossover!

"Comics offer an ideal medium for telling the stories of these improbable but totally convincing mash-up characters from two enormously popular creations," said Rovio's Editor-in-Chief, Comics Jukka Heiskanen. "Blending action with humor and adventure with mishap, they will excite and delight fans of both brands."

"We are thrilled to be combining the iconic TRANSFORMERS universe with the quirky world of ANGRY BIRDS," said Michael Kelly, Hasbro's Director of Global Publishing. "With the upcoming ANGRY BIRDS TRANSFORMERS mobile game, TELEPODS product line from Hasbro powered by retoy, licensed consumer goods and now comics from IDW, we're able to give fans fun, new stories and characters they can interact with in multiple ways."

When a DECEPTIHOG raid on the AUTOBIRD ship goes awry, the sought-after ALLSPARK is hurled into the expanses of space, only to find its way onto the shores of Piggie Island, and as its inhabitants will soon find out, the ALLSPARK is much more powerful than any creature could have imagined! Written byRobots in Disguise scribe and IDW Senior Editor John Barber, ANGRY BIRDS TRANSFORMERS is taking the intergalactic epic to a whole new universe!

"It's been a real blast to pair the action of the endless conflict between AUTOBOTS and DECEPTICONS with the zany hijinks of the Angry Birds!" said series writer, John Barber. "Seeing how these icons can interact and combine with each other—I think the end result will surprise everybody!"

An all-star flock of TRANSFORMERS artists will be contributing covers for the four-issue series, including Sarah Stone, Guido Guidi, Casey W. Coller, and Livio Ramondelli! Ramondelli will be kicking off the series, providing artwork for a framing sequence of issue #1, focusing on the TRANSFORMERS universe! From there, Marcelo Ferriera (Kung Fu Panda, TMNT New Animated Adventures) will take over on art duties for the series.

This unique series offers comic readers a chance to explore two of the world's most popular brands in a distinctly original way! Whether you're reading Robots in Disguise and More Than Meets The Eye, or can't smash enough Piggies, ANGRY BIRDS TRANSFORMERS welcomes everyone to join this collision of epic proportions!

DECISION TIME FOR LUTHOR IN 'JUSTICE LEAGUE' #32
07/28/14 @ 1:53 pm EST
Source:
DC
| Categories:
Justice League
|
Comments
(0) |
E-mail Article
|
Add a Comment
DC rolls out one for later in the week with JUSTICE LEAGUE #32.
Lex Luthor continues his acclimation to his life as a one of the world's greatest heroes as the Justice League searches for the mysterious power threatening to unravel our world. But are his sights actually set on the Dark Knight? And are the Dark Knight's set on him? Plus, someone else is targeting Luthor and his new allies – a man who believes he is Luthor's superior in every way...and he may be right!
Here comes The Chief and his treacherous Doom Patrol to The New 52!
Look for JUSTICE LEAGUE #32, written by Geoff Johns and illustrated by Ivan Reis and Joe Prado, this Wednesday.
CAPTAIN AMERICA & THE MIGHTY AVENGERS #1 TAKES FLIGHT
07/28/14 @ 1:45 pm EST
Source:
Marvel
| Categories:
Mighty Avengers
|
Comments
(0) |
E-mail Article
|
Add a Comment


This November, Sam Wilson takes the Mighty Avengers higher, further and bigger than ever before in CAPTAIN AMERICA & THE MIGHTY AVENGERS #1 – an all-new series launching as part of Avengers NOW!

Fan-favorite Mighty Avengers scribe Al Ewing returns along with new series artist Luke Ross for a new series with a new mission spinning directly out of the upcoming Avengers & X-Men: AXIS! Sam Wilson has inherited his new patriotic moniker, but is he up to the task of leading a team of Earth's Mightiest Heroes? The hero formerly known as Falcon has some new ideas for the rag-tag team of Mighty Avengers – but the events of AXIS may spell doom for the inexperienced leader. And not everyone on the team is happy with Sam's new position as leader.

Spider-Man is back, too – Amazing this time, NOT Superior. Luke Cage & Jessica Jones are still itching to give him some payback for trying to take their daughter to Child Services. And what is Luke Cage doing meeting with the head of the notorious Cortex corporation?

"As for the mission statement – same as it's ever been," promises writer Al Ewing. "Help those in need, however they need it. This is where all the work over the previous series pays off – the Gem theater is refurbished, the hotline is in place, the field team is on standby to take care of problems nobody else can handle. The Mighty Avengers are hitting the ground running."

All this and more in just the first issue, True Believer! No fan can afford to miss this all-new beginning when CAPTAIN AMERICA & THE MIGHTY AVENGERS #1 takes off this November!

CAPTAIN AMERICA & THE MIGHTY AVENGERS #1 Written by AL EWING, Art & Cover by LUKE ROSS, On-Sale in November!