Dynamite really made waves at New York Comic-Con, headlined by our news of Rick Remender writing Devolution for Dynamite with artist Paul Renaud! Pictured below is the Devolution cover by Jae Lee!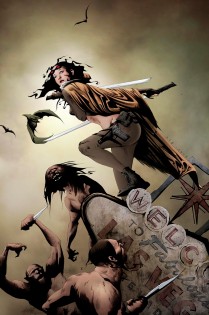 Dynamite made so many fantastic announcements, that it was listed in the 10 Biggest New York Comic Con news list for Newsarama!
http://www.newsarama.com/comics/10-biggest-news-new-york-comic-con-2012-1.html
For anyone who missed any of our announcements, Comics Alliance posted a HUGE article listing our announcements!
http://www.comicsalliance.com/2012/10/17/dynamite-entertainment-new-york-comic-con-2012-remender-devolution-waid-green-hornet-wagner-shadow-year-one/
At NYCC Dynamite had a panel to discuss their upcoming launches! And Tim Seeley was there to talk about his upcoming Hack/Slash/AOD series!
http://www.comicbookresources.com/?page=article&id=41665
Garth Ennis talks about his upcoming crime series, Red Team, at Newsarama!
http://www.newsarama.com/comics/nycc-2012-garth-ennis-red-team-interview.html
Mark Waid talks more about his upcoming run on Green Hornet at CBR!
http://www.comicbookresources.com/?page=article&id=41801
Dan Abnett and Andy Lanning discuss their upcoming run on Battlestar Galactica at Dynamite in an interview at Newsarama!
http://www.newsarama.com/comics/nycc-2012-dna-battlestar-galactica-interview.html
Fred Van Lente talks about his upcoming zombie series for Dynamite at MTV Geek!
http://geek-news.mtv.com/2012/10/11/nycc-fred-van-lente-zombies-dynamite/
MTV Geek finds out more about the upcoming Grimm comic book series from Dynamite!
http://geek-news.mtv.com/2012/10/22/interview-grimm-producers-dynamite-comic-book/
Jesse Blaze Snider talks Evil Ernie at Ain't It Cool News and Bloody Disgusting!
http://www.aintitcool.com/node/58973
http://bloody-disgusting.com/news/3197098/exclusive-interview-writer-jesse-blaze-snider-resurrects-evil-ernie/
Leah Moore and John Reppion discuss their new upcoming Dynamite series, Sherlock Holmes: The Liverpool Demon at CBR!
http://www.comicbookresources.com/?page=article&id=41790
Rich Johnston praises Francesco Francavilla's cover to Dark Shadows #8 and Dan Brereton's cover for Evil Ernie #1!
"LIKE" DYNAMITE'S FACEBOOK PAGE TODAY!!!
http://www.facebook.com/dynamitecomics
VALIANT AND DYNAMIC FORCES PARTNER FOR COLLECTIBLES

DF TO CREATE HIGH-END LITHOS, STATUES, BUSTS AND MORE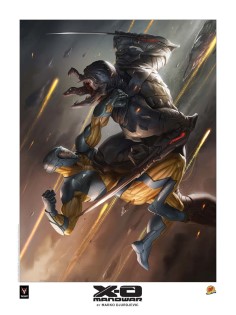 Dynamic Forces is proud to announce a new licensing partnership with Valiant Entertainment, the leading independent publisher of such best-selling series as
X-O Manowar
,
Archer & Armstrong
,
Bloodshot
and many more. The industry's premiere collectibles company has been granted the rights to create resin statues, dioramas, bookends, full-size head reproductions, busts, lithographs, posters, and more, featuring the logos and artwork of Valiant's fan favorite super-hero universe. The first Dynamic Forces product in partnership with Valiant will be the upcoming
X-O Manowar
lithograph, featuring the artwork of superstar artist Marko Djurdjevic.
"I worked extensively with Dynamic Forces during my time at Marvel and, true to form, they have a wide array of exciting plans in store for Valiant's universe of characters," said Russell A. Brown, Valiant's President of Consumer Products, Promotions and Ad Sales. "We're incredibly excited and enthused to have them on board on as one of Valiant's licensing partners."
"Dynamic Forces is one of the leading licensors in comics and with good reason. They're passionate, knowledgeable and experienced, and we look forward to a fruitful partnership," said Valiant CEO and Chief Creative Officer Dinesh Shamdasani.
The Dynamic Forces/Valiant licensing partnership will launch this July with an all-new X-O Manowar lithograph, featuring the artwork of world-renowned illustrator and artist Marko Djurdjevic reproduced in a oversized 18" by 24" format. Reproducing the cover of X-O Manowar #12 - the one-year of anniversary issue of X-O Manowar's return of the Valiant Universe - the lithograph features Valiant's armored Visigoth hero locked in mortal combat with deadly alien adversary.
"As a lifelong fan of comic books, I can honestly say that Valiant's return was something I had long been waiting for, and their astronomical success since the 'Summer of Valiant' campaign is so very well deserved. Their line is one of the most cohesive in comics, and most accessible. " says Nick Barrucci, CEO of Dynamic Forces. "Words can't express how excited I am to work with Dinesh and Valiant Entertainment to create a range of high-quality, high-end collectibles that their hardcore fans will cherish having."
ABOUT VALIANT ENTERTAINMENT
Valiant is a leading character-based entertainment company with a library of over 1,500 characters, including
X-O Manowar
,
Bloodshot
,
Shadowman
,
Eternal Warrior
, and many more. Established in 1989, Valiant has sold over 80 million comic books, and today its characters continue to be forged in publishing, licensing, film, video games, and beyond.
For more information, visit ValiantUniverse.com.
ABOUT DYNAMIC FORCES, INC.
DF is the comic-book and collectible industry's top producer of limited-edition and autographed memorabilia, including comic books and lithographs. DF functions as a packager of comics, ranking as high as one of the top five suppliers of Diamond Comic Distributors. It is also a premiere comic and entertainment supplier for the United States and international multimedia retailers.
Active and previous licenses include: DC Comics, Marvel Comics, Aspen Entertainment MLT Incorporated, Top Cow Productions, Universal Studios Hit series
Battlestar Galactica
, and
Classic Battlestar Galactica
,
Xena
, and
Darkman
, Revolution Studios'
Hellboy
, MGM's
Army of Darkness
, Pressman Films'
The Crow
, Sony Pictures'
Underworld
,
T2
, Hasbro's
G.I.Joe
, Sandy Frank Productions'
Battle of the Planets
(
G-Force
), Jim Starlin's
Dreadstar
, Howard Chaykin's
American Flagg!
, Frank Miller's
Sin City
, Frank Miller & Simon Bisley's
Bad Boy
, Classic Media's
Lone Ranger
,
Magnus Robot Fighter
and
Solar, Man of the Atom
- and many other entertainment industry giants. DF continues to set the pace in the comic collector and comic memorabilia markets. Recent product line expansions includes: action figures, vinyl and poly resin statues, tin collectibles, mini-deformed characters, lunchboxes, trading cards, lithographs, giclees, apparel and much more.
For updated information on Dynamic Forces specialty merchandise, product art, exclusive creator interviews, columns and upcoming product releases, please visit the Dynamic Forces website at
www.dynamicforces.com