DYNAMITE NEWS!
11/23/12 @ 11:23 am EST
Source:
Dynamite
|
Comments
(0) |
E-mail Article
|
Add a Comment
Dynamite really made waves at New York Comic-Con, headlined by our news of Rick Remender writing Devolution for Dynamite with artist Paul Renaud! Pictured below is the Devolution cover by Jae Lee!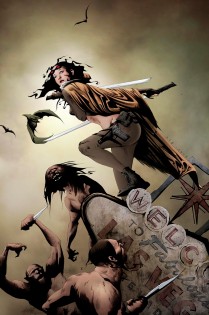 Dynamite made so many fantastic announcements, that it was listed in the 10 Biggest New York Comic Con news list for Newsarama!
http://www.newsarama.com/comics/10-biggest-news-new-york-comic-con-2012-1.html
For anyone who missed any of our announcements, Comics Alliance posted a HUGE article listing our announcements!
http://www.comicsalliance.com/2012/10/17/dynamite-entertainment-new-york-comic-con-2012-remender-devolution-waid-green-hornet-wagner-shadow-year-one/
At NYCC Dynamite had a panel to discuss their upcoming launches! And Tim Seeley was there to talk about his upcoming Hack/Slash/AOD series!
http://www.comicbookresources.com/?page=article&id=41665
Garth Ennis talks about his upcoming crime series, Red Team, at Newsarama!
http://www.newsarama.com/comics/nycc-2012-garth-ennis-red-team-interview.html
Mark Waid talks more about his upcoming run on Green Hornet at CBR!
http://www.comicbookresources.com/?page=article&id=41801
Dan Abnett and Andy Lanning discuss their upcoming run on Battlestar Galactica at Dynamite in an interview at Newsarama!
http://www.newsarama.com/comics/nycc-2012-dna-battlestar-galactica-interview.html
Fred Van Lente talks about his upcoming zombie series for Dynamite at MTV Geek!
http://geek-news.mtv.com/2012/10/11/nycc-fred-van-lente-zombies-dynamite/
MTV Geek finds out more about the upcoming Grimm comic book series from Dynamite!
http://geek-news.mtv.com/2012/10/22/interview-grimm-producers-dynamite-comic-book/
Jesse Blaze Snider talks Evil Ernie at Ain't It Cool News and Bloody Disgusting!
http://www.aintitcool.com/node/58973
http://bloody-disgusting.com/news/3197098/exclusive-interview-writer-jesse-blaze-snider-resurrects-evil-ernie/
Leah Moore and John Reppion discuss their new upcoming Dynamite series, Sherlock Holmes: The Liverpool Demon at CBR!
http://www.comicbookresources.com/?page=article&id=41790
Rich Johnston praises Francesco Francavilla's cover to Dark Shadows #8 and Dan Brereton's cover for Evil Ernie #1!
"LIKE" DYNAMITE'S FACEBOOK PAGE TODAY!!!
http://www.facebook.com/dynamitecomics
DARTH VADER RUMORED TO APPEAR IN STAR WARS ANTHOLOGY: ROGUE ONE
07/07/15 @ 10:18 pm EST
Source:
Comicbook
| Categories:
Star Wars
|
Comments
(0) |
E-mail Article
|
Add a Comment
A new rumor suggests that perennial
Star Wars
big bad Darth Vader will be appearing in the first
Star Wars Anthology
film,
Rogue One
.The report from BirthMoviesDeath specifies that Vader will not be the film's primary antagonist, but will be pulling the strings in the background. Whether his on screen appearance will be in the flesh (and robotics) or limited to holographic projection is unknown.
Rogue One
is set prior to the events of the original trilogy, detailing how a rebel alliance team was able to steal the plans for the Death Star. At this point in Star Wars continuity, Vader was still the strong right hand of the Empire and under the command of Grand Moff Tarkin, who was also in command of the Death Star. It makes sense then that Vader would be tasked with retrieving the stolen plans.
ELODIE YUNG CAST AS ELEKTRA FOR DAREDEVIL SEASON 2
07/07/15 @ 10:15 pm EST
Source:
Comicbook
| Categories:
Daredevil
|
Comments
(0) |
E-mail Article
|
Add a Comment
Marvel and Netflix have cast Elodie Yung as Elektra Natchios for Daredevil Season Two.
Yung's prior credits include G.I. Joe: Retaliation and District 13: Ultimatum. Marvel described Yung's Elektra as a "mysterious woman from Matt Murdock's past whose dangerous and exotic ways may be more than he can handle."
"After a worldwide search, we found in Elodie the perfect actress to embody both Elektra's impressive and deadly physicality, as well as her psychological complexity," Executive Producer and Head of Marvel Television, Jeph Loeb, told Marvel.com. "Paired with Charlie as Matt Murdock, the two will bring one of the most beloved and tumultuous comic book relationships to life with all the accompanying sparks and spectacular action sequences the show is known for.
"Elektra is one of Marvel Comics' premiere characters, debuting during Frank Miller's acclaimed run on Daredevil. While she and Daredevil shared a romance, the two are now close allies. The last actress to play Elektra was Jennifer Garner in
Daredevil
and
Elektra
.
Elektra joins Daredevil's expanding cast of Marvel Universe characters, which recently added Jon Bernthal as The Punisher.
Daredevil Season Two will premiere in 2016 on Netflix. Are you excited to see Elektra join the cast? Let us know in the comments.
BLACK PANTHER WILL REMAIN NEUTRAL IN CAPTAIN AMERICA: CIVIL WAR
07/07/15 @ 4:37 pm EST
Source:
Comicbook
| Categories:
Captain Amerca
|
Comments
(0) |
E-mail Article
|
Add a Comment
No matter how
Captain America: Civil War
's superhero brawl shakes down, one detail is now for certain: Black Panther will not be a part of it.
While nearly every other superhero in the Marvel Cinematic Universe will choose a side behind Captain America or Iron Man, the King of Wakanda will remain neutral in the registration conflict. As Marvel Studios Head Kevin Feige revealed, T'Challa will act as a third party in the
Civil War
, serving only his and his home country's interests.
"In the case of
Civil War
, we needed a third party, we needed a character who wasn't on either Captain America or Iron Man's side, which is why we went, 'You know what? We're doing a Black Panther movie, but it would actually be smart to have him fill this role we need in Civil War and introduce him here first,'" Feige told Super Hero Hype.
In playing Black Panther as a third stringer, Marvel will also tee the character up for his solo film in 2017.
BREAKING: HAN SOLO STAR WARS ANTHOLOGY MOVIE TO BE DIRECTED BY PHIL LORD AND CHRIS MILLER
07/07/15 @ 4:27 pm EST
Source:
Comicbook
| Categories:
Star Wars
|
Comments
(0) |
E-mail Article
|
Add a Comment
The Lego Movie
directors Phil Lord and Chris Miller will helm a
Star Wars Anthology
movie focused on Han Solo.
As Lucasfilms officially announced, the film will focus on a young Han Solo. Further plot details were not available.
In an earlier report from The Hollywood Reporter, it was clarified that the Han Solo film is not the project that
Fantastic Four
director Josh Trank was originally attached to, before parting ways with the studio.
The Han Solo movie would be one more on an already packed schedule for Lord and Miller. They've also been attached to Warner Bros.
Flash
movie and Marvel's animated
Spider-Man
film, on top of their continuing commitment to the
Jump Street
and
Lego Movie
franchises.
AFTERSHOCK COMICS ENLISTS GARTH ENNIS, NEIL GAIMAN AND MORE
07/07/15 @ 4:23 pm EST
Source:
Comic Book Resources
| Categories:
MIsc
|
Comments
(0) |
E-mail Article
|
Add a Comment
Garth Ennis, Amanda Conner, Jimmy Palmiotti and Paul Jenkins are among the first wave of writers working on creator-owned projects for publishing startup AfterShock Comics.
According to Deadline, they're joined by Justin Jordan, Frank Barbiere and Marguerite Bennett. Neil Gaiman, Jim Starlin, Amy Chu and Brian Stelfreeze have also signed on for the company's first short-story anthology.
Mike Marts left his job as executive editor at Marvel in April to help Caliber Comics veteran Joe Pruett launch AfterShock.
"When we launched AfterShock, our mission was to attract the best comic book creators in the business, and we're beyond excited to develop original projects with these industry leaders," Marts, the company's editor-in-chief, said in a statement. "But it's only the beginning."
Expect more details this week at Comic-Con International in San Diego.
DARK HORSE COMICS INKS UNIVERSAL CABLE TV DEAL, PREPS 'UMBRELLA ACADEMY'
07/07/15 @ 4:18 pm EST
Source:
Hollywood Reporter
| Categories:
Dark Horse
|
Comments
(0) |
E-mail Article
|
Add a Comment
In a deal a year in the making, comic book powerhouse Dark Horse (The Mask, Hellboy) is getting into the television business with Universal Cable Productions.

The NBCUniversal-owned cable-focused studio has signed Dark Horse Entertainment to a multiple-year overall deal that will see the comics publisher produce scripted programming from their extensive library as well as develop new properties. Conversations for the deal began at Comic-Con 2014 when Dark Horse introduced UCP execs to their top writers and artists — which led to multiple television projects with direct involvement from the comics creators.

Among the projects in development under the pact are Gerard Way's beloved The Umbrella Academy, which was previously in development at film arm Universal as a feature; Harrow County, based on CullenBunn's (The Sixth Gun) new comic, which sold out its first printing; Eisner Award-winning Concrete, fromPaul Chadwick; and Back Up, based on a feature script from Tom Vaughn.

UCP will work with Dark Horse and their comics creators to develop character-driven concepts for television that will build on their current fan base. The UCP deal will push Dark Horse president and founder Mike Richardson and senior vp production Keith Goldberg deeper into the TV business and come as the duo currently exec produces Syfy's Dark Matter.

"Dark Horse Entertainment has an incredible roster of fantastical, witty and mind-bending stories," saidDawn Olmstead, exec vp development at UCP. "Their brand has conquered multiple media platforms and boasts iconic books that have attracted the highest level of writers. It's going to be a wild and imaginative ride."

Dark Horse joins a roster of genre players based at UCP including The Walking Dead's Gale Anne Hurd, Wes Craven (Scream) and Jason Blum's Blumhouse Productions, among others.

Dark Horse's comics include Buffy the Vampire Slayer, Aliens, Tomb Raider, Halo, Game of Thrones and more.




NEIL CASEY CAST AS GHOSTBUSTERS REBOOT VILLAIN
07/07/15 @ 4:11 pm EST
Source:
Comicbook
| Categories:
MIsc
|
Comments
(0) |
E-mail Article
|
Add a Comment
Ghostbusters
has cast Neil Casey as the main villain for Paul Feig's female-led reboot film.
Casey's character will be named Rowan, but beyond that, details are still under wraps.
Casey is an actor and writer who's works have appeared on
Saturday Night Live
—the same training grounds that
Ghostbuster
co-starts Kristen Wiig, Kate McKinnon,and Leslie Jones came from. Casey's other major credits include
Veep, Broad City, The League
, and
The Kroll Show
, and Feig's Yahoo original series,
Outer Space
.
Casey joins Feig's growing
Ghostbusters
cast of Wiig, McKinnon, Jones, Melissa McCarthy, and Chris Hemsworth, who will launch the Ghostbuster franchise into a new female-led direction. Ghostbusters opens on July 22, 2016.
THE FLASH SEASON 2 HAS STARTED FILMING
07/07/15 @ 4:06 pm EST
Source:
Comicbook
| Categories:
Flash
|
Comments
(0) |
E-mail Article
|
Add a Comment
The Flash's second season is off to the races.
The Flash, The CW's live-action television show based on DC Comics' Scarlet Speedster, has officially begun filming its second season. And the starting gun was fired by none other than Andrew Kreisberg, the series' official show runner and executive producer, in a tweet that read:
"Aaaaaaaand... we're back! #TheFlash #Season2startsfilmingtoday"
The Flash's second season sees star Grant Gustin return for the role of Barry Allen/The Flash, who may or may not find himself in a brand new section of the multiverse following last spring's season finale cliffhanger. As the Fastest Man Alive enters his second season, he'll be joined by new cast members, including a new romantic interestand a gruff—but mysterious—older hero.
The Flash Season 2 premieres on October 6 at 8:00 p.m. on The CW.
THE BAT-TRUCK COMES TO SNYDER AND CAPULLO'S BATMAN
07/07/15 @ 4:02 pm EST
Source:
Comicbook
| Categories:
Batman
|
Comments
(0) |
E-mail Article
|
Add a Comment
When your Batman already looks like a Transformers robot, you need to give him an appropriately-sized Batmobile—or, make that Bat-Truck.
That's right, folks. Jim Gordon's all-new Batman is getting an all-new Bat-Truck in the pages of Scott Snyder and Greg Capullo's Batman. Striking terror into the hearts of criminals, environmentalists, and gas milage averages everywhere, Gordon's GCPD-approved Batmobile makes The Dark Knight Returns' tanker look like a matchbox car. Apparently, the monster-sized ride will serve as a mobile command center for Gordon's mechanized Batman and his support team.
Batman #42 hits comic shops and digital devices tomorrow. What do you think of the Bat-Truck? Let us know in the comments.
201 DAYS OF THE X-FILES ANNOUNCED
07/07/15 @ 3:59 pm EST
Source:
Comicbook
| Categories:
MIsc
|
Comments
(0) |
E-mail Article
|
Add a Comment
Fox has announced "201 Days of X-Files," a complete marathon of all nine season of the original
X-Files
television series leading up to the premiere of the new limited series event.
Check out the announcement video here:
https://youtu.be/JoIRNja8pMc