DYNAMITE NEWS!
11/23/12 @ 11:23 am EST
Source:
Dynamite
|
Comments
(0) |
E-mail Article
|
Add a Comment
Dynamite really made waves at New York Comic-Con, headlined by our news of Rick Remender writing Devolution for Dynamite with artist Paul Renaud! Pictured below is the Devolution cover by Jae Lee!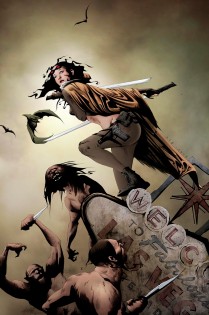 Dynamite made so many fantastic announcements, that it was listed in the 10 Biggest New York Comic Con news list for Newsarama!
http://www.newsarama.com/comics/10-biggest-news-new-york-comic-con-2012-1.html
For anyone who missed any of our announcements, Comics Alliance posted a HUGE article listing our announcements!
http://www.comicsalliance.com/2012/10/17/dynamite-entertainment-new-york-comic-con-2012-remender-devolution-waid-green-hornet-wagner-shadow-year-one/
At NYCC Dynamite had a panel to discuss their upcoming launches! And Tim Seeley was there to talk about his upcoming Hack/Slash/AOD series!
http://www.comicbookresources.com/?page=article&id=41665
Garth Ennis talks about his upcoming crime series, Red Team, at Newsarama!
http://www.newsarama.com/comics/nycc-2012-garth-ennis-red-team-interview.html
Mark Waid talks more about his upcoming run on Green Hornet at CBR!
http://www.comicbookresources.com/?page=article&id=41801
Dan Abnett and Andy Lanning discuss their upcoming run on Battlestar Galactica at Dynamite in an interview at Newsarama!
http://www.newsarama.com/comics/nycc-2012-dna-battlestar-galactica-interview.html
Fred Van Lente talks about his upcoming zombie series for Dynamite at MTV Geek!
http://geek-news.mtv.com/2012/10/11/nycc-fred-van-lente-zombies-dynamite/
MTV Geek finds out more about the upcoming Grimm comic book series from Dynamite!
http://geek-news.mtv.com/2012/10/22/interview-grimm-producers-dynamite-comic-book/
Jesse Blaze Snider talks Evil Ernie at Ain't It Cool News and Bloody Disgusting!
http://www.aintitcool.com/node/58973
http://bloody-disgusting.com/news/3197098/exclusive-interview-writer-jesse-blaze-snider-resurrects-evil-ernie/
Leah Moore and John Reppion discuss their new upcoming Dynamite series, Sherlock Holmes: The Liverpool Demon at CBR!
http://www.comicbookresources.com/?page=article&id=41790
Rich Johnston praises Francesco Francavilla's cover to Dark Shadows #8 and Dan Brereton's cover for Evil Ernie #1!
"LIKE" DYNAMITE'S FACEBOOK PAGE TODAY!!!
http://www.facebook.com/dynamitecomics
UPDATED: MISTY KNIGHT TO APPEAR IN NEFLIX'S LUKE CAGE
09/02/15 @ 10:53 pm EST
Source:
Comicbook
| Categories:
Marvel
|
Comments
(0) |
E-mail Article
|
Add a Comment
DF UPDATE:
Deadline is reporting that the role of Misty Knight will be plaYed by Simone Missick.
Original story:
Marvel's Mercedes "Misty" Knight, the police officer-turned-superhero, will make her live-action debut on Netflix's
Luke Cage
.
Sources for ComicBook.com have confirmed that Misty Knight will appear in Netflix's
Luke Cage
television series. When we meet her, she'll be a New York City police detective, who reluctantly partners up with Luke Cage (Mike Colter).
We reached out to Marvel for confirmation and were told the company has no comment.
In the comics, Misty Knight was a decorated New York police officer whose life dramatically changed when her right arm was seriously injured during a bomb attack. Her act of bravery did not go unnoticed as Tony Stark supplied Misty with a bionic arm. However, the NYPD wanted to assign Misty to a desk-job so she resigned instead. At this point, her best buddy Colleen Wing talked Misty into starting a private investigation firm together, Nightwing Restorations. She then encounters Heroes For Hire, a superhero partnership consisting of Luke Cage/Power Man and Danny Rand/Iron Fist, who would eventually become the love of her life.
Misty is a highly-skilled martial artist who is proficient in hand-to-hand combat and has near perfect aim. Her bionic arm made of Vibranium is super-strong, giving her a vice-like grip, but because the rest of her body is ordinary she does have limitations as to how much she can lift.
The cast includes Mike Colter as Luke Cage, Alfre Woodard as Minetta, Theo Rossi as Shades Alvarez and Rosario Dawson as Claire Temple.
Luke Cage
is filming in NYC now, for a likely 2016 release.
DC REVEALS FIRST "DARK KNIGHT III: THE MASTER RACE" COVER
09/02/15 @ 10:44 pm EST
Source:
Comic Book Resources
| Categories:
DC
|
Comments
(0) |
E-mail Article
|
Add a Comment
DC Comics has unveiled what they've billed as the first cover for "Dark Knight III: The Master Race" -- a retail variant for issue #1 by artist Dave Johnson, based on a sketch by Jim Lee. The retailer-specific cover will have the logo of the participating comic shop, helpfully placed where it reads "your logo here" on the image.
'STAR WARS' FORCE FRIDAY: HOW DISNEY WILL HIT HYPERDRIVE WITH GLOBAL SALES PUSH
09/02/15 @ 5:42 pm EST
Source:
Deadline
| Categories:
Star Wars
|
Comments
(0) |
E-mail Article
|
Add a Comment
Star Wars: The Force Awakens
won't open until December 18. But this week the public will see the equivalent of a red carpet premiere for a key part of Disney's effort to build Star Wars Inc. into a commercial force unlike anything Hollywood has ever seen.
The entertainment giant will team with toy and merchandise manufacturers and retailers in an unprecedented collection of Internet and store-based events to introduce and sell consumer products. They're calling it "Force Friday.
""
Star Wars
toys have always played an important role in how our fans interact with the saga," Lucasfilm president Kathleen Kennedy says. The new products "will continue that tradition."
The "Force Friday" name is a little misleading. Although sales begin then, Disney will begin to introduce the products this afternoon starting at 2:45 PT. A video stream on its
Star Wars
YouTube channel will show personalities from its Maker Studios programs unboxing
Star Wars
-related toys and other merchandise. The events will take place across the globe beginning in Australia, Japan, and South Korea before moving to Europe, Latin America, and the U.S. Don't be surprised if you see a feature this week on ABC's
Good Morning America
.
Retailers will do their part to turn this into a mega-event: Toys "R" Us, Target, Walmart, and World of Disney stores will begin selling
Star Wars
stuff shortly after midnight on Friday. Toy maker Hasbro is the leading manufacturer with other products coming from game producer Electronic Arts, card company Topps, Rubie's Costumes, Lego, and Tobar novelty toys. Others are expected to offer an array of electronic devices.
"I've never heard of launching a toy line with all guns blazing three months before a [movie] premiere," says Marty Brochstein of LIMA – the International Licensing Industry Merchandisers' Association. "It's like a
Harry Potter
book or an Apple iPhone."
Disney, manufacturers, and retailers need to pull out all the stops.
Disney paid $4.1 billion in stock and cash in 2012 for director George Lucas' Lucasfilm– which owned
Star Wars
. For accounting purposes, the entertainment giant figures the franchise will have what's called a "useful life" of 40 years.
Product sales are key to the effort to keep the franchise thriving for so long. Consumers have already spent more than $20 billion on
Star Wars
merchandise since 1977 when the first film was released. The licensed product efforts were successful, despite a famously bad bet in 1999 that fans would buy lots of products based on Jar Jar Binks — an annoying character introduced in
Star Wars: Episode I — The Phantom Menace
.
Analysts are optimistic that
The Force Awakens
will rouse far bigger sales. Consumers around the globe could spend $5 billion on
Star Wars
merchandise and publishing over the next year or so — well ahead of the $3 billion generated by Disney's
Cars 2
— Macquarie Securities' Tim Nollen forecasts. "This would easily net Disney about $500 million in licensing and retail revenue," he says.
If he's right, then it suggests Disney's commanding an extraordinary 20+% royalty rate on the wholesale price of the licensed goods, which typically run close to half of retail.
Brochstein says that "collectors and adults with a soft spot for
Star Wars
" probably will dominate the initial sales. If Disney agrees, then the initial products may include a lot of crafts, artwork, clothing, and kitchen goods. "Everybody's been tight lipped about what they are doing," he says.
Toys and other kids' items should pick up steam as we approach the holiday season. Hasbro has a lot of skin in that game. The toy company guaranteed Disney as much as $225 million through 2020 back in 2013 when the companies revamped their merchandising alliance to account for the Lucasfilm deal and
Star Wars
.
It sees Force Friday as just the beginning of an ongoing marketing campaign.
"What you see on September 4 will then be refreshed with new characters as we get closer to the film, as the film introduces people to new characters," Hasbro CEO Brian Goldner told analysts in July. "We'll then have characters that will follow that in time for Christmas and into New Year. And then you will have new waves of product and characters that will come in first quarter, second quarter and throughout 2016."
The company probably will see a bump in 2015 revenues from the late-year
Star Wars
sales — and as much as $300 million in additional revenue for all of 2016 — MKM Partners' Eric Handler estimates. A stand-alone film,
Rogue One: A Star Wars Story
, "should carry sizable action figure potential" around its December 16, 2016 release, he adds
.
Meanwhile, gamers look forward to Electronic Arts'
Star Wars: Battlefront
, a multi-player shooter video game due for a beta release in early October ahead of the official release on November 17.
EA plans to have a first-person shooter
Star Wars
release in time for each of the upcoming films, the company told investors in July. Although it doesn't have a timetable, "trust that you will see multiple
Star Wars
titles both on console and PC as well as on mobile," CFO Blake Jorgensen says. "We have at least one mobile title that's going to come out this year and we have more in the process as well. So lots to come on
Star Wars
."
Wedbush Securities' Michael Pachter says he "would not be surprised" if gamers buy 15 million copies of
Battlefront
by the end of EA's fiscal year in March. That would be huge, although still behind Activision Blizzard's
Call of Duty
's 25 million in lifetime sales.
Retailers are making a different kind of bet: They have to determine how much shelf space to devote to
Star Wars
products vs other options.
For now, the major players are "making a major commitment" to the franchise, Brochstein says. "This is going to be the big conversation for Christmas. Everybody wants to be part of it.
"In addition to its sales effort, Target has a website where fans — including celebrities such as Minka Kelly, Chris Hardwick and Bobby Moynihan — offer memories of favorite
Star Wars
moments. Toys "R" Us, Walmart, and Amazon also have special pages dedicated to products from the franchise.
Most Toys "R" Us stores will more than double the floor space they had devoted to
Star Wars
products — and will devote more than 100 square feet to the franchise throughout the year, including many of its overseas destinations.
"It's been one of the perennial bestsellers whether there's a movie or not," Global Chief Marketing Officer Richard Barry tells me. The promotional push for products tied to the new film will be bigger than anything he has seen, including for
Harry Potter
.
He couldn't discuss many products in detail, but says that "we've seen innovation play in a different way than in the past." With creative use of electronics and robotics, among other things, "there are so many things that will make you say, 'Wow, that's so cool.'"
WEIRDWORLD #1 BRINGS THE STRANGE & BIZARRE TO THE MARVEL UNIVERSE THIS DECEMBER
09/02/15 @ 2:05 pm EST
Source:
Marvel
| Categories:
Marvel
|
Comments
(0) |
E-mail Article
|
Add a Comment
Just when you thought the journey was coming to an end! This December, book an extended stay in the Marvel Universe's newest and most dangerous destination in
WEIRDWORLD #1
– a brand new ongoing series set in the All-New, All-Different Marvel Universe! Critically acclaimed writer Sam Humphries (
Legendary Star-Lord)
joins forces with fan-favorite
Weirdworld
artist Mike Del Mundo for a brand new adventure ripped from the pages of Secret Wars and planted firmly in the All-New, All-Different Marvel Universe!
"Weirdworld is a place where
anything
can happen," says series writer Sam Humphries in an interview. "Weirdworld is a place
inside
the Marvel Universe. Weirdworld is a place where the lost can be
found.
But only if you're strong enough…"
Imagine a world of sword and sorcery, a land where lost things go. Now imagine being trapped there with zero sword or sorcery experience! Meet Becca, an ordinary girl in an extraordinary world with one mission in mind – GET HOME ALIVE! Easier said than done! But how did she come to be here? And how can she hope to escape in one piece?
"Weirdworld is a place that is ever changing, always chaotic, and a place of infinite discovery," continued Humphries. "Its essential nature is so mysterious that no complete map can ever be created. It is a polyglot of fantasy, horror, sci-fi, and other weird things dug up from the brains of myself and [artist] Mike Del Mundo."
Barbarians! Wizards! Goblins! Even tricked out sports cars! All await Becca around every turn in the depths of Weirdworld. Be there as Marvel's own twisted fantasy realm comes alive before your eyes as Humphries & Del Mundo plunge headlong into
WEIRDWORLD #1
– available in comic shops and on digital devices this December!
WEIRDWORLD #1Written by SAM HUMPHRIES
Art & Cover by MIKE DEL MUNDO
On Sale This December!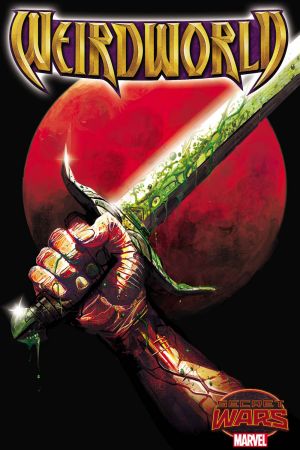 BREAKING: MARVEL'S 'LUKE CAGE': THEO ROSSI CAST, ROSARIO DAWSON TO REPRISE 'DAREDEVIL' ROLE
09/02/15 @ 1:47 pm EST
Source:
Deadline
| Categories:
Marvel
|
Comments
(0) |
E-mail Article
|
Add a Comment
Netflix's Marvel series Luke Cage has added two more key players. Deadline is reporting that Sons Of Anarchy standout Theo Rossi has been cast as a regular opposite Mike Colter and Alfre Woodard in the third series from Marvel's four-series package for Netflix. Additionally, it is reporting that Rosario Dawson will reprise her Daredevil role as Claire Temple in Luke Cage. That makes sense since in the comic books, Claire is a romantic interest of Luke Cage. First introduced on Daredevil, Dawson's Claire also is set to appear in the second Marvel series, Jessica Jones — where Colter's Cage also will make his debut — before moving to Luke Cage.

Like most comic book adaptations, the breakdown forLuke Cage features fake character names. Rossi was cast to play the "Sonny" role, described as relentless and menacing, smooth and manipulative, street smart and controlling. It is rumored Rossi would be playing Luke Cage's enemy Shades aka Alvarez, a well known criminal.

In Luke Cage, Mike Colte plays Cage, a wrongly accused man who, granted superstrength by a sabotaged experiment, escapes prison to become a superhero for hire.

Cheo Hodari Coker serves as executive producer and showrunner on the series, produced by Marvel Television in association with ABC Studios for Netflix.


SUPERGIRL: GLENN MORSHOWER CAST AS GENERAL SAM LANE
09/02/15 @ 1:29 pm EST
Source:
IGN
| Categories:
DC
|
Comments
(0) |
E-mail Article
|
Add a Comment
When DC Comics character General Sam Lanemakes his debut on Supergirl, he'll be portrayed by an actor who has plenty of experience playing military men, as IGN can exclusively reveal that Glenn Morshower has been cast in the recurring role on CBS's new fall series.
The Supergirl version of General Lane is described as a powerful military lifer -- and an overprotective father to both Lucy Lane and her sister, Lois. His arrival in National City stirs up trouble for Supergirl when he enlists her in a dangerous government initiative.
General Lane's introduction will come on the heels of meeting Lucy Lane on Supergirl, played by Jenna Dewan Tatum, who will also appear in a recurring capacity in the show's first season.
KENNETH BRANAGH TO DEVELOP DISNEY'S 'ARTEMIS FOWL'
09/02/15 @ 1:25 pm EST
Source:
Comic Book Resources
| Categories:
MIsc
|
Comments
(0) |
E-mail Article
|
Add a Comment
"Cinderella" director Kenneth Branagh will reportedly take the reins of Disney's long-developing adaptation of "Artemis Fowl."

The Tracking Board reports Branagh will develop and direct the project, based on the popular series of young-adult fantasy novels written by Eoin Colfer. Irish playwright Conor McPherson is in negotiations to write the script.

Debuting in 2001, the the eight-book series follows the adventures of Artemis Fowl, a 12-year-old criminal mastermind who, in the first novel, who hatches a dangerous plot to extort the Fairy People in an attempt to restore his family's fortune.

Branagh will produce "Artemis Fowl" alongside Harvey Weinstein.
BREAKING: STEVEN SPIELBERG'S DREAMWORKS TO SPLIT FROM DISNEY, IN TALKS WITH UNIVERSAL
09/02/15 @ 10:31 am EST
Source:
The Hollywood Reporter
| Categories:
MIsc
|
Comments
(0) |
E-mail Article
|
Add a Comment
With
Jurassic World
crushing box-office records,
Steven Spielberg
has reminded Hollywood of his might, putting him in a powerful position as he negotiates a distribution deal for DreamWorks before its current arrangement with the Walt Disney Co. expires in August 2016.
Sources say the Spielberg-directed
The BFG
, based on the
Roald Dahl
book and set to unspool on July 1, 2016, will be the last released under the Disney deal, which began in 2009.
The consensus among those with knowledge of the situation: Spielberg's likely future home is Universal, where he has maintained his offices even as DreamWorks distributed its films through Paramount and then Disney. Spielberg, 68, who was a hands-on executive producer on Universal's
Jurassic World
, is essential to future dinosaur movies (the next already is dated for June 2018) as well as associated theme-park attractions. Sources say Spielberg commanded his rich director's fee for
Jurassic World —
a percentage of profit worth tens of millions of dollars — from which he then paid helmer
Colin Trevorrow
. He also is key on potential reboots of other Universal franchises such as
Jaws
and
Back to the Future
. Universal declined to comment, as did DreamWorks. A Universal source says "the studio would welcome the chance to be DreamWorks' distribution partner" but any deal is premature.
DreamWorks will bring money to its new arrangement as sources say
Jeff Skoll'
s Participant Media is making an investment of $200 million and the company is said to be raising an additional $150 million to $200 million from other sources. That financing could enable DreamWorks to greenlight its own films and set budgets.
Spielberg, whose next film is the
Tom Hanks
Cold War thriller
Bridge of Spies
(Oct. 16), is not known for overspending, but in the current Hollywood climate, the studios are not investing much in the kind of adult fare that Spielberg often likes to make. As the low-profile Universal Filmed Entertainment chairman
Jeff Shell
hammers out terms with DreamWorks, says a longtime Spielberg associate, "This is a new generation coming to terms with Steven's desire to make quality movies at whatever price."
Several DreamWorks movies are in or near production.
Lasse Hallstrom
's
A Dog's Purpose
, filming now, might appeal to Disney but likely will be released by the company's new partner, as will two other films:
The Girl on the Train
, with
Tate Taylor
(
The Help
) directing and
Emily Blunt
starring, set for release in 2016; and
Ghost in the Shell
, starring
Scarlett Johansson
, which is dated for March 2017 (Paramount will distribute that movie overseas.) Spielberg has committed to direct his next movie,
Ready Player One
, for Warner Bros.
A new deal could mean a fresh start for DreamWorks, which has faced struggles from the inception of the Disney relationship. Sources say the DreamWorks team felt something of a strain from the start because its deal was negotiated with
Dick Cook
, then chairman of the studio, with the understanding that Disney would invest in DreamWorks' films and invite DreamWorks to participate in some of its projects. But soon after the deal was made, Cook was ousted and Disney CEO
Bob Iger
set a strategy of fully financing Disney movies.
Given market factors at the time, DreamWorks was left to fight for financing. It found backing from Indian giant Reliance, which could retain some participation in a new deal, but money became very tight as DreamWorks hit a prolonged cold streak, with disappointments including
Need for Speed
and
Delivery Man
. Spielberg's partner in DreamWorks, CEO
Stacey Snider
, left last year for a top job at Fox and was replaced by former Turner exec
Michael Wright
, who will maintain the job as the company transitions to a new distribution partner.
'THE WALKING DEAD': IS LOVE NEXT FOR RICK AND MICHONNE?
09/02/15 @ 10:25 am EST
Source:
The Hollywood Reporter
| Categories:
Walking Dead
|
Comments
(0) |
E-mail Article
|
Add a Comment
The beleaguered former sheriff can't seem to catch a break in the postapocalyptic world. While he managed to locate his wife, Lori (
Sarah Wayne Callies
), and son, Carl (
Chandler Riggs
), after awaking from a coma to find the world as he knew it had ended, he learned that she had cheated on him with Shane (
Jon Bernthal
), his best friend.
Ever since Lori died during childbirth, Rick has been a single father of two navigating the walker-filled world without a love interest. But die-hard fans have picked up on something more between Rick and Michonne (
Danai Gurira
) — aka
Richonne
. But can the alliance between the leader of the survivors and his katana-wielding companion evolve into something more?
The Hollywood Reporter
took that question to
Walking Dead
showrunner
Scott M. Gimple
and the stars to find out where they stand.
A romantic pairing would make sense given the group's arrival at Alexandria. The location is the longest-running home for the survivors in the comics and [spoiler alert!] finds Rick and Andrea's relationship evolving to more than friends and confidants. That storyline, however, is off the table after the AMC drama killed off
Laurie Holden
's Andrea, leaving an opening for a new potential love interest for Rick,
Alexandra Breckenridge
's Jessie currently appearing poised to take over that role.
"Comic book-wise Andrea is still the most important character in the books, and there is that vacancy in our show, and I think a lot of aspects of Andrea are going to be shared among a lot of characters — and not necessarily female characters," Gimple stresses.
Lincoln, meanwhile, says he most enjoys the light-hearted banter that Rick shares with Michonne.
"There's a kind of jokiness to them," he says. "They're both warriors, but she's one of the few people who can take the piss out of Rick, which is great. She has the arched eyebrow kind of smart-ass remark [persona], and I love playing those scenes. But also she has a great point of contact. There aren't that many people in the apocalypse, but when everybody is dead and it's just me and her left, let's get it on!"For her part, Gurira is appreciative that fans want her loner character to "get some."
"I always say to Gimple that she's the nun and she don't get none! But it's cool, it shows that there's a palpable true friendship there [for Michonne and Rick] that people can pick up on. But there's a friendship there that I treasure with Michonne's connection with Rick. He's the one who really challenges her to step out of who she was and who she was becoming. After that fight with the Governor (
David Morrissey
), she was becoming something quite ugly. … She had to go through that because of Rick, so that caused her to have a respect for him, and eventually he gained a trust and respect for her. There's definitely an intimacy of friendship there."
THE MUPPETS: KERMIT THE FROG'S NEW GIRLFRIEND DENISE FIRST LOOK
09/02/15 @ 9:58 am EST
Source:
People
| Categories:
MIsc
|
Comments
(0) |
E-mail Article
|
Add a Comment
Well, that didn't take long.

It's been less than month since Kermit the Frog and Miss Piggyannounced they were splitting after four decades together, but it appears the plush amphibian has already moved on.

Kermit, who is still working with Miss Piggy on her late-night talk showUp Late with Miss Piggy – a situation that is being documented on the upcoming ABC series The Muppets – has been spotted around town numerous times with a head of marketing at ABC named Denise, a source tells PEOPLE exclusively.

"She's always stopping by the set of Up Late," the source says of Denise.