MARVEL CELEBRATES SPIDER-MAN'S BIRTHDAY AT NEW YORK COMIC CON!
10/08/12 @ 4:40 pm EST
Source:
Marvel
|
Comments
(0) |
E-mail Article
|
Add a Comment
New York, NY—October 8, 2012—Spider-Man is known as the World's Greatest Super Hero, and next week at New York Comic Con (Oct 11-14), join Marvel in celebrating his birthday! Next Sunday, October 14th is Spidey's birthday and for a Super Hero this big, we know nothing less than making history would be suitable—so in the days leading up this memorable day, Marvel is pulling out all the stops!
"Spider-Man is one of the most popular and special characters in the world, so we wanted to make sure we celebrated his birthday in a big way " said Dan Buckley, Publisher & President of the Print, Animation & Digital Divisions, Marvel Worldwide, Inc. "From working with the New York City Mayor's Office for a very special announcement, to partnering with our friends at Hallmark Cards to make history, we're ensuring that New York Comic Con is the place for fans of all ages to celebrate Spider-Man!"
First, don't miss the event that brings together the
New York City Mayor's Office and Marvel Entertainment
for a special proclamation of Marvel-ous proportions! At 10:15am on Friday, October, 12 in the Marvel booth (#1838), join Marvel Editor-in-Chief Axel Alonso, NYC Commissioner of Media and Entertainment Katherine Oliver, Captain America, and Spider-Man himself to kick off the celebration. Don't miss out on the big announcements and chance to be part of Marvel history!
"We are thrilled to welcome Comic-Con back to New York this year and especially excited to celebrate the birthday of a real New Yorker, Spider-Man!" said Katherine Oliver, Commissioner of the Mayor's Office of Media and Entertainment. Over the years, Spider-Man has helped showcase the best of what New York has to offer our friends in entertainment, and New York Comic Con is an opportunity to see just how many other creative minds are using this great city for inspiration and as a backdrop for their stories."
Then, be one of the first to sign the larger than life (6'x 8')
Spider-Man Birthday Card
, produced by Hallmark, as Marvel attempts to shatter the Guinness World Record for "Most Contributions to a Greeting Card." With the help of Marvel fans in attendance we're sure we can do it—but we have limited space on this giant card! This card will be on display in the Marvel booth (#1838) at different times each day, both for contributions and for photo ops, so make sure you check in frequently so you don't miss out!
On Saturday, October 13 head over to room 1E13 at NYCC for the "
Marvel Television Presents" Panel
! Jeph Loeb, Marvel's Head of Television, gives you the latest on season two of
Ultimate Spider-Man
, the hit animated series on Disney XD, along with an inside look at the anticipated new animated series,
Marvel's Avengers Assemble
and
Hulk and the Agents of S.M.A.S.H.
!
Then, on Sunday, October 14-- the final day of New York Comic Con—Marvel's celebrating the official birthday of Spider-Man with more events, news and fun than you can Thwip! First, in Room 1E07, check out the
Amazing Spider-Man & Beyond
panel, where the minds behind your Spider-Man comics come together to give you all the news about the wall-crawler. What's next for Spider-Man? Find out here!
Next, calling fans of all ages—come to the IGN Theatre for an interactive event like nothing you've ever seen before! The cast of
Spider-Man: Turn off The Dark
, the hit Broadway show, arrives at New York Comic Con for a panel—nay, a performance!—that involves you, fans of all-ages!
Did you get up early for New York Comic Con? Miss your Sunday Morning cartoons? We've got the solution-- come on down to the IGN Theatre to view one of the most acclaimed episodes of the
Ultimate Spider-Man
animated series.
"If you're a Spider-Man fan, then you'll have the time of your life at New York Comic Con" said Axel Alonso, Editor-in-Chief, Marvel Entertainment. "Sunday, October 14th is going to be a special day that all Marvel fans will remember!"
Plus, all convention long, check out the Marvel Booth (#1838) for special Spider-Man signing events with the creators behind your favorite comics, exclusive giveaways and more!
Can't make it to the convention? Follow along on the
Marvel Events App
&
events.marvel.com
, the best way to get exclusive videos, real-time announcements from the convention floor and up-to-the-minute panel, in-booth, and signing schedules of all your favorite Marvel creators!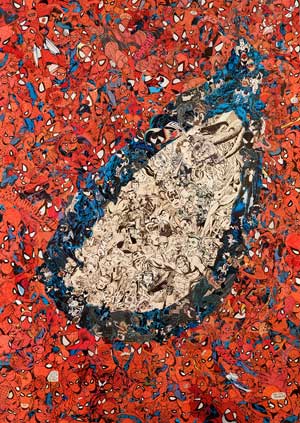 MARVEL'S AGENTS OF S.H.I.E.L.D. UNLEASHES THE ART OF EVOLUTION
02/26/15 @ 11:51 pm EST
Source:
Marvel
| Categories:
SHIELD
|
Comments
(0) |
E-mail Article
|
Add a Comment
After last year's popular "Art of Level 7" initiative, in which celebrated artists created brand new poster art for each of the final six Season 1 episodes for "Marvel's Agents of S.H.I.E.L.D.," we decided to double down with "The Art of Evolution"!
Once again, some of the greatest artists in the industry will create new posters for each episode of "Marvel's Agents of S.H.I.E.L.D.," but this time we'll have 12 new posters to commemorate each episode in the second season's back half!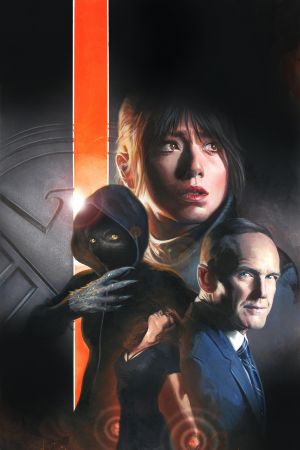 AFTERSHOCKS PRINT BY GABRIELE DELL'OTTO
With the series returning this Tuesday, March 3 at 9:00 p.m. ET, Gabriele Dell'Otto--the co-creator of Agent Skye's true character, Daisy Johnson--has brought the episode to life in a gorgeous new print that you can check out right here.
Each poster released in this series will be available as limited edition high quality prints with the first print of the series to go on sale Friday, February 27 at 12:30 a.m. PT. These individually numbered prints are strictly limited to 100 copies.
Tune in on Tuesday, March 3 at 9:00 p.m. ET to catch the return of "Marvel's Agents of S.H.I.E.L.D." on ABC.
HULK DOMINATES IN NEW POSTER FOR MARVEL'S AVENGERS: AGE OF ULTRON
02/26/15 @ 11:46 pm EST
Source:
Marvel
| Categories:
Avengers
|
Comments
(0) |
E-mail Article
|
Add a Comment
Hulk takes control in a brand new poster for Marvel's "Avengers: Age of Ultron"! Check out the poster below before seeing the film when it hits theaters on May 1.
In "Avengers: Age of Ultron," Bruce Banner (Mark Ruffalo) uses his advanced intelligence to solve the most difficult situations. When Ultron (James Spader) appears with plans of destruction, Banner's anger takes over and transforms him into the rage-fueled Hulk!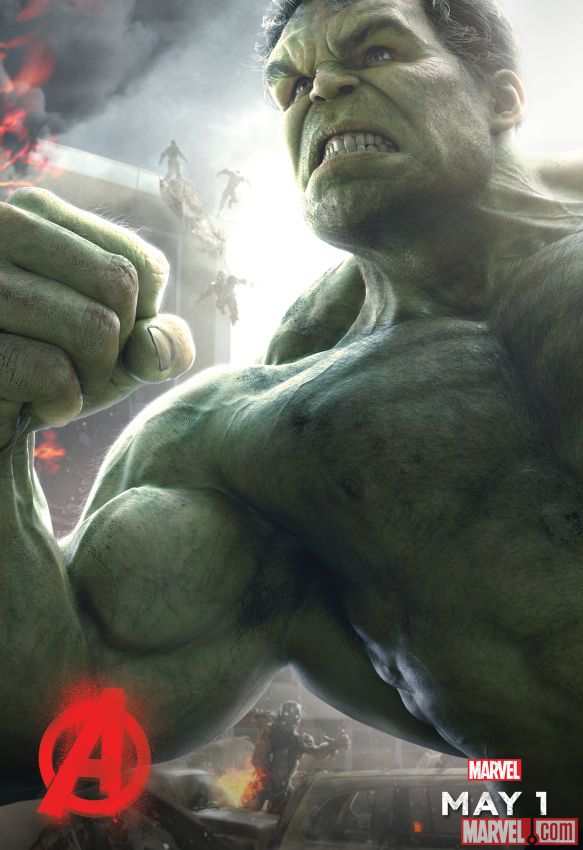 MATT MURDOCK GETS BLOODY IN NEW MARVEL'S DAREDEVIL POSTER
02/26/15 @ 11:41 pm EST
Source:
Marvel
| Categories:
Daredevil
|
Comments
(0) |
E-mail Article
|
Add a Comment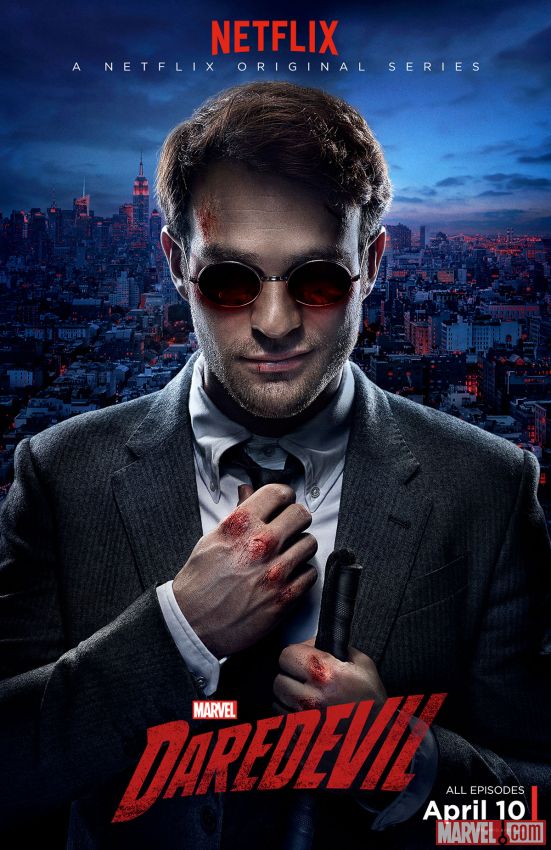 Matt Murdock gets rough in the latest poster and motion poster for "Marvel's Daredevil," only on Netflix April 10!
Taking on an enemy as powerful as Wilson Fisk can have a physical toll, as evidenced by Matt's cuts and bruises in the poster above
Series star Charlie Cox shows the bloody side of Matt's war on crime in the upcoming original series as we prepare to launch all 13 episodes in less than two months!
THE SUPERGIRL CAST ADDS TWO NEW MEMBERS
02/26/15 @ 11:23 pm EST
Source:
DC
| Categories:
DC
|
Comments
(0) |
E-mail Article
|
Add a Comment
The cast of CBS's
Supergirl
just picked up two intriguing new members—one of whom may potentially have a dark future.
Photo by Paul Gregory Photography
Actress Chyler Leigh (
Grey's Anatomy
) has been cast in the role of Alexandra "Alex" Danvers, Kara's foster sister on the show. Fascinated by Kara's powers from a young age, Alex developed a lifelong obsession with science which inspired her to become a doctor. Of note to fans is the last name—longtime Supergirl readers know that "Danvers" is a last name which has occasionally been used by Kara in the comics.
At the same time, David Harewood (
Homeland, Selfie
) has been announced in the role of Hank Henshaw. A onetime CIA agent, Hank now runs the Department of Extra-Normal Operations (DEO), which tracks extraterrestrial threats on the planet Earth. Fans of the comics will also know that Hank Henshaw is known in DC Comics lore for being Cyborg Superman.
This news arrives after the announcement earlier this week that Calista Flockhart will be playing Cat Grant on the show, and also came with the news that
Arrow
and
Flash
Executive Producer Andrew Kreisberg will be joining Greg Berlanti and Ali Adler as an Executive Producer on
Supergirl
.
DEO? Cat Grant? Cyborg Superman?! Man, we can't wait to see this one!
MARVEL ZOMBIES #1 SHAMBLES ACROSS BATTLEWORLD THIS JUNE
02/26/15 @ 11:17 pm EST
Source:
Marvel
| Categories:
Marvel Zombies
|
Comments
(0) |
E-mail Article
|
Add a Comment
This June, a lone soldier ventures deep into unknown territory on a mission of personal discovery – and of blood-soaked survival! Today, Marvel is pleased to announce
MARVEL ZOMBIES #1
– a brand-new Secret Wars series from writer Simon Spurrier (
X-Force
,
X-Men: Legacy
) and artist Kev Walker (
New Avengers
,
Avengers Arena)
!
She is
Elsa Bloodstone
, one of the fiercest monster-hunters Battleworld has ever seen. Burdened with the task of keeping the zombie hordes to the south from rampaging through Battleworld, she patrols the borders from high atop the Shield. Day in and day out she fights and claws to keep the world safe, knowing that setting one foot into that hellish landscape means certain death. That is, until she spots a human girl among the corpses.
Knowing what untold horrors await her on the other side, she flings herself into the shambling hordes. But once she's in, she'll have to fight her way out…
"If you want an awesome book about an incredible woman digging deep into her own crumbling reserves to smash, blast and sneak her way through legions of your favorite Marvel personalities, corrupted into gurgling cackling brain-hungry insaniacs – then this is the book for you," says writer Simon Spurrier in an upcoming interview with Marvel.com.
Can one woman stand against an endless army of the living dead? Clearly, you've never met Elsa Bloodstone. Be there when zombie-blasting, high-octane action kicks off this June in
MARVEL ZOMBIES #1
!
MARVEL ZOMBIES #1 Written by SIMON SPURRIER
Art by KEV WALKER
Cover by KEN LASHLEY
On Sale in JUNE!
POLICE SEIZE 'WOLVERINE'S HAND' IN DRUG RAID (WAIT, WHAT?)
02/26/15 @ 3:28 pm EST
Source:
CBR
| Categories:
Wolverine
|
Comments
(0) |
E-mail Article
|
Add a Comment


Police in Guelph, Ontario, probably didn't mean to sound alarming when they reported they'd confiscated "Wolverine's hand" during a drug bust. However, the hirsute mutant can regenerate, and these are (alleged) meth dealers we're talking about, so what are expected to think?

But no, CBC News reports, these were Wolverine claws found among the cash, small quantities of meth, ecstasy, heroin and marijuana, bulletproof vest and assorted knives, hatchets and machetes.

A police department spokesman suggested "Wolverine's hand" is actually a "push dagger," but that's not right, either. It's actually called a claw gauntlet, among other things, but it seems awfully popular in … certain circles: U.K. customs officials seized steel Wolverine claws on at least two occasions in 2009, and in Utah in 2012, a 19-year-old man was arrested after he allegedly went after his roommate with a pair.
EXPLORING UNTOLD TALES OF THE MARVEL CINEMATIC UNIVERSE IN COMICS FORM
02/26/15 @ 3:24 pm EST
Source:
CBR
| Categories:
Marvel
|
Comments
(0) |
E-mail Article
|
Add a Comment


For the production staff of Marvel Studios, comic books are more than just source material to adapt and inspire film and television projects. They're also a valuable storytelling tool that can expand the history of their interconnected universe and explore how their characters would react on some fun adventures that aren't necessarily integral to the history of the universe.

As a result, Marvel Studios and Marvel publishing have recently begun collaborating on a number of print and digital Infinite tie-in comics that expand the history of and play with the characters of the Marvel Cinematic Universe. These projects fill in gaps and extend personalities beyond the boundaries of the studios' twice annual films and various TV series.

One of the chief architects behind these collaborations is Will Corona Pilgrim. The writer is currently heading up the two-issue "Marvel's Ant-Man Prelude" series featuring art by Miguel Sepulveda as well as April's "Avengers: Operation Hydra" with artist Andrea Di Vito.
HEY, THE HULK'S IN CENTRAL PARK! MARVEL COMICS COVERS HIGHLIGHT NEW YORK
02/26/15 @ 3:03 pm EST
Source:
New York Times
| Categories:
Marvel
|
Comments
(0) |
E-mail Article
|
Add a Comment
Unlike the heroes of DC Comics, which often protect fictional cities like Gotham and Metropolis, the heroes of Marvel Comics tend to cluster around New York: Spider-Man, or rather Peter Parker, grew up in Queens, the Avengers and the Fantastic Four are headquartered in Manhattan, and the X-Men have a school for gifted youngsters in Westchester.
Marvel is celebrating the New York roots of its heroes in May with a series of covers that showcase the city and its colorful champions.
"Each cover is carefully considered to make a statement about New York," said Axel Alonso, the editor in chief of Marvel Comics.
The images include Ant-Man hanging out atop a hot dog cart, agents of the intelligence agency S.H.I.E.L.D. in aerial combat near the Statue of Liberty's torch and the Incredible Hulk catching some non-gamma rays in Central Park.
There will be New York-themed covers on 15 series.
GWEN STACY: 'SPIDER-GWEN' BRINGS ICONIC SPIDER-MAN GIRLFRIEND BACK TO LIFE
02/26/15 @ 2:57 pm EST
Source:
ABC News
| Categories:
Spider-Gwen
|
Comments
(0) |
E-mail Article
|
Add a Comment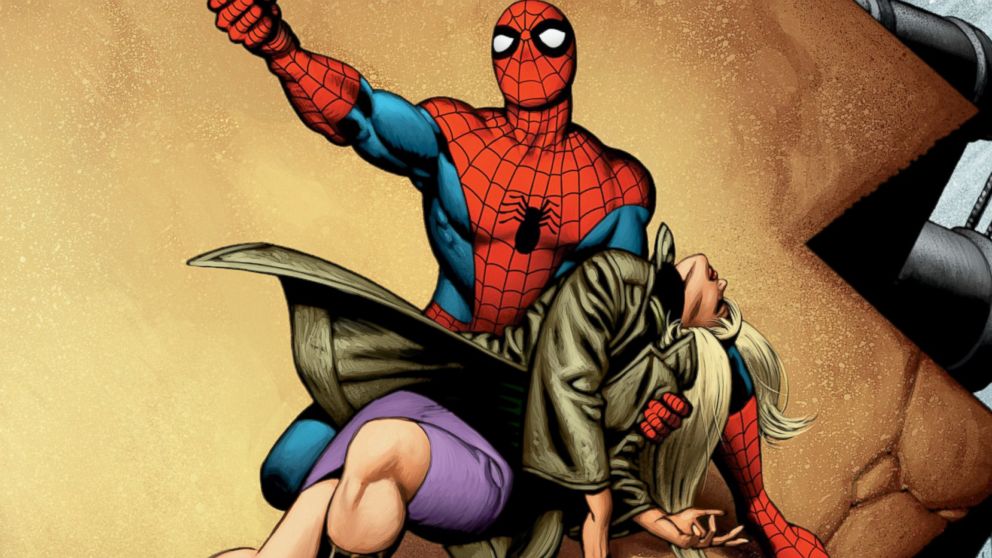 Gwen Stacy is iconic since becoming one of the first main characters in comic book history to kick the bucket.
Spider-Man's girlfriend died in 1973 after an epic battle between the web slinger and the Green Goblin, a huge move for comics and Marvel when no heroes died.
Well, now Marvel is bringing her back to life in "Spider-Gwen."
Yeah, you read that right. The magazine premiered Wednesday and has Stacy as a superhero in an alternate universe.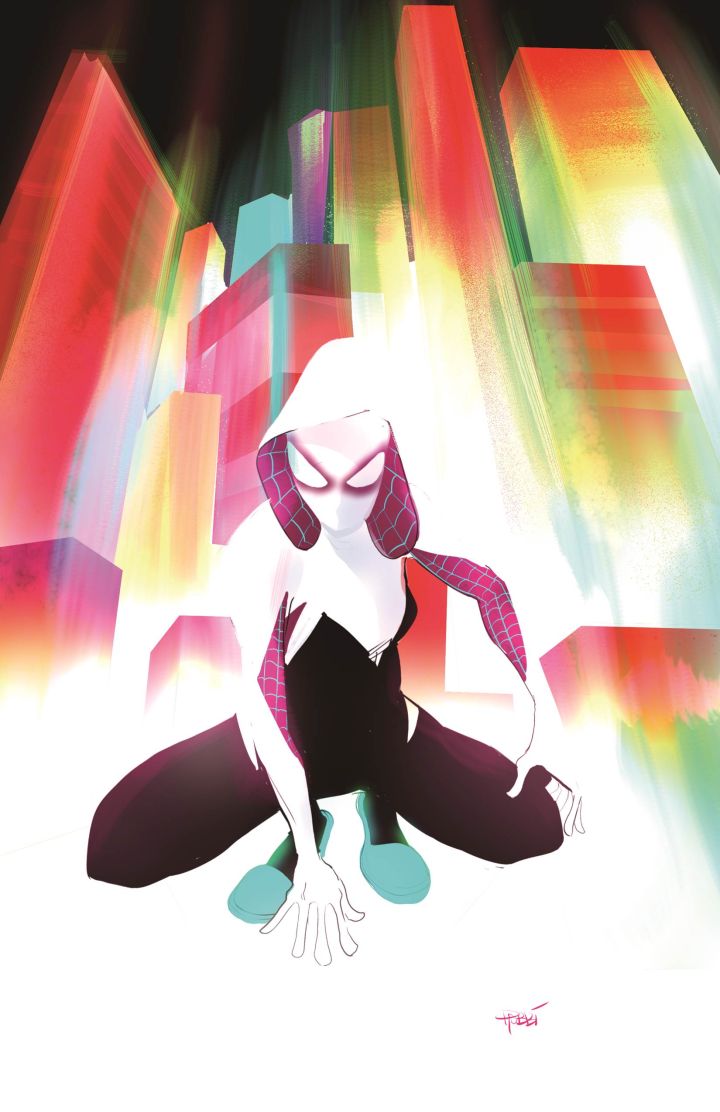 The story goes that the radioactive spider that bit Peter Parker actually bit Stacy on Earth-65, an alternate reality..
This isn't "Spider-Gwen's" first appearance though. She debuted in "Edge of Spider-Verse No. 2," where she watched Peter Parker die, not the other way around in the classic Spider-Man.
This version of Gwen Stacy is a rocker who plays in a band and gets slammed by Daily Bugle publisher J. Jonah Jameson, who you may know as Parker's angry, Spider-Man hating boss in the original series. He blames her for Parker's death.
ALL'S FAIR IN LOVE & BATTLEWORLD IN STAR-LORD AND KITTY PRYDE #1
02/26/15 @ 2:38 pm EST
Source:
Marvel
| Categories:
Legendary Star Lord
|
Comments
(0) |
E-mail Article
|
Add a Comment
War rages across the patchwork planet of Battleworld. Domains far and wide clash in an unending conflict for territory. Yet amid the fury and the fire of battle, there is love to be found as well. This June, one of the Marvel Universe's burgeoning romances will be put through the
Secret Wars
wringer in
STAR-LORD AND KITTY PRYDE #1
– an all-new Secret Wars series! Fan-favorite writer Sam Humphries and Marvel newcomer Alti Firmansyah ask the question – can love really conquer all?
"Star-Lord and Kitty Pryde is an action romantic comedy," says Sam Humphries. "It is the emotional and spiritual continuation of the great Peter Quill/Kitty Pryde romance that has been developing in
Legendary Star-Lord.
It's going to be funny, and fun – but also heartbreaking and thrilling."
The events of
Secret Wars
have brought these two together once more. Yet, hailing from entirely different realities, can these two-star crossed lovers reconcile their feelings for one another – even though they are not the ones they know?! Sure – if they don't kill each other first! The Kitty Pryde from the Age of Apocalpyse domain learned a long time ago not to trust anyone. Especially strangers from other realities who claim to be her boyfriend!
Star-Lord and Kitty Pryde are finally together in their own series! But are they TOGETHER together? The burgeoning romance of these two fan-favorite characters will be tested like never before on the surface of Battleworld. Will their love triumph across space and time? Or will the events of
Secret Wars
prove too much? The answers lie within True Believer – so don't miss
STAR-LORD AND KITTY PRYDE #1
on salte this June!
STAR-LORD AND KITTY PRYDE #1
Written by SAM HUMPHRIES
Art by ALTI FIRMANSYAH
Cover by YASMINE PUTRI
On Sale in JUNE!