MARVEL CELEBRATES SPIDER-MANíS BIRTHDAY AT NEW YORK COMIC CON!
10/08/12 @ 4:40 pm EST
Source:
Marvel
|
Comments
(0) |
E-mail Article
|
Add a Comment
New York, NY—October 8, 2012—Spider-Man is known as the World's Greatest Super Hero, and next week at New York Comic Con (Oct 11-14), join Marvel in celebrating his birthday! Next Sunday, October 14th is Spidey's birthday and for a Super Hero this big, we know nothing less than making history would be suitable—so in the days leading up this memorable day, Marvel is pulling out all the stops!
"Spider-Man is one of the most popular and special characters in the world, so we wanted to make sure we celebrated his birthday in a big way " said Dan Buckley, Publisher & President of the Print, Animation & Digital Divisions, Marvel Worldwide, Inc. "From working with the New York City Mayor's Office for a very special announcement, to partnering with our friends at Hallmark Cards to make history, we're ensuring that New York Comic Con is the place for fans of all ages to celebrate Spider-Man!"
First, don't miss the event that brings together the
New York City Mayor's Office and Marvel Entertainment
for a special proclamation of Marvel-ous proportions! At 10:15am on Friday, October, 12 in the Marvel booth (#1838), join Marvel Editor-in-Chief Axel Alonso, NYC Commissioner of Media and Entertainment Katherine Oliver, Captain America, and Spider-Man himself to kick off the celebration. Don't miss out on the big announcements and chance to be part of Marvel history!
"We are thrilled to welcome Comic-Con back to New York this year and especially excited to celebrate the birthday of a real New Yorker, Spider-Man!" said Katherine Oliver, Commissioner of the Mayor's Office of Media and Entertainment. Over the years, Spider-Man has helped showcase the best of what New York has to offer our friends in entertainment, and New York Comic Con is an opportunity to see just how many other creative minds are using this great city for inspiration and as a backdrop for their stories."
Then, be one of the first to sign the larger than life (6'x 8')
Spider-Man Birthday Card
, produced by Hallmark, as Marvel attempts to shatter the Guinness World Record for "Most Contributions to a Greeting Card." With the help of Marvel fans in attendance we're sure we can do it—but we have limited space on this giant card! This card will be on display in the Marvel booth (#1838) at different times each day, both for contributions and for photo ops, so make sure you check in frequently so you don't miss out!
On Saturday, October 13 head over to room 1E13 at NYCC for the "
Marvel Television Presents" Panel
! Jeph Loeb, Marvel's Head of Television, gives you the latest on season two of
Ultimate Spider-Man
, the hit animated series on Disney XD, along with an inside look at the anticipated new animated series,
Marvel's Avengers Assemble
and
Hulk and the Agents of S.M.A.S.H.
!
Then, on Sunday, October 14-- the final day of New York Comic Con—Marvel's celebrating the official birthday of Spider-Man with more events, news and fun than you can Thwip! First, in Room 1E07, check out the
Amazing Spider-Man & Beyond
panel, where the minds behind your Spider-Man comics come together to give you all the news about the wall-crawler. What's next for Spider-Man? Find out here!
Next, calling fans of all ages—come to the IGN Theatre for an interactive event like nothing you've ever seen before! The cast of
Spider-Man: Turn off The Dark
, the hit Broadway show, arrives at New York Comic Con for a panel—nay, a performance!—that involves you, fans of all-ages!
Did you get up early for New York Comic Con? Miss your Sunday Morning cartoons? We've got the solution-- come on down to the IGN Theatre to view one of the most acclaimed episodes of the
Ultimate Spider-Man
animated series.
"If you're a Spider-Man fan, then you'll have the time of your life at New York Comic Con" said Axel Alonso, Editor-in-Chief, Marvel Entertainment. "Sunday, October 14th is going to be a special day that all Marvel fans will remember!"
Plus, all convention long, check out the Marvel Booth (#1838) for special Spider-Man signing events with the creators behind your favorite comics, exclusive giveaways and more!
Can't make it to the convention? Follow along on the
Marvel Events App
&
events.marvel.com
, the best way to get exclusive videos, real-time announcements from the convention floor and up-to-the-minute panel, in-booth, and signing schedules of all your favorite Marvel creators!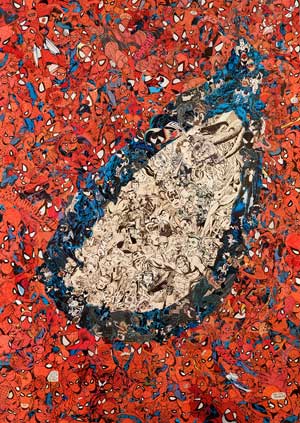 SHANE DAVIS DEALS WITH GODS & TROUBLED TEENS IN "AXCEND"
07/02/15 @ 4:18 pm EST
Source:
Comic Book Resources
| Categories:
Image
|
Comments
(0) |
E-mail Article
|
Add a Comment
When Eric Morn signed up to beta test a new online game, he thought it would be nothing more than a fun distraction from the dregs of his everyday life -- bullies in school and mourning the loss of his twin brother. But what he didn't realize was that by activating his in-game character, he would transform into a god-like hero, ready to protect the wo-rld from impending disaster. Alongside co-players Rayne and Ruin, Eric must now face society's fear of their powers and race to prevent a global nuclear holocaust. But can Eric level up in time, or will it be game over? That's the central question of "Axcend," the new ongoing Image Comics series announced today at Image Expo by writer/artist Shane Davis, inker Michelle Delecki and colorist Morry Hollowell. The series debuts October 7. Davis told CBR that, after roughly a decade drawing for DC Comics, he is ready to embrace creator-owned work.
RUCKA, SCOTT BRING 'BLACK MAGICK' TO IMAGE
07/02/15 @ 3:31 pm EST
Source:
Comic Book Resources
| Categories:
Image
|
Comments
(0) |
E-mail Article
|
Add a Comment


Greg Rucka announced during Image Expo that he is doubling down on his partnership with Image Comics, adding the supernatural series "Black Magick" to his workload in addition to his currently running Image series, "Lazarus."

Both Rucka and "Magick" artist Nicola Scott (DC's "Secret Six") were present at Image Expo to announce the series, which has been in production since 2010. Rucka recounted how he initially arrived at Image, saying that he first talked to Image partner Robert Kirkman about doing a series with the creator-driven publisher. While "Lazarus" came into existence first, Rucka revealed that "Black Magick" was what he initially discussed with Kirkman back in 2009 at WonderCon. Scott has been attached to the project since 2010.

"It's a police procedural, but it's not," Rucka said. "It's supernatural investigation, but it's not. It's a story of legacy and destiny, and bad things that go bump in the night." Rucka said they'll be doing a magazine-sized format issue, similar to what was done for the first issue of Ed Brubakerand Sean Phillips' Image series, "Criminal." "Because when Ed Brubaker has a good idea, I steal it," joked Rucka. "I have been waiting years to share this with you guys."

"Black Magick" is set to launch in October with the plan being to publish nine issues a year and for the series to run for 30 issues total.
'THANOS: THE INFINITY FINALE' COMING FROM STARLIN & LIM IN 2016
07/02/15 @ 3:14 pm EST
Source:
Comic Book Resources
| Categories:
Thanos
|
Comments
(0) |
E-mail Article
|
Add a Comment
In 2016, Jim Starlin and Ron Lim will reunite for Marvel Comics' "Thanos: The Infinity Finale," which will conclude their "Thanos" trilogy. The graphic novel will directly follow their work on "Thanos: The Infinity Revelation"and "Thanos: The Infinity Relativity."In an interview with Marvel.com, Starlin offered a few hints about what's to come in "The Infinity Finale," including why he chose Annihilus to face down Thanos: "I always thought him a great and bizarre villain and wanted to up his game and the stakes he played for to a level that would make him a worthy adversary for the Mad Titan. Plus with him getting the ultimate power source, it gave me a chance to play with some concepts I've longed to toy with." According to Starlin, those concepts include, but are not limited to, infinite realities, omni-reality perception, the instability of actuality and the limits of omnipotence.He also revealed that, when Thanos returns, he will not be alone -- whether or not his supporting cast likes it. "Quite a few of Marvel's more cosmic characters will be quite unwillingly showing up in this story, including but by no means limited to the Silver Surfer, Galactus, Gladiator, Thor, the Hulk, Black Bolt, Doctor Doom, etc," he shared. "There's also a
very special and unexpected guest star
stepping onto the stage near the end of our tale."As to what makes Lim the right artistic choice for this book, Starlin said, "Ron and I have always been on the same page when it comes to storytelling. We don't see each other all that often but that aspect of our relationship has remained strong through both time and space. Maybe we're cosmic twins? Besides, Ron started off with me on this tale, way back in the 'Thanos Annual.' It's only fitting we leave the dance together.""'Infinity Finale' just might be my swan song with these characters," he concluded, describing the book as "a fun-filled mind-blowing ride on the cosmic rollercoaster."Jim Starlin and Ron Lim's "Thanos: The Infinity Finale" is scheduled to arrive at retailers in 2016.
ARCHIE'S DARK CIRCLE INTRODUCES NEW TEEN HERO IN 'THE WEB'
07/02/15 @ 2:52 pm EST
Source:
Comic Book Resources
| Categories:
Archie
|
Comments
(0) |
E-mail Article
|
Add a Comment
The heroes of Archie's Dark Circle Comics imprint have a long legacy at the publisher. While virtually all of them have been re-imagined time and again over the years, one hero in particular has perhaps seen the most dramatic changes from one incarnation to the next.
And now, The Web will undergo its most drastic reinvention yet.
Since its 1942 debut, "The Web" has been cast as an avenging crimefighter, a harried husband, and a team of black ops agents. With the hero's new Dark Circle ongoing series, you can add "multi-ethnic teen girl cosplayer" to that mix. Coming on the heels of series like "Black Hood" and "The Fox," the new Web joins upcoming Dark Circle books "The Shield" and "The Hangman" in diversifying the tone of the line when it arrives in 2016.
CBR talked with "Web" writer, crime novelist Dave White, and the new comics scribe said that lead Jane Raymond fits in the legacy of previous Webs, that the mean streets of New Jersey make for fertile ground for a superhero story, and that cosplay and Internet fandom are a vital part of his "The Web."
NEW DEADPOOL IMAGE RELEASED
07/02/15 @ 2:38 pm EST
Source:
Comicbook
| Categories:
Deadpool
|
Comments
(0) |
E-mail Article
|
Add a Comment
20th Century Fox has released a new image of Ryan Reynolds as Deadpool.
Deadpool
, which will bring Marvel Comics' Merc With a Mouth to the big screen, is currently filming right now. But with San Diego Comic-Con right around the corner, a new image of Wade Wilson in action has surfaced from Entertainment Weekly. Starring Ryan Reynolds as the titular character,
Deapool
also features Morena Baccarin, T.J. Miller, and Gina Carano. It is directed by Tim Miller.
DEADPOOL CREATOR ROB LIEFELD HIDING 24 SKETCHES AT COMIC-CON
07/02/15 @ 2:33 pm EST
Source:
Comicbook
| Categories:
Deadpool
|
Comments
(0) |
E-mail Article
|
Add a Comment
Deadpool fans are going to be kept busy during next week's Comic-Con International: San Diego with a scavenger hunt featuring sketches by Deadpool's creator Robert Liefeld.
Liefeld will create 24 sketches, to be hidden around the convention and the surrounding Gaslamp Quarter. So if you see someone dressed up as the Merc with a Mouth curiously searching the streets, this is probably why.
"I'm celebrating the big, huge 24th year that Deadpool is having by hiding 24 Deadpool drawings in all shapes and sizes all over the greater comic con staging area," Liefeld tells ComicBook.com. "This extends from the convention center to the Gaslamp and surrounding restaurants. Also at the various parties I'll be attending. I want to give something back to the tremendous fan following Deadpool has had since I introduced him in the pages of
New Mutants
#98!"
The only way to know when and where Liefeld will be making the drops is by following him on
Twitter
,
Instagram
and Periscope! This year's Comic-Con International: San Diego takes place July 9-12, so get out there and start searching!Wade Wilson has a big year ahead of him as Ryan Reynolds is starring in Deadpool's first solo film.
Deadpool
is currently filming and opening in theaters in February.
COMIC-CON TO STAY IN SAN DIEGO THROUGH 2018
07/02/15 @ 2:26 pm EST
Source:
Variety
| Categories:
MIsc
|
Comments
(0) |
E-mail Article
|
Add a Comment
One of the largest pop culture conventions in the world is staying put, at least for another two years.Comic-Con organizers have reached a deal to remain in San Diego through 2018, sources confirm to
Variety
.
An announcement is expected later this morning.San Diego has been the home of Comic-Con since it first began in 1970, but with an average over 130,000 attendees in recent years, the event, held at the San Diego Convention Center, had begun to outgrow its Bayfront property.
Comic-Con organizers were strongly considering relocating to a larger convention center in Southern California, such as Los Angeles or Anaheim, when the current contract expires next year.
At the heart of the intense negotiations was San Diego mayor Kevin Faulconer trying to convince dozens of local hotels to keep the cost down on their room rates, which tend to skyrocket during the always sold-out event.
A spokesman for Comic-Con was not available for comment.
The 46th edition of the annual confab kicks off next week.
BATMAN V. SUPERMAN NEW PHOTO RELEASED, MORE DETAILS ON BATMAN & WAYNE MANOR
07/02/15 @ 2:22 pm EST
Source:
Comicbook
| Categories:
Batman Superman
|
Comments
(0) |
E-mail Article
|
Add a Comment
A new photo from Batman V. Superman: Dawn of Justice has been released online (via EW).
The new photo gives a new look at Ben Affleck as Bruce Wayne and Gal Gadot as Wonder Woman.
In addition to the photo, EW also has some new quotes from Ben Affleck about the role, as well as a description of Wayne Maynor.
Affleck describes Batman as being the American version of Hamlet, saying "We accept that he's played by actors with different interpretations."
Ben Affleck's Batman will be an older, more tired version of the character. "He's at the end of his run and maybe the end of his life," said Affleck. "There's this sort of world-weariness to it."
As photos have revealed, Ben Affleck looks the part of an older Bruce Wayne with gray streaks in his hair. What is most interesting is that EW also reveals a description of Wayne Manor, which is said to be "a desolate husk, overtaken by weeds and water-stains after years of neglect."
AARON, BIANCHI REVEAL SECRET HISTORY OF OBI-WAN KENOBI IN "STAR WARS" #7
07/02/15 @ 2:17 pm EST
Source:
Comic Book Resources
| Categories:
Star Wars
|
Comments
(0) |
E-mail Article
|
Add a Comment
This month, experience a very special issue of the blockbuster Star Wars series as special guest artist Simone Bianchi (Thanos Rising, Astonishing X-Men) joins chart-topping writer Jason Aaron for a look back into the past with STAR WARS #7!
Luke Skywalker has uncovered the journals of his departed mentor Obi-Wan Kenobi. Now, experience Kenobi's harrowing accounts of days long gone by! It is a time when injustice reigned on Tattooine. As villainous scum runs rampant over the blistering sands, only a Jedi Master stands any hope of liberating the planet from the grasp of gangs, thieves and thugs.
But would Ben risk everything to do what was right? Even if it meant revealing himself to those searching for his whereabouts?
Find out as Aaron & Bianchi bring you STAR WARS #7!
THE WALKING DEAD SEASON 6: FIRST LOOK AT DARYL, MAGGIE, & GLENN
07/02/15 @ 12:03 pm EST
Source:
Comicbook
| Categories:
Walking Dead
|
Comments
(0) |
E-mail Article
|
Add a Comment
AMC has released the first images from Season 6 of
The Walking Dead
, featuring Daryl (Norman Reedus), Glenn (Steven Yuen), and Maggie (Lauren Cohan).As noted in the report from EW, the Maggie appears to be inside of Alexandria. With gun drawn, you have to wonder who she's aiming at. Glenn, also with weapon drawn, is sporting some nasty facial wounds, which may or may not be left over from his scuffle with Nicholas.AMC will released the first trailer for Season 6 at Comic-Con International: San Diego next week.
The Walking Dead
will return to AMC this fall.