MARVEL CELEBRATES SPIDER-MAN'S BIRTHDAY AT NEW YORK COMIC CON!
10/08/12 @ 4:40 pm EST
Source:
Marvel
|
Comments
(0) |
E-mail Article
|
Add a Comment
New York, NY—October 8, 2012—Spider-Man is known as the World's Greatest Super Hero, and next week at New York Comic Con (Oct 11-14), join Marvel in celebrating his birthday! Next Sunday, October 14th is Spidey's birthday and for a Super Hero this big, we know nothing less than making history would be suitable—so in the days leading up this memorable day, Marvel is pulling out all the stops!
"Spider-Man is one of the most popular and special characters in the world, so we wanted to make sure we celebrated his birthday in a big way " said Dan Buckley, Publisher & President of the Print, Animation & Digital Divisions, Marvel Worldwide, Inc. "From working with the New York City Mayor's Office for a very special announcement, to partnering with our friends at Hallmark Cards to make history, we're ensuring that New York Comic Con is the place for fans of all ages to celebrate Spider-Man!"
First, don't miss the event that brings together the
New York City Mayor's Office and Marvel Entertainment
for a special proclamation of Marvel-ous proportions! At 10:15am on Friday, October, 12 in the Marvel booth (#1838), join Marvel Editor-in-Chief Axel Alonso, NYC Commissioner of Media and Entertainment Katherine Oliver, Captain America, and Spider-Man himself to kick off the celebration. Don't miss out on the big announcements and chance to be part of Marvel history!
"We are thrilled to welcome Comic-Con back to New York this year and especially excited to celebrate the birthday of a real New Yorker, Spider-Man!" said Katherine Oliver, Commissioner of the Mayor's Office of Media and Entertainment. Over the years, Spider-Man has helped showcase the best of what New York has to offer our friends in entertainment, and New York Comic Con is an opportunity to see just how many other creative minds are using this great city for inspiration and as a backdrop for their stories."
Then, be one of the first to sign the larger than life (6'x 8')
Spider-Man Birthday Card
, produced by Hallmark, as Marvel attempts to shatter the Guinness World Record for "Most Contributions to a Greeting Card." With the help of Marvel fans in attendance we're sure we can do it—but we have limited space on this giant card! This card will be on display in the Marvel booth (#1838) at different times each day, both for contributions and for photo ops, so make sure you check in frequently so you don't miss out!
On Saturday, October 13 head over to room 1E13 at NYCC for the "
Marvel Television Presents" Panel
! Jeph Loeb, Marvel's Head of Television, gives you the latest on season two of
Ultimate Spider-Man
, the hit animated series on Disney XD, along with an inside look at the anticipated new animated series,
Marvel's Avengers Assemble
and
Hulk and the Agents of S.M.A.S.H.
!
Then, on Sunday, October 14-- the final day of New York Comic Con—Marvel's celebrating the official birthday of Spider-Man with more events, news and fun than you can Thwip! First, in Room 1E07, check out the
Amazing Spider-Man & Beyond
panel, where the minds behind your Spider-Man comics come together to give you all the news about the wall-crawler. What's next for Spider-Man? Find out here!
Next, calling fans of all ages—come to the IGN Theatre for an interactive event like nothing you've ever seen before! The cast of
Spider-Man: Turn off The Dark
, the hit Broadway show, arrives at New York Comic Con for a panel—nay, a performance!—that involves you, fans of all-ages!
Did you get up early for New York Comic Con? Miss your Sunday Morning cartoons? We've got the solution-- come on down to the IGN Theatre to view one of the most acclaimed episodes of the
Ultimate Spider-Man
animated series.
"If you're a Spider-Man fan, then you'll have the time of your life at New York Comic Con" said Axel Alonso, Editor-in-Chief, Marvel Entertainment. "Sunday, October 14th is going to be a special day that all Marvel fans will remember!"
Plus, all convention long, check out the Marvel Booth (#1838) for special Spider-Man signing events with the creators behind your favorite comics, exclusive giveaways and more!
Can't make it to the convention? Follow along on the
Marvel Events App
&
events.marvel.com
, the best way to get exclusive videos, real-time announcements from the convention floor and up-to-the-minute panel, in-booth, and signing schedules of all your favorite Marvel creators!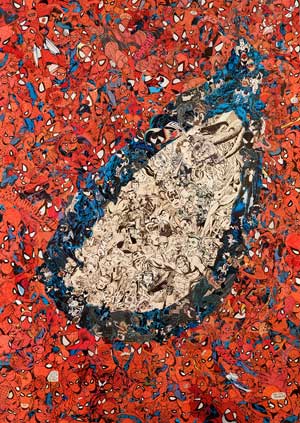 AMC ORDERS LATE-NIGHT TALK SHOW FROM KEVIN SMITH AND GREG GRUNBERG
02/11/16 @ 5:17 pm EST
Source:
The Hollywood Reporter
| Categories:
MIsc
|
Comments
(0) |
E-mail Article
|
Add a Comment
AMC is quite fond of Kevin Smith. The cable network, which has been home to the filmmaker's
Comic Book Men
since 2012, has now ordered a late-night talk show vehicle for him.
Geeking Out
will find the comic personality joined by Greg Grunberg offering up a 30-minute take on popular culture.
"AMC has been my TV family for five seasons of
Comic Book Men
now, so I know that
Geeking Out
is in the perfect, fan-friendly network hands," said Smith. "I can't wait to lose fluids on the airwaves of my favorite channel over the genre gems we're gonna get insider access to due to gregarious Greg's bonafides! And to make it even more of a family affair,
Geeking Out
lets me work with the Weinsteins again - the two guys who started my career 22 years ago! I'm lucky to be working at all, let alone working with friends and family on a dream show where all we do is talk about all the media that makes us moist!"
As Smith mentions in his lengthy statement, the nine-episode series will be produced by Matador Content and The Weinstein Company with Bandwagon Media with Jay Peterson, Patrick Reardon, Smith and Grunberg serving as executive producers. The show will air a special premiere after Comic-Con International: San Diego in late July, followed by eight weekly outings.
It's the second time that AMC has attempted to give Smith a talk vehicle. The cable network filmed a pilot version of his
Hollywood Babble-On
show that ultimately didn't go.
"Kevin and Greg are both true fans of this content, and share a deep passion for talking about it, and engaging other fans about it. But it is their natural chemistry as hosts that really brings this idea together," said AMC president of original programming and development Joel Stillerman. "As part of our growing non-fiction slate, we wanted to create a broadly entertaining venue for hardcore fans and general viewers where we can break down all things fanboy on a weekly basis; and we wanted to bring those fans great interviews and exclusive looks into the world of fanboy culture. We look forward to sharing this highly entertaining duo with our viewers."
Grunberg, whose latest gig was reprising his old
Heroes
role for NBC's
Heroes Reborn
, is a new addition to the talk space — as is AMC. It's an arena where many cable networks have sought to go in recent years, meeting success (Bravo's Watch What Happens Live) and failure (FX's Totally Biased with W. Kamau Bell and Brand X with Russell Brand). Just this February, TBS added its second talker with Samantha Bee's
Full Frontal
.
"THE LAST DAYS OF MAGIC" STARTS NOW – YOUR FIRST LOOK AT DOCTOR STRANGE #6
02/11/16 @ 4:55 pm EST
Source:
Marvel
| Categories:
Doctor Strange
|
Comments
(0) |
E-mail Article
|
Add a Comment
By the hoary hosts of Hoggoth, the second arc of Doctor Strange starts here! Today, Marvel is pleased to present your first look inside
DOCTOR STRANGE #6
– the first chapter of "The Last Days of Magic", coming at you from blockbuster creators Jason Aaron and Chris Bachalo! He is the Sorcerer Supreme. The best defense against magical threats from this and any universe. But what happens when his foe's mission is to eradicate magic forever? The Emperikul have arrived, leaving universes cleansed of magic in their wake. Their next target? The Marvel Universe! Even at full strength he may not be able to stop them. But with Doctor Strange weakened beyond measure? We don't stand a chance! Now is your chance to jump on board this hit series as the war for magic heats up in March's
DOCTOR STRANGE #6
!
DOCTOR STRANGE #6 (JAN160874)Written by JASON AARONArt & Cover by CHRIS BACHALOStory Thus Far Variant by KRIS ANKA (JAN160875)Classic Variant by BUTCH GUICE (JAN160876)FOC – 02/15/16, On-Sale – 03/09/16
STAR WARS' PRODUCERS CHARGED OVER HARRISON FORD ACCIDENT
02/11/16 @ 4:36 pm EST
Source:
Variety
| Categories:
Star Wars
|
Comments
(0) |
E-mail Article
|
Add a Comment
The British government has issued criminal charges against producers of "Star Wars: The Force Awakens" for alleged violations over an on-set accident in which Harrison Ford broke his leg.
The Health and Safety Executive said Thursday it had charged Disney subsidiary Foodles Production (U.K.) Ltd. with four violations of workplace health and safety laws. "By law, employers must take reasonable steps to protect workers — this is as true on a film set as a factory floor," it said.
Ford broke his leg in June 2014, after he was hit by a hydraulic door while filming a scene with the Millennium Falcon at Pinewood Studios near London. Production on the film was suspended for two weeks after the injury to Ford, who portrays the iconic Han Solo in the film.
The Millenium Falcon is the spaceship piloted by Solo. Ford was 71 at the time of accident.
A spokesperson for Foodles Production said in response: "Cast and crew safety is always a top priority. We provided full cooperation during HSE's investigation into the on-set accident that occurred in June 2014 and are disappointed in HSE's decision."
The first court hearing is scheduled for May at High Wycombe Magistrates' Court.
"Star Wars: The Force Awakens" has grossed more than $2 billion at the worldwide box office since its release two months ago.
THE 'POWERPUFF GIRLS' ARE BACK IN ACTION IN THE FIRST CLIP FROM THE NEW SERIES
02/11/16 @ 4:32 pm EST
Source:
Comic Book Resources
| Categories:
MIsc
|
Comments
(0) |
E-mail Article
|
Add a Comment
In the first clip from Cartoon Network's new "Powerpuff Girls" series, Buttercup teaches Manboy — a foe who "has vowed to turn the city of Townsville into the city of Mansville" — a lesson after he calls her "princess."
Created by Craig McCracken, "The Powerpuff Girls" originally aired from 1998 to 2004, and chronicled the adventures of three super-powered girls created by scientist Professor Utonium. The 78-episode run also inspired a 2003 feature film, a 10th-anniversary special and, last year, the reimagined CG-animated special.
The new series will look much like the original — as opposed to the 2014 "Powerpuff Girls Special: Dance Pantsed." However, the voice cast is
mostly
new, featuring Amanda Leighton ("The Fosters") as Blossom, Kristen Li as Bubbles and Natalie Palamides as Buttercup, with series veteran Tom Kenny reprising his role as the Narrator/Mayor.
The new series, which debuts in April, is executive produced by Nick Jennings ("Adventure Time") and co-executive produced by "Wow! Wow! Wubbzy!" creator Bob Boyle.
Clip:
https://youtu.be/kUXprMizqIs
LEGENDS OF TOMORROW CLIP: WHITE CANARY TRAINS HAWKGIRL
02/11/16 @ 4:27 pm EST
Source:
Comicbook
| Categories:
DC
|
Comments
(0) |
E-mail Article
|
Add a Comment
Both dealing with their own version of anger management issues, White Canary (Caity Lotz) sets about training Hawkgirl (Ciara Renee) in this new clip from tonight's episode of
DC's Legends of Tomorrow
, provided exclusively to ComicBook.com.
Before joining up with the Legends, Sara Lance was an assassin who has spent much of the last three years either dead, or killing people. Kendra Saunders, meanwhile, worked at Jitters right up until the moment when Vandal Savage started trying to kill her, revealing her connections to an ancient Egyptian hawk god.
You can check out their training session here:
https://youtu.be/KxAr2emsXwE
LEGO STAR WARS' SERIES COMING TO DISNEY XD
02/11/16 @ 4:24 pm EST
Source:
Variety
| Categories:
Star Wars
|
Comments
(0) |
E-mail Article
|
Add a Comment
Disney XD is launching a new series that combines two of pop culture's hottest properties: "Lego Star Wars: The Freemaker Adventures," an animated adventure comedy scheduled to debut this summer.

The series, set between "Star Wars: Episode V – The Empire Strikes Back" and "Episode VI – Return of the Jedi," centers around new characters the Freemakers, a family of scavengers who build and sell starships from the scoured debris of space battles strewn throughout the galaxy. When their youngest discovers a natural connection with the Force through an ancient artifact — the Kyber Saber — his world is turned upside down, and he and his family are thrown into an epic struggle against the Empire to restore peace and freedom to the galaxy. Throughout their adventures, the Freemakers explore new worlds, meet new and familiar characters, and learn the true value of what it means to be a family.

"We are very excited to launch for the first time a TV series with Disney XD," said Jill Wilfert, vice president, licensing & entertainment at the Lego Group. "The creative team behind 'The Freemaker Adventures' is extremely talented, and the series is a great testament to our longstanding and successful partnership with Lucasfilm and Disney. The show masterfully combines the rich heritage of storytelling, great characters, action and adventure in a galaxy far, far away with the creativity, imagination and humor that only 'Lego Star Wars' can deliver. We are sure fans young and old are going to love the show."

"With 'The Freemaker Adventures' we are thrilled to bring all new stories to life that could only be realized in the 'Lego Star Wars' universe," said Carrie Beck, vice president, animation development at Lucasfilm. "We are embarking on an unprecedented collaboration that will allow us to extend the narrative experience of the 'Star Wars' saga with the same playful spirit that's always made 'Lego Star Wars' so much fun to watch. We are so thankful to have such great partners in the Lego Group, Disney XD and series developers Bill Motz and Bob Roth."

Disney XD and Lego previously collaborated on miniseries "Lego Star Wars: Droid Tales." Disney XD is also the home of hit animated series "Star Wars Rebels," which takes place between Revenge of the Sith" and "A New Hope." The latest in a long line of video game collaborations between Lego and Lucasfilm, "Lego Star Wars: The Force Awakens," will be released this June.

"Lego Star Wars: The Freemaker Adventures" hails from Wil Film, the Lego Group and Lucasfilm. Developed for television by Bill Motz and Bob Roth, they join Wilfert and Torsten Jacobson as executive producers alongside producers Carrie Beck, Jason Cosler, Jake Blais and John McCormack.

Check out the key art for the new series below.


"GOTHAM'S" AZRAEL WILL BE "DIFFERENT THAN ANYTHING WE'VE SEEN IN COMICS," SAYS EP
02/11/16 @ 4:18 pm EST
Source:
Comic Book Resources
| Categories:
Gotham
|
Comments
(0) |
E-mail Article
|
Add a Comment
Azrael is headed to "Gotham," and executive producer John Stephens revealed that the show's version of the character will have a "brand-new twist."
"In many respects, Azrael will have many of the hallmarks and traits that we know from the comics," Stephens told ComicBook.com. "But it will have a brand-new twist upon that character; the way we're going to bring that character into being on our show will be different than anything we've seen in the comics."
"It will be identifiable as Azrael in all respects, just a version of him we've not seen before, which is the point of doing these! How can we do the character with a fresh twist?" he added.
A clip released in November teased Theo Galavan's ties to the Order of St. Dumas, the organization that trained Azrael in the comics. The Order was once a faction of the Knight Templar, a religious sect dating back to the crusades. Azrael was a member of a splinter group of the modern incarnation of the Order. An extremist vigilante who not only meted justice on the villains of Gotham CIty, Azrael actually took on the mantle of Batman during a period when Bruce Wayne's back was broken.
"The Order of St. Dumas features pretty heavily into [Batman lore," Stephens said in an earlier interview with CBR. "Anyone who is deeply involved in the Batman world knows the Order of St. Dumas is also the order of monks who created Azrael. That is sort of prefiguring where we're going to be going towards the end of the season, setting up certain ideas like proto-versions of what Batman might become. Bruce can start to see characters that are going to inform the costumed hero that he is going to be in the years to come. The Order of St. Dumas will almost provide a negative example which will guide him on a certain path.
Starring Ben McKenzie, Donal Logue and David Mazouz, "Gotham" returns Monday, February 29 at 8 pm EST on Fox.
BOX OFFICE: RYAN REYNOLDS' 'DEADPOOL' BLASTS OFF OVERSEAS WEDNESDAY WITH $12M
02/11/16 @ 4:08 pm EST
Source:
The Hollywood Reporter
| Categories:
Deadpool
|
Comments
(0) |
E-mail Article
|
Add a Comment
Ryan Reynolds'
Deadpool
scored an impressive $12 million from its first seven international markets on Wednesday.
The raunchy superhero movie — which begins rolling out in the U.S. Thursday night — earned $3.4 million in the U.K., one of the biggest opening days in history for a Marvel title in history despite its more restrictive 15-rated movie. And for Imax theaters in the British isles, it was the second highest Wednesday opening behind
Spectre
.
That was followed by $2.1 million in Australia, where it commanded 75 percent of the market, and $1.8 million in France.
In the U.K. and France, the Fox and Marvel release came in well ahead of
X-Men: Days of Future Past
.
And
Deadpool
broke records for Fox in Taiwan with $1.4 million, the biggest opening day ever the studio.
SOOK, LOTAY, LEE & MORE COVER VALIANT'S "4001 AD" #1
02/11/16 @ 3:54 pm EST
Source:
Comic Book Resources
| Categories:
MIsc
|
Comments
(0) |
E-mail Article
|
Add a Comment
"4001 AD," Valiant Entertainment's big summer event storyline, is not only epic in scope, the publisher promises it will be new-reader friendly as well.
Today, Valiant announced the expansion of the event beyond the main series to include four special one-shot tie-ins to accompany the core "4001 AD" miniseries, along with "Rai" issues that will collectively comprise the bulk of the event.
CBR had the
exclusive
debut at three more pages from "4001 AD" #1, illustrated byClayton Crain from a script by Matt Kindt. Additionally, we have the first look at a number of variant covers for "4001 AD" by Tula Lotay, Ryan Sook, Clayton Henry, Ryan Lee and Ryan Bodenheim.
Check out the art below, as well as Valiant's promo art for event tie-ins.
"4001 AD" #1 variant by Tula Lotay
"4001 AD" #1 variant by Ryan Bodenheim
"4001 AD" #1 VALIANT x CGC REPLICA VARIANT by Clayton Henry
"4001 AD" #1 CHARACTER DESIGN VARIANT by Clayton Crain
"4001 AD" #1 INTERLOCKING MEGA-COVER VARIANT by Ryan Lee
"4001 AD" #1 INTERLOCKING ARTIST VARIANT by Ryan Sook
"4001 AD" #1 INTERLOCKING B&W SKETCH ARTIST VARIANT by Ryan Sook
Three of Clayton Crain's interior pages from "4001 AD" #1
WONDER WOMAN SPEAKS, BATMAN BRAWLS IN FINAL "BATMAN V SUPERMAN" TRAILER
02/11/16 @ 3:43 pm EST
Source:
Comic Book Resources
| Categories:
Batman Superman
|
Comments
(0) |
E-mail Article
|
Add a Comment
Warner Bros. has unleashed the final trailer for "Batman v Superman: Dawn of Justice." Thefootage includes a number of massive moments: Wonder Woman (Gal Gadot) speaks for the first time in a trailer, offering up both a witty remark to Bruce Wayne (Ben Affleck) as well as a ferocious battle cry. The trailer also opens up with a lengthy showcase of Batman's crime-fighting abilities as he cuts his way through a group of armed criminals.
Video:
https://youtu.be/9aaAYQ6WozE