MARVEL CELEBRATES SPIDER-MAN'S BIRTHDAY AT NEW YORK COMIC CON!
10/08/12 @ 4:40 pm EST
Source:
Marvel
|
Comments
(0) |
E-mail Article
|
Add a Comment
New York, NY—October 8, 2012—Spider-Man is known as the World's Greatest Super Hero, and next week at New York Comic Con (Oct 11-14), join Marvel in celebrating his birthday! Next Sunday, October 14th is Spidey's birthday and for a Super Hero this big, we know nothing less than making history would be suitable—so in the days leading up this memorable day, Marvel is pulling out all the stops!
"Spider-Man is one of the most popular and special characters in the world, so we wanted to make sure we celebrated his birthday in a big way " said Dan Buckley, Publisher & President of the Print, Animation & Digital Divisions, Marvel Worldwide, Inc. "From working with the New York City Mayor's Office for a very special announcement, to partnering with our friends at Hallmark Cards to make history, we're ensuring that New York Comic Con is the place for fans of all ages to celebrate Spider-Man!"
First, don't miss the event that brings together the
New York City Mayor's Office and Marvel Entertainment
for a special proclamation of Marvel-ous proportions! At 10:15am on Friday, October, 12 in the Marvel booth (#1838), join Marvel Editor-in-Chief Axel Alonso, NYC Commissioner of Media and Entertainment Katherine Oliver, Captain America, and Spider-Man himself to kick off the celebration. Don't miss out on the big announcements and chance to be part of Marvel history!
"We are thrilled to welcome Comic-Con back to New York this year and especially excited to celebrate the birthday of a real New Yorker, Spider-Man!" said Katherine Oliver, Commissioner of the Mayor's Office of Media and Entertainment. Over the years, Spider-Man has helped showcase the best of what New York has to offer our friends in entertainment, and New York Comic Con is an opportunity to see just how many other creative minds are using this great city for inspiration and as a backdrop for their stories."
Then, be one of the first to sign the larger than life (6'x 8')
Spider-Man Birthday Card
, produced by Hallmark, as Marvel attempts to shatter the Guinness World Record for "Most Contributions to a Greeting Card." With the help of Marvel fans in attendance we're sure we can do it—but we have limited space on this giant card! This card will be on display in the Marvel booth (#1838) at different times each day, both for contributions and for photo ops, so make sure you check in frequently so you don't miss out!
On Saturday, October 13 head over to room 1E13 at NYCC for the "
Marvel Television Presents" Panel
! Jeph Loeb, Marvel's Head of Television, gives you the latest on season two of
Ultimate Spider-Man
, the hit animated series on Disney XD, along with an inside look at the anticipated new animated series,
Marvel's Avengers Assemble
and
Hulk and the Agents of S.M.A.S.H.
!
Then, on Sunday, October 14-- the final day of New York Comic Con—Marvel's celebrating the official birthday of Spider-Man with more events, news and fun than you can Thwip! First, in Room 1E07, check out the
Amazing Spider-Man & Beyond
panel, where the minds behind your Spider-Man comics come together to give you all the news about the wall-crawler. What's next for Spider-Man? Find out here!
Next, calling fans of all ages—come to the IGN Theatre for an interactive event like nothing you've ever seen before! The cast of
Spider-Man: Turn off The Dark
, the hit Broadway show, arrives at New York Comic Con for a panel—nay, a performance!—that involves you, fans of all-ages!
Did you get up early for New York Comic Con? Miss your Sunday Morning cartoons? We've got the solution-- come on down to the IGN Theatre to view one of the most acclaimed episodes of the
Ultimate Spider-Man
animated series.
"If you're a Spider-Man fan, then you'll have the time of your life at New York Comic Con" said Axel Alonso, Editor-in-Chief, Marvel Entertainment. "Sunday, October 14th is going to be a special day that all Marvel fans will remember!"
Plus, all convention long, check out the Marvel Booth (#1838) for special Spider-Man signing events with the creators behind your favorite comics, exclusive giveaways and more!
Can't make it to the convention? Follow along on the
Marvel Events App
&
events.marvel.com
, the best way to get exclusive videos, real-time announcements from the convention floor and up-to-the-minute panel, in-booth, and signing schedules of all your favorite Marvel creators!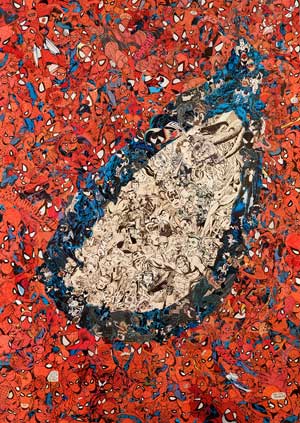 WHY DO ARTIST WANT TO DESTROY THIS COMIC STORE?
10/03/15 @ 9:38 pm EST
Source:
Bleeding Cool
| Categories:
Dynamite
|
Comments
(0) |
E-mail Article
|
Add a Comment
Super-Fly Comics & Games
has seen better days… at least on the cover of comic books. After the store was done in on the retailer exclusive cover for
IDW's Godzilla: Kingdom Of Monsters
… it is once again smashed, but this time by a giant
Grumpy Cat
in
Ken Haeser's
retailer exclusive cover for
The Misadventures of Grumpy Cat (And Pokey) #1
from
Dynamite
.
Choosing to have your store destroyed twice… maybe the owners really want to remodel.
SUPER GRUMPY CAT ACTION FIGURE HITS RETAILER EXCLUSIVE COVER
10/03/15 @ 9:23 pm EST
Source:
Bleeding Cool
| Categories:
Dynamite
|
Comments
(0) |
E-mail Article
|
Add a Comment
A lot of retailers are jumping on the Dynamite / Grumpy Catbandwagon, doing up store exclusives for the book. This one here is by Ken Haeser and features an Super Grumpy Cat action figure. The cover is for Third-Eye Comics with two locations in Maryland.
ANIMATOR JAY HOWELL COVERS BOB'S BURGERS TRADE
10/03/15 @ 9:19 pm EST
Source:
Bleeding Cool
| Categories:
Dynamite
|
Comments
(0) |
E-mail Article
|
Add a Comment
Dynamite
has released a new cover image for the
Bob's Burgers: Medium Rare
trade. This cover is by
Jay Howell
who is an animator on the television series. The final order cutoff for the trade is Monday.
For more information on Bob's Burgers: Medium Rare trade,
click here
.
BAD COMPANY JUST RETURNED TO 2000AD WITH PETER MILLIGAN
10/03/15 @ 9:12 pm EST
Source:
Bleeding Cool
| Categories:
MIsc
|
Comments
(0) |
E-mail Article
|
Add a Comment
Bad Company
was a
2000AD
comic strip
Alan Grant
and
John Wagner
, but that was recreated from the ground up by
Peter Milligan, Brett Ewins
and
Jim McCarthy
when it launched in 1986 with
2000AD
#500.
A science fiction war comic it sees the survivors of a platoon banding together, made up of all manner of strange individuals.
The last time they appeared was in 2002… but now it's time for a revival.
At the end of a fairly generic series of Q&A atRecondite Pictures website, Peter Milligan mentioned his previously announced Vertigo series
New Romancer
… and then told us "Doing a new bad company series with 2000AD. Have a number of other things in the pipeline, bit too soon to talk about them."
And it started this week, as a tribute to his late partner and co-creator of the series, Brett Ewins, drawn by
Rufus Dayglo
and
J McCarthy.Bad Company // First Casualties
(Part: 1):
It has been a decade since mankind fought a vicious war against the alien species the Krool on the planet Ararat. Young Private Danny Franks was just a raw recruit until he was drafted into the ragtag guerrilla unit known as BAD COMPANY, commanded by the psychopathic Kano. The conflict ended when Ararat exploded, and much of Bad Company was killed or listed MIA — now, as Earth prepares to mark the ten-year anniversary, Franks and fellow ex-soldiers Thrax, Mad Tommy and Fly-Trap are living in a veterans' compound, dosed on psyche-chem to keep the nightmares at bay…
THERE'S A NEW SERIAL KILLER IN TOWN IN NAILBITER'S SECOND ARC
10/03/15 @ 9:04 pm EST
Source:
Bleeding Cool
| Categories:
Image
|
Comments
(0) |
E-mail Article
|
Add a Comment
A new
Nailbiter
story ARC will begin this November from
Image Comics
! Written by
Joshua Williamson
(
Ghosted, Birthright
), with art by
Mike Henderson
(
Venom, Carnage
)
Nailbiter
#17 will feature a new serial killer!
Previously in
Nailbiter
, NSA agent Nicholas Finch found himself roped into the mystery of Buckaroo, Oregon, where sixteen of the world's vilest serial killers were spawned, only to find his colleague mutilated and thus unable to share his theory. The only person who seemed capable of shedding some light on this dark mystery was the monstrous Nailbiter himself, and Finch is a man who knows how to make people talk.
Williamson talked about the new issue by saying:
Nailbiter #17 is the start of a brand new story arc that pushes the mystery forward in big ways. Finch, Crane, Barker, Alice, Warren, and Carroll suffered heavy losses in the last arc and have scattered. This arc we've nicknamed 'The Devil went down to Georgia,' and it highlights a NEW SERIAL KILLER! A brutal and demented serial killer is on the loose in Atlanta, Georgia…is the killer from Buckaroo? Is it the new Buckaroo Butcher?" He added, "And this arc opens with probably our most violent and horrific scene yet! This whole arc is building to something HUGE in Nailbiter.
Henderson added:
We're finally back to the bloody mystery of Warren, and Crane goes Lone Ranger on the town of Buckaroo while Finch is away. This is probably our wildest story arc, and if it makes even one reader squirm or say 'ew' out loud as much as I did while drawing it, I'll mark it down as a win. And we're just getting started.
NAILBITER #17
(Diamond code SEP150511) hits stores Wednesday, November 4th. Final order cutoff deadline for retailers is Monday, October 12th.
MARK WAID DISCUSSES JUSTICE INC: THE AVENGER
10/03/15 @ 4:11 pm EST
Source:
Comic Vine
| Categories:
Dynamite
|
Comments
(0) |
E-mail Article
|
Add a Comment
Mark Waid, the writer of JUSTICE INC: THE AVENGER, talked to Bryon Brewer about what's coming down the line for his series at Dynamite.
BYRON BREWER: Mark, I know how much you love this book. In November, you will have worked your way up to issue #6. Has it been the book you wanted it to be thus far?MARK WAID:
Even moreso, in no small part thanks to our artistRonilson, who brings a great and accomplished expressiveness to the book's star, Richard Benson -- "accomplished" because Benson's whole gimmick is that his face is lifeless putty, and yet Ronilson makes it work!
BB: Following the above, do you think this is educating a new generation on The Avenger, a pulp hero of lesser-known esteem than the Shadow or Doc Savage?MW:
I think so. I hope so. All I can do is show you why I love Benson and Justice Inc. and hope you love them too. So far, the response has been terrific, especially from readers new to the characters.
BB: Can you explain how you and Christopher Sequeira operate in your co-writing process please?MW:
Christopher and I have known one another for years. He's a very impressive Australian writer and, like me, really loves the Justice Inc. world. Chris and I talk story ideas back and forth and work up a beat sheet, then Chris does the first-draft scripting and I make a pass over it, adding and subtracting little things and sharing my voice.
BB: Can you give us any hints at all about this "villain with a grudge" (solicits) appearing in #6 in November? Is this someone we have seen before?MW:
It's not anyone we've seen before -- but it would seem to be someone Justice Inc. knows all too well.
BB: Are we going to see any new members for the Justice Inc. gang? Or perhaps current members redefined? A change of relationship with The Avenger?MW:
We did flout continuity a little this time to add Cole Wilson to the team. In the original pulps, he was a later addition, but he brings a level of charisma and humor to the series that Sequiera and I couldn't miss out on.
BB: This book is certainly getting buzz around my LCS like none of the pulps before. Everyone is fascinated with the "Man of a Thousand Faces." Have you found this to be true with your own conversations with fandom?MW:
I really have! It's pretty awesome -- like watching your friends get turned on by a band you love that they've never heard of. We're eager to deliver to sate their newfound thirst!
JUSTICE INC: THE AVENGER #6 comes out on November 25.
RON MARZ TALKS JOHN CARTER AND UPCOMING STORYLINES
10/03/15 @ 4:01 pm EST
Source:
Comic Vine
| Categories:
Dynamite
|
Comments
(0) |
E-mail Article
|
Add a Comment
Writer Ron Marz has been delivering some exciting story lines in his Dynamite book JOHN CARTER: WARLORD OF MARS. Marz discussed the book and his upcoming story lines with the publisher, Dynamite.
Cover by Jonathan Lau
DYNAMITE: Ron, how have you enjoyed your stint on John Carter? It will certainly be regarded as a classic run with the characters.RON MARZ:
Loved it! I've had such a great time playing with all these toys, my only regret is that we're unable to keep it going. I have a lot more stories with John and Dejah and Tars rolling around in my head, and I hope to be able to tell them.
DYNAMITE: Any surprises along the way?RM:
I think the only surprise was how much of a role the landscape itself ended up playing. I knew Barsoom was going to be a character all on its own, but the landscape ended up taking on an even larger role than I expected. It's almost like the landscape in the best Westerns, like "The Searchers."
DYNAMITE: How has it been working with Ariel Medel (who is doing #14, which comes out this December) as well as the rest? Would you say the art was one of the highlights of this book?RM:
The art has absolutely been a highlight, both the interiors and covers. Working with Ariel Medel and Abhishek Malsuni has been great. They're in the same ballpark stylistically, so I think the look of the series has a nice cohesion to it. There's a classic sensibility to their lines, which I think is quite fitting for the series. We're trying to tell classic adventure stories, and what Ariel and Abhishek do is perfect fit for that.
DYNAMITE: I thought the Tars issue was well done and a great experiment. Have you receive any reactions, because there were raves around my LCS.RM:
I just got back from a couple of conventions, and I got positive feedback from some hardcore Edgar Rice Burroughs fans about the series in general, and the Tars issue in specific. That's really gratifying, to be getting that kind of reaction from what you would expect to be the most critical segment of the audience.
DYNAMITE: In the upcoming #14 in December, after their little jaunt through one- and two-issue stories, return to Helium but the city is deserted. Can you give us any background at all, non-spoilery of course?RM:
Well, obviously the story is a mystery, so I don't want to say too much. But the genesis of the story was me getting the mental image of John and Dejah in a completely deserted Helium. The image of their tiny figures in the vast, empty cityscape kind of bubbled up from my subconscious, and the whole story grew from there.
DYNAMITE: Finally, an overall plot thread: Do we ever discover a solution for the vanishing atmosphere of the Red Planet? IS there a solution?RM:
That's not the kind of problem that should be solved quickly, or without great struggle. Heroes have to earn their victories, and that's a big one to earn. Maybe someday we'll get to tell that story.
JOHN CARTER: WARLORD OF MARS #12 will be on sale October 28.
WAYWARD DELUXE ARRIVES IN STORES OCTOBER 14TH.
10/03/15 @ 11:26 am EST
Source:
Image
| Categories:
MIsc
|
Comments
(0) |
E-mail Article
|
Add a Comment
WAYWARD Deluxe: Book One!
By Jim Zub and Steven Cummings from Image Comics
Here are some features:
WAYWARD DELUXE BOOK ONE
• 320 pages
• SRP is $39.99
• Collects all the material from Wayward Vol 1+2 plus lots of extras
• 15% larger trim size than a standard TPB (in line with the Walking Dead, Saga, Chew, and Skullkickers deluxe editions)
• 70 pages of back matter, including variant covers, development sketches, and Zack Davisson's highly regarded essays on Japanese culture and mythological creatures, including a new essay not published anywhere else
• A folded-in poster (not glued or perforated) of the 5 cover connected image from issues #6-10
'POWER RANGERS': ACTORS BEGIN TESTING FOR LIONSGATE REBOOT
10/03/15 @ 11:15 am EST
Source:
Variety
| Categories:
MIsc
|
Comments
(0) |
E-mail Article
|
Add a Comment
With Dean Israelite set as its director and the latest script in to execs, Lionsgate has begun the search for who will become the new "Power Rangers."
Sources tell
Variety
the studio is about to begin testing young talent, looking at up-and-coming actors and actresses to make up the team. Sources say Daniel Zovatto ("It Follows"), Ross Butler ("Chasing Life") and Brian "Sene" Marc are among those testing for Zack (aka the Black Ranger), while KJ Apa ("Shortland Street"), Austin Butler ("The Shannara Chronicles") and Mitchell Hope ("The Descendants") are testing for Jason (aka the Red Ranger).
Sources also say Naomi Scott ("The Martian") and newcomer Stephanie Scott are up for the role of Kimberley (aka the Pink Ranger). Insiders say the studio is looking for fresh faces to fill out the team and will probably look for a big name to play the antagonist for the films, though no offers have been made for that part.
Ashley Miller and Zack Stentz are penning the script, with Haim Saban, Brian Casentini and Allison Shearmur producing.
The story reimagines the origins of the "Mighty Morphin Power Rangers," a group of high school kids who find themselves infused with extraterrestrial powers and unite to save the world, with the aid of giant mechanical vehicles known as Zords.
The 1993 Fox Kids TV series became a pop culture phenomenon and inspired a theatrical film, "Mighty Morphin Power Rangers: The Movie," in 1995. The original iteration of the series ran until 1996, when the franchise was renamed simply "Power Rangers," with different subtitles every season.
In later seasons, the title teens were replaced with new characters and vehicles every year. A second theatrical pic, "Turbo: A Power Rangers Movie," was released in 1997 and was presented as a link between "Power Rangers" series "Zeo" and "Turbo." The show was originally adapted from the long-running Japanese "Super Sentai" series, recycling footage from the Japanese version to cut down on production costs.
The pic is expected to go up against Guy Ritchie's retelling of the "King Arthur" story, which also bows on Jan. 13, 2017.
Lionsgate declined to comment.
ACCLAIMED DIRECTOR S.J. CLARKSON BRINGS HER TALENT TO 'MARVEL'S JESSICA JONES'
10/02/15 @ 7:43 pm EST
Source:
Marvel
| Categories:
Marvel
|
Comments
(0) |
E-mail Article
|
Add a Comment
Marvel Television and Netflix announced today that film and television director S.J. Clarkson, who has directed such notable shows as "Orange is the New Black," "Bates Motel," and "Dexter," has helmed the first two episodes of their Netflix Original Series "Marvel's Jessica Jones." Clarkson also served as an Executive Producer on the premiere episode. The series will be streaming everywhere that Netflix is available on November 20.
"S.J.'s vision of the material is spectacular. She drew performances from our cast that are nothing short of remarkable," said Executive Producer/Head of Marvel Television, Jeph Loeb. "When the world gets to know Jessica Jones' name it will be in no small part from S.J.'s sparkling talent. We can't wait to work with her again."
Prepare to uncover Jessica's world of Alias Investigations when Season 1 of "Marvel's Jessica Jones" premieres with 13 one-hour episodes on November 20, 2015 at 12:01 AM PT in all territories where Netflix is available.
After a tragic ending to her short-lived super hero stint, Jessica Jones is rebuilding her personal life and career as a detective who gets pulled into cases involving people with extraordinary abilities in New York City.
The series stars Krysten Ritter as Jessica Jones, David Tennant as Kilgrave, Mike Colter as Luke Cage, Rachael Taylor as Patricia "Trish" Walker, and Carrie-Anne Moss. "Marvel's Jessica Jones" is Executive Produced by series Showrunner Melissa Rosenberg ("Twilight," "Dexter") and Liz Friedman ("Elementary," "House"), along with Jeph Loeb ("Marvel's Agents of S.H.I.E.L.D.," "Marvel's Daredevil"), who also serves as Marvel's Head of Television.
"Marvel's Jessica Jones" is produced by Marvel Television in association with ABC Studios for Netflix