MARVEL CELEBRATES SPIDER-MANíS BIRTHDAY AT NEW YORK COMIC CON!
10/08/12 @ 4:40 pm EST
Source:
Marvel
|
Comments
(0) |
E-mail Article
|
Add a Comment
New York, NY—October 8, 2012—Spider-Man is known as the World's Greatest Super Hero, and next week at New York Comic Con (Oct 11-14), join Marvel in celebrating his birthday! Next Sunday, October 14th is Spidey's birthday and for a Super Hero this big, we know nothing less than making history would be suitable—so in the days leading up this memorable day, Marvel is pulling out all the stops!
"Spider-Man is one of the most popular and special characters in the world, so we wanted to make sure we celebrated his birthday in a big way " said Dan Buckley, Publisher & President of the Print, Animation & Digital Divisions, Marvel Worldwide, Inc. "From working with the New York City Mayor's Office for a very special announcement, to partnering with our friends at Hallmark Cards to make history, we're ensuring that New York Comic Con is the place for fans of all ages to celebrate Spider-Man!"
First, don't miss the event that brings together the
New York City Mayor's Office and Marvel Entertainment
for a special proclamation of Marvel-ous proportions! At 10:15am on Friday, October, 12 in the Marvel booth (#1838), join Marvel Editor-in-Chief Axel Alonso, NYC Commissioner of Media and Entertainment Katherine Oliver, Captain America, and Spider-Man himself to kick off the celebration. Don't miss out on the big announcements and chance to be part of Marvel history!
"We are thrilled to welcome Comic-Con back to New York this year and especially excited to celebrate the birthday of a real New Yorker, Spider-Man!" said Katherine Oliver, Commissioner of the Mayor's Office of Media and Entertainment. Over the years, Spider-Man has helped showcase the best of what New York has to offer our friends in entertainment, and New York Comic Con is an opportunity to see just how many other creative minds are using this great city for inspiration and as a backdrop for their stories."
Then, be one of the first to sign the larger than life (6'x 8')
Spider-Man Birthday Card
, produced by Hallmark, as Marvel attempts to shatter the Guinness World Record for "Most Contributions to a Greeting Card." With the help of Marvel fans in attendance we're sure we can do it—but we have limited space on this giant card! This card will be on display in the Marvel booth (#1838) at different times each day, both for contributions and for photo ops, so make sure you check in frequently so you don't miss out!
On Saturday, October 13 head over to room 1E13 at NYCC for the "
Marvel Television Presents" Panel
! Jeph Loeb, Marvel's Head of Television, gives you the latest on season two of
Ultimate Spider-Man
, the hit animated series on Disney XD, along with an inside look at the anticipated new animated series,
Marvel's Avengers Assemble
and
Hulk and the Agents of S.M.A.S.H.
!
Then, on Sunday, October 14-- the final day of New York Comic Con—Marvel's celebrating the official birthday of Spider-Man with more events, news and fun than you can Thwip! First, in Room 1E07, check out the
Amazing Spider-Man & Beyond
panel, where the minds behind your Spider-Man comics come together to give you all the news about the wall-crawler. What's next for Spider-Man? Find out here!
Next, calling fans of all ages—come to the IGN Theatre for an interactive event like nothing you've ever seen before! The cast of
Spider-Man: Turn off The Dark
, the hit Broadway show, arrives at New York Comic Con for a panel—nay, a performance!—that involves you, fans of all-ages!
Did you get up early for New York Comic Con? Miss your Sunday Morning cartoons? We've got the solution-- come on down to the IGN Theatre to view one of the most acclaimed episodes of the
Ultimate Spider-Man
animated series.
"If you're a Spider-Man fan, then you'll have the time of your life at New York Comic Con" said Axel Alonso, Editor-in-Chief, Marvel Entertainment. "Sunday, October 14th is going to be a special day that all Marvel fans will remember!"
Plus, all convention long, check out the Marvel Booth (#1838) for special Spider-Man signing events with the creators behind your favorite comics, exclusive giveaways and more!
Can't make it to the convention? Follow along on the
Marvel Events App
&
events.marvel.com
, the best way to get exclusive videos, real-time announcements from the convention floor and up-to-the-minute panel, in-booth, and signing schedules of all your favorite Marvel creators!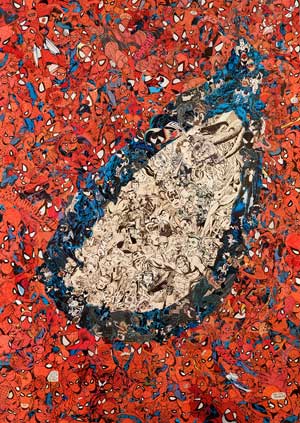 LUCY LAWLESS HEADING TO 'AGENTS OF S.H.I.E.L.D.'
07/21/14 @ 11:15 pm EST
Source:
TVGuide
| Categories:
Marvel
|
Comments
(0) |
E-mail Article
|
Add a Comment


The world of Agents of S.H.I.E.L.D. is about to get even more geektastic.

Former Xena star Lucy Lawless is heading to ABC's super series in Season 2, TVGuide.com reported. In true Marvel fashion, details on her role and how long she'll be sticking around are being kept under wraps. (Call off the Level 7 snipers now, please!)

Lawless is also known for her roles on Spartacus, Battlestar Galactica and Parks and Recreation.

Marvel's Agents of S.H.I.E.L.D. returns Tuesday, Sept. 23 at 9/8c on ABC.
AVATAR PRESS ANNOUNCES 'DARK GODS' FROM JUSTIN JORDAN
07/21/14 @ 8:25 pm EST
Source:
Bleeding Cool
| Categories:
MIsc
|
Comments
(0) |
E-mail Article
|
Add a Comment
The very busy writer Justin Jordan, coming out with more books than there seem to be publishers lately, also recently wrote a story for
God Is Dead
for Avatar Press alongside Mike Costa, Alan Moore, Simon Spurrier, and Kieron Gillen.
Now, Bleeding Cool reports he's returning to Avatar Press with German Erramouspe on an all-new series
Dark Gods
,
to debut in November.
It looks to be a series that plumbs the depths of original mythological evils.
To read Justin Jordan's latest Dynamic Forces interview on his new book
Spread
, click
here
, and be on the lookout for
Dark Gods
in November.
T
'THE ROCK' HINTS HE MAY PLAY 'SHAZAM'
07/21/14 @ 8:03 pm EST
Source:
ICv2
| Categories:
Shazam
|
Comments
(0) |
E-mail Article
|
Add a Comment


In an interview with Total Film (via ICv2), Dwayne "The Rock" Johnson admitted that he has been in discussions for several years with Warner Bros. to play a DC Comics superhero. Johnson talks about the difficulty in finding the right character to play, one that fits his onscreen personality, and he definitely rules out playing the John Stewart Green Lantern.

The Rock is coy about the role he is going to play, but he does drop some hints, noting that the character has "the power of Superman," and then says "just say the word," which sounds like a clear reference to Shazam (DC's Captain Marvel, a character created by C.C. Beck in 1939 and acquired by DC thanks to a lawsuit claiming that the character was just a rip-off of Superman, uses the word "Shazam" to transform from Billy Batson to the superpowered Captain Marvel).

Having the Rock portray the lantern-jawed Shazam would make sense, especially if the Justice League movie is based on Geoff Johns' "New 52" Justice League run during which Johns revived the DC version of Captain Marvel and added him to the Justice League team.

The Justice League movie is currently slated for release in May 2017.
'FIGHT CLUB 2' COMES TO DARK HORSE IN MAY
07/21/14 @ 7:55 pm EST
Source:
Dark Horse
| Categories:
Dark Horse
|
Comments
(0) |
E-mail Article
|
Add a Comment


Chuck Palahniuk is breaking the first two rules of Fight Club: He's talking about Fight Club.

The author's devotees probably won't mind since what's on his mind these days is more of the characters and world he created in his 1996 book, which was adapted three years later into director David Fincher's cult film starring Edward Norton and Brad Pitt.

The story of an unnamed insomniac narrator, his violent id come to life in the form of Tyler Durden, and an underground society built on bare-knuckle brawls and anarchic ideas continues in Fight Club 2, a 10-issue Dark Horse Comics maxiseries illustrated by Cameron Stewart, debuting May, 2015.

Palahniuk will be on a Fight Club panel with Fincher on Saturday at San Diego Comic-Con 2014, but it was at last year's New York Comic Con where the author's loose lips cemented the project.

"I messed up and said I was doing the sequel in front of 1,500 geeks with telephones," Palahniuk says. "Suddenly, there was this big scramble to honor my word."

Fight Club 2 takes place alternately in the future and the past. It picks up a decade after the ending of his original book, where the protagonist is married to equally problematic Marla Singer and has a 9-year-old son named Junior, though the narrator is failing his son in the same way his dad failed him.

At the same time, Palahniuk says readers will have an idea of Tyler's true origins. "Tyler is something that maybe has been around for centuries and is not just this aberration that's popped into his mind."

Palahniuk brings back most of the characters in the first book as well as the organization Project Mayhem, which still has its hooks in the narrator as he has to save his boy when the youngster's life is in peril.
DONíT DESPAIRó 'THE LIíL DEPRESSED BOY' RETURNS
07/21/14 @ 7:48 pm EST
Source:
Image
| Categories:
Image
|
Comments
(0) |
E-mail Article
|
Add a Comment


Writer Shaun Steven Struble and artist Sina Grace come together to deliver the the latest entry in the Li'l Depressed Boy series that's sure to delight fans THE LI'L DEPRESSED BOY: SUPPOSED TO BE THERE TOO coming to Image Comics this October. Struble and Grace will be signing at San Diego Comic-Con International on Thursday, 7/24 from 10 to 11 a.m. at the Image booth (#2729).

Picking up where they left off, Li'l Depressed Boy takes up his adventures in love, life, and vinyl, but this time with the further romantic complications that come with enjoying a new relationship while occasionally bumping into the ex—a punkster named Jazz—and the residual feelings that stirs up.

In an interview with USA Today, Struble said, "LDB is conflicted about Jazz. She broke his heart, but he doesn't think she did it on purpose. He now knows to not let himself get too close to her, but she has a habit of appearing when least expected."

Grace added: "The scripts Struble sent me have been the best blend of melancholic love, and I hope that readers old and new are as excited as we are for LDB's return to the spinner racks!"

Join LDB as he copes with work woes and navigates love triangles in LI'L DEPRESSED BOY: SUPPOSED TO BE THERE TOO #1.

LI'L DEPRESSED BOY: SUPPOSED TO BE THERE TOO #1 arrives in stores on 10/1 and will be available for only $3.99. It can be pre-ordered with Diamond Code AUG140550. - See more at: http://imagecomics.com/content/view/dont-despairthe-lil-depressed-boy-returns#sthash.zhnbzwX4.dpuf
PAPERCUTZ DOES 'RABBIDS' IN OCTOBER
07/21/14 @ 4:43 pm EST
Source:
ICv2
| Categories:
MIsc
|
Comments
(0) |
E-mail Article
|
Add a Comment
Papercutz will launch a new series of graphic novels tied to the Ubisoft Rabbids game franchise this fall. Rabbids Vol. 1: What Happens in Vegas ... by Eric Esquivel will launch in October as a 64-page, 6" x 9" trade paperback at $7.99 ($12.99 hardcover).

Over 14 million units of the Rabbids video game have been sold worldwide across multiple platforms, and the property has also been making its way into other media. A 26-episode animated series aired on Nickelodeon last fall to good ratings. McFarlane Toys began releasing mini-figures, action figures and plush earlier this year. And Sony and Ubisoft announced earlier this year that they are developing a feature film based on the property.
J.J. ABRAMS UNVEILS 'X-WING' FROM 'EPISODE VII'
07/21/14 @ 4:35 pm EST
Source:
ICv2
| Categories:
Star Wars
|
Comments
(0) |
E-mail Article
|
Add a Comment
Though Disney won't be hyping
Star Wars: Episode VII
at Comic-Con, director J.J. Abrams has released a video from the set of the movie during which he gives fans a first look at an X-Wing fighter from the new film.
In the video, Abrams promotes an excellent cause, the "Star Wars for Change" campaign to raise money for UNICEF's Innovation Labs, which are attempting to create new ways to help the world's disadvantaged populations. As he talks, the camera pulls back to reveal the full X-Wing fighter. A flight suit-wearing pilot climbs in the plane and a mouse droid scurries across the ground underneath the plane's fuselage.
A photo released in June appeared to confirm the presence of the Millennium Falcon in
Episode VII
, with the iconic fighter apparently under construction in the background, but this is the first look at the complete prototype.
Star Wars: Episode VII
is slated to debut on December 18th, 2015.
IDW, COMICS EXPERIENCE ANNOUNCE PUBLISHING ALLIANCE
07/21/14 @ 4:09 pm EST
Source:
IDW
| Categories:
IDW
|
Comments
(0) |
E-mail Article
|
Add a Comment


IDW Publishing announced today a new publishing alliance with Comics Experience, LLC—an online comics education resource and creative community. Under the alliance IDW and Comics Experience will focus on publishing creator-owned titles from new comics talent.

The mini-series announced today, the first of which launches in January 2015, include:

Drones by Chris Lewis and Bruno Oliveira, the story of two Predator drone operators on a bizarre journey that will take them to a terrorism-themed hotel in Las Vegas, in a war where terror and entertainment have begun to blur.

Creature Cops: Special Varmint Unit by Rob Anderson andFernando Melek, about animal control officers in a near-future city who must deal with patchwork, hybrid animals, from gator-snakes to panda dogs.

Gutter Magic by Rich Douek and Brett Barkley, set in a world where World War II was fought with magic, and the heir to a powerful magical dynasty can't cast a spell to save his life.

Tet by Paul Allor and Paul Tucker, is a story of hard-boiled crime and star-crossed romance, set at the height of the Vietnam War and the decades that followed.

IDW Editor-In-Chief and CCO Chris Ryall said, "IDW has been a strong supporter of creator-owned comics, from our very first title, 30 Days of Night, through to Locke & Key and beyond. We're now excited to be partnering with Comics Experience to introduce the next wave of new talent to fans and the industry."

Comics Experience President and CEO Andy Schmidt explained, "These are up-and-coming creators with properties developed in the 'talent incubator' of our online community. With this deal, we're offering an opportunity for these creators and others like them to reach a broader audience with their diverse books."

Bobby Curnow, a Comics Experience alum and current Editor on IDW's Teenage Mutant Ninja Turtles, Godzilla, and My Little Pony is overseeing the new partnership.
DARK HORSE SET TO PRESENT 'HARROW COUNTY'
07/21/14 @ 4:06 pm EST
Source:
Dark Horse
| Categories:
Dark Horse
|
Comments
(0) |
E-mail Article
|
Add a Comment


Cullen Bunn is no stranger to the supernatural -- especially when it comes to comics. Whether it's fusing magical elements with the wild west in The Sixth Gun or combining Asgardian mythology with superheroes in Fearless Defenders, Bunn has a lot of experience with bringing the supernatural to sequential storytelling in interesting and fun ways.

But when it comes to Harrow County, his new Dark Horse Comics creator-owned series with artist Tyler Crook set to drop in April 2015, he's approaching the supernatural in the context of a backwoods horror story.

Co-created by Bunn and Crook, Harrow County follows the story of Emmy, a teenager on the verge of becoming an adult, who realizes that the ghosts, ghouls and goblins that surround Harrow County and her secluded farm are all too real -- and when the townsfolk realize that Emmy has a connection with the creatures that lurk in the shadows, they put her on the run for her life.

Part coming-of-age tale and part horror story, Harrow County promises to present a unique take on traditional horror.
FANS POSSESSED BY 'OUTCAST BY KIRKMAN & AZACETA'
07/21/14 @ 3:45 pm EST
Source:
Image
| Categories:
Outcast
|
Comments
(0) |
E-mail Article
|
Add a Comment


Robert Kirkman, creator of global entertainment phenomenon THE WALKING DEAD, and Paul Azaceta have summoned a new industry hit with OUTCAST BY KIRKMAN & AZACETA, the second printing of which has sold out immediately. In order to meet customer demand, Skybound/Image Comics will be sending this debut issue back to press for a 3rd printing.

The first new series written by Kirkman himself in three years and since the premiere of the AMC's most watched television show adaptation of THE WALKING DEAD, this is the perfect new series for readers to jump on to. Comic Book Resources predicted of OUTCAST, "Given the quality in this first issue, it's without doubt that readers will return for the next piece of the puzzle."

OUTCAST BY KIRKMAN & AZACETA #1, boasts a special double-sized first issue for just $2.99, and introduces Kyle Barnes' plight, his tragic past, and his unusual gift. Kirkman and Azaceta explore demonic possession and incorporate a subtle creeping terror that harkens to that of classic horror stories. IGN says of the series, "Whether you're a fan of things that go bump in the night or just someone who likes good comics, you can't do much better than Outcast. Kirkman and Azaceta prove a dynamic and disturbing pairing, crafting a riveting story that's sure to possess your very soul."

The demand for the series has grown at a breakneck pace, with this the second instant-sell-out of the first issue and is being fast-tracked to a third printing. For fans of digital editions, OUTCAST BY KIRKMAN & AZACETA #1 remains available for purchase across all platforms, including the Image Comics website (imagecomics.com), the official Image Comics iOS app, Comixology's website (comixology.com), iOS, Android, and Google Play.

This third printing of OUTCAST BY KIRKMAN & AZACETA (Diamond Code JUN148165) will be available on 8/20.

OUTCAST BY KIRKMAN & AZACETA #2 (Diamond Code MAY140719) will hit shelves on 7/30.

OUTCAST BY KIRKMAN & AZACETA #3 (Diamond Code JUN140563) will be available on 8/20.