MARVEL CELEBRATES SPIDER-MAN'S BIRTHDAY AT NEW YORK COMIC CON!
10/08/12 @ 4:40 pm EST
Source:
Marvel
|
Comments
(0) |
E-mail Article
|
Add a Comment
New York, NY—October 8, 2012—Spider-Man is known as the World's Greatest Super Hero, and next week at New York Comic Con (Oct 11-14), join Marvel in celebrating his birthday! Next Sunday, October 14th is Spidey's birthday and for a Super Hero this big, we know nothing less than making history would be suitable—so in the days leading up this memorable day, Marvel is pulling out all the stops!
"Spider-Man is one of the most popular and special characters in the world, so we wanted to make sure we celebrated his birthday in a big way " said Dan Buckley, Publisher & President of the Print, Animation & Digital Divisions, Marvel Worldwide, Inc. "From working with the New York City Mayor's Office for a very special announcement, to partnering with our friends at Hallmark Cards to make history, we're ensuring that New York Comic Con is the place for fans of all ages to celebrate Spider-Man!"
First, don't miss the event that brings together the
New York City Mayor's Office and Marvel Entertainment
for a special proclamation of Marvel-ous proportions! At 10:15am on Friday, October, 12 in the Marvel booth (#1838), join Marvel Editor-in-Chief Axel Alonso, NYC Commissioner of Media and Entertainment Katherine Oliver, Captain America, and Spider-Man himself to kick off the celebration. Don't miss out on the big announcements and chance to be part of Marvel history!
"We are thrilled to welcome Comic-Con back to New York this year and especially excited to celebrate the birthday of a real New Yorker, Spider-Man!" said Katherine Oliver, Commissioner of the Mayor's Office of Media and Entertainment. Over the years, Spider-Man has helped showcase the best of what New York has to offer our friends in entertainment, and New York Comic Con is an opportunity to see just how many other creative minds are using this great city for inspiration and as a backdrop for their stories."
Then, be one of the first to sign the larger than life (6'x 8')
Spider-Man Birthday Card
, produced by Hallmark, as Marvel attempts to shatter the Guinness World Record for "Most Contributions to a Greeting Card." With the help of Marvel fans in attendance we're sure we can do it—but we have limited space on this giant card! This card will be on display in the Marvel booth (#1838) at different times each day, both for contributions and for photo ops, so make sure you check in frequently so you don't miss out!
On Saturday, October 13 head over to room 1E13 at NYCC for the "
Marvel Television Presents" Panel
! Jeph Loeb, Marvel's Head of Television, gives you the latest on season two of
Ultimate Spider-Man
, the hit animated series on Disney XD, along with an inside look at the anticipated new animated series,
Marvel's Avengers Assemble
and
Hulk and the Agents of S.M.A.S.H.
!
Then, on Sunday, October 14-- the final day of New York Comic Con—Marvel's celebrating the official birthday of Spider-Man with more events, news and fun than you can Thwip! First, in Room 1E07, check out the
Amazing Spider-Man & Beyond
panel, where the minds behind your Spider-Man comics come together to give you all the news about the wall-crawler. What's next for Spider-Man? Find out here!
Next, calling fans of all ages—come to the IGN Theatre for an interactive event like nothing you've ever seen before! The cast of
Spider-Man: Turn off The Dark
, the hit Broadway show, arrives at New York Comic Con for a panel—nay, a performance!—that involves you, fans of all-ages!
Did you get up early for New York Comic Con? Miss your Sunday Morning cartoons? We've got the solution-- come on down to the IGN Theatre to view one of the most acclaimed episodes of the
Ultimate Spider-Man
animated series.
"If you're a Spider-Man fan, then you'll have the time of your life at New York Comic Con" said Axel Alonso, Editor-in-Chief, Marvel Entertainment. "Sunday, October 14th is going to be a special day that all Marvel fans will remember!"
Plus, all convention long, check out the Marvel Booth (#1838) for special Spider-Man signing events with the creators behind your favorite comics, exclusive giveaways and more!
Can't make it to the convention? Follow along on the
Marvel Events App
&
events.marvel.com
, the best way to get exclusive videos, real-time announcements from the convention floor and up-to-the-minute panel, in-booth, and signing schedules of all your favorite Marvel creators!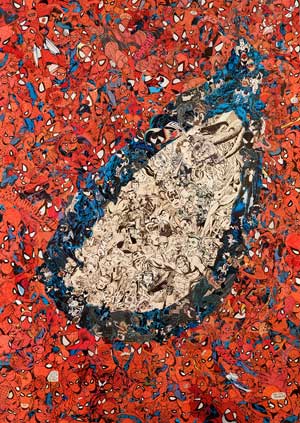 SUICIDE SQUAD ACTOR CAST AS LEAD ROLE IN SCALPED
02/19/17 @ 1:25 am EST
Source:
Comicbook
| Categories:
DC
|
Comments
(0) |
E-mail Article
|
Add a Comment
As WGN America moves forward with its pilot based on the Vertigo Comics series
Scalped
, another actor has been cast as the lead character in the show.
Suicide Squad, Animal Kingdom,
and
Twilight
actor Alex Meraz has been cast as main character Dashiell Bad Horse, according to Deadline.
Meraz joins Lily Gladstone as one of the series leads and is of mixed Lakota and Purepecha descent. The producers of
Scalped
seem to be sticking to the source material while remaining true to its influences, and it's the first major series with multiple leads of Native American heritage.
Meraz and Gladstone will be directed by Adil El Arbi and Bilall Fallah in the pilot written by Doug Jung. Jung is producing the series alongside DC's own Geoff Johns.
Scalped
is based on the original comic series by R.M. Guéra and Jason Aaron. The series ran for 60 issues, garnering a dedicated fanbase in the process. It's been critically acclaimed for its depiction of life on the "rez" as well as for being a unique take on crime dramas.
SUPERGIRL TO EXPLORE MAGGIE SAWYER'S BACKSTORY
02/19/17 @ 1:22 am EST
Source:
Comicbook
| Categories:
DC
|
Comments
(0) |
E-mail Article
|
Add a Comment
In this Monday's "Mr. and Mrs. Mxyzptlk" episode of
Supergirl,
Alex Danvers (Chyler Leigh) and Maggie Sawyer (Floriana Lima) will be celebrating their first Valentine's Day together. Alex, who often tries to hide her emotions, is thrilled that she gets to spend the romantic holiday with her girlfriend; however, Maggie views it as nothing more than a made-up holiday designed to sell cards, candy, and jewellery. That puts a major damper on Alex's excitement, leading to their first real fight. But don't fret, you can count on them making up by the time the credits roll.
Aside from that, the episode will also gives us a taste of Maggie's backstory. That'll setup a future episode that will delve even deeper into the pre-Alex life of the sweet and tough NCPD police detective.
"There's a storyline coming up where it's not really about Alex and Maggie's relationship," Executive Producer Andrew Kreisberg told EW."It's more about Maggie as a cop getting caught up in an art heist."
JAMES CAMERON'S AVATAR SEQUEL WILL BE A FAMILY SAGA
02/19/17 @ 1:17 am EST
Source:
Comicbook
| Categories:
MIsc
|
Comments
(0) |
E-mail Article
|
Add a Comment
The mythical sequel films to the technologically innovative
Avatar
are said to be underway. Of course we'll believe it when we see it, but more and more is being said about the supposed scripts.
James Cameron locked himself away to finish the scripts to the second, third, fourth, AND fifth films in the series, planning to shoot them all back-to-back-to-back-to-back, and it seems like they're finally done.
But scripts are one thing, and the technology to make the films is another entirely—tech was the reason the original film took so long to complete. But at least everyone involved is hopeful that they are on the way. Like, say, series star Sam Worthington.
While promoting his new film
The Shack
, the actor told We Got This Covered that the film is picking up years after the first film ended. Just like in real life!
"They're going to be shooting concurrently," Worthington said. "The plan is to have some time in between, I think, but these things are always ambiguous until they start. Worthington said Cameron needed time to perfect the scripts, but he's ready whenever the director is.
"Whenever he says jump I go because he's the man," Worthington added. I've read all the scripts, they're great."
He said
Avatar 2
would be about "Jake eight years later, and he's got a family now."
While the first movie showed his wide-eyed character seeing a brand new world, the second will continue with that theme.
"Essentially, it's a movie about family… he's been living in the world for a while now, so what's this world he's seeing now for the first time? The film will explore that within this family dynamic."
BABY GROOT PLAYS WITH FIRE ON NEW GUARDIANS OF THE GALAXY 2 POSTER
02/19/17 @ 1:12 am EST
Source:
Comicbook
| Categories:
Marvel
|
Comments
(0) |
E-mail Article
|
Add a Comment
Marvel Studios has released a new and explosive international (Japanese) poster for their upcoming film
Guardians of the Galaxy Vol. 2
.
It features the cute and adorable Baby Groot standing on a pile of dynamite. The rambunctious humanoid plant stares straight at the camera with a lovable, toothless smile carved into his woody face. He waves with his left hand and holds an unstruck match — which he prepares to light a fuse with — in his right.
NO NEW AGENTS OF SHIELD EPISODES UNTIL APRIL
02/19/17 @ 1:08 am EST
Source:
Comicbook
| Categories:
Marvel
|
Comments
(0) |
E-mail Article
|
Add a Comment
Marvel's
Agents of SHIELD
has developed a consistency over the years of its lifetime in that the later episodes in the season almost always beat out the beginning in terms of quality.
And after a slow start in the Ghost Rider arc of the series, things have picked up with the Life Model Decoy storyline. Unfortunately, as it heads into its third and final 'pod' of episodes, it will be taking a long break before picking back up.
After this week's episode—called "Self Control"—airs on February 21, the show will be off the air for six weeks, returning on April 4th with the as-of-yet untitled episode 04x16.
The last pod of episodes would carry the show to a May 16th season finale, if they air without a break.
STAR WARS REBELS SHOWRUNNER ADDRESSES THE SEASON 4 QUESTION
02/19/17 @ 1:05 am EST
Source:
Comicbook
| Categories:
Star Wars
|
Comments
(0) |
E-mail Article
|
Add a Comment
After Saturday night's new episode of
Star Wars Rebels
, fans may be questioning how much more of the show they're going to get. It had a real sense of finality, at least for the character of Sabine Wren, who left the team to go work towards uniting and freeing her people. While Lucasfilm and Disney XD remain mum on any official announcement of
Star Wars Rebels
Season 4, the show continuing on for at least one more year is likely. After a critically-acclaimed direct connection to
Rogue One: A Star Wars Story
, and some teased cameos and story ideas that have been talked about for some time, plus showrunner Dave Filoni teasing that Sabine will return before everything is all said and done, we should get a season 4 official announcement any day now. Until then, however, Filoni was able to address the sense of finality in this episode, and how he and his team are trying to bring this season to a close.
"I give a pretty good eye to that because I like where we got the end of last year, and it really shook things up," Filoni told ComicBook.com. "Last season ending with kind of a dividing line between who the characters were and what they need to evolve into being, and I feel very good that this season drives us to a point where you can actually look and see these arcs within this season of where, say Kanan and Ezra, everyone started and where they end, and what the future may or may not hold for them. Imagining they survive, what's about to happen?"
It's something Filoni focuses on at the end of each season now more than ever before, due to his experiences with
Star Wars: The Clone Wars
, the first animated series he showran for Lucasfilm, which ended abruptly.
"You always have an eye on it, and it's tricky. I have to be honest. It's tricky in TV having worked on a series that frankly didn't really have an all-out end like we had planned it. I'm always a bit wary. I'm thinking, 'Okay, where do we need this to go?'" he said. "Because I want to make sure that we take the audience in these Star Wars stories, I think, on this really, I hope, interesting and entertaining journey, and I want them to feel that they get a complete payoff for it, and that it's the story that we intended."
Star Wars Rebels
airs Saturdays at 8:30 p.m. ET/PT on Disney XD, and you can catch up anytime on demand or the
WatchDisneyXD
site and app.
POWERLESS EPISODE 4: EMILY DATES A HENCHMAN CLIPS
02/19/17 @ 12:59 pm EST
Source:
Comicbook
| Categories:
DC
|
Comments
(0) |
E-mail Article
|
Add a Comment
Emily (Vanessa Hudgens) has tried and failed to make friends with her team, but in that failure, she learned that to get the most out of her team she needed to earn their respect, not their adoration. However, since she has so much free time outside of work, she is easily wooed by the first handsome guy she meets — even though he is clearly bad news.
In the sneak peeks below, Emily's team helps her realize that she is dating Riddler's henchman, and Teddy and Ron freak out when they find one of Batman's batarangs.
Sneak peek 1:
https://youtu.be/8O_XRGIIYyQ
Sneak peek 2:
https://youtu.be/elUNajGHR74
SINGLE SMURFETTE NO MORE – THE SMURFS DISCOVER WOMEN IN NEW COMIC
02/19/17 @ 12:51 pm EST
Source:
Bleeding Cool
| Categories:
MIsc
|
Comments
(0) |
E-mail Article
|
Add a Comment
In the comics, Smurfette was the only female Smurf, created by Gargamel, the Smurfs' enemy, in order to distract and trap them. She was later rescued by Papa Smurf and turned into a real Smurf. She remained the only female Smurf until the creation of Sassette and the introduction of Granny Smurf.
But more widely, Smurfette has been referred to as the experience of being the only woman in a group of men, the Smurfette Principle coined by Katha Pollitt applying to Miss Piggy in The Muppets, or Princess Leia in Star Wars, but also Margaret Thatcher in her cabinet or writers like Gail Simone at DC Comics or Kelly Sue DeConnick at Marvel Comics, at the time.
Well, the latest Smurf volume of comics published by Le Lombard, looks like they are going to the root of the issue, with
The Smurfs And The Village Of Girls Volume 1: The Forbidden Forest.
Note, not only Smurfette but female warrior Smurfs. And more volumes to come. Coming in March.
TITAN CONFIRMS PUBLISHING EUROPEAN ADAPTATION OF MILLENNIUM TRILOGY AT COMICSPRO
02/19/17 @ 12:45 pm EST
Source:
Bleeding Cool
| Categories:
MIsc
|
Comments
(0) |
E-mail Article
|
Add a Comment
Titan Comics confirmed at ComicPRO it will be publishing the European adaptation of the Millenium Trilogy starting with
The Girl With The Dragon Tattoo.
And making it part of its Hard Case Comics line, alongside new titles
Quarry
and
Normandy Gold.Presenting a new vision of the worldwide bestselling Millennium novels by Stieg Larsson, THE GIRL WITH THE DRAGON TATTOO is the first comic book adaptation of Lisbeth Salander's harrowing story ever to appear in English. Written by Sylvain Runberg (Orbital) and illustrated by José Homs (L'Angélus) and Man, with an all-new translation by Rachel Zerner, THE GIRL WITH THE DRAGON TATTOO tells a story of violence and cruelty, family secrets and international intrigue, with deception and betrayal coiling around each corner.
MILLENNIUM: THE GIRL WITH THE DRAGON TATTOO #1 will be on sale June 28.
GAMES WORKSHOP'S BLOOD BOWL TURNED INTO COMICS BY TITAN, ANNOUNCED AT COMICSPRO
02/19/17 @ 12:35 pm EST
Source:
Bleeding Cool
| Categories:
MIsc
|
Comments
(0) |
E-mail Article
|
Add a Comment
Titan Comics and Games Workshop have announced a new comic book series,
Blood Bowl: More Guts, More Glory
, at ComicsPRO, based on the runaway board game and videogame.
Blood Bowl
is set in an alternate version of the
Warhammer
universe – one where brutal chaos and inter-species rivalries are settled on the football pitch, rather than on the battlefield.
Originally released in 1986, a brand-new version of the board game was released in November 2016, and is being supported with more products in 2017.
The comic is by Nick Kyme and Jack Jadson and out in May.