MARVEL CELEBRATES SPIDER-MAN'S BIRTHDAY AT NEW YORK COMIC CON!
10/08/12 @ 4:40 pm EST
Source:
Marvel
|
Comments
(0) |
E-mail Article
|
Add a Comment
New York, NY—October 8, 2012—Spider-Man is known as the World's Greatest Super Hero, and next week at New York Comic Con (Oct 11-14), join Marvel in celebrating his birthday! Next Sunday, October 14th is Spidey's birthday and for a Super Hero this big, we know nothing less than making history would be suitable—so in the days leading up this memorable day, Marvel is pulling out all the stops!
"Spider-Man is one of the most popular and special characters in the world, so we wanted to make sure we celebrated his birthday in a big way " said Dan Buckley, Publisher & President of the Print, Animation & Digital Divisions, Marvel Worldwide, Inc. "From working with the New York City Mayor's Office for a very special announcement, to partnering with our friends at Hallmark Cards to make history, we're ensuring that New York Comic Con is the place for fans of all ages to celebrate Spider-Man!"
First, don't miss the event that brings together the
New York City Mayor's Office and Marvel Entertainment
for a special proclamation of Marvel-ous proportions! At 10:15am on Friday, October, 12 in the Marvel booth (#1838), join Marvel Editor-in-Chief Axel Alonso, NYC Commissioner of Media and Entertainment Katherine Oliver, Captain America, and Spider-Man himself to kick off the celebration. Don't miss out on the big announcements and chance to be part of Marvel history!
"We are thrilled to welcome Comic-Con back to New York this year and especially excited to celebrate the birthday of a real New Yorker, Spider-Man!" said Katherine Oliver, Commissioner of the Mayor's Office of Media and Entertainment. Over the years, Spider-Man has helped showcase the best of what New York has to offer our friends in entertainment, and New York Comic Con is an opportunity to see just how many other creative minds are using this great city for inspiration and as a backdrop for their stories."
Then, be one of the first to sign the larger than life (6'x 8')
Spider-Man Birthday Card
, produced by Hallmark, as Marvel attempts to shatter the Guinness World Record for "Most Contributions to a Greeting Card." With the help of Marvel fans in attendance we're sure we can do it—but we have limited space on this giant card! This card will be on display in the Marvel booth (#1838) at different times each day, both for contributions and for photo ops, so make sure you check in frequently so you don't miss out!
On Saturday, October 13 head over to room 1E13 at NYCC for the "
Marvel Television Presents" Panel
! Jeph Loeb, Marvel's Head of Television, gives you the latest on season two of
Ultimate Spider-Man
, the hit animated series on Disney XD, along with an inside look at the anticipated new animated series,
Marvel's Avengers Assemble
and
Hulk and the Agents of S.M.A.S.H.
!
Then, on Sunday, October 14-- the final day of New York Comic Con—Marvel's celebrating the official birthday of Spider-Man with more events, news and fun than you can Thwip! First, in Room 1E07, check out the
Amazing Spider-Man & Beyond
panel, where the minds behind your Spider-Man comics come together to give you all the news about the wall-crawler. What's next for Spider-Man? Find out here!
Next, calling fans of all ages—come to the IGN Theatre for an interactive event like nothing you've ever seen before! The cast of
Spider-Man: Turn off The Dark
, the hit Broadway show, arrives at New York Comic Con for a panel—nay, a performance!—that involves you, fans of all-ages!
Did you get up early for New York Comic Con? Miss your Sunday Morning cartoons? We've got the solution-- come on down to the IGN Theatre to view one of the most acclaimed episodes of the
Ultimate Spider-Man
animated series.
"If you're a Spider-Man fan, then you'll have the time of your life at New York Comic Con" said Axel Alonso, Editor-in-Chief, Marvel Entertainment. "Sunday, October 14th is going to be a special day that all Marvel fans will remember!"
Plus, all convention long, check out the Marvel Booth (#1838) for special Spider-Man signing events with the creators behind your favorite comics, exclusive giveaways and more!
Can't make it to the convention? Follow along on the
Marvel Events App
&
events.marvel.com
, the best way to get exclusive videos, real-time announcements from the convention floor and up-to-the-minute panel, in-booth, and signing schedules of all your favorite Marvel creators!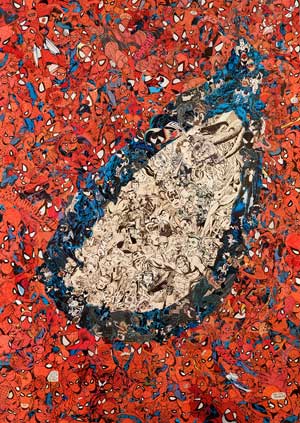 NEW "JUSTICE LEAGUE ACTION" ART ADDS FIRESTORM, GREEN ARROW, PLASTIC MAN -- AND SPACE CABBIE?
06/27/16 @ 2:01 pm EST
Source:
Comic Book Resources
| Categories:
Justice League
|
Comments
(0) |
E-mail Article
|
Add a Comment
The cast of "Justice League Action" just grew by four. Green Arrow, Plastic Man, Firestorm and Space Cabbie (yes, Space Cabbie) will join Batman, Superman, Wonder Woman and more in Warner Bros. Animation's latest series, at least according this new promo art.
Set to be released in 11-minute installments -- in the vein of Cartoon Network's "Teen Titans GO!" -- "Justice League Action" sees the return of Kevin Conroy and Mark Hamill as the voices of Batman and the Joker, respectively. Also confirmed for the series is James Woods as Lex Luthor and Diedrich Bader as Booster Gold.
According to the official series description,"Batman, Superman and Wonder Woman lead the DC Comics Super Heroes against their most infamous foes in adventures packed with relentless thrills, fun and action. No need to wait for the good stuff to start, each eleven-minute episode jumps in with lightning-paced action and heroics. Whether defending the Earth, facing invaders from space, or battling the bizarre forces of magic, the always-rotating team of Justice League heroes, are up to any challenge."
Executive produced by Warner Bros. Animation president Sam Register, and produced by DC animation vets Butch Lukic, Alan Burnett and Jim Krieg, "Justice League Action" is expected to debut this fall on Cartoon Network.
JON BERNTHAL SAYS FRANK CASTLE FROM "DAREDEVIL" SEASON 2 "IS NOT THE PUNISHER"
06/27/16 @ 1:55 pm EST
Source:
Comic Book Resources
| Categories:
Daredevil
|
Comments
(0) |
E-mail Article
|
Add a Comment
Fans of Netflix and Marvel's "Daredevil" show weren't exactly as hot on Season 2 as they were Season 1, but there was one thing most agreed on: Jon Bernthal killed it as The Punisher. Many consider his the quintessential portrayal of Frank Castle, a character that's been played by no fewer than four actors. However, if Bernthal's to be taken at his words, viewers haven't seen anything yet.
In a new interview with Awards Daily (via ComicBookMovie), Bernthal discussed how a character's motivations is what defines their fighting style. In that sense, he claims, Frank Castle isn't really The Punisher until the season's end. "Beating someone up to drag them into jail is different than someone who is exercising his rage on people," Bernthal said. "The Frank Castle you find in this story is not The Punisher. He's reeling from the loss of his family. He's driven by rage and is on a singular mission to find these people who took his family from him, and do it as brutally as possible."
This makes sense given the character's arc in Season 2, where he doesn't fully embrace the Punisher iconography until the final episode.
Bernthal also talked about how he wasn't necessarily interested in joining another comic book adaptation, having previously starred in early seasons of "The Walking Dead." Once he delved into the motivations of Castle, however, he found himself attracted to the character's very human -- if not incredibly twisted -- drive. "For me, it's about the human being. He has no superpower. His superpower is his humanity. It's his drive, his rage, and his loss. I could never have played this part if I weren't a husband or father. Until you really understand what it's like to love somebody more than yourself and to willingly give your life for them, only then can you understand what it would mean if they were taken from you."
He also said his favorite scene as Castle was when he tells Daredevil about "what it's like to come home and see his daughter. That was such a gift from John C. Kelley. I had been away from my kids for three months, and I was at the crux of my own torture, going through that," Bernthal explained. "He's in an unbelievably amount of pain. That speech was the anchor of the season for me."
We'll see what's next for The Punisher when he returns in his own spinoff series, or perhaps even sooner if he shows up in Netflix's "The Defenders" alongside Daredevil, Luke Cage, Jessica Jones, and Iron Fist.
"PREACHER" EXPANDS ON THE SAINT OF KILLERS' BLOOD-SOAKED ORIGIN
06/27/16 @ 1:49 pm EST
Source:
Comicbook
| Categories:
DC
|
Comments
(0) |
E-mail Article
|
Add a Comment
SPOILER WARNING: Major spoilers from the latest episode of AMC's "Preacher" (and the Vertigo comic series it's adapted from) follow.
A few weeks ago, "Preacher" gave us the first appearance of one of the source material's most formidable antagonists, The Saint Of Killers. On the latest episode, "South Will Rise Again," the character's television origin story was expanded on, picking up right where the first installment left off. While getting the medicine he needs for his sick daughter in the piss-and-vinegar town of Ratwater, the cowboy spies a family getting tortured in the back of a saloon. He also has an uneasy run-in with a slick-talking, profane man from his past -- Gumbo McCready, perhaps? He tries to brush it all off and return home.
On the way back to his wife and daughter, however, he comes across a dead group of travelers, which whom he had eaten dinner with during his earlier journey. Their corpses set off a moral crisis within himself, and he's back to Ratwater to try and save the other family he witnessed getting abused.
Unfortunately he encounters the mysterious man again, who has more words with him and shoots his horse. This delays him in getting home to his own loved ones, and as a result, he finds both his wife and his daughter dead. We won't say what the next chapter in his story is -- and it may change slightly as it makes the leap from comics to screen -- but if you haven't read Garth Ennis and Steve Dillon's source material, just know that we're getting closer and closer to him becoming a genuinely unstoppable force that will eventually come face to face with Jesse Custer and friends.
ORIGINAL BATMAN FILMS GET NEW OFFICIAL BOX ART
06/27/16 @ 1:46 pm EST
Source:
Comic Book Resources
| Categories:
Batman
|
Comments
(0) |
E-mail Article
|
Add a Comment
The original Batman film franchise is getting a modern makeover, at least where their art is concerned. The digital HD versions of the four original Batman films -- 1989's "Batman," 1992's "Batman Returns," 1995's "Batman Forever" and 1997's "Batman and Robin" -- will soon show off all-new box art, each one featuring head shots of the Caped Crusader and, in some cases, the film's villains. The franchise was steered by two directors: Tim Burton for the first two and Joel Schumacher for the latter pair.
The announcement comes on the eve of the release of the latest Batman film, "Batman v Superman: Dawn of Justice," on digital HD. The "Ultimate Edition" of the film arrives in stores on June 28 and features a new, extended cut of the film along with a mature-audiences-only rating.
EVERY JOKER SCENE FROM THE "SUICIDE SQUAD" TRAILERS IN ONE CONVENIENT SUPER CUT
06/27/16 @ 1:42 pm EST
Source:
Comic Book Resources
| Categories:
Suicide Squad
|
Comments
(0) |
E-mail Article
|
Add a Comment
It's no secret that Jared Leto's Joker will be playing a significant role in Warner Bros.' upcoming"Suicide Squad" film. In anticipation of the Clown Prince's latest big screen debut, YouTube user AparTall has put together a video compilation of all the Joker's scenes shown in the trailers so far, and even slowed them down a bit for eager fans to take a closer look.
Video:
https://youtu.be/AsOgS12w37Q
SPIDER-GWEN CO-CREATOR TEASES HERO'S SPIDER-HAM-ESQUE COUNTERPART
06/27/16 @ 1:39 pm EST
Source:
Comic Book Resources
| Categories:
Spider-Gwen
|
Comments
(0) |
E-mail Article
|
Add a Comment
Originally introduced as the star of an all-ages funnybook back in the '80s, the web-slingin' pig known as Spider-Ham has seen a resurgence in prominence and popularity in recent years thanks to his return in the inter-dimensional "Spider-Verse" event and subsequent appearances in "Spider-Gwen" and "Web Warriors." In the upcoming "Spider-Gwen Annual" #1, Peter Porker will once again team up with Spider-Gwen -- and that team up just might reveal a new addition to the Spider-Ham mythos.
In a page included in the preview for "Spider-Gwen Annual" #1, written and drawn by Spider-Gwen co-creator Jason Latour, Spider-Ham can be seen sporting a hoodie seemingly modeled after Spider-Gwen's spider-suit. But that turns out not to be the case; in fact, or possibly in jest, Spider-Ham asserts that the hoodie is
actually
modeled after the penguin superhero Spider-Guin's suit.
"Spider-Gwen Annual" #1 interior artwork by Jason Latour
This revelation, if Peter Porker isn't kidding, fits right in with the original "Peter Porker, the Spectacular Spider-Ham" series that ran from 1985 to 1987. That series introduced a number of other Marvel-inspired anthropomorphic animal heroes, including Deerdevil, Goose Rider and Captain Americat. It would also follow in the footsteps -- err, hoofprints --  of the recent re-introduction of Spider-Ham 2099 to the character's modern day mythos.
"Spider-Gwen Annual" #1 arrives in stores on Wednesday, June 29.
"THOR'S" WAITITI CALLS MARVEL "SMART," SAYS THEY "DON'T ACT LIKE A STUDIO"
06/27/16 @ 1:33 pm EST
Source:
Comic Book Resources
| Categories:
Thor
|
Comments
(0) |
E-mail Article
|
Add a Comment
With production now gearing up for the start of filming in early July, "Thor: Ragnarok" directorTaika Waititi is about to fully enter the Marvel Cinematic Universe. Waititi -- a comedian and director from New Zealand most known in the U.S. for his work on "Flight of the Conchords" and the vampire mockumentary "What We Do In The Shadows" -- might seem like an odd fit for Marvel's most epic franchise, but in a recent chat with The Verge, Waititi revealed that his partnership with Marvel is going epically well.
"It hasn't been that different," said Waititi when asked about the freedom he has on "Thor" as compared to his previous features. "So far it's been good! I've been more organized, which is saying something, for a guy like me to be organized. I'm surrounded by really intelligent, amazing people. I've got access to great minds and great resources. So I'm at a real advantage. In terms of the studio thing, these people don't act like a studio. They're cool, smart storytellers. I've been enjoying hanging out with them. And I've made commercials, so I've worked with the worst people in the world. Nothing could be more restrictive than working with people in advertising."
He also commented on just how much of his specific voice and sense of humor will be present in "Thor: Ragnarok." "Yes, it will [sound like me]. Until it doesn't," said Waititi, with a laugh. "I don't know, I can only hope. I've got to bring as much of myself as I can to this, and then see how it goes. You obviously need people overseeing the bigger picture, the next five movies or whatever. Otherwise we'd all be left to our own devices, and God knows what would happen."
Directed by Waititi, "Thor: Ragnarok" stars franchise veterans Chris Hemsworth as Thor, Tom Hiddleston as Loki, Idris Elba as Heimdall and Anthony Hopkins as Odin. They're joined by Mark Ruffalo as Bruce Banner/the Hulk, Cate Blanchett as Hela, Jeff Goldblum as the Grandmaster, Tessa Thompson as Valkyrie and Karl Urban as Skurge.
"Thor: Ragnarok" opens November 3, 2017.
THOR ODINSON SPORTS ALL-NEW LOOK, SHARES MARVEL NOW! TEASER WITH MILES MORALES
06/27/16 @ 1:30 pm EST
Source:
Marvel
| Categories:
Marvel
|
Comments
(0) |
E-mail Article
|
Add a Comment
A new week of Marvel NOW! teasers begins, this time with one breaking with tradition a little by featuring two A-list superheroes in one image. The latest double-sided image from artist Mike Deodato, which debuted at IGN, features Thor Odinson on top with Miles Morales on the flip side. The former God of Thunder has been missing in action since the end of "Secret Wars," as Jane Foster continues to wield Mjolnir in the pages of "Mighty Thor." But it looks like the Odinson has a major return coming up, one that will give him an all-new look -- including a haircut.
Previous teaser images featured Captain America, Captain Marvel, Ms. Marvel, Black Panther and Ms. America.
THIS 'GAME OF THRONES' XBOX ONE IS MORE DESIRED THAN THE IRON THRONE
06/27/16 @ 1:25 pm EST
Source:
Comic Book Resources
| Categories:
MIsc
|
Comments
(0) |
E-mail Article
|
Add a Comment
Even as fans reel from the events of Sunday's Season 6 finale, Microsoft is commemorating the occasion with a special-edition "Game of Thrones" Xbox One console.
Unveiled this morning by Xbox France, this console is
very
special indeed, not merely because its design mimics the celebrated opening credits of the hit HBO fantasy drama: Only six have been created, presumably one for each season.
Wait, there's more: Like the special-edition Iron Man Xbox One released before it, this too appears to be available only in France — as a contest prize.
Lady Mormont does
not
approve …
Video:
https://youtu.be/ucB1jq6hgQE
"SUICIDE SQUAD" STRUTS IN NEW THEATER STANDEE
06/27/16 @ 1:20 pm EST
Source:
Comic Book Resources
| Categories:
Suicide Squad
|
Comments
(0) |
E-mail Article
|
Add a Comment
As its August release date approaches, "Suicide Squad" has started to take over. Action figures, music videos, posters -- the "Squad" is taking attention. Now the cast of the latest entry in Warner Bros.' shared DC film universe have stepped into movie theaters via an all-new theater standee.
The display features the entire cast of "Suicide Squad" standing side by side: Rick Flag (Joel Kinnaman), Slipknot (Adam Beach), Amanda Waller (Viola Davis), Deadshot (Will Smith), Katana (Karen Fukuhara), Harley Quinn (Margot Robbie), Enchantress (Cara Delevingne), Captain Boomerang (Jai Courtney), El Diablo (Jay Hernandez) and Killer Croc (Adewale Akinnuoye-Agbaje). Noticeably absent is Jared Leto's Joker, who -- going off of what we've seen in trailers -- may not exactly be a member of the titular team.