MARVEL CELEBRATES SPIDER-MAN'S BIRTHDAY AT NEW YORK COMIC CON!
10/08/12 @ 4:40 pm EST
Source:
Marvel
|
Comments
(0) |
E-mail Article
|
Add a Comment
New York, NY—October 8, 2012—Spider-Man is known as the World's Greatest Super Hero, and next week at New York Comic Con (Oct 11-14), join Marvel in celebrating his birthday! Next Sunday, October 14th is Spidey's birthday and for a Super Hero this big, we know nothing less than making history would be suitable—so in the days leading up this memorable day, Marvel is pulling out all the stops!
"Spider-Man is one of the most popular and special characters in the world, so we wanted to make sure we celebrated his birthday in a big way " said Dan Buckley, Publisher & President of the Print, Animation & Digital Divisions, Marvel Worldwide, Inc. "From working with the New York City Mayor's Office for a very special announcement, to partnering with our friends at Hallmark Cards to make history, we're ensuring that New York Comic Con is the place for fans of all ages to celebrate Spider-Man!"
First, don't miss the event that brings together the
New York City Mayor's Office and Marvel Entertainment
for a special proclamation of Marvel-ous proportions! At 10:15am on Friday, October, 12 in the Marvel booth (#1838), join Marvel Editor-in-Chief Axel Alonso, NYC Commissioner of Media and Entertainment Katherine Oliver, Captain America, and Spider-Man himself to kick off the celebration. Don't miss out on the big announcements and chance to be part of Marvel history!
"We are thrilled to welcome Comic-Con back to New York this year and especially excited to celebrate the birthday of a real New Yorker, Spider-Man!" said Katherine Oliver, Commissioner of the Mayor's Office of Media and Entertainment. Over the years, Spider-Man has helped showcase the best of what New York has to offer our friends in entertainment, and New York Comic Con is an opportunity to see just how many other creative minds are using this great city for inspiration and as a backdrop for their stories."
Then, be one of the first to sign the larger than life (6'x 8')
Spider-Man Birthday Card
, produced by Hallmark, as Marvel attempts to shatter the Guinness World Record for "Most Contributions to a Greeting Card." With the help of Marvel fans in attendance we're sure we can do it—but we have limited space on this giant card! This card will be on display in the Marvel booth (#1838) at different times each day, both for contributions and for photo ops, so make sure you check in frequently so you don't miss out!
On Saturday, October 13 head over to room 1E13 at NYCC for the "
Marvel Television Presents" Panel
! Jeph Loeb, Marvel's Head of Television, gives you the latest on season two of
Ultimate Spider-Man
, the hit animated series on Disney XD, along with an inside look at the anticipated new animated series,
Marvel's Avengers Assemble
and
Hulk and the Agents of S.M.A.S.H.
!
Then, on Sunday, October 14-- the final day of New York Comic Con—Marvel's celebrating the official birthday of Spider-Man with more events, news and fun than you can Thwip! First, in Room 1E07, check out the
Amazing Spider-Man & Beyond
panel, where the minds behind your Spider-Man comics come together to give you all the news about the wall-crawler. What's next for Spider-Man? Find out here!
Next, calling fans of all ages—come to the IGN Theatre for an interactive event like nothing you've ever seen before! The cast of
Spider-Man: Turn off The Dark
, the hit Broadway show, arrives at New York Comic Con for a panel—nay, a performance!—that involves you, fans of all-ages!
Did you get up early for New York Comic Con? Miss your Sunday Morning cartoons? We've got the solution-- come on down to the IGN Theatre to view one of the most acclaimed episodes of the
Ultimate Spider-Man
animated series.
"If you're a Spider-Man fan, then you'll have the time of your life at New York Comic Con" said Axel Alonso, Editor-in-Chief, Marvel Entertainment. "Sunday, October 14th is going to be a special day that all Marvel fans will remember!"
Plus, all convention long, check out the Marvel Booth (#1838) for special Spider-Man signing events with the creators behind your favorite comics, exclusive giveaways and more!
Can't make it to the convention? Follow along on the
Marvel Events App
&
events.marvel.com
, the best way to get exclusive videos, real-time announcements from the convention floor and up-to-the-minute panel, in-booth, and signing schedules of all your favorite Marvel creators!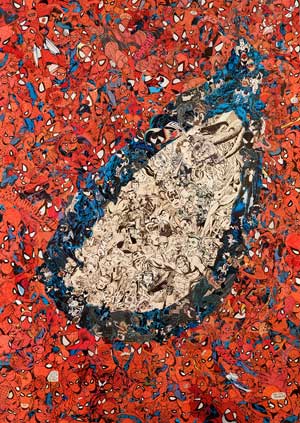 X-MEN: DARK PHOENIX WILL BE FAITHFUL TO THE COMICS, SAYS ALEXANDRA SHIPP
10/20/17 @ 3:53 pm EST
Source:
Bleeding Cool
| Categories:
Marvel
|
Comments
(0) |
E-mail Article
|
Add a Comment
X-Men: Dark Phoenix
just wrapped production, so we don't know much about it at the moment. What we do know is that it's going to be based on one of the most beloved X-Men stories of all time, and fans are sitting on the edge of their seats waiting. When Deadline asked actress Alexandra Shipp, who plays Storm, if she could reveal anything she was hesitant to share any information:
"Okay, I wish I could answer all of these questions for you. But, if I ever want to do another X-Men movie in the future I can't tell you sh*t. (
Laughs
)," she said.
However, when pressed, Shipp did reveal that she believes comic fans will be happy and they they remain true to the source material:
"What I will say is, as a fan of
X-Men
, you are going to be very happy — because I'm a huge fan of
X-Men
and so is our director, Simon [Kinberg], who's also writing and executive producing it," she said. "He is not letting anything go. It's very accurate to the comics and he really gives the fans what they've been asking for, in my opinion. All I can say is that you're really going to like it."
A GRUFF-LOOKING AQUAMAN IN NEW IMAGE FROM JUSTICE LEAGUE
10/20/17 @ 3:45 pm EST
Source:
Bleeding Cool
| Categories:
DC
|
Comments
(0) |
E-mail Article
|
Add a Comment
Time for a new image from the upcoming
Justice League
. This time it comes from Total Film and shows Aquaman (Jason Momoa) underwater.
KEVIN FEIGE ISN'T RULING LADY THOR OUT FOR THE MCU
10/20/17 @ 3:42 pm EST
Source:
Bleeding Cool
| Categories:
Marvel
|
Comments
(0) |
E-mail Article
|
Add a Comment
In a recent interview with Movies.com, Marvel Studios president Kevin Feige specifically mentioned Lady Thor as a possible plot to use in the future.
"We always look back to the comics to get those ideas … sometimes very specific storylines like 'Civil War,' sometimes just nuggets or characters like 'Planet Hulk.' So anything that's happened in the comics, even a female Thor, become great potentials and the ideas from which future movies can be born," Feige said.
This isn't a confirmation by any stretch of the imagination, but it would be interesting to see them gender bend a character and actually acknowledge it. For now, the actors and actresses playing the roles in the MCU can stick around a few more movies if they want to.
But the sad reality of the Marvel Cinematic Universe is that, eventually, the actors are going to be too old to play their respective characters. Eventually, if we want to ever see another Iron Man or Captain America once Robert Downey Jr. and Chris Evans are done with the roles, we'll need to accept another actor playing that part. That might be tough for some fans to swallow, but there are a few ways to get around it. When it comes to Thor, the easiest way around is have someone else take up the mantle. In the comics, this mantle of Thor is currently being held by Jane.
Once the first Avenger doesn't renew, we really have to start having this conversation about where we're going in the future — or whichever bodies are on the ground by the time Thanos is defeated.
BLACK WIDOW, IRON MAN, CAPTAIN AMERICA, AND HULK TO READ 'OUR TOWN' TO BENEFIT PUERTO RICO
10/20/17 @ 3:58 pm EST
Source:
Bleeding Cool
| Categories:
Marvel
|
Comments
(0) |
E-mail Article
|
Add a Comment
Cast members from
Avengers: Infinity War
led by Scarlett Johansson will perform a live reading of the 1938 play
Our Town
by Thorton Wilder as a benefit for victims of Hurricane Maria in Puerto Rico. Johansson will be joined by Robert Downey Jr., Chris Evans, Mark Ruffalo, and "surprise appearances" at the reading, which will be directed by Kenny Leon, according to a report from Deadline.
The performance will take place on November 6th in Atlanta, with tickets going on sale October 23rd.
THE WALKING DEAD: WATCH THE FIRST 3 MINUTES OF SEASON 8 HERE!
10/20/17 @ 3:33 pm EST
Source:
Bleeding Cool
| Categories:
Walking Dead
|
Comments
(0) |
E-mail Article
|
Add a Comment
If you ever thought you'd like to see what AMC's
The Walking Dead
would look like with a side of
Game of Thrones
, then Season 8
might
just be the season for you — if the first three minutes of Sunday night's premiere are any indication.
To get fans ready for
The Walking Dead
's 100th episode, AMC has released the first three minutes of the season's inaugural episode. If there's one thing this clip makes clear, it's this: the time for talk is
over —
there's no going back.
The Walking Dead
premieres its eight season and 100th episode on AMC on Sunday, October 22nd at 9 p.m. EST, with a two-hour live
Talking Dead
hosted by Chris Hardwick immediately following the episode.
Season 8 Sneak Peak:
https://youtu.be/LUcF9ELZbTE
'WALKING DEAD' BOSS GREG NICOTERO SAYS ZOMBIES WILL WIN THE RICK-NEGAN WAR
10/20/17 @ 3:23 pm EST
Source:
Variety
| Categories:
Walking Dead
|
Comments
(0) |
E-mail Article
|
Add a Comment
SPOILER ALERT: Do not read if you are not caught up on "The Walking Dead."
"The Walking Dead" Season 8 premiere and 100th episode promise the beginning of all-out war between Rick's coalition and Negan's Saviors, but series executive producer Greg Nicotero says that the walker will be the real winners of the battle.
"One of the things that people so often talk about is the fact that it's not a show about zombies, it's a show about people," Nicotero said during filming of the episode back in May. "It's about the people that are occupying this dead world. And one of the things that is important for us in this episode and even parts of this season is to really highlight the idea that you're always going to get a sense that there are walkers on the periphery. They're just waiting for these groups of idiots to kill each other off so they can finish taking over the rest of the world. The zombies are like, 'Oh, you're going to let us not do the work and you're going to do the work for us? Great. We'll just wait until you're done and we'll take over.' It's sort of reminding the audience that this is the world."
Season 7 promised an epic clash would take place in the upcoming season with Rick leading Alexandria, Maggie leading the Hilltop, and Ezekiel leading the Kingdom in a fight for their lives against Negan. With war on the horizon, Nicotero also said the survivors must now focus beyond living one day to the next."It's not about surviving day-to-day," he said.
"It's about how is society going to persevere next week or next month or next year. We started getting into that last year with Rick and Michonne, like, 'It's not about me. It's not about you. It's about how we're going to go on.' The last speech in the finale was Maggie talking about Glenn and holding Hershel's watch, which is a little bit of precursor to what we're doing this season, which is to remind people who Hershel was and who Glenn was and hearing Maggie talking about society and going forward. There's a specific moment in this episode where a character says, 'Is hope enough to get us through to the next level?'"
"The Walking Dead" Season 8 premieres Sunday at 9 p.m. ET on AMC.
FEMALE ANIMATORS DEMAND END TO SEXUAL HARASSMENT IN OPEN LETTER:
10/20/17 @ 3:12 pm EST
Source:
Hollywood Reporter
| Categories:
MIsc
|
Comments
(0) |
E-mail Article
|
Add a Comment
More than 200 individuals in the animation industry have signed an open letter insisting on an end to sexual harassment in the workplace.
The letter was sent anonymously on Thursday to executives at major animation studios,
The Hollywood Reporter
has confirmed. It follows the reports of decades of sexual harassment, assault and rape allegations against producer Harvey Weinstein, and Nickelodeon's firing of Chris Savino, the creator of the animated series
Loud House,
whom up to a dozen women have accused of sexual harassment, unwanted advances and inappropriate behavior.
"In the wake of the Harvey Weinstein scandal, many of the women who work in animation have begun discussing more openly issues that we have dealt with quietly throughout our careers," reads the letter. "As we came together to share our stories of sexism, sexual harassment and, in some cases, sexual assault, we were struck by the pervasiveness of the problem."
In light of recent events and in response to the animators' letter, DreamWorks Animation's CEO Chris DeFaria and head of TV animation Margie Cohn sent a memo to that studio's staff saying, "We wanted to take this opportunity to reinforce our company's policy of safeguarding equal employment opportunities and prohibiting harassment of any kind. We stand together in supporting a culture in which individuals can, and are expected to, speak up, and one in which people are held accountable for their actions."
The animators' letter notes that women make up 23 percent of the industry's union employees. "As more women have entered the animation workforce, it still seems that some men have not embraced this change," the letter continues. "They still frequently made crass sexual remarks that make it clear women are not welcome on their crews. Some have pressed colleagues for romantic or sexual relationships, despite our clear disinterest. And some have seen the entrance of more women into the industry as an opportunity to exploit and victimize younger workers on their crews who are looking for mentorship. In addition, when sexual predators are caught at one workplace, they seem to easily find a job at another studio, sometimes even following their victims from job to job. We are tired of relying on whisper networks to know who isn't safe to meet with alone. We want our supervisors to protect us from harassment and assault. This abuse has got to stop."
Among the demands included in the letter are clear and enforceable sexual harassment policies at every studio; amendments to the Animation Guild constitution to "censure, fine, suspend or expel" members who are "found guilty of any act, omission, or conduct which is prejudicial to the welfare of the guild;" and support from male colleagues to "start speaking up and standing up for us. When their co-workers make sexist remarks, or when they see sexual harassment happening, we expect them to say something. Stop making excuses for bad behavior in your friends and co-workers, and tell them what they are doing is wrong."
The DWA memo also said the company supported efforts by the Animation Guild "to explore additional steps that would help members address concerns within the union."
The animators' lletter concludes, "We resolve to do everything we can to prevent anyone else from being victimized. We are united in our mission to wipe out sexual harassment in the animation industry, and we will no longer be silent."
Among the 217 women and gender-nonconforming people who signed the letter are Netflix's head of kids programming Jenna Boyd,
Bob's Burgers
producer and writer Wendy Molyneax,
Steven Universe
creator Rebecca Sugar and
Danger & Eggs
co-creator Shadi Petosky, as well as animators of
BoJack Horseman, Adventure Time and The Powerpuff Girls
. (Via THR)
DYNAMITE ENTERTAINMENT ANNOUNCES THE ART OF ATARI SIGNED EDITION INDIEGOGO CAMPAIGN
10/20/17 @ 3:06 pm EST
Source:
Dynamite
| Categories:
Dynamite
|
Comments
(0) |
E-mail Article
|
Add a Comment
Dynamite Entertainment is pleased to announce the launch of their latest Indiegogo crowdfunding campaign, which will celebrate the more than 30-year history of video game trailblazer Atari with
The Art of Atari
, the most comprehensive retrospective to date, clocking in at over 350 pages, and collecting production and concept artwork, photos, and marketing materials. Fans will glean exclusive insight from key people involved in Atari's rich history, with behind-the-scenes details on how the most iconic games in early video game history were conceived of, illustrated, and developed. This special edition, which includes a signed tip-in plate from writer Tim Lapetino and an Indiegogo exclusive
Missile Command
print, is available now.
The Art of Atari
Indiegogo can be found by visiting:
https://www.indiegogo.com/projects/art-of-atari-signed-hardcover-book-game-video#/
ATARI is one of the most recognized names in the world. Since its formation in 1972, the company pioneered hundreds of iconic titles including
Asteroids
,
Centipede
and
Missile Command
. In addition to hundreds of games created for arcades, home video systems, and computers, original artwork was specially commissioned to enhance the Atari experience, further enticing children and adults to embrace and enjoy the new era of electronic entertainment. Art of Atari is the first official collection of such artwork. Sourced from museums and private collections worldwide, this book spans over 40 years of the company's unique illustrations used in packaging, advertisements, catalogs, and more!
"Before Atari, entertainment was something you only observed. Atari fearlessly revolutionized entertainment, transforming it into an interactive experience. Our world would never be the same again," says Nick Barrucci, Dynamite CEO and Publisher. "Publishing
Art of Atari
is a high point in Dynamite's publishing history, as we honor the visual history of a bold innovator. We're excited to offer this special signed edition by the incredible writer and Historian, Tim Lapetino, to all true Atari fans and collectors world-wide!"
The
Art of Atari
Indiegogo signed edition is currently printed and ready to ship upon completion of the campaign, just in time for the holidays! With tiers designed to fit any collector's budget, backers will have the potential to enjoy a number of great rewards, including:
Art of Atari
Signed Hard Cover Edition with a Tim Lapetino signed tip-in plate, Digital copy of
Art of Atari
, Indiegogo Exclusive 8 x 10 Missile Command Lithograph,
Art of Atari
Poster book,
Centipede
issues #1 - 3,
Swordquest
issues #0 - 4,
Atari Classics: Swordquest
GN,
Centipede #1
sketch cover: remarked, hand sketched edition by Ken Haeser and signed by Max Bemis, and more!
The
Art of Atari
Indiegogo is available for a limited time only. Backers can get on board and gain access to all of these amazing rewards by visiting
https://www.indiegogo.com/projects/art-of-atari-signed-hardcover-book-game-video#/
today!
NEW 'THOR: RAGNAROK' TV SPOT FEATURES NEW FOOTAGE
10/20/17 @ 11:41 am EST
Source:
ComicBook
| Categories:
Marvel
|
Comments
(0) |
E-mail Article
|
Add a Comment
With
Thor: Ragnarok
's release on the horizon an abundance of footage is making its way onto the Internet, including new shots in the below TV spot.
As revealed in the first trailer for
Thor: Ragnarok
, the Hulk and Thor will do battle in Sakaar's gladiator arena but the fight is carried out in slow-mo detail as the God of Thunder smashes his new hammer into the Hulk's face. Of course, Thor will later claim to have won the fight, despite other trailers showing him taking quite a beating.
TV spot:
https://youtu.be/RoOuqdzvij4
'STAR TREK' REVEALS STARFLEET'S MOST DECORATED CAPTAINS
10/20/17 @ 11:37 am EST
Source:
ComicBook
| Categories:
Star Trek
|
Comments
(0) |
E-mail Article
|
Add a Comment
This week's episode of
Star Trek: Discovery
featured an Easter egg-laden list referencing several Starfleet captains from past
Star Trek
series.
The list appeared during the episode "Chose Your Pain." First Officer Saru is made the acting captain of the
USS Discovery
after Captain Gabriel Lorca is captured by the Klingons. Feeling doubtful and stressing over his relationship with Michael Burnham, Saru calls up on his computer a list of the most highly decorated captains in Starfleet history.
There are some things to consider when looking at this list.
Star Trek: Discovery
is a prequel series set ten years before the events
Star Trek: The Original Series
. That means that Captain Kirk, the character any
Star Trek
fan would most expect to see on a list of the franchise's top captains, does not appear, though two other
Enterprise
captains do. By the same token, Captains Picard, Janeway, and Sisko are also not present on this list, since they would not even have been born yet.
Instead, the list includes Philippa Georgiou, the captain of the
USS Shenzhou
who mentored both Saru and Burnham and who died during the Battle at the Binary Stars in the first two episodes of
Star Trek: Discovery
seven months prior to Saru calling up the list.
To see Georgiou's name next to the other recognizable names on this list emphasizes just how highly respected the character was in the
Star Trek
universe, despite only appearing in the flesh in two episodes of the franchise.
Other captains on the list include Jonathan Archer (
Star Trek: Enterprise
), Robert April (
Star Trek: The Animated Series
), Christopher Pike (
Star Trek: TOS
, "The Cage") and Matthew Decker (
Star Trek: TOS
, "The Doomsday Machine").