PATHFINDER CONTEST AND INTERVIEW!!!
10/05/12 @ 11:06 am EST
Source:
Dynamite
|
Comments
(0) |
E-mail Article
|
Add a Comment
Check out a Pathfinder contest and an interview with Pathfinder interior artist, Andrew Huerta, at Things From Another World!

Click on links for contest details and the interview!

http://www.tfaw.com/blog/2012/10/03/andrew-huerta-takes-us-on-an-adventure-with-pathfinder-comics/

"LIKE" DYNAMITE'S FACEBOOK PAGE TODAY!!!

http://www.facebook.com/dynamitecomics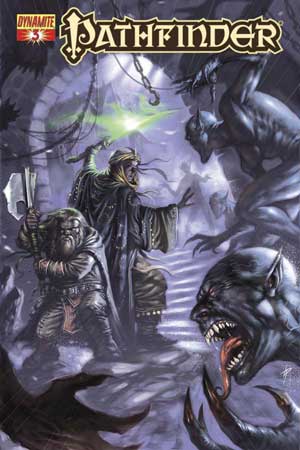 DEADPOOL PINCHES HIMSELF IN NEW INTERNATIONAL POSTER
12/01/15 @ 9:54 pm EST
Source:
Bleeding Cool
| Categories:
Deadpool
|
Comments
(0) |
E-mail Article
|
Add a Comment
Deadpool shows off his physique in a new international poster while coyly giving you the come-hither eyes:
Deadpool
will likely reveal more when the film arrives in US theaters on February 12th, 2016.
'THE FLASH'-'ARROW' CROSSOVER: EPS TALK 'LEGENDS' EASTER EGGS, WELLS' SURPRISING ALLIANCE
12/01/15 @ 9:49 pm EST
Source:
The Hollywood Reporter
| Categories:
DC
|
Comments
(0) |
E-mail Article
|
Add a Comment
[Warning: This story contains spoilers from Tuesday's episode ofThe Flash, "Legends of Today."]
When
Arrow
and
The Flash
debuted the first ever crossover event last year, the showrunners had no idea that it would be anything more than a one-time thing. So when they sat down to plan out this year's two-night crossover run, executive producer Greg Berlanti and co. decided to go even bigger this time around. Instead of just combining the casts and story from
Arrow
and
The Flash
, they also decided to throw the upcoming series
Legends of Tomorrow
into the mix.P
art one of the crossover introduced Carter Hall, aka Hawkman (Falk Hentschel) on
The Flash
. He is the latest reincarnation of an Egyptian Prince who is fated to reincarnate throughout time for centuries along with his soul mate, Kendra Saunders, aka Hawkgirl (Ciara Renée). While Carter can recall all the memories of their past lives, it took pushing Kendra off a roof for her powers to emerge, and her memories slowly started to come back. But their story will continue in Wednesday's
Arrow
episode, as immortal villain Vandal Savage (Casper Crump) follows the Hawks from Star City to Central City.
Of course, introducing
Legends of Tomorrow
characters provided a new set of challenges for the crossover, logistically-speaking.
Arrow
executive producer Marc Guggenheim recalled one meeting in which a whole room of assistant directors tried to make the schedules for all three casts for the crossover which resulted in everyone "bleeding from the brain," he joked."
We had already started to shoot the first couple of episodes of
Legends
before we shot these episodes," Berlanti told a small group of reporters after an screening of the crossover. "We also knew that there were characters who had been on
Flash
and
Arrow
that we were also shooting out of those respective shows before we went into shooting
Legends
to then have to come back and do the introduction of some of the characters here.
"So it was about as out of order as you can imagine and most of it happening concurrently," he continues. "There were a lot of conference, logistical sessions of, how can we, on a basic, basic level, pull this off? Let alone make it interesting and entertaining and coherent."
But that didn't stop
The Flash
and
Arrow
bosses from having their own particular brand of fun with the episodes, either. Berlanti reveals that there are Easter eggs hidden in the crossover episodes that will pay off when
Legends of Tomorrow
debuts in January.
In addition to kick-starting
Legends
, part one of the crossover also dropped some huge revelations for both
The Flash
and
Arrow
's individual storylines. Oliver (Stephen Amell) discovered what viewers have known since season two: he might have a son in Central City. But producers say this won't be the DC Comics character Connor Hawke, who is Oliver's son in the comic books and eventually becomes the second Green Arrow.
"When we came up with the whole idea of it, we didn't want to be tied into a character like Connor, and not be able to have him be a part of the show if we made him so young," Kreisberg says. "To give us the leeway to still have Connor Hawke be a part of the universe, that was the biggest reason we made that decision."
Expect that storyline to advance in major ways in part two of the crossover, including how it will affect Oliver's relationship with Felicity (Emily Bett Rickards).
As for
The Flash
, viewers saw Harrison Wells (Tom Cavanagh) successfully create a serum to replicate the speed force, Velocity 6. As a result, Jay Garrick (Teddy Sears) momentarily got his powers back and used them to save Wells' life after Patty Spivot (Shantel VanSanten) shot him."
If you're a fan of the comics, you know that a big part of the comics is Velocity 9, and today you met Velocity 6," Kreisberg says. "So it's safe to say that there will be a few more iterations of that formula. How it plays out and how it works and who uses it and the effects that would have, that's something you'll have to watch for."
But now that Jay got a taste of his old powers, will he stick to his guns of not wanting anything to do with the serum? "He's not jonesing for a fix or anything," Sears says. "He's aware of what potential Velocity 6 has on his life. But he's very clear that he doesn't want to go down that path. But like anyone who has seen the other side, there are haunting memories of what could be or what could have been."
One unexpected outcome of Wells' injury is that the animosity between Wells and Jay might actually dissipate. "Jay is still very dubious of Wells and the carnage that he's created on Earth 2," Sears says. "But there is a growing understanding and respect. These two will begin to work side-by-side as members of Team STAR Labs going forward. But it's not like they're not going to be buddies or great friends."
Part two of the crossover airs on
Arrow
Wednesday at 8 p.m. on The CW. (Via THR)
'MAD MAX: FURY ROAD' NAMED BEST FILM BY NATIONAL BOARD OF REVIEW
12/01/15 @ 6:30 pm EST
Source:
The Hollywood Reporter
| Categories:
MIsc
|
Comments
(0) |
E-mail Article
|
Add a Comment
The National Board of Review on Tuesday revealed its 2015 film awards, naming
Mad Max: Fury Road
as the best film.
Despite receiving the top prize, best film was the only award won by the post-apocalyptic blockbuster starring Charlize Theron and Tom Hardy. Released in May, the $150 million pic has grossed $375.8 million worldwide.
Multiple NBR award-winners include
The Martian, Room, The Hateful Eight
and
Beasts of No Nation
.
The Martian
won honors for best director (Ridley Scott), best actor (Matt Damon) and best adapted screenplay (Drew Goddard).
Room
star Brie Larson was named best actress, with her young co-star Jacob Tremblay receiving an award for breakthrough performance, which he will share with fellow young sensation Abraham Attah from
Beasts of No Nation
.
Beasts of No Nation
will also share the NBR Freedom of Expression award with
Mustang
, France's submission for the Oscar for best foreign-language film.
Hateful Eight
's two NBR awards are the first major honors received by the Quentin Tarantino pic, which is getting a Christmas Day limited release. The filmmaker won the prize for best original screenplay, and Jennifer Jason Leigh was tapped as best supporting actress.
A number of Oscar hopefuls were shut out by the NBR. Specifically,
Steve Jobs, Spotlight, Carol, Joy, Concussion, The Revenant, Anomalisa, Bridge of Spies, Truth
,
Brooklyn, The Danish Girl, Straight Outta Compton
and
Tangerine
all were missing from the awards list, but
Bridge of Spies, Spotlight
and
Compton
were listed as three of NBR's top films.
After receiving a leading 14 nominations from the Annie Awards,
Inside Out
was named best animated feature by the NBR.
Mediterranea
helmer Jonas Carpignano also won his second award in less than 24 hours, receiving the NBR honor for best directorial debut after taking home the Gotham Independent Film Award for best director.
The National Board of Review is also honoring Cecil B. DeMille's granddaughter, Cecilia DeMille Presley, with its 2015 William K. Everson film history award. Presley is vice-chair of the National Film Preservation Foundation and co-authored the book
Cecil B. DeMille: The Art of the Hollywood Epic.
PAUL DINI AND EDUARDO RISSO TEAM FOR "DARK NIGHT: A TRUE BATMAN STORY"
12/01/15 @ 10:07 pm EST
Source:
Comic Book Resources
| Categories:
Batman
|
Comments
(0) |
E-mail Article
|
Add a Comment
Paul Dini has teamed with Eduardo Risso for "Dark Night: A True Batman Story," an original graphic novel inspired by a traumatic event in the veteran writer's life.
The 121-page book will be published in June by Vertigo.
For the graphic novel, announced in The Hollywood Reporter, Dini revisits his own 1993 mugging in Los Angeles that left part of his skull shattered, requiringsurgery.
According to the website, "Dark Night" features Batman and his rogues gallery as a Greek chorus of sorts, with the focus on Dini, "then a recent Emmy winner for 'Tiny Toon Adventures', who drinks too much and dates the wrong women. [...] Then one night he runs afoul of two thugs. In the days, weeks and months that follow, he tries his best to recover but has to navigate Batman and his infamous cohorts, who offer criticism and advice as if angels and devils on his shoulders."
Batman is described as "a blunt parental figure" who berates Dini and tells him he could've gotten away from his assailants, while The Joker urges him to "take it easy and not leave his apartment."
"I'm not saying I talk to cartoon characters all the time," Dini tells THR, "but the characters are very real to me. In a very non-insane way."
HAWKMAN TAKES FLIGHT, LOOKS FOR LOVE IN "FLASH"/"ARROW" CROSSOVER
12/01/15 @ 6:19 pm EST
Source:
Bleeding Cool
| Categories:
DC
|
Comments
(0) |
E-mail Article
|
Add a Comment
"The Flash" and "Arrow' tie their shared universe even tighter this week with the second annual crossover between the shows, a two-part installment introducing Hawkgirl (Ciara Renée, who's already appeared on "Flash" as civilian identity Kendra Saunders), Hawkman (Falk Hentschel) and immortal villain Vandal Savage (Casper Crump). It's a prelude to the upcoming "DC's Legends of Tomorrow" series, and with production schedulesof three different shows to juggle, it was about as tricky to pull off as you might guess."
I don't think it's possible to overstate the incredible amount of difficulty it was for just about everyone involved," Marc Guggenheim, "Arrow" co-showrunner and "Legends of Tomorrow" executive producer, told a group of reporters including CBR News during a press event Monday at The CW headquarters in Burbank. "Certainly, the actors being asked to shuttle from literally one set to two other sets, often times in the course of a single day, to the crews of the three different shows, to the ADs -- these guys put together schedulesthat were like higher mathematics."
"It was an acting marathon," added Hentschel, who had already started production on "Legends" when filming the crossover episodes. "It was a whirlwind, but it was really amazing to see it come together. When [the executive producers] all told me about this, at first I was like, 'How is this going to happen?'"
There was a race to the finish line on the post-production side as well, with visual effects completed just a couple days before this week's airdates. But it should all be worth it for "Flash" and "Arrow" fans, who will witness a true two-parter this week, rather than last year's crossover, which was more two loosely connected standalone episodes featuring characters from both shows.
"With last year's episode, obviously it was the first time we'd ever done it, and we were very conscious of not everybody who was watching 'Flash' was watching 'Arrow' and vice versa, so we wanted to make sure they both were self-contained episodes," "Flash" showrunner and "Arrow" and "Legends" executive producerAndrew Kreisberg told the assembled press. "This time around, given the success that we've had previously, and how people are viewing this as much more of a collective, shared universe, we felt emboldened, and our partners at CW and Warner Bros. were more supportive. We were able to have a two-hour, true event with one story and one villain, one storyline, and not having to worry so much about the mechanics of how it would air."
"The Hawks and Vandal Savage deserve a two-hour introduction," said DC Entertainment Chief Creative Officer Geoff Johns, a man very familiar with Hawkman and Hawkgirl from writing stints on DC Comics like "Justice Society of America." "They're big characters."
The crossover episodes -- collectively promoted as "Heroes Join Forces" -- are a direct prologue to "Legends of Tomorrow," which debuts Jan. 21 on The CW. But don't look for the full cast of that show in these episodes -- there's no Atom, White Canary, Firestorm, Captain Cold or Heat Wave present, as the focus is on detailing the 4,000 year history between the Hawks and Vandal Savage. Along with the usual fun of seeing Team Arrow working alongside the S.T.A.R. Labs crew, of course.
"The studio and the network were asking for us from the very beginning of the year, 'Which characters from "Legends" are going to be in the two-hour?' We wanted to have a couple, but not all," Greg Berlanti, executive producer of all three series, said. "It also felt right that we would use the characters that we hadn't introduced on the individual series yet, with the exception of Rip Hunter, who's saved for the pilot of 'Legends.'"
Hentschel, who already had some experience with comic book-based TV after a guest spot on a "Marvel's Agents of S.H.I.E.L.D." episode in 2014, is especially looking forward to fully exploring the unique dynamic of the continually reincarnated Carter Hall and Kendra Saunders, and the complications that creates.
"They're, in my mind, a bickering old couple," Hentschel said. "He's gone through 4,000 years of loving her, and having her love him back -- and she doesn't know about it yet, so there's always this fun dynamic of him being like, 'You'll love me, it'll be good, I've seen it.' I think underneath it, too, I'm terrified always of losing her. Imagine you've seen everybody that you know die. It's pretty lonely, and here's that one person that is always constant."
"He remembers loving Kendra, and he remembers all the adventures they've had," Kreisberg added. "Not just the bickering, but he remembers all the fun they've had. Now, he's staring at this woman who's looking at him like he's crazy."
While that's a fairly complex relationship, Hentschel had a simple answer to how he enjoys appearing in the Hawkman costume, which is comic book-y even by "Flash" and "Arrow" standards. "It's awesome. I was like, 11 years old, just standing there -- it's like a dream come true. You've got a costume that's fit for you, and you feel really good about life. And then you get the helmet on -- it's awesome!" (Via CBR)
"Legends of Today," the "Flash" half of this year's crossover, airs 8 tonight on The CW. "Legends of Yesterday," the "Arrow" installment, airs 8 p.m. Wednesday on The CW.
VAUGHAN, MARTIN & VICENTE DEBUT NEW PANEL SYNDICATE SERIES
12/01/15 @ 6:08 pm EST
Source:
Comic Book Resources
| Categories:
MIsc
|
Comments
(0) |
E-mail Article
|
Add a Comment
Similar to the surprise launch of "The Private Eye," writer Brian K. Vaughan has announced another new digital-first series from Panel Syndicate with the release of its first issue. The series, "Barrier," reunites the "Private Eye" team of Vaughan, artist Marcos Martin and coloristMuntsa Vicente.
The first issue is available for download now at Panel Syndicate in a number of un-encrypted formats (PDF, CBR and CBZ). The debut issue clocks in at 53 pages, and as with previous Panel Syndicate releases, readers can name their price for the comic.
Vaughan, Martin and Vicente first surprised readers with the debut of "The Private Eye" back in March 2013, their first pay-what-you-want series. "Private Eye" ran for 10 issues, concluding in March of this year, and won both an Eisner and Harvey award.
COULSON QUESTIONS DAISY ABOUT WARD'S WHEREABOUTS IN NEW CLIP
12/01/15 @ 11:24 am EST
Source:
Marvel
| Categories:
SHIELD
|
Comments
(0) |
E-mail Article
|
Add a Comment
Daisy reveals her special connection with Ward during an interrogation in this new clip from "Marvel's Agents of S.H.I.E.L.D."! Check out the clip below and tune in to an all-new episode airing tomorrow at 9:00 PM ET on ABC.
With Ward (Brett Dalton) still on the run while trying to rebuild Hydra, Coulson (Clark Gregg) resorts to questioning his own Agents in hopes of exposing the traitor! Daisy (Chloe Bennet) delves deep into her history with Ward to reveal their relationship, which makes Coulson even more doubtful about who to trust. Watch the intense line of questioning in the clip above!
Tune in to an all-new episode of "Marvel's Agents of S.H.I.E.L.D." tomorrow at 9:00 PM ET on ABC!
Clip:
https://youtu.be/NLQlMdcNDYc
AN OUTCAST AMONG OUTCASTS IN X-MEN: WORST X-MAN EVER #1
12/01/15 @ 11:12 am EST
Source:
Marvel
| Categories:
X-Men
|
Comments
(0) |
E-mail Article
|
Add a Comment
This January, experience a tale of the misfit among the misfits. Today, Marvel is pleased to present your first look inside
X-MEN: WORST X-MAN EVER #1
, the new series written by Say Anything frontman Max Bemis (
A+X
) with artist Michael Walsh (
Secret Avengers, Hank Johnson: Agent of Hydra
)! Bailey Hoskins has just discovered he is a mutant. For someone who's never been special, never stood out, discovering he's "gifted" is truly a gift. And with that gift comes the most exciting opportunity of all – entry into the hallowed halls of Xavier's School for Gifted Children and into the ranks of the world-famous X-Men! But unfortunately for him…he might just be the worst X-Man ever. Welcome to the X-Men, Bailey…hope you survive the experience! Debuting digitally this January, be there as Bailey embarks on his first journey into the center of the Marvel Universe in
X-MEN: WORST X-MAN EVER #1
!
X-MEN: WORST X-MAN EVER #1 (of 5)Written by MAX BEMIS
Art & Cover by MICHAEL WALSHPre-Order Now. On-Sale in January!
'THE WALKING DEAD' FINALE RATINGS SPIKE, BUT DOWN FROM LAST YEAR
12/01/15 @ 11:04 am EST
Source:
Variety
| Categories:
Walking Dead
|
Comments
(0) |
E-mail Article
|
Add a Comment
Despite facing the highest-rated "Sunday Night Football" game of the fall, AMC's "The Walking Dead" capped the first half of its fifth season with more huge numbers and a nice uptick in same-day ratings — but down from last year.
AMC will release "live plus-3" ratings later this week, but "The Walking Dead" on Sunday averaged a 7.0 rating in adults 18-49 and about 14 million viewers overall, according to Nielsen. This was up about 6% week to week for the show's best numbers since its season premiere on Oct. 11 (7.4 rating in 18-49, 14.63 million viewers overall).
"Walking Dead" remains the top-rated entertainment series of the fall in key demos despite its modest declines. And by way of comparison, Sunday's 7.0 rating tops every episode of Fox's "Empire" to date, with the soap peaking with a 6.9 for its first-season finale last March.
Its first eight episodes of season 5 averaged a 6.7 rating in adults 18-49 13.22 million viewers overall — down 8% in both the demo and total viewers vs. last year. Sunday's finale was up 15% in the demo from its fall conclusion of two years ago (6.1).
Following "The Walking Dead," the third episode of "Into the Badlands" averaged a 2.6 rating in adults 18-49 and 5.2 million viewers overall. It was Sunday's No. 2 entertainment series in the demo, rising 8% from last week.
"GOTHAM" TEASES MISTER FREEZE'S ARRIVAL IN SEASON 2 PROMO
12/01/15 @ 11:00 am EST
Source:
Comic Book Resources
| Categories:
Gotham
|
Comments
(0) |
E-mail Article
|
Add a Comment
Just in case you haven't watched "Gotham's" fall finale, which aired last night, here's a
spoiler
alert for one of the episode's big reveals. For those that have seen the episode, then this new promo for the upcoming second half of "Gotham's" second season will not surprise you.
Mister Freeze (Nathan Darrow) appeared fully-formed in last night's episode in a chilling cameo that will influence the rest of "Gotham's" sophomore season. The new teaser alludes to this, featuring a wave of frost overtaking a GCPD badge while Jim Gordon (Ben McKenzie) narrates.
Trailer:
https://youtu.be/1smkhrmwIxU