PATHFINDER CONTEST AND INTERVIEW!!!
10/05/12 @ 11:06 am EST
Source:
Dynamite
|
Comments
(0) |
E-mail Article
|
Add a Comment
Check out a Pathfinder contest and an interview with Pathfinder interior artist, Andrew Huerta, at Things From Another World!

Click on links for contest details and the interview!

http://www.tfaw.com/blog/2012/10/03/andrew-huerta-takes-us-on-an-adventure-with-pathfinder-comics/

"LIKE" DYNAMITE'S FACEBOOK PAGE TODAY!!!

http://www.facebook.com/dynamitecomics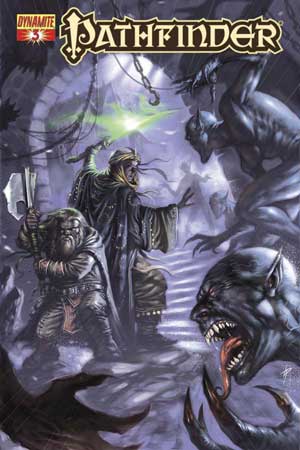 DEADPOOL GETS WORDY FOR HIS OWN ORIGINAL PROSE NOVEL IN 2015
11/20/14 @ 3:07 pm EST
Source:
Marvel
| Categories:
Marvel
|
Comments
(0) |
E-mail Article
|
Add a Comment
Sure, he's got his own comic series. Sure, he's one of the world's most popular super heroes. But you know what he's not? Fine literature.
Well, let's fix that!
That's right: In 2015, the Merc With a Mouth is conquering the world of prose fiction with
DEADPOOL: PAWS
, an all-new original story penned by novelist and comic-book writer Stefan Petrucha (
Teen, Inc., X-Files).
Something is turning the city's dogs into giant, bloodthirsty killing machines. And Deadpool is charged with taking care of business. Only thing is – Deadpool
likes
dogs. He doesn't want to kill them. Now, people – that's a different story. He can kill loads of people. At least the ones who deserve it. So what we've got here is a genuine character dilemma.
"Deadpool is such a fun character that transcends the comics themselves," says Marvel SVP Sales & Marketing David Gabriel. "When we were discussing which characters should get the prose treatment, Wade Wilson was always right near the top. From the first chapter, the book has everything you love about Deadpool, and I can't wait for fans to get their hands on it."
In 2015, be there when the Merc With a Mouth conquers the brave new world of prose.
DEADPOOL: PAWS
brings you a disturbing tale of mutated canines…and the regenerating, loudmouthed mercenaries who love them.
DEADPOOL: PAWS PROSE NOVEL HC
Written by STEFAN PETRUCHA
On Sale 08/05/2015!
THE MAD TITAN'S QUEST CONTINUES IN THANOS: THE INFINITY RELATIVITY OGN
11/20/14 @ 11:58 am EST
Source:
Marvel
| Categories:
Thanos
|
Comments
(0) |
E-mail Article
|
Add a Comment
This coming June, the Mad Titan continues his crusade for untold power as legendary creator Jim Starlin returns for
THANOS: THE INFINITY RELATIVITY OGN
, a brand-new, full-length original graphic novel! Following up 2014's New York Times Bestselling
Thanos: The Infinity Revelation,
this new original graphic novel marks another stellar offering from Marvel's all-new OGN line, featuring the world's most popular super heroes brought to life by the industry's most popular creators and debuting in a high-end, oversized format featuring sophisticated packaging and design.
Annihilus, lord of the Negative Zone has re-ascended to power, more dangerous and more deadly than ever before. When he and his Negative Zone armies make another, renewed assault on our universe in search of a source of infinite power, a fragile alliance of the universe's most unlikely protectors will form to stop him.
Now the Guardians of the Galaxy, Gladiator the Majestor of the Shi'ar Empire, and Adam Warlock and more must unite like never before! Only Adam Warlock's complex cycle of death and rebirth has left him more confused than ever before. What is his purpose in the universe? Why is he here? With his Infinity Watch reunited alongside the Guardians of the Galaxy, between them they may hold the key to ending the threat of Annihilus once and for all – but to do so they'll need to enlist the help of another. Could it be that the fate of everything lies in the hands…of Thanos?
Find out when comic legend Jim Starlin returns for his next cosmic epic this coming June for
THANOS: THE INFINITY RELATIVITY OGN
!
THANOS: THE INFINITY RELATIVITY OGN
Written by JIM STARLIN Art & Cover by JIM STARLIN On-Sale June 2015!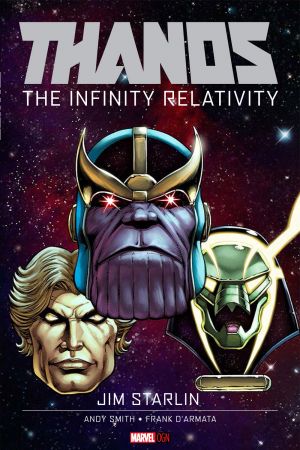 STORMQUEST CREATORS TOGETHER AT CAVALCADE OF COMICS
11/20/14 @ 11:51 am EST
Source:
Afterburn
| Categories:
MIsc
|
Comments
(0) |
E-mail Article
|
Add a Comment
On Saturday November, 22nd, Bill Nichols, Willie Peppers and Robert W. Hickey part of the creative team from the STORMQUEST Graphic Novel and SKYSTORM ORIGINS #1 will be together for the final time this year.

The 1st annual Cavalcade of Comics Convention in Louisville, KY offers the creators a chance to unite and display the collected volume of STORMQUEST. "The STORMQUEST Graphic Novel is the starting point for the SkyStorm Universe." replied Robert W. Hickey, "From this story everything changes for our characters and we get to show the readers within the pages of SKYSTORM ORIGINS which ships March, 2015 exactly what changes and what's on the horizon." finished Robert.

But you don't have to wait until 2015 to see the artwork and see what SkyStorm and its publisher Afterburn has coming out to stores. Bill, Willie and Robert will have pages from the SKYSTORM ORIGINS #1 story on display along with a few copies of STORMQUEST Graphic Novels Kickstarter volume for sale.

Don't miss this great opportunity to get in on the ground floor.

Cavalcade of Comics Louisville, KY November 22 @ the Ramada Plaza Louisville - Triple Crown Pavilion and stop by the Afterburn/SkyStorm tables.

NIGHTCRAWLER CANCELLED IN MARCH 2015?
11/19/14 @ 11:01 pm EST
Source:
Bleeding Cool
| Categories:
Nightcrawler
|
Comments
(0) |
E-mail Article
|
Add a Comment


Chris Claremont posted on Facebook about his battles with international flights, whereupon he was asked, and replied,

Danny Occhipinti:

Write a post about what are our thoughts on the newest Nightcrawler!! I liked it!! Lol. (Claremont easter eggs!!)

Chris Claremont:

Danny – very glad you liked it. I guess my basic thought is that it's a pity there won't be a Nightcrawler Year 2.

February has a Nightcrawler #11 solicited,

NIGHTCRAWLER #11
CHRIS CLAREMONT (w)
TODD NAUCK (a/C)
• The Shadow King. The Crimson Pirates. The forces of Heaven and Hell. Nightcrawler is cutting through his foes to protect those nearest and dearest to him.
• But in his struggles with his return from the afterlife, will Nightcrawler take his one-man-war too far?
32 PGS./Rated T+ …$3.99

Previously we had been informed that Nightcrawler would be going up to at least issue 12.

Maybe it won't go any further?

We were told to expect a number of cancellations in March, and we already lost Elektra in February. (via Bleeding Cool)
'GOTHAM': NO HARLEY QUINN THIS SEASON, BUT EXPECT 'PRENATAL ROBIN'
11/19/14 @ 10:46 pm EST
Source:
Entertainment Weekly
| Categories:
DC
|
Comments
(0) |
E-mail Article
|
Add a Comment


Gotham iconic character update: Showrunner Bruno Heller reveals that fans can expect a "prenatal Robin" on the Fox drama series, while rumors of Harley Quinn making an appearance this season are unfounded.

"We're going to do a prenatal origin story for Robin down the line," Heller tells EW.

Since Bruce Wayne (David Mazouz) is still a young teenager on the series, his youthful eventual partner Robin hasn't even been born yet. But that doesn't mean there isn't a way to tell a story that touches on his character.

"There are no MRIs involved," Heller assures. "There's an episode coming up where we learn how Robin's parents got together."

Monday's episode introduced assistant district attorney Harvey Dent/Two Face (Nicholas D'Agosto), whose upbeat cheerfulness hides an undercurrent of rage. And still to come this season is a young version of Scarecrow.

"This is not a kid being a loony Scarecrow; this is a couple episodes about how that character has evolved—everyone's character is formed in their childhood to some degree or another," Heller says. "His father is involved, as is part of the [character's] mythology."
EPOCHALYPSE FROM JONATHAN HENNESSEY & SHANE DAVIS DEBUTS THIS WEEK
11/19/14 @ 10:35 pm EST
Source:
Comicvine
| Categories:
MIsc
|
Comments
(0) |
E-mail Article
|
Add a Comment
If you're looking for something new to check out, Legendary Comics has a new sci-fi adventure series debuting this week.
In a world where the future is a thing of the past, the battle for the present has begun.
Legendary Comics turns history on its head with the sci-fi adventure
Epochalypse
, a mind-bending new series from historical author Jonathan Hennessey (
The United States Constitution: A Graphic Adaptation
;
The Gettysburg Address: A Graphic Adaptation
) and acclaimed artist Shane Davis (
Superman: Earth One
,
Shadow Walk
). The first issue will be available in comic shops and online.
When a mysterious space-time phenomenon causes 600 years of human history to collapse into a single era, societies from the past, present and future are forced to coexist in a dystopian civilization. To set the timeline straight, an elite team of Resynchronization Officers must rid the world of Anachronisms - futuristic artifacts that threaten the very laws of time. To ensure our future, we must undo it.
As one defiant officer leads the manhunt for elusive scientist Dr. Tomorrow and notorious outlaw The Salesman, he is challenged by shadowy agencies, rebel militias and forbidden desire. Can our hero save history - or doom the future?
Epochalypse:
Witer: Jonathan Hennessey Art: Shane Davis Release date: 11/19/14 Retail price: $3.99 Issue #1 Page count: 32
CASTING FOR 'X-MEN: APOCALYPSE'S' JEAN GREY UNDERWAY
11/19/14 @ 10:27 pm EST
Source:
ICv2
| Categories:
X-Men
|
Comments
(0) |
E-mail Article
|
Add a Comment
It appears that director Bryan Singer will include Jean Grey, Cyclops, and Storm in X-Men: Apocalypse, which will conclude the trilogy featuring the young mutants featured in X-Men: First Class. The decision to include the trio of founding X-Men members means that they will have be recast given the action in Apocalypse takes place 20 years before the first of Singer's X-Men films, which was made in 2000 and starred Famke Janssen as Jean Grey and James Marsden as Cyclops.

The usually reliable Hollywood-insider site The Wrap cites multiple sources for a report that Elle Fanning and Chloe Moretz have already met with Singer about playing Jean Grey, and Hailee Steinfeld (True Grit, Begin Again) is also under consideration. Official test offers have not yet been made and other actresses may be in consideration, though it appears that Singer wants an established young actress for the role of Jean Grey.

According to The Wrap, Singer is more open to finding a "fresh face" for the role of Cyclops with Ben Hardy, who plays Peter Beale on the long-running UK soaper EastEnders, Charlie Rowe, who is currently starring in the Fox TV series Red Band Society, and Timothee Chalamet, who plays Matthew McConaughey's son in Christopher Nolan's Interstellar, all reportedly in the running to play Cyclops according to The Wrap.

X-Men Apocalypse, which is slated to debut on May 27th, 2016, is expected to focus largely on the relationship between Mystique played by Jennifer Lawrence and Magneto, who will be played by Michael Fassbender.
IT'S OFFICIAL—THE BLUE ALIEN ON 'S.H.I.E.L.D.' IS A KREE
11/19/14 @ 10:24 pm EST
Source:
ICv2
| Categories:
Marvel
|
Comments
(0) |
E-mail Article
|
Add a Comment
Agents of S.H.I.E.L.D.
producer Jeffery Bell has confirmed that the blue alien corpse, which has played a major role on the show (resurrecting Phil Coulson from the dead) is indeed a member of the alien Kree race. According to Bell, the alien identity of the mysterious blue figure will revealed in the December 2nd episode entitled "Ye Who Enter Here."
The Kree, who made their first appearance in
Fantastic Four
#65 in 1967, were created by Stan Lee and Jack Kirbry, and just as their influence on the Marvel universe has been substantial, their effect on the Marvel Cinematic universe appears to be increasing. In addition to Lee Pace's Ronan the Accuser, a Kree who appeared in James Gunn's
Guardians of the Galaxy
, two Marvel entities with major Kree ties appear to be heading for the big screen: the
Inhumans
, who are the result of genetic experiments conducted on humans by the Kree in ancient times, and
Captain Marvel
, since Carol Danvers acquired her superpowers when her genetic material was combined with that of the Kree hero Mar-Vell.
Bell also told TV Guide that a big reveal concerning one-name heroines Skye (Chloe Bennet) and Raina (Ruth Negga) will be coming on
Agents of S.H.I.E.L.D.
Will the two brunettes turn out to be aliens as well? The Kree who have been an obsession of Hydra since the 1940s will also reportedly provide another link from the
S.H.I.E.L.D.
show to Marvel's
Agent Carter
series, which was teased in this season's first
S.H.I.E.L.D.
episode,
MORE MARVEL TV CASTING—'JESSICA JONES' & 'LUKE CAGE'
11/19/14 @ 10:19 pm EST
Source:
ICv2
| Categories:
Marvel
|
Comments
(0) |
E-mail Article
|
Add a Comment
Alexandra Daddario
This has turned out to be a big day for casting news concerning comic book-based movies and TV series.
The latest news to drop is a report that four actresses are currently in the running to play the title role in the Marvel Comics-based Netflix series Jessica Jones. With the Netflix Daredevil series already in production, the casting of the Jessica Jones series can't be far behind, and since Luke Cage will appear in 6-7 episodes of Jessica Jones, Melissa Rosenberg and the other producers at Netflix have to make a decision there as well.
Luke Cage will eventually get his own Netflix series, and after the completion of the four "individual" series (Daredevil, Jessica Jones, Iron Fist, & Luke Cage), the four heroes will combine in a final Netflix series that will complete "phase one" of the Marvel/Netflix experiment.
Teresa Palmer
Deadline is reporting that Alexandra Daddario, Krysten Ritter, Teresa Palmer, and Jessica De Grouw are all under consideration for the 13-episode Jessica Jones series about a superhero with post-traumatic stress disorder, who hangs up the spandex and opens a detective agency where her clients include other superheroes.
Mike Colter
As for Luke Cage, the top two contenders for the role according to Deadline are Lance Gross (Crisis) and Mike Colter (The Good Wife, The Following).
CHRIS HEMSWORTH A MARVEL AS PEOPLE'S 'SEXIEST MAN ALIVE'
11/19/14 @ 9:58 pm EST
Source:
NY Daily News
| Categories:
Marvel
|
Comments
(0) |
E-mail Article
|
Add a Comment
Move over, Adam Levine.
"Thor" star Chris Hemsworth is People magazine's 2014 "Sexiest Man Alive."
The 31-year-old Aussie, Hollywood's version of a god among men, was unveiled Wednesday on "Jimmy Kimme;l Live!"
"It's the nuclear launch code of magazine covers," Kimmel joked. "It has two criteria. One: You must be sexy. Two: You must be alive."
Hemsworth has been a hunky hit ever since he landed the hammer-swinging role of "Thor" in the Marvel Comics film adaptation in 2011. He's reprised the character through three more films, including "Avengers: Age of Ultron" due out next year. He has three children with 38-year-old Spanish model, Elsa Pataky. The couple married in 2010.
"I think you've bought me a couple of weeks of bragging rights around the house," Hemsworth told People. "I can just say to her, 'Now remember, this is what the people think, so I don't need to do the dishes anymore ..."