PATHFINDER CONTEST AND INTERVIEW!!!
10/05/12 @ 11:06 am EST
Source:
Dynamite
|
Comments
(0) |
E-mail Article
|
Add a Comment
Check out a Pathfinder contest and an interview with Pathfinder interior artist, Andrew Huerta, at Things From Another World!

Click on links for contest details and the interview!

http://www.tfaw.com/blog/2012/10/03/andrew-huerta-takes-us-on-an-adventure-with-pathfinder-comics/

"LIKE" DYNAMITE'S FACEBOOK PAGE TODAY!!!

http://www.facebook.com/dynamitecomics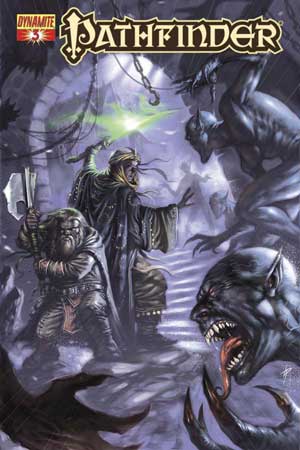 DYNAMITE PROUDLY ANNOUNCES THE DOC SAVAGE #1 RETAILER SHARED EXCLUSIVE, AVAILABLE ONLY AT BORDERLANDS, DCBS, MIDTOWN, AND CARDS, COMICS AND COLLECTIBLES
12/11/13 @ 1:24 pm EST
Source:
Dynamite
|
Comments
(0) |
E-mail Article
|
Add a Comment
Today marks the return of the Man of Bronze to comics! Coinciding with the worldwide release of DOC SAVAGE #1 by the creative team of writer Chris Roberson (
Masks
,
Codename: Action
) and Bilquis Evely (
The Shadow Annual
), Dynamite is proud to announce that Stephen Segovia has provided an explosive rare cover edition, exclusively available to devoted pulp fans from four fantastic retailers: Borderlands Comics and Games, Discount Comic Book Services, Midtown Comics, and Cards, Comics and Collectibles!
Yes, you can purchase the Alex Ross Regular edition of DOC SAVAGE at any retailer across the planet, or order the digital comic through platforms like Comixology, iVerse, or Dark Horse Digital… but the
only
way to get hold of Stephen Segovia's powerful DOC SAVAGE #1 RETAILER SHARED EXCLUSIVE cover is to purchase it through the below retailers. Please support the retailers who have supported Dynamite's DOC SAVAGE revival! Contact information is provided below. Enjoy!
BORDERLANDS COMICS AND GAMES

Greenville, SC
www.borderlands.us
borderlandscomics@gmail.com

CARDS, COMICS AND COLLECTIBLES
Reisterstown, MD
cardscomicscollectibles.com
cardscomicscollectibles@yahoo.com

DISCOUNT COMIC BOOK SERVICE
Fort Wayne, IN
www.dcbservice.com
customer.service@dcbservice.com

MIDTOWN COMICS
New York City, NY
www.midtowncomics.com
info@midtowncomics.com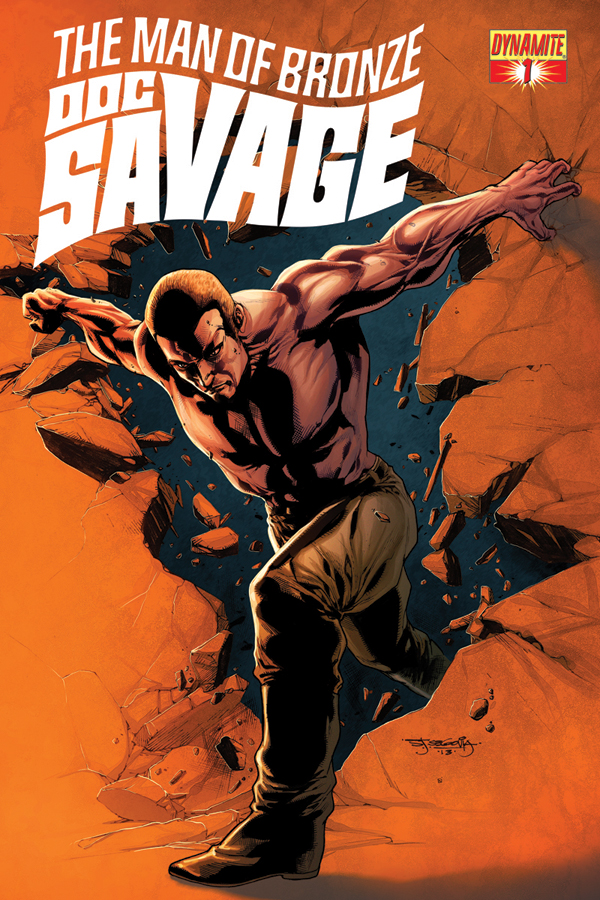 BLEEDING COOL INTERVIEW - JIM ZUB TALKS ABOUT WRITING, MOTIVATION AND WORKING IN COMICS
12/05/13 @ 11:08 am EST
Source:
Bleeding Cool
|
Comments
(0) |
E-mail Article
|
Add a Comment
Jim Zub
has gone from
Makeshift Miracle
to
Skullkickers
and now to
Pathfinder
for
Dynamite Entertainment
.
Arvid Nelson
chatted with Zub about his career and how he deals with the comic industry.
ARVID NELSON: I won't ask you "how did you break into comics?" because you've already got a great essay on your site (www.jimzub.com) but I would like to know what one of your biggest surprises is about writing comics. In other words, what's the weirdest – or one of the weirdest – things about the profession, something you utterly didn't see from the outside?


JIM ZUB: Now that I'm actively working in comics I have a much greater appreciation of the many moving parts involved in putting together serialized stories and the compromises required in the shared sandboxes of these fictional universes. I don't know if that counts as "weird" but it was definitely unexpected.
I think from the outside it can seem like publishers are making inexplicable decisions or that they enjoy antagonizing their fans but, from everything I've experienced, it's not like that at all. Even when I disagree with choices being made I can usually see how it comes about and how difficult it can be to keep everything rolling forward relentlessly month after month.
AN:
Makeshift Miracle was your first self-created title, yes? (For all you readers, you can check it out at www.makeshiftmiracle.com) What did you learn from Makeshift Miracle that helped you with Skullkickers, your Image Comics series?


JZ: Makeshift Miracle was the first comic story I ever completed, so it was a learning process from start to finish. Story and panel pacing, character development, dialogue, you name it. It was where I figured all that stuff out and everything I've done since then has benefited from the growing pains I went through on that series. Skullkickers is a completely different type of story but it wouldn't exist if I hadn't improved my comic storytelling with Makeshift.
AN: One of the things I admire most about your writing is your economy of dialog. I really struggle to rein in the blah-blah. What advice would you give to someone like moi?


JZ: Robust prose and lots of dialogue can work well with certain characters but, let's be honest, the art in a comic is way more eye catching than walls of text. I try to let the character's body language or expression provide just as much context as the dialogue. It gives the artist more to do with their posing and allows me to pull back on writing more chatter than necessary.
I write a lot of action scenes and have a real pet peeve with old school comic writers filling action panels with waaaaay too much expository dialogue. There's nothing worse than seeing art of a character rapidly moving through a sequence while yammering a dozen lines of wordy dialogue. It melts my brain.
I keep my action scenes really terse, dialogue-wise, to enhance the feeling of speed and immediacy to the combat. I don't know if it's "right", but it's my preferred way of doing it.
AN:
What changes do you see comics going through in the next five or so years? Everyone keeps predicting the Death of the Single Issue.


JZ: I think serialized stories will always have a place in comics, though what exact form that will take is hard to say. I can see a future where there are more digital-first chapter by chapter serialized stories online before a printed trade is released. Does it count as the death of the single issue if it's not being printed?
Even still, the sales data this year is showing the proliferation of digital readers alongside a stabilization (and modest growth) of print comic sales. I think the real key is casting as wide a net as possible and letting the audience choose their preferred format.
AN:
What's your single biggest distraction from writing, and how do you fight it?


JZ: My secret motivator is fear. I know that sounds corny, but it's true. The fear/guilt that people who are waiting on my work (the line artist, colorist, letterer, editor) will get screwed over if I don't do what I said I would is probably my most powerful motivator.
I've been in too many situations where people haven't upheld their end of things and it's burned into my brain what that feels like. When I'm distracted or seizing up I try to put myself in someone else's shoes and imagine how frustrated I would be if I was expecting that script and didn't get it on time. After that, my gut clenches up and $%#@ tends to get done…
…And if it doesn't, a rye & coke and a bag of Doritos works pretty good too.
http://www.bleedingcool.com/2013/12/04/jim-zub-talks-about-writing-motivation-and-working-in-comics/
BLEEDING COOL INTERVIEW - MATT WAGNER TALKS THE HISTORY OF THE GREEN HORNET BOTH IN AND OUT OF COMICS
12/05/13 @ 11:07 am EST
Source:
Bleeding Cool
|
Comments
(0) |
E-mail Article
|
Add a Comment
Matt Wagner
is one of the few creators who is lauded equally for his writing and his art. His characters of
Grendel
and
Mage
are mainstays of independent comics and his cover runs on
Batman
and
Green Arrow
are fan favorites. Wagner's run on
Green Hornet
for
Dynamite Entertainment
is now being collected and
Mike Raicht
had a chance to speak to the double-threat creator about the series.
MIKE RAICHT: I just wanted to start by saying that I am a huge fan of Mage, so thank you for creating such an extremely fun world and character. As a creator, do you find yourself approaching your own characters like Grendel and Mage differently than you do your work for hire characters?


MATT WAGNER: I can't really say there's a huge difference in approach. My main concern in all cases is to tell an engaging story and, hopefully, one that has some lasting resonance for the reader. Certainly, in the case of my own creations, I'm the final authority on anything that happens in the narrative. But I also enjoy a pretty free hand with most of the work-for-hire characters I write. Part of that is my place and cachet in the industry at this point in my career. But I also want to give due credit to Dynamite for extending me that freedom as well. They really do try their best to give their creators the most freedom possible when it comes to working on licensed characters.
MR: What drew you initially to starting with this particular Green Hornet: Year One storyline? Was this a time period you always wanted to explore or was it something you only recently became interested in?


MW: Well, part of it was the time period…yes. Anyone who knows my work on Sandman Mystery Theatre knows that I have a real affinity for that era in American history. Plus, I love the atmosphere and trappings of pulp fiction. Even though, technically speaking, The Green Hornet was a radio character; his stories certainly had a pulp-ish vibe to them. I guess I've always had an interest in this time period because my parents were slightly older, of the WWII generation, and so I have a somewhat inherited nostalgia for those times via them. So, when Dynamite was developing The Green Hornet as a legacy character, spanning several different time frames and personas, it only made sense that I'd be drawn to the original, "Golden Age" version of the character.
MR: Is there a specific story or moment in the Green Hornet and Kato's history that you draw on for your take on them?


MW: When it actually came time to work on the Hornet, I was kinda surprised to find that he really didn't have an already-existing origin tale. I say surprising because the character was spawned by the same duo who created The Lone Ranger, George W. Trendle and Fran Striker. In fact, the two characters are supposed to be related (The Hornet is The Ranger's great nephew) and their motifs are nearly identical; both wear a mask and operate outside of the law, both have a specialized weapon, both have a super-fast method of transportation named after a color, both have an ethnic partner/sidekick and both have an odd, up-tempo piece of classical music as their themes songs. Anyway, The Ranger has a very distinct and specific origin that was featured on the radio program and is pretty well known. Not so with The Hornet, who's already established in his role as a crime-fighter (but publicly perceived as a masked villain) from the very beginning of his radio adventures. So, the fact that I would get to define the origins of this iconic character all on my own was a real attraction.
One of the things I wanted to do was re-define Kato's role into more of an active partner in The Hornet's adventures. In the radio version of the narrative, he's really little more than The Hornet's chauffeur and confidant. He doesn't often participate in the actual crime-busting activities, per se. He was really more of a supporting character. That all changed with the 1960s TV version that featured the incredibly magnetic Bruce Lee as Kato. Suddenly, Kato was a much more active character, always at The Hornet's side when confronting bad guys and often at the forefront of every battle. I wanted to push that even a bit further and show Kato as a vital factor in the actual shaping of Britt Reid's masked crusade. So, I started my story by featuring both of them from a very young age and then developing into the men they would eventually become. I knew they had to meet and connect under dire circumstances to form a powerful, battlefield bond and so I chose the Japanese invasion of mainland China in 1937 as the crucible that would forge their partnership.
MR: You've made a career out of working on masked (and sometimes unmasked) vigilantes of some sort or another. What makes Britt special as The Green Hornet? What separates him from the crowd?


MW: Britt's origin isn't spawned from tragedy (unlike The Lone Ranger), which is somewhat unusual in this sort of narrative. Super-heroes origins are most often grounded in tragedy as the impetus for the hero's adventures to begin. But, Britt already has a civic-minded mentality seeded in him by his father who was a crusading journalist. Britt wants to do well by society and strives in everything he does to contribute to the world's betterment. He comes to his masked identity fairly reluctantly, feeling himself pushed into striking back at the criminal elements that threaten his home town in a manner outside of the printed page, the medium with which he's most familiar. Since he's a journalist, it made sense to really explore every particular aspect of The Hornet's origin—writing it as a bit of an exposé. Thus, I started when both he and Kato are quite young. I spend some time getting him to the position where he must consider another alternative for what he wants to achieve and then we see how every motif of the character is developed; how they come up with the idea of masked alter-egos, why he becomes a "green hornet", how they get the secret hideout, how they develop the "Hornet's Sting", how they get the Black Beauty, etc, etc… You can't really take this approach with every character but, again, because of Britt's journalism background, I thought it really worked in this case.
MR: The Green Hornet and Kato have an interesting relationship, as most heroic duos do – what makes this duo special? How do you approach the dynamic between them to their interactions fresh?


MW: Like I said, I wanted Kato to be more of Britt's equal in the narrative. And, in many aspects, Kato is superior to Britt; he's really Britt's mentor in the ways of shadow warfare. Of course, this being the time frame that it is, I also wanted to overcome some of the racial stereotyping and so that also led me to give Kato a much more enhanced role. Again, in this time frame of "proper" American society, Kato has to appear to be Britt's servant but they both know that isn't really the fact. The biggest connection between the two characters is the fact that they share a highly developed sense of honor, duty and morality that they both learned from their respective fathers. These are both good guys and, in the end, that's what makes them a team…and heroes.
MR: Like a lot of Dynamite books, there is a definitive sense of time and place to their titles. I felt like when I was working on Dark Shadows the 70's era became a character all of its own in my effort to write the title. What aspect of the 30's were you most cognizant of bringing forward as you wrote this initial tale?


MW: Well, again, I'd already done quite a bit of work set the 30s—nearly five years, monthly, on SMT. So, it was all fairly easy to slip right back into that vibe again. I'm finding the same sense of ease and familiarity in my writing on The Shadow: Year One for Dynamite as well.
MR: Is this the first time you worked with the amazing Aaron Campbell? What do you feel he brings to the table as an artist and collaborator?


MW: Yeah, this was my first (and, so far, only) collaboration with Aaron and I can't sing his praises enough. He's an incredibly talented and dedicated artist and absolutely managed to bring this entire world to life in such a distinct and believable fashion. He really made the reader feel like they were in the 1930s and yet gave the narrative such a contemporary vitality as well. I particularly loved his version of Kato. As I said earlier, the Bruce Lee version of the character looms large in everyone's mind but Aaron managed to give our Kato his own unique appearance and personality. He's a fabulous artist.
MR: Now that your Year One arc is over, do you feel as if you accomplished everything you set out to do with the character? Do you have any Green Hornet itches you still need to scratch?


MW: No, Year One was my kitchen-sink take on the character. Like I said, I had the opportunity to explore every aspect of the character, introduced all his familiar motifs and established supporting characters, and also left the tale wide open for many more adventures to come at the end. I accomplished everything I set out to do and feel like anything more I could add would be redundant. Time to let other talented writers pilot Britt and Kato through the remainder of their Golden Age adventures…which they've doing quite nicely.
MR: Let's wrap up by telling us a little about your future creative plans at Dynamite and beyond. What can you tell us about work on the horizon for you?


MW: Well, as I mentioned, I've also had the absolute thrill of turning my Year One lens of another of my absolutely favorite vintage characters—The Shadow. Unlike Britt's tale, The Shadow as a character inherently doesn't lend himself to a total exposé type of tale. I feel it's important to maintain a certain sense of mystery in this case and thus keep The Shadow somewhat still hidden in the shadows…while also exploring his origin at the same time. It's a completely different sort of narrative challenge and I am having a blast with it.
Working with The Shadow, in turn, led to my next big project…and the first sequential project I've both written and drawn in almost five years, a cross-over publishing event between Dynamite and Darkhorse and featuring The Shadow going head-to-head against my own character, Grendel. This is one of those dream projects you never dare to dream about as a young creator but…here I am, livin' that dream! GRENDEL VS THE SHADOW should premiere in 2014.
http://www.bleedingcool.com/2013/12/03/matt-wagner-talks-the-history-of-the-green-hornet-both-in-and-out-of-comics/
COMICS BEAT INTERVIEW - BILL WILLINGHAM BRINGS LEGENDERRY TO LIFE
11/27/13 @ 3:35 pm EST
Source:
Comics Beat
|
Comments
(0) |
E-mail Article
|
Add a Comment
Coming in January this year, Legenderry: A Steampunk Adventure will see writer
Bill Willingham
and artist
Sergio Fernandez Davila
take on a host of Dynamite's most recognizable characters for a seven-issue re-imagining. Not only will the story have characters as diverse as Green Hornet, Vampirella, The Six Million Dollar Man and Red Sonja all in the same story – the story will be set inside a giant world created by the creative team, based around the steampunk genre.
To find out more about the series, I spoke to Willingham about how the project came about, how he built up this new world for the series, and his plans for the characters going forward.
The Beat: Legenderry: A Steampunk Adventure takes characters from a whole range of genres and contexts and places them within one steampunk world. How did you first come onboard a project like this?

Bill:
It's been a long time since I've been in a place where I had enough room in my schedule to work on something new. That time is still not quite upon us, but Nick and I have been itching to work on a book together for Dynamite for years now. I wasn't able to bring something brand-new and creator owned to the table since there's a lot of work to put into building a new series from the ground up.
Initially, I wanted to work on a series that borrowed characters that no one else was using at the time to avoid having to deal with continuity and where they all are in their current books. All of the characters that appear in Legenderry are characters that are currently being used, so Nick got a little creative and that's where the steampulp idea came from – a place where I could create new versions of these characters in my own way that was separate from everything else going on.
The Beat: How do you view the concept of steampunk, personally? Have you written within the style before?

Bill:
I have not written within the genre before, but not really for any other reason than I dislike the term "steampunk". The "steampunk" genre embodies brilliant aspects from the works of HG Wells and Jules Verne who wrote of adventurers, discovery and action. They were not punks. Punks instead fit into the subgenre of cyberpunks because cocky punks are exactly who they were and one of the reasons that I never warmed up to the genre as a whole.
I call the genre steampulp since it more accurately describes the vibe that I'm going for, but I expect that the time to change the name of the genre has long past and my redubbing of it won't catch on.
The Beat: How much input did you have in the individual design of the characters, and of the general aesthetic of the miniseries itself?

Bill:
As much as I wanted. At least that's the impression I got, but I haven't yet really had to test the limits, since the character designs and art were so well done from the starting gate that I asked for very few changes. I requested things like, "I'd like to see her hair a bit longer, or his coat a bit longer, or I see Zorro's sword as being a skosh thinner." Nothing major.
Also, so far, I've never had to ask for a correction of any of the artwork Sergio has done for the actual story. He seems to start at wonderful and adds quality from there.
The Beat: When you take on a story like this, how carefully do you plan out the World which the characters inhabit? How important is it to you that you get the details of the city, and the society, and make sure everything fits together?

Bill:
The world building part of any story, especially for a tale set in an entirely invented world, is perhaps the most important part of said story, at least in the planning and pre-planning stages. It's also the most rewarding part for me. It's like putting together an intricate 5000 piece jigsaw puzzle, with no picture on the box to guide you. It's a combination of decision making and then extrapolating all of the possible results of those decisions. I love it. Getting all of the details right is vital. If I can't make the world, and every important part of it, interesting and detailed and engaging to me, I can't ask a reader to believe in it.
The Beat: Are there any details in particular which you're excited to see realized in the story?
Bill:
A few. First the look of The Big City (that's actually its name), where the story starts out. Having the art in for the first two issues, I already see that Sergio has delivered more than my notes and imagination asked for. I got just a glimpse of the skyship Victory at the end of Issue Two and that again delivered wonderfully on my expectations. We've yet to get to Landing, the Miracle Science City, which comes along in issue four (or is it five?), which is the steampunk era view of what the future must look like.
The Beat: Was it tricky to fit certain characters into the same universe? I can't imagine fitting The Six Million Dollar Man into a Victorian setting would be easy, for example.

Bill:
I thought fitting the Six Million Dollar Man into this world would indeed be the greatest challenge of the bunch. He turned out to be the most fun to adapt and is currently my favorite character in this world of the best possible characters.
The Beat: Will you be getting inside the head of any of the characters like Vampirella, Red Sonja, Green Hornet, etc. – or will the story be viewing them from a distance?

Bill:
Yes. Deeply so in at least one instance. But I'll divulge no details. Sorry.
The Beat: The story seems to be a large-scale mystery, with pieces being put together each issue. What kicks off the narrative of Legenderry?

Bill:
It is a mystery, yes, which is to say, it's a mystery who the villains are and what they want with the MacGuffin character, the woman who leads us from one of our heroes to the next. But it's also a chase against time, where the adventure leads us on a tour of the entire world of Legenderry.
The Beat: We'll be following a young woman as she interacts with various characters in turn throughout the series – do you view her as the guide for the reader? The classic stories associated with steampunk are usually works by people like H.G. Wells, which are all about a guide/adventurer heading off and introducing the reader to all kinds of new ideas and sights.

Bill:
I so want to answer this question in detail, but I've already said too much about her. She's not the guide. She's the treasure everyone seems to be after. But why?
The Beat: Although this is a complete seven-issue storyline, do you think you could ever be tempted back for another story set in this world, at some point in the future?

Bill:
Yes. Why create a whole world just for seven issues of anything? I always want to explore further.
http://comicsbeat.com/interview-bill-willingham-creates-a-legenderry-world/
BLEEDING COOL INTERVIEW - COMIC BOOK MEN'S WALT FLANAGAN ON CRYPTOZOIC MAN
12/11/13 @ 1:26 pm EST
Source:
Bleeding Cool
|
Comments
(0) |
E-mail Article
|
Add a Comment
Walt Flanagan
is an average, everyday comic shop manager… that also does a podcast, is on
AMC's
Comic Book Men
, has drawn
Batman
for
DC Comics
multiple times, appeared in multiple movies and has this third creator-owned series with
Bryan Johnson
on the shelves now. That's what happens when you go to high school with
Kevin Smith
and turned him onto comic books in the first place. Flanagan sat down with
Mike Raicht
to talk about
Cryptozoic Man
being published by
Dynamite Entertainment
.
MIKE RAICHT: How did Cryptozoic Man come to life for you guys?


WALT FLANIGAN: The Cryptozoic Man design/ idea came from the old 1980s plastic man Saturday morning cartoon. I picked up the entire series on DVD at a close out store for 5 bucks about 2 years ago… on one the episodes plastic man faced off against a villain who was half man half Bigfoot… I thought that was so cool… and if a man who is half Bigfoot is cool? How about A man who is than 1/4 Jersey Devil, a 1/4 Loch Ness Monster as well as part Bigfoot! Even cooler!
MR: Following your other two collaborations, Karney and War of the Undead, when did you decide this book was the next book to pull the trigger on?


WF: It's actually something that took a lot longer to bring to life than I thought it would have…But when the producers on comic book men started saying AMC wanted to see a pitch to a publisher…that's when the ball really got rolling.
MR: You guys were able to launch this title in an amazingly unique way with a televised pitch session with Dynamite. I can't imagine the pressure of that.


WF: I get nervous enough sending in a pitch over e-mail without having to worry about television cameras in the room. Do you think this type of launch can ramp up the pressure or have you guys remained calm about the whole thing? Yea, I imagine our way of pitching the book to dynamite was the first time in comic book history that a pitch was filmed for a television show.as far as pressure? It was a bit nerve racking in the actual pitch. I certainly didn't want to hear Dynamite wasn't interested and that have that seen on national tv.
MR: How would you describe launching a brand new title?


WF: It's so fun when you can create a new character and universe to work in…there are no limits or restrictions. So you get to go crazy a bit!
MR: You both have both done this before having launched both Karney and War of the Undead at IDW together. Is there anything you learned from those experiences which you brought to this book?


WF: Not really… The one thing we learned since Karney and War of the Undead were released is we were in a position to market the series in a different way than we did with those other 2 series from IDW. Since the release of War of the Undead, Bryan and I started a podcast along with an old friend named Brian Quinn of the hit TV show impractical jokers called "TELL EM STEVE DAVE" and we have slowly built a very loyal, supportive listener base that really came through for us in ordering the Cryptozoic Man set. We marketed the book substantially through our podcast and sold a lot of comics. I can't thank those listeners enough who ordered the book in support of Bryan and myself.
MR: You guys clearly have a pretty tight relationship to begin with, but from experience, co-writing can have some amazingly fun highs and be complicated and difficult at other times. How is it working as a writing team?


WF: Well, first off there's no way I can call what I do as co- writing… I just offer some suggestions or more so visual suggestions… Bry does all the writing. I just came in at the beginning and offered more a plot or outline to Bryan… he's done all the heavy lifting as far as writing goes.
MR: How do you guys handle it?


WF: I gave him some character designs, some plot points i wanted to try to get in there and lay out some things i wanted to draw in the series and let Bry go to town.
MR: Obviously, with you on art you have the final say, right?


WF: I guess so but if Bry felt strongly about changing something I drew or didn't draw? I'd do what he asked.
MR: I love the out of this world sci-fi, horror mix you have going on in this book. What would each of you consider your main influences while working on this title?


WF: Thanks… Wow. So many things I can point to as influences… From Swamp Thing, to Warlock, to the Animal Vegetable Mineral Man… The list goes on and on… Let's just say any Marvel comic from the 70s and every DC comic from the 80s is an influence as well as the old television show "In Search Of"
MR: What is the best thing Brian brings to your partnership?


WF: His insane, skewed but often very subtle weird outlook… Sometimes the creepiest thing is the most subtle thing he wrote on the page… I love that.
MR: How would both of you recommend Cryptozoic Man to those looking for something new to try at the comic shop?


WF: Hmmmm, how about "You looking to take a trip"? Wanna sit in on the strangest tea party the universes have ever seen? Than give the cryptozoic man a go. It's your ticket to the creepiest cosmic spookshow ever witnessed!"
MR: Do you have more Cryptozoic Man planned beyond the initial 4 issue arc or are you going to develop a new property together?


WF: I guess that's really up to dynamite more than us if we will see more cryptozoic man.
http://www.bleedingcool.com/2013/11/25/comic-book-mens-walt-flanagan-on-cryptozoic-man/
BLEEDING COOL INTERVIEW - GAFFEN AND MCVEY ON WRITING GRIMM FOR TV AND COMICS
11/27/13 @ 3:32 pm EST
Source:
Bleeding Cool
|
Comments
(0) |
E-mail Article
|
Add a Comment
The television series
Grimm
is a hit and has built a loyal fan base. So when
Dynamite Entertainment
started putting together the creative team for a comic book series based on the show, they did the smart thing… the got two of the show's writers to do the scripts.
Marc Gaffen
and
Kyle McVey
sat down with
Jim Zub
to talk about the Grimm Universe, writing
Nick Burkhardt's
adventures and keeping the fans happy.
JIM ZUB: What themes or characters draw you to Grimm?


MARC GAFFEN: The biggest draw for us is that Nick's story is, at its root, a simple fish-out-of-water story. The idea of a hidden world right in front of our faces has always been a fascination. And it leaves us with a lot of room to pull from history and bend it to our will. "Oh you thought Ancient Egypt was weird before, let us tell ya a little something about that." It's fun. From Fraggle Rock to the X-men, the discovery that things aren't always as they seem and a character trying to make sense of the insanity always resonates with people.
JZ: Are there any favorite episodes that spring to mind?


MG: I think we both have a great fondness for an episode from the first season called "Tarantella". It introduced the the Spinnetod creature. The creature wasn't just some senseless monster, but someone that has to kill in order to survive. You feel for the Spinnetod because death is a necessary part of their life cycle. That kind of conflict has become the lynchpin for this latest season of the TV show and we hope that we're bringing that same sense of dimension to the characters in the comic books. Drama resides in shades of grey…and we love that.
JZ: I know fans of these properties can be sticklers for detail. How often do you find yourself re-watching episodes as you're working away on a script?


KYLE MCVEY: Oh boy, you just mentioned one of the biggest fears any writer/genre writer has. People love the material so much that they have far longer memories than us when it comes to the little details. Make no mistake, in that regard the Grimm fan base are no slackers. They know their stuff. So we are always very cognizant of that fact. We want to give them something new but have it be informed by all that has come before us. It can be tough to keep it straight.
JZ: Do you worry about making a comic like this appealing to a casual reader, someone who hasn't watched the series before?


KM: We talk about this all the time. It can be tricky pleasing the hardcore Grimmsters' thirst for a growing mythology while providing new readers with a welcome entry to the series. At this point in the run, we're doing a couple really exciting, self-contained issues that play just like an episode of the show. They're a great entry point for new fans before we go off the rails for Nick's next globe-trotting arc. But we do try to tow the line and let the reader know what's going on in each issue. Give them a little taste of what this world is all about before we toss them in the deep end.
JZ: This issue seems to be playing with superhero-comic tropes more than the typical fantasy ones of the show. How did this story come about?


KM: We both grew up HUGE DC/Marvel comic book fans and here we've been given this world to play in where there are people hiding among us with secret abilities. Sound familiar? So it was nice to ditch the fairy tale set up and tackle the Grimm world from another angle. We live in a society where we're constantly inundated with super hero's in the media and in some cases (ie. The Rain City Superhero Movement) people have actually taken it upon themselves to live out their super hero fantasies. Imagine being a young Wesen, inbued with these amazing abilities, how could you resist the urge to suit up?
JZ: How tightly do you write your comic stories – Are they full script with panel counts and detailed descriptions or more outline-style for the artist?


MG: We tend to be very detailed when we write a script. We specifically describe the shots we're looking for. But at the same time we always tell the artist he has free reign if he has a better way to visually get the panel across. Comics are a highly collaborative medium — with the artist, inker, letterer, and our editor — and in the end the best idea, no matter where it comes from, wins.
JZ: Do you have any particular writing habits or routine?


MG: Kyle and I are actually complete opposites when it comes to writing habits, but it is also very beneficial. I'm a morning writer, all my creativity runs from 8am to 3pm – but after 3 I usually become brain dead. While Kyle is a night writer. So we break the outline of an issue or an arc together, then I'l work on the script in the morning and send it off to Kyle in the afternoon, where he'll work at it all night.
JZ: What other projects, comic or otherwise, have you got on tap for 2014?


KM: Besides the comics, we have a couple things we're really excited about next year. We currently have a film called "ReEnactment" that is in preproduction and slated to film next Spring. It's a horror comedy in the same vein as "Evil Dead" or "Slither" that revolves around a bunch of Confederate Zombies that come back to life seeking REVENGE! Come on. Admit it. You know you've always wanted that movie. We're also in the midst of writing an episode for "Grimm" that should be airing some time in March. And if we're lucky, we'll get to keep writing comics. It's been a hell of a lot of fun so far.
www.bleedingcool.com/2013/11/20/pleasing-the-hardcore-grimmsters-gaffen-and-mcvey-on-writing-grimm/
NEWSARAMA INTERVIEW - CREATIVE VISIONS: ROBSON & GISCHLER ON NOIR'S SHADOW-Y GUEST STAR
11/21/13 @ 2:44 pm EST
Source:
Newsarama
|
Comments
(0) |
E-mail Article
|
Add a Comment
As this week's
Creative Visions
column with guest-writer Eddie Robson continues, today he sits down with writer Victor Gischler. Gischler has done plenty of work for publishers like Marvel Comics, but recently has been doing work for Dynamite.
While his newest series,
Noir
, stars the lesser known noir heroines of The Black Sparrow and Miss Fury, the first issue starts out with another hero from the era that Gischler is familiar with: The Shadow.
Robson talked with Gischler about the mini-series, with the first issue on stands now, and talks about The Shadow's appearance, with some teases of what's coming up.
Eddie Robson
:
Noir
is a new mini-series, so give us the pitch, please!
Victor Gischler
:
Noir
an
Indiana Jones
style treasure hunt adventure story, but with a tone and elements that we'd associate with noir, murder betrayal and so on. The first issue guest stars The Shadow, and the adventure continues with a couple of lethal ladies known as The Black Sparrow and Miss Fury.
Robson
: How did this book come about? Were you given any of the elements?
Gischler
: It started with a pretty casual remark to Joe Rybandt. I was writing an arc of
The Shadow
and introducing The Black Sparrow, and it was right around the same time that the first issue of
Miss Fury
debuted. I thought it would be cool to get those two crazy gals together to see what might happened. It went from there.
Robson
: How did you handle writing
The Shadow
? We all know who he is – but what's his character?
Gischler
: Basically, I kept two things in mind.
1. You have to give these characters trouble. It gets boring fast if everyone is having a nice day. You need some trouble to stir things up. The Shadow is a pretty confident guy. What if something undermined that confidence? What if his powers were a bit on the blink? That was how I started my thought process when approaching the project.
2. It's not just The Shadow. It's Cranston too. I wanted to get into his head a bit. You
have
to have The Shadow. Obviously. But there are times I find Cranston a little more interesting.
Robson
: What were you looking for from Andrea Mutti's artwork on this?
Gischler
: Something to fit with the noir mood. I think Mutti's art and Vlad's colors combine really well to accomplish this.
Robson
: What else have you got coming up?
Gischler
: The first issue of
Clown Fatale
just came out a couple days ago and is my homage to (and parody of) grindhouse exploitation cinema and is just ridiculous in the best way, I think. 47North is also serializing my epic fantasy novel
Ink Mage
on Amazon.com. Some other things are in the works too but not quite ready to share yet.
Eddie Robson is the writer of Dynamite's The Art Of Sean Phillips, as well as Doctor Who: Skyjacks! and Captain America: Living Legend (both with Andy Diggle) and forthcoming strips for 2000AD. He also writes radio comedy for the BBC - his series Welcome To Our Village, Please Invade Carefullyis available from iTunes and Audible - and Doctor Who audios for Big Finish Productions. You can find him on Twitter: @EddieRobson


www.newsarama.com/19616-creative-visions-robson-gischler-on-noir-s-shadow-y-guest-star.html
<!--[endif]-->
NEWSARAMA INTERVIEW - EDDIE ROBSON & GARTH ENNIS TALK RED TEAM
11/21/13 @ 2:43 pm EST
Source:
Newsarama
|
Comments
(0) |
E-mail Article
|
Add a Comment
We continue our ongoing column where Dynamite creators talk about their craft together here. Today we have Eddie Robson, whose retrospective on
The Art of Sean Phillips
is in stores now (not to mention
Captain America: Living Legend
), chatting with Garth Ennis, writer of
Red Team
and more for Dynamite.
The pair talk about the final two issues of
Red Team
– and about what's to come for the team when they return for a second series. Ennis also drops some hints about what's to come for him in 2014 from other publishers, including a return to a Marvel character.
Eddie Robson
: This is the penultimate issue of
Red Team
. What kind of a wrap-up can we expect?
Garth Ennis
: On the one hand you've got quite an intense action sequence, as Red Team struggle to survive a firefight with a much larger and better-equipped force. On the other, what they've been up to over the past six issues has to be resolved with their position as officers of the NYPD- along with the question of just who Eddie and Trudy have been telling their story to.
Robson
: What have you enjoyed most about
Red Team
?
Ennis
: Developing the characters, watching them plan their incredibly risky undertaking and then try to live with the results of it. A big part of that has been working with Craig Cermak, who's brought the characters to life in a way that few artists could.
Robson
: Is there going to be any more from
Red Team
in the future?
Ennis
: There'll be a second series, which I'm working on right now: It's called "Double Tap, Centre Mass," which roughly translated from ballistics-speak means "two bullets through the heart".
Robson
: It seems like it's a good time for crime comics these days. Ten years ago there seemed to be hardly any. Do you think that's true and if so, why do you think it is?
Ennis
: I never pay too much attention to whether the time is right for any particular story; I tend to just think them up and do them. One or two can certainly kick the door down for more.
Robson
: What else have you got coming up?
Ennis
: 2014's going to be a busy year for me. First up there's the aforementioned second series of
Red Team
.
From Avatar, I've got
Rover Red Charlie
starting next month and another new series,
Caliban
, in February. My
Crossed
arc for next year is called "The Thin Red Line," which is the story of the initial outbreak – that begins in
Crossed: Badlands
in March.
The same month sees the third series of
Dicks
, with John McCrea, and looking further ahead there'll be a new
War Story
ongoing series from Avatar and a
Punisher
mini with Goran Parlov.
Eddie Robson is the writer of Dynamite's
The Art Of Sean Phillips
, as well as
Doctor Who: Skyjacks!
and
Captain America: Living Legend
(both with Andy Diggle) and forthcoming strips for
2000AD
. He also writes radio comedy for the BBC - his series
Welcome To Our Village, Please Invade Carefully
is available from iTunes and Audible - and
Doctor Who
audios for Big Finish Productions. You can find him on Twitter: @EddieRobson


http://www.newsarama.com/19599-creative-visions-eddie-robson-garth-ennis-talk-red-team-tease-new-punisher-mini.html
<!--[endif]-->
COMIC VINE INTERVIEW: ELLIOTT SERRANO TALKS TO VICTOR GISCHLER ABOUT NOIR #1
11/21/13 @ 2:42 pm EST
Source:
Comic Vine
|
Comments
(0) |
E-mail Article
|
Add a Comment
ELLIOTT SERRANO: Hey Victor! Thanks for chatting with me about NOIR #1! Where do you see the book fitting in with Dynamite Entertainment's other books in the "noir" line?

VICTOR GISCHLER:
Dynamite has an excellent stable of pulp books and this fits squarely into that period pulp genre of the 1930s-40s. It's what makes it so cool to be able to have a book in which we have both the Shadow and Miss Fury. Dynamites pulp line includes some of the strongest most entertaining books out there if you ask me.
ES: Did you have a choice in the characters you could use in the debut issue?

VG:
It was actually a discussion of the characters that led into the idea for NOIR, so they came first. I was casually kicking around the notion of Miss Fury and Black Sparrow getting together with Joe and the idea just seemed to take on a life of its own. He later tossed in the idea to kick things off with The Shadow as a guest star which I thought would be very cool.
ES: How familiar were you with The Black Sparrow before you started writing her adventures?

VG:
Actually, nobody was familiar with her at all. I invented her for my run on The Shadow and she came together well enough that we wanted to see her again. I take it as a compliment that she seems like the sort of character that's already been around for a while. I'm not sure what the future is for The Black Sparrow, but I'd love the opportunity sooner or later to delve into her back story.
ES: We see as much of the "heroes" out of their costumes as in them. Do you find them to be more compelling as "civilians" than as their alter-egos? Or vice-versa?

VG:
Both. I find Cranston just as interesting as The Shadow. We know what the Shadow's powers are, but I wanted to explore a little bit what it means to be a wealthy man about town and what sort of "powers" that entails. Some issues of the arc have them almost entirely in costume ... less so in other issues. Also, when a couple of characters go for a drink or something like that, it just seems slightly silly to have them in costume. Also it's kind of fun to dress up the characters in 1930s-40s attire. I spend an odd amount of time Googling women's vintage clothing.
ES: It's funny, but doesn't The Shadow have the ability to "cloud the minds of men"? Does the power not work on women? (Insert joke here)

VG:
I'm not going near a joke here with a ten foot pole. I'll let readers invent their own. But it was established in the REVOLUTION arc of The Shadow (in which the Shadow was having a little trouble with his powers) that The Black Sparrow was one of those rare individuals who is immune to Shadow's powers. I think that makes for much more interesting interactions between them if he doesn't have all of his usual advantages.
ES: How much research did you do in coming up with the story of the Knights Templar?

VG:
I actually saw something on the History Channel about the Newport Tower and from there Google and Wikipedia took me the rest of the way. I used the basics of the research but then twisted things around for my own purposes. Anyone who knows about the different theories of the Newport Tower will easily be able to see what I've used and where I've departed to create my own kick-ass action adventure story.
ES: There are betrayals, double-crosses and constant changes in alliances. How do you keep track of everything?

VG:
Character things like alliances and betrayals I have no problem remembering. It's details I often forget, and I'm constantly checking previous issues to remind myself what I've done. It's not so bad for something like a 5-issue mini, but if I ever do a five-year run on a book, I'll probably have to dedicate a wall in my office for some kind of elaborate flow chart.
ES: There's a very cinematic, serial adventure feel to your story. What films, if any, influence your storytelling?

VG:
Absolutely. Adventure "treasure hunt" films like Indiana Jones and National Treasure provide a very basic blueprint of the style of story I'm going for. But the difference here --as the title suggests -- is the tone. A little grittier. A little more noir. What if Raiders of the Lost arc had been directed by Billy Wilder? I like to think of those possibilities. What if National Treasure had been directed by Sam Peckinpah?
ES: What's your dream line-up in the "noir line"?

VG:
I don't really know what the plans are beyond this first arc. But the real dream for a book like this is that the line-up could always be changing. Sparrow and Miss Fury this time ... maybe Miss Fury and Green Hornet next time. Or The Back Sparrow and Doc Savage. You could crack open a beer and daydream about the possibilities all day.
ES: Thanks for taking the time!

VG:
Happy to!
NOIR #1 is now on sale, as is ARMY OF DARKNESS: THE KING IS DEAD, LONG LIVE THE QUEEN TPB by Serrano.


Elliott Serrano is a freelance writer and resident "geek specialist" for the Chicago Redeye (redeyechicago.com/geektome). He has been dubbed the "King of Geeks in Chicago" by tv/radio personality Laurence Holmes (NBC5/WSCR 670AM) and "Chicago's Clark Kent" by Eisner Award winner Gene Ha. You can follow him and learn about the ways of the Force on Twitter (@ElliottSerrano).


www.comicvine.com/articles/interview-elliott-serrano-talks-to-victor-gischler/1100-147596/
<!--[endif]-->
BLEEDING COOL INTERVIEW - THE SHADOW AND THE GREEN HORNET THROUGH THE EYES OF BATMAN PRODUCER MICHAEL USLAN
11/21/13 @ 2:39 pm EST
Source:
Bleeding Cool
|
Comments
(0) |
E-mail Article
|
Add a Comment
Michael Uslan
is probably best known as one of the producers of the
Batman
movies and a regular on all of the Comic Book documentaries. Some may know that he was the first to teach an accredited course in comic book folklore. But did you know that Uslan's first attempt at comic book writing was back in 1975 on
the Shadow
for
DC Comics
? So it has to be an amazing trip to end up back on
the Shadow
almost four decades later. Uslan chatted with
Jai Nitz
about the
Dark Nights
series and more.
JAI NITZ: Michael Uslan is writing The Shadow/Green Hornet: Dark Knights. Michael, what was your first attempt to write a comic script? The trustworthy Internet says it was for The Shadow in 1975 when you were trying to produce a film adaptation.


MICHAEL USLAN: I was fortunate to be at the right place at the right time (Unabashed Stan Lee-type plug: For the full story, read my auto-biography, THE BOY WHO LOVED BATMAN, published by Chronicle Books) and became the alternating writer on the mid-1970′s DC Comics "Shadow" classic series under the mentorship of the legendary Denny O'Neil. My first ever pro script was The Shadow #9 (cover by Joe Kubert!) followed by The Shadow #11 (cover by Mike Kaluta) which featured the one and only meeting of The Shadow and The Avenger. From there, I wrote a plethora of DC mystery comics, the most notable being "Hopping Down The Bunny Trail" for The Unexpected. This story has since been named:
One of the top nine horror comic book stories of all time;

One of the scariest comic book stories ever;

The Best Easter comic book story ever; and maybe

One of the Sickest comic book stories ever!


Then, I created the DC Comics version of BEOWULF (recently revived in the pages of both Wonder Woman and Sword of Sorcery) and got to write BATMAN… my dream come true since age 8! I was also honored to be the first person to write "The Question" after creator Steve Ditko's departure… AND… I got to work with artist Alex Toth!
JN: You're known for producing all the Batman films and for being a famous comic book fan before it was cool. But The Shadow and Green Hornet are radio/pulp characters. Did you love radio serials and pulps as much as comics?


MU: They are all intertwined along with the movie serials of the 1930′s to 50′s. Superman aside, it was almost impossible to get comic book super-heroes on screen or on TV in the years following the demise of the movie serials. When WJRZ in Newark, NJ began re-broadcasting old-time dramatic radio show on Sunday afternoons, it lit up my imagination and gave me the closest thing to super-heroes outside of Zorro on TV. I've always loved the fedora-clad men of mystery. I attended the world's first ever ComiCon when I was in 7th grade, and the night cosplay was born there, I was dressed as DC's 1940 Sandman… fedora, cape, and gas mask in place! Additionally, my comic book writing has included The Shadow, The Green Hornet, The Sprit (both in color and in black & white), The Question, and a pulp-version of Batman I created in my hardback graphic novel in 2004, DETECTIVE #27. All fedoras!
JN: Did you approach Dynamite with the idea for Dark Knights, or did they come to you?


MU: Nick and I had been talking for years about finding some ways to work together. He liked the notion of the guy who wrote the one and only meeting between The Shadow and The Avenger back in The Shadow #11 in the mid-70′s, being the guy to write the first meeting of The Shadow and The Green Hornet. And I totally wanted to write The Shadow again after some 35 years! I was also friendly with The Shadow's driving creative force, Walter Gibson, and had the advantage of having spent time with Walter talking Shadow, learning many things that I could inject into my writing.
JN: What's Dark Knights about? Can you give me the Hollywood pitch?


MU: A threat so titanic that it forces The Shadow to team-up with The Green Hornet! A plot so deadly that it involves real events in history and such famous and infamous people as Woodrow Wilson, Rasputin, J. Edgar Hoover, Franklin D. Roosevelt, and Nikola Tesla! An unstoppable power will plunge the world into darkness… and no one but our two crime-fighting icons can stop it!
JN: Is it time for a new Shadow movie? Or should we just be happy that Orson Welles was the best who ever lived and his radio Shadow will always be the best in our mind's eye?


MU: The Shadow is such a classic character! His prose novels are being reprinted two per month and Dynamite has several Shadow comic book series underway. He's as relevant today as at any time. I wrote DARK NIGHTS, cinematically in three acts. That, to me, is written as a movie. Sure, be it feature films or a quality television series, The Shadow belongs in the eye of the global public.
JN: What's next for you at Dynamite? What other projects do you have upcoming?


MU: I just did a fun Batman story with artist Dave Bullock for BATMAN BLACK & WHITE #2. If you haven't seen the cool trailer for it, go to youtube and search: Batman black and white silent knight. We've had almost 51,000 views so far on youtube alone! Next up for me will be a graphic novel/comic book story of historic proportions. From the guy who brought you "Archie Gets Married," here comes… "FAREWELL BETTY & VERONICA!" Riverdale and its inhabitants will never be the same!
For Dynamite? I'll just have to wait and see if Nick calls. He has an inkling there are a couple of Shadow team-ups I would love to do when the time is right… a great villain I would like to have The Shadow battle… and even a property that was a favorite of mine as a kid that I think he just may have the rights to now… Who knows? But it has been a blast working with everyone at Dynamite! They were supportive, helpful, and real pros.
www.bleedingcool.com/2013/11/18/the-shadow-and-the-green-hornet-through-the-eyes-of-batman-producer-michael-uslan/
<!--[if !supportLineBreakNewLine]-->
<!--[endif]-->