PATHFINDER CONTEST AND INTERVIEW!!!
10/05/12 @ 11:06 am EST
Source:
Dynamite
|
Comments
(0) |
E-mail Article
|
Add a Comment
Check out a Pathfinder contest and an interview with Pathfinder interior artist, Andrew Huerta, at Things From Another World!

Click on links for contest details and the interview!

http://www.tfaw.com/blog/2012/10/03/andrew-huerta-takes-us-on-an-adventure-with-pathfinder-comics/

"LIKE" DYNAMITE'S FACEBOOK PAGE TODAY!!!

http://www.facebook.com/dynamitecomics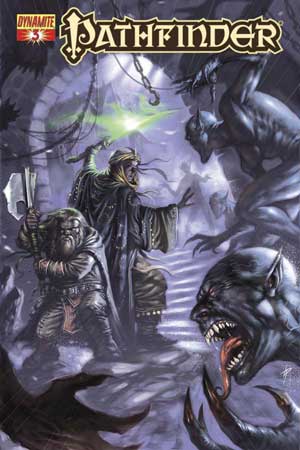 MATT REEVES WAS TOLD 'THE BATMAN' IS NOT PART OF THE EXTENDED UNIVERSE
08/23/17 @ 2:27 pm EST
Source:
ComicBook
| Categories:
DC
|
Comments
(0) |
E-mail Article
|
Add a Comment
Whether or not Ben Affleck is Batman, the character's titular film
The Batman
may not be reliant on the rest of the DC Extended Universe.
Despite Warner Bros. launching a connected cinematic universe for its
Justice League
characters to co-exist and intersect, it appears a new direction for those heroes will be one which offers standalone universes and stories where the continuity of each may not affect the others. In a recent interview,
The Batman
director Matt Reeves revealed he was pitched on the standalone film as it being an isolated approach to Gotham's Dark Knight.
"When they approached me, what they said was, 'Look, it's a standalone. This isn't part of the Extended Universe,'" Reeves said on The Business podcast.
For Reeves, it's all about being able to tell his own story with the film. "I am also totally fine not doing Batman. It's not like I want to do any version of Batman. I want to do my version of Batman and if that's exciting to them, which so far everything we've talked about is, then that's incredibly exciting because it means, 'Wow! We're gonna do something we're all excited about!'"
"If they're not, that's completely their perogative," Reeves said. "This is their franchise. They own the characters. They're going to spend a tremendous amount of money. I'm not asking anyone to do what they don't want to do."
JUSTICE LEAGUE RUMOR SAYS LEX LUTHOR SCENES HAVE BEEN CUT
08/23/17 @ 2:22 pm EST
Source:
ComicBook
| Categories:
DC
|
Comments
(0) |
E-mail Article
|
Add a Comment
As rumors continue to swirl around the directorial shakeups and extensive reshoots on
Justice League
, we're now hearing that Jesse Eisenberg's LexLuthor may have had his scenes cut from the film.
Batman-On-Film's
Bill "Jett" Ramey was answering fan mail and providing supposed insider knowledge of of what's happening with the DC Extended Universe, and one of the questions had to do with how big Eisenberg's role in
Justice League is. According to Ramey: "He doesn't have one. If he did prior to all the changes/reshoots, it was cut."

While this news isn't all that interesting in and of itself (it's not like Eisenberghad a lot of support for his version of Lex Luthor), it does raise more speculation about what kind of state Justice League may be in right now.
DID LEGO JUST SPOIL THE 'HAN SOLO' MOVIE TITLE?
08/23/17 @ 2:18 pm EST
Source:
ComicBook
| Categories:
Star Wars
|
Comments
(0) |
E-mail Article
|
Add a Comment
Lucasfilm has kept a lot of details about the upcoming Han Solo spinoff movie under wraps, but a new product catalogue from LEGO might have unveiled what fans are dying to know.
There's not an official name of the untitled Han Solo spinoff, though many assumed it might simply be
Han Solo: A Star Wars Story
. If this LEGO catalogue is to be believed, they might be right.
But as the LEGO page states, the LEGO for the Star Wars movie is just a placeholder and the Reddit users who discovered it also learned that it's not even officially from Lucasfilm.
So while the title might, emphasis on might, actually be
Han Solo: A Star Wars Story
, that is definitely not the logo that will be used for the movie.
HERE'S WHO EMILIA CLARKE IS PLAYING IN THE 'HAN SOLO' MOVIE
08/23/17 @ 2:12 pm EST
Source:
ComicBook
| Categories:
Star Wars
|
Comments
(0) |
E-mail Article
|
Add a Comment
Due to Lucasfilm's secrecy surrounding the project, little is known about the upcoming Star Wars spinoff focusing on Han Solo. Sure, we know the titular smuggler is in it as well as his BFF Chewbacca and frenemy Lando Calrissian, but not much else.
We might have just learned the movie's official title, and in the wake of Michael K. Williams' character being cut from the finished film, we now know who
Game of Thrones
star Emilia Clarke will be playing in the spinoff.
While discussing his character with Vanity Fair, Williams revealed his character was "a link between Han Solo and Emilia's character, Kira."
Given the involvement of screenwriter Lawrence Kasdan, the name 'Kira' is not surprising.
The Art of The Force Awakens
book reveals concept pieces of main character Rey who was previously referred to as 'Kira' before her name was finalized. Kasdan co-wrote
Star Wars: The Force Awakens
, so reusing the name here isn't all that unlikely.
But Making Star Wars added another wrinkle to the saga when they reported their sources on set said the name is actually spelled 'Kura,' though it's pronounced similarly. They said they were waiting for a more information before reporting, but Williams spilling the beans to Vanity Fair might be the confirmation they were looking for.
'THE DEFENDERS' SHOWRUNNER ON POSSIBILITY OF THE HAND'S RETURN
08/23/17 @ 2:05 pm EST
Source:
ComicBook
| Categories:
Marvel
|
Comments
(0) |
E-mail Article
|
Add a Comment
Is there a future for the Hand in the Marvel Cinematic Universe? At the moment, that remains unclear.
SPOILERS for Marvel's The Defenders ahead.
Daredevil, Luke Cage, Iron Fist, and Jessica Jones may have defeated the Hand in
Marvel's The Defenders
, but it's known for being a rather resilientorganization in the comics. Could the same prove true in the Marvel Cinematic Universe?
The Defenders
showrunner Marco Ramirez isn't sure what Marvel at large may have in store, but for himself and the current plans of the Netflix Marvel show, the Hand is gone for good.
"Well, in the Marvel world — and as Jeph Loeb, the Marvel TV head, would say — in the comic-book world, you can always find a way," Ramirez told
Entertainment Weekly
. "The story finds a way, so who knows? But we definitely felt like we wanted this to be the end of this specific show, so while I don't know if it's the end of the Hand forever — who knows what will happen in the future — it just felt like it's the end of this story in the lore. Particularly for Iron Fist, we wanted to close that chapter [of the Hand's story]. I don't know what the future holds. That's a Jeph Loeb question [laughs] but for me and for the writers' room, it felt right to end the story here."
TONY, PEPPER & HAPPY REUNITE ON AVENGERS SET
08/23/17 @ 1:59 pm EST
Source:
Newsarama
| Categories:
Marvel
|
Comments
(0) |
E-mail Article
|
Add a Comment
The original
Iron Man
trio of Robert Downey Jr., Gwyneth Paltrow, and Jon Favreau are reuniting once again for a Marvel film - and Marvel Studios is publicizing the reunion. Take a look:
The trio were together in the final moments of
Spider-Man: Homecoming,
so it looks like the happy reunion will continue on to
Avengers: Infinity War
.
'SPIRIT RIDING FREE' SEASON 2 TRAILER HIGHLIGHTS LUCKY'S NEW ADVENTURES
08/23/17 @ 1:53 pm EST
Source:
Bleeding Cool
| Categories:
MIsc
|
Comments
(0) |
E-mail Article
|
Add a Comment
Fans of the animated adventures of Lucky and and her horse Spirit were in for a treat on Wednesday as Netflix released the first trailer for Season 2 of family-friendly adventure series
Spirit Riding Free
. Based on DreamWorks Animation's Oscar-nominated 2002 film
Spirit: Stallion of the Cimarron
and retooled as an all-ages series,
Spirit Riding Free
is executive produced by Aury Wallington and co-executive produced by Jim Schumann. Voice cast members include Amber Frank(
The Haunted Hathaways
), Sydney Park (
The Walking Dead
), Bailey Gambertoglio(
Bubble Guppies
), Darcy Rose Byrnes (
Sofia the First
), Nolan North (
Young Justice
), and Kari Wahlgren (
The Fairly OddParents
).
To see what Netflix and DreamWorks Animation have in-store for Pru, Abigail, Lucky, and their horses Chica Linda, Boomerang, and Spirit in the second season of
Spirit Riding Free
, check-out the video below here:
https://youtu.be/MyfTj407WDg
MARCO RAMIREZ ON GIVING EVERYONE REALLY BAD-ASS MOMENTS IN THE DEFENDERS
08/23/17 @ 1:48 pm EST
Source:
Bleeding Cool
| Categories:
Marvel
|
Comments
(0) |
E-mail Article
|
Add a Comment
It was going to take a gentle hand to figure out how to blend the four Marvel Netflix series into one. Thus far all four of the shows have had very different tones and looks. Marco Ramirez, the showrunner for
The Defenders
,recently spoke to Colliderabout blending the four shows and finding the right balance.
"It was very difficult to do it, but I knew we had to make the show for the audience members who had never seen any of the shows, or who had only seen one of the shows and were tuning into this because they really loved character X. I didn't want to let any of those people down. We all worked really hard to protect the characters and the integrity of the characters, and to make sure that the show felt evenly spread across those worlds, that everyone got really bad-ass moments, and that everyone got to make choices, change, have story moments and pivot. Everybody comes out of
The Defenders
a little bit different from when we first meet them at the beginning of
The Defenders,
" Ramirez said.
Now that The Defenders has happened the Marvel/Netflix shows are going to run into the same problem the movies have; they know about one another so why not call a friend for help? Ramirez acknowledges that this could be a problem but it's not one he specific has to address.
"Now that they've all been cross-pollinated, it might be something that people have to think about," he said. "I don't know. That's more of a Marvel question. I have nothing to do with any of the other shows. But now that they've all met, all bets are off. They know each other, so you have to address that. I think that's actually, as a storyteller, very exciting."
A SURPRISING AVENGERS ROMANCE IN GENERATIONS: THOR - SPOILERS
08/23/17 @ 10:57 am EST
Source:
Newsarama
| Categories:
Marvel
|
Comments
(0) |
E-mail Article
|
Add a Comment
Marvel's "Generations" one-shots roll on with
Generations: The Unworthy Thor and the Mighty Thor #1
from writer Jason Aaron and artist Mahmud Asrar. Along with two eras of Thors teaming up, the one-shot features the first glimpses at the story being set up for
Marvel Legacy #1
in September.
Spoilers ahead for Generations: The Unworthy Thor and the Mighty Thor #1.
In the final pages of the one-shot, Thor's father Odin reaches out to the Phoenix Force - embodied as a woman wreathed in flame - recalling a time when they were lovers, presumably around the time they were part of the '1,000,000 B.C. Avengers' together.
Though the 1,000,000 B.C. Avengers haven't appeared yet, the team's line-up was revealed in teasers released in recent weeks. The prehistoric team consists of Odin, the Phoenix, the Iron Fist, Agamotto, Ghost Rider, and Starbrand.
Marvel Legacy #1
is due out on shelves September 27.
JAMES GUNN TEASES WHETHER NATHAN FILLION WILL APPEAR IN 'GUARDIANS OF THE GALAXY VOL. 3'
08/23/17 @ 10:49 am EST
Source:
ComicBook
| Categories:
Marvel
|
Comments
(0) |
E-mail Article
|
Add a Comment
According to James Gunn, fans should hold out hope about seeing Nathan Fillion enter the Marvel Cinematic Universe.
During a recent Facebook Live Q&A to promote
Guardians of the Galaxy Vol. 2
, Gunn addressed Fillion's cut cameo from the film, and whether or not he would return in the film's next installment.
"Will he be in [
Guardians of the Galaxy Vol. 3
]? I don't know yet." Gunn revealed. "I haven't made up my mind."
Fillion was set to cameo in the film as Simon Williams/Wonder Man - through a series of several fake film posters during one of
Vol. 2
's Earth scenes. While Fillion's role in the film was eventually cut, Gunn has since released images of the posters online, and expressed an interest in bringing Wonder Man into the fold in some way.