PATHFINDER CONTEST AND INTERVIEW!!!
10/05/12 @ 11:06 am EST
Source:
Dynamite
|
Comments
(0) |
E-mail Article
|
Add a Comment
Check out a Pathfinder contest and an interview with Pathfinder interior artist, Andrew Huerta, at Things From Another World!

Click on links for contest details and the interview!

http://www.tfaw.com/blog/2012/10/03/andrew-huerta-takes-us-on-an-adventure-with-pathfinder-comics/

"LIKE" DYNAMITE'S FACEBOOK PAGE TODAY!!!

http://www.facebook.com/dynamitecomics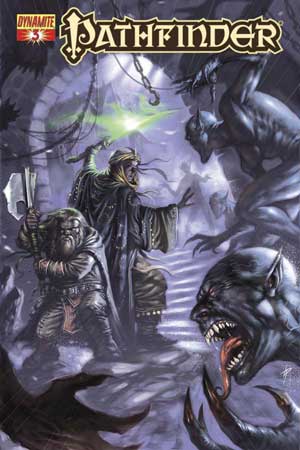 SHANE BLACK'S PREDATOR MOVIE RELEASE DATE GETS MOVED UP
05/30/16 @ 2:12 pm EST
Source:
Comicbook
| Categories:
MIsc
|
Comments
(0) |
E-mail Article
|
Add a Comment
Along with a number of other release date changes and announcements yesterday, 20th Century Fox revealed that they were moving up the date of
The Predator
from
Iron Man 3
director Shane Black from March to February of 2018.
Black's rebootquel
The Predator
will not take the franchise back to revisit its glory years in the '80s. Rather, the film will be set in the current day, with Black dodging questions about whether that means Arnold Schwarzenegger could play his original character, just thirty or so years older, in the next installment of the franchise.
ZOOTOPIA RANKS AS SECOND LARGEST ORIGINAL MOVIE OF ALL-TIME
05/30/16 @ 2:10 pm EST
Source:
Comicbook
| Categories:
Disney
|
Comments
(0) |
E-mail Article
|
Add a Comment
Disney's surprise hit
Zootopia
has entered into historic territory. According to Forbes and Box Office Mojo,
Zootopia
is now the second largest original movie of all-time, trailing only James Cameron's
Avatar
. By "original" movie, Forbes qualifies that it's a movie "not based on a television show, a comic book, a novel, or a stage play," nor is it a sequel, prequel, reboot or based on actual historical events, which basically eliminates just about every big box office movie made over the last 20 or so years.
To date,
Zootopia
has made nearly $1 billion, making it Disney's eleventh biggest movie of all time. In terms of animated fare,
Zootopia
ranks fourth behind
Toy Story 3, The Minions
and
Frozen
.
Zootopia
is also the sixth best "non-prequel/sequel" behind
Avatar, Titanic, Frozen
,
Jurassic Park
and
Alice in Wonderland
...which arguably could be seen as a loose sequel to the original
Alice in Wonderland
books and/or animated film.
NEW 'STAR TREK BEYOND' CHARACTER POSTERS SPOTLIGHT UHURA, SCOTTY & SULU
05/30/16 @ 2:05 pm EST
Source:
Comic Book Resources
| Categories:
Star Trek
|
Comments
(0) |
E-mail Article
|
Add a Comment
Following up on the McCoy, Jaylah, Chekov and Spock posters, Paramount Pictures has unveiled new character posters for Uhura, Sulu and Scotty from their upcoming "Star Trek Beyond" — leaving Chris Pine's Captain Kirk the last of the main crew to get a poster…
Directed by Justin Lin ("Furious 7″) and produced by J.J. Abrams ("Star Wars: The Force Awakens"), "Star Trek Beyond" is set to debut at San Diego Comic Con, before it beams into theaters on July 22.
WILLA HOLLAND CALLS OUT WB FOR SHUTTING DOWN "ARROW'S" SUICIDE SQUAD PLANS
05/30/16 @ 2:01 pm EST
Source:
Comic Book Resources
| Categories:
Suicide Squad
|
Comments
(0) |
E-mail Article
|
Add a Comment
"Arrow" star Willa Holland believes the DC Cinematic Universe could learn a lesson from Marvel. During an interview with The Mirror, she expressed her frustration with the disconnect between DC's films and television series, why the Suicide Squad was axed from the show and more.
"We were about season two when they started telling us we had to start basically killing off the Suicide Squad that we were starting to build on our own," Holland recalled. "We were actually trying to build that on our own on the show, and I guess once DC found out they were going to be doing their own movie of it, we had to ax all of the characters before we even got to show them, which was a little annoying at first.
"Then when Stephen found out there was going to be a Justice League [movie] it only seemed -- rightly so -- he would be playing Green Arrow on it as well as that Grant [Gustin] would be playing the Flash," she continued. "It seemed like the right normal answer, and -- once they said no -- you can't really fight against them for it, because they are the people that gave us a job in the first place. So you just have to sit there on your hands, like okay, I get it!
"Marvel does it in their own weird right, kind of mash between 'Agents of S.H.I.E.L.D.' and the movies and stuff. So it's a little upsetting because you know it is possible and it can be done and how good it would be if it was done," she added.
WOLVERINE ORIGINALLY HAD A LARGER ROLE IN "X-MEN: APOCALYPSE"
05/30/16 @ 1:55 pm EST
Source:
Comic Book Resources
| Categories:
X-Men
|
Comments
(0) |
E-mail Article
|
Add a Comment
Warning: This story contains spoilers for "X-Men: Apocalypse"
Although Hugh Jackman was long expected to appear in "X-Men: Apocalypse," Fox waited until April to confirm his involvement with a trailer that teased Wolverine's key role in one of the sequel's major action sequences.
However, the fan-favorite mutant was originally intended to play a much larger part in the film.
"There were a lot of iterations of how Wolverine would enter and exit the movie," writer/producerSimon Kinberg told CinemaBlend. "There was a version when he was going to come in at the midpoint of the film and be like the drill sergeant for the kids and take over as their leader. And we felt like that stepped on Jen's role in the movie and becoming their leader."
Jen is, of course, Jennifer Lawrence, whose Mystique not only rescues Nightcrawler (Kodi Smit-McPhee), but trains the young X-Men for their fight against Apocalypse.
With Wolverine no longer the team's "drill sergeant, his role was dialed back to a pivotal cameo, in which he unleashes his berserker rage on the Weapon X program.
"X-Men: Apocalypse" is in theaters now.
WHAT'S THE DEAL WITH [SPOILER] IN "X-MEN: APOCALYPSE'S" POST-CREDITS SCENE?
05/30/16 @ 1:48 pm EST
Source:
Comic Book Resources
| Categories:
X-Men
|
Comments
(0) |
E-mail Article
|
Add a Comment
At the end of "X-Men: Apocalypse," we see a briefcase emblazoned with an "Essex Corp." logo that contains a sample of Wolverine's DNA. That, of course, is a reference to Mister Sinister, a major X-Men villain from the comics who may at last make his film debut.
So what's Mister Sinister's deal, exactly?
He's first mentioned in 1986's "The Uncanny X-Men" #212, during the Mutant Massacre, whenSabretooth refers to a "Mr. Sinister" who sent the assassins called the Marauders to kill the subterranean Morlocks. It wasn't until "The Uncanny X-Men" #221 readers that actually got to
see
Mister Sinister as he berates his Marauders for failing him.
You might think his name and his appearance are oddly over-the-top -- and that was intentional. You see, writer Chris Claremont originally intended for Mister Sinister to be the name that a powerful boy came up as the psychic manifestation of his abilities. It's supposed to be hokey, as it was thought up by a kid who never ages, and ends up using Sinister more and more as his public persona. In the backup stories in 1989's "Classic X-Men" #41, we see Scott Summers from his time an orphanage and his fellow orphan Nate, who's obsessed with Scott. In Claremont's original plans, "Nate"
was
Sinister, but that was later retconned so that the boy was merely Sinister in disguise.
Sinister's obsession was revealed to have gone even further during the 1989 crossover "Inferno," where we learned in "X-Factor" #39 that he had cloned Jean Grey to create Madelyne Pryor so that Scott would procreate with her. Sinister had even come up with the ruby quartz glasses needed to restrain Cyclops' eye blasts! Cyclops seemingly destroyed Sinister at the end of "Inferno," but he soon popped up again.
During the 1992 "X-Cutioner's Song" crossover – specifically "X-Men" #14 -- Sinister captured Jean Grey and Cyclops and delivered them to Stryfe, a clone of the son of Scott Summers and Madelyne Pryor, in exchange for Stryfe's genetic material. Basically, try to think of Sinister as Lucky the Leprechaun and Summers DNA as his Lucky Charms. Sadly it was revealed in "X-Force #18" that Sinister
wasn't
given Summers genetic material but instead received a vial containing the Legacy Virus, which was now unleashed upon the world.
A few years after "X-Cutioner's Song," we finally learned Sinister's official origin (as opposed to Claremont's intended origin) during "The Further Adventures of Cyclops and Phoenix." In the story, Scott Summers and Jean Grey end up in mid-19th England, where a man named Nathaniel Essex and his wife Rebecca meet En Sabah Nur (aka Apocalypse). Essex is obsessed with genetics, but he and his wife are strained by the loss of their son. En Sabah Nur offers to mutate Nathanial Essex, who initially refuses. However, the loss of his wife (and her hatred of him at the end) drives him to accept, and Apocalypse's experiment leads to the creation of a new being known as ... Sinister!
Sinister kept popping over the next couple of decades, particularly in connection with Gambit, with whom it was revealed he shared a history. In fact, Gambit assembled the Marauders for Sinister, and even led them to the Morlock tunnels. However, Gambit who was paid with a mysterious vial that was never fully explained, hadn't realized the Marauders were about to slaughter the mutants. So Sinister and Gambit have crossed paths a number of times (as we've seen, once Sinister has taken an interest in you, he will
not
let it go). Sinister was involved with a newly revived Weapon X program, which is when we learned he had worked with the Nazis during World War II because they allowed him to conduct all sorts of messed-up experiments.
Sinister's next major storyline was the 2007 "X-Men: Messiah Complex" crossover. After "House of M," Scarlet Witch had erased most of the mutants from Earth, so when a mutant girl was born, everyone was interested in finding her, including, of course, Sinister, who planned to use for experiments. He had Mystique form a new version of the Marauders, and even enlisted Gambit to betray the X-Men to help find the baby (Sinister never forgets, Gambit!). At the end of the storyline, Sinister was seemingly killed.
It turns out, however, that someone like Sinister is prepared for virtually anything. In this instance, he ended up in a cloned female body, launching a brief period (beginning in 2008's "X-Men: Legacy" #214) in which the character was
Miss
Sinister. Of course, that change was only temporary, and eventually
Mister
Sinister returned.
Mister Sinister was a particular thorn in the side of the X-Men during their time in San Francisco and Utopia, as he merged with the Dreaming Celestial to become super-powerful. Even after his defeat, he popped up again in the area, having built a Victorian-inspired subterranean city. Sinister played a major role in the 2012 crossover "Avengers vs. X-Men" when the "Phoenix Five" took him on and discover he had created a clone army. They destroyed seemingly every clone, but Sinister managed to survive yet again.
Most recently, Sinister showed up in the pages of "Extraordinary X-Men," where he spliced together mutant and Inhuman DNA in an attempt to prevent Terrigen Mists from killing mutants. That was when we learned that Sinister experiments on clones of various X-Men, including --
of course!
-- Cyclops.
It certainly won't be surprising if we see Sinister conduct experiments in the next Wolverine film. (Via CBR)
BOX OFFICE: 'X-MEN: APOCALYPSE' TOPS WITH $80 MILLION, 'THROUGH THE LOOKING GLASS' BOMBS
05/30/16 @ 1:38 pm EST
Source:
Variety
| Categories:
MIsc
|
Comments
(0) |
E-mail Article
|
Add a Comment
"X-Men: Apocalypse" easily topped the Memorial Day weekend box office, racking up a commanding $80 million over the four-day period in an otherwise forgettable holiday for the movie business.
Its victory came at the expense of "Alice Through the Looking Glass," which is shaping up to be one of the year's biggest bombs. The follow-up to 2010's "Alice in Wonderland" eked out $34.2 million over the four-day holiday, a far cry from the $116.1 million debut of the first film, and a disastrous start for a pricey movie.
Final numbers are still being tallied, but even though this year's Memorial Day topped last year's holiday, it trails the record of $314.2 million established in 2013. That weekend saw a clash between "Fast & Furious 6" and "The Hangover III," and while this edition also fielded a high-profile matchup between "X-Men" and "Alice in Wonderland" sequels, overall ticket sales were somewhat disappointing. ComScore estimates that final grosses will end up at just over $200 million.
DWAYNE JOHNSON CONFIRMS DOC SAVAGE WITH SHANE BLACK
05/30/16 @ 1:34 pm EST
Source:
Comicbook
| Categories:
Doc Savage
|
Comments
(0) |
E-mail Article
|
Add a Comment
Dwayne "the Rock" Johnson confirmed via Instagram he'll be playing Doc Savage in an upcoming film. The popular wrestler turned actor posted on Instagram this morning that he'll star in Shane Black's upcoming adaptation featuring the famous pulp adventurer, which will be set in the 1930s. "For all comic book fans you already know the world's first superhero (pre-dating Superman) is the "Man of Bronze" himself Clark "Doc" Savage," Johnson wrote via a Instagram photo showing himself, Black and several other producers of the new film.
Doc Savage was created by Henry Ralston, John Nanovic and Lester Dent in 1933, several years before Superman was created. Savage was a jack of all trades adventurer raised from birth to be a pinnacle of human strength and intelligence. Although Savage had no actual superpowers, he was a master at martial arts, a trained scientist and a master detective and was regularly referred to as a "superman" by both friends and enemies. As pointed out by the Rock, Savage was one of the inspirations for Superman and the two share many similarities, including a first name, similar nicknames, and a Fortress of Solitude. Savage even briefly appeared in DC Comics as one of the stars of a pulp line called "First Wave" that also starred Batman and the Spirit. Currently, Savage's comic book adventures are published by Dynamite Entertainment.
FANS CALL "X-MEN'S" SCHOOL FOR GIFTED YOUNGSTERS
05/29/16 @ 10:43 pm EST
Source:
Comic Book Resources
| Categories:
X-Men
|
Comments
(0) |
E-mail Article
|
Add a Comment
Last week Fox released a viral video for "X-Men: Apocalypse" designed to look like a 1980s recruitment commercial for Xavier's School for Gifted Youngsters. Hosted by Jubilee (Lana Condor), the fake spot ended with a voiceover from Stan Lee encouraging viewers to call a 1-800 number.
And, boy, did they ever.
More than 75,000 responded, with some leaving rather creative messages. In a followup, the studio has unveiled a new video that offers a sampling of just some of those calls.
One caller reported he sneezed and blew the entire second story off of his house, while another said had quills coming out of his body. And then there's the one who sounded a lot like a certain Merc With a Mouth, who asked for Jean Grey's phone number.
Listen to the voicemails here:
https://youtu.be/fRp_PzJVwJc
STAN LEE WEIGHS IN ON MARVEL'S CONTROVERSIAL "CAPTAIN AMERICA" TWIST
05/29/16 @ 10:37 pm EST
Source:
Comic Book Resources
| Categories:
Stan Lee
|
Comments
(0) |
E-mail Article
|
Add a Comment
Marvel Comics stirred a hornet's nest last week with the shocking revelation in "Captain America: Steve Rogers" #1 that the Sentinel of Liberty is secretly and agent of Hydra, and may have been since the very beginning. The surprise twist drew mainstream media attention, a good deal of criticism, and even threats directed at writer Nick Spencer.
During an appearance over the weekend at MegaCon in Orlando, Florida, legendary writer Stan Lee was even drawn into the discussion -- but his view
might
just surprise you.
"It's a helluva clever idea," the 93-year-old creator said in response to a question from the audience. "I don't know that I would ever have thought of it, for
him
to be a double agent. But it's going to make you curious, it's going to make you want to read the books ... they'll probably do a movie based on it, so I can't fault it. It's a good idea."
"I think it's
crazy
," he added with a laugh, "but it's a good idea."
Of course, Lee's no stranger to Captain America retcons. After all, it was he and Jack Kirby who revised Steve Rogers' history when they reintroduced him in 1964's "The Avengers" #4.
Watch video of Lee's response here:
https://youtu.be/DqH871UT-LY