THE FUTURE OF MARVEL NOW! IS AMATEURS.
10/04/12 @ 7:05 pm EST
Source:
Marvel
|
Comments
(0) |
E-mail Article
|
Add a Comment
Kieron Gillen
Jamie McKelvie
January 2013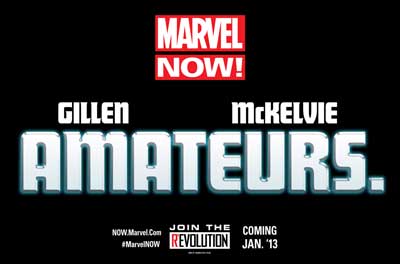 LUTHER RETURNS IN NEW TRAILER
11/27/15 @ 12:51 pm EST
Source:
Bleeding Cool
| Categories:
MIsc
|
Comments
(0) |
E-mail Article
|
Add a Comment
BBC One has released a new trailer for the upcoming special of
Luther
. The special will see Luther on a leave of absence from the police force, but soon to return to London when he hears shocking news and a cannibalistic serial killer begins a murderous spree.
Idris Elba
returns to star. The special will also feature
Darren Boyd
,
Rose
Leslie
,
Dermot Crowley
and
Laura Haddock
.
Trailer:
https://www.youtube.com/watch?feature=player_embedded&v=vTZvxT03y1U
A FAIRLY SPOILER-FREE STAR WARS: THE FORCE AWAKENS SOUNDTRACK LISTING OFFERS ONE OR TWO HINTS AT MORE PLOT
11/27/15 @ 12:44 pm EST
Source:
Bleeding Cool
| Categories:
Star Wars
|
Comments
(0) |
E-mail Article
|
Add a Comment
Stitch Kingdom reports Amazon France has uploaded details on the
John Williams
soundtrack for that well-known
Star Wars
movie that's coming out in just three short weeks. The track listing has since been removed from the Amazon France page. None of the tracks feature names as shattering as
The Phantom Menace
's infamous "Qui-Gon's Noble End," but depending on how much you want to more you want to know, you might want to avert your eyes.
Granted, if you've been following the stream of clips, there's nothing too surprising here … except maybe the last track.
If you're curious, here is the listing as reported by Stitch Kingdom:
1. Main title and the attack on the jakku village
2. The scavenger
3. I can fly anything
4. Rey meets bb-8
5. Follow me
6. Rey's thème
7. The falcon
8. That girl with the staff
9. The rathtars!
10. Finn's confession
11. Maz's counsel
12. The starkiller
13. Kylo ren arrives at the battle
14. The abduction
15. Han and leia
16. March of the resistance
17. Snoke
18. On the inside
19. Torn apart
20. The ways of the force
21. Scherzo for X-wings
22. Farewell and the trip
23. The jedi steps and finale
Star Wars: The Force Awakens
will release its ultimate spoiler on December 18th.
RIDLEY SCOTT CONFIRMS TWO MORE ALIEN SEQUELS AFTER ALIEN: COVENANT
11/27/15 @ 12:39 pm EST
Source:
Bleeding Cool
| Categories:
Aliens
|
Comments
(0) |
E-mail Article
|
Add a Comment
It will take three films to get for
Prometheus
to sync up with
Alien
if you don't count
Prometheus
or
Alien
. According to The Hollywood Reporter, director
Ridley Scott
has confirmed there will be an additional two films
after
his upcoming
Alien: Covenant
. "Its a very complex story. Its an evolution of what I first did with
Prometheus 1
," he said at a press conference in Sydney, Australia. "
Prometheus 1
was borne out of my frustration that on
Alien 1
in 1979 – I only did one as I don't normally do sequels. I was amazed that in the 3 that followed that no-one asked the question 'why the Alien, who made it and why?' Very basic questions. So I came up with the notion of
Prometheus 1,
which starts to indicate who might have made it and where it came from."
The new film will be shot in Sydney's Fox Studios in March and tell the tale of the colony ship
Covenant
as it meets up with
Michael Fassbender
's homicidal android David.
"I'm now going to the next one, which is the next evolution directly connected with the first one, which was this Shaw, when he[sic] replaced Michael Fassbender in two pieces and we'll kind of pick it up there and it will evolve," he said. Previously, it was assumed
Noomi Rapace
would be returning as Shaw, Scott indicated she will only appear briefly in the new film. "When that's finished there'll be another one," Scott continued. "And then another one which will gradually drive into the back entrance of the film in 1979."
Scott's ultimate aim is to explain how that derelict ship in the original
Alien
crashed and answer two questions that have remained in his mind since completing the first film: "Why was this space jockey there and why did he have an Alien inside him?" The answers require four films, it seems.
Alien: Covenant
lands in theaters on October 6th, 2017.
NEW GREMLINS FILM WILL NOT BE A REBOOT
11/27/15 @ 12:35 pm EST
Source:
Bleeding Cool
| Categories:
MIsc
|
Comments
(0) |
E-mail Article
|
Add a Comment
According to Comicbook.com, the newGremlins is still on the way and it will not be a remake. Their source: actorZach Galligan, who played protagonist Billy Peltzer in the two previous movies.

"It's not going to be a reboot," Galligan told the audience at a screening of the first Gremlins at Prince Charles Cinema in Leicester Square. "It will not be a remake in any way, shape, or form. Chris Columbushas come out and said that the first film is very near and dear to his heart and as long as he is alive it will never be remade."

Instead, the film will be set thirty-some years after the original. "All of the elements from the first, at least the first Gremlins movie — Chris Columbus didn't really have much to do with the second Gremlins movie so I don't know how he feels about that — but all of the things and events that happened in the first one will be referred to," said the actor. "And apparently some of the characters from the first one will reappear in the new one they are planning right now. I swear on my life, I don't know if I'm in it or not, but I think there is probably a decent chance since I'm one of the few people left standing from the first movie."

The script is being handled by Goosebumps screenwriter Carl Ellsworth, but all other details are unknown, including Columbus's feelings on Gremlin 2: The New Batch.
ZOOLANDER 2' TRAILER SCORES RECORD TRAFFIC FOR A COMEDY FILM IN ITS FIRST WEEK
11/27/15 @ 12:21 pm EST
Source:
Deadline
| Categories:
MIsc
|
Comments
(0) |
E-mail Article
|
Add a Comment
Paramount Pictures reports that the
Zoolander 2
trailer
was the hotstepper in its first week of release, racking up 52.5M views online; the most for any comedy trailer ever.
Zoolander 2
's first week web traffic outstripped
Dumb and Dumber To
which clocked 49M views. It also beat the first week trailer clicks of
22 Jump Street, Hangover 3, Ride Along 2, Anchorman 2
, and
Trainwreck
.
The sequel to the 2001 comedy opens on February 12 next year. Stiller reprises his role as the dimwitted Derek Zoolander along with Owen Wilson as rival model Hansel, and Will Ferrell as the notorious fashion mogul Mugatu. Derek and Hansel are hired by Interpol agent Valentina (Penelope Cruz) to investigate a death plot against the world's most beautiful people, including Justin Bieber.
Also along for the ride are Kristen Wiig, Fred Armisen, Milla Jovovich, Christine Taylor, Justin Theroux, Kyle Mooney and Benedict Cumberbatch. Theroux, Stiller, Nick Stoller and John Hamburg wrote the sequel. Stiller, Stuart Cornfeld, Scott Rudin and Clayton Townsend are producing. Jeff Mann is executive producing.
The first
Zoolander
opened on Sept. 28, 2001 to $15.5M stateside, and finaled with a domestic take of $45.17M and a global gross of $60.8M.
'PRIDE AND PREJUDICE AND ZOMBIES' FEASTS ON A NEW UK TRAILER
11/27/15 @ 12:17 pm EST
Source:
Comic Book Resources
| Categories:
MIsc
|
Comments
(0) |
E-mail Article
|
Add a Comment
"Pride and Prejudice and Zombies" has unleashed a new U.K. trailer that deftly blends the themes of Jane Austen's classic with the tropes of the horror and actiongenres, while laying out the film's premise.
Based on Seth Grahame-Smith bestselling parody novel of the same name, "Pride and Prejudice and Zombies" is set in a post-apocalyptic 19th-century England overrun by the undead. Lily James stars as Elizabeth Bennet, a master of weaponry and the martial arts, who must unite with Mr. Darcy (Sam Riley) to rid their country of the zombie menace, and to discover their love for one another.
Directed by Burr Steers, "Pride and Prejudice and Zombies" also stars Jack Huston, Bella Heathcote, Douglas Booth, Matt Smith, Charles Dance and Lena Headey. The film opens Feb. 5 in the United States and Feb. 12 in the United Kingdom.
Video:
https://youtu.be/47We4NPxfvI
THE RED POWER RANGER MORPHED INTO TODAY'S MACY'S PARADE
11/26/15 @ 7:48 pm EST
Source:
TBO
| Categories:
Misc
|
Comments
(0) |
E-mail Article
|
Add a Comment
CATCH SPIDER-MAN IN TODAY'S MACY'S PARADE?
11/26/15 @ 7:44 pm EST
Source:
Marvel
| Categories:
Spider-Man
|
Comments
(0) |
E-mail Article
|
Add a Comment
Spidey was just a'swingin' through New York on Turkey Day today!
REMEMBERING THE 1987 MARVEL THANKSGIVING DAY FLOAT
11/26/15 @ 7:31 pm EST
Source:
Comicbook
| Categories:
Marvel
|
Comments
(0) |
E-mail Article
|
Add a Comment
With Spider-Man making another appearance in the Thanksgiving Day parade (among others like the Red Power Ranger), ComicBook.com took a trip back in time to when Marvel actually had a float. That's right, if you're in your 20's or younger you won't remember this, but there was one year where all your favorite of Earth's Mightiest were featured in the flesh way before the idea of a Marvel Cinematic Universe was even a glimmer in the company's eye.
Back in 1987, the float was supposed to tell a really strange story. From what we can tell, it involves Doctor Strange summoning Captain America (from a giant comic book) to help Wolverine against the tyrannical Doctor Doom. We also get cameos from some other heroes and villains as well.
Here's the video:
https://youtu.be/vVdgmkc-xJA
And here's a rundown of everyone involved:
Doctor Strange
Captain America
Wolverine
The Enchantress
Magneto
Dr. Doom
Power Man
Daredevil
Silver Surfer
Emma Frost
Hulk
Green Goblin
NEW STAR WARS: THE FORCE AWAKENS TV SPOT FOCUSES ON KYLO REN
11/26/15 @ 7:24 pm EST
Source:
Comicbook
| Categories:
Star Wars
|
Comments
(0) |
E-mail Article
|
Add a Comment
Disney might be done with
Star Wars: The Force Awakens
trailers, but the
Star Wars: The Force Awakens
TV spots appear to just be getting started. The majority of footage in the TV spots comes from the trailers, but Disney appears to be including a couple of snippets of new footage in each spot. The latest TV spot brings new looks at Kylo Ren.
Lucasfilm and visionary director J.J. Abrams join forces to take you back again to a galaxy far, far away as Star Wars returns to the big screen with
Star Wars: The Force Awakens
.
The film stars Harrison Ford, Mark Hamill, Carrie Fisher, Adam Driver, Daisy Ridley, John Boyega, Oscar Isaac, Lupita Nyong'o, Andy Serkis, Domhnall Gleeson, Anthony Daniels, Peter Mayhew and Max Von Sydow. Kathleen Kennedy, J.J. Abrams and Bryan Burk are producing with Tommy Harper and Jason McGatlin serving as executive producers. The screenplay is by Lawrence Kasdan & J.J. Abrams and Michael Arndt.
Latest TV spot:
https://youtu.be/-mH7Y0EUOfc