THE FUTURE OF MARVEL NOW! IS AMATEURS.
10/04/12 @ 7:05 pm EST
Source:
Marvel
|
Comments
(0) |
E-mail Article
|
Add a Comment
Kieron Gillen
Jamie McKelvie
January 2013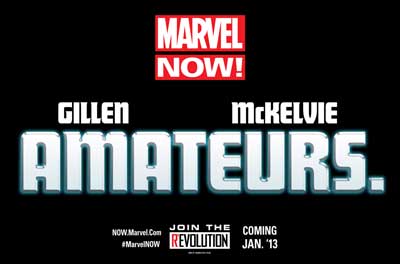 BOOM! STUDIOS ADDS SPANISH LANGUAGE EDITION TO SOMBRA #1, WITH A NEW FOC COVER
06/28/16 @ 7:20 pm EST
Source:
Bleeding Cool
| Categories:
MIsc
|
Comments
(0) |
E-mail Article
|
Add a Comment
BOOM! Studios announced their new original project,
Sombra
, in the Washington Post a couple of months back. The project was described as tackling a "provocative topic-the violent drug cartels of Mexico". To give the project greater authenticity, American writer Justin Jordan partnered with Mexican artist Raúl Treviño, who is "is drawing on his first-hand experiences to inform the story."
On Monday, BOOM announced they will be releasing
Sombra
#1 in a Spanish language edition day-and-date with the English language edition worldwide featuring a new cover by series artist Treviño. Additionally, the Mexican publisher, Editorial Kamite, will be releasing the same Spanish language edition in Mexico at the same time. Bleeding Cool is reporting that Treviño translated the comic himself to ensure an authentic, conversational tone. On top of that, BOOM has added another variant cover by Chris Brunner (
Southern Bastards
) available for retailers to order without restriction at FOC.
The addition of an FOC variant is one BOOM has employed on new original series quite a bit lately and it seems to be working for them. Series like
Joyride
,
Goldie Vance
, and
Jonesy
have all ended up at the top of Advance Reorder charts as a result and graduated to ongoing series status. Will
Sombra
follow suit?
DARK HORSE COMICS TRADEMARKS SILVER STREAK
06/28/16 @ 7:14 pm EST
Source:
Bleeding Cool
| Categories:
Dark Horse
|
Comments
(0) |
E-mail Article
|
Add a Comment
Silver Streak Comics
was originally published by Arthur Bernhardt's Rhoda Publications in 1940, names after the publisher's Pontiac model of car.With issue #3, the title was taken over by Lev Gleason Publications and a character named Silver Streak first appeared.
Created by Joe Simon, he was the second superhero speedster after the Golden Age Flash.
The comic would also feature the 1940s character The Daredevil, recently revived alongside Silver Streak by Erik Larsen in Savage Dragon, as pubic domain characters.
Now, it seems, that Dark Horse Comics – who have published a number of Silver Streak archive collections, have registered a trademark for the name. Purely for the archives? Are there plans to publish a new series by that name?
Time will tell…
THE MCCARTHYS' TYLER RITTER TO JOIN STAR CITY PD ON ARROW
06/28/16 @ 7:07 pm EST
Source:
Bleeding Cool
| Categories:
Arrow
|
Comments
(0) |
E-mail Article
|
Add a Comment
According to The Hollywood Reporter,
Tyler Ritter
of
NCIS
and
The McCarthys
will join the cast of
Arrow
in its fifth season.
Ritter will play Star City PD Detective Malone, the new man inside the department now that Captain Lance has left the force. It is unclear if Malone will actually work with Team Arrow or stand in opposition to all of the city's myriad vigilantes. It is also possible he could be working for the city's new crimelord, played by
The Walking Dead
's
Chad L. Coleman
.
The new season sees Oliver Queen as mayor and a new collection of costumed crime fighters like Wild Dog, Artemis and Vigilante taking up the mantle presumably left behind when Team Arrow called it quits in the most recent season finale. Of course, the team will likely come together again as executive producer
Wendy Mericle
told TVLine that new series regular
Echo Kellum
's Curtis Holt will act as the show's version of
The Flash
's Cisco Ramon.
THR also notes that despite Captain Lance's dismissal from the SCPD, actor
Paul Blackthorne
is still a series regular. Could he end up
Arrow
's equivalent of Slam Bradley? Or would his heart give out too quickly?
Arrow
returns in October on
The CW
.
IDW TO LAUNCH STAR TREK: WAYPOINT SERIES
06/28/16 @ 7:01 pm EST
Source:
Bleeding Cool
| Categories:
Star Trek
|
Comments
(0) |
E-mail Article
|
Add a Comment
With the 50th anniversary of
Star Trek
happening,
IDW
is kicking off a new series that will feature various
Starfleet
crews from the franchise's history. The new series will feature creators like
Donny Cates
(
The Paybacks
,
Interceptor
),
Mack Chater
(
The Fuse
), and
Sandra Lanz
(
Prophet
) and more.
Cates and Chater will team on the lead story set during
Star Trek: The Next Generation
era which sees
Geordi La Forge
and
Data
put their scientific minds together to decipher a mysterious ship's coded message. Their discovery may alter the course of scientific human history as we know it!
Lanz will write and illustrate the back up taking place during
Star Trek: The Original Series
and shines a spotlight on
Uhura
as she navigates a strange planet. Stranded, she attempts to make contact with a bizarre alien creature.
Star Trek: Waypoint
will feature cover art by artists
Marc Laming
(
Planet Hulk
) and
Mark Buckingham
(
Fables
) and will be in stores this September.
CAPTAIN PHILLIP'S BARKHAD ABDI REPORTEDLY JOINING BLADE RUNNER SEQUEL CAST
06/28/16 @ 6:55 pm EST
Source:
Bleeding Cool
| Categories:
MIsc
|
Comments
(0) |
E-mail Article
|
Add a Comment
Entertainment Weekly reports that
Captain Phillips
'
Barkhad Abdi
— who received an Academy Award nomination for the role — has joined the cast of the upcoming
Blade Runner
sequel.
The film will star a returning
Harrison Ford
as Blade Runner Rick Deckard. The script by original film co-writer
Hampton Fancher
and
Michael Green
— based on a story by Fancher and
Blade Runner
director
Ridley Scott
— is shrouded in mystery. Althought, it is said to be set several decades after Deckard and the experimental Replicant Rachel abandoned Los Angeles for lovely mountain footage borrowed from
Stanley Kubrick
. Well, okay, that's true in at least one version of the film.
As for Abdi, he could be part of the new Los Angeles power elite that emerged in the wake of Eldon Tyrell's death in
Blade Runner
.
Ryan Gosling
,
Robin Wright
and
Dave Bautista
are also set to star with production under the direction of
Sicario
's
Denis Villeneuve
in July. The film is slated for release on October 6th 2017.
BRUCE DISCUSSES HIS DREAM IN THE FIRST TEN MINUTES OF BATMAN V SUPERMAN: ULTIMATE EDITION
06/28/16 @ 6:52 pm EST
Source:
Bleeding Cool
| Categories:
Batman Superman
|
Comments
(0) |
E-mail Article
|
Add a Comment
'TETRIS' MOVIE WILL BE A SCI-FI TRILOGY
06/28/16 @ 6:48 pm EST
Source:
Variety
| Categories:
MIsc
|
Comments
(0) |
E-mail Article
|
Add a Comment
All good things come in threes, right? That's certainly what producer Larry Kasanoff is banking on with his latest video game adaptation, "Tetris."
Kasanoff told Empire Magazine that the film will be a trilogy.
"That's correct," he responded when asked if rumors of the adaption receiving three installments were true. But, he said, that's "purely because the story we conceived is so big."
"This isn't us splitting the last one of our eight movies in two to wring blood out of the stone. It's just a big story," Kasanoff said.
Kasanoff first announced the movie almost two years ago. The film — a China-U.S. co-production — secured $80 million in funding last month.
"We want the story to be a surprise, but it's a big science-fiction movie," Kasanoff said of the untitled film. "I came up with the idea as I was thinking about 'Tetris' and the theme of creating order out of chaos."
He also added "we're not going to have blocks with feet running around the movie, but it's great that people think so. It sets the bar rather low!"
"Tetris" is set to begin shooting in China next year. It will be one of the first pics from Threshold Global Studios, a new company involving Kasanoff's Threshold Entertainment and Chinese businessman Bruno Wu's Seven Stars Entertainment.
TOM HIDDLESTON RETURNING TO COMIC-CON WITH LEGENDARY'S 'KONG: SKULL ISLAND'
06/28/16 @ 6:45 pm EST
Source:
Deadline
| Categories:
King Kong
|
Comments
(0) |
E-mail Article
|
Add a Comment
San Diego Comic-Con attendees know him as Loki, the complex and duplicitous brother of Thor, but actor Tom Hiddleston will return to the convention under another guise this year.
The Night Manager
star will be in Hall H as Captain James Conrad of Legendary's upcoming Warner Bros. title
Kong: Skull Island.
We hear that the pic will be featured prominently as part of Warner Bros' Comic-Con presentation, which looks to also be loaded with DC teasers — if past SDCCs are any indication. No word yet whether
Kong: Skull Island
co-stars John Goodman, Brie Larson, Samuel L. Jackson or John C. Reilly will be there, though most of them are Comic-Con alums and fan faves.
Kong: Skull Island,
directed by Jordan Vogt-Roberts, will open March 10, 2017.
Hiddleston's Loki memorably crashed Comic-Con 2013 during Marvel's panel for
Thor: The Dark World
.
TYRESE GIBSON TO RETURN FOR 'TRANSFORMERS 5: THE LAST KNIGHT'
06/28/16 @ 6:39 pm EST
Source:
Comic Book Resources
| Categories:
Transformers
|
Comments
(0) |
E-mail Article
|
Add a Comment
"Fast and Furious" star Tyrese Gibson will re-team with the Autobots on the big screen next June. During an interview with EntertainmentTonight, he revealed that he will return for "Transformers 5: The Last Night."
"Let's just say 2017, summertime, it's going to be a lot of energy out there in the universe: 'Fast 8,' 'Transformers 5,'" he said.
Gibson played Chief Master Sergeant Robert Epps in "Transformers," "Transformers: Revenge of the Fallen" and "Transformers: Dark of the Moon." Though he didn't confirm that he will reprise the role in "The Last Night," it seems likely.
Directed once again by Michael Bay, who insists it will be his fifth and final "Transformers" film, "The Last Knight" also features franchise newcomers Isabela Moner and Jerrod Carmichael, with veteran Josh Duhamel expected to return.
"Transformers: The Last Knight" opens June 23, 2017.
"CIVIL WAR II" VARIANT FEATURES JUSTIN TRUDEAU/ALPHA FLIGHT TEAM-UP
06/28/16 @ 6:36 pm EST
Source:
Comic Book Resources
| Categories:
Civil War II
|
Comments
(0) |
E-mail Article
|
Add a Comment
With the release of "Civil War II: Choosing Sides" #5, another major world player will enter the super-powered fray: Canada's Prime Minister Justin Trudeau. The real-life PM will make his Marvel Comics debut in a story written by Chip Zdarsky and a variant cover by Ramon Perez. The cover also features Puck, Sasquatch and Aurora, all members of Marvel's Canadian superhero team Alpha Flight. Both creators commented on the cover and story in the announcement at Huffington Post Canada (via the Canadian Press).
"Civil War II: Choosing Sides" #5 variant cover by Ramon Perez
"I didn't want to do a stuffy cover -- just like a suit and tie -- put his likeness on the cover and call it a day,'' said Toronto-based Marvel artist Ramon Perez. "I wanted to kind of evoke a little bit of what's different about him than other people in power right now. You don't see [U.S. President Barack] Obama strutting around in boxing gear, doing push-ups in commercials or whatnot. Just throwing him in his gear and making him almost like an everyday person was kind of fun."
Zdarsky also explained that Trudeau will play a major role in the story, as the Alpha Flight members seek his advice when deciding where they stand regarding the civil war currently tearing Marvel's superhero community apart. "I didn't want this to just be like a walk-on ... rescued by superheroes and he thanks them and that's the end of the story," said Zdarsky. "I think a lot of these real-life appearances in comics tend to go that way. I liked the idea of him actually engaging them in an ethical debate."