THE FUTURE OF MARVEL NOW! IS AMATEURS.
10/04/12 @ 7:05 pm EST
Source:
Marvel
|
Comments
(0) |
E-mail Article
|
Add a Comment
Kieron Gillen
Jamie McKelvie
January 2013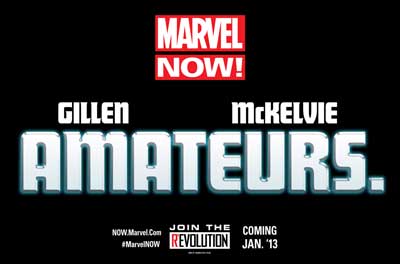 NEW 'FANTASTIC BEASTS AND WHERE TO FIND THEM' PHOTOS REVEAL NEWT SCAMANDER'S MENAGERIE
07/27/16 @ 11:09 am EST
Source:
Comic Book Resources
| Categories:
MIsc
|
Comments
(0) |
E-mail Article
|
Add a Comment
Though earlier trailers have been coy about showing Newt Scamander's magical menagerie, the new "Fantastic Beasts and Where to Find Them" teaser revealed the titular beasts in spades. Collider got their hands on a few images from the trailer, including some new looks at magical creatures from all around the world.
The trailer introduced a few new beasts, including a Thunderbrid, an Occamy and a Demiguise (pictured in the same order below). Though this is our first look at a Thunderbird, it most certainly is not the first time "Harry Potter" mastermind J.K. Rowling has included them in her work; Thunderbird is the name of a House at Ilvermorny School of Witchcraft and Wizardry, America's version of Hogwarts.
Some of the species of magical creatures pictured below don't exactly belong in a menagerie, per se; for instance, Ron Perlman's Gnarlak is a goblin, a magical race fans may recognize from Gringotts Bank in the original "Harry Potter" series. The images also show a House Elf, a member of Dobby's species.
Set in 1920s New York, "Fantastic Beasts and Where to Find Them" is an expansion of the "Harry Potter" universe that centers on magizoologist Newt Scamander (Eddie Redmayne), whose textbook is later used by Harry, Ron, Hermione and the other students at Hogwarts.
Directed by David Yates, "Fantastic Beasts and Where to Find Them" opens Nov. 16.
'THE WALKING DEAD' STAR LENNIE JAMES JOINS 'BLADE RUNNER' SEQUEL
07/27/16 @ 11:04 am EST
Source:
Comic Book Resources
| Categories:
MIsc
|
Comments
(0) |
E-mail Article
|
Add a Comment
It looks like everyone's favorite warrior monk will apparently take a break from flesh-eating zombies to deal with humanoid Replicants in 2017.
Lennie James, who plays fan-favorite Morgan on AMC's "The Walking Dead," has signed on for Denis Villeneuve's ("Sicario," "Prisoners") "Blade Runner 2," a sequel to Ridley Scott's seminal scu-fi film. James will co-star in a story from written by Hampton Fancher and Michael Green alongside a loaded cast that already includes Ryan Gosling, Robin Wright and Decker himself, Harrison Ford.
Released in 1982 and directed by Ridley Scott, the original "Blade Runner" stunned audiences with its iconic visuals and soundtrack. It told the story — also co-written by Fancher — of a man hired to track down and eliminate a group of rogue synthetic humans known as Replicants in a dystopian future version of Los Angeles.
Although "Blade Runner 2″ won't make it to theaters until October 6, 2017, fans can catch Lennie James during Season 7 of "The Walking Dead," which premieres October 23 on AMC.
FLASH CATCHES LIGHTNING IN A BOTTLE IN NEW "REBIRTH" COVER
07/27/16 @ 10:57 am EST
Source:
Comic Book Resources
| Categories:
Flash
|
Comments
(0) |
E-mail Article
|
Add a Comment
Since the launch of his twice-monthly "Rebirth" series, the Flash has had his work cut out for him. The "Flash" series from writer Joshua Williamson and artist Carmine Di Giandomenicohas put Barry Allen up against a whole city full of speedsters -- some good, and some bad.
The opening arc "Lightning Strikes Twice" continues into August with "The Flash" #4 and #5, and DC gave CBR the exclusive first look at the covers for #5.
The cover for "The Flash" #5 comes from series artist Carmine Di Giandomenico and features the Flash stopped in his tracks and down on his knees. The variant cover from Dave Johnsonfeatures the opposite -- a highly kinetic Flash racing to catch some of his own lightning in a jar.
"The Flash" #5 cover by Carmine Di Giandomenico
"The Flash" #5 variant cover by Dave Johnson
"The Flash" #5 arrives in August.
ULTRON BRUTALLY BREAKS A HERO IN "UNCANNY AVENGERS" #11
07/27/16 @ 10:50 am EST
Source:
Comic Book Resources
| Categories:
Uncanny Avengers
|
Comments
(0) |
E-mail Article
|
Add a Comment
SPOILER WARNING: This article contains spoilers for "Uncanny Avengers" #11, on sale now.
"Uncanny Avengers" #11 cover by Ryan Stegman and Richard Isanove
The arc currently unfolding in the pages of Marvel's"Uncanny Avengers" finds the Avengers Unity Squad up against a dangerous villain: Ultron. But this isn't just the Ultron that they've fought time and time again; no, this Ultron is wearing what remains of founding Avenger Hank Pym. The merged Ultron/Pym initially posed as the original Ant-Man, gaining the team's trust until he revealed that Ultron was still in control. But the line between Ultron and Pym may not be so clear, and the villain is either using emotional manipulation to trick the team into thinking that Hank Pym is still alive in there, or the ex-Avenger actually istrying to reach out to them.

"Uncanny Avengers" #11 by Gerry Duggan and Pepe Larraz doesn't clear up the villain's identity much. The Avengers still believe that Pym is dead and Ultron is merely manipulating them, and the robot villain's doing everything in his power to really make the heroes mad -- and that includes injuring one of their own.

In the issue, the team desperately needs to deploy an EMP to cease all of Ultron's mechanical functions -- but the Wasp only has enough charge for one EMP burst. Complicating matters is the fact that Ultron's attack left Deadpool's body besieged by a highly invasive mechanical device. The team also needs an EMP to save his life, even if Ultron and Deadpool are very far apart from each other. The plan becomes to get the two within close proximity so Wasp's EMP will affect both targets. Quicksilver arrives in time to do the honors, shepherding Ultron back to the Avengers' base. But upon delivering the villain, Ultron takes control and breaks the speedster's leg.


"Uncanny Avengers" #11 interior art by Pepe Larraz and David Curiel
Rogue and Captain America quickly get Ultron on the ropes, and Wasp's EMP saves Deadpool takes the villain out -- but only temporarily. When Ultron returns to life, the Avengers' backup plan (Project Icarus) arrives on Earth -- and it's the Hulkbuster armor.


"Uncanny Avengers" #11 interior art by Pepe Larraz and David Curiel
The cover for "Uncanny Avengers" #12 teases a throwdown between Ultron and the Hulkbuster armor, as well. "Uncanny Avengers" #12 arrives in stores on August 17.
THE WAR FOR SURVIVAL BEGINS IN INHUMANS VS. X-MEN #1
07/27/16 @ 10:42 am EST
Source:
Marvel
| Categories:
Marvel
|
Comments
(0) |
E-mail Article
|
Add a Comment
Two super-powered races clash as Mutantkind and Inhumanity collide with the fates of their species at stake! Announced this weekend at San Diego Comic-Con, Marvel is pleased to bring you
INHUMANS VS. X-MEN
– a six issue event series coming to you this December! Blockbuster creators Charles Soule (
Uncanny Inhumans
), Jeff Lemire (
Extraordinary X-Men
) and Leinil Yu (
Secret Invasion
) bring the two groups to war – with explosive results!
"Tensions have been rising between the X-Men and the Inhumans for a long time," says Marvel Editor-in-Chief Axel Alonso. "Now they've reached the boiling point and both sides have everything to lose. Charles, Jeff and Leinil are bringing the fireworks for a cataclysmic confrontation that answers the inevitable question: 'Is the Marvel Universe big enough for Inhumans AND Mutants'?"
As the Terrigen Mists roll across the Earth, birthing new Inhumans and poisoning the planet's Mutants, time has run out! Terrigen is on the verge of reaching a saturation point in the Earth's atmosphere. The X-Men have one choice – destroy the mists, or risk the planet becoming permanently poisonous to their kind. With their backs to the wall, it's take action now…or become extinct forever.
United together, the entire Mutant race stages a desperate final strike. There's only one problem – the Inhumans won't go down without a fight. And they're calling in everyone! The Royal Family, the Nuhumans, Ms. Marvel, Quake and even Moon Girl! It's all on the line as these two Marvel mainstays go head-to-head! Only one can survive. Who will be left standing when the dust clears?
It's all been leading to this! The ultimate war for survival begins this December in
INHUMANS VS. X-MEN #1
!
INHUMANS VS. X-MEN #1 (of 6)
Written by JEFF LEMIRE & CHARLES SOULE
Art & Cover by LEINIL YU
On-Sale in DECEMBER
"AGENTS OF SHIELD" CAN NOW USE CLASSIC INHUMANS, SAYS WHEDON
07/27/16 @ 10:37 am EST
Source:
Comic Book Resources
| Categories:
SHIELD
|
Comments
(0) |
E-mail Article
|
Add a Comment
Inhumans are no strangers to the Marvel Cinematic Universe. As a matter of fact, they've been around for a quite a while now, having been introduced in the second season of "Agents of S.H.I.E.L.D." However, up to this point, the Inhumans that have appeared on the show were created specifically for the series, with the exception of one Miss Daisy Johnson -- but all that's about to change.
"We do have a little more freedom," executive producer Jed Whedon revealed at Comic-Con International in San Diego. "We've told a couple of seasons of stories but now we do have some more freedom. So when we return to focusing on Inhumans, we'll be able to do a little bit more." According to io9, Whedon and Tancharoen specifically mentioned that they will be able to use some of the classic Inhumans moving forward.
It seems neither Whedon nor Tancharoen offered any insight into who these "classic Inhumans" are, but they're likely referring to the Inhuman royal family, who first appeared as a backup story in Stan Lee and Jack Kirby's "Fantastic Four" #45. Though the Inhumans encompasses an entire race of genetically engineered Kree-human hybrids, these stories focused largely on the aforementioned royal family, which includes Black Bolt, the king whose voice could level cities; Medusa, his wife, who possesses prehensile hair; Crystal, her element-controlling sister; Gorgon, a cousin who generates earthquakes with a single stomp; and Karnak, another cousin, who can pinpoint the weakness in anything.
Starring Clark Gregg, Chloe Bennet and Ming-Na Wen, "Agents of S.H.I.E.L.D" returns Tuesday, September 20 at 10 pm EST on ABC.
DAVID AYER SHOOTS DOWN RUMOR THAT JOKER IS ACTUALLY JASON TODD
07/26/16 @ 3:41 pm EST
Source:
Comic Book Resources
| Categories:
Suicide Squad
|
Comments
(0) |
E-mail Article
|
Add a Comment
There were a lot of theories heading into "Batman v Superman: Dawn of Justice," and one of them caught a lot more traction among some circles because of its fascinating possibility: What if the Joker was actually a corrupted version of the second Robin, Jason Todd? We can now say that the rumor is definitely false, as confirmed by "Suicide Squad" director David Ayer.
Todd, in the comics, died at the hands (or crowbar, rather) of the Joker in the "Death of a Family" storyline. The rumor suggested that Jared Leto's Joker may have survived the assault, and driven mad, took up the guise of the Clown Prince of Crime. For evidence, fans of the theory pointed to Joker's cryptic tattoos as a sign, and took the following quote from Ben Affleck in "Batman v Superman" to back up the theory: "20 years in Gotham, how many good guys are left? How many stayed that way?"
While it's fun to think the theory is plausible, it's definitely not the case. Doing press for "Suicide Squad," Ayer was asked (via Chris Van Vliet) which "Suicide Squad" rumor he thought was the craziest. Ayer replied, "That the Joker is Jason Todd. It ain't the case -- he's not."
Check out Ayer's remarks (around the 3:25 mark) in the video here:
https://youtu.be/xSSNk5FZ2Jg
"Suicide Squad," based on the DC Comics team and starring Jared Leto as the Joker, Margot Robbie as Harley Quinn, Will Smith as Deadshot, Jai Courtney as Captain Boomerang, Cara Delevingne as Enchantress, Adewale Akinnuoye-Agbaje as Killer Croc, Karen Fukuhara as Katana, Joel Kinnaman as Rick Flag, Jay Hernandez as El Diablo and Adam Beach as Slipknot, is scheduled for release on Aug. 5, 2016.
"CAPTAIN MARVEL" WRITER DECONNICK COMMENTS ON BRIE LARSON CASTING
07/26/16 @ 3:34 pm EST
Source:
Comic Book Resources
| Categories:
Captain Marvel
|
Comments
(0) |
E-mail Article
|
Add a Comment
In front of a massive 6,000 person crowd in the infamous Hall H at Comic-Con International in San Diego, Marvel Studios announced that Brie Larson would be playing Carol Danvers in 2018's "Captain Marvel" film. The announcement was met with mostly positive buzz both in San Diego and online, yet some skeptics questioned the choice. Former "Captain Marvel" writer Kelly Sue DeConnick recently weighed in on the decision.
DeConnick was the first writer to put Carol Danvers -- formerly the superhero known as Ms. Marvel -- into the Captain's chair when she wrote a new "Captain Marvel" series for Marvel Comics in 2012. In a new interview with "Bitch Planet," but she still has some ideas about how Carol should look in costume on the big screen. "I love the helmet! That is not a universal opinion. After we left the book, they got rid of the helmet," said DeConnick. "I have a lot of boring continuity arguments on the history of the helmet and a list of reasons as to why the helmet exists. I want the helmet!"
Marvel's "Captain Marvel" flies into theaters July 6, 2018.
MATT RYAN IS JOHN CONSTANTINE IN "JUSTICE LEAGUE DARK" FIRST LOOK
07/26/16 @ 3:29 pm EST
Source:
Comic Book Resources
| Categories:
DC
|
Comments
(0) |
E-mail Article
|
Add a Comment
A first look at Warner Bros. Animation's upcoming "Justice League Dark" animated film has surfaced online.
Check out the new "Justice League Dark" video here:
https://youtu.be/cddLDL_kKOU
'JASON BOURNE' SHOULD LEAD BOX OFFICE
07/26/16 @ 3:25 pm EST
Source:
Deadline
| Categories:
MIsc
|
Comments
(0) |
E-mail Article
|
Add a Comment
This weekend, moviegoers will get their choice of three new films — the actioner
Jason Bourne, t
he comedy
Bad Moms
and the thriller
Nerve.
All are said to be decent films. First off,
Jason Bourne
returns with a vengeance this year, pulling together the combo of Matt Damon and director Paul Greengrass for the first time in nine years, and the industry is expecting a good turnout.
Universal is releasing the picture on the same date Paramount did last year for
Mission: Impossible – Rogue Nation,
which at the time looked like $35M on tracking and then ended up grossing $55.5M for its three-day weekend.
Jason Bourne
is tracking the same way as
Rogue Nation,
and Deadline expects an equally big opening on what is the fifth installment of the action franchise which is said to be higher in advanced ticket sales to
Rogue Nation
. We are also taking into account that Damon generates a better box office than Jeremy Renner, who starred last time out.
The film, which also stars Alicia Vikander, Julia Stiles and Tommy Lee Jones, opens at 7 PM Thursday in previews.The film is coming four years after Renner-toplining
The Bourne Legacy
. The actioner also opens in 46 territories this weekend including Australia, Brazil, South Korea and the UK and Ireland. The original group of
Bourne
films did better domestically than internationally, but when China's ears perked up, everything changed.
Jason Bourne
is also expected to suck the demo out of this past weekend's opener
Star Trek Beyond
which could drop 60% in its sophomore frame.