'GAME OF THRONES' PREMIERE CRUSHES RATINGS RECORD
07/17/17 @ 5:03 pm EST
Source:
Hollywood Reporter
| Categories:
MIsc
|
Comments
(0) |
E-mail Article
|
Add a Comment
Winter arrived in July with the seventh-season premiere of
Game of Thrones,
but there's nothing cold about the HBO series' viewership. Coming back from the longest hiatus in its history, the drama nabbed a series high showing for a first-run telecast with an average 10.1 million viewers.
What's more, initial views from streaming have the tally growing to 16.1 million viewers, shattering any previous one-day record for the show.
Game of Thrones
' ratings have risen steadily and dramatically since it debuted in 2011. The linear premiere of the first episode averaged 2.22 million viewers, with subsequent first-run live premiere airings on the network growing until leveling out at the roughly 8 million viewers who tuned in to both the fifth- and sixth-season premieres. (This latest premiere marks a 27 percent spike from the most recent one.)
Prior to Sunday, live-plus-same-day telecasts for
Game of Thrones
had maxed out at 8.9 million viewers — the tally for the sixth-season finale, the most recent episode prior to Sunday.
But those numbers still only tell a fraction of the story. More and more of HBO's audience, particularly that tuning in for its original series, is watching on streaming platforms HBO Go and HBO Now. (Just this month, the network even joined Hulu as an add-on service.) Adding those numbers, alongside standard live-plus-3 and live-plus-7 views and encore plays on various HBO channels, gave the recent sixth season of
Game of Thrones
an average 25.7 million viewers.
In 2014,
Game of Thrones
officially surpassed
The Sopranos
as the most-watched series in HBO history. The seventh season will be shorter than the previous six, running seven episodes through Aug. 27.
MARVEL SILVER AGE LEGEND & INDY COMICS PIONEER 'FABULOUS' FLO STEINBERG HAS PASSED AWAY
07/24/17 @ 1:46 am EST
Source:
Newsarama
| Categories:
Marvel
|
Comments
(0) |
E-mail Article
|
Add a Comment
Florence "Flo" Steinberg, a renowned figure from the Marvel Bullpen and pioneer of independent comics, passed away on Sunday, July 23, 2017. Her death was reported by longtime friend and comics creator Larry Hama through an announcement on his Facebook page.
"I am grieved to report that 'Fabulous' Flo Steinberg passed away this morning after complications from a brain aneurism and metastatic lung cancer. She will be interred at the Jewish cemetery in Kerhonkson NY. We are making plans for a memorial in September or October. I will update on this page."
Steinberg achieved fan recognition in the Silver Age of Marvel Comics as the "Girl Friday" to Stan Lee, where she was often referred to as "Fabulous Flo." Her presence was deeply felt at Marvel Comics both behind the scenes and on the page, where she provided humorous answers to the fan mail sent in and the letters column pages for Marvel books, along with copy for the "Merry Marvel Marching Society" fan club.
As Marvel's only other full-time staffer along with Lee, Steinberg was in many ways responsible for coordinating the company during a period that would become known as the "Silver Age" of comics, and is credited with helping create the dialogue with the fans that became part of the company's persona.As Marvel grew, Steinberg became a favorite figure of many staffers and freelancers, renowned for her kind and supportive personality. She left the company in 1968, citing an overwhelming workload. She was associated enough with the Silver Age of Marvel that she was featured as the Invisible Girl in a Jack Kirby-drawn story in
What If? #11
depicting the Silver Age Marvel Bullpen as the Fantastic Four.
Though less recognized for this work than her time at Marvel, Steinberg was also a key figure in the independent comics scene, launching what many consider to be the link between "underground" comics and modern-day "alternative comix" with the 1975 one-shot
Big Apple Comix
. Featuring work by such luminaries as Neal Adams, Wally Wood, Mike Ploog, and Marie Severin,
Big Apple Comix
broke ground in employing "mainstream" comics creators in stories featuring more sexual and real-world elements than most typical fare of the time.
Steinberg later returned to Marvel as a proofreader, and maintained a strong reputation among comics fans and professionals for the rest of her life, often contributing to histories of Marvel Comics.
Sunday afternoon, Marvel released the following statement:
"We are incredibly saddened to hear of Flo Steinberg's passing and send our deepest condolences to her friends and family. Flo has always been the heart of Marvel and a legend in her own right. She will be forever missed and always loved by all of us here at Marvel."
According to Hama, a memorial for her is being put together in New York City for September or October.
DF News mourns the loss of this famous Bullpen Legend, and offers its condolences to her family, friends and fans.
JAMES GUNN EXPLAINS GROOT'S AGE IN GUARDIANS VOL. 2 CREDITS & AVENGERS: INFINITY WAR
07/24/17 @ 1:31 am EST
Source:
Newsarama
| Categories:
Marvel
|
Comments
(0) |
E-mail Article
|
Add a Comment
Groot is going through some growth spurts this year between May's
Guardians of the Galaxy Vol. 2
(and that post-credits scene) and the
Avengers: Infinity War
trailer that has been shown at D23 Expo and Comic-Con International: San Diego (and leaked online).
Groot to Baby Groot; Baby Groot to... Teen Groot? Kid Groot? Emo Groot? Hipster Groot?
Gunn does his best to explain it all - and the proper terminology - on Facebook without going into spoiler-territory.
On Groot and His Growth:
Potential SPOILER for those of you who haven't watched Guardians of the Galaxy Vol. 2 all the way to the end, and for those of you who don't want to know anything about the Infinity War trailer that played at San Diego Comic Con and at D23.
People are asking me a lot about how fast Groot grows, because in his appearance in the Infinity War trailer he was an ADOLESCENT (not a "teen" as has been reported in many places). This is exactly the same state of growth you see in the post credits scene of Vol. 2: Adolescent Groot.
In terms of how fast Groot grows overall, I can tell you this: Baby Groot appears two months after the Infant Groot we see at the end of Vol. 1. The post-credits scene with Adolescent Groot and Peter Quill is YEARS after the ending of Vol. 2. I won't say exactly how many years at this time, but be clear that it took him a fair amount of time just to go from Baby Groot to Adolescent Groot. (As a side note, I'll point out that Peter Quill can obviously understand what "I am Groot" means in the post-credits scene, so somehow he's learned to understand him in the same way Rocket has).
Like dogs, who grow at a different rate than humans, and spend a different percentage of their lives in adolescence than humans do, Groot and Humans do not grow at some exact exchange rate. So, although two months seems to be about two years (as Baby Groot seems to behave roughly like a two year old), it is not fair to assume that every month is a year to Groot. He has an alien biology and ages in a completely different way than a human being. Different aspects of his growth may take longer or shorter than a human's.
And, other than that, I'm going to leave you in suspense - frankly, for quite a while, as it will take years to show you how Groot goes from infancy to adulthood.
Avengers: Infinity War
is scheduled for release May 4, 2018.
HERE'S THE FULL POSTER FOR AVENGERS: INFINITY WAR
07/24/17 @ 1:27 am EST
Source:
ComicBook
| Categories:
Marvel
|
Comments
(0) |
E-mail Article
|
Add a Comment
Throughout the weekend's San Diego Comic Con, the crew over at Marvel Studios decided to release an
Avengers: Infinity War
poster in three parts.
The piece — one created by Marvel Studios Head of Visual Development Ryan Meinerding — features the vast majority of characters we've been introduced to over the existence of the Marvel Cinematic Universe.
With
Infinity War
's villain Thanos and his Black Order cronies front and center, both the Avengers and Guardians can be seen on either side.
In total, there are just over two dozen characters featured on the piece, making it a choice collectible for any Marvel collector to add to their collection.
While the rendering was released in three pieces at SDCC, it remains unclear whether the artwork will be released in its entirety.
BLACK PANTHER WILL HAVE SOMETHING IN COMMON WITH THE X-MEN FILMS
07/24/17 @ 1:22 am EST
Source:
ComicBook
| Categories:
Marvel
|
Comments
(0) |
E-mail Article
|
Add a Comment
When it comes to the Marvel Universe, there are plenty of famous rivalries, but few match the scale of one X-Men duo. The years have shown Professor X and Magneto have a rather interesting relationship, and Fox's movie franchise only took their feud to another level. So, fans won't be out-of-the-loop when
Black Panther
introduces a similar frenemy relationship to the MCU.
Marvel Studios is slated to debut
Black Panther
next spring, and the film will follow T'Challa as he comes to terms with his new kingship. The movie will see the hero as he goes head-to-head against a well-known baddie known as Killmonger. And, according to Chadwick Boseman, the two men will have a relationship like the one Professor X and Magneto have.
"Me and T'Challa have two totally different approaches to the throne as well and you see those two opposing sides clash," Boseman told Entertainment Weekly.
"So you can call it a Magneto/Professor X type of chemistry. That's all I can give away."
FIRST LOOK AT SMALLVILLE'S ERICA DURANCE IN SUPERGIRL
07/24/17 @ 1:17 am EST
Source:
ComicBook
| Categories:
DC
|
Comments
(0) |
E-mail Article
|
Add a Comment
Supergirl
fans got their first look at the upcoming third season over the weekend during the show's San Diego Comic-Con panel. A few new faces were revealed in the trailer - including one that fans of DC television are sure to recognize.
Erica Durance, best known to DC Comics fans as
Smallville
's Lois Lane, made her first
Supergirl
appearance in the trailer, which you can watch above. Durance will be playing the role of Alura Zor-El, the birth mother of Kara Danvers/Supergirl (Melissa Benoist).
Durance was revealed to be taking over the role from Laura Benanti earlier this month, but the trailer gives fans the first look at her in action. The actress isn't the first
Smallville
alum to make their way onto The CW series.
Smallville
's Supergirl, Laura Vandervoort, appeared in multiple episodes of
Supergirl
's first season, as the DC villain Indigo.
Trailer:
https://youtu.be/DaI6dcoRRQQ
KREE-SKRULL WAR CONFIRMED FOR CAPTAIN MARVEL MOVIE
07/24/17 @ 1:08 am EST
Source:
ComicBook
| Categories:
Marvel
|
Comments
(0) |
E-mail Article
|
Add a Comment
Galactic war is coming to the Marvel Cinematic Universe, and this time we're not talking about Thanos.
Marvel Studios head Kevin Feige confirms that the classic
Avengers
comic book tale "The Kree-Skrull War" is part of the inspiration for the
Captain Marvel
movie.
"There's an entire section of our comics that deal with the Kree-Skrull War and we haven't tapped into that at and we thought that would be an amazing, huge portion of mythology to belong to Captain Marvel," Feige tells IGN.
Feige notes that the Skrulls have been conspicuously absent from the Marvel Cinematic Universe so far, and even more so if they made contact with Carol Danvers, an Earthling, decades ago.
"
Captain Marvel
will be our twenty-first film in the cinematic universe," Feige noted, "and we've never seen the Skrulls. How come?"
SDCC '17: AVENGERS: INFINITY WAR: FIRST LOOK AT BEARDED CAPTAIN AMERICA, BLONDE BLACK WIDOW, TEEN GROOT
07/24/17 @ 1:04 am EST
Source:
ComicBook
| Categories:
Marvel
|
Comments
(0) |
E-mail Article
|
Add a Comment
Avengers: Infinity War
is set to be an onscreen epic unlike any other. With promotional materials for the film beginning to be released, fans are learning more and more about the upcoming Marvel Studios film.
That's especially true for a new poster, which was unveiled during Sunday's San Diego Comic-Con. While segments of the poster have been revealed throughout the weekend, the newest portion has been revealed. You can check it out below.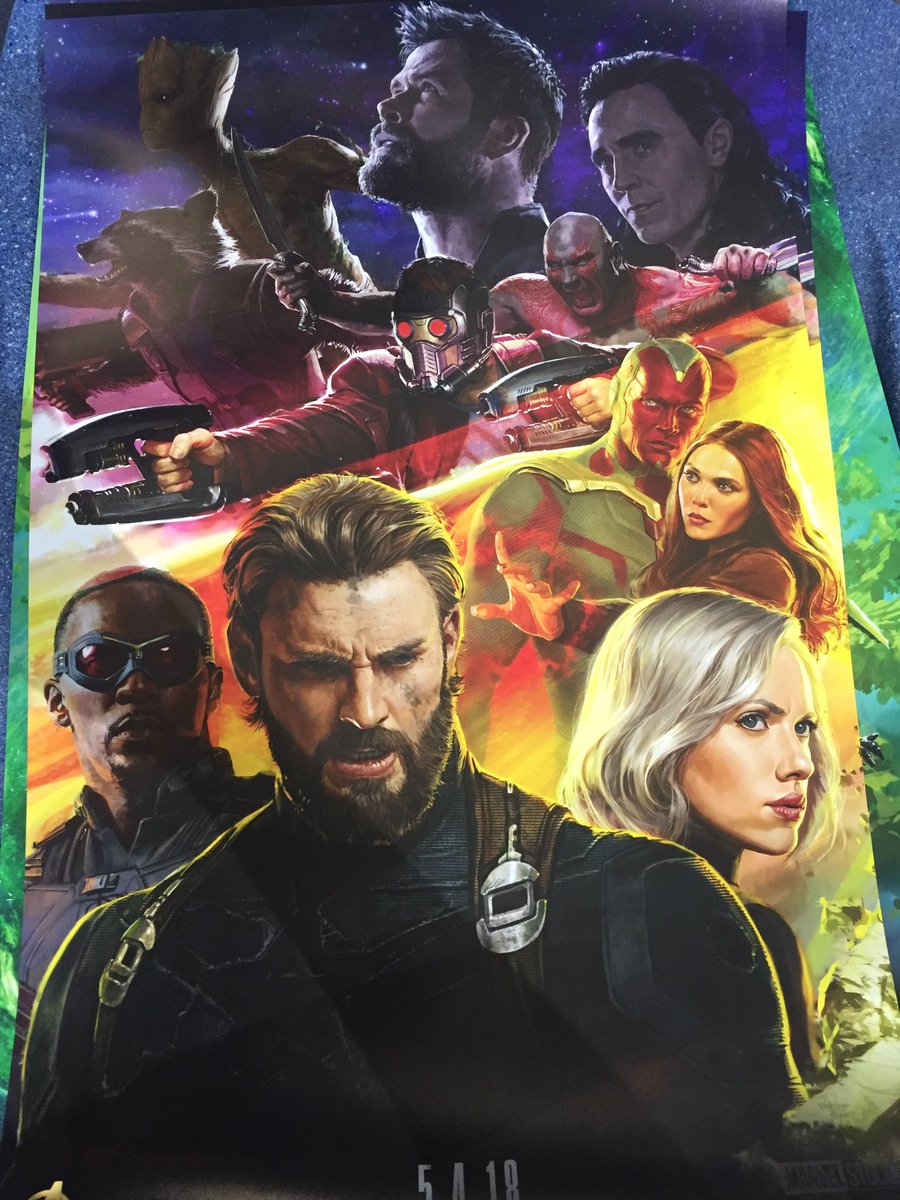 'GAME OF THRONES' DELIVERS FIRE, BLOOD AND CASUALTIES IN EPIC BATTLE SCENE
07/24/17 @ 1:00 am EST
Source:
Hollywood Reporter
| Categories:
MIsc
|
Comments
(0) |
E-mail Article
|
Add a Comment
[Warning: this story contains spoilers for the second episode of
Game of Thrones
season seven, "Stormborn."]Well, that's one way to make a dent in the Targaryen army.

The second episode of Game of Thrones' seventh season, called "Stormborn," culminated in a vicious showdown between the two halves of House Greyjoy. Riding in on his great war ship Silence, Euron (Pilou Asbaek) ambushed Yara (Gemma Whelan) and the Iron Fleet as they were sailing for Dorne, where they planned to assemble enough warriors to surround and conquer King's Landing.

It's a decisive victory for Team Euron. The Pirate King of the Iron Islands storms onto Yara's ship with a massive axe in tow, a tribute to a character from the books who did not make it onto the show: Victarion Greyjoy, yet another one of the gruesome Greyjoy uncles, famous for wielding a massive axe in battle and showing absolutely no mercy toward his enemies. Euron channeled that character and then some as he murdered two longstanding characters: Obara Sand (Keisha Castle-Hughes) and Nymeria Sand (Jessica Henwick). The third Sand Snake, Tyene (Rosabell Laurenti Sellers), and Dorne's de facto ruler Ellaria (Indira Varma) were both taken hostage.

Another hostage in the mix: Yara. After a brutal battle between king and queen, Euron overpowered Yara and proceeded to taunt Theon (Alfie Allen) into fighting for her life. Instead, Theon bailed on the fight, jumping ship and saving himself — a clear sign of the PTSD from his Reek days. Some wounds never fully heal.

Euron and Yara's battle was a likely outcome for this week, given how close Dragonstone and King's Landing are to one another. If Euron's "gift" to Cersei (Lena Headey) was going to be delivering or conquering the rest of the Iron Fleet, then it was always going to be a quick leap toward that conflict. In the season premiere, Jaime (Nikolaj Coster-Waldau) warned Cersei that they looked like the losers on paper. We most certainly agreed with that assessment; it was going to take several hits in order to make any kind of impact on Daenerys (Emilia Clarke) and her forces, given how much power she amassed on her side.

Consider Euron's gift delivered, then, as he's severely undercut the Mother of Dragons' campaign to take the Seven Kingdoms. And consider the cast's promise of season seven's epic battle sequences already fulfilled — and we're only two episodes deep at this point.


SDCC '17: 'DOCTOR WHO' TREATS HALL H TO TEASER FOR CHRISTMAS SPECIAL, PETER CAPALDI AND PEARL MACKIE FAREWELL
07/24/17 @ 12:53 pm EST
Source:
Deadline
| Categories:
Doctor Who
|
Comments
(0) |
E-mail Article
|
Add a Comment
Saying goodbye is often bittersweet but Sunday for Peter Capaldi's final Comic-Conpanel as
Doctor Who,
a rousing Hall H send-off could not have been a bad way to exit – especially with the roars that erupted when a teaser for the Christmas Special of the BBC America series was dropped for the fans.
Months ahead of its holiday broadcast, the peek at the Capaldi's last turn as the Time Lord and Jodie Whittaker's introduction as the 13th Doctor started with a snow bound TARDIS. As you can see above, the teaser of the just finished filming "Twice Upon a Time"
special also saw multiple Doctors "refusing to regenerate," according to EP Steven Moffat, explosions galore, and Pearl Mackie reunited with the Time Lord. Mackie also confirmed onstage yesterday that her Bill Potts character will not be returning as the Doctor's companion after the Christmas Special.
"Time ran away with me but it's just been fabulous to work with all theses guys, this talent," Capaldi himself told the welcoming 7,000 strong crowd of his three-season run as the two-hearted Gallifreyean. "I think Jodie is going to be amazing," added Capaldi of the
Broadchurch
alum, "she's a great choice." The actor also generously praised Moffat, Michelle Gomez for her performance as the female Master AKA Missy, Mackie and others on the panel.
At one point in yesterday's panel, Moffat scoffed at the notion that there was fan backlash of any kind about casting a woman as Doctor Who, similar to how he'd said earlier this year that there was no backlash against Mackie's companion character being a lesbian. To cheers in the hall, the departing showrunner told those in the media who are fanning the flames of a negative reaction to Whittaker's Doctor to "shut the hell up."
Following a panel from fellow BBC America series
Dirk Gently's Holistic Detective Agency,
Sunday's
Who
panel included Capaldi, Moffat, cast members Mackie, Matt Lucas (Nardole), Gomez and writer and actor Mark Gatiss. The latter of whom also made an appearance in the Christmas Special teaser as a character from
Who
lore. This SRO panel was the last Hall H hootenanny of the 2017 San Diego confab.
Christmas teaser:
https://youtu.be/oGDbeZ0HJBQ
FRANK MILLER TO WRITE A SUPERMAN ORIGIN STORY
07/22/17 @ 11:56 pm EST
Source:
ComicBook
| Categories:
DC
|
Comments
(0) |
E-mail Article
|
Add a Comment
After years of being accused of mishandling Superman in his Batman stories, iconic comic book creator Frank Miller will finally tackle the Man of Steel as a hero instead of an antagonist in a forthcoming origin story in the vein of his classic
Batman: Year One
.
"I've got a new Superman project that's getting started, telling his origins. It's like my book,
Batman: Year One
, it's going to be
Superman: Year One
," Miller told Vulture. "It's going to be telling origins from when Pa Kent discovers him in the cornfield. And the little boy grows to youth and then to manhood….I've never really had my meaningful crack at Superman. In the cast of DC Comics, which has far and away the strongest and richest mythology, there are those three pillars they have of Superman, Batman, and Wonder Woman."
Per Newsarama, the series will be drawn by John Romita, Jr., who previously worked with Frank Miller on
Dark Knight Returns: The Last Crusade
.
There is no official release date yet on Miller's Superman story.