MAY 20TH! THE SOUTH JERSEY COMIC-CON & TOY BONANZA!
05/18/12 @ 2:57 pm EST
Source:
South Jersey Comic-Con & Toy Bonanza
|
Comments
(0) |
E-mail Article
|
Add a Comment
The South Jersey Comic-Con & Toy Bonanza is a collector's dream come true!
Silver Age • Modern Age •Graphic Novels • Action Figures • Collectibles • And much MUCH MORE!!! Come and join us on Sunday, May 20th from 10 am - 4 pm at the Holiday Inn on Route 70 East in Cherry Hill, NJ!
Located minutes from the Ben Franklin Bridge Doors open at 10AM!
Admission $2.00 Children Under 10 FREE!
FREE Comic Packs for the FIRST 100 attendees! Be there for the two o'clock drawing for our BIG door prizes!!
For more information visit
www.frankensteincomics.com
ROBERT VENDITTI, CLAY MANN, AND DAVE JOHNSON ENLIST FOR X-O MANOWAR #0 – COMING IN OCTOBER
08/21/14 @ 7:02 pm EST
Source:
Valiant
| Categories:
MIsc
|
Comments
(0) |
E-mail Article
|
Add a Comment
Valiant is proud to present an advance preview of X-O MANOWAR #0 – a colossal comics milestone and an all-new jumping-on point arriving in October from New York Times best-selling writer Robert Venditti(ARMOR HUNTERS, Green Lantern) and superstar artist Clay Mann (X-Men: Legacy, Gambit)! In the wake of the sold-out success of ARMOR HUNTERS, start reading here as the world's most wanted hero returns to his roots for a never-before-revealed look into X-O Manowar's past!
Also joining this landmark exploration of Valiant's hardest-hitting hero is Eisner Award-winning artist Dave Johnson (100 Bullets, Superman: Red Son), who will contribute FIVE interlocking shelf covers for X-O MANOWAR #0!
In addition to the centuries-spanning origin tale by Venditti and Mann, each component of Johnson's epic, five-piece interlocking image revisits a different chapter in the life of Aric of Dacia, the man behind the armor – his abduction and enslavement by the maleficent alien race known as The Vine in the fifth century A.D.; his escape and arrival in the modern day with The Vine's ultra-powerful X-O Manowar armor; his pursuit by the cunning intelligence agent called Ninjak; his ascent into the ranks of the unbreakable all-star superteam codenamed: Unity; and, finally, his battle against the onslaught of the alien Armor Hunters!
After narrowly surviving the events of ARMOR HUNTERS, X-O Manowar – or what is left of him – must look to the future, but, to do so, he must first learn the startling secret of his past. Be here on October 8th to learn the violent, never-before-told origin of Visigoth life under the brutality of the Roman Empire, and how the modern day's most feared armored hero began his journey to the stars nearly two millennia ago.
Don't miss the most demanded Valiant story of the year as Robert Venditti and Clay Mannusher in a brand new beginning for one of the most acclaimed series in comics today, only in X-O MANOWAR #0 – now featuring five, must-see interlocking variant covers by the incomparable Dave Johnson!
THE FADE OUT COMES INTO FOCUS
08/21/14 @ 6:55 pm EST
Source:
Image
| Categories:
Image
|
Comments
(0) |
E-mail Article
|
Add a Comment


THE FADE OUT #1, the debut of the latest series from Ed Brubaker, Sean Phillips, and Elizabeth Breitweiser, uncontested noir masters, has sold out immediately at the distributor level with fans, media, and top industry professionals praising the series as the hottest new crime book on shelves.

"This is amazing. I'm totally overwhelmed. I mean, really, whoever thought me and Sean's most lo-fi idea, a noir within the world of noir films, would be our biggest hit ever?" said Brubaker.

Set in 1940s Hollywood, THE FADE OUT begins with a suspicious murder and kicks off an intricate mystery involving a noir film stuck in endless reshoots, a writer plagued with nightmares from the war and a dangerous secret, and a maniacal studio mogul and his security chief who will do anything to keep the cameras rolling before the Post-War boom days come crashing down.

The series launched with a 40-page issue that featured exclusive back page articles. For fans wishing to experience noir fiction in true '40s style, an oversized "movie magazine replica" variant edition with 8 extra pages of behind-the-scenes art and articles graced store shelves as well. "I dug The Fade Out by Ed Brubaker, Sean Phillips, Elizabeth Breitweiser and Image Comics so much, I had to buy both versions," tweeted Tony Guerrero, Editor-in-Chief of ComicVine.

Entertainment Weekly featured THE FADE OUT #1 on its "Must List" while IGN called it "Mad Men but with more sex and murder." Paste Magazine said of the debut, "Hollywood has never looked so dark, so sinister and so seductive. It's a story that only a Brubaker/Phillips comic could tell."

In an in-depth interview with USA Today Brubaker hinted, "Everybody wanted to come to Hollywood and be rich and famous, and very few people are going to get rich and famous. There's going to be a lot of people dashing themselves against the rocks."

THE FADE OUT #1 has completely sold out at the distributor level, but may still be available in comic stores.

Image Comics is pleased to announce that this first issue will be going back to print to meet customer demand. The second printing of THE FADE OUT #1 (Diamond Code JUL148170) will release on 9/24.

THE FADE OUT #2 (Diamond Code JUL140545) hits shelves on 9/24.
EXCLUSIVE FIRST LOOK: LEGENDARY STAR-LORD #7
08/21/14 @ 6:43 pm EST
Source:
Marvel
| Categories:
Legendary Star Lord
|
Comments
(0) |
E-mail Article
|
Add a Comment
Long distance relationships can be tough--especially when said "distance" covers several galaxies.
Nevertheless, Kitty Pryde of the X-Men and Guardians of the Galaxy leader Peter Quill have decided to make a go of it, challenges be damned. Fortunately, if Paco Medina's cover to LEGENDARY STAR-LORD #7 gives any indication, they'll at least make it to December...
"You know, if a girl braved space to save my butt despite some serious traumatic history with space-bullets I'd probably fall for her too," shares STAR-LORD editor Xander Jarowey. "Especially if she had some good mixtapes. I can feel the love tonight, can you?"
Will Kitty and Peter be able to make it work through the holidays? Find out this December in LEGENDARY STAR-LORD #7 by Sam Humphries and Paco Medina!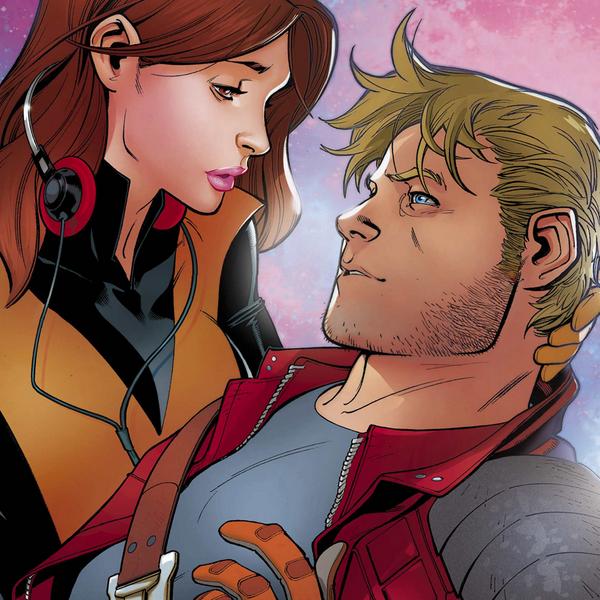 CRUSHER CREEL TO MENACE MARVEL'S AGENTS OF S.H.I.E.L.D.
08/21/14 @ 6:37 pm EST
Source:
Marvel
| Categories:
Marvel
|
Comments
(0) |
E-mail Article
|
Add a Comment
Carl "Crusher" Creel, known to Marvel fans as the Absorbing Man in the comics, will bring his unique power set to "Marvel's Agents of S.H.I.E.L.D." with the season premiere Tuesday, September 23 at 9:00 p.m. ET on ABC!
With the news we've also got your EXCLUSIVE first look at Brian Patrick Wade ("Generation Kill," "Teen Wolf") as Creel directly below!
With his ability to absorb the properties of anything he touches, Creel will put Coulson and his team through their paces when their second season kicks off...but you'll have to wait until then to see how their battle turns out!
Wade joins a number of new characters and guest stars on the series' second season, including the previously announced Adrianne Palicki (Bobbi Morse, a.k.a. Mockingbird), Lucy Lawless (Agent Isabelle Hartley), Reed Diamond (Daniel Whitehall), Nick Blood (Lance Hunter), Henry Simmons (Alphonso "Mack" Mackenzie), and Kyle MacLachlan (Skye's father), alongside the returning cast of Clark Gregg (Director Coulson), Ming-Na Wen (Agent May), Brett Dalton (Grant Ward), Elizabeth Henstridge (Agent Simmons), Iain De Caestecker (Agent Fitz), and Chloe Bennet (Agent Skye).
"Marvel's Agents of S.H.I.E.L.D." is Executive Produced by Joss Whedon ("Marvel's The Avengers," "Buffy the Vampire Slayer"); Jed Whedon & Maurissa Tancharoen, ("Marvel's Agents of S.H.I.E.L.D." pilot co-writers ("Dollhouse," "Dr.Horrible's Sing-Along Blog"); Jeffrey Bell ("Angel," "Alias"); and Jeph Loeb ("Smallville," "Lost," "Heroes").
"Marvel's Agents of S.H.I.E.L.D." is produced by Marvel Television and ABC Studios.
CONTINUE THE 'MARCH TO AXIS' IN YOUR FIRST LOOK AT UNCANNY AVENGERS #24
08/21/14 @ 6:25 pm EST
Source:
Marvel
| Categories:
Uncanny Avengers
|
Comments
(0) |
E-mail Article
|
Add a Comment There's a storm brewing in Genosha. A dark secret that is about to be revealed as the thrilling lead-up to
Avengers & X-Men: AXIS
continues in
UNCANNY AVENGERS #24
!
What is happening behind the closed doors of the once proud mutant haven? Be there when blockbuster creators Rick Remender and Salvador Larroca expose the dark secrets of the Red Skull's plot.
Defeated and captured by the sinister S-Men, Havok, Rogue and the Scarlet Witch must escape the Red Skull's re-education camps before it's too late. Ever since he first stole the brain of Charles Xavier, it's all been building to this – and now, the Red Skull's revenge is complete. Even if the members of the Avengers Unity Squad can escape, it may be too late to save their mutant brethren.
Brace yourself for the epic fall comics event as the 'March to AXIS' continues this September in
UNCANNY AVENGERS #24
!
UNCANNY AVENGERS #24 (JUL140607) Written by RICK REMENDER, Art by SALVADOR LARROCA, Cover by PAUL RENAUD FOC – 08/25/14, On-Sale – 09/17/14
DF REVIEW: STORM #2
08/20/14 @ 9:45 pm EST
Source:
Dynamic Forces
| Categories:
Storm
|
Comments
(0) |
E-mail Article
|
Add a Comment
By BYRON BREWER
Writer Greg Pak sure knows how to tug at the heartstrings.
Those who never knew the "all-new, all-different X-Men" the first time around got a great story in
Storm
#2. For those of us who were readers of Chris Claremont's beginnings of this wonderful character, it was old home week.
Of course, the Morlocks have been involved in many dramatic stories, especially with their mass destruction at the hands of the Marauders. But that first personal battle between Storm and Callisto with Storm NOT able to use her powers. And all the while during the knife fight, Storm holds back on her emotions and her claustrophobia.
It was out of that battle that the haircut she sports now was born.
Her relationship with Callisto has evolved over the years, and I was glad to see that, now depowered and no longer a leader, Callisto has kept with her journey down the straight and narrow. Her concern for the lost kids was the same as it was for the lost mutants, the ones who could not pass for ordinary people on our surface world.
Storm found her now exactly as she found her years ago: a concerned caretaker of those less fortunate. With a blade.
What a wonderful tribute to Storm's life and past history worked into today's storyline. Pak does a wonderful job, and I cannot wait to see Storm's life examined more under his pen.
The art by Victor Ibanez held everything together. It was not spectacular (except in the scene with Storm blasting Callisto). instead, everything was dank and dark and gritty, like the long long saga of the Morlocks themselves. Along with it, the art seems to get smaller, almost claustrophobic. This really added to those underground scenes.
This is a great book about a great character who has been shunted into the shadows for far too long.
Let's add one more title to Storm's plethora of monikers: long-time solo comic book star!
'VOLTRON' 30TH ANNIVERSARY BOOK COMING IN OCTOBER
08/20/14 @ 9:28 pm EST
Source:
ICv2
| Categories:
Voltron
|
Comments
(0) |
E-mail Article
|
Add a Comment
Viz Media has announced plans to release a comprehensive guide to theVoltron universe and its impact on pop culture in honor of the classic sci-fi anime series' 30th Anniversary this fall. Voltron Defender of the Universe: from Days Long Ago – a Thirtieth Anniversary Celebration will release under the Perfect Square imprint on October 28th.

The book is written by former Marvel Comics editor Brian Smith, Marc Morrell, and Joshua Bernard, with a foreword by Jeremy Corray. The book will chronicle the story of Voltron and its cultural references, detailing the history of the show and the mythology. It will include a complete Robeast catalog, celebrity interviews and more. The 144-page, 9 7/8" x 10 7/8" hardcover has an MSRP of $29.99.
'GEORGE PEREZ'S SIRENS' COMING FROM BOOM! STUDIOS
08/20/14 @ 9:26 pm EST
Source:
ICv2
| Categories:
MIsc
|
Comments
(0) |
E-mail Article
|
Add a Comment
BOOM! Studios will launch a female superteam limited series from George Perez on September 17.
George Perez's Sirens
is the legendary creator's first original series in over a decade. Perez signed an exclusive agreement with BOOM! last year.
The six-issue limited series is a cosmic adventure where a female team known as the Sirens must reunite to save the galaxy. But the universe remembers them previously as… villains?
The first issue will feature two full-color connecting wraparound covers by George Perez, as well as another illustrated by Cameron Stewart (
Catwoman, The Invisibles
). Two incentive covers will feature the Perez wraparound cover pencils.
VALIANT JOINS MADEFIRE "PRINT BOOKS" ON IOS AND ANDROID FOR DAY-AND-DATE DIGITAL RELEASES, DIGITAL COLLECTIONS
08/20/14 @ 9:19 pm EST
Source:
Valiant
| Categories:
MIsc
|
Comments
(0) |
E-mail Article
|
Add a Comment
Valiant Entertainment is proud to announce a new partnership with Madefore
Madefire
– the cutting-edge digital comics platform – to bring Valiant's complete library of award-winning comic book and collections to the newly launched "Print Books" storefront on Madefire's
iOS
and
Android
apps.
Celebrating traditional comics in the digital space, Madefire now features an honest and simple reading experience with a page-view interface and pinch-and-zoom navigation called Print Books. Alongside the benchmark reading experience in Motion Books, digital comics and graphic novels in their authentic form will now be available via Madefire's In-App Purchases directly on your mobile, tablet and web devices.
Featuring day-and-date releases of Valiant's latest monthly titles – including X-O Manowar, Unity, Rai, Armor Hunters, The Delinquents, and more – the critically acclaimed comics publisher will soon make available its complete back catalog of best-selling comic books and graphic novels, beginning today with the launch of the Quantum and Woody Classic 99-Cent Sale – the first ever Madefire-exclusive sale on the iOS and Android platforms.
Featuring the complete run of Christopher Priest and M.D. Bright's seminal series – including Quantum and Woody (1997) #0–21 and #32 – rediscover one of the most beloved series of the past two decades through Madefire's exclusive 99-cent sale before Priest and Bright's Q2: The Return of Quantum and Woody #1 (of 5) arrives in stores this October.
"Valiant is enthused and excited to join Madefire's expansion into day-and-date digital releases and back catalog releases," said Gavin Cuneo, CFO & Head of Strategic Development for Valiant Entertainment. "Valiant has one of the most cherished libraries of content anywhere in the history of comics, and, with Madefire's recent expansion into 'Print Books,' we look to at last making it available for Madefire's passionate audience of fans and readers around the world.
""Valiant are producing some of the best looking books in the business right now, thanks to great talent and a stable of classic characters," said Madefire Co-Founder and CCO Liam Sharp. "We're thrilled to be able to bring not only their ground-breaking motion books to the Madefire app, but also their extensive back catalog of print material, featuring many fondly remembered gems."
Established in 1989, Valiant has sold over 80 million comic books, and today its characters continue to be forged in publishing, licensing, film, video games, and beyond. Since its summer 2012 publishing relaunch, Valiant has returned to the fore as one of the most commercially and critically successful independent publishers in the industry today with an initial slate of titles that included X-O Manowar by New York Times best-selling writer Robert Venditti and Eisner Award-winning artist Cary Nord; Harbinger by New York Times best-selling writer Joshua Dysart and Harvey Award-nominated artist Khari Evans; and Archer & Armstrong by the New York Times best-selling creative team of writer Fred Van Lente and artist Clayton Henry.
After multiple awards and nominations, including a 2012 Diamond Gem Award for Publisher of the Year, Valiant ventured even farther in 2013 with the debut of its first crossover event, Harbinger Wars, and the release of Unity #1 by writer Matt Kindt and artist Doug Braithwaite – the year's highest charting debut issue from a non-premier publisher with sales in excess of 70,000 copies. This May, Valiant followed up with "Valiant First" – an all-new line of titles led by the smash-hit ongoing series, Rai, and its biggest crossover event to date, Armor Hunters. Most recently, on the heels of 16 nominations at this year's Harvey Awards, the publisher has announced The Valiant – a prestige format mini-series from New York Times best-selling writers Jeff Lemire and Matt Kindt with art by Eisner Award winner Paolo Rivera.
About Madefire
Founded in 2011 by Ben Wolstenholme, Liam Sharp and Eugene Walden, Madefire is a media and technology company. Madefire has built the Motion Books publishing platform that provides artists, writers and publishers tools for creating a new reading format called Motion Books. Madefire is backed by Toni Schneider at True Ventures, The recent CEO of Automattic, makers of WordPress, as well as Bill Woodward (Anthem Ventures, former Chairman of Macromedia). The Advisory Board also includes industry leaders Mike McCue, CEO and Founder of Flipboard, angel investor Sina Tamaddon, former Senior Vice President of Applications for Apple Inc, Dave Gibbons, co-creator of Watchmen, the bestselling graphic novel of all time, and Bill Sienkiewicz, widely recognized as one of the greatest innovators of sequential art.
WHAT COMES AFTER BIGGER BANG? NEW CREATOR-OWNED SERIES EXPLORES COSMOS
08/20/14 @ 8:18 pm EST
Source:
IDW
| Categories:
IDW
|
Comments
(0) |
E-mail Article
|
Add a Comment


In one explosive moment our universe was born—and with another it will be destroyed! This winter, writer D.J. Kirkbride (Amelia Cole) and illustrator Vassilis Gogtzilas (Adventures of Augusta Wind) team up for THE BIGGER BANG, a four-issue mini-series exploring the depths of humanity through the warped lens of an ever-expanding multiverse. This action-packed space fantasy defies the laws of science and the comforts of belief!

"My artistic pal Vassillis approached me about doing a comic with some kind of outer space superhero, and that pretty quickly became THE BIGGER BANG," says writer Kirkbride. "It's a comic about forging one's own destiny despite circumstances of birth or the past… starring a space god in orange tights, a three-eyed green warrior lady, and a Cthulhu in a flying space castle."

Created by an inexplicable universe-killing event, the being called Cosmos traverses the stars, seeking to help those he can in order to atone for the sins of his birth. Often mistaken for a harbinger, Cosmos soars the intergalactic space ways alone… but will soon find himself up against an alien tyrant on his quest for acceptance.

Series editor Justin Eisinger, most commonly found overseeing IDW's expansive line of books and graphic novels, described his experience as such: "THE BIGGER BANG is a story with heart and vision. The off-kilter pairing of Kirkbride's quirky writing and Gogtzilas' expressive, kinetic artwork work in perfect disharmony to bring this impossible story to improbable life. We sure hope you have as much fun reading BIGGER BANG as we're having making it."