MAY 20TH! THE SOUTH JERSEY COMIC-CON & TOY BONANZA!
05/18/12 @ 2:57 pm EST
Source:
South Jersey Comic-Con & Toy Bonanza
|
Comments
(0) |
E-mail Article
|
Add a Comment
The South Jersey Comic-Con & Toy Bonanza is a collector's dream come true!
Silver Age • Modern Age •Graphic Novels • Action Figures • Collectibles • And much MUCH MORE!!! Come and join us on Sunday, May 20th from 10 am - 4 pm at the Holiday Inn on Route 70 East in Cherry Hill, NJ!
Located minutes from the Ben Franklin Bridge Doors open at 10AM!
Admission $2.00 Children Under 10 FREE!
FREE Comic Packs for the FIRST 100 attendees! Be there for the two o'clock drawing for our BIG door prizes!!
For more information visit
www.frankensteincomics.com
POWER RANGERS MOVIE T-REX BATTLE ZORD REVEALED
10/28/16 @ 7:48 am EST
Source:
Comicbook
| Categories:
MIsc
|
Comments
(0) |
E-mail Article
|
Add a Comment
Even though the website won't fully launch until November,RangerNation.com has just been updated with official looks at three toys — T-Rex Battle Zord, Power Morpher, and Red Ranger's Power Sword — created for
Saban's Power Rangers
movie.
Obviously, of the three, the Battle Zord toy is the most exciting. Though we got a peek at the Zords on official posters released last month, this is our first proper look at one of them. Zords, which are colossal assault vehicles piloted by Power Rangers, come in many different forms, but for the 2017 live-action film, Saban and Lionsgate are going with Dinozords. As you can guess, that means the Zords will have dinosaur-like features, but they will also incorporate the futuristic/alien elements we've seen the costumes utilize. Furthermore, the Zords can combine together to form Megazord, a giant humanoid robot.
This Zord in particular is designed to resemble a tyrannosaurus-rex, equipped with several weapons, and is piloted by Jason Lee Scott (played by Dacre Montgomery), the Red Ranger.
STEPHEN AMELL TO WEAR SEASON 1 ARROW SUIT THIS YEAR
10/28/16 @ 7:39 am EST
Source:
Comicbook
| Categories:
DC
|
Comments
(0) |
E-mail Article
|
Add a Comment
Appearing on a Facebook Live video last night,
Arrow
star Stephen Amell revealed to fans that he will wear his costume from season 1 of the show at some point this season.
When he recently posted a shot of himself in the costume, he told fans the comments all appreciated his "throwback" post but, Amell said, "That was last week."
"I have to wear the season 1 suit this year for reasons I'm not going to disclose," Amell told fans.
He said that when the wardrobe department called him in for a fitting, he insisted that his body hadn't changed since season 1 and that he would only come in for a fitting if Maya Mani, the costume designer on the series, put him in the suit from the season 1 finale, which he said "fit like a glove."
There are a few possibilities as to why he might be wearing the season 1 suit: first of all, it could be that he was shooting pickups for the hundredth episode, in which a number of characters are reappearing for the first time in quite a while. If, as some expect, the time-travel capabilities of the
Legends of Tomorrow
crew are to claim responsibility for that, we could easily see the season 1 costume...on season 1 Oliver.
Another possibility is that someone he hasn't seen in five years could be reappearing and, for some reason, he might find it more effective or even necessary to dress in period-appropriate clothing, despite Oliver himself being in the present day. There's also the possibility that the suit could come up in the flashbacks somehow, although it's difficult to parse out exactly how that would work, since there's a pretty full-speed-ahead story taking place in the flashbacks now.
REDISCOVERING THE FORGOTTEN WORKS OF HERBERT CROWLEY
10/28/16 @ 7:30 am EST
Source:
ICv2
| Categories:
MIsc
|
Comments
(0) |
E-mail Article
|
Add a Comment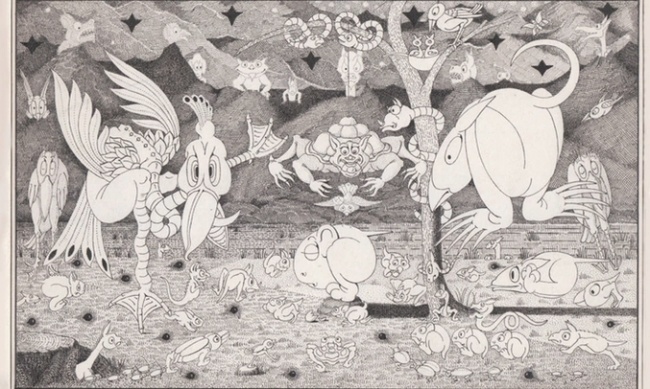 Independent publisher Beehive Books has announced
The Temple of Silence: Forgotten Works & Words of Herbert Corwley
, an oversized biography collecting Crowley's long-out-of-print artwork and cartoons.
Beehive Books has turned to Kickstarter to fund the project. The campaign is led by Locust Moon Books' Josh O'Neill and author Justin Duerr. The project, which has raised more than $16,000 over its $50,000 goal with 15 days to go, has a retailer backer level.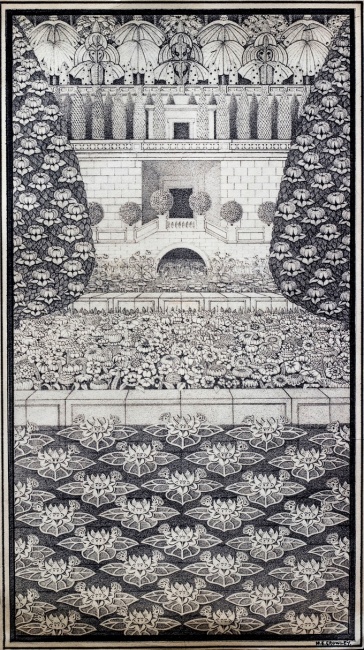 Crowley was a cartoonist, painter, and sculptor who showed work in the early 20th Century alongside contemporaries like Picasso and Vincent van Gogh. His cartoons were printed in
The New York Herald
's Sunday comics section opposite Windsor McCay's
Little Nemo in Slumberland
.
In 1917, Crowley disappeared from the New York scene. Since, very little of his work has been reprinted, and it has not been exhibited for decades. Over years of research, Deurr unearthed hundreds of Crowley's pieces and compiled a comprehensive biography of the artist.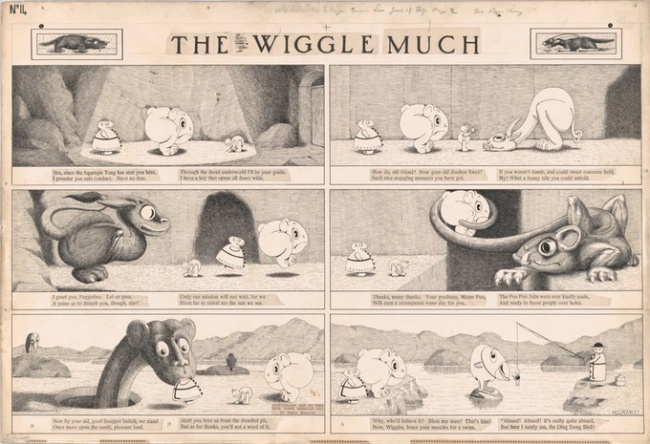 Duerr turned to O'Neill to help translate the research into
The Temple of Silence
, a 100-page, 11" x 17 art book. The publisher anticipates November 2017 backer fulfillment and trade release via Diamond to follow. MSRP is expected to be $85.00.
O'Neill is no stranger to Kickstarter. Locust Moon Books used the platform for successful campaigns in support of the tribute anthology
Little Nemo: Dream Another Dream
and
The Lost Works of Will Eisner
, a collection of comics drawn during Eisner's teen years .
PARAMOUNT PICTURES FINED IN CHINA AFTER 'TRANSFORMERS 4' DISPUTE
10/28/16 @ 7:23 am EST
Source:
Variety
| Categories:
Transformers
|
Comments
(0) |
E-mail Article
|
Add a Comment
A court in Chengdu, China has fined Paramount Pictures and 1905 Internet Technology, its Chinese production partner, over a breach of contract dispute relating to product placement and the filming of "Transformers: Age of Extinction."
The companies were ordered to pay $300,000 (RMB2 million) in compensation and legal costs to Wulong Karst Tourism, an inland tourist resort. The company had a contract with the film producers which would have seen the film make use of Wulong Karst's landscapes. In return the company's name and logo would be shown on screen within the film. Wulong Karst was also to have paid some $850,000 (RMB6 million) of sponsorship to the production. It paid only 80% of the sponsorship fee.
When the film omitted the company's name and logo, Wulong Karst sued for $2.97 million (RMB20 million) of damages and withheld the balance of the sponsorship fee.
In April, the producers confirmed that they omitted the logo. But the court found that the film producers had attempted to reduce the damage, with Michael Bay shooting an advertisement for the resort and providing props for the resort to use.
The court also rejected Paramount and 1905's counter suit which had sought to claim the unpaid sponsorship revenues.
"Transformers: Age of Extinction" was the top performing film in China in 2014 with a gross of $320 million. (Via Variety)
ANDREW GARFIELD RETURNS AS SPIDER-MAN ON JIMMY KIMMEL LIVE
10/27/16 @ 7:38 pm EST
Source:
Comicbook
| Categories:
Marvel
|
Comments
(0) |
E-mail Article
|
Add a Comment
We've had more actors suit up as Spider-Man in the last decade than any other superhero on the movie or TV screen. From the end of Tobey Maguire's run, to the stalled hopes of Andrew Garfield's rebooted version, to the new hope of Tom Holland as the Marvel Cinematic Universe Spider-Man, it's been baffling to see Marvel's flagship character struggle so much.
The most tragic figure in all this is no doubt Garfield, who got squeezed out of a chance at being a major player in the superhero movie lane, once Sony's Amazing Spider-Man
movie universe plans fell apart.
Jimmy Kimmel is giving fans of Garfield's Spider-Man a thrill, as he brings the actor back for an upcoming bit on
Jimmy Kimmel Live.
Meanwhile, don't feel too bad for Garfield: the young actor is set to maybe get into some major awards contention, thanks to the release of his new film
Hacksaw Ridge
. Directed by Mel Gibson, the WWII drama follows Garfield as a real-life army medic who fought in one of the worst battles against Japan and while morally objecting to use violence. The trailers have looked impressive, and this could be yet another smash hit for Gibson as a director.
Catch Andrew Garfield as Spider-Man on
Jimmy Kimmel Live
tonight; or on the Interwebs, tomorrow.
KEVIN FEIGE TALKS CAPTAIN AMERICA MOVIES WITHOUT STEVE ROGERS
10/27/16 @ 7:31 pm EST
Source:
Comicbook
| Categories:
Marvel
|
Comments
(0) |
E-mail Article
|
Add a Comment
Marvel Comics fans know that, these days, Captain America is more of a mantel than a specific character. Steve Rogers has been the only character to carry the shield; his old friend and partner Bucky Barnes left his Winter Soldier persona behind to become Captain America II in the 2000s, after Steve Rogers was supposedly assassinated.
More recently, Sam Wilson/Falcon took up the shield, when Rogers was aged into an elderly man. Now that both Bucky/Winter Soldier (Sebastian Stan) and Sam Wilson/Falcon (Anthony Mackie) are big parts of the Marvel Cinematic Universe (the
Captain America
franchise in particular), there's been a lot of fan question about whether one character, both or neither are able to stand in for Chris Evans' Steve Rogers, who is now the leading face of the franchise, thanks to films like
Captain America: The Winter Soldier
and
Captain America: Civil War
becoming big box office and critical hits.
Speaking with
Collider,
Marvel Studios president Kevin Feige talked about the possibility of having a
Captain America
movie franchise without Steve Rogers. When asked if the franchise
has
to have Rogers, Feige said that, "
if we look back at the comic books as our inspiration and as the well from which this all springs, then the answer is "no."
"
Before fans take that as a sign that Captain America II or Cap-Falcon is just around the corner, Feige was quick to add that,
"I'm not saying we'll do it in the movie but I've read Captain America comics that don't have Steve Rogers in them.
"
Collider
asked Feige about the inevitable changing of the guard form a business standpoint, with Feige responding that "
we don't usually think about it until necessary....so we have a long way before we have to worry about that
."
FIRST LOOK AT TESSA THOMPSON ON THOR: RAGNAROK
10/27/16 @ 7:26 pm EST
Source:
Comicbook
| Categories:
Marvel
|
Comments
(0) |
E-mail Article
|
Add a Comment
Today, Taika Waititi took to Facebook to livestream behind-the-scenes footage from the
Thor: Ragnarok
set. The New Zealand director teamed up with Chris Hemsworth to give fans a look at the set, and the preview gave audiences their first look at Tessa Thompson on-set.
Here is an image of the Valkyrie actress from that footage.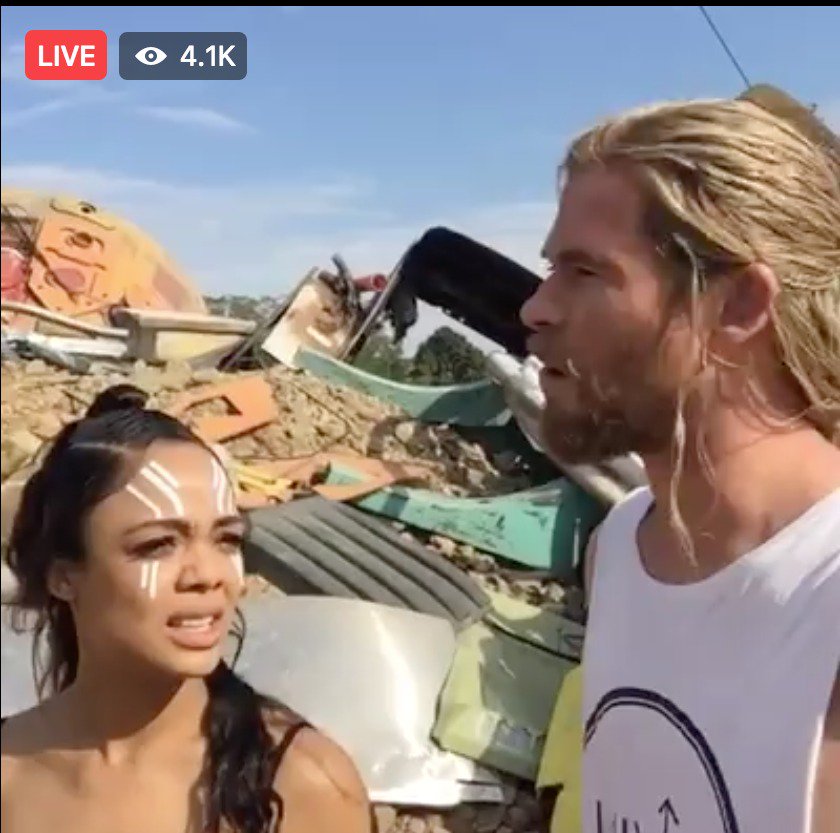 THOR: RAGNAROK WRAPS FILMING WITH LIVE VIDEO
10/27/16 @ 7:09 pm EST
Source:
Comicbook
| Categories:
Marvel
|
Comments
(0) |
E-mail Article
|
Add a Comment
Live from the set of
Thor: Ragnarok
, director Taika Waititi takes us on a hilarious and fun little walk as the film officially wraps production on the last day of shooting.
Video:
https://www.facebook.com/marvelstudios/videos/205158873245066/
EVEN ANDREW GARFIELD DOESN'T KNOW WHO THE MYSTERY MAN WAS IN AMAZING SPIDER-MAN 2
10/27/16 @ 7:37 pm EST
Source:
Comicbook
| Categories:
Marvel
|
Comments
(0) |
E-mail Article
|
Add a Comment
When Sony Pictures announced that
The Amazing Spider-Man 2
would be the last of the franchise, fans were left with a handful of cliffhangers. The series' sudden end had fans wondering where Peter Parker might have gone in a third film. Moviegoers were curious whether the mysterious figure at the end of both films would play a bigger role in the vigilante's future. But, according to Andrew Garfield, the man was of little importance.
The actor told CinemaBlend in a recent interview that he didn't know if the "filmmakers knew who the hell that guy was!"
"I don't know," Garfield said. "I actually don't know. No. But the good news is that now none of us are ever going to find out, because that version of Spider-Man is no longer. Now we got Tom Holland, who I really think is going to do some beautiful stuff."
THE FLASH SEASON 3 EPISODE 5: MONSTER PHOTOS RELEASED
10/27/16 @ 7:00 pm EST
Source:
Comicbook
| Categories:
DC
|
Comments
(0) |
E-mail Article
|
Add a Comment
The CW has released several stills from Tuesday's "Monster" episode of
The Flash
. Here are some of them.