YOUR FIRST LOOK AT INVINCIBLE IRON MAN 518 – WHO IS THE NEW IRON MAN?!
05/10/12 @ 9:56 am EST
Source:
Marvel
|
Comments
(0) |
E-mail Article
|
Add a Comment
Marvel is pleased to present your first look at
Invincible Iron Man #518
, featuring the all-new Iron Man! Courtesy of the Eisner Award-Winning creative team of Matt Fraction & Salvador Larroca, tensions mount as the Spymaster's rampage within Stark Resilient comes to its bloody end. The Mandarin is throwing everything he's got at Tony Stark including amped up super villains! With a big target painted on his back, can Tony Stark make it out alive? Can the new Iron Man save him in time? Find out in
Invincible Iron Man #518
, hitting comic shops, the
Marvel Comics app
, and
Marvel Digital Comic Shop
this June!
INVINCIBLE IRON MAN #518 (APR120646)
Written by MATT FRACTION
Pencils & Cover by SALVADOR LARROCA
FOC – 5/14/12, ON SALE – 6/6/12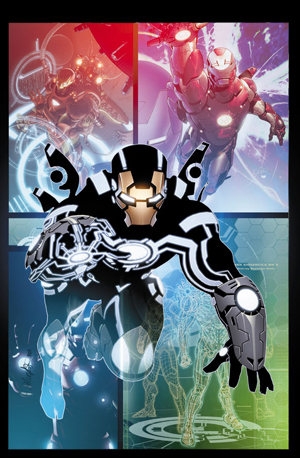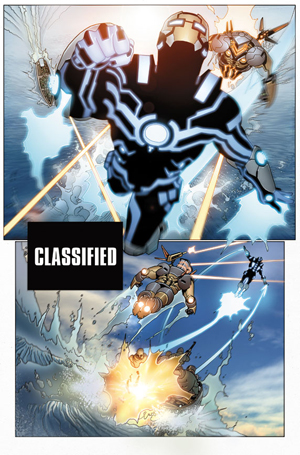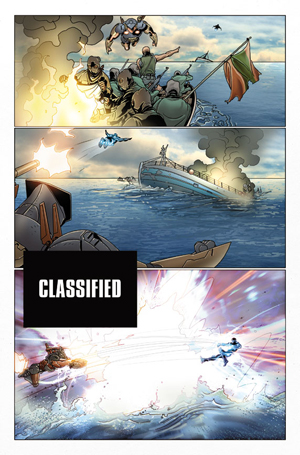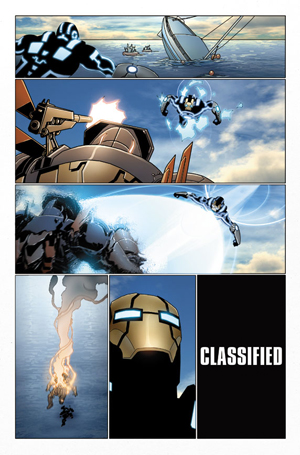 To find a comic shop near you, visit
www.comicshoplocator.com
or call 1-888-comicbook.


Marvel Entertainment, LLC, a wholly-owned subsidiary of The Walt Disney Company, is one of the world's most prominent character-based entertainment companies, built on a proven library of over 8,000 characters featured in a variety of media over seventy years. Marvel utilizes its character franchises in entertainment, licensing and publishing. For more information visit
www.marvel.com
FOX TAPS SUPERHERO TALE 'IRREDEEMABLE'; ADAM MCKAY HELMS, TOMMY WIRKOLA SCRIPTING
05/05/16 @ 2:30 pm EST
Source:
Deadline
| Categories:
MIsc
|
Comments
(0) |
E-mail Article
|
Add a Comment
Move over, X-Men and Deadpool. 20th Century Fox has tapped into an entirely new superhero universe. The studio has acquired Irredeemable, a Boom! Comics comic book that will be adapted by Hansel and Gretel: Witch Hunterswriter-director Tommy Wirkola as a directing vehicle for Adam McKay. McKay, who with Charles Randolph just won the Best Adapted Screenplay Oscar for The Big Short, is a big comic book fan who co-wrote Marvel's Ant-Man and wrote with Paul Rudd the story for the sequel. Now, McKay has a fresh hero universe, this one the kind of edgy terrain that Deadpool tapped into. Boom! Studios' Ross Richie and Stephen Christy are producing with Gary Sanchez's McKay and Kevin Messick.

In the Mark Waid-created comic book that debuted in 2009 and lasted 36 issues, the central figure is the Plutonian, the world's greatest superhero until he began heartlessly slaughtering the population of Earth, at least those who defy him. It falls to a superhero group known as the Paradigm to stop his rampage. They were former colleagues of the Plutonian, they've all got problems of their own, and none of them is nearly as powerful as the mass-murdering maniac holding the world hostage. In Clarice-Hannibal Lecter fashion, the Paradigm in desperation turns to a famous supervillain for help; it might be the only way to stop the carnage.

The intriguing thing with starting from scratch on a superhero saga like this one is that some of these superheroes die, unlike the branded films being made by Marvel and DC.


A FOUR-PART CROSSOVER IN ONE ISSUE – YOUR FIRST LOOK AT DEADPOOL #13
05/05/16 @ 1:37 pm EST
Source:
Marvel
| Categories:
Deadpool
|
Comments
(0) |
E-mail Article
|
Add a Comment
What do you get when you take a Merc With a Mouth, two Heroes for Hire and a Man Without Fear and mash 'em together? Why, the massively oversized
DEADPOOL #13
of course! This June, this quartet of heroes collide in the first-ever 4-part crossover in one issue! We're not joking – this issue contains two full issues of Deadpool, one issue of Power Man and Iron Fist and one issue of Daredevil! Writers Gerry Duggan, David Walker and Charles Soule join forces with artists Jacopo Camagni, Guillermo Sanna, Elmo Bondoc and Paco Diaz to bring you one for the history books! When Deadpool takes a gig protecting a banker who betrayed his nefarious cartel partners, they seek the help of ADA Matt Murdock, who calls in the assistance (and fists) of Luke Cage and Danny Rand! Things are going to get ugly. Get ready for a mega-violent, street-level, gut-busting, face-punching, kung-fuing, ninjitsuing crime story you won't want to miss! It all goes down this June when
DEADPOOL #13
explodes into comic shops everywhere!
DEADPOOL #13 (APR160998)
Written by GERRY DUGGAN, CHARLES SOULE and DAVID WALKERArt by JACOPO CAMAGNI, GUILLERMO SANNA, ELMO BONDOC and PACO DIAZCover by FRANCISO HERRERA
Variant Covers by ROB LIEFELD (APR160999) and RON LIM (APR161000)Power Man and Iron Fist Variant by CHRIS STEVENS (APR161002)Daredevil Variant by KHOI PHAM (APR161001)
Hit Monkey Variant by BRENT SCHOONOVER (APR161004)Action Figure Variant by JOHN TYLER CHRISTOPHER (APR161003)Rebirth Variant by DAVID NAKAYAMA (FEB168876)FOC – 05/09/16, On-Sale – 06/06/16
HORROR MEME 'SLENDER MAN' GETTING FILM ADAPTATION
05/05/16 @ 1:33 pm EST
Source:
The Hollywood Reporter
| Categories:
MIsc
|
Comments
(0) |
E-mail Article
|
Add a Comment
Horror meme
Slender Man
is heading to the big-screen.
Screen Gems is in negotiations with Mythology Entertainment, the production company run by Bradley Fischer, James Vanderbilt and William Sherak, to produce a film version of the Internet-grown intellectual property.
Madhouse Entertainment and It Is No Dream Entertainment are also involved with the deal, as the two are partners with Mythology in the venture. Mythology acquired the rights for all platforms including motion picture, television, video games, publishing and more.
Slender Man
began life on a horror website called Something Awful, which was conducting a photo contest. Eric Knudsen submitted photos of children and a photoshopped figure of a figure with unnaturally long arms and a featureless face. A narrative implied the man was involved in causing the disappearance of children and other horrifying acts.
The photos and idea went viral, taking on a life of its own as other people adding to the pictures and text, and growing the myth. Short films, cosplay, and video games followed.
Screen Gems would co-produce and distribute the feature, targeting a fall 2016 production start. The film's script, which was written by David Birke, the scribe behind horror flick
13 Sins
and the upcoming Paul Verhoeven-directed movie
Elle,
, will be going out to directors soon.
Joining Fischer, Vanderbilt and Sherak as producers are Robyn Meisinger of Madhouse Entertainment and Sarah Snow of It Is No Dream Entertainment.
Mythology's exec vp of film, Tracey Nyberg, will executive produce along with It Is No Dream's Louis Sallerson, and Madhouse's Adam Kolbrenner and Ryan Cunningham.
'CAPTAIN AMERICA: CIVIL WAR' HITS $261.6 MILLION AT FOREIGN BOX OFFICE
05/05/16 @ 12:23 pm EST
Source:
Variety
| Categories:
Civil War
|
Comments
(0) |
E-mail Article
|
Add a Comment
"Captain America: Civil War" is dominating the global box office in advance of its domestic debut this weekend.
The Marvel/Disney superhero sequel has generated $261.6 million overseas since it began rolling out in foreign territories last week. On Wednesday, the film racked up another $20.1 million.
"Captain America: Civil War" launches in Russia and Argentina on Thursday. It kicks off in the U.S. and China this Friday. The film has earned strong reviews and is expected to debut to as much as $200 million this weekend, one of the five biggest openings in history. Advance ticket sales have been robust. On Fandango, the film set a new record for a superhero movie and currently comprises 90% of the online ticketer's weekend sales.
In addition to the critical embrace, "Captain America: Civil War" has some other factors working in its favor. The film offers a clash of A-list heroes, as Captain America (Chris Evans) square off against Iron Man (Robert Downey Jr.), dividing the Avengers over a government plan to register the super powered. It also introduces Tom Holland's take on Spider-Man and marks the first appearance of Chadwick Boseman as the Black Panther, two characters that are fanboy and fangirl favorites.
Overseas, the film has done particularly well in South Korea ($35.2 million), the United Kingdom ($31.8 million), Mexico ($25.6 million), Brazil ($17.1 million), Australia ($13.2 million), and Japan ($12.4 million).
NEW "ARROW" PHOTOS REVEAL ANARKY'S RETURN
05/05/16 @ 12:03 pm EST
Source:
Comic Book Resources
| Categories:
Arrow
|
Comments
(0) |
E-mail Article
|
Add a Comment
The CW has released promotional stills for upcoming "Arrow" episode "Monument Point." The ep will see not only the return of Felicity's father Noah Kuttler but also Anarky as well. The ex-mob enforcer hasn't been seen on the show since January, and it looks like, as seen in these pics, his return will be a doozy for Team Arrow.
TURTLES TAKE FLIGHT IN NEW "TMNT" CHARACTER POSTERS
05/05/16 @ 12:00 pm EST
Source:
Comic Book Resources
| Categories:
TMNT
|
Comments
(0) |
E-mail Article
|
Add a Comment
Following the release of a new TV spot that, well, showed off a new side of Bebop and Rocksteady, four new character posters have been released for "Teenage Mutant Ninja Turtles: Out of the Shadows." The character shots show Leo, Mikey, Raph and Donnie alone in elevated positions, be they riding a flying sky-skateboard, parachuting to the ground or just on the roof of a sky scraper. There's also a new poster featuring all four turtles, and it's a splashin' good time.
Directed by Dave Green, the sequel to 2014's "Teenage Mutant Ninja Turtles" stars Megan Fox and Will Arnett, who are joined by Stephen Amell, William Fichtner, Laura Linney, Tyler Perry, Sheamus, Gary Anthony Williams, Brittany Ishibashi and Brian Tee. Alan Ritchson, Jeremy Howard, Pete Ploszek, and Noel Fisher reprise their roles as Raphael, Donatello, Leonardo, and Michelangelo.
"Teenage Mutant Ninja Turtles: Out of the Shadows" opens June 3.
NEW "X-MEN: APOCALYPSE" PROMO EXPLORES THE POWER OF PSYLOCKE
05/05/16 @ 11:58 am EST
Source:
Comic Book Resources
| Categories:
X-Men
|
Comments
(0) |
E-mail Article
|
Add a Comment
"Psylocke is very lethal, and she's not afraid to get her hands dirty," says actress Olivia Munn in fox's latest promo for "X-Men: Apocalypse." The fan favorite mutant ninja makes her big screen debut in the film, and so catching up new viewers to the appeal of Betsy Braddock is a cinch as the latest X-sequel from Bryan Singer gets ready to roll out.
Video:
https://youtu.be/ayLgHnDA44s
"ARROW" GOES TO NUCLEAR WAR IN NEW PROMO
05/05/16 @ 11:52 am EST
Source:
Comic Book Resources
| Categories:
Arrow
|
Comments
(0) |
E-mail Article
|
Add a Comment
So far in Season 4 of "Arrow," the battle between Oliver Queen and Damien Darhk has gotten pretty personal. But with next week's new episode, the battle will be going global...global nuclear war, that is!
In a new promo for the upcoming "Monument Point" episode, the CW series shows off how the stakes are getting raised with a rogue nuclear arsenal in play as things ramp up towards the season finale.
Video:
https://youtu.be/r7cTJ3EeFGc
OLSEN COMMENTS ON SCARLET WITCH'S SUIT
05/05/16 @ 11:48 am EST
Source:
Comic Book Resources
| Categories:
Civil War
|
Comments
(0) |
E-mail Article
|
Add a Comment
Elizabeth Olsen appeared on "Late Night with Seth Meyers" and revealed one of the early talks she had about portraying Scarlet Witch.
"About the same meeting Joss Whedon even mentioned who we were meeting about. He said, 'There's this character Scarlet Witch that I'm interested in for you to play,'" said Olsen. "And then he said, 'When you go home and Google her, just know you will never ever have to wear what she wears in the comics.'"
Olsen looked at a picture of Scarlet Witch's comic costume and added: "I did ballet growing up, but that's not a confident look... I feel like a lot of people would be stepping on your cape."
Video:
https://youtu.be/WUVhC05jr1g
BOSEMAN TALKS PARTNERSHIP WITH "BLACK PANTHER" DIRECTOR
05/05/16 @ 11:43 am EST
Source:
Comic Book Resources
| Categories:
Black Panther
|
Comments
(0) |
E-mail Article
|
Add a Comment
USA Today asked Chadwick Boseman about Black Panther, and the actor described some of his more mysterious qualities.
"You could be having a great time with him at a party, and all of a sudden he disappears and no one knows where he is," said Boseman about Panther. "It puts him in a position where he's always going to be misunderstood by people. I love that aspect because it creates a dark side to him."Boseman also talked about his anticipation for his solo film. "I felt a constant anticipation of what's to come while doing this, which is a beautiful thing. You always know this is going to get better and better."
Boseman added that he talks to director Ryan Coogler on a weekly basis, and said that they have a "good partnership." He noted that the film is "going to be a very difficult thing to pull off and you only do this if you're willing to go for broke with it."