YOUR FIRST LOOK AT INVINCIBLE IRON MAN 518 – WHO IS THE NEW IRON MAN?!
05/10/12 @ 9:56 am EST
Source:
Marvel
|
Comments
(0) |
E-mail Article
|
Add a Comment
Marvel is pleased to present your first look at
Invincible Iron Man #518
, featuring the all-new Iron Man! Courtesy of the Eisner Award-Winning creative team of Matt Fraction & Salvador Larroca, tensions mount as the Spymaster's rampage within Stark Resilient comes to its bloody end. The Mandarin is throwing everything he's got at Tony Stark including amped up super villains! With a big target painted on his back, can Tony Stark make it out alive? Can the new Iron Man save him in time? Find out in
Invincible Iron Man #518
, hitting comic shops, the
Marvel Comics app
, and
Marvel Digital Comic Shop
this June!
INVINCIBLE IRON MAN #518 (APR120646)
Written by MATT FRACTION
Pencils & Cover by SALVADOR LARROCA
FOC – 5/14/12, ON SALE – 6/6/12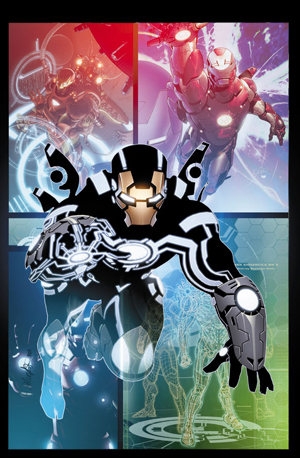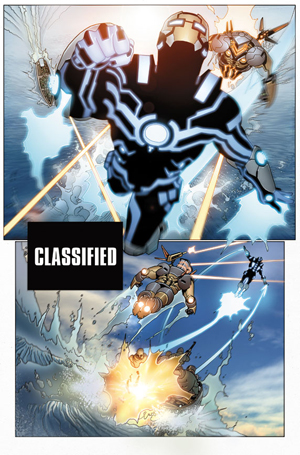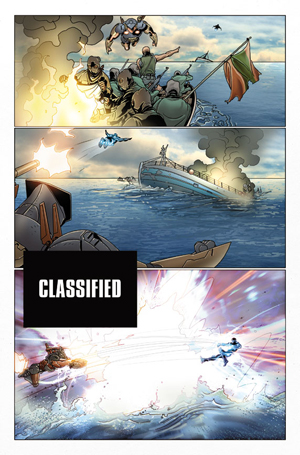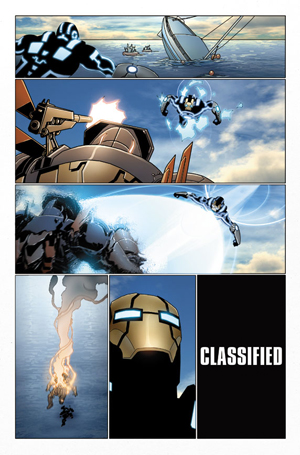 To find a comic shop near you, visit
www.comicshoplocator.com
or call 1-888-comicbook.


Marvel Entertainment, LLC, a wholly-owned subsidiary of The Walt Disney Company, is one of the world's most prominent character-based entertainment companies, built on a proven library of over 8,000 characters featured in a variety of media over seventy years. Marvel utilizes its character franchises in entertainment, licensing and publishing. For more information visit
www.marvel.com
BENDIS HINTS AT SECOND "IRON MAN" SERIES, DEBUTS PICHELLI VARIANT
07/30/15 @ 2:01 pm EST
Source:
Comic Book Resources
| Categories:
Iron Man
|
Comments
(0) |
E-mail Article
|
Add a Comment
With the October debut issue of "Invincible Iron Man"reportedly amassing over 200,000 copies sold through preorders, writer Brian Michael Bendis is looking at another massive launch with Marvel Comics. The first issue, which sees Bendis continuing his collaboration with former "Ultimate Spider-Man" artist David Marquez, will find Tony Stark stepping into a new suit of armor and a new era of his life as he tries to uncover the mystery of his parentage.
But according to a tease from Bendis himself, this premise might be too big for just one book.In a post on his personal Tumblr unveiling an "Invincible Iron Man" #1 variant by Sara Pichelli, Bendis alludes to a potential second series starring -- or at least involving -- Tony Stark.
"Man, the launch of 'Iron Man' is going so well, I might have to launch another!" wrote Bendis. He then added a "wait, what?" for good measure.
It's quite common for Bendis to handle multiple books at once, with two usually serving as companion series. He did it with "New Avengers" and "Mighty Avengers" and then again with "Avengers" and "New Avengers." He did the same thing for the X-Men as well, writing both "Uncanny X-Men" and "All-New X-Men" simultaneously with stories and characters floating between both books.
"Invincible Iron Man" #1 by Brian Michael Bendis and David Marquez hits stores this October.
"DAREDEVIL" SHOWRUNNER DEKNIGHT ON MOVIE CROSSOVER HOPES, NIGHT NURSE CHANGES & MORE
07/30/15 @ 1:53 pm EST
Source:
Comic Book Resources
| Categories:
Daredevil
|
Comments
(0) |
E-mail Article
|
Add a Comment
Season One showrunner Steven S. DeKnight came late to the "Daredevil" party, replacingoriginal writer/producer Drew Goddard after the initial two episodes were filmed. And while he's reluctantly exiting as the Netflix series are just taking off, he says he's glad he was there at all.
Appearing at a panel of Netflix original series showrunners at the Television Critics Association press tour, DeKnight talked about passing the baton of Marvel Television's enthusiastically received streaming series focusing on street-level superheroics of Matt Murdock, a move, prompted by a standing cinematic commitment, that was made easier by the trust he has in his successors.
"The new showrunners, Doug Petrie and Marco Ramirez -- Doug Petrie was my right hand man on the first season, and Marco was one of our fantastic writers. Unfortunately, I had to leave because of a previous commitment to write and direct a feature,' said DeKnight from the stage. "They were there from the inception -- actually, Marco was there before even I came onto the project after Drew Goddard had to leave, so it's in fantastic hands.
"I've told them 'Anything I can do, anything you need from me, if you ever need to call, I'm always there,'" DeKnight added. "But also, I think it's very important, for me, exiting, to leave the show to them. And everything I've heard about it, everything from on set, from them, sounds like everything is going wonderfully, and I personally can't wait to watch Season Two with the rest of you."
While praising the creative freedom he enjoyed from both Netflix and Marvel, the showrunner also noted an intriguing instance in which he was asked to move in a different direction. "Really the only time that we got a 'no' is, originally, Rosario Dawson's character had a different name," he revealed. "She was going to be an actual Night Nurse from the comics, and the feature side, [of Marvel] had plans for her down the road. That's the only time that I actually ran afoul of a -- we couldn't do something. And we just used another name, so -- it's the same character."
OSCAR-WINNING "FEAST" DIRECTOR PATRICK OSBORNE TO HELM PARAMOUNT'S "BATTLING BOY"
07/30/15 @ 1:42 pm EST
Source:
Tracking Board
| Categories:
MIsc
|
Comments
(0) |
E-mail Article
|
Add a Comment
Patrick Osborne, quickly becoming a highly sought-after talent following his 2014 Oscar-win, has now signed on to helm Paramount Pictures' comic adaptation BATTLING BOY. The action/adventure, based on the hit graphic novel from Eisner award-winner Paul Pope, was picked up in 2008 by Brad Pitt's Plan B Entertainment and brought to Paramount as a part of their first-look deal at the time.
David Gordon Green and Josh Parkinson co-wrote the latest iteration of the project, taking over for
Reel Steel
scribe John Gatins and Alex Tse before him. The pic was largely inactive for a time, though sources tell me that the studio is now moving forward and working to lock down a new writer, with the tone of the film described as a more comedic approach and "punk rock" vibe. Pitt will produce with Plan B's Dede Gardner and Jeremy Kleiner, while Eben Davidson, Andrew Calof, and Peter Kang will oversee for Paramount.
Set in the world of Acropolis, which has become infested with a slew terrifying monsters and demons following the death of legendary hero/protector Haggard West,
Battling Boy
follows a thirteen-year-old demigod who must rid the land of the vile inhabitants as a part of his rite of passage. Battling Boy must deal with his arrogant superhero father, a city council that crafts an embellished image of him, uncontrollable powers from his variety of magical T-shirts, and the antics of Haggard's vengeful daughter Aurora, all while attempting to survive a plethora of vicious monsters and save a corrupted city.
Osborne burst onto the scene with his beloved six-minute short
Feast
, which was produced by Walt Disney Animation and went on to win both an Oscar and Annie Award.
Prior to that, Osborne was an animator on a handful of top animated films, including
Big Hero 6, Wreck-It Ralph, Tangled
, and
The Polar Express
. Osborne also served as a supervising producer on the Oscar-nabbing Disney short
Paperman
.
Just last month, Osborne signed on to adapt another hit comic,
Nimona
for Fox, based upon the NY Times bestselling graphic novel by Noelle Stevenson.
Nimona
will mark Osborne's feature directorial debut and will be fully animated.
Though it didn't hit shelves until 2013,
Battling Boy
debuted to rave reviews and spawned two prequels,
The Death of Haggard West (The Invincible Haggard West),
which was released in 2013, and
The Rise of Aurora West
, which dropped in 2014.
THAT OTHER 'GHOSTBUSTERS' IS HAPPENING, AND GUESS WHO THEY'RE GONNA CALL
07/30/15 @ 1:33 pm EST
Source:
MTV News
| Categories:
MIsc
|
Comments
(0) |
E-mail Article
|
Add a Comment
Although certain people have issued stern and vulgar denials that a second, dudely "Ghostbusters" reboot was happening, that hasn't stopped loud whispers coming from Hollywood about a project just like that in the works.
And every time the subject comes up, so does the name of Drew Pearce, the "Mission Impossible: Rogue Nation" writer who's also scripting the other upcoming movie about ghosts, and the people who bust them
.Fortunately, MTV News was able to catch up with Pearce at the New York premiere of the new "Mission Impossible," and pump him for info on the project. And even more fortunately, Pearce aint afraid of no "Ghostbusters" questions (although he reserved the right to be cagey about answering them.) So, is this really happening?
Says Pearce: OH YEAH.
"I've finished my work on that in the last couple weeks," he said. "Obviously it's top secret, but there's a gigantic bold idea that I came up with, and the Russo brothers — who did 'Captain America: The Winter Soldier' and are doing 'Civil War' at the moment — and Ivan Reitman, who did the original movie, are going to take that and run with it. Obviously I cannot tell you what it is, but hopefully in one year's time you'll know!"
Even better, he wasn't even a tiny bit coy about the dream cast for the film. Who ya gonna call? Might it, in fact, be Chris Pratt and Channing Tatum as rumored?
"That's definitely the cast we've been thinking about as we approach the project," Pearce confirmed, but added, "Whether that happens or not is very much above my pay grade. It's just my job to give them something exciting that maybe they'll do."
And while Pearce made all the same caveats about not having final say in this part, either, he addressed the very important question of whether a new "Ghostbusters" would give proper recognition to both the original source material as well as the all-female reboot of the movie that's being filmed as we speak. The writer revealed that "there's been a lot of chat" amongst producers about how and how much of a franchise this will be — and yep, he's totally pulling for a single universe.
"My personal inclination is to try and make everything occur in the same 'Ghostbusters' universe, because I feel, as a fan, that's what I would want," he said. "Standing here in New York, you just wanna tie it all together. Whether that happens or not we'll see, but I've certainly given them the tools to do that, I hope."
'SUPERGIRL' CASTS DC COMICS VILLAIN REACTRON
07/29/15 @ 5:23 pm EST
Source:
The Hollywood Reporter
| Categories:
DC
|
Comments
(0) |
E-mail Article
|
Add a Comment
CBS'
Supergirl
has cast a big DC Comics villain.
The highly anticipated freshman drama has tapped
Sons of Anarchy
alum
Chris Browning
to portray Ben Krull — otherwise known as Reactron,
The Hollywood Reporter
has learned.
On the
Melissa Benoist
starrer, Ben Krull (aka Reactron) is a deadly adversary of Superman's from Metropolis who wears an armored suit powered by nuclear energy. Never able to defeat his rival, Krull has come to National City to get revenge on the Man of Steel by killing his cousin, Supergirl. The character will first appear in episode three and is set as a guest star with a strong potential to recur, sources tell
THR
.
Browning becomes the latest DC character to board the series and joins
Nurse Jackie
alum
Peter Facinelli
, who will recur as Maxwell Lord, a green tech billionaire who is fascinated with National City's newest citizen: Supergirl. He also has a friendly rivalry with Kara's boss, Cat Grant (
Calista Flockhart
).
In comic book lore, Maxwell Lord has wavered between being a good guy and a bad guy. He helped the Justice League get together, hoping to profit from the use of metahumans.
HERCULES RETURNS IN NEW SERIES BY ABNETT AND ROSS
07/29/15 @ 1:41 pm EST
Source:
Comic Book Resources
| Categories:
Marvel
|
Comments
(0) |
E-mail Article
|
Add a Comment
Being one of the Marvel Universe's ageless beings often means confronting several lifetimes' worth of regret, but it also means it's never too late to atone and turn your life around, a lesson the Olympian demigod Hercules knows all too well. Over his centuries of life, he's done some good, but he's also misbehaved quite often.
In November, writer Dan Abnett and artist Luke Ross launch a new ongoing "Hercules" series. In it, Herc attempts to turn over a new leaf and become the hero he once was and knows he can be again. It's a quest that will have the Avenger confronting the challenges that arise when modern day Manhattan and the myths of various ancient cultures collide.
"I want to keep the book very accessible and I want to make it very immediate," Abnett told CBR. "So the first few issues are going to appear to be done in one stories. [Hercules will] deal with one or multiple problems in an issue and there's a sense of closure, but there is the inevitable meta story. So his supporting cast's story rolls through those and we gradually get the impression that these apparently disconnected elements are going to be more connected. They are not necessarily all part of the same thing, but they are symptoms of the same problem. And yes, at least some of his major opponents are going to be new characters that are almost filling the vacuum left by the diminishing mythological presence of the world. That's going to be a fun thing to do."
CELEBRATE 50 YEARS OF S.H.I.E.L.D. – YOUR NEW LOOK AT S.H.I.E.L.D. #9
07/29/15 @ 1:32 pm EST
Source:
Marvel
| Categories:
SHIELD
|
Comments
(0) |
E-mail Article
|
Add a Comment
This August, celebrate a half century of Marvel's premier intelligence agency in one colossal issue! Today, Marvel is pleased to present your new look at
S.H.I.E.L.D. #9
– the oversized anniversary special! Be there when blockbuster writer Mark Waid and artist Lee Ferguson answer a question 50 years in the making. A question that lies at the heart of the creation of SHIELD – who is the "Man Called D.E.A.T.H."?! This full length story features a never-before-published S.H.I.E.L.D. sequence penciled by
Jack Kirby
and inked by
Jim Steranko
!
Then, Al Ewing and Stefano Caselli bring you the terrifying origin of the new Howling Commandos! Before they spin out into their very own series later this year, witness the return of Dum Dum Dugan as he steps from the shadows to assemble a team truly unlike any you've seen before!
Rounding out this massive issue,
S.H.I.E.L.D. #9
also includes the very first S.H.I.E.L.D. story by Stan Lee and Jack Kirby! Be there as a half-century celebration of espionage and intrigue comes to comic shops this August in
S.H.I.E.L.D. #9
!
S.H.I.E.L.D. #9 (JUN150809)Written by MARK WAID, AL EWING & STAN LEE
Art by LEE FERGUSON, STEFANO CASELLI & JACK KIRBY
Cover by JULIAN TOTINO TEDESCO
Howling Commandos Variant by ART ADAMS (JUN150810)Variant Cover by JACK KIRBY & JIM STERANKO (JUN150811)
Black & White Kirby & Steranko Variant Also Available (JUN150812)
FOC – 08/03/15, On-Sale – 08/26/15
GREEN ARROW WEAPON CLANS COULD END UP ON ARROW
07/29/15 @ 1:26 pm EST
Source:
Comicbook
| Categories:
Arrow
|
Comments
(0) |
E-mail Article
|
Add a Comment
Will the Weapon Clans -- Green Arrow's post-
Flashpoint
interpretation of The Outsiders -- show up on
Arrow
anytime soon?
Producers say it's definitely a possibility.
"Yeah, we've talked about it," admitted showrunner Marc Guggenheim. "We've absolutely talked about it. It comes up in the writers' room all the time, and Katana was just introduced. We're just waiting for the right story to tell....We'd love to do the Arrow clans and eventually, I'm sure they will end up on the show.
You can check the full interview and more out here:
https://youtu.be/Okty608w_yQ
THE HEROES OF BATMAN V SUPERMAN: DAWN OF JUSTICE ASSEMBLE IN AMAZING NEW STILLS
07/29/15 @ 1:22 pm EST
Source:
Comic Book Movie
| Categories:
Batman Superman
|
Comments
(0) |
E-mail Article
|
Add a Comment
A new batch of images from
Batman v Superman: Dawn of Justice
have surfaced from the latest issue of Empire Magazine, and they give us a detailed new look at both Batman and Superman in costume and ready for action, along with The Daily Planet staff and Gal Gadot's Diana Prince...
DYNAMITE ENTERTAINMENT KICKS OFF THIRD GROUPEES BUNDLE
07/29/15 @ 1:13 pm EST
Source:
Dynamite
| Categories:
Dynamite
|
Comments
(0) |
E-mail Article
|
Add a Comment
Dynamite Entertainment and Groupees LLC, a unique media and charity bundling site, are teaming up for their third book bundle promotion that will once again allow comic fans, and potential new fans, the chance to purchase 70 digital Dynamite comics with "Pay What You Want" purchasing power. The Dynamite Swords, Sandals, and Sorcery! Groupees bundle marks the third time the two companies have worked together. Dynamite and Groupees will also feature - for the first time - a unique "Premium Mystery Box" of high-end collectible items for customers who pledge at the $50 tier or higher with the full digital comics package. A portion of the proceeds will be contributed to one of the industry's most important charitable organizations, the Comic Book Legal Defense Fund. The bundle promotion begins today, Tuesday, July 28th, on the website Groupees.com/Dynamite3
In the Dynamite Swords, Sandals, and Sorcery! Groupees bundle, customers can purchase a bundle of digital comic book and graphic novels for a price they decide. The first tier of exciting digital content is unlocked with a $1.00 minimum pledge which helps new fans discover some of Dynamite's best-selling titles including Game of Thrones #1! Fans can increase the title count by pledging at least in the $5.00 tier. Dynamite offers a highly desirable batch of comics at the third tier for a $10.00 minimum pledge or more to help support the Dynamite line of titles. While customers who make a pledge of $50.00 or more will receive not only the digital comics, but also a unique "Premium Mystery Box" of 4 Dynamite Premium Limited Edition Comics MSRP'ing at over $200 sent to the address they provide.
For those who participate in the "Pay What You Want" initiative with considerable support, Dynamite will reward the top 10 contributors with a greater package of Dynamite Premium Limited Edition Comics.
Here is the breakdown:
#1 Contributor - $1,000.00 of Dynamite Premium books (at our MSRP)
#2 Contributor - $800.00 of Dynamite Premium books (at our MSRP)
#3 Contributor - $700.00 of Dynamite Premium books (at our MSRP)
#4 Contributor - $600.00 of Dynamite Premium books (at our MSRP)
#5 Contributor - $500.00 of Dynamite Premium books (at our MSRP)
#6 - #10 Contributors - $400.00 of Dynamite Premium books (at our MSRP)
Additionally, there are several Group Bonuses which will be unlocked for all consumers to enjoy when the overall orders reach certain thresholds regardless of which package you purchase. The first 4 will be revealed with the thresholds as the promotion begins. All fans need to do is check out the bundle to see the Group Bonuses, which will bring the total amount of books to at least 78 should all be "unlocked".
The $1.00 Minimum Tier features the debut issue of Dynamite's comic book adaptation of George R.R. Martin's New York Times Best-selling
Game of Thrones
series along with the special
Swords of Sorrow Chaos Prelude
from writer Mairghread Scott (
Transformers: Windblade
) and artist Mirka Andolfo (
Chaos!
) in addition to more swashbuckling stories for a total of 13 comics:
•
Game Of Thrones #1• Swords Of Sorrow: Chaos Prelude One Shot• Thulsa Doom #1 - 4• Blackbeard #1 - 6• Lord of the Jungle Annual #1
The $5.00 Minimum Tier features 27 additional comics - for a total of 41 comics - by some of the industry's most beloved creators, like G. Willow Wilson (
Ms. Marvel
), Erica Schultz (
Revenge: The Secret Origin of Emily Thorne
), Nancy A. Collins (
Sunglasses After Dark
), Frank Cho (
Mighty Avengers
), and more:
• Game Of Thrones #2• Thunda #1 - 5• Warlord Of Mars #0• Swords Of Sorrow: Vampirella / Jennifer Blood #1 - 2• Swords Of Sorrow: Masquerade/Kato One Shot• Swords Of Sorrow: Dejah Thoris/Irene Adler #1 - 2• Swords Of Sorrow: Lady Zorro/Black Sparrow One Shot• Athena #1 - 4• Red Sonja #0• Kirby: Genesis - Dragons Bane #1 - 4• Jungle Girl: Season Two #1 - 5
Finally, the $10.00 Minimum Tier features an ADDITIONAL 29 comics - for a total of 70 comics - by New York Times Bestselling author Jim Butcher, comic industry legend Ron Marz(
The Punisher
), fan-favorite creators Gail Simone (
Red Sonja
) and Jim Zub (
Skullkickers
):
•
Dejah Thoris #1 - 5• John Carter: Warlord Of Mars #1 - 6• Red Sonja #36 - 40• Pathfinder City of Secrets #1 - 6• Swords of Sorrow #1 - 3• Dresden Files: Storm Front Volume Two #1 - 4
Nick Barrucci, CEO and Publisher of Dynamite Entertainment, says, "Our first two team-ups were a tremendous success. We're proud to continue working with Groupees to create more awareness of comics among their audience, who in turn will come into our industry and many of whom will then become ongoing readers. We continue to see a lift in titles having re-orders through Diamond and digital sales with this model."
Thomas Brooke, Founder and CEO of Groupees, adds, "We are excited to work with Nick and the Dynamite team on another promotion featuring a fantastic lineup of comic books from some of the industry's most accomplished creators and artists. Promotions such as these are a great vehicle for discovery, and we are honored to partner with Dynamite to help introduce new fans from around the globe to comic books."
Part of the proceeds from the Dynamite Swords, Sandals, and Sorcery! Groupees Bundle will contribute to the Comic Book Legal Defense Fund, a non-profit organization dedicated to the protection of the First Amendment rights of the comics art form and its community of retailers, creators, publishers, librarians, and readers.
Fans and curious newcomers are encouraged to visit Groupees.com beginning today to take advantage of Groupees' third comic bundle.