THE SHADOW GETS 9 OUT OF 10 NEWBIE RE-READS
05/08/12 @ 10:41 am EST
Source:
Comic Book Newbie
| Categories:
The Shadow
|
Comments
(0) |
E-mail Article
|
Add a Comment
Comic Book Newbie reviewed The Shadow #1 by Garth Ennis and Aaron Campbell and gave the book "9 out of 10 Newbie Re-Reads." Here's what they had to say:
"I finally got around to reading this one and am I glad I did!
"Garth Ennis is one of the hottest names in the industry right now and this book proclaims why. Meet his main character, Lamont Cranston. Smart business man who the CIA consults by day and The Shadow by night. He has the ability to see the future and knows well the past. He also has the ability to make the dead speak the truth to him. Ennis takes us on a journey into the past where Japan created atrocities upon China. The history lesson sets up what is to come in this pre-WWII storyline when a ship full with Japanese goons is taken out by the Shadow. Seems there is something these guys are looking for, along with other criminal groups and the CIA… The Shadow also seems very interested in it.
"I really like this introduction issue. I like the history lesson and the banter from the meeting between Cranston and the government agents. The action was pretty cool and a I am impressed with the abilities The Shadow possesses. I think we have just got a taste of what he can do in this issue and I'm excited to see what other abilities he has."
For the full review visit
comicbooknewbie.com
BATGIRL TURNS 50; DC CELEBRATES IN 2017
10/25/16 @ 10:17 am EST
Source:
ICv2
| Categories:
DC
|
Comments
(0) |
E-mail Article
|
Add a Comment
The celebration of Wonder Woman's 75 years in comics has just begun, but DC is already looking ahead to another golden anniversary: 50 years of Batgirl.
The
Batgirl: A Celebration of 50 Years
hardcover will include some of Batgirl's most iconic stories from Gardner Fox, Chuck Dixon, Kelley Puckett, Gail Simone, and others; with art by Carmine Infantino, Marcos Martin, Damion Scott, Cameron Stewart, Babs Tarr, and more. Martin provides the cover art.
The full-color, 384-page hardcover will be on sale February 15, 2017. MRSP is $39.99.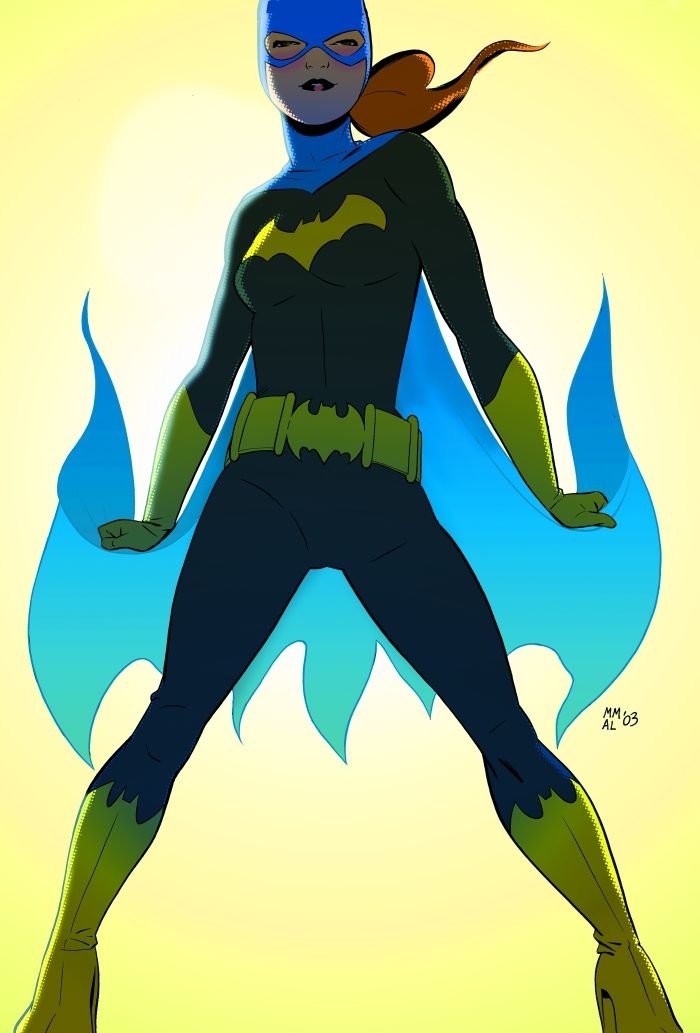 X-MEN RETURN TO A BRIGHTER UNIVERSE
10/25/16 @ 10:04 am EST
Source:
ICv2
| Categories:
Marvel
|
Comments
(0) |
E-mail Article
|
Add a Comment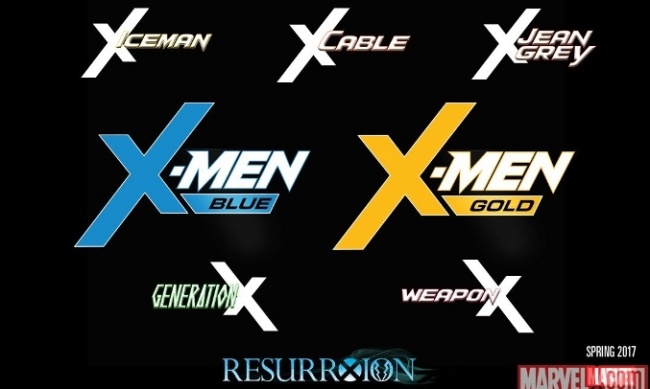 Marvel has announced two new flagship series for the Children of the Atom launching in Spring 2017:
X-Men Blue
and
X-Men Gold.
The titles are part of Marvel's
ResurrXion
event that includes new solo series featuring Cable, Generation X, Iceman, Jean Grey, and Weapon X . Marvel editors Mark Paniccia and Daniel Ketchum shared information on the direction and tones of the upcoming series as mutantkind exits the events of
Inhumans Vs. X-Men
.
According to Panniccia, the books will feature "(t)he same stuff that made these stories and characters we love so much stand out time and time again. Crazy cool adventures. Awesome super powers. Groundbreaking science fiction and heartbreaking romance. And the element of surprise."
"These new titles won't cast the X-Men as members of a species fighting for their survival but rather as big, bright, colorful super heroes who want to demonstrate to the world that they want to walk with them hand-in-hand into the future," Ketchum added.
The editors offered hints about the themes of the books as well.
Generation X
will focus on the X-Men school and will feature Jubilee.
Weapon X
will be a dark, boundary pushing book.
X-Men Blue
and
X-Men Gold
will feature all-star lineups and will focus on "classic heavy-hitter X-Men, doing what they do best," Ketchum said.
'WALKING DEAD' BLOODBATH MATCHES ALL-TIME AUDIENCE HIGH
10/25/16 @ 10:00 am EST
Source:
The Hollywood Reporter
| Categories:
Walking Dead
|
Comments
(0) |
E-mail Article
|
Add a Comment
Seven seasons in,
The Walking Dead
seems to have an awful lot of life left in it.
TV's highest-rated series, which returned to AMC on Sunday night with a controversial cliffhanger to address, essentially tied its all-time ratings high with an average 17 million viewers tuning in on premiere night. That's only off a hair from the standing record holder. (Season five kicked off with 17.2 million viewers in 2014.)
Nielsen's live-plus-same day ratings paint an equally favorable picture in the key demographic.
The Walking Dead
, already renewed for a eighth season, averaged a 8.4 rating among adults 18-49. That's more than double the same-day score of any broadcast scripted series this season. (It's still slightly shy of its best ever, an 8.7 rating for that same 2014 episode.)
Interest in the episode was no doubt driven by the summer-long question of which series regular — or, as it turned out, regulars — the zombie drama planned to kill off. The large live tune-in likely means comparatively smaller time-shifting for the episode, which has recouped more and more viewers from DVR, and a drop-off next week. But there's no question that these ratings are especially good news for the aging franchise.
In terms of growth from the sixth season, viewership was up 16 percent from the comparable episode last October and 20 percent from the finale. Improvement in the key demo was 16 percent from last premiere and 18 percent from the finale. It's also worth mentioning that Sunday's episode ranks as a best-ever among adults 25-54 with an 8.7 rating.
Good news also extended to companion series
Talking Dead
. The talker, which aired an expanded 90-minute episode with half the cast, averaged series records 7.6 million viewers and a 3.7 rating among adults 18-49.
BENEDICT CUMBERBATCH CONFIRMS DOCTOR STRANGE WILL JOIN THE AVENGERS
10/25/16 @ 7:56 am EST
Source:
Comicbook
| Categories:
Marvel
|
Comments
(0) |
E-mail Article
|
Add a Comment
The next time the Avengers assemble, it looks like a new face will be added to the team's line-up. Rumors began swirling that Doctor Strange would star in
Avengers: Infinity War
months ago, and Benedict Cumberbatch seemingly confirmed his involvement with the film in an interview. Since the revelation was made, fans have wondered how exactly the Sorcerer Supreme would fit into the blockbuster.
The answer is simple: he's going to be an Avenger.
Cumberbatch gave fans that answer at a London press junket for
Doctor Strange
. The British actor told attendees that Stephen Strange is going to join Earth's team of mightiest heroes and become a full-fledged Avenger.
Of course, fans of the Marvel Cinematic Universe aren't too surprised by this revelation. After all, the franchise tends to rope in its biggest silver screen heroes onto the team at some point.
SUPERGIRL SEASON 2 EPISODE 4: SURVIVORS SNEAK PREVIEW
10/25/16 @ 7:45 am EST
Source:
Comicbook
| Categories:
DC
|
Comments
(0) |
E-mail Article
|
Add a Comment
Hello, Megan! After making her debut in last night's "Welcome to Earth," we'll learn even more about Miss Martian/M'gann M'orzz (played by Sharon Leal) in next Monday's "Survivors" episode.
For a taste of what's to come, check out a sneak preview in the video here:
https://youtu.be/PbZT-jlq0oQ
GOTHAM SEASON 3 EPISODE 7: RED QUEEN SNEAK PREVIEW
10/25/16 @ 7:41 am EST
Source:
Comicbook
| Categories:
DC
|
Comments
(0) |
E-mail Article
|
Add a Comment
Last night, FOX debut the sixth episode of
Gotham
Season 3. "Follow The White Rabbit" focused on Mad Hatter's ongoing vendetta while Penguin and Nygma see a major change in their relationship. Now, the network has released the sneak preview for next week's episode has been released.
You can watch the video here:
https://youtu.be/17xytbTNg0o
LUCIFER SEASON 2 EPISODE 5: MONSTER SNEAK PREVIEW
10/25/16 @ 7:35 am EST
Source:
Comicbook
| Categories:
MIsc
|
Comments
(0) |
E-mail Article
|
Add a Comment
After last night's "Lady Parts" episode of
Lucifer
concluded, FOX released a sneak preview of next Monday's episode, which is titled "Monster" and features the Devil losing his cool.
You can check that out in the video here:
https://youtu.be/tMz7W6ASb_Q
BLACK PANTHER FILMING LOCATION AND START DATE REVEALED
10/25/16 @ 7:31 am EST
Source:
Comicbook
| Categories:
Marvel
|
Comments
(0) |
E-mail Article
|
Add a Comment
Marvel's Black Panther is stepping into the spotlight in his very own upcoming live-action standalone movie directed by
Creed's
Ryan Coogler.
Black Panther made his acclaimed live-action debut this past spring in
Captain America: Civil War,
with his slick vibranium suit, claws and all. We've been following all of the exciting casting decisions since the film was announced, including the rather refreshing news that Bosemen had a hand in selecting his cast members.
A new open casting call for extras has seemingly revealed the filming location and start date for
Black Panther
. According to Tammy Smith Casting, filming will begin in January 2017 and take place in Atlanta, GA.
Lupita N'yongo, who is playing Nakia, a member of the Wakandan all-female special forces gave us a short synopsis of what we will see in Black Panther, "The story of this Black Panther - what I am allowed to say - is that Black Panther's leadership has been threatened by two foes who come together, and so Black Panther gets the help of the C.I.A. and the Dora Milaje to try and defeat the enemy."
From the details it sounds like Marvel Studios is creating the technologically-advanced African nation of Wakanda in Atlanta. In a recent interview with ComicBook.com's Jim Viscardi, Chadwick Boseman did tease that the solo film will explore the origins of Black Panther and his homeland.
"There is definitely more of his origin in
Black Panther
. You're going to learn about Wakanda, its culture, its traditions, the past," he went on. "You can go through all the comic books and know that there's more Panthers that have existed in the past - that's origin."
DOCTOR STRANGE DIRECTOR SAYS A SEQUEL WOULD ALLOW MORE TIME TO GO DEEP ON A VILLAIN
10/25/16 @ 7:18 am EST
Source:
Bleeding Cool
| Categories:
Marvel
|
Comments
(0) |
E-mail Article
|
Add a Comment
Marvel's villains have been pretty hit or miss up to this point. Loki stands quite a cut above the rest, and it is something every ensuing film has to try and solve.
It seems
Doctor Strange
director
Scott Derrickson
has some thoughts on that. Speaking to Den of Geek, the director said a sequel for the film would likely take a lot of time to go deep with the villain.
"What made The Dark Knight so great was that the origin story of Batman had been well-told, and then it was time to bring in a villain where you really got to go deep. And not just the Joker, also Two-Face. It was a more visceral experience, I'd love to be able to do that for Doctor Strange."
WRITER'S COMMENTARY – AMY CHU TALKS KISS #1 WITH SPECIAL GUEST KEWBER BAAL
10/25/16 @ 7:15 am EST
Source:
Bleeding Cool
| Categories:
Dynamite
|
Comments
(0) |
E-mail Article
|
Add a Comment
A Writer's Commentary: Amy Chu talks KISS #1 with additional commentary by Kewber Baal, on sale now from Dynamite. Cover by Goni Montes with interiors by Kewber Baal.
Hi there, readers, putting together this behind-the-scenes look in the wee hours so bear with me. I had a crazy but wonderful night in New York City signing KISS #1 at Midtown Comics. I do think it's really important that readers know how much work goes into the making of a monthly comic like this one. A comics script goes through multiple revisions between writer and editor, before it gets to the artist, then the art goes to the writer for another script revision before going to the letterer so the dialogue and captions can be adjusted to fit the art better. And ALL this needs to happen within the month, every month.
I think most of you know that script comes first, but after that writing process and styles can differ wildly. In my case, I'm more of a "Marvel" method writer than full script. I like collaborating with artists, especially when they are such huge KISS fans like Kewber and Schimerys Baal, and the letterer Troy Peteri. In the end I think everyone has a better time and you get a better book. Plus, everyone gets to put their Easter eggs in, so watch out for those!
[
Note: Look for comments by artist Kewber Baal at the end of this Chu commentary.
]
Page 1
Establishing shot. The city was actually more of a town in my mind, but Kewber really added a lot more into this page. This was the first page of art I saw, and I knew immediately that the Baals were going to rock these pages for the rest of the issue.
Pages 2-3
These next pages were critical for establishing some of the history, world-building and mood and also the last pages that were done. I am sure Kewber's least favorite! For print comics, the odd number pages are the page turn pages so the bottom right corner is an important page turn. I try to make sure there's a solid one right there.
Pages 4-5
Here we have the introduction of the twins Noa and Eran and their childhood friends Adi and Alex. Talking with Kelly Sue Deconnick, a HUGE KISS fan, cemented the idea that KISS were rock GODS, and as GODS they were timeless. So rather than focusing on them, I decided to create some new relatable characters. I wanted to make this story is for KISS fans, but also accessible to new readers.
Pages 6-7
The Four discover a way out of the city. The idea for the city of Blackwell came from the song Mr. Blackwell in the Elder album. So much of this issue came out of this album. If you listened to the album when it came out in 1981 and didn't like it then, I really hope you revisit it now.
Pages 8-9
Aspiring artists — a good test for visual storytelling is if you take away all the dialogue and you can see what's going on you're doing an A+ job. That's what Kewber and Schymirys did here. I kind of want to just take out all the dialogue here…
Pages 10-11
This turned into my favorite scene when the artwork came back. Especially where Adi hugs the tree. The kids are trying to reach the surface but they discover something entirely unexpected here. At this point I think I started cutting out a lot of unnecessary dialogue.
Pages 12-13
Can you tell Kewber likes splash pages?! There is a certain rhythm to structuring a comic — conventional wisdom says 5-7 panels per page, and splash pages every 4-5 pages or so, but there is no hard or fast rule.
Pages 14-15
"Only you have the answers." Kewber added a lot of detail here that wasn't in the script, taking full advantage of the double page spread opportunity here. I don't tend to give much layout direction to someone like Kewber because I think he has a better sense of where he wants to take it. The downside, of course, is it's going to be harder to read in the digital edition but hey, you can't make everyone happy…
Pages 16-17
For the artists I work with, I usually set up a folder on Pinterest for photo references. I really dislike embedding them in the script, and this way it's easier to collaborate on ideas. Here they really came in handy with the monastery. I found a bunch of real monasteries that Kewber used.
Pages 18-19
Big no-no in comics is endless talking heads so I really tried to keep things going while building the world. Fortunately Kewber had a lot of visual tricks — he had a nice idea of adding a cape for Noa. I didn't really think much about it at the time, but I think it came out quite nice visually.
Page 20
Last page and first one I think about when scripting. Most of my stories I work backwards to make sure I've got good pacing and reveals and this is no exception. It's got to tie up the issue, but also be enough to get you to #2 where we explain about the Elders and Morpheus.
Now that the script and art is complete, this is where I go back and think about comics journalist Heidi MacDonald's "satisfying chunk" theory. Did you guys feel like you got a satisfying chunk of story for your time and dollars? Do you want more of the story at this point?And there you go! Hope you found this deep dive into my sleep-deprived brain interesting. Shout out to my super cool editors Anthony Marques and Joe Rybandt for basically saying, sure, sci-fi, robots, computers, why not?!, and to my kids for reading it pre-press and giving it the thumbs up.
I'm hoping your store has ordered it, but to be sure put this series on your pull list!
Comments from artist Kewber Baal:
Q:
What was your favorite page or scene to draw in the first issue?
Kewber:
It was the double spread page, when the kids are running away into the tunnels, and they see the KISS band, painted on the walls, for the first time. This was a scene that made me turn sad when I finished it; I wanted to spend more time on it.
Q:
Who is your favorite character?
Kewber:
This is an unfair question! Each character is developing its own personality, and I am enjoying working on each one a lot. For now, on KISS #1, I think my favorite character is Eram, he is the determined guy who wants to explore new things, and he does not believe everything people say. But I'm sure in the next chapters, my opinion will change!
Q:
Which was the most difficult page/scene for you to draw?
Kewber:
Definitely the first page. It was a big establishing shot for the entire series, the city, the mood, KISS, and I was drawing all of this for the first time. Everything still was new for me, I was still realizing I will draw a KISS series, and I felt I should define the style of the book, and prepare the readers for the story, in only one splash page. Well, I really hope I achieved that!