THE SHADOW GETS 9 OUT OF 10 NEWBIE RE-READS
05/08/12 @ 10:41 am EST
Source:
Comic Book Newbie
| Categories:
The Shadow
|
Comments
(0) |
E-mail Article
|
Add a Comment
Comic Book Newbie reviewed The Shadow #1 by Garth Ennis and Aaron Campbell and gave the book "9 out of 10 Newbie Re-Reads." Here's what they had to say:
"I finally got around to reading this one and am I glad I did!
"Garth Ennis is one of the hottest names in the industry right now and this book proclaims why. Meet his main character, Lamont Cranston. Smart business man who the CIA consults by day and The Shadow by night. He has the ability to see the future and knows well the past. He also has the ability to make the dead speak the truth to him. Ennis takes us on a journey into the past where Japan created atrocities upon China. The history lesson sets up what is to come in this pre-WWII storyline when a ship full with Japanese goons is taken out by the Shadow. Seems there is something these guys are looking for, along with other criminal groups and the CIA… The Shadow also seems very interested in it.
"I really like this introduction issue. I like the history lesson and the banter from the meeting between Cranston and the government agents. The action was pretty cool and a I am impressed with the abilities The Shadow possesses. I think we have just got a taste of what he can do in this issue and I'm excited to see what other abilities he has."
For the full review visit
comicbooknewbie.com
SDCC: BATMAN ASSEMBLES A TEAM IN "JUSTICE LEAGUE" SIZZLE REEL
07/23/16 @ 3:49 pm EST
Source:
Comic Book Resources
| Categories:
Justice League
|
Comments
(0) |
E-mail Article
|
Add a Comment
At the Warner Bros.' panel for Comic-Con International: San Diego, a video was shown teasing the upcoming "Justice League" movie.
More a sizzle reel than an actual trailer, the footage shows Bruce Wayne making his pitch to Aquaman and Flash to join his and Wonder Woman's team -- to varying degrees of success. While we don;t see Batman's initial encounter with Cyborg, the cybernetic hero is accounted for in the footage as well, alongside his new teammates.
Video:
https://youtu.be/gglkYMGRYlE
SDCC: 'JUSTICE LEAGUE' TEASED BY WARNER BROS IN HALL H SURPRISE
07/23/16 @ 3:46 pm EST
Source:
Deadline
| Categories:
Justice League
|
Comments
(0) |
E-mail Article
|
Add a Comment
Warner Bros' full plate for its Comic-Con Hall H panel got a bit fuller today when the studio surprised fans by showing teaser footage of the DC Universe pic
Justice League
after bringing onstage director Zack Snyder and cast including Ben Affleck (Batman and new executive producer), Gal Gadot (Wonder Woman), Ray Fisher (Cyborg), Ezra Miller (The Flash), Jason Momoa (Aquaman) and Henry Cavill (Superman) onstage to deafening applause.
The footage at first blush feels like a repudiation of
Batman V Superman
— it's immediately funnier and better directed than anything pre-release marketing for
BvS
showed. It was funny, colorful and quick, with none of the mournful, plodding tone of the other films to date. Among the highlights: Batman cracks jokes, and hell even The Flash gets a bit star-struck when he realizes Bruce Wayne is Batman.
It's the latest sign of Warners' shift in direction after the so-so response to the DC Universe launchpad that was
BvS
that includes the upcoming franchise pic
Suicide Squad
.
There has been little info on the progress of
Justice League
. Last month, Affleck tweeted out the logo for the pic, and Warner Bros unveiled a logline:
Fueled by his restored faith in humanity and inspired by Superman's selfless act, Bruce Wayne enlists the help of his newfound ally, Diana Prince, to face an even greater enemy. Together, Batman and Wonder Woman work quickly to find and recruit a team of meta-humans to stand against this newly awakened threat. But despite the formation of this unprecedented league of heroes — Batman, Wonder Woman, Aquaman, Cyborg and The Flash — it may already be too late to save the planet from an assault of catastrophic proportions.
The pic has a November 17, 2017 release date.
SDCC: 'WONDER WOMAN' FIRST TRAILER: "WHAT I DO IS NOT UP TO YOU"
07/23/16 @ 3:12 pm EST
Source:
Deadline
| Categories:
Wonder Woman
|
Comments
(0) |
E-mail Article
|
Add a Comment
Hell. Yes.
As expected, following the reveal yesterday of the film's first (excellent) official poster, this morning saw the unveiling of the first trailer for Warner Bros.' superhero epic
Wonder Woman
during the studio's supersized Comic-Con Hall H presentation.
Stars Gal Gadot, Chris Pine and Connie Nielsen were in the hall along with director Patty Jenkins to talk up the film, which wrapped shooting May 9 and sees theatrical release June 2. Lucy Davis and Robin Wright also star.
Watch it here, now:
https://youtu.be/5lGoQhFb4NM
SDCC: "BATMAN: THE ANIMATED SERIES"/"TMNT" CROSSOVER DEBUTS FIRST ART
07/23/16 @ 2:55 pm EST
Source:
Comic Book Resources
| Categories:
MIsc
|
Comments
(0) |
E-mail Article
|
Add a Comment
As part of Comic-Con International: San Diego, DC Comics and IDW Publishing have unveiled our first look at the artwork of the highly-anticipated "Batman: The Animated Series"/"Teenage Mutant Ninja Turtles" crossover event series.
Take a look at series artist Jon Sommariva's artwork for the crossover below:
Debuting in November, "Batman/TMNT Adventures" comes from writer Matthew K. Manning("Beware the Batman") and Sommariva on art duties. While both properties have crossed over in comics before, this will be the first time that the animated incarnations of Batman and the Ninja Turtles meet.
SDCC: 'THE VAMPIRE DIARIES' TO END WITH SEASON 8
07/23/16 @ 2:50 pm EST
Source:
The Hollywood Reporter
| Categories:
Vampire Diaries
|
Comments
(0) |
E-mail Article
|
Add a Comment
It's official: The CW's
The Vampire Diaries
will end with its upcoming eighth season.
Producers made the announcement Saturday during the show's annual trek to San Diego Comic-Con, though the decision to wrap the series created by Kevin Williamson — who will return as a writer for the final season — and Julie Plec comes as little surprise.
Stars Ian Somerhalder and Kat Graham had both signaled that the end of the drama was in sight. Both actors had previously indicated their plans to do one last season of the series, though Somerhalder later retracted the comments.
"We all have discussed it and we've made the decision that this is it," Plec told fans Saturday. "This is going to be the final season of
The Vampire Diaries
. It's bittersweet and emotional and we're all going to be crying in a minute. It's been a beautiful run. ... Get ready, because it's going to be an epic ride."
The final season will also be a shortened one and consist of 16 episodes. The show returns Oct. 21 at 8 p.m.
SDCC: ALADDIN AND JAFAR HEADED TO 'ONCE UPON A TIME'
07/23/16 @ 2:15 pm EST
Source:
Deadline
| Categories:
Disney
|
Comments
(0) |
E-mail Article
|
Add a Comment
Today at the Comic-Con panel for ABC's
Once Upon a Time,
we saw the first scene of the upcoming season premiere featuring Jafar flying on a carpet to taunt Aladdin. So we're headed for some Arabian nights in season 6.
Deniz Akdeniz (
Graceland
) will play Aladdin and Oded Fehr (
Covert Affairs
) will portray Jafar. The two join Giles Matthey as Morpheus and Craig Horner as the Count of Monte Cristo who were previously cast.
Prior to heading into Ballroom 20, creator/EP Edward Kitsis said at the ATX Festival that next season is "not going to be 'Hyde comes to town, we fight with him for 10 episodes, and then in the winter finale he dies, we move on.' We kind of changed around what we're doing this year… going back to that season 1 mentality, with small town stories and smaller arcs. We're planning a 22-episode story, as opposed to just kind of breaking it up into 2 parts."
So here's what the cast and EP and co-creators Kitsis and Adam Horowitz teased today:
–Lana Parrilla said that Regina "will continue to be sassy and sarcastic" despite separating from the Evil Queen. Regina will bond more with Snow White and Emma Swan, and for the first time Parilla's character has "a support system, while her other half is trying to kill everyone" per Horowitz. Swan will be divided between supporting Regina and "protecting everyone she loves," said Jennifer Morrison.
–There's a shot of a wedding dress in a storefront in one episode near Emma Swan and Hook. Foreshadow to a wedding? Says Colin O'Donoghue, "It's always been on the set, it's always been there." Horowitz revealed that as their love story gets deeper, we'll learn about some of Hook's deep dark secrets. Also as far as the bromance between Hook and Prince Charming (Josh Dallas), "we get to see them together in a fun arc," explained Horowitz.
During the panel, a fun clip was played showing Cruella De Vil (Victoria Smurfit) in an Underworld bar. Also appearing today were Jared Gilmore (Henry), Josh Dallas (Charming), Emile de Ravin (Belle) and Rebecca Mader (Zalena).
Once Upon a Time
returns to ABC on Sept. 25.
SDCC: DOCTOR STRANGE & PUNISHER TEAM UP IN "MAGIC BULLETS" INFINITE COMIC
07/23/16 @ 2:08 pm EST
Source:
Comic Book Resources
| Categories:
Marvel
|
Comments
(0) |
E-mail Article
|
Add a Comment
Revealed during the "Marvel: House of Ideas" panel at Comic-Con International in San Diego, Doctor Strange and Punisher will be teaming up in a new digital-first Marvel Infinite Comic series. "Doctor Strange/The Punisher: Magic Bullets" will team up to take on a new mafia threat in a story written by John Barber(IDW's "The Transformers").
Marvel's Infinite Comics are comics specifically designed for the tablet or device reading experience, with the storytelling coming to life via transition animations with the swipe of a finger on a screen. Previous Infinite comics include "X-Men '92" as well as "Deadpool & Cable: Split Second."
"Doctor Strange/The Punisher: Magic Bullets" arrives this fall.
SDCC: "ARROW" CALLS IN DC'S RAGMAN FOR SEASON 5
07/23/16 @ 2:04 pm EST
Source:
Comic Book Resources
| Categories:
Arrow
|
Comments
(0) |
E-mail Article
|
Add a Comment
"Blindspot" alum Joe Dinicol has been cast in a recurring role as DC Comicsmystical vigilante Ragman in "Arrow's"upcoming fifth season.
According to Entertainment Weekly, will debut in the second episode as Rory Regan who, fresh from a personal tragedy, hopes to discover answers in Star City. There, of course, he crosses paths with Stephen Amell's Green Arrow.
Created by writer Robert Kanigher and artist Joe Kubert, Ragman wears the mystical Suit of Souls that permits him to summon the strength and abilities of the guilty who reside within it. Introduced in 1978 in his own short-lived series, the character has popped up with some regularity over the past four decades, and served as a member of DC's Shadowpact.
Dinicol's credits also include "Grey's Anatomy," "Betas" and "Scott Pilgrim Vs. The World."
"Arrow" returns Wednesday, Oct. 5, on The CW.
SDCC: "THOR: RAGNAROK" PROPS CONFIRM "PLANET HULK" ELEMENTS
07/23/16 @ 1:59 pm EST
Source:
Comic Book Resources
| Categories:
Thor
|
Comments
(0) |
E-mail Article
|
Add a Comment
At Comic-Con International: San Diego, props were revealed from "Thor: Ragnarok" that confirm -- as widely speculated -- that elements of the "Planet Hulk" storyline will be in the film.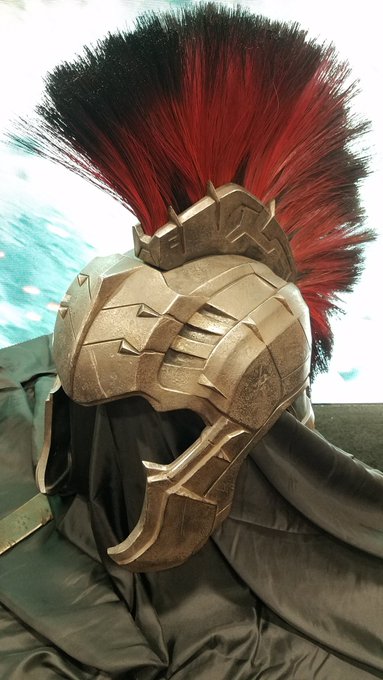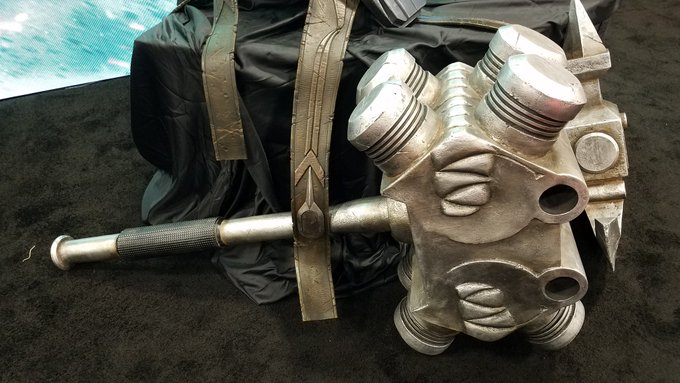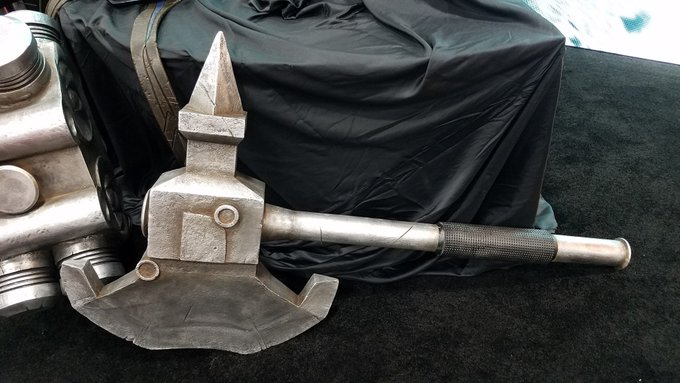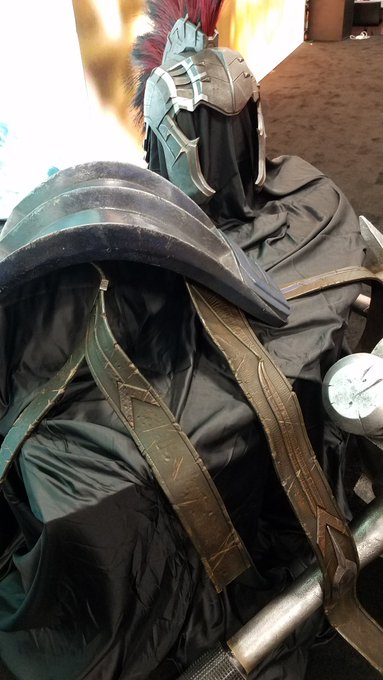 Directed by Taika Waititi and starring Chris Hemsworth, Tom Hiddleston, Idris Elba, Jeff Goldblum, Mark Ruffalo, Cate Blanchett, Karl Urban and Anthony Hopkins, "Thor: Ragnarok" hits theaters November 3, 2017.


SDCC: BREATHTAKING COSPLAY SHOTS ON A SATURDAY MORNING
07/23/16 @ 12:01 pm EST
Source:
Bleeding Cool
| Categories:
MIsc
|
Comments
(0) |
E-mail Article
|
Add a Comment