DYNAMITE'S THE SPIDER MAKES NEWSARAMA'S MUST-READ LIST!
05/01/12 @ 10:43 am EST
Source:
Newsarama
| Categories:
The Spider
|
Comments
(0) |
E-mail Article
|
Add a Comment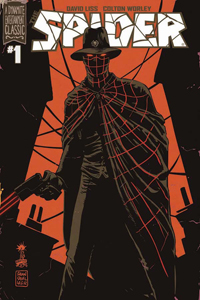 Following the incredible success of Dynamite's
The Shadow
by Garth Ennis, another pulse-pounding pulp hero returns to comics as Dynamite unleashes
The Spider
by writer David Liss with art by Colton Worley! The Spider's Dynamite debut comes complete with covers by Alex Ross, John Cassaday, Francesco Francavilla and Ron Lesser. The book also made Newsarama's Wednesday Watch: MUST-READ New Releases For 5/2/12; here's what they had to say:
Historical fiction novelist David Liss made an impact in the comic book world in recent years with Mystery Men and Black Panther at Marvel.
His latest project is The Spider at Dynamite, reviving a long-running pulp fiction hero.
"I think The Spider is hugely influential and has shaped a lot of what we consider standard elements of comic book heroes and villains, but the character's influence has held up better than the character itself," Liss told Newsarama. "I'm very excited to have the chance to reintroduce readers to a very cool hero who they ought to know if they don't already."
HELLBOY 3 NOT HAPPENING SAYS DEL TORO
02/21/17 @ 10:35 am EST
Source:
Comicbook
| Categories:
Hellboy
|
Comments
(0) |
E-mail Article
|
Add a Comment
Fans hoping for a third Hellboy movie from the original creative team, it's sad to say, but you will not be getting your wish. Despite a grassroots campaign that saw director Guillermo del Toro and star Ron Perlman both come out publicly with the desire for a Hellboy 3 just weeks ago, which got significant response from fans on social media, the director broke the news Tuesday morning that it was definitely not happening.

"Hellboy 3 sorry to report. Spoke with all parties. Must report that 100% the sequel will not happen. And that is to be the final thing about it," del Toro posted to Twitter.




PACIFIC RIM: UPRISING SET PHOTO SHARED BY JOHN BOYEGA
02/21/17 @ 10:22 am EST
Source:
Comicbook
| Categories:
MIsc
|
Comments
(0) |
E-mail Article
|
Add a Comment
Filming for Pacific Rim: Uprising is well underway and budding star John Boyega has shared another picture of himself on the set.
Boyega took to Instagram to post the picture of himself sitting in a piece of equipment with an easy enough caption — "Pentecost #pacificrimuprising".
THE PREDATOR BEGINS PRODUCTION
02/21/17 @ 10:15 am EST
Source:
Comicbook
| Categories:
MIsc
|
Comments
(0) |
E-mail Article
|
Add a Comment
Writer Fred Dekker has confirmed that
The Predator
has begun principal photography. Dekker shared an image of a state board clapper from the set of
The Predator
.
This confirmation follows a partial cast reveal in a photo released by director Shane Black. Black also confirmed that
The Predator
is being filmed for an expected R rating.
Details about the plot of
The Predator
are scarce, but we do know that the film will take place in the American suburbs.
The Predator
opens in theaters on Feb. 9, 2018.
JOHN WICK 3: KEANU REEVES' EPIC STORY IDEA FOR TRILOGY FINALE
02/21/17 @ 10:10 am EST
Source:
Comicbook
| Categories:
MIsc
|
Comments
(0) |
E-mail Article
|
Add a Comment
John Wick: Chapter 2
is steady shooting toward box office success and fan/critic acclaim, so it's no wonder that talk about
John Wick 3
has already picked up; after all, we always knew that this hit action franchise was planned as a trilogy from the start.
[MILD SPOILER]
Chapter 2
left things in a pretty precarious place, with John (Keanu Reeves) having been excommunicated from The Continental after killing Santino D'Antonio, putting both The High Table and The Continental's assassin assets on his tail. In a recent interview, Reeves shared an idea of where and how
John Wick 3
can unfold its story.
Reeves and
John Wick: Chapter 2
director Chad Stahelski were guests on the
Empire Podcast,
where they shared their initial ideas for
John Wick 3
. Reeves' big idea: start things off in the immediate aftermath of
Chapter 2
, with a big
Escape From New York
-style chase:
"
I think the opening of the film should be Wick just trying to escape from New York. Literally trying to get off the island. Maybe he asks [Lawrence Fisburne's character] the Bowery King for help. Maybe John Leguizamo comes and helps me out. "John, I can't do it, you're excommunicado!" Maybe the High Table shows up. And then the High Table starts firing guns. And then maybe this kind of thing starts to happen between the High Table and Continental? Maybe John is the activator of this confrontation, and perhaps there's a war? Wouldn't that be awesome?!
"
ALIEN: COVENANT CAST PHOTO RELEASED, SNEAK PEEK TEASED
02/21/17 @ 10:04 am EST
Source:
Comicbook
| Categories:
Aliens
|
Comments
(0) |
E-mail Article
|
Add a Comment
It's time to meet the crew of the
Covenant
, the spaceship that is the focus of
Alien: Covenant
. 20th Century Fox released a new photo of the cast of
Alien: Covenant
, which can be seen below.
20th Century Fox also teased that an
Alien: Covenant
sneak peek will air during tomorrow night's broadcast of
Legion
on FX.
Alien: Covenant
is the sequel to
Prometheus
and the second film in the
Alien
prequel trilogy. It is the sixth installment of the over-arching
Alien
franchise. The film is directed by Ridley Scott, who directed the original
Alien.
The two films are said to share a direct connection.
Alien: Covenant
opens in theaters on May 19, 2017.
Legion
airs Wednesdays at 10 p.m. ET on FX.
TOM HIDDLESTON HINTS AT LOKI'S ROLE IN THOR: RAGNAROK
02/20/17 @ 8:14 pm EST
Source:
Comicbook
| Categories:
Marvel
|
Comments
(0) |
E-mail Article
|
Add a Comment
Fans have been waiting years for their next glimpse at Tom Hiddleston'sLoki, and we're finally getting it in November.When T
hor: The Dark World
ended, no one in Asgard knew that Loki had dispatched his father and took his place, disguised as Odin while ruling from the throne.
It was the type of deception people should expect from the God of Mischief, but no one was any wiser to it. Thor returned to Earth to help the Avengers fight Ultron, and we haven't seen anything since.
But when we pick up with the Asgardians in
Thor: Ragnarok—the
we'll see what the big deal is with Loki taking the throne.
Hiddleston recently spoke with Fandango while promoting
Kong: Skull Island
and was asked about returning to the role of Loki. He offered a couple of vague hints about the direction the film will go.
"At the end of
The Dark World
, Loki is on the throne," Hiddleston said. "At the beginning of
Ragnarok
, Thor has a few questions and Loki is endearingly enigmatic about providing answers."
We've seen a hint about what this means with the post-credit scene in
Doctor Strange
, where the Sorcerer Supreme meets with Thor and decides to help the Avenger find both his father and brother.
But how Loki gets there won't be revealed until
Thor: Ragnarok
hits theaters.
Hiddleston also talked about director Taika Waititi injecting humor into the film, and it definitely seems like he is glad to be back for his fourth portrayal of Loki. Whether we'll see him don those green robes after this
Thor
film is a mystery at this point.
RICK AND MORTY SEASON 3 BEGINS PRODUCTION
02/20/17 @ 8:05 pm EST
Source:
Comicbook
| Categories:
MIsc
|
Comments
(0) |
E-mail Article
|
Add a Comment
This is not a drill,
Rick and Morty
fans! After a long wait, it looks like things are starting to move on the animated series. The original Adult Swim comedy has promised fans a third season for some time, and the folks behind
Rick and Morty
are making good on it starting today. Over on Twitter, one of the show's writer finally confirmed season three of
Rick and Morty
has started production.
That's right! Thanks to Mike McMahan, fans of the fan-favorite show can celebrate to their hearts' content. Taking to Twitter, the writer posted a picture of the title page to a script for episode 301.
"Hey [
Rick and Morty
] am I allowed to say we're recording episode 301 today?" the writer captioned the photo. The script says its record draft was completed on February 17th, and the writer made sure to scrub out the episode's title.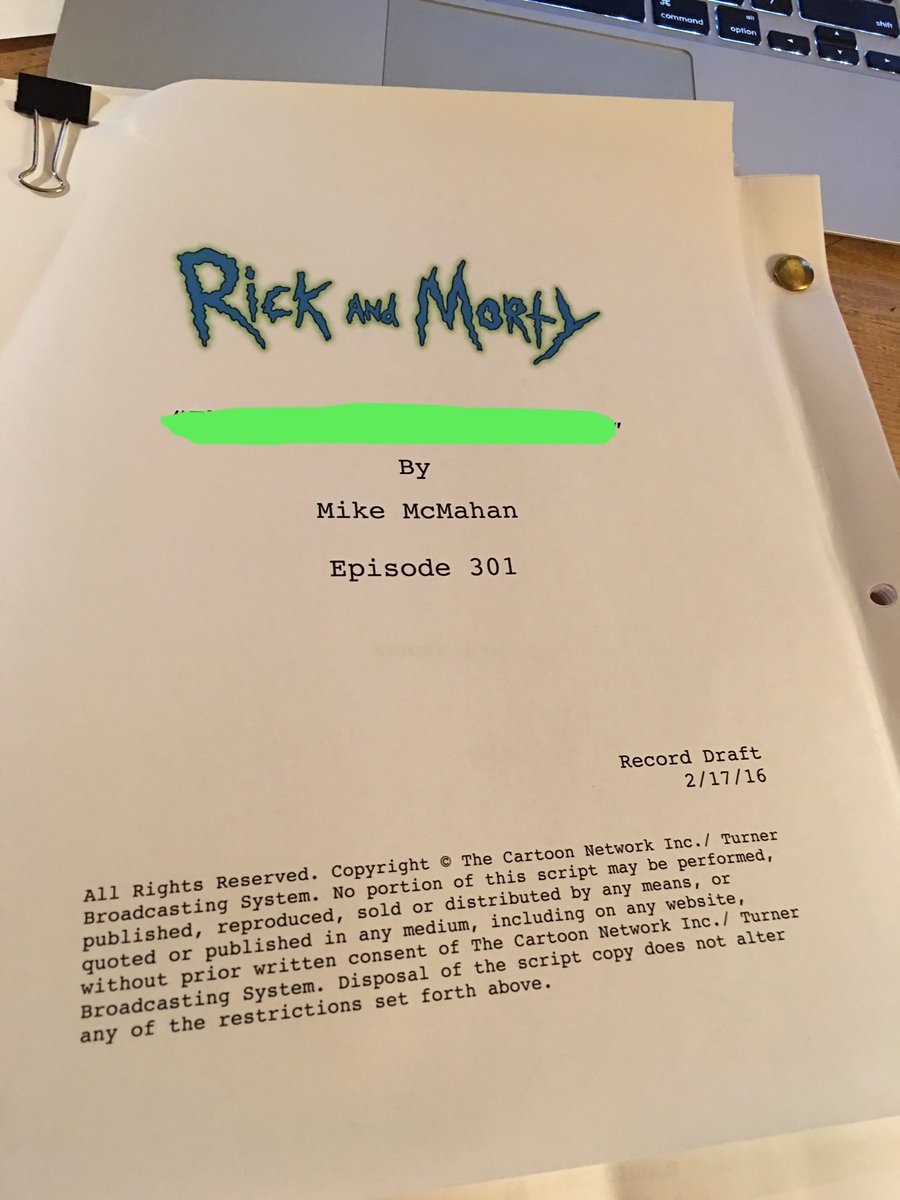 Follow
Mike McMahan @pleaseprintHey @RickandMorty am I allowed to say we're recording episode 301 today?6:43 PM - 18 Feb 2016 1,0341,034 Retweets 1,6771,677 likes
THE FLASH SEASON 3 EPISODE 13: ATTACK ON GORILLA CITY FEATURETTE
02/20/17 @ 8:00 pm EST
Source:
Comicbook
| Categories:
DC
|
Comments
(0) |
E-mail Article
|
Add a Comment
Executive Producer Aaron Helbing previews this Tuesday's "Attack on Gorilla City" episode, in this latest featurette for
The Flash
.
Before Helbing describes what's to come, an informative clip is shown of Jesse Quick explaining what Gorilla City is to Joe West. "There are sentient, highly-intelligent, evolved gorillas in Earth-2," she says to him, "and they all live in a city deep in the heart of Africa."
Helbing then explains, "Her father, Harry Wells, went to Gorilla City and is missing in action. And so she's hoping that the team can come, with her, and help save her father. Barry and Caitlin and Cisco and Julian go into Earth-2. While they're going through the forest, Grodd appears and captures them. So now they're stuck in these Gorilla City cells, unable to escape. Grodd's dampening their powers."
Featurette:
https://youtu.be/2PBSyXEBoeo
SUPERGIRL'S PETER GADIOT ADMITS NOBODY COULD DECIDE HOW TO SAY
02/20/17 @ 7:54 pm EST
Source:
Comicbook
| Categories:
DC
|
Comments
(0) |
E-mail Article
|
Add a Comment
Tonight's episode of
Supergirl
will introduce a new generation of fans to Mr. Mxyzptlk, an imp from the fifth dimension whose battles with Superman and other superheroes tend to be more in the vein of pranks than outright brawls...partially because Mxy is so powerful that almost nobody can hold up against him, as Mon-El learns tonight.
Once Upon A Time
's Peter Gadiot, who says he didn't watch the versions from
Superboy
,
Lois and Clark: The New Adventures of Superman
, or even
Smallville
lest they influence his performance, toldComicBook.com that he feels they threaded the needle of allowing him to have fun while still making the stakes -- which are pretty high in "Mr. and Mrs. Mxyzptlk" -- feel real.
The first challenge -- after learning how to say the name -- was simply making sure that between his performance and the script, Mxy's mischief -- here, he wants to marry Supergirl -- doesn't feel like creepy stalking.
"I guess that's one of the creative challenges of how to make this character empathetic. You kind of realize that what he's doing is wrong but you somehow kind of like him because he's amusing," Gadiot admitted. "I think that's very much done in the writing and when I performed it, I was very much open to every different angle. So we did three takes and I gave very different options. They very much have the power to show many different sides of him to create that arc and make sure he isn't too stalker-ish. To keep it light and fun but also create that dynamic of he is, essentially, a villain. You want to keep all of those angles alive, as well as the fact that he does genuinely on some level really have desire and affection for Kara. At the same time, he can't be too nice and amazing, otherwise he wouldn't have anything to battle against."
Of course, as we alluded to, the question of how to pronounce a name like "Mxyzptlk" is itself kind of a challenge to overcome -- and Gadiot told us that it was a point of contention with the show's writers and producers.
"It was tricky. I definitely had to go online and do the research, how other people had pronounced it," Gadiot said. "It actually was a decision and a debate about how we wanted to say it on this show. The guys back in LA were debating and it was quite funny the first time I was there."
POSSIBLE JURASSIC WORLD 2 PLOT DETAILS REVEALED
02/20/17 @ 7:48 pm EST
Source:
Comicbook
| Categories:
MIsc
|
Comments
(0) |
E-mail Article
|
Add a Comment
The untitled
Jurassic World
sequel is gearing up to be one of the biggest films of 2018, and the creative team behind the film has done well keeping the details of the project under wraps.
Aside from some casting announcements,
Jurassic World
has managed to fly under the radar all the way into the early stages of production.
That may have changed this weekend, as some rumors surfaced online regarding the plot for the upcoming film.
MyEntertainmentWorld updated their bio for the film, and it included a short synopsis. This synopsis teases a storyline that many fans have been talking about since the original movie.
The adventures at the Jurassic World resort and theme park continue as the government has trained dinosaurs to carry weapons and use them for battle purposes.

That sounds a lot like the Jurassic War plot people have been asking about for quite some time.