DYNAMITE'S THE SPIDER MAKES NEWSARAMA'S MUST-READ LIST!
05/01/12 @ 10:43 am EST
Source:
Newsarama
| Categories:
The Spider
|
Comments
(0) |
E-mail Article
|
Add a Comment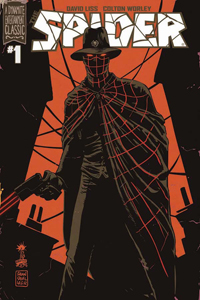 Following the incredible success of Dynamite's
The Shadow
by Garth Ennis, another pulse-pounding pulp hero returns to comics as Dynamite unleashes
The Spider
by writer David Liss with art by Colton Worley! The Spider's Dynamite debut comes complete with covers by Alex Ross, John Cassaday, Francesco Francavilla and Ron Lesser. The book also made Newsarama's Wednesday Watch: MUST-READ New Releases For 5/2/12; here's what they had to say:
Historical fiction novelist David Liss made an impact in the comic book world in recent years with Mystery Men and Black Panther at Marvel.
His latest project is The Spider at Dynamite, reviving a long-running pulp fiction hero.
"I think The Spider is hugely influential and has shaped a lot of what we consider standard elements of comic book heroes and villains, but the character's influence has held up better than the character itself," Liss told Newsarama. "I'm very excited to have the chance to reintroduce readers to a very cool hero who they ought to know if they don't already."
JUSTIN JORDAN LAUNCHING SECOND ORIGINAL SERIES WITH BOOM!
04/28/15 @ 7:46 am EST
Source:
Bleeding Cool
| Categories:
MIsc
|
Comments
(0) |
E-mail Article
|
Add a Comment
Last summer, prolific writer
Justin Jordan,
who burst into the industry with
Tradd Moore
and
The Strange Talent of Luther Strode
, announced he would be bringing three original series to Boom Studios.
The first series,
Deep State
, is a bit of a departure from Jordan's other original work like the Luther Strode series,
Dead Body Road,
and
Spread
. The sci-fi series focuses on a duo of covert government agents tasked with keeping the truth behind conspiracies secret and was optioned by 20th Century Fox as part of Boom's TV first look deal.
From what
Bleeding Cool
is reporting, the soon-to-be-announced second series will share a few things in common with Jordan's first hit series including a singular main character gifted with strange abilities along with the title being named after its titular main character.
Seems like a winning formula for Jordan thus far…
DAREDEVIL'S CHARLIE COX IS CONTRACTUALLY OBLIGATED TO DO MARVEL MOVIES IF THEY ASK
04/28/15 @ 7:33 am EST
Source:
Comicbook
| Categories:
Daredevil
|
Comments
(0) |
E-mail Article
|
Add a Comment
Fans have had fun speculating as to whether we'll see any of the
Defenders
characters from Marvel's Netflix series come to the big screen -- and while we don't have an answer yet, we do now know that it's very possible.
According to series star Charlie Cox, he's contractually obligated to head over to the Marvel movieverse if they decide they want him there.
"It'd be great," Cox told Close-Up Film when asked about the possibility of crossing over with other shows and films. "I've read
Civil War
now, I've read The
New Avengers
, I know he's in there but I think I missed the boat on
Civil War
because they're filming that. I don't know, Marvel have not mentioned that to me at all. It's in my contract that if they want me to do it, I'm there, and I would love that. That would be an extension of the dream, but I'm a pretty happy customer at this point, to get to do the series again. And I get to do
The Defenders
at some point."
The second season of
Daredevil
is coming to Netflix next spring.
AGENT CARTER STAR HAYLEY ATWELL DRESSES AS MARVEL COMICS CHARACTER PEGGY FOR HER CALIFORNIA DRIVER'S LICENCE PHOTO
04/28/15 @ 7:23 am EST
Source:
Daily Mail
| Categories:
MIsc
|
Comments
(0) |
E-mail Article
|
Add a Comment
Going to the Department of Motor Vehicles to get a driver's licence is one of the worst things ever. But Hayley Atwell found a way to make her chore of getting a California licence a little more fun, thanks to some makeup and imagination.
The 33-year-old actress posed for her official photo not as herself but as her Marvel Universe character of Agent Peggy Carter.
On Sunday, Hayley took to Twitter to share her fun choice with the world.
'So I told people I had to go to the dmv dressed as Peg. Wearing a harness, mic and Spanx. Anyone wanna see the pic?' she asked.
Hayley's next post showed the licence, with a photo that featured Peggy Carter's brown curls and 1940s-era red lipstick.
As Agent Carter, Hayley has appeared in a wide variety of Marvel movies and television shows.
Originally a character in 2011's Captain America: The First Avenger - playing a tough love interest for the heroic Steve Rogers (Chris Evans) - Peggy has since popped up all over.
She had cameo roles in both Captain America: The Winter Soldier and the upcoming Avengers: Age Of Ultron.
OSCAR-WINNING 'LORD OF THE RINGS' CINEMATOGRAPHER ANDREW LESNIE DIES AT 59
04/28/15 @ 7:16 am EST
Source:
Variety
| Categories:
MIsc
|
Comments
(0) |
E-mail Article
|
Add a Comment
Cinematographer Andrew Lesnie, whose career spanned nearly 40 years and included all of "The Lord of the Rings" and "The Hobbit" films, died of a heart attack on Monday. He was 59.
In addition to working with director Peter Jackson on J.R.R. Tolkien's fantasy series, Lesnie was responsible for several blockbusters such as "Rise of the Planet of the Apes" and Will Smith's "I Am Legend."
In 2002, he won his first and only Oscar for lensing the original "Lord of the Rings" pic, "The Fellowship of the Ring.
""I wouldn't recommend that anyone do a trilogy," he joked at the time.
After the "Lord of the Ring" franchise, Lesnie continued to work behind the camera for Jackson on "King Kong," 2009's "The Lovely Bones" and most recently, "The Hobbit" trilogy.
DF News offers its condolences to Mr. Lesnie's family, friends and many fans.
SESAME STREET PARODIES AVENGERS: AGE OF ULTRON
04/27/15 @ 9:03 pm EST
Source:
Bleeding Cool
| Categories:
Avengers
|
Comments
(0) |
E-mail Article
|
Add a Comment
Sesame Street is at it again, this time parodying the upcoming Avengers: Age Of Ultron with Aveggies: Age Of Bon Bon. Here Cookie Monster is Dr. Brownie, who is needed to turn big and green and eat the cookie saucer that is attacking the city and covering all vegetables with dessert. He is helped by his teammates: Captain Americauliflower, Black Bean Widow, Mighty Corn, Onion Man and Zuchin-eye. There are some good Avenger jokes and a couple Easter Eggs too.

Check it out here: https://www.youtube.com/watch?v=AHPn5d7wRtk
FANTASTIC FOUR TO END WITH A BANG, NOT A SECRET WARS CROSSOVER
04/27/15 @ 8:52 pm EST
Source:
Bleeding Cool
| Categories:
Fantastic Four
|
Comments
(0) |
E-mail Article
|
Add a Comment
Saying good-bye to the World's Greatest Comic Magazine and Marvel's First Family (Source: Bleeding Cool):
The
Fantastic Fourever
arc sees Marvel's long-running
Fantastc Four
comic book come to a close. Last summer, Marvel employees got in touch to tell Bleeding Cool that the series was being cancelled as a direct result of CEO
Ike Perlmutter
's irritation with Fox Studios, their Fantastic Four movie and their attitude towards working with Marvel. As a result, we were informed that Fantastic Four posters were taken down from the offices, Fantastic Four licenses were withdrawn from licensors, and that the Fantastic Four comic was to be cancelled for the duration of the promotion and release of the Fantastic Four movie. It was hoped that Bleeding Cool's report might embarrass the publisher in to changing tack, but it was not to be.
And on Wednesday we get that final issue, issue 645, just before the Secret Wars crossover. But it seems to eschew getting involved with that at all – because though this as well timed with other books doing similar, this decision has noting to do with that event.So we get a celebration of Fantastic Four history, Psycho Man, the Frightful Four, Namor, the future Foundation, Salem's Seven and a bad guy who has been around in the background since the very beginning.. editor Mark Paniccia writes a farewell note of sadness, and draws his own comic book strip The Ultimate Nullifier. And three back up stories, each giving a focus of goodbyes and cleaning up for Human Torch, Invisible Woman, the Thing and Mister Fantastic. And a promise that this is just the end… for now.
So where now the Four? Human Torch joins the
Inhumans
, Susan Storm is in
SHIELD
, Mister Fantastic is heavily involved in the
Secret Wars
stories as writer
Jonathan Hickman
draws in some of the plots he has laid out in his
Fantastic Four
run and
New Avengers.
THE SEVEN SOLDIERS OF VICTORY REGROUP
04/27/15 @ 8:34 pm EST
Source:
DC
| Categories:
DC
|
Comments
(0) |
E-mail Article
|
Add a Comment
In CONVERGENCE: WORLD'S FINEST COMICS #1, the Seven Soldiers of Victory regroup to defend their city against the Qward invasion!
See The Crimson Avenger team up with Sir Justin! See Vigilante chase down a wild rhino! All this while cartoonist Scribbly Jibbet transcribes their fantastic adventures. What else could happen? Just wait till the dome drops!
CONVERGENCE: WORLD'S FINEST COMICS #1, written by Paul Levitz and illustrated by Jim Fern, Joe Rubinstein and Shannon Wheeler, hits shelves this Wednesday! It's guaranteed to be the most unusual tale in all of Convergence!
'AVENGERS' ASSEMBLE AT HOT TOPIC WITH HER UNIVERSE FASHION LINE
04/27/15 @ 8:22 pm EST
Source:
Variety
| Categories:
Avengers
|
Comments
(0) |
E-mail Article
|
Add a Comment
Who says superheroes can't be stylish? Eschewing spandex and body armor for a more flattering look, geek girl apparel company Her Universe and Disney Consumer Products have partnered for a new line of clothes inspired by the heroes of "Marvel's Avengers" (and the villainous Loki). The fashion line will be available mid-May exclusively at Hot Topic stores and HotTopic.com, with an online pre-sale already under way ahead of "Avengers: Age of Ultron's" May 1 release.
The "Avengers" line features items designed by winners of the first-ever Her Universe "Geek Couture" Fashion Show held at last year's San Diego Comic-Con, where attendees Amy Beth Christenson and Andrew MacLaine took top honors for their original creations. As part of the prize, they won the opportunity to design an exclusive fashion collection with Her Universe founder Ashley Eckstein for Hot Topic.
"It's been such a pleasure to work with Amy and Andrew to create this line from their initial sketches to the final product sold in Hot Topic stores," said Eckstein. "Geek fashion is a trend that's here to stay. Fangirls are making a statement in the fashion community, and this new Avengers collection is addressing their demand for more fashion-forward designs."
"It's exciting to see Marvel's female fanbase grow with the second installation of our collaboration with Her Universe, inspired by one of the most highly anticipated movies of 2015, 'Avengers: Age of Ultron,'" said Paul Gitter, senior VP of licensing for Marvel at Disney Consumer Products. "This collection brings awareness of the emerging fangirl trend into mainstream fashion by uniting stylish designs with iconic characters to create a strong statement at retail."
The six-piece collection includes dresses and jackets inspired by Thor, Iron Man, Captain America, Black Widow and Loki.
"Witnessing two talented designers who truly understand the fans and fan culture win a competition at Comic-Con 2014, and then seeing their spin on "Avengers" turn into real product at Hot Topic makes what we all do feel genuinely authentic — and so much fun," said Cindy Levitt, senior VP of merchandising and marketing at Hot Topic.
The new line is the latest in an expansive merchandise plan for "Age of Ultron," which also includes150 products for Target and campaigns with Acura, Dr. Pepper, Visa, Wyndham hotels, Harley-Davidson, Land O'Frost lunchmeats, Farmers Insurance and Hershey. Along with typical kid-friendly fare including action figures, playsets and other toys from partners like Hasbro, Lego, Hot Wheels and Funko, the "Avengers" tie-ins will also spread to the food and packaged goods categories, including Sage Fruit, Conagra granola bars, Crunchpak and Chobani.
"For the first film, we primarily focused on the 'Avengers' property and the group shots," Gitter told
Variety
back in March. "Now we're broadening the line and scope to create skews that focus on the team and the individual characters as well… Strategically, we have each one of the retailers focusing on pulling different marketing levers to market this to their consumer in an organized way."
GRODD STRIKES IN NEW "THE FLASH" PHOTOS
04/27/15 @ 8:16 pm EST
Source:
Comic Book Resources
| Categories:
Flash
|
Comments
(0) |
E-mail Article
|
Add a Comment
The CW's hit DC Comics-based series "The Flash" has teased a major appearance from Grodd since the very first episode. Being that Grodd, known in the comics as Gorilla Grodd and created by John Broome and Carmine Infantino, is a super-smart telepathic gorilla, is suggested right from the start that the show wouldn't stray away from comic book-y elements.
More and more of Grodd has been shown as the series has progressed, and next week's episode, "Grodd Lives," looks to finally bring the famous Flash villain to center stage -- and our frineds over at CBR had exclusive new images from the episode, featuring Grodd attacking both The Flash (Grant Gustin) and Detective West (Jesse L. Martin).
WHY THE MARVEL MOVIE GUYS ARE ANNOYED WITH JOSS WHEDON
04/27/15 @ 3:23 pm EST
Source:
IGN
| Categories:
Avengers
|
Comments
(0) |
E-mail Article
|
Add a Comment


Joss Whedon has been talking about the confusion he caused by killing off Agent Coulson in The Avengers movie, bringing him back to life in the Agents of S.H.I.E.L.D. TV show, but then keeping him dead for Avengers: Age of Ultron.

We caught up with the writer-director to discuss the new film, and asked if Phil Coulson is indeed still deceased as far as the movies are concerned.

"Yeah he's dead. The entire television series is just a fever dream. It's a Jacob's Ladder moment he's having at the point of death, but we don't give that away until after season seven. And there's a snow globe. Now I've given it away. Bollocks!

"It's a weird little yes and no. As far as I'm concerned in the films, yes he's dead. In terms of the narrative of these guys [The Avengers] his loss was very important. When I created the television show, it was sort of on the understanding that this can work and we can do it with integrity, but these Avengers movies are for people to see the Avengers movies and nothing else. And it would neither make sense nor be useful to say 'Oh and by the way remember me? I died!'"

And it sounds like the somewhat confusing decision has caused some consternation within the MCU.

"I think actually the movie people were a little bit cross about the TV show" Whedon revealed. "They were sort of like 'Well you can have this but not this. And this but not that.' It's complicated enough as it is without me adding another layer of complication. We also created a TV show called S.H.I.E.L.D. right before they made a movie where they destroyed S.H.I.E.L.D.. So everybody's having a GREAT time!"

The Coulson-free Avengers: Age of Ultron is in UK cinemas right now, while it hits US screens on May 1.