DYNAMITE'S THE SPIDER MAKES NEWSARAMA'S MUST-READ LIST!
05/01/12 @ 10:43 am EST
Source:
Newsarama
| Categories:
The Spider
|
Comments
(0) |
E-mail Article
|
Add a Comment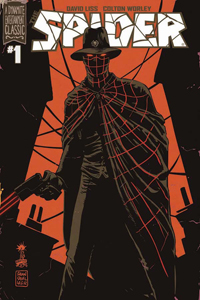 Following the incredible success of Dynamite's
The Shadow
by Garth Ennis, another pulse-pounding pulp hero returns to comics as Dynamite unleashes
The Spider
by writer David Liss with art by Colton Worley! The Spider's Dynamite debut comes complete with covers by Alex Ross, John Cassaday, Francesco Francavilla and Ron Lesser. The book also made Newsarama's Wednesday Watch: MUST-READ New Releases For 5/2/12; here's what they had to say:
Historical fiction novelist David Liss made an impact in the comic book world in recent years with Mystery Men and Black Panther at Marvel.
His latest project is The Spider at Dynamite, reviving a long-running pulp fiction hero.
"I think The Spider is hugely influential and has shaped a lot of what we consider standard elements of comic book heroes and villains, but the character's influence has held up better than the character itself," Liss told Newsarama. "I'm very excited to have the chance to reintroduce readers to a very cool hero who they ought to know if they don't already."
YOUNG CREATES VARIANT COVER FOR STEPHEN KING'S THE DARK TOWER: DRAWING OF THE THREE – THE PRISONER #1
08/01/14 @ 6:22 pm EST
Source:
Marvel
| Categories:
Dark Tower
|
Comments
(0) |
E-mail Article
|
Add a Comment
This September Stephen King's fan-favorite Dark Tower epic returns to Marvel for an all-new beginning in THE DARK TOWER: THE DRAWING OF THE THREE – THE PRISONER #1! But first, Marvel is proud to officially unveil a brand new variant cover to the first issue by Eisner-award winning storyteller Skottie Young! Depicting the iconic Gunslinger Roland Deschain rendered in Skottie Young's inimitable style – no Dark Tower fan should miss out on this hilarious variant cover when it hits comic shops next month!
Marvel once again teams with America's #1 storyteller Stephen King on his dark fantasy magnum opus that has captivated fans the world over. As the saga moves to the second volume of King's story,
The Drawing of the Three,
the action shifts from the dusty plains of Mid-World to the mean streets of New York City! Perfect for new and long-time fans, readers will experience the Dark Tower like never before as the rich and vibrant world of King's tale comes to life in a whole new way!
Thought you knew the whole story? Think again! Fan-favorite writers Peter David & Robin Furth along with critically acclaimed artist Piotr Kowalski present an all-new spin on
The Drawing of the Three
that will keep even the most die-hard fans on their toes. As this tale of urban crime opens, fans will meet Eddie Dean – an innocent child who grows into a troubled young man with the ability to open doors to other worlds. Can he overcome his haunting addiction, family tragedy, and deadly forces that conspire to stop him from challenging the enigmatic Man in Black? Witness the story of a man on the path to an unlikely destiny and the most important journey of his life!
"This is the 'All-New Marvel NOW' version of
The Dark Tower
. We're now refocusing our spotlight to explore the events that led to the formation of the Ka-Tet that aided the gunslinger Roland Deschain on his quest," said editor Bill Rosemann. "But instead of encountering Eddie Dean later in his life, as you do in the novel, we zoom back to 1964 and meet him as a toddler, so while we are adapting the second novel, we're also weaving together events in a new way that will surprise everyone who has already read the book. We're 'assembling the Avengers' of the Dark Tower universe, but Robin Furth, Peter David, and Piotr Kowalski are doing so in a way that you've never imagined."
Fans can get their hands on the hotly anticipated Skottie Young variant cover at their local comic shop when the first issue hits comic shops next month. A bold new chapter in the Dark Tower saga is about to begin – and no fan should miss out. Don't miss the historic return of this landmark series in DARK TOWER: THE DRAWING OF THE THREE – THE PRISONER #1, on sale September 3rd!
DARK TOWER: THE DRAWING OF THE THREE – THE PRISONER #1 (JUL140679) Written by PETER DAVID & ROBIN FURTH, Art by PIOTR KOWALSKI, Cover by JULIAN TOTINO TEDESCO, Variant Cover by SKOTTIE YOUNG (JUN148269), Teaser Variant by CHRISTIAN WARD (JUL140680) FOC – 08/11/14, On-Sale – 09/03/14
ORTEGO, LAM, SCOTT GUESTS FOR MALTA COMIC CONVENTION
08/01/14 @ 6:12 pm EST
Source:
Wicked Comics
| Categories:
MIsc
|
Comments
(0) |
E-mail Article
|
Add a Comment


Wicked Comics is proud to announce that internationally renowned creators Guillermo Ortego (X-Factor), and Steve Scott (Batman) as well as up and coming independent creator Mickey Lamwill be joining Yishan Li (The Clique), Rufus Dayglo (Tank Girl) and Andrew Wildman (Transformers) as guests for the Malta Comic Con (MCC) 2014 which will be held on Saturday 29thand Sunday 30th November at St. James Cavalier (all floors), Valletta, between 10am – 6pm on Saturday and 11am – 7pm on Sunday.

"There are a chosen few conventions out there that are something else, something where money-making is left aside in order to champion human interaction, but still achieve the same level. No distinction between super-hot artists and retired old-glories, no distinction between superhero pencillers and small press manga artists. It's all about the people. People talking comics, people reading comics, people making comics, people discussing comics as if they were deep philosophy.

"Avilés, in the north of Spain, was the first place where I experienced this, and Malta, was the second. And it's these kind of shows, these kind of people, that make all the long working hours, the missed weekends and holidays and the angry girlfriends/boyfriends worth our while." Ortego said.

Guillermo Ortego: A Spanish creator currently residing in London Guillermo first started inking comic books professionally after studying History at university. Also working as a freelance illustrator on the side, he rapidly moved into the American scene breaking into Marvel Comics alongside Paco Díaz Luque on titles such as Wolverine Vs. Thor, Dark Wolverine and Wolverine: Mr. X. Then off to DC Comics with Green Arrow and JLA 80 Page Giant and back to Marvel with Italian artist Emanuela Lupacchino on Peter David's X-Factor and, after a successful year run on the book, on Brian M. Bendis and Kelly-Sue DeConnick's Castle graphic novel based on ABC's acclaimed TV show. After its release on October 2012, they started working on the second story arc for Valiant Comics' recently re-launched Archer & Armstrong to move onto Bloodshot and the H.A.R.D. Corps on the summer of 2013.Apart from his monthly covers for Dynamite Comics with penciller Ardian Syaf, he's recently collaborated on Marvel's Infinity #06 and Original Sin #0 with Jim Cheung and DC's Justice League Dark #25-#27, Nightwing #30, Batman Eternal #13 and Grayson #02 with fellow Spaniard Mikel Janín.

Steve Scott: In his over 18 year career American creator Steve Scott has illustrated titles such as; Batman, X-Men Forever, JLA. Marvel Adventures Hulk and many more while his work has been published by DC Comics, Marvel Comics, Image, Dark Horse, London Knight Studios, Malibu Comics and several independent publishers.Steve has also worked in TV, Film, and most recently in video games. His work for television was aired in episodes of the popular TV series Smallville and ABC Family's Kyle XY. In films, Steve illustrated the only adaptation of the 2008 Oscar winning film Batman the Dark Knight and his work was overseen and approved by director Christopher Nolan. This artwork was part of the packaging offered with the Special Blue Ray edition of Batman Begins. In that same year, George Lucas approved Steve to be the artist for Indiana Jones and the Tomb of the Gods. This series, written by Rob Williams, was very popular with Indiana Jones fans and the majority of the art from the series was purchased by Mr. Lucas himself and is now part of his permanent collection.Steve has also provided graphics for Cognito Comics for their revolutionary interactive graphic novel "Operation Ajax" and in video games he is currently providing work for "The Bane of Yoto" from Leviathan Games.His most recent work can be found in the upcoming adaptation of Neil Gaiman's, "The Graveyard Book". Steve was handpicked to be one of the few illustrators involved with this project. Additionally, he has been doing art chores on the IDW series Judge Dredd.

Mickey Lam: Mickey is a London-based illustrator who also self publishes his own comics ranging from a school teacher who fights aliens to a banana and a strawberry who become best friends.

"I've had the pleasure to meet both Steve Scott and Guillermo Ortego, and besides their obvious talent as creators and the high profile work they've been involved in they are also fine individuals whom I'm proud/honoured to call friends. This will be Ortego's third successive appearance as a guest to our show, and that in itself is testament to his ability as a creator as well as his pleasant personality that shines through when spending time with his fans, which has ensured a strong following in Malta. I'm also convinced that like Ortego, Scott will fit right in and his friendly approach and enthusiasm will add to the fun, relaxed and exciting atmosphere prevailing at the Malta Comic Con. He will surely return to the States with a healthy Maltese fan base. The presence of up and coming independent creator Mickey Lam further highlights Wicked Comics' commitment to welcome guests from all walks of the industry and I'm sure that along with the other guests his participation will inspire local artists to continue to develop their talents and establish the exciting Maltese comics scene further. Consequently, we would like to take this opportunity to thank them for their participation and look forward to hosting them here" said Chris Le Galle, co-founder of Wicked Comics.
NEW GUARDIANS OF THE GALAXY INFINITE COMICS ONE-SHOT EXPLODES ON TO DIGITAL DEVICES TODAY
08/01/14 @ 5:52 pm EST
Source:
Marvel
| Categories:
Guardians of The Galaxy
|
Comments
(0) |
E-mail Article
|
Add a Comment


Today, blast off in an all-new, high stakes, high octane adventure with the rag-tag team of space scoundrels in a new Guardians of the Galaxy Infinite Comics One-Shot available now via the Marvel Comics App and Marvel Digital Comic Store! In this brand new one-shot titled "Best Story Ever," writer Tim Seeley along with artists Reilly Brown, Iban Coello, Jacopo Camagni and Jim Charalapidis tell the harrowing tale of the Guardians' greatest triumph (or so they'd have you believe)!

What happens when a very important part of your ship breaks? You fix it! Not if you're the Guardians of the Galaxy, apparently. They get thrown in jail after being busted during a hair-brained scheme to steal it! With Rocket & Star-Lord under lock and key – it's up to Gamora, Groot & Drax to fight their way through the prison and rescue their compatriots from facing judgment!

Set in current continuity but accessible for new readers, Marvel Infinite Comics are designed specifically for mobile devices, exploring the full storytelling possibilities of a digital canvas while still staying true to the mediums greatest strength! Available right at your fingertips on the Marvel Comics App (for iPhone®, iPad®, iPod Touch® & AndroidTM devices) and online in the Marvel Digital Comics Shop, download the Guardians of the Galaxy Infinite Comics One-Shot today and experience the evolution of digital comics!
'GALAXY QUEST' COMING BACK TO LIFE AS A COMIC
07/31/14 @ 9:29 pm EST
Source:
Blastr
| Categories:
MIsc
|
Comments
(0) |
E-mail Article
|
Add a Comment


It's been almost 15 years since Galaxy Quest stole our hearts and minds with its pitch perfect Star Trek impression and overdubbed F-bomb — and now, the crew is back for more adventures.

Sadly, we're not getting a sequel, but the property has been picked up by IDW to become a new comic book series dubbed Galaxy Quest: The Journey Continues. Writer Erik Burnham and artist Nacno Arranz have been tasked with bringing the rag-tag characters played by Tim Allen and Sigourney Weaver to life on the page.
FANTAGRAPHICS' 'SACRED HEART' COMES TO PRINT
07/31/14 @ 9:18 pm EST
Source:
ICv2
| Categories:
MIsc
|
Comments
(0) |
E-mail Article
|
Add a Comment
Fantagraphics will publish a graphic novel collection of the popular webcomic Sacred Heart in Summer 2015.

Written and drawn by Liz Suburbia, the story involves present day high-schoolers in a town without adults, trying to keep their make-shift society running until their parents return. But students keep dying mysteriously, and Ben Schiller's sister keeps disappearing; who knows if anyone will make it through the summer?

CHEW: WARRIOR CHICKEN POYO GOBBLED UP BY FANS
07/31/14 @ 9:12 pm EST
Source:
Image
| Categories:
Image
|
Comments
(0) |
E-mail Article
|
Add a Comment


John Layman and Rob Guillory's new CHEW spinoff one-shot WARRIOR CHICKEN POYO boasted a foil exclusive at San Diego Comic-Con last week and fans of CHEW flocked to the booth for the issue. WARRIOR CHICKEN POYO's ending shocked long-time CHEW fans and pulled in new readers with fun pop culture references. The issue has sold out and has a second printing with a new cover by Rob Guillory already in flight.

In this issue, the heroic, world-saving warrior chicken Poyo is plucked from the world of CHEW and dropped into the magical kingdom of Yoek, a land that is home to characters that are strikingly similar to classic fantasy literature. Unfortunately, Yoek is also newly plagued with an evil Groceryomancer bent on destroying the kingdom with, well, angry sword-wielding, asparagus-spear-throwing vegetables, fruits, tubers, and legumes. The fate of the kingdom rests on the brave and noble warrior chicken Poyo's shoulders.

"Poyo is the ultimate bad-ass, and so is everybody who picked up the first printing of Warrior Chicken Poyo," said Layman. "But, in an effort to make the world less pathetic and lame, we're giving even more people a chance to prove their supreme awesomeness with an opportunity to pick up what's probably the best comic book in the entire history of mankind, if not the universe!"

CHEW: WARRIOR CHICKEN POYO has completely sold out at the distributor level, but may still be available in comic stores. It is currently available digitally on the Image Comics website (imagecomics.com) and the official Image Comics iOS app, as well as on Comixology on the web (comixology.com), iOS, Android, and Google Play.

Image Comics is pleased to announce that this issue will be going back to print to meet customer demand. The second printing of CHEW: WARRIOR CHICKEN POYO (Diamond Code JUN148317) lands in stores on 8/27.
THE HORRORS OF WORLD WAR I IN WHITE DEATH
07/31/14 @ 9:10 pm EST
Source:
Image
| Categories:
Image
|
Comments
(0) |
E-mail Article
|
Add a Comment
Image Comics is pleased to announce the September release of WHITE DEATH, a hardcover graphic novel by Robbie Morrison (2000 AD) and Charlie Adlard (THE WALKING DEAD). Set in the Trentino mountain range, WHITE DEATH follows Pietro Aquasanta, who, as a rifleman in the Italian army, returns to what was a realm of wonder adventure in his childhood during World War I, but has now become a sterile world of death and despair."
'White Death' is a slang term used to describe avalanches in French and Italian Alpine regions," wrote Morrison in his introduction, "and in my head, the avalanche became a metaphor for war — a terrifying, irresistible force that remorselessly consumes and destroys everything in its path."
Heightening the tone of isolation and destruction is Adlard's art — smudged and scratchy black charcoal and white chalk on a stark gray background that depicts the horrors of trench warfare and hand-to-hand combat. WHITE DEATH pre-dates Adlard's arrival on the comics phenomenon THE WALKING DEAD, but his work on it informed the direction of his career.
"I could do my OWN thing," Adlard wrote in his introduction. "This, to me at the time, was a revelation. I hadn't been aware very much of the concept of creator-owned comics and, yet, here I was, doing just that. White Death eventually formulated my world view and opinions on where I wanted my career to go after this."
WHITE DEATH is a 104-page black-and-white hardcover graphic novel. It will be in comic book stores on September 3 and bookstores on September 16.
WHITE DEATH by Robbie Morrison and Charlie Adlard
ISBN 978-1-63215-142-1 Diamond Comic order code JUL140461Hardcover, 104 pages, $14.99 In comic book stores September 3, in bookstores September 16 Rated T+-
LOW REACHES NEW DEPTHS
07/31/14 @ 8:54 pm EST
Source:
Image
| Categories:
Low
|
Comments
(0) |
E-mail Article
|
Add a Comment


Rick Remender (BLACK SCIENCE, DEADLY CLASS) and artist Greg Tocchini (Uncanny X-Force, Last Days of American Crime) dive deeper into their underwater dystopian environment in LOW, with schools of absorbed fans of the new series following close behind. Issue #1 made a splash with readers, selling out instantly, and will torpedo into a second printing to meet customer demand. In order to quench the thirst for more LOW, we are pleased to reveal early artwork from issue #2.

In issue #2, the underwater city of Salus, humanity's last refuge, is in jeopardy of running out of air. Poverty, disease, and corruption are rampant, and the church of Quantumology can offer no solace as powerful as hard cream, the strange drug that keeps the bleak realities at bay. Police Inspector Marik Caine has sunk low into that haze; should an opportunity for hope present itself, can he rise again?

"It's a pleasure to work with Greg again, but to also see the incredible sales and fan reaction is icing on the cake," said Remender. "We have years worth of stories to tell in this world and the reader response secures our ability to realize them."

The first printing of LOW #1 has completely sold out at the distributor level, but may still be available in comic stores. It is currently available digitally on the Image Comics website (imagecomics.com) and the official Image Comics iOS app, and on Comixology on the web (comixology.com), iOS, Android, and Google Play.

The second printing of LOW #1 (Diamond Code JUN148268) will release on 8/27.

LOW #2 (Diamond Code JUN140553) will hit stores on 8/27. The final order cutoff deadline for retailers is 8/4.
S.H.I.E.L.D. #1 WELCOMES YOU TO LEVEL EIGHT THIS DECEMBER
07/31/14 @ 8:44 pm EST
Source:
Marvel
| Categories:
Marvel
|
Comments
(0) |
E-mail Article
|
Add a Comment


High-tech weaponry. High-stakes missions. High-octane adventure! This is S.H.I.E.L.D. #1 – the all-new in-continuity Marvel series inspired by the hit ABC television show! Eisner Award-winning writer Mark Waid (Daredevil) brings you a new series that explodes off the page with done-in-one missions each drawn by some of the top artists in the industry including Carlos Pacheco, Alan Davis, Chris Sprouse and more!

"[S.H.I.E.L.D.] has the best toys," says series writer Mark Waid. "And the best allies – anyone and everyone in the Marvel Universe is a potential guest-star in this book, from Dr. Strange to the Thing to Spider-Man to Cloak and Dagger to Groot – if they've got the skills needed for the task at hand, they're on the front lines (like it or not)."

Leading the charge is special Agent Phil Coulson, as he brings together the best and brightest, the gifted and the elite – normal people and superhumans alike from all corners of the Marvel Universe! If you've got the skills, S.H.I.E.L.D. has a mission for you! Phil Coulson, Maria Hill, Skye, Melinda May, Leo Fitz, Jemma Simmons and more team up with the Marvel Universe's most iconic characters each and every issue to confront, combat and curtail cataclysmic threats and world threatening dangers beyond the scope of any conventional peace-keeping force!

"We've got what amounts to an unlimited budget and the ability to bring in any character at any time," says Executive Editor Tom Brevoort. "So that's an advantage that we're going to press, with the most spectacular set-pieces we can dream up, and involvement from characters from every corner of the Marvel Universe."

Each and every issue: One mission. Twenty pages. Non-stop action. Guest stars from across the Marvel Universe. And a helper monkey. Hold on to your hats Agent, as S.H.I.E.L.D. #1 brings thrilling espionage and high-octane superhero action to comic shops and digital devices this December!

S.H.I.E.L.D. #1
Written by MARK WAID, Art by CARLOS PACHECO
Cover by MIKE DEODATO
Coming this December!
FATE OF RICH RIDER REVEALED IN GUARDIANS OF THE GALAXY #18
07/31/14 @ 8:38 pm EST
Source:
Marvel
| Categories:
Guardians of The Galaxy
|
Comments
(0) |
E-mail Article
|
Add a Comment


This August, the burning question will finally be answered as the shocking truth about one of the Marvel Universe's greatest heroes is revealed in GUARDIANS OF THE GALAXY #18 – a tie-in to Original Sin! Superstar creators Brian Michael Bendis and Ed McGuinness team for the heart-stopping answer to the question on everyone's mind: What happened to Rich Rider?

"We have literally been dropping hints since the Guardians guest-starred in Avengers Assemble," says Brian Michael Bendis. "I have known exactly what we were doing with this from the moment I agreed to do the book, but I thought it would be best to slow burn the reveal."

Nova, the Human Rocket – who once burned a bright streak across the Marvel Universe, gone in a flash. Side-by-side with Star-Lord, Richard Rider fought valiantly to save the universe from Thanos. Left sealed in a twisted and horrific version of our own universe, Richard Rider sacrificed everything to save us. Now, the truth of that sacrifice will finally come to light! Thanos and Star-Lord miraculously reappeared, but Nova was nowhere to be found. The true story about what happened has remained a closely guarded secret between two bitter enemies. Now, thanks to the events of Original Sin, the truth is about to come out!

What happened to Rich Rider in the Cancerverse? How did Star-Lord and Thanos escape their hellish imprisonment? And most importantly, why did they lie about it? The explosive last stand of Rich Rider begins when Original Sin comes knocking in GUARDIANS OF THE GALAXY #18!

GUARDIANS OF THE GALAXY #18 (JUN140622) Written by BRIAN MICHAEL BENDIS, Art & Cover by ED MCGUINNESS, 75th Anniversary Variant Cover by ALEX ROSS (JUN140623) 75th Anniversary Sketch Variant by ALEX ROSS (JUN140624) FOC – 08/04/14, On-Sale – 08/27/14,