DARK HORSE ANNOUNCES SPIKE SERIES!
04/18/12 @ 1:23 pm EST
Source:
Dark Horse
|
Comments
(0) |
E-mail Article
|
Add a Comment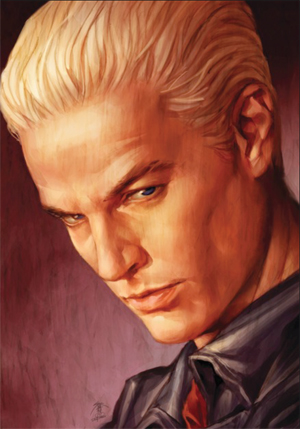 JOSS WHEDON'S ANTIHERO VAMPIRE RETURNS!
Dark Horse Comics announces a brand-new Spike miniseries slated for release this summer!
Written by Victor Gischler (
X-Men
,
Deadpool: Merc with a Mouth
)
and drawn by Paul Lee (
Buffy the Vampire Slayer
,
The Devil's Footprints
),
Spike
promises to be the series all Joss Whedon fans will be talking about.
Spike ventures off world in his bug ship in order to get away from some personal frustration on terra firma, and winds up sucked into a demonic plot to take advantage of the absence of magic on earth.
"What I love about working with Dark Horse on
Buffy
-related material is that they take great care to capture the feel of the characters and stories from the television show, of which I was a huge fan. Getting my hands on the characters I've loved so much over the years is a dream come true," said Gischler.
Spike
#1 will be on sale August 22, 2012!
About Twentieth Century Fox Consumer Products
: A recognized industry leader, Twentieth Century Fox Consumer Products licenses and markets properties worldwide on behalf of Twentieth Century Fox Film Corporation, Twentieth Television and Fox Broadcasting Company, as well as third-party lines. The division is aligned with Twentieth Century Fox Television, one of the top suppliers of primetime entertainment programming to the broadcast networks.
About Dark Horse Comics
: Since 1986, Dark Horse Comics has proven to be a solid example of how integrity and innovation can help broaden a unique storytelling medium and establish a small, homegrown company as an industry giant. The company is known for the progressive and creator-friendly atmosphere it provides for writers and artists. In addition to publishing comics from top talent like Frank Miller, Mike Mignola, Neil Gaiman, Gerard Way, Will Eisner, and best-selling prose author Janet Evanovich, Dark Horse has developed such successful characters as the Mask, Timecop, and the Occultist
.
Additionally, its highly successful line of comics and products based on popular properties includes
Star Wars
,
Avatar: The Last Airbender
,
Buffy the Vampire Slayer
,
Aliens
,
Conan the Barbarian
,
Mass Effect
,
Serenity
,
and Domo
.
Today, Dark Horse Comics is the largest independent comic-book publisher in the United States and is recognized as both an innovator in the cause of creator rights and the comics industry's leading publisher of licensed material.
DYNAMITE ENTERTAINMENT LAUNCHES NEW DRM-FREE DIGITAL COMICS PROGRAM; NEW DIGITAL INITIATIVE BENEFITS COMIC BOOK LEGAL DEFENSE FUND
08/20/14 @ 12:25 pm EST
Source:
Dynamite
| Categories:
Dynamite
|
Comments
(0) |
E-mail Article
|
Add a Comment
Dynamite Entertainment is excited to announce the debut of its brand new digital comic program featuring DRM-free comics. Launching initially with comics available in PDF file format, the initiative makes a selection of its most popular and celebrated titles ready for download today directly by consumers. The sale of DRM-free digital comics coincides with the comic book and graphic novel publisher's 10th anniversary celebration, and can be found at their company website's dedicated digital sales page:
http://dynamite.com/digital/
The program launches today with an available selection of over 80 individual comic books, which includes creator-owned, company-owned and licensed titles from Dynamite's massive library. The debut selection represents a wide variety of titles, spanning numerous genres, featuring name brand creators including Kevin Smith, Bill Willingham, Mark Millar, Grant Morrison, Alex Ross, Gail Simone, Robert Jordan, Jim Butcher, Walt Flanagan and Bryan Johnson, Frank Cho, Art and Franco, Garth Ennis, Darick Robertson, and more, as well as highlighting some of the industry's most beloved characters (
Red Sonja
,
Vampirella
, and
The Boys
, just to name a few).
Cryptozoic Man
by Walt Flanagan and Bryan Johnson
Blood Queen
by Troy Brownfield and Fritz Casas
The Boys
by Garth Ennis and Darick Robinson
Captain Action Cat
by Art Baltazar, Franco, and Chris Smits
Captain Victory & the Galactic Rangers
by Joe Casey, Nathan Fox, and more
Chaos!
by Tim Seeley and Mirka Andolfo
Chastity
by Marc Andreyko and Dave Acosta
American Flagg
by Howard Chaykin
The Devilers
by Joshua Hale Fialkov and Matt Triano
Evil Ernie: Origin of Evil
by Jesse Snider and Jason Craig
Garth Ennis' Red Team
by Garth Ennis and Craig Cermak
Jennifer Blood: Born Again
by Steven Grant and Kewber Baal
Jim Butcher's Dresden Files: War Cry
by Jim Butcher, Mark Powers, and Carlos Gomez
Jungle Girl
by Frank Cho, Doug Murray, and Adriano Batista
Justice, Inc.
by Michael Uslan and Giovanni Timpano
Kevin Smith's Green Hornet
by Kevin Smith and Jonathan Lau
Legenderry: A Steampunk Adventure
by Bill Willingham and Sergio Fernandez Davila
Miss Fury
by Rob Williams and Jack Herbert
The Mocking Dead
by Fred Van Lente and Max Dunbar
The Ninjettes
by Al Ewing and Eman Casallos
Pathfinder: Dark Waters Rising
by Jim Zub and Andrew Huerta
Project Superpowers
by Jim Krueger, Alex Ross, and Carlos Paul
Red Sonja
by Gail Simone and Walter Geovani
Red Sonja: Blue
by Peter Brett and Walter Geovani
Robert Jordan's Wheel of Time
by Robert Jordan, Chuck Dixon, and Chase Conley
The Shadow: Midnight in Moscow
by Howard Chaykin
Terminal Hero
by Peter Milligan and Piotr Kowalski
The Trial of Sherlock Holmes
by Leah Moore, John Reppion, and Aaron Campbell
Vampirella
by Nancy A. Collins and Patrick Berkenkotter
Vampirella Master Series
by Mark Millar, Grant Morrison, and more
Vampirella vs. Fluffy
by Mark Rahner and Cezar RazekIn celebration of their 10th anniversary, Dynamite will offer ten of its comic books at 10 cents apiece, introducing new readers to Dynamite's most accessible and successful titles at a great value. The introductory-priced comic books include:
Blood Queen
#1
The Boys
#1
Evil Ernie: Origin of Evil
#1
Jungle Girl
#0Kevin Smith's
Green Hornet
#1
Miss Fury
#1
The Mocking Dead
#1Robert Jordan's
Wheel of Time
#1
The Trial of Sherlock Holmes
#1
Vampirella
#1Dynamite will also offer ten (10) free wallpapers to consumers featuring
The Boys
,
Cryptozoic Man, Jim Butcher's Dresden Files
, Neil Gaiman and Alice Cooper's
The Last Temptation
,
Red Sonja
, and
Vampirella
. These wallpapers can be downloaded from Dynamite's digital DRM-free page for a limited time.Following today's launch, Dynamite plans to release its DRM-free comics on a weekly basis, every Wednesday, with new offerings announced via the company's Facebook, Twitter, and website as they are made available for download. There will be a slow, focused roll-out over time that will grow the available titles to reflect the vast majority of Dynamite's library.Throughout its first month of operation, Dynamite will donate ten percent of all sales to the
Comic Book Legal Defense Fund,
a non-profit organization dedicated to the protection of the First Amendment rights of the comics art form and its community of retailers, creators, publishers, librarians, and readers.Charles Brownstein, Executive Director of the Comic Book Legal Defense Fund, says, "CBLDF is delighted to be named as the charitable partner for Dynamite Digital! As comics advance in so many new directions, the CBLDF remains vigilant in our efforts to protect the comics medium in each aspect. Dynamite's contribution underscores our commitment to protect comics in the digital environment as vociferously as we do in the comic store and education spaces.""The market has been growing for DRM-free content. Each and every day, fans want to choose how to buy and enjoy their comics, and we're taking our titles to the next level for digital sales," says Nick Barrucci, CEO and Publisher of Dynamite Entertainment. "Expanding into DRM-free content, made available directly to consumers from our website, is simply giving the consumers the option for what they want and how they want it, and continues to reach out to a non-traditional comic-reading audience, and then bring those readers in to the direct comics market to our retail partners. We're optimistic that the availability of comics in a digital fashion will continue to draw new readers to the medium, helping to continue to complement the growth for physical sales through our retail comic store partners. Following the trend we've seen over the past few years in our industry of digital helping to grow the physical for retailers and the market overall, the world's continuing love affair with books in print will benefit from a surge in Dynamite interest."Barrucci adds, "As part of our launch, we're donating a portion of all sales to support the Comic Book Legal Defense Fund. Charles, Alex, and their team work tirelessly to protect our First Amendment rights. The Fund needs the help of the industry to continue to support free speech.""DRM" (Digital Rights Management) refers to the technology used by publishers, copyright holders, and other individuals to control the use of digital content and devices after sale. Dynamite's goal is to offer their titles DRM-free, thereby growing the company and granting comic creators more opportunities to make great products. Dynamite is eager to take this next step with fans as it continues to expand on its own digital offerings.Dynamite's current digital offerings include same-day-as-print releases through Comixology, iVerse, Dark Horse, iBooks, and Amazon Kindle. Recently, Dynamite worked in conjunction with Humble Bundle, Inc. to offer a 10th Anniversary bundle for sale for a limited time, dedicating a portion of profits such worthwhile charity organizations as the Comic Book Legal Defense Fund, Doctors Without Borders, and the Make-A-Wish Foundation.
"LIKE" DYNAMITE'S FACEBOOK PAGE TODAY!
http://www.facebook.com/dynamitecomics
Join the conversation on Dynamite Entertainment's twitter page at
http://twitter.com/DynamiteComics
.To find a comic shop near you, call 1-888-comicbook or visit
http://www.comicshoplocator.com/
.For art and more information, please visit:
http://www.dynamite.com/
.
About Dynamite Entertainment:
Dynamite was founded in 2004 and is home to several best-selling comic book titles and properties, including
The Boys
,
The Shadow
,
Red Sonja
,
Warlord of Mars
,
Bionic Man
,
A Game of Thrones
, and more. Dynamite owns and controls an extensive library with over 3,000 characters (which includes the Harris Comics and Chaos Comics properties), such as
Vampirella
,
Pantha
,
Evil Ernie
,
Smiley the Psychotic Button
,
Chastity
, and
Peter Cannon: Thunderbolt
. In addition to their critically-acclaimed titles and bestselling comics, Dynamite works with some of the most high profile creators in comics and entertainment, including Kevin Smith, Alex Ross, Neil Gaiman, Andy Diggle, John Cassaday, Garth Ennis, Jae Lee, Marc Guggenheim, Mike Carey, Jim Krueger, Greg Pak, Brett Matthews, Matt Wagner, Gail Simone, Steve Niles, James Robinson, and a host of up-and-coming new talent. Dynamite is consistently ranked in the upper tiers of comic book publishers and several of their titles – including Alex Ross and Jim Krueger's
Project Superpowers
– have debuted in the Top Ten lists produced by Diamond Comics Distributors. In 2005, Diamond awarded the company a GEM award for Best New Publisher and another GEM in 2006 for Comics Publisher of the Year (under 5%) and again in 2011. The company has also been nominated for and won several industry awards, including the prestigious Harvey and Eisner Awards.
About Comic Book Legal Defense Fund

Comic Book Legal Defense Fund is a non-profit organization dedicated to the protection of the First Amendment rights of the comics art form and its community of retailers, creators, publishers, librarians, and readers. CBLDF provides legal referrals, representation, advice, assistance, and education in furtherance of these goals.
www.cbldf.org
All characters, names, logos, etc. are ™ and © their respective owners. Press release written by Kevin Pearl.
DWAYNE 'THE ROCK' JOHNSON TO CHOOSE BETWEEN SHAZAM AND BLACK ADAM
08/19/14 @ 10:03 pm EST
Source:
Bleeding Cool
| Categories:
Shazam
|
Comments
(0) |
E-mail Article
|
Add a Comment


Bleeding Cool reports that former WWE Champion "The Rock" Dwayne Johnson is saying he will play a role in an upcoming DC movie but he still has to choose whether he will be Shazam or his arch-nemesis Black Adam.

He also said that he is a fan of anti-heroes and Black Adam is one of his favorite DC characters.
WALMART GOES AFTER AMAZON ON MARVEL, DISNEY TITLES
08/19/14 @ 9:32 pm EST
Source:
ICv2
| Categories:
Marvel
|
Comments
(0) |
E-mail Article
|
Add a Comment
Walmart has become a player in the dispute between Amazon and Disney in which Amazon has taken down preorder buttons on Disney and Marvel home video titles, by aggressively pricing pre-orders on Disney and Marvel home video titles to attract customers unable to order the titles from Amazon. The strategy has Walmart taking preorders on the DVD for Captain America: The Winter Soldier at $14.96, around 50% off the list price of $29.99. The Blu-ray versions are being sold at around 25% off.

Walmart is selling the BD of the first season of Marvel's Agents of S.H.I.E.L.D. at $54.96, 31% off the list price of $79.99.
BRIAN MICHAEL BENDIS' 'POWERS' ADDS LEADS
08/19/14 @ 7:00 pm EST
Source:
ICv2
| Categories:
Powers
|
Comments
(0) |
E-mail Article
|
Add a Comment


The PlayStation Network adaptation of Brian Michael Bendis' comic series Powers has announced Sharlto Copley as homicide detective Christian Walker, as well as Michelle Forbes in the role of Retro Girl.

South African actor Sharlto had a star-making turn as the lead in District 9, which led to his memorable portrayal of H.M. "Howling Mad" Murdock in the big screen adaptation of The A-Team, as well as playing King Stefan opposite Angelina Jolie in Malificent. Sharlto will star as the detective who used to be a powerful superhero who lost his powers and is now down amongst the regular humans, working homicide cases for the Powers Division, a police department formed to deal with cases involving those with (super) powers.

Sony's PlayStation Network has moved quickly to develop the series since giving it the green light in March. The series is planned for a 10-episode run, which will begin streaming on the digital platform in December
OUTCAST BY KIRKMAN & AZACETA PHENOMENON GROWS
08/19/14 @ 6:55 pm EST
Source:
Image
| Categories:
Image
|
Comments
(0) |
E-mail Article
|
Add a Comment


Robert Kirkman and Paul Azaceta are poised for another industry-wide, entertainment breakthrough success with their hot new series OUTCAST BY KIRKMAN & AZACETA. The first issue has sold out instantly, for a fourth time, and Skybound/Image Comics has rushed the hot new horror comic back to print.

Cinemax has greenlit OUTCAST for a pilot episode with Kirkman confirmed to executive produce the series, a role he also holds for the wildly successful AMC television adaptation of THE WALKING DEAD.

OUTCAST BY KIRKMAN & AZACETA #1 boasts a special double-sized first issue for just $2.99, and introduces Kyle Barnes, a man with a tragic past and a horrifying gift. Kirkman and Azaceta explore demonic possession and incorporate a subtle creeping terror that harkens to that of classic horror stories.

The demand for the series continues to gain speed and is expected to draw in even more readers as further news of the television series hits mainstream media.

For fans of digital editions, OUTCAST BY KIRKMAN & AZACETA #1 remains available for purchase across all platforms, including the Image Comics website (imagecomics.com), the official Image Comics iOS app, Comixology's website (comixology.com), iOS, Android, and Google Play.

This fourth printing of OUTCAST BY KIRKMAN & AZACETA #1 (Diamond Code JUL148057) will be available on 9/10. OUTCAST BY KIRKMAN & AZACETA #2, 2nd printing (JUN148240) is available now and OUTCAST BY KIRKMAN & AZACETA #3 (Diamond Code JUN140563) will be available 8/27.
8 YEARS IN THE MAKING: ENTER THE MULTIVERSITY
08/19/14 @ 6:41 pm EST
Source:
DC
| Categories:
Multiversity
|
Comments
(0) |
E-mail Article
|
Add a Comment
By now you've likely seen the sentient comic book ads, DC's Facebook banners featuring some very different versions of Superman, Aquaman, et al, and the interactive map highlighting a few of the different Earths. However, if you're scratching your head over what all of this is for… well, you're in the right place.
This week, DCComics.com is highlighting The Multiversity, a brand new limited series written by Grant Morrison and drawn by some of the most talented artists currently working in comics. The series launches tomorrow with THE MULTIVERSITY #1, a 48-page debut drawn by Ivan Reis that promises to expand your mind (and very possibly the DC Universe). However, don't look for The Multiversity #2 in stores in September. Rather, the series continues with the Chris Sprouse-pencilled THE MULTIVERSITY: THE SOCIETY OF SUPER-HEROES CONQUERS THE COUNTER-WORLD #1, a single-issue adventure set on the pulpy world of Earth-20 that reads like the first issue of a brand new comic series while also expanding on and furthering the larger story of The Multiversity. There will be six of these single-issue stories in total, before The Multiversity wraps up with the second bookending comic next year.
For those of you coming into this completely new, The Multiversity is a series that's been eight years in the making, and it promises to expand the world of The New 52 by defining all 52 worlds that make up the DC Comics Multiverse, while also telling an intelligent story that uses the comic book medium in a way that's never been done before. As Morrison explains, the adventures of one world's super heroes are the comic books of another world. In other words, the heroes of the various worlds learn that they can communicate with each other through their comic books. But this being a Grant Morrison book, even that isn't the end of it, as readers don't just passively watch the action unfold in The Multiversity, but seem to play a key part in it!
MARVEL'S AGENTS OF S.H.I.E.L.D. CASTS THEIR MOCKINGBIRD
08/19/14 @ 6:28 pm EST
Source:
Marvel
| Categories:
Marvel
|
Comments
(0) |
E-mail Article
|
Add a Comment
The Executive Producers of "Marvel's Agents of S.H.I.E.L.D." have sent a Morse code to say they've found their Mockingbird!
Adrianne Palicki will appear as Bobbi Morse, a.k.a. Mockingbird, in the second season of "Marvel's Agents of S.H.I.E.L.D."--but whether she'll play friend or foe to Coulson and his team, we can't say. Known for her work in "Friday Night Lights" and "G.I. Joe: Retaliation," Palicki most recently appeared in several episodes of "About a Boy."
Palicki joins a number of new characters and guest stars on the series' second season, which premieres Tuesday, September 23 at 9:00 p.m. ET on ABC. Joining Palicki will be the previously announced Lucy Lawless (Agent Isabelle Hartley), Reed Diamond (Daniel Whitehall), Nick Blood (Lance Hunter), Henry Simmons (Alphonso "Mack" Mackenzie), and Kyle MacLachlan (Skye's father), alongside the returning cast of Clark Gregg (Director Coulson), Ming-Na Wen (Agent May), Brett Dalton (Grant Ward), Elizabeth Henstridge (Agent Simmons), Iain De Caestecker (Agent Fitz), and Chloe Bennet (Agent Skye).
"Marvel's Agents of S.H.I.E.L.D." is Executive Produced by Joss Whedon ("Marvel's The Avengers," "Buffy the Vampire Slayer"); Jed Whedon & Maurissa Tancharoen, ("Marvel's Agents of S.H.I.E.L.D." pilot co-writers ("Dollhouse," "Dr.Horrible's Sing-Along Blog"); Jeffrey Bell ("Angel," "Alias"); and Jeph Loeb ("Smallville," "Lost," "Heroes").
"Marvel's Agents of S.H.I.E.L.D." is produced by Marvel Television and ABC Studios.
FACE TO FACE WITH MILES MORALES – YOUR FIRST LOOK AT ALL-NEW X-MEN #32
08/19/14 @ 6:16 pm EST
Source:
Marvel
| Categories:
X-Men
|
Comments
(0) |
E-mail Article
|
Add a Comment
Welcome to the All-New X-Men, Miles Morales – hope you survive the experience!
Today, Marvel is proud to offer your first look at ALL-NEW X-MEN #32, from superstar writer Brian Michael Bendis and new ongoing artist Mahmud Asrar!
Dimension hopping has become a rite of passage for the X-Men and the All-New X-Men are no exception! Stranded and scattered across the Ultimate Universe, the All-New X-Men must find their way back to each other if they have any hope of finding their way back home! Thankfully, they might get a little help from the one and only Ultimate Spider-Man, Miles Morales! But some of the Ultimate Universe's heaviest hitting villains might have a thing or two to say about that!
Don't miss the story that will have everyone talking when ALL-NEW X-MEN #32 swings into comic shops this September!
ALL-NEW X-MEN #32 (JUL140694) Written by BRIAN MICHAEL BENDIS, Art by MAHMUD ASRAR, Cover by SARA PICHELLI, FOC 8/25/14, ON-SALE 09/17/14
ORANGE IS THE NEW CAPE
08/19/14 @ 6:08 pm EST
Source:
Devilsdue
| Categories:
MIsc
|
Comments
(0) |
E-mail Article
|
Add a Comment
Solitary
is the story of Tim Hill, a man convicted to death row for crimes he didn't commit. He is executed, and upon being executed, he awakens to find that he is immortal and death row is really going to suck.
The series will focus on life in prison and what it means to face death row, immortality, and the idea that you don't belong behind bars. Everyone hates him there. Most want him dead. And he just wants his freedom.
This book,
Solitary
, is from creator CW Cooke and he calls it his baby. It's the one comic he has been working on for his entire life in one way or another. It started as a comic he wrote and drew as a kid and blossomed into this entire world.
Cooke has received an agreement from comic publisher Devil's Due Entertainment to publish the series. Release date is set for November.
UNDEAD EPIC CONTINUES IN GEORGE ROMERO'S EMPIRE OF THE DEAD: ACT TWO #1
08/18/14 @ 10:16 pm EST
Source:
Marvel
| Categories:
Marvel
|
Comments
(0) |
E-mail Article
|
Add a Comment
This September, Zombie Godfather George Romero's undead epic begins anew in
EMPIRE OF THE DEAD: ACT TWO #1! Written by the horror master himself along with acclaimed artist Dalibor Talajic, prepare for an undead onslaught as zombies and vampires wage war on the walled in streets of New York City! Undead forces are laying waste to the last surviving humans of New York City – but now outside forces seek entry to the once safe haven. An invading militia seeks to take over the Big Apple. The current residents both alive and dead might have something to say about that!

"They all want what they want, whether it's right or wrong," says George Romero. "So I don't think you're going to see a lot of blinking. There's too much at stake for anyone to give up. Power. Greed. Co-existence. Survival. It's going to be a fight to the finish."

"Act Two opens just a short time after the conclusion of Act One, but in that time all of our major players are advancing their interests," editor Bill Rosemann explained to Marvel.com. "Zombie wrangler Paul Barnum has added fresh performers to his Circus Maximus, the zombies fighting there may be much more capable than even he imagined, Mayor Chandrake continues his seduction of medical scientist Penny Jones, Penny uncovers chilling discoveries about the dual threat to Manhattan's civilians, the Mayor's nephew Billy is making his own play for power, and the militia that we saw on the last page of our last issue make a huge discovery that will have everyone watching the skies."

What's worse, the roaming flesh-eaters seem to be growing smarter each day! The ruling class of blood-sucking vampires can barely keep their grip on power as they struggle to battle back the hordes of zombies. As the Southern army begins to pillage the greatest city in the world one thing remains clear – when the zombies, vampires and humans go to war, we all lose. Don't miss the brand new jumping on point as horror master George Romero continues his zombie epic when EMPIRE OF THE DEAD: ACT TWO #1 hits comic shops this September!

GEORGE ROMERO EMPIRE OF THE DEAD: ACT TWO 1 (JUL140677) Written by GEORGE ROMERO, Art by DALIBOR TALAJIC, Cover by ALEXANDER LOZANO, Variant Cover by MIKE MCKONE (JUL140678) FOC – 8/18/14, On-Sale – 9/10/14