DARK HORSE ANNOUNCES SPIKE SERIES!
04/18/12 @ 1:23 pm EST
Source:
Dark Horse
|
Comments
(0) |
E-mail Article
|
Add a Comment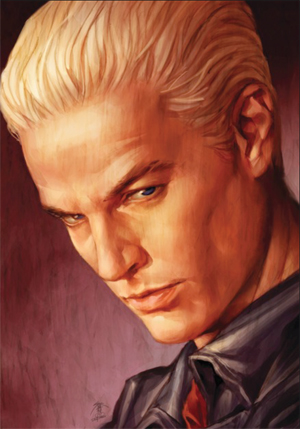 JOSS WHEDON'S ANTIHERO VAMPIRE RETURNS!
Dark Horse Comics announces a brand-new Spike miniseries slated for release this summer!
Written by Victor Gischler (
X-Men
,
Deadpool: Merc with a Mouth
)
and drawn by Paul Lee (
Buffy the Vampire Slayer
,
The Devil's Footprints
),
Spike
promises to be the series all Joss Whedon fans will be talking about.
Spike ventures off world in his bug ship in order to get away from some personal frustration on terra firma, and winds up sucked into a demonic plot to take advantage of the absence of magic on earth.
"What I love about working with Dark Horse on
Buffy
-related material is that they take great care to capture the feel of the characters and stories from the television show, of which I was a huge fan. Getting my hands on the characters I've loved so much over the years is a dream come true," said Gischler.
Spike
#1 will be on sale August 22, 2012!
About Twentieth Century Fox Consumer Products
: A recognized industry leader, Twentieth Century Fox Consumer Products licenses and markets properties worldwide on behalf of Twentieth Century Fox Film Corporation, Twentieth Television and Fox Broadcasting Company, as well as third-party lines. The division is aligned with Twentieth Century Fox Television, one of the top suppliers of primetime entertainment programming to the broadcast networks.
About Dark Horse Comics
: Since 1986, Dark Horse Comics has proven to be a solid example of how integrity and innovation can help broaden a unique storytelling medium and establish a small, homegrown company as an industry giant. The company is known for the progressive and creator-friendly atmosphere it provides for writers and artists. In addition to publishing comics from top talent like Frank Miller, Mike Mignola, Neil Gaiman, Gerard Way, Will Eisner, and best-selling prose author Janet Evanovich, Dark Horse has developed such successful characters as the Mask, Timecop, and the Occultist
.
Additionally, its highly successful line of comics and products based on popular properties includes
Star Wars
,
Avatar: The Last Airbender
,
Buffy the Vampire Slayer
,
Aliens
,
Conan the Barbarian
,
Mass Effect
,
Serenity
,
and Domo
.
Today, Dark Horse Comics is the largest independent comic-book publisher in the United States and is recognized as both an innovator in the cause of creator rights and the comics industry's leading publisher of licensed material.
'SESAME' LAUNCHES KINDNESS CAMPAIGN
12/01/15 @ 7:50 am EST
Source:
Licensemag.com
| Categories:
MIsc
|
Comments
(0) |
E-mail Article
|
Add a Comment
"Sesame Street" has launched the new Everyday Heroes Club initiative to continue its mission of helping kids grow smarter, stronger and kinder.
The new project includes online activities, Muppet videos, local events and a social media campaign, all designed to encourage kids and families to engage in acts of kindness.The initiative launched Monday with an appearance by Elmo, Cookie Monster, Abby, Grover and Big Bird on the "Today Show" in the U.S., and is expected to spread to Sesame Workshop's international partners over the coming months."In our busy, complicated world, even a small act of kindness can make a surprisingly big difference," says Scott Chambers, senior vice president, North America media and licensing, Sesame Workshop. "We are so excited about this project because it represents the essence of who we are as an organization: we teach through our engaging content and our furry, loveable Muppets, while our wonderful partners and our most engaged audience members help us spread the word." Kids and families are encouraged to share their act of kindness on the website SesameHeroes.org to earn a membership card, club certificate and special badges including Manners, Respect, Giving and Sharing. Local events are already planned at The New York Public Library, The Miami Children's Museum and The Chicago Children's Museum.Other highlights of the campaign will include a new song by Aloe Blacc, "Everyday Heroes," that will be featured on "Sesame Street's" YouTube channel and participation from brand partners including:American Greetings will make donations at local city events and offer social media support;Ape Entertainment will give book donations at local city events and feature a special "Everyday Heroes" story in an upcoming comic book;Apple & Eve will make donations at local city events and offer social media support;Beaches Resorts will feature Everyday Heroes Club programs at its locations including on-site "kindness mission" activities, badge rewards for guests and more;Sandals Foundation will implement the program at local schools and offer social media support;Earth's Best will make donations at local city events and offer social media support;Hasbro will donate toys at local city events and offer social media support;HBO will host five Everyday Hero events, social media campaigns and special promotional content;PBS will offer social media support, local PBS station Everyday Hero resources and host as series of events;Random House will donate books at local city events and offer social media support;Studio Fun will make donations at local city events and social media support; andUnivision will feature Spanish-language Everyday Heroes videos on "Sesame Amigos'" social media pages.
STAR WARS: THE FORCE AWAKENS' GETS CHINA RELEASE DATE; LOCAL POSTER UNVEILED
11/30/15 @ 10:16 pm EST
Source:
Deadline
| Categories:
Star Wars
|
Comments
(0) |
E-mail Article
|
Add a Comment
China will feel the Force just a few weeks after the U.S. does. Disney said today that
Star Wars The Force Awakens
will open January 9 in the Middle Kingdom. J.J. Abrams' more-than-moderately anticipated sequel bows December 18 domestically.
The release-date news comes in the wake the fantastic Chinese debut of
The Martian
, which collected $50M in its first frame to best the starts of such films as
Gravity
and
Interstellar
.
"We are thrilled to bring
Star Wars: The Force Awakens
to China on January 9," said John Hsu, newly appointed General Manager, Studio at the Walt Disney Company, China. "We're excited to be rolling out our marketing campaign and to connect with new fans in China through
Star Wars
:
The Force Awakens
."
The Force Awakens
also got a new post for the territory today. Check it out:
NEW "BATMAN V SUPERMAN" FOOTAGE DEBUTS DURING "GOTHAM" MIDSEASON FINALE
11/30/15 @ 10:12 pm EST
Source:
Comic Book Resources
| Categories:
Batman Superman
|
Comments
(0) |
E-mail Article
|
Add a Comment
Even though the various current DC Comics-based live-action projects operate in separate fictional worlds (movies on one side, TV shows on multiple other sides), Warner Bros. isn't going to waste an opportunity for cross-promotion. Thus new footage shown of the upcoming"Batman v Superman: Dawn of Justice" which aired during tonight's midseason finale of"Gotham" on Fox, and has already made its way online.
In the 35-second clip, a shackled Batman is confronted by Superman -- who disdainfully unmasks him. It's a quick sneak, but there's much more to come on Wednesday, with the fulltrailer reveal set for ABC's "Jimmy Kimmel Live."
Videio:
https://youtu.be/jcOudy16x_w
MARVEL'S HIP-HOP VARIANTS RETURN TO COMIC SHOPS FOR FIRST EVER HIP-HOP VARIANT SAMPLER
11/30/15 @ 5:46 pm EST
Source:
Marvel
| Categories:
Marvel
|
Comments
(0) |
E-mail Article
|
Add a Comment


As All-New All-Different Marvel charges ahead, bringing the comics industry the most-popular characters, the biggest creators, and more – this blockbuster initiative also brought fans the red-hot sold out Hip-Hop Variant covers. Today, Marvel is pleased to announce fans will have another chance to get their hands on some of these exiting homages with the Hip-Hop Variant Sampler! Hitting comic shops on January 6th, this FREE sampler will help kick off the new year with a bang, bringing 14 of the most popular Hip-Hop Variants so back to comic shops!

"The hip-hop variants were a really special initiative that caught fire in the outside world," says Marvel Editor-in-Chief Axel Alonso, speaking with the New York Times. "We thought this was a great opportunity to highlight that and make it available to fans for free."

At the intersection of Marvel comics and the world of hip-hop, this unique line of variant covers inspired by some of the most iconic and well received albums of all time has garnered mass-media attention the world over. Now, Marvel is starting 2016 off by bringing these sold-out covers back to comic shops!

"The Hip-Hop Variant Sampler is our way of saying thank you to the fans, but also to the retailers who have made All-New, All-Different Marvel a massive success," says Marvel SVP, Sales & Marketing David Gabriel. "With the Hip-Hop variant covers being such a huge draw, our goal is to draw fans back to their local comic shop after the holidays end."

Featuring art by industry legends, rising stars, and creators behind some of the explosive new Marvel titles – this FREE sampler features the following 14 Hip-Hop Variants, reprinted and represented for fans: ·

Invincible Iron Man #1 by Brian Stelfreeze·

Doctor Strange #1 by Juan Doe·

Ms. Marvel #1 by Jenny Frison·

Extraordinary X-Men #1 by Sanford Greene·

Moon Girl and Devil Dinosaur #1 by Jeffrey Veregge·

All-New, All-Different Avengers #1 by Jim Cheung·

Amazing Spider-Man #1 by Mike Del Mundo·

Contest of Champions #1 by Denys Cowan & Bill Sienkiewicz·

Vision #1 by Vanesa Del Ray· All-New X-Men #1 by Ed Piskor·

Web Warriors #1 by Damion Scott· All-New Inhumans #1 by Marco D'Alfonso·

All-New Wolverine #1 by Keron Grant· Captain America: Sam Wilson #1 by Mahmud Asrar

Hip-Hop and Marvel unite once more, joining these two unique forces together to celebrate the exciting world of comics, and the sound of a generation. Missed out on these red-hot variants the first time? Run, don't walk to your local comic shop to get your copy of the Hip-Hop Variant Sampler when it drops on January 6th!

HIP-HOP VARIANT SAMPLER
FOC – 12/7/15, On-Sale – 01/06/1632 PGS…FREE


GOTHAM FINDS ITS MATCHES MALONE
11/30/15 @ 5:37 pm EST
Source:
Comicbook
| Categories:
Gotham
|
Comments
(0) |
E-mail Article
|
Add a Comment
When we heard Silver mention the name "M. Malone" as who she was told killed Bruce Wayne's parents, our immediate conclusion was that the M stood for "Matches." We were right.
Michael Bowen, best known as Uncle Jack on
Breaking Bad
(also
Lost
, multiple Quentin Tarantino films), has been cast in the role of Patrick "Matches" Malone on
Gotham
, set to debut in the second half of season two, ComicBook.com can exclusively report. The character description doesn't give us too much to go on, but does offer a tiny bit of insight into him.
"One of Gotham's deadliest killers, Matches Malone is a weathered, philosophical hitman who may be the triggerman behind one of the most important crimes in Gotham's history."
Matches Malone in the pages of DC Comics is a small-time crook who really is just a product of Gotham City, committing crimes simply to get by. When he dies, Batman covers the death up, and assumes the identity of Matches when he needs to go undercover amongst Gotham's criminal element. He's even been thrown in prison (on purpose) as Matches Malone before.
Obviously,
Gotham
is taking some considerable liberties here with the character, especially if he really is Thomas and Martha Wayne's killer. It's hard to imagine Bruce ever using their killer's identity in the future (and of course, as he's nearly five decades younger, pretty hard to pull off), as well. Going into the second half of the season dubbed "Rise of the Villains," it's easy to see that Matches will be not just an important part of
Gotham
's story, but certainly of Bruce's as well.
Gotham
airs Monday nights at 8pm on Fox. After tonight's mid-season finale, the show returns February 29, 2016 with a second run of 11 episodes for Season 2.
STAR WARS REBELS' RENEWED FOR SEASON 3 AT DISNEY XD
11/30/15 @ 1:42 pm EST
Source:
Deadline
| Categories:
Star Wars
|
Comments
(0) |
E-mail Article
|
Add a Comment
Disney XD has renewed
Star Wars Rebels
as expected for Season 3, with production already underway and a plan to air new episodes of the Lucasfilm-produced animated series in 2016. The series, which follows a ragtag group of heroes that dare to strike back against Imperial forces, is an original tale based on the Star Wars pics that in its first two seasons has incorporated classic characters while introducing new heroes and villains.
Coincidentally, the rebooted movie franchise
Star Wars: The Force Awaken
s hits theaters December 18. The renewal news was announced this morning on Star Wars mothership StarWars.com.
"We're very proud of our incredibly creative
Rebels
team," Lucasfilm SVP Development Kiri Hart said in the announcement. "The show continues to tell fun, heartfelt, exciting new Star Wars stories week after week, and it's beloved by fans of all ages. Season 3 will see our rebel heroes face new obstacles and find new allies in their fight against the Empire."
Star Wars Rebels ranks as Disney XD's No. 2 series in total viewers (1.3 million), kids 6-11, boys 6-11 and boys 2-11, and is the channel's No. 1 program in adults 18-49 and men 18-49.
Star Wars Rebels
is created by Dave Filoni (
Star Wars: The Clone Wars
), Simon Kinberg and Carrie Beck; Filoni and Kinberg executive produce.The Season 2 voice cast includes Freddie Prinze Jr., Vanessa Marshall, Steve Blum, Tiya Sircar, Taylor Gray, Ashley Eckstein, Dee Bradley Baker, David Oyelowo and Sarah Michelle Gellar.
BREAKING: YOUR FIRST LOOK AT MR. FREEZE IN GOTHAM
11/30/15 @ 11:14 am EST
Source:
Comicbook
| Categories:
Gotham
|
Comments
(0) |
E-mail Article
|
Add a Comment
Victor Fries, aka the Batman villain Mr. Freeze, will join the cast of future villains of the Dark Knight on
Gotham
tonight, as we meet Nathan Darrow's interpretation of the character
. USAToday
revealed the look ahead of the mid-season finale episode airing Monday night, November 30, 2015 at 8pm on Fox.
The look is more
The Flash
's Captain Cold than the over-the-top Arnold version seen on the big screen, which most fans will likely be thankful for - he fits in more with the realistic world that's been setup on the series so far.
In
Gotham
, Victor Fries is a Wayne Enterprises cryogenics engineer, and like his origin story on
Batman: The Animated Series
, he's working to save his terminally ill wife, Nora.
"Victor has one central intimate human connection, and that's with his wife. There's something really, really interesting and vulnerable and difficult about that. Of course, that is threatened by her illness," Darrow told
USAToday
. The character of Nora was not in Freeze's original backstory from the 50s and 60s, retroactively added to the comic books after the success of the animated series episode "Heart of Ice," which reinvented him for the modern era.
The Freeze Gun and most of the character's backstory will wait for reveals until the February 29, 2016 mid-season premiere, and all the actor can say about it for now comes from his talking points: "I will tell you we're going to see Mr. Freeze do some things we have never seen him do."
'SUPERGIRL' SCORES FULL-SEASON PICKUP AT CBS
11/30/15 @ 11:08 am EST
Source:
The Hollywood Reporter
| Categories:
DC
|
Comments
(0) |
E-mail Article
|
Add a Comment
Supergirl
's flight is far from over.
CBS has ordered seven more episodes of the DC Comics adaptation,
The Hollywood Reporter
has learned.
The order brings
Supergirl
's freshman season to a total of 20 episodes. Although it's slightly less than the normal 22, the freshman drama debuted a month later than most other new fall offerings.
Supergirl
also requires more special effects than the average series.
The network's sign of confidence comes a month after
Supergirl
launched to a 3.1 rating among adults 18-49 and 12.9 million viewers — making it the most-watched premiere of the fall season.
The series also tied with NBC's
Blindspot
for the highest-rated debut of the fall.
Supergirl
is currently averaging a 2.8 rating.The series marked a big leap for CBS as the only comic book-inspired series on the network's slate. However, CBS is hardly the first network to borrow from comic books for hit series. ABC has found success with
Marvel's Agents of SHIELD
and
Agent Carter
, as has The CW with
Arrow
and
The Flash
. Meanwhile, Fox boasts
Gotham.
'NICK PLAY' APP ARRIVES IN OZ
11/30/15 @ 9:23 am EST
Source:
Licensemag.com
| Categories:
MIsc
|
Comments
(0) |
E-mail Article
|
Add a Comment
Nickelodeon Australia has launched "Nick Play," a branded app experience that allows kids to interact with Nickelodeon wherever they go.
One of the first global territories to launch the app as part of Viacom's Play Plex multi-platform offerings, "Nick Play" offers Australian kids access to hundreds of Nickelodeon-themed videos, original short-form animations, newly created games, as well as full-length episodes of Nickelodeon's biggest hits and current top shows via Foxtel subscriber authentication.
HELLO KITTY DEBUTS OZ FASHION COLLAB
11/30/15 @ 9:20 am EST
Source:
Licensemag.com
| Categories:
MIsc
|
Comments
(0) |
E-mail Article
|
Add a Comment
Sanrio has launched a new high-fashion collaboration for Hello Kitty with the Australian fashion designer Leroy Nguyen, in a deal brokered by Haven Licensing.
The exclusive Hello Kitty capsule collection features five pieces including sweat tops, dresses and separates and is available now exclusively at the Leroy Nguyen online boutique.
"Leroy Nguyen has brought a truly unique and original look to the Hello Kitty brand," says Tom Punch, managing director, Haven Licensing. "It's so far from what we have seen done with this character in the past, and the collection sends a message to the global stage about both the Hello Kitty and Leroy Nguyen brands, as well about Australia's emerging designers and what they are capable of."
"I wanted to present Hello Kitty in a different light, away from her wonderful candy pink glory," says Nguyen. "With this in mind, I focused on the idea of strength. Strength found within the Hello Kitty character, but also strength invoked from being part of the Hello Kitty gang. This mindset married well with my own sense of design, which always revolves around the idea of feminine strength and youthful maturity."