DARK HORSE ANNOUNCES SPIKE SERIES!
04/18/12 @ 1:23 pm EST
Source:
Dark Horse
|
Comments
(0) |
E-mail Article
|
Add a Comment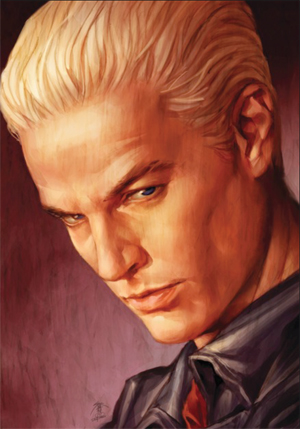 JOSS WHEDON'S ANTIHERO VAMPIRE RETURNS!
Dark Horse Comics announces a brand-new Spike miniseries slated for release this summer!
Written by Victor Gischler (
X-Men
,
Deadpool: Merc with a Mouth
)
and drawn by Paul Lee (
Buffy the Vampire Slayer
,
The Devil's Footprints
),
Spike
promises to be the series all Joss Whedon fans will be talking about.
Spike ventures off world in his bug ship in order to get away from some personal frustration on terra firma, and winds up sucked into a demonic plot to take advantage of the absence of magic on earth.
"What I love about working with Dark Horse on
Buffy
-related material is that they take great care to capture the feel of the characters and stories from the television show, of which I was a huge fan. Getting my hands on the characters I've loved so much over the years is a dream come true," said Gischler.
Spike
#1 will be on sale August 22, 2012!
About Twentieth Century Fox Consumer Products
: A recognized industry leader, Twentieth Century Fox Consumer Products licenses and markets properties worldwide on behalf of Twentieth Century Fox Film Corporation, Twentieth Television and Fox Broadcasting Company, as well as third-party lines. The division is aligned with Twentieth Century Fox Television, one of the top suppliers of primetime entertainment programming to the broadcast networks.
About Dark Horse Comics
: Since 1986, Dark Horse Comics has proven to be a solid example of how integrity and innovation can help broaden a unique storytelling medium and establish a small, homegrown company as an industry giant. The company is known for the progressive and creator-friendly atmosphere it provides for writers and artists. In addition to publishing comics from top talent like Frank Miller, Mike Mignola, Neil Gaiman, Gerard Way, Will Eisner, and best-selling prose author Janet Evanovich, Dark Horse has developed such successful characters as the Mask, Timecop, and the Occultist
.
Additionally, its highly successful line of comics and products based on popular properties includes
Star Wars
,
Avatar: The Last Airbender
,
Buffy the Vampire Slayer
,
Aliens
,
Conan the Barbarian
,
Mass Effect
,
Serenity
,
and Domo
.
Today, Dark Horse Comics is the largest independent comic-book publisher in the United States and is recognized as both an innovator in the cause of creator rights and the comics industry's leading publisher of licensed material.
JESSICA JONES SEASON 2 WILL BE DIRECTED ENTIRELY BY WOMEN
10/22/16 @ 5:16 pm EST
Source:
Comicbook
| Categories:
Marvel
|
Comments
(0) |
E-mail Article
|
Add a Comment
The superhero universe is quickly learning just how popular and powerful female leading characters can be, but many are still waiting for Hollywood to catch up to their new found realization behind the scenes. That shouldn't be a problem though for
Jessica Jones
.
The first season of
Jessica Jones
was double the average when it came to female directors, as one-third of the directors involved were women. The fact that one-third is double the average is concerning in itself, and less than 18% of television episodes contain a female director. If you ran through a list of your favorite nightly television shows, you'd quickly have a list made up of white males with a few lone spots of color or gender variation.
The executive producer of
Jessica Jones
Melissa Rosenberg has announced that season 2 of the hit show will not stick with that current trend, and will be directed entirely by women, an announcement she made at the Transform Hollywood panel.
Jessica Jones
season 2 currently has no release date but you can always rewatch season 1 on Netflix. Luke Cage just released last month, and next up is
Iron Fist
, which is set for March 17, 2017. Marvel's
Defenders
is scheduled for some time in 2017, followed most likely by
The Punisher
series, which has no release date as of this time.
DEADPOOL DIRECTOR, RYAN REYNOLDS CLASHED OVER CABLE CASTING?
10/22/16 @ 5:11 pm EST
Source:
Comicbook
| Categories:
Marvel
|
Comments
(0) |
E-mail Article
|
Add a Comment
Earlier today,
Deadpool
fans were dealt a major blow when it was reported that director Tim Miller, a man who eats, sleeps, and breathes comic books, won't be back to helm the sequel. When the news first broke, it was reported that Miller left the project due to "creative differences" with its star, Ryan Reynolds (
Green Lantern
), but no details were provided.
Now, after doing some digging, Umberto "El Mayimbe" Gonzalez of The Wrap is claiming the two clashed over the sequel's tone and who should play Cable — the powerful time-traveling mutant with a bionic arm and a messiah complex.
"Miller, who owns a visual effects studio and we're told did much of the polishing work on the original
Deadpool
for free, wanted more of a stylized sequel, while the actor placed his focus more on the raunchy comedy style that earned the first movie its R rating," The Wrap reports. "The casting issue also eventually came to a head over Kyle Chandler's rumored participation. Miller wanted the
Bloodline
star to play Cable, though Reynolds did not. Ultimately, the studio backed its marketable star, and the man behind the camera packed up his lenses."
While it appeared as though Miller and Reynolds had a good working relationship, The Wrap also claims the two have a "contentious relationship" and hardly communicate with each other. Additionally, when Reynolds renegotiated his contract for
Deadpool 2
, he asked and received "casting approval and other creative controls," so 20th Century Fox and Miller couldn't just dismiss Reynolds's suggestions.
RYAN REYNOLDS ASKED FANS FOR INPUT ON NEXT DEADPOOL MOVIE
10/22/16 @ 5:04 pm EST
Source:
Comicbook
| Categories:
Marvel
|
Comments
(0) |
E-mail Article
|
Add a Comment
Today news broke that
Deadpool
2
lost its director.
Tim Miller, the first time live-action director from Blur Studios who pushed long and hard, even possibly leaking test footage, to get the first
Deadpool
movie made, quit the sequel over creative differences with star Ryan Reynolds.
Specific details about the creative differences between Miller and Reynolds have not been revealed, but a tweet by Reynolds this morning may hint at some of what the contention was about.
Miller's departure from
Deadpool
2 took place Friday night, according to reports. This morning, prior to news of Miller's departure being made public, Reynolds tweeted out a poll. The tweet read, "I need your input on where we should set the climactic sequence for the next Deadpool film." Both options to vote in the poll were "A bridge."
After the news of Miller quitting
Deadpool 2
surfaced and this tweet began to get some additional attention, Reynolds deleted it. Was this a jab at Miller over one of their "creative differences?"
Fans of
Deadpool
will remember that a bridge was used as a prominent location in the film. This is pure speculation, but perhaps Miller wanted to return to a similar setting for the climax of
Deadpool 2
?
JAMES GUNN COMMENTS ON DEADPOOL DIRECTOR'S DEPARTURE
10/22/16 @ 4:58 pm EST
Source:
Comicbook
| Categories:
Marvel
|
Comments
(0) |
E-mail Article
|
Add a Comment
Unfortunate news this morning that
Deadpool 2
has lost director Tim Miller, who was part of the successful team that launched a new franchise for FOX and the X-Men line of films. The news took most by surprise, including fellow director James Gunn.
Gunn is currently working on his upcoming sequel,
Guardians of the Galaxy Vol. 2
, a franchise that delivered a refreshing sense of humor to the Marvel Universe like
Deadpool
did to FOX's X-Men universe, which most will agree was sorely needed. Gunn posted his reaction to the announcement on Twitter.
"Honestly bummed about Tim Miller leaving Deadpool. He did an amazing job with the first one; I'd like to have seen where he'd go next."
Many were excited to see what star Ryan Reynolds and Miller could do with an increased budget and bigger platform for the sequel, especially after they teased at the end of the original that Cable would be making an appearance this time around. Reports state the Miller and Reynolds parted ways due to creative differences, and that things are amicable between the two, but it's unfortunate that they couldn't find some common ground.
MISS MARTIAN DEBUTS IN NEW SUPERGIRL CLIP
10/22/16 @ 4:51 pm EST
Source:
Comicbook
| Categories:
DC
|
Comments
(0) |
E-mail Article
|
Add a Comment
The CW has released (via IGN) a clip from this Monday's "Welcome to Earth" episode of Supergirl, and it features the debut of Sharon Leal (
Hellcats
,
Grimm
) as Miss Martian/M'gann M'orzz.
Clip:
https://youtu.be/TNRNbx6c-HU
HAN SOLO FILM WILL REPORTEDLY SHOW HOW HAN LOST THE MILLENNIUM FALCON
10/22/16 @ 4:46 pm EST
Source:
Comicbook
| Categories:
Star Wars
|
Comments
(0) |
E-mail Article
|
Add a Comment
Phil Lord and Christopher Miller's upcoming
Han Solo: A Star Wars Story
is starting to build its cast, but more details are also starting to come out regarding the film's storyline.
On Friday, actor Donald Glover was announced as Lando Calrissian in the upcoming film, a casting that was met with an overwhelmingly positive response. The press released that came with the casting also shed some light on the plot.
"[The Han Solo Star Wars Story movie is] bringing two iconic Star Wars characters back to the big screen, but at a time in their lives previously unexplored. This new film depicts Lando in his formative years as a scoundrel on the rise in the galaxy's underworld — years before the events involving Han, Leia, and Darth Vader in The Empire Strikes Back and his rise to Rebel hero in Return of the Jedi."
Since the film is going to help fill in the gaps, it makes sense that fans will get to see just how Han obtained the Millennium Falcon in the first place. The ship was originally Lando Calrissian's, and according to THR's Borys Kit, that will figure into the storyline.
BENEDICT CUMBERBATCH TEASES DOCTOR STRANGE'S 'KEY ROLE' IN MCU PHASE 4
10/22/16 @ 4:41 pm EST
Source:
Comicbook
| Categories:
Marvel
|
Comments
(0) |
E-mail Article
|
Add a Comment
The release date of Marvel's
Doctor Strange
is very nearly upon us. The anticipated film will hit theaters in two weeks, but its cast has been making press rounds for
Doctor Strange
for weeks now. Yesterday, New York housed the film's world premiere, and ComicBook.com was lucky enough to speak with Benedict Cumberbatch about his mystical role. And, more importantly, he hinted that his character will play a "key role" in the next phase of Marvel films.
When Cumberbatch was asked how he saw Doctor Strange fitting into the largest Marvel Cinematic Universe, the actor strayed away from talking specifics to avoid any undue spoilers. However, he did say the sorcerer would be "all over the place."
"There's a lot going on this story [
Doctor Strange
] that will lead you to understand why he'll play a key role in the next phase," Cumberbatch explained.
The actor also talked about how he felt now playing Doctor Strange. Cumberbatch said, "Obviously, you want to bring the character to life and tell this really incredible story."
He continued and stressed that the character's story is only started in
Doctor Strange
. "It's only be the end of the film that you go, 'Oh my god, this is the beginning.' It's an origin story of a superhero that's going to be part of all of [the MCU]."
CHRIS PINE AND GUGU MBATHA-RAW JOIN DISNEY'S A WRINKLE IN TIME
10/22/16 @ 4:35 pm EST
Source:
Comicbook
| Categories:
Disney
|
Comments
(0) |
E-mail Article
|
Add a Comment
Chris Pine (
Wonder Woman
,
Star Trek
film series) and Gugu Mbatha-Raw (
Concussion, Doctor Who
) have joined the cast of Ava DuVernay's and Disney's live-action feature film adaptation of Madeleine L'Engle's classic children's book,
A Wrinkle in Time
.
The Newbery Medal-winning book follows a young girl named Meg Murry who is traumatized by the loss of her scientist father after he goes missing. Determined to find him, Meg embarks on a journey to a mysterious fifth dimension and comes across some incredible creatures along the way.
According to Deadline, Pine will play Dr. Alex Murray, Meg's father, and according to Variety, Mbatha-Raw will portray microbiologist Dr. Kate Murray, who is Alex's wife and the Meg's mother.
KEVIN FEIGE TALKS CAPTAIN MARVEL'S STRENGTH, DIRECTOR DELAYS
10/22/16 @ 4:32 pm EST
Source:
Comicbook
| Categories:
Marvel
|
Comments
(0) |
E-mail Article
|
Add a Comment
This year has been a big one for
Captain Marvel
. The iconic character made headlines when Marvel Studios confirmed a film would be geared around the hero, or should I say heroine? Carol Danvers was selected to be the on-screen iteration of Captain Marvel, and Brie Larson was the lucky actress who nabbed the role. In the past month or so, updates on the film have slowed, leading fans to wonder about Danver's origin and the film's director.
And, now, Kevin Feige is easing those fans' curiosity.
Speaking with Vulture, the president of Marvel Studios told the site they've "been meeting [with] amazing filmmakers" and "expect to have a director by the end of the year." So far, the studio has been held up in their decision because of how much potential they see in Captain Marvel. Naturally, they want to be as intentional with the film as possible."With Captain Marvel, there's so much potential in the comics and there have been so many incarnations of her powers and the characters who've had that mantle that we've been focusing in on exactly how do we tell her origin," Feige said. "How does it fit into the cosmic side of our universe? How does it fit into what we're doing with the next Avengers movies? So really, that's what's been delaying that particular announcement."
The executive producer hinted Marvel Studios had a general view of how the movie would go. Now, they are meeting with directors to share that vision so the filmmakers can pitch back the story "in a better fashion."
Of course, fans have known for awhile that Marvel Studios had a certain vision for
Captain Marvel
in mind. Earlier this year, Feige said the film was "certainly an origin story."
"It's an origin story from the start," Feige teased. However, comic book fans shouldn't expect to see the heroine's origin lifted straight from their favorite pages. Screenwriters Nicole Perlman and Meg LeFauve said the character's humble beginnings would be changed to suit the Marvel Cinematic Universe.
Perlman says she's never been more mindful about retconning a character's history than she is with Captain Marvel, but she said the change was a necessary one - and her reasoning has to do with the Green Lantern, of all things.
"Here's the thing, if you were just going to do a straight adaptation of the comics, her origin story is very similar to Green Lantern. And obviously, that's not what we want to do," Perlman said, nodding to Carol's canonical origin. "There's a lot of reinvention that needs to happen. And also, she's her own person and she's a great character. We have to be aware of what's happened in other Marvel film and makes sure that her particular storyline is unique and fun and also fits in within this world that's going on at the same time. It's a little bit of an interesting story gauntlet."
DOCTOR STRANGE'S MADS MIKKELSEN SEES HIS VILLAINOUS CHARACTER AS A
10/22/16 @ 4:27 pm EST
Source:
Comicbook
| Categories:
Marvel
|
Comments
(0) |
E-mail Article
|
Add a Comment
In a few short weeks,
Doctor Strange
will bewitch audiences when it spells it way into theaters. The anticipated Marvel flick will see Stephen Strange (Benedict Cumberbatch) train in the mystical arts, but his journey won't be without snares. A villain named Kaecilius will clash with Doctor Strange and threaten the physical world while doing so. However, at a recent press conference, actor Mads Mikkelsen said he thought of his role as that of a hero.
"I always think all characters as a hero," he said. "I think we have look at them that way. The key to any good villain, which I think was very clear from the beginning of this journey, is that they have a point. It's not completely crazy what they're saying. That is a point, even in Doctor Strange's eyes he does believe I have a point, and I think that's the key for a villain."
The actor continued, saying that fans have to be able to identify with a villain in some way to make them compelling. He said, "You have to have something to identify with so he just doesn't go ballistic and say, I'm going to take over the world because I can. No, it's a reason. It doesn't make sense. 'What's he thinking about out there?' Honestly, playing it safe for a fraction of time, it doesn't make sense."
Mikkelsen said his approach to Kaecilius was one that he talked through with director Scott Derrickson. The actor explained that he and the director "tried to make [Kaecilius] a man who knows what he's talking about." He even likened the villain to a demigod (a la Loki) or even the whacked-out creator of Jonestown who famously persuaded the followers of his cult to commit mass suicide. Ultimately, the actor said his character was someone who believes absolutely in what he says, making him a dangerous radical blinded by the so-called righteousness of his call.
Of course, Kaecilius doesn't differ from Marvel's other villains in that regard. The baddie spurs on his ideas because the world needs saving or redemption. Just look back to Loki in
The Avengers
; You'll see how his actions were prompted by seemingly altruistic motives. The angry trickster wanted to rule Earth because he believed humans were incapable of peacefully existing with one another.
In
Doctor Strange
, Kaecilius sees his mission as a fated one. He turns against the wishes of the Ancient One and tries to bring in dark, otherworldly forces into the real world. In his mind, the supernatural beings will help the Earth rather than harm it.
Kevin Feige, the head of Marvel Studios, spoke about the character's ulterior motives earlier this year with EW. The executive said that Kaecilius "believes that the Ancient One is just protecting her own power base and that the world may be better off if we were to allow some of these other things through."