DARK HORSE ANNOUNCES SPIKE SERIES!
04/18/12 @ 1:23 pm EST
Source:
Dark Horse
|
Comments
(0) |
E-mail Article
|
Add a Comment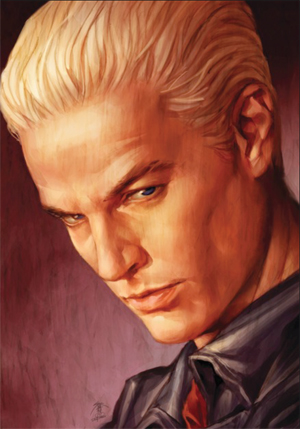 JOSS WHEDON'S ANTIHERO VAMPIRE RETURNS!
Dark Horse Comics announces a brand-new Spike miniseries slated for release this summer!
Written by Victor Gischler (
X-Men
,
Deadpool: Merc with a Mouth
)
and drawn by Paul Lee (
Buffy the Vampire Slayer
,
The Devil's Footprints
),
Spike
promises to be the series all Joss Whedon fans will be talking about.
Spike ventures off world in his bug ship in order to get away from some personal frustration on terra firma, and winds up sucked into a demonic plot to take advantage of the absence of magic on earth.
"What I love about working with Dark Horse on
Buffy
-related material is that they take great care to capture the feel of the characters and stories from the television show, of which I was a huge fan. Getting my hands on the characters I've loved so much over the years is a dream come true," said Gischler.
Spike
#1 will be on sale August 22, 2012!
About Twentieth Century Fox Consumer Products
: A recognized industry leader, Twentieth Century Fox Consumer Products licenses and markets properties worldwide on behalf of Twentieth Century Fox Film Corporation, Twentieth Television and Fox Broadcasting Company, as well as third-party lines. The division is aligned with Twentieth Century Fox Television, one of the top suppliers of primetime entertainment programming to the broadcast networks.
About Dark Horse Comics
: Since 1986, Dark Horse Comics has proven to be a solid example of how integrity and innovation can help broaden a unique storytelling medium and establish a small, homegrown company as an industry giant. The company is known for the progressive and creator-friendly atmosphere it provides for writers and artists. In addition to publishing comics from top talent like Frank Miller, Mike Mignola, Neil Gaiman, Gerard Way, Will Eisner, and best-selling prose author Janet Evanovich, Dark Horse has developed such successful characters as the Mask, Timecop, and the Occultist
.
Additionally, its highly successful line of comics and products based on popular properties includes
Star Wars
,
Avatar: The Last Airbender
,
Buffy the Vampire Slayer
,
Aliens
,
Conan the Barbarian
,
Mass Effect
,
Serenity
,
and Domo
.
Today, Dark Horse Comics is the largest independent comic-book publisher in the United States and is recognized as both an innovator in the cause of creator rights and the comics industry's leading publisher of licensed material.
TOP COW TALENT HUNT 2015 WINNERS REVEALED
05/27/15 @ 12:44 pm EST
Source:
Comic Book Resources
| Categories:
MIsc
|
Comments
(0) |
E-mail Article
|
Add a Comment
Top Cow Productions' third-annual Talent Hunt has wrapped, and CBR had the
exclusive
first public word on this year'swinners.
"Top Cow is very proud to bring another round of new blood into the industry," Top Cow President and COO Matt Hawkins. "Several of our previous winners have already found ongoing work in the industry, and we're excited to have been a part of that."
From a field of 587 entries, the Image Comics imprint has selected 2 winners and 3 runner-ups in the writing category, plus 2 winners and 2 runner-ups among artists.
Writing winners:
Amit Chauhan, Charles Harmon
Writing runner-ups:
Camilla Zhang, Paul Penna, Kelly Bender
Artist winners:
Eli Powell, D.P Dwyer
Artist runner-ups:
Jim Towe, Francesca Aureli
"On the other side of the more established publishers, most are closed shops without a means for new writers to submit material for review," Hawkins told CBR at the launch of last year's competition. "TV studios have writer programs to bring new blood in. Film execs have people to read spec scripts. The comic industry has nothing like this. I love our Talent Hunt and see it as one of the few options a new writer has in getting their work read. We look forward for doing it for years to come."
DAVID DUCHOVNY ON NEW 'X-FILES' SCRIPT: 'I STARTED CRYING READING THE FIRST PAGE'
05/27/15 @ 12:34 pm EST
Source:
Comic Book Resources
| Categories:
MIsc
|
Comments
(0) |
E-mail Article
|
Add a Comment
Unsurprisingly, the details of Fox's forthcoming revival of "The X-Files" are classified— but in an interview with Entertainment Weekly, series co-lead David Duchovny was at least able to discuss how the first script of the new material made him feel.
"I got the first script this morning," Duchovny, who plays Fox Mulder on "The X-Files," told EW. "I just read it about an hour ago and I started crying reading the first page. It was just so strange to see the names on the page. It had nothing to do with the script itself… That was nice and strangely emotional for me, and I'll have to figure out how to use that [in the performance]."
Duchovny declined to provide more detail, other than saying the script is "fantastic," and that the new series, despite running for only six episodes, will blend standalone and "mythology" installments, much like the original "X-Files."
Additionally, it looks like both Duchovny and Gillian Anderson are game for more after this run: "I would be open to doing another cycle," Duchovny said to EW. "I don't know that I could do a 20-episode version of this show at this point in my life, and I don't know that Gillian could. But I think everybody is open ended on what happens after this."
The six-episode revived "X-Files" series is scheduled to debut Jan. 24, 2016 on Fox — the same network aired the original "The X-Files," a TV sci-fi classic that ran for nine seasons from 1993 to 2002.
JADEN SMITH 'CAST AS DC COMICS TEEN HERO STATIC SHOCK
05/27/15 @ 12:28 pm EST
Source:
Daily Mail
| Categories:
DC
|
Comments
(0) |
E-mail Article
|
Add a Comment
It seems Jaden Smith is following in dad's footsteps as he steps into the role of a costumed crusader.
The 16-year-old son of Will and Jada Pinkett Smith has been cast as the teen superhero, Static Shock, for an upcoming Warner Bros. web series, according to actor Tyler James Williams.
The Walking Dead star made the admission during a Comic Con interview, saying: 'There aren't that many young black comic book super heroes. It's great to see Static Shock is happening with Jaden.'
Static Shock – aka Virgil Ovid Hawkins – is an African-American teen hero with the power to wield and manipulate electricity.
The character will appear in Warner Bros.' digital live-action adaptation of the comic, Static, which debuted under the Milestone Comics imprint of DC Comics in
1993.
A LOOK INSIDE CONVERGENCE PLASTIC MAN AND THE FREEDOM FIGHTERS #2
05/27/15 @ 12:16 pm EST
Source:
Bleeding Cool
| Categories:
DC
|
Comments
(0) |
E-mail Article
|
Add a Comment
Here we have a look inside Convergence: Plastic Man and the Freedom Fighters#2 by Simon Oliver and John McCrea. Enemies become allies as the Nazi run New York City is attacked by robot superheroes from Futures End. Plus the issue includes a sneak peek at Harley Quinn by Amanda Conner, Jimmy Palmiotti and Chad Hardin as Harley's new assistants get their codenames.


EVERYONE IS THE HERO OF THEIR OWN STORY - J.T. KRUL TALKS BATTLESTAR GALACTICA: SIX
05/27/15 @ 12:12 pm EST
Source:
Bleeding Cool
| Categories:
Battlestar Galactica
|
Comments
(0) |
E-mail Article
|
Add a Comment
David Avallone,
writer of
Legenderry: Vampirella
#4, talks with writer
J.T. Krul
about
Battlestar Galactica: Six
#5, both on sale now. Cover art by
Jenny Frison
and
Rod Rodolfo
DAVID AVALLONE: I was the right age to be a fan of the original television series when it premiered in the late seventies. Watching it now I have a somewhat different reaction than I did then… but I still enjoy seeing the imagery from it in your book (and in the reboot). What's your relationship to the original and reboot versions of the show?J.T. KRUL:
I was also exposed to the original series when I just a boy, so it hit me at the right time. That and
Buck Rogers
were among my favorite shows back in the day. As for the reboot, I was a huge fan of it. I remember when it was first announced, it seemed like it was going to be very much like
The Terminator
, but once I started watching it I realized that
Blade Runner
was a more accurate comparison. And, since that is probably my favorite movie of all time, I was instantly hooked. The new BSG was probably was of the best shows of the past decade. It's funny how the same concept had two very different tones. The original
Battlestar Galactica
had a much stronger sense of hope than the new one, which was dominated by a constant frenzy of hopeless desperation.
DA: The Marvel comic that accompanied the original series stands up a little better than the show itself, thanks largely to Walt Simonson and Roger McKenzie. Have you read those?JTK:
I remember reading some of them when I was younger, but my exposure to the world of BSG was much more grounded in the TV shows.
DA: One of the most compelling aspects of the "Galactica" mythos is that the Cylons … like all good villains … have a point. This issue, showing some of their uprising from their perspective, reminded me – tonally, at least – ofConquest of the Planet of the Apes. Are the Cylons the "bad guys", or do you see it as more complex than that?JTK:
It's that old saying – "Everyone is the hero of their own story." To really explore the Cylons, you have to take that mindset — understand who they are and where they are coming from. If anything, my story is meant to pull back the curtain on that. Reveal that background and a sense of sympathy for Number Six and the Cylons. I mean, in the beginning of the original miniseries of the reboot, Number Six walks coldly through that park and snaps the baby's neck with a harsh detachment. In our story, we show the events leading up to that. The Cylons are the very definition of the word "complex." That was the whole reason I wanted to do the story in the first place. Complex is fun because of all the layers you get to pull back.
DA: You touch on the Cylon theology a lot here, and how it differs from humanity's. Do you have an opinion about their belief that humanity's "12 Gods" are fake and their monotheistic deity is real? Have you decided for yourself what the truth is, in the universe of "Galactica"?JTK:
In this world, and any world for that matter, I think the truth is in the eye of the beholder when it comes to religion. Going back to humanity's polytheist origins and carrying the evolution through to our present monotheist frameworks, it's all the same thing — a means to explain the world around us, to offer us a sense of belonging and understanding. It's comfort food, helping us to celebrate the good times and cope with the bad times.
DA: To some degree, the audience knows how this story ends. How do you feel about working within that framework? Is it a limitation or a challenge, or both?JTK:
It has its challenges when you know you have to stay between the lines, so to speak, but a story like this is about exploring the quiet corners of the BSG universe. This is very much a science-fiction story that delves into the very genesis of the Cylons in terms of their mindset and mission in life. Using the different incarnations of Number Six on different planets allowed us to highlight several different stages of growth and development — physical, spiritual, emotional, etc. Life lessons for a Cylon if you will. The bottom line is that it doesn't matter if the audience knows where you are going, because I'm focusing on the journey to get there.
MIKE WOLFER TO LAUNCH DAUGHTERS OF THE DARK ORACLE
05/27/15 @ 12:08 pm EST
Source:
Bleeding Cool
| Categories:
MIsc
|
Comments
(0) |
E-mail Article
|
Add a Comment
Indy horror creator
Mike Wolfer
has built his reputation on books like
Night Of The Living Dead
,
Friday the 13th
,
Lady Death
,
Gravel
and
Stitched
as well as his own creation
Ragdoll
. Now he is starting up
Mike Wolfer Entertainment
and has announced the first release:
Daughters Of The Dark Oracle
.
The solicit:
Set in 1877, Daughters is a string of interconnected mini-series featuring vampires, werewolves, and other nightmarish creatures of legend. The star of the series is Ragdoll, a Frankenstein's monster creation whose horrifying acts of vengeance against those responsible for the murders of the original owners of her composite parts will draw together the "Daughters," and lead to the unveiling of fresh, modern interpretations of centuries-old legends. The first, four-issue, Daughters mini-series, sub-titled "The Curse of Ragdoll," introduces Ragdoll, as well as Countess Bathory, the Wolfwoman, Kýma the Siren, and others, and establishes the 19th century European setting, a time when women did not enjoy the freedoms and equality that are basic human- or inhuman- rights.Although the story is firmly entrenched in the conventions of the Gothic horror genre with its visceral and unflinching juxtaposition of sex and death, the most important sub-textual question each of the "Daughters" must ask themselves is, "Despite possessing a supernatural origin and nature, what does it truly mean to be human?" It is the exploration of that theme that gives Daughters of the Dark Oracle a depth beyond the exterior, exploitation elements. Defining one's humanity is particularly difficult for Ragdoll, who is an amalgamation of many women from various walks of life and social stations, whose memories and souls are a part of her being. In the opening Daughters mini-series, Ragdoll begins her quest for revenge against one murderer after another, guided by the spirits of the dead who drive her and lead her to her quarry. Once their sins have been exposed by Ragdoll, each fiend faces a most fitting, and often ironic end, and it is this tongue-in-cheek levity in the face of abject terror that gives the series its unique, fun feel. But how and why Ragdoll was created, and how she acquired her unearthly, supernatural control of the elements will be her true quest, a story that will unfold with each successive Daughters of the Dark Oracle mini-series.Daughters of the Dark Oracle: The Curse of Ragdoll
#1 (of 4) hits comic stores in July 2015, and can be found under the Mike Wolfer Entertainment heading in
Diamond Comic Distributors
' May
Previews
catalog.
MARVEL WITHDRAWS X-MEN AND FANTASTIC FOUR LICENSE FROM XM STUDIOS, IN MID SCULPT...
05/26/15 @ 7:52 pm EST
Source:
Bleeding Cool
| Categories:
Marvel
|
Comments
(0) |
E-mail Article
|
Add a Comment
Less than a week ago, statue manufacturer XM Studios Premium Collectibles was showing off designs for their officially licensed X-Men Sentinel diorama.
As you can see, all very impressive
Even a close up of fan-favorite Rogue…
And lthen there is their Cable designs.
But, as Bleeding Cool and others have been reporting, we know what's coming next, right?
XM Studios Premium Collectibles has just posted to Facebook:
Folks, it's been a sad day for us… due to reasons we aren't at liberty to disclose, we have been asked to put a hard stop to all X-Men characters for now. That means Cable can't be released, and neither can the awesome Sentinel Diorama which we've all been so looking forward to. Still, we continue to have faith that this isn't an indefinite red light forever and you can have our promise we will be back to producing these dream pieces once the coast is clear – no matter how long it takes!
XM Studios Premium Collectibles added:
No Fantastic 4 too… same issue
XM's Magneto has already shipped and it looks like their Phoenix was too far along to cancel. (Source: Bleeding Cool)
JURASSIC WORLD' EYES HUGE $100 MILLION PLUS OPENING
05/26/15 @ 6:24 pm EST
Source:
Variety
| Categories:
MIsc
|
Comments
(0) |
E-mail Article
|
Add a Comment
"Jurassic World" is shaping up to be a box office monster.
The latest installment in Universal Pictures' "when dinosaurs attack" franchise doesn't hit theaters until June 12, but pre-release tracking suggests it will feast on an opening weekend of $100 million or more–an impressive debut for a franchise that hasn't released a new chapter in more than a decade.
"The trailers are connecting in such a big way," said Phil Contrino, vice president and chief analyst at BoxOffice.com.
Pre-release ticket sales have been robust since they kicked off on May 15, and Fandango reports that the film is one of its top five best sellers this week.
Time appears to have made the heart grow fonder for Universal and Steven Spielberg's prehistoric reptiles. Though the first film shattered box office records and the second installment was the third highest grossing film of 1997 (both pics were helmed by Spielberg), ticket sales began to decline by the time "Jurassic Park III" hit theaters in 2003. That film grossed $181 million domestically over its life time, the lowest figure for any film in the series. The third sequel has shown a willingness to shake things up. While Spielberg remains an exec producer, it jettisoned the original cast and instead brought in indie director Colin Trevorrow ("Safety Not Guaranteed") and new leading man Chris Pratt, whose star power rose last summer with "Guardians of the Galaxy."Promotional materials for the tentpole, based on Michael Crichton have shrewdly played on nostalgia, with trailers prominently featuring shots of the park's iconic jungle gates and a piano version of John Williams score, while also introducing new dinosaurs such as the hybrid creature, Indominus rex. Posters have included Pratt flanked by Velociraptors and an arresting image of an aquatic reptile called a Mosasaurus about to chow down on a shark.
Of course, bringing a herd of dinosaurs to life isn't cheap and "Jurassic World" carries a hefty $150 million price tag, so it will need to be a global hit in order for Universal to recoup its investment.
The likely success of "Jurassic World" continues what is shaping up to be one of Universal's best years in recent memory. The studio is in second place behind Disney in terms of market share and has fielded a number of major successes such as "Furious 7," "Fifty Shades of Grey," and "Pitch Perfect 2," along with a few misfires such as "Blackhat" and "Seventh Son." The rest of the summer looks equally promising. The studio's slate includes "Minions," a spin-off from the "Despicable Me" series; "Ted 2″; and the rap drama "Straight Outta Compton."
"This is a big, franchise-driven year for them," said Eric Handler, an analyst with MKM Partners. "You look at the contribution from 'Furious 7′ and that's going to make you forget about 'Seventh Son.
'"If "Jurassic World" surpasses $100 million in its opening weekend, it will be the third film of the year to hit that mark, behind "Furious 7″ and Disney's "Avengers: Age of Ultron." In contrast, only one film last year, "Transformers: Age of Extinction," had an opening of more than $100 million.
'SUPERGIRL,' MORE NAMED CRITICS CHOICE MOST EXCITING NEW SERIES
05/26/15 @ 6:14 pm EST
Source:
Variety
| Categories:
DC
|
Comments
(0) |
E-mail Article
|
Add a Comment
T
he buzz is building for new shows — and now several can claim they even have an award to prove it.
The upcoming Critics' Choice Television Awards has unveiled its honorees for most exciting new series: "American Crime Story" (FX), "Aquarius" (NBC), "Blindspot" (NBC), "Minority Report" (Fox), "The Muppets" (ABC), "Scream Queens" (Fox), "Supergirl" (CBS) and "UnREAL" (Lifetime).
The honorees were chosen by Broadcast Television Journalist Association members from pilots and trailers from series premiering after May 1.
The organization also revealed presenters for the CCTAs, including nominees Johnny Galecki ("The Big Bang Theory"), Bob Odenkirk ("Better Call Saul"), Sarah Paulson ("American Horror Story: Freak Show") and Allison Janney ("Mom"), who was the only actor to take home two awards last year.
ROBERT RODRIGUEZ TACKLING 'JONNY QUEST' FOR WARNER BROS.
05/26/15 @ 5:59 pm EST
Source:
Hollywood Reporter
| Categories:
MIsc
|
Comments
(0) |
E-mail Article
|
Add a Comment
Robert Rodriguez has come aboard the adventure project, an adaptation of the classic Hanna-Barbera cartoon, which has been dormant for the past several years.

Moving the Warner Bros. adventure along is Terry Rossio,whose credits range from the Pirates of the Caribbean movies to The Mask of Zorro.

Rodriguez and Rossio are rewriting the script initially penned by Dan Mazeau, with Rodriguez on board to direct. Dan Lin and Adrian Askarieh are producing.