DARK HORSE ANNOUNCES SPIKE SERIES!
04/18/12 @ 1:23 pm EST
Source:
Dark Horse
|
Comments
(0) |
E-mail Article
|
Add a Comment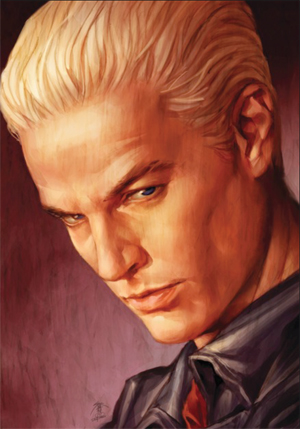 JOSS WHEDON'S ANTIHERO VAMPIRE RETURNS!
Dark Horse Comics announces a brand-new Spike miniseries slated for release this summer!
Written by Victor Gischler (
X-Men
,
Deadpool: Merc with a Mouth
)
and drawn by Paul Lee (
Buffy the Vampire Slayer
,
The Devil's Footprints
),
Spike
promises to be the series all Joss Whedon fans will be talking about.
Spike ventures off world in his bug ship in order to get away from some personal frustration on terra firma, and winds up sucked into a demonic plot to take advantage of the absence of magic on earth.
"What I love about working with Dark Horse on
Buffy
-related material is that they take great care to capture the feel of the characters and stories from the television show, of which I was a huge fan. Getting my hands on the characters I've loved so much over the years is a dream come true," said Gischler.
Spike
#1 will be on sale August 22, 2012!
About Twentieth Century Fox Consumer Products
: A recognized industry leader, Twentieth Century Fox Consumer Products licenses and markets properties worldwide on behalf of Twentieth Century Fox Film Corporation, Twentieth Television and Fox Broadcasting Company, as well as third-party lines. The division is aligned with Twentieth Century Fox Television, one of the top suppliers of primetime entertainment programming to the broadcast networks.
About Dark Horse Comics
: Since 1986, Dark Horse Comics has proven to be a solid example of how integrity and innovation can help broaden a unique storytelling medium and establish a small, homegrown company as an industry giant. The company is known for the progressive and creator-friendly atmosphere it provides for writers and artists. In addition to publishing comics from top talent like Frank Miller, Mike Mignola, Neil Gaiman, Gerard Way, Will Eisner, and best-selling prose author Janet Evanovich, Dark Horse has developed such successful characters as the Mask, Timecop, and the Occultist
.
Additionally, its highly successful line of comics and products based on popular properties includes
Star Wars
,
Avatar: The Last Airbender
,
Buffy the Vampire Slayer
,
Aliens
,
Conan the Barbarian
,
Mass Effect
,
Serenity
,
and Domo
.
Today, Dark Horse Comics is the largest independent comic-book publisher in the United States and is recognized as both an innovator in the cause of creator rights and the comics industry's leading publisher of licensed material.
'GUARDIANS OF THE GALAXY' HAS BEST LATE NIGHT OPENING OF 2014
08/01/14 @ 9:25 pm EST
Source:
Bleeding Cool
| Categories:
Guardians of The Galaxy
|
Comments
(0) |
E-mail Article
|
Add a Comment


Marvel's latest venture into the theaters, Guardians of the Galaxy, opened up overnight and pulled in $11.2 million making it the highest overnight opening in 2014. It opened in 4,080 theaters and beat out its fellow studio feature Captain America: The Winter Soldier which made 10.2 million when it debuted overnight in April.

According to Deadline (via Bleeding Cool), the movie is tracking extremely well with children and initial estimates are being raised. Captain America took in $95 million and now it looks like Guardians may take in $40 million tonight and $80 to $90 million for the weekend. This is up substantially over the original $60 to $65 estimate that was being used earlier in the week.
DAVID ZAYAS TO PLAY MOBSTER SAL MARONI IN 'GOTHAM'
08/01/14 @ 9:19 pm EST
Source:
Deadline
| Categories:
MIsc
|
Comments
(0) |
E-mail Article
|
Add a Comment
Dexter
alum David Zayas is joining the cast of Fox's Batman prequel drama series
Gotham
as a recurring. He will play DC character Mob Boss Salvatore Maroni, one of the city's most dangerous gangsters.
In the Batman mythology, Maroni is a street operatopr who clawed his way into controlling the city's drug trade and unions. He is second only to Carmine Falcone in power and reach, and second to none in his appetite for violence. In time, Maroni will develop into one of Batman's first enemies and become infamous as the man responsible for disfiguring DA Harvey Dent, leading to his transformation into Two-Face.
But for now, as he strives to gain more territory in Gotham, he'll find himself on a crash course with his rival Falcone (John Doman) for control of the city.
In the feature
The Dark Knight
, the role of Maroni was played by Eric Roberts.
t
'SHARKNADO' SEQUEL SETS RATINGS RECORD
08/01/14 @ 9:07 pm EST
Source:
Deadline
| Categories:
MIsc
|
Comments
(0) |
E-mail Article
|
Add a Comment


Sharknado, The Second One, the second installment in Syfy's campy disaster franchise, whirled into the ratings last night with 3.9 million viewers and 1.6 million adults 18-49, becoming the channel's most watched original movie ever. It dwarfed last summer's original, which became a surprise hit, soaring 183% in total viewers and 190% among adults 18-49. In the demo, Sharknado 2 topped several broadcast shows last night, including CBS' Extant, Fox's So You Think You Can Dance and ABC's Motive.

The sequel also continued to be a social-media hit, drawing even bigger numbers on Twitter than last year. According to Nielsen, it generated 581,000 related tweets from 188,000 unique authors, up from 318,000 tweets by 112,000 users for the original movie just over a year ago.
'NYPD BLUE' ACTRESS CAST AS FELICITY'S MOM ON 'ARROW'
08/01/14 @ 9:02 pm EST
Source:
Bleeding Cool
| Categories:
Arrow
|
Comments
(0) |
E-mail Article
|
Add a Comment
Charlotte Ross, formerly of
NYPD Blue
, has just been announced as being cast as Felicity Smoak's (Emily Bett Rickards) mother in at least one episode of
Arrow,
Bleeding Cool reports.
Her mother has been mentioned in the past as having been a cocktail waitress in Las Vegas.
MARVEL RUSH-PUBLISHES SECRET SERVICE COLLECTION AHEAD OF FILM
08/01/14 @ 8:55 pm EST
Source:
Bleeding Cool
| Categories:
MIsc
|
Comments
(0) |
E-mail Article
|
Add a Comment
A new collected editon of
The Secret Service
, or rather
Kingsman: The Secret Service
, is being rush-published by Marvel
for the last of September, Bleeding Cool reports. It is then, someone realized, that the film of same will also be out and that it would probably be a good idea not to wait until November for the book to no longer be in print.
Good thinking!
FAWKES, EISMA BANK ON ARCHER & ARMSTRONG: THE ONE PERCENT #1
08/01/14 @ 7:06 pm EST
Source:
Valiant
| Categories:
MIsc
|
Comments
(0) |
E-mail Article
|
Add a Comment


This November, crime pays when Valiant's viceroys of villainy – the secretive One Percent of Wall Street – step into their very first solo adventure!Valiant is proud to announce ARCHER & ARMSTRONG: THE ONE PERCENT #1 – an all-new one-shot tale spinning directly out of the pages of Archer & Armstrong's Harvey Award-nominated ongoing series!

Arriving in stores this November, join Eisner Award-nominated creators Ray Fawkes (Batman Eternal, Constantine) and Joe Eisma (Morning Glories) as they reveal the secret inner workings of a power-obsessed conspiracy that secretly runs the world from the catacombs beneath the Financial District.They tried to save the Euro, but almost destroyed the world. Thwarted by the adventurers known as Archer & Armstrong at every turn, Valiant's own wolves of Wall Street then turned their attention to Occupy Wall Street…and we all know how that worked out! Now, in the wake of their greatest victory, a vicious new brand of One Percenter is about to rise to the top of his class, and this time there will be no one to BAIL OUT their enemies as Archer & Armstrong face down a brand new kind of hostile takeover!

"[As] readers of Archer & Armstrong are aware, the One Percent are a conspiracy that happens to be true in that universe, about a bunch of Wall Street investors and bankers and types who have cut actual deals with the devil – or at least they say so," writer Ray Fawkes said. "They do black magic and that's got a lot to do with why they're secretly ruling part of the world – or at least, it's got something to do with why they're so super rich! They're very, very, very bad people, and this is our chance to show how they work behind the golden masks of bulls and bears."

Featuring a standard cover by fan favorite artist Juan Doe – plus two limited, special edition shelf covers featuring perforated, fully detachable One Percent bull and bear masks by legendary artist and designer Rian Hughes – get rich or die trying this November as Ray Fawkes and Joe Eisma foist a brand new breed of villain to the top of the corporate ladder in ARCHER & ARMSTRONG: THE ONE PERCENT #1! (That will be $3.99, please.)

ARCHER & ARMSTRONG: THE ONE PERCENT #1
Written by RAY FAWKES
Art by JOE EISMA
Cover by JUAN DOE
Bull Mask Cover by RIAN HUGHES
Bear Mask Cover by RIAN HUGHES
$3.99 ONE-SHOT T+ 32 pgs.
COMING IN NOVEMBER!
VALIANT COMES TO IVERSE'S COMICSPLUS WITH COMPLETE DIGITAL COMICS LIBRARY
08/01/14 @ 7:00 pm EST
Source:
Valiant
| Categories:
MIsc
|
Comments
(0) |
E-mail Article
|
Add a Comment


Leading digital comics provider iVerse Media announced today they have teamed with award-winning comic book publisher Valiant Entertainment to bring Valiant's complete library of modern and classic content – including X-O Manowar, Bloodshot, Archer & Armstrong, Shadowman, Rai, and many more – to iVerse's ComicsPlus app and affiliated platforms. Effective immediately, iVerse will offer Valiant's monthly comics titles day-and-date via the ComicsPlus app, and will soon host Valiant's complete catalog of comics and collections.

To launch their newly announced partnership, iVerse is also now offering each of Valiant's best-selling #1 issues for free on the ComicsPlus app throughout the month of August.

Established in 1989, Valiant has sold over 80 million comic books, and today its characters continue to be forged in publishing, licensing, film, video games, and beyond. Since its summer 2012 publishing relaunch, Valiant has returned to the fore as one of the most commercially and critically successful independent publishers in the industry today with an initial slate of titles that included X-O Manowar by New York Times best-selling writer Robert Venditti and Eisner Award-winning artist Cary Nord; Harbinger by New York Times best-selling writer Joshua Dysart and Harvey Award-nominated artist Khari Evans; and Archer & Armstrong by the New York Times best-selling creative team of writer Fred Van Lente and artist Clayton Henry.

After multiple Publisher of the Year awards and nominations, including a 2012 Diamond Gem Award for Publisher of the Year, Valiant ventured even farther in 2013 with the debut of its first crossover event, Harbinger Wars, and the release of Unity #1 by writer Matt Kindt and artist Doug Braithwaite – the year's highest charting debut issue from a non-premier publisher with sales in excess of 70,000 copies. This May, Valiant followed up with "Valiant First" – an all-new line of titles led by the smash-hit ongoing series, Rai, and its biggest crossover event to date, Armor Hunters. Most recently, on the heels of 16 nominations at this year's Harvey Awards, the publisher has announced The Valiant – a prestige format mini-series from New York Times best-selling writers Jeff Lemire and Matt Kindt with art by Eisner Award winner Paolo Rivera beginning this December.

Valiant will be the latest publisher to join the rapidly expanding offerings of the ComicsPlus app from iVerse Media.

"Valiant has been consistently producing some of the best comics in the industry since their relaunch in 2012," said iVerse Media founder and CEO Michael Murphey. "We could not be more proud to make their remarkable catalog and amazing characters available in ComicsPlus."

In addition to the ComicsPlus app and website, Valiant's titles will be made available to librarians and their patrons everywhere via the ComicsPlus: Library Edition app, which makes thousands of high-quality titles accessible to school and library patrons on any device, anywhere, and at any time.

"Valiant's number one priority is to make our characters and content available to the largest audience possible, and, via our new partnership with iVerse, we have an incredibly exciting and important new channel to continue that mission," said Valiant Publisher Fred Pierce. "With a potential readership that's measured in the millions, we hope to win over even more fans to some of the most critically acclaimed comic books being produced anywhere today, just as we have month in and month out in comic book stores around the world."

Valiant titles are available now on the ComicsPlus iOS and Android apps, and via the website.
MYTH AND MONSTERS COME ALIVE IN WAYWARD
08/01/14 @ 6:53 pm EST
Source:
Image
| Categories:
Image
|
Comments
(0) |
E-mail Article
|
Add a Comment


Writer Jim Zub (SKULLKICKERS, Samurai Jack), penciler Steve Cummings (Legends of the Dark Knight, Deadshot), and color artist John Rauch (INVINCIBLE) team up to create a rich and vibrant Tokyo in WAYWARD. However, this Tokyo just so happens to be filled with monsters of myth and legend laying in wait for one Rori Lane's arrival.

Rori's a misfit teen who travels halfway across the world from Ireland to make a new home in Japan with her mother. From the get-go there are some cultural adjustments to be made and Rori feels like a fish out of water—but things take a turn for the weird when she begins glimpsing things, creatures, that no one else can see.

WAYWARD #1 arrives in stores on 8/27, and will be available for $3.50 with special variant covers by Alina Urusov (Birds of Prey), Jeff "Chamba" Cruz (Street Fighter), and Adam Warren (Empowered). The final order cutoff for retailers is 8/4.
C.O.W.L. SUPERHERO UNION WINS PUBLIC FAVOR
08/01/14 @ 6:50 pm EST
Source:
Image
| Categories:
Image
|
Comments
(0) |
E-mail Article
|
Add a Comment


The third issue of Kyle Higgins (Batman, Nightwing), Alec Siegel (Captain America, Avengers), and Rod Reis' (Justice League) all-new ongoing series C.O.W.L. has sold out and is slated for a second printing to meet customer demand. A runaway hit, C.O.W.L. has captivated superhero fans with its unique, moody tone and fresh spin on the superhero genre. Critics and leading industry professionals have embraced the new series enthusiastically and readers are hooked.

C.O.W.L. #3 explores the superheroes in depth and delves into Radia's history, including her struggle to gain respect within and without the labor union. Meanwhile, Geoffrey uncovers more about C.O.W.L.'s dire plight and John's investigation into the union takes a turn down a much darker path than anyone expected.

C.O.W.L. #3 has completely sold out at the distributor level, but may still be available in comic stores. It is currently available digitally on the Image Comics website (imagecomics.com) and the official Image Comics iOS app, and on Comixology on the web (comixology.com), iOS, Android, and Google Play.

The second printing of C.O.W.L. #3 (Diamond Code JUN148316) will release on 8/27.

C.O.W.L. #4 (Diamond Code JUN140544) will also hit stores on 8/27.
'JUSTICE LEAGUE': POWER RING'S ORIGIN REVEALED
08/01/14 @ 6:41 pm EST
Source:
DC
| Categories:
Justice League
|
Comments
(0) |
E-mail Article
|
Add a Comment
SPOILER ALERT
: If you have not read JUSTICE LEAGUE #32 yet and do not wish to know what happens, stop reading this post now (major spoilers ahead!).
In JUSTICE LEAGUE #32 , the "INJUSTICE LEAGUE" continues in Chapter Three: "Birth." But Superwoman – one of three surviving members of the Crime Syndicate – is only three months pregnant. What does "Birth" refer to?
This action-packed issue has a ton of spoilers: Lex Luthor recruits a new Head of Security for Lexcorp, the Justice League makes a direct attack on Power Ring, and the Doom Patrol's leader – Dr. Niles "The Chief" Caulder – shows himself to be as callous and conniving as Luthor. Or possibly even more!
But there's another moment in it that just can't be overlooked: Shazam hits Jessica Cruz with a blast that lets Cyborg get close enough to communicate with Power Ring. And Power Ring's secrets come spilling out! Take a look at page 18, below, as we learn Power Ring's origin, why Jessica Cruz is so fearful, and what the being that destroyed Power Ring's world is after!
JUSTICE LEAGUE #32, written by Geoff Johns and illustrated by Doug Mahnke and Keith Champagne, is available in stores now.