DARK HORSE ANNOUNCES SPIKE SERIES!
04/18/12 @ 1:23 pm EST
Source:
Dark Horse
|
Comments
(0) |
E-mail Article
|
Add a Comment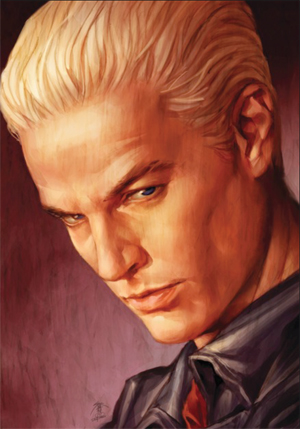 JOSS WHEDON'S ANTIHERO VAMPIRE RETURNS!
Dark Horse Comics announces a brand-new Spike miniseries slated for release this summer!
Written by Victor Gischler (
X-Men
,
Deadpool: Merc with a Mouth
)
and drawn by Paul Lee (
Buffy the Vampire Slayer
,
The Devil's Footprints
),
Spike
promises to be the series all Joss Whedon fans will be talking about.
Spike ventures off world in his bug ship in order to get away from some personal frustration on terra firma, and winds up sucked into a demonic plot to take advantage of the absence of magic on earth.
"What I love about working with Dark Horse on
Buffy
-related material is that they take great care to capture the feel of the characters and stories from the television show, of which I was a huge fan. Getting my hands on the characters I've loved so much over the years is a dream come true," said Gischler.
Spike
#1 will be on sale August 22, 2012!
About Twentieth Century Fox Consumer Products
: A recognized industry leader, Twentieth Century Fox Consumer Products licenses and markets properties worldwide on behalf of Twentieth Century Fox Film Corporation, Twentieth Television and Fox Broadcasting Company, as well as third-party lines. The division is aligned with Twentieth Century Fox Television, one of the top suppliers of primetime entertainment programming to the broadcast networks.
About Dark Horse Comics
: Since 1986, Dark Horse Comics has proven to be a solid example of how integrity and innovation can help broaden a unique storytelling medium and establish a small, homegrown company as an industry giant. The company is known for the progressive and creator-friendly atmosphere it provides for writers and artists. In addition to publishing comics from top talent like Frank Miller, Mike Mignola, Neil Gaiman, Gerard Way, Will Eisner, and best-selling prose author Janet Evanovich, Dark Horse has developed such successful characters as the Mask, Timecop, and the Occultist
.
Additionally, its highly successful line of comics and products based on popular properties includes
Star Wars
,
Avatar: The Last Airbender
,
Buffy the Vampire Slayer
,
Aliens
,
Conan the Barbarian
,
Mass Effect
,
Serenity
,
and Domo
.
Today, Dark Horse Comics is the largest independent comic-book publisher in the United States and is recognized as both an innovator in the cause of creator rights and the comics industry's leading publisher of licensed material.
A STONE OF INFINITE POWER WILL CHANGE THE WORLD OR DESTROY IT
11/26/14 @ 9:22 pm EST
Source:
Afterburn
| Categories:
MIsc
|
Comments
(0) |
E-mail Article
|
Add a Comment
New to Afteburn this February, 2015 comes from Robert W. Hickey and Tom & Mary Bierbaum's a tale of Time Travel, Enhancers and Unity - STORMQUEST: TIMESTORM.
When an experiment with an unearthly stone goes terribly wrong, a family, victims of their own curiosity, struggles through an adventure in time as each member adapts to new abilities and meeting both new friends and foes along the way. This is the beginnings of the StormQuest Foundation, a team assembled to monitor and protect the ominous time storm.
STORMQUEST: TIMESTORM
is the starting point that leads directly into an all new series from Afterburn PARDOX WARS shipping summer of 2015.
Robert W. Hickey (Paradox Wars), Tom & Mary Bierbaum (Legion of Superheroes), Greg Land (Iron Man, Avengers), Willie Peppers (Southern Knights), Bill Nichols, Jerry Foley
StormQuest: Timestorm Graphic Novel #1 - 160 pgs, Full Color, Soft Cover, Perfect Binding. - SRP $19.99
A NEW TEAM OF AVENGERS ASSEMBLE FOR AVENGERS: ULTRON FOREVER
11/26/14 @ 9:15 pm EST
Source:
Marvel
| Categories:
Avengers
|
Comments
(0) |
E-mail Article
|
Add a Comment
This April, Earth's Mightiest Heroes from across the time stream collide to take on the greatest threat to our past, present and future in
AVENGERS: ULTRON FOREVER #1
,
NEW AVENGERS: ULTRON FOREVER #1
and
UNCANNY AVENGERS: ULTRON FOREVER #1
– a trio of oversized specials coming in 2015! Written by fan-favorite scribe Al Ewing (
Captain America & The Mighty Avengers, Loki: Agent of Asgard)
and drawn by legendary artist Alan Davis – prepare for a new team to assemble!
Peer into the future of the Marvel Universe as seen in the pages of
Avengers
. Ruled by the maniacal Ultron, no heroes remain alive. To save our future, Avengers plucked from all eras of the Marvel Universe must come together!
Now – the present day Vision and Black Widow, James Rhodes, the Incredible Hulk, two generations of Thor and Danielle Cage, the Captain America of the future must join forces if we are to have any hope for tomorrow! Yet as they travel into the future to defeat Ultron and his servants, even they will not be prepared for what they find.
"If I had to pick one word to describe this story, 'epic' would be it," says
Avengers: Ultron Forever
writer Al Ewing, speaking with Marvel.com. "It sort of builds and builds, until by the third issue you're experiencing cosmic-scale war between…but that would be spoiling it."
In the shadows of a nightmarish future, a new team of Avengers will rise to show the world that heroes can come from anywhere and anytime. It all happens when Ewing and David unite for
AVENGERS: ULTRON FOREVER –
coming to comic shops and digital devices this April!
AVENGERS: ULTRON FOREVER #1 Written by AL EWING Art & Cover by ALAN DAVIS On Sale in April!
NEW AVENGERS: ULTRON FOREVER #1 Written by AL EWING Art & Cover by ALAN DAVISOn Sale in April! UNCANNY AVENGERS: ULTRON FOREVER #1Written by AL EWINGArt & Cover by ALAN DAVIS
On Sale in April!
ELLIE PYLE MOVES FROM MARVEL TO DC
11/26/14 @ 12:30 pm EST
Source:
ICv2
| Categories:
MIsc
|
Comments
(0) |
E-mail Article
|
Add a Comment
DC Entertainment announced the hiring of Ellie Pyle as Editor for its Vertigo imprint.
Pyle joins DC after four years as Associate Editor at Marvel Comics, having edited key titles including
Black Widow, Daredevil
and
Fearless Defenders.
Prior to working at Marvel, she was the Performing Arts Coordinator for the City of Savannah.
"Ellie's strong storytelling skills and stellar reputation within the comics community make her a great addition to the Vertigo team," says Executive Editor Shelly Bond. Executive Editor Bond reports to SVP Vertigo and Integrated Publishing Hank Kanalz.
'DEEP STATE' AND 'THE RINSE' SOLD TO FOX
11/26/14 @ 12:21 pm EST
Source:
ICv2
| Categories:
MIsc
|
Comments
(0) |
E-mail Article
|
Add a Comment
BOOM! Studios announced it has sold drama projects based on
Deep State
and
The Rinse
to 20th Century Fox TV under its existing "first
look" deal.
Deep State
is written by Justin Jordan (
Spread
), with art by Ariela Kristantina (
Death of Wolverine
). The conspiracy-driven series follows John Harrow, a government agent for the shadowy Control branch. He doesn't exist, and neither do the black books operations and experiments he is called in to protect when things go wrong. According to Deadline, the drama will center on the newly recruited FBI agent Katherine Branch, who is partnered with Harrow to help distract the public with conspiracy theories. The drama will be written by Anna Fricke (
Being Human, Everwood
). BOOM! announced plans to release a second printing of issue #1, with a new cover by Matt Taylor.
The Rinse
is a miniseries written by crime novelist Gary Phillips (
Angeltown
) and drawn by Marc Laming (
American Century, Kings Watch
). The story follows Jeff Sinclair, a money laundryman who is pulled into a dangerous gig cleaning $25 million in stolen casino skim money. The adaptation is being written/executive produced by Mick Betancourt (
Necessary Roughness, Law & Order, SVU
)
WHAT IF THEY'RE NOT LIKE US?
11/26/14 @ 12:13 pm EST
Source:
Image
| Categories:
Image
|
Comments
(0) |
E-mail Article
|
Add a Comment
Eisner-nominated writer and Image Comics Publisher Eric Stephenson (NOWHERE MEN) collaborates with red-hot artist Simon Gane for the all-new ongoing thriller series THEY'RE NOT LIKE US, coming to Image Comics on December 24.
We all have advantages over one another, but what if the next generation of youth were capable of things most of us could only imagine? What would they do—and who would they be? A doctor? An athlete? A soldier? A hero? Since the beginning of time we've all had to make choices about how to use our own unique abilities, but not like this generation... THEY'RE NOT LIKE US.
In a spotlight interview with Stephenson, he described the series as a "slow-building horror" that explores what happens if people take advantage of their special abilities for personal gain instead of goodwill. "Power does different things to different people, and in They're Not Like Us, we're going to meet a group of very desensitized young people whose extraordinary abilities have put them in a very unique position within the modern world."
To read the full interview with Stephenson on the Image Comics website, click
here
.
"When Eric told me the concept of They're Not Like Us and asked if I'd like to draw it, I said 'Yes' with something approaching superhuman speed," added Gane. "It's smart, satirical and more than a little bit sinister. Now, I'm not psychic or anything, but you expect that edge from Image Comics and Eric's writing."
THEY'RE NOT LIKE US #1 arrives in stores this 12/24 and can be pre-ordered using Diamond Code OCT140592. The final order cutoff deadline is Monday, 12/1.
EXPLORE A CLOCKWORK CITY IN HINGES
11/26/14 @ 12:10 pm EST
Source:
Image
| Categories:
Image
|
Comments
(0) |
E-mail Article
|
Add a Comment
New to Image Comics this February, comes Meredith McClaren's enchanting fantasy HINGES.
Written and drawn by McClaren, the graphic novel introduces the nuts and bolts of a city called Cobble, where one girl new to the city, Orio, must depend on help wherever she can find it. Her assigned familiar, Bauble, has his own agenda however. As the two explore the walls of the city, they find they are not the only new arrivals.
Visually, McClaren had thought about creating a world inhabited by dolls, puppets, and stuffed animals for a few years before a story was even attached to the idea. "Later on I came to Orio, and her growth. The idea of working with dolls meant I could explore a person's development into an individual (from a completely blank slate to a fully realized person) on a much more expedient track then watching a character physically grow up."
The world in HINGES acts as a character in and of itself in many ways. McClaren added: "I also wanted to play with a world that had a lot of ambiguity. When I look back at the stories I love—the ones that tend to have a more enduring presence—I always come back to the type of stories where the audience isn't given the full explanation but rather a great big sandbox of a world that they can also play with. It's been my observation that the stories people enjoy most are the ones in which they feel they can also participate. I wanted to give my audience that kind of experience. I love it when my audience starts to develop their own theories for why the world of Hinges is the way it is. And I would be ridiculously pleased should some of them find their own stories to tell there."
HINGES BOOK ONE: CLOCKWORK CITY (ISBN: 978-1-63215-253-4) hits shelves on 2/25 and will be available for $15.99. It can be pre-ordered by retailers from Diamond Book Distributors with Diamond Code DEC140649.
WELCOME HOME STAR WARS™ WITH EPIC LAUNCH PARTIES IN JANUARY
11/25/14 @ 11:22 pm EST
Source:
Marvel
| Categories:
Star Wars
|
Comments
(0) |
E-mail Article
|
Add a Comment
Marvel is kicking off 2015 with a bang big enough to destroy a Death Star as
Star Wars
makes its triumphant return to the House of Ideas and into comic shops on January 14th! That's right, your local comic shop is the place to be to get your hands on the blockbuster first issue of
Star Wars
! In addition to being among the first to purchase and read the landmark
STAR WARS #1
, fans will also be able to receive special items exclusive to these launch parties.
STAR WARS #1
is already poised to be one of the biggest launches of the year, and Marvel is making sure comic book stores worldwide are armed and ready for the landmark return of
Star Wars
to its home at Marvel. Each retailer opting into the
STAR WARS #1 Launch Party
will receive a
Star Wars
Party Kit from Marvel, containing exclusive promotional materials including exclusive variants, promotional buttons, cake toppers and more. Check your Marvel Mailer for more information on how to opt-in by
12/08
to ensure your store has these promo items and exclusives.
"Brand new
Star Wars
comics featuring some of the biggest names in comics deserve the red carpet treatment," says Marvel SVP Sales & Marketing David Gabriel. "We're committed to making sure our valued retail partners have everything they need to engage regular customers and new fans to check out what will undoubtedly be one of the biggest launches of the year."
All qualifying retailers will receive the following as part of the
Star Wars
#1 Launch Party:
Star Wars
#1 Invitational Postcards
Star Wars
#1 Promotional Pins
Star Wars
#1 Skottie Young Lithographs
Star Wars
#1 John Tyler Christopher Sketch Party Variant
This January, take your first step into a larger world as a galaxy far, far away returns to Marvel with
STAR WARS #1
– on sale January 14th!
STAR WARS #1 (NOV140709)STAR WARS WELCOME HOME PARTY OPT-IN (NOV140723)
Written by JASON AARON
Art & Cover by JOHN CASSADAY
Variant Covers by ALEX ROSS (NOV140716), JOE QUESADA (NOV140714),SARA PICHELLI (NOV140718), BOB MCLEOD (NOV140712) and SKOTTIE YOUNG (NOV140719)
Party Variant by JOHN TYLER CHRISTOPHER (NOV140720)
Movie Variant Also Available (NOV140713)Connecting Variant A by J. SCOTT CAMPBELL (NOV140710)Action Figure Variant by JOHN TYLER CHRISTOPHER (NOV140721)FOC – 12/08/14, On-Sale – 01/14/14
SITUATION CHILLY IN ICE: CRITICAL MASS #1
11/25/14 @ 9:29 am EST
Source:
Bluewater
| Categories:
MIsc
|
Comments
(0) |
E-mail Article
|
Add a Comment
In this prequel to the original ICE mini-series, Cole Matai is a new recruit at the Montana branch of the U.S. Immigration & Customs Enforcement agency. While shadowing decorated agent Ezra Delgado on a routine mission, all hell breaks loose and the new partners are baptized by fire. But this first battle is only the tip of the iceberg, as a terrorist plot to wipe out the Pacific Northwest is unfolding right at their feet.
Get all this explosive action at the special introductory price of $1.99!
ICE: CRITICAL MASS #1 (of 4)
Writer: Doug Wagner

Artist: Daniel Hillyard

Colorist: Charlie Kirchoff

Cover Artist: Jason Pearson (Cover A and C), Jose Holder (Cover B)
24 pgs. T+ On sale NOVEMBER 26
COWARDLY LION COSTUME GOES UP FOR AUCTION
11/24/14 @ 11:19 pm EST
Source:
Bleeding Cool
| Categories:
MIsc
|
Comments
(0) |
E-mail Article
|
Add a Comment
One of the original
Cowardly Lion
costumes worn by
Bert Lahr
in the 1939
Wizard of Oz
film is going up for auction. The costume will be auctioned by
Bonhams
and has been authenticated as one worn in the film. A secondary costume from the film went for close to $1 million in auction earlier this year.
The costume is currently owned by
James Comisar
who has a lot of Hollywood memorabilia including stuff from
I Love Lucy
and
Lost
. He plans to use the money from the Cowardly Lion costume sale to exhibit the rest of his collection. (Via The Hollywood Reporter)
IN BLEEDING COOL: NANCY A. COLLINS TALKS VAMPIRELLA AND RED SONJA: VULTURE CIRCLE
11/24/14 @ 11:14 pm EST
Source:
Bleeding Cool
| Categories:
Red Sonja Vultures Circle
|
Comments
(0) |
E-mail Article
|
Add a Comment
Nancy A. Collins
, author of the
Sonja Blue
book series and current writer of
Vampirella
and co-writer of
Red Sonja: Vulture Circle
did a
Reddit AMA
the other day and we have some of the highlights that pertain to her work at
Dynamite
.
1) Do you have a separate process when writing novels, graphic novels, and serialized comics? 2) When you're working on an ongoing, do you like to have an outline with how the arc will go? 3) Are you always inspired to write? Or does it end up being more of a discipline? Thanks again for visiting us and answering our questions! Big fan of your work!
Thank you for being a fan. 1. I do have slightly different creative processes between novel & comics, although they are largely the same–I outline the action point-by-point. Writing a comics script is closer to writing a short story and/or screenplay, though. And I structure it more by pages than chapter breaks. 2. Yes, I do have outlines for the story arc–in fact, my editors at Dynamite require one for approval. 3. No, I'm not always touched by the muse. Sometimes I have to force myself to get in there and shovel. Usually, when that happens, I focus on the formatting or the action descriptions for the artists, then go back and handle the dialog when I'm feeling more 'inspired'.
Thanks for the detailed response!!There has been a lot of controversy regarding female presence in the comic book industry, whether it be the way females are depicted or how female creators are treated at publishers, do you think overall the industry is improving as a whole? Are there any comic publishers you think that are better at portraying females than others?
Compared to Ye Olde Days, things are far different/better for female creators. We've always been here, but now we're starting to be viewed as part of the landscape as opposed to unicorn-like anomalies.
I couldn't really say which publishers are better or worse at portraying women in their product because it seems to differ depending on the creative teams. Dynamite gets a lot of grief for their covers being big ol' slices of cheesecake, but the actual writing depicts the characters as empowered, badass women as opposed to a pair of balloons tied to a stick–Gail Simone's run on Red Sonja is a prime example of what I'm talking about.
Which comic artist you've never worked with would you most like to be paired with on a project?
I'd love to do something with Mike Mignola. Although we've been friends for years, we've never truly collaborated on anything.
Been a fan since i was 16 and i saw an ad in a white wolf catalogue for MIDNIGHT BLUE. My question is: Who would you cast as the perfect Sonja Blue in your movie?
That's hard to say. Over the years the character has been optioned for development several times and numerous actresses have been approached for the role–including Reese Witherspoon, Angelina Jolie, and Asia Argento. Our most recent near-miss was Scarlett Johansson. I, personally, have no physical ideal for Sonja Blue–The perfect actress for the role is whoever can pull off her attitude, more than her appearance.
Give me an elevator pitch why I should get your newest book
VAMPIRELLA: FEARY TALES is a love note to the original Warren horror-anthology mags and features stories from some of the finest creators in both comics and horror/suspense prose.
I'm a (admittedly recent) fan of Vampirella, and think she's a great character. What do you think is the biggest challenge of writing for Vampirella? Biggest challenge of writing comic book horror generally?
The biggest challenge I have writing for Vampirella is her history of being less than a character and more of a pin-up. That really hasn't been true of the character for some time, but it is still how she's viewed by a lot of people. It's my job to write stories that make that aspect of her history irrelevant.
Hi Nancy! What's the pitch of the Vulture's circle? I love Red Sonja but haven't yet read anything from the Dynamite run…
The 'pitch' on Red Sonja: Vulture's Circle is that it depicts her as a woman in her late 40s/early 50s. She has, effectively, retired from the sword-for-hire business and is running an academy teaching young girls how to become battle maidens. Of course, just like Michael in the Godfather, just when she thought she was out, events conspire to draw her back in.