DARK HORSE ANNOUNCES WILLOW SERIES!
04/18/12 @ 1:19 pm EST
Source:
Dark Horse
|
Comments
(0) |
E-mail Article
|
Add a Comment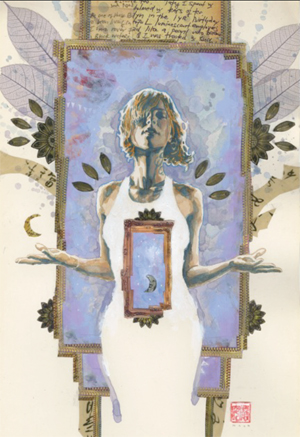 JOSS WHEDON'S FAN FAVORITE RETURNS!
Dark Horse Comics announces another exciting addition to the Buffyverse:
Willow gets her own miniseries!
Written by Jeff Parker (
Thunderbolts
,
Agents of Atlas
) and drawn by Brian Ching (
Star Wars: Knights of the Old Republic
,
Witchblade
),
Willow
tells the story of the witch's obsessive journey to recover her magic.
Willow is on a quest to bring magic back to the world, and she'll do anything to make it happen, including forming some unhealthy alliances after cracking the code to travel to other dimensions—something thought impossible since the destruction of the Seed.
Willow
#1
is on sale November 21, 2012.
About Twentieth Century Fox Consumer Products
: A recognized industry leader, Twentieth Century Fox Consumer Products licenses and markets properties worldwide on behalf of Twentieth Century Fox Film Corporation, Twentieth Television and Fox Broadcasting Company, as well as third-party lines. The division is aligned with Twentieth Century Fox Television, one of the top suppliers of primetime entertainment programming to the broadcast networks.
About Dark Horse Comics
: Since 1986, Dark Horse Comics has proven to be a solid example of how integrity and innovation can help broaden a unique storytelling medium and establish a small, homegrown company as an industry giant. The company is known for the progressive and creator-friendly atmosphere it provides for writers and artists. In addition to publishing comics from top talent like Frank Miller, Mike Mignola, Neil Gaiman, Gerard Way, Will Eisner, and best-selling prose author Janet Evanovich, Dark Horse has developed such successful characters as the Mask, Timecop, and the Occultist
.
Additionally, its highly successful line of comics and products based on popular properties includes
Star Wars
,
Avatar: The Last Airbender
,
Buffy the Vampire Slayer
,
Aliens
,
Conan the Barbarian
,
Mass Effect
,
Serenity
,
and Domo
.
Today, Dark Horse Comics is the largest independent comic-book publisher in the United States and is recognized as both an innovator in the cause of creator rights and the comics industry's leading publisher of licensed material.
NETFLIX'S LUKE CAGE TOWERS OVER RUBBLE IN NEW PICS
08/26/16 @ 12:09 pm EST
Source:
Comic Book Resources
| Categories:
Marvel
|
Comments
(0) |
E-mail Article
|
Add a Comment
After getting a glimpse of SFX Magazine's intimidating "Luke Cage" cover, pictures from the magazine's feature story about Marvel's upcoming Netflix series have been released.
Comic Book Movie posted a couple more glimpses of the article that reveal a bit about star Mike Colter's approach to the show via scanned sidebar text.
"I'm catching up," Colter says of his reading of the source material. "I really enjoyed the 'Alias' comics because the Luke Cage character is more up to date…The things that a superhero like me would deal with back then are not the same things that I would deal with now."
Check out the scans below for a closer look.
RUSSO BROTHERS ON HOW AVENGERS: INFINITY WAR CAN TOP CAPTAIN AMERICA: CIVIL WAR
08/26/16 @ 11:59 am EST
Source:
Comicbook
| Categories:
Marvel
|
Comments
(0) |
E-mail Article
|
Add a Comment
"It's tricky."
That's Joe Russo's immediate reaction when asked how
Avengers: Infinity War
will top
Captain America: Civil War
, if such a thing is possible after he and his brother Anthony masterfully crafted one of the largest super hero blockbusters of all time in their dramatic brawler flick earlier this year.
"That's a great question," he goes on. "There could be a lot of pressure. We put pressure on ourselves, we feel the pressure. At the same time we have to be very zen and we have to step outside of that pressure because if you make decisions based on expectations and based on feeling that pressure, you're going to make bad decisions."
Stepping outside of the pressure cooker that is the ever-critical comic book movie fan community, Anthony and Joe Russo have the process and elements of a great movie down to a science."
Ultimately, at the end of the day, the thing that we prioritize above all else is storytelling, and we just focus on the storytelling and the characters and how they fit into the narrative, and we just keep trying to tell the best story that we can every time out," Joe Russo explains. "That's all about the script work. There's an intense amount of script work that we put in. It's months and months spent in a room with us and with [Christopher] Markus and [Stephen] McFeely talking through the story, talking through the characters, turning over every stone, rewriting every scene, talking about whether this is the best line into a scene, best line out of a scene, is this the best execution of this scene, what else could the story be here."
"That's really where our focus and our effort goes," Joe Russo concludes. "We try to ignore any sort of external pressures because they can just lead you to a bad place creatively."
The Russo Brothers have a lot of story to tell with Avengers: Infinity War on the horizon. Not only will they be dealing with the ever-expanding Avengers line-up which now includes Brie Larson's Captain Marvel, Spider-Man, and Black Panther but the Guardians of the Galaxy will be joining the party.
Anthony Russo embraces the new faces, namely Chris Pratt's Star-Lord. "The movies are intended to be a culmination of everything that's happened before in the MCU so you don't want to get into spoilers but I'm a big fan of what James Gunn has done," Anthony Russo told Comicbook.com at a press event for
Captain America: Civil War
. "[Joe Russo and I] are both big fans of what James Gunn has done. Star-Lord is a fantastic character and Chris Pratt is an awesome performer so you'd be very excited."
Captain America: Civil War
will be available for digital download on September 2 and on blu-ray/DVD on September 13.
Avengers: Infinity War
and the to-be-titled
Avengers 4
hit theaters in 2018 and 2019, respectively.
MARVEL EDITOR (ACCIDENTALLY) HINTS AT UPCOMING INDIANA JONES COMICS - UPDATED
08/26/16 @ 11:54 am EST
Source:
Comicbook
| Categories:
Marvel
|
Comments
(0) |
E-mail Article
|
Add a Comment
Like their corporate parents on the movie side, Marvel has focused primarily on
Star Wars
since Disney fully took over publishing their Lucasfilm properties, talking in vague terms about
Indiana Jones
as a possible, future endeavor.
Looks like the future is now (or not -- read on below).
As reported by ComicBook.com, Marvel Comics editor Heather Antos, an Assistant Editor on Marvel and Lucasfilm's
Star Wars
line of comics, made a post to Instagram last night that all but confirms that Marvel is planning an
Indiana Jones
comic, which Antos will be working on.On Instagram, she posted photos of
Indiana Jones
DVDs with a caption to the effect that they were "homework" for her job.
UPDATE:
Antos reached out to ComicBook.com to clarify that there are currently no plans for
Indiana Jones
comics at Marvel. She was simply studying up for a guest appearance on a podcast called
TheIndiana Jones Minute
and apparently didn't consider that tweeting out the DVD covers would create a frenzy of speculation among comic fans. She has updated the original post, which you can see below.
Moments after we tweeted our story, Antos posted the following tweets:
"Super excited to be recording with the folks at@IndianaJonesMin tomorrow :D Spending my night prepping with the best movies ever!""Man, I WISH we could do Indy comics. One day. But for now my life is all Star Wars. And Deadpool. BRING ON THE DEADPOOL!"
The Indiana Jones publishing franchise has never been as omnipresent or financially successful as the
Star Wars
brand, but the character has had a pretty consistent presence in the market since Marvel publisher the first
Indiana Jones
comics in 1981 (an adaptation of
Raiders of the Lost Ark
).
DEADPOOL 2: MACKENZIE DAVIS COMMENTS ON DOMINO RUMOR
08/26/16 @ 11:44 am EST
Source:
Comicbook
| Categories:
Marvel
|
Comments
(0) |
E-mail Article
|
Add a Comment
While promoting Season 3 of
Halt and Catch Fire
, Mackenzie Davis, who plays Cameron Howe in the AMC period drama, chats about appearing in the upcoming Blade Runner sequel and rumors that she is up for the role of Domino in the
Deadpool
sequel.
So, is there any truth to the rumor that she'll be playing the mutant with the power of probability manipulation? "No! [
laughs
] It's very interesting," Davis told GQ. People keep sending me printouts being like, 'This is so cool!' And I'm like, 'Right? I also think it's cool! But it's not true!
'"I mean. I'd love to keep the ruse going. It's sort of cool that people think I'm doing
Deadpool
. But no! I don't have any news to share. I wish I did!"
As for the
Blade Runner
sequel, can she share any details about her role?
"I… cannot do that! [
laughs
] But it's a whole rarefied world of talented people that I am extremely geeked to be in the presence of," she offered. "I've only shot with Ryan [Gosling] and Ana de Armas, but Ana is lovely, Ryan is kind and cool, and Denis Villeneuve, the director, is truly a special human being."
Was she a fan of the 1982 original?
"Yes! It's my favorite movie," the 29-year-old actress shared. "It's the craziest thing in the world—it's something I've thought about since I was in college. I remember being like,
Goddammit, I want to be in this.
And then I said to my agent sort of from the beginning: 'Hey, just FYI, if they ever make a
Blade Runner
sequel… keep me in mind.' Wow, maybe that should be a secret. Fuck."
The
Blade Runner
sequel is to be released on October 6, 2017.
VINCENT D'ONOFRIO CAST IN DEATH WISH
08/26/16 @ 11:39 am EST
Source:
Comicbook
| Categories:
MIsc
|
Comments
(0) |
E-mail Article
|
Add a Comment
Marvel's Daredevil
villain Vincent D'Onofrio will reportedly play the brother of Bruce Willis in the forthcoming, Willis-led
Death Wish
reboot.
Deadline reports that both D'Onofrio and Dean Norris of
Breaking Bad
fame joined the project this week. Norris will play a police detective.
The film centers on a man whose wife and child are the victims of a violent crime. When their attackers aren't brought to justice, Willis's character will take it upon himself to hunt them down.
Eli Roth, best known for his work on films like
Cabin Fever
and
Hostel
, will direct.
The original was a contrvoversial film: Released in the '70s, it was seen as a rejection of the effect that the '60s counterculture had on mainstream America. Almost any description of the movie or the novel on which it's based will describe the lead character as a "sensitive liberal" who snaps when his worldview is challenged by the murder of his wife and violent rape of his daughter. Its overtly right-wing politics and endorsement of vigilantism didn't sit right with some audiences, especially those familiar with the novel (which denounced the concept). During his review of David Fincher's
Fight Club
, famed film critic Roger Ebert referred to
Death Wish
as "frankly and cheerfully fascist."
GOTHAM'S DAVID MAZOUZ TEASES NEW BRUCE WAYNE DOPPELGANGER DETAILS
08/26/16 @ 11:33 am EST
Source:
Comicbook
| Categories:
DC
|
Comments
(0) |
E-mail Article
|
Add a Comment
Season Three of
Gotham
promises to be an evolutionary one in the direction of the show. Central to the growth is the transformation of Bruce Wayne as he moves towards his ultimate ending of Batman.
A major storyline this season will be the introduction of a doppelganger that will challenge Bruce. The conclusion of Season Two saw Fish Mooney wildly driving a bus full of monsters out of the Indian Hill facility underneath Arkham Asylum. When she eventually crashes and the creatures emerge most are only revealed in silhouette or shadow – outside of one full face.
Flashing an eerie grin, the long-haired image with a far-off-gaze frames a youthfulness that's unmistakable. It was the face of David Mazouz.
In a recent set visit, Mazouz told ComicBook.com that it has been an enjoyable experience being used in two roles.
"In terms of fun, definitely the doppelganger has been more fun to play," he said. "I don't want to give too much away, but this character is nothing like Bruce Wayne. The only similarity that they have is that they look shockingly like David Mazouz.
"Everything else about them, they think differently, they talk differently, they walk differently, they communicate differently. He's pretty weird, the other guy."
While the actor wouldn't reveal much, we've speculated a bit on who and what this doppelganger might be.
He added that the fun came with a considerable challenge. After two years of playing Bruce Wayne – and seeing that character evolve – to have to turn that entirely on its head was a difficult task.
"It was hard at first," Mazouz said. "Figuring out what to do, because I didn't want to overdo it, but I wanted to have a strong distinction between Bruce and this other character.
"It was a battle figuring out how exactly to play this character, but it's been so much fun."
The season was about six episodes into filming when the visit was made to the Brooklyn-based studio, and Mazouz tipped his hand that there will be shared-screens between his two roles in the early going of the next series of shows.
"Oh yeah," he said. "And that was weird. I played both roles against myself more than once, and it was weird, really weird. You'll see!"
Another thing that fans can expect to see is a more mature Bruce. One of those changes is reflected in his relationship with Selina Kyle, which might be going to "the next level" this year.
The growth of Bruce - and Mazouz, who is now 15 after beginning the series fresh off of turning 13 (and cast at age
eleven
) - has made the character more interesting to viewers. With the coming journey this season it has made the role more intriguing to the young adult playing it.
"I think in terms of interesting? Bruce has been moreso (than the doppelganger)," he said. "Bruce is changing. Bruce is becoming more of the man that we know from the comic books and the movies, and Batman in general."
We can all see when
Gotham
returns on September 19, 2016 at 8pm on FOX.
'JASON BOURNE' FEELING BACKLASH FROM CHINESE AUDIENCES OVER 3D VERSION
08/26/16 @ 11:26 am EST
Source:
Deadline
| Categories:
MIsc
|
Comments
(0) |
E-mail Article
|
Add a Comment
Jason Bourne, which marks Universal's fifth film in the series, debuted in China to the highest gross of all previous installments on Wednesday, but after only two days, audiences there are speaking out about how they feel exploited (and some of them physically ill) over the fact the film was released primarily in the 3D format. Fans of the franchise are blasting the film's distributors for trying to capitalize with higher ticket prices on a film that doesn't lend itself to 3D because of director Paul Greengrass' hand-held camera work.
That has sent the film's distributors — Universal Pictures' China branch and China Film Co. Ltd. and Huaxia Film Distribution Co. Ltd. scrambling to bring in 2D versions for their moviegoers. Even two film critics wrote about how the film made them dizzy.
A film sold in 3D format can end up grossing a 33% higher profit than 2D because the ticket prices are higher, which has not been lost on local moviegoers who are accusing the distributors of being greedy at their expense. The film has grossed about $18.7M in two days in the Middle Kingdom.
Another reason, of course, is that 3D helps keeps films from being pirated.
According to local reports, of the 149 movie theaters in China's capital of Beijing (which has a population of about 11 million) only eight theaters are ready to present the 2-D format. In Shanghai, only 9 of 174 theaters have the 2D version, but those are said to be located in areas far outside the city.
"The 3D version is a rip-off. It's been happening many times in China and must be stopped," one of the protesters told the Global Times. The Chinese have also taken to social media to air their grievances.
JEREMY RENNER SIGNS ON TO LEAD A NEW TEAM
08/25/16 @ 9:51 pm EST
Source:
Bleeding Cool
| Categories:
MIsc
|
Comments
(0) |
E-mail Article
|
Add a Comment
Jeremy Renner
is joining a new team as the
Avengers
actor signs on to voice the lead in the
AMBI Group
3D Animated film
Arctic Justice: Thunder Squad
. Renner joins a cast that already includes
Alec Baldwin, James Franco, Anjelica Huston
and
Omar Sy
as a group of inexperienced heroes combining to thwart the evil
Doc Walrus
, voiced by
John Cleese
, and save the Arctic. Renner will be a fox named
Swifty
.
The screenplay is written by
Cal Brunker
and
Bob Barlen
.
VAMPIRE HUNTER D, REVIVED BY STRANGER COMICS FOR NOVEMBER 2016
08/25/16 @ 9:46 pm EST
Source:
Bleeding Cool
| Categories:
MIsc
|
Comments
(0) |
E-mail Article
|
Add a Comment
Originally a series of Japanese novels, then adapted into an anime movie in 1985, one of the first distributed in the West,
Vampire Hunter D
holds a special place in the American anime fan canon.
But it took until 2007 before it was adapted as a manga. And nine years later, this November, it is getting more of a Western comic book feel, courtesy of Stranger Comics.
VAMPIRE HUNTER D: MESSAGE FROM MARS #1
(W) Brandon Easton (A/CA) Michael Broussard
Drawn to Mars by an ancient message from Cecile, a girl who could see the future, D arrives to find a colony that is little more than a blood farm. With Left Hand by his side, D sets out to cleanse Mars of the vampiric scourge! (STL022424)
MICHAEL BROUSSARD COVER—36pgs, FC (1 of 5) $3.99
JAE LEE COVER—36pgs, FC $3.99Blank Cover -36pgs, FC $3.99
THE KID FROM BROOKLYN GOES HOME – UNVEILING THE 75TH ANNIVERSARY CAPTAIN AMERICA STATUE
08/25/16 @ 9:39 pm EST
Source:
Bleeding Cool
| Categories:
Captain Amerca
|
Comments
(0) |
E-mail Article
|
Add a Comment
Marvel
has released the unveiling ceremony for the 75th anniversary
Captain America
statue being placed in
Prospect Park
in Brooklynn. On hand for the ceremony was hostess
Lorraine Cink
, Marvel EiC
Axel Alonso
, and Borough President of Brooklyn
Eric Adams.
The statue will only remain in the park for a short amount of time before moving on to Barclay Center and then through out Brooklyn. Weighing in at close to a ton, that's a heavy statue to keep moving.
Marvel has also released a 'making of' video for the statue.
"Home" video:
https://youtu.be/dvJs6z68vic
"Making of" video:
https://youtu.be/zvjToCXHjlI