DARK HORSE ANNOUNCES WILLOW SERIES!
04/18/12 @ 1:19 pm EST
Source:
Dark Horse
|
Comments
(0) |
E-mail Article
|
Add a Comment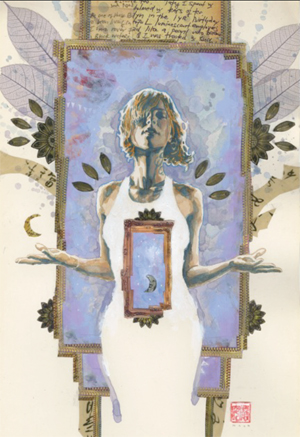 JOSS WHEDON'S FAN FAVORITE RETURNS!
Dark Horse Comics announces another exciting addition to the Buffyverse:
Willow gets her own miniseries!
Written by Jeff Parker (
Thunderbolts
,
Agents of Atlas
) and drawn by Brian Ching (
Star Wars: Knights of the Old Republic
,
Witchblade
),
Willow
tells the story of the witch's obsessive journey to recover her magic.
Willow is on a quest to bring magic back to the world, and she'll do anything to make it happen, including forming some unhealthy alliances after cracking the code to travel to other dimensions—something thought impossible since the destruction of the Seed.
Willow
#1
is on sale November 21, 2012.
About Twentieth Century Fox Consumer Products
: A recognized industry leader, Twentieth Century Fox Consumer Products licenses and markets properties worldwide on behalf of Twentieth Century Fox Film Corporation, Twentieth Television and Fox Broadcasting Company, as well as third-party lines. The division is aligned with Twentieth Century Fox Television, one of the top suppliers of primetime entertainment programming to the broadcast networks.
About Dark Horse Comics
: Since 1986, Dark Horse Comics has proven to be a solid example of how integrity and innovation can help broaden a unique storytelling medium and establish a small, homegrown company as an industry giant. The company is known for the progressive and creator-friendly atmosphere it provides for writers and artists. In addition to publishing comics from top talent like Frank Miller, Mike Mignola, Neil Gaiman, Gerard Way, Will Eisner, and best-selling prose author Janet Evanovich, Dark Horse has developed such successful characters as the Mask, Timecop, and the Occultist
.
Additionally, its highly successful line of comics and products based on popular properties includes
Star Wars
,
Avatar: The Last Airbender
,
Buffy the Vampire Slayer
,
Aliens
,
Conan the Barbarian
,
Mass Effect
,
Serenity
,
and Domo
.
Today, Dark Horse Comics is the largest independent comic-book publisher in the United States and is recognized as both an innovator in the cause of creator rights and the comics industry's leading publisher of licensed material.
NEW INHUMANS ARRIVE IN "AGENTS OF SHIELD" MID-SEASON DEBUT
02/05/16 @ 10:50 pm EST
Source:
Comic Book Resources
| Categories:
SHIELD
|
Comments
(0) |
E-mail Article
|
Add a Comment
Though we've not yet seen more than a glimpse of what to expect when "Marvel's Agents of S.H.I.E.L.D." returns in March, the synopsis for the mid-season premiere indicates it will include a few new superpowered faces.T
he synopsis, revealed via EW.compromises even more Inhumans joining the growing conflict. Though their affiliation remains a mystery, and their identities are unannounced, the description promises they have powers "like [S.H.I.E.L.D. has] never seen before."
Bouncing Back - In the aftermath of his trip to Maveth, Coulson is more determined than ever to get to Gideon Malick and put an end to Hydra once and for all. Daisy and the team encounter more Inhumans who have powers like they've never seen before, but will they be friends or enemies of S.H.I.E.L.D.?
"Marvel's Agents of S.H.I.E.L.D." returns to ABC on Tuesday, March 8 at 9 p.m.
'STAR WARS' SOUND DESIGNERS REVEAL THE SURPRISING SOURCE OF KYLO REN'S FORCE EFFECT
02/05/16 @ 10:33 pm EST
Source:
Comic Book Resources
| Categories:
Star Wars
|
Comments
(0) |
E-mail Article
|
Add a Comment
Supervising sound editor Matthew Wood and supervising sound editor and sound designer David Acord are the masterminds behind all the sound effects in "Star Wars: The Force Awakens." During an interview with The Nerdist, they explained just how they created the sounds behind Kylo Ren's Force power, his mask, the rathtars and more.
"Off the top of my head, the Kylo Ren Force rumble — the really chunky and animalistic rumble — is my cat's purring," Acord revealed. "It's heavily pitched and slowed version of my cat's purr that becomes Kylo Force rumble."
"The Force sound to go along with Kylo had that deep, raw, animalistic sound," he explained. "It's a chunky, raw growl that's supposed to imitate the Force power he wields, which is a little more raw versus Rey's Force power , which tends to be — in the few moments when she's using the Force, hers is a little more smooth and rhythmic and like a heartbeat. That's the contrast between the two."
"The thing about Kylo's mask that was interesting is its function is purely intimidationbecause it's not keeping him alive like Vader's mask is. We wanted to find a way to capture that feeling," Wood added.
Acord also shared the strange source of another sound effect, saying, "When the rathtar has his mouth on the cockpit of the Falcon, when it's trying to eat the cockpit, that is me literally choking myself. Finger down my throat in front of the mic to accomplish that and then it's pitched down."
The rathtar isn't the only way Acord's voice made it into the film. As it turns out, he's also the voice behind FN-2199, known more widely on the Internet as TR-82." "Occasionally, you'll just be working and, 'We need this guy to say this right now' and we'll go record it. That's another way; it's on the spot. You find somebody that can do it, and you do it. That's how FN-2199 happened. Originally, it was J.J. His voice was a temp placeholder, and he wanted to replace it. It went through four other actors, I think, before it landed on my performance and he was okay with it. It's a really funny thing to me. It's a cool scene; the stunt actor, Liang Yang, really did all the hard work in that scene, but it's fun to be part of. I didn't even know it was a thing on the Internet until Pablo Hidalgo emailed me and asked if he could post on StarWars.com that I was the voice of FN-2199."
Directed by J.J. Abrams, "Star Wars: The Force Awakens" stars franchise veterans Mark Hamill, Harrison Ford, Carrie Fisher, Peter Mayhew, Anthony Daniels and Kenny Baker, joined by newcomers John Boyega, Daisy Ridley, Adam Driver, Oscar Isaac, Andy Serkis, Domhnall Gleeson, Lupita Nyong'o, Gwendoline Christie and Max von Sydow. The film is now playing in theaters.
"FEAR THE WALKING DEAD" CASTS VERONICA DIAZ IN RECURRING ROLE
02/05/16 @ 10:23 pm EST
Source:
Comic Book Resources
| Categories:
Walking Dead
|
Comments
(0) |
E-mail Article
|
Add a Comment
"Fear the Walking Dead" has cast Veronica Diaz in a recurring role for season two. She will play Vanessa, who Deadline describes as "smart and deceptive, with a look of innocence, someone who throws herself into her work with reckless abandon."
Diaz has appeared in a handful of indie films, including "Taco Shop" and "Behold My Heart." She has also had minor roles in shows such as "Complications," "Criminal Minds" and "Cold Case."
"Fear the Walking Dead" was co-created by "The Walking Dead's" Robert Kirkman and Dave Erickson and stars Kim Dickens, Cliff Curtis, Alycia Debnam-Carey and more. Season twopremieres on April 10.
DC COMICS REVEALS FIRST "BATMAN V SUPERMAN"-THEMED VARIANT COVER
02/05/16 @ 10:20 pm EST
Source:
Comic Book Resources
| Categories:
Batman Superman
|
Comments
(0) |
E-mail Article
|
Add a Comment
DC Comics wouldn't let a movie like "Batman v Superman: Dawn of Justice" pass by without a tie-in, and the two superhero icons are taking their fight from live-action back to comic books in March with the previously announced series of 10 "Batman v Superman" variant covers. DC released the first, a "Detective Comics" #50 variant by Rafael Grampá, Friday afternoon.
Each cover will have three versions, like seen above, and will be released in equal quantity and polybagged, similar to December's "Harley Little Black Book" variant initiative at DC.
"Batman v Superman" debuts in theaters on March 25, the same month as DC's themed covers. "Detective Comics" #50 is the first scheduled for release, on March 2; here's a look at the scheduled for the full slate of 10 (and yes, that's Chris Daughtry the singert):
3/2: Detective Comics #50 (variant by Rafael Grampa)
3/9: Action Comics #50 (variant by Martin Ansin)
3/9: Batman/Superman #30 (variant by Kevin Maguire)
3/16: Robin Son of Batman #10 (variant by Ryan Ottley)
3/16: Superman #50 (variant by Kaare Andrews)
3/23: Batman #50 (variant by Chris Daughtry and Jim Lee)
3/23: Grayson #18 (variant by Stephen Platt)
3/23: Superman/Wonder Woman #27 (variant by Charlie Adlard)
3/23: Wonder Woman #50 (variant by Massimo Carnevale)
3/30: Batgirl #50 (variant by Kevin Nowlan)
OLIVIA MUNN HAS IDEAS FOR A PSYLOCKE SOLO FILM
02/05/16 @ 10:17 pm EST
Source:
Comic Book Resources
| Categories:
X-Men
|
Comments
(0) |
E-mail Article
|
Add a Comment
Olivia Munn makes her X-Men debut this May in "X-Men: Apocalypse," and it sounds like she's already considered what a Psylocke solo film could involve. In an interview with Collider, Munn shared her thoughts on what she'd like to see explored if a "Psylocke" spinoff ever happens.
"I think if Psylocke had a chance to tell her story, it would be great to start with the genesis and have an understanding… I think maybe like right as she's getting out of university and before her whole family -- we jump in right before all of her family is taken out and we have an understanding of what she had to lose. Then her figuring out her powers and how powerful she is. I think that would be a great thing to, because it's something that I always loved about her. That she came from a good family and lost everything. Yeah, I would just like to tell that story."
A "Psylocke" solo adventure doesn't have much precedent in the source material, given that the character has only starred in one solo miniseries; 2010's four-issue "Psylocke" series by Chris Yost and Harvey Tolibao. Yet it may be unwise to rule just about any possible X-Men spinoff out:20th Century Fox has shown that they're eager to grow the X-Men film franchise, with "Deadpool" out next week, "X-Men: Apocalypse" in May and "Gambit" in the works.
Directed by Bryan Singer, "X-Men: Apocalypse" opens May 27.
WORLDS COLLIDE IN NEW "THE FLASH" PHOTOS; EP COMPARES WALLY WEST TO ROY HARPER
02/05/16 @ 10:12 pm EST
Source:
Comic Book Resources
| Categories:
Flash
|
Comments
(0) |
E-mail Article
|
Add a Comment
Team Flash -- or, at least, part of it -- has passed through the breach into Earth-2, and things there are a little different than what they're used to. A handful of new stills from "Welcome to Earth-2," the next episode of "The Flash," reveal some status quo shifts on the other side -- including a new, action-packed role and perhaps even an engagement for Iris West.
Additionally, executive producer Andrew Kreisberg addressed whether we'd see three speedsters at once at some point on the show. "I guess that could happen down the road," he told Entertainment Weekly, comparing the way Wally West might become Kid Flash to Roy Harper's development into Arsenal. "I wouldn't want to say no, but so much of that stuff is a little bit further into the future than we've planned for right now."
OLIVIA MUNN UNVEILS A STUNNING NEW IMAGE OF PSYLOCKE FROM X-MEN: APOCALYPSE
02/05/16 @ 10:05 pm EST
Source:
Wegotthiscovered.com
| Categories:
X-Men
|
Comments
(0) |
E-mail Article
|
Add a Comment
Actress Olivia Munn has just finished up chatting with her fans via a Twitter Q and A, and in addition to revealing a few interesting tidbits about her role as Psylocke in Bryan Singer's
X-Men: Apocalypse
, she unveiled a brand new image of the fan-favorite mutant warrior in action.
Though her hands aren't visible, Munn has confirmed that Psylocke will indeed use her Psi Blades (physical manifestations of her psychic powers), and you'll notice the purple tendrils running along her wrist in the pic.
Fans were very happy with how comic-accurate Psylocke's costume was, but they may not be quite as pleased to learn that Miss Braddock won't be speaking with a British accent as she does in the comics. Munn also reveals that she shot a very intense fight sequence (though she won't go into the specifics of who was involved etc), and that it was by far her favorite sequence in the film.
X-Men: Apocalypse
is set to hit theaters on May 27th, 2016.
THE TIME MASTERS OFFER RIP HUNTER A WAY OUT IN LEGENDS OF TOMORROW PREVIEW
02/05/16 @ 3:33 pm EST
Source:
Bleeding Cool
| Categories:
DC
|
Comments
(0) |
E-mail Article
|
Add a Comment
WRATH OF THE VILLAINS – FIRST TEASER FOR THE RETURN OF GOTHAM
02/05/16 @ 3:28 pm EST
Source:
Bleeding Cool
| Categories:
Gotham
|
Comments
(0) |
E-mail Article
|
Add a Comment


Last summer, all of the teasers for season two of Gotham were subtitled Rise of the Villains. Now we have the first teaser trailer for the series return and it is subtitled Wrath of the Villains. The clip includes The Penguin in jail, Mr. Freeze in action and The Riddler looking ominous. And the only spoken line goes to Jim Gordon who says, "Let's do this."

Gotham returns February 29th to Fox.

Trailer: https://www.youtube.com/watch?feature=player_embedded&v=zVhMY1YEFpA
DEADPOOL TO TAKE OVER VIACOM NETWORKS IN AD STUNT
02/05/16 @ 3:21 pm EST
Source:
Bleeding Cool
| Categories:
Deadpool
|
Comments
(0) |
E-mail Article
|
Add a Comment
The Wrap reports
Deadpool
is coming to
Viacom
's cable networks next week in a big ad push.
Taking over an hour of programming on eight of the company's networks, the stunt will be positioned as Deadpool offering viewers "commercial-free" entertainment. Television analysts are calling the event rare, but a good way to counter the "waning" attention-spans of cable audiences.
Programs airing during Deadpool's takeover include
Tosh.0
on
Comedy Central
and
The Golden Girls
on
Logo
. Deadpool will be making a very specific appeal to viewers of that program.
Deadpool
arrives on February 12th.