DARK HORSE ANNOUNCES WILLOW SERIES!
04/18/12 @ 1:19 pm EST
Source:
Dark Horse
|
Comments
(0) |
E-mail Article
|
Add a Comment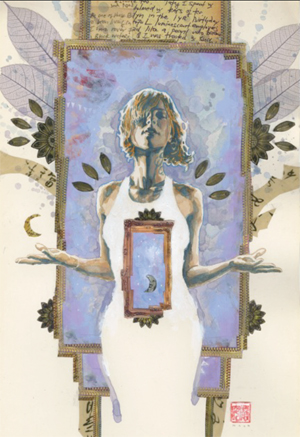 JOSS WHEDON'S FAN FAVORITE RETURNS!
Dark Horse Comics announces another exciting addition to the Buffyverse:
Willow gets her own miniseries!
Written by Jeff Parker (
Thunderbolts
,
Agents of Atlas
) and drawn by Brian Ching (
Star Wars: Knights of the Old Republic
,
Witchblade
),
Willow
tells the story of the witch's obsessive journey to recover her magic.
Willow is on a quest to bring magic back to the world, and she'll do anything to make it happen, including forming some unhealthy alliances after cracking the code to travel to other dimensions—something thought impossible since the destruction of the Seed.
Willow
#1
is on sale November 21, 2012.
About Twentieth Century Fox Consumer Products
: A recognized industry leader, Twentieth Century Fox Consumer Products licenses and markets properties worldwide on behalf of Twentieth Century Fox Film Corporation, Twentieth Television and Fox Broadcasting Company, as well as third-party lines. The division is aligned with Twentieth Century Fox Television, one of the top suppliers of primetime entertainment programming to the broadcast networks.
About Dark Horse Comics
: Since 1986, Dark Horse Comics has proven to be a solid example of how integrity and innovation can help broaden a unique storytelling medium and establish a small, homegrown company as an industry giant. The company is known for the progressive and creator-friendly atmosphere it provides for writers and artists. In addition to publishing comics from top talent like Frank Miller, Mike Mignola, Neil Gaiman, Gerard Way, Will Eisner, and best-selling prose author Janet Evanovich, Dark Horse has developed such successful characters as the Mask, Timecop, and the Occultist
.
Additionally, its highly successful line of comics and products based on popular properties includes
Star Wars
,
Avatar: The Last Airbender
,
Buffy the Vampire Slayer
,
Aliens
,
Conan the Barbarian
,
Mass Effect
,
Serenity
,
and Domo
.
Today, Dark Horse Comics is the largest independent comic-book publisher in the United States and is recognized as both an innovator in the cause of creator rights and the comics industry's leading publisher of licensed material.
WHO WILL OLIVER MEET IN HUB CITY, THAT IS THE QUESTION
05/03/16 @ 10:06 am EST
Source:
Bleeding Cool
| Categories:
Arrow
|
Comments
(0) |
E-mail Article
|
Add a Comment
In the latest video from
DC
about their TV series,
Hector Navarro
lets it be known that in the next episode of
Arrow
,
Oliver Queen
decides he needs guidance on how to kill
Damien Darhk
and goes to a friend of
John Constantine
who lives in
Hub City
. The most famous resident of Hub City would be
The Question
, a character that seems just perfect for the
Arrow
series. There has been no other leaks about the character appearing so it's possible the reference in the video is a red herring and we'll meet a different DC Universe character, but it would be awesome to see the character brought into the world.
If they do bring in the question, it would seem like it would have to be
Vic Sage
rather than
Renee Montoya
since she's already part of the Gotham series though she hasn't been seen this season. And it's the Sage version that is tied to Hub City.
Arrow
airs Wednesday at 8 PM on the
CW
.
Video:
https://www.youtube.com/watch?feature=player_embedded&v=8hbr2iquRO4
WARSHIP JOLLY ROGERS SETS SAIL IN JULY
05/03/16 @ 10:02 am EST
Source:
Bleeding Cool
| Categories:
MIsc
|
Comments
(0) |
E-mail Article
|
Add a Comment
We've got a six-page preview for
Magnetic Press'
new graphic novel
Warship Jolly Rogers Book One: No Turning Back
. Created and illustrated by
Miquel Montllo
and written by
Sylvain Runberg
will be hitting shops this July.
Set in a gritty, star-spanning future, where mankind has colonized planets throughout the galaxy, former Confederation Commander Jon T. Munro was serving a life sentence for a war crime he was forced to commit. When a prison break runs amok, however, he seizes the opportunity to escape with a ragtag team of cons to form a small crew of pirates with one goal in mind: vengeful justice. And the first step in their plan is to steal the battle cruiser he once commanded, a state-of-the-art warship they call "The Jolly Roger".Book One: No Turning Back
contains the first two chapters of the story.
SUBTLE JOKER REFERENCE IN CW'S 'SUIT UP' PROMO
05/03/16 @ 9:59 am EST
Source:
Bleeding Cool
| Categories:
Batman
|
Comments
(0) |
E-mail Article
|
Add a Comment
The
CW
has released an interesting new promo called Suit Up which showcases a handful of the series on their network.
Arrow
,
The Flash
and
Legends of Tomorrow
are the obvious ones along with some superhero comments from
iZombie
and
Vampire Diaries
. But interestingly they also work into the piece footage from the 1980's
Flash
TV series, the short run
Birds of Prey
and the
Vixen
animated series from
CW Seed
.
And if you are paying close attention, there is a line about "Just another joker in a suit." that is said over
Mark Hamill
as the
Trickster
. Hamill of course is also known for being the voice of the
Joker
for the
Batman: The Animated Series
.
Video:
https://www.youtube.com/watch?feature=player_embedded&v=IUBWnVVq05Q
THE KREE SIGNAL THEIR RETURN IN EXPLOSIVE "AGENTS OF SHIELD" SNEAK PEEK
05/03/16 @ 9:55 am EST
Source:
Comic Book Resources
| Categories:
SHIELD
|
Comments
(0) |
E-mail Article
|
Add a Comment
As "Agents of S.H.I.E.L.D." continues to barrel towards its season finale, the stakes are getting higher and higher. Daisy is stuck with Hive, Coulson's team is down more than a few agents, and now -- as this sneak peek at tonight's "Failed Experiments" episode reveals -- there are some new players joining the game. Yep, the Kree are coming to Earth, and their arrival will most likely be an explosive one.
Video:
https://youtu.be/HtmgcSQvfM8
"ARROW" ADDING MYSTERIOUS AND 'IRREPRESSIBLY CHARMING' NEW CHARACTER FOR SEASON 5
05/03/16 @ 9:52 am EST
Source:
Comic Book Resources
| Categories:
Arrow
|
Comments
(0) |
E-mail Article
|
Add a Comment
"Arrow" season four is mere weeks away from wrapping for the summer, and the series is already looking to cast new actors for season five, including a charming-yet-dangerous new character named James.
Currently the only confirmed season five series regulars are Stephen Amell and Curtis Holt, Holt was announced to be a series five regular earlier this year. While there's no way to know who will survive the season, it's easy to assume that David Ramsey, Emily Bett Rickards, Willa Holland, and Paul Blackthorne will all be back to reprise their roles as Diggle, Felicity, Thea, and Captain Lance, respectively.
According to TVLine, James is a "man on a mission" who comes to Star City looking to avenge someone he lost to a violent crime in the past. The casting announcement describes him as follows:
The casting call seeks an actor of any ethnicity, in his late-20s to 30s and who comes across as a physical threat. The character is said to "just as easily shake your hand as your best friend or break your neck as your worst enemy — and you never know which one is coming. Either way, he's more than capable of having a good time as he does it."
He sounds like a Bruce Wayne-type of character. Charming, wealthy, possessive, but dangerous if any of his lines are crossed. There is one significant character in the "Green Arrow" comics named James: James Harper, Roy Harper's uncle and future superhero named Guardian. James could be related to Roy in some way, which would be a great reason to bring Colton Haynes back onto the show, if that's the direction the show is going with the character.
James is also apparently a charming contemporary of Oliver's. Could he be a friend from Oliver's partying days who lost someone in the Undertaking? Could he have a connection to the potential Russian flashbacks presumed to be in season five? Stay tuned for more updates on "Arrow's" casting for season 5.
'TRANSFORMERS' PRODUCER TO REVIVE 'PUPPET MASTER' FRANCHISE WITH NEW FILM SERIES
05/03/16 @ 9:48 am EST
Source:
Comic Book Resources
| Categories:
MIsc
|
Comments
(0) |
E-mail Article
|
Add a Comment
The "Puppet Master" franchise will live again as "Transformers" producer Lorenzo di Bonaventura is set to revive the franchise for a new generation. The new film, currently called "Puppet Master: The Little Reich," will relaunch the series to take new audiences on a journey of horror and puppetry.
According to Variety, "Puppet Master: The Little Reich" will follow the journey of recently a divorced man who discovers a mint condition Blade doll in his deceased brother's closet. The man travels to a toy convention in Oregon to sell the doll, but is trapped when a strange force brings to life the toys, sending them on a bloody killing spree.
The toy convention he visits will take place during the 30 year commemoration of the Toulon Murders — the same murders that were studied in the first "Puppet Master" film, which debuted in 1989.
"Puppet Master: The Little Reich" will be written by "Bone Tomahawk" screen writer S. Craig Zahler. Di Bonaventura, Dallas Sonnier, and Jack Heller will produce the film, alongside original series producer Charles Band.
NEW "FLASH" CLIP REVEALS HARRISON WELLS' RISKY PLAN
05/03/16 @ 9:45 am EST
Source:
Comic Book Resources
| Categories:
Flash
|
Comments
(0) |
E-mail Article
|
Add a Comment
Recent events on "The Flash" have left Barry Allen powerless, with his speed totally absorbed by his archenemy Zoom. Tonight's episode, "Rupture," will see Team Flash plot to both keep up the ruse that everything's a-okay with Central City's hero
and
get his speed back once and for all. Of course since one of those big plans involves recreating an incredibly dangerous chapter in the Flash's origin, it's no wonder that Barry, Cisco and Iris are hesitant to really listen to Harrison Wells' idea.
Video:
https://youtu.be/wLi31yjuIaA
FIRST PHOTOS OF FINN JONES AS IRON FIST EMERGE
05/02/16 @ 4:55 pm EST
Source:
Bleeding Cool
| Categories:
Iron Fist
|
Comments
(0) |
E-mail Article
|
Add a Comment
Comingsoon.net has posted a few photos of actor
Finn Jones
as Danny Rand in
Marvel
and
Netflix
's upcoming
Iron Fist.

As this photo illustrates, Danny looks a little unkempt. Or, at least, a little more casual than most of the people we've seen on the streets of Marvel's Manhattan. In the series, Danny returns to New York after a number of years away. He will bring his mastery of martial arts and the Iron Fist to the city's criminal underworld.
Iron Fist
will debut on Netflix in 2017.
INTERNATIONAL TEASER FOR FLASH, ARROW AND LEGENDS HAS SPOILERISH RETURNS
05/02/16 @ 4:52 pm EST
Source:
Bleeding Cool
| Categories:
DC
|
Comments
(0) |
E-mail Article
|
Add a Comment
A Youtube channel called
Arrowverse
has posted an international teaser for
The Flash
/
Arrow
/
Legends of Tomorrow
. And the footage shows some potential spoilers for two characters' returns.
If you don't want to know, don't click the video or go any further in the article.
Video:
https://www.youtube.com/watch?feature=player_embedded&v=xVzvzf0b1lU
So, the two things we at DF News caught were a brief glimpse of
Deathstroke
fighting a tuxedo wearing
Oliver Queen
and
Barry Allen
in his
Flash
costume talking to his mother. Now we know that it's this year's Barry as he has the white symbol on his chest. And we know he disappears for a bit coming up. Maybe the two are tied together?
As for Deathstroke, this could be a lot of things from
Damien Darhk
using illusions, to someone else in the costume to a brief return of
Manu Bennett
. But the actor wasn't happy with the last time he was on the show and how easily he was beaten by Oliver and Thea. So his return is questionable. But it would also be appropriate as he has appeared in all three of the last seasons.
With only 4 episodes left of
The Flash
and
Arrow
and 3 left of
Legends
, we should have answers pretty soon.
OUTCAST TO PREMIERE ON CINEMAX IN JUNE; FIRST FOUR EPISODE TITLES RELEASED
05/02/16 @ 4:45 pm EST
Source:
Bleeding Cool
| Categories:
Outcast
|
Comments
(0) |
E-mail Article
|
Add a Comment
Cinemax
announced today that
Outcast
, based on the comic book series by
Robert Kirman
and
Paul Azaceta
will debut June 3rd.
The series was also picked up for a second season back in March.The series stars
Patrick Fugit
as Kyle Barnes, a young man plagued by demonic possession all his life. With the help of Reverend Anderson, a preacher with demons of his own, Kyle embarks on a journey to find answers and regain the normal life he lost.
Philip Glenister
and
Gabriel Bateman
also star.
The cable outlet also made available the titles and short synopses of the first four episodes:
Episode #1: "A Darkness Surrounds Him"Kyle Barnes confronts a possession case and begins to delve into the secrets of his past.Written by Robert Kirkman; directed by Adam Wingard.Episode #2: "(I Remember) When She Loved Me"Kyle questions his family history.Written by Jeff Vlaming; directed by Howie Deutch.Episode #3: "All Alone Now"Kyle and Reverend Anderson confront an unusual possession.Written by Chris Black; directed by Howie Deutch.Episode #4: "A Wrath Unseen"The intrigue in Rome intensifies as Anderson discovers shocking information about someone close to him. Megan (Wrenn Schmidt) conceals a secret.Written Robert Kirkman; directed by Julius Ramsay.
The entirety of the show's ten-episode first season will air on Cinemax.