DARK HORSE ANNOUNCES WILLOW SERIES!
04/18/12 @ 1:19 pm EST
Source:
Dark Horse
|
Comments
(0) |
E-mail Article
|
Add a Comment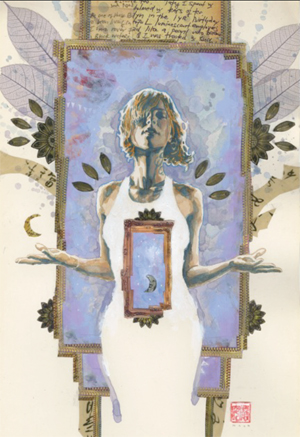 JOSS WHEDON'S FAN FAVORITE RETURNS!
Dark Horse Comics announces another exciting addition to the Buffyverse:
Willow gets her own miniseries!
Written by Jeff Parker (
Thunderbolts
,
Agents of Atlas
) and drawn by Brian Ching (
Star Wars: Knights of the Old Republic
,
Witchblade
),
Willow
tells the story of the witch's obsessive journey to recover her magic.
Willow is on a quest to bring magic back to the world, and she'll do anything to make it happen, including forming some unhealthy alliances after cracking the code to travel to other dimensions—something thought impossible since the destruction of the Seed.
Willow
#1
is on sale November 21, 2012.
About Twentieth Century Fox Consumer Products
: A recognized industry leader, Twentieth Century Fox Consumer Products licenses and markets properties worldwide on behalf of Twentieth Century Fox Film Corporation, Twentieth Television and Fox Broadcasting Company, as well as third-party lines. The division is aligned with Twentieth Century Fox Television, one of the top suppliers of primetime entertainment programming to the broadcast networks.
About Dark Horse Comics
: Since 1986, Dark Horse Comics has proven to be a solid example of how integrity and innovation can help broaden a unique storytelling medium and establish a small, homegrown company as an industry giant. The company is known for the progressive and creator-friendly atmosphere it provides for writers and artists. In addition to publishing comics from top talent like Frank Miller, Mike Mignola, Neil Gaiman, Gerard Way, Will Eisner, and best-selling prose author Janet Evanovich, Dark Horse has developed such successful characters as the Mask, Timecop, and the Occultist
.
Additionally, its highly successful line of comics and products based on popular properties includes
Star Wars
,
Avatar: The Last Airbender
,
Buffy the Vampire Slayer
,
Aliens
,
Conan the Barbarian
,
Mass Effect
,
Serenity
,
and Domo
.
Today, Dark Horse Comics is the largest independent comic-book publisher in the United States and is recognized as both an innovator in the cause of creator rights and the comics industry's leading publisher of licensed material.
COMIC-CON ON STAYING: 'WE WILL SEE,' AFTER CONVENTION CENTER EXPANSION NIXED
08/28/14 @ 5:38 pm EST
Source:
ICv2
| Categories:
MIsc
|
Comments
(0) |
E-mail Article
|
Add a Comment
Comic-Con International has responded to the news that the planned $500 million expansion of the San Diego Convention Center appears to be dead by noting the many factors that go into its planning for the event in San Diego, and hedging when asked what the organization will do with Comic-Con when its agreement with San Diego runs out.

"With regard to the convention center expansion, I can say that any decision to remain in San Diego has always been dependent upon a number of factors, and no one issue could really trump the others," David Glanzer, Director of Marketing and Public Relations for Comic-Con International, told ICv2. "As an example, we knew when we agreed to stay in San Diego until 2016 that an expanded convention center wouldn't be complete. However working with the mayor, city officials, hoteliers and convention center staff allowed us to utilize space outside the convention center facility and mitigate some of those concerns. We now use more ballroom space at area hotels than I think we ever have. And we are still working on other issues that include space, hotel rates and other logistical factors that need to be addressed if we are to remain in San Diego. And I am happy to say we continue to have dialogue with those entities and we will see what the future holds."
THE WORLD WILL ALWAYS NEED G.I. JOE
08/28/14 @ 5:33 pm EST
Source:
IDW
| Categories:
IDW
|
Comments
(0) |
E-mail Article
|
Add a Comment
Acclaimed British military science-fiction author Karen Traviss reignites the G.I. JOE franchise with an all-new series. Filled with the kind of gritty realism fans of the author have come to expect, this new take on G.I. JOE is guaranteed to please followers of the classic property and comic readers experiencing it for the first time.
The world has changed and so must G.I. JOE—lead by Scarlett, the once-revered G.I. JOE team faces an unthinkable reality where Cobra has become an unlikely peacekeeping taskforce. Utilizing real-world dangers and politics, this is a G.I. JOE comic the likes of which has never been seen.
"Karen understands the world of men and women in the military," says IDW Senior Editor John Barber. "She gets what their reality is like—which is why she's held in such high regard by veterans, as well as fans of character-driven action.
Traviss guides an all-star squad of talent on this monthly series starting with fan-favorite artist Steve Kurth on interior art. With a keen eye for design, Jeffery Veregge provides striking covers to the series. The first issue will feature a subscription variant cover by Cliff Chiang.
"When John [Barber] asked me to write the series, it was one of those spooky coincidences," said Traviss. "I'd literally just finished writing a scene for my new novel, GOING GREY, where two of the characters – vets now serving as private military contractors – discuss whether having G.I. Joe and Action Man as boys, influenced their choice of career. G.I. Joe is still that iconic after 50 years, because it's about people, and it's never shied away from the human reality of warfare. I'm genuinely delighted to have the chance to work on the franchise."
Look for this new series to infiltrate comic shops this September
.
NOVEMBER WELCOMES THE RETURN OF ARTIST'S EDITION MONTH! – NEW BOOKS CELEBRATE THE AWARD-WINNING LINE
08/28/14 @ 5:30 pm EST
Source:
IDW
| Categories:
IDW
|
Comments
(0) |
E-mail Article
|
Add a Comment


2014 has been a monumental year for IDW's Artist's Editions, with releases from a staggering amount of iconic creators that range from Jack Kirby to Charles Schulz as well as an Eisner Award for Best Archival Collection for Will Eisner's The Spirit Artist's Edition. The first-hand look at original art is always something to behold, and this November, IDW will bring this unique experience to current ongoing titles during the second-annual Artist's Edition Month!

Gracing the cover of 12 titles this November, artists will one again provide homage covers to the traditional drawing board style that is displayed throughout IDW's award-winning Artist's Edition series. With paste-ups, blue-lines, whiteout, and notes, these special covers harken back to a different era of comic book creation. Look for the Artist's Edition variants cover for the following titles at a local comic shop near you:

Borderlands #5

Edward Scissorhands #2

G.I. Joe: A Real American Hero #208

Godzilla: Rulers of Earth #18

Judge Dredd #25

The Maxx: Maxximized #13

My Little Pony: Friendship is Magic #25

Teenage Mutant Ninja Turtles/Ghostbusters #2

Transformers: Drift: Empire of Stone #1

The X-Files: Season 10 #18

V-Wars #7

Winterworld #5

Additionally, each participating title will also be available with a blank sketch variant cover so you can draw your own, or get your favorite artist to truly personalize your book.Look for these titles to make their way into comic shops beginning this November as well as the highly anticipated Enemy Ace Artist's Edition.

What is an Artist's Edition?
AN ARTIST'S EDITION PRESENTS COMPLETE STORIES WITH EACH PAGE SCANNED FROM THE ACTUAL ORIGINAL ART.
While appearing to be in black & white, each page has been scanned in COLOR to mimic as closely as possible the experience of viewing the actual original art-for example, you are able to clearly see paste-overs, blue pencils in the art, editorial notes, art corrections. Each page is printed the same size as drawn, and the paper selected is as close as possible to the original art board.
FIVE GHOSTS' NEW HORIZONS
08/28/14 @ 5:12 pm EST
Source:
Image
| Categories:
Image
|
Comments
(0) |
E-mail Article
|
Add a Comment


Co-creators Frank J. Barbiere, Chris Mooneyham, and colorist Lauren Affe return for the beginning of an all-new story arc for FIVE GHOSTS. "Monsters & Men" begins on 10/15 with issue #13, just in time for New York Comic Con. This new arc will bring the acclaimed action adventure series to Eastern Europe and establish a new element of horror to the series. The series is also in development for a television series with Universal.

The new FIVE GHOSTS story arc features an assortment of famous monsters and literary figures. "Most notably the new arc will bring Fabian face-to-face with the legendary demon hunter Van Helsing," hinted Barbiere. "Issue #13 will serve as a great jumping-on point and has been made fully returnable for all Diamond retailers." The issue will also feature a blank sketch cover, available to all retailers to order, as well as a number of exciting retailer exclusive variants.

In addition to its continued success in the comic world, FIVE GHOSTS has been optioned by Universal Television and is in development for a television series. The project has acclaimed screenwriter Evan Daugherty (Snow White and the Huntsmen,Divergent, Teenage Mutant Ninja Turtles) attached as a writer and is being produced by Black Mask Studios and Benderspink. FIVE GHOSTS will also be branching out into new media endeavors over the next year with partners Black Mask Studios.

FIVE GHOSTS #13 arrives in stores this 10/15 and will be available for $3.50. It can be pre-ordered using Diamond Code AUG140647. The sketch variant can be ordered with Diamond Code JUL148416. The final order cutoff deadline for retailers is 9/22.
LOW KEEPS CLIMBING
08/28/14 @ 5:08 pm EST
Source:
Image
| Categories:
Image
|
Comments
(0) |
E-mail Article
|
Add a Comment


Bestselling writer Rick Remender (BLACK SCIENCE, DEADLY CLASS) and artist Greg Tocchini's (Uncanny X-Force, Last Days of American Crime) hot new science fiction adventure keeps climbing in popularity. Readers in search of a science fiction series filled with plot twists and worldbuilding cannot get enough of LOW and issue #2 has sold out instantly. LOW #2 will sail into a second printing arriving on 9/24 to meet customer demand. Additionally, we are pleased to reveal early artwork of the eagerly anticipated LOW #3.

LOW #3 picks up with Stel Caine's effort to save mankind. She's going to do the unthinkable, something that hasn't been done in millenia: walk on the Earth's surface. But before she can rise from the depths of the ocean, she must first help her son rise from the suffocating emotional darkness in which he wallows.

"We're thrilled by the incredible reaction, it's more than we could have hoped for," said Remender in response to the news of issue #2's sell-out and 2nd printing. "Low has been years in the making so seeing all the hard work paying off, it's wonderful. Many thanks to the faithful readers and retailers for the huge support."

The first printing of LOW #2 has completely sold out at the distributor level, but may still be available in comic stores. It is currently available digitally on the Image Comics website (imagecomics.com) and the official Image Comics iOS app, and on Comixology on the web (comixology.com), iOS, Android, and Google Play.

The second printing of LOW #2 (Diamond Code JUL148415) will release on 9/24.

LOW #3 (Diamond Code JUL140555) will hit stores on 9/24. The final order cutoff deadline for retailers is Monday, 9/1.
ROCHE LIMIT EXPLORES THE GRIM FUTURE FOR MANKIND
08/28/14 @ 5:06 pm EST
Source:
Image
| Categories:
Image
|
Comments
(0) |
E-mail Article
|
Add a Comment


Michael Moreci (HACK/SLASH: SON OF SAMHAIN, HOAX HUNTERS) teams up with Vic Malhotra (X-Files: Year Zero, Thumbprint) to explore the grim future in store for mankind in an all-new science fiction mystery series.

"Our destiny is the stars, and I will lead us there." Twenty years after this promise, billionaire Langford Skaargard's dream of cosmic exploration is no more. Roche Limit, a colony situated on the cusp of a mysterious energy anomaly, has become a melting pot of crime and terrible secrets. When Bekkah Hudson goes missing, the search to find her will plunge her sister and a cadre of the colony's underworld figures into an odyssey that reveals a bleak future for humanity.

"The entire creative team is really encouraged by the tremendous response to Roche Limit so far," said Moreci. "Commercially and creatively. It's been great, and we hope to make its release equal to its buildup."

A mix of hardboiled noir crime and hard science fiction, ROCHE LIMIT is the beginning of a new series that's part 2001: A Space Odyssey and part Blade Runner. ROCHE LIMIT #1 (Diamond Code: JUL140435) will be available on 9/24. Final order cutoff is Monday, 9/1.
SENSATION COMICS MOVES TO THURSDAY
08/28/14 @ 5:02 pm EST
Source:
DC
| Categories:
DC Comics
|
Comments
(0) |
E-mail Article
|
Add a Comment


You read that headline right.

The popular new anthology series is now going to be available on Thursdays.

DC's own Kristy Quinn tells us that she's excited about the move because, "Part of the fun of Integrated Publishing (our fancy title for editors who work on Digital Comics plus other fun stuff) is that every day is new comics day. We just completed our run of THE VAMPIRE DIARIES (goodbye Elena, goodbye Damon >sniff sniff<), which opened up space to give SENSATION COMICS its own release day, no sharing!"

She adds, "This new title has been amazingly well received by fans and press alike. Moving to Thursday won't change any of that, and since digital comics never go 'out of print,' if you ONLY want to buy comics on Wednesday, it'll be there for you next week!"

It's Thursday, right? What are you waiting for? Get SENSATION COMICS now and see why it deserves its very own day!
AVENGERS: EVERYBODY WANTS TO RULE THE WORLD - COMING IN 2015
08/28/14 @ 4:54 pm EST
Source:
Marvel
| Categories:
Avengers
|
Comments
(0) |
E-mail Article
|
Add a Comment
Earlier this summer, New York Times-bestselling author Dan Abnett delivered "Rocket Raccoon & Groot: Steal the Galaxy!," Marvel's first original prose novel. Now he's hard at work on another novel for next year, starring Earth's Mightiest Heroes and every nefarious villain he can throw at them, from A.I.M and the High Evolutionary to the machinations of Ultron.
The globe-spanning adventure has the appropriate title of "Avengers: Everybody Wants to Rule the World" and it's headed your way in April of 2015.
"When Marvel suggested writing a Guardians or Rocket related novel to coincide with the movie, it appealed," Abnett recalls of the first novel. "But I realized that it would be a far more interesting challenge and the result might be better if I gave them an original story. Far more freeing. A story you write for a comic strip is specifically designed to fit into a comic strip. There were things that I wanted to do with a novel that suited that form better. Marvel thought it was a good idea. It was one of the most fun jobs I can remember in a long time, with that combination of action and humor and Marvel lore—referencing continuity and Easter-egging. So, I really enjoyed it and it seems to have gone down really well. Marvel was so pleased they've come back to me for more.
"The Avengers are my favorite Marvel team," continues the writer, "So that helped enormously. The idea was to do a great big, epic story that represented the Avengers at their best, doing what they do best, taking on planet-threatening monstrosities. The main guide Marvel gave me to begin with was to start from that core team roster from the Marvel Cinematic Universe. I've added to that a bit. Then I gave them an Earth-shaking, staggering threat, which I hope won't be too much for them to deal with. It's got to be big. Without the artwork of comics to give you the fun and games, you need the fun and games to be present there in the prose for it to be big and expansive. It needed to be ambitious."
That plot sees the team scattered to the far reaches of the globe, with Captain America grappling with the forces of Hydra in Berlin and Black Widow and Hawkeye on a mission in the Savage Land. Meanwhile, Thor does battle with an entire army in Siberia, the Hulk and Nick Fury team up in Mangapore, and Iron Man battles Ultron in Washington.
"The Avengers aren't just taking on one of their classic foes, which would make a great novel in itself," says Abnett. "They're taking on multiple classic foes at the same time in a desperate scramble. They have to sub-divide to meet these threats, threats they'd normally have to stand together to deal with. And while they're contending with Hydra and A.I.M, they're sort of going, 'Why is all this happening at once?' Everyone seems to be making this mad grab for the Earth, and of course, that's the point. There is something at stake, something motivating all these villainous entities to act at the same time."
It doesn't take too long before the far-flung teammates realize that their individual crises share a connection, and that's when they do that thing they do so well.
"Let's face it," Abnett laughs, "One of the things the Avengers do better than anybody else is assemble.
"It's a big techno-thriller that just happens to have super-powered people in the middle of it. It's a way of translating what's spectacular on the page in an Avengers comic, where you can see Thor lifting a bulldozer or Cap hurling his shield—all that epic power, speed, excitement, action—in a novel format."
Abnett likens the task of capturing such larger than life heroes in the more grounded medium of prose to the challenge of depicting nine-foot-tall space marines in his extensive work chronicling the grimdark mythos of Warhammer 40K.
"I feel extremely lucky that I'm getting a chance to have a go at that," says the writer of lending real-world gravity to such heightened characters, "But also to use some of the biggest toys in the industry. It's not just inventing super heroes and writing about them, but taking some of the most famous heroes in the world and presenting them in that format."
Of course, Abnett tackles this prose adventure in parallel to his latest comics project, a return to the realm of Marvel Cosmic, this time in the distant future. Zeroing in on the exploits of GUARDIANS 3000, the writer at once looks to tomorrow while celebrating the team that carried the banner before Rocket, Star-Lord, Gamora and the rest of that ragtag crew. This new ongoing series showcases the adventures of the original lineup of Charlie-27, Vance Astro, Martinex, Starhawk, and Yondu.
"It's enormously good fun," he says. "I've set myself various challenges there. These characters aren't particularly well known, though that shouldn't be an obstacle given that that was also the case with my previous Guardians book. It's a matter of bringing beloved, but half-forgotten characters back into the fore. I'm not literally going back to 1968 and starting again, but that's the continuum that we're in. The Badoon Brotherhood is overrunning the universe and the Guardians serve as the vanguard freedom fighters battling them off, trying to save not only humanity but other species from their wrath."
"This is one thousand years in the future. That dislocates them from the Marvel Universe. One of the things about that previous run and the sandbox Brian Michael Bendis is working in now is that there's very strong connective tissue to the Marvel Universe, which helps support them. I am sticking to the idea that this is one thousand years on, so I have to build a new universe. Or extrapolate a universe from the one we know now. What does the Marvel Universe look like in the year 3000? Are any familiar faces still going to be around, or their descendants, or new versions of them? What's the political map like?"
As an added conflict, there's something wrong with time. "There is a fault," explains Abnett. "Time is dislocating and replaying. It's as if they've been at war with the Badoon forever, and every time they win, time resets and starts over and they're back where they'd started."
Combine that with some sociopolitical tensions on an intergalactic scale, and the going gets pretty tough for the Guardians of the year 3000. Hopefully they relish a challenge as much as Abnett himself, who seems to thrive on testing his own limits and offering complex stories for hungry readers.
"Avengers: Everybody Wants to Rule the World," hits bookstores in April 2015, while GUARDIANS 3000 debuts this October!
EXPLORE THE ORIGINS OF THE MARVEL UNIVERSE WITH MARVEL FAMOUS FIRSTS: 75TH ANNIVERSARY MASTERWORKS SLIPCASE SET
08/28/14 @ 4:33 pm EST
Source:
Marvel
| Categories:
Marvel
|
Comments
(0) |
E-mail Article
|
Add a Comment
In celebration of Marvel Comics' 75th Anniversary, Marvel proudly presents a deluxe collection of its 10 mightiest Masterworks hardcovers - plus the all-new, long-in-demand NOT BRAND ECHH VOL. 1 and the AVENGERS 75TH ANNIVERSARY BY ALEX ROSS POSTER signed by none other than Stan "The Man" Lee!
"This is one of the most epic collections Marvel has ever compiled. Not only do these Masterworks retell the origins of Marvel's iconic heroes, but they are collected and presented in a gorgeous slipcase built to resemble the historic Avengers Mansion," says David Gabriel, SVP Sales and Marketing. "If that wasn't enough, this collection is coupled with a beautiful poster signed by Stan Lee. It doesn't get grander then this!"
Each titanic tome in this limited-edition boxed set features a newly designed cover treatment and interlocking spine artwork, and the slipcase itself is patterned after stately Avengers Mansion!
MARVEL FAMOUS FIRSTS: 75TH ANNIVERSARY MASTERWORKS SLIPCASE SET
arrives in local comic book retailers
September 3rd
and contains the following monumental Marvel collected moments:
CAPTAIN AMERICA VOL. 1 HC
264 pgs. - collecting
Tales of Suspense
#59-81
DAREDEVIL VOL. 1 HC

256 pgs. - collecting
Daredevil
#1-11
DOCTOR STRANGE VOL. 1 HC

328 pgs. - collecting
Strange Tales
#110-111 and #114 - 141, and
Amazing Spider-Man Annual
#2
NOT BRAND ECHH VOL. 1 HC

456 pgs. - collecting
Not Brand Echh
#1-13; and material from
Amazing Spider-Man Annual
#5,
Avengers Annual
#2,
Daredevil Annual
#1,
Fantastic Four Annual
#5 and
Sgt. Fury Annual
#4.
THE AMAZING SPIDER-MAN VOL. 1 HC

272 pgs. – collecting
Amazing Fantasy
#15 and
Amazing Spider-Man
#1-10.
THE AVENGERS VOL. 1 HC

248 pgs. - collecting
Avengers
#1-10
THE FANTASTIC FOUR VOL. 1 HC

272 pgs. - collecting
Fantastic Four
#1-10
THE INCREDIBLE HULK VOL. 1 HC

176 pgs. - collecting
Hulk
#1-6
THE INVINCIBLE IRON MAN VOL. 1 HC

208 pgs. - collecting
Tales of Suspense
#39-50
THE MIGHTY THOR VOL. 1 HC

280 pgs. - collecting
Journey into Mystery
#83-100
THE X-MEN VOL. 1 HC

248 pgs. - collecting
X-Men
#1-10
Hardcover: 3,016 pagesLanguage: EnglishISBN-10: 0785191283ISBN-13: 978-0785191285Product Dimensions: 19 x 16.8 x 13.5 inchesShipping Weight: 33.4 pounds
On Sale: September, 3rd
MEET RALPH MACCHIO OF 'KARATE KID,' 'THE OUTSIDERS' AT WIZARD WORLD TULSA
08/28/14 @ 4:13 pm EST
Source:
Wizard World
| Categories:
MIsc
|
Comments
(0) |
E-mail Article
|
Add a Comment
Ralph Macchio is known to millions for the starring role in
The Karate Kid
in 1984. But a year earlier, another cult film,
The Outsiders
, put him on the map.
Shot in Tulsa, Okla.,
The Outsiders
featured Macchio along with future stars Matt Dillon, Patrick Swayze, Rob Lowe, Tom Cruise, Emilio Estevez and quite a few others.
Now Macchio returns to the scene of his first big hit at Wizard World Tulsa Comic Con, November 7-9 at the Cox Business Center. There he will greet fans, sign autographs, pose for photo ops and conduct an interactive Q&A in which he will discuss these two iconic roles and more.