DARK HORSE ANNOUNCES WILLOW SERIES!
04/18/12 @ 1:19 pm EST
Source:
Dark Horse
|
Comments
(0) |
E-mail Article
|
Add a Comment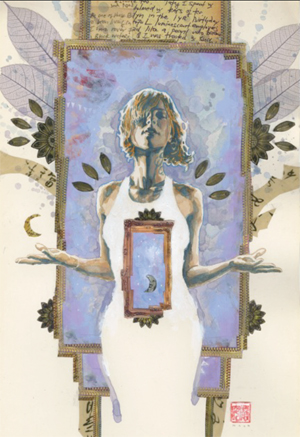 JOSS WHEDON'S FAN FAVORITE RETURNS!
Dark Horse Comics announces another exciting addition to the Buffyverse:
Willow gets her own miniseries!
Written by Jeff Parker (
Thunderbolts
,
Agents of Atlas
) and drawn by Brian Ching (
Star Wars: Knights of the Old Republic
,
Witchblade
),
Willow
tells the story of the witch's obsessive journey to recover her magic.
Willow is on a quest to bring magic back to the world, and she'll do anything to make it happen, including forming some unhealthy alliances after cracking the code to travel to other dimensions—something thought impossible since the destruction of the Seed.
Willow
#1
is on sale November 21, 2012.
About Twentieth Century Fox Consumer Products
: A recognized industry leader, Twentieth Century Fox Consumer Products licenses and markets properties worldwide on behalf of Twentieth Century Fox Film Corporation, Twentieth Television and Fox Broadcasting Company, as well as third-party lines. The division is aligned with Twentieth Century Fox Television, one of the top suppliers of primetime entertainment programming to the broadcast networks.
About Dark Horse Comics
: Since 1986, Dark Horse Comics has proven to be a solid example of how integrity and innovation can help broaden a unique storytelling medium and establish a small, homegrown company as an industry giant. The company is known for the progressive and creator-friendly atmosphere it provides for writers and artists. In addition to publishing comics from top talent like Frank Miller, Mike Mignola, Neil Gaiman, Gerard Way, Will Eisner, and best-selling prose author Janet Evanovich, Dark Horse has developed such successful characters as the Mask, Timecop, and the Occultist
.
Additionally, its highly successful line of comics and products based on popular properties includes
Star Wars
,
Avatar: The Last Airbender
,
Buffy the Vampire Slayer
,
Aliens
,
Conan the Barbarian
,
Mass Effect
,
Serenity
,
and Domo
.
Today, Dark Horse Comics is the largest independent comic-book publisher in the United States and is recognized as both an innovator in the cause of creator rights and the comics industry's leading publisher of licensed material.
EXCLUSIVE 'JUSTICE LEAGUE' ANIMATED SERIES ON MACHINIMA
09/18/14 @ 4:09 pm EST
Source:
ICv2
| Categories:
Justice League
|
Comments
(0) |
E-mail Article
|
Add a Comment
YouTube network Machinima has exclusive rights to
Justice League: Gods and Monsters Chronicles
, a three-part animated series that ties into
Justice League: Gods and Monsters
, a new OVA that will be released in 2015.
The storyline for both revolves around an alternate Justice League in which the core characters, Superman, Batman, and Wonder Woman, are darker versions of their normal selves.
The short series is the first project from Warner' Bros. new digital content production unit. DC parent Warner Bros. invested $18 million in Machinima earlier this year.
EISNER AWARD WINNER GERARD WAY MAKES HIS MARVEL DEBUT FOR EDGE OF SPIDER-VERSE #5
09/18/14 @ 3:48 pm EST
Source:
Marvel
| Categories:
Edge of The Spider-Verse
|
Comments
(0) |
E-mail Article
|
Add a Comment
Prepare for the biggest Spider-Man event of all-time as every Spider-Man from every universe unites to stop a threat that could spell extinction for their kind! Today, Marvel is proud to present your first look at
EDGE OF SPIDER-VERSE #5
– the final chapter in the blockbuster 5-issue mini-series showcasing different Spider-Men (and women) of the Spider-Verse! Eisner Award-winning writer Gerard Way (
Umbrella Academy
) makes his Marvel debut alongside rising star artist Jake Wyatt for a Spider-Man tale unlike any other!
"In a futurist city fairly different from the New York we are familiar with, our version of Spider-Man takes the shape of a government project:
SP//dr
," says Gerard Way. "SP//dr is comprised of three vital components: a pilot, a machine, and a radioactive sentient spider acting as one half of the brain that makes it all work. Peni Parker is a young girl, who, left parentless, is adopted by her Aunt May and Uncle Ben, the two heads of the SP//dr project. When they realize Peni is the only one who can successfully pair with SP//dr, they make the unorthodox decision to train her as SP//dr's newest pilot."
As Peni Parker suits up in her incredible spider-powered armor, explore the incredible new universe she inhabits. Yet even though, she pilots her unstoppable machine, it still may not be enough to save her universe from the onslaught of Morlun.
Edge of Spider-Verse concludes in grand fashion this October as Way & Wyatt take you to an incredible new universe in
EDGE OF SPIDER-VERSE #5
!
Plus, don't miss out on these exciting
Edge of Spider-Verse
tie-in issues of your favorite ongoing series:
· Superior Spider-Man #32 & #33
· Amazing Spider-Man #7 & #8
· Spider-Man 2099 #5
DF REVIEW: EDGE OF SPIDER-VERSE #2
09/18/14 @ 8:13 am EST
Source:
Dynamite
| Categories:
Dynamite
|
Comments
(0) |
E-mail Article
|
Add a Comment
By BYRON BREWER
For some characters like Mar-Vell, Jean Grey, Bucky Barnes once, and yes, Spidey's former squeeze Gwen Stacy, their best moment in comics was their deaths.
Not anymore … at least for one alternate world's Gwen Stacy.
She is now your friendly neighborhood Spider-Woman!
Yes,
Edge of Spider-Verse
#2 is what #1 SHOULD have been: a jazzy, self-contained, rollicking story that shows who this character is and why she/he deserves to be counted among the combatants of the upcoming "Spider-Verse" event.
Peter Parker of this Earth shows up for barely a splash page in Jason Latour and Robbi Rodriguez's stunningly personal tale of how Gwen got her spider-powers, how it affects her life, and how many of the familiar characters gather around her to spin a whole new web around the Spidey mythos.
By the time the true story begins, we as readers are so invested in this world it is hard to believe this book has NOT been around since the 1960s. Who knew that Gwen would make such a wonderful, entertaining and fun heroine? Well, I guess Latour!
Seriously, both the super-heroics and the personal side of Gwen (always the heart of a Spidey story) showed in this mag are involving, from our protagonist's role as percussionist in MJ's band to the lithe figure of her beautifully-designed costumed self sliding down the concrete canyons.
I cannot praise the art of Rodriguez and the colors of Rico Renzi enough. They create a totally different world for Gwen, and their storytelling ability is no more powerful than in the tense confrontation between Spider-Woman and her father, Captain Stacy.
Now THIS is the Spider-Woman I want to read about. Ongoing, please?
DC COMICS TO RUSH-PUBLISH REPRINT OF CONSTANTINE #1 AND HELLBLAZER #1 FOR A DOLLAR
09/18/14 @ 4:08 am EST
Source:
Bleeding Cool
| Categories:
Constantine
|
Comments
(0) |
E-mail Article
|
Add a Comment


Just as they have already done with Flash and Green Arrow ahead of their upcoming TV shows, DC Comics is rush-soliciting a 64 page $1 Constantine #1: Special Edition.

The dollar comic will reprint the DC New 52 Constantine #1 as well as the original Hellblazer #1 as a flip book.
'DOCTOR STRANGE' TO SHOOT IN U.K.
09/17/14 @ 10:58 pm EST
Source:
ICv2
| Categories:
Doctor Strange
|
Comments
(0) |
E-mail Article
|
Add a Comment


Marvel Studios is moving quickly with its plans for a Doctor Strange movie, with multiple sources this week reporting the studio plans to begin filming at Pinewood Studios in the U.K.

Both Screen Daily and The Hollywood Reporter have reported that Marvel is in final negotiations to shoot the movie at Pinewood's Shepperton Studios, the same studio where scenes from Guardians of the Galaxy, The Avengers: Age of Ultron, Thor: The Dark World, X-Men: First Class and Captain America were shot.

Oh, and Star Wars VII is currently shooting there.

RUMBLE MEANS WAR
09/17/14 @ 10:37 pm EST
Source:
Image
| Categories:
Image
|
Comments
(0) |
E-mail Article
|
Add a Comment


Co-creators John Arcudi (writer of BPRD, Savage Wolverine, A god Somewhere and the Eisner-nominated The Creep) and James Harren (artist on Conan, BPRD, and cover artist for the Hawkeye vs. Deadpool) team up once again for the launch of an epic and bizarre action/adventure series filled with fantasy and page-turning thrills arriving on December 17.

In RUMBLE, a scarecrow—a warrior scarecrow god called Rathraq, that is—walks into a bar...and it's all downhill from there. After a long absence, Rathraq is back and very unhappy. This is bad news for his old enemies, yes, but even worse news for everyone else, including bartender Bobby LaRosa who finds himself caught in the chaos.

RUMBLE is an eclectic mix of tone and genre, something that Arcudi commented on as adding depth and a dose of reality to the story. "Rumble is not just fantasy, not just action, not just drama, or not just humorous, you know? That's too limiting. That's not how we live. You wake up happy, then something happens that messes up your whole day (of course, in the case of Rumble, that 'something' just so happens to be a giant sword-wielding scarecrow and some monsters), but you still manage to have a laugh that night. What I like about this book is that any character can have a day like that. Any of them, human and non-human."

Arcudi also cited Harren's flexibility in art styles as allowing for smooth transitions throughout RUMBLE. "James's art allows us to go in all the directions the story needs to go. Nobody draws ferocious action the way James does. Monsters smashing each other's heads in, that's in the book, and James kills on it! But he also can set a spooky mood, and while his idea of what's 'funny' is rather bizarre, that's exactly what the book needs!"

The characters of RUMBLE must adapt along with the readers and will go through various transformations along the way. Arcudi added: "What I hope will be entertaining to readers is Bartender Bobby's unique way of adapting to his new and rapidly changing world. That's also true of Rathraq, the warrior scarecrow. He has to adapt to his new world as well, but in a very different way and for very different reasons. From those kinds of perspectives grow all kinds of interesting plot lines and stories! And they're just two of the many characters we'll be playing with."

RUMBLE is a modern-day action fantasy series where rundown dive bars, undead kitty cats, psycho skinheads, and giant mummies run amok. RUMBLE #1 will be available on 12/17, and can be pre-ordered with Diamond Code OCT140580.


BUILD UP YOUR VARIANT COLLECTION WITH MARVEL ROCKET RACOON & GROOT VARIANTS
09/17/14 @ 10:10 pm EST
Source:
Marvel
| Categories:
Rocket Raccoon
|
Comments
(0) |
E-mail Article
|
Add a Comment
The breakout comic book characters of the year are taking over the covers of your favorite Marvel titles this November!
That's right True Believer,
ROCKET
RACCOON & GROOT VARIANTS
are coming, featuring some of the best and brightest talents in the industry!
Not only will you get to see so many great artists putting their own spin on Rocket & Groot, but 20 of your favorite Marvel comics will feature these one-of-a-kind variants depicting some of the most classic of covers!
· All-New Captain America #1
· All-New X-Men #34
· Amazing Spider-Man #9
· Amazing X-Men #13
· Avengers #38
· Avengers World #15
· Bucky Barnes: The Winter Soldier #2
· Captain America & The Mighty Avengers #1
· Deadpool #37
· Guardians 3000 #2
· Guardians of the Galaxy #21
· Hulk 8
· Legendary Star-Lord #5
· New Avengers #26
· Rocket Raccoon #5
· Spider-Verse #1
· Spider-Woman #1
· Superior Iron Man #1
· Thor #2
· Uncanny X-Men #28
"People everywhere can't seem to get enough Rocket & Groot!" says Marvel SVP Sales & Marketing David Gabriel. "As soon as we came up with the concept to do Rocket Raccoon & Groot variants, the ideas just started pouring in. We couldn't wait to get our hands dirty creating some really fantastic cover homages. This program is really the best of both worlds and we know it will really excite old and new fans everywhere."
Marvel urges retailers to check their orders on these hotly anticipated variant covers as they hit comic shelves through the month of November. No fan will want to miss the chance to see these fan-favorite Marvel characters in a whole new way when the
ROCKET RACCOON & GROOT VARIANTS
hit store shelves worldwide this November!
CAPTAIN BOOMERANG CAST TO APPEAR ON ARROW
09/17/14 @ 1:17 pm EST
Source:
Bleeding Cool
| Categories:
Arrow
|
Comments
(0) |
E-mail Article
|
Add a Comment


Digger Harkness / Captain Boomerang is one of the most popular members of The Flash's Rogues Gallery… and he's also one of the members of the Suicide Squad which is part of the Arrow series which is where he's going to make his debut.

And the casting director on Arrow seems to love former Spartacus stars – Manu Bennett (Slade Wilson), Cynthia Addai-Robinson (Amanda Waller) and Katrina Law (Nyssa Raatko al Ghul) – so it's not surprising that they've gone to the well once more to get Nick Tarabay.

Harkness is slated to appear in Episodes 7 and 8 of Arrow with Episode 8 being a crossover with The Flash.
GONE BUT NOT FORGOTTEN – YOUR NEW LOOK AT DEATH OF WOLVERINE: THE LOGAN LEGACY #1
09/17/14 @ 1:09 pm EST
Source:
Marvel
| Categories:
Death of Wolverine
|
Comments
(0) |
E-mail Article
|
Add a Comment
From the ashes of
Death of Wolverine
comes a new beginning.
Today, Marvel is pleased to present your first look at
DEATH OF WOLVERINE: THE LOGAN LEGACY #1
, the first issue in a blockbuster 7-issue limited series aiming to explore the gaping hole left in the Marvel Universe following the death of one of its most prominent super heroes. Written by superstar writer Charles Soule with art by Oliver Nome, this epic first issue, setting the stage for a world without Wolverine!
Each issue of
Death of Wolverine: The Logan Legacy
features a hot new creative team made up of some of the industry's brightest rising stars as they explore the unique solo adventures of
X-23
,
Sabretooth
,
Daken
,
Lady Deathstrike
and
Mystique
!
"Think of the death of Wolverine as an inciting event, one thing that has seismic-level effects on the lives of a great deal of the Marvel Universe," says Charles Soule. "We'll start in
Death of Wolverine: The Logan Legacy
by examining those effects on people close to Wolverine, but over time, we'll range far and wide to see what sort of black hole Logan's death actually leaves."
With the mutant powerhouse now out of the picture, who or what will be left to pick up the pieces? Will Wolverine's legacy be shaped by heroes who valiantly fought alongside him…or by the villains who he spent his whole life protecting the world against? The answers will be revealed this October when the Marvel Universe faces a world without Wolverine in
DEATH OF WOLVERINE: THE LOGAN LEGACY #1
!
DEATH OF WOLVERINE: THE LOGAN LEGACY #1 (AUG140748) Written by CHARLES SOULE Art & Cover by OLIVER NOME
Variant Cover by SKOTTIE YOUNG (AUG140749) Canada Variant by OLIVER NOME (JUL148308) FOC – 09/22/14, On-Sale 10/15/14
DYNAMITE DIGITAL ADDS BITCOIN PAYMENT OPTION
09/17/14 @ 7:13 am EST
Source:
Dynamite
| Categories:
Dynamite
|
Comments
(0) |
E-mail Article
|
Add a Comment
Dynamite Entertainment is excited to announce the addition of Bitcoin as an accepted form of payment at Dynamite.com/digital, the company's recently-launched digital store for DRM-Free digital comics. The Bitcoins payment system joins existing payment options that include Visa, Mastercard, American Express, Discover, and PayPal. Fans who wish to make purchases through Dynamite Digital using Bitcoin need only login with the Bitcoin client of their choice. Fans can now use the virtual currency to purchase Dynamite's increasing collection of digital comics and bundles, including this week's latest digital comics bundle featuring 25 of Dynamite's top comics for a discounted price of $10 to help commemorate Dynamite's 10th Anniversary. A sweet Dynamite bundle at an incredible offer that adds up to only .40 cents a book! In addition, Dynamite's DRM Free Digital Store showcases free wallpapers for fans to enjoy, with new ones added every week. These include Bob's Burgers, Neil Gaiman's Last Temptation, Red Sonja, Vampirella, Boys, Cryptozoic Man, Dresden, and this week adding Purgatori and other new wallpapers.
The bundle gives fans the opportunity to add award-winning art by Alex Ross, Gail Simone's Red Sonja, Kevin Smith's Green Hornet, Legenderry by Bill Willingham, Chaos! by Tim Seeley, and much more to their digital collections DRM-Free at a fantastic value. From debut issues of classic titles, to recent best-sellers that have sold-out in print. This new Dynamite Bundle continues the next phase of the Dynamite Digital program. With 10% of each sale going to the Comic Book Legal Defense fund. This promotion is available to fans for a limited time.
"This is an exciting day here at Dynamite combining both, our accepting Bitcoin as an option for payments, and at the same time announcing our biggest introductory bundle to date to commemorate our 10th Anniversary. Setting up Bitcoin payments through our DRM-Free store has been a goal since Day One," says Nick Barrucci, CEO and Publisher of Dynamite Entertainment. "As we continue to blaze a new trail with Dynamite Digital, we are proud to provide existing fans and expand our fan base with increasingly accessible means of participating in the digital comics experience, which - as recent data has proven - benefits the overall comics market through consumer transition to printed material."
Dynamite's CEO continues "We took a look at what fans kept asking for in creating an introductory bundle to allow them to try new titles at a great price, and combined 25 of our top selling books into a nice discount bundle to promote a nice mix of new titles at an incredible entry price point of $10.00 for our 10th Anniversary. Its Dynamite's biggest deal yet offered directly from the Dynamite Digital DRM Free store, with quite a few pluses in supporting us through the bundle: Fans get to try great new books at an incredibly low price DRM-Free, they get to help support creators that we work with in addition to Dynamite, and help out the Comic Book Legal Defense Fund. A win all around for everyone!"
Introduced in 2009, Bitcoin is a software-based online payment system. Bitcoins are created as a reward for payment processing work in which users offer their computing power to verify and record payments into the public ledger. Payments work peer-to-peer, which is an exciting new way to purchase for consumers. The addition of Bitcoin to Dynamite Digital follows the news of Dynamite's new discount digital bundle offerings, launched just last week.
This latest bundle includes award-winning titles from some of today's best creators. Kevin Smith, Gail Simone, Bill Willingham, award-winning artist Alex Ross and more have multiple books included in the offer. Giving fans the perfect taste of everything Dynamite has to offer. The full list includes:
Project Superpowers #0 – 3
– by Alex Ross and Jim Kruegar
Jungle Girl #0 -1
– by Frank Cho and Doug Murray
Mocking Dead #1
– by Fred Van Lente
Sherlock Holmes: Trial #1 – 2
– by Leah Moore, John Reppion and Aaron Campbell
Kevin Smith's Green Hornet #1
– by Kevin Smith, Phil Hester and Jonathan Lau
Red Sonja #1 – 2
– by Gail Simone and Walter Geovanni
Robert Jordan's The Wheel of Time #1 – 3
– by Chuck Dixon
Legenderry #1
– by Bill Willingham and Sergio Fernandez Davila
Chaos! #1
– by Tim Seeley and Mirka Andolfo, main cover by J. Scott Campbell
Jim Butcher's Dresden War Cry #1
– by Jim Butcher and Mark Powers
Pathfinder: Dark Waters #1
– by Jim Zub
Miss Fury #1 – 2
– by Rob Williams
American Flagg #1- 2
– by Howard Chaykin
Vampirella #1
– by Eric Trautmann
This new bundle follows last week's limited promotion (which ended yesterday) of the 5 Star, 5 book starter set where fans were invited to pick up the top 5 best-selling books of Dynamite's impressive library. This latest offer continues Dynamite's commitment to fans as the publisher celebrates its 10 year anniversary this year.
Dynamite's new online storefront has already proven to be a huge success with fans since it started in August of this year, featuring DRM-Free editions of some of Dynamite's biggest hits to-date, including
Bob's Burgers
,
Alice Cooper
,
Dawn/Vampirella
, and more.
For more on Dynamite 25 books for $10 bundle, and the latest DRM-Free offers from Dynamite Digital, check out dynamite.com/digital today.