YOUR FIRST LOOK AT AVX: VS #2– AN AVENGERS VS. X-MEN TIE-IN!
04/17/12 @ 1:53 pm EST
Source:
Marvel
|
Comments
(0) |
E-mail Article
|
Add a Comment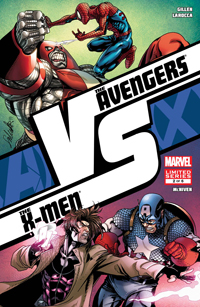 Marvel is proud to present your first look at,
AVX: VS #2,
the explosive, no holds barred, action packed tie-in to the smash-hit blockbuster event of the year –
Avengers VS. X-Men
! From acclaimed creators, Kieron Gillen, Salvador Larroca & Steve McNiven; catch the cover to cover battles - featuring unimaginable chaos as Spider-Man takes on Colossus & Captain America faces off against the ragin' Cajun, Gambit! Don't miss out on all the pulse-pounding action in
AVX: VS #2,
available in comic shops worldwide and on the
Marvel Comics app
this May!
Which team will reign supreme? Join the conversation on Twitter with
#AvX
!
For more on
Avengers VS X-Men
, please visit
http://avx.marvel.com
AVX: VS #2 (MAR120528)
Written by KIERON GILLEN & STEVE MCNIVEN
Art by STEVE MCNIVEN & SALVADOR LARROCA
Cover by SALVADOR LARROCA
Variant Cover by STEVE MCNIVEN
Rated T+…$3.99
FOC –4/23/2012, ON SALE – 5/16/2012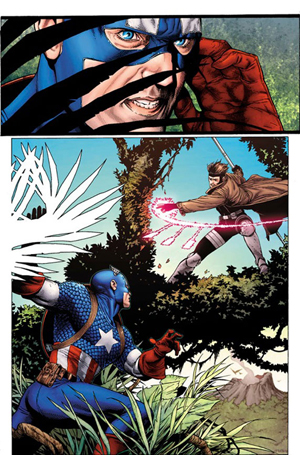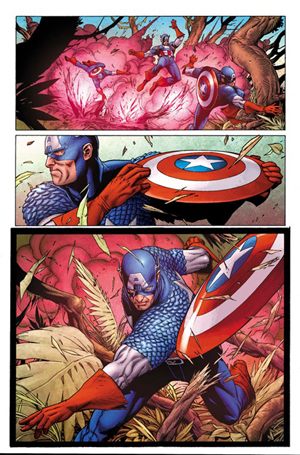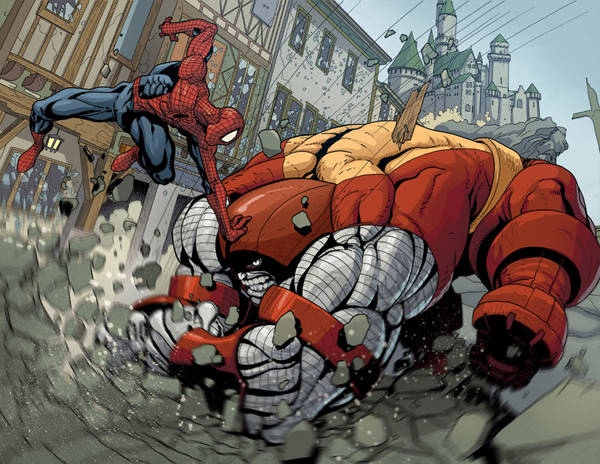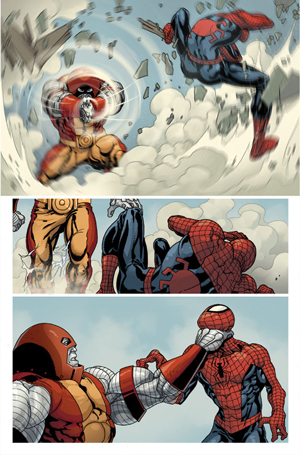 To find a comic shop near you, visit
www.comicshoplocator.com
or call 1-888-comicbook.


Marvel Entertainment, LLC, a wholly-owned subsidiary of The Walt Disney Company, is one of the world's most prominent character-based entertainment companies, built on a proven library of over 8,000 characters featured in a variety of media over seventy years. Marvel utilizes its character franchises in entertainment, licensing and publishing. For more information visit
www.marvel.com
NETFLIX GREENLIGHTS ANIMATED COMEDY 'PACIFIC HEAT' FROM AUSTRALIA'S WORKING DOG PRODUCTIONS
09/29/16 @ 5:16 pm EST
Source:
Variety
| Categories:
MIsc
|
Comments
(0) |
E-mail Article
|
Add a Comment
Netflix is amping up its animated slate with a new comedy, "Pacific Heat," hailing from award-winning Australian company Working Dog Productions,
Variety
has learned exclusively.
The series, which landed a 13-episode order for its initial season, will debut on Netflix Dec. 2 in the United States, Canada, the U.K. and Ireland. In Australia, the television partner is Foxtel and the series will premiere in late 2016.
"Pacific Heat" follows the exploits of a dynamic unit of undercover police investigators working on the glitzy Gold Coast of Australia. The glamorous, sophisticated and sun-drenched paradise masks a hot-bed of crime — everyone from drug smugglers and biker gangs to eco-terrorists and the person who invented frozen yogurt — and in order to tackle this seedy underbelly, police established a covert squad of highly-trained operatives, known as Pacific Heat. When criminals strike, the squad will be there in an unconventional and uncompromising manner, and not afraid to operate outside the law — provided at least one of them is wearing a fluorescent safety vest.
The series was created by Santo Cilauro, Tom Gleisner and Rob Sitch of Working Dog Prods., a giant production company in Australia that has been behind much of the country's top comedy television and film for more than 25 years, including the late-night variety show "The Late Show."
Sitch, a top Aussie actor and comedian who appears in most of Working Dog's projects, voices the "Pacific Heat" character Special Agent Todd Sommerville.
Sitch says that "Pacific Heat," at its heart, is a satire on cop shows. He jokes the idea came about because "two decades ago, we laughed that we didn't think they could think of another cop show…We sat down one day and we almost got down to 100 with the number of shows we've drawn from."
JOHNNY DEPP TO STAR IN 'MURDER ON THE ORIENT EXPRESS' AT FOX
09/29/16 @ 5:13 pm EST
Source:
Deadline
| Categories:
MIsc
|
Comments
(0) |
E-mail Article
|
Add a Comment
Johnny Depp is in talks to star for director Kenneth Branagh in the
Murder On The Orient Express
remake. This comes after Angelina Jolie stepped out. The pic is moving fast: Depp will star with Branagh, who'll play detective Hercule Poirot in a script that
Blade Runner 2
scribe Michael Green adapted from Agatha Christie's novel. Steve Asbell overseeing the production for Fox.
The film is based on one of Christie's best-known books. First published in 1934, the novel tells of the intrigue that begins after an American businessman is murdered aboard the famed train. Poirot tries to unravel the whodunit. Branagh will produce with Ridley Scott, Simon Kinberg and Mark Gordon. Michael Schaefer and Aditya Sood will also produce in some capacity. James Prichard, the author's great grandson and chairman of Agatha Christie Ltd., and Hilary Strong, CEO at Agatha Christie Ltd., will executive produce.
FOX DEVELOPING ANIMATED INDIAN FAMILY COMEDY FROM M. NIGHT SHYAMALAN, 'FAMILY GUY' WRITER
09/29/16 @ 5:10 pm EST
Source:
Variety
| Categories:
MIsc
|
Comments
(0) |
E-mail Article
|
Add a Comment
Supernatural horror guru M. Night Shyamalan is taking a stab at comedy.
Fox has bought a script for "Eleven Little Indians," an animated comedy series, hailing from Shyamalan and scribe Alex Carter, a writer/producer from "Family Guy,"
Variety
has learned exclusively.
"Eleven Little Indians" examines three branches of a large Indian family — one has achieved the American dream; another has just arrived in the U.S. wide-eyed; and the third has gone off the rails.
Both Shyamalan and Carter will serve as executive producers, along with Ashwin Rajan, who run's Shyamalan's Blinding Edge Pictures. 20th Century Fox Television is the studio.
CULT HIT ANIMATED SERIES 'ADVENTURE TIME' TO END IN 2018
09/29/16 @ 5:07 pm EST
Source:
Deadline
| Categories:
MIsc
|
Comments
(0) |
E-mail Article
|
Add a Comment
Prepare to bid a fond farewell to bacon pancakes. Cartoon Network announced today that its Peabody- and Emmy-winning animated series
Adventure Time
will be ending in 2018 — eight years and 71 hours of programming after it began.
AdventureTime
content will continue to debut on Cartoon Network over the next two years, including specials, miniseries and the ninth and final season.
The Pendleton Ward-created series centers on the post-apocalyptic adventures of Finn the Human (Jeremy Shada) and Jake the Dog (John DiMaggio), best friends who have increasingly surreal adventures in the magical Land of Ooo. Long acclaimed for its groundbreaking visual style and mixture of darkness and whimsy, the show has won six Emmys and two BAFTAs. It has also long attracted numerous celebrity guests including Andy Samberg, Matthew Broderick, Laura Silverman, George Takei, Rainn Wilson and Neil Patrick Harris.
Since its 2010 debut,
Adventure Time
has been one of Cartoon Network's most enduring cult hits, spawning a passionate fanbase of both kids and adults and becoming an incubator for emerging talent, some of whom have gone on to create such hits as
Steven Universe, Over the Garden Wall
and
Clarence
. It has also spun off more than 100 global licenses including an apparel line, a comic book series, toys and video games.
"
Adventure Time
changed the definition of what a kids' TV series could be, and it's had a resounding impact upon popular culture around the world," said Rob Sorcher, chief content officer for Cartoon Network. "Cartoon Network Studios is proud to have brought together this group of brilliant artists and animators who helped make Adventure Time one of the most critically acclaimed TV series of a generation."
Said Ward: "
Adventure Time
was a passion project for the people on the crew who poured their heart into the art and stories. We tried to put into every episode something genuine and telling from our lives, and make a show that was personal to us, and that had jokes too! I'm really happy that it connected with an audience for so long. It's a special thing, I think."
Executive produced by Adam Muto and produced by Cartoon Network Studios, the ninth and final season of
Adventure Time
is currently in production.
FIRST LOOK AT VALIANT'S LIVE-ACTION NINJAK
09/28/16 @ 10:34 pm EST
Source:
Comic Book Resources
| Categories:
MIsc
|
Comments
(0) |
E-mail Article
|
Add a Comment
Valiant Entertainment has debuted the first official image of Colin King as Ninjak, in the publisher's upcoming feature-length original digital series starring the character.
Valiant is set to unveil further details for the project at New York Comic Con next week.
NEW AGENTS OF SHIELD PROMO TEASES AN 'UPRISING' IN S4E3
09/28/16 @ 10:29 pm EST
Source:
Comic Book Resources
| Categories:
Marvel
|
Comments
(0) |
E-mail Article
|
Add a Comment
Someone is out to turn off the lights — literally — in the third episode of
"Agents of S.H.I.E.L.D.'s"
fourth season.
And to paraphrase what your old man probably told you as a teenager — nothing good happens in the dark.In anticipation of the episode, ABC and Marvel have released a new promo.
Check it out here:
https://youtu.be/bKC8bNiCuWE
DC ANNOUNCES NEW BATGIRL ARTIST, UNVEILS PROMO ART
09/28/16 @ 10:24 pm EST
Source:
Comic Book Resources
| Categories:
DC
|
Comments
(0) |
E-mail Article
|
Add a Comment
"Gotham Academy" artist Christian Wildgoose will join writer Hope Larson as they bring Batgirl back to Burnside in "Batgirl" #7, titled "Son Of Penguin." Wildgoose will be taking over from seasoned veteran, and exclusive artist for DC and Vertigo, Rafael Albuquerque.
"After Rafael's run, I know I have some pretty big yellow boots to fill," Wildgoose said in a press release. "I'm feeling a mixture of excitement and nerves as I take on one of my favorite characters."
You can check out the promo art by Wildgoose here:
You can catch up with "Batgirl" in issue #3 by Larson and Albuquerque, available now.
AMELL TEASES ARROW/SUPERGIRL CROSSOVER IN NEW PHOTO
09/28/16 @ 10:19 pm EST
Source:
Comic Book Resources
| Categories:
DC
|
Comments
(0) |
E-mail Article
|
Add a Comment
Stephen Amell
has been
teasing for some time
that we may finally see the Green Arrow and Supergirl cross each other's path on
The CW
, and now it looks like it's finally happening.
The
"Arrow"
star tweeted out an image of himself and
"Supergirl"
actress
Melissa Benoist
in costume, standing next to each other atop a very nondescript rooftop… somewhere.
BOOM! STUDIOS TEASES NEW SERIES FROM KINDT & JENKINS
09/28/16 @ 10:15 pm EST
Source:
Comic Book Resources
| Categories:
MIsc
|
Comments
(0) |
E-mail Article
|
Add a Comment
BOOM! Studios
continues it's pre-
New York Comic Con
news and announcements with a teaser image of a new series from
Matt Kindt
and
Tyler Jenkins
, and CBR had the first look.
Unfortunately, the emphasis is on "tease" for now in this teaser image — beyond the creative team and the release date of the series, no further information has been revealed at this time.
Kindt is best known for his work at Dark Horse Comics, on series he's written and drawn including "Mind MGMT" and "Dept H," plus work strictly as a writer at Valiant Entertainment, DC Comics and Marvel. Jenkins has prior history with BOOM! Studios as the artist of the series "Snow Blind," and notably illustrated "Peter Panzerfaust" for Image Comics.
This would be the first collaboration between the two acclaimed creators.
Keep an eye on CBR all next week for the latest news from New York Comic Con.
NEW GOTHAM S3E3 PHOTOS SPOTLIGHT MAD HATTER, BRUCE WAYNE'S TRAINING
09/28/16 @ 10:07 pm EST
Source:
Comic Book Resources
| Categories:
DC
|
Comments
(0) |
E-mail Article
|
Add a Comment
The city of "Gotham" gets a little madder in a slew of new photos from "Mad City: Look Into My Eyes," the third episode of Season 3.