YOUR FIRST LOOK AT AVX: VS #2– AN AVENGERS VS. X-MEN TIE-IN!
04/17/12 @ 1:53 pm EST
Source:
Marvel
|
Comments
(0) |
E-mail Article
|
Add a Comment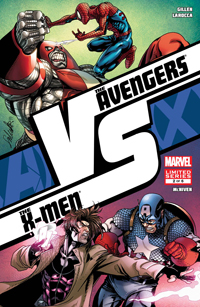 Marvel is proud to present your first look at,
AVX: VS #2,
the explosive, no holds barred, action packed tie-in to the smash-hit blockbuster event of the year –
Avengers VS. X-Men
! From acclaimed creators, Kieron Gillen, Salvador Larroca & Steve McNiven; catch the cover to cover battles - featuring unimaginable chaos as Spider-Man takes on Colossus & Captain America faces off against the ragin' Cajun, Gambit! Don't miss out on all the pulse-pounding action in
AVX: VS #2,
available in comic shops worldwide and on the
Marvel Comics app
this May!
Which team will reign supreme? Join the conversation on Twitter with
#AvX
!
For more on
Avengers VS X-Men
, please visit
http://avx.marvel.com
AVX: VS #2 (MAR120528)
Written by KIERON GILLEN & STEVE MCNIVEN
Art by STEVE MCNIVEN & SALVADOR LARROCA
Cover by SALVADOR LARROCA
Variant Cover by STEVE MCNIVEN
Rated T+…$3.99
FOC –4/23/2012, ON SALE – 5/16/2012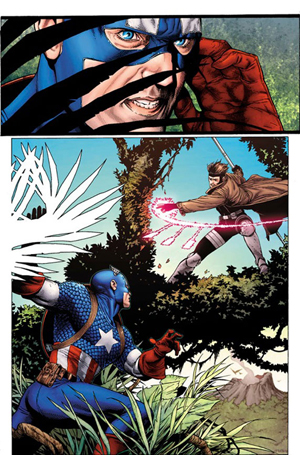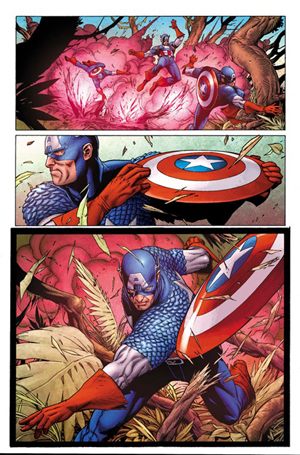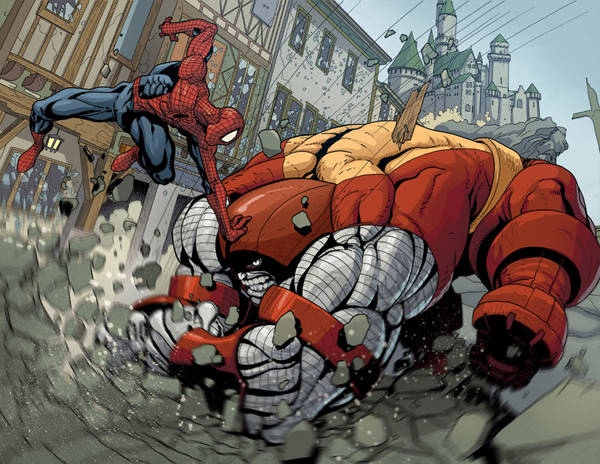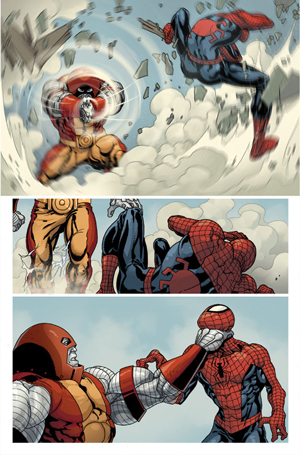 To find a comic shop near you, visit
www.comicshoplocator.com
or call 1-888-comicbook.


Marvel Entertainment, LLC, a wholly-owned subsidiary of The Walt Disney Company, is one of the world's most prominent character-based entertainment companies, built on a proven library of over 8,000 characters featured in a variety of media over seventy years. Marvel utilizes its character franchises in entertainment, licensing and publishing. For more information visit
www.marvel.com
'SUPERGIRL' CASTS DC COMICS VILLAIN REACTRON
07/29/15 @ 5:23 pm EST
Source:
The Hollywood Reporter
| Categories:
DC
|
Comments
(0) |
E-mail Article
|
Add a Comment
CBS'
Supergirl
has cast a big DC Comics villain.
The highly anticipated freshman drama has tapped
Sons of Anarchy
alum
Chris Browning
to portray Ben Krull — otherwise known as Reactron,
The Hollywood Reporter
has learned.
On the
Melissa Benoist
starrer, Ben Krull (aka Reactron) is a deadly adversary of Superman's from Metropolis who wears an armored suit powered by nuclear energy. Never able to defeat his rival, Krull has come to National City to get revenge on the Man of Steel by killing his cousin, Supergirl. The character will first appear in episode three and is set as a guest star with a strong potential to recur, sources tell
THR
.
Browning becomes the latest DC character to board the series and joins
Nurse Jackie
alum
Peter Facinelli
, who will recur as Maxwell Lord, a green tech billionaire who is fascinated with National City's newest citizen: Supergirl. He also has a friendly rivalry with Kara's boss, Cat Grant (
Calista Flockhart
).
In comic book lore, Maxwell Lord has wavered between being a good guy and a bad guy. He helped the Justice League get together, hoping to profit from the use of metahumans.
HERCULES RETURNS IN NEW SERIES BY ABNETT AND ROSS
07/29/15 @ 1:41 pm EST
Source:
Comic Book Resources
| Categories:
Marvel
|
Comments
(0) |
E-mail Article
|
Add a Comment
Being one of the Marvel Universe's ageless beings often means confronting several lifetimes' worth of regret, but it also means it's never too late to atone and turn your life around, a lesson the Olympian demigod Hercules knows all too well. Over his centuries of life, he's done some good, but he's also misbehaved quite often.
In November, writer Dan Abnett and artist Luke Ross launch a new ongoing "Hercules" series. In it, Herc attempts to turn over a new leaf and become the hero he once was and knows he can be again. It's a quest that will have the Avenger confronting the challenges that arise when modern day Manhattan and the myths of various ancient cultures collide.
"I want to keep the book very accessible and I want to make it very immediate," Abnett told CBR. "So the first few issues are going to appear to be done in one stories. [Hercules will] deal with one or multiple problems in an issue and there's a sense of closure, but there is the inevitable meta story. So his supporting cast's story rolls through those and we gradually get the impression that these apparently disconnected elements are going to be more connected. They are not necessarily all part of the same thing, but they are symptoms of the same problem. And yes, at least some of his major opponents are going to be new characters that are almost filling the vacuum left by the diminishing mythological presence of the world. That's going to be a fun thing to do."
CELEBRATE 50 YEARS OF S.H.I.E.L.D. – YOUR NEW LOOK AT S.H.I.E.L.D. #9
07/29/15 @ 1:32 pm EST
Source:
Marvel
| Categories:
SHIELD
|
Comments
(0) |
E-mail Article
|
Add a Comment
This August, celebrate a half century of Marvel's premier intelligence agency in one colossal issue! Today, Marvel is pleased to present your new look at
S.H.I.E.L.D. #9
– the oversized anniversary special! Be there when blockbuster writer Mark Waid and artist Lee Ferguson answer a question 50 years in the making. A question that lies at the heart of the creation of SHIELD – who is the "Man Called D.E.A.T.H."?! This full length story features a never-before-published S.H.I.E.L.D. sequence penciled by
Jack Kirby
and inked by
Jim Steranko
!
Then, Al Ewing and Stefano Caselli bring you the terrifying origin of the new Howling Commandos! Before they spin out into their very own series later this year, witness the return of Dum Dum Dugan as he steps from the shadows to assemble a team truly unlike any you've seen before!
Rounding out this massive issue,
S.H.I.E.L.D. #9
also includes the very first S.H.I.E.L.D. story by Stan Lee and Jack Kirby! Be there as a half-century celebration of espionage and intrigue comes to comic shops this August in
S.H.I.E.L.D. #9
!
S.H.I.E.L.D. #9 (JUN150809)Written by MARK WAID, AL EWING & STAN LEE
Art by LEE FERGUSON, STEFANO CASELLI & JACK KIRBY
Cover by JULIAN TOTINO TEDESCO
Howling Commandos Variant by ART ADAMS (JUN150810)Variant Cover by JACK KIRBY & JIM STERANKO (JUN150811)
Black & White Kirby & Steranko Variant Also Available (JUN150812)
FOC – 08/03/15, On-Sale – 08/26/15
GREEN ARROW WEAPON CLANS COULD END UP ON ARROW
07/29/15 @ 1:26 pm EST
Source:
Comicbook
| Categories:
Arrow
|
Comments
(0) |
E-mail Article
|
Add a Comment
Will the Weapon Clans -- Green Arrow's post-
Flashpoint
interpretation of The Outsiders -- show up on
Arrow
anytime soon?
Producers say it's definitely a possibility.
"Yeah, we've talked about it," admitted showrunner Marc Guggenheim. "We've absolutely talked about it. It comes up in the writers' room all the time, and Katana was just introduced. We're just waiting for the right story to tell....We'd love to do the Arrow clans and eventually, I'm sure they will end up on the show.
You can check the full interview and more out here:
https://youtu.be/Okty608w_yQ
THE HEROES OF BATMAN V SUPERMAN: DAWN OF JUSTICE ASSEMBLE IN AMAZING NEW STILLS
07/29/15 @ 1:22 pm EST
Source:
Comic Book Movie
| Categories:
Batman Superman
|
Comments
(0) |
E-mail Article
|
Add a Comment
A new batch of images from
Batman v Superman: Dawn of Justice
have surfaced from the latest issue of Empire Magazine, and they give us a detailed new look at both Batman and Superman in costume and ready for action, along with The Daily Planet staff and Gal Gadot's Diana Prince...
DYNAMITE ENTERTAINMENT KICKS OFF THIRD GROUPEES BUNDLE
07/29/15 @ 1:13 pm EST
Source:
Dynamite
| Categories:
Dynamite
|
Comments
(0) |
E-mail Article
|
Add a Comment
Dynamite Entertainment and Groupees LLC, a unique media and charity bundling site, are teaming up for their third book bundle promotion that will once again allow comic fans, and potential new fans, the chance to purchase 70 digital Dynamite comics with "Pay What You Want" purchasing power. The Dynamite Swords, Sandals, and Sorcery! Groupees bundle marks the third time the two companies have worked together. Dynamite and Groupees will also feature - for the first time - a unique "Premium Mystery Box" of high-end collectible items for customers who pledge at the $50 tier or higher with the full digital comics package. A portion of the proceeds will be contributed to one of the industry's most important charitable organizations, the Comic Book Legal Defense Fund. The bundle promotion begins today, Tuesday, July 28th, on the website Groupees.com/Dynamite3
In the Dynamite Swords, Sandals, and Sorcery! Groupees bundle, customers can purchase a bundle of digital comic book and graphic novels for a price they decide. The first tier of exciting digital content is unlocked with a $1.00 minimum pledge which helps new fans discover some of Dynamite's best-selling titles including Game of Thrones #1! Fans can increase the title count by pledging at least in the $5.00 tier. Dynamite offers a highly desirable batch of comics at the third tier for a $10.00 minimum pledge or more to help support the Dynamite line of titles. While customers who make a pledge of $50.00 or more will receive not only the digital comics, but also a unique "Premium Mystery Box" of 4 Dynamite Premium Limited Edition Comics MSRP'ing at over $200 sent to the address they provide.
For those who participate in the "Pay What You Want" initiative with considerable support, Dynamite will reward the top 10 contributors with a greater package of Dynamite Premium Limited Edition Comics.
Here is the breakdown:
#1 Contributor - $1,000.00 of Dynamite Premium books (at our MSRP)
#2 Contributor - $800.00 of Dynamite Premium books (at our MSRP)
#3 Contributor - $700.00 of Dynamite Premium books (at our MSRP)
#4 Contributor - $600.00 of Dynamite Premium books (at our MSRP)
#5 Contributor - $500.00 of Dynamite Premium books (at our MSRP)
#6 - #10 Contributors - $400.00 of Dynamite Premium books (at our MSRP)
Additionally, there are several Group Bonuses which will be unlocked for all consumers to enjoy when the overall orders reach certain thresholds regardless of which package you purchase. The first 4 will be revealed with the thresholds as the promotion begins. All fans need to do is check out the bundle to see the Group Bonuses, which will bring the total amount of books to at least 78 should all be "unlocked".
The $1.00 Minimum Tier features the debut issue of Dynamite's comic book adaptation of George R.R. Martin's New York Times Best-selling
Game of Thrones
series along with the special
Swords of Sorrow Chaos Prelude
from writer Mairghread Scott (
Transformers: Windblade
) and artist Mirka Andolfo (
Chaos!
) in addition to more swashbuckling stories for a total of 13 comics:
•
Game Of Thrones #1• Swords Of Sorrow: Chaos Prelude One Shot• Thulsa Doom #1 - 4• Blackbeard #1 - 6• Lord of the Jungle Annual #1
The $5.00 Minimum Tier features 27 additional comics - for a total of 41 comics - by some of the industry's most beloved creators, like G. Willow Wilson (
Ms. Marvel
), Erica Schultz (
Revenge: The Secret Origin of Emily Thorne
), Nancy A. Collins (
Sunglasses After Dark
), Frank Cho (
Mighty Avengers
), and more:
• Game Of Thrones #2• Thunda #1 - 5• Warlord Of Mars #0• Swords Of Sorrow: Vampirella / Jennifer Blood #1 - 2• Swords Of Sorrow: Masquerade/Kato One Shot• Swords Of Sorrow: Dejah Thoris/Irene Adler #1 - 2• Swords Of Sorrow: Lady Zorro/Black Sparrow One Shot• Athena #1 - 4• Red Sonja #0• Kirby: Genesis - Dragons Bane #1 - 4• Jungle Girl: Season Two #1 - 5
Finally, the $10.00 Minimum Tier features an ADDITIONAL 29 comics - for a total of 70 comics - by New York Times Bestselling author Jim Butcher, comic industry legend Ron Marz(
The Punisher
), fan-favorite creators Gail Simone (
Red Sonja
) and Jim Zub (
Skullkickers
):
•
Dejah Thoris #1 - 5• John Carter: Warlord Of Mars #1 - 6• Red Sonja #36 - 40• Pathfinder City of Secrets #1 - 6• Swords of Sorrow #1 - 3• Dresden Files: Storm Front Volume Two #1 - 4
Nick Barrucci, CEO and Publisher of Dynamite Entertainment, says, "Our first two team-ups were a tremendous success. We're proud to continue working with Groupees to create more awareness of comics among their audience, who in turn will come into our industry and many of whom will then become ongoing readers. We continue to see a lift in titles having re-orders through Diamond and digital sales with this model."
Thomas Brooke, Founder and CEO of Groupees, adds, "We are excited to work with Nick and the Dynamite team on another promotion featuring a fantastic lineup of comic books from some of the industry's most accomplished creators and artists. Promotions such as these are a great vehicle for discovery, and we are honored to partner with Dynamite to help introduce new fans from around the globe to comic books."
Part of the proceeds from the Dynamite Swords, Sandals, and Sorcery! Groupees Bundle will contribute to the Comic Book Legal Defense Fund, a non-profit organization dedicated to the protection of the First Amendment rights of the comics art form and its community of retailers, creators, publishers, librarians, and readers.
Fans and curious newcomers are encouraged to visit Groupees.com beginning today to take advantage of Groupees' third comic bundle.
WALTER KOENIG, TIM RUSS, ROBERT PICARDO JOIN NEW FACES FOR INDEPENDENT STAR TREK PILOT
07/28/15 @ 11:08 pm EST
Source:
Bleeding Cool
| Categories:
Star Trek
|
Comments
(0) |
E-mail Article
|
Add a Comment
The team which gave us the fan-film
Star Trek: Of Gods and Men
, announced a new professionally produced television pilot to be presented for a possible online series.
Press Release:
"It has been seven long years since Enterprise left the air, and though we've had the recent big screen adaptation of Gene Roddenberry's futuristic vision (and the sequel coming next year), we feel the true home of Star Trek is as a continuing episodic series. The goal of this project is to make that happen.
"Fans have been anxiously waiting for this soon-to-be cult classic feature by multi-award-winning director, Tim Russ, which will premiere on Saturday, August 1, 2015 at the historical Crest Theatre in Westwood, California."
It added that
Star Trek: Renegades
is an independent online show that will be released on DVD/Blu-ray.
A special fan screening at will run before the 7pm premiere, at 4:30pm
The film stars Adrienne Wilkinson (Xena: Warrior Princess, Star Wars: The Clone Wars) as Captain Lexxa Singh. The Renegades' antagonist in the film, Borrada, is played by Bruce A. Young (The Sentinel, NYPD Blue).
Also in the cast are Walter Koenig (Chekov, Original Series), Tim Russ (Tuvok, Voyager), Gary Graham (Alien Nation; Soval, Enterprise), Robert Picardo (The Doctor, Voyager), Sean Young (Blade Runner, Dune), Manu Intiraymi (Icheb, Voyager), Corin Nemec (Stargate SG-1, Parker Lewis Can't Lose), Edward Furlong (Terminator 2: Judgement Day), Courtney Peldon (Entourage, Home Improvement), Chasty Ballesteros (Final Destination 5, The Newsroom), Kevin Fry (Eraser, Sons of Anarchy), Larissa Gomes (Saw VI, Saw 3D), actress/stunt performer Tarah Paige (Make It or Break It, Rise of the Planet of the Apes), Vic Mignogna (Dragonball Z, Star Trek Continues), Rico E. Anderson (Star Trek 2009, Dollhouse), Richard Herd (Admiral Paris, Voyager), Herbert Jefferson Jr (Battlestar Galactica) and more.
A NEW MARVEL SEASON EVERY SIX MONTHS FROM NETFLIX
07/28/15 @ 10:55 pm EST
Source:
Bleeding Cool
| Categories:
Marvel
|
Comments
(0) |
E-mail Article
|
Add a Comment
While at the
Television Critic's Association
today, head of
Netflix
content
Ted Sarandos
told the audience, including
Variety's Laura Prudom
, that
Marvel's Jessica Jones
will debut by the end of 2015 and that ideally there would be a new Marvel series every six months. Once all four of the series have been launched, they will crossover in
the Defenders
, but some series will have multiple seasons before that happens as is the case with
Marvel's Daredevil
.
Also there appeared to be a quick glimpse of
Krysten Ritter
as
Jessica Jones
in the sizzle reel. Netflix will most likely release that to the internet soon.
THIS WEEK FROM AVATAR PRESS – CROSSED: BADLANDS #81 AND #82
07/28/15 @ 10:51 pm EST
Source:
Bleeding Cool
| Categories:
MIsc
|
Comments
(0) |
E-mail Article
|
Add a Comment
This week from
Avatar Press
we have two issues of
Crossed: Badlands
which kick off a new story arc both written and drawn by
Mike Wolfer
.
Crossed: Badlands #81
A new story arc "The Lesser of Two Evils" written and illustrated by Mike Wolfer begins here! Sometimes a group of people can be too clever for their own good. When a motley band of commuters are stranded on a partially collapsed overpass they soon discover that the situation may be a blessing. With the Crossed unable to reach them, they seem relatively safe. But are forced to see the horrors playing out all around them. But in a Crossed world, safety is an illusion that is oft shattered in horrific fashion. Available with Art Deco Limited Edition by Michael DiPascale, Regular and a special Red Crossed Incentive Cover by Christian Zanier, Wraparound by Nahuel Lopez and Torture cover by Raulo Caceres. Also, starting this issue, there is a special C-Day Worldwide cover by Facundo Percio that looks at the first day of the outbreak in different countries and locations around the World!
Crossed: Badlands #82
After admitting two women into their defensible stronghold atop a collapsed bridge, an uneasy alliance of survivors discovers just how the women successfully navigated through the horrors on the ground below- They followed the advice of their "bible," a best-selling, "zombie survival guide" novel. Fiction or not, the book could be the answer to saving all of their lives in the wasteland ruled by the maniacal Crossed! Available with Regular Cover by Christian Zanier, Wraparound& Torture Covers by Raulo Caceres, C-Day Worldwide Cover by Facundo Percio, Art Deco Cover by Michael Dipascale, and Red Crossed Incentive Cover also by Zanier
"A SILLY, GROTESQUE LOST CHAPTER." – MARK RAHNER TALKS VAMPIRELLA / ARMY OF DARKNESS
07/28/15 @ 10:38 pm EST
Source:
Bleeding Cool
| Categories:
Dynamite
|
Comments
(0) |
E-mail Article
|
Add a Comment
Mark Rahner
has been responsible for bringing together two horror icons for
Dynamite
. Now the writer talks about the series and the meeting of
Ash Williams
and
Vampirella
. Cover art by
Tim Seeley
.
BYRON BREWER: Mark, in October you reach the climax of this mini with Ash and Vampirella. Did you tell the story you wanted to tell?MARK RAHNER:
No, I wanted to tell an uplifting story of the power of love and the beauty of faith, or the beauty of love and power of faith. But this filthy, violent, profane monster adventure came spilling out of me instead.The story was meant to fit seamlessly within the canonical
Army of Darkness
movie – a lost chapter. A silly, grotesque lost chapter. We learn that Vampi is collateral damage from Ash's idiocy in handling the Necronomicon Ex Mortis. In that sense, it was a satisfying climax. Was it good for you, too?By the way, I'm also pleased that the aftertaste of this story will be lingering in fans' mouths when the new
Ash vs. Evil Dead
series starts.ADVERTISEMENT
BB: What was the greatest challenge? Introducing Vampirella into one of Ash's world or introducing Ash's broad humor into the monstrous world of Vampi?
MR:
Finding a way to get Ash into Vampi's skimpy red outfit was the greatest challenge, and I was forced to abandon that. But now you have that visual in your mind.And they clearly don't fit anywhere in each other's worlds – which is where the fun comes in. She's a no-nonsense vampire, and the Necronomicon has transformed and possessed her at the outset. She's furious with Ash for bringing her to 1300 A.D., thinks he's a dimwit and really doesn't like this wise-cracking jerk. But she needs him alive if she wants to get back to where she belongs.
BB: If given a choice, which of the two characters would you like to do an ongoing with and why?MR:
What is this,
Sophie's Choice
? You can't make me choose between my children, damn you!I've written plenty of Vampi – in fact, go get the
Vampirella Bites
collection right now! And I've also written Ash in
Army of Darkness/Reanimator
, which I especially dug because I put him right into the narrator/assistant's role in the original H.P. Lovecraft tale. Believe it or not, I like 'em both. I also like writing humor. I did a lot of that in my previous career as a newspaper hack, and don't see a ton in mainstream comics. Much of the Vampi I've written has been satire, and I'd like to take her in a darker direction at some point. Ash is pretty much outright comedy. I'd be happy to spend more time with either one.
BB: There is always something special about a Vampirella team-up. Why does this iconic character remain one of the favorites for writers to play with in the toy boxMR:
I cannot deconstruct pleasure, sir.
BB: How did you find artist Jethro Morales' interpretation of Ash and Vampi?MR:
I've worked with him before, and I think he just keeps getting better. (I think I've said that before, too, but it's true!) I was especially tickled seeing his depictions of Ash as I described him in the script: drunk, cocky, buffoonish, cool … I didn't want it overly cartoonish, and I think Jethro struck just the right balance.
BB: A lot of possessed monks around Issue 4. Just saying … (lol)MR:
You were thinking monks are scary enough on their own. But possessed monks who have also invoked something awful that they can't control? Pass the diapers!
For more on
Vampierlla / Army of Darkness
,
click here
.