YOUR FIRST LOOK AT AVX: VS #2– AN AVENGERS VS. X-MEN TIE-IN!
04/17/12 @ 1:53 pm EST
Source:
Marvel
|
Comments
(0) |
E-mail Article
|
Add a Comment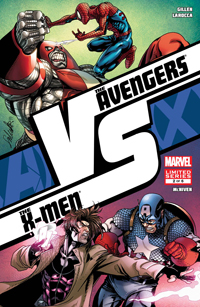 Marvel is proud to present your first look at,
AVX: VS #2,
the explosive, no holds barred, action packed tie-in to the smash-hit blockbuster event of the year –
Avengers VS. X-Men
! From acclaimed creators, Kieron Gillen, Salvador Larroca & Steve McNiven; catch the cover to cover battles - featuring unimaginable chaos as Spider-Man takes on Colossus & Captain America faces off against the ragin' Cajun, Gambit! Don't miss out on all the pulse-pounding action in
AVX: VS #2,
available in comic shops worldwide and on the
Marvel Comics app
this May!
Which team will reign supreme? Join the conversation on Twitter with
#AvX
!
For more on
Avengers VS X-Men
, please visit
http://avx.marvel.com
AVX: VS #2 (MAR120528)
Written by KIERON GILLEN & STEVE MCNIVEN
Art by STEVE MCNIVEN & SALVADOR LARROCA
Cover by SALVADOR LARROCA
Variant Cover by STEVE MCNIVEN
Rated T+…$3.99
FOC –4/23/2012, ON SALE – 5/16/2012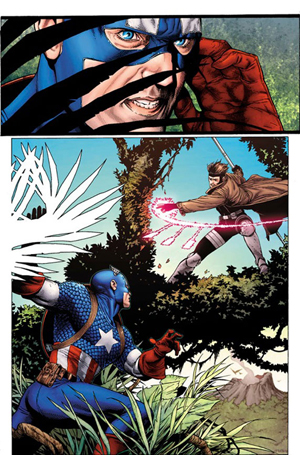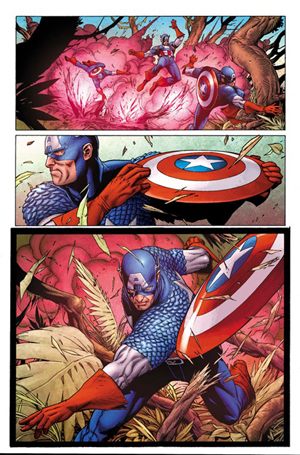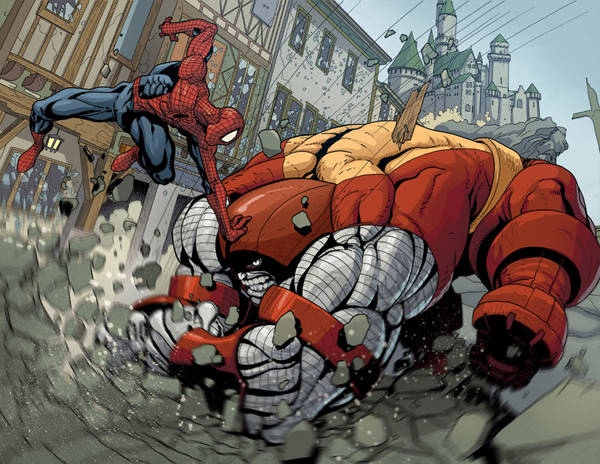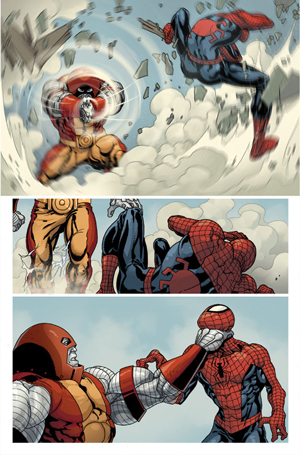 To find a comic shop near you, visit
www.comicshoplocator.com
or call 1-888-comicbook.


Marvel Entertainment, LLC, a wholly-owned subsidiary of The Walt Disney Company, is one of the world's most prominent character-based entertainment companies, built on a proven library of over 8,000 characters featured in a variety of media over seventy years. Marvel utilizes its character franchises in entertainment, licensing and publishing. For more information visit
www.marvel.com
BEAUTY AND THE BEAST' TEASER TOPS 'STAR WARS: FORCE AWAKENS' IN FIRST DAY
05/24/16 @ 7:22 pm EST
Source:
The Hollywood Reporter
| Categories:
Disney
|
Comments
(0) |
E-mail Article
|
Add a Comment


Talk about the power of femmes.

The first teaser trailer for Disney's live-action Beauty and the Beast was viewed a record 91.8 million times in its first 24 hours — besting previous champ Star Wars: The Force Awakens, as well as Captain America: Civil War and Avengers: Age of Ultron (each of them Disney films as well).

The second teaser trailer for Force Awakens garnered 88 million views, followed by 61 million views for Captain America: Civil War, 55 million views for the second teaser for Force Awakens, and 34 million views for Avengers: Age of Ultron, according to Disney.

Beauty and the Beast, directed by Bill Condon, is a retelling of Disney's classic 1991 animated film that stars Emma Watson as Belle and Dan Stevens as the Beast. Kevin Kline, Luke Evans, Josh Gad, Ewan McGregor, Stanley Tucci, Gugu Mbatha-Raw, Audra McDonald, Ian McKellen and Emma Thompson also star in the film, which hits theaters March 17, 2017.

The teaser trailer debuted on ABC's Good Morning America Monday morning before appearing online around the globe. On Monday night, it also aired during the Bachelorette premiere on Disney-owned ABC, while it will be seen on the big screen this weekend before the studio's Memorial Day tentpole, Alice Through the Looking Glass.

Dave Hoberman and Todd Lieberman produced Beauty and the Beast, while Alan Menken, who won two Oscars for the 1991 animated movie, is doing the score.
ADAM SANDLER AND HAPPY MADISON SET FAMILY ANIMATED FEATURE AT STX
05/24/16 @ 7:19 pm EST
Source:
Deadline
| Categories:
MIsc
|
Comments
(0) |
E-mail Article
|
Add a Comment
Adam Sandler and his Happy Madison Productions are set to make an untitled family animated project at STX Entertainment.
The
Saturday Night Live
alum has a long-standing working relationship with STX chairman and CEO Robert Simonds; together they've made eight films with Sandler in the lead role:
Airheads
,
Billy Madison, Bulletproof, Happy Gilmore, The Wedding Singer, The Waterboy, Big Daddy
and
Little Nicky.
Sandler's
Hotel Transylvania
toon
franchise which spans two pics have grossed $825M-plus at the global box office for Sony.
STX Entertainment Motion Picture Group chairman Adam Fogelson announced the deal today which calls for Sandler to write, produce and star.
Fogelson, who worked with Chris Meledandri's Illumination Entertainment on blockbusters including
Despicable Me, Despicable Me 2, Minions, The Lorax
and more said in a statement: "As we continue to grow our company, the family arena is of critical importance to STX Entertainment and we are tremendously excited to have Adam Sandler and Happy Madison developing projects with us for the global animation market. Happy Madison is one of the most consistently successful and talented producers of family entertainment working in the business today. They have steadily been building this brand in this arena for years with the incredible success of the
Hotel Transylvania
animated franchise. Adam already has some wonderful ideas about what he wants to develop with us and we look forward to working with him, Allen Covert and the entire Happy Madison team."
Oren Aviv, STX president and chief content officer, who has overseen marketing on a number of Walt Disney and Pixar animated films added, "When we launched our new animation division, we said we would continue to seek out meaningful partnerships with long-term potential at our studio. Teaming with Adam Sandler and Happy Madison is exactly the kind of quality relationship that further defines STX as a home for the world's best storytellers."
AMC'S "PREACHER" DEBUTS TO MODEST RATINGS
05/24/16 @ 7:15 pm EST
Source:
Comic Book Resources
| Categories:
MIsc
|
Comments
(0) |
E-mail Article
|
Add a Comment
Last Sunday evening, "Preacher" debuted onAMC to modest ratings. Deadline reports the premiere pulled in 2.4 million total viewers with 1.1m in the key 18-49 demographic.
In comparison to the network's debut of "Into The Badlands," which scored 6.39m viewers in the same time slot in November, "Preacher" got off to a soft start. The premiere faced some heavy competition in its time slot, as it aired during the Billboard Music Awards and the NBA and NHL playoffs as well as a new episode of "Game of Thrones."
Nevertheless, "Preacher" was the second-best scripted series debut of 2016 with its 0.9 key demo results; it falls just behind FX's "The People v. O.J. Simpson: American Crime Story" premiere.
Airing prior to "Preacher," "Fear the Walking Dead" saw 4.4m total viewers with 2.41m in the key demographic. This 1.9 demo rating continues to be an average showing for the series, on par with the previous five episodes of the series.
Based on Garth Ennis and Steve Dillon's acclaimed comic, "Preacher" stars Dominic Cooper as Jesse Custer, Ruth Negga as Jesse's ex-girlfriend Tulip, Gilgun as his vampire friend Cassidy, Colletti as Arseface and Lucy Griffiths as Emily, a character created for the TV show.
Developed for television by Evan Goldberg, Seth Rogen and Sam Catlin, "Preacher" airs Sundays at 9 pm EST on AMC.
RETCONNING STEVE ROGERS WITH CAPTAIN AMERICA #1 (SEMI-SPOILERS)
05/24/16 @ 10:17 am EST
Source:
Bleeding Cool
| Categories:
Captain Amerca
|
Comments
(0) |
E-mail Article
|
Add a Comment
This week sees the release of the gorgeous-looking
Captain America
#1 by
Nick Spencer
and
Jesus Saiz.
And it will utterly change the history and very nature of Captain America. This was probably the big announcement originally planned by Marvel for yesterday in the wake of DC Universe Rebirth spoilers but it's looking like it's now been held back.
So what is it?
Well, it's not the kiss with Sharon Carter, who notices how much older than Steve she now looks. Not even the liberal-left wing jibe on how unemployment is driving Hydra recruitment.
Because this is the issue in which we get Nick Spencer's
The Anatomy Lesson
moment.
The Anatomy Lesson
being the second issue of
Swamp Thing
by
Alan Moore
and
Steve Bissette
where it is revealed that Swamp Thing was never Alec Holland, just the memory of him, preserved in vegetable matter.
Everything you knew was wrong. (Via Bleeding Cool)
Watch DF News for more information!
SUPERMAN DIES AT MIDNIGHT, AS 2016 CLAIMS ANOTHER (SPOILERS)
05/24/16 @ 10:09 am EST
Source:
Bleeding Cool
| Categories:
DC
|
Comments
(0) |
E-mail Article
|
Add a Comment
You know that moment that everyone cried foul when they discovered that the Ultimate Spider-Man, Peter Parker, would die at the end if the mini-series called
The Death Of Ultimate Spider-Man
?
Yes, well.
Expect that to happen in
Superman
#52 at the end of the storyline entitled
The Final Days Of Superman
that precedes all the
Superman Rebirth
issues, the solicitations of which have all been talking about Superman having died.
Because, yes, in
Superman
#52, available at certain stores (and ComiXology) from midnight today and everywhere else on Wednesday at normal opening times, Superman dies. It's been a rough 2016 hasn't it?
It isn't the first time of course. Probably won't be the last. Hell, even in the New 52, he was meant to have died once at the hands of Doomsday. And, thanks to the Superman of the Pre-52 who managed to make the leap over to the New 52 from Convergence and hide out, they've already got a spare.
Oh, and yes, he dies in Wonder Woman's arms. So that's nice.
Okay, Lois Lane, you've got a headline to write, I think! You've written it many times before… but no sign yet of your Superwoman….
A TRIP INSIDE THE WARCRAFT WAR ROOM WITH ROB KAZINSKY
05/24/16 @ 10:00 am EST
Source:
Bleeding Cool
| Categories:
MIsc
|
Comments
(0) |
E-mail Article
|
Add a Comment
Rob Kazinsky
, a huge
Warcraft
fan and the actor playing
Orgrim
, takes us on a tour of the
Warcraft War Room
. He explains that this is basically poetic license, as in the game players get their armor and weapons from vendors, from chests or taking them off of dead bad guys. But then again you also don't play as a soldier for the Alliance or the Horde, your more of a freelancer. So something like this was needed in the film
Warcraft
opens June 10th.
Video:
https://www.youtube.com/watch?feature=player_embedded&v=1W-WGXQCCAk
X-MEN: APOCALYPSE AFTER THE CREDITS SCENE REVEALED
05/24/16 @ 9:54 am EST
Source:
Comicbook
| Categories:
X-Men
|
Comments
(0) |
E-mail Article
|
Add a Comment
SPOILERS ahead for X-Men: Apocalypse.
It seems that, like
X-Men: Days of Future Past
before it,
X-Men: Apocalypse
will feature a post-credits coda that teases a major villain for an upcoming X-Men film.
It isn't clear whether the scene teases the villain of the as-yet-untitled sequel to
The Wolverine
-- a real possibility, since it involves the Weapon X project -- or something a little further off, like
Gambit
or the next X-Men team movie.
What it does is establish that there's someone from the "Essex Corporation" who has a vial of Wolverine's blood. Who's that?
Well, it likely has ties to Nathaniel Essex, the villain known as Mister Sinister. There's also speculation over at Screen Crush that the scene could imply somebody is looking to create a Wolverine of their own -- something that could lead to the creation of X-23.
NEW TRAILER FOR MATTHEW MCCONAUGHEY'S ANIMATED COMEDY SING
05/24/16 @ 9:47 am EST
Source:
Comicbook
| Categories:
MIsc
|
Comments
(0) |
E-mail Article
|
Add a Comment
Illumination Entertainment, the studio behind beloved hits such as
Despicable Me, Dr. Seuss' The Lorax, Despicable Me 2
and
Minions
, has a new animated film coming out at the end of this year! If you ever imagined what an
American Idol
-like singing competition would be like with animals,
Sing
is for you!
Video:
https://youtu.be/tMXKP0koaNw
GOTHAM SEASON 3 VILLAINS TO INCLUDE MAD HATTER, TALON, SOLOMON GRUNDY, AND MORE
05/24/16 @ 9:44 am EST
Source:
Comicbook
| Categories:
Gotham
|
Comments
(0) |
E-mail Article
|
Add a Comment
With a major cliffhanger wrapping up season two last night, not all
Gotham
fans may be thinking of which supervillains are coming down the pipeline next.
That's what executive producer John Stephens has to worry about, though -- and in an interview, he revealed that in the wake of Hugo Strange's experiments, we'll be seeing a number of familiar faces popping up in the third season of Fox's hit Batman origin series.
Among those slated for inclusion are The Mad Hatter, Talon, and Solomon Grundy, Stephens said.
"We'll be seeing Mad Hatter in Season 3. We'll be seeing the Tweedle Brothers, too, if we're going to bring the Hatter in. In line with the Court of Owls, we'll be seeing Talon. And, we should be seeing Solomon Grundy," Stephens told CBR.
The Mad Hatter, of course, has been teased a few times already this season. Talon is a memebr of the Court of Owls and a pretty obvious choice for where to go next after their recent introduction.
Solomon Grundy is a bit of a surprise, though. The character was teased but never fully realized in the second season of
Arrow
. While he was killed, many fans have hoped that he would return in some form (since that's part of Grundy's schtick). Coming to
Gotham
makes a kind of sense -- he's squared off with Batman quite a few times in the comics -- but at the same time, with such a robust rogues gallery, anytime Batman borrows from somebody else it's going to be a little bit of a head-scratcher.
Gotham
will be back in the fall, airing Monday nights at 8 p.m. ET/PT on FOX.
THOR: RAGNOROK'S MARK RUFFALO PROMISES MORE HULK
05/24/16 @ 9:40 am EST
Source:
Comicbook
| Categories:
Thor
|
Comments
(0) |
E-mail Article
|
Add a Comment
While doing press for
Now You See Me 2
, Mark Ruffalo was asked about his next Marvel film,
Thor: Ragnarok
, which had its official cast announced by the studio several days ago.
"I think it'll be smashing. You'll see a lot more Hulk in this one," Ruffalo said of Hulk's return to the Marvel Cinematic Universe. His
Now You See Me 2
co-star Woody Harrelson then cut in, asking, "Does The Hulk get Hulk-ier?" To which Ruffalo replied, "The Hulk gets Hulk-ier. The Hulk Hulks out. Hulk-ier and bigger."
Entertainment Tonight
's Lauren Zima then brought up Cate Blanchett, who has now been confirmed to be playing the Asgardian Goddess of Death, Hela. Which is not a surprise to Ruffalo, as he kind of let that cat out of the bag back in January.
"She plays the worst of the worst. So evil," Ruffalo teased. "She is going to kill us. It's such a great part she gets to play."
Ruffalo concluded the interview by describing the film as "an intergalactic buddy road movie with Banner and Thor."
Video:
https://youtu.be/LF110JKPJSs