YOUR FIRST LOOK AT AVX: VS #2– AN AVENGERS VS. X-MEN TIE-IN!
04/17/12 @ 1:53 pm EST
Source:
Marvel
|
Comments
(0) |
E-mail Article
|
Add a Comment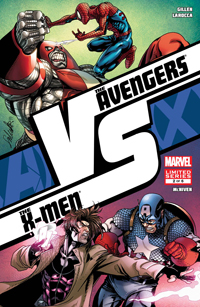 Marvel is proud to present your first look at,
AVX: VS #2,
the explosive, no holds barred, action packed tie-in to the smash-hit blockbuster event of the year –
Avengers VS. X-Men
! From acclaimed creators, Kieron Gillen, Salvador Larroca & Steve McNiven; catch the cover to cover battles - featuring unimaginable chaos as Spider-Man takes on Colossus & Captain America faces off against the ragin' Cajun, Gambit! Don't miss out on all the pulse-pounding action in
AVX: VS #2,
available in comic shops worldwide and on the
Marvel Comics app
this May!
Which team will reign supreme? Join the conversation on Twitter with
#AvX
!
For more on
Avengers VS X-Men
, please visit
http://avx.marvel.com
AVX: VS #2 (MAR120528)
Written by KIERON GILLEN & STEVE MCNIVEN
Art by STEVE MCNIVEN & SALVADOR LARROCA
Cover by SALVADOR LARROCA
Variant Cover by STEVE MCNIVEN
Rated T+…$3.99
FOC –4/23/2012, ON SALE – 5/16/2012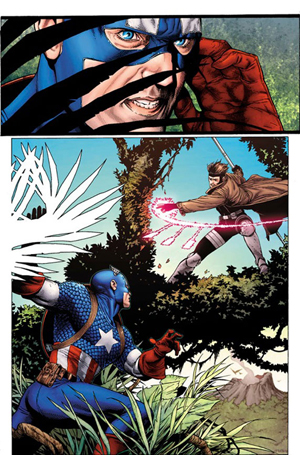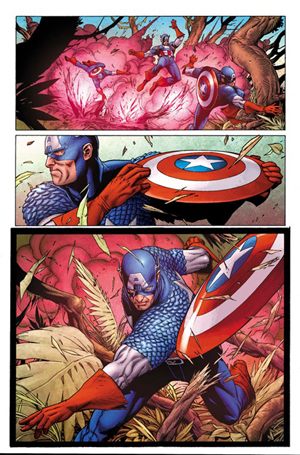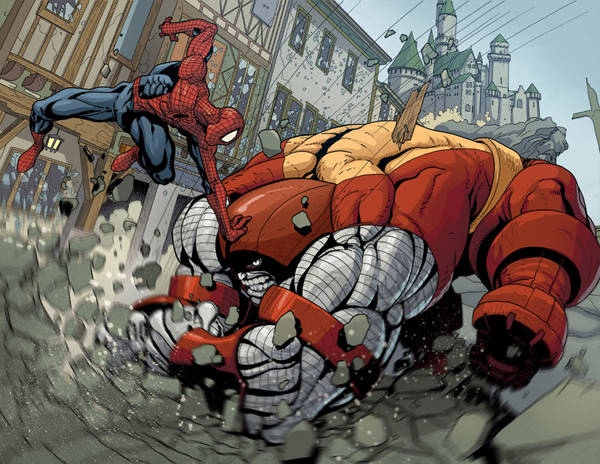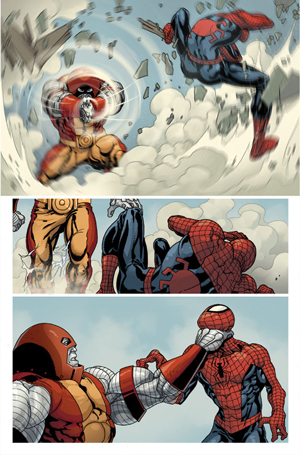 To find a comic shop near you, visit
www.comicshoplocator.com
or call 1-888-comicbook.


Marvel Entertainment, LLC, a wholly-owned subsidiary of The Walt Disney Company, is one of the world's most prominent character-based entertainment companies, built on a proven library of over 8,000 characters featured in a variety of media over seventy years. Marvel utilizes its character franchises in entertainment, licensing and publishing. For more information visit
www.marvel.com
PHIL HESTER TRIED TO GET DAGAR THE INVINCIBLE INTO GOLD KEY ALLIANCE
07/25/16 @ 8:51 pm EST
Source:
Bleeding Cool
| Categories:
Dynamite
|
Comments
(0) |
E-mail Article
|
Add a Comment
Nancy Collins
, writer of
Army of Darkness: Furious Road
#5, talks with writer
Phil Hester
about
Gold Key: Alliance
#4, both on sale now from
Dynamite
. Interiors by
Brent Peeples
and cover by
Felipe Massafera.
.
PHIL HESTER:
Before she begins asking me questions, Nancy [Collins] and I need to perform the Secret Former Swamp Thing Creator Handshake (the rest of y'all, don't look, okay?). Now, let's get started:
NANCY COLLINS: Did you grow up reading the original Gold Key characters like I did? Back when they used to sell those grab-bags of 5 assorted GK comics for a buck?PH:
Oh, yeah. Although I loved Marvel and DC as a kid, I was so excited to see anything else that I would snap up whatever odd ball publishers I could lay my hands on. I remember being turned off/weirded out by Dr. Solar, though. Magnus was my guy.
NC: I shouldn't be surprised that the Gold Key characters have their own multiverse, just like Marvel and DC. They've certainly been around long enough. How many of the "variants" that we see in the series are based on previous reboots of the characters, or are they all your own creation?PH:
I tried to make an effort to at least make a visual nod to the last Dynamite reboot. Of course, I didn't delve into the Valiant or Dark Horse takes for obvious reasons, and the original Gold Key runs figure prominently. I just thought it would be fun to pretend the Gold Key universe had been churning out alternate universes and continuities since the 1960s just like Marvel and DC have, we just haven't seen it yet.
NC: I have to admit I was surprised to see Samson playing a major role in the storyline. Mighty Samson was one of the more obscure original titles from what was already a second string publisher (at least in comparison to companies like Marvel and DC). That being said, I own a copy of Mighty Samson #29, the one where he's trying to snap off the horn on a unicorn. Did you have any exposure to the character prior to writing this series?PH:
Here and there, but like most people, mostly through those insane covers. And if you read the mini closely, you'll see plenty of homages to those whacked out scenarios throughout.
NC: What about other lesser-known GK characters, such as Dagar the Invincible and The Brothers of the Spear (which was actually one of my favorite series when I was a kid)? Is there a place for them in the Gold Key Multiverse?PH:
If left to me? Yes. I even wrote them into issue #4, but the licensor had the ultimate call as to what to include and what to leave out. Sorry, Dagar fans!
NC: You're not just a writer, but also an accomplished artist as well. How does it feel, watching someone else realize your work? What are the benefits of being a writer, as opposed to an artist—and vice versa?PH:
It's equal parts frustrating and rewarding. In this case, mostly rewarding. I see Brent make decisions I wouldn't necessarily make, but often those lead to exciting results I hadn't foreseen either. I think my time as an artist has made me more conscious of what I'm asking from my artists. I know what a chore boring scenes are, even when necessary. I know what a drag car chases are, etc.
NC: Now that the original recipe Gold Key characters have made themselves known—what can readers look forward to in the final issue of the series?PH:
I hope something that both resets the Gold Key universe in a way that leaves all future takes on firmer footing and freshens it for new eyes. Of course, I hope readers find some emotional resonance in what the characters go through in the last issue, especially Erica Solar.
'STAR TREK BEYOND' LAUNCHES TO $59M
07/25/16 @ 8:47 pm EST
Source:
Deadline
| Categories:
MIsc
|
Comments
(0) |
E-mail Article
|
Add a Comment
Despite being given an A- CinemaScore and kudos from critics,
Star Trek Beyond
for its opening weekend did not go where no film has gone before and there is a question about how far this film my fall in its second weekend when
Jason Bourne
comes into the marketplace and competes for similar demos. With the amount of advanced ticket sales and front-loaded business, it appears that its fan base — the Trekkies — showed up for this over-$185M budgeted film. Meanwhile
Lights Out
electrified its core audience and has already turned a profit in its first weekend with a big $21.6M on a budget of only about $5M (plus distribution/marketing costs).
Ice Age: Collision Course
's opening was tepid, but its global total is pushing it past
Shrek
to become the best grossing animated franchise in the business. With a strong overseas presence, it will pass the $200M mark globally today.
Ghostbusters
fell 54% in its second weekend and has another female-driven comedy coming in to kick it around this weekend with
Bad Moms
. It's global cume so far is only $122.4M. No Cinderella story domestically but still has a long way to go in major markets overseas.
'THE FLASH': 'DOPE' ACTRESS KIERSEY CLEMONS TO STAR AS IRIS WEST IN MOVIE
07/25/16 @ 8:43 pm EST
Source:
Variety
| Categories:
Flash
|
Comments
(0) |
E-mail Article
|
Add a Comment
Kiersey Clemons has closed a deal to star opposite Ezra Miller in "The Flash" movie.
Variety
first reported earlier this month that she was the top choice for the female lead in the Warner Bros. film.
Insiders reveal that Clemons is likely to play Iris West, the tough-as-nails journalist and friend of Barry Allen, the Flash's alter ego.
"The Flash" had to overcome the hurdle of replacing the film's original director, Seth Grahame-Smith, who parted ways with the project over creative differences.
"Dope" helmer Rick Famuyiwa took over directing duties in June.
The movie, however, appears to be able to meet its planned start date. Production is expected to commence sometime this year.
The studio is keeping Smith's most recent draft of the script, which is based on a treatment by Chris Miller and Phil Lord.Clemons' star has risen significantly since her breakout performance in "Dope."
She landed a role as one of Chloe Moretz's sorority sisters in "Neighbors 2: Sorority Rising," as well as one of the leads in Sony's remake of "Flatliners."
"STAR WARS" #21 INTRODUCES DEADLY, COMPETENT STROMTROOPER UNIT SCAR SQUADRON
07/25/16 @ 8:40 pm EST
Source:
Comic Book Resources
| Categories:
Star Wars
|
Comments
(0) |
E-mail Article
|
Add a Comment
From pretty much the beginning of 1977's "Star Wars," fans have formed generally less-than-favorable opinions about the Empire's stormtroopers. They've earned a reputation at being cannon fodder that rarely hits their target. This real world opinion has also crept into actual Star Wars canon, specifically in last week's "Star Wars" #21.
The comic from writer Jason Aaron and artist Jorge Molina does a lot to change the reputation of the stormtroopers by introducing the Special Commando Advanced Recon troopers -- or SCAR troopers. Unlike stormtroopers, this team (called the Scar Squadron or Task Force 99)is highly trained and dangerously competent and has one mission: eliminate rebels, or "terrorists" as the SCAR troopers call them. And, as seen in the issue, the team is
really
good at their job.
SCAR Squadron, clockwise from top: Shrap, Aero, Mic, Misty, Kreel, Cav, Zuke
From L to R: Mic, Misty, Cav, Kreel, Shrap
We meet all seven members of Scar Squadron in the issue, and learn a vary degree about each one of them.
Sergeant Kreel
, an ex-Imperial spy previously stationed on the smuggler's moon Nar Shaddaa and now the leader of Scar Squadron
Mic
, the communications expert that deals with encryption
Shrap
, a trooper armed with a flamethrower
Cav
, a trooper armed with a variety of knives
Misty
, a cloaked trooper
Zuke
, bulky trooper with a bazooka
Aero
, a mechanic trooper skilled at hot-wiring vehicles
Task Force 99 will play a major role in the next arc. During the "Cup O' Joe" panel at Comic-Con International in San Diego, writer Jason Aaron spoke about the group and the upcoming "Star Wars" arc.
"We wanted some stormtroopers that were actually effective and could shoot the things they fire at," said Aaron. "The next big arc starts in issue #22 and features the Rebels trying to steal a Star Destroyer, and they steal a shitty one and they have to fly it with a skeleton crew. They're piloting this ragtag Star Destroyer across the galaxy to save the day, and that's when our stormtroopers show up and you see them butt heads with the cast."
"Star Wars" #22 arrives in stores on August 24.
'THE DEEP' MERMAID THRILLER DRAMA PICKED UP TO PILOT BY FREEFORM
07/25/16 @ 8:33 pm EST
Source:
Deadline
| Categories:
MIsc
|
Comments
(0) |
E-mail Article
|
Add a Comment
Freeform has given a pilot order to another project from its first development slate following the network's rebranding from ABC Family — greenlighting drama pilot
The Deep.
Written by Eric Wald and Dean White,
The Deep
is set in Bristol Cove, a coastal town known for its legend of once being home to mermaids. When the arrival of a mysterious girl proves this folklore all too true, the battle between man and sea takes a very vicious turn as these predatory beings return to reclaim their right to the ocean. Scott Stewart (
Dominion
) is set to direct the pilot, executive produced by Wald, White, Brad Luff, Nate Hopper and RD Robb. Emily Whitesell (
Finding Carter
) will serve as showrunner. Production on the pilot will begin in September in Vancouver.
"'
The Deep
' is a very different show than one would expect when they hear the word 'mermaid' – the mermaid tale has been reinvented in this pilot," said Freeform EVP Karey Burke. "The writing is thrilling, stories complex and scary, and we are excited to explore the themes of obsession and violence through these amazing creatures."
The Deep
pickup follows the recent pilot green light for comedy
Alone Together
, from the Lonely Island gang. Both projects were listed as fast-track development on Freeform's first development slate in March which also included series orders to
Famous in Love
and Marvel's
Cloak and Dagger
and a pilot pickup to
Issues
and a backdoor pilot for a
Young & Hungry
spinoff.
MAJOR SPIDER-MAN VILLAIN RETURNS IN TRUE FORM FOR "THE CLONE CONSPIRACY"
07/25/16 @ 8:29 pm EST
Source:
Comic Book Resources
| Categories:
Spider-Man
|
Comments
(0) |
E-mail Article
|
Add a Comment
As revealed today in Marvel Comics' October solicitations, a classic Spider-Man villain will be making his triumphant return this fall: Otto Octavius, AKA Doctor Octopus.
The solicitation for Dan Slott, Christos Gage and Giuseppe Camuncoli's "Amazing Spider-Man"#20, a tie-in for "The Clone Conspiracy," a Spidey-centric event series also launching the same month, reads: "Death is no more, and DOCTOR OCTOPUS HAS RETURNED!!! How is he back? And what does he have to do with The Jackal?"
Check out Alex Ross' cover for "Amazing Spider-Man" #20 below:
It's been a long time since we've seen Doctor Octopus in his original form. At the end of the long-running "Superior Spider-Man" storyline that saw Ock's consciousness take over Peter Parker's body, the character seemingly perished. In the latest run of "Amazing Spider-Man," however, it's been revealed that, unbeknownst to anyone but him, Ock's consciousness has been preserved inside a robot working for Parker Industries, referred to as the Living Brain. Trapped in his mechanical form, Otto has been up to his usual schemes, working as an agent inside Parker Industries and sending classified information to other villains.
It seems Ock will somehow make it back into his original body by the time "Amazing Spider-Man" #20 hits stands -- but exactly how he factors into the overarching "Clone Conspiracy" is still unclear at this point. The character
did
feature in a teaser back when the event was still called "Dead No More," so if you're looking for clues, be sure to check that out.
"Amazing Spider-Man" #20 goes on sale in October.
MARVEL NOW! RISES FROM "CIVIL WAR II'S" ASHES IN MARVEL'S OCTOBER RELEASES
07/25/16 @ 8:24 pm EST
Source:
Comic Book Resources
| Categories:
Marvel
|
Comments
(0) |
E-mail Article
|
Add a Comment
This October, "Civil War II" will conclude and receive a one-shot dealing with the fallout. But from that ending comes the beginning of almost a dozen Marvel NOW! series. And on top of that, new storylines will rock the mutants' world in Marvel's X-Men line.
To highlight some of the events coming up in a few months, CBR scoured Marvel's October solicits for the biggest developments.
"Civil War II" concludes with issue #7.
"Civil War II: The Oath" one-shot will see Iron Man and Captain America seeking advice from the one man they trust, Steve Rogers.
First issues arrive from "Champions," "The Clone Conspiracy," "Prowler," "Infamous Iron Man," "Great Lakes Avengers," "Solo," "Doctor Strange & the Sorcerers Supreme," "Mosaic," "Jessica Jones," "Cage!," "Doctor Strange: Mystic Apprentice," "Deadpool: Back in Black," "Deadpool: Too Soon?," "Enchanted Tiki Room" and "Dark Tower: The Drawing of the Three - The Sailor."
A new wave of hip-hop variants will arrive on "Champions," "Prowler," "Infamous Iron Man," "Black Panther," "Great Lakes Avengers," "Solo," "Doctor Strange and the Sorcerers Supreme," "Mosaic," "Jessica Jones" and "Cage!"
Someone "in the Amazing Spider-Man's orbit" will die in "Amazing Spider-Man" #19.
Doctor Octopus returns in "Amazing Spider-Man" #20.
Luke Cage, Misty Knight and Storm round out the "all-new, all-different" Crew in "Black Panther" #7.
"Doctor Strange and the Sorcerers Supreme" begins and will include Merlin, the Ancient One, Wiccan and others.
"Ms. Marvel" #12 will feature a bonus 10-page Red Widow story.
Baron Mordo returns in "Doctor Strange" #12 and #13.
One of Ulysses' visions puts Miles Morales on the most wanted list in "Spider-Man" #9.
Mjolnir gets an origin story in "Mighty Thor" #12.
The author of "William Shakespeare's Star Wars," Ian Doescher, will turn in a 60-page Shakespearean Deadpool story in "Deadpool" #21.
The body of "The Fallen" hero — possibly Bruce Banner — will be taken by the Hand for resurrection in "Uncanny Avengers" #15.
"New Avengers" comes to an end with #17, "Astonishing Ant-Man" wraps up this volume with #13, and "Vision" finishes its run with #12
Riri Williams takes her first steps towards becoming Iron Man in "Invincible Iron Man" #14.
"Death of X" launches with two issues, which reveal what Cyclops and Emma Frost did in the eight-month post-"Secret Wars" gap.
"Enemy of the State II" kicks off in "All-New Wolverine" #13.
'LEGEND OF TARZAN' TOPS FOREIGN BOX OFFICE WITH $44.7 MILLION
07/24/16 @ 7:49 pm EST
Source:
Variety
| Categories:
MIsc
|
Comments
(0) |
E-mail Article
|
Add a Comment
"The Legend of Tarzan" swung to the top of foreign box office charts over the weekend, propelled by a solid opening in China. The adventure epic led competitors with $44.7 million from 17,500 screens in 61 markets. The big contributor was the Middle Kingdom, where "The Legend of Tarzan" picked up $27.1 million in its first six days of release.
The attempt to relaunch Edgar Rice Burroughs' pulp novels about a man raised by apes has floundered domestically, weighed down by its $185 million price tag. The film's global total now stands at $260.5 million. That's a respectable gross, but a film of this size needs to do upwards of $400 million to be considered a success, let alone trigger a sequel, which is basically the point of greenlighting a movie with that kind of budget. Warner Bros. is backing the film, which was directed by David Yates, the filmmaker behind most of the Harry Potter movies. It stars Alexander Skarsgård as Tarzan and Margot Robbie as Jane.
SDCC: '24: LEGACY' BOSSES DISCUSS POSSIBLE "INTERSECTION" WITH JACK BAUER
07/24/16 @ 7:47 pm EST
Source:
The Hollywood Reporter
| Categories:
MIsc
|
Comments
(0) |
E-mail Article
|
Add a Comment
Fox's forthcoming
24: Legacy
centers on a new universe and a new main character (Corey Hawkins) racing against the clock.
However, many of the questions at the show's Comic-Con panel Sunday tied back to the original series' protagonist, Jack Bauer (Kiefer Sutherland).
"There may be an intersection with those original characters down the line," executive producer Evan Katz teased Sunday.
"Anything is possible," executive producer Howard Gordon added, noting that Jack and Chloe (Mary Lynn Rajskub) are both alive.
Jack's future was left up in the air at the end of the 2014's
24: Live Another Day
. "He's in Russia probably having a terrible time in prison," Katz said with a chuckle.
"I think all of us want to finish that story. We all love that character," Gordon said about another possible iteration of
24
centered on Jack Bauer. "Right now, we're not planning that. Right now our plan right now is to tell this story."
While it is structured in the same style as the original series,
24: Legacy
centers on a new cast of characters led by military hero Eric Carter. His return to the U.S. but the trouble follows him back — which motivates him to ask CTU for help in saving his life, and stopping what potentially could be one of the largest-scale terror attacks in America.
The idea for the new characters came about partly because "we all felt, Kiefer included, that Jack Bauer had told his story with
Live Another Day
," Gordon said.
(For his part, Sutherland is still an executive producer on the series and is "way behind it," executive producer Manny Coto said, after having read the pilot script and watched the pilot.)
Hawkins said his character's military background is a big part of what separates him from Jack Bauer. "He's a soldier and he's not used to dealing with… the rules of engagement are different," Hawkins said. "He struggles with that internally in terms of protecting his home and his family but also his responsibility to his country."
The writers said they were inspired specifically by the soldiers who killed Osama bin Laden in 2011 and what happened to them after they returned home. "These essentially superheroes who had to integrate back into society and just didn't fit," Katz said.
But just like Jack, "he has his flaws and he, over the course of the season, he's going to be forced to make a lot of morally questionable decisions," Hawkins said. "For me, he really is a new hero for a new day."
Although some have labeled
24: Legacy
a "reboot," Coto argued otherwise. "This is actually more of an expansion of the
24
universe," he said. "This is a new story, a different story being told in the same 24 hour format."
That format will include split screens and onscreen clocks, the producers said, as well as time jump sometime during the first season since there won't be 24 episodes to cover the entire 24 hours in a day.
Also? "A lot of running," Hawkins said.
Once again, the questions circled back to Jack Bauer and whether Hawkins will say his signature phrase, "damnit."
"He might," Hawkins said with a laugh. "It's a long day."
24: Legacy
premieres in February on Fox.
SDCC: WILLIAM SHATNER SPEAKS OF HIS LATE FRIEND LEONARD NIMOY AT STAR TREK 50TH ANNIVERSARY CONFERENCE
07/24/16 @ 4:51 pm EST
Source:
Bleeding Cool
| Categories:
Star Trek
|
Comments
(0) |
E-mail Article
|
Add a Comment
Captain Kirk and Spock are two of the most iconic characters ever created, and their relationships can also be held in that same regard. That's why it is unsurprising that the actors who played them had a special relationship.
Speaking during the Star Trek 50th Anniversary press conference,
William Shatner
had this to say of the late, great
Leonard Nimoy
.
"With Leonard, I was thrown into his company because of appearances like this, and movies. We had a lot to do with each other. He was the brother I never had, as we used to say [that] to each other. He had a brother, I didn't have one. He was my brother."
That's a lovely sentiment to express to a room full of people.
Here, here.