YOUR FIRST LOOK AT AVX: VS #2– AN AVENGERS VS. X-MEN TIE-IN!
04/17/12 @ 1:53 pm EST
Source:
Marvel
|
Comments
(0) |
E-mail Article
|
Add a Comment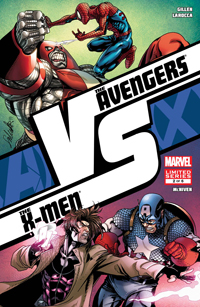 Marvel is proud to present your first look at,
AVX: VS #2,
the explosive, no holds barred, action packed tie-in to the smash-hit blockbuster event of the year –
Avengers VS. X-Men
! From acclaimed creators, Kieron Gillen, Salvador Larroca & Steve McNiven; catch the cover to cover battles - featuring unimaginable chaos as Spider-Man takes on Colossus & Captain America faces off against the ragin' Cajun, Gambit! Don't miss out on all the pulse-pounding action in
AVX: VS #2,
available in comic shops worldwide and on the
Marvel Comics app
this May!
Which team will reign supreme? Join the conversation on Twitter with
#AvX
!
For more on
Avengers VS X-Men
, please visit
http://avx.marvel.com
AVX: VS #2 (MAR120528)
Written by KIERON GILLEN & STEVE MCNIVEN
Art by STEVE MCNIVEN & SALVADOR LARROCA
Cover by SALVADOR LARROCA
Variant Cover by STEVE MCNIVEN
Rated T+…$3.99
FOC –4/23/2012, ON SALE – 5/16/2012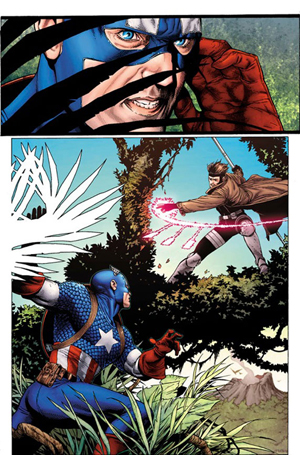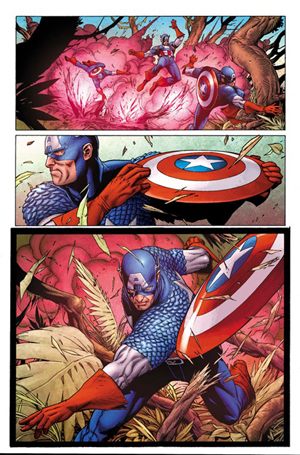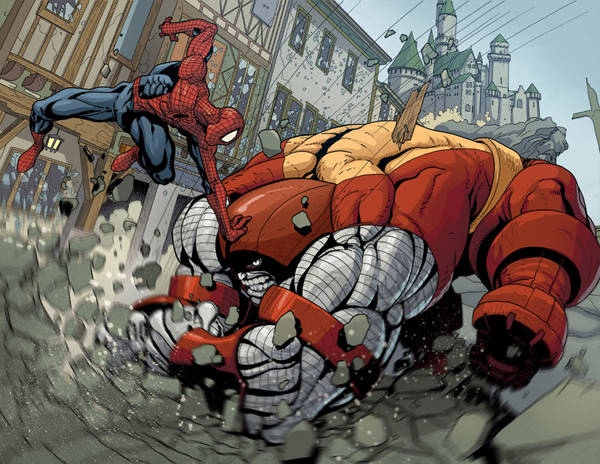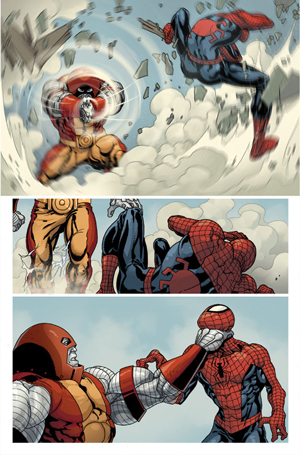 To find a comic shop near you, visit
www.comicshoplocator.com
or call 1-888-comicbook.


Marvel Entertainment, LLC, a wholly-owned subsidiary of The Walt Disney Company, is one of the world's most prominent character-based entertainment companies, built on a proven library of over 8,000 characters featured in a variety of media over seventy years. Marvel utilizes its character franchises in entertainment, licensing and publishing. For more information visit
www.marvel.com
CLOSE ENCOUNTERS OF THE THIRD KIND RETURNING TO THEATERS - AND HERE'S THE NEW TRAILER
07/25/17 @ 2:34 pm EST
Source:
Newsarama
| Categories:
MIsc
|
Comments
(0) |
E-mail Article
|
Add a Comment
Steven Spielberg's
Close Encounters of the Third
Kind
is returning to theaters nearly 40 years to the day it was originally released in 1977. Spielberg's own director's cut of the film was restored with 4k resolution, and will hit theaters this fall.Here is a new trailer:
https://youtu.be/dSpQ3G08k48
The 40th anniversary edition of
Close Encounters of the Third Kind
is scheduled for a one-week run beginning September 1 in select theaters.
NICHOLAS HOULT FRONTRUNNER TO PLAY YOUNG JRR TOLKIEN
07/25/17 @ 2:30 pm EST
Source:
Deadline
| Categories:
MIsc
|
Comments
(0) |
E-mail Article
|
Add a Comment
Nicholas Hoult is in early talks to star in
Tolkien
. He will play J.R.R. Tolkien, whose Middle-Earth epic novels hatched the Peter Jackson-directed film trilogies
The Lord of The Rings
and
The Hobbit.
Dome Karukoski has been set to direct
Tolkien
, with Chernin Entertainment producing for Fox Searchlight.
The script by David Gleeson and Stephen Beresford explores the formative years of the orphaned author as he finds friendship, love and artistic inspiration among a fellow group of outcasts at school. This takes him into the outbreak of World War I, which threatens to tear the "fellowship" apart. All of these experiences would inspire Tolkien to write his famous Middle-Earth novels. The filmmakers sparked to Hoult's performance in the Yorgos Lanthimos-directed The Favorite. He also costars as Nikolas Tesla in The Current War, which got named as part of the Toronto International Film Festival slate, and he reprises as The Beast in the Simon Kinberg-directed X-Men: Dark Phoenix. He's repped by UTA and 42.
MATT GROENING NETFLIX ANIMATED COMEDY A GO WITH 20-EPISODE ORDER, ABBI JACOBSON, NAT FAXON AND ERIC ANDRE LEAD VOICE CAST
07/25/17 @ 2:27 pm EST
Source:
Deadline
| Categories:
MIsc
|
Comments
(0) |
E-mail Article
|
Add a Comment
Disenchantment,
Matt Groening's long-gestating adult animated comedy fantasy series for Netflix, is moving forward with an official 20-episode order. The series from
The Simpsons
creator and
Futurama
co-creator will premiere in 2018, with the 20 episodes airing over two seasons of 10 episodes each.
Abbi Jacobson, Nat Faxon and Eric Andre headline the voice cast of
Disenchantment
. Set in the crumbling medieval kingdom of Dreamland, the series will follow the misadventures of hard-drinking young princess Bean (Jacobson), her feisty elf companion Elfo (Faxon), and her personal demon Luci (Andre). Along the way, the oddball trio will encounter ogres, sprites, harpies, imps, trolls, walruses, and lots of human fools. Also voicing characters are John DiMaggio, Billy West, Maurice LaMarche, Tress MacNeille, David Herman, Matt Berry, Jeny Batten, Rich Fulcher, Noel Fielding and Lucy Montgomery.
"Ultimately," says Groening, "
Disenchantment
will be about life and death, love and sex, and how to keep laughing in a world full of suffering and idiots, despite what the elders and wizards and other jerks tell you."
Disenchantment
is produced by The ULULU Company for Netflix, with Groening and Josh Weinstein (
The Simpsons, Futurama
) serving as executive producers. Animation is being done by Rough Draft Studios (
Futurama
).
IS THERE A ROBIN EASTER EGG IN THE LEGENDS OF TOMORROW TRAILER?
07/25/17 @ 10:21 am EST
Source:
ComicBook
| Categories:
DC
|
Comments
(0) |
E-mail Article
|
Add a Comment
When the Legends head to P.T. Barnum's circus on an upcoming episode of
DC's Legends of Tomorrow
, it looks like they will be keeping company with one of the DC Universe's most famous families.
Like many of the Easter eggs onboard the Waverider itself, this one -- if indeed it's intentional, although it seems likely -- is a blink-and-you'll-miss-it kind of thing. In the recently-released trailer for season 3, eagle-eyed fans might notice a group of acrobats training in the background of a shot or two whose costumes closely resemble Tim Drake's Robin costume.
A red unitard and yellow belt over green leggings has actually been the costume for all the Robins since the New 52 reboot seemingly removed the bare-legged, pixie-booted Robin costume from continuity -- and that's handy trivia to know since it isn't Tim Robin but Dick Grayson who (along with his family) performed at a circus throughout most of his young life.
So...are the Flying Graysons part of P.T. Barnum's circus? As far as we know, the family of acrobats and trapeze artists never joined the Greatest Show on Earth -- but that's in the comics. Also, in a timeline not damaged potentially beyond repair by the events of the
DC's Legends of Tomorrow
season finale. In the world of
Legends
, anything seems possible. (Via ComicBook.com)
DEADPOOL 2 DIRECTOR EXPLAINS HOW THE MOVIE APPROACHES CABLE'S ORIGIN
07/25/17 @ 10:14 am EST
Source:
ComicBook
| Categories:
Marvel
|
Comments
(0) |
E-mail Article
|
Add a Comment
Deadpool 2
will bring Marvel's time-traveling mutant mercenary Cable to the big screen for the first time, as played by Josh Brolin, though adapting a character such as Cable poses a special sort of challenge.
In addition to being among the Marvel Comics characters with the biggest and best guns and shoulder pads, as well as the most pouches, Cable also has one of the most confusing and convoluted backstories and continuity in Marvel Comics history. Director David Leitch plans to be fairly selective about which portions of the character's history make it into
Deadpool 2
.
"Look, I think besides all of the Deadpool, sort of the film universe Deadpool, you kind of have to be selective of like how you approach these characters because there's a canon of work that's so massive that you could never put it all on screen," Leitch tells ScreenRant. "So we've been really particular what we're going to put in and what we're going to leave for potential future if it goes that way and, uh, I think you'll like it. It's all in the spirit of canon, and also in the spirit of like what
Deadpool
the movie is."
In the Marvel Comics universe, Cable's real name is Christopher Nathan Summers and he is the son of the X-Man called Cyclops and Madelyne Pryor, his wife who was also a clone of his then deceased ex-girlfriend Jean Grey. Later, after Pryor turned into a supervillain and Jean came back from the dead, Nathan was infected with a techno-organic virus and sent into the future where he could be treated. He was raised by Mother Askani, who turned out to be the future version of his sister from another timeline, Rachel Summers, who also brought Cyclops and Jean Grey's consciousness into the future where they helped raise their son without ever actually telling him who they were. Cable grew up to be a master soldier and tactician and was looked at as the last, best hope for the future. He then went back in time to prevent the rise of his arch nemesis, Apocalypse but was also threatened by, Stryfe, a clone of Cable that Mother Askani created just in case something bad happened to the original Cable, but who then went rogue.
As mentioned, it's complicated.
THE ORIGINAL SPIDER-MAN: HOMECOMING SCRIPT HAD NED ASK ONE TMI QUESTION
07/25/17 @ 10:03 am EST
Source:
ComicBook
| Categories:
Marvel
|
Comments
(0) |
E-mail Article
|
Add a Comment
One of
Spider-Man: Homecoming
's standout scenes doesn't involve intense fight scenes or death-defying stunts, but a very inquisitive high school kid. But according to one of the film's screenwriters, an additional - and rather personal - line was almost included in the scene.
In the film's first act, Peter Parker/Spider-Man (Tom Holland) unintentionally revealed his superhero identity to his high school best friend, Ned Leeds (Jacob Batalon). The next day, Ned asks Peter every question he can think of related to being Spider-Man. But according to co-screenwriter John Francis Daley, an early version of the script had Ned ask one more question - related to Peter's webs.
"The only one that we had that they cut was, 'Do the webs come out of your body?'" Daley explained to Yahoo Movies. "And Peter's like, 'I'm not a monster!'"
The line provided a sort of subtle reference to Sam Raimi's original
Spider-Man
trilogy, which had Peter Parker (Tobey Maguire) able to create the webs out of his body. But in the long run, it makes sense that the line wasn't included, as it allowed the film to focus more on Peter's scientific engineering of his web fluid.
MOTHER OF THE WALKING DEAD STUNTMAN JOHN BERNECKER THANKS FANS AND LAUNCHES MEMORIAL SITE
07/25/17 @ 9:58 am EST
Source:
ComicBook
| Categories:
Walking Dead
|
Comments
(0) |
E-mail Article
|
Add a Comment
The mother of John Bernecker, the stuntman who died after an accident on the set of
The Walking Dead
, is speaking out following her son's death.
Susan Bernecker thanked
fans for all the support they've shown since the tragic incident.
"Thank you to all who are concerned and loved my son, John. Your outpouring of love for him is magnificent," Bernecker said in a statement provided to Just Jared.
Bernecker also revealed that she has set up a memorial site for her son where fans can make donations in his memory.
"Because of so much false press the only official site for John Bernecker at this time is
LiveLikeJohnBernecker.com
," she said. "In lieu of flowers, donations are appreciated and can be made on the website."
Funeral services for John Bernecker will take play on Saturday, July 29, in New Orleans.
Bernecker suffered a tragic accident while filming a stunt for the eighth season of
The Walking Dead
. The scene, which involved Dwight actor Austin Amelio, saw Bernecker fall from a balcony on the show's Sanctuary set. He is said to have missed his landing by inches.
WHERE WAS HENRY CAVILL DURING SAN DIEGO COMIC-CON 2017?
07/25/17 @ 9:53 am EST
Source:
Bleeding Cool
| Categories:
DC
|
Comments
(0) |
E-mail Article
|
Add a Comment
So where was Henry Cavill during the
Justice League
presentation at San Diego Comic-Con? Superman was much missed on the Hall H stage when the rest of the League turned up. But he appears he was at a very different convention.
Instead he attended Cowdray Park in Sussex to watch Jaeger-LeCoultre Gold Cup Polo Final, with his new girlfriend, Hollywood stuntwoman Lucy Cork.
NEW TV SPOT FOR 'THE DARK TOWER' HIGHLIGHTS EASTER EGGS PLUS 2 NEW POSTERS
07/25/17 @ 9:48 am EST
Source:
Bleeding Cool
| Categories:
Dark Tower
|
Comments
(0) |
E-mail Article
|
Add a Comment
The concept of the shared universe is something that comic book fans are no stranger to, but book fans have been digging through shared universes for a long time too.
Legendary writer Stephen King has never been shy about hinting that his books all exist within the same shared universe. The movie adaptation seems to be no different, and this new TV spot released by Sony Pictures appears to highlight some of those Easter Eggs we can see in this movie.
TV spot:
https://youtu.be/r1bitCJXyHU
Over on social media it was time for the stars Matthew McConaughey and Idris Elba to keep up their smack talk on twitter. This time the back and forth came with two amazing looking posters.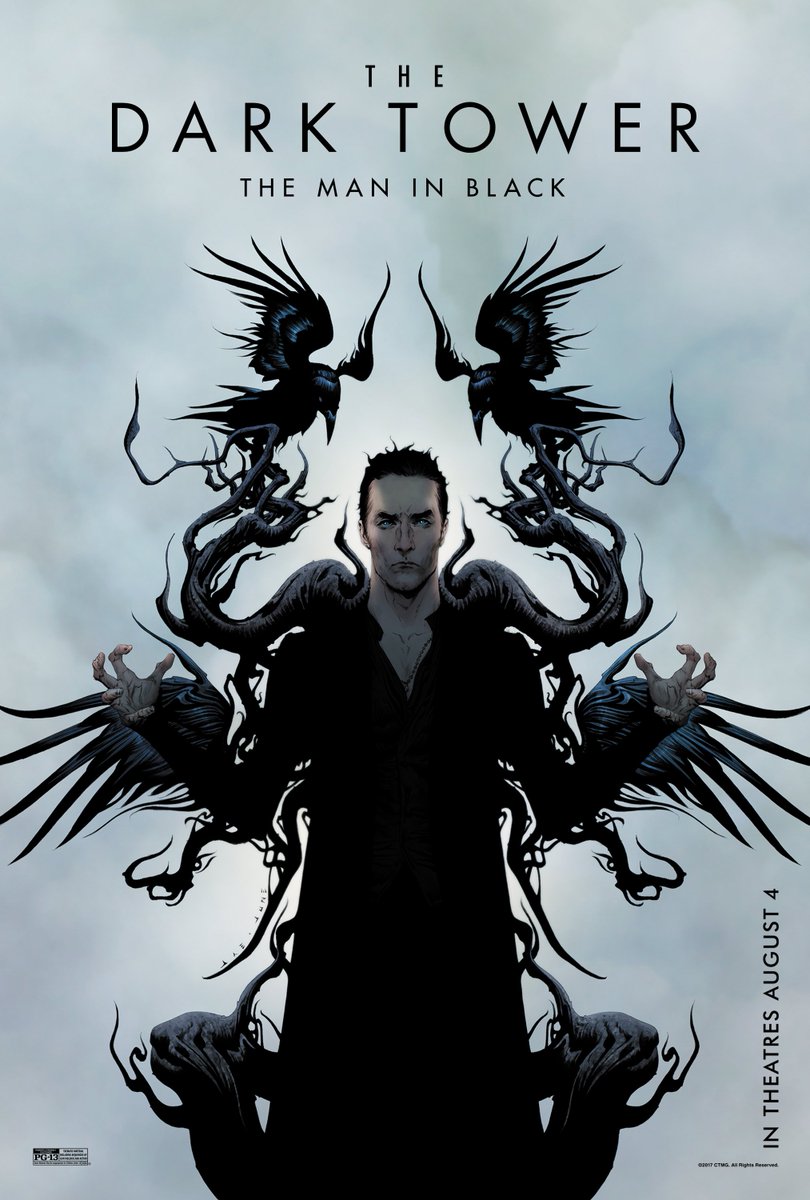 DELL'OTTO DEFENDERS COMICS DONATED TO THE DEFENDERS OF OUR FREEDOM
07/25/17 @ 9:36 am EST
Source:
Boom-art.com
| Categories:
Marvel
|
Comments
(0) |
E-mail Article
|
Add a Comment
Frankie's Comics and The Variant Collective of The Comic Mint, Sad Lemon, 7ate9, Amorphous Ink, and Golden Apple have announced their variant for The Defenders #4 by Gabriel Dell'Otto. They were further pleased to announce that all 3000 copies of the regular variant are being donated to the U.S. Military to be included in care packages sent to the troops by Operation Gratitude.
Amorphous Ink's Joshua Cozine proposed the idea, and Kevin Fields (Frankie's), Steven Finkel (Comic Mint), Simon Payne (Sad Lemon), Chris Bowers (7ate9), and David Dryden (Golden Apple) all agreed that Defenders was the perfect book to honor those that put their lives on the line so that we can sleep at night.
While the regular edition will not be available to fans, collectors won't be completely left out. 600 copies of a virgin variant edition will be put up for sale on the various websites for $20, a very low price for a short run Marvel variant.
"We're obviously not making any money at that price even if we sell out," said Fields. "But this release isn't about that. We just wanted to do something cool for our soldiers and the collecting community. I wish we could have announced this on July 4th, as that was the impetus for the idea, but it took longer than we thought to find a charity that would actually put the books in the hands of the troops. There are a lot of charities out there that claim to do it, but when you read the fine print, that's not what they actually do. We're so happy to be working with Operation Gratitude on this, as we know that our military men and women will have these in their hands soon."
Defenders #4 releases on 8-9-17. The virgin edition is available to order now on the following sites:
www.frankiescomics.com
www.thecomicmint.com
www.sadlemoncomics.com
www.7ate9comics.com
www.amorphousink.com
www.goldenapplecomics.com
About Operation Gratitude:
Operation Gratitude annually sends 250,000+ care packages to Veterans, First Responders, New Recruits, Wounded Heroes, their Care Givers, and to individually named U.S. service members deployed overseas and their families waiting at home. Each package is filled with food, entertainment, hygiene and hand-made items, as well as personal letters of support. Our mission is to lift the spirits and meet the evolving needs of the Military and First Responder communities, and provide volunteer opportunities for civilians anywhere in America to express their appreciation to all who serve our nation. Each package contains donated product valued between $45 and $100 and costs our organization $15 to assemble and ship. Since its inception in 2003, Operation Gratitude volunteers have shipped more than 1.75 Million Care Packages.