YOUR FIRST LOOK AT AVX: VS #2– AN AVENGERS VS. X-MEN TIE-IN!
04/17/12 @ 1:53 pm EST
Source:
Marvel
|
Comments
(0) |
E-mail Article
|
Add a Comment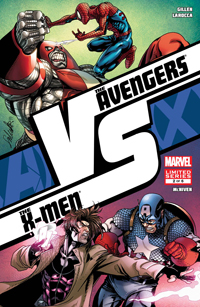 Marvel is proud to present your first look at,
AVX: VS #2,
the explosive, no holds barred, action packed tie-in to the smash-hit blockbuster event of the year –
Avengers VS. X-Men
! From acclaimed creators, Kieron Gillen, Salvador Larroca & Steve McNiven; catch the cover to cover battles - featuring unimaginable chaos as Spider-Man takes on Colossus & Captain America faces off against the ragin' Cajun, Gambit! Don't miss out on all the pulse-pounding action in
AVX: VS #2,
available in comic shops worldwide and on the
Marvel Comics app
this May!
Which team will reign supreme? Join the conversation on Twitter with
#AvX
!
For more on
Avengers VS X-Men
, please visit
http://avx.marvel.com
AVX: VS #2 (MAR120528)
Written by KIERON GILLEN & STEVE MCNIVEN
Art by STEVE MCNIVEN & SALVADOR LARROCA
Cover by SALVADOR LARROCA
Variant Cover by STEVE MCNIVEN
Rated T+…$3.99
FOC –4/23/2012, ON SALE – 5/16/2012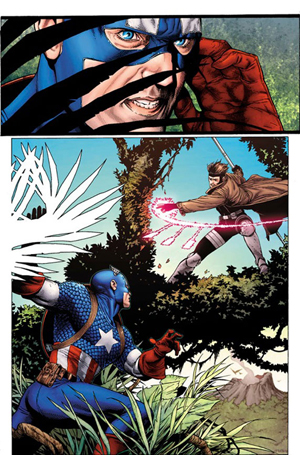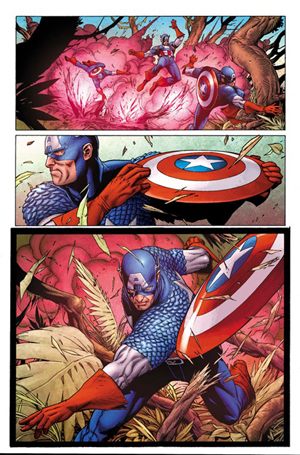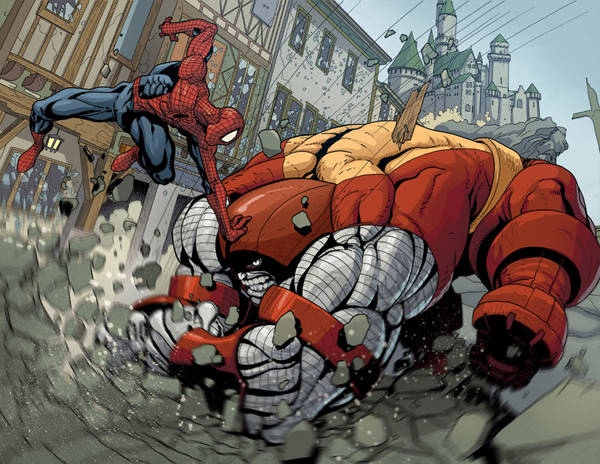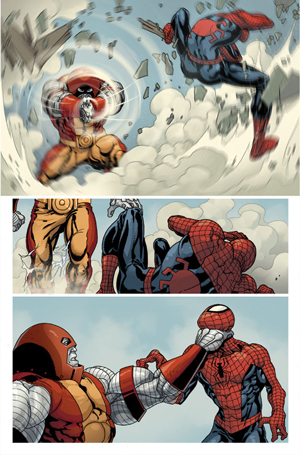 To find a comic shop near you, visit
www.comicshoplocator.com
or call 1-888-comicbook.


Marvel Entertainment, LLC, a wholly-owned subsidiary of The Walt Disney Company, is one of the world's most prominent character-based entertainment companies, built on a proven library of over 8,000 characters featured in a variety of media over seventy years. Marvel utilizes its character franchises in entertainment, licensing and publishing. For more information visit
www.marvel.com
SUPERGIRL PRODUCER ON THE SHOW'S "OWN SPIN" FOR MON-EL
08/27/16 @ 1:22 am EST
Source:
Bleeding Cool
| Categories:
DC
|
Comments
(0) |
E-mail Article
|
Add a Comment
Mon-El will soon be part of the
Supergirl
stable of characters and executive producer
Andrew Kreisberg
says the show will have its "own spin" on the Daxamite explorer with an aversion to lead.
While discussing the upcoming second season with Collider, Kreisberg mentioned that Mon-El — played by actor
Chris Wood
— will create a new role for Kara, who has spent the last twelve years being mentored by a number of people. "With Mon-El, he's fresh off the boat. As far as he's concerned, living on another planet happened yesterday, and suddenly, he's on Earth and everything he knew was lost," he explained.
Now Kara is in the position to be a mentor to Mon-El, which Kreisberg mentioned was her original purpose on Earth. "Ironically, she even says in an episode, 'I was sent to Earth not to be a hero. I wasn't sent here to be Supergirl. I was sent here to protect Clark and take care of Clark. Now, in an odd way, with Mon-El here, I'm getting to fulfill that original mission that I had,' he added
.
Supergirl
returns October 10th on The CW.
THEA FINDS A GOOD JOB IN ARROW'S FIFTH SEASON
08/27/16 @ 1:17 am EST
Source:
Bleeding Cool
| Categories:
DC
|
Comments
(0) |
E-mail Article
|
Add a Comment
While early previews for
Arrow
's fifth season indicated that Thea Queen — played by
Willa Holland
— is adamant about leaving the vigilante profession behind her, it seems she has secured a better job … even if she's still working Ollie.
According to Entertainment Weekly, the fifth season will see Thea working as Oliver's chief of staff as in the Star City mayor's office. "Perhaps, to her own surprise, she's actually really, really good at it. All the skills that she learned by watching her mother for all those years, as well as running Verdant, she's found very transferrable to City Hall," executive producer
Marc Guggenheim
told the site. He added that she may be better suited to city governance than her brother.
And one supposes that it is also possible she'll be roped back into the world of Team Arrow. It seems few can stay away from it or its well-known headquarters for very long.
Arrow
returns October 5th on
The CW
.
THE BEAUTY OF ART EXPLORED IN MISS HOKUSAI TRAILER
08/27/16 @ 1:15 am EST
Source:
Bleeding Cool
| Categories:
MIsc
|
Comments
(0) |
E-mail Article
|
Add a Comment
GK Films
has released a trailer for its upcoming
Miss Hokusai
. The film concerns O-Ei, daughter of the man who painted "The Great Wave of Kanagawa." She struggles under her father's ridicule for her efforts to become an established painter; even as her work is sold under
his
name.From the trailer, the film looks beautiful and worth the effort to seek it out when it goes into limited release in October.
Video:
https://youtu.be/BGD7WWoUpHs
SUPERGIRL EP TEASES MARTIAN MANHUNTER, MS. MARTIAN RELATIONSHIP FOR SEASON TWO
08/27/16 @ 1:10 am EST
Source:
Comicbook
| Categories:
DC
|
Comments
(0) |
E-mail Article
|
Add a Comment
Earlier this month, during The CW panel at Television Critics Association (TCA) summer press tour, it was announced that Miss Martian (a.k.a. M'gann M'orzz), a White Martian that elects to look like a Green Martian, will appear on the upcoming season of
Supergirl
and be played by Sharon Leal (
Hellcats
,
Grimm
).
"Part of the reason we're bringing on Miss Martian is to give J'onn his own story this year and his own emotional ride, meeting her and having this tie to his home world that he thought he would never have again," executive producer Andrew Kreisberg told Collider. "As he has to keep reminding people, he's been here for 300 years and isolated for most of it. Last year, with his relationship with Alex and his relationship with Kara, he started to come out of his shell a little bit and wasn't quite so afraid to show who he really was. So, in getting to interact with M'gann, he's going to have a whole new person with which to share his martian experience. We think it's going to be a great story."
Thanks to her depiction in the cancelled-too-soon animated series
Young Justice
, Miss Martian (voiced by Danica McKellar) has skyrocketed in popularity. In that, Martian Manhunter presents and treats M'gann as his niece; however, David Harewood has suggested on Twitter M'gann could be a love interest for J'onn.
CAPTAIN AMERICA: CIVIL WAR FEATURETTE SHOWS BEHIND-THE-SCENES OF CAP AND BUCKY'S FIGHT
08/27/16 @ 1:06 am EST
Source:
Comicbook
| Categories:
Marvel
|
Comments
(0) |
E-mail Article
|
Add a Comment
It's always sad to see best friends fighting, unless we're talking about Captain America (Chris Evans) and Bucky (Sebastian Stan), then it's really exciting! We've always wanted to see how Bucky's metal arm stacked up against Cap's indestructible vibranium shield. Not only did
Captain America:Civil War
pit our favorite MCU superheroes against each other over the Sokovia Accords, it also defined quite an emotional struggle between friends. The events of
Civil War
permanently changed the future of the Marvel Cinematic Universe (especially since Cap dropped his shield and metaphorically walked away from his mantle).
The action-packed fight scenes weren't between superheroes and villains, leaving fans with a difficult decision to pick a side. In short, we kind of wanted everyone to stop fighting before someone got seriously injured or even killed. Sorry, War Machine! Although it was hard to watch The Avengers busting each other up, it also made for some spectacular hero vs. hero battles, especially the infamous airport scene.
A new video showcases a behind the scenes look at when Captain America arrived at Bucky's apartment Romania first to apprehend him for a crime he didn't commit. As we all know Bucky did no go quietly, or at all. You can watch the full video here:
https://youtu.be/gKay8G8XF-k
MACKENZIE DAVIS SHOOTS DOWN DEADPOOL 2 RUMOR
08/27/16 @ 12:57 pm EST
Source:
Comic Book Resources
| Categories:
Marvel
|
Comments
(0) |
E-mail Article
|
Add a Comment
With "Deadpool 2" in pre-production, plenty of rumors are swirling around the sequel's plot and potential new characters. A few weeks ago, a rumor emerged that
pegged Kyle Chandler and Mackenzie Davis as new members of "Deadpool's" cast
, with the former as Cable and the latter as Domino. We already know Cable's in the sequel (the Mmrc himself confirmed that in the post-credits scene of "Deadpool"), but Domino's involvement is just a rumor. And, as Mackenzie Davis told
GQ
,
her
involvement is a rumor as well.
"No! [
laughs
] It's very interesting," said the "Halt and Catch Fire" star when asked about the Domino rumor. "People keep sending me printouts being like, 'This is so cool!' And I'm like, 'Right? I also think it's cool! But it's not true!' I mean. I'd love to keep the ruse going. It's sort of cool that people think I'm doing 'Deadpool.' But no! I don't have any news to share. I wish I did!"
With Cable a lock for "Deadpool 2," Domino's involvement would make sense. In the comics, Domino is one of Cable's closest and oldest allies; the two go way, way back to their days as mercenaries in a group called the Six Pack. Domino served as a member of Cable's X-Force, joining the team mostly because she wanted to do her longtime partner a favor. Cable and Domino have even been romantically linked from time to time, as their partnership flirted with being a full-blown relationship. Domino was first
rumored to be part of "Deadpool 2"
back in February.
NEW CHAMPIONS TEASER PROMISES MS. MARVEL WILL CHANGE THE WORLD
08/27/16 @ 12:53 pm EST
Source:
Comic Book Resources
| Categories:
Marvel
|
Comments
(0) |
E-mail Article
|
Add a Comment
This fall, Ms. Marvel will find herself on a team of super-powered teens just like herself, but the latest teaser for
Mark Waid
and
Humberto Ramos'
"Champions" puts her front and center with the tagline "change the world."
This new teaser follows several other images spotlighting each member of the team, including
Nova
, Hulk (Amadeus Cho),
Cyclops
,
Viv Vision
and
Spider-Man
. Like Nova and Spider-Man, Ms. Marvel was on the All-New, All-Different Avengers, at least up until recently. Unlike her compatriots, however, Ms. Marvel is on the right side of the teaser image, with the text just above her.
ARROW SEASON 5 TEASER SPOTLIGHTS NEW VILLAIN, BLACK CANARY MEMORIAL
08/27/16 @ 1:28 am EST
Source:
Comic Book Resources
| Categories:
DC
|
Comments
(0) |
E-mail Article
|
Add a Comment
"The Green Arrow cannot be stopped — unless we all work together."
With these words, Chad Coleman's Tobias Church introduces himself into "Arrow" canon in an all-new Season 5 teaser, which also spotlights Oliver's role as mayor and Star City's Black Canary memorial.
Additionally, the brief teaser shows Mayor Queen kidnapped and tied to a chair in what appears to be a warehouse, while a mysterious figure shrouded in shadow beats him.
Video:
https://youtu.be/UpbS7zPGllM
GLOVER ADDRESSES LANDO RUMORS, CALLS SPIDER-MAN: HOMECOMING FUN
08/27/16 @ 12:44 pm EST
Source:
Comic Book Resources
| Categories:
Marvel
|
Comments
(0) |
E-mail Article
|
Add a Comment
Donald Glover has a lot on his plate. In addition to the debut of his new TV series "Atlanta" on FX on September 6, he's become involved in one — potentially
two
— massive movie franchises. Glover has been cast in a still unrevealed role in "Spider-Man: Homecoming," the first solo Spidey film in the Marvel Cinematic Universe, and he's rumored to be the top choice to play Lando Calrissian in the young Han Solo anthology film.
In an interview with Time, Glover revealed that yes, he
is
aware of that Star Wars rumor. While he didn't say anything more about the rumor aside from merely stating that he's aware it's out there, he did share his thoughts on the "Star Wars" franchise.
"I mean, I grew up on it," said Glover. "My dad was a big fan. I had all the toys when I was little. I had a Darth Vader with the lightsaber he has. It was cool. It's a dynasty. It's like the bible. I love that franchise."
Glover also opened up about his experience on the Atlanta set of "Spider-Man: Homecoming," specifically in the context of theinternet campaign six years ago that championed him to play Peter Parker.
"The Internet is a strange box. It was weird to see that full circle," said Glover, who said that he signed on for the film because he "thought it was a cool role" He added that the movie "was fun to shoot. I'm glad I got the opportunity. You don't want it to feel like some sort of affirmative action. This wasn't that at all. I know the director, he's doing a really good job and good ideas." He also praised the film, saying that "people just miss Spider-Man being a kid" and "that's what's really fun about ['Homecoming']."
"Spider-Man: Homecoming" swings into theaters on July 7, 2017. The young Han Solo anthology film will land on May 25, 2018.
GOTHAM EP SAYS TV IS ABOUT REAL PEOPLE, NOT SUPERHEROES
08/27/16 @ 12:38 pm EST
Source:
Comic Book Resources
| Categories:
DC
|
Comments
(0) |
E-mail Article
|
Add a Comment
During a talk at the Edinburgh Television Festival, "Gotham" showrunner Bruno Heller revealed the thought he puts into crafting Fox's Batman prequel drama. Heller, whose previous shows include "The Mentalist" and "Rome," revealed that he views "Gotham" as more than just a show set in a superhero universe.
As reported by
The Hollywood Reporter
, Heller says he chose to focus the series on the all too human detective James Gordon rather than Batman. The "psychological collapse of Gordon" is one of his favorite things to write. Gordon will be tested even more in the show's upcoming third season, which will see him becoming "a bounty hunter, looking for those monsters that escaped" from the Indian Hill research facility in the season two finale.
Heller also had thoughts about the superhero genre and how it's presented on television, saying, "I don't think superheroes work very well on TV. Probably because of the costume thing." He added that "TV is about real people and faces and not so much about magic and the supernatural things." But "Gotham" doesn't totally shy away from the supernatural; after all, season three of the show will introduce a character that will use his powers to
drastically age up Ivy Pepper from a teenager to the adult Poison Ivy
.
As a prequel series, "Gotham" is driving towards a distant future ostensibly including the costumed superhero Batman — even if the show itself never gets that far. "Every season is moving towards the world, in which Batman has to emerge to save the day," said Heller. "So every season is doubling down on the chaos and anarchy that is overtaking Gotham. So, things keep getting worse."
"Gotham" returns for season three on Monday, September 19 on Fox.