YOUR FIRST LOOK AT AVX: VS #2– AN AVENGERS VS. X-MEN TIE-IN!
04/17/12 @ 1:53 pm EST
Source:
Marvel
|
Comments
(0) |
E-mail Article
|
Add a Comment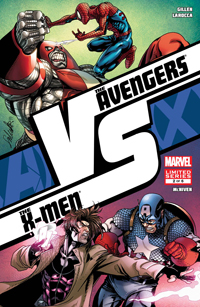 Marvel is proud to present your first look at,
AVX: VS #2,
the explosive, no holds barred, action packed tie-in to the smash-hit blockbuster event of the year –
Avengers VS. X-Men
! From acclaimed creators, Kieron Gillen, Salvador Larroca & Steve McNiven; catch the cover to cover battles - featuring unimaginable chaos as Spider-Man takes on Colossus & Captain America faces off against the ragin' Cajun, Gambit! Don't miss out on all the pulse-pounding action in
AVX: VS #2,
available in comic shops worldwide and on the
Marvel Comics app
this May!
Which team will reign supreme? Join the conversation on Twitter with
#AvX
!
For more on
Avengers VS X-Men
, please visit
http://avx.marvel.com
AVX: VS #2 (MAR120528)
Written by KIERON GILLEN & STEVE MCNIVEN
Art by STEVE MCNIVEN & SALVADOR LARROCA
Cover by SALVADOR LARROCA
Variant Cover by STEVE MCNIVEN
Rated T+…$3.99
FOC –4/23/2012, ON SALE – 5/16/2012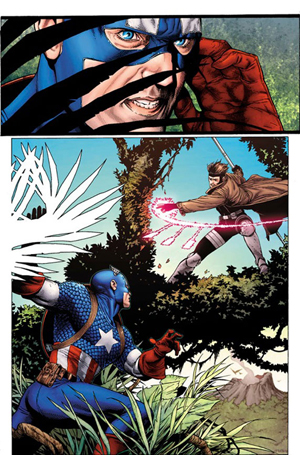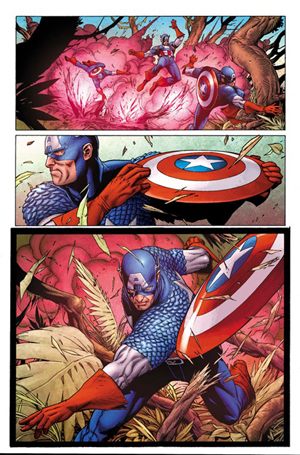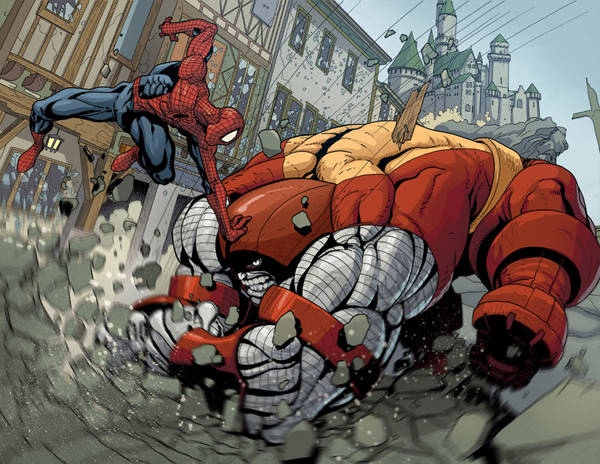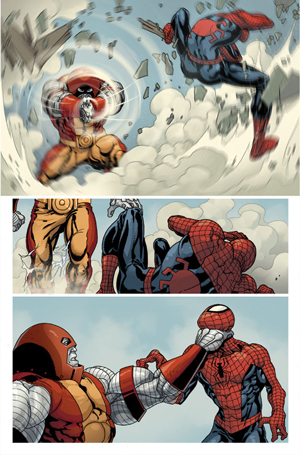 To find a comic shop near you, visit
www.comicshoplocator.com
or call 1-888-comicbook.


Marvel Entertainment, LLC, a wholly-owned subsidiary of The Walt Disney Company, is one of the world's most prominent character-based entertainment companies, built on a proven library of over 8,000 characters featured in a variety of media over seventy years. Marvel utilizes its character franchises in entertainment, licensing and publishing. For more information visit
www.marvel.com
MATT FRACTION REFLECTS ON 'HAWKEYE,' OFFERS SEX TIPS ON 'LATE NIGHT'
05/22/15 @ 9:46 pm EST
Source:
Comic Book Resources
| Categories:
MIsc
|
Comments
(0) |
E-mail Article
|
Add a Comment
Writer Matt Fraction appeared last night on NBC's Late Night with Seth Meyers, where he offered sex advice from
Just the Tips
, the book he co-authored with his
Sex Criminals
collaborator Chip Zdarsky, and discussed the inspiration behind his run on Marvel's
Hawkeye
.
"The book was really about what Hawkeye does when he goes home to do his laundry," Fraction explained. "It's like Hawkeye on his day off. To me he's the human heart and soul of the Avengers, so it was fun to do a book like that about somebody who compulsively can't stop helping people, even when he's a human crap-sack tire fire of a human being. That's on the back of the action figure: 'human crap-sack.'"
Fraction's appearance on Late Night follows Joe Hill's in November and Brian Michael Bendis' in January.
Watch most of the Fraction interview right here:
https://www.youtube.com/watch?v=VpVIfaSX77o
BREAKING: OPENING CEREMONIES AT DENVER COMIC CON
05/22/15 @ 9:27 pm EST
Source:
Bleeding Cool
| Categories:
MIsc
|
Comments
(0) |
E-mail Article
|
Add a Comment
Not very many cons have Opening Ceremonies, but
Denver Comic Con
sure planned a big event, complete with geek music from the Proto Men. All passholders were permitted entry to the bash, but advised to turn up early to get access since though the area used for the event was large, every space has its limit. Some of the draw for coming to the event included receiving a swag bag from Geek Fuel, a subscription service, getting early access to DCC t-shirts and memorabilia, and a special Hard Rock Cafe pin available for the con. The draw was significant, as the event did reach its capacity by around an hour before it began, with fans waiting in an alternate hall until it was time to be seated. The mood and atmosphere was very charged, clearly the attendees were ready to get this con started. Of course, for many this is their premier pop culture event of the year and tonight marks the beginning of their geek festival of the year.
Clips from fan-favorite films got the crowd cheering, including Avengers, Big Hero 6, The Princess Bride, The Lord of the Rings, and more. It became clear after awhile that these films and clips were all chosen because they corresponded to guests at the show!
In opening for the "coolest city in the world", to applause, fans were thanked for making the city special. The opening also introduced the idea of Pop Culture Classroom to the attendees, something all fans who have bought tickets have "contributed" to to make a difference "throughout the state" ... (Source: Bleeding Cool)
"FANTASTIC FOUR'S" MICHAEL B. JORDAN RESPONDS TO CRITICS OF A BLACK HUMAN TORCH
05/22/15 @ 9:15 pm EST
Source:
Comic Book Resources
| Categories:
Fantastic Four
|
Comments
(0) |
E-mail Article
|
Add a Comment
Michael B. Jordan, who co-stars in this summer's"Fantastic Four" film, responded to the harsh criticism from fans looking for a more "traditional" Johnny Storm -- the character, as depicted in Marvel Comics, is blonde-haired and white -- in an open letter published by Entertainment Weekly.
Jordan opens the letter by recounting the way he broke an unspoken Hollywood rule: Don't check the Internet after you've been cast as a superhero. When he did, he encountered a harsh response and cries of political correctness.
"It used to bother me, but it doesn't anymore," he wrote. "I can see everybody's perspective, and I know I can't ask the audience to forget 50 years of comic books. But the world is a little more diverse in 2015 than when the Fantastic Four comic first came out in 1961. Plus, if Stan Lee writes an email to my director saying, 'You're good. I'm okay with this,' who am I to go against that?"
"This is a family movie about four friends -- two of whom are myself and Kate Mara as my adopted sister -- who are brought together by a series of unfortunate events to create unity and a team. That's the message of the movie, if people can just allow themselves to see it," he added.
Jordan expressed a desire to "set an example," hopefully leading to more performers of color in prominent Hollywood roles rather than being "true to the comic book." To conclude, he addressed "trolls on the Internet" directly, saying, "Get your head out of the computer. Go outside and walk around. Look at the people walking next to you. Look at your friends' friends and who they're interacting with. And just understand this is the world we live in. It's okay to like it."
"Fantastic Four" opens on August 7.
NANCY COLLINS TALKS VAMPIRELLA AND JENNIFER BLOOD FOR NEW SWORDS OF SORROW MINI
05/22/15 @ 6:38 pm EST
Source:
Bleeding Cool
| Categories:
Swords of Sorrow
|
Comments
(0) |
E-mail Article
|
Add a Comment
Doug Murray,
co-writer of
Jungle Girl: Season 3
#2, talks with writer
Nancy Collins
about
Swords of Sorrow: Vampirella/Jennifer Blood
#1, both on sale now. Cover art by
Billy Tan
.
DOUG MURRAY: A hero/killer that targets sleazebags seems very similar. What makes Jennifer Blood different from, say, the Executioner, the Punisher, etc.NANCY COLLINS:
Jennifer Blood, as opposed to the Executioner or the Punisher, comes from a crime family. In fact, she was the daughter of its boss. Her father was murdered by his own brothers when he tried to make their syndicate more 'legit', and one of her uncles was responsible for driving her mother to suicide. While she is motivated by revenge, she is more a rebel insider than an ex-military man or former undercover cop. And, unlike Mack Bolan and Frank Castle, she was still functioning as a wife and mother while exacting her vendetta against her uncles. She eventually lost her husband and children, as well—not to assassins, but as the consequences of her own actions. In fact, she murdered her own husband when he threatened to report her to the cops and divorce her for being a killer.
DM: Tell me more about 'the Kabal'.NC:
The Kabal is a covert supernatural organization run by monsters that polices monsters. Their agenda is to keep the more anti-social members of the supernatural community from doing things that would force the Vatican to mobilize its elite "Witches Hammer" strike-force, as well as prevent anyone from triggering The Apocalypse, as that would upend the power dynamic. Demons tend to possess humans and/or destroy them—and since a good number of the supernatural community (vampires, werewolves, etc) require humans as nourishment, Hell On Earth would spell extinction for them as well. The Kabal isn't a force for Good so much as it is Enlightened Self-Interest—Not unlike the CIA.
DM: Vampi flies several times in the story—twice in full view of various civilians. Is/Would this lead to complications?NC:
Vampirella isn't particularly worried about maintaining a 'secret identity' in her world. If she has to, she uses her hypnotism to wipe out memories. Weird crap happens in her universe all the time.
DM: In the Michael Moorcock 'Elric' books there are only two 'Mournblades'—in this series of stories, three are several—can you explain? Or is it a spoiler that has to be held until the end.NC:
You'd have to ask Gail Simone that question. I have no clue as to what the plot of the main series is—that's Gail's bailiwick. All I know is that Vampirella's sword is modeled on the sickle-sword of Kali and Jennifer Blood has a machete-like blade.
DM: Finally, in what sort of world is it possible for a red light district to form between two amusement parks that pride themselves on 'Family Entertainment'?NC:
Ours. There is notorious hooker strip in Anaheim between Disney World and Knott's Berry Farm called Beach Boulevard.
8 MONTHS LATER...ALL-NEW ALL-DIFFERENT
05/22/15 @ 6:29 pm EST
Source:
Marvel
| Categories:
Marvel
|
Comments
(0) |
E-mail Article
|
Add a Comment
THERE'S A SERPENT IN THE GARDEN IN SABRINA #3
05/22/15 @ 6:25 pm EST
Source:
Archie Comics
| Categories:
Archie
|
Comments
(0) |
E-mail Article
|
Add a Comment
It's the night before Halloween, the night before Sabrina's sixteenth birthday, the night of the blood-moon and the lunar eclipse, and Sabrina has made her decision: She will go into the woods of Greendale as a half-witch and emerge…on the other side of a frightful ritual…as a fully baptized member of the Church of Night. But there will be a cost, and his name is Harvey. And unbeknownst to Sabrina and her aunts, there is a serpent in the garden, their great enemy Madam Satan, who is conspiring against them...
For TEEN+ readers. Script: Roberto Aguirre-SacasaArt: Robert Hack, Jack MorelliCover: Robert HackTo Hell and Back Variant Cover: Robert HackOn Sale Date: 5/2732-page, full color comic $3.99 U.S.
KINGSMAN: THE SECRET SERVICE TPB GETS NEW COVER THIS JULY
05/22/15 @ 6:17 pm EST
Source:
Marvel
| Categories:
Marvel
|
Comments
(0) |
E-mail Article
|
Add a Comment
See the blockbuster movie? Read the book that started it all! Hot off the heels of the announcement of the upcoming sequel, we're pleased to announce that the original
Kingsman: The Secret Service
collection will receive a new printing this July with a brand new cover! Catch up on the story that started it all after the action-packed thriller comes home on DVD, Blu-Ray™ and Digital HD™.
Superstar writer Mark Millar and legendary artist Dave Gibbons bring you a story that reinvents the spy genre for a new generation – and inspired the blockbuster hit motion picture. Launched as part of Marvel's creator-owned ICON imprint,
KINGSMAN: THE SECRET SERVICE
continues the tradition of telling bold, can't miss stories from the biggest names in the industry.
Coming in July in a specially priced trade paperback collection,
KINGSMAN: THE SECRET SERVICE
collects Secret Service #1 - #6 and can be found in comic shops and wherever books are sold.
Kingsman: The Secret Service
is also available digitally. For more information on
Kingsman: The Secret Service
and Marvel's ICON imprint, visitMarvel.com.
KINGSMAN: THE SECRET SERVICE TPB
Written by MARK MILLAR
Art by DAVE GIBBONS
ISBN: 9780785192770 On Sale July 8th
LIONSGATE PLANS POWER RANGERS AS A SIGNIFICANT SERIES OF MOVIES
05/22/15 @ 5:54 pm EST
Source:
Comicbook
| Categories:
MIsc
|
Comments
(0) |
E-mail Article
|
Add a Comment
Lionsgate executives shared plans for the company's upcoming film slate with the press on Friday morning, including an update on the upcoming
Power Rangers
reboot movie.
The company says that, despite pushing the film's released date back from July to January, they have confidence in the project.
"We're very excited and with Dean's [Israelite] vision; we felt very comfortable looking for opportunistic dating," Lionsgate Motion Pictures Group Co-Chairman Rob Friedman explained on the conference call. "We really believe that great movies deliver no matter what date they're on."
The executives went on to say that the company sees
Power Rangers
as a "significant series of movies."
Power Rangers
is scheduled for release on January 13, 2017.
RYAN REYNOLDS MAKES BOY'S WISH COME TRUE ON DEADPOOL SET
05/22/15 @ 5:47 pm EST
Source:
Comicbook
| Categories:
Deadpool
|
Comments
(0) |
E-mail Article
|
Add a Comment
Watch out, Batkid. You have some competition now.Meet Kid Deadpool, a.k.a. Tony Acevedo. A young boy diagnosed with Hodgkin's Disease, Acevedo made a wish to visit the Deadpool movie set through the Make A Wish foundation. And no one granted that wish better than Deadpool star Ryan Reynolds, who shared his Deadpool mask and gloves with Acevedo. Reynolds then shared the experience on his Instagram page, fully confidant that Acevedo will beat the disease just as easily as he whipped Deadpool.
Tony Acevedo asked Make A Wish Foundation if he could meet Deadpool. I wasn't expecting him to sneak the mask, put on the gloves, smile... and then beat Deadpool about the face, arms and jugular with blazing speed. Tony's next fight is with Hodgkin's Disease. Hodgkin's Disease best be wearing its brown pants. Huge thanks to @makeawishamericaA photo posted by Ryan Reynolds (@vancityreynolds) on May 22, 2015 at 9:19am PDT
See? Deadpool does care about more than Chimichangas.
Deadpool hits theaters on February 12, 2016.
RUNAWAYS #1 UNLEASHES BATTLEWORLD'S BRIGHTEST TEENS THIS JUNE
05/22/15 @ 5:29 pm EST
Source:
Marvel
| Categories:
Marvel
|
Comments
(0) |
E-mail Article
|
Add a Comment
They are the brightest teens, brought together from all corners of Battleworld to attend the prestigious Doom Institute in the planet's capital. But this June, they're going to become…Runaways! Today, Marvel is pleased to present your first look at
RUNAWAYS #1
, as the cult-favorite hit comes to Secret Wars courtesy of rising comic stars Noelle Stevenson (
NIMONA, Lumberjanes)
and Sanford Greene (
Uncanny Avengers)
! Classes, exams, detention. Seems like a normal school, right? Except your headmaster is actually a diabolical super villain, and the final exam is a brutal match to the death! Only one solution: RUN AWAY! Now, super powered teens
Molly Hayes
,
Jubilee
,
Bucky Barnes
,
Cloak & Dagger
,
Amadeus Cho
,
Skaar
and a few new faces are set loose on Battleworld. If they survive the horrors of the Secret Wars, they just might learn a thing or two. Prepare for a new twist on a modern Marvel classic perfect for
fans old and new when
RUNAWAYS #1
hits comic shops this June!
RUNAWAYS #1 (APR150727)
Written by NOELLE STEVENSON
Art & Cover by SANFORD GREENE
Variant Cover by PHIL NOTO (APR150728)FOC – 05/25/15, On-Sale – 06/17/15