YOUR FIRST LOOK AT SCARLET SPIDER #4!
03/15/12 @ 3:21 pm EST
Source:
Marvel
|
Comments
(0) |
E-mail Article
|
Add a Comment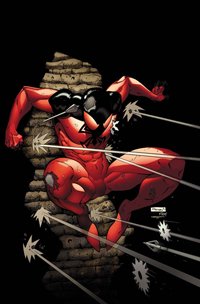 Marvel is proud to present your first look at,
Scarlet Spider #4,
from the red-hot creative team of Christopher Yost & Ryan Stegman. Kaine aka the Scarlet Spider, prepares for an onslaught unlike any he's ever faced before! The ruthless Assassins Guild has arrived in Houston with one objective- take down the Scarlet Spider at any cost! Will Kaine's super-human abilities be enough to outwit the band of murderous assassins gunning for his head? Find out in
Scarlet Spider #4,
hitting comic shops everywhere and the
Marvel Comics app
, this April!
SCARLET SPIDER #4 (FEB120564)
Written by CHRISTOPHER YOST
Pencils & Cover by RYAN STEGMAN
Rated T+…$2.99
FOC –3/19/2012, ON SALE – 4/11/2012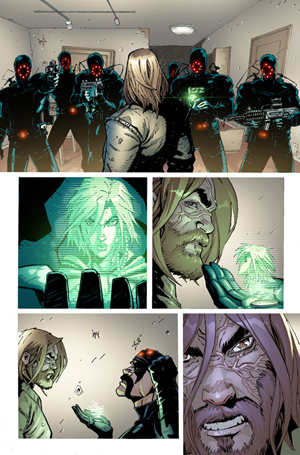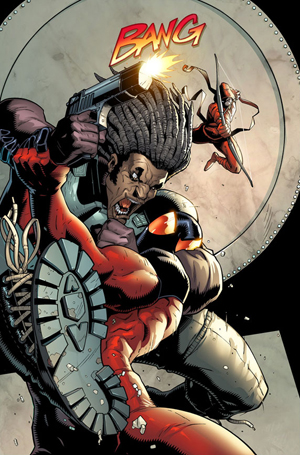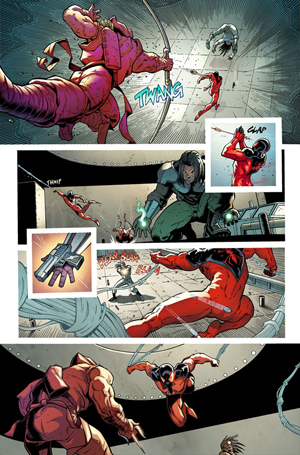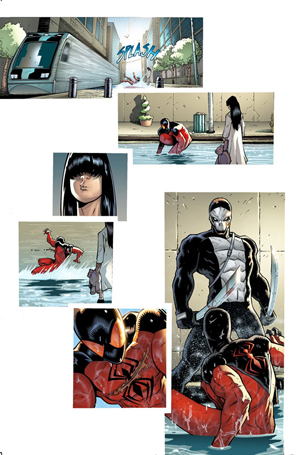 To find a comic shop near you, visit
www.comicshoplocator.com
or call 1-888-comicbook.


Marvel Entertainment, LLC, a wholly-owned subsidiary of The Walt Disney Company, is one of the world's most prominent character-based entertainment companies, built on a proven library of over 8,000 characters featured in a variety of media over seventy years. Marvel utilizes its character franchises in entertainment, licensing and publishing. For more information visit
www.marvel.com
ARROW CHARACTER ART FOR VIXEN RELEASED
08/05/15 @ 12:02 pm EST
Source:
Comicbook
| Categories:
Arrow
|
Comments
(0) |
E-mail Article
|
Add a Comment
The CW has released a new image showing off Oliver Queen's character design in the upcoming
Vixen
animated series on CW Seed.
Vixen
will be part of the same universe as The CW's
Arrow
and
The Flash
. The series is executive produced Marc Guggenheim, and will feature appearances by both Queen and Barry Allen.
Vixen
premieres Aug. 25.
See the full character art below.
DEADPOOL SAVES CONAN O'BRIEN'S LIFE IN NEW VIDEO
08/04/15 @ 11:53 pm EST
Source:
Comicbook
| Categories:
Deadpool
|
Comments
(0) |
E-mail Article
|
Add a Comment
In a newly-released clip from tonight's episode of
Conan
, Conan O'Brien speaks with the film's star, Ryan Reynolds, and shares his own memory of how Deadpool once saved his (Conan's) life.
It's really better if you just watch.
Check it out here:
http://teamcoco.com/video/ryan-reynolds-deadpool-conan-massage
BREAKING: 'DEADPOOL' FIRST TRAILER DEBUTS ONLINE
08/04/15 @ 11:48 pm EST
Source:
Variety
| Categories:
Deadpool
|
Comments
(0) |
E-mail Article
|
Add a Comment
After getting a standing ovation at Comic-Con in July, the first trailer for Ryan Reynolds "X-Men" spinoff "Deadpool" has finally been released online. The trailer premiering on "Conan" Tuesday.The R-rated Fox superhero movie directed by Tim Miller is due in theaters Feb. 12, 2016, and the trailer features plenty of action and f-bombs.
The trailer — equally emotional and comical — shows the Reynolds' Wade Wilson making the difficult decision to take on superpowers in order to cure the cancer in his liver, lungs, prostate and brain ("all things I can live without," he says),
"For one I think it's an absolute miracle that a studio let us make 'Deadpool' let alone a rated-R 'Deadpool,'" Reynolds told the Comic-Con audience of Fox's willingness to greenlight the film.
The actor appeared as a version of the character in 2009's "X-Men Origins: Wolverine."
The trailer:
https://youtu.be/FyKWUTwSYAs
'FANTASTIC FOUR' MUSCLES IN ON 'MISSION: IMPOSSIBLE 5′
08/04/15 @ 11:38 pm EST
Source:
Variety
| Categories:
Fantastic Four
|
Comments
(0) |
E-mail Article
|
Add a Comment
Mr. Fantastic, the Thing, Invisible Woman and the Human Torch are back, although the heroic quartet looks a lot different than they did when they took on the Silver Surfer eight years ago.
The Stan Lee and Jack Kirby characters are following in the footsteps of Spider-Man and the Hulk and getting a big screen reboot, intended to make the superhero team younger, fresher and hipper. Fox's "Fantastic Four" should debut to roughly $45 million, a little shy of the $56.1 million that 2005's "Fantastic Four" brought in during its opening. Fox says it will be happy with anything with a four in front of it.
Though a commercial success, the mid-aughts version was critically lambasted. In the talent department, this re-imagining appears to have the edge, bringing in a hot cast of up-and-coming actors like Miles Teller, Kate Mara, Jamie Bell and Michael B. Jordan, and matching them with Josh Trank, a young director who made a stir with the low-budget "Chronicle."
Trank gets a much bigger canvas this time. "Fantastic Four" carries a $120 million production budget and will hit 3,961 theaters.I
t's shaping up to be a fiercely competitive weekend at the multiplexes. Meryl Streep will try to rein in older moviegoers with "Ricki and the Flash," a dramedy about an aging rock star that Sony will release in 1,600 locations. The film cost $18 million to produce, and should bring in $6 million in its initial weekend. The hope is that this is a film that will mirror
"The Hundred Foot Journey" or Streep's "Hope Springs," starting modestly, but bringing in audiences over subsequent weeks. Interest is particularly high, because "Ricki and the Flash" is the first release from TriStar, the filmmaker-focused label, that Tom Rothman was tasked with reinvigorating before he took the top job at Sony last winter.
Then there's "The Gift," a creepy story of high school resentment from STX Entertainment. The newly launched studio is hoping to corner the market on mid-budget thrillers, comedies and dramas that others have abandoned in pursuit of comic book movies. "The Gift" was produced with Blumhouse Productions, the company behind "The Purge" and "Insidious," and carries a $5 million budget. It should bring in between $6 million and $8 million when it unspools across 2,470 locations.
And finally Lionsgate will field "Shaun the Sheep," a big screen version of the stop-motion animated television series from "Wallace and Gromit" creators Aardman Animations. The family film debuts on Wednesday and should pull in $10 million over its first five days and $6 million for the weekend. Reviewers love the picture, handing it a 100% "fresh" rating on Rotten Tomatoes.
But the major challenger for "Fantastic Four" comes in the form of last week's champ, "Mission: Impossible – Rogue Nation." The espionage franchise has always exhibited impressive durability. They never open to massive numbers, but they play and play. The latest IMF adventure should be no exception, particularly given that critics and audiences seem to have embraced the film, with some media types even proclaiming it a series best. After opening to just shy of $56 million, "Mission: Impossible – Rogue Nation" could pull in $30 million in its sophomore weekend.
Despite all the new releases, the weekend box office will struggle to match the year-ago period when "Teenage Mutant Ninja Turtles" debuted to $65.6 million and "Guardians of the Galaxy" made $42.1 million in its second week. A hot summer is cooling down.
IT'S CLOBBERING TIME IN LATEST "FANTASTIC FOUR" TV SPOTS
08/04/15 @ 8:31 pm EST
Source:
Comic Book Resources
| Categories:
Fantastic Four
|
Comments
(0) |
E-mail Article
|
Add a Comment
With "Fantastic Four's" premiere just a few days away, Fox has dropped new TV spots, including one in which the Thing drops his iconic "It's clobberin' time!" line with in a gravelly, deep pitched voice. All three spots show the quartet using their abilities and even offer a new glimpse or two at Doctor Doom.
Spot 1:
https://youtu.be/3_HEqnhL3R4
Spot 2:
https://youtu.be/NIJFOI_m4ks
FANTASTIC FOUR FEATURETTE – THE POSSIBILITIES OF TELEPORTATION
08/04/15 @ 8:11 pm EST
Source:
Bleeding Cool
| Categories:
Fantastic Four
|
Comments
(0) |
E-mail Article
|
Add a Comment
Dr. Michio Kaku
the theoretical physicist is back, this time to talk about teleportation in this featurette for the
Fantastic Four
.
Fox
is putting out a series of these looking at the science behind the film and this time it's looking at
Reed Richard's
obsession with teleportation and interdimensional travel. Reed is played by
Miles Teller
Fantastic Four
opens August 7th.
The featurette:
https://www.youtube.com/watch?feature=player_embedded&v=nQ2OqEmCCRU
THE LUMBERTEAM IS GROWING WITH THEIR FIRST EVER LUMBERJANES SPECIAL
08/04/15 @ 8:07 pm EST
Source:
Bleeding Cool
| Categories:
MIsc
|
Comments
(0) |
E-mail Article
|
Add a Comment
The Lumberteam is growing! BOOM! Box is welcoming writer Faith Erin Hicks (The Adventures of Superhero Girl) and newcomer artist Rosemary Valero- O'Connellto the awesome creative team behind the wildly successful comic Lumberjanes! Lumberjanes: Beyond Bay Leaf #1, written by Faith Erin Hicks, with art by Rosemary Valero-O'Connell, is the first-ever Lumberjanes special.

In this special one-shot issue, a monster is terrorizing the Lumberjanes camp and the girls go to stop it. However, it turns out that the monster is being framed and now the girls have to figure out who's doing it and to what end!

Look for Lumberjanes: Beyond Bay Leaf #1 to release this October.


DIVE INTO THE FINAL INSTALLMENT OF THE DARK CRYSTAL PREQUEL THIS SEPTEMBER
08/04/15 @ 8:03 pm EST
Source:
Bleeding Cool
| Categories:
MIsc
|
Comments
(0) |
E-mail Article
|
Add a Comment
Archaia, an award-winning imprint of BOOM! Studios, and The Jim Henson Company, an established leader in family entertainment for over 50 years, are pleased to announce the third and final installment in the exciting prequel to The Dark Crystal film, Jim Henson's The Dark Crystal: Creation Myths Vol. 3, from writer Matthew Dow Smith (Jim Henson's The Storyteller: Witches) and returning artist Alex Sheikman. Following the events of the Great Conjunction, the once-powerful Urskeks have been split into two separate beings: the Skeksis and the Mystics. As the aftermath of the Great Conjunction wreaks havoc upon the Gelfling tribes, the Gelfling may have no choice but to rely upon the one race offering aid: the Skeksis.


MARK WAID DISCUSSES JUSTICE INC: THE AVENGER
08/04/15 @ 4:55 pm EST
Source:
Comic Vine
| Categories:
Dynamite
|
Comments
(0) |
E-mail Article
|
Add a Comment
Byron Brewer talked toMark Waid aboutJUSTICE INC: THE AVENGER forDynamite comics.
BYRON BREWER: Mark, from the beginning you have been very interested in or creating the Avenger's past. What is it about this character that fascinates you and other writes so much among all the pulps?MARK WAID:
I think it's that "obscure band that I found" syndrome--that the Avenger is a cool character who's not nearly as well known as his brethren the Shadow and Doc Savage and the Spider. That makes him feel special to me.
BB: Speaking of past, we meet another character – and an instrumental one – in October's issue #5. Can you give us just a taste of who this is and what the individual meant to Richard Benson?
MW:
He's a film star from the early days of the silver screen who taught Benson the art of disguise. He's my favorite new character in forever -- a mentor who also becomes a student.
BB: Will we be seeing any additions to Justice Inc. in coming issues?MW:
This is it for a bit -- I'd rather concentrate on developing the existing cast.
BB: Any guest appearances in the wings from perhaps Doc Savage or the Shadow?MW:
I should call you and we should talk. It's long been my dream to do an Avenger/Doc Savage crossover where the two heroes swap supporting characters. I'd love to someday write a story featuring the Avenger plus the Fabulous Five, and Doc plus Justice Inc. Dibs!
BB: Ha! Already got it copyrighted, my friend! … Now Mark, what would you say is artist Ronilson Freire's greatest strength on this book?MW:
The character work. The acting. His characters move, and that propels the story.
BB: Finally, what is up with the addition of co-writer Christopher Sequeira?MW:
Chris is a terrific Aussie author whom I've known for years and years, and we've been trying to find something to collaborate on for a while. Turns out the Avenger is one of his favorite characters, too -- so we're having a blast riffing away!
Make sure to check out JUSTICE INC: THE AVENGER from Dynamite!
THE CW'S 'LEGENDS OF TOMORROW' CASTS CASPER CRUMP AS DC VILLAIN VANDAL SAVAGE
08/04/15 @ 4:35 pm EST
Source:
Variety
| Categories:
DC
|
Comments
(0) |
E-mail Article
|
Add a Comment
"DC's Legends of Tomorrow" has found its Vandal Savage in Danish actor Casper Crump, who will make his debut as the iconic comicbook villain in crossover episodes of "Arrow" and "The Flash" before continuing the recurring role on the CW's super-powered spinoff at midseason.
Vandal Savage is immortal, having spent the past 6,000 years moving like a virulent disease through history, whispering in the ears of despots and dictators, all leading to his eventual domination of the world.He joins newly announced cast member Falk Hentschel, who will play Carter Hall/Hawkman in the spinoff series, along with previously confirmed stars Brandon Routh (Ray Palmer/The Atom), Caity Lotz (Sara Lance/White Canary), Victor Garber (Dr. Martin Stein/Firestorm), Wentworth Miller (Leonard Snart/Captain Cold), Dominic Purcell (Mick Rory/Heat Wave), Ciara Renée (Hawkgirl/Kendra Saunders), Franz Drameh (Jay Jackson) and Arthur Darvill (Rip Hunter).