YOUR FIRST LOOK AT SCARLET SPIDER #4!
03/15/12 @ 3:21 pm EST
Source:
Marvel
|
Comments
(0) |
E-mail Article
|
Add a Comment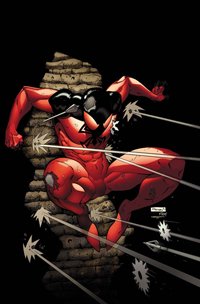 Marvel is proud to present your first look at,
Scarlet Spider #4,
from the red-hot creative team of Christopher Yost & Ryan Stegman. Kaine aka the Scarlet Spider, prepares for an onslaught unlike any he's ever faced before! The ruthless Assassins Guild has arrived in Houston with one objective- take down the Scarlet Spider at any cost! Will Kaine's super-human abilities be enough to outwit the band of murderous assassins gunning for his head? Find out in
Scarlet Spider #4,
hitting comic shops everywhere and the
Marvel Comics app
, this April!
SCARLET SPIDER #4 (FEB120564)
Written by CHRISTOPHER YOST
Pencils & Cover by RYAN STEGMAN
Rated T+…$2.99
FOC –3/19/2012, ON SALE – 4/11/2012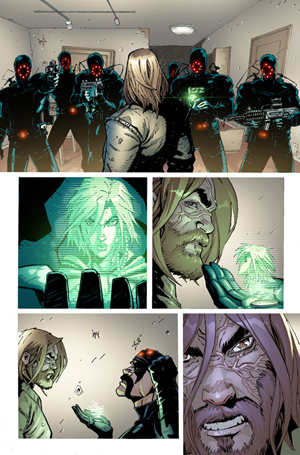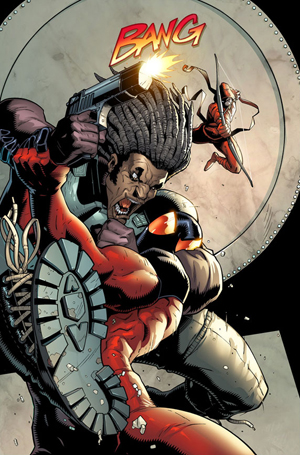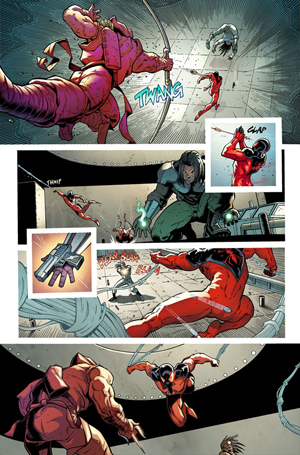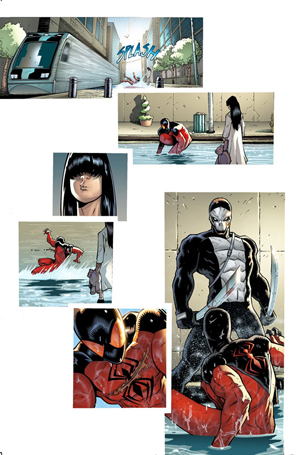 To find a comic shop near you, visit
www.comicshoplocator.com
or call 1-888-comicbook.


Marvel Entertainment, LLC, a wholly-owned subsidiary of The Walt Disney Company, is one of the world's most prominent character-based entertainment companies, built on a proven library of over 8,000 characters featured in a variety of media over seventy years. Marvel utilizes its character franchises in entertainment, licensing and publishing. For more information visit
www.marvel.com
KEATINGE ANNOUNCES PRO WRESTLING-THEMED SERIES
07/02/15 @ 8:32 pm EST
Source:
Comic Book Resources
| Categories:
Image
|
Comments
(0) |
E-mail Article
|
Add a Comment
The line between comics and professional wrestling is about to get even blurrier. During the keynote address at this year's Image Expoin San Francisco, frequent Image writer Joe Keatinge took to the stage to announce a new ongoing series -- "Ringside."
The series will focus on what happens when the attention of screaming crowds and wrestling announces is focused elsewhere, as indicated by "Ringside's" tagline: "The real violence is outside the ring." The comic boasts a logo designed by Brandon Graham and will feature art from newcomer Nick Barber, who Keatinge found online.
"This is a book about the relationships that form throughout this industry," said Keatinge atImage Expo. The writer said that his favorite wrestler, Mick Foley, inspired him to take a deeper look at professional wrestling and learn more about what goes on behind the scenes. He also equated defunct cult-favorite organization ECW to Image Comics.
JOHNSTON, CHANKHAMMA SET SIGHTS ON "CODENAME BABOUSHKA" AT IMAGE EXPO
07/02/15 @ 8:28 pm EST
Source:
Comic Book Resources
| Categories:
Image
|
Comments
(0) |
E-mail Article
|
Add a Comment
Writer Antony Johnston and co-creator/artist Shari Chankhamma will soon flip the spy genre upside-down with "Codename Baboushka," an all-out action series that sees the writer cutting loose like never before.
From the stage at Image Expo, Johnston gave the logline for his new espionage-action series. "What if the sexy, Russian femme fatale was actually the hero?"
The series will star a former member of the Russian mafia that has relocated to New York City, where she's laying low. Her quiet life is then interrupted when she's blackmailed into taking on classified black-ops missions."
'Baboushka' is a little bit of a labor of love for me," said Johnston, who revealed that he's been working on this series in some form or fashion for years. "It's also a chance for me to let my hair down. This book has brains and plenty of explosions. And guns. And high kicks. And necks getting snapped. You get the idea."
The first arc is titled "The Conclave of Death," and will feature covers from artists including Tula Lotay, Annie Wu, Leila del Duca and Kate Leth.
BREAKING: LOTAY TALKS REUNITING WITH ELLIS ON
07/02/15 @ 8:16 pm EST
Source:
Comic Book Resources
| Categories:
Image
|
Comments
(0) |
E-mail Article
|
Add a Comment
Fans of "Supreme: Blue Rose" likely rejoiced when a new Image Comics collaboration between the incomparable Warren Ellis and artist Tula Lotay was announced earlier today at Image Expo.
This time around, they're setting their sites on a genre bending horror series titled "Heartless."
Image described the book as follows:
"A musician returns to northern England, where her family owned a little cottage in the middle of a forest. She wrote her first album there, and she's "going back to the countryside," as musicians used to, to write her next one. But the forest doesn't want her there. She's returning to face her demons -- one in particular -- and put herself back together, but the forest remembers what she did, and the devil wants his due."
In other words, exactly the kind of material both creators were born to produce.
"I wrote this for Tula," Ellis told CBR. "It's full of all the stuff we love: the spooky stories, the landscape, the folklore, and the things that haunt us."
PAUL RUDD'S 'ANT-MAN' COULD HIT MIGHTY $65M IN JULY 17 DEBUT
07/02/15 @ 8:10 pm EST
Source:
Hollywood Reporter
| Categories:
Ant Man
|
Comments
(0) |
E-mail Article
|
Add a Comment
Overcoming years of drama and defying naysayers, Marvel Studios and Disney's Ant-Man is tracking to open as high as $65 million at the North American box office in what would mark a big win for the world's tiniest superhero and star Paul Rudd.

Two weeks out, tracking services have the film debuting in the $55 million-$65 million range, but may believe it will come in on the high end, considering Marvel's track record. Last summer, Marvel's off-beat Guardians of the Galaxy surprised in debuting to $94.3 million domestically.

If prerelease surveys are right, Ant-Man is further proof of Marvel's ability to create a stable of diverse and quirky superheroes that don't all fit the conventional mold. In the case of Ant-Man, the movie is far more comedic that other superhero movies.
SHANE DAVIS DEALS WITH GODS & TROUBLED TEENS IN "AXCEND"
07/02/15 @ 4:18 pm EST
Source:
Comic Book Resources
| Categories:
Image
|
Comments
(0) |
E-mail Article
|
Add a Comment
When Eric Morn signed up to beta test a new online game, he thought it would be nothing more than a fun distraction from the dregs of his everyday life -- bullies in school and mourning the loss of his twin brother. But what he didn't realize was that by activating his in-game character, he would transform into a god-like hero, ready to protect the wo-rld from impending disaster. Alongside co-players Rayne and Ruin, Eric must now face society's fear of their powers and race to prevent a global nuclear holocaust. But can Eric level up in time, or will it be game over? That's the central question of "Axcend," the new ongoing Image Comics series announced today at Image Expo by writer/artist Shane Davis, inker Michelle Delecki and colorist Morry Hollowell. The series debuts October 7. Davis told CBR that, after roughly a decade drawing for DC Comics, he is ready to embrace creator-owned work.
RUCKA, SCOTT BRING 'BLACK MAGICK' TO IMAGE
07/02/15 @ 3:31 pm EST
Source:
Comic Book Resources
| Categories:
Image
|
Comments
(0) |
E-mail Article
|
Add a Comment


Greg Rucka announced during Image Expo that he is doubling down on his partnership with Image Comics, adding the supernatural series "Black Magick" to his workload in addition to his currently running Image series, "Lazarus."

Both Rucka and "Magick" artist Nicola Scott (DC's "Secret Six") were present at Image Expo to announce the series, which has been in production since 2010. Rucka recounted how he initially arrived at Image, saying that he first talked to Image partner Robert Kirkman about doing a series with the creator-driven publisher. While "Lazarus" came into existence first, Rucka revealed that "Black Magick" was what he initially discussed with Kirkman back in 2009 at WonderCon. Scott has been attached to the project since 2010.

"It's a police procedural, but it's not," Rucka said. "It's supernatural investigation, but it's not. It's a story of legacy and destiny, and bad things that go bump in the night." Rucka said they'll be doing a magazine-sized format issue, similar to what was done for the first issue of Ed Brubakerand Sean Phillips' Image series, "Criminal." "Because when Ed Brubaker has a good idea, I steal it," joked Rucka. "I have been waiting years to share this with you guys."

"Black Magick" is set to launch in October with the plan being to publish nine issues a year and for the series to run for 30 issues total.
'THANOS: THE INFINITY FINALE' COMING FROM STARLIN & LIM IN 2016
07/02/15 @ 3:14 pm EST
Source:
Comic Book Resources
| Categories:
Thanos
|
Comments
(0) |
E-mail Article
|
Add a Comment
In 2016, Jim Starlin and Ron Lim will reunite for Marvel Comics' "Thanos: The Infinity Finale," which will conclude their "Thanos" trilogy. The graphic novel will directly follow their work on "Thanos: The Infinity Revelation"and "Thanos: The Infinity Relativity."In an interview with Marvel.com, Starlin offered a few hints about what's to come in "The Infinity Finale," including why he chose Annihilus to face down Thanos: "I always thought him a great and bizarre villain and wanted to up his game and the stakes he played for to a level that would make him a worthy adversary for the Mad Titan. Plus with him getting the ultimate power source, it gave me a chance to play with some concepts I've longed to toy with." According to Starlin, those concepts include, but are not limited to, infinite realities, omni-reality perception, the instability of actuality and the limits of omnipotence.He also revealed that, when Thanos returns, he will not be alone -- whether or not his supporting cast likes it. "Quite a few of Marvel's more cosmic characters will be quite unwillingly showing up in this story, including but by no means limited to the Silver Surfer, Galactus, Gladiator, Thor, the Hulk, Black Bolt, Doctor Doom, etc," he shared. "There's also a
very special and unexpected guest star
stepping onto the stage near the end of our tale."As to what makes Lim the right artistic choice for this book, Starlin said, "Ron and I have always been on the same page when it comes to storytelling. We don't see each other all that often but that aspect of our relationship has remained strong through both time and space. Maybe we're cosmic twins? Besides, Ron started off with me on this tale, way back in the 'Thanos Annual.' It's only fitting we leave the dance together.""'Infinity Finale' just might be my swan song with these characters," he concluded, describing the book as "a fun-filled mind-blowing ride on the cosmic rollercoaster."Jim Starlin and Ron Lim's "Thanos: The Infinity Finale" is scheduled to arrive at retailers in 2016.
ARCHIE'S DARK CIRCLE INTRODUCES NEW TEEN HERO IN 'THE WEB'
07/02/15 @ 2:52 pm EST
Source:
Comic Book Resources
| Categories:
Archie
|
Comments
(0) |
E-mail Article
|
Add a Comment
The heroes of Archie's Dark Circle Comics imprint have a long legacy at the publisher. While virtually all of them have been re-imagined time and again over the years, one hero in particular has perhaps seen the most dramatic changes from one incarnation to the next.
And now, The Web will undergo its most drastic reinvention yet.
Since its 1942 debut, "The Web" has been cast as an avenging crimefighter, a harried husband, and a team of black ops agents. With the hero's new Dark Circle ongoing series, you can add "multi-ethnic teen girl cosplayer" to that mix. Coming on the heels of series like "Black Hood" and "The Fox," the new Web joins upcoming Dark Circle books "The Shield" and "The Hangman" in diversifying the tone of the line when it arrives in 2016.
CBR talked with "Web" writer, crime novelist Dave White, and the new comics scribe said that lead Jane Raymond fits in the legacy of previous Webs, that the mean streets of New Jersey make for fertile ground for a superhero story, and that cosplay and Internet fandom are a vital part of his "The Web."
NEW DEADPOOL IMAGE RELEASED
07/02/15 @ 2:38 pm EST
Source:
Comicbook
| Categories:
Deadpool
|
Comments
(0) |
E-mail Article
|
Add a Comment
20th Century Fox has released a new image of Ryan Reynolds as Deadpool.
Deadpool
, which will bring Marvel Comics' Merc With a Mouth to the big screen, is currently filming right now. But with San Diego Comic-Con right around the corner, a new image of Wade Wilson in action has surfaced from Entertainment Weekly. Starring Ryan Reynolds as the titular character,
Deapool
also features Morena Baccarin, T.J. Miller, and Gina Carano. It is directed by Tim Miller.
DEADPOOL CREATOR ROB LIEFELD HIDING 24 SKETCHES AT COMIC-CON
07/02/15 @ 2:33 pm EST
Source:
Comicbook
| Categories:
Deadpool
|
Comments
(0) |
E-mail Article
|
Add a Comment
Deadpool fans are going to be kept busy during next week's Comic-Con International: San Diego with a scavenger hunt featuring sketches by Deadpool's creator Robert Liefeld.
Liefeld will create 24 sketches, to be hidden around the convention and the surrounding Gaslamp Quarter. So if you see someone dressed up as the Merc with a Mouth curiously searching the streets, this is probably why.
"I'm celebrating the big, huge 24th year that Deadpool is having by hiding 24 Deadpool drawings in all shapes and sizes all over the greater comic con staging area," Liefeld tells ComicBook.com. "This extends from the convention center to the Gaslamp and surrounding restaurants. Also at the various parties I'll be attending. I want to give something back to the tremendous fan following Deadpool has had since I introduced him in the pages of
New Mutants
#98!"
The only way to know when and where Liefeld will be making the drops is by following him on
Twitter
,
Instagram
and Periscope! This year's Comic-Con International: San Diego takes place July 9-12, so get out there and start searching!Wade Wilson has a big year ahead of him as Ryan Reynolds is starring in Deadpool's first solo film.
Deadpool
is currently filming and opening in theaters in February.