YOUR FIRST LOOK AT SCARLET SPIDER #4!
03/15/12 @ 3:21 pm EST
Source:
Marvel
|
Comments
(0) |
E-mail Article
|
Add a Comment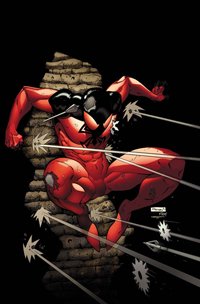 Marvel is proud to present your first look at,
Scarlet Spider #4,
from the red-hot creative team of Christopher Yost & Ryan Stegman. Kaine aka the Scarlet Spider, prepares for an onslaught unlike any he's ever faced before! The ruthless Assassins Guild has arrived in Houston with one objective- take down the Scarlet Spider at any cost! Will Kaine's super-human abilities be enough to outwit the band of murderous assassins gunning for his head? Find out in
Scarlet Spider #4,
hitting comic shops everywhere and the
Marvel Comics app
, this April!
SCARLET SPIDER #4 (FEB120564)
Written by CHRISTOPHER YOST
Pencils & Cover by RYAN STEGMAN
Rated T+…$2.99
FOC –3/19/2012, ON SALE – 4/11/2012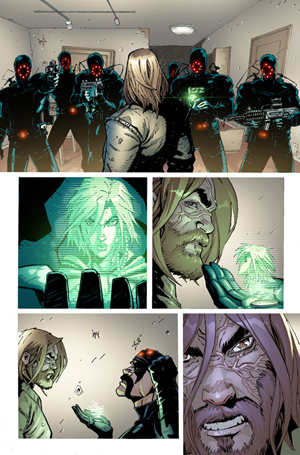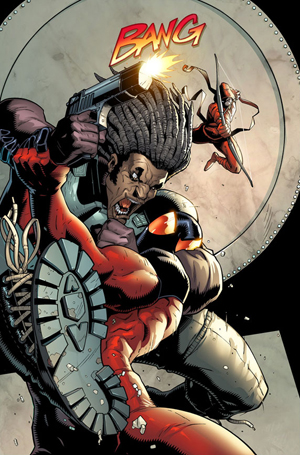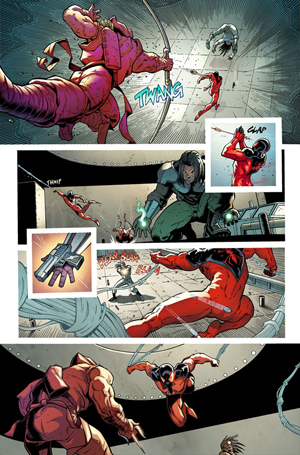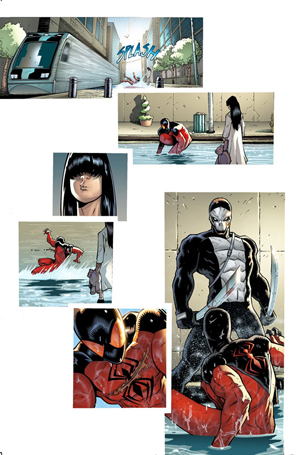 To find a comic shop near you, visit
www.comicshoplocator.com
or call 1-888-comicbook.


Marvel Entertainment, LLC, a wholly-owned subsidiary of The Walt Disney Company, is one of the world's most prominent character-based entertainment companies, built on a proven library of over 8,000 characters featured in a variety of media over seventy years. Marvel utilizes its character franchises in entertainment, licensing and publishing. For more information visit
www.marvel.com
NEW STORMTROOPER FROM 'ROGUE ONE' REVEALED IN 'STAR WARS' POSTER
05/25/16 @ 10:28 pm EST
Source:
Comic Book Resources
| Categories:
Star Wars
|
Comments
(0) |
E-mail Article
|
Add a Comment
"Rogue One: A Star Wars Story" is set to debut this December, and this new poster provides a detailed look at some of the new characters, technology and Stormtroopers in the film.
This poster was released today for the annual Star Wars Celebration Europe, an annual "Star Wars"-themed event which takes place July 15 – 17 in London. The poster was debuted on the "Star Wars Show" today, but Slash Film was able to get a high resolution version of the poster.
The poster features five main characters from "Star Wars: The Force Awakens:" Rey, Finn, Kylo Ren, Luke Skywalker, and Poe Dameron. It also features actors Felicity Jones, Diego Luna, Ben Mendelsohn, and Donnie Yen who all star in "Rogue One: A Star Wars Story."
If you look closely you can also see three new elements from "Rogue One:" new Stormtroopers, AT-AT walkers, and a squad of Troopers. According to Slash Film, these Stormtroopers are actually called Shoretroopers, and they can be seen in action on the beach in the "Rogue One" trailer. The AT-AT-like machine is actually an AT-ACT, which stands for All Terrain Armored Cargo Transport. The collection of black Stormtroopers on the poster are also called a Death Squad. It's hard to say why the theft of the Death Star plans lead the cast of "Rogue One" to a beach head battle, but more plot details should be revealed as we get closer to the film's release date.
"Rogue One" hits theaters on December 16.
MAJOR "JUSTICE LEAGUE" #50 REVELATIONS, CHANGES LEAD INTO "DC UNIVERSE: REBIRTH"
05/25/16 @ 10:23 pm EST
Source:
Comic Book Resources
| Categories:
Justice League
|
Comments
(0) |
E-mail Article
|
Add a Comment
SPOILER WARNING: This article contains major spoilers for Geoff Johns and Jason Fabok's "Justice League" #50 and "DC Universe: Rebirth" one-shot.
"The Darkseid War" concluded in Geoff Johns and Jason Fabok's "Justice League" #50, just ahead of the events in the DC Universe-changing Rebirth event. But before the League's heroes -- and some of its biggest villains -- experience the changes hinted at in the "DC Universe: Rebirth" one-shot, they experienced some genuinely massive changes in their last New 52 issue.
Superwoman's Baby is Born -- and She Dies
Over the course of the arc, the Crime Syndicate has bid their time, awaiting the birth of Superwoman's baby without revealing any details about the child or its father. In "Justice League" #50, however, all was revealed after she finally gave birth to a son who -- like his father Alexander Luthor -- could absorb all energy, "even that of the gods." Superwoman then wielded the child like a weapon with the intention to absorb the Justice League's collective powers.
However, it wasn't long until Grail used Superwoman's overconfidence as an opportunity to destroy Superwoman and seize the child for herself. With his power, she removed the League's new god-like abilities and separated the Black Racer from the Flash. Following a major death that shook even Grail to her core, she slipped away with the child, unnoticed by the League.
Jessica Cruz: Green Lantern
For most of "The Darkseid War," Jessica Cruz was sidelined by Volthoom, aka Power Ring; while she was present for the action, she had no control over her own body. Similarly, Volthoom had trapped Cyborg inside the ring so that Grid, another member of the Power Syndicate, could seize control of his technology. Confined to the ring together, Jessica and Cyborg devised a plan, and Cyborg managed to hack the ring's supernatural technology so that Jessica could momentarily regain control.
Realizing that the Black Racer intended to kill Flash, Jessica used her moment to make a sacrifice play, leaping between the two speedsters. As such, the Black Racer was able to claim a life -- but it wasn't Jessica's. The Black Racer killed Volthoom, which simultaneously released Jessica and Cyborg from his control.
In sacrificing herself to save Flash, Jessica showed the ability to overcome great fear and was subsequently enlisted into the Green Lantern Corps. Though they don't question her worth, Hal Jordan and Jon Stewart are both puzzled as to why the ring thinks their sector needs another ring. They can't explain it, but Jessica Cruz has officially leveled up to full Green Lantern.
Lex Luthor: Ruler of Apokolips
Following Grail's defeat and the end of the war, Lex Luthor returned to Apokolips. There, he was greeted by Ardora, a rebellion leader who who offered him a throne and a symbol -- a very familiar symbol, in fact. Luthor ascended his throne, Mother Box in hand, and revealed Superman's S-shield on a set of new red-and-blue armor. During the scene, he tells his followers that he intends to lead a revolution on the faraway planet following Darkseid's demise.
Barda's Pact
Previously, Barda disappeared in the heat of battle, leaving Mister Miracle behind to fight with the Justice League. This issue, she returns with the Furies in tow, adding some much-needed reserve fighters to the conflict. However, in doing so, she made a deal with the devil; the Furies only agreed to help the Justice League defeat Grail if that meant she would return to them after all was said and done. As she left him behind in the rubble, she told him, "I am sorry, Scot. I did it for you" and disappeared with the other Furies.
Darkseid Reborn -- Literally
During the battle, Grail used Superwoman's son to absorb the powers of the Justice League, but they weren't the only ones she drew from: she also used the child to resurrect Darkseid with the anti-life equation. As the Justice League attempted to bring down this new, fully-formed Darkseid, Batman revealed that the only way to take him down was to separate the anti-life equation from him -- but that only Grail could do it.
As Diana, Grail and her mother Myrina fought, Diana used her lasso to extract the truth from Grail, who revealed that she believes she cannot be anything more than the darkness she inherited from her father. During Grail's moment of defeat, Myrina made a sacrifice play, allowing Grail to kill her to satisfy her bloodlust; in doing so, Grail also separated Darkseid and the anti-life equation, reducing Darkseid back to child form.
While the Justice League recovered from the battle, Grail took the child and disappeared. In one of the closing scenes, she soothed the child by telling him that she intends to raise him so that he has a second chance; she hopes to learn to love him, even as he retains all of Darkseid's power.
Wonder Woman's Brother
As she lay dying, Myrina told Diana about the night she and Grail were born. Myrina recalled stumbling across Queen Hippolyta in childbirth, only to watch as the Amazon gave birth not only to Diana, but to a son as well. Before Myrina could learn what the Amazons decided to do with the boy, Grail cried out and she was discovered, only to be chased off the island by Hippolyta's guards. Myrina told Diana to find Jason, stating that her brother was "the true chosen one."
Death of Owlman and Metron
As the Justice League clashed with Darkseid, Hal Jordan made a risky play and gave Batman his Green Lantern ring in order to shock him enough to leave the Mobius chair. Hal succeeded, but left Owlman the opportunity to seize the unattended Mobius char and disappear.
In the epilogue, Owlman reappears on the moon with Metron, who presided over the Mobius chair for eons. There, the two have a conversation, and Metron warned Owlman not to seek too many answers. Owlman scoffed at the suggestion and began to seek the secrets of the universe just a mysterious presence appeared before them. The presence -- who is likely Dr. Manhattan,as teased in the conclusion to "DC Universe: Rebirth" #1 -- then obliterated the two characters.
Johns and Fabok's "Justice League" #50 is now on sale. (Via CBR)
'GAME OF THRONES' BOSSES OFFER AN 'APOLOGY' FOR SUNDAY'S EPISODE
05/25/16 @ 10:05 pm EST
Source:
Variety
| Categories:
MIsc
|
Comments
(0) |
E-mail Article
|
Add a Comment
The executive producers of "Game of Thrones," David Benioff and D.B. Weiss, are used to traumatizing their viewers — but they don't often apologize for it.
On "Jimmy Kimmel Live" Tuesday night, the showrunners made an appearance to issue "a heartfelt apology" to the HBO series' loyal fans for the events of Sunday's episode, in which beloved character Hodor died protecting Bran Stark. Hodor's tragic death — holding a door to keep a horde of undead Wights away — came mere moments after we learned that Bran was somehow responsible for damaging Hodor's mind and leaving him incapable of saying anything other than "Hodor," as a result of Bran's ability to visit the past.
But the producers weren't apologizing for killing off Hodor — "we kill a lot of main characters," Benioff deadpanned — but instead for "all the idiots who, from now on, will be shouting 'Hodor' every time you go through a door.'"
Sitting on a couch covered in money, Weiss noted, "we forgot how annoying people can be — that's our bad." Benioff agreed, "We should've seen that coming."
"Game of Thrones" airs Sundays at 9 p.m. on HBO.

Video: https://youtu.be/6xpG74e_-94
EVANS WANTS MORE CAPTAIN AMERICA CAMEOS; ESPECIALLY IN "SPIDER-MAN: HOMECOMING"
05/25/16 @ 4:11 pm EST
Source:
Comic Book Resources
| Categories:
Captain Amerca
|
Comments
(0) |
E-mail Article
|
Add a Comment
In a new video, Chris Evans expresses interest in Captain America making more cameos across the Marvel Cinematic Universe, suggesting a possible team-up with the Guardians of the Galaxy, or -- more likely, as he admits -- with Spider-Man in the upcoming Jon Watts-directed "Spider-Man: Homecoming."
"Guardians would be fun, wouldn't it?" Evans told MTV News, when asked about Cap appearing in other Marvel movies. He added, "...but it's very outer spacey. Cap's more of an Earth-bound guy."
Evans continued, "Maybe the next Spider-Mans. Those are going to be fantastic, and I think Tom [Holland]'s just a great actor, so that might be a fun one to pop up into."
Video:
https://youtu.be/OOkIvI2EYdQ
FIRST 'STAR TREK BEYOND' CHARACTER POSTERS FEATURE DR. MCCOY & JAYLAH
05/25/16 @ 4:05 pm EST
Source:
Comic Book Resources
| Categories:
Star Trek
|
Comments
(0) |
E-mail Article
|
Add a Comment
Paramount Pictures has dropped the first official character posters for "Star Trek Beyond," spotlighting Karl Urban's ("Dredd") Dr. Leonard "Bones" McCoy and Sofia Boutella's ("Kingsman: The Secret Service") new alien warrior character, Jaylah.
BREAKING: NEW "LUKE CAGE" PHOTOS REVEAL CLASSIC MARVEL COMICS VILLAIN
05/25/16 @ 4:01 pm EST
Source:
Comic Book Resources
| Categories:
Power Man
|
Comments
(0) |
E-mail Article
|
Add a Comment
This fall, "Luke Cage" will lead a Netflix series following his appearance on "Jessica Jones," and that means he'll be getting a few villains of his own. New photos from the set of show reveal Erik LaRay Harvey in costume as Willis Styker, a Marvel villain who goes by Diamondback in the comics.The images surfaced on Cinefilos as well as Twitter and show Harvey wearing a solid gray uniform and helmet. In some of the photos, his jacket is slightly unzipped, revealing a ribbed yellow shirt underneath.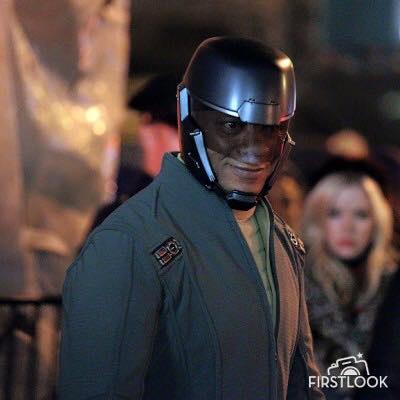 In the comics, Diamondback is a member of the Serpent Society, a business enterprise of criminals and mercenaries -- and he isn't the only member of the group slated to appear in the show. Last September, "House of Card's" Mahershala Ali joined show as Cornell "Cottonmouth" Stokes, who is described as "a Harlem nightclub owner" who will "become an unexpected foe in Luke's life when Stokes' criminal activities threaten Luke's world."

Executive produced by Cheo Hodari Coker and produced by Marvel Television in association with ABC Studios, "Luke Cage" stars Colter, Alfre Woodard, Mahershala Ali and Simone Missick. The series will premiere on September 30.
BBC'S 'DIRK GENTLY' ADAPTATION ROUNDS OUT ITS CAST
05/25/16 @ 1:28 pm EST
Source:
Comic Book Resources
| Categories:
MIsc
|
Comments
(0) |
E-mail Article
|
Add a Comment
BBC America has filled its cast for the upcoming eight-episode "Dirk Gently" TV series, based on the "Dirk Gently's Holistic Detective Agency" novels by "Hitchhiker's Guide To The Galaxy" author Douglas Adams, and subsequent comics published by IDW Entertainment.
According to Deadline, joining Samuel Barnett, Hannah Marks and Elijah Wood for the comedic thriller are Neil Brown Jr. ("Straight Outta Compton") as Estevez, Richard Schiff ("The West Wing") as Zimmerfield, Jade Eshete ("Shades of Blue") as Farah Black, Mpho Koaho as Ken, Fiona Dourif ("When We Rise") as Bart Curlish, Michael Eklund ("The Call II") as Martin, Miguel Sandoval as Colonel Scott Riggins, Dustin Milligan ("Schitt's Creek") as Sergeant Hugo Friedkin and Aaron Douglas ("Battlestar Galactica") as Gordon Rimmer.
"Dirk Gently's Holistic Detective Agency" is a comedic thriller that follows the bizarre adventures of eccentric detective Dirk Gently and his reluctant assistant Todd as they work their way through one big, seemingly insane, mystery.
Max Landis ("Chronicle") is writing and executive producing the "Dirk Gently" adaptation for BBC America. AMC Studios, Ideate Media and IDW Entertainment are co-producing the series, with Circle of Confusion ("The Walking Dead"). Also executive producing are Ideate's Arvind Ethan David and Zainir Aminullah, IDW's Ted Adams and David Ozer, and Circle of Confusion's and David Alpert and Rick Jacobs.
'FAST & FURIOUS' PRODUCER TEASES DWAYNE JOHNSON'S ROLE, POSSIBLE SPINOFF
05/25/16 @ 1:25 pm EST
Source:
Comic Book Resources
| Categories:
MIsc
|
Comments
(0) |
E-mail Article
|
Add a Comment
Production on "Fast 8″ has already begun in Cuba. In addition to a new villain played by Charlize Theron, the eighth installment in the action franchise will feature even more of Dwayne Johnson's character, Hobbs.
Consulting producer Hiram Garcia spoke with ComicBook.com about the Rock's popular character, revealing that the Diplomatic Security Services officer will play a bigger role in "Fast 8″ than he did in "Furious 7."
"On the last movie, due to schedule restraints, we were only able to play on it for a couple weeks," said Garcia. "In this one, we're really spread throughout the movie, so it's great to be back up here and we'll be back on set on Wednesday."
Garcia has also been working with "Fast 8″ screenwriter Chris Morgan on the character, which he calls "one of our all-time favorite characters."
"Hobbs was one of the first characters we merged together on and when 'Fast' approached [Dwayne Johnson], telling him about the character they wanted to create, [Dwayne Johnson] and I were able to sit down and craft this guy that we would just laugh out loud at the lines we would come up with," said Garcia. "When you can say you're gonna put a hurt on someone so bad you'll make their mama wish they kept their legs closed, stuff like that where we can't even finish the line before laughing — that's the fun we love."There's been talk of a spinoff film starring Johnson as Hobbs, and Garcia says that he's had conversations with the actor about that possibility.
"There's a real goal for that and we can have enough fun with that where we've earned that now with the audience. He's a beloved enough character that they'd love to see what a ride with him would be like in his world," said Garcia. He added that there's "tons of history" ready to be explored fully, and that fans will "see a little bit more in ['Fast 8′] but ultimately we want to take that ride and spin him off and have some fun with it."
"Fast 8″ opens on April 14, 2017.
SONY EXEC: ONLINE HATE FOR 'GHOSTBUSTERS' TRAILER IS 'TINY PERCENTAGE' OF AUDIENCE
05/25/16 @ 1:21 pm EST
Source:
Comic Book Resources
| Categories:
MIsc
|
Comments
(0) |
E-mail Article
|
Add a Comment
Discussing some of the online rage over the new "Ghostbusters" reboot, a Sony executive revealed the actual numbers for the trailer, and how they compare to the people actually talking about it.
"What tends to happen with a beloved property is the fanboy or the fangirl shows up and says, 'How dare you remake this?'" Sony marketing exec Dwight Caines said toThe Hollywood Reporter.
Breaking down the math of the viewership vs. the actual online hate, Caines added, "The first trailer got 70 million views. The number of people talking: less than 100,000, and they are trying to define the experience."
Caines' discussion with THR dropped ahead of the "Ghostbusters" cast's appearance today on "Ellen."
"Ghostbusters" hits theaters on July 15, 2016.
MYSTIQUE CLAIMS SHE'S NO HERO IN NEW "X-MEN: APOCALYPSE" CLIP
05/25/16 @ 1:17 pm EST
Source:
Comic Book Resources
| Categories:
X-Men
|
Comments
(0) |
E-mail Article
|
Add a Comment
In a new clip from "X-Men: Apocalypse," Mystique recalls a time when she was a member of the X-Men and tries to tell the younger mutants that she's no hero. However, they won't have any of it and let her know how she's changed their lives.
Video:
https://youtu.be/lvtGeUgmm3I