YOUR FIRST LOOK AT SCARLET SPIDER #4!
03/15/12 @ 3:21 pm EST
Source:
Marvel
|
Comments
(0) |
E-mail Article
|
Add a Comment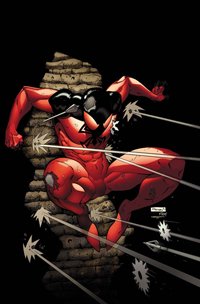 Marvel is proud to present your first look at,
Scarlet Spider #4,
from the red-hot creative team of Christopher Yost & Ryan Stegman. Kaine aka the Scarlet Spider, prepares for an onslaught unlike any he's ever faced before! The ruthless Assassins Guild has arrived in Houston with one objective- take down the Scarlet Spider at any cost! Will Kaine's super-human abilities be enough to outwit the band of murderous assassins gunning for his head? Find out in
Scarlet Spider #4,
hitting comic shops everywhere and the
Marvel Comics app
, this April!
SCARLET SPIDER #4 (FEB120564)
Written by CHRISTOPHER YOST
Pencils & Cover by RYAN STEGMAN
Rated T+…$2.99
FOC –3/19/2012, ON SALE – 4/11/2012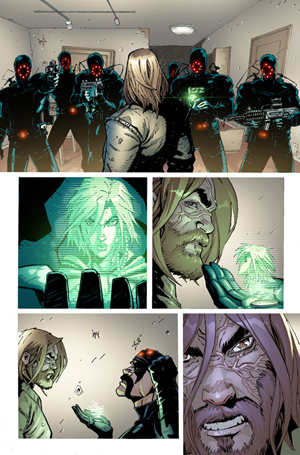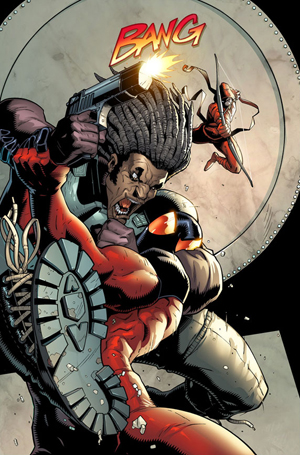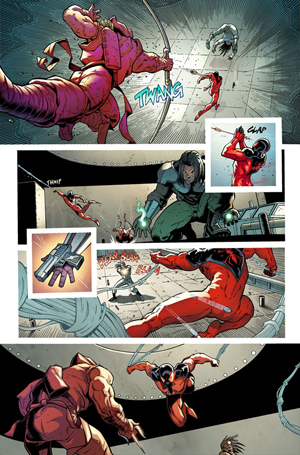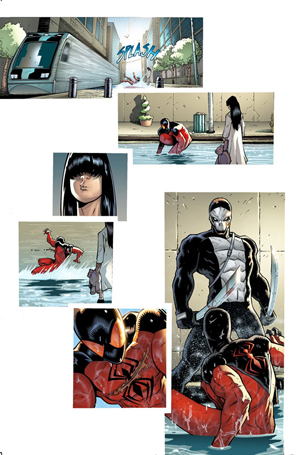 To find a comic shop near you, visit
www.comicshoplocator.com
or call 1-888-comicbook.


Marvel Entertainment, LLC, a wholly-owned subsidiary of The Walt Disney Company, is one of the world's most prominent character-based entertainment companies, built on a proven library of over 8,000 characters featured in a variety of media over seventy years. Marvel utilizes its character franchises in entertainment, licensing and publishing. For more information visit
www.marvel.com
DAN ABNETT'S ROCKET AND GROOT NOVEL CANCELLED IN PAPERBACK?
01/30/15 @ 7:28 pm EST
Source:
Bleeding Cool
| Categories:
Guardians of the Galaxy
|
Comments
(0) |
E-mail Article
|
Add a Comment
Last summer saw the release of the first
Guardians Of The Galaxy
prose novel,
Rocket Raccoon And Groot Steal The Galaxy
by
Dan Abnett
, the writer who helped popularise the comic series in readiness for its movie adaptation.
But for those waiting for the paperback, bad news. Yesterday, Bleeding Cool reports, retailers were informed that it had been cancelled and would not be re-solicited.
Before, it seems, Dan Abnett was.
VALIANT'S SOLD-OUT EPIC RETURNS WITH NEW PRINTINGS OF THE VALIANT #1 AND THE VALIANT #2 IN MARCH
01/30/15 @ 7:22 pm EST
Source:
Valiant
| Categories:
MIsc
|
Comments
(0) |
E-mail Article
|
Add a Comment
Valiant is proud to announce THE VALIANT #1 (of 4) and THE VALIANT #2 (of 4) – the first two chapters of the critically acclaimed four-issue epic from superstar creators Jeff Lemire, Matt Kindt, and Paolo Rivera – have once again sold out at the distributor level and will return to stores shelves with THE VALIANT #1 (of 4) THIRD PRINTING and THE VALIANT #2 (of 4) SECOND PRINTING onMarch 4th!
"Since day one, we knew that THE VALIANTwas going to be a special book with the potential to win over not only long-time Valiant fans, but new readers as well. We're committed to publishing the best comics anywhere in the business today, and THE VALIANT epitomizes that to a tee," said Valiant Publisher Fred Pierce. "The fantastic work of Jeff Lemire, Matt Kindt, and Paolo Rivera continues to amaze with each new issue. Whether this is your first Valiant comic or your hundredth, we dare you to try THE VALIANT and not come back for more."
Jump on board the year's most astonishing new adventure here as Bloodshot is drafted into the eons-old war against mankind's oldest, darkest enemy! The Immortal Enemy has crawled out from the black depths of history to destroy this generation's Geomancer and send Earth back to the Dark Ages! Now…the Eternal Warrior, Ninjak, and Kay McHenry must overcome their worst nightmares before the unlikeliest of white knights rides in to save the day. Will he be enough to battle back the unyielding evil that threatens to plunge the Valiant Universe into the darkness?
The first series to be released in the VALIANT PRESTIGE format, both of THE VALIANT's latest sold-out chapters come complete with deluxe matte-laminate card stock covers, custom-designed end sheets, and exclusive back matter curated by Matt Kindt and Paolo Rivera – all with no advertisements and a standard $3.99 cover price!
Go back to the beginning and discover a battle ten millennia in the making right here March 4th in THE VALIANT #1 (of 4) THIRD PRINTING and THE VALIANT #2 (of 4) SECOND PRINTING!
AQUAMAN REUNITES WITH AQUA-MOM!
01/30/15 @ 7:16 pm EST
Source:
DC
| Categories:
Aquaman
|
Comments
(0) |
E-mail Article
|
Add a Comment
In the latest story arc of our favorite sea king, Aquaman has been on an epic adventure trying to find his not-so-dead mother, Atlanna. Having come across her empty tomb while investigating the ruins of Atlantis, Aquaman and Mera discover that Atlanna must have disguised her death and escaped many years ago.
Their quest leads them to a monstrous encounter with Gorilla Grodd in AQUAMAN #37– the aftermath revealing a mysterious portal (the Maelstrom) in AQUAMAN #38.
Believing the Maelstrom will lead them to Atlanna, Aquaman and Mera enter the portal, bracing themselves for what they might find.
What they find is not quite the happy family reunion one might expect…
Welcoming the Super Heroes with a malicious death threat, see below as Aquaman and Mera finally come face-to-face with Atlanna!
AQUAMAN #38, written by Jeff Parker and illustrated by Paul Pelletier, is available in stores now.
READY, SET, FIGHT! ANNOUNCING SECRET WARS: BATTLEWORLD
01/30/15 @ 7:07 pm EST
Source:
Marvel
| Categories:
Secret Wars
|
Comments
(0) |
E-mail Article
|
Add a Comment
The battles in Secret Wars are so big, we had to launch an entirely new book just to contain them! This May, prepare for the big, bombastic action like you've never seen before in
SECRET WARS: BATTLEWORLD #1
– a new 4-issue limited series of wall-to-wall action across the surface of Battleworld! Bursting with epic action, each issue of
SECRET WARS: BATTLEWORLD
features two all-new high-octane stories ripped from the pages of the biggest event of the year!
"The weirder and more fun, the better" says series editor Jon Moisan of the tone of the series in an interview with Marvel.com. "You want to see the 1602 version of the Punisher fight the 2099 version of Iron Man? Muskets versus the 1990s version of the future! We can even have the same characters from different worlds fight. I'm sure readers have been dreaming of seeing a dozen different versions of Howard the Duck fight. Well, guess what? It's completely possible in
SECRET WARS: BATTLEWORLD
!"
This issue – what happens when Dr. Strange possesses the Punisher? Meet the Sorcerer EXTREME! Only Spider-Man, Wolverine, the Hulk and Ghost Rider of this land can track this terrible two-in-one down. And things are going to get messy! Then, what happens when M.O.D.O.K. recruits every M.O.D.O.K. ever from across Battleworld for his evil scheme. I'll give you a hint – F.I.G.H.T.!
Each issue – cover-to-cover action, pulse-pounding battles and can't miss creators. You want action? Look no further than
SECRET WARS: BATTLEWORLD #1
when it explodes in to comic shops and on to digital devices this May!
SECRET WARS: BATTLEWORLD #1 (of 4)Written by JOSH WILLIAMSON & ED BRISSONArt by MIKE HENDERSON & SCOTT HEPBURN Cover by PACO MEDINA Variant Cover by JAMES STOKOE Action Figure Variant by JOHN TYLER CHRISTOPHER Coming in May!
SHE'S BACK! YOUR FIRST LOOK INSIDE SPIDER-GWEN #1
01/30/15 @ 7:01 pm EST
Source:
Marvel
| Categories:
MIsc
|
Comments
(0) |
E-mail Article
|
Add a Comment
This February, Marvel's newest, sensational spider-woman is coming back to comic shops in the highly anticipated
SPIDER-GWEN #1
! Spinning directly out of the pages of the
Amazing Spider-Man's SPIDER-VERSE
and the red-hot, sold-out
Edge of Spider-Verse #2,
is a new ongoing series that already has the whole comic industry buzzing! Jason Latour, Robbi Rodriguez and Rico Renzi all return to chronicle the adventures of the breakout character of 2014!
She's Gwen Stacy. She's smart, tough, and charming. She drums in a punk rock band and goes to high school just like you. Only she can lift a car and has spider powers! Just don't tell her father, NYPD Police Chief George Stacy! But you knew all that already! What you don't know is Gwen is back home following the events of Spider-Verse and you won't believe what she's got waiting for her!
"It's a rare character that gets the public outcry that Spider-Gwen got," says Senior Editor Nick Lowe. "From the sell-out of Gwen's first appearance to the groundswell on Twitter we're excited to bring more Spider-Gwen into the world with the creators who started it all!"
Now is your chance to get on board with the breakout character of the year as she makes her bombastic debut into her very own ongoing series. Don't miss out when Gwen Stacy swings in to comic shops this February in
SPIDER-GWEN #1
!
SPIDER-GWEN #1 (DEC140832)
Written by JASON LATOUR
Art & Cover by ROBBI RODRIGUEZ
Variant Covers by ADAM HUGHES (DEC140835), SKOTTIE YOUNG (DEC140834)
& KRIS ANKA (DEC140833)Blank Variant Also Available
FOC – 02/02/15, On Sale – 02/25/15
THREE THORS! THREE BLOCKBUSTER CREATIVE TEAMS! YOUR FIRST LOOK AT THOR ANNUAL #1
01/30/15 @ 2:49 pm EST
Source:
Marvel
| Categories:
Thor
|
Comments
(0) |
E-mail Article
|
Add a Comment
This February, star-studded creators unite to bring you three thunderous stories that should not be missed in
THOR ANNUAL #1
! Today, Marvel is pleased to present your first look inside this highly anticipated issue featuring the can't miss lineup of CM Punk, Rob Guillory, Noelle Stevenson, Marguerite Sauvage, Jason Aaron and Timothy Truman!
First, wrestling superstar CM Punk makes his comic writing debut alongside
Chew
artist Rob Guillory for a tale of the brash, boisterous young Thor and his attempt to beat the devil at his own game – by drinking him under the table!
Then, rising comic stars Noelle Stevenson (
Lumberjanes
) and Marguerite Sauvage (
Sensational Comics
) make their Marvel debuts to bring you an all-new tale of the new Thor! Who is the mysterious woman behind the mask? No one in all Ten Realms knows her secret, but the Warriors Three are determined to find out!
Finally, blockbuster
Thor
writer Jason Aaron and legendary artist Timothy Truman bring you an all-new tale set in the future starring King Thor! Join the Girls of Thunder on their epic quest to find their grandfather the perfect birthday present. How about a brand new Garden of Eden?
Three creative teams. Three Thors. One explosive annual. No fan can afford to miss the thunderous
THOR ANNUAL #1
– on sale this February!
THOR ANNUAL #1 (DEC140896) Written by CM PUNK, NOELLE STEVENSON & JASON AARON
Art by ROB GUILLORY, MARGUERITE SAUVAGE & TIMOTHY TRUMAN Cover by RAFAEL ALBUQUERQUE
Variant Covers by ROB GUILLORY (DEC140897) & MARGUERITE SAUVAGE (DEC140898)
FOC – 02/02/15, On Sale – 02/25/15
WOMEN OF MARVEL VARIANTS COME TO YOUR FAVORITE MARVEL COMICS THIS MARCH
01/30/15 @ 2:36 pm EST
Source:
Marvel
| Categories:
Marvel
|
Comments
(0) |
E-mail Article
|
Add a Comment
This March, Marvel is celebrating Women's History Month by gathering some of the best and brightest female artists to tackle some of Marvel's most iconic characters for a very special variant cover theme. Today, Marvel is pleased to present your new look at a selection of March's
Women of Marvel Variant Covers
!
"2014 was a huge year for Women of Marvel, both in our comics and behind the scenes," says Marvel Editor-in-Chief Axel Alonso. "Marvel now has more titles starring female leads than ever before, the Women of Marvel panel is one of the most highly attended at conventions, and the weekly Women of Marvel podcast continues to grow. In 2015, we intend to continue that tradition, and March's Women of Marvel variant covers — featuring 20 of the best female artists in the industry – is just the beginning."
From the biggest names in the industry today to the superstars of tomorrow, you won't want to miss a single one of these jaw-dropping variant covers coming to these exciting March titles: ·
All-New Captain America #5 by TBD·
All-New Hawkeye #1 by SHO MURASE·
All-New X-Men #39 by FAITH ERIN HICKS·
Amazing Spider-Man #16 by MING DOYLE·
Ant-Man #3 by KATIE COOK·
Avengers #42 by TBD·
Black Widow #16 by VANESA DEL REY·
Captain Marvel #13 by AUFA RICHARDSON·
Deadpool #43 by TBD·
Guardians of the Galaxy #25 by ERICA HENDERSON·
Inhuman #13 by JILL THOMPSON·
Legendary Star-Lord #10 by SANA TAKEDA·
Ms. Marvel #13 by TBD·
New Avengers #31 by SARA PICHELLI·
Rocket Raccoon #9 by JANET LEE·
S.H.I.E.L.D. #4 by COLLEEN DORAN·
Superior Iron Man #6 by TBD·
Thor #6 by TBD·
Unbeatable Squirrel Girl #3 by GURIHIRU·
Uncanny Avengers #3 by AMANDA CONNER·
Uncanny X-Men #33 by STACEY LEE
"Jeanine Schaefer and I have had the pleasure of collaborating with some of the best female artists in the industry to show-off their take on Marvel's biggest characters and teams," says Marvel Editor Emily Shaw. "It's been an incredible experience to bring so many awesome women together for this project. And the results have been pretty awesome!"
BATTLEWORLD IGNITES IN INHUMANS: ATTILAN RISING #1
01/29/15 @ 8:16 pm EST
Source:
Marvel
| Categories:
Inhumanity
|
Comments
(0) |
E-mail Article
|
Add a Comment
There's a rebellion brewing on Battleworld. Stretching far and wide into every dominion across the strange, patchwork realm, underground revolutionaries prepare for the uprising. Today, Marvel is pleased to announce
INHUMANS: ATTILAN RISING #1
, a new
Secret Wars
series from New York Times Bestselling writer Charles Soule (
Death of Wolverine, Inhuman)
and artist John Timms (
Nova, Harley Quinn)
!
Medusa, ruler of Attilan and Queen of the Inhumans, has been tasked with rooting out the rebels, and crushing their resistance beneath her steely tendrils of hair. Yet a chance encounter with the head of the insurgency will change everything. A man named –
BLACK BOLT
! And things are about to get complicated.
"One of the ideas behind Inhumans: Attilan Rising from the start was to put Medusa, Black Bolt, Reader, Iso and other characters from
Inhuman
into a new context," says Charles Soule. "That's part of the fun of an event like Secret Wars. Things don't have to be the way we're used to seeing them."
"My initial concept was 'life during wartime'," continued Soule. "The relationships we're used to seeing will be different in this story. Huge drama, spies, glamour, action, betrayal, sabotage. My hope is that it won't feel like anything else out there."
The drums of war beat for the Inhuman nation. But when the dust clears, who will rise? Find out as BATTLEWORLD comes to the Inhumans in
INHUMANS: ATTILAN RISING #1
this May!
INHUMANS: ATTILAN RISING #1 Written by CHARLES SOULE Art by JOHN TIMMS
Cover by DAVE JOHNSON
Variant Cover by W. SCOTT FORBES
Coming in May!
DARK HORSE TO PUBLISH RUBÍN'S 'THE HERO'
01/29/15 @ 7:40 pm EST
Source:
Image
| Categories:
Image
|
Comments
(0) |
E-mail Article
|
Add a Comment
Heracles, the son of Zeus, came into the world with strength, charm, and a fighting spirit. Featuring an introduction by John Arcudi (
B.P.R.D.
,
The Creep
), The Hero brings the legend to life through Rubín's masterful storytelling and dynamic art!
Throughout Heracles's incredible adventures from his innocent boyhood to his meteoric rise to popularity as he tackles the Twelve Labors, his journey is tempered by a steady decay that never relieves him of his heroic burden. And this burden becomes his only grip on reality as Heracles edges toward his fateful end.
Preorder your copy of The Hero Book 1, coming in June 2015, from Amazon, Barnes & Noble, or IndieBound, or contact a local comic shop through Comic Shop Locator.
The Hero Book 2
will be available in December 2015.
SUPERGIRL CASTS JAMES OLSEN
01/29/15 @ 7:56 pm EST
Source:
DC
| Categories:
DC
|
Comments
(0) |
E-mail Article
|
Add a Comment
He may be best buds with Superman in the comics, but it looks like Jimmy Olsen will be hanging out with his cousin onscreen in the future.
Actor Mehcad Brooks (
Necessary Roughness, True Blood
) has been cast as James Olsen in
Supergirl
, the high flying new series in development from Berlanti Productions, Warner Bros. and DC Entertainment. He'll join Melissa Benoist on the show, who was recently cast as Kara Zor-el (AKA Supergirl).
Supergirl's
James Olsen is described as a photographer at CatCo, the media company where Kara (series star Melissa Benoist) works. He has recently been living and working in National City, though the reason is still a secret.
Superman and Supergirl fans may also notice the name of that media company. Though we'll let you speculate about that one…
More to come!