YOUR FIRST LOOK AT SCARLET SPIDER #4!
03/15/12 @ 3:21 pm EST
Source:
Marvel
|
Comments
(0) |
E-mail Article
|
Add a Comment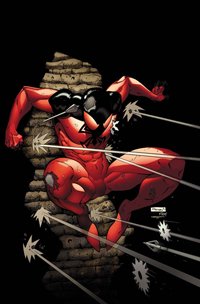 Marvel is proud to present your first look at,
Scarlet Spider #4,
from the red-hot creative team of Christopher Yost & Ryan Stegman. Kaine aka the Scarlet Spider, prepares for an onslaught unlike any he's ever faced before! The ruthless Assassins Guild has arrived in Houston with one objective- take down the Scarlet Spider at any cost! Will Kaine's super-human abilities be enough to outwit the band of murderous assassins gunning for his head? Find out in
Scarlet Spider #4,
hitting comic shops everywhere and the
Marvel Comics app
, this April!
SCARLET SPIDER #4 (FEB120564)
Written by CHRISTOPHER YOST
Pencils & Cover by RYAN STEGMAN
Rated T+…$2.99
FOC –3/19/2012, ON SALE – 4/11/2012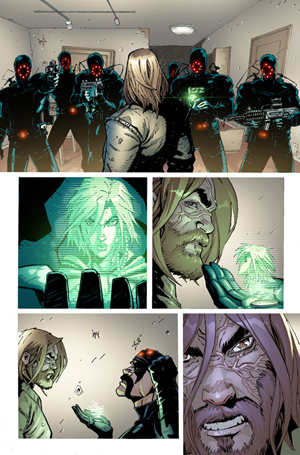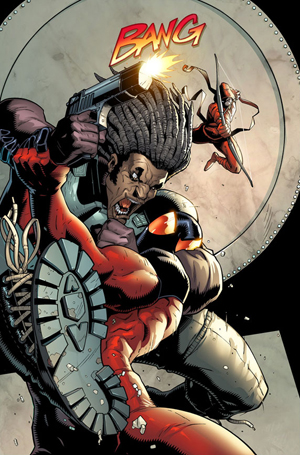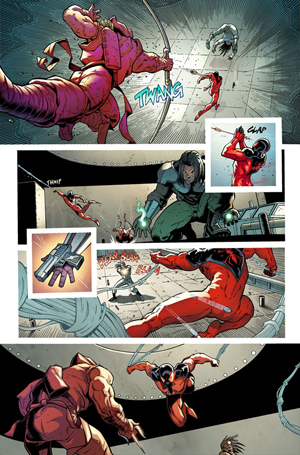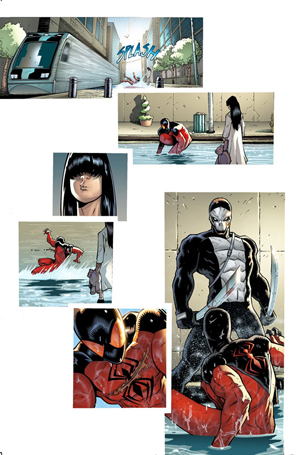 To find a comic shop near you, visit
www.comicshoplocator.com
or call 1-888-comicbook.


Marvel Entertainment, LLC, a wholly-owned subsidiary of The Walt Disney Company, is one of the world's most prominent character-based entertainment companies, built on a proven library of over 8,000 characters featured in a variety of media over seventy years. Marvel utilizes its character franchises in entertainment, licensing and publishing. For more information visit
www.marvel.com
THE AVENGER 101 – MARK RAHNER TALKS THE AVENGER SPECIAL: A DYNAMITE INTERVIEW ON BLEEDING COOL
09/30/14 @ 12:02 pm EST
Source:
Bleeding Cool
| Categories:
Dynamite
|
Comments
(0) |
E-mail Article
|
Add a Comment
Coming off of
Justice Inc
by
Michael Uslan
,
Dynamite Entertainment
is giving each
the Shadow
,
Doc Savage
and
The Avenger
their own special one shot.
Mark Rahner
is handling
Richard Benson
and
Byron Brewer
talked with the writer about the special and the history of the character
.
BYRON BREWER: Mark, not a lot of folks know the Avenger as opposed to, say, Doc Savage or the Shadow. Tell us a little about this pulp-era character.Mark Rahner:
He's more obscure, but was always more interesting to me. The Avenger debuted in 1939 – the same year as Batman. In some ways, he's similar. In others, he's even more grim and obsessed, with no soft alter ego.Here's some Avenger 101:Richard Benson was a rich industrialist and adventurer whose wife and daughter were killed by criminal scum. The trauma of the loss turned his skin and hair white, leaving the flesh of his face malleable, so that he can mold it to impersonate people. He's not a big guy – 5-foot-8 and 160 pounds – but he's remarkably strong and athletic. His dead, expressionless face and icy eyes, should make for a look that's as unsettling as it is cool.
Benson uses a variety of then-futuristic gadgets, along with his best friends, "Ike" the knife and "Mike" the gun. Ike is hollow-handled for throwing. Mike is a streamlined .22 pistol he uses to "crease" skulls instead of killing. Think of how annoying getting "creased" would be.He's got a diverse crew of memorable characters – especially for the '30s and '40s – whose lives have all been scarred by crime. They're completely devoted to him.
BB: So how did this special come into being? Was it something you pitched?Mark Rahner:
I had mentioned the character from time to time as a natural fit in Dynamite's roster – if not a glaring omission from it! I chimed in with some background info about him. There've been assorted fits and starts with The Avenger and Justice Inc. in comics over the decades, and I really wanted Dynamite to have the definitive, satisfying one, like they've done with other pulp characters.
BB: Michael Uslan recently wrote the Justice Inc. series which featured the Avenger, Doc Savage and the Shadow. Does this special spin off from there, or is it totally self-contained?Mark Rahner:
Totally self-contained, with no other guest-heroes. Benson is The Man here. "The Television Killers" hews closely to the original novels and his origin.
BB: So tell us a little about this special.Mark Rahner:
It's 1939, and a new device called "television" has been introduced to the public at the incredible (retro) futuristic World's Fair in New York! The Avenger and his crew must figure out and stop whatever's turning people into berserk flesh-eaters. At the same time, a new client comes to Justice Inc. for help: singer Billie Holiday. She's scheduled to sing her controversial new song, "Strange Fruit" on an early television broadcast, and a gang of racist killers will do anything to keep her out of America's living rooms. It's a big 48-pager, so Benson needed two cases at once.
BB: Any hints at the big-bad here?Mark Rahner:
There's the gang-leader, named Even, who wants to kill Bille – and anyone who helps her. There's another to be discovered as Benson unravels the grisly mystery of the zombified New Yorkers – and one rip-roaring confrontation in a bizarre setting.
BB: Were you a fan of the Avenger, or even familiar with him before this project?Mark Rahner:
Since childhood. I think the 1972 paperback reprints were some of the first books I ever read. Other kids start on the classics. I went for the pulps. Each one of those covers is iconic. Later, I hoarded most of the original pulp magazines. I loved revisiting them as an adult so much that I had to be torn away from them to start writing.
BB: How did you enjoy working with artist Edu Menna?
Mark Rahner:
Edu illustrated stories in both of my TWILIGHT ZONE specials. Once you see the knockout work he did on "Cold Calculation" in the new volume called "Lost Tales," you'll be dying to see what he does with The Avenger.
BB: Hey! And famed singer Billie Holiday is in this! Do any research about this great star?Mark Rahner:
I'm a chronic over-researcher, from my years as a reporter. But spending time researching someone you're already into barely counts as work. She had a rough life, her habits with self-medication and men didn't make it any easier, and she died young. She was also tough, living in an era when black people in America had to endure what, to a lot of us now, is an unimaginable amount of disrespect. And here's some smart alec trivia: Dynamite wanted a holiday story – so I gave them Billie Holiday!
"I EVEN RE-WATCHED THE SHADOW ALEC BALDWIN MOVIE" – MICHAEL MORECI ON WRITING THE SHADOW: A DYNAMITE INTERVIEW ON BLEEDING COOL
09/30/14 @ 11:52 am EST
Source:
Bleeding Cool
| Categories:
Shadow
|
Comments
(0) |
E-mail Article
|
Add a Comment
Another special spinning out of
Justice Inc
will be a one-shot for
The Shadow
written by
Michael Moreci
. The writer has plans on doing a very different and unique
Shadow
story and
Byron Brewer
got to ask him about it
.
BYRON BREWER: Michael, the Shadow is really one of Dynamite's signature characters. He certainly has a lot of print projects during this 10th anniversary of the company. What makes this 48-page special stand out, in your mind (besides you wrote it, lol).
MICHAEL MORECI:
I can't remember any story—and maybe I'm wrong—that didn't center around The Shadow. Which makes sense—he is the star of his universe. But, he also has a rich world that he inhabits with a ton of colorful characters to play with and mythology to explore, sort of like Batman. That's what makes this story a little different; it has all the elements you'd expect from a Shadow story—pulpy fun, mystery, suspense, adventure—but executed through the supporting characters. If you're a fan of the history, this will be a really cool issue to check out
.
BB: The spotlight is on the agents here. I like that. Who will we see? Margo, Cliff, Jericho? Who else?MM:
We've got Miles in there as well! Jericho and Cliff make a fun duo to write, and it was a blast being able to pair Miles and Margo.
BB: So, no Shadow at all?MM:
Oh, he's in there, I couldn't resist. I may or may not ever be able to write Shadow again (which has been a dream of mine, along with Doc Savage), so I had to at least include him a little bit. He does play a role, but it's his agents' story.
BB: Tell us a little about the story.MM:
Without giving any spoilers, the story centers on a mysterious crime syndicate that has the city in a death grip. No one, not even The Shadow, knows who is behind this crime ring. Circumstances give the Shadow's trusted agents the opportunity to step up and play a leading role rather than follow the Shadow. With the syndicate plotting a major heist and its villainous leader plotting his final move to take over the city, the agents have to use all their skills to keep the city—and the world—safe. It has humor, action, crime, everything you'd expect.
BB: Any special inspiration from former Shadow tales or other media inspire this tale?MM:
Nothing specific, no. When I got the assignment, I went and re-read a bunch of classic Shadow stories, in comics and prose (including Ennis's awesome story from Dynamite), and I even re-watched The Shadow Alec Baldwin movie—which I still thing is pretty great. I'm really glad I did, because it help me capture that Shadow feel, mixing the pulp noir and pulp adventure traditions. I think the latter, the adventure part, has gotten lost at times in favor of straight crime. It was good to be reminded of how much fun The Shadow can be, especially his supporting cast.
BB: I take it thiswill be one of those great globe-trotting tales. Where are you taking us?MM:
Well, of course we'll be hitting the mean streets of New York, but our characters will also find adventure in a mysterious mountain in China…
BB: How successful was Anthony Marques in translating your story to the comic book page?MM:
Anthony is terrific; we've been wanting to team up on a project for awhile now, and it's been a blast to collaborate with him. He shares my passion for this universe, and it shows on the page; his work is loose and fun and really nailing the look and feel I had hoped for. I think Shadow fans are going to love what he's bringing to the table.
BB: What is it about pulp characters like the Shadow that makes them so enjoyable to write for today's comics scribes?
MM:
You know, I'm not sure. There's a lot of reasons, and I'm sure every creator who works on these characters can cite something different. For one thing, personally, I grew up on the pulps. They were always around, so I have a deep-seeded fondness for the worlds of The Shadow, Doc Savage, Phantom, etc. And those worlds are the foundations for so much of what exists in comics today, without question.What it comes down to, for me—regardless of nostalgia—is the strength of these characters. There's a reason they've last this long—they're amazing. They are so rich and fun and thrilling, so smart and heroic and cool. Being able to contribute to this tradition is a unique pleasure, and I can't wait for readers to check out this story!
GUARDIANS OF THE GALAXY SCREENWRITER, NICOLE PERLMAN, TO WRITE GAMORA COMIC FOR MARVEL
09/30/14 @ 11:43 am EST
Source:
Bleeding Cool
| Categories:
Guardians of The Galaxy
|
Comments
(0) |
E-mail Article
|
Add a Comment
After launching two new series --
Rocket Raccoon
and
The Legendary Star-Lord --
as well as continuing
Guardians Of The Galaxy
, we have been led to understand that Marvel will add a fourth title starring daughter-of-Thanos
Gamora
.
And it will be written by the co-screenwriter of the
Guardians Of The Galaxy
movie,
Nicole Perlman
, who was rather shunted to the side during the PR process of the movie.
Yet it was she who first developed the Guardians as a movie and saw their potential to be the hit they were.
And now she's writing one of the comics that first inspired her. Expect an announcement during or just before the New York Comic Con.
VALIANT TO LAUNCH IMPERIUM AT NYCC
09/30/14 @ 11:36 am EST
Source:
Bleeding Cool
| Categories:
MIsc
|
Comments
(0) |
E-mail Article
|
Add a Comment


All we have is the name. Imperium.

And the publisher. Valiant.

And that Valiant will be publishing something called Imperium.

They have already announced their first title not based on a previous iteration of Valiant, in Punk Mambo.

And now we seem to have a second – or the name of another crossover? (via Bleeding Cool)
MEGA MAN RETURNS WITH NEW STORYLINE
09/30/14 @ 11:34 am EST
Source:
Archie Comics
| Categories:
MIsc
|
Comments
(0) |
E-mail Article
|
Add a Comment
The ALL-NEW storyline begins here!
The epic adaptation of the legendary game,
MEGA MAN 3
, begins with "Legends of the Blue Bomber" Part One: We've seen Mega Man battle Robot Masters plenty of times before, but now witness the mechanical madness unfold as only the Masters' Masters see it! Get a birds-eye view of battle from the lens of the great (and not-so-great) Doctors that have created our heroes and menaces!
As this unfolds, Top Man plans for his elegant "last dance" with Mega Man, while Snake Man prepares his amphibious ambush! But how is this all playing into Dr. Wily's hands? Find out in this battle royale you definitely won't want to miss out on!Featuring new cover art from PATRICK "SPAZ" SPAZIANTE, plus an awesome "movie poster" variant cover from Vince Riley!
Script: Ian Flynn
Art: POWREE, Gary Martin, John Workman, Matt Herms
Cover: Patrick "SPAZ" Spaziante
Movie Poster Variant Cover: Vince Riley
On Sale Date: 10/1
32-page, full color comic
BATMAN 75 STAMP SET COLLECTION UNVEILED
09/30/14 @ 7:53 am EST
Source:
DC
| Categories:
Batman
|
Comments
(0) |
E-mail Article
|
Add a Comment
DC has announced an all new set of Batman Stamps.
Showcasing eight unique designs in a pane of 20 stamps, this new issuance from the U.S. Postal Service celebrates the 75th anniversary of Batman. Four versions of the iconic DC Comics superhero are depicted from four eras of comic book history. In addition, there are four incarnations of the Bat emblems. The Batman Stamp Set Collection of eight limited-edition Forever Stamps celebrates Batman's Evolution in Comics.
A column on the left side of the pane includes four different circular stamps. Each is affixed with a different Bat-Signal, the spotlight Gotham City Police Commissioner James Gordon sent into the night sky to summon Batman.
The background illustration features a silhouette of Batman standing on a bridge with the skyline of Gotham City looming above him. Art director Greg Breeding designed the stamp pane.
WILLIAM SHATNER: WILL THE ORIGINAL CAPTAIN KIRK APPEAR IN 'STAR TREK 3'?
09/29/14 @ 5:06 pm EST
Source:
The Verge
| Categories:
Star Trek
|
Comments
(0) |
E-mail Article
|
Add a Comment


William Shatner's Captain Kirk could be coming back to Star Trek.

Speaking at Wizard World Nashville Comic Con, a typically laconic Shatner said that he'd recently received a call from J.J. Abrams regarding a role in the third Star Trek movie since the series was rebooted in 2009. Shatner said that discussions were preliminary at the moment and that any appearance would depend on what was done with his character, but that he would be "delighted" to return to Starfleet.

Speaking at the convention, Shatner said that he was surprised Abrams had called, as the two hadn't spoken for several years. Abrams had tried to get Shatner into his rebooted Star Trek timeline before, but Abrams said the plan fell through because Shatner made it "very clear that he wanted the movie to focus on him significantly." The planned scene would have reportedly featured Shatner's Captain Kirk singing a version of "Happy Birthday" for Leonard Nimoy's Spock, but it was cut because it was only there to pander to fans.
SEXUAL DUMMY? MATT FRACTION AND CHIP ZDARSKY HAVE JUST THE TIPS FOR YOU!
09/29/14 @ 4:49 pm EST
Source:
Image
| Categories:
Image
|
Comments
(0) |
E-mail Article
|
Add a Comment
This November, Matt Fraction and Chip Zdarsky, creators of the Eisner and Harvey Award-winning bestselling Image Comics series SEX CRIMINALS, will share some of the sexual wisdom that only a year spent creating a comic book about a couple who stop time when they climax can give you, in an elegantly satifical, NSFW hardcover book, JUST THE TIPS.
With tips, tricks, moves, advice, suggestions, stories, and confessions, how-tos, do's, don'ts, and do-agains-but-slower-this-times from the unmissable letters column of SEX CRIMINALS, plus helpful illustrations of hot positions1 and other brand-new material, JUST THE TIPS will give every sex-dummy the tools for totally not sucking at sex anymore.
Fraction spoke for himself and Zdarsky about their new creation: "On the cusp of becoming internationally renowned Sex Experts (note to Chip: we really need to figure out a way to tighten up 'Sex Experts' for the Press Release. Sexexp? Seexperts? Think it over some), Chip and I feel what anyone might feel in our position: drunk, absolutely drunk, with power, and overdosing on raw sex energy. Today: this book. Tomorrow: public office."
JUST THE TIPS is 96 pages of pure sexual knowledge as hard as the covers that contains it, guaranteed3 to take readers' boudoir4 life from boring to brimpin'. It will be in comic book stores on November 26 and bookstores on December 2 and is very available for pre-order now.
PREPS PREVAIL AT 'GOTHAM ACADEMY'
09/29/14 @ 4:17 pm EST
Source:
DC
| Categories:
Gotham
|
Comments
(0) |
E-mail Article
|
Add a Comment
WELCOME TO GOTHAM ACADEMY! Gather your supplies, pack your backpacks, and make sure to double-check your class schedule, because fall semester at Gotham Academy begins October 1st, and trust us when we say this is one time where you definitely don't want to cut class.
Gotham City's most prestigious prep school is a very weird place. It's got a spooky campus, oddball teachers, and rich benefactors always dropping by...like that weirdo Bruce Wayne. But nothing is as strange as the students!
Like, what's up with Olive Silverlock? Is she crazy or what? Where did she go last summer? And what's the deal with her creepy mom? And how come that Freshman MAPS is always following her around? And is Olive still going out with MAPS' older brother Kyle? P.S. Did you hear the rumor about the ghost in the North Hall?!
GOTHAM ACADEMY #1, written by Eisner-Award-nominated artist Becky Cloonan and Brenden Fletcher and illustrated by Karl Kerschl, is on sale this Wednesday.
"I THINK ACTION AND VIOLENCE HAS IT'S PLACE IN STORYTELLING" – WRITING FOR PATHFINDER ON BLEEDING COOL
09/29/14 @ 1:17 pm EST
Source:
Bleeding Cool
| Categories:
Pathfinder
|
Comments
(0) |
E-mail Article
|
Add a Comment
When a writer interviews another writer, you tend to get the most in depth questions as opposed to just an interviewer who has done thousands and thousands of them.
With that in mind over at Bleeding Cool, we have
Michael Uslan
(
Justice, Inc.
) talking about the writing process and working on Dynamite's
Pathfinder
with
Jim Zub
.
To read the interview,
click here.