YOUR FIRST LOOK AT SCARLET SPIDER #4!
03/15/12 @ 3:21 pm EST
Source:
Marvel
|
Comments
(0) |
E-mail Article
|
Add a Comment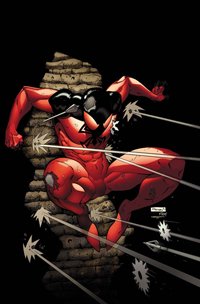 Marvel is proud to present your first look at,
Scarlet Spider #4,
from the red-hot creative team of Christopher Yost & Ryan Stegman. Kaine aka the Scarlet Spider, prepares for an onslaught unlike any he's ever faced before! The ruthless Assassins Guild has arrived in Houston with one objective- take down the Scarlet Spider at any cost! Will Kaine's super-human abilities be enough to outwit the band of murderous assassins gunning for his head? Find out in
Scarlet Spider #4,
hitting comic shops everywhere and the
Marvel Comics app
, this April!
SCARLET SPIDER #4 (FEB120564)
Written by CHRISTOPHER YOST
Pencils & Cover by RYAN STEGMAN
Rated T+…$2.99
FOC –3/19/2012, ON SALE – 4/11/2012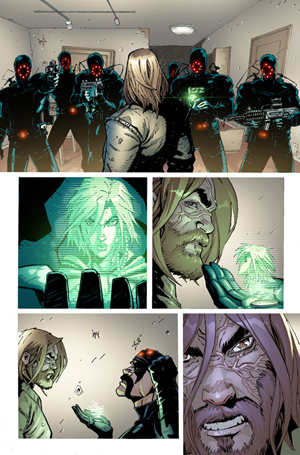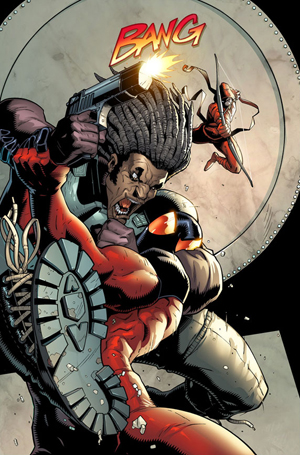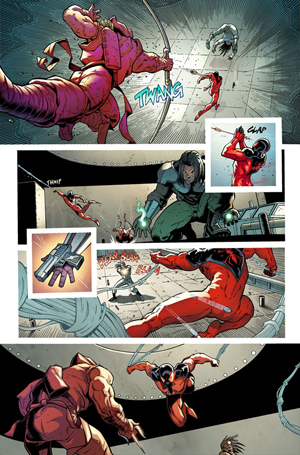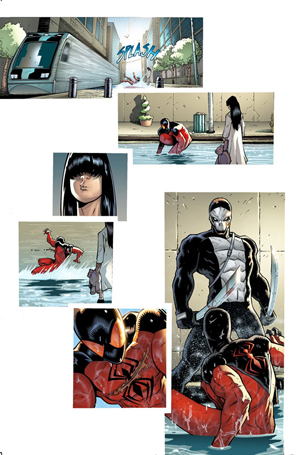 To find a comic shop near you, visit
www.comicshoplocator.com
or call 1-888-comicbook.


Marvel Entertainment, LLC, a wholly-owned subsidiary of The Walt Disney Company, is one of the world's most prominent character-based entertainment companies, built on a proven library of over 8,000 characters featured in a variety of media over seventy years. Marvel utilizes its character franchises in entertainment, licensing and publishing. For more information visit
www.marvel.com
YOUR FIRST LOOK AT MARVEL COMICS AFTER SECRET WARS... AND CYCLOPS PLACE IN IT?
04/01/15 @ 7:53 am EST
Source:
Bleeding Cool
| Categories:
Marvel
|
Comments
(0) |
E-mail Article
|
Add a Comment
This CBR entry has us at Dynamic Forces pondering ....
We know that there is a unrebooted Marvel after
Secret Wars
.
CB Cebulski
was able to circumnavigate the
Tom Brevoort
teasing to give it to people straight, like a pear cider that's made with 100% pears.
But it does look as if the X-Men characters may be shunted off to a non-Marvel Studios universe. Maybe the Fantastic Four will be doing the same. But for everybody else, what will it look like?
Today's
Uncanny Inhumans
#0 gives you your first peek. first laying out a very bleak future from this side of the Secret Wars…
No future for you! No future for you! As Johnny Rotten once sang. Of course we know that this is coming… after Secret Wars.
While getting a glimpse at some of the characters who may be in it…
But more than that? Well
Uncanny Inhumans
gives us a further look beyond the Battleworld.
Is that… Cyclops? What happened to that Xbooks separate universe then? Could one of the Cyclops stay in the main Marvel universe?
Yes sir. Plenty to ponder…
HOPELESS, ANKA REVISIT "HOUSE OF M" DURING "SECRET WARS"
04/01/15 @ 6:10 am EST
Source:
Comic Book Resources
| Categories:
Secret Wars
|
Comments
(0) |
E-mail Article
|
Add a Comment
The LA Times' Hero Complex has unveiled the latest of Marvel's many "Secret Wars" series."House Of M," which was initially teased way back in October of last year, will team writer Dennis Hopeless ("Spider-Woman") with artist Kris Anka ("Uncanny X-Men") for a return trip to the Magneto-centric reality created by the Scarlet Witch.
The announcement states that the series will be set in the same reality first visited in the 2005 limited series of the same name, except this time Magneto's monarchy still stands and reality has not been put back the way it was. Now the reality is part of Battleworld, a patchwork planet made up of dozens of alternate Marvel realities.
The series hits this summer
.
THE ATOM AND MORE ARRIVE ON "THE FLASH" IN "ALL STAR TEAM UP" PHOTOS
04/01/15 @ 6:02 am EST
Source:
Comic Book Resources
| Categories:
DC
|
Comments
(0) |
E-mail Article
|
Add a Comment
The latest major crossover between The CW's interconnected DC Comics-based properties is set to air on the April 14 installment of "The Flash," with "Arrow" regular Brandon Routh (Ray Palmer/The Atom) making his debut on the newer series, plus Emily Bett Rickards making a "Flash" return appearance in her "Arrow" role of Felicity.
The CW has released 21 new photos from the episode, including Ray, Felicity, Barry (Grant Gustin), Iris (Candice Patton) and Eddie (Rick Cosnett) sharing a (likely awkward) meal, and Ray suited up as The Atom.
The "All Star Team Up" episode of "The Flash" is scheduled to air 8 p.m. Tuesday, April 14 on The CW. (Source: CBR)
HIDEAKI ANNO AND SHINJI HIGUCHI TO DIRECT 'GODZILLA 2016′
04/01/15 @ 5:31 am EST
Source:
Variety
| Categories:
Godzilla
|
Comments
(0) |
E-mail Article
|
Add a Comment
Top Japanese filmmakers Hideaki Anno and Shinji Higuchi will team up to co-direct "Godzilla 2016", the new Japanese version of the iconic Godzilla monster movie franchise.
The Toho studio, which licensed remake rights to Warner Bros. for the hit 2014 revival by director Gareth Edwards, produced the seemingly terminal "Godzilla: Final Wars" back in 2004.
But interest was revived by Edward's 2014 "Godzilla," which earned $525 million worldwide and JPY3.2 billion ($26 million) in Japan, with Toho and Warner Bros. Japan co-distributing.
"Ever since Hollywood announced that 'Godzilla' was to be resurrected, the expectation for another Japanese Godzilla grew. And if we were to newly produce, we looked into Japanese creators who were the most knowledgeable and who had the most passion for Godzilla" said Toho in a statement.
Anno will also be responsible for the screenplay while Higuchi will oversee the picture's VFX.
The two directors previously collaborated on "God Warrior Appears in Tokyo." "Their drive to take on such new challenges was exactly what we all had been inspired by," said Toho.
In total Toho has produced 28 Godzilla movies since 1954 when Ishiro Honda directed the first. Ryuhei Kitamura's "Godzilla: Final Wars" earned a disappointing $12 million.
GODZILLA FACES THE FIERY INFERNO OF HELL ITSELF
03/31/15 @ 7:48 pm EST
Source:
IDW
| Categories:
IDW
|
Comments
(0) |
E-mail Article
|
Add a Comment
In over six decades of battles and triumphs, Godzilla has never faced a challenge as great as what's coming his way this July, when Godzilla goes to hell! In Godzilla in Hell, a five-issue miniseries launching in July, Godzilla will storm through the gates of hell itself, proving that the towering behemoth is King Of The Monsters both above and below!
With no warning and no sign of salvation, Godzilla is plummeted to the deepest, darkest bowels of the infernal kingdom. The mystery of what led to Godzilla's damnation, and what it will face, will take readers on a dark and twisted journey unlike any Godzilla story before!
A rotating creative team will each take Godzilla through a new and more dangerous layer of Hell, beginning with none other than writer and artist James Stokoe, who is returning to the character for the first time since his haunting stunner of a miniseries, Godzilla: The Half Century War.
"Drawing Godzilla must be my comfort food, because it feels really great to come back and work on pages with IDW again," said Stokoe, writer and artist on issue 1. "Also, the list of amazing creators they've tapped for this series beyond my issue feels equally great as a fan, especially with the theme everyone gets to play with. You can't get much bigger than Godzilla versus Hell!"
Successive issues in this five-part series will feature talents familiar to the Godzilla franchise, including the multi-talented writer/artists Bob Eggleton; and Dave Wachter; Wachter most recently wrapped up the apocalyptic take on Godzilla in Godzilla: Cataclysm.
New to the world of Godzilla will be writers Ulises Farinas, and Erick Freitas, together on issue #3 and Brandon Seifert, tackling issue #4; artists will be announced on these issues at a later time.
"I'm very proud with the level of quality we've brought to all of our Godzilla mini-series," said editor Bobby Curnow. "Godzilla in Hell will prove no exception. It's been incredibly fun seeing the creator's imagination stretch to fully utilize this otherworldly premise."
This explosive new series will join a number of other major debuts in July as part of the Five Featured Firsts program, which launches a brand new title each and every week in July. Additionally, the debut issue will feature an EC Comics homage variant cover by Godzilla: Rulers of Earth artist Jeff Zornow as part of EC Cover Month!
'EMPOWERED' VOLUME 9 IS BEYOND YOUR COMEDY IMAGINATION
03/31/15 @ 7:41 pm EST
Source:
Dark Horse
| Categories:
Dark Horse
|
Comments
(0) |
E-mail Article
|
Add a Comment
Get ready to patch up your supersuit for a new challenge, because Adam Warren's Empowered is back, and the stakes are higher than ever for Emp!
Already under official suspicion and suspended from her superteam, costumed crime fighter Empowered finds herself the bewildered target of every major supervillain in the capes-and-tights field for her supposed access to alien technology. With a trick or two up her tattered supersuit's sleeve, can our tirelessly plucky but sadly underestimated heroine outwit her army of tormentors—and escape the long-simmering revenge of the sinister Fleshmaster?
Called "a fantastically rendered book on every conceivable level" by Comic Book Resources,
Empowered
Volume 9 takes Adam Warren's long-running series to a whole new level. Garnering critical acclaim from fans and critics alike,
Empowered
is not only a fantastic story—it's one of the longest-running American graphic novel series currently in publication.
Empowered
Volume 9
Adam Warren (W/A/Cover) $17.99, 978-1-61655-571-9 On sale August 19
CONVERGENCE: SHAZAM HISTORY LESSON FROM DC COMICS
03/31/15 @ 7:33 pm EST
Source:
Comicbook
| Categories:
Shazam
|
Comments
(0) |
E-mail Article
|
Add a Comment
DC Comics provided ComicBook.com with an exclusive first look at the history of Billy Batson, Captain Marvel, as told in the pages of
Convergence: Shazam
#1. These pages give a brief synopsis of Billy Batson, getting you up to speed on the character for DC's big crossover event.
Convergence: Shazam
#1 is written by Jeff Parker and drawn by Doc Shaner and see the world of Captain Marvel crossing over with the universe of
Gotham by Gaslight
.
Convergence: Shazam
#1 goes on sale April 29. Check out the pages in the gallery below.
Convergence: Shazam #1
Publisher:
DC COMICS
(W) Jeff Parker (A/CA) Doc ShanerSTARRING HEROES FROM CRISIS ON INFINITE EARTHS! It's Shazam versus Steampunk, as the world of Gotham by Gaslight takes on the Captain Marvel family and friends!
Item Code:
FEB150230
In Shops:
4/29/2015
SRP:
$3.99
'ARROW' STAR STEPHEN AMELL LANDS CASEY JONES ROLE IN 'TEENAGE MUTANT NINJA TURTLES 2′
03/31/15 @ 7:02 pm EST
Source:
Variety
| Categories:
TMNT
|
Comments
(0) |
E-mail Article
|
Add a Comment
Stephen Amell has been tapped to play Casey Jones in "Teenage Mutant Ninja Turtles 2″ for Paramount and Platinum Dunes.
Megan Fox is set to return as April O'Neil. Will Arnett is also returning. David Green is directing the pic. Plot details and information on other returning cast members are still unknown.
A loner who becomes an ally of the turtles and a love interest for O'Neil, Jones is a fan favorite of the series going back to when Elias Koteas played him in the 1990 New Line pic.
Michael Bay is producing along with his Platinum Dunes partners Brad Fuller and Andrew Form. Josh Appelbaum and André Nemec are penning the script.
Amell tested with a half-dozen actors over the weekend, but it was his chemistry with Fox that led to the studio eventually giving the role to the star of CW's "Arrow." Paramount had no comment on the casting.
The "Turtles" franchise is one of Paramount's top properties following its success last summer, when it earned $191 million domestically — so much so that Paramount dated the sequel for 2016 before even locking down a director or cast.
AKINNUOYE-AGBAJE REPORTEDLY CAST AS BATMAN VILLAIN IN
03/31/15 @ 4:04 pm EST
Source:
Comic Book Resources
| Categories:
Suicide Squad
|
Comments
(0) |
E-mail Article
|
Add a Comment
Killer Croc appears to be the latest DC Comicsvillain in Warner Bros.' "Suicide Squad"ensemble: The Wrap reports that Adewale Akinnuoye-Agbaje has been cast as the well-known Batman adversary, one of multiple DC villains set to appear in the 2016 film.
The Wrap states representatives for Warner Bros. and Akinnuoye-Agbaje did not immediately respond to requests for comment.
Additionally, the outlet reports that Karen Fukuhara -- with no listed IMDb credits, presumably a Hollywood newcomer -- has been cast in an as-yet undisclosed role.
Akinnuoye-Agbaje has a long history in genre fare, famously appearing as Mr. Eko on "Lost," along with roles in "The Mummy Returns," "G.I. Joe: The Rise of Cobra" and "Thor: The Dark World."
He appears with "Suicide Squad" star Will Smith in "Concussion," a sports film scheduled for release late this year.
SCOTT EASTWOOD CONFIRMS ROLE IN DC COMICS MOVIE SUICIDE SQUAD
03/31/15 @ 3:51 pm EST
Source:
People
| Categories:
Suicide Squad
|
Comments
(0) |
E-mail Article
|
Add a Comment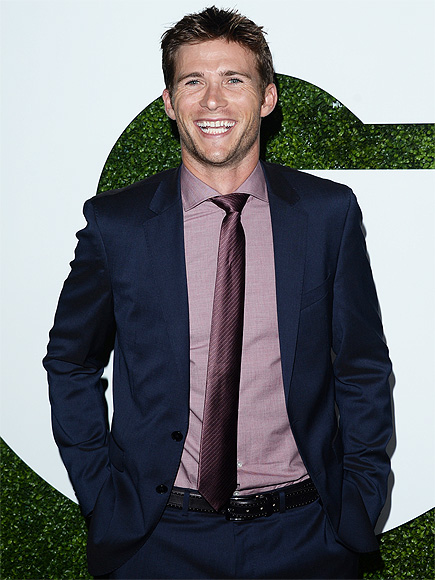 Scott Eastwood is hanging up his cowboy hat and heading to the DC Comics world.

The 29-year-old actor stated once and for all that he will appear in the upcoming supervillain film Suicide Squad – although his character remains a mystery.

"I'm doing a movie called Suicide Squad," Eastwood toldEntertainment Tonight on Monday, confirming the ongoing speculation.

The actor, who is actor-director Clint Eastwood's son, is straying far from his latest romance drama role, in Nicholas Sparks' The Longest Ride, in which he plays a professional bull rider dating a college student.

Suicide Squad is scheduled to hit theaters summer 2016.