WHAT'S IN BRIAN'S BIN! FANTASTIC FOUR AND AVENGERS ASSEMBLE!
03/14/12 @ 5:45 pm EST
Source:
Dynamic Forces
|
Comments
(0) |
E-mail Article
|
Add a Comment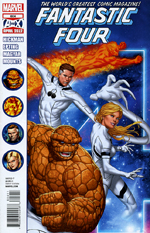 Fantastic Four #604
: Awesome!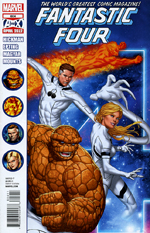 FANTASTIC FOUR #604
: Yeah, maybe I did buy two copies? One to read and one to take in the tub! Spoiler alert—______________ uses___________ to defeat___________! And then _____________, but that's okay because_____________. And even though the Silver____________ doesn't___________, it's still awesome!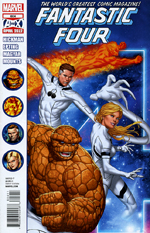 FANTASTIC FOUR #604
: Okay, I didn't really buy two copies of this book—but I should have. And I don't read comics in the tub—okay, maybe that one time. Still, this issue of
Fantastic Four
ties up all the plots that Jonathan Hickman began wa-a-a-a-a-a-a-ay back with issue 570! And if you happen to have forgotten about the happenings with the Inhumans and those wicked cool fish people, that floating Moloid head and a bespectacled Dragon Man, then you are lucky because you get to go back and re-read thirty-four awesome comics. So order a pizza and some Mountain Dew and hop in the tub and get reading.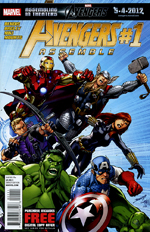 AVENGERS ASSEMBLE #1:
You know what? This book is pretty flippin' awesome in an old school Avengers sort of way, but it should have been a "Giant-Size collector's Item First Issue!"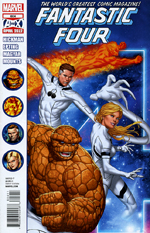 FANTASTIC FOUR #604:
Okay, this is getting silly now. But still—a hell of a comic book! In fact, I would go out on a limb and say that the Fantastic Four is the world's greatest comic magazine. You know, that has a nice ring to it. Marvel should print that on the cover.
A DYNAMITE.COM EXCLUSIVE! ROBERT NAPTON INTERVIEWS FRANK BARBIERE ABOUT SOLAR!
04/24/14 @ 5:06 pm EST
Source:
Dynamite
|
Comments
(0) |
E-mail Article
|
Add a Comment
Robert Napton - Frank, there have been different iterations of Solar, starting with the classic Gold Key character. What elements did you decide to focus on in your reboot of the series?

Frank Barbiere - We really wanted to hone in on the way that such an immense power set would affect a pretty mild-mannered scientist. I really wanted to increase the lens on that though, to think how this change would affect not only Phil, but his family as well. I love the feel and aesthetic of a lot of the classic Solar stories, and I really wanted to infuse our take with those as well.

Robert Napton - Family and the impact of Solar's transformation is a key theme to your new take. How did you arrive at that?

Frank Barbiere - I really thought that Solar had been a very insular character and story in most of its inceptions. I wanted to open up the scope of it, to see how his change would affect a family unit, rather than just Phil. I think family conflict is very relatable as well, and goes a long way to humanizing a character who has near limitless power and brings the story down to a more personal level.

Robert Napton - Lots of Science Fiction action -- what can you tell us about the setting of this new series?

Frank Barbiere - We're definitely starting a bit more grounded, but the story will be opening up to a lot of bigger, sci-fi locales. Part of the fun of having a character like Solar is the fact that we can take it to places that a lot of other superhero stories can't go--and definitely no one else in the current Gold Key universe. It has a lot of great potential for fun and exciting stories.

Robert Napton - I like that the design is very much the classic Solar. Why did you and Joe Bennett decide to keep Solar iconic?

Frank Barbiere - With Phil, (our male Solar), we wanted readers to be able to jump right in and recognize him. He's the big aesthetic of the story, the icon, and we didn't want to mess with that--at least upfront. We've revealed that we will have a new character taking the mantle of Solar, and that's a big change, but we wanted to keep the costume iconic and keep the aesthetic of the original series.

Robert Napton - Perhaps this is too serious a question, but Solar is born of a nuclear crisis in the original story. In the 60s this was very much on people's minds. Post Fukushima, nuclear meltdowns are a very real and scary proposition. Do current events inform a modern take on this character?

Frank Barbiere - Definitely. We live in a very different landscape, and nuclear power has a lot of new problems and stories attached to it. We very much do want the story to reflect the real world in that nature--and not to make light of the dangerous times we live in, but it almost re-ignites that interest…as with the 60's, this was all new territory, and now we know the all too real dangers.

Robert Napton - Anything else you'd like to tell the fans about this new reboot?

Frank Barbiere - We're taking a whole new approach to Solar and really want to bring as many people as we can on board. We're excited and thrilled to be working with such an iconic character, and I think readers are going to be very pleased with the new direction we take things in!
BLEEDING COOL INTERVIEWS - GOLD KEY BOOKS AND WARLORD OF MARS #100!
04/22/14 @ 5:02 pm EST
Source:
Dynamite
|
Comments
(0) |
E-mail Article
|
Add a Comment
JOSHUA HALE FIALKOV - THE DEVILERS INTERVIEW AT CBR!
04/18/14 @ 4:55 pm EST
Source:
CBR
|
Comments
(0) |
E-mail Article
|
Add a Comment
NATHAN EDMONDSON - TOM CLANCY'S SPLINTER CELL: ECHOES INTERVIEW AT CBR!
04/18/14 @ 4:51 pm EST
Source:
CBR
|
Comments
(0) |
E-mail Article
|
Add a Comment
PAK, WAID, BARBIERE & VAN LENTE TALK GOLD KEY AT NEWSARAMA!
04/18/14 @ 4:21 pm EST
Source:
Newsarama
|
Comments
(0) |
E-mail Article
|
Add a Comment
VAMPIRELLA #1 - FIRST LOOK INTERIOR PAGES
04/18/14 @ 4:07 pm EST
Source:
Dynamite
|
Comments
(0) |
E-mail Article
|
Add a Comment
THE BLOOD QUEEN #1 - FIRST LOOK INTERIOR PAGES
04/18/14 @ 3:56 pm EST
Source:
Dynamite
|
Comments
(0) |
E-mail Article
|
Add a Comment
JIM BUTCHER'S DRESDEN FILES: WAR CRY #1 - FIRST LOOK INTERIOR PAGES
04/18/14 @ 3:56 pm EST
Source:
Dynamite
|
Comments
(0) |
E-mail Article
|
Add a Comment
COMIC VINE - FLASH GORDON WRITER COMMENTARY WITH JEFF PARKER
04/16/14 @ 12:22 pm EST
Source:
Dynamite
|
Comments
(0) |
E-mail Article
|
Add a Comment
BLEEDING COOL - FRED VAN LENTE'S WRITER COMMENTARY ON THE NEW MAGNUS: ROBOT FIGHTER #2
04/15/14 @ 4:54 pm EST
Source:
Dynamite
|
Comments
(0) |
E-mail Article
|
Add a Comment