WHAT'S IN BRIAN'S BIN! FANTASTIC FOUR AND AVENGERS ASSEMBLE!
03/14/12 @ 5:45 pm EST
Source:
Dynamic Forces
|
Comments
(0) |
E-mail Article
|
Add a Comment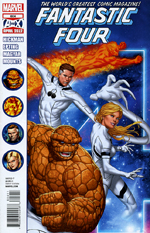 Fantastic Four #604
: Awesome!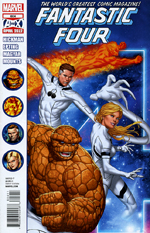 FANTASTIC FOUR #604
: Yeah, maybe I did buy two copies? One to read and one to take in the tub! Spoiler alert—______________ uses___________ to defeat___________! And then _____________, but that's okay because_____________. And even though the Silver____________ doesn't___________, it's still awesome!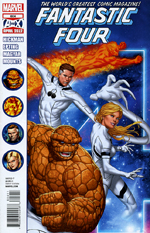 FANTASTIC FOUR #604
: Okay, I didn't really buy two copies of this book—but I should have. And I don't read comics in the tub—okay, maybe that one time. Still, this issue of
Fantastic Four
ties up all the plots that Jonathan Hickman began wa-a-a-a-a-a-a-ay back with issue 570! And if you happen to have forgotten about the happenings with the Inhumans and those wicked cool fish people, that floating Moloid head and a bespectacled Dragon Man, then you are lucky because you get to go back and re-read thirty-four awesome comics. So order a pizza and some Mountain Dew and hop in the tub and get reading.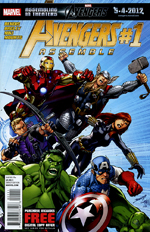 AVENGERS ASSEMBLE #1:
You know what? This book is pretty flippin' awesome in an old school Avengers sort of way, but it should have been a "Giant-Size collector's Item First Issue!"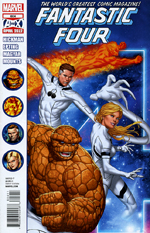 FANTASTIC FOUR #604:
Okay, this is getting silly now. But still—a hell of a comic book! In fact, I would go out on a limb and say that the Fantastic Four is the world's greatest comic magazine. You know, that has a nice ring to it. Marvel should print that on the cover.
ECCC: DC ENTERTAINMENT ALL ACCESS: WEEKLIES CONVERGE
03/28/15 @ 7:45 pm EST
Source:
Newsarama
| Categories:
DC
|
Comments
(0) |
E-mail Article
|
Add a Comment
Moderator Hank Kanalz kicked off DC's All Access: Weeklies Converge panel at ECCC on Saturday by introducing panelists James Tynion IV, Dan Jurgens, Marguerite Bennett, Stuart Moore and Jeff King.

Kanalz showed a video trailer for Convergence, featuring Dan DiDio explaining Convergence's multiversal plot, where worlds that were destroyed in previous Crisis events come together in a single world, brought together by Brainiac.

King spoke on the challenges of bringing disparate characters and worlds together. "To me, the challenge was balancing the epic and the intimate, and I think we did that. Dan kind of teased a big finish to Convergence in that video, and it certainly explains a lot about Multiversity, and why there's that question mark on the map of the multiverse."

Moore discussed Convergence: Superboy and the Legion of Super-Heroes, which draws on the 1980's Legion. "It's really a story about a war between two futures. We're seeing Superboy at a point where we've never really seen him before, where he's just about to become Superman, and he's now stuck in this situation where he's not sure he's going to make it through to be the hero he knows he's destined to be."

Issue #1 will be drawn by Moore's partner on Image's Egos, Gus Storms, and issue #2 will feature art by Peter Gross. Mark Farmer inks both issues.

Attention then moved to Tynion, who discussed Batman Eternal. "We've only got one issue left, and it's all building to this one giant moment. Taking on a weekly comic series I thought would be one of the most difficult experiences of my life, but working with so many talented writers and creators really made it a great experience. It was a room with no ego. We tried to make it really exciting, and I think we did a damn good job."

Kanalz then passed the baton to Jurgens to discuss Future's End. "We started with Batman Beyond in the future, but we kind of moved into introducing a wildly different Brainiac that shows that there's one Brainiac who's behind the appearance of every Brainiac in every other time period."

"It was really fun and sort of surreal. It forces you to get in every character's head very sincerely, and find that one thing that, as the world is destroyed around them, remains that center core, that philosophy that drives them." "It's rare that you tell a story where you don't win," said King.

"Yeah, but we knew that's what we had to do, that there was no other way it could end."

Gail Simone also joined the panel to discuss Convergence: Nightwing/Oracle. "Dan DiDio is a tricky bastard," said Simone. "I thought I was done writing Oracle forever. Then I got an e-mail from Dan one day that said, 'Hey, Gail, what about Oracle?' and that was it. He offered me the opportunity to tell the Nightwing/Oracle story I've always wanted to tell." (Source: Newsarama)




ECCC: FIALKOV SHARES MORE ABOUT "PACIFIC RIM: TALES FROM THE DRIFT"
03/28/15 @ 3:43 pm EST
Source:
Comic Book Resources
| Categories:
MIsc
|
Comments
(0) |
E-mail Article
|
Add a Comment
Following in the announcements of "Pacific Rim 2" due out in 2017 and the success of the graphic novel "Pacific Rim: Tales from the Year Zero," Legendary Comics will bepublishing a 4-issue miniseries, "Pacific Rim: Tales from the Drift," starting in November. "Pacific Rim" screenwriter Travis Beacham planned out the story, and Joshua Hale Fialkov will write the series with art by Marcos Marz.
Fialkov at Emerald City Comic Con confirmed tp CBR that the miniseries will be in the continuity of the film, taking place between the events of the graphic novel and the movie.
"It's true to the spirit of the movie," he said, "Guillermo del Toro has been involved every step of the way."
Fialkov said that within the "Pacific Rim" universe, the story in the miniseries is just as important as the film or graphic novel."Pacific Rim: Tales from the Drift" will focus on the Jaeger Tacit Ronin, which was shown briefly in the 2013 film. The story's two pilots will be new characters, and the miniseries will show "the entirety of the relationship, from when they meet, to getting matched up, to how they become pilots," according to the writer.
"The pace of the series means that there will be action in every issue," said Fialkov.
He also revealed that the story is "set in the drift," but said that he could not explain further.
ECCC: "VALIANT ORIGINS" WEB SERIES DETAILS HISTORIES OF BLOODSHOT AND MORE
03/28/15 @ 3:34 pm EST
Source:
Comic Book Resources
| Categories:
MIsc
|
Comments
(0) |
E-mail Article
|
Add a Comment
Between impending 25th anniversary celebrations and a recently announced infusion of major funding, Valiant Entertainment now aims to give those new to the company a ground-level look at its main characters -- not in print or digital comics, but on YouTube, with the new web series "Valiant Origins."
The announcement comes as part of Valiant's Emerald City Comicon plans, and CBR had the
exclusive
first details.
According to CBR News, "Valiant Origins" is a 10-part series, set to be released biweekly, featuring animated histories of the publisher's biggest characters; not unlike a video recap page.
The first installment stars Bloodshot -- mere weeks before the April 15 debut of "Bloodshot Return" by Jeff Lemire and Mico Suayan -- and is available to view now.
https://youtu.be/7H6absvEnLg
ECCC: FRAZER IRVING'S "THE WICKED + THE DIVINE" #10 VARIANT COVER
03/28/15 @ 3:03 pm EST
Source:
Comic Book Resources
| Categories:
Image
|
Comments
(0) |
E-mail Article
|
Add a Comment
At Image Comics' "Image Comics Presents: Your New Favorite Comics" panel midday Saturday at Emerald City Comicon in Seattle, a new variant cover by acclaimed artist Frazer Irving -- most recently of "Annihilator" with Grant Morrison -- was revealed for "The Wicked + The Divine" #10.
"The Wicked + The Divine" #10 is scheduled for release on April 29.
THE FICTION IS COMING FROM BOOM IN JUNE
03/28/15 @ 2:52 pm EST
Source:
Bleeding Cool
| Categories:
MIsc
|
Comments
(0) |
E-mail Article
|
Add a Comment
Calling all bookworms! This is a comic right up our alley.

Coming from BOOM! Studios, written by Curt Pires (POP, Mayday) with art by David Rubin, is The Fiction #1.

The story centers around four childhood friends who discover a box of strange books, but not just any books. These books have the power to transport people to the beautiful worlds described within them, when read aloud.

However, most of the time magical things come at some cost. So, when one of the four goes missing, the others vow never to reveal where they've been and what they've seen. Years later, when one of the remaining kids, now an adult, also mysteriously disappears, it's up to the last two of the group to dig up their dusty books to find him and finally figure out what happened to their friend all those years ago.

The Fiction #1 is set to release this June.




CAPTAIN MARVEL IN AVENGERS: AGE OF ULTRON? HERE'S THE LATEST
03/28/15 @ 10:54 am EST
Source:
Cinema Blend
| Categories:
Captain Marvel
|
Comments
(0) |
E-mail Article
|
Add a Comment


At this point we might as well give Captain Marvel the award for Most Rumors Surrounding An Upcoming Marvel Movie Character. Besides speculation over which actress will be playing Carol Danvers in the MCU, there were rumors even before her solo film was announced in October that she would debut in Avengers: Age of Ultron.

Earlier this week, the rumor of her appearing in the May blockbuster's post-credits sequence rose again, though it was unconfirmed. Now, only days later, another report as come out over a possible appearance, but this time it's not looking good for the heroine.

Nerdist reports that Carol Danvers will not be appearing in Avengers: Age of Ultron. Host Jessica Chobot acknowledges that the often-mentioned post-credits sequence would be one way we could have seen her, but as it stands now it's more likely we would see characters like Black Panther, Thanos or even Spider-Man (though that is also a slim possibility) once Avengers: Age of Ultron wraps up.

So if you were looking to see one of Marvel's most famous female superheroes among the other 11 other officially announced superheroes slated to show up in the movie, you're likely going to be disappointed, according to this new report.

One persistent claim was that Captain Marvel would be among the new team members that comprise the Avengers 2.0 team after the original team dissolves (as expected). However, she was not included in the recently reported lineup of Captain America, Black Widow, War Machine, Scarlet Witch, Vision and Falcon.
GENE SIMMONS AND WWE TEAM TO MAKE HORROR MOVIES
03/28/15 @ 10:41 am EST
Source:
Bleeding Cool
| Categories:
MIsc
|
Comments
(0) |
E-mail Article
|
Add a Comment


Reality star and bassist for KISS, Gene Simmons, is teaming up with the WWE to launch Erebus Pictures, a company to finance and produce horror films, Erebus being the name of the Greek God of darkness.

"The horror genre continues to fascinate me as it proves to be endlessly thrilling and engaging for audiences," Simmons said.

The company is starting out with a film called Temple by Matt Savelloni. Temple follows a spec-op team that is trapped inside an isolated military compound when it's artificial intelligence is suddenly shut down. They are there to discover what killed the team running the facility. And the horror starts there.

Their as of yet unannounced second feature will start production later this year.
SEASON FINALE OF THE WALKING DEAD TO INCLUDE FIRST SPINOFF PROMO
03/28/15 @ 10:39 am EST
Source:
Bleeding Cool
| Categories:
Walking Dead
|
Comments
(0) |
E-mail Article
|
Add a Comment
Fans will get their first look at the
Walking Dead
spinoff,
Fear the Walking Dead,
Sunday night during the season finale of season five.
AMC
is saying it will be a promo but not exactly what that promo will contain.
The spinoff series is expected to debut late this summer with a second season already approved for 2016.
The first season of the spinoff will be six episodes, set prior to the events of
The Walking Dead
and
Cliff Curtis
,
Kim Dickens
,
Frank Dillane
and
Alycia Debnam Carey
star in the show.
The Walking Dead
season finale air Sunday March 29th on AMC.
"IMAGINE, IF YOU WILL, A WORLD WITH ONLY THREE CHANNELS..." - MARK RAHNER TALKS TWILIGHT ZONE
03/28/15 @ 10:31 am EST
Source:
Bleeding Cool
| Categories:
Dynamite
|
Comments
(0) |
E-mail Article
|
Add a Comment
David Avallone
, writer of the
Altered States: The Shadow
one shot, talks with writer
Mark Rahner
about
Twilight Zone: Shadow and Substance
#3, both on sale now. Covers by
Guiu Vilanova
,
Francesco Francavilla
and
Jonathan Lau
.
DAVID AVALLONE: Obviously, you're a big fan ofThe Twilight Zone. How old were you when you saw your first episode? Do you remember what it was? Or what episode first really grabbed you?MARK RAHNER:
I don't recall discovering
The Twilight Zone
at any age so much as it always being a presence and shaping my sensibilities. Although when I was a kid in Spokane, one of the TV stations had an annual Golden Days of Television thing, and TZ was always by far the coolest part of that – especially compared to stuff like
Leave it to Beaver
.Imagine, if you will, a world with only three channels – four, counting PBS – where you have to wait for things to be broadcast, and there's no home video or internet. Talk about your willing suspension of disbelief.I read all the short story collections when I was young, too. Devoured them. And I can't be the only one who's re-purchased
Twilight Zone
every time there's a new video format.
DA: Writing the narration… did you hear Rod's voice? Do you – like so many of the fans, myself included – do a Rod Serling impression?MR:
Not only do I have a Serling impression, but if you search YouTube for "Mark Rahner's Blight Gallery," you can see it. But this was more orange-tanned Serling from the
Night Gallery
days, as a promotion for a horror convention called Crypticon. Occasionally, I'll lapse into Serling on the talk-radio show I do too. I love him.Anyhow, I do try to channel Serling when I write my narration. I know his bio, his work before and after
Twilight Zone
, and think I've internalized him as much – probably more – than is healthy. You don't see his likeness, but I hope I can make you hear his voice. It wouldn't be a
Twilight Zone
story without that narration.
DA: As you know, TZ used science fiction/fantasy allegory to comment on universal themes and current events. Are you doing that here? And is it a universal theme or current events?MR:
You bet I am. The first story, "Stumbling Distance," was more of a personal one with some time-travel, but the new one, "Jailbreak," has plenty to chew on. For starters: How can we be so complacent with all that's happening around us? And if we do choose to notice, then aren't we obligated to act?Other TZ stories I've done have been very on-the-nose. In "Hangnail on a Monkey's Paw," an obvious – and frail – Dick Cheney type is kidnapped by a Middle Eastern ex-detainee who makes a magic wish for him never to die … so he can face charges for war crimes. In "Takers," an insufferable young senator who wants to slash the social safety net gets whisked back to the Depression-era Dust Bowl.Some people forget (or never knew) what an angry liberal Serling was, and what a Trojan Horse he intended
The Twilight Zone
to be. Just using it for cute, little morality fables with twist endings would be to dishonor the guy's massive nerve and how he risked himself.
DA: Aside from Serling and The Twilight Zone, what are your other literary influences?MR:
Too many to boil down. I was such a junkie that I got a couple of lit degrees, then one in philosophy to make myself even less employable! That said, I've always loved short stories by Harlan Ellison, Richard Matheson, Ray Bradbury, H.P. Lovecraft, Fredric Brown … and lots more. Short stories are a dead art, and
Twilight Zone
was a perfect venue for them.
DA: Like me, you had a career before comic books. I was surprised that I found more freedom working in comics than I had in film. What has surprised you?MR:
I was a newspaper guy first – reporter, critic, celebrity interviewer. You can find some evidence of that at www.markrahner.com. Whole different universe, although some skills do translate.What's surprised me is how great readers are, and how much they remember. Newspaper stories are more or less disposable. But comics become part of people's libraries, and they remember the stories.I see what you mean about freedom too. You probably know the condition the newspaper industry's in. I'll just say that my satisfaction in the funny book field isn't a huge stretch from Serling's. Outside of comedy like
The Daily Show
, there are few other ways to comment truthfully, let alone achieve some wish-fulfillment.
DA: Do you have to fight the urge to avoid Serling-isms like "picture if you will" or "portrait of a man.", etc? Or do you just go for it sometimes?
MR:
You'll never see me write "Submitted for your approval" in a comic, or any of his well-known lines. The "imagine, if you will" line above was a meta-wisecrack. But in
The Twilight Zone
, that crosses into imitation and fan fiction – even self-parody – as far as I'm concerned. My goal's to write stories, and in a voice, that are utterly faithful to the spirits of Serling and
The Twilight Zone
, yet original and raw.
DA: In one of the many TZ reboots, they revisited Jerome Bixby's "It's A Good Life," complete with middle-aged Billy Mumy. Is there a story from the original series you'd like to write a sequel to?MR:
I suppose a sequel to "The Monsters Are Due on Maple Street" would involve Fox News, right?But no, I've never spent one moment wanting to revisit any original TZ story. What would Henry Bemis in "Time Enough At Last" do after his specs broke on the library steps? Would it be like Cormac McCarthy's
The Road
? …Seems cheap to me.I can see hitting familiar notes here and there. "Stumbling Distance" is the closest I'll come, as a tough variation on the theme of "Walking Distance." I also had one brewing called "Give Til It Hurts" that would have been a very distant cousin to "Night of the Meek." But if you're lucky enough, or cursed enough ever to write
The Twilight Zone
, you'd better have your own stories to tell. And I've got plenty.
PETE WOODS COVERS SWORDS OF SORROW FOR RETAILER EXCLUSIVE
03/28/15 @ 10:26 am EST
Source:
Bleeding Cool
| Categories:
Swords of Sorrow
|
Comments
(0) |
E-mail Article
|
Add a Comment
Dynamite's
big summer event,
Swords of Sorrow
#1, has a few variant covers already but now
Pete Woods
has has done an exclusive variant cover for
I Like Comics
in Vancouver, WA. The first issue of the all-female written and lead comic event comes out in May. If you are interested in getting one, check out their website.