TITANS COLLIDE IN AVENGERS VS. X-MEN #2!
03/13/12 @ 12:25 pm EST
Source:
Marvel
|
Comments
(0) |
E-mail Article
|
Add a Comment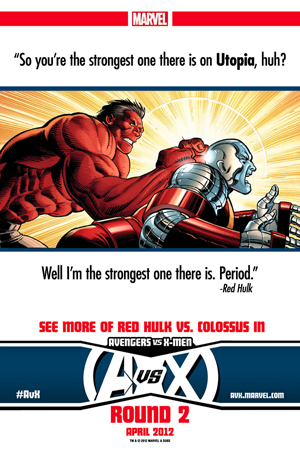 The war to save the Marvel Universe continues this April in
Avengers VS. X-Men #2
as the Earth's Mightiest go head to head against the Children of the Atom while the all-powerful Phoenix Force hurtles towards Earth!
You've heard
It's Coming
—and this April
The War Is Here
in
Avengers VS X-Men #2
! All your favorite super heroes enter—and only one team will emerge victorious!
Which team will reign supreme? Join the conversation on Twitter with
#AvX
!
For more on
Avengers VS X-Men
, please visit
http://avx.marvel.com
AVENGERS VS X-MEN #2 (FEB120534)
Written by JASON AARON
Penciled by JOHN ROMITA JR.
Cover by JIM CHEUNG
FOC – 3/26/12, ON SALE – 4/18/12
To find a comic shop near you, visit
www.comicshoplocator.com
or call 1-888-comicbook.


Marvel Entertainment, LLC, a wholly-owned subsidiary of The Walt Disney Company, is one of the world's most prominent character-based entertainment companies, built on a proven library of over 8,000 characters featured in a variety of media over seventy years. Marvel utilizes its character franchises in entertainment, licensing and publishing. For more information visit
www.marvel.com
PRESIDENT LYNDA CARTER DEBUTS IN NEW SUPERGIRL CLIP
10/20/16 @ 11:14 pm EST
Source:
Comicbook
| Categories:
DC
|
Comments
(0) |
E-mail Article
|
Add a Comment
The CW Television Network has released the first clip from this Monday's episode of
Supergirl
, which is titled "Welcome to Earth."
It begins with Supergirl landing on a National City airport tarmac, where a group of people have gathered to welcome Madam President Olivia Marsdin (played by Lynda Carter). When the president steps out of Air Force One, her security detail and Supergirl are attacked by a powerful and elusive threat. Luckily, Supergirl uses her cape to protect the president from being assassinated, but the attacker gets away.
Video:
https://youtu.be/9nueBynsb4U
DOCTOR STRANGE B-ROLL FOOTAGE RELEASED
10/20/16 @ 11:08 pm EST
Source:
Comicbook
| Categories:
Marvel
|
Comments
(0) |
E-mail Article
|
Add a Comment
The clock is ticking down to the release of Marvel's
Doctor Strange
. The anticipated film will introduce mysticism and the strange world of magical arts to the Marvel Cinematic Universe, and fans are eager to see the trippy film his the big screen. There's just a couple weeks left until
Doctor Strange
hits theaters, and some behind-the-scenes B-Roll footage from production has now reached the Internet.
The two reels feature very different content, but they work together to flesh out a well-rounded image of
Doctor Strange
.
Reel 1:
https://youtu.be/o3vVIIxvSG0
Reel 2:
https://youtu.be/z40bMrK1yf4
SIMMONS TAKES LIE DETECTOR TEST IN NEW AGENTS OF SHIELD CLIP
10/20/16 @ 11:00 pm EST
Source:
Comicbook
| Categories:
Marvel
|
Comments
(0) |
E-mail Article
|
Add a Comment
In the last episode of
Marvel's Agents of S.H.I.E.L.D.
, Agent Jemma Simmons (played by Elizabeth Henstridge) helped Quake with her wounds and, more importantly hack into S.H.I.E.L.D.'s server (to stop the Watchdogs) by passing along a flash drive to one of her underlings. She also learned that Fiz and Radcliffe have been secretively working on Aida, a Life Model Decoy. To keep all of that a secret from Director Jeffrey Mace, Simmons will have to pass a mandatory lie detector.
ABC has released the first sneak peek from the upcoming "Lockup" episode, and it features Simmons taking the lie detector and struggling to truthfully answer a question about obtaining sensitive information that she is obligated to report to the director. As she tries to stall, Director Mace walks in and tells her she needs to come with him right at that moment.
Video:
https://youtu.be/3NJvGVgTOg8
MARVEL'S BLACK PANTHER ADDS DOCTOR WHO ACTRESS LETITIA WRIGHT
10/20/16 @ 10:56 pm EST
Source:
Comicbook
| Categories:
Marvel
|
Comments
(0) |
E-mail Article
|
Add a Comment
According to Variety, Letitia Wright has joined the cast of Marvel's
Black Panther
and will play "the mystery role of Serita, who's part of the Wakanda community."
The 22-year-old British actress made her professional debut in 2011, appearing on BBC One's British medical drama television series, Holby City, and her feature film debut a year later in
My Brother the Devil
. She's also appeared in
Doctor Who
,
Cucumber, Banana, Top Boy, Random, Glasgow Girls
and
Chasing Shadows
.
The film is being directed and co-written by
Creed
and
Fruitvale Station
filmmaker, Ryan Coogler, and production is expected to get underway this January.
Black Panther
will slash into theaters on February 16, 2018.
DAMIEN DARHK INFILTRATES THE REAGAN WHITE HOUSE IN LEGENDS OF TOMORROW'S COMPROMISED SYNOPSIS
10/20/16 @ 10:50 pm EST
Source:
Comicbook
| Categories:
DC
|
Comments
(0) |
E-mail Article
|
Add a Comment
The CW has released the official episode synopsis for "Compromised," the forthcoming fifth episode of
DC's Legends of Tomorrow
season 2.
In the episode, a timequake once again shifts reality on its axis, and the Legends have to figure out a way to remove President Ronald Reagan's newest adviser, Damien Darhk, from his position without creating even more havoc than he's already caused.
You can check out the official synopsis below.
When the Legends trace a timequake to President Reagan's White House, they are shocked to discover their old enemy Damien Darhk (guest star Neal McDonough) is now a Senior Adviser to Reagan. As the team works to uncover what Darhk has up his devious sleeve, Sara (Caity Lotz) struggles with the choice of getting revenge or helping with the team's larger mission. Thinking that the JSA members could be of help, Amaya (Maisie Richardson-Sellers) and Nate (Nick Zano) break into the JSA and are surprised at what they find. Meanwhile, Stein (Victor Garber) tries to prevent his younger self from creating an even bigger time Abberation.
David Geddes directed the episode written by Keto Shimizu & Grainne Godfree.
DC's Legends of Tomorrow
airs Thursday nights at 8 p.m. ET/PT on The CW. "Compromised" will debut on November 10.
LEGENDS OF TOMORROW SEASON 2 EPISODE 3: SHOGUN SNEAK PREVIEW
10/20/16 @ 10:43 pm EST
Source:
Comicbook
| Categories:
DC
|
Comments
(0) |
E-mail Article
|
Add a Comment
After tonight's episode of
DC's Legends of Tomorrow
concluded, The CW released a sneak preview for next Thursday's episode, and it features Mick Rory/Heat Wave (Dominic Purcell) bugging out as he watches Nathan Heywood (Nick Zano) transform into Citizen Steel. Meanwhile, the rest of the team tries to figure out how to recover Ray Palmer's Atom suit back from Shogun.
Video:
https://youtu.be/lWDYYNFmTbs
SUPERGIRL TAKES ON A GANG ARMED WITH ALIEN TECH IN
10/20/16 @ 10:39 pm EST
Source:
Comicbook
| Categories:
DC
|
Comments
(0) |
E-mail Article
|
Add a Comment
After getting a name-drop in an earlier episode of season 2, could Intergang be setting their sights on
Supergirl
's National City?
It doesn't seem too farfetched as a new episode synopsis for
Supergirl
's upcoming fifth episode of the season hints at a ruthless new gang enhanced with alien technology.
SUPERGIRL TAKES ON A RUTHLESS NEW GANG — Supergirl (Melissa Benoist) must beat a ruthless new gang who has been armed with dangerous new alien technology. When Cadmus sends a video to the DEO, the team realizes Cadmus is the one staffing the criminals for a secret mission. Meanwhile, Kara (Melissa Benoist) gets Mon-El (Chris Wood) a job as an intern at CatCo, James makes an important decision and Lena (Katie McGrath) invites Kara to attend one her fundraisers.
Glen Winter directed the episode written by Gabriel Llanas & Anna Musky-Goldwyn.
Supergirl
airs Monday nights at 8 p.m. ET/PT on The CW. "Crossfire" will debut on November 7.
AQUAMAN MOVIE WILL HAVE 'SWASHBUCKLING ACTION'
10/20/16 @ 10:34 pm EST
Source:
Comicbook
| Categories:
DC
|
Comments
(0) |
E-mail Article
|
Add a Comment
The
Justice League
is finally starting to come into view, but there is still an air of mystery to Jason Momoa's
Aquaman
, who first cameoed in
Batman v Superman: Dawn of Justice
. Equally mysterious has been his upcoming solo feature, but director James Wan is finally starting to reveal pieces of his vision for the film.
Wan appeared at the Film Awards Gala at NeueHouse where he received the Fox Studios Australia International Award, where he revealed the tone of his
Aquaman
solo project to ET.
"I kind of don't want to give too much away but know this: The spirit that I'm going for is like a classic sort of swashbuckling action adventure, sort of high seas adventure story," Wan shared. "It's ultimately a quest story in the spirit of Raiders of the Lost Ark meets Romancing the Stone."
For fans of the character in the comics, his origins allow for a multitude of avenues to explore story wise, and hopes are high that Wan can bring those wonderful aspects of the character to the big screen.
Aquaman won't be alone, though, as standing alongside him will be his partner Mera, played by Amber Heard. Her costume was recently revealed by director Zack Snyder, and Wan is excited for fans to see the two interact on screen in
Justice League
.
"I think Amber and Jason Momoa, in their moments in
Justice League
, [are] going to give the rest of the world a flavor of what their own standalone movie could be," Wan explained. "And that is just scratching the surface of what I plan to do."
HARBRINGER MOVIE SCRIPT COMPLETE - MAJOR COMIC CHANGES COMING
10/20/16 @ 10:28 pm EST
Source:
Comicbook
| Categories:
MIsc
|
Comments
(0) |
E-mail Article
|
Add a Comment
While Valiant Comics prepares to relaunch the
Harbinger
side of their universe with
Harbinger Renegade
, they're also leading up to a major storyline in the comics called
Harbinger Wars 2
. A sequel to their first line-wide event crossover, the story begins in next month's
Renegade
, continues in a mail-order only (seriously) special zero issue, and culminates in the event comic in 2018 - the same year, Valiant confirmed exclusively to ComicBook.com, that
Harbinger
the movie from Sony Pictures is on track to come out in theaters.
The script, says Valiant Entertainment CEO and Chief Creative Officer Dinesh Shamdasani, is complete, and "is fantastic." He said that "a lot of the elements are in place," and "Sony is very aggressive" about completing the movie for the 2018 target.
"It's not solely up to [Valiant] if the movie really stays in 2018. We work with Sony on those," he said. "[But] The movie should come out around then."
Shamdasani is careful, with Valiant's aggressive path into film, the digital series
Ninjak vs. The Valiant Universe
, comics, and more to make sure each branch of the company is putting out the best quality product, and be "as strong as it can be."
Sony Pictures has not yet announced a director or actors being targeted for
Harbinger
, but with a finished script and a full-speed ahead approach, we should be hearing announcements very soon.
RESURRXION
10/20/16 @ 10:20 pm EST
Source:
Marvel
| Categories:
Marvel
|
Comments
(0) |
E-mail Article
|
Add a Comment