TITANS COLLIDE IN AVENGERS VS. X-MEN #2!
03/13/12 @ 12:25 pm EST
Source:
Marvel
|
Comments
(0) |
E-mail Article
|
Add a Comment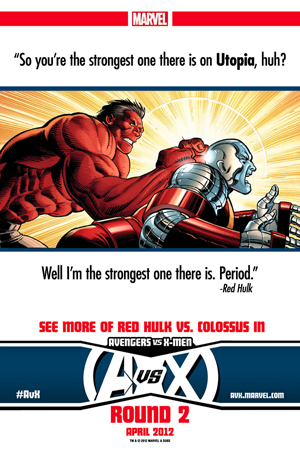 The war to save the Marvel Universe continues this April in
Avengers VS. X-Men #2
as the Earth's Mightiest go head to head against the Children of the Atom while the all-powerful Phoenix Force hurtles towards Earth!
You've heard
It's Coming
—and this April
The War Is Here
in
Avengers VS X-Men #2
! All your favorite super heroes enter—and only one team will emerge victorious!
Which team will reign supreme? Join the conversation on Twitter with
#AvX
!
For more on
Avengers VS X-Men
, please visit
http://avx.marvel.com
AVENGERS VS X-MEN #2 (FEB120534)
Written by JASON AARON
Penciled by JOHN ROMITA JR.
Cover by JIM CHEUNG
FOC – 3/26/12, ON SALE – 4/18/12
To find a comic shop near you, visit
www.comicshoplocator.com
or call 1-888-comicbook.


Marvel Entertainment, LLC, a wholly-owned subsidiary of The Walt Disney Company, is one of the world's most prominent character-based entertainment companies, built on a proven library of over 8,000 characters featured in a variety of media over seventy years. Marvel utilizes its character franchises in entertainment, licensing and publishing. For more information visit
www.marvel.com
THE MUCH-ANTICIPATED RETURN OF THE WONDER WORLOCK!
09/25/17 @ 10:16 am EST
Source:
Nova Prime Page
| Categories:
MIsc
|
Comments
(0) |
E-mail Article
|
Add a Comment
He first appeared in a grouping of 1970s "fanzines," and later began his online adventures on cosmic comics web sites. In recent years, his continuing adventures have been a staple of the web fan fic NOVA619.
This coming weekend, the magical mystery tour continues as the Dark Mage, the celestial sorcerer known as
THE WONDER WORLOCK
returns to continuing adventures in the pages of the new fan fic anthology,
NOVAVERSES
!
On Saturday, 9/30, visit
Nova Prime Page
to get your free PDF download for the first issue of Novaverses
,
stories written by Nova fans for Nova fans! And all for FREE!
Novaverses looks at alternate universe versions of everyone's favorite Human Rocket of Marvel Comics fame, including the popular recurring character of the parent book, Richard Rider of Universe 619.
The Wonder Worlock returns in the three-part cosmic opus, "Day of the Docrons!" Watch as the last Denarian of Universe 2814 arrives on a desert world in the heart of the other-dimensional Threlkellian Empire as it faces the deadly Docrons! By WW creator
Byron Brewer
with opening illustration by
Jason Heichel
!
Cataclysmic cosmic action as you like it! The Dark Mage is back, and he is bringing a brand new alt-U Nova with him!
See you Saturday!
STEPHEN AMELL DESCRIBES NEW BOW FOR 'ARROW' SEASON 6
09/25/17 @ 9:15 am EST
Source:
ComicBook
| Categories:
DC
|
Comments
(0) |
E-mail Article
|
Add a Comment
The Green Arrow isn't just getting a new costume when the show returns for Season Six.
Star Stephen Amell revealed his character would have a new bow when
Arrow
comes back on October 12.
"It's a lot like the Season One bow," said Amell, confirming it's a recurve bow. "And not really for any particular reason. I was just like, 'guys, it's time.' I wanted to go a little old school."
Amell teased that his new bow might even have a connection in The CW's DC Comics universe, referencing a certain mechanical engineer from S.T.A.R. Labs.
"So my pitch to [the writers] was, 'let's do a recurve and let's pretend that Cisco [Ramon] made it," Amell said.
The actor was likely joking about that last bit, but fans would certainly love yet another connection with
The Flash.
NEW DC-CW CROSSOVER CRISIS ON EARTH-X DETAILS
09/25/17 @ 9:08 am EST
Source:
Newsarama
| Categories:
DC
|
Comments
(0) |
E-mail Article
|
Add a Comment
CW has revealed new details about this year's annual DC TV Universe crossover between
Arrow
,
Flash
,
DC's Legends of Tomorrow
, and
Supergirl
. The 2017 crossover will be entitled "Crisis on Earth-X." The crossover was revealed with new key art by Phil Jiminez, done in the style of the classic Silver Age DC crossovers between different Earths.
"We conceived this year's crossover to be evocative of the annual Justice League/Justice Society crossovers we grew up with and looked forward to as kids," executive producers Marc Guggenheim and Andrew Kreisberg said in a statement. "Phil was the perfect choice to bring the comic book cover iteration of this idea to life. You can count on one hand the number of artists who could compellingly represent so many characters in a single image. Phil is one of them. And his design invokes the cover of
Justice League #207
, which was the 20th annual JLA/JSA crossover. Our 10-year-old selves are in heaven."
"Some of the first DC Comics I ever read were those insane crossovers with a dozen characters from alternate earths and dimensions—the kind of stuff I later became known for!" added Jiminez. "So when CW asked me to do an homage cover inspired by those amazing team up covers, I couldn't resist, the chance to draw all of The CW's DC Super-Heroes in one crazy action sequence was insanely fun and exciting. And Romulo Fajardo'a colors brought everything to life!"
The crossover will take place over two nights, with episodes of
Arrow
and
Supergirl
airing back to back on November 27 and
The Flash
and
DC's Legends of Tomorrow
following on November 28.
'SPIELBERG': HBO RELEASES FIRST TRAILER FOR STEVEN SPIELBERG DOC
09/25/17 @ 8:59 am EST
Source:
Bleeding Cool
| Categories:
MIsc
|
Comments
(0) |
E-mail Article
|
Add a Comment
For nearly 50 years, Steven Spielberg has changed the way we experience movies. Through films as diverse as
Jaws, Close Encounters of the Third Kind, Schindler's List
and
Bridge of Spies
, Spielberg has mostly let his craft to the talking for him…until now. The director finds himself in front of the camera as the focus of
Spielberg
, HBO's feature-length documentary that means to show fans more of the personal side to the man behind some of their favorite films.
Directed by award-winning documentarian Susan Lacy (
American Masters
) and produced by Lacy, Emma Pildes and Jessica Levin, Spielberg is set to premiere on October 7th, exclusively through HBO and its affiliates (HBO NOW, HBO GO, HBO On Demand).
Here's a trailer:
https://youtu.be/dSdSYmXCPXU
COSPLAY AT BALTIMORE COMIC-CON 2017
09/25/17 @ 8:55 am EST
Source:
Bleeding Cool
| Categories:
MIsc
|
Comments
(0) |
E-mail Article
|
Add a Comment
A look at cosplay this past weekend at Baltimore Comic-Con (via Bleeding Cool).
TITAN TO PUBLISH 'STAR TREK: DISCOVERY' COLLECTOR'S EDITION COMPANION HARDCOVER IN NOVEMBER
09/25/17 @ 8:51 am EST
Source:
Bleeding Cool
| Categories:
Star Trek
|
Comments
(0) |
E-mail Article
|
Add a Comment
Star Trek: Discovery
finally premiered last night on CBS, with a second episode available immediately and the rest to follow on the CBS All Access app.
That makes perfect timing for Titan Comics to announce
Star Trek: Discovery Collector's Edition
, a hardcover companion book for the series that features character profiles, cast interviews, behind-the-scenes facts, and exclusive photos. The book will be available on November 14th, and you can pre-order it now from your favorite purveyor of books.
A softcover edition will be available from Titan on November 16th.
BEHIND-THE-SCENES ART BOOK DETAILS 'BLADE RUNNER 2049'
09/25/17 @ 8:31 am EST
Source:
ICv2
| Categories:
MIsc
|
Comments
(0) |
E-mail Article
|
Add a Comment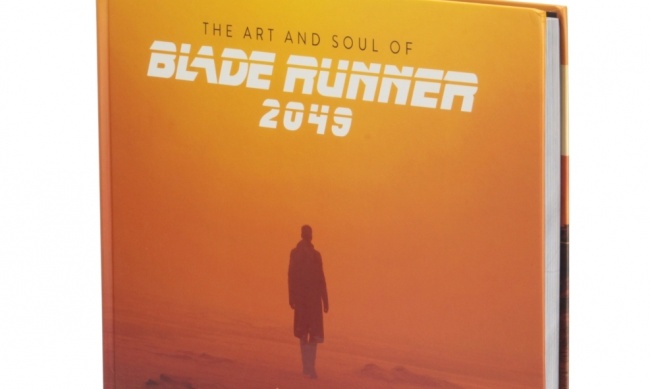 WizKids parent NECA has partnered with Alcon Entertainment to release
The Art and Soul of Blade Runner 2049
, a new art book commemorating the long-awaited
Blade Runner
sequel.
Written by Tanya LaPointe, the book documents the film's two years of production, including exclusive concept art, storyboards, production stills and behind-the-scenes photos with commentary from the cast and crew. It also features a foreword by Denis Villeneuve.
The 220-page, 14 5/8" x 11 5/8" hardcover has an MSRP of $39.95. Release is October 6. The book is available through NECA and in-store at Barnes & Noble. NECA also teased plans for a deluxe edition of the book which will be announced at a later date.
The film will release in theaters on October 6.
NECA and WizKids will also be releasing a social deduction game inspired by the movie.
MARVEL COLLECTS THE 'MANGAVERSE'
09/25/17 @ 8:28 am EST
Source:
ICv2
| Categories:
Marvel
|
Comments
(0) |
E-mail Article
|
Add a Comment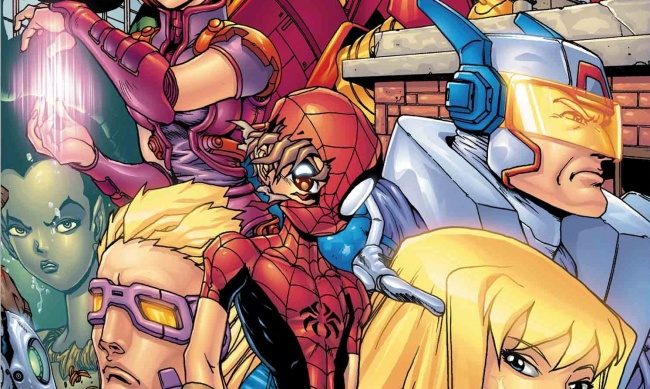 Marvel is bringing East and West together in a new collection.
Marvel Mangaverse: The Complete Collection
brings together manga-style versions of beloved Marvel characters, including Hulk, Iron Man, the Avengers, Spider-Man, Punisher, Ghost Rider, the X-Men, the Fantastic Four, and more. The 392-page trade paperback will be in stores on December 27 for an MSRP of $34.99.
The volume collects
Marvel Mangaverse
#1-6 and
Marvel Mangaverse: New Dawn
, and
Avengers Assemble
,
Fantastic Four
,
Ghost Riders
,
Punisher
,
Spider-Man
,
X-Men
and
Eternity Twilight
.
Marvel Mangaverse was an initiative that ran between 2000 and 2002, producing interconnected and standalone stories in the style of Japanese manga.
BIG, BAD LOOK AT 'LOBO'
09/25/17 @ 8:25 am EST
Source:
ICv2
| Categories:
DC
|
Comments
(0) |
E-mail Article
|
Add a Comment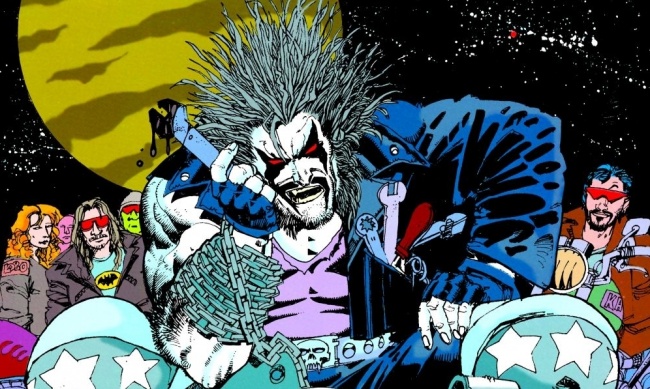 DC Comics is collecting Keith Giffen and Alan Grant's take on gun-for-hire Lobo.
Lobo by Kieth Giffen and Alan Grant Volume 1
features stories written by Giffen and Grant and artwork by Simon Bisley, Denys Cowan, and Giffen. The cover sports artwork by Simon Bisley. The 320-page trade paperback will be in stores on Januray 24. MSRP is $24.99.
The volume reprints classic 1990s stories, including
Lobo
#1-4,
Lobo Paramilitary Christmas Special
#1,
Lobo's Back
#1-4,
Lobo: Blazing Chain of Love
#1 and
Lobo Convention Special
#1. Lobo takes on an unauthorized biographer, Santa Claus, and his own illegitimate offspring in the collection.
Lobo was co-created by Giffen and Roger Slifer as a gonzo parody of characters like Punisher and Wolverine. The motorcycle-riding bounty hunter made his first appearance in 1983 (
The Omega Men
#3
)
, and he has made a number of crossover appearances over the years. Earlier this year, DC collected Lobo's adventures with the Mask, and he appeared opposite the Road Runner in a DC / Looney Tunes crossover. Several attempts have been made to bring the character to the silver screen.
'STAR TREK DISCOVERY' FUELS RECORD SIGN-UPS FOR CBS ALL ACCESS
09/25/17 @ 8:20 am EST
Source:
Deadline
| Categories:
Star Trek
|
Comments
(0) |
E-mail Article
|
Add a Comment
Last night's premiere of
Star Trek: Discovery
on CBS All Access drove a record number of single day sign-ups for CBS' digital streaming subscription service.
While no specific numbers were reported, the network claims that Sunday's record outstrips the previous one spurred by the 2017 GRAMMY Awards back in February.
Episodes one and two of
Star Trek: Discovery
became available to stream on CBS All Access last night with the shows also broadcasting on CBS
.
All new episodes will be available on demand weekly after 8:30 PM, ET on Sundays exclusively for CBS All Access stateside
subscribers.
In addition to its single day subscriber sign-up record,
CBS All Access saw its best week and month ever for sign-ups thanks to
Star Trek: Discovery
, the fall kick-off of the NFL ON CBS and the season finale of
Big Brother
and
Big Brother Live Feeds.