TITANS COLLIDE IN AVENGERS VS. X-MEN #2!
03/13/12 @ 12:25 pm EST
Source:
Marvel
|
Comments
(0) |
E-mail Article
|
Add a Comment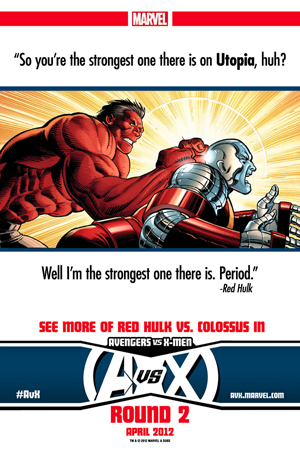 The war to save the Marvel Universe continues this April in
Avengers VS. X-Men #2
as the Earth's Mightiest go head to head against the Children of the Atom while the all-powerful Phoenix Force hurtles towards Earth!
You've heard
It's Coming
—and this April
The War Is Here
in
Avengers VS X-Men #2
! All your favorite super heroes enter—and only one team will emerge victorious!
Which team will reign supreme? Join the conversation on Twitter with
#AvX
!
For more on
Avengers VS X-Men
, please visit
http://avx.marvel.com
AVENGERS VS X-MEN #2 (FEB120534)
Written by JASON AARON
Penciled by JOHN ROMITA JR.
Cover by JIM CHEUNG
FOC – 3/26/12, ON SALE – 4/18/12
To find a comic shop near you, visit
www.comicshoplocator.com
or call 1-888-comicbook.


Marvel Entertainment, LLC, a wholly-owned subsidiary of The Walt Disney Company, is one of the world's most prominent character-based entertainment companies, built on a proven library of over 8,000 characters featured in a variety of media over seventy years. Marvel utilizes its character franchises in entertainment, licensing and publishing. For more information visit
www.marvel.com
RON MARZ TALKS JOHN CARTER AND THE CHARACTER'S CHALLENGES
11/27/15 @ 7:15 pm EST
Source:
Comic Vine
| Categories:
Dynamite
|
Comments
(0) |
E-mail Article
|
Add a Comment
Mark Waid, writer of Justice Inc.: The Avenger #6, talks with writer Ron Marz about John Carter: Warlord of Mars #13, both on sale now.
MARK WAID: What appeals to you about John Carter?RON MARZ:
I think what grabbed me when I first read the novels as a kid was the sense of wonder and discovery.Burroughs had an unparalleled imagination, so everything was fantastic in the true sense of the word. That, coupled with breakneck pacing, is impossible to resist when you're 11 years old. It's stayed with me ever since. And, when you get right down to it, John's got a pretty hot girlfriend.
MW: What motivates him? What is his greatest challenge?RM:
The short answer is he's motivated by love of his princess,Dejah Thoris. He does what he does for her, always for her. But I think the larger answer is that he's motivated by honor, by doing the right thing. Compared to a lot of contemporary heroes, John Carter is a throwback. He does the right thing because it's the right thing, not because he's driven by guilt or angst, or because there's something to be gained. John's greatest challenge is a little tougher, because he's a virtual superman on Mars. That's why I gave him an opposite number in my first arc on the series, a Union cavalry officer who is John's equal on Mars.
MW: How far afield from the original Burroughs material do you wander? Do you want to go farther?RM:
My goal is to stay true to the spirit of the canon, but not be constrained by it. I don't want to do a series that only appeals to hardcore Burroughs fans, I want the material to be inviting to a wide audience. I'd love to go farther, because I think that's the best way to honor the original material -- to engage in creation rather than just imitation. So much of what Burroughs did was about unleashing wild imagination. Anyone who follows in his footsteps needs to do the same.
MW: Man, how underrated was that movie?RM:
Don't get me started. I love Andrew Stanton's movie, not just because it's John Carter, but because it's a damn good movie. It's kind of criminal how botched the marketing was, and then how the film's fate was decided even before it opened. It was doomed before opening day thanks to a combination of studio ineptitude and the media looking to stick a shiv in it because it had the temerity to have a large budget. The failure at the box office breaks my heart, but my heartache is soothed by how great the movie is. I re-watch it often, and I think over time its reputation will be burnished.
MW: For those readers still on the fence, fill in the blank: If you like ____________, you should read John Carter.RM:
"Star Wars" is the obvious one, right? "Star Wars" isn't really science fiction, it is a lot closer to heroic fantasy, or more to the point, planetary romance. George Lucas borrowed a lot more from Edgar Rice Burroughs than he ever did from Heinlein or Asimov. I remember when the John Carter movie came out, a lot of people and even some critics complained about the arena battle with the white apes being ripped off from Episode 2.Well, where to do you think George Lucas got it? That kind of sequence is right out of the John Carter stories. John Carter might have swords instead of light sabers, and airships instead of X-Wings, but they're absolutely cut from the same cloth.
Check out the rest of the extended preview of November 25th's issue!
AGENT CARTERíS JUST GETTING STARTED IN NEW PROMO
11/27/15 @ 7:02 pm EST
Source:
Bleeding Cool
| Categories:
Marvel
|
Comments
(0) |
E-mail Article
|
Add a Comment
A new ad for the second season of Marvel's Agent Carter sees Peggy just getting started:

TV Ad: https://www.youtube.com/watch?feature=player_embedded&v=GOwxiOMZeto

The second season of the show brings Peggy Carter, played by Hayley Atwell, James D'Arcy's Mr. Jarvis and the SSR to Los Angeles. But according to the official description, "even as she discovers new friends, a new home – and perhaps even a new love – she's about to find out that the bright lights of the post-war Hollywood mask a more sinister threat to everyone she is sworn to protect." Chad Michael Murray and Enver Gjokajalso return as SSR Agent Jack Thompson and Chief Daniel Sousa. Wynn Everett, Lotte Verbeek, Currie Graham, Kurtwood Smith, Reggie Austin and Ken Marino are also set to appear.

Agent Carter returns to ABC on January 5th, 2016.
BARRY ASKS THE BIG QUESTION IN NEW ZEALAND TV SPOT FOR FLASH/ARROW CROSSOVER
11/27/15 @ 6:57 pm EST
Source:
Bleeding Cool
| Categories:
DC
|
Comments
(0) |
E-mail Article
|
Add a Comment
In this New Zealand TV ad (spotted by Comic Book Movie) for the upcoming The Flashand Arrow crossover, Barry asks a question we've all been dying to know about Oliver Queen:

TV Ad: https://youtu.be/q5pQIuTgyBg

Part 1 of the Crossover, "Legends of Today" airs December 1st.
HOW PROFESSOR X GOES BALD IN X-MEN: APOCALYPSE, REVEALED
11/27/15 @ 6:48 pm EST
Source:
Bleeding Cool
| Categories:
X-Men
|
Comments
(0) |
E-mail Article
|
Add a Comment
On the Graham Norton Show, currently airing on BBC 1, with a guest list including
Daniel Radcliffe, Johnny Depp, Benedict Cumberbatch
and
James MacAvoy,
we got a tease as to a certain plot point from the upcoming
X-Men: Apocalypse.
Noting that Daniel Radcliffe has shaved his head for
Imperium
, a film where he plays an FBI agent infiltrating a group of Nazi skinhead, Norton asked MacAvoy about his own head shaving experience for
X-Men: Apocalypse
. And confirming that we will discover how Professor Xavier goes bald.
Norton asked "Is there a good reason for why he goes bald or is it really dull?
MacAvoy replied "He ends up going through something so horrible and painful that he literally half pulls his hair out half… it falls out" to winces from Graham and the audience. "Maybe or maybe not"
Asked if he should have told the audience that he admitted: "I just sh*t myself because I know, Fox Studios who own me might be angry with me for sharing that."
BRITANNIA, A BRAND NEW COMIC FROM VALIANT FOR 2016
11/27/15 @ 6:34 pm EST
Source:
Bleeding Cool
| Categories:
MIsc
|
Comments
(0) |
E-mail Article
|
Add a Comment
In a recent podcast with the Valiant big boss
Dinesh Shamdasani
, he announced an upcoming new comic book from the publisher called
Britannia
, saying that Valiant is as excited by this as much as they were the smash hit
Divinity
.
Britannia was the Roman term for Great Britain, and also the female personification of the land as a goddess, armed with trident and shield. wearing a Corinthian helmet. She appeared on all the coins until seven years ago, nowadays she is just on the £2 coin.
NEW "GOTHAM" VIDEO TEASES "BATMAN V SUPERMAN" SNEAK PEEK
11/27/15 @ 6:28 pm EST
Source:
Comic Book Resources
| Categories:
Batman Superman
|
Comments
(0) |
E-mail Article
|
Add a Comment
In a new video, the cast of "Gotham" -- including Morena Baccarin, Robin Lord Taylor and Sean Pertwee -- chooses a side in the great "Batman v Superman: Dawn of Justice" debate -- and the answers likely won't surprise you.
Additionally, the video announces an exclusive sneak peek of the film during "Worse Than a Crime," Monday's new episode of "Gotham."
Video:
https://youtu.be/6XdxTiX-vRU
THE FLASH: ARROW CROSSOVER INTERNATIONAL PROMO RELEASED
11/27/15 @ 6:20 pm EST
Source:
Comicbook
| Categories:
DC
|
Comments
(0) |
E-mail Article
|
Add a Comment
A new international promo for next week's crossover episode of
The Flash
, "Legends of Today," has been released online.
The clip shows the Flash (Grant Gustin) bickering with Green Arrow (Stephen Amell) while battle Vandal Savage (Casper Crump).
Check it out here:
https://youtu.be/LfV3WGbSIFI
LUTHER RETURNS IN NEW TRAILER
11/27/15 @ 12:51 pm EST
Source:
Bleeding Cool
| Categories:
MIsc
|
Comments
(0) |
E-mail Article
|
Add a Comment
BBC One has released a new trailer for the upcoming special of
Luther
. The special will see Luther on a leave of absence from the police force, but soon to return to London when he hears shocking news and a cannibalistic serial killer begins a murderous spree.
Idris Elba
returns to star. The special will also feature
Darren Boyd
,
Rose
Leslie
,
Dermot Crowley
and
Laura Haddock
.
Trailer:
https://www.youtube.com/watch?feature=player_embedded&v=vTZvxT03y1U
A FAIRLY SPOILER-FREE STAR WARS: THE FORCE AWAKENS SOUNDTRACK LISTING OFFERS ONE OR TWO HINTS AT MORE PLOT
11/27/15 @ 12:44 pm EST
Source:
Bleeding Cool
| Categories:
Star Wars
|
Comments
(0) |
E-mail Article
|
Add a Comment
Stitch Kingdom reports Amazon France has uploaded details on the
John Williams
soundtrack for that well-known
Star Wars
movie that's coming out in just three short weeks. The track listing has since been removed from the Amazon France page. None of the tracks feature names as shattering as
The Phantom Menace
's infamous "Qui-Gon's Noble End," but depending on how much you want to more you want to know, you might want to avert your eyes.
Granted, if you've been following the stream of clips, there's nothing too surprising here … except maybe the last track.
If you're curious, here is the listing as reported by Stitch Kingdom:
1. Main title and the attack on the jakku village
2. The scavenger
3. I can fly anything
4. Rey meets bb-8
5. Follow me
6. Rey's thème
7. The falcon
8. That girl with the staff
9. The rathtars!
10. Finn's confession
11. Maz's counsel
12. The starkiller
13. Kylo ren arrives at the battle
14. The abduction
15. Han and leia
16. March of the resistance
17. Snoke
18. On the inside
19. Torn apart
20. The ways of the force
21. Scherzo for X-wings
22. Farewell and the trip
23. The jedi steps and finale
Star Wars: The Force Awakens
will release its ultimate spoiler on December 18th.
RIDLEY SCOTT CONFIRMS TWO MORE ALIEN SEQUELS AFTER ALIEN: COVENANT
11/27/15 @ 12:39 pm EST
Source:
Bleeding Cool
| Categories:
Aliens
|
Comments
(0) |
E-mail Article
|
Add a Comment
It will take three films to get for
Prometheus
to sync up with
Alien
if you don't count
Prometheus
or
Alien
. According to The Hollywood Reporter, director
Ridley Scott
has confirmed there will be an additional two films
after
his upcoming
Alien: Covenant
. "Its a very complex story. Its an evolution of what I first did with
Prometheus 1
," he said at a press conference in Sydney, Australia. "
Prometheus 1
was borne out of my frustration that on
Alien 1
in 1979 – I only did one as I don't normally do sequels. I was amazed that in the 3 that followed that no-one asked the question 'why the Alien, who made it and why?' Very basic questions. So I came up with the notion of
Prometheus 1,
which starts to indicate who might have made it and where it came from."
The new film will be shot in Sydney's Fox Studios in March and tell the tale of the colony ship
Covenant
as it meets up with
Michael Fassbender
's homicidal android David.
"I'm now going to the next one, which is the next evolution directly connected with the first one, which was this Shaw, when he[sic] replaced Michael Fassbender in two pieces and we'll kind of pick it up there and it will evolve," he said. Previously, it was assumed
Noomi Rapace
would be returning as Shaw, Scott indicated she will only appear briefly in the new film. "When that's finished there'll be another one," Scott continued. "And then another one which will gradually drive into the back entrance of the film in 1979."
Scott's ultimate aim is to explain how that derelict ship in the original
Alien
crashed and answer two questions that have remained in his mind since completing the first film: "Why was this space jockey there and why did he have an Alien inside him?" The answers require four films, it seems.
Alien: Covenant
lands in theaters on October 6th, 2017.