TITANS COLLIDE IN AVENGERS VS. X-MEN #2!
03/13/12 @ 12:25 pm EST
Source:
Marvel
|
Comments
(0) |
E-mail Article
|
Add a Comment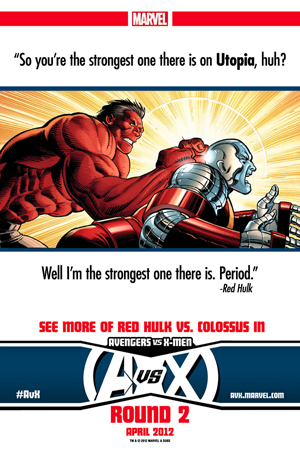 The war to save the Marvel Universe continues this April in
Avengers VS. X-Men #2
as the Earth's Mightiest go head to head against the Children of the Atom while the all-powerful Phoenix Force hurtles towards Earth!
You've heard
It's Coming
—and this April
The War Is Here
in
Avengers VS X-Men #2
! All your favorite super heroes enter—and only one team will emerge victorious!
Which team will reign supreme? Join the conversation on Twitter with
#AvX
!
For more on
Avengers VS X-Men
, please visit
http://avx.marvel.com
AVENGERS VS X-MEN #2 (FEB120534)
Written by JASON AARON
Penciled by JOHN ROMITA JR.
Cover by JIM CHEUNG
FOC – 3/26/12, ON SALE – 4/18/12
To find a comic shop near you, visit
www.comicshoplocator.com
or call 1-888-comicbook.


Marvel Entertainment, LLC, a wholly-owned subsidiary of The Walt Disney Company, is one of the world's most prominent character-based entertainment companies, built on a proven library of over 8,000 characters featured in a variety of media over seventy years. Marvel utilizes its character franchises in entertainment, licensing and publishing. For more information visit
www.marvel.com
ANDY MIENTUS TO RETURN AS PIED PIPER ON "THE FLASH"
02/09/16 @ 9:31 pm EST
Source:
Comic Book Resources
| Categories:
Flash
|
Comments
(0) |
E-mail Article
|
Add a Comment
"Smash" star Andy Mientus is set to reprise his role as Pied Piper on "The Flash." Entertainment Weekly reports he'll appear in season two's 17th episode, which is titled "Flash Back." Barry will encounter Pied Piper in an earlier timeline, while Piper attacks his former STAR Labs coworkers.
In the season one episode "The Sound and the Fury," Hartley Rathaway -- a.k.a. Pied Piper -- was a former STAR Labs tech who gained mysterious sonic powers after he lost his hearing in the particle accelerator explosion. He crossed paths with the Flash during his quest for revenge against STAR head Dr. Harrison Wells.
As Barry will return to an earlier timeline in "Flash Back," it seems likely he will encounter Pied Piper at this point: at the beginning of the character's villainous career.
Starring Grant Gustin, Carlos Valdes and Jesse L. Martin, "The Flash" returns airs Tuesdays at 8 pm EST on The CW.
CW'S ARCHIE ADAPTATION "RIVERDALE" CASTS ITS BETTY AND JUGHEAD
02/09/16 @ 3:51 pm EST
Source:
Comic Book Resources
| Categories:
Archie
|
Comments
(0) |
E-mail Article
|
Add a Comment
The CW has cast two for its Archie Comics-inspired "Riverdale" pilot, as reported byDeadline: Lili Reinhart ("Surviving Jack") as Betty Cooper and Cole Sprouse ("Suite Life of Zach and Cody") as Jughead Jones.
Reinhart's Betty is described as a "sweet, studious, eager-to-please and wholesome with a huge crush on her longtime best friend, Archie. Tired of being the perfect daughter, student, sister, etc., she turns to her new friend, Veronica, for life advice -- much to the consternation of her emotionally brittle mother."
Jughead, as played by Disney Channel alum Sprouse, is described as a "heartthrob with aphilosophical bent and former best friend of Archie Andrews. He is still smarting from the rift that took place between the two."
"Riverdale" is currently at the pilot stage at The CW after initially starting development at Fox, and has been described as a "subversive" and "surreal" take on the famed Riverdale gang, set to explore the "darkness and weirdness bubbling beneath Riverdale's wholesome façade." Greg Berlanti -- of current comic book-based CW series "The Flash," "Arrow" and "DC's Legends of Tomorrow" -- is on board as a producer, and Archie Comics Chief Creative Officer Roberto Aguirre-Sacasa wrote the pilot and will executive produce, along with Berlanti, Berlanti Productions President Sarah Schechter and Archie Comics CEO Jon Goldwater.
FOX OPTIONS BOOM! GRAPHIC NOVEL 'THE EMPTY MAN', GETS DAVID PRIOR TO FILL IT
02/09/16 @ 3:47 pm EST
Source:
Deadline
| Categories:
MIsc
|
Comments
(0) |
E-mail Article
|
Add a Comment
20th Century Fox has optioned
The Empty Man
, the Boom! graphic novel written by Eisner Award-winner Cullen Bunn and illustrated by Vanesa R. Del Rey that was published in 2014. The studio has set emerging dircetor David Prior to write and helm the adaptation in the latest to come from Fox's first-look deal with Boom! Studios.
Although the film's plot is being kept under wraps, the graphic novel is a supernatural thriller about a terrifying entity that may be responsible for a string of mysterious disappearances in a small midwestern town. Boom! Studios CEO and founder Ross Richie and president of development Stephen Christy will produce the pic, with Adam Yoelin co-producing. Fox's Mark Roybal and Ryan Jones brought the project into the studio.
Boom! and Fox are already in development on several projects as part of their deal including an adaptation of James Wan's graphic novel
Malignant Man
,
Imagine Agents
with Michael Keaton attached to star and Anonymous Content producing,
Lumberjanes
with Will Widger (
The Munchkin
) attached to write, and
The Foundation
with Evan Daugherty adapting. Boom! also has a TV-side deal with 20th and has several projects in development with the likes of the UK's Channel 4 (
Butterfly
) and DreamWorks Animation TV (
Cow Boy
).
CBS' 'STAR TREK' TAPS BRYAN FULLER AS SHOWRUNNER
02/09/16 @ 3:43 pm EST
Source:
The Hollywood Reporter
| Categories:
Star Trek
|
Comments
(0) |
E-mail Article
|
Add a Comment
Bryan Fuller is going back to his roots.
The veteran writer-producer has been tapped to serve as co-creator and showrunner on CBS'
Star Trek
reboot and will serve alongside ALex Kurtzman,
The Hollywood Reporter
has learned.
CBS' new
Star Trek
— picked up straight to series to air on CBS' digital platform All Access, hails from prolific producer Kurtzman. The series is a new take on the beloved sci-fi classic, with the premiere slated to air on the network in January 2017 before subsequence episodes air on its digital and VOD platform.
Star Trek
marks the first original series developed specifically for CBS All Access.
For Fuller, CBS'
Star Trek
marks his return to the franchise, starting as a freelancer and rising through the ranks to co-producer. The
Wonderfalls, Pushing Daises
alum started his career on
Star Trek: Deep Space Nine
and
Star Trek: Voyager.
He wrote a combined 22 episodes in the franchise, with that tally likely to grow with the CBS All Access take.
"My very first experience of
Star Trek
is my oldest brother turning off all the lights in the house and flying his model of a D7 Class Klingon Battle Cruiser through the darkened halls. Before seeing a frame of the television series, the
Star Trek
universe lit my imagination on fire," Fuller said. "It is without exaggeration a dream come true to be crafting a brand new iteration of
Star Trek
with fellow franchise alum Alex Kurtzman and boldly going where no Star Trek series has gone before."
Added Kurtzman: "Bringing
Star Trek
back to television means returning it to its roots, and for years those roots flourished under Bryan's devoted care. His encyclopedic knowledge of
Trek
canon is surpassed only by his love for Gene Roddenberry's optimistic future, a vision that continues to guide us as we explore strange new worlds."
Added David Stapf, president of
Star Trek
producers CBS Television Studios: "For the past 50 years,
Star Trek
has been a groundbreaking franchise that not only changed the landscape of television, but made a significant impact on pop culture. When we began discussions about the series returning to television, we immediately knew that Bryan Fuller would be the ideal person to work alongside Alex Kurtzman to create a fresh and authentic take on this classic and timeless series. Bryan is not only an extremely gifted writer, but a genuine fan of
Star Trek
. Having someone at the helm with his gravitas who also understands and appreciates the significance of the franchise and the worldwide fan base was essential to us."
ADAM WARLOCK BATTLES ACROSS TIME & SPACE IN THE INFINITY ENTITY #1
02/09/16 @ 3:38 pm EST
Source:
Marvel
| Categories:
Marvel
|
Comments
(0) |
E-mail Article
|
Add a Comment
This March, he will travel to the ends of the universe and even back in time in an effort to regain his memories. He is Adam Warlock, and his story will be told in
THE INFINITY ENTITY #1
! – a brand-new limited series from comic legends Jim Starlin and Alan Davis! Spinning directly out of the New York Times Bestselling
Thanos: The Infinity Revelation
and
Thanos: The Infinity Relativity
– follow Adam Warlock on a desperate quest that leads directly into the final chapter of Starlin's epic trilogy,
Thanos: The Infinity Finale
! A quest that will cross paths with the original Avengers, the Guardians of the Galaxy, and cosmic beings with the power to unmake entire universes! Can he reclaim his memories and become the hero he once was? Find out as Starlin and Davis bring you a cosmic thrill ride this March in
THE INFINITY ENTITY #1
!
THE INFINITY ENTITY #1 (of 4) (JAN160725)Written by JIM STARLIN
Art & Cover by ALAN DAVISVariant Covers by RON LIM (JAN160726) & MARCO RUDY (JAN160727)FOC – 02/15/16, On-Sale – 03/09/16
FOC – 02/15/16, On-Sale – 03/09/16
SMOAK TOWER IS ON FIRE IN NEW DC'S LEGENDS OF TOMORROW PHOTO
02/09/16 @ 3:31 pm EST
Source:
Comicbook
| Categories:
DC
|
Comments
(0) |
E-mail Article
|
Add a Comment
It looks like Felicity Smoak will do pretty well for herself in the future - you know, until the entire future falls apart, of course.
In a preview still from executive producer Marc Guggenheim, we see that Palmer Tech is no longer going by Ray's name. Instead, in the future Star City visited by the cast of
Legends of Tomorrow
, the building says SMOAK.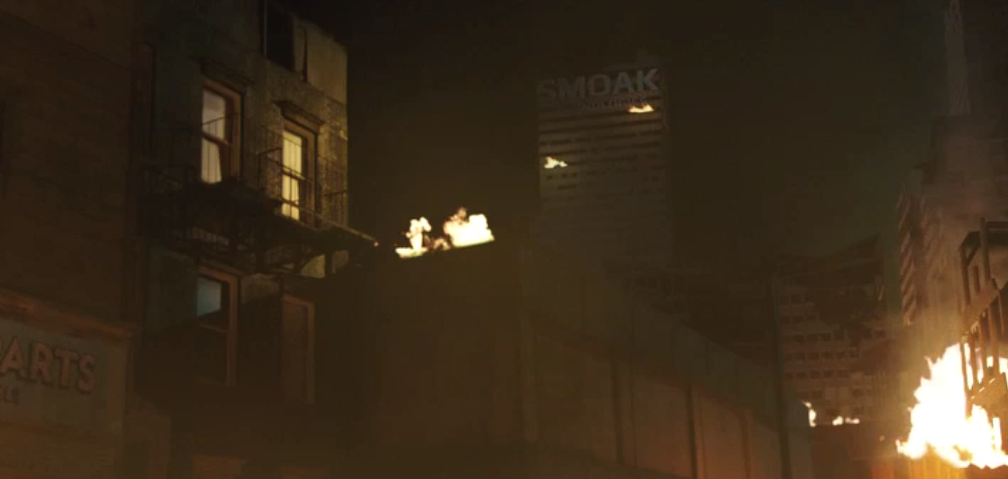 It also happens to be on fire, which gives us our puntacular headline.
This indicates that Felicity will be around for awhile, it seems, and eventually fully takeover the Palmer company, which was formerly Queen Industries. Don't read too much into "Smoak," though, Olicity fans - it doesn't mean they don't wind up together, it could very well just be that a self-made professional didn't want to change her name.
DC's Legends of Tomorrow
visits the future in Star City, 2046, where they'll also come across a wartorn Green Arrow missing an arm (but sporting a goatee), played by
Arrow
star Stephen Amell.
DEADPOOL GETS ROMANTIC IN LATEST PROMO
02/09/16 @ 3:22 pm EST
Source:
Comicbook
| Categories:
Deadpool
|
Comments
(0) |
E-mail Article
|
Add a Comment
This time of year, Hollywood traditionally inundates theaters with their best romantic offerings to take advantage of loving couples and lonely hearts. Not exactly the ideal time to open an R-rated superhero film like
Deadpool.
Instead of ignoring the holiday, Fox's marketing has fully-embraced it, making the Valentine's Day-timing part of their zany and refreshingly unpredictable campaign.
They've put out romantic posters playing up the romance between Wade Wilson (Ryan Reynolds) and Vanessa (Morena Baccarin) and promos featuring Deadpool trying to act lovey-dovey. This latest promo has Deadpool lounging on a leather couch cradling a red rose and describing himself to potential admirers.
Promo:
https://youtu.be/i-3PZIqF5KY
"THE FLASH'S" SURPRISING EARTH-2 JOURNEY COMES 'STRAIGHT FROM THE COMIC BOOKS'
02/09/16 @ 3:18 pm EST
Source:
Comic Book Resources
| Categories:
Flash
|
Comments
(0) |
E-mail Article
|
Add a Comment
Since the second season premiere of "The Flash," fans of The CW's hit superhero show have been treated to glimpses of Earth-2, the alternate Earth home to the villainous speedster Zoom and plenty of metahumans. A number of these metahumans have come to Earth-1's Central City looking to kill The Flash and, stranger still, many of them have been evil doppelgangers of familiar Earth-1 faces like Doctor Light/Linda Park.
As the Flash, Barry Allen has faced metahumans with powers ranging from frightening to bizarre, but can he handle meeting his doppelganger and seeing the life his other self has? "Welcome to Earth-2," tonight's all-new episode of "The Flash," will force Barry to learn the answer as he takes Harrison Wells and Cisco Ramon to Earth-2 to rescue Wells' daughter Jesse from Zoom's pointy clutches.
The journey is fraught with peril as Barry not only stumbles into the likes of Killer Frost and Deathstorm -- evil Earth-2 versions of Flash allies Caitlin Snow and Ronnie Raymond -- but also encounters a slight hiccup. Executive Producers Todd & Aaron Helbing spoke with a small group of journalists including CBR News in advance of tonight's episode, which sees members of Team Flash visit Earth-2 for the first time.
"Barry, Cisco and Wells go over to Earth-2 with a definitive plan that goes awry, and they are left having to improvise and find themselves in a completely different scenario than they anticipated," Todd Helbing explained. "They have a race for their lives to get back."
As revealed in photos from the episode, two factors that could cause the plan to go sideways are named Killer Frost and Deathstorm. Todd Helbing mentioned that Killer Frost was teased in the Season One finale, and this Earth-2 vacation was when puttingDanielle Panabaker in the role of the ice cold rogue made sense. "It felt the most appropriate and organic to go over there and meet Killer Frost and Deathstorm and get to see a completely different aspect of their personalities that go along with their superpowers. Getting anybody to play a doppelganger that's evil is in, some ways, the most fun you can have," he said.
Though viewers will see Killer Frost in Earth-2, it doesn't rule out seeing Earth-1 Caitlin Snow transform in the future. Aaron Helbing said anything is possible with Todd Helbing adding, "Right now, Caitlin is not affected so for that to happen, there's going to have to be some scenario that would trigger that. Right now, it's not a possibility."
"Welcome to Earth-2" isn't all about villainous doppelgangers. Barry encounters himself, Iris and Joe. The Barry of Earth-2 has a distinct look with glasses and a bow tie fans of the DC Comics source material will be quick to recognize. Todd Helbing said it was fun finding the right tone for the alternate earth Barry. "Grant [Gustin] is just one of those actors who can do anything. His comedic timing is amazing, his physical presence and humor is amazing," said Todd Helbing. "Originally, we felt like he should have this Jimmy Stewart quality, but we really just gave Grant a few ideas and he took them upon himself and created this amazing guy."
Speaking of amazing, Earth-2 Joe West is a crooner. Jesse L. Martin is a talented singer, and they jumped on the chance to showcase his skills. "Our cast, they're all extremely talented. Every time we see them do stuff like this, it just blows our minds," said Todd Helbing. "I think [with] Jesse -- it just felt organic. You get to play with the doppelganger aspect [and] that just felt like the best way to introduce that ability he has."
When it comes to Iris, photos hint Earth-2 Barry and Iris have a different relationship than their Earth-1 counterparts. "I think the fans are going to crazy over it," said Todd Helbing.
The trip to Earth-2 not only paves the way for doppelganger hijinks -- it also opens up the possibilities for Easter eggs. The episode is overflowing with them, but the Helbings said the final product doesn't include everything the show's writers brainstormed. "We had a giant board of probably 50 ideas that we had to whittle down to the bare bones," said Aaron Hebling. They writers tried to balance the story's direction and their desire to insert Easter eggs, but Todd Helbing said it was a challenge. "The ideas you have up on the board are endless, so it's really hard to narrow it down. You just try to pick and choose what you think is the best.
"It's cool seeing these different realities," Todd Helbing continued. "Some of these images we're pulling straight from the pages of the comic books. It's an amazing experience and a lot of fun."
"Welcome to Earth-2," the 13th episode of "The Flash" Season Two, airs Tuesday, February 9 at 8:00pm ET/PT on The CW.
GHASTLY AWARDS NOMINATES ONI PRESS'S JUNIOR BRAVES OF THE APOCALYPSE
02/09/16 @ 9:13 am EST
Source:
Oni Press
| Categories:
MIsc
|
Comments
(0) |
E-mail Article
|
Add a Comment
Oni Press is proud to announce the nomination of
Junior Braves of the Apocalypse Vol. 1: A Brave is a Brave
for the
2015 Ghastly Awards "Best OGN"
.
Junior Braves of the Apocalypse Vol. 1: A Brave is A Brave
by Greg Smith, Michael Tanner
,
and Zach Lehner follows the Junior Braves of Tribe 65 as they return from from a camping trip and find swarms of bloodthirsty mutants have overrun their town. With their families missing and their homes destroyed, these plucky kids must use all their scouting talents, combined smarts, and teamwork to survive the end of the world!
The nominees, chosen by the Ghastly Award judges, reflect the wide range of horror material being published in horror comics today. Fan and creator voting will be open from
February 8, 2016 until February 21, 2016
at ghastlyawards.com. Winners will be announced on March 1, 2016.
AMC'S 'PREACHER' ENLISTS JACKIE EARLE HALEY AS KEY COMICS CHARACTER
02/09/16 @ 9:09 am EST
Source:
The Hollywood Reporter
| Categories:
MIsc
|
Comments
(0) |
E-mail Article
|
Add a Comment
AMC's
Preacher
adaptation has enlisted Oscar nominee Jackie Earle Haley to play an iconic character from the graphic novel.
Haley has been tapped for a six-episode arc on the upcoming AMC drama, where he will portray the iconic character of Odin Quincannon,
The Hollywood Reporter
has learned.
Based on Garth Ennis and Steve Dillon's 1990s comic series from DC Comics imprint Vertigo,
Preacher
revolves around Rev. Jesse Custer (
Agent Carter'
s Dominic Cooper), a badass Texas preacher who, after losing his faith, learns that God has left heaven and forsaken his duties. Jesse becomes the only one who is able to track God down and hold him responsible for his abdication. Tulip O'Hare (breakout Ruth Negga), Jesse's beer-guzzling vampire ex-girlfriend, accompanies him on his quest for answers.
Haley's Odin is described as a small, decrepit man with the unscrupulous iron will necessary to be the most powerful man in Annville County, Texas. The chief employer in town, Odin runs Quincannon Meat & Power, a 125-year-old family run cattle slaughterhouse business.
In the comics, Odin is a member of the local KKK branch and clashes multiple times with Jesse, with the latter eventually discovering him having sex with a mannequin made out of meat products.