TITANS COLLIDE IN AVENGERS VS. X-MEN #2!
03/13/12 @ 12:25 pm EST
Source:
Marvel
|
Comments
(0) |
E-mail Article
|
Add a Comment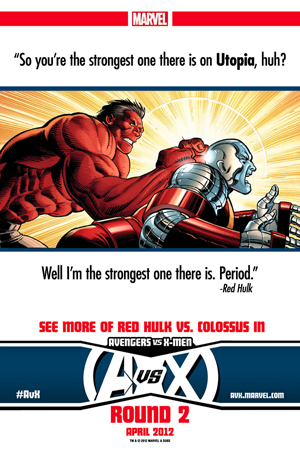 The war to save the Marvel Universe continues this April in
Avengers VS. X-Men #2
as the Earth's Mightiest go head to head against the Children of the Atom while the all-powerful Phoenix Force hurtles towards Earth!
You've heard
It's Coming
—and this April
The War Is Here
in
Avengers VS X-Men #2
! All your favorite super heroes enter—and only one team will emerge victorious!
Which team will reign supreme? Join the conversation on Twitter with
#AvX
!
For more on
Avengers VS X-Men
, please visit
http://avx.marvel.com
AVENGERS VS X-MEN #2 (FEB120534)
Written by JASON AARON
Penciled by JOHN ROMITA JR.
Cover by JIM CHEUNG
FOC – 3/26/12, ON SALE – 4/18/12
To find a comic shop near you, visit
www.comicshoplocator.com
or call 1-888-comicbook.


Marvel Entertainment, LLC, a wholly-owned subsidiary of The Walt Disney Company, is one of the world's most prominent character-based entertainment companies, built on a proven library of over 8,000 characters featured in a variety of media over seventy years. Marvel utilizes its character franchises in entertainment, licensing and publishing. For more information visit
www.marvel.com
"PURE DYNAMITE" GROUPEES BUNDLE EXPANDS WITH AWESOME MID-PROMOTION ADDITIONS
08/29/16 @ 6:12 pm EST
Source:
Dynamite
| Categories:
Dynamite
|
Comments
(0) |
E-mail Article
|
Add a Comment
Earlier this month, Dynamite Entertainment announced their partnership with Groupees, the unique media and charity bundling site, to offer "Pure Dynamite", a bundle promotion which includes over 85 digital comics which fans can purchase with "Pay What You Want" pricing power. Today, Dynamite is proud to announce an expansion of the "Pure Dynamite" bundle, adding several new titles to the mix, including Brickleberry, Miss Fury, The Dresden Files: Wild Card, and The Precinct, as well as an additional higher-tier Group Bonus comics. These new titles are being added in at no additional cost to consumers!

Fans should also jump on the additional thresholds with physical items as part of the package. The highest threshold with the Women of Dynamite: Vampirella Statue has fully sold out, and the $75 threshold with a hand drawn sketch has only 13 units left as of the press release.

The "Pure Dynamite" Groupees Bundle promotion can be found at: www.groupees.com/puredynamite

"The latest additions to the 'Pure Dynamite' Groupees Bundle adds such celebrated writers as Jim Butcher, Roger Black and Waco O'Guin (the creators of the wildly funny Brickleberry television show), Corinna Bechko, Jonathan Lau, Frank J. Barbiere, and more to our promotion's already jam-packed list of high-profile creators, including Garth Ennis, Andy Diggle, Gail Simone, Kate Leth, David F. Walker, and Mark Waid -- to name just a few," says Nick Barrucci, Dynamite's CEO and Publisher. "The star power of this promotion keep getting bigger and better. We did call it 'Pure Dynamite', after all!"

"The 'Pure Dynamite' bundle has already generated lots of excitement in our community with a phenomenal collection of digital comics offered at fantastic prices," said Thomas Brooke, Groupees Founder. "With these new additions, Dynamite demonstrates its continued commitment to spread goodwill and promote comic readership to fans around the world."

This Groupees promotion has three tiers. The first tier is unlocked with only a $1.00 contribution, while a $5.00 minimum investment offers fans an additional batch of comics and graphic novels, while the third $15.00 tier makes even more items available. Additional special deals are available to fans who commit to larger dollar values, including physical comics, and original character sketches hand-illustrated by artist Ken Haeser. Full details for tiers and special deals can be found below, with the new additions indicated in bold.

The $1.00 Tier includes 25 comics at an approximately $50.00 value (Miss Fury #1 added at no additional cost):

Amanda Hocking's The Hollows: A Hollowland Graphic Novel #1-10

The Boys #7-14

Control #1

Dejah Thoris (2016) #1

Miss Fury (2016) #1

Pathfinder Special 2013

Pathfinder: Origins #1

Red Sonja (2016) #1

Swords of Sorrow #1

Vampirella (2016) #1


The $5.00 Tier features an additional 24 issues, at an additional value of $45.00 (a cumulative value of $95.00, and now including Brickleberry: Armoogeddon #1 at no additional cost):

A Train Called Love #1-3

Bob's Burgers #4-5

Brickleberry: Armoogeddon #1

John Carter: Warlord of Mars 2015 Special

The Mocking Dead #1-5

Red Sonja Goes East

Seduction of the Innocent #1-4

SMOSH #1

Swords of Sorrow #2-6

Vampirella vs. Dracula #1

The $15.00 Tier features 39 additional comics, at an approximate value of $83.00 (a culmulative value of $178.00, and now including Jim Butcher's The Dresden Files: Wild Card #1 and The Precinct #1 at no additional cost):

Dead Irons #1-4

Hack/Slash/Eva: Monster's Ball #1-4

Jim Butcher's The Dresden Files: Wild Card #1

Kirby: Genesis #0-8

Mark Waid's The Green Hornet #1-6

The Precinct #1

Red Sonja: One More Day

Shaft: A Complicated Man #1-6

Sherlock Holmes: The Trial of Sherlock Holmes #1-5

The Twilight Zone: Shadow & Substance #1-4

Special Deals Include:

Dynamite Physical High-End Ultra-Limited Comics: First, fans who contribute a minimum of $25 will receive a box of five (5) physical random hardcovers and/or trade paperbacks amounting to an MSRP of $75 or more, in addition to the digital bundle. (Note: shipping and handling is extra and to be paid by buyers of these tiers.)

Also, fans who contribute a minimum of $50 will receive two (2) Dynamite Premium Comics Valued at $100.00 or more, in addition to the previous threshold items, comprising five (5) random collections and the digital bundle. The total value of this reward level is estimated at $190.00 or more. (Note: shipping and handling is extra and to be paid by buyers of these tiers.)

Original Artwork for 25 Lucky Fans: The first 25 fans to contribute a minimum of $75 can pick a Dynamite character of their choosing (from a selection of over a dozen characters) hand-drawn by Ken Haeser, in addition to the items attained in the previous thresholds. The total value of this reward level is estimated at $265.00 or more. (Note: shipping and handling is extra and to be paid by buyers of these tiers.)

The highest threshold has sold out! Dynamite also offered a $189 tier which gave fans the opportunity to acquire a gorgeous Women of Dynamite: Vampirella Artist Proof Edition Statue, valued at $300. This special offer had a limitation of five (5) units and was quickly sold out to hardcore fans.

Group bonuses have been unlocked throughout the promotion, giving fans the chance to earn bonus items. The announced bonuses included Lords of the Jungle #1 once 250 bundles were sold, andArmy of Darkness: Furious Road #1 once 500 bundles were sold. Dynamite is proud to reveal the additional thresholds: The Twilight Zone #1959 Special at the 750-level, and Vampirella #1969 Special at the 1000-level.

Dynamite will also supply customers with the opportunity to download previews of newly-released and upcoming comic books, as well as desktop wallpapers, absolutely free. The free previews include: Army of Darkness: Ash for President, Control - The Original Issue #1 Script by Andy Diggle, Evil Ernie: Godeater #1,James Bond #7, Kiss #1, Red Team: Double Tap, Center Mass #1, and Wolfcop #1. Wallpapers will includeVampirella, The Mocking Dead, Red Sonja, Kiss, and Dejah Thoris.

A percentage of proceeds will go to the Comic Book Legal Defense Fund, to help continue their efforts of protecting first amendment rights in the comic book industry"Dynamite does incredible work, with comics that appeal to an ever-expanding set of readers and an ongoing commitment to giving back to the industry. We're grateful that their efforts to support Comic Book Legal Defense Fund will continue with this Groupees bundle, and will allow us to advance our important work protecting the freedom to read!" says Charles Brownstein, Executive Director of the Comic Book Legal Defense Fund.

Check out the Groupees Pure Dynamite bundle for more information: www.groupees.com/puredynamite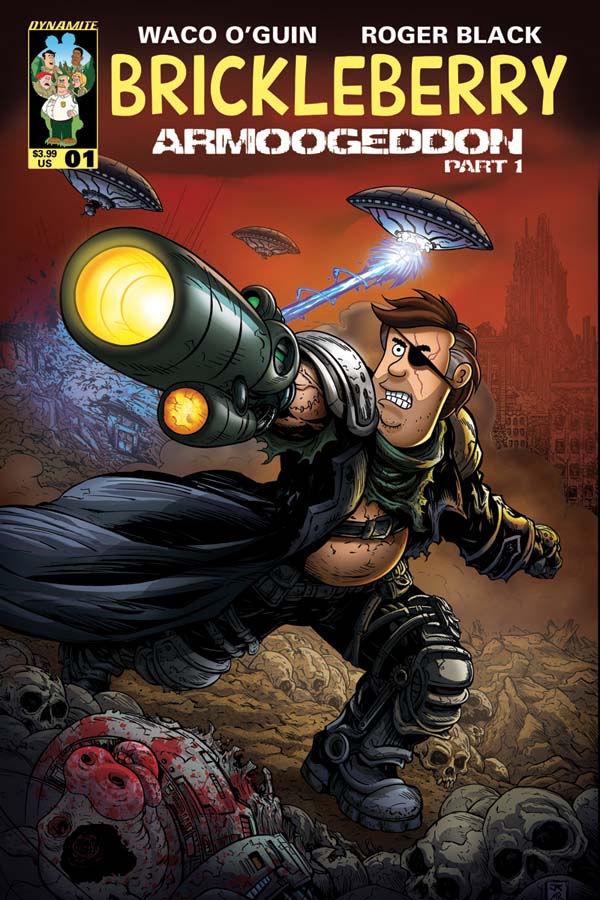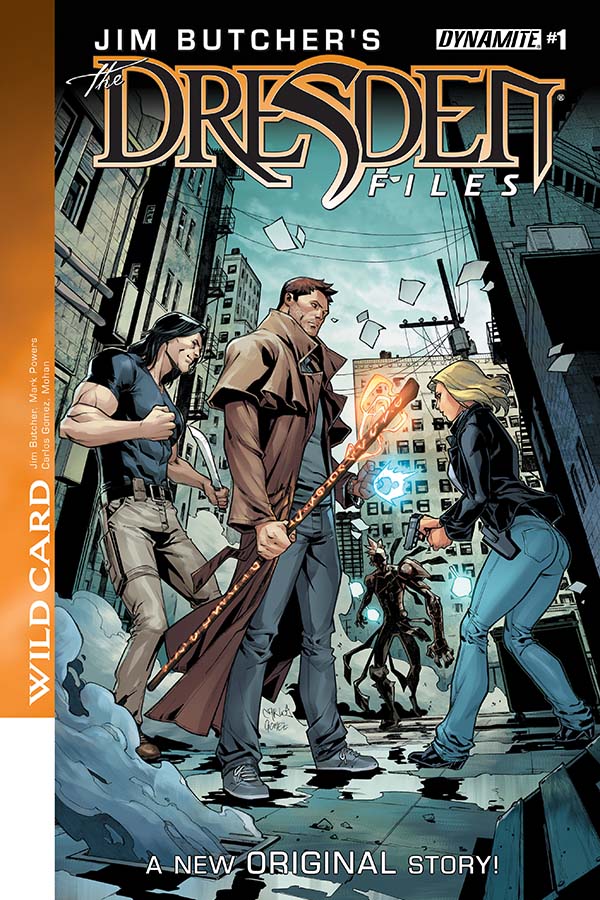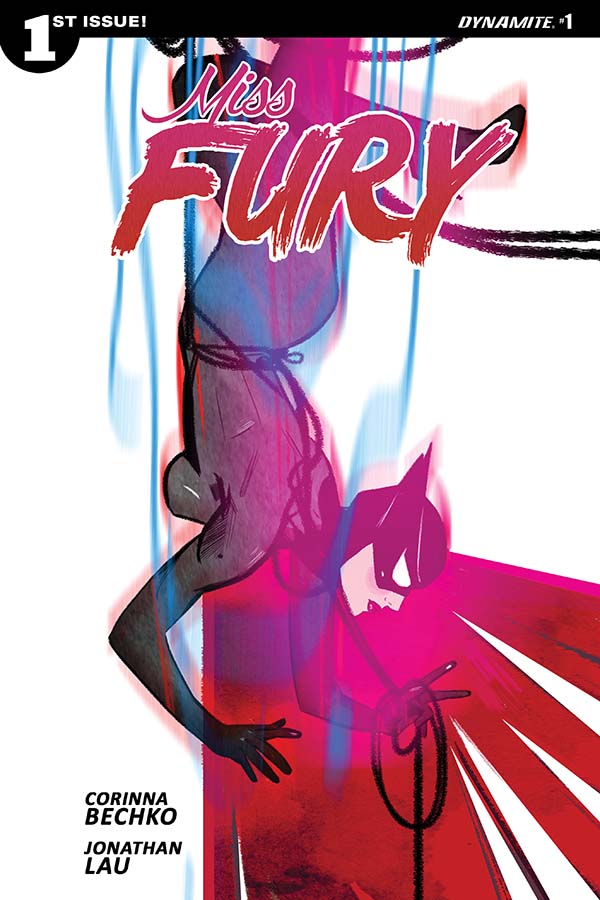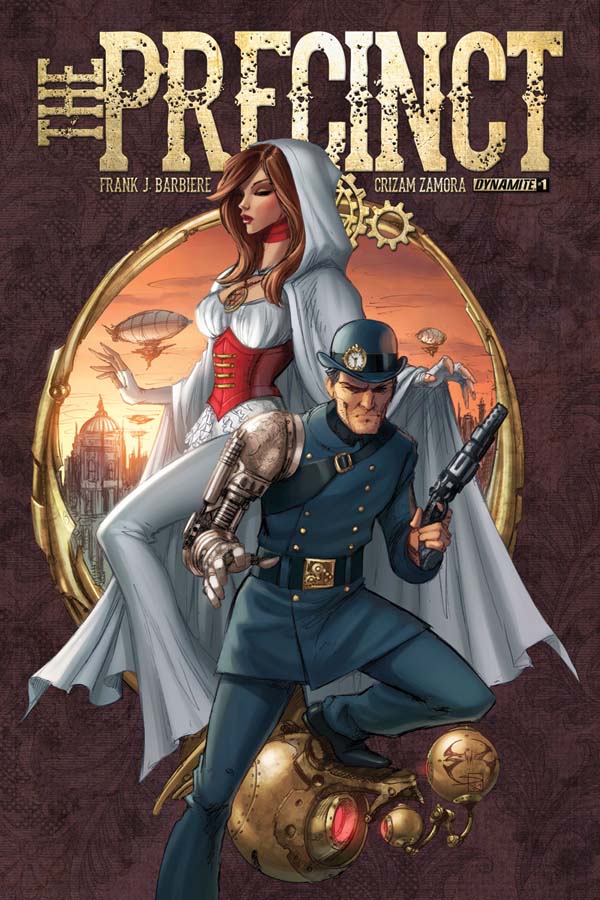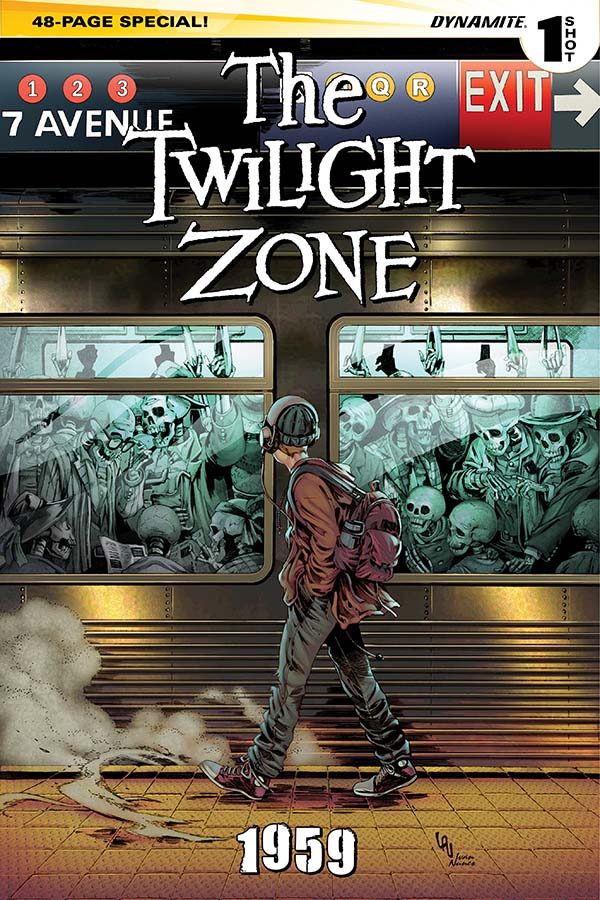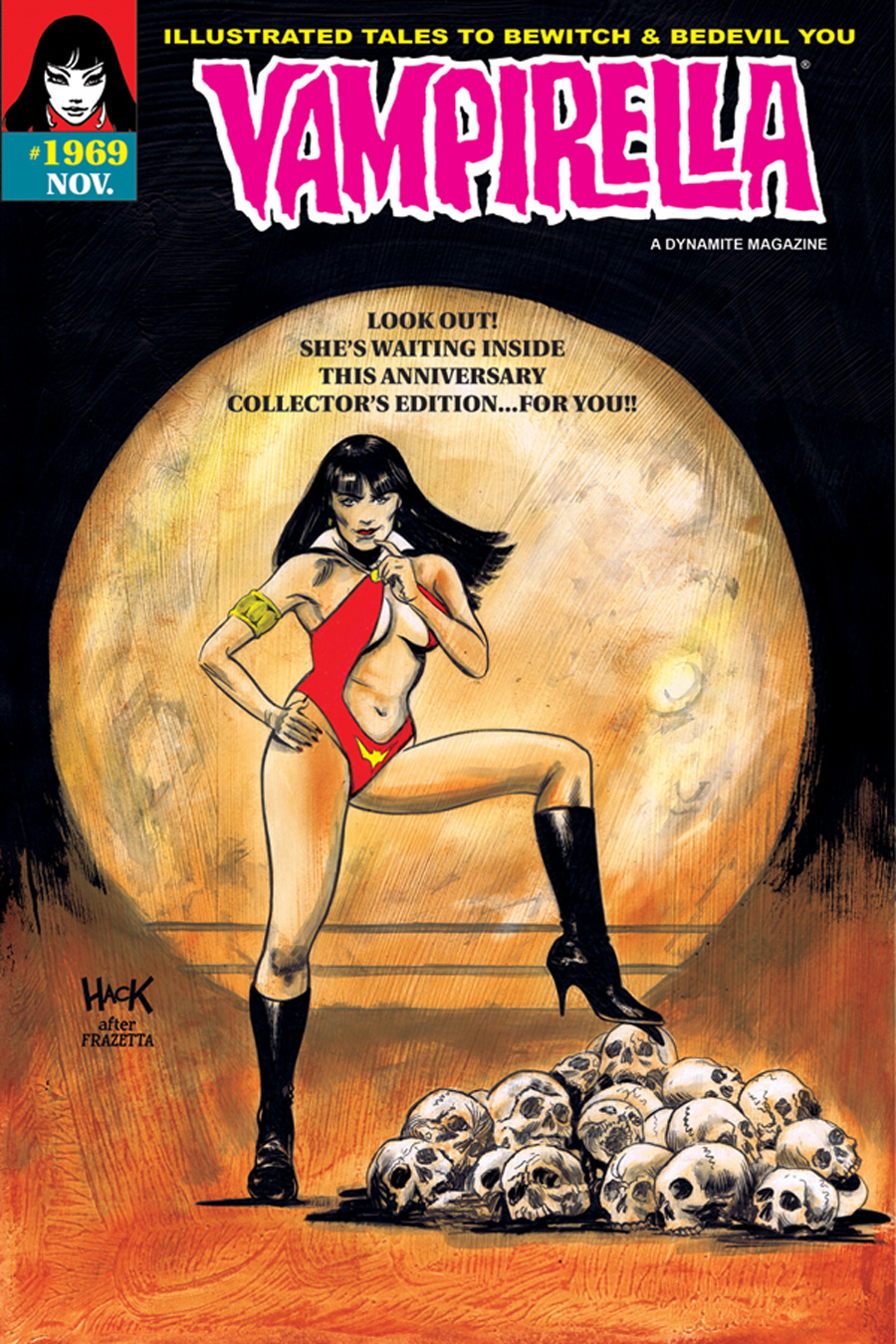 'GRIMM' TO END WITH SIXTH AND FINAL SEASON ON NBC
08/29/16 @ 5:59 pm EST
Source:
The Hollywood Reporter
| Categories:
Grimm
|
Comments
(0) |
E-mail Article
|
Add a Comment
It's the end of the road for NBC's
Grimm
.
The network announced Monday that the forthcoming sixth season of the genre drama would be its last.
Set to premiere Jan. 6 at 8 p.m., the final season will feature its shortest order to date and consist of 13 episodes (each of its previous five seasons had consisted of a full 22). NBC buried the announcement in a release touting the midseason premiere dates for
Grimm
,
Emerald City
(Friday, Jan. 6 at 9 p.m.) and
The New Celebrity Apprentice
(Monday, Jan. 2 at 8 p.m.) The network touted that the final 13 episodes will see the long-awaited battle between Nick and Capt. Renard.
Produced in-house by Universal Television and Sean Hayes' studio-based Hazy Mills banner, season five of the fairy tale entry averaged a 1.7 rating among the advertiser-coveted adults 18-49 demo and 6.4 million viewers when factoring in seven days of DVR. The drama is one of the most time-shifted on broadcast, improving by an average of 90 percent in the demo and adding more than 2.4 million viewers overall.
Created by David Greenwalt, Jim Kouf and Stephen Carpenter, the trio executive produce alongside Hayes, Todd Milliner and Norberto Barba. For Hayes and Milliner's Hazy Mills,
Grimm
is one of multiple series their company has on the air. In addition to unscripted entry
Hollywood Game Night
, they also exec produced last year's short-lived miseason comedy
Crowded
for NBC.
The decision to wrap up
Grimm
comes as the series had been a Friday night staple for the network, which in the past five seasons has tried multiple times to find a similarly themed compaion for the drama starring David Giuntoli, Sasha Roiz, Claire Coffee, Silas Weir Mitchell, Bree Turner, Bitsie Tulloch, Russell Hornsby and Reggie Lee. Previous Friday companions have included short-lived dramas including
Constantine
,
Dracula
and
Crossbones
.
THE FLASH'S VIOLETT BEANE SPOTTED IN COSTUME AS JESSE QUICK
08/29/16 @ 4:53 pm EST
Source:
Comic Book Resources
| Categories:
DC
|
Comments
(0) |
E-mail Article
|
Add a Comment
Move over, Kid Flash! Another speedster is about to make her "Flash" debut. According to
Canadagraphs
, Violett Beane –who played Jesse Wells in "The Flash" Season 2 — has been spotted on set in a speedster costume of her own.
In the comics, Jesse Quick is a speedster in her own right. The name is actually an alias for Jesse Chambers, the Flash's fellow speedster and the daughter of
DC Comics
heroes Johnny Quick and Liberty Belle. Like her father, she achieves her super speed through the speed formula. In addition to speed, she also has her mother's super strength.
The show, however, has gone a different route with the character. Instead, she is the daughter of Earth-2's Harrison Wells, who founded STAR Labs. In the last few episodes of Season 2, both Jesse and Wally West were hit full-on by the Speed Force when Harrison attempted to give his speed back; this sent Jesse into a coma, though she came out of it pretty quickly and showed no signs of speedster abilities. But fear not, "Flash" fans — it sounds like all that may change in Season 3, at least according to this new report.
Either way, Beane is ready and willing to don a costume of her own.
In April
, the actress told CBR, "I am very excited. I think it may happen, because there have been so many hints about it. If, and when that does happen, I cannot wait. I've talked to everyone about their own suits, and they love them. They put them on and they were like, 'I feel like a superhero. I feel so cool.' I can't wait to see if that happens to me, where I put it on and feel that way, too."
"If they do it, the suit won't be quite like the ones in the comics," she added at the time.
CW WELCOMES SUPERGIRL IN NEW S2 POSTER
08/29/16 @ 4:48 pm EST
Source:
Comic Book Resources
| Categories:
DC
|
Comments
(0) |
E-mail Article
|
Add a Comment
The CW — the new home of "Supergirl," after the show was dropped by CBS in the spring — has released a brand-new poster for the DC Comics-based series, featuring Melissa Benoist's titular Girl of Steel front-and-center, boasting a power stance.
RUMOR: THE FLASH MOVIE TO INCLUDE CAPTAIN COLD, GOLDEN GLIDER AS ROGUES
08/29/16 @ 4:45 pm EST
Source:
Comic Book Resources
| Categories:
DC
|
Comments
(0) |
E-mail Article
|
Add a Comment
Spinning out of a report from last week that said the Rogues would be the primary villains of the "Flash" film, a new rumor suggests that the villainous team will include Captain Cold (Len Snart) and his sister, Golden Glider (Lisa Snart).

Until the New 52, neither Cold nor Glider had metahuman abilities, and they both relied on technology to harness ice as a weapon. Cold uses a freeze gun, while Glider is an Olympic-level skater that has, as her name suggests, the ability to glide on any surface, even mid-air. Both characters are classic members of the Rogues, the primary group of antagonists for the Flash that also includes Weather Wizard, Heatwave and the Top, among others. Both Cold and Glider are portrayed by Wentworth Miller and Peyton List, respectively, in the DCTV universe.

Directed by "Dope" helmer Rick Famuyiwa, and starring Ezra Miller and Kiersey Clemons, "The Flash" races into theaters on March 16, 2018.
HBO'S WESTWORLD QUESTIONS REALITY IN FIRST FULL TRAILER
08/29/16 @ 4:39 pm EST
Source:
Comic Book Resources
| Categories:
MIsc
|
Comments
(0) |
E-mail Article
|
Add a Comment
With HBO's "The Night Of" having come to an end, fans of the network's style of television drama are bound to feel a void in their weekly viewing schedule. It's looking like that void might be filled sooner rather than later, though, as HBO has just released the first, full-length trailer for its science fiction western drama, "Westworld."
Video:
https://youtu.be/IuS5huqOND4
GENE WILDER, 'WILLIE WONKA' STAR AND COMEDIC ICON, DIES AT 83
08/29/16 @ 4:35 pm EST
Source:
Variety
| Categories:
MIsc
|
Comments
(0) |
E-mail Article
|
Add a Comment
Gene Wilder, who regularly stole the show in such comedic gems as "The Producers," "Blazing Saddles," "Young Frankenstein," "Willy Wonka and the Chocolate Factory" and "Stir Crazy," died Monday at his home in Stamford, Conn.
His nephew Jordan Walker-Pearlman said he died of complications from Alzheimer's disease. He was 83.His nephew said in a statement, "We understand for all the emotional and physical challenges this situation presented we have been among the lucky ones — this illness-pirate, unlike in so many cases, never stole his ability to recognize those that were closest to him, nor took command of his central-gentle-life affirming core personality. The decision to wait until this time to disclose his condition wasn't vanity, but more so that the countless young children that would smile or call out to him "there's Willy Wonka," would not have to be then exposed to an adult referencing illness or trouble and causing delight to travel to worry, disappointment or confusion. He simply couldn't bear the idea of one less smile in the world.
He continued to enjoy art, music, and kissing with his leading lady of the last twenty-five years, Karen. He danced down a church aisle at a wedding as parent of the groom and ring bearer, held countless afternoon movie western marathons and delighted in the the company of beloved ones."
He had been diagnosed with non-Hodgkin's lymphoma in 1989.
COMING SOON…
08/29/16 @ 4:30 pm EST
Source:
Marvel
| Categories:
Marvel
|
Comments
(0) |
E-mail Article
|
Add a Comment
HAS VALIANT ALREADY CAST NINJAK WITH A FAMILIAR FACE?
08/29/16 @ 1:19 pm EST
Source:
Bleeding Cool
| Categories:
MIsc
|
Comments
(0) |
E-mail Article
|
Add a Comment
Arrow
fans will recognize actor
Michael Rowe
as
Deadshot
, long before
Will Smith
slid on his white helmet. But with
Suicide Squad's
recent film, the television series killed off their version of
Floyd Lawton
.
So how does this get us to
Ninjak
? Rowe tweeted the following on the 26th: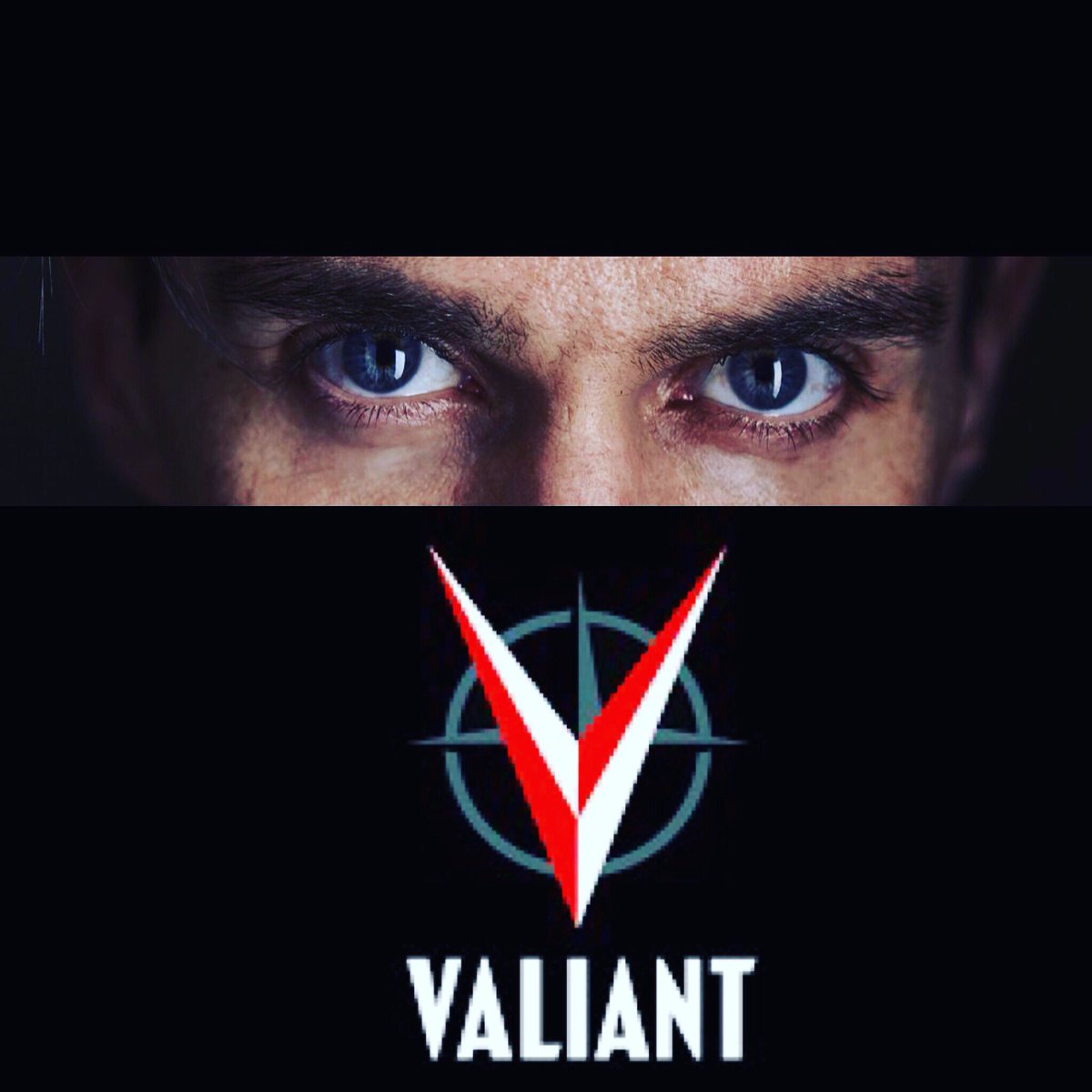 With the caption: "Secret project. Announcement coming soon...#Ninja@ValiantComics @BatintheSun"
And if you are thinking of a Secret Project involving #Ninja and
Valiant Comics
that kind of leads the thinking to Ninjak. That and the image of just Rowe's eyes since that's all you see of
Colin King
through his costume.
WRITER'S COMMENTARY – FRANK BARBIERE ON THE FINAL ISSUE OF DEJAH THORIS
08/29/16 @ 1:11 pm EST
Source:
Bleeding Cool
| Categories:
Dynamite
|
Comments
(0) |
E-mail Article
|
Add a Comment
A Writer's Commentary:
Frank Barbiere
talks the grand finale,
Dejah Thoris
#6, on sale now from
Dynamite
. The cover is by
NEN
and interior art by
Francesco Manna
.
PAGES 1 – 2
It was important for me here to really show how bad things are going in Helium. Valoris doesn't want to just conquer Helium, he wants to raze it to the ground. We have the reappearance of Carter and Dejah's new allies in a pretty fun moment, and hopefully start turning things more towards optimism for the finale.
PAGES 3-5
I'm really happy with how this sequence came out. We get one of the most iconic moments in the whole series on page 5, with Dejah Thoris proudly standing over Valoris and proclaiming she is indeed Dejah, Princess of Helium. We've been opening most of our issues with Dejah renouncing this name, so hopefully it has a nice impact when we see she's finally figured out her place and identity.
PAGES 6-7
A big theme in this story is not to overlook greatness in the people around you. Thana's journey from hand maiden to capable senator has been slowly churning, and here we see Carter himself noting just how capable she is.
PAGES 8 – 13
We reveal how Dejah was able to find her way back and the mysterious backstory of Valoris. I felt it far more effective to save Valoris's backstory until we saw most of the other puzzle pieces of the plot—most notably, after Dejah saw for herself the condition of things in M'rkassa. While Valoris is by no means a "good man," he has clear motivations—and with the use of the mysterious amulet he's been able to do some serious damage to Helium.
PAGE 14
The Jed is alive!
PAGE 15-17
Really happy with how the double-page spread came out. We see all of our players at their climactic moments, and Dejah ultimately use her physical strength and cunning to destroy the amulet—a culmination of all the things she's gone through in the previous issues.
PAGES 18-20
This scene is really the thematic reveal of our story—we see Dejah finally understand that it doesn't matter who she is on paper and that her people are capable of being part of the decision process in Helium. It's a big step for her—we deliberately open the story with Dejah thinking Helium is the "heart of it all" and that the burden for making everything right is solely on her shoulders. This story has been about her broadening her perspective, and we see her embrace her new views here.
PAGES 21-22
We get an epilogue where we further see how Dejah has changed—as well as the changes she's made to the kingdom. We also finally reveal how Dejah is tied to M'rkassa—a simple case in the end, but one that was capable of providing her with new perspective. I'm really happy to close the series with Dejah affirming who she is, and realizing a name is just a name—it's what we do that defines us.
Thanks so much for reading!