TITANS COLLIDE IN AVENGERS VS. X-MEN #2!
03/13/12 @ 12:25 pm EST
Source:
Marvel
|
Comments
(0) |
E-mail Article
|
Add a Comment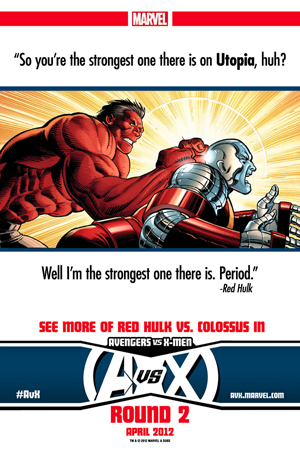 The war to save the Marvel Universe continues this April in
Avengers VS. X-Men #2
as the Earth's Mightiest go head to head against the Children of the Atom while the all-powerful Phoenix Force hurtles towards Earth!
You've heard
It's Coming
—and this April
The War Is Here
in
Avengers VS X-Men #2
! All your favorite super heroes enter—and only one team will emerge victorious!
Which team will reign supreme? Join the conversation on Twitter with
#AvX
!
For more on
Avengers VS X-Men
, please visit
http://avx.marvel.com
AVENGERS VS X-MEN #2 (FEB120534)
Written by JASON AARON
Penciled by JOHN ROMITA JR.
Cover by JIM CHEUNG
FOC – 3/26/12, ON SALE – 4/18/12
To find a comic shop near you, visit
www.comicshoplocator.com
or call 1-888-comicbook.


Marvel Entertainment, LLC, a wholly-owned subsidiary of The Walt Disney Company, is one of the world's most prominent character-based entertainment companies, built on a proven library of over 8,000 characters featured in a variety of media over seventy years. Marvel utilizes its character franchises in entertainment, licensing and publishing. For more information visit
www.marvel.com
SILVER ST. CLOUD ARRIVES IN NEW GOTHAM CLIP
10/09/15 @ 12:04 pm EST
Source:
Bleeding Cool
| Categories:
Gotham
|
Comments
(0) |
E-mail Article
|
Add a Comment
NYCC '15: GAMERA IS STILL THE FRIEND OF ALL CHILDREN IN NEW TRAILER
10/09/15 @ 12:01 pm EST
Source:
Bleeding Cool
| Categories:
MIsc
|
Comments
(0) |
E-mail Article
|
Add a Comment
NYCC '15: IDW ANNOUNCE RYALL, GAGE, MESSINA, VILLANELLI ON ROM: THE SPACE KNIGHT
10/09/15 @ 11:56 am EST
Source:
Bleeding Cool
| Categories:
IDW
|
Comments
(0) |
E-mail Article
|
Add a Comment
At the IDW panel at NYCC '15 today, the panel announced
Chris Ryall and Christos Gage
writing, and
David Messina, and Paolo Villanelli
as artists on
Rom: The Space Knight.
It's coming in May for Issue #0 and July for Issue #1 in 2016.
They are going to be launching it in a very big way for Free Comic Book Day with Issue #0.
NYCC '15: IDW ANNOUNCE JOHN LAYMAN ON MARS ATTACKS AND BUNN AND BALDEON ON MICRONAUTS
10/09/15 @ 11:53 am EST
Source:
Bleeding Cool
| Categories:
IDW
|
Comments
(0) |
E-mail Article
|
Add a Comment
At the IDW panel at NYCC '15 today, the panel announced the following:

The upcoming Mars Attacks picks up after the Martians have "won the war" and presents the "human resistance", written by John Layman, coming in March. Art will be by Andy Kuhn.

The team on Micronauts will be writer Cullen Bunn and artist David Baldeon, coming in February 2016.
NYCC '15 BLOCKBUSTER: FRANK MILLER MAKES SURPRISE VISIT
10/09/15 @ 11:50 am EST
Source:
Bleeding Cool
| Categories:
Dark Knight III
|
Comments
(0) |
E-mail Article
|
Add a Comment
DF News just received word via Bleeding Cool and its reporter, Joe Glass, that the legendary comic writer and artist
Frank Miller
made a surprise visit to the
Dark Knight Returns
30th Anniversary panel today as a surprise guest. Miller arrived to a rapturous standing ovation.With the new
Dark Knight III: The Master Race
coming soon and part of
DC's
hype for the con, there could be more appearances of Mr. Miller this weekend.
NYCC '15: HOW HARLEY QUINN CONQUERED THE WORLD
10/09/15 @ 11:45 am EST
Source:
Bleeding Cool
| Categories:
DC
|
Comments
(0) |
E-mail Article
|
Add a Comment
The DC Harley Quinn panel was moderated by journalist/editor Abraham Riesman, and joining him on stage we had: Marguerite Bennett (DC Bombshells), Jimmy Palmiotti (Harley Quinn New 52, Starfire), and Harley Quinn mega-fan, Emily Asher-Perrin (staff writer for Tor.com).
We got a brief introduction and history of the character through Reisman, who showed us clips of the Calliope Jones' skit that inspired Harley Quinn- whose first appearance was on the Batman animated series in 1992. Taking it all the way to her first appearance in the comic book on the self-contained issue titled Mad Love. After a quick giveaway to the first six Harley Quinn cosplayers who showed up at the panel, he followed up with a small picture travel through all of the ways and items through which the character is marketed and all the costumes we have seen her wear.
The conversation started flowing right after, when Reisman asked our panelists' when was the moment they first fell in love with Harley Quinn. Asher quickly answered it was while watching the Batman Animated Series, when she first became friends with Poison Ivy. Palmiotti, on the other hand, explained that while he loved Bruce Timm's depiction of the character he has fallen in love after getting to work on the character and developing the world. Like Asher, Bennett says it was when Harley first made friends with Ivy on the Animated Series- she stated what she loved the most was that the villainesses got the chance to be themselves.
Reisman then proceeded to ask our creators what were the non-negotiable bullet points they had when working on their versions of Harley Quinn, and which others did they take freedom with. Palmiotti says the most important thing was staying true to the character, however the one thing was taking Harley Quinn out of Gotham to give her the chance to grow as a character. He states that being from New York they just had to set her in Coney Island. Palmiotti explains that to them (Conner and himself) Harley believes she is the hero, she just takes weird turns along the way. For Bennett though, she claims that she has always believed that Harley Quinn has a super power of her own which is turning every situation comical no matter how grave it might be.
Reisman then jumped into the Joker subject, asking which would be good ways vs, bad ways of portraying the abusive relationship between Joker and Harley Quinn. Asher says that one of the things she believed the animated series did really well was depicting the fact that the relationship was abusive on both ends. They showed that they both liked that push and pull. Palmiotti though, he says that his thought has been that Harley does not need the Joker in her life, she just choses to go back to him. He states him and Conner will be addressing that soon in the comic book.
The conversation then focused on Harley Quinn sales. He brought up that Harley Quinn is selling better than any other book with a female lead. He asked the panelists' opinion on the matter: what is the unique appeal of the character? He stated it was that fact what inspired him to write an article on the matter. Asher explains Harley Quinn is a mischief-maker. Unlike every super heroine who is often depicted more pragmatic and put together, Harley is just fun. Palmiotti says that Conner calls it "wish fulfilment", explaining that no matter what happens her responses to situations are never what the reader expects. He adds the character is also visually appealing, always looking different. That coupled with the Looney Tunes mentality which makes her family friendly… and a beaver. Palmiotti says that everyone can find something they like in the character.
Reisman asked the panelists what would they like to see happen with Harley Quinn. Asher says she would love to see more of that human side of Harley Quinn- as in she would like to see more play with that genuine quality of her's. Palmiotti's wish is simple, to see an animated series based on His and Conner's take on the character set in Coney Island (That does sound like an amazing idea, I must say –crossing fingers). As for Bennett, she says: "I just want to see more." (Source: Bleeding Cool)
NYCC '15: IDW ANNOUNCE STAR TREK: LEGACY OF SPOCK CELEBRATING LEONARD NIMOY
10/09/15 @ 11:36 am EST
Source:
Bleeding Cool
| Categories:
IDW
|
Comments
(0) |
E-mail Article
|
Add a Comment
Today, IDW announced a new major arc of
Star Trek
called
Legacy of Spock
which is going to be a 4 issue arc which tells the story of New Vulcan. We follow Leonard Nimoy, an older Spock, along with the 10 Vulcans left after the homeworld is destroyed. It's a reflection and celebration of Leonard Nimoy's Spock for fans, writer
Mike Johnson
said. It's coming in March.
NYCC '15: HOWARD CHAYKIN ON BLACK HOOD AND MORE FROM THE DARK CIRCLE PANEL
10/09/15 @ 11:32 am EST
Source:
Bleeding Cool
| Categories:
MIsc
|
Comments
(0) |
E-mail Article
|
Add a Comment
The Dark Circle panel took place Thursday afternoon at the New York Comic Con. The panel was moderated by Alex Segura (editor of Dark Circle Comics) and included Duane Swierczynski (writer of Black Hood), Frank Tieri (writer of Hangman), Dean Haspiel (artist for The Fox), Mike Pellerito (president of Archie Comics) and colorist Kelly Fitzpatrick..
The Hangman
It was announced that "The Hangman" would finally be coming out November 4th. Frank Tieri was really excited for people to read the book. He talked about how he was given the reigns to make the book as crazy as possible. A scene in which a man is covered in jelly and fed to rats was mentioned throughout the panel. As crazy as that sounds, colorist Kelly Fitzpatrick said that issue #2 has a scene that beats that. The way he described the relaunch, gave it a real Spawn vibe. The book follows a real low life, Mike Minetta who has a run-in with The Hangman and then takes on the role of the new Hangman."The best way to describe the book is that it's a cross between a Stephen King book and Quentin Tarantino movie." Frank Tieri explained to the crowd.The various variant covers were shown. Featuring covers by Felix Ruiz, Francesco Francavilla, and Robert Hack.
The Fox
Dean Haspiel took a chance to thank the fans for supporting The Fox. He said his run on the book was the longest run he's had on one character. The family dynamic that was a theme in the book was something he really liked. At the end he talked about a pitch he has to come back to the book at some point. Dean did not go too much in detail but said it was very dark and compared to the Dark Knight Returns. If given the chance he would call it The Dark Fox.
Black Hood
Issue #6 of the series was talked about. Howard Chaykin would serve as guest artist for this issue. The idea was to give Michael Gaydos a break so that he could get caught up. Issue 6 would see Greg Hettinger leaving Philly to go to a rehab facility in California. As expected trouble finds Greg in California. Swierczynski completed for Chaykin being able to to draw Noir style in a sunny setting like California. Interior pages of issue #6 were shown. Expect variant covers for the book by Howard Chaykin, David Mack, and Greg Smallwood. Issue 7 will see the return of Michael Gaydos as artist. When asked about a possible crossover between The Black Hood and The Hangman Swierczynski joked, "I will bring the peanut butter."
The Shield
Not only did editor Alex Segura assure everyone that the book was coming out, he had copies to show and give away. He went on to talk about how excited they were for the book and a little bit about the characters history. The Shield shows up when she's needed. In this new relaunch she shows up but does not know why. The book was said to have a real Homeland vibe to it and would deal with conspiracy theories. Issue #1 of the Shield will be hitting shelves on Oct, 21st. Variant covers were shown off by Wilfredo Torres, Andrew Robinson, Rafael Alburqerque and Robert Hack.
The Web
The next new book coming from Dark Circle would be The Web. The story will follow Jane Raymond, a teenage girl who finds out what happens when you become the hero that you cosplay. The series will be written by bestselling novelist Dave White and art by Szymon Kudranski. The only release date given was early 2016. (Source: Bleeding Cool)
'IT'S TIME FOR AMERICA TO GET JACKED!' – CITIZEN JACK #1 COMING FROM IMAGE
10/09/15 @ 11:23 am EST
Source:
Bleeding Cool
| Categories:
Image
|
Comments
(0) |
E-mail Article
|
Add a Comment
Citizen Jack
#1 arrives from Image Comics on November 4th, written by
Sam Humphries
, with art by
Tommy Patterson
. The series is described as a "horror comedy for anyone who hates politics". It features a presidential candidate who has the help of a "malevolent demon of high ambition" on his side.
Image describes the comic thus:
Every presidential candidate has a skeleton in their closet-Jack Northworthy worships the devil! A scandal-plagued, small town politician, Jack should in no way be president. But he's got a secret weapon: Marlinspike, a malevolent demon of high ambitions. Together, they're running for president in an outrageous campaign that America will never forget! Blockbuster writer SAM HUMPHRIES (Guardians of the Galaxy and X-men: Black Vortex) and New York Times bestselling artist TOMMY PATTERSON (Game of Thrones) debut a brand new ONGOING SERIES with a DIABOLICAL EXTRA-SIZED FIRST ISSUE!
NYCC '15: THOMPSON & CAMPBELL RE-TEAM FOR "DARK JEM"
10/09/15 @ 11:17 am EST
Source:
Comic Book Resources
|
Comments
(0) |
E-mail Article
|
Add a Comment
"Jem and the Holograms" #11 not only kicks off a new storyline, it also features a stellar reunion.
No, a long lost member of the Holograms won't be coming out of the woodwork. Rather, artist Sophie Campbell returns to the book she helped launch at IDW Publishing, rejoining writer Kelly Thompson for a story they call "Dark Jem."
Spinning out of an idea Campbell first thought of years ago, before the "Jem" comic was even a reality, "Dark Jem" includes an artificial intelligence called Silica, which Thompson describes as "the first real look at a price for having Synergy in [the Holograms'] lives," goth-inspired versions of Jem, Kimber, Shana and Aja, and how all of this affects the series' other band, the Misfits.