TITANS COLLIDE IN AVENGERS VS. X-MEN #2!
03/13/12 @ 12:25 pm EST
Source:
Marvel
|
Comments
(0) |
E-mail Article
|
Add a Comment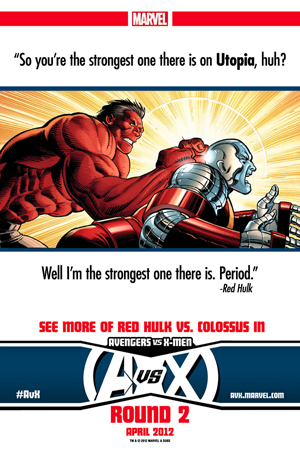 The war to save the Marvel Universe continues this April in
Avengers VS. X-Men #2
as the Earth's Mightiest go head to head against the Children of the Atom while the all-powerful Phoenix Force hurtles towards Earth!
You've heard
It's Coming
—and this April
The War Is Here
in
Avengers VS X-Men #2
! All your favorite super heroes enter—and only one team will emerge victorious!
Which team will reign supreme? Join the conversation on Twitter with
#AvX
!
For more on
Avengers VS X-Men
, please visit
http://avx.marvel.com
AVENGERS VS X-MEN #2 (FEB120534)
Written by JASON AARON
Penciled by JOHN ROMITA JR.
Cover by JIM CHEUNG
FOC – 3/26/12, ON SALE – 4/18/12
To find a comic shop near you, visit
www.comicshoplocator.com
or call 1-888-comicbook.


Marvel Entertainment, LLC, a wholly-owned subsidiary of The Walt Disney Company, is one of the world's most prominent character-based entertainment companies, built on a proven library of over 8,000 characters featured in a variety of media over seventy years. Marvel utilizes its character franchises in entertainment, licensing and publishing. For more information visit
www.marvel.com
DC TO RUSH OUT GOTHAM CENTRAL #1 IN TIME FOR THE TV SHOW
08/27/14 @ 6:49 pm EST
Source:
Bleeding Cool
| Categories:
Gotham
|
Comments
(0) |
E-mail Article
|
Add a Comment
With the new television series
Gotham
set to premiere on Fox on September 22nd, DC Entertainment have suddenly decided to publish a reprint of
Gotham Central
#1 as
Gotham Central Special Edition
for $1.
The comic is by
Ed Brubaker
,
Greg Rucka
and
Michael Lark
, due to hit comic stores for September 17th.
Just in time for ...
Gotham
!
BOB'S BURGERS #1 SELLS OUT OF MORE THAN 23,000 COPIES
08/27/14 @ 6:36 pm EST
Source:
Bleeding Cool
| Categories:
Bobs Bugers
|
Comments
(0) |
E-mail Article
|
Add a Comment
Hitting stores today is the first issue of
Dynamite's
new series
Bob's Burgers
based on the
Fox
animated television show and done by the animators. We've gotten word that they have already sold out of the 23,790 issues, which according to Dynamite CEO
Nick Barrucci
was already well above their normal over-printing percentage.
Along with this, they have announced a second printing with a new cover by
Devin Roth
. The print run for the second printing has been set at 1,800 copies and will hit stores the same day as the second issue of the series.
HERB TRIMPE RETURNS TO WOLVERINE ONE LAST TIME
08/27/14 @ 6:32 pm EST
Source:
Bleeding Cool
| Categories:
Death of Wolverine
|
Comments
(0) |
E-mail Article
|
Add a Comment
Above is the
Death of Wolverine
Desert Wind Comics Variant by
Herb Trimpe
, longtime artist on
Incredible Hulk
, exclusive to Desert Wind Comics and Jesse James Celestial Comics.
Herb was the first artist to draw Wolverine in the comic books, with
Incredible Hulk
#180 and #181. And now as Wolverine enters his final days, in the series
The Death Of Wolverine
running through the month, Herb has returned for a final variant cover.
So cool. Herb was drawing
Hulk,
written by Roy Thomas, when I first started reading comics. Inking his own pencils at one point and colored by Glynis Wein, Trimpe was awesome!
MARVEL ANNOUNCES STAR WARS™ LEGENDS EPIC COLLECTIONS BEGINNING APRIL 2015
08/27/14 @ 6:13 pm EST
Source:
Marvel
| Categories:
Star Wars
|
Comments
(0) |
E-mail Article
|
Add a Comment
Marvel is excited to announce the release of an oversized dose of a galaxy far, far, away –
Star Wars
comics are coming to Marvel's prestigious Epic Collection format -
STAR WARS LEGENDS EPIC COLLECTION: THE EMPIRE VOL. 1 TPB.
Let the dark times begin! Marvel welcomes
Star Wars
to the Epic Collection program, with this first volume of a series focusing on the years that follow
Star Wars
: Episode III —
Revenge of the Sith
! After the end of the Clone Wars, the Republic has fallen and Palpatine exerts his ruthless grip on his new Galactic Empire. Now, the few Jedi that remain must decide whether to hold true to their faith, or abandon it completely in the face of a brutal purge — one carried out by the new Dark Lord of the Sith. Rise, Darth Vader!
"We're thrilled to be bringing our innovative Epic Collections to a galaxy far, far away," says Marvel SVP Sales & Marketing David Gabriel. "We'll be bouncing around to different periods of
Star Wars
history with each Epic Collection, constructing one huge tapestry, collecting full unbroken runs of all the greatest
Star Wars
comics from the past 35 years."
STAR WARS LEGENDS EPIC COLLECTION: THE EMPIRE VOL. 1 TPB.
will offer a new way for fans to collect and read iconic
Star Wars
stories across the past 35 years of published titles. These oversized, self-contained color collections will bring the adventures of the Rebellion, the Galactic Empire and more to the masses with exciting new Epic Collections.
COLLECTING:
STAR WARS: REPUBLIC 78-80, STAR WARS: PURGE 1, STAR WARS: PURGE — SECONDS TO DIE 1, STAR WARS: PURGE — THE HIDDEN BLADE 1, STAR WARS: PURGE — THE TYRANT'S FIST 1-2, STAR WARS: DARTH VADER AND THE LOST COMMAND 1-5, STAR WARS: DARK TIMES 1-5
AUTHOR:
JOHN OSTRANDER, RANDY STRADLEY, HADEN BLACKMAN, ALEXANDER FREED
ARTIST:
LUKE ROSS , DOUGLAS WHEATLEY, JIM HALL, CHRIS SCALF, MARCO CASTIELLO, ANDREA CHELLA, RICK LEONARDI
STAR WARS LEGENDS EPIC COLLECTION: THE EMPIRE VOL. 1 TPB.
WRITTEN BY JOHN OSTRANDER, RANDY STRADLEY, HADEN BLACKMAN & ALEXANDER FREEDART BY LUKE ROSS, DOUGLAS CASTIELLO, ANDREA CHELLA & RICK LEONARDI440 PGS./Rated T …$34.99On-Sale April 2015ISBN: 978-0-7851-9398-2
INTRODUCING A BRAND NEW SCI-FI SPIDER-MAN – YOUR FIRST LOOK AT EDGE OF SPIDER-VERSE #3
08/27/14 @ 6:02 pm EST
Source:
Marvel
| Categories:
Edge of The Spider-Verse
|
Comments
(0) |
E-mail Article
|
Add a Comment
The Spider-Verse inches ever closer as every Spider-Man from every universe prepares for multiversal war against a common foe. Today, Marvel is proud to present your first look at
EDGE OF SPIDER-VERSE #3
– the next chapter is the blockbuster 5-issue mini-series showcasing a new creative team and new spider character each issue! Rising star Dustin Weaver (
INFINITY
,
Avengers
) pulls triple duty as he writes, draws and colors a brand new creation –
Dr. Aaron Aikman: Spider-Man
!
"Unlike Peter, he chose to be Spider-Man," says Weaver of his new creation. "He did it himself, to become a hero for his city. I guess that says a lot about the character of my Spider-Man. He's got a big ego and being good at being Spider-Man is a point of pride. He doesn't struggle with responsibility. He enjoys it. Other than his origin being different, he also has a completely different cast of supporting characters and villains."
As Aikman dons the helmet of his Spider-Man suit composed of bleeding-edge technology, he confronts the evil that plagues his New York City. As the villainous Red Eye and Naahmurah wreak havoc on his world, only Spider-Man stands capable of saving the day! But is he prepared for the onslaught of Spider-Verse and the coming of Morlun? Find out when the wildly imaginative sci-fi Spider-Man makes his debut in
EDGE OF SPIDER-VERSE #3
this September!
Plus, don't miss out on these exciting
Edge of Spider-Verse
tie-in issues of your favorite ongoing series:
· Superior Spider-Man #32 & #33
· Amazing Spider-Man #7 & #8
· Spider-Man 2099 #5
EDGE OF SPIDER-VERSE #3 (JUL140618) Written by DUSTIN WEAVER, Art & Cover by DUSTIN WEAVER, Variant Cover by GREG LAND (JUL140619) FOC 9/01/14, ON-SALE 09/24/14
LOKI: AGENT OF ASGARD #6 BEGINS THE 'MARCH TO AXIS' IN SEPTEMBER
08/27/14 @ 11:48 am EST
Source:
Marvel
| Categories:
Marvel
|
Comments
(0) |
E-mail Article
|
Add a Comment
The biggest comic event of the fall is just around the corner. But first, prepare yourself for
Avengers & X-Men: AXIS
as the heroes and villains of the Marvel Universe set the stage for an epic clash between the Red Skull's armies and the united front of Avengers & X-Men.
Today, Marvel is proud to present your first look at
LOKI: AGENT OF ASGARD #6
as the 'March to AXIS' continues! The creative team of writer Al Ewing and special guest artist Jorge Coelho bring the God of Mischief into the AXIS fold as Loki returns from his adventures in the Tenth Realm to face…
Doctor Doom
?! With his charge Valeria Richards at his side, he'll stop at nothing to put an end to the God of Mischief! But why? What does this have to do with the Red Skull's plot in the pages of
Avengers & X-Men: AXIS
?
Find out as the fan-favorite series returns this September in
LOKI: AGENT OF ASGARD #6
!
LOKI: AGENT OF ASGARD #6 (JUL140610) Written by AL EWINGArt by JORGE COELHO, Cover by LEE GARBETT FOC 9/01/14, ON-SALE 09/24/14
INKWELL AWARDS LAUNCHES 8TH SEASON WITH STARLIN, METH AND MARTIN AS AMBASSADORS
08/27/14 @ 11:33 am EST
Source:
Inkwellawards.com
| Categories:
MIsc
|
Comments
(0) |
E-mail Article
|
Add a Comment


The non-profit advocacy group, the Inkwell Awards, began its eighth season this summer by electing Jim Starlin, Clifford Meth and Laura Martin as its three new creator ambassadors to represent the group's mission of promoting, educating and recognizing the art form of inking and inker artists in the comic book industry.

Jim Starlin is an iconic, fan-favorite creator whose career has earned a resurgence due to characters he created (Thanos, Drax the Destroyer, Gamora) appearing in Marvel Studios' recent worldwide blockbuster, Guardians of the Galaxy, with more on the way. Starlin began at Marvel Comics in 1972 and has been working on and off in comics at various publishing houses ever since, as both a writer and artist. He has created and worked on a plethora of major and minor titles and characters, many of which have become synonymous with his name in the minds of many fans, often due as much to his unique pencilling and inking styles as his writing.

Clifford Meth is a writer, editor and comics historian. A founder of Aardwolf Publishing, Meth's work has also been published by Marvel Entertainment, IDW, the L.A. Times Entertainment Newswire, and dozens of leading publications. He is also widely known for his advocacy for comics' professionals, including Dave Cockrum, Gene Colan and Bill Messner-Loebs.

Regarding inking, Meth said, "Regardless of their perceived status as the weaker sex, inkers are clearly half of the marriage required to produce a proper page of comic art. It's only fair dinkum that they receive their due recognition."

Laura Martin is an Eisner, Harvey, and Eagle Award-winning colorist. She has been coloring comics since joining Wildstorm Studios in 1995. Her fan-favorite work has since been published in major titles by Marvel, DC, Dark Horse, Valiant and others. Her current work includes Walter Simonson'sRagnarok (IDW) and the 2014 Axis crossover event from Marvel.

Martin said, "I study inks very close up and for long periods of time (while coloring), so I have a deep respect for this art form. I've even tried it myself from time to time...and that's why I'm still a colorist."

"I am truly honored that these stellar creators accepted our invitation," said Inkwell Awards founder and director Bob Almond. "Jim Starlin was an idol of mine and one of my formative influences growing up. He's a living legend in our industry. Cliff has been an inspiration with his passionate support of underdogs and various artists in need, and is a force to be reckoned with. Laura is multi-talented, adept at penciling, inking and painting. In the art of coloring, she's in high demand and arguably at the top of her field." Almond added, "We at the Inkwells are thrilled and excited to have all three in our ranks."

Since the organization was formed in 2008, the roster of Inkwell Ambassadors has included Adam Hughes, Mike Marts, Ethan Van Sciver, Mark Brooks, Trevor Von Eeden, Sal Velluto, Cully Hamner, Joe Kubert, Eric Basuldua, Phil Jimenez, Jim Shooter and Brian Pulido. The more-involved Special Ambassadors include Joe Sinnott, J. David Spurlock and Mike McKone.
SCHWARZENEGGER ZOMBIE MOVIE 'MAGGIE' ACQUIRED BY LIONSGATE
08/27/14 @ 2:00 am EST
Source:
LAtimes
| Categories:
MIsc
|
Comments
(0) |
E-mail Article
|
Add a Comment


Lionsgate has been bitten by the zombie bug, acquiring North American distribution rights to the post-apocalyptic Arnold Schwarzenegger-Abigail Breslin thriller "Maggie," the studio announced Tuesday.

Directed by Henry Hobson, a title designer making his feature directing debut, from a Black List screenplay by John Scott 3, "Maggie" is set in a world that has been ravaged by a zombie pandemic. But don't expect Schwarzenegger to be in nonstop action mode: He plays a Midwestern farmer who tries to care for his teenage daughter (Breslin) as she slowly succumbs to a virus that's turning her into a cannibalistic monster.

Schwarzenegger also produced the film, with Bill Johnson, Ara Keshishian, Colin Bates, Joey Tufaro, Pierre-Ange Le Pogam and Matthew Baer.
LOIS LANE GETTING HER OWN YA NOVEL BY AUTHOR GWENDA BOND
08/27/14 @ 1:52 am EST
Source:
CBR
| Categories:
DC
|
Comments
(0) |
E-mail Article
|
Add a Comment


Lois Lane will star next year in her own young-adult prose novel written by Gwenda Bond, author of The Woken Gods and the upcoming Girl on a Wire.

Teased Monday by Bond, and immediately deduced by DC Women Kicking Ass and others, Fallout follows a high school-age Lois new to Metropolis, where she's determined to figure out how a group called the Warheads is using an immersive video game to mess with the mind of another girl.

Published by Switch Press, Capstone's imprint for young-adult readers, the 304-page Fallout is listed on Amazon for January release. However, Bond indicates it will be published in May.
VALIANT HEADS TO BALTIMORE WITH PREVIEW FOR THE VALIANT
08/27/14 @ 1:27 am EST
Source:
Bleeding Cool
| Categories:
MIsc
|
Comments
(0) |
E-mail Article
|
Add a Comment
Valiant Entertainment
will be at the Baltimore Comic Con September 5th – 7th, and they will be giving away
The Valiant:First Look
preview edition, featuring an exclusive, behind-the-scenes look inside the all-new, prestige format mini-series event from superstar creators
Jeff Lemire
,
Matt Kindt
, and
Paolo Rivera
.
The giveaway will be packed with never-before-seen artwork, preview pages, and interviews, and featuring nearly every Valiant hero.
A Valiant panel at 1pm ET on Saturday the 6th with many creators will discuss the future of
X-O Manowar
,
Unity
,
Rai
,
Harbringer
and
Archer & Armstrong
.