SPIDER-MEN
03/09/12 @ 2:08 pm EST
Source:
Marvel
|
Comments
(0) |
E-mail Article
|
Add a Comment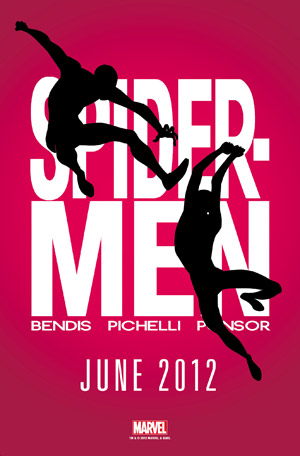 This June - history will be made for the Marvel Universe.
SPIDER-MEN #1
Written by BRIAN MICHAEL BENDIS
Art by SARA PICHELLI
Cover by JIM CHEUNG
ON SALE THIS JUNE!
To find a comic shop near you, call 1-888-comicbook or visit
www.comicshoplocator.com
Marvel Entertainment, LLC, a wholly-owned subsidiary of The Walt Disney Company, is one of the world's most prominent character-based entertainment companies, built on a proven library of over 8,000 characters featured in a variety of media over seventy years. Marvel utilizes its character franchises in entertainment, licensing and publishing. For more information visit
www.marvel.com
EXCLUSIVE BOB'S BURGER COVER FOR BALTIMORE COMIC CON
08/22/14 @ 12:27 pm EST
Source:
Bleeding Cool
| Categories:
Bobs Bugers
|
Comments
(0) |
E-mail Article
|
Add a Comment
Via Bleeding Cool: Dynamite presents its Baltimore Comic Convention Exclusive cover for
Bob's Burgers
.
The book will only be available at the Baltimore Comic Con September 5th through 7th at the Baltimore Convention Center.
The comic is Bob's Burgers #1 which is being done by the creators of the series. The cover was done by artist Tony Gennaro.
DF REVIEW: MIGHTY AVENGERS #13
08/21/14 @ 10:51 pm EST
Source:
Dynamic Forces
| Categories:
Mighty Avengers
|
Comments
(0) |
E-mail Article
|
Add a Comment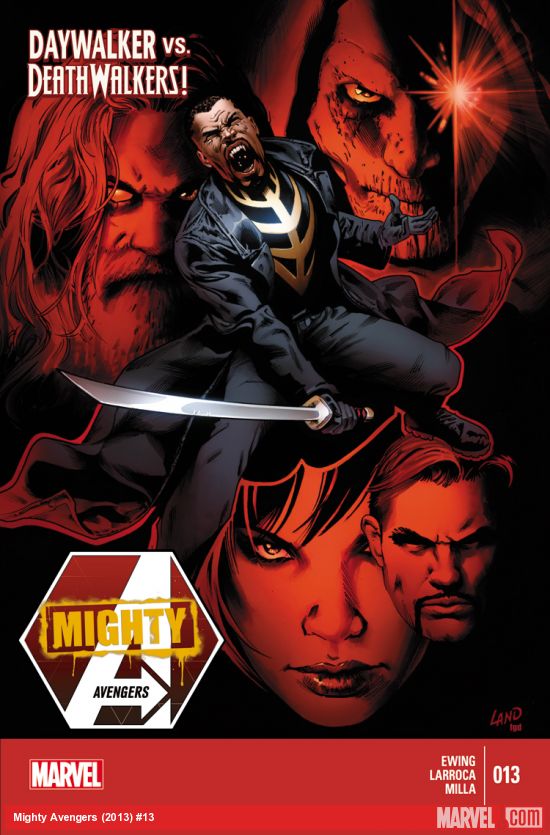 By BYRON BREWER
I hope when
The Mighty Avengers
becomes
Captain America and the Mighty Avengers,
it maintains the level of quality, continuity and human character that is in the current edition.
Of course, the writer will be the same and that will ensure that I will follow this team I have grown so fond of into the next volume.
I am a great fan of Jonathan Hickman and Rick Remender, but if I had to choose my favorite Avengers scribe of the present, it would definitely be Al Ewing.
Through event after event, crossover after crossover, Ewing has not been deterred from keeping the unique flavor of these Avengers alive. Having been raised on the Roy Thomas
Avengers
, probably the best period of this franchise's existence, I am impressed with what Ewing has done with story, subplot and of course character.
I just hope Marvel's enthusiasm to promote Sam Wilson will not interfere with the quality of this book and his team.
As far as issue #13 goes, another solid one for Ewing. The slowly brewing plot of the Deathwalkers is delightfully retro, and the climax is straight out of a 1970a book. Loving it!
The extension of the storyline with Luke and his father, the Mighty Avengers of the 1970s, even the development of Power Man all hit the right notes.
The wonderful art by Salvador Larroca was just icing on the cake, but I did miss Greg Land. He has done so much for this book.
I look forward to the new edition of the Mighty Avengers mag with a winged Captain America.
As long as Al Ewing is here, I will Make Mine Marvel and Make Mine Mighty Avengers!
THE FLASH'S ROGUES GALLERY GROWS AS GIRDER IS CAST
08/21/14 @ 10:40 pm EST
Source:
Bleeding Cool
| Categories:
Flash
|
Comments
(0) |
E-mail Article
|
Add a Comment
The CW has pulled from their own ranks to add another of the Rogues to its upcoming TV series
The Flash
. Formerly of
Star-Crossed
, actor Greg Finley has been cast as Tony Woodward aka Girder.
Scheduled to appears in episodes 6 and 7, as a result of the explosion at S.T.A.R. Labs Woodward discovers he has the ability to transform his skin into living metal.
The Flash
is set to premiere Tuesday, Oct. 7 at 8 p.m. ET/PT on The CW.
ROBERT VENDITTI, CLAY MANN, AND DAVE JOHNSON ENLIST FOR X-O MANOWAR #0 – COMING IN OCTOBER
08/21/14 @ 7:02 pm EST
Source:
Valiant
| Categories:
MIsc
|
Comments
(0) |
E-mail Article
|
Add a Comment
Valiant is proud to present an advance preview of X-O MANOWAR #0 – a colossal comics milestone and an all-new jumping-on point arriving in October from New York Times best-selling writer Robert Venditti(ARMOR HUNTERS, Green Lantern) and superstar artist Clay Mann (X-Men: Legacy, Gambit)! In the wake of the sold-out success of ARMOR HUNTERS, start reading here as the world's most wanted hero returns to his roots for a never-before-revealed look into X-O Manowar's past!
Also joining this landmark exploration of Valiant's hardest-hitting hero is Eisner Award-winning artist Dave Johnson (100 Bullets, Superman: Red Son), who will contribute FIVE interlocking shelf covers for X-O MANOWAR #0!
In addition to the centuries-spanning origin tale by Venditti and Mann, each component of Johnson's epic, five-piece interlocking image revisits a different chapter in the life of Aric of Dacia, the man behind the armor – his abduction and enslavement by the maleficent alien race known as The Vine in the fifth century A.D.; his escape and arrival in the modern day with The Vine's ultra-powerful X-O Manowar armor; his pursuit by the cunning intelligence agent called Ninjak; his ascent into the ranks of the unbreakable all-star superteam codenamed: Unity; and, finally, his battle against the onslaught of the alien Armor Hunters!
After narrowly surviving the events of ARMOR HUNTERS, X-O Manowar – or what is left of him – must look to the future, but, to do so, he must first learn the startling secret of his past. Be here on October 8th to learn the violent, never-before-told origin of Visigoth life under the brutality of the Roman Empire, and how the modern day's most feared armored hero began his journey to the stars nearly two millennia ago.
Don't miss the most demanded Valiant story of the year as Robert Venditti and Clay Mannusher in a brand new beginning for one of the most acclaimed series in comics today, only in X-O MANOWAR #0 – now featuring five, must-see interlocking variant covers by the incomparable Dave Johnson!
THE FADE OUT COMES INTO FOCUS
08/21/14 @ 6:55 pm EST
Source:
Image
| Categories:
Image
|
Comments
(0) |
E-mail Article
|
Add a Comment


THE FADE OUT #1, the debut of the latest series from Ed Brubaker, Sean Phillips, and Elizabeth Breitweiser, uncontested noir masters, has sold out immediately at the distributor level with fans, media, and top industry professionals praising the series as the hottest new crime book on shelves.

"This is amazing. I'm totally overwhelmed. I mean, really, whoever thought me and Sean's most lo-fi idea, a noir within the world of noir films, would be our biggest hit ever?" said Brubaker.

Set in 1940s Hollywood, THE FADE OUT begins with a suspicious murder and kicks off an intricate mystery involving a noir film stuck in endless reshoots, a writer plagued with nightmares from the war and a dangerous secret, and a maniacal studio mogul and his security chief who will do anything to keep the cameras rolling before the Post-War boom days come crashing down.

The series launched with a 40-page issue that featured exclusive back page articles. For fans wishing to experience noir fiction in true '40s style, an oversized "movie magazine replica" variant edition with 8 extra pages of behind-the-scenes art and articles graced store shelves as well. "I dug The Fade Out by Ed Brubaker, Sean Phillips, Elizabeth Breitweiser and Image Comics so much, I had to buy both versions," tweeted Tony Guerrero, Editor-in-Chief of ComicVine.

Entertainment Weekly featured THE FADE OUT #1 on its "Must List" while IGN called it "Mad Men but with more sex and murder." Paste Magazine said of the debut, "Hollywood has never looked so dark, so sinister and so seductive. It's a story that only a Brubaker/Phillips comic could tell."

In an in-depth interview with USA Today Brubaker hinted, "Everybody wanted to come to Hollywood and be rich and famous, and very few people are going to get rich and famous. There's going to be a lot of people dashing themselves against the rocks."

THE FADE OUT #1 has completely sold out at the distributor level, but may still be available in comic stores.

Image Comics is pleased to announce that this first issue will be going back to print to meet customer demand. The second printing of THE FADE OUT #1 (Diamond Code JUL148170) will release on 9/24.

THE FADE OUT #2 (Diamond Code JUL140545) hits shelves on 9/24.
EXCLUSIVE FIRST LOOK: LEGENDARY STAR-LORD #7
08/21/14 @ 6:43 pm EST
Source:
Marvel
| Categories:
Legendary Star Lord
|
Comments
(0) |
E-mail Article
|
Add a Comment
Long distance relationships can be tough--especially when said "distance" covers several galaxies.
Nevertheless, Kitty Pryde of the X-Men and Guardians of the Galaxy leader Peter Quill have decided to make a go of it, challenges be damned. Fortunately, if Paco Medina's cover to LEGENDARY STAR-LORD #7 gives any indication, they'll at least make it to December...
"You know, if a girl braved space to save my butt despite some serious traumatic history with space-bullets I'd probably fall for her too," shares STAR-LORD editor Xander Jarowey. "Especially if she had some good mixtapes. I can feel the love tonight, can you?"
Will Kitty and Peter be able to make it work through the holidays? Find out this December in LEGENDARY STAR-LORD #7 by Sam Humphries and Paco Medina!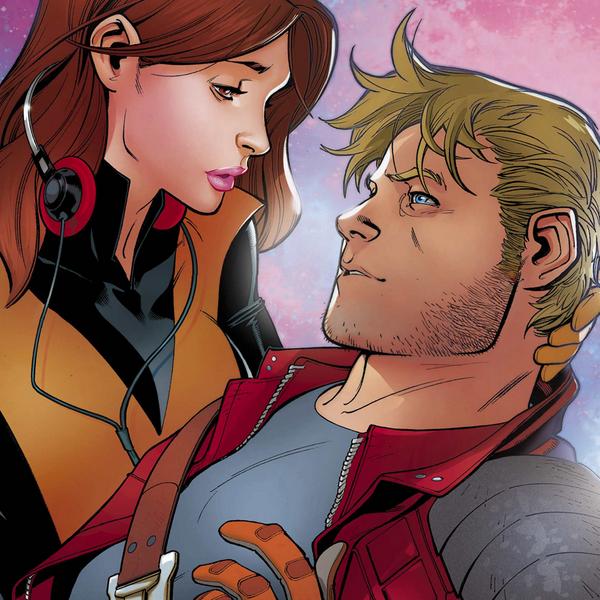 CRUSHER CREEL TO MENACE MARVEL'S AGENTS OF S.H.I.E.L.D.
08/21/14 @ 6:37 pm EST
Source:
Marvel
| Categories:
Marvel
|
Comments
(0) |
E-mail Article
|
Add a Comment
Carl "Crusher" Creel, known to Marvel fans as the Absorbing Man in the comics, will bring his unique power set to "Marvel's Agents of S.H.I.E.L.D." with the season premiere Tuesday, September 23 at 9:00 p.m. ET on ABC!
With the news we've also got your EXCLUSIVE first look at Brian Patrick Wade ("Generation Kill," "Teen Wolf") as Creel directly below!
With his ability to absorb the properties of anything he touches, Creel will put Coulson and his team through their paces when their second season kicks off...but you'll have to wait until then to see how their battle turns out!
Wade joins a number of new characters and guest stars on the series' second season, including the previously announced Adrianne Palicki (Bobbi Morse, a.k.a. Mockingbird), Lucy Lawless (Agent Isabelle Hartley), Reed Diamond (Daniel Whitehall), Nick Blood (Lance Hunter), Henry Simmons (Alphonso "Mack" Mackenzie), and Kyle MacLachlan (Skye's father), alongside the returning cast of Clark Gregg (Director Coulson), Ming-Na Wen (Agent May), Brett Dalton (Grant Ward), Elizabeth Henstridge (Agent Simmons), Iain De Caestecker (Agent Fitz), and Chloe Bennet (Agent Skye).
"Marvel's Agents of S.H.I.E.L.D." is Executive Produced by Joss Whedon ("Marvel's The Avengers," "Buffy the Vampire Slayer"); Jed Whedon & Maurissa Tancharoen, ("Marvel's Agents of S.H.I.E.L.D." pilot co-writers ("Dollhouse," "Dr.Horrible's Sing-Along Blog"); Jeffrey Bell ("Angel," "Alias"); and Jeph Loeb ("Smallville," "Lost," "Heroes").
"Marvel's Agents of S.H.I.E.L.D." is produced by Marvel Television and ABC Studios.
CONTINUE THE 'MARCH TO AXIS' IN YOUR FIRST LOOK AT UNCANNY AVENGERS #24
08/21/14 @ 6:25 pm EST
Source:
Marvel
| Categories:
Uncanny Avengers
|
Comments
(0) |
E-mail Article
|
Add a Comment There's a storm brewing in Genosha. A dark secret that is about to be revealed as the thrilling lead-up to
Avengers & X-Men: AXIS
continues in
UNCANNY AVENGERS #24
!
What is happening behind the closed doors of the once proud mutant haven? Be there when blockbuster creators Rick Remender and Salvador Larroca expose the dark secrets of the Red Skull's plot.
Defeated and captured by the sinister S-Men, Havok, Rogue and the Scarlet Witch must escape the Red Skull's re-education camps before it's too late. Ever since he first stole the brain of Charles Xavier, it's all been building to this – and now, the Red Skull's revenge is complete. Even if the members of the Avengers Unity Squad can escape, it may be too late to save their mutant brethren.
Brace yourself for the epic fall comics event as the 'March to AXIS' continues this September in
UNCANNY AVENGERS #24
!
UNCANNY AVENGERS #24 (JUL140607) Written by RICK REMENDER, Art by SALVADOR LARROCA, Cover by PAUL RENAUD FOC – 08/25/14, On-Sale – 09/17/14
DF REVIEW: STORM #2
08/20/14 @ 9:45 pm EST
Source:
Dynamic Forces
| Categories:
Storm
|
Comments
(0) |
E-mail Article
|
Add a Comment
By BYRON BREWER
Writer Greg Pak sure knows how to tug at the heartstrings.
Those who never knew the "all-new, all-different X-Men" the first time around got a great story in
Storm
#2. For those of us who were readers of Chris Claremont's beginnings of this wonderful character, it was old home week.
Of course, the Morlocks have been involved in many dramatic stories, especially with their mass destruction at the hands of the Marauders. But that first personal battle between Storm and Callisto with Storm NOT able to use her powers. And all the while during the knife fight, Storm holds back on her emotions and her claustrophobia.
It was out of that battle that the haircut she sports now was born.
Her relationship with Callisto has evolved over the years, and I was glad to see that, now depowered and no longer a leader, Callisto has kept with her journey down the straight and narrow. Her concern for the lost kids was the same as it was for the lost mutants, the ones who could not pass for ordinary people on our surface world.
Storm found her now exactly as she found her years ago: a concerned caretaker of those less fortunate. With a blade.
What a wonderful tribute to Storm's life and past history worked into today's storyline. Pak does a wonderful job, and I cannot wait to see Storm's life examined more under his pen.
The art by Victor Ibanez held everything together. It was not spectacular (except in the scene with Storm blasting Callisto). instead, everything was dank and dark and gritty, like the long long saga of the Morlocks themselves. Along with it, the art seems to get smaller, almost claustrophobic. This really added to those underground scenes.
This is a great book about a great character who has been shunted into the shadows for far too long.
Let's add one more title to Storm's plethora of monikers: long-time solo comic book star!
'VOLTRON' 30TH ANNIVERSARY BOOK COMING IN OCTOBER
08/20/14 @ 9:28 pm EST
Source:
ICv2
| Categories:
Voltron
|
Comments
(0) |
E-mail Article
|
Add a Comment
Viz Media has announced plans to release a comprehensive guide to theVoltron universe and its impact on pop culture in honor of the classic sci-fi anime series' 30th Anniversary this fall. Voltron Defender of the Universe: from Days Long Ago – a Thirtieth Anniversary Celebration will release under the Perfect Square imprint on October 28th.

The book is written by former Marvel Comics editor Brian Smith, Marc Morrell, and Joshua Bernard, with a foreword by Jeremy Corray. The book will chronicle the story of Voltron and its cultural references, detailing the history of the show and the mythology. It will include a complete Robeast catalog, celebrity interviews and more. The 144-page, 9 7/8" x 10 7/8" hardcover has an MSRP of $29.99.