SPIDER-MEN
03/09/12 @ 2:08 pm EST
Source:
Marvel
|
Comments
(0) |
E-mail Article
|
Add a Comment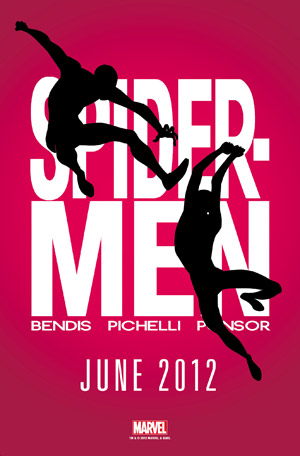 This June - history will be made for the Marvel Universe.
SPIDER-MEN #1
Written by BRIAN MICHAEL BENDIS
Art by SARA PICHELLI
Cover by JIM CHEUNG
ON SALE THIS JUNE!
To find a comic shop near you, call 1-888-comicbook or visit
www.comicshoplocator.com
Marvel Entertainment, LLC, a wholly-owned subsidiary of The Walt Disney Company, is one of the world's most prominent character-based entertainment companies, built on a proven library of over 8,000 characters featured in a variety of media over seventy years. Marvel utilizes its character franchises in entertainment, licensing and publishing. For more information visit
www.marvel.com
NEW DOCTOR STRANGE SPOT EXPLAINS HIS MCU ROLE COMPARED TO THE AVENGERS
09/28/16 @ 12:57 pm EST
Source:
Comic Book Resources
| Categories:
Marvel
|
Comments
(0) |
E-mail Article
|
Add a Comment
To promote the
"Expand Your Mind: An IMAX® 3D Exclusive First Look"
free IMAX ticket giveaway, Marvel has released a new TV spot for director Scott Derrickson's "Doctor Strange." The commercial showcases new footage of the titular Doctor Strange (Benedict Cumberbatch), Tilda Swinton as The Ancient One, Benedict Wong as the mystical trainer Wong, Chiwetel Ejiofor as Baron Mordo, and Mads Mikkelsen as the villainous Kaecilius.
Video:
https://youtu.be/3xoxeCWpZyU
SIXTH TREMORS MOVIE OFFICIALLY IN THE WORKS
09/28/16 @ 12:53 pm EST
Source:
Comic Book Resources
| Categories:
MIsc
|
Comments
(0) |
E-mail Article
|
Add a Comment
Like any good B-movie monster, despite most people's foolish assumptions that it's dead and gone, the "Tremors" series improbably keeps on coming back to life.
Series mainstay Michael Gross — better known as Burt Gummer to fans of the franchise — announced via
Facebook
that a new entry into the giant predatory worm oeuvre had been officially greenlit. Now, the Tremors series' own
Facebook page
confirms this to be true, just in time for the Halloween season.
TOM HOLLAND'S SPIDER-MAN STRIKES CLASSIC POSES IN NEW SET PICS
09/28/16 @ 12:48 pm EST
Source:
Comic Book Resources
| Categories:
Marvel
|
Comments
(0) |
E-mail Article
|
Add a Comment
"Spider-Man: Homecoming," directed by Jon Watts and starring Tom Holland as Peter Parker/Spider-Man,
recently concluded principal photography in Atlanta, GA
. Now, as recent photos have revealed,
filming has moved to Spidey's hometown of Queens, NY
. New photos from
ComingSoon.net
give a closer look at Holland performing a stunt and hitting some classic Spidey poses on a New York City fire escape.
NEW FLASH PHOTOS FEATURE JOHN WESLEY SHIPP'S JAY GARRICK
09/28/16 @ 12:38 pm EST
Source:
Comic Book Resources
| Categories:
DC
|
Comments
(0) |
E-mail Article
|
Add a Comment
The CW has been revealing more and more about the new season of "The Flash," and now, photos from the season's second episode gives fans a sneak peak at John Wesley Shipp in full costume as Jay Garrick, Tom Felton as the mysterious Julian Dorn and the state of affairs as we enter the show's "Flashpoint" reality.
FEIGE EXPLAINS WINTER SOLDIER'S STEPHEN STRANGE SHOUT OUT
09/28/16 @ 12:29 pm EST
Source:
Comic Book Resources
| Categories:
Marvel
|
Comments
(0) |
E-mail Article
|
Add a Comment
As with many of Marvel's shared universe films, 2014's "Captain America: The Winter Soldier" was full of references to
other characters in the MCU
. Nick Fury uses a tranquilizer developed by Bruce Banner to slow his vital signs, Tony Stark and his company are referred to on a number of occasions and in one easy-to-miss line, S.H.I.E.L.D. turncoat Jasper Sitwell mentioned Stephen Strange — a.k.a Doctor Strange — by name. While going through a list of Hydra's targets, Sitwell quickly rattles off to Captain America "you, a TV anchor in Cairo, the other Secretary of Defense, a high school valedictorian in Iowa City, Bruce Banner, Stephen Strange, anyone who's a threat to Hydra!"
This was, at the time, the first mention of Marvel's
master of the mystic arts
anywhere in their sprawling cinematic universe. This made fans curious: had Stephen Strange already taken on the mantle of the Sorcerer Supreme prior to the events of "Winter Soldier"? Or could Hydra predict his ultimate destiny? Kevin Feige has a simpler explanation.
"He is very well-known as a surgeon," Feige told
ComicBook.com
during a visit to "Doctor Strange's" set. "He has got various awards and plaques you're going to see over there; he attends various galas, might be driving at one point in this movie. He has name recognition and a talent and certain Hydra computers identified him as somebody that could cause trouble for their agendas."
In the comics, Doctor Strange is a world-renowned surgeon before an accident cripples his hands. As with other
early Marvel characters
, Strange needed to
overcome a great hubris
before he can be a hero. Judging by the trailers and Feige's words, it would seem that the movie will follow this aspect of the comics closely.
Directed by Scott Derrickson and starring Benedict Cumberbatch, Tilda Swinton, Chiwetel Ejiofor, Rachel McAdams and more, "Doctor Strange" opens on November 4th.
SAMUEL L. JACKSON BELIEVES SHIELD WILL RETURN TO THE MCU
09/28/16 @ 12:25 pm EST
Source:
Comic Book Resources
| Categories:
Marvel
|
Comments
(0) |
E-mail Article
|
Add a Comment
At the end of 2014's "Captain America: Winter Soldier," S.H.I.E.L.D. was no more. And with Nick Fury's absence during this year's "Captain America: Civil War," it seems that the Avengers might have also lost their most trusted mentor. But don't count the former director of S.H.I.E.L.D. out, however. According to Samuel L. Jackson, S.H.I.E.L.D. may be dismantled — but it still has a place within the Marvel Cinematic Universe.
"There's some way of fixing what they created, and hopefully somebody has that going on or Nick Fury is out there — wherever he is, probably hanging out with Jules and walking the world — figuring out what happened and how it got to that particular place,"
Jackson told ComingSoon.net
during a press conference for "Miss Peregrine's Home For Peculiar Children." "Maybe they'll find out that all that was part of a ruse to get to something else also. That would be great."
It should be noted that the restoration of S.H.I.E.L.D. —
including the reveal of a new director
— is a major part of the current season of ABC's "Agents of S.H.I.E.L.D."
Nick Fury was last seen in 2015's "Avengers: Age of Ultron." While there's no official confirmation that Nick Fury will make his triumphant return in "Avengers: Infinity Wars" — what promises to be one of the biggest films of the MCU — Jackson seems confident. After all,
someone
with oversight has to help the Avengers battle Thanos (Josh Brolin) and his Infinity Stones.
"They'll bring me back somehow, some way, for some reason," Jackson said. "I mean, they didn't have me around to referee the kids when they didn't go to their rooms and got in this big old fight. We'll see what happens."
"Avengers: Infinity Wars" starts filming in Atlanta this November and will be released on May 4, 2018. The fourth Avengers film, which will have a separate title, will be shot concurrently and be released on May 3, 2019.
WONDER WOMAN TAKES THE SPOTLIGHT ON FRANK CHO'S TRINITY #2 VARIANT
09/28/16 @ 12:19 pm EST
Source:
Comic Book Resources
| Categories:
DC
|
Comments
(0) |
E-mail Article
|
Add a Comment
He may
no longer be providing variant covers for "Wonder Woman,"
but
Frank Cho
is depicting the Amazonian hero once again on a cover for
DC Comics
'
"Trinity"
#2.
Flanked by her co-stars Superman and Batman, CBR had the exclusive
first look at Cho's offering for the second chapter of Francis Manapul's ongoing series. While the first issue of the series focused on the trio of heroes getting to know each other in their civilian identities of Diana, Clark Kent and Bruce Wayne, Cho's cover features a Wonder Woman geared-up and ready for battle.
'MISS PEREGRINE' TO PUNISH COMPETITION AT WEEKEND BOX OFFICE
09/28/16 @ 12:14 pm EST
Source:
Deadline
| Categories:
MIsc
|
Comments
(0) |
E-mail Article
|
Add a Comment
So far at the fall domestic box office we've seen a slew of misfires out of the gate including
Blair Witch, Bridget Jones's Baby, Snowden, The Light Between Oceans, Morgan, The Disappointments Room
and
The Wild Life.
Even though some wide product has moved off the fall schedule, it's still a vicious marketplace particularly since it's a sleepy time at multiplexes. This weekend alone, there's only 4% of K-12 schools out, and 1% of colleges according to ComScore. Let's hope this weekend's fresh crop doesn't add to this growing list of agita, ultimately outnumbering last autumn's 15 bombs.
As Sony/MGM/Village Roadshow/LStar's Western
Magnificent Seven
eases at least 50% in its second trot with $17 million, 20th Century Fox/Chernin Entertainment's Tim Burton feature adaptation of the Ransom Riggs kids novel
Miss Peregrine's Home For Peculiar Children
is expected to settle in at No. 1 with a mid-$20M opening at 3,520 locations. While
Miss Peregrine
might look and smell like Guillermo del Toro's gothic title
Crimson Peak,
which died last year at this time ($55M production cost, $31M domestic, $74.7M global B.O.), it is not. There's a decent want-to-see here given both the novel and director Burton's fanbase. Tracking currently shows a strong 21% first choice among both women under 25 and teens 12-16. Estimated production cost is $110M. Currently reviews are so-so with 32 registering a 59% score on Rotten Tomatoes.
Riggs' story follows Jake (Asa Butterfield) who learns of mystical powers in his family, which leads him to an orphanage with other peculiar children like himself. For 70 weeks,
Miss Peregrine
lived on the
The New York Times
bestseller list for children's books: It hit No. 1 on April 29, 2012 after a 45-week run, and lived in that spot for roughly the next month.
Miss Peregrine
can count on 350 premium large-format screens to boost her B.O. this weekend. Previews start Thursday at 7 PM.
JON FAVREAU TO DIRECT DISNEY'S 'THE LION KING'; FEATURE REIMAGINING ON FAST-TRACK
09/28/16 @ 12:09 pm EST
Source:
Deadline
| Categories:
Disney
|
Comments
(0) |
E-mail Article
|
Add a Comment
Swinging from their blockbuster collaboration on
The Jungle Book
, The Walt Disney Studios and helmer Jon Favreau are teaming on a new reimagining of
The Lion King
.
The Lion King
builds on Disney's success of updating and reinventing its classics for a contemporary audience with recent hits like
Maleficent
($758.5M WW box office),
Cinderella
($543.5M) and
The Jungle Book
. The latter was a CGI/live action technological marvel that has grossed $965.8M worldwide this year and is globally the No. 4 film of 2016. Disney and Favreau are also in development on a sequel.
Disney's latest reimagining is the upcoming
Beauty And The Beast
. In similar fashion to that film, the live-action
Lion King
will include songs from the original animated pic.
DEADPOOL DOES SHAKESPEARE –YOUR FIRST LOOK AT DEADPOOL #21!
09/28/16 @ 12:05 pm EST
Source:
Marvel
| Categories:
Marvel
|
Comments
(0) |
E-mail Article
|
Add a Comment
This October, the Merc With a Mouth is crashing headlong into Marvel NOW! and he's bringing William Shakespeare with him! Today, Marvel is pleased to present your first look inside
DEADPOOL #21
– the colossal
80 page issue
coming to comic shops and digital devices on
October 26th
! First up, witness the the return of one of Deadpool's greatest adversaries as Madcap returns to the fold in a brand-new full length adventure from Gerry Duggan and Mateo Lolli! No one has pushed Deadpool to the limit quite like Madcap. Is Wade ready to face him again? Then, Deadpool goes Shakespeare for an all-new 60-page tale from writer Ian Doescher (
William Shakespeare's Star Wars
) and artist Bruno Oliveira! Those old plays from English class just got a lot more interesting. Don't say we never taught you anything! Be there for the tales of the bard as you've never seen them before when
DEADPOOL #21
comes to comic shops and digital devices on
October 26th
!
DEADPOOL #21 (AUG160837)Written by GERRY DUGGAN & IAN DOESCHER
Art by MATEO LOLLI & BRUNO OLIVEIRACover by MIKE HAWTHORNE
Variant Covers by MIKE MAYHEW (AUG160838)
and JANET LEE (AUG160840)Secret Comic Variant by SCOTT KOBLISH (AUG160839)
Champions Variant by PHIL NOTO (AUG160841)FOC – 10/03/16, On-Sale – 10/26/16