MARVEL ENTERTAINMENT COLLARS SUPER HERO PET PROGRAM WITH FETCH…FOR COOL PETS! AND PETSMART
02/27/12 @ 1:31 pm EST
Source:
Marvel
|
Comments
(0) |
E-mail Article
|
Add a Comment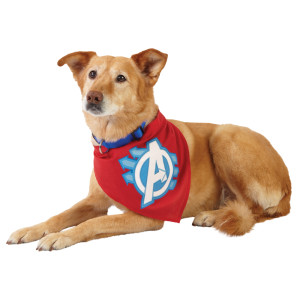 Marvel-Inspired Pet Toys, Apparel and Accessories to Debut Exclusively at PetSmart®

Marvel Entertainment, LLC
, a global character-based entertainment company, announced today that is it expanding into the pet category for the first time with a Super Hero inspired pet program. Through a new licensing agreement with
Fetch…for cool pets!
, a unique line of Marvel Super Hero inspired pet toys, apparel and accessories will be unleashed at
PetSmart
®, the largest pet specialty retailer, beginning this week.
The line will feature a wide array of Marvel-themed pet products for dogs including toys and apparel. Additionally, a wide assortment of aquatic products will follow shortly after and all will be available in
PetSmart stores
in the United States, Canada and Puerto Rico as well as online at
www.PetSmart.com
.
PetSmart, Marvel and Fetch...for cool pets! will support the Marvel Super Hero pet program with an impactful marketing campaign. Highlighting the campaign will be in-store signage, online promotions and a sweepstakes exclusively for PetSmart Facebook fans on
www.facebook.com/petsmart.com
.
"Marvel Super Heroes are a family affair and therefore, should include the family pet," said Jamie Kampel, Director of Licensing, Marvel Entertainment. "As we continue to look to expand the presence of the Marvel brand to new product and retail venues, the pet category is a natural extension. Fetch has developed a truly unique line, and having PetSmart on board as our premiere retail partner will enable us to make a huge statement for the Marvel brand in the pet category."
Steven Shweky, President of Fetch…for cool pets! added, "Fetch is approaching licensing from a different direction. Instead of using brands that would typically only appeal to children, Fetch has licensed brands that resonate with the 'pet parent.' Marvel is the perfect brand to reflect our approach."


About Marvel Entertainment, LLC:
Marvel Entertainment, LLC, a wholly-owned subsidiary of The Walt Disney Company, is one of the world's most prominent character-based entertainment companies, built on a proven library of over 8,000 characters featured in a variety of media over seventy years. Marvel utilizes its character franchises in entertainment, licensing and publishing. For more information visit
www.marvel.com
.


About Fetch…for cool pets!:
Fetch…for cool pets! is the manufacturer of a variety of innovative dog and cat products. Pet Head™ is their most widely distributed specialty grooming brand sold in pet specialty stores, pet shops, and beauty salons all across America, Europe, Australia, Asia & the Middle East. Fetch has expanded into the pet oral care, aquarium accessories, as well as several other pet categories. Founded in 1982, Fetch…for cool pets! will continue to innovate with new product lines & brands as well as push the envelope on market reach. To learn more about Fetch please visit
www.pethead.com
.
About PetSmart
:
PetSmart, Inc.
(NASDAQ: PETM) is the largest specialty pet retailer of services and solutions for the lifetime needs of pets. The company employs approximately 50,000 associates and operates more than 1,210 pet stores in the United States, Canada and Puerto Rico, over 189 in-store
PetSmart® PetsHotel®
dog and cat boarding facilities and is a leading online provider of pet supplies and pet care information (
http://www.petsmart.com
). PetSmart provides a broad range of competitively priced pet food and pet products; and offers
dog training
, pet
grooming
, pet boarding,
PetSmart Doggie Day Camp
SM day care services and pet adoption services. Since 1994,
PetSmart Charities, Inc
., an independent 501(c)(3) non-profit animal welfare organization and the largest funder of animal welfare efforts in North America, has provided more than $134 million in grants and programs benefiting animal welfare organizations. Through its in-store pet adoption partnership with PetSmart Charities®, PetSmart has helped save the lives of more than 4.7 million pets.
THE WICKED + THE DIVINE REVEALS VARIANT BY STEPHANIE HANS
07/23/14 @ 4:26 pm EST
Source:
Image
| Categories:
Image
|
Comments
(0) |
E-mail Article
|
Add a Comment
The third issue of writer Kieron Gillen and artist Jamie McKelvie's electric series THE WICKED + THE DIVINE will feature a bright and vibrant variant cover by the painterly Stephanie Hans (Journey into Mystery), but the story will veer into the shadows.
In the third issue of THE WICKED + THE DIVINE, Laura has no choice, she's made a pact with Luci and now must seek out gothest-of-gods: The Mórrígan.
THE WICKED + THE DIVINE #3 arrives in stores on 8/20, and will be available for $3.50. It can be pre-ordered with Diamond Code JUN140587. The variant cover B by Stephanie Hans is available to pre-order with Diamond Code JUN148168. The final order cutoff deadline for retailers is 7/28.
IT'S BATMAN DAY IN COMIC SHOPS ACROSS THE GLOBE
07/23/14 @ 4:20 pm EST
Source:
DC
| Categories:
Batman
|
Comments
(0) |
E-mail Article
|
Add a Comment


Today, thousands of comic shops and bookstores worldwide are celebrating Batman Day.

They're hosting parties, giving away free Batman comics and in some locations, handing out some awesome Batman masks. Based on four distinct Dark Knight-eras, these masks are fun and perfect for a little cell phone photography.

And since Batman has shown he's not above taking an occasional selfie, DC.com is putting a call out for some BatSelfies!

Today and for the rest of the week, if you snap a selfie wearing one of our Batman Day masks—or a Batman mask or cowl of your own—be sure to tag it with the #BatSelfie hashtag. DC will be pulling out some of our favorites and displaying them down below. We'll also be including fun photos and tweets from today's Batman Day celebrations. Just tag those ones with the #Batman75 hashtag.

Have fun and happy Batman Day from DC.com and Dynamic Sources!
FOX'S 'GOTHAM' WILL HAVE BIG PRESENCE AT SDCC
07/23/14 @ 4:08 pm EST
Source:
DC
| Categories:
Gotham
|
Comments
(0) |
E-mail Article
|
Add a Comment
What comes to mind when you think of Gotham City? Batman, obviously. Dark city streets, tall skyscrapers, blimps, searchlights…and bright, sunny skies?Well,
Gotham
may not exactly be synonymous with sunshine, but it will be this weekend as FOX, Warner Bros. Television and DC Entertainment bring this fall's eagerly anticipated new drama to the summer skies of Comic-Con. With giveaways, star appearances, two spectacular experiences and one blockbuster Hall H panel, the convention may officially take place in San Diego, California, but the city on everyone's mind will be
Gotham
.

Tour Gotham City Caped Crusader-Style
Gotham
may be set well before Batman hits the scene, but you'd be hard pressed not to think of the Dark Knight when enjoying the
Gotham
Zip Line, a once-in-a-lifetime chance to experience the Gotham City streets super hero-style. Comic-Con attendees will want to strap in and hold on as they take an exhilarating 130-foot ride thirty feet above the Gotham landscape. When you're done, you'll be rewarded with a shareable photo of your experience, as well as some exclusive
Gotham
prizes.
This heroic experience will be set between the San Diego Convention Center and the Hilton Bayfront Hotel (that's to the left of the convention center when you're facing it). Hours of operation are Thursday, July 24 to Sunday, July 27 from 10 a.m. to 6 p.m. daily. Even better, members of the
Gotham
cast and crew will be making appearances at the attraction throughout the weekend, so keep an eye out. Gotham's a big city and you never know who you might see…


Take a Ride in a Gotham City Police Cruiser (No Handcuffs Necessary)
Of all the options available to you for getting around San Diego, we wouldn't usually recommend choosing the backseat of a police car, but we're more than happy to make an exception for
Gotham's
second unique SDCC experience. UBER users will have the opportunity to grab up to a $30 ride in a specially-designed
Gotham
police cruiser when they select "Gotham PD" on the UBER slider. While on their way, they'll be treated to a sneak preview of
Gotham
. Oh, and did we mention that the ride was FREE? Yes, Bat-fans, it is.
You'll see the Gotham police cars throughout downtown San Diego, but if you want to grab a ride in one, you'll have to use the app during select hours:
Thursday, July 24:
4 p.m. – 10 p.m.
Friday, July 25:
2 p.m. – 12 a.m.
Saturday, July 26:
12 p.m. – 12 a.m.
Sunday, July 27:
10 a.m. – 2 p.m.We can promise a comfortable ride, though we can't promise any super hero or villain sightings. Of course, considering it's Comic-Con, you never know…

Be the First to See the Show
If you've been to San Diego Comic-Con before, you know that Hall H is the place to be. It's where the biggest panels take place, and you'd be hard pressed to find one bigger than the massive DC TV panel taking place in Hall H on Saturday night from 8 p.m. – 11 p.m. Especially since it just happens to include the World Premiere of
Gotham
.
We'll be screening the pilot in full for the first time anywhere and following it up with a sure-to-be-lively panel discussion featuring series stars
Ben McKenzie
,
Donal Logue
,
Jada Pinkett Smith
,
Robin Lord Taylor
,
Erin Richards, Camren Bicondova
and
David Mazouz
, as well as executive producers
Bruno Heller
,
Danny Cannon
and
John Stephens.
We have no doubt you plan to check out the show come fall, but watching the first episode with an enthusiastic audience of thousands is a different experience entirely, and one that isn't to be missed for fans of Batman and DC Comics.
Plus, be sure to grab your
Gotham
swag bag when you pick up your badge, and make sure to stop by the Fox Fanfare booth (#4229) for a
Gotham
lenticular collectible and other cool giveaways. This fall, we'll all witness what life was like in Gotham City prior to Batman. But if you want to experience life in Gotham… you'll have to go to Comic-Con.
VALIANT, VISIONBOOKS PARTNER FOR ANIMATED DIGITAL COMICS
07/22/14 @ 9:10 pm EST
Source:
Visionbooks
| Categories:
X-O Manowar
|
Comments
(0) |
E-mail Article
|
Add a Comment


Visionbooks is proud to announce a new partnership agreement with award-winning comic book publisher, Valiant Entertainment. Launching today with the release of X-O Manowar #1-4 on the Visionbooks app, relive the best-selling first story arc of Valiant's alien-armored Visigoth hero as realized by Visionbooks' groundbreaking digital animation process.

Visionbooks revolutionizes comic book reading by transforming two-dimensional comic books into a digital animation experience. By combining traditional comics with cutting-edge technology, Visionbooks creates dimensional action like explosions, smoke, weather, character conflicts and action, all within static comic panels.

From New York Times best-selling writer Robert Venditti (Armor Hunters, Green Lantern) and Eisner Award-winning artist Cary Nord (Conan), X-O Manowar is the acclaimed series that relaunched Valiant's publishing line in 2012 to critical and commercial success. Named the "Best Revival of 2012" by The Onion/A.V. Club and "Best Ongoing Series" by Ain't It Cool News, the tale of Aric of Dacia's transformation from fifth-century freedom fighter to modern-day America's most powerful superhero begins right here with the chart-topping debut that IGN calls "one of the best books being published right now, period."

Visionbooks' technology and application showcases comics in a whole new way, while preserving the original narrative and layout found in paper comics.

"This partnership with Valiant gives Visionbooks an opportunity to work with classic superheroes and create a cinematic reading experience that engages the next generation of new comic book fans," said Francesco Scrufari, co-founder of Visionbooks.

"Visionbooks is pushing the envelope with our new digital technology. Who better to partner with than Valiant, a publisher who is also known for their innovation and creativity," said Simone Offredo, co-founder of Visionbooks.

In addition to Valiant Entertainment, Visionbooks' current partnerships include: Asylum Press, Arcana, Real Interface Studios, A.P.N.G. Enterprises, Vanquish Interactive, Pavesio and Cavalletto.
BOOM! STUDIOS LANDS GRANT MORRISON?
07/22/14 @ 8:45 pm EST
Source:
ICv2
| Categories:
MIsc
|
Comments
(0) |
E-mail Article
|
Add a Comment
ICv2 is reporting that BOOM! Studios has released a pre-SDCC teaser, the words "Grant Morrison" and "BOOM! Studios" set against a simple stark black background. BOOM! has not released any details about possible projects with Morrison, but expect details to emerge from San Diego in the next few days.
Morrison, who has brought a cutting edge and very modern narrative sensibility to mainstream comics with major runs on
Animal Man
,
Batman
, and his own
The Invisibles
, has a number of projects in development including
Multiversity
from DC.
KATSUYA TERADA HAS A NEW ARTBOOK AT SDCC
07/22/14 @ 8:37 pm EST
Source:
Dark Horse
| Categories:
Dark Horse
|
Comments
(0) |
E-mail Article
|
Add a Comment
Dark Horse has issued a special bulletin about a Japanese artist appearing at the Dark Horse booth during San Diego Comic-Con with a brand new book. It's all in the title: Dragon Girl and Monkey King: The Art of Katsuya Terada, and it goes on sale this Wednesday. Katsuya Terada will be signing it at the Dark Horse booth this Thursday and Saturday at SDCC.
You may already know Terada from vols. 1 and 2 of his The Monkey King, his beautifully painted full-color manga from Dark Horse (by the way, the only reason Dark Horse hasn't published vol. 3 yet is because it's not finished) or remember the distinctive character designs Terada made for the original Blood: The Last Vampire anime. But you may not know that Katsuya Terada is one of the most sought-after commercial illustrators in Japan…constantly in demand to paint magazine covers, light novel covers, video game art, concert posters, CD jackets, and much more.
The brand new artbook, Dragon Girl and Monkey King: The Art of Katsuya Terada, takes you inside that world. It's a 9" x 12" hardback, 200 page collection of Terada's paintings and illustrations from roughly the last fifteen years (including some done especially for this book). Many of the pieces have extensive liner notes detailing the stories behind the artwork—who these works were made for, and why. With a bonus Terada interview included as well, Dragon Girl and Monkey King: The Art of Katsuya Terada gives you not only a great collection of illustrations that speak for themselves, but glimpses into the working life of a pro artist in today's Japanese market.
Director of Pan's Labyrinth and Pacific Rim (and co-creator of The Strain) Guillermo del Toro writes the foreword to Dragon Girl and Monkey King; as detailed in the book, Terada's fans include not only del Toro, but creators such as Mamoru Oshii, Katsuhiro Otomo, and Moyoco Anno, who dubbed him the "master artist." If you don't yet know why, Dragon Girl and Monkey King is the perfect opportunity to find out—and if you're going to be visiting Dark Horse at SDCC this weekend, you can not only get the book, but get it signed by the master himself! Katsuya Terada will be at Dark Horse's booth (#2615) on Thursday from 1 to 2 p.m., and on Saturday from 3 to 4 p.m.
SEAWORLD STRIKES BACK AT PETA'S 'OFFENSIVE, TASTELESS' POSTER
07/22/14 @ 5:02 pm EST
Source:
Times of San Diego
| Categories:
MIsc
|
Comments
(0) |
E-mail Article
|
Add a Comment
PETA is going where no anti-SeaWorld campaign has gone before — with a $24,000 poster at Lindbergh Field to be seen by thousands. But SeaWorld paints the project as offensive and tasteless.
PETA display at San Diego International Airport will greet Comic-Con attendees. Image via PETA, Bluewater Productions
The 20-foot graphic cartoon shows a captive orca with a man supposed to be SeaWorld's CEO in his mouth. The display is aimed at Comic-Con attendees, urging convention-goers to steer clear of SeaWorld over objections to marine-mammal confinement.
In response, SeaWorld said in a statement:
"Even by PETA's standards, this ad is as offensive as it is tasteless. PETA isn't concerned with actually helping animals. They are a radical organization that continues to spend its money on publicity stunts like the profane Jason Biggs video and advertising campaigns like this for the sole purpose of promoting their agenda. The truth is that our killer whales are healthy and happy, and thrive in our care. The real animal welfare organization is SeaWorld, not PETA, and our trainers, aviculturists, animal-care staff and veterinarians are the true advocates for animals. We encourage people to get the facts on our commitment to the animals in our care at
seaworld.com/truth
and
seaworldcares.com
."
The display is a joint project between Bluewater Productions and PETA — People for the Ethical Treatment of Animals.
The massive installation greets passengers on their way to baggage claim at the center of Terminal 2.
COMIC BOOK COMPANY TEAMS UP WITH PETA TO MAKE WAVES IN SEAWORLD'S HOMETOWN
07/22/14 @ 4:55 pm EST
Source:
Bluewater
| Categories:
MIsc
|
Comments
(0) |
E-mail Article
|
Add a Comment
San Diego — As thousands of Comic-Con International fans de-plane, the first thing that they'll see won't be a promo for
The Avengers
or
The
Walking Dead
but a huge graphic cartoon of a captive orca with SeaWorld's CEO in his mouth. The provocative display, which urges convention-goers to steer clear of SeaWorld because of marine-mammal cruelty and confinement, is a joint project between Bluewater Productions and PETA.The massive $24,000 installation, which now greets passengers on their way to baggage claim at the center of Terminal 2, can be viewed [attachment]."Comic-Con fans love blood and guts when they're fake, but at SeaWorld, it's all too real for comfort," says Bluewater founder Darren G Davis. "The orcas are desperate to be free. That's why trainers have been killed, and that's what we're depicting in this campaign with PETA." Bluewater, known for its edgy spoofs of controversial topics, designed the cartoon in the wake of last year's hit documentary
Blackfish
. The film—viewed by 21 million on CNN alone—explored SeaWorld's cruel capture and devastating confinement of orcas, which led the whale named Tilikum to kill three people. "SeaWorld has been in a free fall since
Blackfish
premièred—attendance is down 13 percent, investors are dumping millions of dollars in stock, and bands are cancelling concerts at the parks," says PETA Senior Vice President Dan Mathews.PETA's campaign against SeaWorld was profiled in Friday's Wall Street Journal.
PETA display at San Diego International Airport will greet Comic-Con attendees. Image via PETA, Bluewater Productions
MARVEL'S FACEBOOK PAGE CELEBRATES 7 MILLION LIKES
07/22/14 @ 4:47 pm EST
Source:
Marvel
| Categories:
Marvel
|
Comments
(0) |
E-mail Article
|
Add a Comment
Marvel is excited to announce that it now has reached 7 million+ Likes on the Marvel Facebook page.In order to celebrate this massive social achievement, Marvel is offering all visitors to the Marvel Facebook page exclusive and unlocked first-looks at upcoming Marvel projects and FREE digital comics throughout the day. Starting at 12PM EST, with new content unlocked every other hour, Marvel Facebook fans and visitors will be the first to see exclusive content and be offered FREE digital comics for a very limited time to read through the Marvel Comics App (for iPhone
®
, iPad
®
, iPod Touch
®
& Android ™ devices) and the Marvel Digital Comics Shop. With over 7 million fans strong on Facebook, we want to thank you for making yours Marvel, but that's not all, because we'll have even more Mighty Marvel surprises up our sleeves that Marvel Facebook fans will only have access to! With so many ways to get your daily dose of all things Marvel, there's no reason not to get involved.
THE FINAL BATTLE BEGINS IN ORIGINAL SIN #7
07/22/14 @ 4:40 pm EST
Source:
Marvel
| Categories:
Original Sin
|
Comments
(0) |
E-mail Article
|
Add a Comment


All roads have been leading to this! Today, Marvel is proud to present ORIGINAL SIN #7 – the penultimate chapter from New York Times Bestselling writer Jason Aaron (Thor: God of Thunder) and critically acclaimed artist Mike Deodato (New Avengers). The shocking final page of last issue kept fans on the edge of their seats, and now as Original Sin races towards its epic climax – the heroes of the Marvel Universe prepare for their final stand against…Nick Fury?

Operating in the shadows, Nick Fury has protected the Marvel Universe from unseen forces. Protecting the Marvel Universe by any means necessary, Fury has "guarded the wall" for decades right under the noses of both S.H.E.I.L.D. and the Avengers. Now, drained of the Infinity Formula that kept him youthful, the battle-hardened soldier is rapidly aging, his time left short. But his job is never done…

He'll stop at nothing to protect the Marvel Universe from what's coming – even if he has to go through the Avengers to do it! Armed with the Watcher's eyes, the secrets and sins of the entire Marvel Universe are now at his disposal. The knowledge Uatu kept could now be their very undoing! How can anyone stand up against a tactical genius with access to all the heroes greatest weaknesses?

The series that critics have hailed "a riveting thriller" and "one hell of a story" is approaching the heart-stopping climax no fan can afford to miss. Open your eyes wide for ORIGINAL SIN #7 when it hits comic shops this August!

Everybody has one. This is Marvel's ORIGINAL SIN!

ORIGINAL SIN #7 (JUN140605) Written by JASON AARONArt by MIKE DEODATO, Cover by JULIAN TOTINO TEDESCO, Variant Cover by GABRIELLE DELL'OTTO (JUN140606), Teaser Variant by MIKE MCKONE (JUN140608), Interlocking Battle Variant by ART ADAMS (JUN140607) FOC – 07/21/14, On-Sale 08/13/14