MARVEL ENTERTAINMENT COLLARS SUPER HERO PET PROGRAM WITH FETCH…FOR COOL PETS! AND PETSMART
02/27/12 @ 1:31 pm EST
Source:
Marvel
|
Comments
(0) |
E-mail Article
|
Add a Comment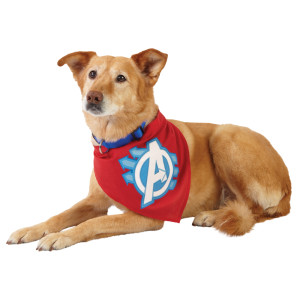 Marvel-Inspired Pet Toys, Apparel and Accessories to Debut Exclusively at PetSmart®

Marvel Entertainment, LLC
, a global character-based entertainment company, announced today that is it expanding into the pet category for the first time with a Super Hero inspired pet program. Through a new licensing agreement with
Fetch…for cool pets!
, a unique line of Marvel Super Hero inspired pet toys, apparel and accessories will be unleashed at
PetSmart
®, the largest pet specialty retailer, beginning this week.
The line will feature a wide array of Marvel-themed pet products for dogs including toys and apparel. Additionally, a wide assortment of aquatic products will follow shortly after and all will be available in
PetSmart stores
in the United States, Canada and Puerto Rico as well as online at
www.PetSmart.com
.
PetSmart, Marvel and Fetch...for cool pets! will support the Marvel Super Hero pet program with an impactful marketing campaign. Highlighting the campaign will be in-store signage, online promotions and a sweepstakes exclusively for PetSmart Facebook fans on
www.facebook.com/petsmart.com
.
"Marvel Super Heroes are a family affair and therefore, should include the family pet," said Jamie Kampel, Director of Licensing, Marvel Entertainment. "As we continue to look to expand the presence of the Marvel brand to new product and retail venues, the pet category is a natural extension. Fetch has developed a truly unique line, and having PetSmart on board as our premiere retail partner will enable us to make a huge statement for the Marvel brand in the pet category."
Steven Shweky, President of Fetch…for cool pets! added, "Fetch is approaching licensing from a different direction. Instead of using brands that would typically only appeal to children, Fetch has licensed brands that resonate with the 'pet parent.' Marvel is the perfect brand to reflect our approach."


About Marvel Entertainment, LLC:
Marvel Entertainment, LLC, a wholly-owned subsidiary of The Walt Disney Company, is one of the world's most prominent character-based entertainment companies, built on a proven library of over 8,000 characters featured in a variety of media over seventy years. Marvel utilizes its character franchises in entertainment, licensing and publishing. For more information visit
www.marvel.com
.


About Fetch…for cool pets!:
Fetch…for cool pets! is the manufacturer of a variety of innovative dog and cat products. Pet Head™ is their most widely distributed specialty grooming brand sold in pet specialty stores, pet shops, and beauty salons all across America, Europe, Australia, Asia & the Middle East. Fetch has expanded into the pet oral care, aquarium accessories, as well as several other pet categories. Founded in 1982, Fetch…for cool pets! will continue to innovate with new product lines & brands as well as push the envelope on market reach. To learn more about Fetch please visit
www.pethead.com
.
About PetSmart
:
PetSmart, Inc.
(NASDAQ: PETM) is the largest specialty pet retailer of services and solutions for the lifetime needs of pets. The company employs approximately 50,000 associates and operates more than 1,210 pet stores in the United States, Canada and Puerto Rico, over 189 in-store
PetSmart® PetsHotel®
dog and cat boarding facilities and is a leading online provider of pet supplies and pet care information (
http://www.petsmart.com
). PetSmart provides a broad range of competitively priced pet food and pet products; and offers
dog training
, pet
grooming
, pet boarding,
PetSmart Doggie Day Camp
SM day care services and pet adoption services. Since 1994,
PetSmart Charities, Inc
., an independent 501(c)(3) non-profit animal welfare organization and the largest funder of animal welfare efforts in North America, has provided more than $134 million in grants and programs benefiting animal welfare organizations. Through its in-store pet adoption partnership with PetSmart Charities®, PetSmart has helped save the lives of more than 4.7 million pets.
BRYAN CRANSTON EXPLAINS WHY HE AGREED TO APPEAR IN THE POWER RANGERS MOVIE
01/14/17 @ 4:06 pm EST
Source:
Comicbook
| Categories:
MIsc
|
Comments
(0) |
E-mail Article
|
Add a Comment
Power Rangers
is shaping up to be one of the biggest films of 2017, and part of the excitement has to do with the talented cast the film employs.
That certainly includes Bryan Cranston (Breaking Bad, Godzilla), who will be voicing the role of the Rangers mentor Zordon. While fans were ecstatic at the casting, they were also a bit surprised, but if you know his history with the Power Rangers it is probably less so. Cranston actually got some of his earliest voice over work thanks to Haim Saban's
Power Rangers
, and it's partly why he decided to take the role of Zordon.
Still, gratitude wasn't going to be enough on its own. In an interview withIGN, Cranston explains what ultimately swayed him to take the part. "I thought, 'Power Rangers? It's kind of the [1960s] Batman television show - Pow! Zing! Whap!' And I had a phone call with the director and he said, 'Think of it this way… Like Batman came from TV and became a completely different animal in the movies, so too is it here. We're going to take this and revamp it and it's going to be grounded and real.' And I thought 'Okay, with that, let me read it.'"
Fortunately, it didn't take long after reading the script to come around. "I read it and went 'You're right,'" Cranston continued. "The kids sound like real kids and not everyone is this great athlete and everything is working out. I thought, 'This might be a nice bookend to what I was doing before,' since I started out doing voices."
The Rangers look to Zordon for guidance, a role that is frustrating at times and rewarding at others. "He is a frustrated mentor of these kids. They're not advancing as I'd hoped. Some of them are not taking this seriously, the responsibility that has been placed upon them or that they have been chosen for. And yet, you're a mentor. It's almost like being a coach. You want to break down the individuality of them so that they can grow as a team."
DEFENDERS: KRYSTEN RITTER REVEALS JESSICA JONES' AND DAREDEVIL'S RELATIONSHIP
01/14/17 @ 4:02 pm EST
Source:
Comicbook
| Categories:
Marvel
|
Comments
(0) |
E-mail Article
|
Add a Comment
Krysten Ritter, the actress who starred in
Marvel's Jessica Jones
onNetflix, is offering some new insight into how life has progressed for the titular heroine since the show's first season ended.
Marvel's Jessica Jones
Season 1 concluded with Jessica killing Kilgrave (David Tennant), the depraved villain who had tormented her with mind control. Upon returning to the office of her private investigations firm, Alias Investigations, Jones was flooded with phone calls from potential new clients.
"She's still dealing with the aftermath of Kilgrave, and now she's dealing with 'success' — and not well," Ritter tells Entertainment Weekly. "People want her to work for them, she's getting a lot of business, and she's not ready for any of that. She hasn't changed, but her environment has, and there's no handbook for how to exist in a world where you are now popular."
Ritter will reprise her role as Jones for
Marvel's The Defenders
, which will team Jones with fellow Marvel Cinematic Universe vigilantesDaredevil (Charlie Cox), Luke Cage (Michael Colter), and Iron Fist (Finn Jones). Each of these characters will have starred in their own Netflix series by the time
Marvel's The Defenders
begins, but Cage debuted as a romantic interest in the first season of
Jessica Jones
. However, even Cage's presence isn't enough to ease Jones' skepticism about this motley team of street heroes.
"She's gloriously the most reluctant hero in the world," showrunner Marco Ramirez says. "She's going to have to let three men into her life who she doesn't 100 percent trust."
"It switches back and forth, to be honest," she says. "No one's best friends in all of the Defenders. This is a reluctant team-up."
According to Ritter, Jones has already spent some time getting to know Daredevil. Ritter describes the relationship between Jones and Daredevil as a "cat-and-mouse" dynamic, though the roles are not locked.
"It switches back and forth, to be honest," she says. "No one's best friends in all of the Defenders. This is a reluctant team-up."
X-MEN: SUPERNOVA CONFIRMED AS DARK PHOENIX MOVIE?
01/14/17 @ 3:58 pm EST
Source:
Comicbook
| Categories:
Marvel
|
Comments
(0) |
E-mail Article
|
Add a Comment
X-Men: Supernova
is a title that has vexed and confused many fans of the X-Men movies franchise. While the existence of
X-Men: Supernova
has not been officially acknowledged by 20th Century Fox, the film has appeared in places like Production Weekly and My Entertainment Earth that track the production cycles of film projects.
Popular opinion at first suggested that
X-Men: Supernova
may be a production title for
X-Men: The New Mutants
, the upcoming X-Men franchise spinoff film. However, each subsequent appearance of the
X-Men: Supernova
name has made the project seem independent from
X-Men: The New Mutants
.
The latest update to Production Weekly not only makes the case that
X-Men: Supernova
is a separate film from
X-Men: The New Mutants
, but it also may have revealed what the next X-Men movie will be about.
Production Weekly now has
X-Men: Supernova
listed with the working title of "Dark Phoenix." The existence of a working title specifically designated for
X-Men: Supernova
would seem to confirm that it is not a production title for
X-Men: The New Mutants
.
LOUIS C.K. AND ALBERT BROOKS' ANIMATED COP COMEDY GETS TBS SERIES ORDER: TCA
01/14/17 @ 3:50 pm EST
Source:
Deadline
| Categories:
MIsc
|
Comments
(0) |
E-mail Article
|
Add a Comment
Animated series The Cops (working title), starring and co-created by Louis C.K. andAlbert Brooks, has moved to TBS where it has received a 10-episode straight-to-series order for a 2018 premiere. The Office creator and King of the Hill co-creatorGreg Daniels has come on board as an executive producer for the series from FX Productions, Louis C.K.'s Pig Newton and Turner's Studio T.

The Cops follows Al (Brooks) and Lou (C.K.), two Los Angeles patrolmen trying their best to protect and serve, sometimes failing at both. Ride with them as they patrol one of the biggest cities in the world, then go home with them and be glad you're not married to either.
When TBS stepped in to pick up The Cops, the network brought in Daniels, who executive produces another comedy series for the network, the live-action People of Earth, and has extensive animation experience from King of the Hill and The Simpsons.

The Cops was originally developed and picked up to pilot at FX last year under Louis C.K.'s overall deal at FX Prods. for his Pig Newton production company. When FX opted not to proceed with the pilot, FX Prods. shopped it around as part of the company's stepped-up efforts to supply outside networks. Under similar circumstances, another Pig Newton/FX Prods. comedy pilot originally set up at FX, One Mississippi, landed at Amazon, where it went to series and has been renewed for a second season.When TBS stepped in to pick up The Cops, the network brought in Daniels, who executive produces another comedy series for the network, the live-action People of Earth, and has extensive animation experience from King of the Hill and The Simpsons.

Louis C.K. and Brooks, who previously worked together on the animated feature The Secret Life of Pets, and Daniels executive produce alongside Dino Stamatopoulos and 3 Arts' Dave Becky, Howard Klein.
DICK GAUTIER, HYMIE THE ROBOT ON 'GET SMART,' DIES AT 85
01/14/17 @ 3:39 pm EST
Source:
The Hollywood Reporter
| Categories:
MIsc
|
Comments
(0) |
E-mail Article
|
Add a Comment
Dick Gautier, who starred on Broadway in the original production of
Bye, Bye Birdie
and then famously played Hymie the Robot on the sitcom
Get Smart
, has died. He was 85.
Gautier died Friday night at an assisted living facility in Arcadia, Calif., after a long illness, his daughter Denise told
The Hollywood Reporter
.
Gautier, who started his career as a stand-up comic, received a Tony nomination for playing Conrad Birdie, the character based on Elvis Presley, in the memorable, original 1960 production of
Bye, Bye Birdie
, starring Dick Van Dyke.
The handsome actor appeared as Hymie on just six episodes of
Get Smart
over four seasons, yet he was one of the spy spoof's most popular characters.
Hymie, who was incredibly strong and had a supercomputer for a brain and wires and components in a compartment in his chest, originally was built for the evil organization KAOS but came over to CONTROL (the good guys) because Max (Don Adams) was the first one to treat him like a real person.
"When I met with the powers that be, I told them that when I was a kid in Canada I saw a man in a storefront window acting like a manikin to drum up business," he said in 2013. "If you could make him smile, you'd get $10. So, I tried, but not by acting crazy — I merely imitated his movements. I didn't win the $10, but I got the part of Hymie, which was a little better."
Eventually, Max picked Hymie to be his best man for his wedding with Agent 99 (Barbara Feldon), and Gautier returned as the robot for a 1989
Get Smart
TV movie.
In 1975, Gautier starred as Robin Hood on the short-lived ABC series
When Things Were Rotten
, co-created by Mel Brooks, who, of course, had launched
Get Smart
as well.
In addition to Denise, survivors include his former wife Tess; daughter Chris and son Rand; grandchildren Darby, Brandon, Megan and Elisa; and great-grandchildren Reya, Bella, Odette, Jade and Avery.
DF News offers its sincere condolences to Mr. Gautier's family, friends and many fans.
DARTH VADER'S BIG ROGUE ONE: A STAR WARS STORY MOMENT WAS A LATE ADDITION
01/14/17 @ 1:01 am EST
Source:
Comicbook
| Categories:
Star Wars
|
Comments
(0) |
E-mail Article
|
Add a Comment
Even the people who didn't love
Rogue One: A Star Wars Story
left the theater feeling exhilirated, thanks to the final sequence featuring none other than Darth Vader. In a vicious and violent moment, Vader shows the true power of the dark side of the Force, deflecting blaster bolts, slashing, Force choking, and stabbing his way through Rebel soldiers like nothing.
While Vader's presence, and the idea of a hard copy of the Death Star plans being handed off to Leia were both in the initial concept of the closing moments of the film, the dark side rampage was a late add.
"It was a fantastic add - the Vader action scene, with him boarding the ship and dispatching all those rebel soldiers. That was something conceptualized a little later," editor John Gilroy, who joined the project toward the end of the reshoots, told
Yahoo! Movies
. "The main structure was there," he clarified, but the actual Vader, going through the air lock and trying to get to the shuttle Star Wars fans know is the Tantive IV, moment was new.
"It was a really great punch in the arm and something I think fans wanted to see," Gilroy said.
That also explains why two actors are credited as portraying Darth Vader in the suit - Spencer Wilding did all the original scenes, while Daniel Naprous was brought in for the action sequence, purely due to the timing of the additional shots.
DISNEY RELEASES NEW BEAUTY AND THE BEAST INTERNATIONAL POSTER
01/14/17 @ 12:44 pm EST
Source:
Comicbook
| Categories:
Disney
|
Comments
(0) |
E-mail Article
|
Add a Comment
Walt Disney Studios has released a new international trailer for their live-action adaptation of
Beauty and the Beast
. While it is similar to the domestic poster that was released five days ago, this one features Belle looking off into the distance instead looking down at the red rose she is cradling in her hands.
"I have loved
Beauty and the Beast
since I was about four-years-old," Emma Watson says in the featurette above. "I just fell in love with Belle. She was this fiesty young woman who spoke her mind. I know what she meant to me as a young girl. When you love something that much, you want to do it justice. It's just amazing."
Check out the new poster below.
JOHN WICK: CHAPTER 2 'RELIT' POSTER RELEASED
01/14/17 @ 12:40 pm EST
Source:
Comicbook
| Categories:
MIsc
|
Comments
(0) |
E-mail Article
|
Add a Comment
John Wick: Chapter 2
is the highly-anticipated 2017 sequel to Keanu Reeves' breakout action movie franchise, and it became a hit in part due to its unique (and often badass) style.
Case in point: the posters and promo images for
John Wick: Chapter 2
have paid highly-styled ode to the ballet of violence and bloodshed that Reeves and director Chad Stahelski have planned for fans.
A new
John Wick: Chapter 2
poster is no different, painting a neo-noir image of John Wick, with the word "Relit" indicating that the would-be retired hitman is going to once again find his passion for some mass slaughter.
PARASITE TO RETURN IN SUPERGIRL SEASON 2
01/14/17 @ 12:32 pm EST
Source:
Comicbook
| Categories:
DC
|
Comments
(0) |
E-mail Article
|
Add a Comment
Parasite, one of Superman's most formidable adversaries, made his
Supergirl
debut in the sixth episode of Season 2. When climate-change scientist Dr. Rudy Jones (William Mapother) pokes inside a the body of a wolf that had been buried in the Arctic for 5,000 years, an alien parasite latches onto him. He then becomes the host of a parasitic alien and can absorb the life energy of other beings by touching them. With help from Mon-El and the newly-revealed Guardian, Supergirl was able to defeat the creature by having it absorb Plutonium-239 — which caused it to explode.
Apparently being blown into smithereens is only a setback for Parasite. According to the latest edition of EW's Spoiler Room, Parasite will return in the second-half of the season."
STAR TREK: BOLDLY GO COMIC BOOK REVEALS THAT SPOCK IS IMMUNE TO THE BORG
01/14/17 @ 12:26 pm EST
Source:
Comicbook
| Categories:
Star Trek
|
Comments
(0) |
E-mail Article
|
Add a Comment
Fans of J.J. Abrams' rebooted
Star Trek
franchise are now able to continue adventures with Captain Kirk and the crew of the Enterprise, after the events of
Stark Trek Beyond
- thanks to the new
Star Trek: Bold Go
comic book series from IDW.
Boldly Go
launched back in September, pitting the characters of the
Star Trek
"Kelvin Timeline" (that would be Chris Pine's Kirk, Zachary Quinto's Spock, Zoe Saldana's Uhura, etc...) against familiar franchise villains, The Borg. With the series' fourth issue now hitting shelves and digital, the ending to the first, Borg-centric storyline has offered some a reveal that franchise fans may find interesting.
Needless to say: SPOILERS for
Star Trek: Boldly Go #4 Follow.
The big reveal that
Star Trek
fans may find interesting is that
Spock is apparently immune to Borg assimilation
!
After being captured by the predatory techno-organic race along with a lot of other Starfleet officers, Spock manages to break free of the Borg's nanotech, warding off their attempts at assimilation.
What it is about Spock
exactly
is unclear (mixed race, logic mentality, etc.), but it is a nice little touch to the character that fans will appreciate.