MARVEL ENTERTAINMENT COLLARS SUPER HERO PET PROGRAM WITH FETCH…FOR COOL PETS! AND PETSMART
02/27/12 @ 1:31 pm EST
Source:
Marvel
|
Comments
(0) |
E-mail Article
|
Add a Comment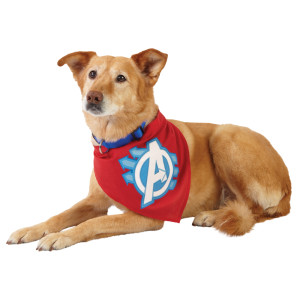 Marvel-Inspired Pet Toys, Apparel and Accessories to Debut Exclusively at PetSmart®

Marvel Entertainment, LLC
, a global character-based entertainment company, announced today that is it expanding into the pet category for the first time with a Super Hero inspired pet program. Through a new licensing agreement with
Fetch…for cool pets!
, a unique line of Marvel Super Hero inspired pet toys, apparel and accessories will be unleashed at
PetSmart
®, the largest pet specialty retailer, beginning this week.
The line will feature a wide array of Marvel-themed pet products for dogs including toys and apparel. Additionally, a wide assortment of aquatic products will follow shortly after and all will be available in
PetSmart stores
in the United States, Canada and Puerto Rico as well as online at
www.PetSmart.com
.
PetSmart, Marvel and Fetch...for cool pets! will support the Marvel Super Hero pet program with an impactful marketing campaign. Highlighting the campaign will be in-store signage, online promotions and a sweepstakes exclusively for PetSmart Facebook fans on
www.facebook.com/petsmart.com
.
"Marvel Super Heroes are a family affair and therefore, should include the family pet," said Jamie Kampel, Director of Licensing, Marvel Entertainment. "As we continue to look to expand the presence of the Marvel brand to new product and retail venues, the pet category is a natural extension. Fetch has developed a truly unique line, and having PetSmart on board as our premiere retail partner will enable us to make a huge statement for the Marvel brand in the pet category."
Steven Shweky, President of Fetch…for cool pets! added, "Fetch is approaching licensing from a different direction. Instead of using brands that would typically only appeal to children, Fetch has licensed brands that resonate with the 'pet parent.' Marvel is the perfect brand to reflect our approach."


About Marvel Entertainment, LLC:
Marvel Entertainment, LLC, a wholly-owned subsidiary of The Walt Disney Company, is one of the world's most prominent character-based entertainment companies, built on a proven library of over 8,000 characters featured in a variety of media over seventy years. Marvel utilizes its character franchises in entertainment, licensing and publishing. For more information visit
www.marvel.com
.


About Fetch…for cool pets!:
Fetch…for cool pets! is the manufacturer of a variety of innovative dog and cat products. Pet Head™ is their most widely distributed specialty grooming brand sold in pet specialty stores, pet shops, and beauty salons all across America, Europe, Australia, Asia & the Middle East. Fetch has expanded into the pet oral care, aquarium accessories, as well as several other pet categories. Founded in 1982, Fetch…for cool pets! will continue to innovate with new product lines & brands as well as push the envelope on market reach. To learn more about Fetch please visit
www.pethead.com
.
About PetSmart
:
PetSmart, Inc.
(NASDAQ: PETM) is the largest specialty pet retailer of services and solutions for the lifetime needs of pets. The company employs approximately 50,000 associates and operates more than 1,210 pet stores in the United States, Canada and Puerto Rico, over 189 in-store
PetSmart® PetsHotel®
dog and cat boarding facilities and is a leading online provider of pet supplies and pet care information (
http://www.petsmart.com
). PetSmart provides a broad range of competitively priced pet food and pet products; and offers
dog training
, pet
grooming
, pet boarding,
PetSmart Doggie Day Camp
SM day care services and pet adoption services. Since 1994,
PetSmart Charities, Inc
., an independent 501(c)(3) non-profit animal welfare organization and the largest funder of animal welfare efforts in North America, has provided more than $134 million in grants and programs benefiting animal welfare organizations. Through its in-store pet adoption partnership with PetSmart Charities®, PetSmart has helped save the lives of more than 4.7 million pets.
X-MEN: APOCALYPSE WOLVERINE CAMEO SCENE DESCRIPTION
05/27/16 @ 1:06 pm EST
Source:
Comicbook
| Categories:
Wolverine
|
Comments
(0) |
E-mail Article
|
Add a Comment
Yes, as the final full trailer teased, Wolverine does make an appearance in X-Men: Apocalypse, and what an appearance it is. When we left Wolverine last in the Days of Future Past time, the mutant had just his bone skeleton and claws, already had some memory issues, and had just been possessed by his future self for some time.

Wolverine comes into Apocalypse when the team gets abducted and taken to Alkali Lake, and the secret Weapon X facility. As William Stryker and his men seek to get information out of the young mutants, Cyclops, Jean, and Nightcrawler sneak around the facility, telepathically masked from the soldiers on patrol. They come upon a large, fully sealed cage. While trying to figure out how to open the room that their friends are locked in, and avoid soldiers, the cage opens.

Enter: Wolverine, or more appropriately, Weapon X. Yes, Hugh Jackman was back, but this time in a full Barry Windsor-Smith style Weapon X look. He had a helmet pulled down over his eyes and wires connecting it to all parts of his body. This Logan was unhinged and utterly animalistic. He begins to cut his way through the entire facility, in the most pure berserker rage we've seen on the big screen. As he makes his way through, we see him slash and stab many individuals, though the bigger violence is left for implication. Part of the action is seen from odd angles like classic slasher horror movies, and some is seen through the CCTV cameras placed around. Logan is, naturally, going after Stryker, the man that did this to him, but Stryker abandons his post (and his men) very quickly after the mad mutant gets loose.

It all leads to Logan coming face-to-face with the kids. He's still enraged, and it looks like we might have a fight on our hands, but Jean Grey is able to calm him down, in a strange combination of callback and foreshadowing at the same time. Calm, she helps him get the helmet off, and she reaches into his mind - it's a jumble, a blur, and hard for her to see into, but she finds something. A name: Logan. That's all she's able to give to him before he recoils, takes out the wires, and runs out into the cold white wilderness.

It's a great moment, and a way to finally show Wolverine's full-on berserker rage.


X-MEN: APOCALYPSE STAN LEE CAMEO REVEALED
05/27/16 @ 12:57 pm EST
Source:
Comicbook
| Categories:
Stan Lee
|
Comments
(0) |
E-mail Article
|
Add a Comment
Spoilers for X-Men: Apocalypse ahead!
No Marvel movie is complete without that most pivotal of moments, the scene everyone is constantly waiting for and usually sends the theater into a cheering roar: the Stan Lee cameo. Stan "The Man" Lee co-created much of the Marvel Universe, including the
X-Men
, and in
X-Men: Apocalypse
, he has his most dramatic turn yet, plus a special guest star.
In the movie, Apocalypse decides that when the mutants take over the planet in their rightful place as gods among men, the humans shouldn't be able to fight back in any meaningful way, and that means disarmament. Apocalypse launches every nuclear missile in the world simultaneously (luckily, just to send them into space, not to commit a nuclear holocaust), and that sort of event is bound to draw people out of their homes. As we witness the terrifying moment, we come upon one such house, and there they are: Stan and Joan Lee, scared as they star at the contrails heading into the sky.
Joan, Stan's wife of nearly 70 years, makes her first cameo appearance here, though she
did
also appear in another Marvel property, or at least her voice did. Joan Lee was the voice of the mysterious Madame Web on the
Spider-Man
animated series in the 90s.
It's Stan Lee's third cameo of the year, having appeared in
Captain America: Civil War
and
Deadpool
previously. Those were both much more comedic, though. In
Deadpool
Lee was the announcer at a strip club. In
Civil War
, The Man played a delivery guy/mailman (which he's played before – recurring role alert!) who delivers a pivotal package to Iron Man. However, he mis-reads his name as Tony Stank instead of Tony Stark, resulting in a lot of laughs.
TOM HIDDLESTON REPORTEDLY IN TALKS TO BE NEXT JAMES BOND
05/27/16 @ 12:50 pm EST
Source:
Comicbook
| Categories:
James Bond
|
Comments
(0) |
E-mail Article
|
Add a Comment
Tom Hiddleston is said to be in talks for the titular role in the 25th installment to the
James Bond
franchise. Despite recent rumors that Daniel Craig is still considering the role, new reports have the
Avengers
villain front and center for it.
Hiddleston has publicly voiced his desire to take on the role and hopes for the opportunity, but sources tell Birth.Movies.Death that Hiddleston has now moved forward into advanced talks to take on the James Bond role from Daniel Craig. According to the report, no official offer has been made yet.
The fact that Hiddleston is in talks for the role seems to be an indication that Craig is, in fact, hanging up the suit for good following his efforts in
Spectre
. On the contrary, the discussions with Hiddleston and other actors could be an attempt to show Craig that he is replaceable and will have to act fast if he wants to continue playing the part.
Hiddleston is current starring in AMC's
The Night Manager
mini-series where he is showing off his acting chops with an unpredictable, dangerous attitude as the former British soldier Jonathan Pine. His other non-Marvel roles worth noting include
I Saw The Light
,
Crimson Peak
, and
Only Lovers Left Alive
.
X-MEN TV SHOW LEGION WILL TAKE AUDIENCE INSIDE CHARACTER'S FRACTURED MIND
05/27/16 @ 12:46 pm EST
Source:
Comicbook
| Categories:
X-Men
|
Comments
(0) |
E-mail Article
|
Add a Comment
Noah Hawley, the creator of FX's hit television anthology
Frago
, is wrapping his mind around one of the most unique and challenging mutants of the Marvel Universe. Hawley is writing and executive producing the pilot for FX's
Legion
. The series follows David Haller (Dan Stevens), the son of Professor X. David is a powerful mutant with multiple personalities, each of which controls a different aspect of his mutant gifts. Some would assume that trying to bring such a complex and difficult character to television instead of movie theaters would be an especially difficult task, but Hawley sees it as an opportunity.
"Film and TV have traded places where, you know, where you are now in a case-of-the-week movie world," Hawley tells Vanity Fair
.
"One week, the Avengers fight this guy; the next week, they fight that guy. You can't take the story too far in any one direction."
Hawley plans to avoid that overly-episodic structure by taking a form as function approach to the story, which sounds similar to how Si Spurrier handled the character in
X-Men: Legacy
.
"I always feel like the structure of a story should reflect the content of the story," he says. "If the story, as in this case, is about a guy who is either schizophrenic or he has these abilities, i.e., he doesn't know what's real and what's not real, then the audience should have the same experience." Hawley adds that he is looking to create a "more existential exploration" and "surreal or dreamlike quality where it's not just about running and kicking."
"There's, whatever, 9,000 superhero stories right now," Hawley says. "They've got all the running and kicking covered. I think my goal with this is to do something whimsical and imaginative and unexpected. Not just because I want to do something different, but because it feels like the right way to tell this story."
Legion
is a co-production of Marvel Television and FX Productions. Filming on the pilot began in March. If picked up by FX, the first season of
Legion
will run for 10 episodes. The show takes place in a parallel universe to that of the core
X-Men
movie franchise, allowing
Legion
to reference the franchise as much or as little as it needs without having to worry about maintaining continuity.
YUKO SHIMIZU'S 'BATMAN RETURNS' CATWOMAN POSTER IS PURR-FECT BY
05/27/16 @ 12:30 pm EST
Source:
Comic Book Resources
| Categories:
Batman
|
Comments
(0) |
E-mail Article
|
Add a Comment
Fan-favorite contemporary artist Yuko Shimizu has been making poster prints for 1992's "Batman Returns," and the illustrator's latest offering with Michelle Pfeiffer's Catwoman as the subject is absolutely stunning.
Capturing the moment of Selina Kyle's transformation and featuring the now-classic costume — with an added Christmas-y touch (it was a Christmas movie after all!) — the poster is being released by Dark Hall Mansion on Tuesday, May 31, at 12:30pm PT, over at the Dark Hall Mansion Store.
Check out the full poster below:
"SUICIDE SQUAD'S" SECRETS REVEALED IN WARNER BROS. TOUR VIDEO
05/27/16 @ 12:23 pm EST
Source:
Comic Book Resources
| Categories:
Suicide Squad
|
Comments
(0) |
E-mail Article
|
Add a Comment
DC All Access has released a short, but intriguing, video featuring the new Warner Bros. Studio Tour's DC Universe: The Exhibit, showcasing props, costumes and more from the growing DC Films library.In addition to seeing items from "Batman v Superman," including an interactive exhibit featuring Lex Luthor's Kryptonite chunk, visitors can get up close and personal with a number of artifacts from the upcoming "Suicide Squad." On display are Captain Boomerang's boomerangs, Deadshot's armaments and Harley Quinn's jail cell, displayed so fans can take pictures behind its bars.The exhibit's curator, Jason Inman, points out his particular favorite piece form the film. "Joker has an old, traditional shaving blade," Inman says. "And etched into the blade is a smile. You wouldn't be able to see that unless you're just inches from it. He carved that smile into the blade." Video:
https://youtu.be/HdD_vHB-L2w
THOSE ALIENS AREN'T SCREAMING IN FIRST 'INDEPENDENCE DAY: RESURGENCE' CLIP
05/27/16 @ 12:17 pm EST
Source:
Comic Book Resources
| Categories:
MIsc
|
Comments
(0) |
E-mail Article
|
Add a Comment
Fox has debuted the first clip from "Independence Day: Resurgence," featuring the "Why Are They Screaming" scene that's been showcased in many of the promos. What's new here, however, is the shared moment between Bill Pullman's former President Thomas Whitmore and Brent Spiner's newly awake Dr. Brackish Okun.
In addition, the studio has released a featurette called "War Is Coming" that weaves together footage from director Roland Emmerich's sequel and interviews with stars Jeff Goldblum and Liam Hemsworth.
The long-awaited sequel to the 1996 blockbuster finds that, in the 20 years since the alien invasion, the nations of Earth have collaborated on an immense defense program to protect the planet. However, nothing could prepare them for the aliens' advanced and unprecedented force. Only the ingenuity of a few brave men and women can bring our world back from the brink of extinction.
Opening June 24, "Independence Day: Resurgence" also stars Judd Hirsch, Vivica A. Fox, Charlotte Gainsbourg, Jessie Usher, Maika Monroe and Sela Ward.
Clip 1:
https://youtu.be/Qmj1c9c18TA
Clip 2:
https://youtu.be/yJTNr4-ENbw
OLIVIA MUNN IS READY TO TEAM-UP WITH DEADPOOL FOR "X-FORCE"
05/27/16 @ 12:10 pm EST
Source:
Comic Book Resources
| Categories:
X-Men
|
Comments
(0) |
E-mail Article
|
Add a Comment
Fans flocking to "X-Men: Apocalypse" this weekend will be introduced to Psylocke, the assassin with mental powers -- and mental weapons -- played by Olivia Munn. As one of Apocalypse's four Horsemen, Munn's Psylocke is a supercharged and lethal combatant. Psylocke might rank alongside Deadpool as one of the most deadly mutants in the X-Men film franchise -- and there may just be a movie with room for both of them.
USA Today asked Munn about the odds of seeing Psylocke in an "X-Force" film alongside Reynolds' Deadpool. After all, both Psylocke and Deadpool were teammates in the "Uncanny X-Force" comic run.
"That would be a really cool thing to do," said Munn of potentially joining "X-Force." "What [Reynolds] did with 'Deadpool' was genius and I'm so excited for him. It would definitely be cool to see Deadpool and some of the other X-Men characters gather for an 'X-Force' movie. I think that's what the whole world is coming to -- everybody unites together, right? It's never just one character anymore. We all just become one movie."
While an "X-Force" film has been in the works for a while now, no official updates on its progress have been given in years. It was previously revealed that Munn actually passed on playing Vanessa in "Deadpool," and that her audition brought her to the attention of "Apocalypse" producer Simon Kinberg. That led to her becoming Psylocke.
'BATTLE ANGEL' CASTS 'THE MAZE RUNNER'S' ROSA SALAZAR IN LEAD ROLE
05/27/16 @ 12:04 pm EST
Source:
Comic Book Resources
| Categories:
MIsc
|
Comments
(0) |
E-mail Article
|
Add a Comment
"Maze Runner: The Scorch Trials" star Rosa Salazar has reportedly landed the lead role in James Cameron's long-brewing adaptation of "Battle Angel Alita."
The 30-year-old actress was reported just last month to be among the three finalists for the coveted role, alongside Disney Channel sensation Zendaya and "It Follows'" star Maika Monroe, but Collider now contends Salazar emerged as the winner.
Retitled "Alita: Battle Angel," the live-action feature is based on the popular cyberpunk manga by Yukito Kishiro about a female cyborg discovered in a garbage heap by a scientist. With no memory of her previous life, except for her deadly martial-arts skills, she becomes a bounty hunter, tracking down criminals.
The adaptation has been in development for more than 15 years by Cameron, who'll serve as producer. Robert Rodriguez was brought on board to direct last fall.
Salazar's credits also include "The Divergent Series: Insurgent," "American Horror Story: Murder House," "Man Seeking Woman" and "Parenthood."
'DRAGON BALL FUSIONS' TRAILER SHOWCASES GAME'S MANY CHARACTERS
05/27/16 @ 11:58 am EST
Source:
Comic Book Resources
| Categories:
MIsc
|
Comments
(0) |
E-mail Article
|
Add a Comment
Bandai Namco has released the first full-length trailer for
Dragon Ball Fusions
, the upcoming role-playing game for Nintendo 3DS. And we do mean
full-length
.
Clocking in at four minutes, the video showcases gameplay, the Fusion system and a truly impressive roster of characters, drawing from incarnations ranging from the original
Dragon Ball
to the current
Dragon Ball Super
.
Debuting Aug. 4 in Japan, Dragon Ball Fusions will allow players to fuse just about any character from Akira Toriyama's blockbuster series. By using a Capsule Corp-made bracelet, new fusions — they're called "EX Fusions" — are now possible, including Karoly (Kakarot (Goku) x Broly); Gorillin (young Goku x Krillin); Krigohan (Gohan x Krillin); and Prillin (Piccolo x Krillin).
The game's Nintendo 3DS bundle will include a new
Dragon Ball Fusions
-themed Nintendo 3DS LL (aka XL).
Video:
https://youtu.be/xVqrKZdv3aI