MARVEL ENTERTAINMENT COLLARS SUPER HERO PET PROGRAM WITH FETCH…FOR COOL PETS! AND PETSMART
02/27/12 @ 1:31 pm EST
Source:
Marvel
|
Comments
(0) |
E-mail Article
|
Add a Comment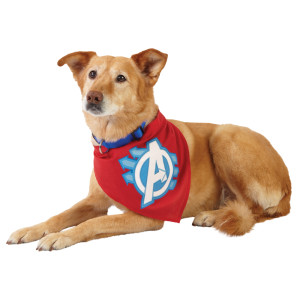 Marvel-Inspired Pet Toys, Apparel and Accessories to Debut Exclusively at PetSmart®

Marvel Entertainment, LLC
, a global character-based entertainment company, announced today that is it expanding into the pet category for the first time with a Super Hero inspired pet program. Through a new licensing agreement with
Fetch…for cool pets!
, a unique line of Marvel Super Hero inspired pet toys, apparel and accessories will be unleashed at
PetSmart
®, the largest pet specialty retailer, beginning this week.
The line will feature a wide array of Marvel-themed pet products for dogs including toys and apparel. Additionally, a wide assortment of aquatic products will follow shortly after and all will be available in
PetSmart stores
in the United States, Canada and Puerto Rico as well as online at
www.PetSmart.com
.
PetSmart, Marvel and Fetch...for cool pets! will support the Marvel Super Hero pet program with an impactful marketing campaign. Highlighting the campaign will be in-store signage, online promotions and a sweepstakes exclusively for PetSmart Facebook fans on
www.facebook.com/petsmart.com
.
"Marvel Super Heroes are a family affair and therefore, should include the family pet," said Jamie Kampel, Director of Licensing, Marvel Entertainment. "As we continue to look to expand the presence of the Marvel brand to new product and retail venues, the pet category is a natural extension. Fetch has developed a truly unique line, and having PetSmart on board as our premiere retail partner will enable us to make a huge statement for the Marvel brand in the pet category."
Steven Shweky, President of Fetch…for cool pets! added, "Fetch is approaching licensing from a different direction. Instead of using brands that would typically only appeal to children, Fetch has licensed brands that resonate with the 'pet parent.' Marvel is the perfect brand to reflect our approach."


About Marvel Entertainment, LLC:
Marvel Entertainment, LLC, a wholly-owned subsidiary of The Walt Disney Company, is one of the world's most prominent character-based entertainment companies, built on a proven library of over 8,000 characters featured in a variety of media over seventy years. Marvel utilizes its character franchises in entertainment, licensing and publishing. For more information visit
www.marvel.com
.


About Fetch…for cool pets!:
Fetch…for cool pets! is the manufacturer of a variety of innovative dog and cat products. Pet Head™ is their most widely distributed specialty grooming brand sold in pet specialty stores, pet shops, and beauty salons all across America, Europe, Australia, Asia & the Middle East. Fetch has expanded into the pet oral care, aquarium accessories, as well as several other pet categories. Founded in 1982, Fetch…for cool pets! will continue to innovate with new product lines & brands as well as push the envelope on market reach. To learn more about Fetch please visit
www.pethead.com
.
About PetSmart
:
PetSmart, Inc.
(NASDAQ: PETM) is the largest specialty pet retailer of services and solutions for the lifetime needs of pets. The company employs approximately 50,000 associates and operates more than 1,210 pet stores in the United States, Canada and Puerto Rico, over 189 in-store
PetSmart® PetsHotel®
dog and cat boarding facilities and is a leading online provider of pet supplies and pet care information (
http://www.petsmart.com
). PetSmart provides a broad range of competitively priced pet food and pet products; and offers
dog training
, pet
grooming
, pet boarding,
PetSmart Doggie Day Camp
SM day care services and pet adoption services. Since 1994,
PetSmart Charities, Inc
., an independent 501(c)(3) non-profit animal welfare organization and the largest funder of animal welfare efforts in North America, has provided more than $134 million in grants and programs benefiting animal welfare organizations. Through its in-store pet adoption partnership with PetSmart Charities®, PetSmart has helped save the lives of more than 4.7 million pets.
TITAN TO PUBLISH COMICS BASED ON UNIVERSAL'S
04/01/15 @ 10:53 pm EST
Source:
Comic Book Resources
| Categories:
MIsc
|
Comments
(0) |
E-mail Article
|
Add a Comment
Titan Comics is getting into the Minions business.
The British-based publisher will launch a line of comics and graphic novels to coincide with the release of "Minions," a feature film spinoff of Universal's "Despicable Me" franchise.
In an announcement on The Hollywood Reporter, Titan publisher Nick Landau stated that the company is "so excited to be part of this wonderful franchise."
The first wave launches on June 17 with both digital and physical releases of the first "Minions" comic. The line will eventually include four comic book issues, two digests, two hardcovers and a paperback collection.
The Minions made their big debut in the 2010 film "Despicable Me," which was followed in 2013 with the blockbuster "Despicable Me 2."
"Minons" features the voices of Pierre Coffin, Sandra Bullock, Jon Hamm and Michael Keaton.
Universal's "Minions" opens on July 10.
"THE EVEN REDDER WEDDING" - TROY BROWNFIELD TALKS BLOOD QUEEN VS DRACULA
04/01/15 @ 10:35 pm EST
Source:
Bleeding Cool
| Categories:
Blood Queen Vs Dracula
|
Comments
(0) |
E-mail Article
|
Add a Comment
Troy Brownfield
talks to
Byron Brewer
about the final issue of
Blood Queen Vs Dracula
for
Dynamite
and how he feels after combining two characters he worked on in the past. Covers by
Jay Anacleto
and
Fabiano Neves
BYRON BREWER: Well, Troy, this mini is reaching its conclusion with #4 in June. Are you satisfied with the story that you told, really extending two other works you had previously done: Blood Queen and the Dracula novel?TROY BROWNFIELD:
I would have to say that I'm very satisfied. Dracula, of course, is an incredibly flexible character, which has been proven out by the number of adaptations and interpretations we've seen in culture over time. Elizabeth, as we've seen, can fit not only in that pseudo-fairy-tale style but a historical horror setting. I wanted to show that we could do something interesting and entertaining with this mix, and I think we did that.
BB: You certainly do pack a lot of historic references and points into each and every comic. Are you a history buff? How much research do you do and why is that important to you?TB:
I'd say that I'm definitely interested in history. If you're going to set a story in a certain time, you owe it to your audience to do the work. I never really try to calculate how much research I do, but there's a lot. It's an important part of the whole thing. One example in particular from my work is my webcomic
Sparkshooter
, which is set in 2003; I'm always really conscientious about things like the look of telephones, film references, and more. It would bother ME if it wasn't done without an eye for detail. And, finally, if you have something that's just wildly inaccurate, it's going to take the reader out of the story. That happens to me with things like
The Wedding Singer
, which is a fun film, but it purports to take place in 1985. Then in a scene, you'll have a song like "It's Tricky" that didn't come out until later. It might seem like a really small thing, but that takes me out. I try really hard to not be the one to do that.
BB: Winging off the above, adding the Ottomans to this saga was a wonderful background touch!TB:
Thanks! Like I said previously, I wanted to find a common opponent while sticking with some of the ideas I approached in Prince Dracula (Dracula as patriot, etc.). The Ottoman Empire made complete sense for both characters, particularly in terms of history. I probably could have invented some third supernatural threat, but I wanted the real power dynamics to be between Dracula and Elizabeth. Also, the inclusion of the brothers allowed me to put a bit of a human face on it. They're a conquering army, sure, but there are people in it that have directly suffered losses on account of the actions of Dracula. I thought it was an interesting thing to include.
BB: Has it been fun working with artist Kewber Baal? What do you think of his efforts in bringing your story to life on paper?TB:
Kewber is a great collaborator. I would work with him again in a second. I'm particularly happy with issue #3. I told him that I really wanted him to draw like a horror film would look in terms of some of the focus, characters appearing suddenly out of shadow, etc. and he nailed it. That's probably my favorite issue of the mini. It's also the biggest spotlight on Elizabeth, and he really showed several sides of her personality. Kewber made me a fan of his for certain.
BB: In a non-spoilery way, can you give us any hint if we will in future be addressing Elizabeth as Lady Dracula instead of Blood Queen? (smiles)TB:
Ladies and gentlemen, the ever redder Red Wedding (
laughs
). That would involve some fascinating conflict, but I don't think that's the direction that either story would necessarily follow. But now you've got me thinking about it. Damn you, Byron!
BB: Bwahaha! OK … You seemed to have attached yourself to the Blood Queen! Where will you two be appearing next in the Dynamite universe?TB:
Well, it's only natural. I developed the first series for Dynamite and I've gotten to put a lot in Elizabeth between the first series, the Annual, and the mini. I would love to at least do another one-shot or an
Altered States
with her. As for where else I might be in terms of Dynamite, keep an eye out. You never know what might happen.
'BATMAN V. SUPERMAN' TRAILER TO PREMIERE WITH 'MAD MAX: FURY ROAD'
04/01/15 @ 10:27 pm EST
Source:
Variety
| Categories:
Batman Superman
|
Comments
(0) |
E-mail Article
|
Add a Comment
Warner Bros. is planning to release its first trailer for "Batman v. Superman: Dawn of Justice" with the May 15 launch of "Mad Max: Fury Road," sources confirm to
Variety
.
Warner Bros. has not commented officially on the news, which was first reported by the Collider site.
The first footage for "Batman v. Superman" was unveiled last year at Comic-Con, a year after the project was announced as a sequel to 2013's "Man of Steel."
Zack Snyder is directing from Chris Terrio's script, from a story by Snyder and David S. Goyer.
The cast includes Henry Cavill, Ben Affleck, Gal Gadot, Amy Adams, Diane Lane, Laurence Fishburne, Jesse Eisenberg and Jeremy Irons.
"Batman v. Superman" is scheduled to be released on March 25, 2016.
JULIE DELPY AND LINDA CARDELLINI CONFIRMED FOR
04/01/15 @ 8:04 pm EST
Source:
Comic Book Resources
| Categories:
Avengers
|
Comments
(0) |
E-mail Article
|
Add a Comment
After their names appeared on a list of cast members attending the "Avengers: Age of Ultron"premiere, Disney confirmed to SlashFilm that Julie Delpy ("Before Sunrise") and Linda Cardellini ("Freaks and Geeks," "ER") were involved in the film.
Though Disney confirmed that the actresses' names were not a misprint on the aforementioned list, the representative did not offer any additional details, which leaves their roles unknown at this time.
Their capacity within the film is likewise unknown, though their reputations and this late announcement suggest that they may only have cameo roles.
Marvel's "Avengers: Age of Ultron" arrives in theaters on May 1.
CHARLIE COX VISITS LETTERMAN TO TALK ABOUT MARVEL'S DAREDEVIL
04/01/15 @ 7:58 pm EST
Source:
Bleeding Cool
| Categories:
Daredevil
|
Comments
(0) |
E-mail Article
|
Add a Comment
An under-the-weather
Charlie Cox
made a visit to the
Late Show with David Letterman
to talk about the upcoming
Netflix
series
Marvel's Daredevil
.
Cox admitted that he had a bit of food poisoning from some dodgy prosciutto from the hotel mini-fridge and he would have cancelled his appearance if
David Letterman
was not retiring soon.
He spoke about
Daredevil
, describing the character as his blindness being the source of his strength. He also talked about binge viewing of the show and how Netflix would like the actors to stress that in the press.
Marvel's Daredevil
premieres on Netflix April 10th.
Check on Cox's Letterman appearance here:
https://www.youtube.com/watch?v=JH6xugOD5rg
HEART AND SOULE: A RETURN FROM THE LAND OF THE DEAD
04/01/15 @ 7:45 pm EST
Source:
Comic Book Resources
| Categories:
Inhumanity
|
Comments
(0) |
E-mail Article
|
Add a Comment
It's a time of great trials and tribulations for the Royal Family of Marvel Comics' Inhumans.
They're trying to reestablish their Capital City of Attilan as an island in New York's Hudson River; they're training and taking in the newly powered Inhumans emerging across the globe thanks to a cloud of transformative mist released by their former king, Black Bolt; and they're dealing with the threat of hostile rival Inhuman factions.
Making things even more perilous is Queen Medusa taking these threats on without Karnak, one of her most trusted advisors who took his own life in the aftermath of Marvel's recent "Infinity" event.Lacking Karnak's advice and ability to perceive weaknesses and stress points in virtually anything,
Medusa has turned to other advisors like the "Nuhuman" Lineage, and in writer Charles Soule and artist Andre Araujo's "Inhuman" #13 the former mobster showed his treacherous true colors by luring the Royal Family into a trap and shooting another of its members in the back.
While things are decidedly bleak, all hope is not lost after the final page revealed Karnak alive and observing Lineage's treachery from the afterlife, announcing his discovery of a weakness in the land of the dead.
DEADPOOL MOVIE OFFICIALLY RATED R
04/01/15 @ 7:22 pm EST
Source:
Comicbook
| Categories:
Deadpool
|
Comments
(0) |
E-mail Article
|
Add a Comment
Fox has officially given their Deadpool solo film an "R" rating, ending speculation over whether the studio would actually distribute a movie worthy of the Merc with a Mouth. The news comes via JoBlo in a move that one could only expect from a Deadpool movie.
Directed by Tim Miller, Deadpool stars Ryan Reynolds as Deadpool/Wade Wilson, Morena Baccarin as Copycat,and T.J. Miller as Weasel. The film comes from a script co-written by Deadpool creator Rob Liefeld, Fabian Nicieza, Rhett Reese, and Paul Wernick.
The news follows last week's major reveal of Ryan Reynolds in the official Deadpool costume, sporting a look that's almost identical to the character's comic book interpretation. And now with a "R" rating that will most likely honor the character's dark humor and gratuitous violence, it looks like
Deadpool
may be one of the most faithful comic adaptations yet.
Deadpool hits theaters on February 12, 2016.
WIZARD WORLD, CONTV PRESENT CON FILM FESTIVAL IN PHILADELPHIA, SACRAMENTO, CHICAGO, AUSTIN
04/01/15 @ 7:17 pm EST
Source:
Wizard World
| Categories:
MIsc
|
Comments
(0) |
E-mail Article
|
Add a Comment
Wizard World and CONtv are proud to present the CON Film Festival. The 2015 film festivals will take place alongside Wizard World Comic Con Philadelphia (May 7-10), Sacramento (June 19-21), Chicago(August 20-23) and Austin (Oct. 30-31).

The CON Film Festival mission is to showcase the next generation of pop culture entertainment. Winners of the CON Film Festival will not only receive cash prizes but will be considered for distribution on CONtv, which provides audiences access to thousands of hours of content showcasing an original slate of programming, as well as an eclectic catalog of over 1,200 must-watch titles.

This is a excellent opportunity for film makers to get the content recognized by their peers in the pop culture space.


NEAL ADAMS RACEBENDS STAN LEE'S TWO-ISSUE FLOP, SOLARMAN
04/01/15 @ 3:55 pm EST
Source:
Bleeding Cool
| Categories:
Stan Lee
|
Comments
(0) |
E-mail Article
|
Add a Comment
It's an all-but-forgotten piece of Stan Lee's back catalogue.
Solarman
was written by Stan Lee and drawn by
Jim Mooney
and
Mike Zeck,
in 1989. Part of a pitch for an animated series starring a new Marvel character, the pilot episode flopped and the series lasted for two issues.
The comic saw wannabe Marvel artist teenager Benjamin Tucker gaining alien technological power, along with a helpful robot called Beepie. Permanent bracelets can transform sunlight into superpowers and a super identity of Solarman.
But because the character wasn't original to Marvel Comics, and was created by producer
David Oliphant
ten years previously as an educational comic drawn by
Dick Giordano
, the comic can now be revived without Marvel Comics.
And with
Neal Adams
. Fresh from
Batman
and
Wolverine
comic books, Adams is looking for something to up his profile, and so Solarman is it.
DYNAMITE TO PUBLISH GRUMPY CAT COMICS
04/01/15 @ 3:51 pm EST
Source:
Bleeding Cool
| Categories:
Dynamite
|
Comments
(0) |
E-mail Article
|
Add a Comment
From Bleeding Cool, this April Fool oddity that is absolutely true:
The latest in Dynamite's line of licensed comic books will be one based on internet meme and very real feline,
Grumpy Cat
.
Dynamite has a history of signing up all manner of interesting licenses from
James Bond
, to today's
Looking For Group
to
Battlestar Galactica
to
Army Of Darkness
to
The Phantom
to
Doodle Jump.
How the famously mardy moggy will feature in a Dynamite book is anyone's guess, however.
Something like this, perhaps?