MARVEL ENTERTAINMENT COLLARS SUPER HERO PET PROGRAM WITH FETCH…FOR COOL PETS! AND PETSMART
02/27/12 @ 1:31 pm EST
Source:
Marvel
|
Comments
(0) |
E-mail Article
|
Add a Comment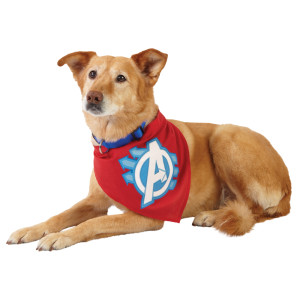 Marvel-Inspired Pet Toys, Apparel and Accessories to Debut Exclusively at PetSmart®

Marvel Entertainment, LLC
, a global character-based entertainment company, announced today that is it expanding into the pet category for the first time with a Super Hero inspired pet program. Through a new licensing agreement with
Fetch…for cool pets!
, a unique line of Marvel Super Hero inspired pet toys, apparel and accessories will be unleashed at
PetSmart
®, the largest pet specialty retailer, beginning this week.
The line will feature a wide array of Marvel-themed pet products for dogs including toys and apparel. Additionally, a wide assortment of aquatic products will follow shortly after and all will be available in
PetSmart stores
in the United States, Canada and Puerto Rico as well as online at
www.PetSmart.com
.
PetSmart, Marvel and Fetch...for cool pets! will support the Marvel Super Hero pet program with an impactful marketing campaign. Highlighting the campaign will be in-store signage, online promotions and a sweepstakes exclusively for PetSmart Facebook fans on
www.facebook.com/petsmart.com
.
"Marvel Super Heroes are a family affair and therefore, should include the family pet," said Jamie Kampel, Director of Licensing, Marvel Entertainment. "As we continue to look to expand the presence of the Marvel brand to new product and retail venues, the pet category is a natural extension. Fetch has developed a truly unique line, and having PetSmart on board as our premiere retail partner will enable us to make a huge statement for the Marvel brand in the pet category."
Steven Shweky, President of Fetch…for cool pets! added, "Fetch is approaching licensing from a different direction. Instead of using brands that would typically only appeal to children, Fetch has licensed brands that resonate with the 'pet parent.' Marvel is the perfect brand to reflect our approach."


About Marvel Entertainment, LLC:
Marvel Entertainment, LLC, a wholly-owned subsidiary of The Walt Disney Company, is one of the world's most prominent character-based entertainment companies, built on a proven library of over 8,000 characters featured in a variety of media over seventy years. Marvel utilizes its character franchises in entertainment, licensing and publishing. For more information visit
www.marvel.com
.


About Fetch…for cool pets!:
Fetch…for cool pets! is the manufacturer of a variety of innovative dog and cat products. Pet Head™ is their most widely distributed specialty grooming brand sold in pet specialty stores, pet shops, and beauty salons all across America, Europe, Australia, Asia & the Middle East. Fetch has expanded into the pet oral care, aquarium accessories, as well as several other pet categories. Founded in 1982, Fetch…for cool pets! will continue to innovate with new product lines & brands as well as push the envelope on market reach. To learn more about Fetch please visit
www.pethead.com
.
About PetSmart
:
PetSmart, Inc.
(NASDAQ: PETM) is the largest specialty pet retailer of services and solutions for the lifetime needs of pets. The company employs approximately 50,000 associates and operates more than 1,210 pet stores in the United States, Canada and Puerto Rico, over 189 in-store
PetSmart® PetsHotel®
dog and cat boarding facilities and is a leading online provider of pet supplies and pet care information (
http://www.petsmart.com
). PetSmart provides a broad range of competitively priced pet food and pet products; and offers
dog training
, pet
grooming
, pet boarding,
PetSmart Doggie Day Camp
SM day care services and pet adoption services. Since 1994,
PetSmart Charities, Inc
., an independent 501(c)(3) non-profit animal welfare organization and the largest funder of animal welfare efforts in North America, has provided more than $134 million in grants and programs benefiting animal welfare organizations. Through its in-store pet adoption partnership with PetSmart Charities®, PetSmart has helped save the lives of more than 4.7 million pets.
INDEPENDENCE DAY TO GET SEQUEL 20 YEARS AFTER RELEASE
11/28/14 @ 9:24 pm EST
Source:
Bleeding Cool
| Categories:
MIsc
|
Comments
(0) |
E-mail Article
|
Add a Comment
Fox
has given the green light to the long-awaited sequel to
Independence Day
. It has been set to start production in May and the studio is now working on a deal with director
Roland Emmerich
. They are looking at a potential June 24th, 2016 release. The would set the release of the sequel 20 years after the original.
Casting is said to begin once the deal with Emmerich is done. Word is that
Will Smith
will not be returning. There had also been rumors that they wanted to film two movies back-to-back but at this point Fox has only approved of one. (Via Bleeding Cool and Deadline)
COWARDLY LION COSTUME SELLS FOR OVER $3 MILLION AT AUCTION
11/28/14 @ 9:18 pm EST
Source:
Bleeding Cool
| Categories:
MIsc
|
Comments
(0) |
E-mail Article
|
Add a Comment
According to
the Associated Press
, the original
Cowardly Lion
costume from the
Wizard of Oz
sold for over $3 million at auction earlier this week.
Bleeding Cool previously reported that the costume was owned by
James Comisar
who planned to use the money to create an exhibit with his other Hollywood memorabilia. The costume had been authenticated as one Bert Lahr wore while filming the classic 1939 film.
Comisar also sold the original piano from the movie
Casablanca
, fetching $3.4 million. (Via Bleeding Cool, ABC News)
OLIVE SILVERLOCK, WE KNOW WHAT YOU DID LAST SUMMER…
11/28/14 @ 9:04 pm EST
Source:
DC
| Categories:
DC
|
Comments
(0) |
E-mail Article
|
Add a Comment
SPOILER ALERT:
If you have not read ARKHAM MANOR #2 yet and do not wish to know what happens, stop reading this post now (major spoilers ahead! Again!).
If you've been keeping up with the brand new comic book series, GOTHAM ACADEMY, hen you're familiar with the question on everyone's lips: What Happened to Olive Silverlock Last Summer?!
Sorry to tease, but we actually don't know what happened to Olive Silverlock last summer!
For those who need a quick recap - Olive Silverlock, a second year student at Gotham Academy, has returned to the new school year after experiencing a mysterious event during her summer break. While none of her schoolmates are aware of the event, they do notice a personality change in Olive from last year. Olive's new behavior indicates that whatever happened to her was bad. REALLY, REALLY bad. Check out GOTHAM ACADEMY #1-2 to get caught up.
The mystery continues in this week's ARKHAM MANOR #2 as we get a brief but possibly important clue. Bruce Wayne, posing as a patient in Arkham Manor (aka the relocated Arkham Asylum), stumbles upon Sybil Silverlock, who's in a coma!! Is this Olive's mother?
And is this a clue to the ongoing mystery? What could have happened to put Sybil Silverlock in Arkham? And why is Sybil referred to as "Calamity"?
ARKHAM MANOR #2, written by Gerry Duggan and illustrated by Shawn Crystal, is available in stores now. And look for GOTHAM ACADEMY #3, on shelves next Wednesday!
SUPERMAN BROUGHT DOWN BY A FRIEND?
11/28/14 @ 8:56 pm EST
Source:
DC
| Categories:
Superman
|
Comments
(0) |
E-mail Article
|
Add a Comment
SPOILER ALERT:
If you have not read SUPERMAN #36 yet and do not wish to know what happens, stop reading this post now (major spoilers ahead!).
In last month's we questioned whether Ulysses exodus proposition was too good to be true. IS leaving Earth the only way to solve Earth's problems?
The people of earth who witnessed Ulysses' broadcast seem to have liked what they heard…
"The Men of Tomorrow" continues in Chapter SUPERMAN #36, with droves of people flocking to Ulysses' spaceship, eager to join the expedition to the Fourth Dimension. The scene is quite chaotic as people beg Ulysses to choose them over others.
However, despite Ulysses public invitation to the entire world, apparently 'all earthlings' don't include Ulysses' mother and father. As Ulysses returns to his parents' house after his speech, he tells them they can't accompany him to the Fourth Dimension – for their own safety.
Wait, didn't' Ulysses just publicly declare his world to be a safe haven? How is he protecting his parents by not letting them join the mass departure?
To add more mystery to Ulysses' actions, Ulysses turns on Superman after Superman confronts him about his parents and his exodus announcement… Where is this violence coming from?
As Ulysses totally loses his cool, see below as a fight ensues between Ulysses and Superman, leaving Superman in shreds! What is going on? What does Ulysses mean by saying Earth must pay? Sound off in the comments below!
SUPERMAN #36, written by Geoff Johns and illustrated by John Romita Jr. is available in stores now.
JIM STARLIN: 'MARVEL BASICALLY HAS THREE THANOSES'
11/28/14 @ 8:47 pm EST
Source:
Newsarama
| Categories:
Thanos
|
Comments
(0) |
E-mail Article
|
Add a Comment
Gentle reader, if you are like us at Dynamic Forces, you have been quite confused since the Mad Titan, Thanos, made that secret appearance in the back of the
Avengers
movie and began setting the comics on fire again,.
Are we getting more Thanosi? Will the REAL Thanos please stand up?
Unlike a lot of creators, fan favorite cosmic scribe and Thanos creator Jim Starlin addresses the problem head-on in an interview with Newsarama. Says the Creator:
"If you look closely, you'll see that Marvel basically has three Thanoses. There is the 1970s Thanos appearing in the movies. This is before he got the Infinity Gauntlet. Then there are the Thanos stories I'm telling. And finally, there is the Thanos that appears in the mainstream Marvel stories. All three seem to coexist easily enough, so..."
Works for us at Dynamic Forces! Stay tuned …
KATHRYN LEIGH SCOTT TO APPEAR ON MARVEL'S AGENTS OF SHIELD
11/26/14 @ 10:32 pm EST
Source:
Bleeding Cool
| Categories:
Marvel
|
Comments
(0) |
E-mail Article
|
Add a Comment
This is an interesting story for a unique source – a
Dark Shadows
fan site – that has information about
Marvel's Agents of SHIELD
.
The report says that actress
Kathryn Leigh Scott
, who played
Maggie Evans
on
Dark Shadows
, has been cast in the mid-season premiere of
Agents of SHIELD
scheduled to air March 3rd. We don't know who she is playing, but she had this to say:
"The show is so secretive that I was never given a script, only my dialogue! I am going to respect their desire to keep the story a surprise … besides, I can't provide a synopsis because I have no idea what the story is. My episode will air mid-season and I will supply more information as I get it."
When the show does return, it will be roughly two months prior to
Avengers: Age of Ultron
so it is possible that plot for the episode and maybe even her role is starting to set up for the film. We know how drastically
Captain America: The Winter Soldier
changed the show last season, it would only stand to reason that the show will have strong ties to the
Avengers
sequel.
FOX CASTS OSCAR ISAAC TO PLAY APOCALYSE
11/26/14 @ 10:03 pm EST
Source:
Bleeding Cool
| Categories:
X-Men
|
Comments
(0) |
E-mail Article
|
Add a Comment
Oscar Isaac
(
Star Wars: The Force Awakens
) has signed on to play
Apocalypse
in the upcoming
X-Men: Age Of Apocalypse,
according to Variety.

The film will be based on a Simon Kinberg script and directed by Bryan Singer. It's set in the 1980s and will likely feature Michael Fassbender, Jennifer Lawrenceand James McAvoy as well as younger versions of familiar characters from the franchise.

Besides the upcoming Star Wars film, Isaac also has A Most Violent Yearbeing released in December which could put the actor in the running for some major awards.


'CONSTANTINE' SHOWRUNNER ASKS FOR SUPPORT AFTER FIRST SEASON ENDED AT 13 EPISODES
11/26/14 @ 9:53 pm EST
Source:
ICv2
| Categories:
Constantine
|
Comments
(0) |
E-mail Article
|
Add a Comment


Constantine showrunner Daniel Cerone is asking fans for support to ensure that the show returns for a second season, after production on the first season was ended at the original order of 13 episodes. The order might have been expected to be increased to a full 26 episodes, but the show premiered in late October, and the network was not ready to increase its commitment (or cancel the show) after only four episodes had aired. So production was halted after 13 episodes, but the show still has a chance to return next year, according to Deadline.

Initial ratings on the show have been solid, but apparently not strong enough to get an immediate vote of confidence from NBC.

Now a full-throated effort to rally fans has begun, starting with Cerone's Twitter page, where he's been using the #SaveConstantine hashtage and urging fans to watch to keep the ratings up and convince NBC to continue the show. "We will return if enuf fans watch live 'n rewatch (stream till you drop)," he said. "NBC wants our success and DC is beast. Won't say Die."
'JUSTICE LEAGUE: DARK' SCRIPT COMPLETE
11/26/14 @ 9:50 pm EST
Source:
ICv2
| Categories:
DC
|
Comments
(0) |
E-mail Article
|
Add a Comment
Guillermo del Toro has confirmed that the screenplay for his DC Comics Justice League: Dark adaptation has been completed, and has been sent to Warner Bros. for weekend reads, Forbes is reporting.

Tentatively titled Dark Universe, updates have been sporadic, with the most recent being del Toro's confirmation this summer that the project was still in the works. He confirmed at that time that the film will not be set in continuity with the TV adaptation of NBC's Constantine, which itself is currently sitting in a bit of limbo.

The Dark Universe film was not explicitly named in Warner Bros. recent five year date reservation slate.
TEXAS DA COMICS THEFT - THE SEQUEL
11/26/14 @ 9:47 pm EST
Source:
ICv2
| Categories:
MIsc
|
Comments
(0) |
E-mail Article
|
Add a Comment
A second investigator from the Harris County, Texas District Attorney's office has been indicted in the theft of valuable comics stolen from evidence, according to The Houston Chronicle, Dustin Deutsch was indicted by a Harris County grand jury this week for felony theft by a public servant and tampering with evidence.

The comics came from the collection of Anthony Chiafalo, a corrupt attorney who was convicted of embezzling $9 million from a client and using the money to buy collectables (among other goodies), including a Detective #27 worth $850,000 and other key books.

Deutsch's former partner at the DA's office, Lonnie Blevins, stole comics worth over $5,000 from an evidence locker for the Chiofalo case and was found out after selling the comics at a convention in Chicago. Blevins pleaded guilty in the theft in May, and is currently awaiting sentencing. Blevins' sentencing was delayed because he was cooperating with investigators; his former partner's indictment is presumably an outcome of that cooperation. Deutsch was suspended after Blevins' arrest, and later resigned, but was not accused in the incident until now. (Via ICv2)