MARVEL ENTERTAINMENT COLLARS SUPER HERO PET PROGRAM WITH FETCH…FOR COOL PETS! AND PETSMART
02/27/12 @ 1:31 pm EST
Source:
Marvel
|
Comments
(0) |
E-mail Article
|
Add a Comment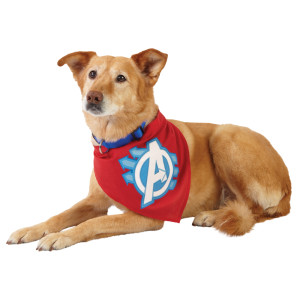 Marvel-Inspired Pet Toys, Apparel and Accessories to Debut Exclusively at PetSmart®

Marvel Entertainment, LLC
, a global character-based entertainment company, announced today that is it expanding into the pet category for the first time with a Super Hero inspired pet program. Through a new licensing agreement with
Fetch…for cool pets!
, a unique line of Marvel Super Hero inspired pet toys, apparel and accessories will be unleashed at
PetSmart
®, the largest pet specialty retailer, beginning this week.
The line will feature a wide array of Marvel-themed pet products for dogs including toys and apparel. Additionally, a wide assortment of aquatic products will follow shortly after and all will be available in
PetSmart stores
in the United States, Canada and Puerto Rico as well as online at
www.PetSmart.com
.
PetSmart, Marvel and Fetch...for cool pets! will support the Marvel Super Hero pet program with an impactful marketing campaign. Highlighting the campaign will be in-store signage, online promotions and a sweepstakes exclusively for PetSmart Facebook fans on
www.facebook.com/petsmart.com
.
"Marvel Super Heroes are a family affair and therefore, should include the family pet," said Jamie Kampel, Director of Licensing, Marvel Entertainment. "As we continue to look to expand the presence of the Marvel brand to new product and retail venues, the pet category is a natural extension. Fetch has developed a truly unique line, and having PetSmart on board as our premiere retail partner will enable us to make a huge statement for the Marvel brand in the pet category."
Steven Shweky, President of Fetch…for cool pets! added, "Fetch is approaching licensing from a different direction. Instead of using brands that would typically only appeal to children, Fetch has licensed brands that resonate with the 'pet parent.' Marvel is the perfect brand to reflect our approach."


About Marvel Entertainment, LLC:
Marvel Entertainment, LLC, a wholly-owned subsidiary of The Walt Disney Company, is one of the world's most prominent character-based entertainment companies, built on a proven library of over 8,000 characters featured in a variety of media over seventy years. Marvel utilizes its character franchises in entertainment, licensing and publishing. For more information visit
www.marvel.com
.


About Fetch…for cool pets!:
Fetch…for cool pets! is the manufacturer of a variety of innovative dog and cat products. Pet Head™ is their most widely distributed specialty grooming brand sold in pet specialty stores, pet shops, and beauty salons all across America, Europe, Australia, Asia & the Middle East. Fetch has expanded into the pet oral care, aquarium accessories, as well as several other pet categories. Founded in 1982, Fetch…for cool pets! will continue to innovate with new product lines & brands as well as push the envelope on market reach. To learn more about Fetch please visit
www.pethead.com
.
About PetSmart
:
PetSmart, Inc.
(NASDAQ: PETM) is the largest specialty pet retailer of services and solutions for the lifetime needs of pets. The company employs approximately 50,000 associates and operates more than 1,210 pet stores in the United States, Canada and Puerto Rico, over 189 in-store
PetSmart® PetsHotel®
dog and cat boarding facilities and is a leading online provider of pet supplies and pet care information (
http://www.petsmart.com
). PetSmart provides a broad range of competitively priced pet food and pet products; and offers
dog training
, pet
grooming
, pet boarding,
PetSmart Doggie Day Camp
SM day care services and pet adoption services. Since 1994,
PetSmart Charities, Inc
., an independent 501(c)(3) non-profit animal welfare organization and the largest funder of animal welfare efforts in North America, has provided more than $134 million in grants and programs benefiting animal welfare organizations. Through its in-store pet adoption partnership with PetSmart Charities®, PetSmart has helped save the lives of more than 4.7 million pets.
FIND THE WALKING DEAD, DOCTOR WHO, FUNKO, MORE AT THE COLLECTIBLES CAFé AT WIZARD WORLD TULSA
10/24/14 @ 12:49 pm EST
Source:
Wizard World
| Categories:
MIsc
|
Comments
(0) |
E-mail Article
|
Add a Comment
Wizard World ticket holders have been excited for months about the superstar celebrity roster coming to the inaugural Tulsa Comic Con. And while an autographed photo is a fine keepsake, many fans like to take the next step with toys and collectibles from their favorite celebrity, TV show, or movie for an even more memorable experience.

That's where The Collectibles Café at Booth #507 comes in. Specializing in new and vintage pop culture toys and collectibles, The Collectibles Café carries a large variety of officially licensed products from many properties. Star Wars, Star Trek, Doctor Who, The Walking Dead, Archer, Grumpy Cat, Game of Thornes, The Big Bang Theory, Minecraft, Breaking Bad and Guardians of the Galaxy are just a few. The Collectibles Café also specializes in hard to find Exclusives! With so many to choose from, fans are sure to find just the perfect piece for their collection.

There will be new stock each day, including exclusives and things not found anywhere else on the show floor at the Cox Business Center.
MEET 'JLA,' 'ULTIMATE SPIDER-MAN' ARTIST MARK BAGLEY AT WIZARD WORLD TULSA, NEW ORLEANS
10/24/14 @ 12:45 pm EST
Source:
Wizard World
| Categories:
MIsc
|
Comments
(0) |
E-mail Article
|
Add a Comment
Mark Bagley has worked on some of the biggest comics franchises ever, principally "Justice League of America" and several iterations of "Spider-Man," and now Wizard World fans will have the rare opportunity to meet this superstar artist at two great Wizard World shows.

Bagley will attend next month's Tulsa Comic Con (Nov. 7-9), then begin the New Year with an appearance at New Orleans Comic Con (Jan. 9-11).

Bagley's comics career took off in 1990 when he worked on Marvel's "New Warriors" series, leading to work on "Amazing Spider-Man." He was also the artist on Marvel's first web-based comic book, featuring Spider-Man.

He later earned recognition as #2 on an industry list of the top artists of the 2000s, largely on his long run on "Ultimate Spider-Man."

Meet him at two great Wizard World shows in the coming weeks.
MEET 'AGENTS OF S.H.I.E.L.D.' STAR BRETT DALTON IN NEW ORLEANS, PORTLAND, MADISON IN 2015
10/24/14 @ 12:42 pm EST
Source:
Wizard World
| Categories:
MIsc
|
Comments
(0) |
E-mail Article
|
Add a Comment
Brent Dalton, who stars as "Grant Ward" in the hit ABC series "Agents of S.H.I.E.L.D.," will make his first three Wizard World appearances early in 2015 when he attends popular returning shows in New Orleans, Portland and the inaugural event in Madison.

The up and coming star, who has also appeared in "Blue Bloods" and "Army Wives" and the National Geographic Channel's Killing Lincoln, will also be featured in the independent film The Tourist, due out later this year. Dalton also has extensive theatre experience.

Welcome him to Wizard World at the New Orleans Ernest N. Morial Convention Center (January 10-11), Oregon Convention Center (January 24-25) and Madison Alliant Energy Center (Feb. 7-8), attending Saturday and Sunday at each show
THE APOCALYPSE HAS BEGUN – YOUR FIRST LOOK AT AVENGERS & X-MEN: AXIS #6!
10/24/14 @ 12:36 pm EST
Source:
Marvel
| Categories:
Axis
|
Comments
(0) |
E-mail Article
|
Add a Comment
This November, the X-Men are finished cowering in fear. The noble mutant nation is proud to rise up and take their rightful place as Homo Superior in the name of their new leader – Apocalypse! And they'll put an end to anyone who stands in their way! Today, Marvel is pleased to present your first look at
AVENGERS & X-MEN: AXIS #6
from blockbuster creators Rick Remender and Terry Dodson! Prepare for the senses shattering end to
Act II: Inversion
as the Marvel Universe descends into
Act III: New World Disorder
!
New York City now belongs to the mutants, taken over by those who once protected a world that hated and feared them. The Avengers as we know them are gone, twisted and corrupted. Battle lines will be drawn as friend and foe alike choose sides – and the battle for the survival begins. No fan can afford to miss this epic clash as sparks fly this November in
AVENGERS VS. X-MEN: AXIS #6
!
AVENGERS & X-MEN: AXIS #6 (SEP140777)Written by RICK REMENDER
Art by TERRY DODSON
Cover by JIM CHEUNG
Inversion Variant by ESAD RIBIC (SEP140778)
Young Guns Variant by VALERIO SCHITI (SEP140779)FOC – 10/27/14, On-Sale – 11/19/14
ANOTHER MARVEL TEASER OF ULTIMATE PROPORTIONS
10/24/14 @ 12:25 pm EST
Source:
Comic Book Resources
| Categories:
Ultimate Comics
|
Comments
(0) |
E-mail Article
|
Add a Comment
The Ultimate Universe has been through some major ups and downs -- including surviving a "Cataclysm" -- but now, if the newest Marvel Comics teaser image by
Mark Bagley
is any indication, "The End" of the Ultimate U might be near. Well, maybe not, since the teaser is clearly a part of the series of mystery teasers that continuously reference PAST events from Marvel history.
MORE AWESOMENESS ANNOUNCED FOR MALTA COMIC CON 2014
10/23/14 @ 10:39 pm EST
Source:
Malta Comic Con
| Categories:
MIsc
|
Comments
(0) |
E-mail Article
|
Add a Comment


Wicked Comics is proud to announce that French digital artist Jean-Louis Mast (Original Sin: Secret Avengers), inker supreme Dave Llung, Italian illustrator Luciano Regazzoni (Alpha Agency) and the Palermo based collective Grafimated Cartoon (I Vespri Siciliani) will be joining Yishan Li, Rufus Dayglo, Andrew Wildman, Guillermo Ortego, Steve Scott, Mickey Lam, Mike Collins, Cliodhna, Dave Taylor, Christian Ward, John-Paul Kamath, Michael Dialynas, Lew Stringer, Daniela "Iella" Attard, Mario Alberti, Gabriel Hernandez Walta, Gordon Rennie, Emma Beeb, Jason Howard, Richard Starkings, Tim Perkins, Sean Azzopardi El Torres, Amigo Comics, Jenika Ioffreda, Stephanie Cooke, Gianluca Maconi, Mike Lawson, the School of Bitches, and Marianne Galea as guests for the Malta Comic Con (MCC) 2014 which will be held on Saturday 29th and Sunday 30th November at St. James Cavalier (all floors), Valletta, between 10am – 6pm on Saturday and 11am – 7pm on Sunday.

Jean-Louis Mast:

Mast is a French digital artist who has been working on the web since he was a little 16-year-old punk (recently on "Watchmen 3″, French webcomics "L'Affaire DSK", "Gonzoo" and "La Synthèse des Auteurs BD").


He's a storyboard artist for Marvel digital line: the Infinite Comics.


He worked with Geoffo on "Amazing Spider-Man: Who Am I?", "Ultimate Spider-Man Infinite", "Iron Man: Fatal Frontier", "Original Sin: Secret Avengers", "Thanos: A god up there listening", and "All-New Captain America: Fear Him!". He is also scheduled to work on more titles which will be announced shortly.


Mast is also the co-cartoonist of Jim The Duck's comic strips, from NBC's famous TV show Community.

Dave Lung:

Dave Lung is a veteran in the independent comic scene, having freelanced for several of the biggest companies in the industry and has worked with some of the most talented artists in comics today. Dave has a BA. Hons. in Fine Art and Graphic Design, and is multi-talented artist who currently splits his time between pencils and inking. He is currently working on 3 of his own graphic novels, each of which are under solicitation to one of the biggest alternative comic publications in the industry. Dave is best known as a uniquely talented inker with an intricate and dark style which is easily recognizable.

Luciano Regazzoni:

Luciano Regazzoni was born in 1959 and graduated at the School of Comics of Milan.

Since 1985 he has been teaching anatomy applied to comics and illustration technique at the same school and at The European Design Institute. In the 2005 he became part of the teaching staff of the School of Comics of Palermo/Grafimated Cartoon. Between 2007-2008 he worked as a Costume Designer for the movie "Dark Resurrection". In 2013 he started to work with Sergio Bonelli Editor: He illustrated issue 29 of "Alpha Agency", a spin-off of the regular series Nathan Never, titled "The Trial". He collaborates as a storyboard artist, illustrator and visualizer for several ad agencies and major Italian comic publishers.

Grafimated Cartoon:

Salvatore Di Marco and Antonino Pirrotta come to Malta on behalf of the Palermo based Grafimated Cartoon. Grafimated Cartoon is a cooperative society that produces, promotes and diffuses animated films and comics. Grafimated Cartoon was founded in January 2001 by professionals of the field. With over fifteen years experience, they have participated in several national and international animated film festivals with short author films, in particular the short film "Saudates du sud" with which it took part in the competition in Annecy 97 edition. They have cooperated in the production of important animated series and feature films such as: The Triplets, Cocco Bill, I Cuccioli, La Gabbianella e il Gatto, Aida degli alberi, etc... Grafmated Cartoon also produced "I Vespri Siciliani" and are working on the upcoming feature animated movie "Pinocchio" by Enzo D'Alo. With "School of Comics-Scuola del Fumetto" they teach the skills to create comics, from pencils to colouring and lettering. In fact in 2011, the school also started publishing comics created by their students. Their students and collaborators have worked with such editors as Panini Kids, Ape Entertainment, Disney, Marvel Comics, Marathon, Bluewaters, Cronaca di Topolinia, Dc Comics, etc... Other activities organized in collaboration with several public schools in Sicily, are comics and animated cartoon workshops where students create short films in which some of them won prizes in their respective categories.
ARCHIE COMICS COME TO TELEVISION WITH 'RIVERDALE' TV SERIES
10/23/14 @ 9:33 pm EST
Source:
Archie Comics
| Categories:
MIsc
|
Comments
(0) |
E-mail Article
|
Add a Comment
The news is out: "Riverdale," a one-hour drama based on the iconic Archie comic book characters, has landed at Fox. Warner Brothers Studios is producing along with studio-based Berlanti Productions.
"Riverdale" offers a bold, subversive take on Archie, Betty, Veronica, and their friends, exploring the surrealistic twists of small-town life plus the darkness and weirdness bubbling beneath Riverdale's wholesome facade. Set in the present in the small fictional town of Riverdale, New York. The show will focus on the eternal love triangle of Archie Andrews, girl-next-door Betty Cooper, and rich socialite Veronica Lodge, and will include the entire cast of characters from the comic books—including Archie's rival, Reggie Mantle, and his slacker best friend, Jughead Jones. Popular gay character Kevin Keller will also play a pivotal role. In addition to the core cast, "Riverdale" will introduce other characters from Archie Comics' expansive library, including Josie and the Pussycats.
The show will be produced by Greg Berlanti's Berlanti Productions ("Arrow," "The Flash"), written by Roberto Aguirre-Sacasa ("Glee," "Looking").
Bertlanti's track record as a producer includes a number of small-town teen dramas, such as the acclaimed "Jack & Bobby" and "Dawson's Creek" and superhero fare pulled from the four-color pages of legendary comic books like "Arrow" and "The Flash." Aguirre-Sacasa, in addition to being the Chief Creative Officer at Archie Comics, also writes two of the publisher's best-selling titles - the horror series
Afterlife with Archie
and
Chilling Adventures of Sabrina
. He spent three years as a writer on "Glee" and penned the remake of teen-angst classic "Carrie" and the cult horror classic "The Town that Dreaded Sundown," as well as the Broadway-bound musical adaptation of "American Psycho."
"This is a historic moment for Archie Comics, and we couldn't be happier to partner with FOX, Warner Bros. and Greg Berlanti to bring our characters to television," said Archie Comics Publisher/Co-CEO Jon Goldwater. "Greg and Roberto are experts when it comes to making great, compelling television and bringing beloved comic book creations to life on the screen. They're the perfect team to welcome viewers to 'Riverdale.'"
"This is something we've been working on for awhile now, figuring out the best way to bring these characters to life for what will be, essentially, the first time," Aguirre-Sacasa said. "The entire team working on 'Riverdale' is as passionate about Archie as Jon and I are, so it feels like the stars have finally aligned for Archie and the rest of the gang."
SPIDER-GWEN SELLS OUT ONCE AGAIN
10/23/14 @ 9:28 pm EST
Source:
Marvel
| Categories:
Edge of The Spider-Verse
|
Comments
(0) |
E-mail Article
|
Add a Comment
The buzz continues to grow from all corners of the comic book industry and beyond for Gwen Stacy: The Sensational Spider Woman! Before she swings again in her new ongoing series this February – fans will get another chance to experience her very first adventure! Today, Marvel is pleased to announce that due to overwhelming demand,
EDGE OF SPIDER-VERSE #2
will return for a third printing! Jason Latour, Robbi Rodriguez and Rico Renzi craft an instant-fan favorite that has the whole world talking!
Before February's eagerly anticipated
Spider-Gwen #1,
catch up with the breakout star of
Spider-Verse
as she swings headlong into the biggest Spider-Man event of all time! Don't believe us? Here's what the critics had to say about her massively buzzed about first appearance:
"Face it Marvel, you hit the jackpot"
– ComicBook.com
"Latour, Rodriguez, Renzi and Cowles have done a masterful job of crafting a world readers should want to dive into." –
Multiversity Comics
"…everything you didn't know you wanted in a Spider-book"
– Comic Book Resources
"This comic had pretty tremendous expectations set by readers ahead of time, and luckily, it lives up to them in full"
– IGN
"
10/10
" – ComicVine
As the
Spider-Verse
looms, meet one of its breakout stars as Gwen Stacy swings headlong into the biggest Spider-Man event of all time. Now is your chance to experience the issue that has everyone raving! Be there when Gwen Stacy dons her hood as Spider-Woman one more time as
EDGE OF SPIDER-VERSE #2
returns to comic shops in October!
ANOTHER MARVEL TEASER: ATTILAN RISING
10/23/14 @ 9:22 pm EST
Source:
Marvel
| Categories:
Marvel
|
Comments
(0) |
E-mail Article
|
Add a Comment
Another teaser, this time of Inhumans origin. Stay tuned!
DISNEY'S FROZEN GRAPHIC NOVEL GETS OVER 100,000 PREORDERS
10/22/14 @ 3:21 pm EST
Source:
Bleeding Cool
| Categories:
MIsc
|
Comments
(0) |
E-mail Article
|
Add a Comment
Bleeding Cool reported recently that Joe Books had the rights to create a graphic novel based on Disney's blockbuster,
Frozen.
In fact it's technically known as a Cinebook, panels created directly from the frames of a movie, then lettered and composed like a comic. An adaptation couldn't be more direct. It is over 300 pages liong and sells for $14.99.
No wonder orders are high. We've been told pre-orders have topped six figures. It's out for Christmas
.
And if you readers just can't manage 376 pages of
Frozen
, then there's a 48 page comic book (using actually drawn comic book pages) out in January, reprinting a European adaptation, from Joe Books as well, for $4.99.