MARVEL ENTERTAINMENT COLLARS SUPER HERO PET PROGRAM WITH FETCH…FOR COOL PETS! AND PETSMART
02/27/12 @ 1:31 pm EST
Source:
Marvel
|
Comments
(0) |
E-mail Article
|
Add a Comment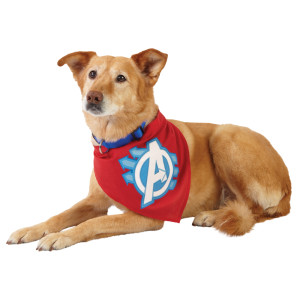 Marvel-Inspired Pet Toys, Apparel and Accessories to Debut Exclusively at PetSmart®

Marvel Entertainment, LLC
, a global character-based entertainment company, announced today that is it expanding into the pet category for the first time with a Super Hero inspired pet program. Through a new licensing agreement with
Fetch…for cool pets!
, a unique line of Marvel Super Hero inspired pet toys, apparel and accessories will be unleashed at
PetSmart
®, the largest pet specialty retailer, beginning this week.
The line will feature a wide array of Marvel-themed pet products for dogs including toys and apparel. Additionally, a wide assortment of aquatic products will follow shortly after and all will be available in
PetSmart stores
in the United States, Canada and Puerto Rico as well as online at
www.PetSmart.com
.
PetSmart, Marvel and Fetch...for cool pets! will support the Marvel Super Hero pet program with an impactful marketing campaign. Highlighting the campaign will be in-store signage, online promotions and a sweepstakes exclusively for PetSmart Facebook fans on
www.facebook.com/petsmart.com
.
"Marvel Super Heroes are a family affair and therefore, should include the family pet," said Jamie Kampel, Director of Licensing, Marvel Entertainment. "As we continue to look to expand the presence of the Marvel brand to new product and retail venues, the pet category is a natural extension. Fetch has developed a truly unique line, and having PetSmart on board as our premiere retail partner will enable us to make a huge statement for the Marvel brand in the pet category."
Steven Shweky, President of Fetch…for cool pets! added, "Fetch is approaching licensing from a different direction. Instead of using brands that would typically only appeal to children, Fetch has licensed brands that resonate with the 'pet parent.' Marvel is the perfect brand to reflect our approach."


About Marvel Entertainment, LLC:
Marvel Entertainment, LLC, a wholly-owned subsidiary of The Walt Disney Company, is one of the world's most prominent character-based entertainment companies, built on a proven library of over 8,000 characters featured in a variety of media over seventy years. Marvel utilizes its character franchises in entertainment, licensing and publishing. For more information visit
www.marvel.com
.


About Fetch…for cool pets!:
Fetch…for cool pets! is the manufacturer of a variety of innovative dog and cat products. Pet Head™ is their most widely distributed specialty grooming brand sold in pet specialty stores, pet shops, and beauty salons all across America, Europe, Australia, Asia & the Middle East. Fetch has expanded into the pet oral care, aquarium accessories, as well as several other pet categories. Founded in 1982, Fetch…for cool pets! will continue to innovate with new product lines & brands as well as push the envelope on market reach. To learn more about Fetch please visit
www.pethead.com
.
About PetSmart
:
PetSmart, Inc.
(NASDAQ: PETM) is the largest specialty pet retailer of services and solutions for the lifetime needs of pets. The company employs approximately 50,000 associates and operates more than 1,210 pet stores in the United States, Canada and Puerto Rico, over 189 in-store
PetSmart® PetsHotel®
dog and cat boarding facilities and is a leading online provider of pet supplies and pet care information (
http://www.petsmart.com
). PetSmart provides a broad range of competitively priced pet food and pet products; and offers
dog training
, pet
grooming
, pet boarding,
PetSmart Doggie Day Camp
SM day care services and pet adoption services. Since 1994,
PetSmart Charities, Inc
., an independent 501(c)(3) non-profit animal welfare organization and the largest funder of animal welfare efforts in North America, has provided more than $134 million in grants and programs benefiting animal welfare organizations. Through its in-store pet adoption partnership with PetSmart Charities®, PetSmart has helped save the lives of more than 4.7 million pets.
"DOCTOR STRANGE'S" WONG WILL BE 'MORE OF A DRILL SERGEANT' THAN A MANSERVANT
06/27/16 @ 9:13 pm EST
Source:
Comic Book Resources
| Categories:
Doctor Strange
|
Comments
(0) |
E-mail Article
|
Add a Comment
Wong will appear in Marvel Studios' "Doctor Strange," but the character won't be ripped straight from the comics. "The Martian" starBenedict Wong, who plays Wong in the film, revealed that "Doctor Strange" will take a new approach to the character.
"I'm certainly not going to be the tea-making manservant," Wong told Den of Geek. "We're heading in a different direction. He's more of a drill sergeant."
"There isn't any martial arts for Wong in 'Doctor Strange,' actually. He's more of a drill sergeant to Kamar-Taj. He's one of the masters of sorcery."
In the comics, Wong acts as Strange's vastly skilled and versatile sidekick, filling such duties as assisting in occult matters, performing martial arts, tending to Strange's affairs and watching over Strange's body while the Sorcerer Supreme astral projects. However, it seems as though the film has a few other ideas in mind for the character.
Directed by Scott Derrickson and starring Benedict Cumberbatch, Tilda Swinton, Chiwitel Ejiofor and more, "Doctor Strange" opens on November 4, 2016.
'ROGUE ONE' MAY DIFFER FROM OTHER 'STAR WARS' FILMS IN THIS MAJOR WAY
06/27/16 @ 9:06 pm EST
Source:
Comic Book Resources
| Categories:
Star Wars
|
Comments
(0) |
E-mail Article
|
Add a Comment
While it may be set in a time period familiar to "Star Wars" fans, "Rogue One: A Star Wars Story" could have one major change when compared to the other seven films. As the first anthology film, a film set outside the currently-unfolding new trilogy set after "Return of the Jedi," "Rogue One" is free to take some stylistic leaps. As part ofEntertainment Weekly's coverage of the film, Lucasfilm president Kathleen Kennedy spoke about one thing the film might shake up: the opening.
"The [opening] crawl and some of those elements live so specifically within the 'saga' films that we are having a lot of discussion about what will define the [stand-alone] 'Star Wars' stories separate and apart from the saga films," said Kathleen Kennedy. "So we're right in the middle of talking about that."
The opening crawls have introduced every previous "Star Wars" film, from "A New Hope" in 1977 through the prequel trilogy and up to 2015's "Star Wars: The Force Awakens." The decision to remove the crawl might make sense considering the subject matter of "Rogue One"; the film is set just prior to "Episode IV," but it can't be called "Episode III" in the crawl as that movie already exists in the form of 2005's "Revenge of the Sith." Removing the crawl also frees Lucasfilm from trying to assign "Rogue One" a number ("Episode 3.5″?).That's not the only stylistic difference, either. "He [director Gareth Edwards] does a lot of handheld, intimate, close-up work.
That's not something you've necessarily seen in a Star Wars movie before," Kennedy said. "And we brought in [cinematographer] Greig Fraser, to shoot it, who had done Zero Dark Thirty. So a combination of Greig and Gareth…just gives it a really unique style."
Set outside of the main sequel trilogy that began with "Star Wars: The Force Awakens," "Rogue One" is set just before 1977's "Star Wars" and details the Rebel plot to steal the Death Star plans from the Empire. Directed by Gareth Edwards ("Godzilla," "Monsters") from a script by Gary Whitta and Chris Weitz, "Rogue One" stars Felicity Jones, Mads Mikkelsen, Alan Tudyk, Donnie Yen, Forest Whitaker, Diego Luna and Riz Ahmed.
"Rogue One: A Star Wars Story" opens December 16.
BYE BYE 'ABRAMSVERSE': ALTERNATE 'STAR TREK' TIMELINE GETS OFFICIAL NAME
06/27/16 @ 9:02 pm EST
Source:
Comic Book Resources
| Categories:
Star Trek
|
Comments
(0) |
E-mail Article
|
Add a Comment
Star Trek fans finally have an
official
name to use when referring to the film franchise currently unfolding in movie theaters. With the release of the J.J. Abrams-directed "Star Trek" in 2009, a splinter timeline was created that effectively rebooted the franchise while still maintaining ties to the previous decades of canon. That Star Trek series continued with 2013's "Star Trek Into Darkness" and will once again arrive in theaters with this summer's "Star Trek Beyond." But without an
official
name to call the timeline, Star Trek fans have had to use a variety of unofficial names like the Abramsverse, or the JJverse, or NuTrek or the Alternate Original Series (AOS). Now, as revealed in a "Star Trek Online" blog post, there's an official name for it:
The Kelvin Timeline.
The timeline is named after the Federation starship USS Kelvin, the ship that was destroyed by the arrival of the Romulan ship Narada from the far future in the opening moments of 2009's "Star Trek." CBS Consumer Products' Holly Amos tweeted about the new name, explaining that they needed an official designation to distinguish it from the other "Trek" timeline.
Amos also revealed that the name comes from Michael and Denise Okuda, the authors behind numerous Trek reference guides. The name will also continue to come in handy as both Star Trek timelines co-exist in pop culture. With no Trek TV series on the air the Kelvin Timeline has been the sole Trek timeline in action for the past seven years. But a new Star Trek series is on the way from showrunner Bryan Fuller — and it's set in the
original
timeline.
The Kelvin Timeline's "Star Trek Beyond" opens in theaters on July 22; the original timeline's new Star Trek series will arrive in 2017 on CBS All Access.
"POWER RANGERS'" BRYAN CRANSTON TEASES MOTION CAPTURE WORK AS ZORDON
06/27/16 @ 8:56 pm EST
Source:
Comic Book Resources
| Categories:
MIsc
|
Comments
(0) |
E-mail Article
|
Add a Comment
Emmy Award-winner Bryan Cranston has opened up about his role as Zordon inLionsgate's upcoming "Power Rangers"reboot, revealing that he'll protray the character through motion capture technology.
Cranston told Entertainment Tonight about his Zordon role, "Yes, it's motion capture and it's a lot of CGI-work. The tenant of that storyline is that this a real person who is trapped in this etherworld and it becomes this in-the-wall so to speak of [the command center], He still has a heart and mind, but an agenda that he's got to get these five Power Rangers to defend the earth or else everyone they know will be killed. So, it's exciting."
From the sounds of it, it seems we'll be seeing some form of the classic energy tube from "Might Morphin' Power Rangers," or another high-concept representation of Zordon in the new film. And, it also looks as though some of Zordon's origin will be shown (or explained), allowing Cranston to appear in a more human form.
Starring Elizabeth Banks as Rita Repulsa, Ludi Lin as Black Ranger Zack, Dacre Montgomery as Red Ranger Jason, Naomi Scott as Pink Ranger Kimberly, Becky G as Yellow Ranger and RJ Cyle
BRANDON SANDERSON DEBUTS WHITE SAND WITH TWO UTAH STORE SIGNINGS
06/27/16 @ 8:52 pm EST
Source:
Dynamite
| Categories:
Dynamite
|
Comments
(0) |
E-mail Article
|
Add a Comment
Dynamite Entertainment is pleased to announce that Brandon Sanderson, the acclaimed creator of the Cosmere science fiction / fantasy universe, will celebrate the debut of his latest chapter in the saga, White Sand Volume One, with two Utah store appearances. Fans of the author's vast body of work are invited to visit the Barnes & Noble in West Jordan on Tuesday, and Dragons Keep in Orem on Wednesday, to pick up the White Sand graphic novel launch and share time with Sanderson himself.

White Sand, set on the planet of Taldain, tells the story of Kenton, the last of the Sand Masters. A legendary enclave that could harness arcane powers to manipulate sand in spectacular ways, they were slaughtered in a sinister conspiracy, and Kenton is the only survivor left to seek justice. Hunted by enemies on all sides, he must forge an unlikely partnership with Khriss - a mysterious Darksider with secrets of her own. This thrilling graphic novel is not an adaptation of a previously-published work, but rather something unseen by fans, crafted from an unpublished Sanderson novel. Employing powerful imagery and a celebrated approach to magical systems, White Sand is a spectacular new saga for lovers of fantasy and adventure!

The Utah store signings will take place at the following locations and times:


Tuesday, June 28, at 7:00pm MDT:
Barnes & NobleJordan Landing7157 Plaza Center Dr.West Jordan, UT 84084Phone: (801) 282-1324

Wednesday, June 29, at 5:00pm MDT:
Dragons Keep Orem48 West 300 NorthOrem, UT 84606Phone: (801) 225-7623

Since the Cosmere series began in 2005, New York Times bestselling author Brandon Sanderson has written twelve novels for this intertwined universe of science fiction and fantasy, including Elantris (2005),Mistborn: The Final Empire (2006), Warbreaker (2009), and The Way of Kings (2010). In addition to Cosmere, he has published the Alcatraz, Infinity Blade, Legion, Reckoners, and Rithmatist series, and - perhaps most famously - wrote three novels to conclude the late Robert Jordan's The Wheel of Time series.

"It took us years to find the right graphic novel project, but we finally settled on White Sand, one of theCosmere books that I have never published. Rik Hoskin, who we hired to do the adaptation, is a fantastic writer, and he managed to preserve the core of my story, using my own dialogue and descriptions, while cutting out all the chaff. All involved have done a fabulously great job. I'm super excited," says Brandon Sanderson, who worked closely with the creative team to bring his vision to comic book format. White Sandhas been adapted by Rik Hoskin, scripter of Amazon's best-selling Mercy Thompson graphic novel, with art by Julius Gopez and colors by Ross Campbell.
White Sand Vol. 1 is on sale at finer comic shops and bookstores everywhere, and features 160 pages of spellbinding story and breathtaking art, from a true master of the genre! Look for this deluxe hardcover format for $24.99.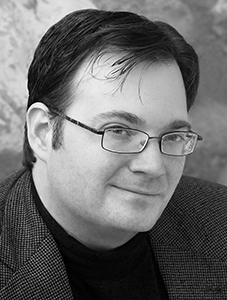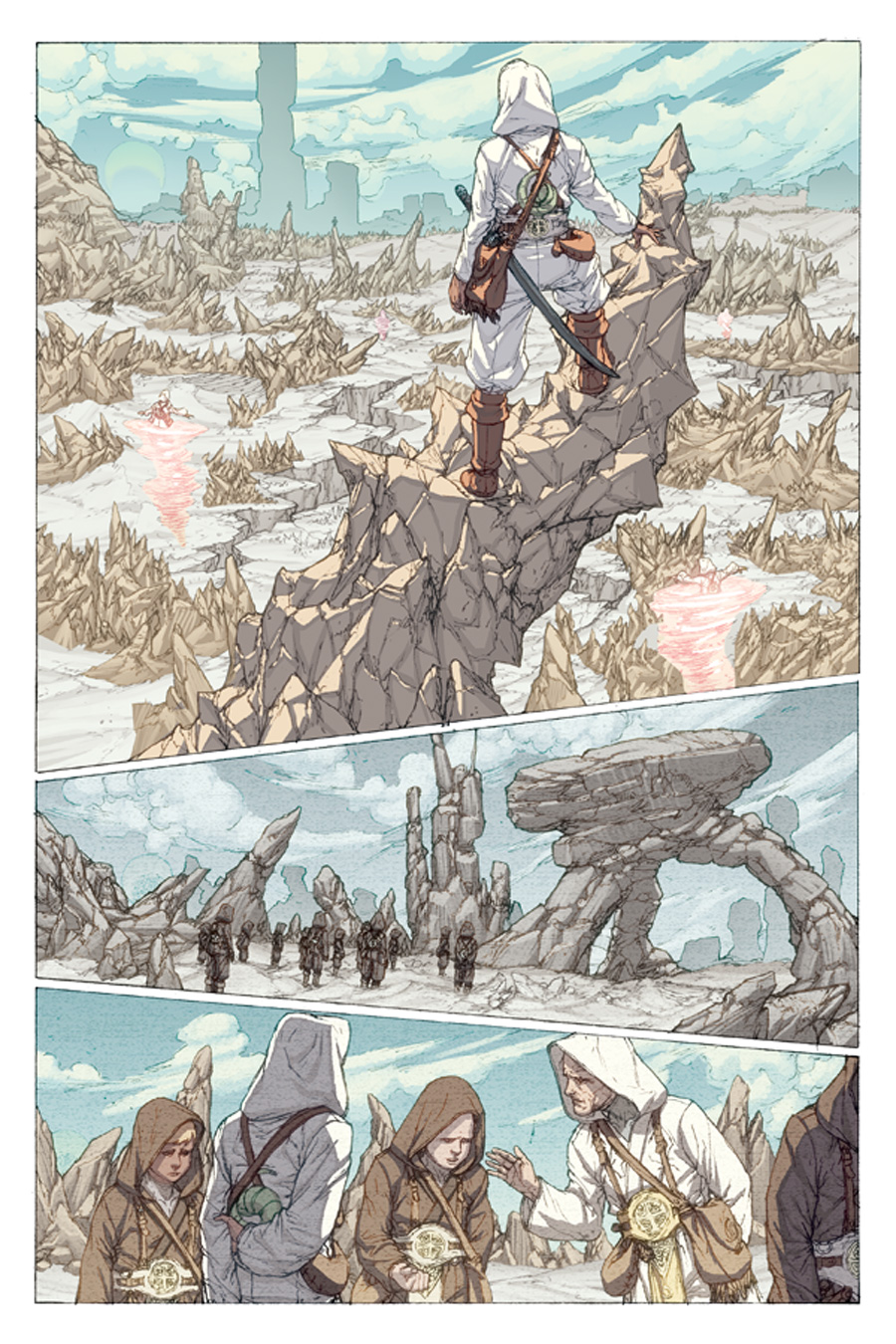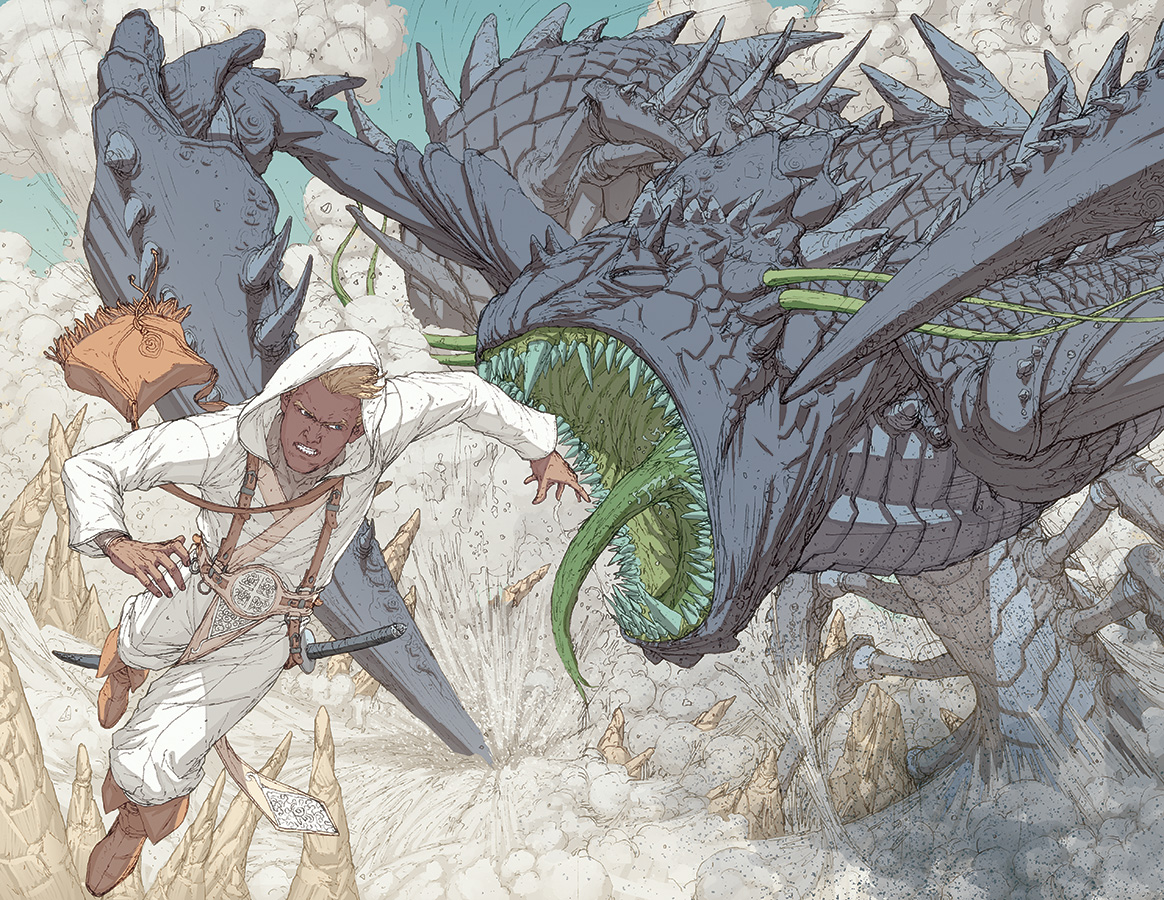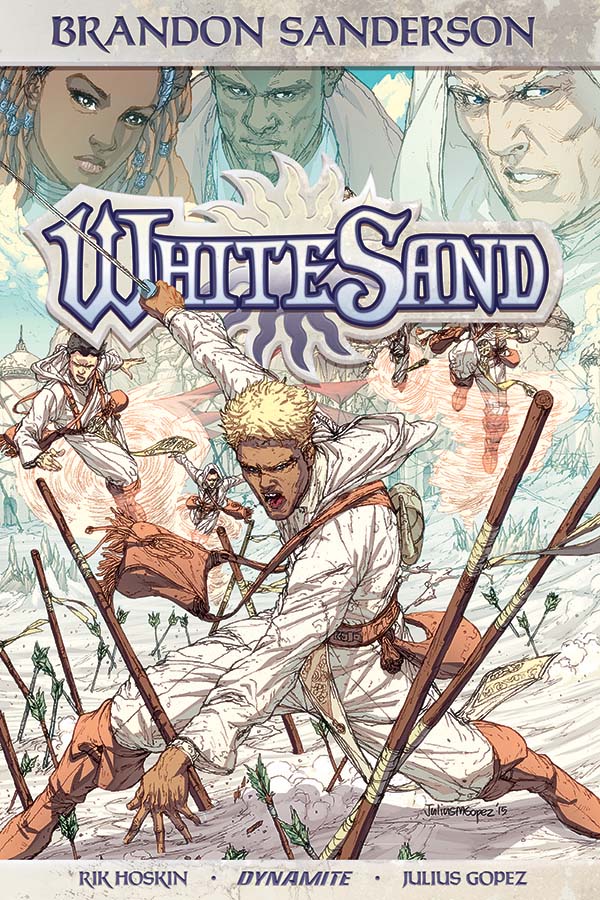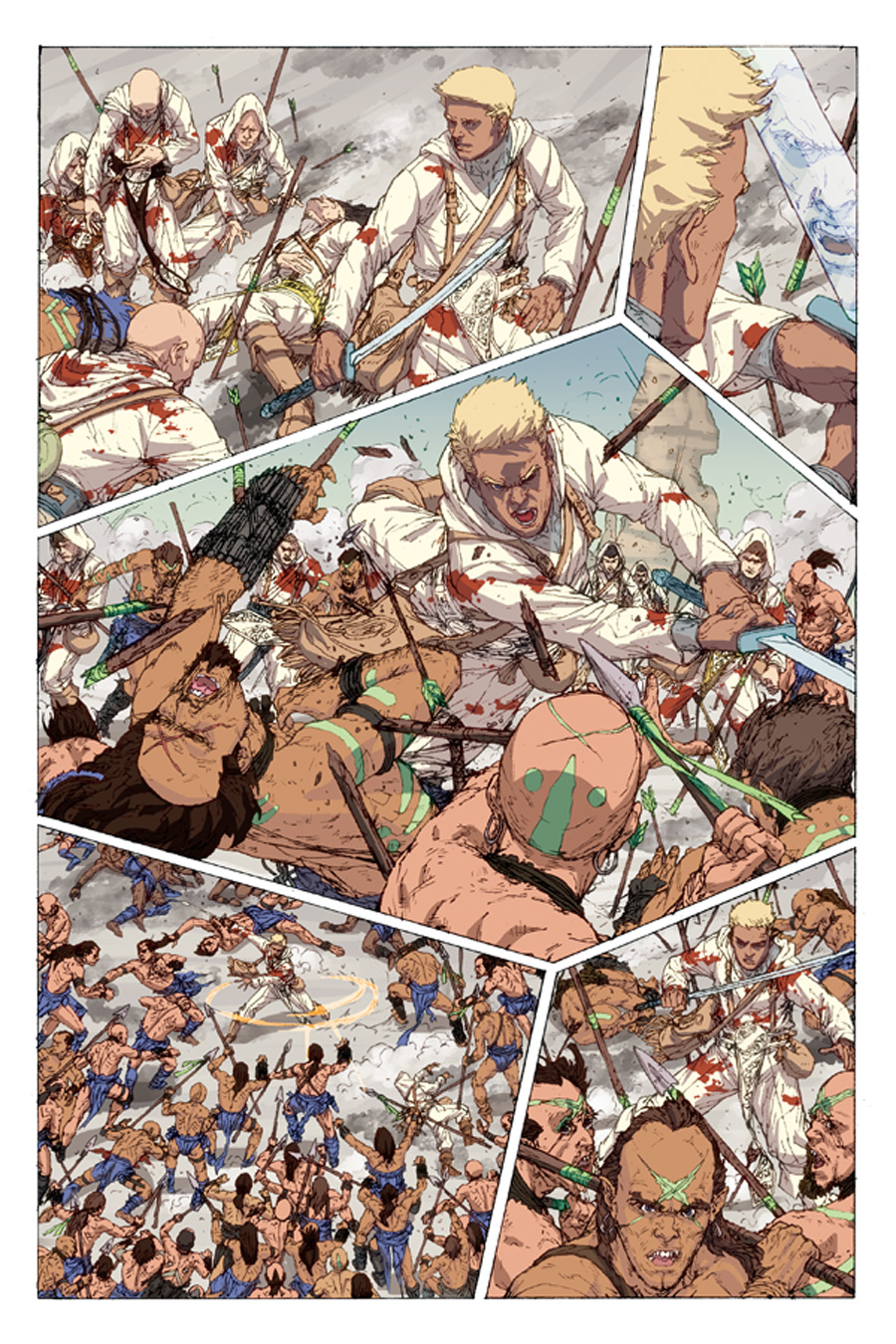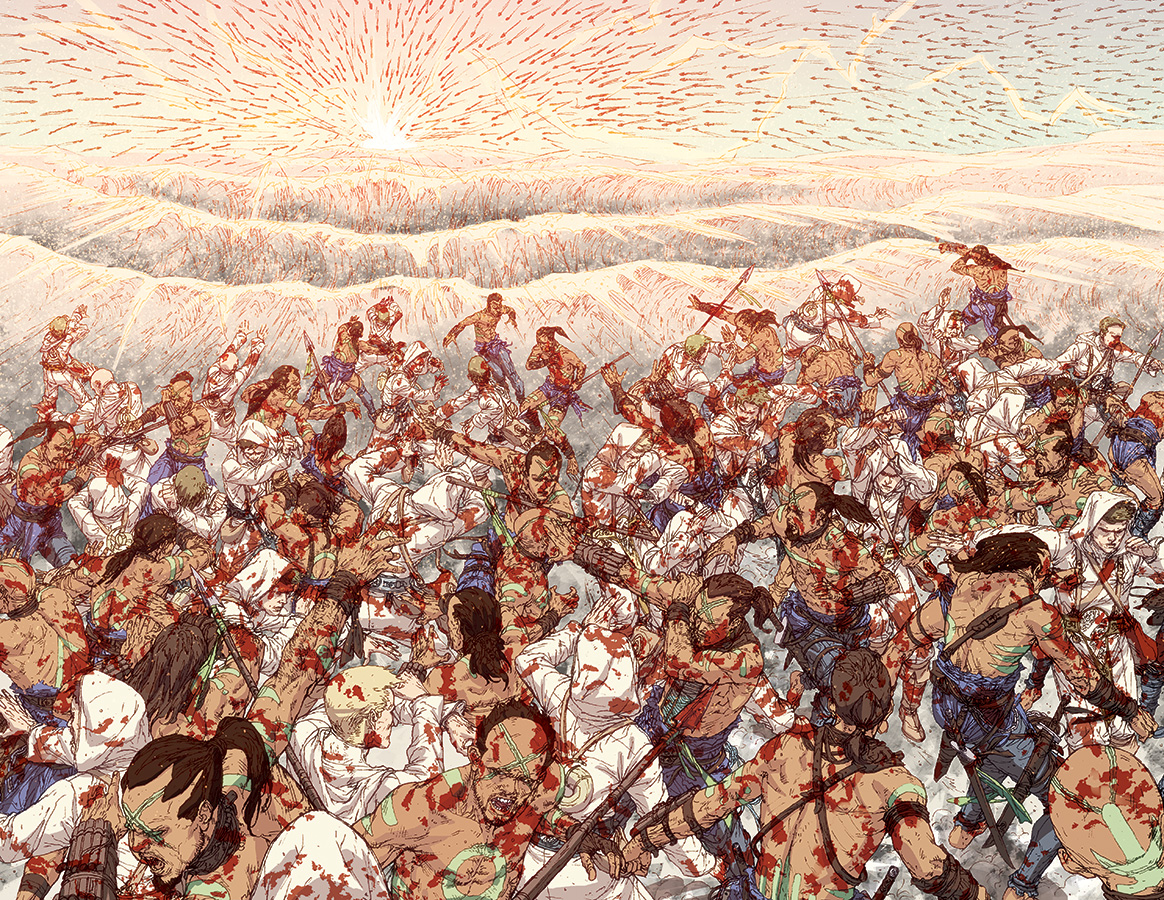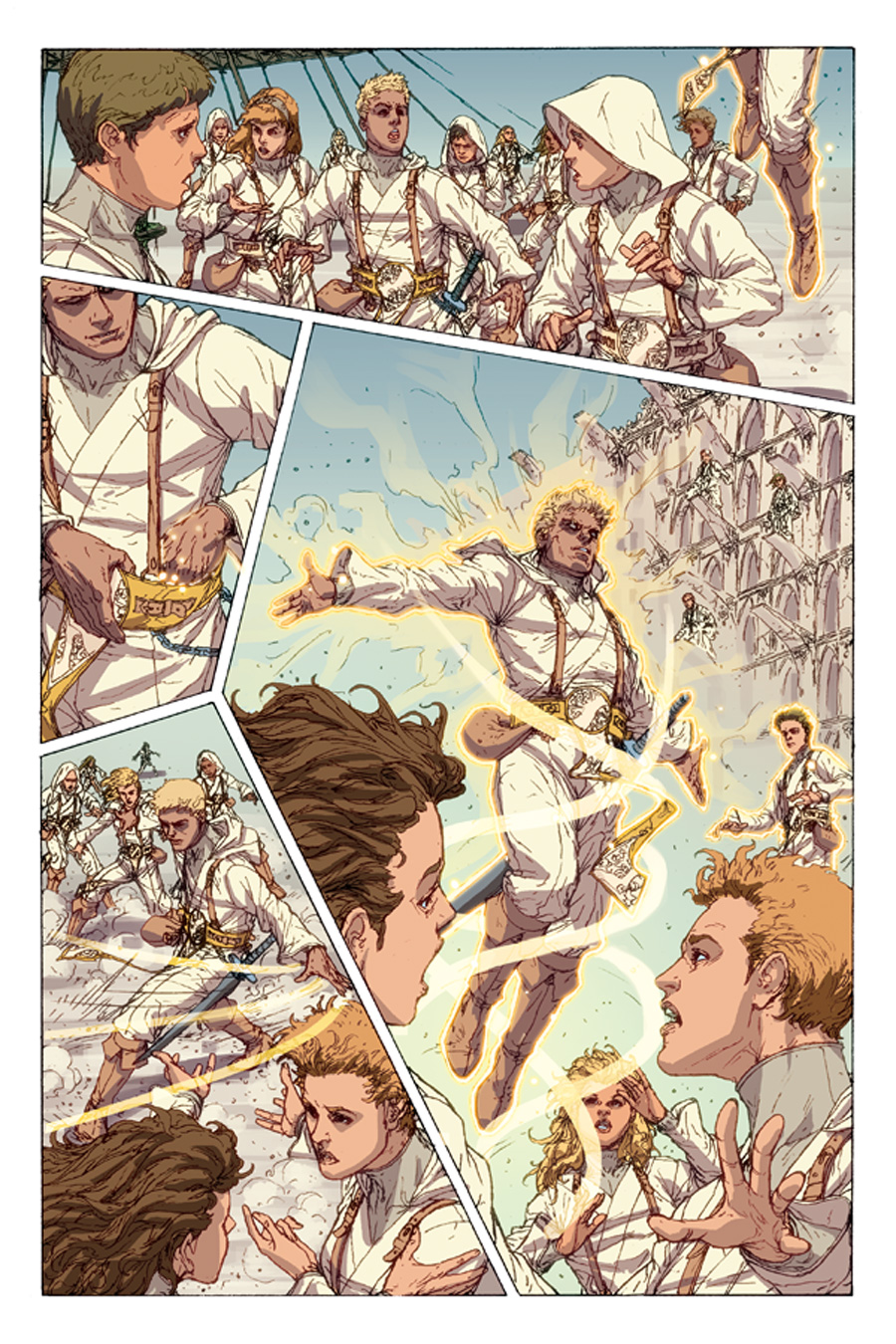 'SUICIDE SQUAD' CURRENTLY THE MOST BUZZED-ABOUT MOVIE ON SOCIAL MEDIA, BEATING 'ROGUE ONE'
06/27/16 @ 8:47 pm EST
Source:
Deadline
| Categories:
Suicide Squad
|
Comments
(0) |
E-mail Article
|
Add a Comment
Warner Bros.'
Suicide Squad,
arguably the last big tentpole of the summer on Aug. 5, generated the most social media conversations at 66K last week according to ComScore's PreAct, beating other highly anticipated movies such as Disney's
Rogue One: A Star Wars Story
(Dec. 16)
and Warner Bros.' own
Harry Potter
spin-off
Fantastic Beasts and Where to Find Them
(Nov. 18)
.
All data is for the period of June 17-23.
In addition,
Suicide Squad
's total conversations on Pre-Act at 1.3M are beating the buzz on Paramount's threequel
Star Trek Beyond
which opens on July 22 by close to three-fold, Sony's
Ghostbusters
on July 15 by 1.65 times, Warner Bros.' upcoming Independence Day weekend release
The Legend of Tarzan
by close to 12-fold and Disney/DreamWork's
The BFG
by nearly 14-fold.
In the wake of
Batman v. Superman: Dawn of Justice
polarizing DC fans, director David Ayer underwent reshoots for
Suicide Squad
to make it more fun. There was a trailer dropped at CinemaCon set to Sweet's "Ballroom Blitz" that resonated with the exhibitors in the room.
Suicide Squad
's social buzz stems from character posters, a new music video from the soundtrack and new footage dropping last week.
Rogue One
social media jumped during the span of June 17-23 due to the news that Darth Vader was definitely returning to the
Star Wars
saga, and Vader voiceover James Earl Jones too. Teaser posters and a recent featurette pushed
Fantastic Beasts'
chatter while the news about Bryan Cranston joining the
Power Rangers'
cast as floating head mentor Zordon generated close to 33K conversations for the Lionsgate movie, due out March 24, 2017; close to half of its total online conversation to date at 68K.
20,000 LEAGUES UNDER THE SEA' COMPETING PROJECT SURFACES WITH CHINESE BACKING
06/27/16 @ 8:44 pm EST
Source:
Deadline
| Categories:
MIsc
|
Comments
(0) |
E-mail Article
|
Add a Comment
Bryan Singer recently got the green light to bring
20,000 Leagues Under the Sea
to the big screen via Fox, but now comes word that another film based on Jules Verne's popular novel has bubbled up — and this one has Chinese backing.Bliss Media told Deadline that it will produce and finance their own
20,000 Leagues Under the Sea
which they say already has a deal in place to release in China.Christophe Gans (
Beauty and the Beast
,
Silent Hill
,
Brotherhood of the Wolf
) will direct the sci-fi adventure feature with pre-production starting this fall. Singer and Fox also plan a fall start on their film.
In addition, Disney also has a live-action
Captain Nemo
project in development with James Mangold attached to direct and Sebastian Gutierrez working on the latest draft. However, that one is an origin story of the Captain and not a straight adaptation of the novel.
The question now is how the competing project might affect a Fox release of
20,000 Leagues Under The Sea
in the Middle Kingdom? Bliss CEO Wei Han will produce their version of the film alongside Eskwad's Richard Grandpierre and Frédéric Doniguian, with Wild Bunch, TF1 and Pathé also on board to co-produce and distribute.
'INDEPENDENCE DAY RESURGENCE' LANDS WITH $100M OVERSEAS START; 'DORY' NEARS $400M WW - INTL BOX OFFICE FINAL
06/27/16 @ 8:41 pm EST
Source:
Deadline
| Categories:
MIsc
|
Comments
(0) |
E-mail Article
|
Add a Comment
Paramount and Lionsgate have weighed in so all grosses are updated now. We can report that Fox's
Independence Day Resurgence
landed with a lesser than expected
$100.1M start
(down from the $102.13M Sunday estimate) overseas to take the No. 1 spot at the international box office this weekend. Roland Emmerich's 20-years-later sequel invaded 58 markets and was tops in 40, including Korea and Mexico, and several South East Asian hubs. Its biggest competition for offshore eyeballs were family pics
Finding Dory
(in some smaller plays) and
The Secret Life Of Pets
in the UK. After the turmoil caused by the Brexit vote there on Friday, it could be argued that a disaster pic was not first on folks' wishlist.
The alien revisitation set a new IMAX record for a Fox movie internationally with $10.8M on 533 screens. (
Deadpool
held the record previously at $8.05M.) In
China
,
IDR
took $6.4M at 294 IMAX dates to rival Fox's
The Martian
for best-ever.
ANSEL ELGORT IN EARLY TALKS TO STAR IN 'DUNGEONS & DRAGONS'
06/27/16 @ 8:38 pm EST
Source:
The Hollywood Reporter
| Categories:
MIsc
|
Comments
(0) |
E-mail Article
|
Add a Comment
Ansel Elgort is in early negotiations to star in Warner Bros.' long-gestating
Dungeons & Dragons
movie.
The
Fault in Our Stars
actor would star in the film based on the classic role-playing game, which will be directed by
Goosebumps
helmer Rob Letterman from a script written by
Wrath of the Titans
scribe David Leslie Johnson.
Hasbro's Brian Goldner and Stephen Davis will produce, along with Courtney Solomon and Allan Zeman of Sweetpea Entertainment, as well as Roy Lee.
The project endured some major hit points when the film rights were caught up in a legal battle. Hasbro, which now owns the company that first published
Dungeons & Dragons
in 1974, and Sweetpea Entertainment, which exercised an option on film rights in the 1990s and later sold those rights to Warner Bros., eventually reached a settlement last August, after which Warner Bros. began to move forward with the project.
Elgort has been working his way up to leading-man status, after breaking through in YA adaptations such as John Green's teen cancer drama
Fault
and the post-apocalyptic
Divergent
series.
He was one of several young Hollywood stars in consideration for the coveted role of young Han Solo in the upcoming
Star Wars
stand-alone. (The part ultimately went to
Hail Caesar!
's Alden Ehrenreich). Next up, Elgort will be co-headlining the remake of
Billionaire Boys Club
with fellow up-and-comer Taron Egerton, after which he will be reaching action-star standing in Edgar Wright's
Baby Driver
, which is due out in 2017.
MATTHEW GOODE TO STAR IN WGN AMERICA'S SCI-FI PILOT 'ROADSIDE PICNIC'
06/27/16 @ 8:35 pm EST
Source:
The Hollywood Reporter
| Categories:
MIsc
|
Comments
(0) |
E-mail Article
|
Add a Comment
WGN America's sci-fi drama
Roadside Picnic
has found its star.
Matthew Goode is set to topline the pilot,
The Hollywood Reporter
has learned.
Based on the 1972 novel of the same name by Arkady and Boris Strugatskys,
Roadside Picnic
explores a near-future world where aliens have come and gone, leaving humankind to explore the wondrous and dangerous mysteries left behind. The story also examines the social ramifications of their visit, as seen through the eyes of Red, a veteran "stalker" who has made it his mission to illegally venture into the once-inhabited "Zone" and scavenge the abandoned remains of the alien culture.
Goode will play Redrick "Red" Shuhart, an "enigmatic, blue-collar contradiction" who can be quietly intelligent one moment and utterly ruthless the next. Red has a loving relationship with his wife Guta and his daughter Marie — who is shunned because she is a child of the "Zone," the site of a long-ago extraterrestrial visitation. Red used to be a "Stalker," one of the brave souls willing to risk their lives by illegally entering the Zone to sell what they find on the black market. Recently out of prison, Red finds his troubles are just beginning.