THE CHAMELEON & SANDMAN WILL TAKE PETER PARKER TO THE ENDS OF THE EARTH IN AMAZING SPIDER-MAN!
02/27/12 @ 10:09 am EST
Source:
Marvel
| Categories:
Amazing Spider-Man
|
Comments
(0) |
E-mail Article
|
Add a Comment
The next big Spider-Man epic begins in
Amazing Spider-Man #682
, part one of
Ends Of The Earth,
by Dan Slott and Stefano Caselli! The Sinister Six, led by the vengeful Doctor Octopus, is back and they're looking for revenge!
Can Spider-Man & Earth's Mightiest save the world before Doc Ock's explosive endgame is revealed? Find in
Amazing Spider-Man #682
hitting comic shops and the
Marvel Comics app
this March!
For one more final Ends of the Earth teaser, head on over to
Marvel.com
!
Join the conversation on Twitter with
#SpiderMan
.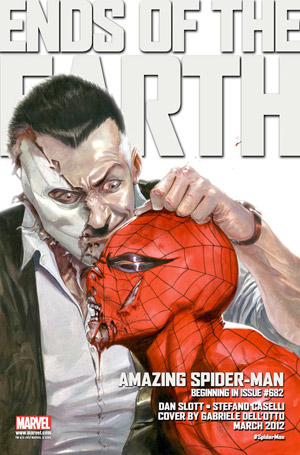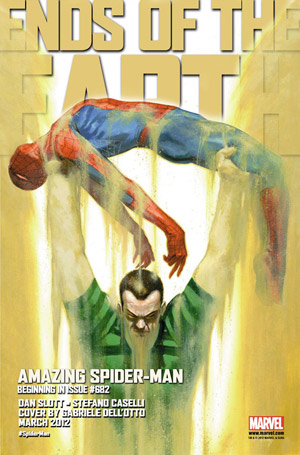 AMAZING SPIDER-MAN #682 (JAN120658)
AMAZING SPIDER-MAN #682 DELLOTTO VARIANT (JAN120659)

Written by DAN SLOTT
Pencils & Cover by STEFANO CASELLI
Variant Cover by GABRIELE DELL'OTTO
Colors by FRANK MARTIN JR.
FOC – 2/27/12, ON SALE – 3/21/12
To find a comic shop near you, visit
www.comicshoplocator.com
or call 1-888-comicbook.


Marvel Entertainment, LLC, a wholly-owned subsidiary of The Walt Disney Company, is one of the world's most prominent character-based entertainment companies, built on a proven library of over 8,000 characters featured in a variety of media over seventy years. Marvel utilizes its character franchises in entertainment, licensing and publishing. For more information visit
www.marvel.com
ANDREW GARFIELD RETURNS AS SPIDER-MAN ON JIMMY KIMMEL LIVE
10/27/16 @ 7:38 pm EST
Source:
Comicbook
| Categories:
Marvel
|
Comments
(0) |
E-mail Article
|
Add a Comment
We've had more actors suit up as Spider-Man in the last decade than any other superhero on the movie or TV screen. From the end of Tobey Maguire's run, to the stalled hopes of Andrew Garfield's rebooted version, to the new hope of Tom Holland as the Marvel Cinematic Universe Spider-Man, it's been baffling to see Marvel's flagship character struggle so much.
The most tragic figure in all this is no doubt Garfield, who got squeezed out of a chance at being a major player in the superhero movie lane, once Sony's Amazing Spider-Man
movie universe plans fell apart.
Jimmy Kimmel is giving fans of Garfield's Spider-Man a thrill, as he brings the actor back for an upcoming bit on
Jimmy Kimmel Live.
Meanwhile, don't feel too bad for Garfield: the young actor is set to maybe get into some major awards contention, thanks to the release of his new film
Hacksaw Ridge
. Directed by Mel Gibson, the WWII drama follows Garfield as a real-life army medic who fought in one of the worst battles against Japan and while morally objecting to use violence. The trailers have looked impressive, and this could be yet another smash hit for Gibson as a director.
Catch Andrew Garfield as Spider-Man on
Jimmy Kimmel Live
tonight; or on the Interwebs, tomorrow.
KEVIN FEIGE TALKS CAPTAIN AMERICA MOVIES WITHOUT STEVE ROGERS
10/27/16 @ 7:31 pm EST
Source:
Comicbook
| Categories:
Marvel
|
Comments
(0) |
E-mail Article
|
Add a Comment
Marvel Comics fans know that, these days, Captain America is more of a mantel than a specific character. Steve Rogers has been the only character to carry the shield; his old friend and partner Bucky Barnes left his Winter Soldier persona behind to become Captain America II in the 2000s, after Steve Rogers was supposedly assassinated.
More recently, Sam Wilson/Falcon took up the shield, when Rogers was aged into an elderly man. Now that both Bucky/Winter Soldier (Sebastian Stan) and Sam Wilson/Falcon (Anthony Mackie) are big parts of the Marvel Cinematic Universe (the
Captain America
franchise in particular), there's been a lot of fan question about whether one character, both or neither are able to stand in for Chris Evans' Steve Rogers, who is now the leading face of the franchise, thanks to films like
Captain America: The Winter Soldier
and
Captain America: Civil War
becoming big box office and critical hits.
Speaking with
Collider,
Marvel Studios president Kevin Feige talked about the possibility of having a
Captain America
movie franchise without Steve Rogers. When asked if the franchise
has
to have Rogers, Feige said that, "
if we look back at the comic books as our inspiration and as the well from which this all springs, then the answer is "no."
"
Before fans take that as a sign that Captain America II or Cap-Falcon is just around the corner, Feige was quick to add that,
"I'm not saying we'll do it in the movie but I've read Captain America comics that don't have Steve Rogers in them.
"
Collider
asked Feige about the inevitable changing of the guard form a business standpoint, with Feige responding that "
we don't usually think about it until necessary....so we have a long way before we have to worry about that
."
FIRST LOOK AT TESSA THOMPSON ON THOR: RAGNAROK
10/27/16 @ 7:26 pm EST
Source:
Comicbook
| Categories:
Marvel
|
Comments
(0) |
E-mail Article
|
Add a Comment
Today, Taika Waititi took to Facebook to livestream behind-the-scenes footage from the
Thor: Ragnarok
set. The New Zealand director teamed up with Chris Hemsworth to give fans a look at the set, and the preview gave audiences their first look at Tessa Thompson on-set.
Here is an image of the Valkyrie actress from that footage.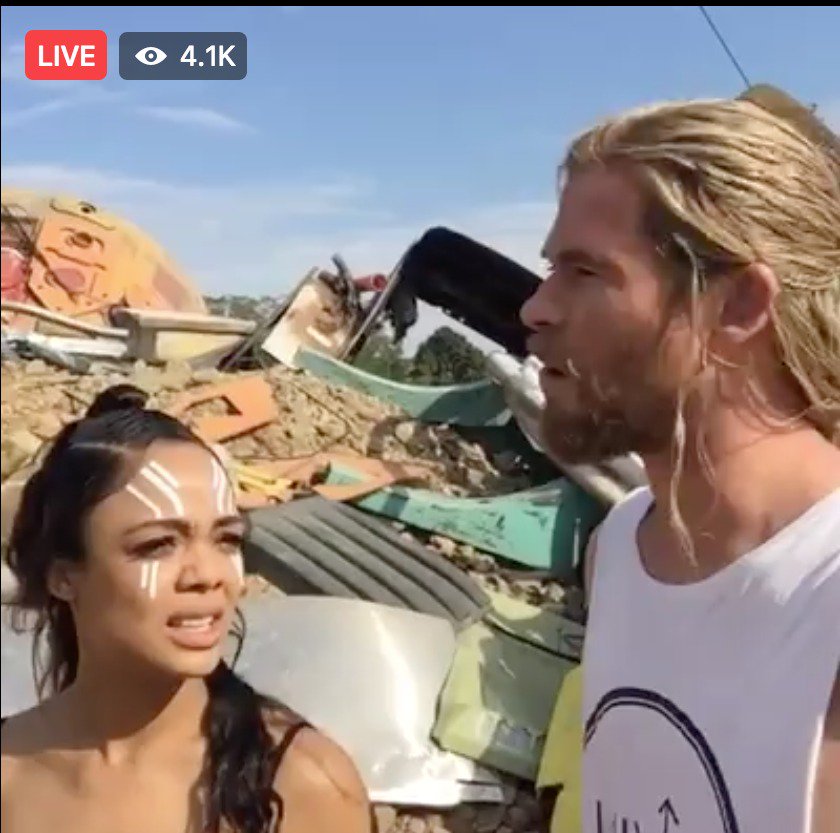 THOR: RAGNAROK WRAPS FILMING WITH LIVE VIDEO
10/27/16 @ 7:09 pm EST
Source:
Comicbook
| Categories:
Marvel
|
Comments
(0) |
E-mail Article
|
Add a Comment
Live from the set of
Thor: Ragnarok
, director Taika Waititi takes us on a hilarious and fun little walk as the film officially wraps production on the last day of shooting.
Video:
https://www.facebook.com/marvelstudios/videos/205158873245066/
EVEN ANDREW GARFIELD DOESN'T KNOW WHO THE MYSTERY MAN WAS IN AMAZING SPIDER-MAN 2
10/27/16 @ 7:37 pm EST
Source:
Comicbook
| Categories:
Marvel
|
Comments
(0) |
E-mail Article
|
Add a Comment
When Sony Pictures announced that
The Amazing Spider-Man 2
would be the last of the franchise, fans were left with a handful of cliffhangers. The series' sudden end had fans wondering where Peter Parker might have gone in a third film. Moviegoers were curious whether the mysterious figure at the end of both films would play a bigger role in the vigilante's future. But, according to Andrew Garfield, the man was of little importance.
The actor told CinemaBlend in a recent interview that he didn't know if the "filmmakers knew who the hell that guy was!"
"I don't know," Garfield said. "I actually don't know. No. But the good news is that now none of us are ever going to find out, because that version of Spider-Man is no longer. Now we got Tom Holland, who I really think is going to do some beautiful stuff."
THE FLASH SEASON 3 EPISODE 5: MONSTER PHOTOS RELEASED
10/27/16 @ 7:00 pm EST
Source:
Comicbook
| Categories:
DC
|
Comments
(0) |
E-mail Article
|
Add a Comment
The CW has released several stills from Tuesday's "Monster" episode of
The Flash
. Here are some of them.
KEVIN FEIGE SAYS NO X-MEN WILL BE IN THE MCU ANYTIME SOON
10/27/16 @ 6:52 pm EST
Source:
Comicbook
| Categories:
Marvel
|
Comments
(0) |
E-mail Article
|
Add a Comment
When news broke that Marvel Studios and Sony Pictures had decided to team up to bring Spider-Man to the Marvel Cinematic Universe, comic book fans rejoiced. Moviegoers have wanted to see the web-slinging vigilante team up with the MCU's array of superheroes. The hero did just that in
Captain America: Civil War
, so fans began to wonder whether Marvel Studios would work out a deal to bring X-Men to their cinematic universe as well.
However, Kevin Feige doesn't think the crossover is likely.
The president of Marvel Studios recently spoke with Collider and talked about the company's relationship with 20th Century Fox. When he was asked whether Marvel and Fox were playing nice these days, Feige said their relationship is, "the same as it has always been."
"We all get along, and I see them occasionally," Feige continued. "There's no change in any dynamic."
Clearly, these aren't the words that many MCU fans were wanting to hear. Audiences have been enamored with Sony's decision to work with Marvel in their pursuits to create a long-lasting
Spider-Man
franchise, so they had hoped Fox would do the same for the X-Men.
ULTIMATES 2 #1 BRINGS THE HEAVY HITTERS TO MARVEL NOW
10/27/16 @ 6:46 pm EST
Source:
Marvel
| Categories:
Marvel
|
Comments
(0) |
E-mail Article
|
Add a Comment
Big threats require bigger heroes, and ultimate problems require an ultimate solution. This November, the biggest of the Marvel Universe's big guns are reunited and reforged in
ULTIMATES 2 #1
! Blockbuster writer Al Ewing enters the next stage in his epic cosmic saga with a fresh jumping on point and new series artist Travel Foreman (
Civil War II: Amazing Spider-Man
)! Who – or what – is the Cosmic Jailer? What being is powerful enough to shackle Eternity itself? Galactus the Lifebringer seeks answers – before it's too late. To save the Omniverse, he'll call upon the group that helped cure his insatiable hunger.
Captain Marvel
,
Black Panther
,
Blue Marvel
,
Spectrum
and
Miss America Chavez
. Together, they are the Ultimates. But now they are something more – the newest heralds of Galactus! They are the ultimate super team, solving the problems no one else is capable of solving – and they're coming to you on
November 23rd
in the all-new
ULTIMATES 2 #1
!
ULTIMATES 2 #1 (SEP160937)Written by AL EWINGArt & Cover by TRAVEL FOREMAN
Variant Cover by CHRISTIAN WARD (SEP160940)Teaser Variant by MIKE DEODATO (SEP160941)Hip-Hop Variant Cover by RISA HULETT (SEP160939)Action Figure Wraparound Variant by JOHN TYLER CHRISTOPHER (SEP160940)FOC – 10/31/16, On-Sale – 11/23/16
DMG NABS RIGHTS TO BRANDON SANDERSON'S 'COSMERE' BOOK UNIVERSE IN MASSIVE DEAL
10/27/16 @ 6:41 pm EST
Source:
Variety
| Categories:
MIsc
|
Comments
(0) |
E-mail Article
|
Add a Comment
DMG Entertainment has nabbed film and licensing rights to "Cosmere," Brandon Sanderson's acclaimed series of interconnected fantasy novels. The entertainment and media company has committed to spending $270 million, which will cover half of the money needed to back the first three movies made from Sanderson's canon. That makes it one of the largest literary deals of the year. DMG beat out several interested parties for rights to the series. As part of the pact, insiders say Sanderson will receive a minimum guarantee on each film that is produced, as well as a rich backend, allowing the author to make millions.
The "Cosmere" comprises the bulk of Sanderson's writings, with DMG likening it to acquiring a comic book universe rather than a single book franchise. The books are a mixture of sci-fi and fantasy, and they unfold in a number of different worlds and time periods, but are unified by an intricate system of magic that drives the plots.
DMG is fast-tracking an adaptation of Sanderson's "The Way of Kings," the first in the author's series, "The Stormlight Archive," and has hired screenwriters Patrick Melton and Marcus Dunstan, the writing team behind several "Saw" films, to adapt the book. DMG founder Dan Mintz will produce the film, with Sanderson and Joshua Bilmes serving as executive producers. DMG also intends on simultaneously adapting the first book in Sanderson's "Mistborn" series. It has yet to decide on a screenwriter for the project.
Sanderson's books' global sales top 10 million copies, making him one of the few top-selling authors without a produced movie of his work.
MARVEL BRINGS FOUR FREE TITLES TO HALLOWEEN COMICFEST 2016!
10/27/16 @ 6:38 pm EST
Source:
Marvel
| Categories:
Marvel
|
Comments
(0) |
E-mail Article
|
Add a Comment
It's that time of year again. Black cats, Jack-o-Lanterns, legions of monsters and, most importantly Halloween Comic Fest! Marvel is returning to comic stores this weekend for another exciting celebration of Halloween and comics!

"Just like Free Comic Book Day, Halloween ComicFest is a great way for fans to support their stores and publishers to support retailers," says Marvel SVP Sales & Marketing David Gabriel. "This year, we're offering four exciting titles to whet fans appetites and get a taste of some of the great things happening in the Marvel Universe!"

Your local comic shop is the place to be this Saturday, October 29th to get your hands on 4 exciting FREE titles from the House of Ideas! Don't know where your nearest comic shop is? Don't worry! Head over to http://halloweencomicfest.com/StoreLocator to find a participating store near you! Head to your local comic shop this Saturday to get your hands on free copies of SPIDEY #1 HCF EDITION, THE HAUNTED MANSION #1 HCF EDITION, STAR WARS: DOCTOR APHRA #1 HCF EDITION and THE UNBEATABLE SQUIRREL GIRL: YOU CHOOSE THE STORY #1 HCF EDITION while supplies last!

Want to be the Unbeatable Squirrel Girl? What about relive the thrilling first appearance of Doctor Aphra? Are you ready to enter the Haunted Mansion? This Halloween, celebrate at your local comic shop by with free comics and fun activities. Don't miss Halloween ComicFest, happening at participating stores this Saturday – October 29th!