THE CHAMELEON & SANDMAN WILL TAKE PETER PARKER TO THE ENDS OF THE EARTH IN AMAZING SPIDER-MAN!
02/27/12 @ 10:09 am EST
Source:
Marvel
| Categories:
Amazing Spider-Man
|
Comments
(0) |
E-mail Article
|
Add a Comment
The next big Spider-Man epic begins in
Amazing Spider-Man #682
, part one of
Ends Of The Earth,
by Dan Slott and Stefano Caselli! The Sinister Six, led by the vengeful Doctor Octopus, is back and they're looking for revenge!
Can Spider-Man & Earth's Mightiest save the world before Doc Ock's explosive endgame is revealed? Find in
Amazing Spider-Man #682
hitting comic shops and the
Marvel Comics app
this March!
For one more final Ends of the Earth teaser, head on over to
Marvel.com
!
Join the conversation on Twitter with
#SpiderMan
.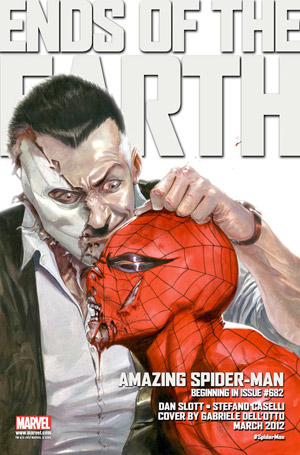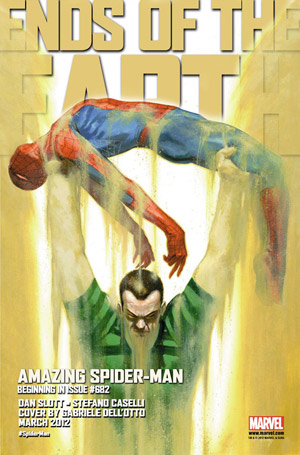 AMAZING SPIDER-MAN #682 (JAN120658)
AMAZING SPIDER-MAN #682 DELLOTTO VARIANT (JAN120659)

Written by DAN SLOTT
Pencils & Cover by STEFANO CASELLI
Variant Cover by GABRIELE DELL'OTTO
Colors by FRANK MARTIN JR.
FOC – 2/27/12, ON SALE – 3/21/12
To find a comic shop near you, visit
www.comicshoplocator.com
or call 1-888-comicbook.


Marvel Entertainment, LLC, a wholly-owned subsidiary of The Walt Disney Company, is one of the world's most prominent character-based entertainment companies, built on a proven library of over 8,000 characters featured in a variety of media over seventy years. Marvel utilizes its character franchises in entertainment, licensing and publishing. For more information visit
www.marvel.com
WELCOME HOME STAR WARS™ WITH EPIC LAUNCH PARTIES IN JANUARY
11/25/14 @ 11:22 pm EST
Source:
Marvel
| Categories:
Star Wars
|
Comments
(0) |
E-mail Article
|
Add a Comment
Marvel is kicking off 2015 with a bang big enough to destroy a Death Star as
Star Wars
makes its triumphant return to the House of Ideas and into comic shops on January 14th! That's right, your local comic shop is the place to be to get your hands on the blockbuster first issue of
Star Wars
! In addition to being among the first to purchase and read the landmark
STAR WARS #1
, fans will also be able to receive special items exclusive to these launch parties.
STAR WARS #1
is already poised to be one of the biggest launches of the year, and Marvel is making sure comic book stores worldwide are armed and ready for the landmark return of
Star Wars
to its home at Marvel. Each retailer opting into the
STAR WARS #1 Launch Party
will receive a
Star Wars
Party Kit from Marvel, containing exclusive promotional materials including exclusive variants, promotional buttons, cake toppers and more. Check your Marvel Mailer for more information on how to opt-in by
12/08
to ensure your store has these promo items and exclusives.
"Brand new
Star Wars
comics featuring some of the biggest names in comics deserve the red carpet treatment," says Marvel SVP Sales & Marketing David Gabriel. "We're committed to making sure our valued retail partners have everything they need to engage regular customers and new fans to check out what will undoubtedly be one of the biggest launches of the year."
All qualifying retailers will receive the following as part of the
Star Wars
#1 Launch Party:
Star Wars
#1 Invitational Postcards
Star Wars
#1 Promotional Pins
Star Wars
#1 Skottie Young Lithographs
Star Wars
#1 John Tyler Christopher Sketch Party Variant
This January, take your first step into a larger world as a galaxy far, far away returns to Marvel with
STAR WARS #1
– on sale January 14th!
STAR WARS #1 (NOV140709)STAR WARS WELCOME HOME PARTY OPT-IN (NOV140723)
Written by JASON AARON
Art & Cover by JOHN CASSADAY
Variant Covers by ALEX ROSS (NOV140716), JOE QUESADA (NOV140714),SARA PICHELLI (NOV140718), BOB MCLEOD (NOV140712) and SKOTTIE YOUNG (NOV140719)
Party Variant by JOHN TYLER CHRISTOPHER (NOV140720)
Movie Variant Also Available (NOV140713)Connecting Variant A by J. SCOTT CAMPBELL (NOV140710)Action Figure Variant by JOHN TYLER CHRISTOPHER (NOV140721)FOC – 12/08/14, On-Sale – 01/14/14
SITUATION CHILLY IN ICE: CRITICAL MASS #1
11/25/14 @ 9:29 am EST
Source:
Bluewater
| Categories:
MIsc
|
Comments
(0) |
E-mail Article
|
Add a Comment
In this prequel to the original ICE mini-series, Cole Matai is a new recruit at the Montana branch of the U.S. Immigration & Customs Enforcement agency. While shadowing decorated agent Ezra Delgado on a routine mission, all hell breaks loose and the new partners are baptized by fire. But this first battle is only the tip of the iceberg, as a terrorist plot to wipe out the Pacific Northwest is unfolding right at their feet.
Get all this explosive action at the special introductory price of $1.99!
ICE: CRITICAL MASS #1 (of 4)
Writer: Doug Wagner

Artist: Daniel Hillyard

Colorist: Charlie Kirchoff

Cover Artist: Jason Pearson (Cover A and C), Jose Holder (Cover B)
24 pgs. T+ On sale NOVEMBER 26
COWARDLY LION COSTUME GOES UP FOR AUCTION
11/24/14 @ 11:19 pm EST
Source:
Bleeding Cool
| Categories:
MIsc
|
Comments
(0) |
E-mail Article
|
Add a Comment
One of the original
Cowardly Lion
costumes worn by
Bert Lahr
in the 1939
Wizard of Oz
film is going up for auction. The costume will be auctioned by
Bonhams
and has been authenticated as one worn in the film. A secondary costume from the film went for close to $1 million in auction earlier this year.
The costume is currently owned by
James Comisar
who has a lot of Hollywood memorabilia including stuff from
I Love Lucy
and
Lost
. He plans to use the money from the Cowardly Lion costume sale to exhibit the rest of his collection. (Via The Hollywood Reporter)
IN BLEEDING COOL: NANCY A. COLLINS TALKS VAMPIRELLA AND RED SONJA: VULTURE CIRCLE
11/24/14 @ 11:14 pm EST
Source:
Bleeding Cool
| Categories:
Red Sonja Vultures Circle
|
Comments
(0) |
E-mail Article
|
Add a Comment
Nancy A. Collins
, author of the
Sonja Blue
book series and current writer of
Vampirella
and co-writer of
Red Sonja: Vulture Circle
did a
Reddit AMA
the other day and we have some of the highlights that pertain to her work at
Dynamite
.
1) Do you have a separate process when writing novels, graphic novels, and serialized comics? 2) When you're working on an ongoing, do you like to have an outline with how the arc will go? 3) Are you always inspired to write? Or does it end up being more of a discipline? Thanks again for visiting us and answering our questions! Big fan of your work!
Thank you for being a fan. 1. I do have slightly different creative processes between novel & comics, although they are largely the same–I outline the action point-by-point. Writing a comics script is closer to writing a short story and/or screenplay, though. And I structure it more by pages than chapter breaks. 2. Yes, I do have outlines for the story arc–in fact, my editors at Dynamite require one for approval. 3. No, I'm not always touched by the muse. Sometimes I have to force myself to get in there and shovel. Usually, when that happens, I focus on the formatting or the action descriptions for the artists, then go back and handle the dialog when I'm feeling more 'inspired'.
Thanks for the detailed response!!There has been a lot of controversy regarding female presence in the comic book industry, whether it be the way females are depicted or how female creators are treated at publishers, do you think overall the industry is improving as a whole? Are there any comic publishers you think that are better at portraying females than others?
Compared to Ye Olde Days, things are far different/better for female creators. We've always been here, but now we're starting to be viewed as part of the landscape as opposed to unicorn-like anomalies.
I couldn't really say which publishers are better or worse at portraying women in their product because it seems to differ depending on the creative teams. Dynamite gets a lot of grief for their covers being big ol' slices of cheesecake, but the actual writing depicts the characters as empowered, badass women as opposed to a pair of balloons tied to a stick–Gail Simone's run on Red Sonja is a prime example of what I'm talking about.
Which comic artist you've never worked with would you most like to be paired with on a project?
I'd love to do something with Mike Mignola. Although we've been friends for years, we've never truly collaborated on anything.
Been a fan since i was 16 and i saw an ad in a white wolf catalogue for MIDNIGHT BLUE. My question is: Who would you cast as the perfect Sonja Blue in your movie?
That's hard to say. Over the years the character has been optioned for development several times and numerous actresses have been approached for the role–including Reese Witherspoon, Angelina Jolie, and Asia Argento. Our most recent near-miss was Scarlett Johansson. I, personally, have no physical ideal for Sonja Blue–The perfect actress for the role is whoever can pull off her attitude, more than her appearance.
Give me an elevator pitch why I should get your newest book
VAMPIRELLA: FEARY TALES is a love note to the original Warren horror-anthology mags and features stories from some of the finest creators in both comics and horror/suspense prose.
I'm a (admittedly recent) fan of Vampirella, and think she's a great character. What do you think is the biggest challenge of writing for Vampirella? Biggest challenge of writing comic book horror generally?
The biggest challenge I have writing for Vampirella is her history of being less than a character and more of a pin-up. That really hasn't been true of the character for some time, but it is still how she's viewed by a lot of people. It's my job to write stories that make that aspect of her history irrelevant.
Hi Nancy! What's the pitch of the Vulture's circle? I love Red Sonja but haven't yet read anything from the Dynamite run…
The 'pitch' on Red Sonja: Vulture's Circle is that it depicts her as a woman in her late 40s/early 50s. She has, effectively, retired from the sword-for-hire business and is running an academy teaching young girls how to become battle maidens. Of course, just like Michael in the Godfather, just when she thought she was out, events conspire to draw her back in.
'THE LEGEND OF KORRA' RETURNS TO TV
11/24/14 @ 9:48 pm EST
Source:
ICv2
| Categories:
MIsc
|
Comments
(0) |
E-mail Article
|
Add a Comment
Nickelodeon is bringing
Legend of Korra
back to television, beginning Friday November 28, according to a trailer released on the show's official Facebook page today.
The popular
Avatar: The Last Airbender
spinoff was unexpectedly banished to online-only streaming in the middle of the third season. At the time, Nickelodeon cited higher online viewership as well as claiming that the show's fans were skewing older than most of its typical network programming. The fourth season premiered online in October.
Nickelodeon stated that new episodes will continue to premiere online every Friday on the show's website.
'WONDER WOMAN' DIRECTOR NAMED
11/24/14 @ 9:30 pm EST
Source:
ICv2
| Categories:
Wonder Woman
|
Comments
(0) |
E-mail Article
|
Add a Comment
Warner Bros. has announced Michelle MacLaren as director for the upcoming
Wonder Woman
feature starring Gal Gadot, Deadline is reporting. The announcement also confirms the film will release on June 23, one of two dates the studio reserved in 2017.
MacLaren has directed episodes of
Breaking Bad,
Game of Thrones, and Walking Dead
, and was an executive producer on
Breaking Bad
and
X-Files.
This will be the first time she's directed a feature film.
WILLINGHAM'S 'LEGENDERRY' STEAMPUNK COLLECTION
11/24/14 @ 9:23 pm EST
Source:
ICv2
| Categories:
Dynamite
|
Comments
(0) |
E-mail Article
|
Add a Comment
Dynamite Entertainment will release the trade paperback collection of Bill Willingham's
Legenderry
crossover series in January. The series stars Red Sonja, Vampirella, Green Hornet, Kato, Flash Gordon, The Phantom, Silver Star, Captain Victory, The Six Million Dollar Man, and Zorro in a steampunk universe created by
Fables
creator Willingham.
The volume collects the seven issue miniseries by Willingham and Joe Benitez, which launched last December 31st.
The 184-page trade paperback will retail for $24.99. Cover is by Joe Benitez
Dynamite plans comic series featuring Red Sonja, Vampirella and Green Hornet using Willingham's themes and plotlines (but by new creative teams) for 2015.
SOLD OUT "MARVEL FAMOUS FIRSTS: 75TH ANNIVERSARY MASTERWORKS SLIPCASE SET" RETURNS FOR NEW EDITION
11/24/14 @ 9:18 pm EST
Source:
Marvel
| Categories:
Marvel
|
Comments
(0) |
E-mail Article
|
Add a Comment


Just in time for the holidays – the mightiest of Marvel collections returns! Hot off the heels of its sold out initial run, Marvel is pleased to announce that the MARVEL FAMOUS FIRSTS: 75thANNIVERSARY MASTERWORKS SLIPCASE (NEW EDITION) will return for another, limited printing! Don't let this epic collection slip by once more!

Collecting 10 of Marvel's mightiest Masterworks hardcovers – plus for the first time, the all-new, long in-demand NOT BRAND ECHH VOL. 1! Relive the iconic origins of the Marvel Universe with these deluxe hardcovers collecting the origin stories of some of the greatest super heroes in history!

Each titanic tome in this limited-edition box set features newly designed cover treatments and interlocking spine artwork, while the slipcase itself is patterned after the world-famous Avengers Mansion!

"We were completely overwhelmed with the response from fans and retailers for this one-of-a-kind box set," says Marvel SVP Sales & Marketing David Gabriel. "The initial run sold out almost instantaneously so we wanted to bring it back for those who might have missed their opportunity to get theirs back in September!"

The MARVEL FAMOUS FIRSTS: 75TH ANNIVERSARY MASTERWORKS SLIPCASE SET (NEW EDITION)will make its triumphant return to local comic book retailers December 10th and will contain the following monumental Marvel collected moments:

CAPTAIN AMERICA VOL. 1 HC
264 pgs. - collecting Tales of Suspense #59-81

DAREDEVIL VOL. 1 HC
256 pgs. - collecting Daredevil #1-11

DOCTOR STRANGE VOL. 1 HC
328 pgs. - collecting Strange Tales #110-111 and #114 - 141, and Amazing Spider-Man Annual #2

NOT BRAND ECHH VOL. 1 HC
456 pgs. - collecting Not Brand Echh #1-13; and material from Amazing Spider-Man Annual #5, Avengers Annual #2,Daredevil Annual #1, Fantastic Four Annual #5 and Sgt. Fury Annual #4.

THE AMAZING SPIDER-MAN VOL. 1 HC
272 pgs. – collecting Amazing Fantasy #15 and Amazing Spider-Man #1-10.THE AVENGERS VOL. 1 HC
248 pgs. - collecting Avengers #1-10

THE FANTASTIC FOUR VOL. 1 HC
272 pgs. - collecting Fantastic Four #1-10

THE INCREDIBLE HULK VOL. 1 HC
176 pgs. - collecting Hulk #1-6

THE INVINCIBLE IRON MAN VOL. 1 HC
208 pgs. - collecting Tales of Suspense #39-50

THE MIGHTY THOR VOL. 1 HC
280 pgs. - collecting Journey into Mystery #83-100

THE X-MEN VOL. 1 HC

248 pgs. - collecting X-Men #1-10




IDW CONTINUES TO CELEBRATE TRANSFORMERS 30TH ANNIVERSARY
11/24/14 @ 5:00 pm EST
Source:
IDW
| Categories:
IDW
|
Comments
(0) |
E-mail Article
|
Add a Comment
2014 marks the 30th Anniversary of Hasbro's TRANSFORMERS, which has been celebrated thus far with a blockbuster film and critically acclaimed comic series' from IDW. But the party isn't quite over as IDW still has some TRANSFORMERS debuts this year!
The long-running TRANSFORMERS comic, which originally appeared in 1984, came to an epic conclusion as, TRANSFORMERS: Regeneration One by IDW reached its 100th issue! Original series' writer, Simon Furman and artist Andrew Wildman led the illustrious series to its closing chapter earlier this year.
But as one chapter closed, a new one began during the "Dawn of The Autobots." After the cataclysmic changes of "Dark Cybertron" the Autobots gained unexpected new allies, of whom the breakout star, WINDBLADE, the first ever fan voted character, ventured out on her own critically-acclaimed mini-series written by Mairghread Scott and stunningly illustrated by Sarah Stone.
The smash-hit new series TRANSFORMERS vs. G.I. JOE by Tom Scioli and John Barber made waves upon its Free Comic Book Day debut. With its stylized over-the-top approach, issue #1 sold out before the first issue even hit the shelves! The epic space-romp has not only been praised by the comic community, but has also struck a cord with fans.
"It's been an amazing year for TRANSFORMERS comics," said Barber, IDW Publishing's Senior Editor. "The fans seem to be digging what we're making, and it seems like there's more fans every day. It's been amazing seeing how fast people have come to love WINDBLADE—and especially gratifying to see kids inspired by her. Add to that the phenomenal response to TRANSFORMERS vs. G.I. JOE and the outstanding level of quality on the other ongoing series, and it's been a banner year. Wait'll everybody sees what we've got coming in 2015!"
Throughout the year variant homage covers have graced the ongoing series' More Than Meets The Eye by writer James Roberts and artist Alex Milne and Robots in Disguise by writer John Barber and artist Andrew Griffith. Celebrating the rich history of TRANSFORMERS, these covers highlighted monumental moments throughout the history of Transformers.
This year has also seen a number of premier TRANSFORMERS collections released from IDW; from the 30th Anniversary Collection, with highlights from the many iterations of TRANSFORMERS in comics, to TRANSFORMERS Legacy: The Art of TRANSFORMERS Packaging.
The Cybertronian War has been the explosive topic of the TRANSFORMERS series Autocracy and Monstrosity and the final chapter in this expansive storyline, Primacy debuted this fall! Written by Chris Metzen and Flint Dille with art by Livio Ramondeli this epic conclusion can't be missed!
DRIFT, who made his debut in the pages of IDW comics was featured in the blockbuster hit film TRANSFORMERS: Age of Extinction, and this month he returns to his comic roots in the new mini-series from creators Shane McCarthy and Guido Guidi! Drift—Empire of Stone sees the fan-favorite character take on a mission to clean up the darkest depths of the galaxy.
As IDW comes up on its tenth year with TRANSFORMERS, it embarks on the wildest and most unexpected of crossovers with ANGRY BIRDS TRANSFORMERS. Written by John Barber the mini-series will be drawn by Marcelo Ferreira, and debuts tomorrow!
It's been a huge year for TRANSFORMERS in the anniversary year, and IDW is honored to be involved in the celebrations!
COVER REVEAL: EAST OF WEST #16 THE KINGDOM COVER
11/24/14 @ 4:53 pm EST
Source:
i
| Categories:
Image
|
Comments
(0) |
E-mail Article
|
Add a Comment
Image Comics is pleased to announce that we are offering an exclusive set of covers celebrating the return of EAST OF WEST in December. Artist and co-creator Nick Dragotta and colorist Frank Martin Jr. have created a stunning seven-cover montage featuring nearly every series character featured to date.
"We are extremely excited with how East of West: Year Two is shaping up," said co-creator and writer Jonathan Hickman. "Sometime when Nick and I were talking about where the story was going and all the unbelievable stuff we have planned, Nick latched onto the idea of doing a big piece that kind of reflected on what we'd already done and tease some of the things coming up. And, good lord, has he produced something jaw-dropping."
Each cover represents one of the territories that make up the American Apocalypse and will be available on 12/31.
EAST OF WEST #16 Cover A (Diamond Code OCT140595)
EAST OF WEST #16 Covers B-H are connecting covers, each representing a different territory in the EAST OF WEST series:
EAST OF WEST #16 Cover B THE PRA (Diamond Code OCT148243)
EAST OF WEST #16 Cover C TEXAS (Diamond Code OCT148244)
EAST OF WEST #16 Cover D ENDLESS (Diamond Code OCT148245)
EAST OF WEST #16 Cover E KINGDOM (Diamond Code OCT148246)
EAST OF WEST #16 Cover F CONFEDERACY (Diamond Code OCT148247)
EAST OF WEST #16 Cover G UNION (Diamond Code OCT148248)
EAST OF WEST #16 Cover H ARMISTICE (Diamond Code OCT148249)
EAST OF WEST #16 Cover I McKelvie/Wilson (Diamond Code OCT148250)