THE CHAMELEON & SANDMAN WILL TAKE PETER PARKER TO THE ENDS OF THE EARTH IN AMAZING SPIDER-MAN!
02/27/12 @ 10:09 am EST
Source:
Marvel
| Categories:
Amazing Spider-Man
|
Comments
(0) |
E-mail Article
|
Add a Comment
The next big Spider-Man epic begins in
Amazing Spider-Man #682
, part one of
Ends Of The Earth,
by Dan Slott and Stefano Caselli! The Sinister Six, led by the vengeful Doctor Octopus, is back and they're looking for revenge!
Can Spider-Man & Earth's Mightiest save the world before Doc Ock's explosive endgame is revealed? Find in
Amazing Spider-Man #682
hitting comic shops and the
Marvel Comics app
this March!
For one more final Ends of the Earth teaser, head on over to
Marvel.com
!
Join the conversation on Twitter with
#SpiderMan
.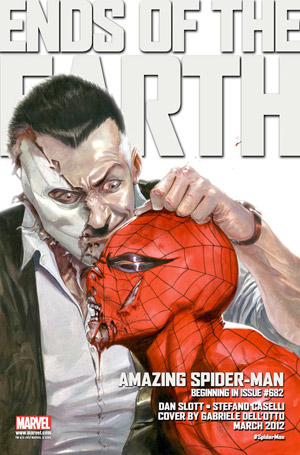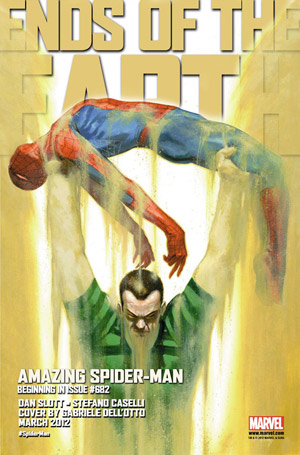 AMAZING SPIDER-MAN #682 (JAN120658)
AMAZING SPIDER-MAN #682 DELLOTTO VARIANT (JAN120659)

Written by DAN SLOTT
Pencils & Cover by STEFANO CASELLI
Variant Cover by GABRIELE DELL'OTTO
Colors by FRANK MARTIN JR.
FOC – 2/27/12, ON SALE – 3/21/12
To find a comic shop near you, visit
www.comicshoplocator.com
or call 1-888-comicbook.


Marvel Entertainment, LLC, a wholly-owned subsidiary of The Walt Disney Company, is one of the world's most prominent character-based entertainment companies, built on a proven library of over 8,000 characters featured in a variety of media over seventy years. Marvel utilizes its character franchises in entertainment, licensing and publishing. For more information visit
www.marvel.com
GARBAGE PAIL KIDS GET A COMIC-BOOK SERIES AT IDW!
07/28/14 @ 2:14 pm EST
Source:
IDW
| Categories:
IDW
|
Comments
(0) |
E-mail Article
|
Add a Comment
Topps' Garbage Pail Kids, the 1980s sensation, will have readers squirming with delight this winter as the obscene adolescents star in a brand-new comic-book series from IDW Publishing. With the likes of Adam Bomb, Leaky Lindsay, and New Wave Dave populating the Garbage Pail Kids universe, the delightfully deformed and often downright disgusting Kids are set to make their mark on the world of comics, just in time for their 30th Anniversary in 2015!

"As a child of the Eighties, I was at ground zero for theGarbage Pail Kids phenomenon," series editor Denton J. Tipton said. "The profoundly irreverent stickers spoke directly to the rascal inside each and every one of my classmates, and helped us drive our teachers to the brink of insanity. I couldn't be more happy to be working with some of the giants of alternative comics to push the buttons of an entirely new generation of educators, many of which likely remember when the poo-covered sneaker was on the other foot."

Created by Pulitzer Prize-winning cartoonist Art Spiegelman and a group of avant garde humorists including Mark Newgarden, John Pound, Tom Bunkand others, the Garbage Pail Kids debuted in 1985 from Topps, as the furor for trading cards was at an all-time high. Like MAD Magazine and Topps' own Wacky Packages before it, Garbage Pail Kids succeeded as a tongue-in-cheek send-up of pop culture, depicting quite the opposite of the "cute" approach to all-ages entertainment of the day.

"Having grown up with GPK and sharing my name with the flagship character, I can say it's no small honor to help shepherd the Garbage Pail Kids into their first ever comic book," said Topps' Adam Levine, Head of Outbound Licensing. "It's going to be a real treat to see our friends at IDW flesh out the world of the Garbage Pail Kids so that after 30 years we can finally find out who all of these weird little guys are."

Hate cartoonist Peter Bagge, who provided the initial image of all-new character Comic-Con Ron, will be a part of the new series, planned as an anthology of loosely connected stories by a variety of talented creators from around the industry, including some of Topps' official "GPK" artists.
ANGRY BIRDS TRANSFORMERS BRINGS MAYHEM TO COMICS
07/28/14 @ 2:07 pm EST
Source:
IDW
| Categories:
IDW
|
Comments
(0) |
E-mail Article
|
Add a Comment
Spinning out of the show-stopping announcement at this year's Licensing Expo, Rovio Entertainment and Hasbro, Inc. have teamed up to bring together two of the world's largest and most popular entertainment brands with ANGRY BIRDS TRANSFORMERS! This fall, IDW will bring the mayhem to comics with the brand-new series, ANGRY BIRDS TRANSFORMERS, expanding on the unexpected backgrounds of this explosive crossover!

"Comics offer an ideal medium for telling the stories of these improbable but totally convincing mash-up characters from two enormously popular creations," said Rovio's Editor-in-Chief, Comics Jukka Heiskanen. "Blending action with humor and adventure with mishap, they will excite and delight fans of both brands."

"We are thrilled to be combining the iconic TRANSFORMERS universe with the quirky world of ANGRY BIRDS," said Michael Kelly, Hasbro's Director of Global Publishing. "With the upcoming ANGRY BIRDS TRANSFORMERS mobile game, TELEPODS product line from Hasbro powered by retoy, licensed consumer goods and now comics from IDW, we're able to give fans fun, new stories and characters they can interact with in multiple ways."

When a DECEPTIHOG raid on the AUTOBIRD ship goes awry, the sought-after ALLSPARK is hurled into the expanses of space, only to find its way onto the shores of Piggie Island, and as its inhabitants will soon find out, the ALLSPARK is much more powerful than any creature could have imagined! Written byRobots in Disguise scribe and IDW Senior Editor John Barber, ANGRY BIRDS TRANSFORMERS is taking the intergalactic epic to a whole new universe!

"It's been a real blast to pair the action of the endless conflict between AUTOBOTS and DECEPTICONS with the zany hijinks of the Angry Birds!" said series writer, John Barber. "Seeing how these icons can interact and combine with each other—I think the end result will surprise everybody!"

An all-star flock of TRANSFORMERS artists will be contributing covers for the four-issue series, including Sarah Stone, Guido Guidi, Casey W. Coller, and Livio Ramondelli! Ramondelli will be kicking off the series, providing artwork for a framing sequence of issue #1, focusing on the TRANSFORMERS universe! From there, Marcelo Ferriera (Kung Fu Panda, TMNT New Animated Adventures) will take over on art duties for the series.

This unique series offers comic readers a chance to explore two of the world's most popular brands in a distinctly original way! Whether you're reading Robots in Disguise and More Than Meets The Eye, or can't smash enough Piggies, ANGRY BIRDS TRANSFORMERS welcomes everyone to join this collision of epic proportions!

DECISION TIME FOR LUTHOR IN 'JUSTICE LEAGUE' #32
07/28/14 @ 1:53 pm EST
Source:
DC
| Categories:
Justice League
|
Comments
(0) |
E-mail Article
|
Add a Comment
DC rolls out one for later in the week with JUSTICE LEAGUE #32.
Lex Luthor continues his acclimation to his life as a one of the world's greatest heroes as the Justice League searches for the mysterious power threatening to unravel our world. But are his sights actually set on the Dark Knight? And are the Dark Knight's set on him? Plus, someone else is targeting Luthor and his new allies – a man who believes he is Luthor's superior in every way...and he may be right!
Here comes The Chief and his treacherous Doom Patrol to The New 52!
Look for JUSTICE LEAGUE #32, written by Geoff Johns and illustrated by Ivan Reis and Joe Prado, this Wednesday.
CAPTAIN AMERICA & THE MIGHTY AVENGERS #1 TAKES FLIGHT
07/28/14 @ 1:45 pm EST
Source:
Marvel
| Categories:
Mighty Avengers
|
Comments
(0) |
E-mail Article
|
Add a Comment


This November, Sam Wilson takes the Mighty Avengers higher, further and bigger than ever before in CAPTAIN AMERICA & THE MIGHTY AVENGERS #1 – an all-new series launching as part of Avengers NOW!

Fan-favorite Mighty Avengers scribe Al Ewing returns along with new series artist Luke Ross for a new series with a new mission spinning directly out of the upcoming Avengers & X-Men: AXIS! Sam Wilson has inherited his new patriotic moniker, but is he up to the task of leading a team of Earth's Mightiest Heroes? The hero formerly known as Falcon has some new ideas for the rag-tag team of Mighty Avengers – but the events of AXIS may spell doom for the inexperienced leader. And not everyone on the team is happy with Sam's new position as leader.

Spider-Man is back, too – Amazing this time, NOT Superior. Luke Cage & Jessica Jones are still itching to give him some payback for trying to take their daughter to Child Services. And what is Luke Cage doing meeting with the head of the notorious Cortex corporation?

"As for the mission statement – same as it's ever been," promises writer Al Ewing. "Help those in need, however they need it. This is where all the work over the previous series pays off – the Gem theater is refurbished, the hotline is in place, the field team is on standby to take care of problems nobody else can handle. The Mighty Avengers are hitting the ground running."

All this and more in just the first issue, True Believer! No fan can afford to miss this all-new beginning when CAPTAIN AMERICA & THE MIGHTY AVENGERS #1 takes off this November!

CAPTAIN AMERICA & THE MIGHTY AVENGERS #1 Written by AL EWING, Art & Cover by LUKE ROSS, On-Sale in November!
THE SECRET HISTORY OF WOODROW MCCORD REVEALED IN ORIGINAL SIN ANNUAL #1
07/28/14 @ 1:40 pm EST
Source:
Marvel
| Categories:
Original Sin
|
Comments
(0) |
E-mail Article
|
Add a Comment


The secrets of the critically acclaimed Original Sin continue to spill out this October as the adventure continues in ORIGINAL SIN ANNUAL #1 – from Jason Latour and Enis Cisic! The information the Watcher kept has brought to light shocking secrets about Thor, Spider-Man, the Avengers and more. But perhaps the most mysterious is that of Woodrow McCord – the enigmatic, world protector who heroically gave his life in Original Sin #5 before passing the torch to Nick Fury.

Answering to no one and with the safety of an entire planet under his watch, witness the secret history of one of the Marvel Universe's greatest architects as he shapes the world our heroes know in secret. Latour & Cisic explore the never-before-told backstory of the alien-fighting, weapon-toting, monster-brawling McCord as he safeguards the world in secret. Operating as the mysterious "Man on the Wall," he fought the battles too big for anyone on Earth to fight. Not because he wanted to, but because he had to.

"The job is getting out there rattling cages, getting in the heads of people who want to harm Earth" says Jason Latour. "Stopping trouble before it starts, by any means necessary. In the eyes of a lot of these more belligerent alien races, the Earth was ripe for the picking. It was a silent, shadow war and for quite a while McCord was the only soldier we had."

McCord fought an endless, solitary war in secret. But did he lose his own humanity in the process? Find out as the bombastic tale of a two-fisted sci-fi pulp story of the savior of the Marvel Universe stands revealed in October's ORIGINAL SIN ANNUAL #1!

ORIGINAL SIN ANNUAL #1 Written by JASON LATOUR, Art by ENIS CISIC, Cover by JULIAN TOTINO TEDESCO, Variant Covers by FRANCESCO FRANCAVILLA and CHRISTIAN WARD, On Sale in October!
FRANK BARBIERE TALKS 'SOLAR': A DYNAMITE INTERVIEW IN BLEEDING COOL
07/27/14 @ 10:10 pm EST
Source:
Bleeding Cool
| Categories:
Solar
|
Comments
(0) |
E-mail Article
|
Add a Comment
Solar: Man Of The Atom #6
is coming up and
Byron Brewer
sat down with series writer
Frank Barbiere
to talk about the series and what the writer has in mind for the future.
BYRON BREWER: Frank, how has it felt to be a part of returning an old, favored comic book universe to the pages of modern reader-dom? Seems like all the fans are climbing on board.FRANK BARBIERE:
It's been an absolute honor to write such an established character. I'm very excited to see people embracing our new take, but certainly careful to revere what's come before and try to stick to what made the original stories work so well.
BB: The Erica/Ghost Dad combo hero has been an adjustment, I will admit. I thought the daughter was only a temporary plot device, but it seems to be for the long haul, correct?FB:
Yes, Erica is here with us to stay. We certainly didn't want to take Phil completely off the table, and I think we've found a really fun balance that strikes true to our theme of family. Erica will be getting a new all-white costume to help differentiate her from Phil as well…we're really making her her own character.
BB: Frank, as a writer, you certainly have sewn a lot of choice seeds to be picked up on in future tales, not the least of which is that we have two protagonists instead of the one I expected. Does this make writing the book more of a challenge?FB:
It makes it a lot more enjoyable, to be honest. There is just so much room for fun stories here and knowing we have room to stretch are legs has helped build a really fun long form story that will be paying off in issues far on the horizon, as well as arc by arc. There is a lot of careful outlining and decision making, but ultimately it just makes the book feel bigger and more organic.
BB: I very much enjoy your lettering! Who came up with that visible formula format when Solar uses his/her/their powers?FB:
I had talked with Nate (Cosby, the Gold Key line editor) about trying to work in a unique way to show Solar using math. I thought of how when Dr. Strange would use his powers in the Marvel books they would list the spell, and thought "Hey, we should show the equations he's using!" It's been a lot of fun working with Christopher Preece, a science teacher and Solar fan I met, to come up with realistic equations and keep the fun balance between fact and fiction.
BB: With smart characters (Iron Man, Batman, Reed Richards), sometimes a writer will forget to utilize this "ability" as opposed to clobberin'. But that has not been the case in Solar, as Dad has used his brains quite a bit since #1. Difficult?FB:
It's a challenge to try to think like this character who is supposed to be brilliant, but the extra work is worth it. There's no better feeling than coming up with a unique solution to a story problem…it's ultimately so much more satisfying and true to the character. As well as Phil we have Erica who is not a brawler and more of an artists—the real fun part has been thinking of how she would approach her power set and work differently from Phil.
BB: I love how the bizarreness of alien life was woven into the even more bizarre situation we have with the Solars. Are the aliens you are utilizing in #6 from a former iteration of Solar or are these FB originals? Can you tell us any more about the race(s) than has been hinted at?FB:
These are all new aliens I've come up with. Phil and Erica will be venturing to a few different worlds so we've been playing with different races and really giving it all a very fun sci-fi feel.
BB: What does Jonathan Lau bring to your book?FB:
Jonathan's work is absolutely stunning. He has jumped right in headfirst and done some knock-out pages, particularly the opening splash to #5 which has a bunch of aliens chasing our father and daughter pair. Jonathan has a really beautiful sense of layout and elegance to his work that is really just amazing—it's an honor to be able to collaborate with him.
BB: Frank, where do father and daughter go from here?FB:
We'll be seeing Phil and Erica travel across the universe trying to solve impossible problems, prevent an alien war, and not kill each other in the process! It's going to be a lot of fun and bring in some great cosmic elements—I can't wait for readers to join us!
'SPIDER-WOMAN' ONGOING FROM DENNIS HOPELESS, GREG LAND ANNOUNCED
07/27/14 @ 10:03 pm EST
Source:
Marvel
| Categories:
Spider-Woman
|
Comments
(0) |
E-mail Article
|
Add a Comment


Jessica's back! Again!

Announced at the Women of Marvel panel at San Diego Comic Con, and spinning out of the "Spider-Verse event," will be a new ongoing Spider-Woman series by Dennis Hopeless and Greg Land.

Hopefully, she is not a Skrull.
JOHN LAYMAN AND JAVIER GARRON TAKE OVER 'CYCLOPS'
07/27/14 @ 9:56 pm EST
Source:
Bleeding Cool
| Categories:
Cyclops
|
Comments
(0) |
E-mail Article
|
Add a Comment


Coming out of the Marvel: Next Big Thing panel at SDCC, we get a new creative team on Cyclops – John Layman and Javier Garron starting with #6.

It's still Space Pirate adventures, reports Bleeding Cool, with an emphasis on the pirates.

From Nick Lowe: "Really sad that Greg [Rucka] had to step off, but his novel schedule was getting really intense. We'll see him back in the X-world really soon."
MARK WAID WRITING NEW 'S.H.I.E.L.D.' SERIES
07/27/14 @ 9:37 pm EST
Source:
Marvel
| Categories:
Marvel
|
Comments
(0) |
E-mail Article
|
Add a Comment


At Marvel's "Next Big Thing" panel at SDCC, Mark Waid (Doctor Spektor, Irredeemable) revealed that he is writing a new Agents of S.H.I.E.L.D.-inspired ongoing series that he described as "S.H.I.E.L.D. the TV show, the unlimited budget edition."

The series will feature a revolving team of artists that will include Alan Davis, Carlos Pacheco and Chris Sprouse.

S.H.I.E.L.D. #1 (as the new series is to be called) launches in December.

Waid also told the SDCC crowd that he saw the book as a "stealth Marvel team-up."
RA'S AL GHUL, WILD CAT COMING TO 'ARROW' SEASON 3
07/27/14 @ 9:30 pm EST
Source:
DC
| Categories:
Arrow
|
Comments
(0) |
E-mail Article
|
Add a Comment


The CW has released information that venerable DC villain Ra's al Ghul will be coming to Arrow Season 3.

Not only was Ra's al Ghul confirmed to be a part of the new season at Comic-Con, but also Ted Grant AKA Wild Cat.

Arrow premiers Wednesday, October 8th at 8 p.m. ET.