THE CHAMELEON & SANDMAN WILL TAKE PETER PARKER TO THE ENDS OF THE EARTH IN AMAZING SPIDER-MAN!
02/27/12 @ 10:09 am EST
Source:
Marvel
| Categories:
Amazing Spider-Man
|
Comments
(0) |
E-mail Article
|
Add a Comment
The next big Spider-Man epic begins in
Amazing Spider-Man #682
, part one of
Ends Of The Earth,
by Dan Slott and Stefano Caselli! The Sinister Six, led by the vengeful Doctor Octopus, is back and they're looking for revenge!
Can Spider-Man & Earth's Mightiest save the world before Doc Ock's explosive endgame is revealed? Find in
Amazing Spider-Man #682
hitting comic shops and the
Marvel Comics app
this March!
For one more final Ends of the Earth teaser, head on over to
Marvel.com
!
Join the conversation on Twitter with
#SpiderMan
.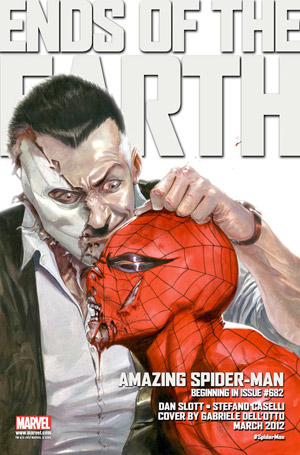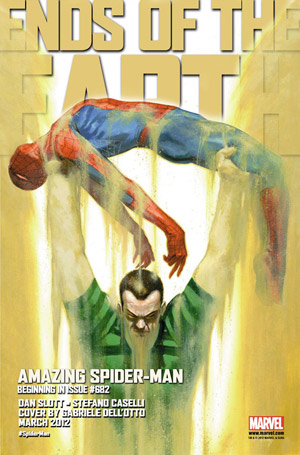 AMAZING SPIDER-MAN #682 (JAN120658)
AMAZING SPIDER-MAN #682 DELLOTTO VARIANT (JAN120659)

Written by DAN SLOTT
Pencils & Cover by STEFANO CASELLI
Variant Cover by GABRIELE DELL'OTTO
Colors by FRANK MARTIN JR.
FOC – 2/27/12, ON SALE – 3/21/12
To find a comic shop near you, visit
www.comicshoplocator.com
or call 1-888-comicbook.


Marvel Entertainment, LLC, a wholly-owned subsidiary of The Walt Disney Company, is one of the world's most prominent character-based entertainment companies, built on a proven library of over 8,000 characters featured in a variety of media over seventy years. Marvel utilizes its character franchises in entertainment, licensing and publishing. For more information visit
www.marvel.com
BATMAN 75 STAMP SET COLLECTION UNVEILED
09/30/14 @ 7:53 am EST
Source:
DC
| Categories:
Batman
|
Comments
(0) |
E-mail Article
|
Add a Comment
DC has announced an all new set of Batman Stamps.
Showcasing eight unique designs in a pane of 20 stamps, this new issuance from the U.S. Postal Service celebrates the 75th anniversary of Batman. Four versions of the iconic DC Comics superhero are depicted from four eras of comic book history. In addition, there are four incarnations of the Bat emblems. The Batman Stamp Set Collection of eight limited-edition Forever Stamps celebrates Batman's Evolution in Comics.
A column on the left side of the pane includes four different circular stamps. Each is affixed with a different Bat-Signal, the spotlight Gotham City Police Commissioner James Gordon sent into the night sky to summon Batman.
The background illustration features a silhouette of Batman standing on a bridge with the skyline of Gotham City looming above him. Art director Greg Breeding designed the stamp pane.
WILLIAM SHATNER: WILL THE ORIGINAL CAPTAIN KIRK APPEAR IN 'STAR TREK 3'?
09/29/14 @ 5:06 pm EST
Source:
The Verge
| Categories:
Star Trek
|
Comments
(0) |
E-mail Article
|
Add a Comment


William Shatner's Captain Kirk could be coming back to Star Trek.

Speaking at Wizard World Nashville Comic Con, a typically laconic Shatner said that he'd recently received a call from J.J. Abrams regarding a role in the third Star Trek movie since the series was rebooted in 2009. Shatner said that discussions were preliminary at the moment and that any appearance would depend on what was done with his character, but that he would be "delighted" to return to Starfleet.

Speaking at the convention, Shatner said that he was surprised Abrams had called, as the two hadn't spoken for several years. Abrams had tried to get Shatner into his rebooted Star Trek timeline before, but Abrams said the plan fell through because Shatner made it "very clear that he wanted the movie to focus on him significantly." The planned scene would have reportedly featured Shatner's Captain Kirk singing a version of "Happy Birthday" for Leonard Nimoy's Spock, but it was cut because it was only there to pander to fans.
SEXUAL DUMMY? MATT FRACTION AND CHIP ZDARSKY HAVE JUST THE TIPS FOR YOU!
09/29/14 @ 4:49 pm EST
Source:
Image
| Categories:
Image
|
Comments
(0) |
E-mail Article
|
Add a Comment
This November, Matt Fraction and Chip Zdarsky, creators of the Eisner and Harvey Award-winning bestselling Image Comics series SEX CRIMINALS, will share some of the sexual wisdom that only a year spent creating a comic book about a couple who stop time when they climax can give you, in an elegantly satifical, NSFW hardcover book, JUST THE TIPS.
With tips, tricks, moves, advice, suggestions, stories, and confessions, how-tos, do's, don'ts, and do-agains-but-slower-this-times from the unmissable letters column of SEX CRIMINALS, plus helpful illustrations of hot positions1 and other brand-new material, JUST THE TIPS will give every sex-dummy the tools for totally not sucking at sex anymore.
Fraction spoke for himself and Zdarsky about their new creation: "On the cusp of becoming internationally renowned Sex Experts (note to Chip: we really need to figure out a way to tighten up 'Sex Experts' for the Press Release. Sexexp? Seexperts? Think it over some), Chip and I feel what anyone might feel in our position: drunk, absolutely drunk, with power, and overdosing on raw sex energy. Today: this book. Tomorrow: public office."
JUST THE TIPS is 96 pages of pure sexual knowledge as hard as the covers that contains it, guaranteed3 to take readers' boudoir4 life from boring to brimpin'. It will be in comic book stores on November 26 and bookstores on December 2 and is very available for pre-order now.
PREPS PREVAIL AT 'GOTHAM ACADEMY'
09/29/14 @ 4:17 pm EST
Source:
DC
| Categories:
Gotham
|
Comments
(0) |
E-mail Article
|
Add a Comment
WELCOME TO GOTHAM ACADEMY! Gather your supplies, pack your backpacks, and make sure to double-check your class schedule, because fall semester at Gotham Academy begins October 1st, and trust us when we say this is one time where you definitely don't want to cut class.
Gotham City's most prestigious prep school is a very weird place. It's got a spooky campus, oddball teachers, and rich benefactors always dropping by...like that weirdo Bruce Wayne. But nothing is as strange as the students!
Like, what's up with Olive Silverlock? Is she crazy or what? Where did she go last summer? And what's the deal with her creepy mom? And how come that Freshman MAPS is always following her around? And is Olive still going out with MAPS' older brother Kyle? P.S. Did you hear the rumor about the ghost in the North Hall?!
GOTHAM ACADEMY #1, written by Eisner-Award-nominated artist Becky Cloonan and Brenden Fletcher and illustrated by Karl Kerschl, is on sale this Wednesday.
"I THINK ACTION AND VIOLENCE HAS IT'S PLACE IN STORYTELLING" – WRITING FOR PATHFINDER ON BLEEDING COOL
09/29/14 @ 1:17 pm EST
Source:
Bleeding Cool
| Categories:
Pathfinder
|
Comments
(0) |
E-mail Article
|
Add a Comment
When a writer interviews another writer, you tend to get the most in depth questions as opposed to just an interviewer who has done thousands and thousands of them.
With that in mind over at Bleeding Cool, we have
Michael Uslan
(
Justice, Inc.
) talking about the writing process and working on Dynamite's
Pathfinder
with
Jim Zub
.
To read the interview,
click here.
DAVID WALKER TALKS SHAFT ON BLEEDING COOL
09/29/14 @ 1:13 pm EST
Source:
Bleeding Cool
| Categories:
Dynamite
|
Comments
(0) |
E-mail Article
|
Add a Comment
Dynamite Entertainment
recently announced a new comic series based on the chararacter of
John Shaft
made famous in film by
Richard Roundtree
.
David Walker
is the writer who gets to bring Shaft to the comic book pages and Westfield Comics'
Roger Ash
talked to him about the upcoming series.
To see the Bleeding Cool interview,
click here.
STAR-POWERED 'EQUALIZER' TOPS BOX OFFICE
09/29/14 @ 1:00 pm EST
Source:
ICv2
| Categories:
MIsc
|
Comments
(0) |
E-mail Article
|
Add a Comment


In a contemporary Hollywood dominated by big-budget action franchises and expensive animated features, there is not much of the old star system left, so it is nice to see an unabashed star vehicle like The Equalizer, which stars Denzel Washington in a loose remake of an old CBS TV series about a populist avenger, who comes to the aid of the powerless, top the weekend box office. The Equalizer earned a solid $35 million, making it Washington's third biggest opening ever, and Laika's stop-motion animated The Boxtrolls produced that company's best debut so far. Together the two newcomers helped Hollywood stay on the plus side for the second week in a row as the total of the top 12 films was 1.6% higher than the same weekend last year when Cloudy With a Chance of Meatballs 2 debuted with $34 million.

The Equalizer reunited Washington with director Antoine Fuqua (Training Day) in an "R" rated action film that is easily the biggest "R" rated film September debut ever. The film's audience, which skewed older (65% over 30), but was nearly evenly split between the genders (52% male), gave the film a solid "A-" CinemaScore, which should keep The Equalizer in theaters for quite some time--and, barring a box office collapse over the next few weeks, should also insure that Denzel will get to make his first sequel, if he so chooses.

Meanwhile James Gunn's Guardians of the Galaxy remained in the Top Ten for the ninth week as it earned $3.8 million to bring its domestic total to $319 million. Guardians has now surpassed the domestic total for the original Iron Man movie ($318 millon) and trails only Iron Man 3 and The Avengers among Marvel Studios' productions in the domestic market.
WHAT DO WE KNOW ABOUT THE NEW COMICS CUSTOMER? ICV2 WHITE PAPER LOOKS AT THE DATA
09/29/14 @ 12:56 pm EST
Source:
ICv2
| Categories:
MIsc
|
Comments
(0) |
E-mail Article
|
Add a Comment
The composition of the comics and graphic novel audience is changing rapidly, even as the total pie has been getting bigger. What facts can we discern about this influx of customers from the sales data and other sources, and what does that they tell us about the future?

The growth in the comics and graphic novel market, to $870 million last year, has been occurring rapidly (up 22% from $715 million only two years earlier, in 2011), and in a unique way: print sales have been growing even as digital is taking an increasing share of the market.

The growth appears to be driven by a confluence of several long-forming trends. The growth of digital, although slowing, does not appear to have hurt print sales and may even have helped them, a phenomenon that's unique among all media.

Manga grew rapidly, crested, dropped just as rapidly, but is now coming back, with often little overlap with purchasers of other types of graphic novels.

Media influence on sales, which had its last peak around 2006 when anime dominated Cartoon Network's programming, is at unprecedented levels, with film, television, and video games providing a rich panoply of a wide variety of properties available as comics and graphic novels.

Conventions and festivals are also growing, with increasing numbers of civilians that don't normally see comics making up a big part of the growth.

As the market has grown, its composition is changing. Kids graphic novels (some, likeMy Little Pony, with significant adult audiences) now comprise a significant part of that market, with growing numbers of titles and massive print runs on some titles. The female audience is growing, and is even starting to be a noticeable percentage of superhero sales, although other genres remain more popular with females overall. And titles other than Big Two superhero titles are bringing (or keeping) males that wouldn't otherwise be buying comics into the market.

What can we learn about the size and composition of these new segments from the data on sales, and what can other data tell us about the underlying trends? We'll present our findings on these and related questions in the ICv2 White Paper, presented at the ICv2 Conference next week. Attendees at the Conference can receive a copy of the presentation on request.

The ICv2 Conference: The New Comics Customer will take place at the Jacob Javits Convention Center from 1 p.m. to 5 p.m. on Wednesday afternoon, October 8th.
ART PROCESS – HOLMES VS HOUDINI #1 BY CARLOS FURUZONO
09/28/14 @ 2:58 pm EST
Source:
Bleeding Cool
| Categories:
Sherlock Holmes Vs Harry Houdini
|
Comments
(0) |
E-mail Article
|
Add a Comment
Over at
Bleeding Cool,
they have some art process pages for the upcoming
Dynamite
series
Holmes Vs Houdini
#1.
The series is being written by the
Kill Shakespeare
team of
Anthony Del Col
and
Conor McCreery
with art by
Carlos Furuzono
. To see Furuzono's work,
click here.
JOE CASEY TALKS WORKING ON CAPTAIN VICTORY: A DYNAMITE INTERVIEW ON BLEEDING COOL
09/27/14 @ 10:41 pm EST
Source:
Bleeding Cool
| Categories:
Captain Victory and The Galactic Rangers
|
Comments
(0) |
E-mail Article
|
Add a Comment
The cosmic saga of
Captain Victory and the Galactic Rangers
continues with the fourth issue. The Rangers risk destruction to find their lost captain and a legacy of violence catches up to our heroes – both of them!
Byron Brewer
caught up with
Joe Casey
to talk about the latest issue and the writer turns out to be as mysterious as the fate of the heroic Captain.
BYRON BREWER: Joe, how does it feel to be guiding the adventures of one of King Kirby's greatest cosmic characters?JOE CASEY:
Obviously, it gives me the kind of tingles that I can't even describe in mixed company.
BB: We are four issues into this mini. Do you think it has reflected the legacy of its creator?
JC:
We're doing the best we can. But I think the best is yet to come.
BB: Since Captain Victory is a new property to me, are you doing all-new stories of the adventures of the Rangers or adapting previous works of Kirby?JC:
It's all new stories, but there are buckets of nods to the concepts and the mythology that Kirby set up in the original series.
BB: What is it like working with Nathan Fox and the rest of these wonderful comic book artists?
JC:
More tingles, obviously. For fans of cutting edge comic art, this book is a dream come true. And, like I said, it's going to get better from here.
BB: Although it is a tad early, any of the Rangers crew you especially like writing? Anyone you would like to see "spun off" should readership warrant it?JC:
Love 'em all. Their interactions are a blast to write. They have a chemistry that only works when they stick together.
BB: #1 started off with a real bang! Is this sense of wonder and grandeur – so Kirbyesque – hard to achieve issue after issue for a writer?
JC:
Depends on the writer, I guess.
BB: The manner in which Captain Victory himself was introduced has made it harder to get to know him as a character. Do you think this might hurt the book?JC:
I guess we'll find out, won't we? Hasn't seemed to be a problem so far. Getting readers intrigued in who and what the main character is all about is a good thing.