THE CHAMELEON & SANDMAN WILL TAKE PETER PARKER TO THE ENDS OF THE EARTH IN AMAZING SPIDER-MAN!
02/27/12 @ 10:09 am EST
Source:
Marvel
| Categories:
Amazing Spider-Man
|
Comments
(0) |
E-mail Article
|
Add a Comment
The next big Spider-Man epic begins in
Amazing Spider-Man #682
, part one of
Ends Of The Earth,
by Dan Slott and Stefano Caselli! The Sinister Six, led by the vengeful Doctor Octopus, is back and they're looking for revenge!
Can Spider-Man & Earth's Mightiest save the world before Doc Ock's explosive endgame is revealed? Find in
Amazing Spider-Man #682
hitting comic shops and the
Marvel Comics app
this March!
For one more final Ends of the Earth teaser, head on over to
Marvel.com
!
Join the conversation on Twitter with
#SpiderMan
.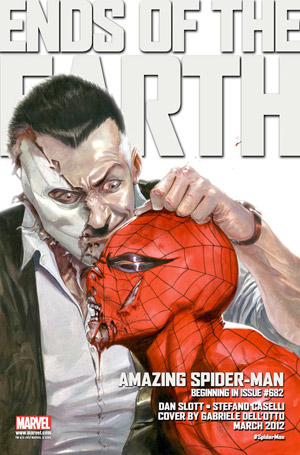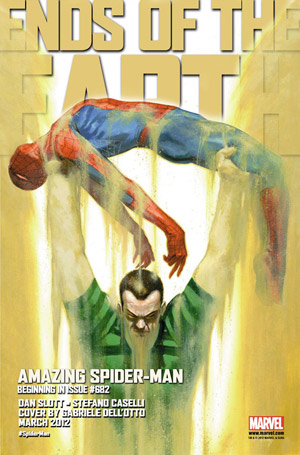 AMAZING SPIDER-MAN #682 (JAN120658)
AMAZING SPIDER-MAN #682 DELLOTTO VARIANT (JAN120659)

Written by DAN SLOTT
Pencils & Cover by STEFANO CASELLI
Variant Cover by GABRIELE DELL'OTTO
Colors by FRANK MARTIN JR.
FOC – 2/27/12, ON SALE – 3/21/12
To find a comic shop near you, visit
www.comicshoplocator.com
or call 1-888-comicbook.


Marvel Entertainment, LLC, a wholly-owned subsidiary of The Walt Disney Company, is one of the world's most prominent character-based entertainment companies, built on a proven library of over 8,000 characters featured in a variety of media over seventy years. Marvel utilizes its character franchises in entertainment, licensing and publishing. For more information visit
www.marvel.com
'JASON BOURNE' STORMS CHINA WITH $12.3M OPENING DAY; SETS FRANCHISE BEST
08/23/16 @ 8:16 pm EST
Source:
Deadline
| Categories:
MIsc
|
Comments
(0) |
E-mail Article
|
Add a Comment
Universal's
Jason Bourne
had its Beijing premiere on August 16 with stars Matt Damon and Alicia Vikander on the red carpet. Today, the movie opened in the Middle Kingdom to an estimated
$12.3 million
. That makes it by far the biggest bow in the franchise's history and puts it on track to best the lifetime total of
The Bourne Legacy
in the territory. That previous film was the series' highest grosser inChina at a $34.2M total and started its Middle Kingdom outing with $12.7M over four days.
Current worldwide box office on director Paul Greengrass'
Jason Bourne
reteam with Damon is $284.2M, outstripping the $276M of
The Bourne Legacy
. The international portion is $151.3M. It still has 15 markets to come, including Mexico this weekend.
When it first came on the international scene,
Jason Bourne
logged the biggest international opening day for the franchise and cracked the best offshore weekend launch ever in the series.
Eyes have been on
JB
becoming the overall biggest in the franchise abroad. Each of the previous pics starring Damon drew higher numbers domestically versus international.
The Bourne Legacy
, which went a Damon-less route in 2012, was the only one in the series to have made more overseas.
DREAMWORKS ANIMATION'S 'CROODS 2' GETS REWRITE WITH HAGEMAN BROTHERS
08/23/16 @ 8:11 pm EST
Source:
Deadline
| Categories:
MIsc
|
Comments
(0) |
E-mail Article
|
Add a Comment
Kevin and Dan Hageman, the screenwriting brothers who came up with the story for Warner Bros' blockbuster
The Lego Movie
, have just been hired byDreamWorks Animation to rewrite
The Croods 2
, the sequel to studio's 2013 film that grossed $587.2M worldwide.
The film was supposed to be released on December 22, 2017, by 20th Century Fox, but the studio recently put
The Story of Ferdinand
in its place after DWA sold to NBCUniversal. Since
The Croods 2
now is outside of Fox's distribution contract, Universal Pictures will be announcing a new date for the animated family film for sometime in 2018.
DWA today announced its new executive team over at NBCUniversal, which acquired the company earlier this year for $3.8B (the sale completed officially yesterday).
MARVEL HONORS JACK "THE KING" KIRBY WITH A WEEK LONG CELEBRATION
08/23/16 @ 8:08 pm EST
Source:
Marvel
| Categories:
Marvel
|
Comments
(0) |
E-mail Article
|
Add a Comment
He's the King of Comics! A man who left an indelible mark upon the medium, using his peerless imagination to create some of the greatest stories and characters ever told. All this week, join Marvel.com for a celebration devoted to all things Kirby with Marvel's
KIRBY WEEK
.
Jack "The King" Kirby is one of the founding fathers of the Marvel Universe and from August 22nd to the 28th--what would have been Kirby's 99th birthday--Marvel will pay homage to the incredible and iconic contributions Kirby has made to the House of Ideas, entertainment, and pop-culture.
During
KIRBY WEEK
fans will get to explore how Jack Kirby brought his creative genius to the Marvel Universe through several articles devoted to "The King" himself. Check out the first in-depth article devoted to the origins of one of Jack's most monstrous creations -
The Incredible Hulk
.
Marvel.com will also be releasing several podcasts speaking with Neal Kirby, as well as comic book historian, Peter Sanderson, for exclusive interviews on how Jack Kirby has influenced some of the most iconic creative voices and talent of today. Additionally, Marvel.com will also be sharing some of the most iconic moments from Jack Kirby's historic catalogue of Marvel milestones all week long.
Whether it was westerns, romance, war, horror, sci-fi, humor or Super Heroes – Jack Kirby could do it all through genre-defining stories, and charted a decade-spanning course for graphic fiction as a whole. Use #KirbyWeek on social media and share your favorite Jack Kirby stories, moments, art, and characters.
So join us this week for your chance to honor one of the masterminds behind the Marvel Universe through Marvel.com's
KIRBY WEEK
. Hail to the King!
"VAMPIRE DIARIES" ALUM CONFIRMED TO PLAY SAVITAR ON "THE FLASH" S3
08/23/16 @ 8:03 pm EST
Source:
Comic Book Resources
| Categories:
DC
|
Comments
(0) |
E-mail Article
|
Add a Comment
"The Vampire Diaries" alum Todd Lasance will reportedly play the villainous speedster Savitar on "The Flash" Season 3. According to The Hollywood Reporter, Savitar will be one of two "big bads" in "The Flash's" third season -- the other being Doctor Alchemy.
Created in 1995's "The Flash" (Vol. 2)" #108 by Mark Waid and Oscar Jimenez, the villain was central in the fan-favorite "Dead Heat" arc, and went on to appear in Geoff Johns and Ethan Van Sciver's "Flash: Rebirth." Savitar was a Cold War-era pilot from a third-world nation whose plane was struck by lightning, giving him super-speed and a strong connection to the Speed Force. Naming himself after Savitr, the Hindu god of motion, the character studied elements of the Speed Force that were unknown to other speedsters at the time, eventually forming his own cult. Savitar developed the ability to create a force field, regenerate and transfer speed to other objects and people.
Lasance starred as the antagonistic vampire character Julian on "The Vampire Diaries'" seventh season. He has also appeared in "Spartacus: War of the Damned," "Bikie Wars: Brothers in Arms," "Crownies" and "Home and Away."
"The Flash" races back to the small screen on Tuesday, October 4 at 8pm ET on the CW.
TOTALLY AWESOME HULK WILL 'CHANGE THE WORLD' IN NEW "CHAMPIONS" TEASER
08/23/16 @ 3:38 pm EST
Source:
Comic Book Resources
| Categories:
Marvel
|
Comments
(0) |
E-mail Article
|
Add a Comment
This fall, Amadeus Cho's Totally Awesome Hulk becomes a champion. The character will join Viv Vision, Ms. Marvel, Nova, Spider-Man and the teenage Cyclops in Mark Waid and Humberto Ramos' new series "Champions," which arrives in October as Marvel's line-wideMarvel NOW! initiative. Hulk is the heart of this second "Champions" teaser, which follows in the footsteps of Viv Vision's own sneak peek.
As with previous teasers, it's likely that Marvel will have more solo shots of the rest of the team coming later this week. Keep checking back with DF News for more "Champions" teasers as Marvel NOW! approaches.
"Champions" #1 from Mark Waid and Humberto Ramos arrives in stores on October 5th.
"AGENTS OF SHIELD'S" DAISY IS 'SEEKING PENANCE' AS QUAKE
08/23/16 @ 3:23 pm EST
Source:
Comic Book Resources
| Categories:
Marvel
|
Comments
(0) |
E-mail Article
|
Add a Comment
When the "Agents of S.H.I.E.L.D." Season 3 finale flashed forward by six months, Daisy had left the team and become a vigilante of her own. Speaking to The Hollywood Reporter, Chloe Bennet revealed Daisy's motivations for becoming the vigilante Quake and why her actions are hurting rather than helping her friends in Season 4.
"It all stems from this hurt that she's going through," Bennet explained. "It's not necessarily her being this great superhero all of a sudden. She really becomes Quake because of the past she's had and the loss she's dealing with. It's not perfect. That's why Marvel resonates with so many people, the level of imperfection that these so-called superheroes have. She becomes Quake because she goes rogue, because every time she gets close to someone they die. Her mom tried to kill her and her dad had to kill her mom and her first boyfriend was like a Nazi -- she's had a rough go these past couple of years."
"Having her boyfriend Lincoln sacrifice himself for her when she was going to do it for him and die in that heroic, tragic way while talking to her, that was the straw that broke the camel's back," she continued. "Her way of protecting the people that she cares about is really by distancing herself from them and not letting anyone else get close to her. In her mind, that's her way of showing love to the people she cares about."
"I don't think it will last very long," she added, saying, "but we're on episode three and I've had some of the best days I've ever had shooting these scenes. I'm doing some of the most crazy stunts I've ever done. It's laced with all this pain and resentment. She's seeking penance for the loss that she feels responsible for."
"The reason she's so independent this season is for all the wrong reasons this time around, unfortunately. She's trying really hard and I know her intentions are to do right by her team by distancing herself from them but she's actually hurting them and I don't think she's making the right decisions," she shared. "Her independence is coming from a certain sadness and she's running from something instead of being truly independent in this case. I'd like to see her resolve that."
As to whether or not Daisy will have a new love interest in the upcoming season, she said, "I'd like to see her on her own for a while. I don't think it would be right for her to be with someone else so early. But I want to see her find happiness. I'd love Coulson [Clark Gregg] to be happy. I just want an episode where they all like go to the movies and pick up some pizza from Costco on the way back and just hang out. I'd love a low-key chill episode where they just don't do anything and they're on a Netflix binge and Coulson doesn't want to watch Stranger Things but Daisy does. I'd be really into a version of SHIELD where they're all fighting over what to watch.
Bennet also revealed just how Daisy evolved into Quake. "I know the writers were particular about how they wanted to introduce her as Quake," she recalled. "There was another point where they were going to do that earlier on this season but I love the way that they did with the flash forward and the newspaper articles. And I actually read those articles. Someone, I don't know who, but they actually typed out all of the stories and they were actual articles written about Quake. That was really fun to see."Starring Clark Gregg, Chloe Bennet and Ming-Na Wen, "Agents of S.H.I.E.L.D" returns Tuesday, September 20 at 10 pm EST on ABC.
"CAPTAIN AMERICA: CIVIL WAR" CONCEPT ART SHOWS CAP FIGHTING ANT-MAN
08/23/16 @ 3:11 pm EST
Source:
Comic Book Resources
| Categories:
Marvel
|
Comments
(0) |
E-mail Article
|
Add a Comment
A new piece of "Captain America: Civil War" concept art from artist Andy Park reveals a major shift in allegiance for one member of Team Cap: Ant-Man. In the piece, Captain America goes head-to-shield with Ant-Man during the infamous airport scene, where both Cap and Iron Man's teams clashed in a big way.
In the film, Ant-Man -- who levels up to Giant-Man in this sequence -- is solidly on Team Cap; Falcon recruits him onto Cap's side, and he fights Team Iron Man until his arrest. In fact, he used his enlargement ability in order to distract Team Iron Man from realizing that Cap and Bucky were on their way to steal the Quinjet. However, Park's concept art reveals that Ant-Man's role was almost very different -- unless, of course, there's more here than meets the eye.
"GOTHAM" CASTS MAD HATTER'S SISTER FOR SEASON 3
08/23/16 @ 3:00 pm EST
Source:
Comic Book Resources
| Categories:
DC
|
Comments
(0) |
E-mail Article
|
Add a Comment
"Gotham" has cast Mexican actress Naian Gonzalez Norvind as the Mad Hatter's(Benedict Samuel) younger sister, Alice Tetch, for the third season of the DC Comics-based series.
According to Variety, Norvind's Alice Tetch will be a recurring guest role, and is set to debut in the third episode of Season 3.
The site notes, "Alice was born with a powerful ability that she cannot control -- an ability her brother believes is a gift, but that she has always seen as a curse. As such, she has spent much of her life alone, running from her brother -- who will stop at nothing to be reunited in hopes of unleashing her gift on the world."
Though Alice Tetch isn't a villain in the comics, an "Alice In Wonderland"-inspired character named Alice -- who claims to have no connection to the Mad Hatter -- is a major antagonist for Batwoman, and is allegedly her "dead" twin sister.
"Gotham" returns Monday, September 19 at 8pm ET on FOX.
ANIMATED ADAM WEST "BATMAN" TRAILER REVEALS CATWOMAN'S UNHOLY ALLIANCE
08/23/16 @ 2:57 pm EST
Source:
Comic Book Resources
| Categories:
DC
|
Comments
(0) |
E-mail Article
|
Add a Comment
Quadruple the trouble, quadruple the fun! In a new trailer for "Batman: Return of the Caped Crusaders," Catwoman forms an alliance with Joker, Penguin and Riddler -- which means that Batman and Robin will have their hands full in the latest animated film from DC Entertainmentand Warner Bros. Animation.
Trailer:
https://youtu.be/5r6a8bOahFQ
"BATMAN/TMNT" ANIMATED CROSSOVER DEBUTS COVERS, STORY DETAILS
08/23/16 @ 2:53 pm EST
Source:
Comic Book Resources
| Categories:
MIsc
|
Comments
(0) |
E-mail Article
|
Add a Comment
IDW Publishing exclusively provided CBR with four covers and solicit info for the upcoming comic book crossover "Batman/TMNT Adventures," based on the "New Batman Adventures" and "Teenage Mutant Ninja Turtles" animated series.
From the "TMNT: Amazing Adventures" creative team of writer Matthew K. Manning and artist by Jon Sommariva, "Batman/TMNT Adventures" sees villains from the Caped Crusader's Rogues Gallery escape to New York City, the home turf of the Ninja Turtles. The series marks the second "Batman/TMNT" crossover this year, after the last miniseries by James Tynion IV and Freddie Williams II, which is currently available to purchase as a collected edition.
Take a look at the covers and solicit info for "Batman/TMNT Adventures" #1 below:
Covers by (L-R) Hilary Barta, Jon Sommariva, Cieo Nieli and Kevin Eastman
Batman/TMNT Adventures #1 (of 6)—SPOTLIGHT
Matthew K. Manning (w) • Jon Sommariva (a & c)
When villains start to mysteriously escape Arkham, Batman seeks to track them down. What happens when he discovers that they have left Gotham completely… and entered the TMNT's New York City?
FC • 32 pages • $3.99
Expected in-store date: 11/9/16