THE NINJETTES ISSUE ONE WRITER'S COMMENTARY BY AL EWING
02/21/12 @ 2:52 pm EST
Source:
Dynamite Entertainment
| Categories:
The Ninjettes
|
Comments
(0) |
E-mail Article
|
Add a Comment
Slicing! Dicing! And kicking real high! From the pages of Garth Ennis'
Jennifer Blood
, here come the Ninjettes in their very own series! This team of super-sexy ninja girls has hit the comic racks and they they've hit them real hard—Ouch!
Now, fans of leather-clad gals and senses-shattering, blood-splattering, sword-swinging, karate-chopping action can get a unique behind the scenes look at what goes into creating of
The Ninjettes
with this writer's commentary by Al Ewing, the writer of
The Ninjettes
! Check out what it takes to become a Ninjette and what goes into making this smash (and slash) hit sensation from Dynamite Entertainment!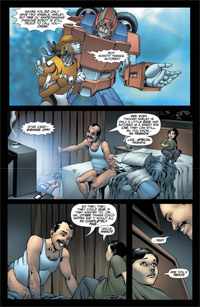 The Ninjettes #1: Writer's Commentary – by Al Ewing

PAGE #1


Boy howdy! Eman could knock a robot-based comic out of the park.
The Star Cars are something Garth Ennis invented for
Jennifer Blood
, a fairly standard-sounding aimed-at-boys commercial-for-toys thing that popped up once or twice in the background. I'm treating it here like Transformers – I love the moustache on the Optimus Prime figure – but I imagine there's all sorts of other nonsense in there as well, little lifts from Mask, He-Man... at some point I'll give it a decent skewering...
Visit
here for the complete The Ninjettes #1: Writer's Commentary by Al Ewing!
BOND 24 TO START FILMING IN DECEMBER
09/15/14 @ 8:03 pm EST
Source:
Bleeding Cool
| Categories:
James Bond
|
Comments
(0) |
E-mail Article
|
Add a Comment
The twenty-fourth chapter in the
James Bond
franchise is set to go before the cameras this December.
Sam Mendes
will be back once again to helm the movie along with screenwriters
John Logan
,
Neal Purvis
and
Robert Wade
.
Cast wise we'll see the return of
Daniel Craig
(
Bond
),
Ralph Fiennes
(
M
),
Naomi Harris
(
Miss Monneypenny
), and
Ben Whishaw
(
Q
). Fiennes of course took over the role of M at the end of
Skyfall
which will make the first Bond movie without
Judi Dench
in over 20 years.
The report says that casting for a new Bond Girl and villain are underway.
RUMORS OF AN OBI WAN KENOBI STAND ALONE FILM
09/15/14 @ 7:58 pm EST
Source:
Bleeding Cool
| Categories:
Star Wars
|
Comments
(0) |
E-mail Article
|
Add a Comment


From the website MakingStarWars.Net (via Bleeding Cool), comes a rumor from what the site, er uh, sights as a "source" saying that a Kenobi stand-alone movie is in the works:

"Obi-Wan Kenobi – I've heard from quite a few people now that an Obi-Wan Kenobi movie is in the works. For the spin-off movies they were initially going to stay away from any Jedi or Sith characters. But I'm hearing now that because of the popularity of Obi-Wan (fans recently voting for him on the official website etc) that an art team is now working with a writer on concepts for an Obi-Wan movie."

Only a rumor now, mind you. But Disney said there would be a movie a year from the franchise, so …
EVERYONE NEEDS A SUPERHERO: RUNNING FOR THE CHILDREN IN KENTUCKY
09/15/14 @ 7:48 pm EST
Source:
Lexington CASA
| Categories:
MIsc
|
Comments
(0) |
E-mail Article
|
Add a Comment
Every child needs a hero, but abused children need superheroes!
On September 20, superheroes of all ages will gather at Coldstream Park in Lexington, KY, for a 5K, kids run and lots of special activities as a fundraiser to help the abused children of the Bluegrass.
This is not your typical 5K. There will be hidden superhero figurines along the course that can be redeemed at the finish for special prizes. All children 12 and under will receive custom CASA Superhero Run capes with registration.
There will also be awards for the largest groups in the following categories: friends & family, business or organization, church team, and Greek team.
There will be costume contests with 1st, 2nd, and 3rd place prizes for the best Super Kid, Super Pet, Traditional Superhero, Original Superhero, and Super Group.
The 1K will start at 9 AM and at the conclusion of the 1K or 9:15 AM (whichever is later) the 5K will begin.
CASA is a group of community volunteers trained to step into courtrooms on behalf of the children: Court Appointed Special Advocate (CASA) volunteers.
In 1986 Don Paris, then a District Court Judge, attended the National Judicial College in Reno, Nevada. There he participated in a workshop on CASA. He embraced the concept and returned to Lexington determined to develop a program. Working with Sue Timmons, Dependency Coordinator for Juvenile Court Services, the two developed the CASA Project of Lexington.
On February 15, 1990 the CASA Project adopted the Friend of Court Model. In this model the judge utilizes the CASA as an impartial observer to serve as the eyes and ears of the court. CASA of Lexington operated solely as a project of Lexington-Fayette Urban County Government's Department of Social Services until May 2003, when the program incorporated and became a non-profit organization.
The program continues its relationship with the Lexington Urban County Government, while the non-profit status enables it to seek grants, tax-deductible donations, and other forms of support. The program is currently funded by grants, donations, fundraising, and continued support from local government, making it a unique public-private partnership.
Currently, CASA of Lexington has 57 volunteers serving 139 children in Fayette County.
For more information,
check this out, hero!
--
Byron Brewer
SPIDER-HAM TO GET HIS OWN SINGLE SLICE
09/15/14 @ 5:57 pm EST
Source:
Bleeding Cool
| Categories:
Spider-Man
|
Comments
(0) |
E-mail Article
|
Add a Comment


From the Amazon listing of the Spider-Verse hardcover … a little look at the contents reveals…

AMAZING SPIDER-MAN 7-15, SUPERIOR SPIDER-MAN 32-33, FREE COMIC BOOK DAY 2014 (GUARDIANS OF THE GALAXY) 1 (5 PAGE SPIDER-MAN STORY), SPIDER-VERSE 1, SPIDER-VERSE TEAM-UP 1-3, EDGE OF SPIDER-VERSE 1-4, SCARLET SPIDERS 1-3, SPIDER-WOMAN 1-3, SPIDER-MAN 2099 6-8, SPIDER-HAM: PIG TIME

Looks like the hero that can do anything a porker (Peter Porker, that is) can is in a one-shot!

Can Forbush Man be far behind??
GUINNESS NAMES WORLD'S LARGEST COMIC COLLECTION
09/15/14 @ 5:50 pm EST
Source:
ICv2
| Categories:
MIsc
|
Comments
(0) |
E-mail Article
|
Add a Comment
The 2015 edition of the
Guinness Book of World Records
names Bob Bretall of Mission Viejo, California as the owner of the world's Largest Collection of Comic Books, Bretall announced on his blog. At the time he submitted his collection (May 1), he had 94,268 individual comics, which he explained does not include any duplicates. Each comic was purchased as an individual issue; there were no bulk buys.
Bretall distinguishes his collection from retailer/dealer inventory, and says he's read 90-95% of the comics he owns. He declined to value any of his comics.
"I do not like to emphasize the moneteray aspects of collecting comics," he explained. "Too many stories about comics collecting focus on how many $$ everything is worth instead of the great stories and characters."
SHERIFF ATTACKS 'SOUL EATER,' SAYS CAUSED ARSON ATTACK
09/15/14 @ 5:46 pm EST
Source:
ICv2
| Categories:
MIsc
|
Comments
(0) |
E-mail Article
|
Add a Comment


A Florida sheriff has attacked the manga Soul Eater as being a cause of an arson attack in which a 14-year-old girl set fire to the garage of her home while her mother and brother were sleeping inside, then ran away.

They both escaped safely, but Pasco County Sheriff Chris Nocco, in remarks transcribed by the Comic Book Legal Defense Fund, tied the arson to the Soul Eater manga and Slender Man, an Internet meme that's the subject of online fiction and drawings.

"I understand there's a First Amendment and we defend the Constitution, I believe in it," Nocco said. "However, when there's times when they know they're putting things up there and their targeted audience, you know, they're absolutely manipulating their brain, causing them to do things, you know, such as try to set, you know, kill people, harm them, and this girl's situation, you know, it leads to her trying to burn her family, kill her family? ..."
FRANK CHO'S 'SKYBOURNE' AND 'WORLD OF PAYNE' COMING
09/15/14 @ 5:41 pm EST
Source:
ICv2
| Categories:
MIsc
|
Comments
(0) |
E-mail Article
|
Add a Comment
Frank Cho has made two recent announcements about new creator-owned series launching in 2015: World of Payne from Flesk Publications in the spring, and Skybourne from BOOM! Studios in the fall.

Details about the Skybourne series are scarce, but BOOM! confirmed that it was the publisher for the planned release.


Cho will partner with Thomas Sniegoski (Stupid, Stupid Rat Tails, Talent) for the urban-fantasy World of Payne. The story follows psychic private investigator Lockwood Payne, a modern day sorcerer descended from an ancient society of witches and wizards.
SCOTT GLENN JOINS MARVEL'S DAREDEVIL FOR NETFLIX
09/15/14 @ 5:32 pm EST
Source:
Marvel
| Categories:
Daredevil
|
Comments
(0) |
E-mail Article
|
Add a Comment
Marvel and Netflix are proud to announce that acclaimed actor Scott Glenn has joined "Marvel's Daredevil," an all-new 13-episode series premiering on Netflix in 2015.
Best known for his work in blockbuster films such as "The Bourne Ultimatum," "Silence of The Lambs" and "The Hunt For Red October," Scott Glenn will play Stick, the mysterious martial artist and mentor of Matt Murdock (a.k.a. Daredevil).
Scott Glenn joins Charlie Cox (Matt Murdock), Deborah Ann Woll (Karen Page), Elden Henson (Foggy Nelson), with Rosario Dawson and Vincent D'Onofrio (Wilson Fisk) in the critically-lauded cast of "Marvel's Daredevil."
"Stick is one of the most important figures in Matt Murdock's life and Scott Glenn embodies all the qualities of someone so integral to this hero's journey," said Jeph Loeb, Marvel's Head of Television. "There are few actors who could bring such the authenticity, gravitas and charisma to such a key role in Matt's journey to become the super hero we call Daredevil."
"Marvel's Daredevil" follows the journey of Matt Murdock, who was blinded as a young boy but imbued with extraordinary senses, now fighting against injustice by day as a lawyer, and by night as the super hero Daredevil in modern day Hell's Kitchen, New York City.
Marvel's first original series on Netflix is Executive Produced by series Showrunner Steven S. DeKnight ("Spartacus," "Buffy: The Vampire Slayer," "Angel") and Drew Goddard ("Cabin in the Woods," "Lost," "Buffy The Vampire Slayer," in addition to writing the first two episodes of "Marvel's Daredevil"), along with Marvel TV's Jeph Loeb ("Marvel's Agents of S.H.I.E.L.D.," "Smallville," "Heroes").
"Marvel's Daredevil" is produced by Marvel Television in association with ABC Studios for Netflix
THANOS VS. HULK #1 MATCHES MAD TITAN AGAINST GREEN GOLIATH
09/15/14 @ 3:28 pm EST
Source:
Marvel
| Categories:
Hulk
|
Comments
(0) |
E-mail Article
|
Add a Comment
This December, legendary fan-favorite Jim Starlin returns for an action-packed, smash-filled limited series spanning the cosmos in
THANOS VS. HULK #1
! That's right True Believer, time to find out if Hulk is truly the strongest there is as he throws down with Thanos across the far reaches of the Marvel Universe!
Abducted by Pip the Troll, Bruce Banner has been dragged halfway across the galaxy, set to be ransomed to one of the most vile beings in the galaxy –
Annihilus
! Annihilus has something Pip wants, and he's willing to go to any lengths to get it, even kidnapping the Incredible Hulk! Annihilus plans to use the Jade Giant for his own destructive ends. Ones that will put the Hulk directly in the path of Thanos, the Mad Titan!
"For this story, Jim Starlin does what Jim Starlin does best --- tell a thrilling, cosmic tale," says Editor Wil Moss. "And everyone from Iron Man and Pip the Troll to Blastaar and Annihilus is involved. But the main event, of course, is the Thanos/Hulk showdown, and Jim delivers a confrontation that's going to be every bit as mind-blowing as you'd expect!"
Guest starring Iron Man, Blastarr, S.H.I.E.L.D. and more, be there when two of the Marvel Universe's heaviest hitters come to planet-shaking blows! Who will emerge victorious? And when the dust settles, will anything be left standing? Find out when Jim Starlin returns for the cosmos for the explosive
THANOS VS. HULK #1
, on sale in December!
THANOS VS. HULK #1 (of 4)
Written by JIM STARLIN
Art & Cover by JIM STARLIN Variant Cover by RON LIM On Sale in December!
DYNAMITE LAUNCHES LADY DEMON
09/15/14 @ 2:38 pm EST
Source:
Dynamite
| Categories:
Lady Demon
|
Comments
(0) |
E-mail Article
|
Add a Comment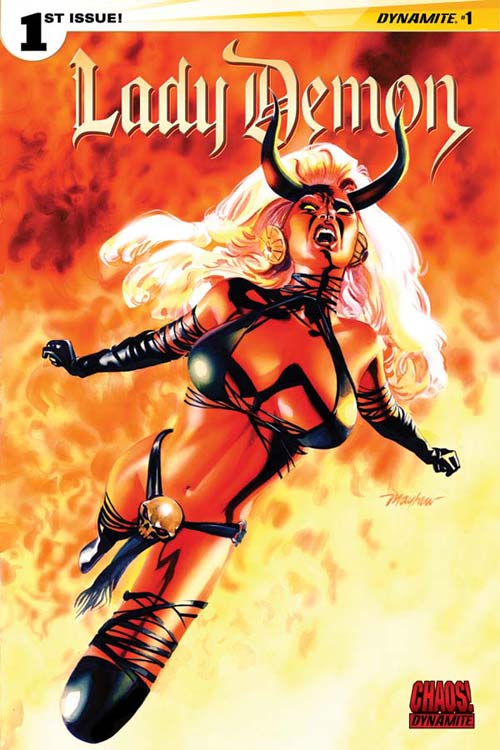 Dynamite Entertainment is proud to re-introduce comic book fans to Lady Demon, the vivacious and vicious hellraiser who served as a cornerstone of the Chaos! Comics horror universe. Marking her first appearance in fifteen years, the fan-favorite character will star in her own self-titled comic series, written by Aaron Gillespie and illustrated by Mirka Andolfo. Lady Demon #1 is scheduled for a December release, and will feature a wealth of comic book cover options, including those by artists Joyce Chin, Mirka Andolfo, Allison Sohn, Cat Staggs, Cedric Poulat, and Mike Mayhew.

The original Lady Demon won legions of fans with her spitfire attitude and sultry looks in the original line of Chaos! Comics titles during the 1990s. Now, as Dynamite Entertainment revives the brand with a bold new look and attitude (with such bestselling comic series as Chaos, Evil Ernie, Purgatori, Chastity, and more), Lady Demon debuts her new incarnation in her very own title. The solicitation for Lady Demon #1 sets the stage: "On the run from Lucifer's hit squad, Lady Demon rides a newly arrived soul back to earth. Little does she know, the soul is attached to a woman in the middle of a dark conspiracy. That suits Lady Demon just fine... because it means she gets to kill a whole lot of people."

"Lady Demon is the natural choice for the next Dynamite / Chaos! character," syas Aaron Gillespie, whose Lady Demon series runs concurrently alongside his in-universe Purgatori series. "She brings the same delightfully nasty attitude and alluring visual aesthetic as the other Chaosmainstays, but she adds an action element that will be unique to her book. While the other Chaosbooks dealt with world-ending battles and intricate plots, the Lady Demon miniseries focuses on the woman Lade Demon possessed. I am using Lady Demon to tell a violent, sexy, and still very human story of revenge and redemption."

"Fans have been asking about Lady Demon since before our first Chaos! book even hit shelves," says Nick Barrucci, Publisher and CEO of Dynamite Entertainment. "We knew from the start that we had to bring her back in a special way, and now the time has finally arrived. We've been so pleased with the work that our many Chaos contributors have done, Aaron Gillespie and Mirka Andolfo included. Aaron's been delivering month after month on Purgatori, and Mirka's artwork on the world-building (and world-destroying) Chaos miniseries was spectacular. We can't wait for fans to see what these two have planned for Lady Demon."

Lady Demon #1 will be solicited in Diamond Comic Distributors' October Previews catalog, the premiere source of merchandise for the comic book specialty market, and slated for release in December. Comic book fans are encouraged to reserve copies of Lady Demon #1 with their local comic book retailers. Lady Demon will also be available for individual customer purchase through digital platforms courtesy of Comixology, iVerse, Dynamite Digital, and Dark Horse Digital.