THE NINJETTES ISSUE ONE WRITER'S COMMENTARY BY AL EWING
02/21/12 @ 2:52 pm EST
Source:
Dynamite Entertainment
| Categories:
The Ninjettes
|
Comments
(0) |
E-mail Article
|
Add a Comment
Slicing! Dicing! And kicking real high! From the pages of Garth Ennis'
Jennifer Blood
, here come the Ninjettes in their very own series! This team of super-sexy ninja girls has hit the comic racks and they they've hit them real hard—Ouch!
Now, fans of leather-clad gals and senses-shattering, blood-splattering, sword-swinging, karate-chopping action can get a unique behind the scenes look at what goes into creating of
The Ninjettes
with this writer's commentary by Al Ewing, the writer of
The Ninjettes
! Check out what it takes to become a Ninjette and what goes into making this smash (and slash) hit sensation from Dynamite Entertainment!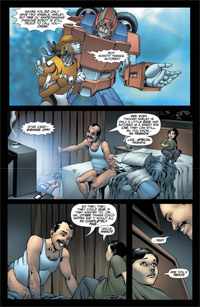 The Ninjettes #1: Writer's Commentary – by Al Ewing

PAGE #1


Boy howdy! Eman could knock a robot-based comic out of the park.
The Star Cars are something Garth Ennis invented for
Jennifer Blood
, a fairly standard-sounding aimed-at-boys commercial-for-toys thing that popped up once or twice in the background. I'm treating it here like Transformers – I love the moustache on the Optimus Prime figure – but I imagine there's all sorts of other nonsense in there as well, little lifts from Mask, He-Man... at some point I'll give it a decent skewering...
Visit
here for the complete The Ninjettes #1: Writer's Commentary by Al Ewing!
FIERY HUMAN TORCH DRONE FLIES AROUND NEW YORK
08/03/15 @ 9:30 pm EST
Source:
Comicbook
| Categories:
Fantastic Four
|
Comments
(0) |
E-mail Article
|
Add a Comment
Twentieth Century Fox partnered with viral marketing company Thinkmodo for a publicity stunt that sent an fiery drone resembling the human torch into the skies over Nassau County's Fire Service Academy in New York.
The video:
https://youtu.be/o3usKUcFVeY
"We understood that it was risky, but we had complete faith in the team we worked with and the local firefighters at the facility who made it their priority to keep everyone and everything safe," said Thinkmodo co-founder Michael Krivicka. "We selected the safest location, a fire training facility, which is designed for the purpose of burning and extinguishing things."
The stunt is meant to promote the opening of
Fantastic Four
.
MARK RUFFALO'S HULK SEEMINGLY CONFIRMED FOR CAPTAIN AMERICA: CIVIL WAR
08/03/15 @ 9:25 pm EST
Source:
Comic Book Movie
| Categories:
Civil War
|
Comments
(0) |
E-mail Article
|
Add a Comment
Mark Ruffalo
's involvment as Bruce Banner/The Hulk in
Captain America: Civil War
has been rumored a few times, but there's been no confirmation from an official side whatsoever so far.
Now it seems as though a Hulk appearance in
Captain America 3
is a done deal.
Some of the cast members (namely
Chris Evans
,
Anthony Mackie
and
Daniel Brühl
) are residing in Germany for shots presently, and according to Germany's biggest Newsletter BILD Mark Ruffalo is definitely working with them on the movie.
The article says (translated from the German):
Since this week, US superstars Chris Evans (34), Mark Ruffalo (47) and Anthony Mackie (36) along with fellow actor star Daniel Brühl are shooting the third part of "Captain America" in Berlin.
The group also supposedly has been seen partying in Berlin's nightlife together.
Though there is only a blurry picture of Daniel Brühl from one of the parties existing, it's hard to imagine, a huge newsgroup like BILD is misinformed about local shots. Until we have visual confirmation, we'll have to wait to be sure though.
FANTASTIC FOUR FEATURETTE – THE REALITIES BEHIND INVISIBILITY
08/03/15 @ 9:12 pm EST
Source:
Bleeding Cool
| Categories:
Fantastic Four
|
Comments
(0) |
E-mail Article
|
Add a Comment
Fox
has released another
Fantastic Four
featurette that looks at the science behind the film. Here
Dr. Michio Kaku
, a theoretical physicist looks at the powers of
Sue Storm
as played by
Kate Mara
. For years scientist thought invisibility was impossible, but now they are working with meta-materials that react to light in unique ways.
Fantastic Four
opens August 7th.
Featurette:
https://www.youtube.com/watch?feature=player_embedded&v=U1KMZruj9Gg
THE ORIGIN OF STAR-LORD… FROM THE GUARDIANS OF THE GALAXY ANIMATED SERIES
08/03/15 @ 9:10 pm EST
Source:
Bleeding Cool
| Categories:
Guardians of the Galaxy
|
Comments
(0) |
E-mail Article
|
Add a Comment
Can't get enough of the
Guardians of the Galaxy
? The wait for May 5th, 2017 too long? Well,
Marvel
has an animated fix for you. Next month the new
Guardians of the Galaxy
animated series kicks off and here we have the two-part origin of
Peter Quill
/
Star-Lord
. Quill if voiced by
Will Friedle
who in the past has voiced
Green Arrow, Blue Beetle, Bumblebee
and many others.
Yondu
is voiced by
James Arnold Taylor
who has voiced
Guy Gardner, The Leader
and
Obi-Wan Kenobi
.
Guardians of the Galaxy
animated series premiers September 26th on
Disney XD
.
Video Part 1:
https://www.youtube.com/watch?feature=player_embedded&v=VQP4Bgm3t28
Video Part 2:
https://www.youtube.com/watch?feature=player_embedded&v=v_RkePR_pZA
MARK WAID AND CHRIS SAMNEE REUNITING ON A NEW MARVEL COMIC?
08/03/15 @ 9:05 pm EST
Source:
Bleeding Cool
| Categories:
Marvel
|
Comments
(0) |
E-mail Article
|
Add a Comment
Coming out of Tampa Bay Comic Con this weekend is the word that the Daredevil team of
Mark Waid
and
Chris Samnee
will be reuniting on an as-yet-unannounced new comic book book from Marvel.
Could it be one of these? Or something new entirely?
Black Widow anyone?
FIND MYSTERY AND FANTASY IN THE FICTION SQUAD TP FROM BOOM!
08/03/15 @ 8:52 pm EST
Source:
Bleeding Cool
| Categories:
MIsc
|
Comments
(0) |
E-mail Article
|
Add a Comment
Looking for myst
ery mashed up with fantasy? Then you don't want to miss out on this upcoming release from BOOM! Studios. Fiction Squad TP, written by Paul Jenkins, with art by Ramon Bachs.

Fablewood is a pretty dangerous place, but no area is more dangerous than the City of Rimes, deep in the heart of the Children's Realm. After transferring in from the realm of Mystery, a failed detective from an unfinished prose novel, Frankie Mack, is about to uncover a conspiracy that could unmake storytelling itself. After Humpty Dumpty is pushed to crack and Jack (of Jack and Jill) goes AWOL, Frankie and his partner, Simple Simon, are put on the case.

It's different than you might expect from a story incorporating fairy tales, being that it's much more quirky and rough around the edges. This trade-paperback collects the entire six-issue miniseries and will release in October.


JENNA DEWAN-TATUM SET AS LUCY LANE IN CBS' 'SUPERGIRL'
08/03/15 @ 8:40 pm EST
Source:
The Hollywood Reporter
| Categories:
DC
|
Comments
(0) |
E-mail Article
|
Add a Comment
CBS'
Supergirl
has cast its Lucy Lane.
Witches of East End
star
Jenna Dewan-Tatum
has been tapped to recur as the DC Comics character,
The Hollywood Reporter
has learned.
Born on the planet Krypton, Kara Zor-El (
Melissa Benoist
) escaped amid its destruction years ago. Since arriving on Earth, she has been hiding the powers she shares with her famous cousin. But now at age 24, she decides to embrace her superhuman abilities and be the hero she was always meant to be.
Set to make her debut in the third episode, Dewan-Tatum will play Lois Lane's younger sister, Lucy. The character is as brash, funny and beautiful as her older sister Lois Lane. Lucy is strong, smart and successful in her own right. She's got a history with Jimmy Olsen (
Mehcad Brooks
) and she's come to town to right a previous wrong.
On the drama from executive producers Greg Berlanti,
Ali Adler
and
Andrew Kreisberg,
Olsen is a love interest for Kara/Supergirl and works with her at CatCo, the media conglomerate overseen by Cat Grant (
Calista Flockhart
).
STAN LEE MAKES HIS PICK IN BATMAN V. SUPERMAN
08/03/15 @ 3:58 pm EST
Source:
Comicbook
| Categories:
Stan Lee
|
Comments
(0) |
E-mail Article
|
Add a Comment
Stan Lee would tell Batman right now that Superman doesn't bleed.
The famed Marvel Comics creator, whose credits include Spider-Man, The Avengers, and The Fantastic Four—made that much clear in a recent interview, where he made his pick in a Batman V. Superman skirmish.When asked which DC Comics superhero would win in a fight, Lee responded, "Superman, I think."
"He's indestructible, he can do anything," Lee elaborated to The Boston Herald. "And Batman relies on a few weapons…But if this were real--a fight between Superman and Batman--there's no way that Batman could win."
But Lee did reveal that, given his loyalties to each character's creators, he did feel torn on picking a winner.
"The creator of Batman, Bob Kane, was a good friend of mine, so he'd be unhappy with me saying that. But at the same time, Jerry Siegel, one of the creators of Superman, worked for me for a while. So I feel I have divided loyalties."
RON PERLMAN DOESN'T WANT TO MAKE HELLBOY 3 BUT HE'LL DO IT ANYWAY
08/03/15 @ 3:53 pm EST
Source:
Slashfilm
| Categories:
Hellboy
|
Comments
(0) |
E-mail Article
|
Add a Comment
Given all the support
Ron Perlman
has given for a potential
Hellboy 3
, you might be surprised to hear he doesn't actually want to make it. That's an unexpected position, since the path of least resistance is to leave it alone and let it never happen. Two studios have already passed on making a sequel, first Columbia and then Universal. Yet Perlman keeps tweeting and rallying Comic-Con support.
After a TCA panel for his Amazon series
Hand of God
, Perlman clarified to reporters why he's pushing so hard.
"Let me make the record clear," Perlman said. "I don't want to do Hellboy 3. It's a pain in the ass to put that makeup on and take it off. But I feel we're obligated to finish the story. That's it. End of conversation."
Even director
Guillermo del Toro
has accepted that he can't get financing for a Hellboy 3, so the only news is news generated by reporters asking and Perlman sharing."I got no problems with forcing the conversation, as you can tell," Perlman said. "We're in the business of moving mountains. Those of us who are used to working in mainstream film and television. Don't come to me with details and problems. Just tell me how we move the mountain."
Del Toro had suggested that there could be a time limit on casting Perlman as Hellboy a third time. The actor is in his 60s and del Toro said, "We better do it quick. Ron is no spring chicken, and soon enough he's going to be Hellboy in a Barcalounger, changing channels, ordering from shopping networks."
Perlman said there's no cutoff point for him.
'DC'S LEGENDS OF TOMORROW' CASTS HAWKMAN FOR 'ARROW' AND 'FLASH' CROSSOVER ARC
08/03/15 @ 3:45 pm EST
Source:
Variety
| Categories:
DC
|
Comments
(0) |
E-mail Article
|
Add a Comment
Hawkman is taking flight at the CW. Falk Hentschel will play the DC Comics hero, also known as Carter Hall, in next season's crossover episodes of "Arrow" and "The Flash," before continuing the role in superhero spinoff series "DC's Legends of Tomorrow," which will bow at midseason.
Carter Hall is the latest reincarnation of an Egyptian Prince who is fated to be reborn throughout time along with his soulmate, Kendra Saunders (aka Hawkgirl, played by Ciara Renée). Like Kendra, Carter can access the powers of the Hawk God, Horus, transforming him into the winged warrior known as Hawkman.
Renée made her first onscreen appearance as Kendra in the season-one finale of "The Flash," while other members of the "Legends" roster have previously been introduced via "Arrow" and "The Flash," including one half of Firestorm, Dr. Martin Stein (Victor Garber), Ray Palmer/the Atom (Brandon Routh), Sara Lance/White Canary (Caity Lotz), Mick Rory/Heat Wave (Dominic Purcell) and Leonard Snart/Captain Cold (Wentworth Miller). Two newcomers to the shared universe, Jay Jackson (Franz Drameh) and Rip Hunter (Arthur Darvill), round out the eclectic team. The CW's two existing superhero shows will help establish the spinoff and its characters through crossover episodes that will be utilized as a kind of backdoor pilot for "Legends" before its midseason debut.