THE NINJETTES ISSUE ONE WRITER'S COMMENTARY BY AL EWING
02/21/12 @ 2:52 pm EST
Source:
Dynamite Entertainment
| Categories:
The Ninjettes
|
Comments
(0) |
E-mail Article
|
Add a Comment
Slicing! Dicing! And kicking real high! From the pages of Garth Ennis'
Jennifer Blood
, here come the Ninjettes in their very own series! This team of super-sexy ninja girls has hit the comic racks and they they've hit them real hard—Ouch!
Now, fans of leather-clad gals and senses-shattering, blood-splattering, sword-swinging, karate-chopping action can get a unique behind the scenes look at what goes into creating of
The Ninjettes
with this writer's commentary by Al Ewing, the writer of
The Ninjettes
! Check out what it takes to become a Ninjette and what goes into making this smash (and slash) hit sensation from Dynamite Entertainment!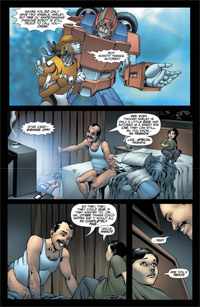 The Ninjettes #1: Writer's Commentary – by Al Ewing

PAGE #1


Boy howdy! Eman could knock a robot-based comic out of the park.
The Star Cars are something Garth Ennis invented for
Jennifer Blood
, a fairly standard-sounding aimed-at-boys commercial-for-toys thing that popped up once or twice in the background. I'm treating it here like Transformers – I love the moustache on the Optimus Prime figure – but I imagine there's all sorts of other nonsense in there as well, little lifts from Mask, He-Man... at some point I'll give it a decent skewering...
Visit
here for the complete The Ninjettes #1: Writer's Commentary by Al Ewing!
C2E2'S OFFICIAL POSTER PUTS THE AVENGERS ON MICHIGAN AVE, BY PHIL NOTO
02/12/16 @ 8:54 am EST
Source:
Bleeding Cool
| Categories:
Avengers
|
Comments
(0) |
E-mail Article
|
Add a Comment
Marvel Comics has provided the poster for C2E2's big show this year in March, featuring the New All Different Avengers with Chicago's Michigan Ave in the background by Phil Noto.
The poster will be given away at C2E2 events leading up to the show and at local comic book stores in the Midwest area.
THE REBELS MEET CHAM SYNDULLA IN NEW STAR WARS REBELS CLIP
02/12/16 @ 8:47 am EST
Source:
Bleeding Cool
| Categories:
Star Wars
|
Comments
(0) |
E-mail Article
|
Add a Comment
NEW YORK READIES FOR INT'L TOY FAIR
02/12/16 @ 8:44 am EST
Source:
Licensemag.com
| Categories:
MIsc
|
Comments
(0) |
E-mail Article
|
Add a Comment
Thousands of toys and games will be unveiled this weekend in New York City at the 113th North American International Toy Fair–the largest toy marketplace in the Western Hemisphere.
Put on by the U.S. Toy Industry Association, NY Toy Fair will open its doors this Saturday at the Jacob Javits Convention Center and take place through Tuesday.
More than 30,000 play professionals–including international buyers from more than 7,000 retail outlets– are expected to attend this year's show, which will feature 415,000-net-square-feet of exhibit space.
"NY Toy Fair kicks-off at a time of success and momentum, following the toy industry's outstanding sales growth in 2015. With over 1,200 passionate exhibitors showing hundreds of thousands of new toys, games and playthings, the excitement is palpable," says Steve Pasierb, president and chief executive officer, TIA. "Professionals from more than 100 countries will be placing orders as well as participating in Toy Fair's educational and networking opportunities. The business transactions, camaraderie, trend spotting and exchange of fresh ideas make our New York City show an unparalleled experience in the toy world!"
TIA's annual Toy Trends Briefing will be held on Sunday. Meanwhile, additional educational sessions will cover toy safety, retail strategies, global market expansion, licensing, entrepreneurship, digital media and more.
DIAMOND PLANS GHOSTBUSTERS COLLECTIBLES
02/12/16 @ 8:41 am EST
Source:
Licensemag.com
| Categories:
MIsc
|
Comments
(0) |
E-mail Article
|
Add a Comment
In anticipation of the upcoming film, Diamond Select Toys, under license from Sony Pictures Consumer Products, will produce a range of
Ghostbusters
collectible products.
The new range will include Minimates mini-figures–including all four Ghostbusters, supporting cast and ghosts–vehicles, vinyl banks, kitchenware and glassware.
Diamond Select will release the Minimates mini-figures in conjunction with the film release July, while the vinyl banks and other products will be released shortly after.
HELLO KITTY COOKS WITH NINTENDO 3DS
02/12/16 @ 8:39 am EST
Source:
Licensemag.com
| Categories:
MIsc
|
Comments
(0) |
E-mail Article
|
Add a Comment
Sanrio and Bergsala Lightweight have released a new game for Nintendo 3DS titled "Hello Kitty's Magic Apron."
The new game features Hello Kitty and her friends as they head to the kitchen for this cooking-inspired game. The game is also packed with mini games designed with younger players in mind."
Hello Kitty's Magic Apron" is now available for download on the Nintendo E-shop.
TRANSFORMERS BATTLE IT OUT ON MOBILE
02/12/16 @ 8:37 am EST
Source:
Licensemag.com
| Categories:
Transformers
|
Comments
(0) |
E-mail Article
|
Add a Comment
Hasbro, in conjunction with Backflip Studios and Space Ape Games, will release "Transformers: Earth Wars" this spring worldwide, excluding Japan and China.
The real-time combat strategy mobile app will let players choose to fight with iconic characters Optimus Prime and the Autobots or with Megatron and the Decepticons in a battle for the fate of the Earth. Users will also be able to assemble a team, raid enemy bases, construct the Space Bridge and more, all while playing against other players around the globe.
BETTY BOOP TO STAR IN NEW TV SERIES
02/12/16 @ 8:35 am EST
Source:
Licensemag.com
| Categories:
MIsc
|
Comments
(0) |
E-mail Article
|
Add a Comment
Normaal Animation, in partnership with Fleischer Studios and King Features, will produce a new animated TV series featuring classic cartoon character Betty Boop.
The new series will be aimed at tweens and teens and will recount the daily struggles, joys and victories of Betty Boop as she attempts to rise to fame.
The series marks the first time the iconic character has starred in her own show in 30 years.
"We are delighted to be partnering with an innovative production company such as Normaal Animation," says Mark Fleischer, president and chief executive officer, Fleischer Studios. "My grandfather, Max Fleischer, created Betty Boop as a fun, feisty and fashionable female–and she has proven to be a character for all time. It is extremely gratifying to know that this new television series will introduce Max's beloved icon to new generations of fans in an engaging, relatable way."
The series will be produced by Normaal studios in partnership with Fleischer Studios and King Features, the exclusive worldwide licensing agent for Betty Boop. The series is slated to air in 2018.
DREAMWORKS ADDS 10 TROLLS PARTNERS
02/12/16 @ 8:33 am EST
Source:
Licensemag.com
| Categories:
MIsc
|
Comments
(0) |
E-mail Article
|
Add a Comment
In anticipation of its upcoming film
Trolls,
DreamWorks Animation has added a host of licensees across categories including toys and games, publishing, arts and crafts, food and more."
Trolls
is a special movie and property with amazing characters, great storytelling, and an incredible new world to explore," says Jim Fielding, global head, consumer products, DreamWorks. "We are very excited to bring that quality and innovation to life in products across the globe. With our strong relationships with our best-in-class partners, we are delighted to bring fans of all ages a delightful assortment of offerings this fall and into the future. We truly cannot wait to celebrate the unique and dynamic world of
Trolls
."
Jim Fielding will be a featured speaker at the upcoming NYC Licensing Summit March 1 & 2.
Global licensees that will support the property include:
Hasbro
–As master toy partner, Hasbro will launch a line of figures, plush, play sets, games and more.
Random House Children's Books
–As
Trolls'
core publishing licensee in the U.S., Random House will offer a multi-layered program of novels, storybooks, coloring activity and novelty starting this summer. An 11-book movie tie-in program will launch this fall.
Hallmark
–The company will introduce
Trolls
greeting cards, gift bags, ornaments and more.
Franco
Manufacturing
–As
Trolls'
lead home category licensee, Franco will launch bedding, bath, beach and more accessories for kids this fall.
Trends International
–The publishing partner will release posters, calendars, stickers and tattoos.
H.I.S. International
–The lead sportswear licensee for
Trolls
will bring fashion to a character-inspired assortment of key items and collections.
Editorial Planeta
–The Spanish language company will launch a collection of storybooks, novelization, activity books, sticker books and novelty items in Spain and Portugal.
Ravensburger
–The German-based company will produce a variety of 2D and 3D puzzles. Ravensburger will also release arts and crafts products including Painting by Numbers and Mandala Designer.
Clementoni
–The Pan-European licensee will launch a range of puzzles with various piece counts, sizes and features, including glitter and velvet touch finishes.
Procos
–The Pan-European company will produce party wares for children's parties.Additional global licensees for
Trolls
across all categories will be announced throughout the year.
DIAMOND HIRES DANIELLE SZARKA AS ADVERTISING PARTNERSHIPS MARKETING MANAGER
02/12/16 @ 8:29 am EST
Source:
ICv2
| Categories:
MIsc
|
Comments
(0) |
E-mail Article
|
Add a Comment
Diamond Comic Distributors announced the hiring of Danielle Szarka in the position of Advertising Partnerships Marketing Manager. She will report to the Marketing Director, Dan Manser.
Szarka will be responsible for strategic planning and execution of print and digital ad sales; promotional partnerships; planning in-store retailer events, including Free Comic Book Day and Halloween ComicFest; and leading PR initiatives.
Prior to joining Diamond, Szarka was the Senior Manager, Retail Partnerships at Mally Beauty where she spearheaded the launch, development, and expansion initiatives for the brand into ULTA, Birchbox, and QVC Italy in addition to building long-term client relationships.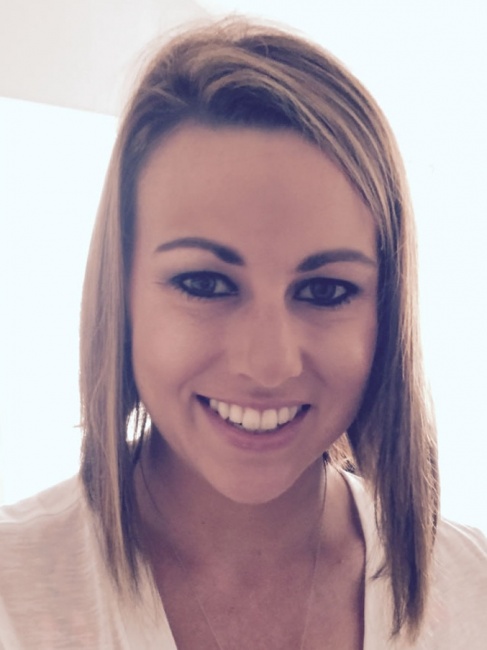 MEET 'VAMPIRE DIARIES' STAR IAN SOMERHALDER AT WIZARD WORLD COLUMBUS, TULSA
02/12/16 @ 8:24 am EST
Source:
Wizard World
| Categories:
MIsc
|
Comments
(0) |
E-mail Article
|
Add a Comment
Be there when The CW's hit drama "The Vampire Diaries" star
Ian Somerhalder
appears at Wizard World
Columbus
and
Tulsa
later this year.
Somerhalder, who plays "Damon Salvador," the elder and far more dangerous of the two brothers who share a long and bitter history, has received multiple Teen Choice Awards, including four consecutive wins for "Choice TV Actor Fantasy/Sci-Fi."
A huge hit at previous Wizard World appearances, Somerhalder will greet fans, sign autographs, pose for photo ops and conduct interactive Q&As with fans on Saturday, July 30 at the Greater Columbus Convention Center and on Saturday, Oct. 22 at the Cox Business Center in Tulsa..