THE NINJETTES ISSUE ONE WRITER'S COMMENTARY BY AL EWING
02/21/12 @ 2:52 pm EST
Source:
Dynamite Entertainment
| Categories:
The Ninjettes
|
Comments
(0) |
E-mail Article
|
Add a Comment
Slicing! Dicing! And kicking real high! From the pages of Garth Ennis'
Jennifer Blood
, here come the Ninjettes in their very own series! This team of super-sexy ninja girls has hit the comic racks and they they've hit them real hard—Ouch!
Now, fans of leather-clad gals and senses-shattering, blood-splattering, sword-swinging, karate-chopping action can get a unique behind the scenes look at what goes into creating of
The Ninjettes
with this writer's commentary by Al Ewing, the writer of
The Ninjettes
! Check out what it takes to become a Ninjette and what goes into making this smash (and slash) hit sensation from Dynamite Entertainment!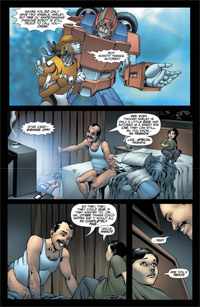 The Ninjettes #1: Writer's Commentary – by Al Ewing

PAGE #1


Boy howdy! Eman could knock a robot-based comic out of the park.
The Star Cars are something Garth Ennis invented for
Jennifer Blood
, a fairly standard-sounding aimed-at-boys commercial-for-toys thing that popped up once or twice in the background. I'm treating it here like Transformers – I love the moustache on the Optimus Prime figure – but I imagine there's all sorts of other nonsense in there as well, little lifts from Mask, He-Man... at some point I'll give it a decent skewering...
Visit
here for the complete The Ninjettes #1: Writer's Commentary by Al Ewing!
TOM HOLLAND SECRETLY RETURNED TO HIGH SCHOOL TO PREPARE FOR SPIDER-MAN: HOMECOMING
12/10/16 @ 1:11 am EST
Source:
Comicbook
| Categories:
Marvel
|
Comments
(0) |
E-mail Article
|
Add a Comment
There are few things in this world which could convince someone to willingly return to high school. The dreaded location is a place that haunts the memories of former students, and it is highly unlikely they would want to return to their former torture chambers. However, most kids are not Tom Holland; The actor recently confessed he trained for
Spider-Man: Homecoming
by secretly returning to high school in hopes of learning about today's student.
If that doesn't make him brave, then what does?
Holland did a live stream on Facebook today where he answered fans' questions about Homecoming. When he was asked about his training, the actor started off with the usual answers; He got in shape, went to the gym, and even tried EMS circuits which "really, really suck."
However, it was Holland's next confession that caught fans off-guard.
"The coolest thing I think I did was I enrolled in a high school in New York in the Bronx. [It was] a secret; Like, no one knew who I was or what I was doing. I had a fake name and a fake accent. I went to school for three days, and I was really fun, you know? It was so interesting because New York high schools are so different to the ones I went to in London."
The actor continued, even admitting, "For me, it was the first time I was in the same classroom with girls. It was like this real strange experience."
Holland also said the secrecy got to him at one point and led him to tell his secret to a few classmates.
"I told one kid at the school, 'Hey, listen, I'm Spider-Man," the actor said. "He did not believe me." He was also accosted by another student who wondered what Holland was doing at their school. The high school he attended was a science academy, and she wanted to know how he got in without testing. When he finally dropped his fake accent and told her the truth about training, she had this to say:"Dude, you're nuts. You're the craziest guy I've ever met in my entire life."
However, Holland did say he found the whole encounter educational as it helped him relate to Peter Parker. The ordeal also helped him realize that no one would ever believe Peter if he went to school one day and announced that he was Spider-Man. That is, until he webbed them, of course.
JUSTICE LEAGUE 2 DELAYED TO MAKE ROOM FOR BEN AFFLECK'S THE BATMAN
12/10/16 @ 1:01 am EST
Source:
Comicbook
| Categories:
DC
|
Comments
(0) |
E-mail Article
|
Add a Comment
The ever-evolving DC Movie schedule is always in flux in part because DC Films and Warner Bros. adjust their cinematic universe according to changing tastes. Even when plans are set, viewer response to film (liking some elements more than others) can make production interests shift. Such is the case with Ben Affleck's Batman, who emerged from the divisive mess of
Batman v Superman
as a fan-favorite. With Affleck having an even bigger presence (and influence) in the upcoming
Justice League
movie, the studio is intent on getting his solo movie, (tentatively referred to as
The Batman
) into theaters. THR now confirms that Zack Snyder will be taking a break between production on
Justice League
and its follow-up
Justice League 2
, in order for the studio to get
The Batman
solo movie out the door. Snyder's next movie will be
The Last Photograph
, about an Afghanistan war correspondent who teams with a special ops soldier.
BABY GROOT LOOKS ADORABLE IN NEW GUARDIANS OF THE GALAXY VOL. 2 STILL
12/10/16 @ 12:56 pm EST
Source:
Comicbook
| Categories:
Marvel
|
Comments
(0) |
E-mail Article
|
Add a Comment
To encourage more people to participate in Marvel Studios Hero Acts, a charitable initiative focused on bringing help and hope to kids around the world, a new
Guardians of the Galaxy Vol. 2
still has been released and features a worried Baby Groot rocking a mini-Ravager costume. Aww!
Though this younger version of Groot doesn't have the wisdom and experience of the previous one, he makes up for with a new fun, rambunctious attitude and a cute-as-a-button appearance.
"He couldn't be more naive as Baby Groot," Vin Diesel, the actor who voiced the humanoid planet-like creature in the first film, explained toCollider. "I always think of the Groot that we saw on the first
Guardians
as a college-level Groot, so he's not fully grown yet, but he's a man. And once he sacrifices himself at the end of the movie, now he has to start all over, so to speak, but we're gonna see this goofy, adorable, baby Groot thing running around the screen and just learning as he goes."
Reminder: Until the end of February, you can keep uploading photos to MarvelStudiosHeroActs.com for a chance to walk the red carpet at the
Guardians of the Galaxy Vol. 2
world premiere.
SPIDER-MAN: HOMECOMING 2 GETS SUMMER 2019 RELEASE DATE
12/10/16 @ 12:50 pm EST
Source:
Comicbook
| Categories:
Marvel
|
Comments
(0) |
E-mail Article
|
Add a Comment
Spider-Man: Homecoming
isn't even in theaters yet, but Marvel Studios and Sony have already selected a date for the sequel film.
Deadline
Reports that
Spider-Man: Homecoming 2
is eyeing a release date of July 5, 2019. That move shifts
Bad Boys 4
to a new release date, and puts
Spider-Man: Homecoming 2
either at the end of Marvel Phase 3, or at the beginning of Marvel Phase 4.
The trailer for
Spider-Man: Homecoming
is currently tearing up the Interwebs, and the fan reaction has been pretty strong. Tom Holland's Peter Parker made a strong impression in
Captain America: Civil War
and the
Homecoming
footage was strong enough to make us think it's going to be a major success. It's standard operating procedure for Sony and Marvel to therefore set a release date for the sequel - even this early.
ASH VS. EVIL DEAD SEASON 2 FINALE CLIP AND PROMO
12/10/16 @ 12:40 pm EST
Source:
Comicbook
| Categories:
MIsc
|
Comments
(0) |
E-mail Article
|
Add a Comment
This Sunday,
Ash vs Evil Dead
wraps up its second season.
You check out a clip
—
featuring Ashy Slashy making a threesome joke when he encounters two versions of Ruby
—
and a promo for the season finale in the videos directly below.
Video 1:
https://youtu.be/yGSY6cvBnh4
Video 2:
https://youtu.be/G0gbZvWUt2M
SHERLOCK SEASON 4 FINALE GETTING THEATRICAL RELEASE
12/10/16 @ 12:26 pm EST
Source:
Comicbook
| Categories:
Sherlock Holmes
|
Comments
(0) |
E-mail Article
|
Add a Comment
Sherlock
season 4 is nearing its airdate, and fans can't wait to see stars Benedict Cumberbatch and Martin Freeman back on the case.
Of course, Cumberbatch and Freeman have become much bigger stars since their humble
Sherlock
beginnings; both actors have become big movie stars, with Cumberbatch having headlined franchises like
Star Trek
and Marvel's
Doctor Strange
, while Freeman led
The Hobbit
trilogy and even joined the Marvel Cinematic Universe in a supporting role during
Captain America: Civil War
.
It's only fitting then, that both stars have their new big-screen status honored the right way: by having
Sherlock
season 4's final episode get a movie theater release!
BBC announced that
Sherlock
season 4's third and final episode (titled "The Final Problem") will be showing in US theaters on January 16th and 18th at 7pm local time.
TOM HOLLAND DESCRIBES WORST DAY FILMING SPIDER-MAN: HOMECOMING
12/10/16 @ 12:22 pm EST
Source:
Comicbook
| Categories:
Marvel
|
Comments
(0) |
E-mail Article
|
Add a Comment
On Friday, Tom Holland took part in
Spider-Man: Homecoming
Q&A event on Facebook Live, and at one point during it, the 20-year-old English actor was asked, "What as the best part of filming?" After struggling to come up with answer to that question, he decided to turn the question completely around.
"I can tell you the worst!" Holland excitedly exclaimed. "The worst day was... I was doing a scene with an actor — who I won't tell you who he is — and I was in the Spider-Man suit and it was in the very beginning of shooting, and I was in a harness and I had to stick to the ceiling. And I didn't go to the bathroom for like eleven hours or something. Because, we didn't really figure out how to take the suit off quickly at that point. We didn't understand how it worked. And I was in a harness. And obviously it's hot, so I'm drinking water all the time because I'm doing exercises and running around. But, I need to go to the toilet. Yeah, I didn't go to the bathroom for like eleven hours. And that's an expensive suit. You do not want to wet yourself in that suit. Marvel and Sony would
not
be happy. So, that was the worst part of filming."
His cumbersome superhero suit story must have jogged something loose. It suddenly dawned on him what the "best part of filming" was. "Actually, the best day of filming was when we went to the children's hospital," he shared. "That was the best day! It made me realize that I've been given this opportunity to play a superhero, so I should try to be a superhero in real life."
TIM MILLER BREAKS SILENCE ABOUT DEADPOOL 2 DEPARTURE
12/10/16 @ 12:16 pm EST
Source:
Comicbook
| Categories:
Marvel
|
Comments
(0) |
E-mail Article
|
Add a Comment
In October, fans were shocked when they learned that director Tim Miller was exiting Deadpool 2. After having helmed the first film with plenty of success, audiences were eager to see Miller's work on the sequel, but 20th Century Fox confirmed the original director had parted ways. Following the news, countless rumors sprouted about the director's reason for leaving Deadpool 2, but Miller is now setting the record straight for himself.
Not long ago, Miller did a lengthy interview on CG Garage and broke his silence about exiting Deadpool 2. "I just want to say one thing to the geek audience out there, because it's important to me what the geeks and nerds of the world think because they are my brothers and sisters. I didn't want to make some stylized movie that was 3 times the budget. If you read the internet — who cares, really? But for those of you who do, I wanted to make the same kind of movie that we made before because I think that's the right movie to make for the character. So don't believe what you read on the internet."
The director even went on to debunk rumors which said Miller was dead-set on casting Kyle Chandler as Cable. "I wanted to do the same thing [as the first movie]. Kyle Chandler was not going to be Cable. All this stuff that I read kind of kills me."
As for how he feels about the sequel now, Miller says he wishes the crew the best. Recently, 20th Century Fox confirmed they had brought on director David Leitch to helm the superhero flick to great approval.
He said, "I wish them nothing but good — I hope it's great. I hope it's e a great movie. Because I love the character and I think it's great, and I love all the actors and I want to see them successful again. I haven't met David, but he's a great guy from everything I've heard. I want nothing but the best for the character. And for Fox, too. They deserve to make more money. They need to make more money [laughs]. They were great. They were terrific."
DESPICABLE ME 3 VILLAIN REVEALED
12/10/16 @ 12:09 pm EST
Source:
Comicbook
| Categories:
MIsc
|
Comments
(0) |
E-mail Article
|
Add a Comment
Gru, Lucy, and the rest of the
Despicable Me
family had their hands full with El Macho in
Despicable Me 2
, but things are about to get even weirder in the sequel.
Fans already knew that
South Park's
Trey Parker was set to voice the new film's villain, who goes by the name Balthazar Bratt. Thanks to a new entry in the Despikipedia, a few new pieces of information have surfaced about the former TV star.
Bratt starred in the hit TV show Evil Brat, which debuted to hit ratings in 1985. He played a child prodigy and criminal mastermind on the show, who used "a combination of hip-hop dance techniques, martial arts, and high-tech weapons disguised as popular 80's gadgets". Think Rubik's Cubes and Keytars. He even had a catchphrase, "I've been a baaaad boy,", but after two incredibly popular seasons, Bratt's career hit a snag. He hit puberty.
It wasn't long before he found his show canceled, as audiences weren't responding to his sudden voice change and blemished face and the show was canceled before it could even finish the season. Other than a one-off appearance in 1989, Bratt hasn't been seen in public and has evidently gone a long way to making sure no one can find him.
As for how Gru and Lucy will fit into Bratt's world, that remains to be seen, but with Parker behind Bratt's voice, it should be endlessly entertaining.
'TOP PUPPET': NBC ORDERS REALITY SPECIAL FROM 'THE VOICE' PRODUCERS, MUPPET CREATORS AND CRAIG FERGUSON
12/10/16 @ 12:00 pm EST
Source:
Deadline
| Categories:
MIsc
|
Comments
(0) |
E-mail Article
|
Add a Comment
Puppet acts have been a staple on NBC's
America's Got Talent,
including ventriloquists Terry Fator, who won Season 2 and has gone on to be a very successful headliner in Las Vegas, and Season 10 winner Paul Zerdin. The network now is putting puppets in the spotlight, teaming with
The Voice
producer Talpa Media, Muppet creators The Jim Henson Company, comedian and
Celebrity Name Gam
e host Craig Ferguson and Universal Television Alternative Studios for
Top Puppet,
a new competition special set out to discover the next great puppet act. Casting is underway for the special, which will premiere next summer. It is designed as a one-off, but success could lead to more. Ferguson is executive producing and not expected to host.
In
Top Puppet,
competitors will battle it out in front of a live studio audience and three judges who will seek originality. The goal is to feature the full spectrum of puppeteering on the show — from hand puppets to giant walkers, marionettes to humanettes, ventriloquists to singing hand puppets — with acts as grand as the spectacle of
The Lion King
or realistic as
War Horse
or simple as sock puppets.
Puppeteers and ventriloquists have had a long and illustrious history on television, beginning with Edgar Bergen and his puppet, Charlie McCarthy, in the 1950s. More recently, popular puppeteer and comedian Jeff Dunham has had a slew of highly rated TV specials and performed worldwide.
Jay Bienstock, Charles Boyd, Phil Cottone, John de Mol, Ferguson, Brian Henson and Vince Raisa will executive produce.
Top Puppet
will be produced by Universal Television Alternative Studio in association with Talpa Media and The Jim Henson Company.