THE NINJETTES ISSUE ONE WRITER'S COMMENTARY BY AL EWING
02/21/12 @ 2:52 pm EST
Source:
Dynamite Entertainment
| Categories:
The Ninjettes
|
Comments
(0) |
E-mail Article
|
Add a Comment
Slicing! Dicing! And kicking real high! From the pages of Garth Ennis'
Jennifer Blood
, here come the Ninjettes in their very own series! This team of super-sexy ninja girls has hit the comic racks and they they've hit them real hard—Ouch!
Now, fans of leather-clad gals and senses-shattering, blood-splattering, sword-swinging, karate-chopping action can get a unique behind the scenes look at what goes into creating of
The Ninjettes
with this writer's commentary by Al Ewing, the writer of
The Ninjettes
! Check out what it takes to become a Ninjette and what goes into making this smash (and slash) hit sensation from Dynamite Entertainment!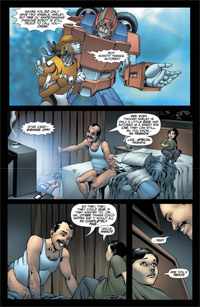 The Ninjettes #1: Writer's Commentary – by Al Ewing

PAGE #1


Boy howdy! Eman could knock a robot-based comic out of the park.
The Star Cars are something Garth Ennis invented for
Jennifer Blood
, a fairly standard-sounding aimed-at-boys commercial-for-toys thing that popped up once or twice in the background. I'm treating it here like Transformers – I love the moustache on the Optimus Prime figure – but I imagine there's all sorts of other nonsense in there as well, little lifts from Mask, He-Man... at some point I'll give it a decent skewering...
Visit
here for the complete The Ninjettes #1: Writer's Commentary by Al Ewing!
ASH'S ICONIC CAR WILL BE A KILLING MACHINE IN SEASON 2
07/29/16 @ 10:52 pm EST
Source:
Comicbook
| Categories:
MIsc
|
Comments
(0) |
E-mail Article
|
Add a Comment
When Season 2 of
Ash vs Evil Dead
returns this fall, you can bet your sweet bippy that Ash will still be driving "The Classic," the 1973 Oldsmobile Delta 88 owned by
Evil Dead
creator, Sam Raimi, and featured in many of his films.
However, the iconic car will be doing more than just cruising around the streets of Jacksonville, Florida and Elk Grove, Michigan. According to its star, Bruce Campbell, "The Classic" will be used to kill a Deadite in an outrageous and gruesome way.
"There's an episode that's basically around the Delta," Campbell told EW. "It's a pretty interesting episode, with perhaps the worst onscreen death in the history of all visual arts. 'Worst' meaning 'most outrageous.' Like, 'Am I really watching this happening? Am I really watching this unfold in front of me?'"
SUICIDE SQUAD'S JAI COURTNEY WANTS TO PLAY CAPTAIN BOOMERANG AGAIN IN THE FLASH
07/29/16 @ 10:48 pm EST
Source:
Comicbook
| Categories:
Flash
|
Comments
(0) |
E-mail Article
|
Add a Comment
Mild spoilers ahead for Suicide Squad. Don't read further or watch the below video unless you don't mind being spoiled from a fun surprise!
The much-anticipated
Suicide Squad
film is nearly here, and as was revealed yesterday, it has one more Justice Leaguer in it than expected. While everyone saw clips and stills of Batman (and he was literally witnessed on the set in Toronto), no one knew another member of the team would show up - including Jai Courtney, Captain Boomerang in the movie, who shares screentime with the hero in question: The Flash. The cameo (we won't spoil the details) is shown when the individual
Squad
members are introduced. Could that lead to more on-screen time between the two, who've clashed many times in the pages of DC Comics? Courtney sure hopes so.
"Yeah, I don't know, I don't think there's anything restricting it from happening," Courtney said of making the jump to
The Flash
solo film. "It's not a conversation that I've had yet. It'd be dope though, I'd love to. With these properties, and this world, the potential to kind of cross-contaminate is there everywhere. It would be dope to be part of that. I'd love the opportunity."
The actor also noted that he hopes "we get to do a few more of these for sure," he told us. "It'd be dope to see [Captain Boomerang] in his natural habitat" in a possible sequel, he said. "It'd be cool to see what he's capable of, give him a little more room to move, spread his wings a little. We did kind of introduce a feeling that he has these makeshift creations; he's like a garage cook of sorts with his weapons. We had this idea that his coat is sort of Mary Poppins's bag, he could pull anything out of there and we didn't have to justify how it fit or if he was ever going to run out. He's not the most equipped when it comes to powers, but it'd be cool to play in that space."
You can see Jai Courtney as Captain Boomerang for the first time in
Suicide Squad
on August 5, 2016.
Video:
https://youtu.be/v_qLrUYFXP0
THE FLASH SEASON 3: FLASHPOINT TIMELINE WILL GIVE BARRY NEW MEMORIES
07/29/16 @ 10:43 pm EST
Source:
Comicbook
| Categories:
Flash
|
Comments
(0) |
E-mail Article
|
Add a Comment
Following
The Flash
's Season 2 finale, fans were already wondering how closely the series would follow its impending Flashpoint storyline. And, now, Entertainment Weekly is teasing that
The Flash
will feature one particular element of the comic arc.
According to the site, Barry will be getting new memories in Season 3 to match his the altered universe he finds himself in. "He's starting to have new memories of graduating high school and college, memories he never had with his parents, but those memories are replacing other things from the other timeline," EW explained.
Of course, fans of the show will remember Barry's actions last season directly led towards Flashpoint being brought into the series. At the end of Season 2, Barry makes the sudden decision to travel back in time to stop Reverse-Flash from killing his mother, the very incident which sent the teen's life into a tailspin years ago. The time-altering decision then sets off a series of changes throughout the universe, forcing Barry in a very different world from the one he originates. While the hero will definitely be happy at first to spend time with his once-dead-but-now-alive parents, the consequences of Flashpoint will eventually catch up to Barry.
In the comics, Flashpoint stands as one of DC Comics' seminal moments as the 2011 story essentially rebooted their multi-verse. Since its creation, Flashpoint has pushed DC Comics to found its 'New 52' line - and most recently - DC published its acclaimed 'Rebirth' series to propel its universe forward. The Flashpoint arc found Barry stuck in the alternate time line without any powers and unsure of how he wound up in this new world.
When
The Flash
returns to The CW this Fall, fans will get to see how Central City has changed with Flashpoint and even the larger DC Universe through
Arrow
as well.
THE SIMPSONS MOVIE SEQUEL HAS BEEN DISCUSSED
07/29/16 @ 10:37 pm EST
Source:
Comicbook
| Categories:
MIsc
|
Comments
(0) |
E-mail Article
|
Add a Comment
When
The Simpsons Movie
hit theaters in 2007, fans of the long-running cartoon flooded theaters to see the bumbling, yellow family take their adventures to the big screen. And, now, it's been confirmed that the folks behind
The Simpsons
have talked about making a sequel.
Al Jean, EP of
The Simpsons
, was asked about the possibility of a sequel at this year's San Diego Comic Con. He told fans, "We talk about it, but if we do it we only want to do it if it's going to be really good. We would never do it just to cash in, so if it comes out it's because we believe in it."
Jean's statement somewhat mirrors creator Matt Groening's thoughts as he's previously said a sequel wasn't a "priority" for the series. Since the movie essentially drained the show's animators, Groening said he'd be hesitant to put them through that again - but he didn't rule out the possibility.
Clearly, there are no definitive plans create a sequel to
The Simpsons Movie
. And, when you consider the amount of effort it took to make the first film, it's understandable as to why.
The Simpsons Movie
famously underwent over a hundred rewrites as its script kept being tweaked. In fact, the script was still being rewritten after animation and voice acting had started, forcing filmmakers to ultimately cut out cameos from talent such as Minnie Driver, Isla Fisher, and Edward Norton.
This is not the first time Jean has teased the possibility of a sequel. Early in January 2015, Jean and David Mirkin took to Twitter to announce an upcoming episode of
The Simpsons
was being held back. "The Man Who Came to Be Dinner" was removed as the episode's plot was being closely considered for adaptation into a film. However, no developments moved forward in translating the episode to film, so there's room left for a different story to inspire the team to create the much-wanted sequel to
The Simpsons Movie
.
U.S. NAVY REMOVES POKEMON GO RECRUITING CAMPAIGN
07/29/16 @ 10:32 pm EST
Source:
Comicbook
| Categories:
Pokemon
|
Comments
(0) |
E-mail Article
|
Add a Comment
Imagine what Pokémon would be like if they were militarized - just, try for a second. I mean, imagine the kind of missions big-hitters like Blastoise or Onix would be sent on? And, honestly, most people would assume any of Eevee's evolutions were cute and cuddly until they launched an attack. Really, it'd be a surprise if Pokémon weren't brought into global conflicts should they be real. But, even with them being fictional characters, one branch of the U.S. military opted to recruit Pokémon for a top-secret mission with less-than-great results.
Following
Pokémon GO
's phenomenal popularity, pictures began circulating online of a few U.S. Navy recruitment posters that promised aspiring military members, "The US Navy has the ability to take you around the world, allow you to play Pokémon Go, and help you achieve the goal of becoming a Pokémon master!
"Say what? The poster then goes on to encourage those interested in signing up to contact their local recruiters if they'd like to find out what the Navy could offer them. But, understandably, the Internet found it very strange that the military would use, "Do you like playing Pokémon?" as their tag line to make future officers interested in serving.
And, apparently, the Navy completely agrees with those thoughts. The Navy quickly dismissed that particular recruitment campaign and had it removed due to its misleading information. In an email statement, the Navy wrote that, "some recruiters made a bad decision in attempting to use the current Pokémon phenomenon to recruit Sailors for the Navy." Since then, all recruitment materials and posts using Pokémon GO have been removed as they don't truly represent what the Navy stands for.
KAKAMORA & HEIHEI PROMOS FOR DISNEY'S MOANA
07/29/16 @ 10:28 pm EST
Source:
Comicbook
| Categories:
Disney
|
Comments
(0) |
E-mail Article
|
Add a Comment
Walt Disney Animation Studios has released a trio of promos for
Moana
.
One features our first look at one of the Kakamora, an intense team of crazy, coconut-armored pirates who will stop at nothing to get what they want. The other two promos feature a disoriented and hungry Heihei (voiced by Alan Tudyk), a dumb rooster who is thought of as the village idiot.
Clip 1:
https://youtu.be/pe-Z1KPipnI
Clip 2:
https://youtu.be/LS_VEqau9Ck
Clip 3:
https://youtu.be/vlzcRnhzcyo
MARVEL'S 'AVENGERS 3' GETS OFFICIAL TITLE WITH TEMP NAME HUNG ON 'AVENGERS 4'
07/29/16 @ 10:14 pm EST
Source:
Deadline
| Categories:
Avengers
|
Comments
(0) |
E-mail Article
|
Add a Comment
Marvel Studios has decided on a title for the in-development
Avengers 3
, making official that the film will be called
Avengers: Infinity War
.
Avengers 4,
meanwhile, has been given the placeholder name
Untitled Avengers
.
Infinity War
is the first installment of a two-part story that concludes with
Untitled Avengers
; the two films were announced together at an event in October 2014 as
Avengers: Infinity War Part 1
and
Avengers: Infinity War Part 2
. Their respective release dates of 5/4/18 and 5/3/19 have not been changed.
Both films are being helmed by Anthony & Joe Russo, who directed
Captain America: The Winter Soldier
and
Captain America: Civil War
and were handed the reins of Marvel's flagship franchise following the departure of Joss Whedon, who directed 2012's
The Avengers
and last year's
Avengers: Age of Ultron,
both of which are among the seven top-grossing films of all time worldwide. The Russos confirmed in May that
Avengers
3 and 4 were being retitled in part to put to rest speculation that the two films were merely one large film split in half.
FIRST LOOK AT DARTH VADER #25 JOE QUESADA VARIANT
07/29/16 @ 4:58 pm EST
Source:
Comicbook
| Categories:
Darth Vader
|
Comments
(0) |
E-mail Article
|
Add a Comment
Darth Vader's comic book series may be reaching its end, but the series is going out in style. Marvel Comics has provided ComicBook.com with an exclusive first look at Joe Quesada's variant cover for
Star Wars: Darth Vader
#25.
Quesada is an artist who now serves as the chief creative officer for Marvel Entertainment. He's work on Marvel Comics titles including
X-Factor
,
Iron Man
,
Daredevil
,
NYX
, and
The Amazing Spider-Man
.
Darth Vader
#25 is the 40-page finale of the Sith Lord's saga, written by Kieron Gillen and drawn by Salvador Larroca.
For 25 issues following the destruction of the Death Star in
Star Wars Episode IV: A New Hope
, Darth Vader as fought to restore his reputation and regain the favor of Emperor Palpatine. In the process, he has enlisted the aid of allies like the unscrupulous archeologist Doctor Aphra and the murderous droids Bee Tee and Triple Zero. He's discovered the true identity of the pilot who destroyed the Death Star, and he's passed every trial posed by the Emperor's minions.
Now, in this final act, all of his plans come to fruition.
Darth Vader
#25 goes on sale Aug. 31, 2016. Check out the full cover below.
Darth Vader #25
(W) Kieron Gillen (A) Salvador Larroca (CA) Joe Quesada
FINAL ISSUE!
It has all built up to this! Vader's trials against Cylo's creations! His machinations against the Emperor! His covert missions with Doctor Aphra and her murderous droids! All comes to fruition in an oversized 40-page issue by the stellar team of Kieron Gillen and Salvador Larroca! You won't want to miss this ending!
Rated T
In Shops: Aug 31, 2016
SRP: $5.99
JUN160934
SUICIDE SQUAD DIRECTOR REVEALS CHARACTER THAT DIDN'T MAKE THE CUT
07/29/16 @ 4:54 pm EST
Source:
Comicbook
| Categories:
Suicide Squad
|
Comments
(0) |
E-mail Article
|
Add a Comment
Ahead of
Suicide Squad
's upcoming release, director David Ayer has revealed there's one character who didn't quite make the squad's cut. Taking to Twitter for a video Q&A, Ayer told fans that one of the character he originally wanted in the squad was the one and only King Shark.
For those unfamiliar with the DC super-villain, King Shark debuted in
Superboy
back in the 1990s as a humanoid shark. At first, the character was said to have acquired his appearance from his father, 'The King of All Sharks.' Named Nanaue, the baddie's mutation gave him very fluid superpowers which let him join the Secret Society of Super Villains. And, as you might expect, he really enjoys the 'savage animal' side of himself.
Speaking about the character, Ayer said, "So, one of the characters I was thinking about for the squad line-up was King Shark, but we realized it would take a lot of work - a lot of CG work." Ayer went on to explain that he wasn't totally comfortable having a completely CGI character. As such, the director revealed Killer Croc was chosen to replace King Shark, saying, "We actually ended up going with Killer Croc who turned out to be the right guy for the job."
WARCRAFT DIGITAL HD, BLU-RAY, AND DVD RELEASE DATES ANNOUNCED
07/29/16 @ 4:49 pm EST
Source:
Comicbook
| Categories:
MIsc
|
Comments
(0) |
E-mail Article
|
Add a Comment
When
Warcraft
first hit theaters, the film essentially tanked with domestic audiences. However, the fantasy flick was redeemed overseas as the movie grossed over $433 million globally with much of that revenue coming in from China. Now, Universal has just announced the project's upcoming DVD release date. So, if you were one of the many on the fence about seeing
Warcraft
in theaters, you'll soon have a chance to see the film in the comfort of your own home.
Universal announced that
Warcraft
will be coming to several platforms like Digital HD, 4K Ultra HD, Blu-Ray 3D, Blu-Ray, and DVD. The film will land on Digital HD platform on September 13th ahead of its physical release on September 27th. The latter date will also see
Warcraft
reach On Demand for viewers who'd rather see the film that way. And, ahead of its release, Universal has revealed the DVD's colorful cover art.