THE NINJETTES ISSUE ONE WRITER'S COMMENTARY BY AL EWING
02/21/12 @ 2:52 pm EST
Source:
Dynamite Entertainment
| Categories:
The Ninjettes
|
Comments
(0) |
E-mail Article
|
Add a Comment
Slicing! Dicing! And kicking real high! From the pages of Garth Ennis'
Jennifer Blood
, here come the Ninjettes in their very own series! This team of super-sexy ninja girls has hit the comic racks and they they've hit them real hard—Ouch!
Now, fans of leather-clad gals and senses-shattering, blood-splattering, sword-swinging, karate-chopping action can get a unique behind the scenes look at what goes into creating of
The Ninjettes
with this writer's commentary by Al Ewing, the writer of
The Ninjettes
! Check out what it takes to become a Ninjette and what goes into making this smash (and slash) hit sensation from Dynamite Entertainment!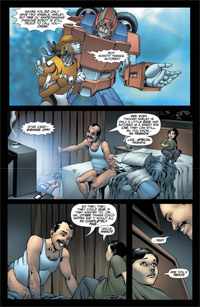 The Ninjettes #1: Writer's Commentary – by Al Ewing

PAGE #1


Boy howdy! Eman could knock a robot-based comic out of the park.
The Star Cars are something Garth Ennis invented for
Jennifer Blood
, a fairly standard-sounding aimed-at-boys commercial-for-toys thing that popped up once or twice in the background. I'm treating it here like Transformers – I love the moustache on the Optimus Prime figure – but I imagine there's all sorts of other nonsense in there as well, little lifts from Mask, He-Man... at some point I'll give it a decent skewering...
Visit
here for the complete The Ninjettes #1: Writer's Commentary by Al Ewing!
MARK RAHNER TALKS CAREER 2.0 AND THE NEW TWILIGHT ZONE: SHADOW AND SUBSTANCE
01/26/15 @ 8:16 pm EST
Source:
Bleeding Cool
| Categories:
The Twilight Zone Shadow and Substance
|
Comments
(0) |
E-mail Article
|
Add a Comment
Gail Simone
, writer on
Red Sonja
#14, talks with writer
Mark Rahner
about
The Twilight Zone: Shadow and Substance
#1, both on sale now.
GAIL SIMONE: Okay, Mark, I am excited to talk to you about this new Twilight Zone book, and I'll explain why in just a bit. But for those readers who are not familiar with your work (and this is actually the first story of yours I have read as well), could you give a little background, how you got to be a writer, how you came to be chosen for a high profile title likeTwilight Zone?MARK RAHNER:
In that case, I say welcome to the Mark party!I've been doing comics since around 2009. I came from Career 1.0 as a newspaper reporter and critic – largely at The Seattle Times – and began Career 2.0 with my creator-owned zombie-western,
Rotten
, from Moonstone Books. So doing the math, I've made my living as a writer for 20 years and the last six of those have been much more fun. You can find out – and read – a bunch more by and about me at www.markrahner.com.As far as doing
Twilight Zone
, you could say I "proved in" with a lot of previous Dynamite work, as well as being an obsessive, lifelong TZ and Rod Serling devotee – and letting our authority-figure editors know it.
GS: Here's the thing about myself and The Twilight Zone. I'm a fan. I mean, hardcore. I watch the series over and over, I even watch the color version with Forrest Whitaker. I have a stack of the prose collections, I have every issue of Carol Serling's Twilight Zonemagazine. I've read and seen many, many attempts to nail that voice, that feeling of unease, and most of the time, they never quite get it. But I literally could tell from your first narration that you had utterly nailed it. I heard Rod Serling's voice as I was reading, which is no small accomplishment. So, I have to ask, were you a fan previously? What went into getting the tone so tight?MR:
That means a lot to me, especially coming from a fellow
Twilight Zone
cultist. I've said from the time I started writing my previous TZ volumes – the 2014 Annual and
Lost Tales
– that that was my goal. So I hope you and the other readers will check those out, too.We're the same on the hardcore front. The original show is gospel to me. I'm very familiar with Serling's life. I read all the prose collections when I was a kid, have all those magazines,
Night Gallery
, Serling's previous live TV work, interviews, biographies … you get the idea. It was in my veins at an early age, and I've been getting continuous infusions.
GS: You've written some beloved cult icons before, in Dejah Thoris and the Avenger, for example. But this is The Twilight Zone. If you get it wrong, it seems like writers all over the world would hate you forever. (smiles) I know something about the pressure of getting fan favorites right. Did you have any concern about this story, keeping up with the standards not just of the show, but the importance it had in people's memories?MR:
There's no pressure greater than the prospect of hating
myself
if I screw up something that's so important to me. But my career 1.0 was good schooling in performing under the greatest of pressures, and on deadlines.My main concern with "Stumbling Distance" was that it's more personal than I've gotten in comics. Writing those long-established characters like Dejah Thoris and The Avenger– whom I also love – doesn't lend itself to that so easily. But Serling went deep, and writing is risk.As far as people's expectations, I want to
exceed
them. At least that's what I strive for. I'm a compulsive researcher with a knack for getting the tones of things, but I also have no interest in inbred fan fiction or recycling catchphrases like "Submitted for your approval." My stories are meant to be completely faithful, but still new and raw and experimental and angry.
GS: Tell me a little bit about your story, why did you choose to tell a story of a writer confronting his demons? This was a favorite theme of many TZ writers, obviously, but what made you go to that place?
MR:
The story had been percolating with me for a while. What would you say to your younger self – especially at a crucial moment? After you'd grown up, become civilized like a human, gained some perspective on what you'd lived through. Would you want to protect a child from the bad parts of what made you who you are?I rewatched "Walking Distance" on Blu-ray recently, and it nearly brought me to tears. Beautiful. One of the landmark
Twilight Zone
stories, and it features one of Serling's most prominent obsessions: nostalgia for his childhood and hometown. So here's my own inverted version of that, with a vaguely familiar feel, but it goes down a whole different path. I don't want to retell or update the old stories. I've got plenty of my own.
GS: And finally, can you break down for us what's coming up? I have to say, I'm down. I was very pleasantly drawn into this story and I will be following every issue. So what can you tell us about your future issues?MR:
Glad to hear it! The next one is more science-fiction, about a prisoner in an overly comfortable containment facility run by giant aliens. Then some weird phobia-suspense from my recurring nightmare about waking up on a mattress on the pinnacle of a skyscraper swaying in the wind.These are meant to feel like they could be episodes, yet still contemporary. I want you to feel like you're in good hands. But hands that'll give you a brisk shake.
ART COMIC PUBLISHER NOBROW EXPANDS TO DIGITAL TODAY
01/26/15 @ 8:07 pm EST
Source:
Bleeding Cool
| Categories:
MIsc
|
Comments
(0) |
E-mail Article
|
Add a Comment


Premier art comics publisher Nobrow has taken a major step today into engagement with digital media, introducing their iPad app for Nobrow titles. The move wasn't exactly a foregone conclusion. Plenty of indie and art comic publishers have not yet made such a leap, and in the case of Nobrow, the publisher is known for its high quality production materials and the ways in which design is matched to the printed page.

Nobrow will be piloting and demonstrating the app coming up at Angouleme and spreading the word about the digital options now available for its titles. The app has features such as "page view", "panel view" and even "layers" that may allow you to read the comic in its non-color and even roughs state, making for an "enriched" experience of reading beyond the finished product.
GO OVERSIZED WITH THE KUROSAGI CORPSE DELIVERY SERVICE: BOOK ONE OMNIBUS
01/26/15 @ 7:59 pm EST
Source:
Dark Horse
| Categories:
Dark Horse
|
Comments
(0) |
E-mail Article
|
Add a Comment
The last wishes of the dead are about to be realized in a big way this August when acclaimed manga series
The Kurosagi Corpse Delivery Service
gets the omnibus treatment from Dark Horse Comics.
Translated from the best-selling Japanese series,
The Kurosagi Corpse Delivery Service: Book One Omnibus
collects the first two volumes of Eiji Otsuka and Housui Yamazaki's acclaimed story following five recently graduated university students that specialize in the deceased—and your body is their business! The quintet uses their special skills of channeling, dowsing, ESP, and more to help the dead move on to their next reincarnations.
The first in a series of omnibus editions for
The Kurosagi Corpse Delivery Service
, this book features 640 pages for only $19.99. Each volume comes shrink-wrapped and carries an 18+ advisory.
Preorder your copy now.
AN APE BIKER GANG ROARS INTO TOWN IN MARCH'S THE HUMANS
01/26/15 @ 7:55 pm EST
Source:
Image
| Categories:
Image
|
Comments
(0) |
E-mail Article
|
Add a Comment
Bakersfield, California, 1970: The Humans (who happen to be apes) are the baddest biker gang of all. They deal out beatings, cook drugs, party endlessly, and struggle to keep their turf and status amongst the numerous outlaws, rival gangs, and bonafide killers — all of whom are trying to take their spot at the top of the heap. And then a member of the gang long thought dead returns… haunted by memories of hell on earth. Johnny is back in the fold in THE HUMANS, VOLUME 1 from Image Comics in March — but is his head where it needs to be to ride with The Humans again?
Writer Keenan Marshall Keller (
Galactic Breakdown
) and artist Tom Neely (
Henry and Glenn Forever
) team up on a high-octane, no-holds-barred, ape-biker-gang chopper ride into '70s exploitation genre bliss as Bobby, Johnny, and all the Humans fly down the road to oblivion on a ride filled with chains, sex, leather, denim, hair, blood, bananas, and chrome.
"I just love me some biker flicks and exploitation/genre in all forms," said Keller. "It wasn't like I was trying to do an ape project and settled on them being bikers… The Humans were bikers from the start. It's my love affair with the fringe, with outlaws and no-good-doer's and made me focus on biker culture."
Neely, whose art captures the energy and abandon of The Humans' life on the road, has relished the chance to draw full-time. "I get up and draw monkeys and motorcycles all day and it's the best," he said. "It's also really great collaborating with another artist – Kristina Collantes is doing the coloring and I love to see how she transforms my pages. I love my black and white drawings for this book, but they really don't come to life to feel like a real comic book until Kristina's colors complete the picture."
THE HUMANS, VOLUME 1 will be in comic book stores on March 11 and in bookstores on March 25. It is specially priced at just $9.99 and is available for pre-order now.
IT'S ONE DARK NIGHT IN GOTHAM BY MIDNIGHT #3
01/26/15 @ 7:50 pm EST
Source:
DC
| Categories:
DC
|
Comments
(0) |
E-mail Article
|
Add a Comment
In GOTHAM BY MIDNIGHT #3, there's a dark secret in Gotham General Hospital – a supernatural menace that could infect the whole city!
But Detective Lisa Drake of the Midnight Shift has a dark secret of her own…and when this new threat brings it out, the only thing Jim Corrigan can do is get out of the way!
Check it out in GOTHAM BY MIDNIGHT #3, written by Ray Fawkes and illustrated by Ben Templesmith, when it hits shelves this Wednesday.
SECRET WARS SURPRISE LIVE CHAT
01/26/15 @ 7:46 pm EST
Source:
Marvel
| Categories:
Marvel
|
Comments
(0) |
E-mail Article
|
Add a Comment


In May 2015, Time Runs Out and the Secret Wars begin!

This Wednesday, January 28, at 3 PM ET, join a special live chat with big time mystery guests as they unveil another layer of this monumental event!

You can sign up on Marvel.com and then come back here to Dynamic Forces for more news and interviews!
DAVID TENNANT JOINS MARVEL'S A.K.A. JESSICA JONES FOR NETFLIX
01/26/15 @ 7:41 pm EST
Source:
Marvel
| Categories:
Marvel
|
Comments
(0) |
E-mail Article
|
Add a Comment
Marvel and Netflix are proud to announce that David Tennant will star as the villainous Kilgrave in "Marvel's A.K.A. Jessica Jones," an all-new 13-episode series premiering on Netflix in 2015 following "Marvel's Daredevil."
An enigmatic figure from Jessica's past, Kilgrave's reappearance will send shockwaves through the former super hero's world.
Tennant will star opposite Krysten Ritter and Mike Colter, who will play Jessica Jones and Luke Cage in "Marvel's A.K.A. Jessica Jones." The series was developed by Executive Producer/Showrunner Melissa Rosenberg.
"I'm so honored and excited by the prospect of David inhabiting this multifaceted character," said Rosenberg. "He can deliver the most heart-wrenching moment to the driest of lines, and all points in between. He'll make Kilgrave a truly original villain."
"Anyone familiar with David's work knows he brings an incredible level of dedication to any role he inhabits, a level we knew we would need from the man playing Kilgrave," said Jeph Loeb, Executive Producer/Marvel's Head of Television. "While most know him for his roles as a hero, we can't wait to unleash a whole new side of this talented actor."
Tennant rose to international fame as the Tenth Doctor in the BBC hit series "Doctor Who," and most recently starred in "Broadchurch" and its American adaptation, "Gracepoint."
After a tragic ending to her short-lived super hero stint, Jessica Jones is rebuilding her personal life and career as a detective who gets pulled into cases involving people with extraordinary abilities in New York City.
"Marvel's A.K.A. Jessica Jones" is produced by Marvel Television in association with ABC Studios for Netflix.
.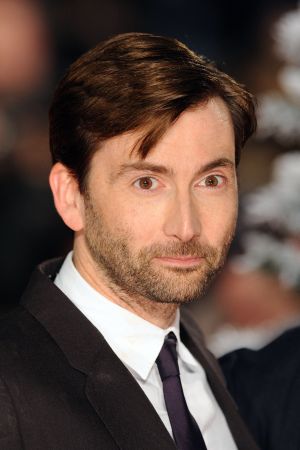 THE RETURN OF BIG BANG COMICS WITH BIG BANG UNIVERSE
01/24/15 @ 12:44 pm EST
Source:
Bleeding Cool
| Categories:
MIsc
|
Comments
(0) |
E-mail Article
|
Add a Comment
Big Bang Comics first appeared in 1994, with a five issue mini-series from Caliber Comics. Two years later the second series came out from Image Comics, helped by the fact that co-creator Gary Carlson first published Savage Dragon and Youngblood in his Megaton Comics anthology,

The series ran intermittedly from 1993 until 2001, concluding with a Big Bang Comics Vs. 1963 issue #35 and a series of specials. After this, Carlson and Chris Ecker self published comics as Big Bang Presents and ran an accompanying webcomic strip.

But in April, the series returns from AC Comics as Big Bang Universe.
DARK HORSE AND NAUGHTY DOG JOIN FORCES FOR THE ART OF THE UNCHARTED TRILOGY
01/24/15 @ 12:37 pm EST
Source:
Dark Horse
| Categories:
Dark Horse
|
Comments
(0) |
E-mail Article
|
Add a Comment
Hot off the success of
The Art of The Last of Us
and
The Art of Naughty Dog
, Dark Horse Comics and Naughty Dog are launching
The Art of the UNCHARTED
Trilogy
in April 2015.
A breathtaking, comprehensive exploration into the critically acclaimed UNCHARTED™ video game franchise,
The Art of the UNCHARTED
Trilogy
offers a detailed look at the art of one of the most exciting game series of this generation. Filled with never-before-seen art from Naughty Dog spanning UNCHARTED: Drake's Fortune™, UNCHARTED 2: Among Thieves™, and UNCHARTED 3: Drake's Deception™, with insightful commentary from the games' creators, this epic volume is an incredible opportunity to own a piece of UNCHARTED history.
"With each UNCHARTED game we make we strive to set a new bar for video game art, design, and tech," said Erick Pangilinan, art director at Naughty Dog. "This book is an inside look at our creative process, the technology, and the artistry that goes into making Nathan Drake's adventures come to life. Fans of the series and art in general will find many hidden treasures in this book."
Available in April,
The Art of the UNCHARTED Trilogy
retails for $39.99.
DARK HORSE ANNOUNCES THE ART OF SATOSHI KON
01/24/15 @ 12:35 pm EST
Source:
Dark Horse
| Categories:
Dark Horse
|
Comments
(0) |
E-mail Article
|
Add a Comment
This August, Dark Horse remembers an animation legend and his works with
The Art of Satoshi Kon
.
A director who blazed a brilliant animation career before his tragic passing in 2010, Kon is immortalized in this special hardcover volume that covers the whole of his incredible career. Encompassing everything from illustrations for his movies
Perfect Blue
,
Tokyo Godfathers
,
Millennium Actress
, and
Paprika
and his television series
Paranoia Agent
, to his manga, commercial art, and more,
The Art of Satoshi Kon
is an oversized, 136-page tribute to a master of anime filmmaking.
Including a special appreciation from Darren Aronofsky,
The Art of Satoshi Kon
celebrates a lifetime of Kon's work, including several little-known and incomplete projects.
The Art of Satoshi Kon
retails for $29.99.