THE NINJETTES ISSUE ONE WRITER'S COMMENTARY BY AL EWING
02/21/12 @ 2:52 pm EST
Source:
Dynamite Entertainment
| Categories:
The Ninjettes
|
Comments
(0) |
E-mail Article
|
Add a Comment
Slicing! Dicing! And kicking real high! From the pages of Garth Ennis'
Jennifer Blood
, here come the Ninjettes in their very own series! This team of super-sexy ninja girls has hit the comic racks and they they've hit them real hard—Ouch!
Now, fans of leather-clad gals and senses-shattering, blood-splattering, sword-swinging, karate-chopping action can get a unique behind the scenes look at what goes into creating of
The Ninjettes
with this writer's commentary by Al Ewing, the writer of
The Ninjettes
! Check out what it takes to become a Ninjette and what goes into making this smash (and slash) hit sensation from Dynamite Entertainment!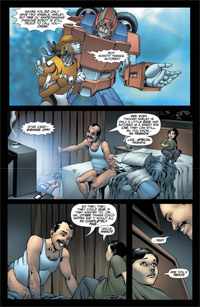 The Ninjettes #1: Writer's Commentary – by Al Ewing

PAGE #1


Boy howdy! Eman could knock a robot-based comic out of the park.
The Star Cars are something Garth Ennis invented for
Jennifer Blood
, a fairly standard-sounding aimed-at-boys commercial-for-toys thing that popped up once or twice in the background. I'm treating it here like Transformers – I love the moustache on the Optimus Prime figure – but I imagine there's all sorts of other nonsense in there as well, little lifts from Mask, He-Man... at some point I'll give it a decent skewering...
Visit
here for the complete The Ninjettes #1: Writer's Commentary by Al Ewing!
TOM HIDDLESTON HINTS AT LOKI'S ROLE IN THOR: RAGNAROK
02/20/17 @ 8:14 pm EST
Source:
Comicbook
| Categories:
Marvel
|
Comments
(0) |
E-mail Article
|
Add a Comment
Fans have been waiting years for their next glimpse at Tom Hiddleston'sLoki, and we're finally getting it in November.When T
hor: The Dark World
ended, no one in Asgard knew that Loki had dispatched his father and took his place, disguised as Odin while ruling from the throne.
It was the type of deception people should expect from the God of Mischief, but no one was any wiser to it. Thor returned to Earth to help the Avengers fight Ultron, and we haven't seen anything since.
But when we pick up with the Asgardians in
Thor: Ragnarok—the
we'll see what the big deal is with Loki taking the throne.
Hiddleston recently spoke with Fandango while promoting
Kong: Skull Island
and was asked about returning to the role of Loki. He offered a couple of vague hints about the direction the film will go.
"At the end of
The Dark World
, Loki is on the throne," Hiddleston said. "At the beginning of
Ragnarok
, Thor has a few questions and Loki is endearingly enigmatic about providing answers."
We've seen a hint about what this means with the post-credit scene in
Doctor Strange
, where the Sorcerer Supreme meets with Thor and decides to help the Avenger find both his father and brother.
But how Loki gets there won't be revealed until
Thor: Ragnarok
hits theaters.
Hiddleston also talked about director Taika Waititi injecting humor into the film, and it definitely seems like he is glad to be back for his fourth portrayal of Loki. Whether we'll see him don those green robes after this
Thor
film is a mystery at this point.
RICK AND MORTY SEASON 3 BEGINS PRODUCTION
02/20/17 @ 8:05 pm EST
Source:
Comicbook
| Categories:
MIsc
|
Comments
(0) |
E-mail Article
|
Add a Comment
This is not a drill,
Rick and Morty
fans! After a long wait, it looks like things are starting to move on the animated series. The original Adult Swim comedy has promised fans a third season for some time, and the folks behind
Rick and Morty
are making good on it starting today. Over on Twitter, one of the show's writer finally confirmed season three of
Rick and Morty
has started production.
That's right! Thanks to Mike McMahan, fans of the fan-favorite show can celebrate to their hearts' content. Taking to Twitter, the writer posted a picture of the title page to a script for episode 301.
"Hey [
Rick and Morty
] am I allowed to say we're recording episode 301 today?" the writer captioned the photo. The script says its record draft was completed on February 17th, and the writer made sure to scrub out the episode's title.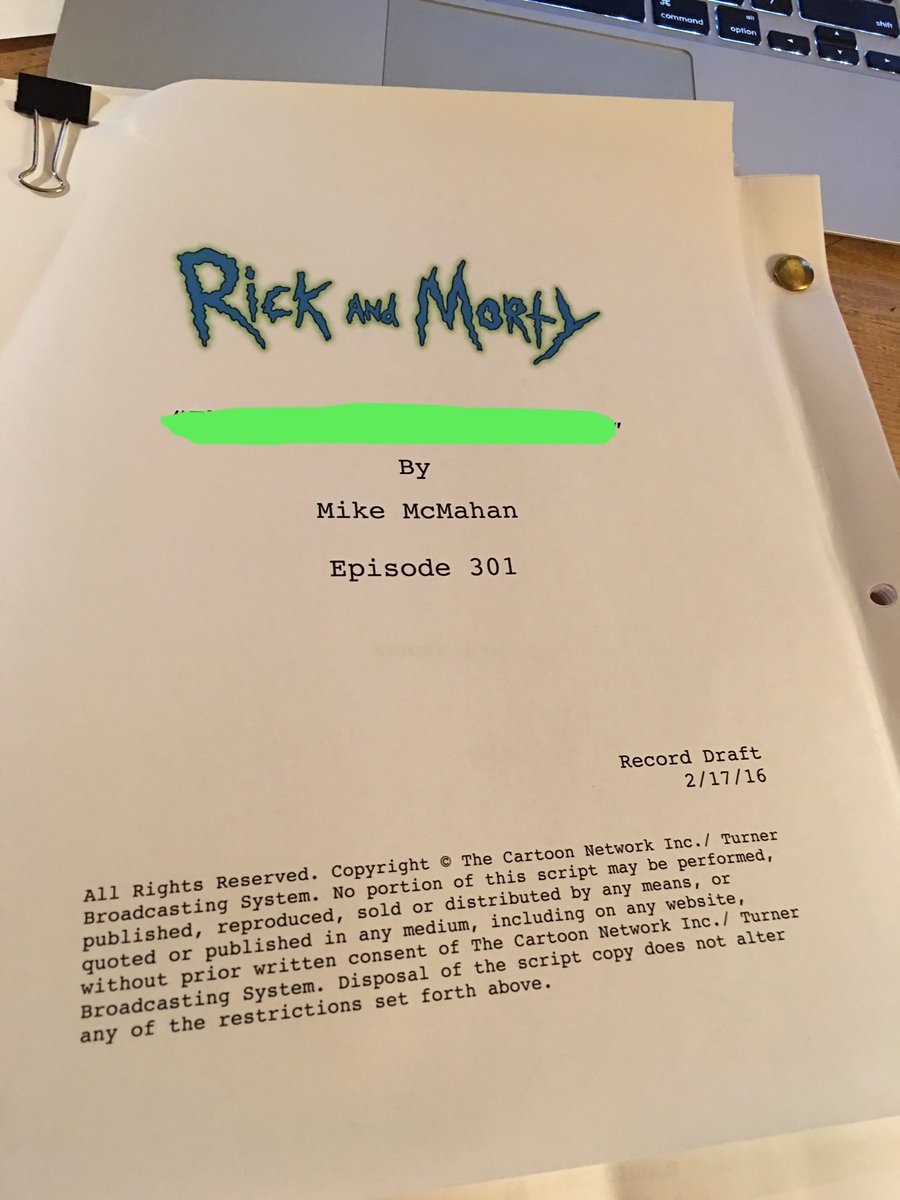 Follow
Mike McMahan @pleaseprintHey @RickandMorty am I allowed to say we're recording episode 301 today?6:43 PM - 18 Feb 2016 1,0341,034 Retweets 1,6771,677 likes
THE FLASH SEASON 3 EPISODE 13: ATTACK ON GORILLA CITY FEATURETTE
02/20/17 @ 8:00 pm EST
Source:
Comicbook
| Categories:
DC
|
Comments
(0) |
E-mail Article
|
Add a Comment
Executive Producer Aaron Helbing previews this Tuesday's "Attack on Gorilla City" episode, in this latest featurette for
The Flash
.
Before Helbing describes what's to come, an informative clip is shown of Jesse Quick explaining what Gorilla City is to Joe West. "There are sentient, highly-intelligent, evolved gorillas in Earth-2," she says to him, "and they all live in a city deep in the heart of Africa."
Helbing then explains, "Her father, Harry Wells, went to Gorilla City and is missing in action. And so she's hoping that the team can come, with her, and help save her father. Barry and Caitlin and Cisco and Julian go into Earth-2. While they're going through the forest, Grodd appears and captures them. So now they're stuck in these Gorilla City cells, unable to escape. Grodd's dampening their powers."
Featurette:
https://youtu.be/2PBSyXEBoeo
SUPERGIRL'S PETER GADIOT ADMITS NOBODY COULD DECIDE HOW TO SAY
02/20/17 @ 7:54 pm EST
Source:
Comicbook
| Categories:
DC
|
Comments
(0) |
E-mail Article
|
Add a Comment
Tonight's episode of
Supergirl
will introduce a new generation of fans to Mr. Mxyzptlk, an imp from the fifth dimension whose battles with Superman and other superheroes tend to be more in the vein of pranks than outright brawls...partially because Mxy is so powerful that almost nobody can hold up against him, as Mon-El learns tonight.
Once Upon A Time
's Peter Gadiot, who says he didn't watch the versions from
Superboy
,
Lois and Clark: The New Adventures of Superman
, or even
Smallville
lest they influence his performance, toldComicBook.com that he feels they threaded the needle of allowing him to have fun while still making the stakes -- which are pretty high in "Mr. and Mrs. Mxyzptlk" -- feel real.
The first challenge -- after learning how to say the name -- was simply making sure that between his performance and the script, Mxy's mischief -- here, he wants to marry Supergirl -- doesn't feel like creepy stalking.
"I guess that's one of the creative challenges of how to make this character empathetic. You kind of realize that what he's doing is wrong but you somehow kind of like him because he's amusing," Gadiot admitted. "I think that's very much done in the writing and when I performed it, I was very much open to every different angle. So we did three takes and I gave very different options. They very much have the power to show many different sides of him to create that arc and make sure he isn't too stalker-ish. To keep it light and fun but also create that dynamic of he is, essentially, a villain. You want to keep all of those angles alive, as well as the fact that he does genuinely on some level really have desire and affection for Kara. At the same time, he can't be too nice and amazing, otherwise he wouldn't have anything to battle against."
Of course, as we alluded to, the question of how to pronounce a name like "Mxyzptlk" is itself kind of a challenge to overcome -- and Gadiot told us that it was a point of contention with the show's writers and producers.
"It was tricky. I definitely had to go online and do the research, how other people had pronounced it," Gadiot said. "It actually was a decision and a debate about how we wanted to say it on this show. The guys back in LA were debating and it was quite funny the first time I was there."
POSSIBLE JURASSIC WORLD 2 PLOT DETAILS REVEALED
02/20/17 @ 7:48 pm EST
Source:
Comicbook
| Categories:
MIsc
|
Comments
(0) |
E-mail Article
|
Add a Comment
The untitled
Jurassic World
sequel is gearing up to be one of the biggest films of 2018, and the creative team behind the film has done well keeping the details of the project under wraps.
Aside from some casting announcements,
Jurassic World
has managed to fly under the radar all the way into the early stages of production.
That may have changed this weekend, as some rumors surfaced online regarding the plot for the upcoming film.
MyEntertainmentWorld updated their bio for the film, and it included a short synopsis. This synopsis teases a storyline that many fans have been talking about since the original movie.
The adventures at the Jurassic World resort and theme park continue as the government has trained dinosaurs to carry weapons and use them for battle purposes.

That sounds a lot like the Jurassic War plot people have been asking about for quite some time.
LOGAN POST-CREDITS SCENE CONFIRMED
02/20/17 @ 7:44 pm EST
Source:
Comicbook
| Categories:
Marvel
|
Comments
(0) |
E-mail Article
|
Add a Comment
If you have plans to see
Logan
in theaters, then here is a piece of advice: do not leave the cinema after the film ends. For some time now, fans have wondered if the upcoming blockbuster would feature a post-credit scene similar like its contemporaries. The press was still left guessing about the footage's inclusion after pre-screenings ended without any addition scenes. But, in true superhero style, it looks like
Logan
will have a post-credit scene for fans to enjoy.
After plenty of speculation, Collider confirmed a post-credit scene had been added to Logan after press screenings. Steve Weintraub had this to say about the scoop: "I can confirm it's true. When
Logan
is released on March 3rd it'll have a post-credits scene. I'm not sure if it's half way through the credits or at the very end, but I can 100% tell you something will be there."
EXCALIBUR APPEARS IN DC'S LEGENDS OF TOMORROW FEATURETTE FOR CAMELOT/3000
02/20/17 @ 8:07 pm EST
Source:
Comicbook
| Categories:
DC
|
Comments
(0) |
E-mail Article
|
Add a Comment
In this newest featurette for
DC's Legends of Tomorrow
, Executive Producer Phil Klemmer previews this Tuesday's "Camelot/3000" episode. It also features a glimpse of the legendary sword Excalibur, which at that point is still half-embedded in stone. Who would like to bet that one of the Legends is the one that extracts the sword from the stone?
Featurette:
https://youtu.be/8ZULYOZHmDY
STAR WARS REBELS EP REVEALS WHY OBI-WAN KENOBI IS MAKING AN APPEARANCE
02/20/17 @ 7:34 pm EST
Source:
Comicbook
| Categories:
Star Wars
|
Comments
(0) |
E-mail Article
|
Add a Comment
When the
Star Wars Rebels
mid-season 3 trailer dropped, it showed off Saw Gerrera making his way back to animation, Sabine Wren using the Darksaber, the ever-conniving Grand Admiral Thrawn, and then, finally, Darth Maul heading to Tatooine, where he found Obi-Wan (or is it Old Ben?) Kenobi.
That last bit, of course, set fandom aflame, but it also brought up some real concerns. When you dance this closely to the story of the original
Star Wars
trilogy, your story is getting much riskier.
"Everything has to make sense from a story standpoint, and if it makes sense and it's valuable to the character's past, then I don't think you hesitate to do it," Dave Filoni told ComicBook.com of using Ben Kenobi. "I think you have to have a lot of good reasons when you do things and work it out, and you hope things work out as you imagined them and designed them."
Ultimately, though, it wasn't Ben Kenobi he had to specifically be wary of changing or affecting - he's a guest in this story, and the people it genuinely affects need to be the central characters, like Ezra.
"Certainly these characters aren't foreign to me having worked here so long. So, I'm pretty confident when going into them what they're about, but you do tread carefully because you can't do it just because you're trying to add something [to the guest star's past]. I've always said, it's the same thing with Ahsoka. It has to be valuable to Ezra. This experience, whatever it is, whatever form it takes, has to be valuable to the characters that are the center of Star Wars Rebels."
What Filoni and the
Rebels
team don't want to do is make this into fan service for fan service's sake.
"There are a lot of things that I could do in Star Wars, and I try to do things that work with the story group to be true to the characters and where they need to go. It's surprising sometimes where they go. I would say it's surprising at the end of the day, and I don't want to give anything away, if we wind up in the presence of an old wizard, that would be a surprising thing to pull off," he said, at first dancing around actually saying Kenobi's name despite his presence in the trailer. "It's not the most surprising thing to attempt to include Obi-Wan, and we've been, I think, pretty good. The way we included him in the pilot of Rebels, I really liked because it was a way to have him without really interfering, and it spoke to a moment in time for the characters. So, obviously I've been very fortunate over the years when we do do these Legacy characters. James Arnold Taylor was playing him in Clone Wars brilliantly and did a fantastic job, and then brought that back in Rebels when he's playing the Clone Wars era Obi-Wan. I have Stephen Stanton now, who's portraying this particular, if that's Obi-Wan (laughs), whoever it is."
FIRST SET PHOTOS FROM ROBIN HOOD REBOOT SURFACE ONLINE
02/20/17 @ 7:27 pm EST
Source:
Comicbook
| Categories:
MIsc
|
Comments
(0) |
E-mail Article
|
Add a Comment
Robin Hood is coming back to the big screen once again, with
Kingsman
star Taron Egerton taking on the title role this time around. The actor will follow in the footsteps of a group of great actors who have played the role, including Kevin Costner, Cary Elwes, Russell Crowe, and an animated fox.
The new movie aims to capture the young energy of a star like Egerton, and inject it into the classic tale.
Production on
Robin Hood
is finally underway, and fans have just gotten their first look at the characters and style of the film.
The Dubrovnik Times shared a slew of images from the first day on set, as production got underway in Croatia this weekend.
Photos - Ivana Smilovic / The Dubrovnik Times
EMMA WATSON SINGS IN NEW BEAUTY AND THE BEAST CLIP
02/20/17 @ 7:17 pm EST
Source:
Comicbook
| Categories:
Disney
|
Comments
(0) |
E-mail Article
|
Add a Comment
An official clip of Belle from the live-action Beauty and the Beast has been released. Hear her sing!
Clip:
https://youtu.be/MZP3J1MIs-E