THE NINJETTES ISSUE ONE WRITER'S COMMENTARY BY AL EWING
02/21/12 @ 2:52 pm EST
Source:
Dynamite Entertainment
| Categories:
The Ninjettes
|
Comments
(0) |
E-mail Article
|
Add a Comment
Slicing! Dicing! And kicking real high! From the pages of Garth Ennis'
Jennifer Blood
, here come the Ninjettes in their very own series! This team of super-sexy ninja girls has hit the comic racks and they they've hit them real hard—Ouch!
Now, fans of leather-clad gals and senses-shattering, blood-splattering, sword-swinging, karate-chopping action can get a unique behind the scenes look at what goes into creating of
The Ninjettes
with this writer's commentary by Al Ewing, the writer of
The Ninjettes
! Check out what it takes to become a Ninjette and what goes into making this smash (and slash) hit sensation from Dynamite Entertainment!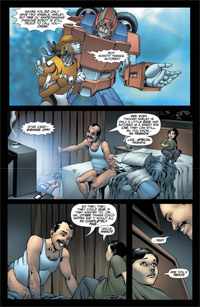 The Ninjettes #1: Writer's Commentary – by Al Ewing

PAGE #1


Boy howdy! Eman could knock a robot-based comic out of the park.
The Star Cars are something Garth Ennis invented for
Jennifer Blood
, a fairly standard-sounding aimed-at-boys commercial-for-toys thing that popped up once or twice in the background. I'm treating it here like Transformers – I love the moustache on the Optimus Prime figure – but I imagine there's all sorts of other nonsense in there as well, little lifts from Mask, He-Man... at some point I'll give it a decent skewering...
Visit
here for the complete The Ninjettes #1: Writer's Commentary by Al Ewing!
IS JARED LETO TEASING THE JOKER'S RETURN?
01/18/17 @ 7:30 pm EST
Source:
Comicbook
| Categories:
DC
|
Comments
(0) |
E-mail Article
|
Add a Comment
Fans left
Suicide Squad
with mixed feelings about Jared Leto's take on the Joker, but the movie still went on to dominate the box office.
However, following the mixed results from critics, the future of Suicide Squad in the DCEU has been a big question mark. Will the Joker and Harley get their own film, or will there be a more traditional sequel to the movie?
We know that a sequel has been announced, and that David Ayer is moving forward with the Harley-driven
Gotham City Sirens
, but there has been no news as to when - or if - the Joker could pop up again in the near future.
This week, Jared Leto seemed to be teasing the character's return.
The actor/musician had been very active on Snapchat this week, promoting the recording of his new album with 30 Seconds To Mars. After many of the posts regarding the music, he shared two Joker-related images.
He hasn't really talked much about his character since the movie, but this could be a new clue. The images include the cover of the popular
Killing Joke
comic, and a purple Gucci container with a tooth inside.
Leto could just be having fun with fans, but there's a real possibility more Joker could be on the way.
KEVIN SMITH RETURNING TO SUPERGIRL FOR ANOTHER SEASON 2 EPISODE
01/18/17 @ 7:24 pm EST
Source:
Comicbook
| Categories:
DC
|
Comments
(0) |
E-mail Article
|
Add a Comment
When
Supergirl
returns to The CW on Monday, fan-favorite writer/director Kevin Smith will helm the 2017 premiere, titled "Supergirl Returns."
And just moments ago, Smith told ComicBook.com that he will return for a second episode this season -- the as-yet-untitled seventeenth episode of the season.
The turnaround will be tight: He was filming
Supergirl
the week of Halloween when ComicBook.com visited the set of the hit CW series, and will be back in late January after he spends the next week or so at the Sundance Film Festival, where he will serve as master of ceremonies for IMDb, not unlike what he did at Comic Con in 2016.
"Monday, the episode of
Supergirl
that I directed airs, which is thrilling," Smith said. "I got to Sundance tomorrow and I'm up there for IMDb all week, come home Tuesday, then a few days after that, I go up to Vancouver again to direct another episode of
Supergirl
."
Smith said that midway through the episode, producers started feeling out his schedule. Ultimately, they offered him episode 17, which he described as "sweet," saying that it was nice that producers liked the job he was doing enough to bring him back within the season.
"I fell in love with everybody up there, so it was easy to say 'yeah,'" Smith said. "It takes something special to make you put aside your own sh*t when you're creative. When you have the ability to make the stories you want to make, it's fun to watch other people's stories, it's just way more fun to make your own. So whenever you put your sh*t aside, it has to be for something worthwhile. Working on
Supergirl
is like a month of your life, but I'd give it up in a heartbeat because the last experience I had was so rewarding and I was so happy with what we did. I like all the people up there, and I believe in the show in a big, bad way. It's incredibly warm. It's just well-made entertainment, and it's got something to it. It's a little nourishing, it's not just fast food. There's always some heart to it."
MIGHTY MORPHIN POWER RANGERS #11 INTRODUCES [SPOILER]
01/18/17 @ 7:19 pm EST
Source:
Comicbook
| Categories:
MIsc
|
Comments
(0) |
E-mail Article
|
Add a Comment
In addition to learning who the mysterious new Ranger is and another surprising discovery,
Mighty Morphin Power Rangers
#11 contained one more surprise that will play a big part in books to come.
Spoilers for Mighty Morphin Power Rangers #11 incoming, so you've been warned.
After Tommy and Billy discover the old Power Rangers headquarters in this darker dimension, Tommy begins to hear a voice coming from underneath the rubble. He, of course, asks who is speaking, but the mysterious entity tells him he'll have to enter the barren HQ to find out. Descending downward, he comes to a sealed door, and after opening is greeted with "Not quite what you were expecting?".
The words happen to come from a sentient sword held in a containment field. When Tommy says "I can pretty much say I was not expecting to find a talking sword", the sword responds "That's probably because I'm the only one. You may call me Saba."
Fans will know Saba as the enchanted sword that Tommy wields as the White Ranger, a sword that also controls the White Tigerzord. In addition to speaking, Saba can also fly and shoot energy blasts and enables the warrior mode on the Tigerzord.
As to what his presence here means, it could likely be that Lord Drakkon keeps him captive to prevent others from gaining control of the Tigerzord, though the Zord hasn't shown up yet in the book.
Writer Kyle Higgins spoke to ComicBook.com about Saba, and what fans can expect from the sentient sword going forward. "He's going to be our guide through this strange land. How did things go down here? What happened to tear him away from the White Ranger powers? Saba has a role to play that's not quite what anyone is expecting. "
Mighty Morphin Power Rangers
#11 is in stores now.
SONY'S SPIDER-MAN ANIMATED MOVIE WILL FEATUER MILES MORALES
01/18/17 @ 7:04 pm EST
Source:
Comicbook
| Categories:
Marvel
|
Comments
(0) |
E-mail Article
|
Add a Comment
Sony Pictures has confirmed that its
Untitled Spider-Man Animated Movie
project, written by
LEGO
movie team Phil Lord and Chris Miller, will indeed feature Miles Morales as Spider-Man. There was some question about whether Morales would be the featured.
Sony confirmed as much in a series of tweets.
Bob Persichetti (
Shrek 2, Puss In Boots
) and Peter Ramsey (
Rise of the Guardians
) have some pretty acclaimed animated features on their respective resumes, which bodes well for this Miles Morales Spider-Man movie. The released date of Christmas season 2018 is a prime one, giving this movie a real chance at big box office success.
DID AGENTS OF SHIELD MAKE A LUKE CAGE CONNECTION?
01/18/17 @ 6:59 pm EST
Source:
Comicbook
| Categories:
Marvel
|
Comments
(0) |
E-mail Article
|
Add a Comment
Agents of SHIELD
has been something of a junction point for the Marvel Cinematic Universe, in that pretty much every major Marvel movie and TV project has a thread that inevitably leads back to
Agents of SHIELD.
The latest Marvel series to get an Easter egg nod from
AoS
seems to be Netflix's
Luke Cage
series. With
Agents of SHIELD's
latests episode, "The Patriot", it seems the troubles of Luke Cage have come blasting into Agent Phil Coulson's world - quite literally.
WARNING - Mild
Agent of SHIELD
and
Luke Cage
Spoilers Follow!
"The Patriot" opened with an assassination attempt on S.H.I.E.L.D. director Jeffrey Mace (Jason O'Mara) - using a weapon capable of killing the superhuman powerhouse.
The weapon in question hasn't been officially identified, but the always savvy Marvel Cinematic Universe fans have quickly analyzed the visual and audio aesthetic of the sniper bullet fired at Mace and determined that it is none other than a "Judas Bullet," as seen in
Luke Cage
.
If you didn't watch
Cage
(foolish mistake), the Judas Bullet is a special bullet produced by Hammer Industries, which is made of Chitauri alien metals. It hits its target and burrows deeper into it before exploding; It was one of the only things capable of piercing Luke Cage's unbreakable skin, and definitely matches the bullet fired at Mace.
As stated,
Agents of SHIELD
is a junction point for the MCU, and even though the connections and Easter egg nods to other series or films aren't always heavy-handed or obvious, they're always fun (as is mapping all the threads and connections of the MCU).
STAR WARS REBELS PREVIEW: TRIALS OF THE DARKSABER
01/18/17 @ 6:55 pm EST
Source:
Comicbook
| Categories:
Star Wars
|
Comments
(0) |
E-mail Article
|
Add a Comment
It's time for Sabine Wren to embrace her birthright. Yes, the Mandalorian member of the
Star Wars Rebels
crew now has the legendary Darksaber, and she's going to need to know how to use it if she's going to challenge for the right to be the new Mandalore, the leader of her people. The darksaber, as revealed in an earlier clip for this week's episode of
Rebels
, was invented by her ancestor, Tar Vizsla, the first Mandalorian Jedi. After his death, it's been used as a symbol of ultimate Mandalorian strength, with Vizslas throughout over a thousand years of history wielding it like a royal sceptre.
This week's episode, "Trials of the Darksaber," will see Sabine learning to use the weapon before she heads off for her biggest challenge yet - her own people. Sabine, Clan Wren, House Vizsla, is about to throw down, and after her epic moment with the jump troopers a couple episodes ago, fans are
here
for this. This is the first of two Sabine-centric Mandalorian-themed episodes, so there's plenty to look forward to.
Check out the clip here:
https://youtu.be/RWpTTKsAj2o
GOTHAM: CORY MICHAEL SMITH DESCRIBES HIS UPCOMING RIDDLER COSTUME
01/18/17 @ 6:48 pm EST
Source:
Comicbook
| Categories:
DC
|
Comments
(0) |
E-mail Article
|
Add a Comment
After this month's quick three-episode arc,
Gotham
goes back on hiatus, this time for nearly three months. But when it returns, it returns with a bang in an episode ominously titled, "How the Riddler Got His Name." Now, that could simply be Ed Nygma looking at his name written down, and going, "Edward Nygma. Ed Nygma. E. Nygma. ENIGMA! LIKE A RIDDLE!" but that's probably not the route the serious and dramatic
Gotham
is going to take.
We've seen actor Cory Michael Smith don an increasing amount of green, including dark green suits, but it sounds like when he "gets his name" he'll also be getting something closer to a traditional costume. Just don't expect flashy lycra or spandex; think more about The Riddler during the
Detective Comics
storyline a few years back where he basically dressed as a green-suited police detective.
"It is performative; not in a Jim Carrey way," Smith told
Cinemablend
of his transformation to The Riddler. "I want him to be kind of showy. So what we have as the Riddler costume is really classy, and that's kind of what we wanted."
That does seem to be confirmation that he'll be going whole-hog with the Riddler identity, and this season. However, despite the green suit and the question mark (which is definitely present) he won't have Riddler's other trademark, the cane, just yet.
"I do not have a cane yet, but I want one so badly for a few different reasons; I won't tell you all of them so I don't spoil anything, but I'm pitching very had for a cane," Smith said. He does think they'll get him one eventually, but cryptically teased, "I want him to be someone who deserves a f***ing cane. He needs to be someone that's just begging for a cane." Whether that means a crippling injury or just a delightful sense of showmanship remains to be seen.
Gotham
airs two more episodes next Monday and the Monday after at 8 p.m. ET/PT on FOX, then takes a hiatus until April 24, 2017.
RIRI WILLIAMS SOARS! PRESENTING A SPECIAL TRAILER FOR INVINCIBLE IRON MAN
01/18/17 @ 6:42 pm EST
Source:
Marvel
| Categories:
Marvel
|
Comments
(0) |
E-mail Article
|
Add a Comment
New York, NY—January 18th, 2016 — It's the story that has the world talking! Forged in the fires of the violent streets of Chicago, 15-year old MIT student Riri Williams makes her explosive debut as the Marvel Universe's newest heroine –
Ironheart
! Marvel is pleased to present a special series trailer for the blockbuster new series, just in time for the release of
INVINCIBLE IRON MAN #3
– available now!
Watch the INVINCIBLE IRON MAN Series Trailer Now
Superstar writer Brian Michael Bendis and rising star Stefano Caselli introduce the Marvel Universe to the newest armored hero on the block. Clad in her very own suit of homemade Iron Man armor, Riri is out to prove that anyone can change the world. Not to mention she has an A.I. helping her along the way – the downloaded consciousness of Tony Stark himself! Not to mention a special pep talk from Pepper Potts, a.k.a Rescue! With all this help in her corner, she can't lose right? That is...if she survives her first mission!
INVINCIBLE IRON MAN #3
is available now digitally through the Marvel Digital Comic Shop and at all local comic book retailers.
FREE COMIC BOOK DAY UNLEASHES THE DEFENDERS & GUARDIANS OF THE GALAXY!
01/18/17 @ 6:39 pm EST
Source:
Marvel
| Categories:
Marvel
|
Comments
(0) |
E-mail Article
|
Add a Comment
The biggest heroes, the biggest creators and the biggest stories are coming to FREE COMIC BOOK DAY 2017! Today, Marvel is pleased to officially unveil the first of two, can't-miss Free Comic Book Day offerings this year. Featuring two thrilling tales,
ALL-NEW GUARDIANS OF THE GALAXY FCBD #1
is the place to be to catch a prelude to two of 2017's biggest new comics!
"Each year, Free Comic Book Day is an amazing opportunity for publishers to showcase some of their incredible titles and stories," says Marvel SVP Sales & Marketing David Gabriel. "It's an unparalleled opportunity to reach new fans and support our retail partners, so we're thrilled to provide completely new content for this year's offerings. These titles are the perfect opportunity for fans to jump into the Marvel Universe with both feet and we're excited to unveil the contents of this year's Silver title."
First, blast off with Star-Lord, Gamora, Drax, Rocket Raccoon and Groot as they head for the stars and right into an all-new ongoing series! Creators Gerry Duggan, Aaron Kuder and Ive Svorcina bring you over-the-top action and out-of-this-world adventure as the stage is set for May's highly anticipated
ALL-NEW GUARDIANS OF THE GALAXY #1
! As this unlikely band of misfits returns to outer space once more, nothing will prepare them for their first run in with the new Nova Corps!
Then, head back down to Earth and the mean streets of Hell's Kitchen as the blockbuster creative team that brought you
Civil War II, Invincible Iron Man
and
Ultimate Spider-Man
bring you their next explosive epic in…
THE DEFENDERS
! Superstar creators Brian Michael Bendis, David Marquez and Justin Ponsor unite
Daredevil
,
Jessica Jones
,
Luke Cage
and
Iron Fist
as they go head-to-head with the new criminal element in the Marvel Universe. What new player is running things in the underworld? Find out here with a 10-page tale that leads directly into
THE DEFENDERS #1
this June!
"Is there a better time to offer fans a sneak peek at the
ALL-NEW GUARDIANS OF THE GALAXY
series than the same weekend
Marvel's Guardians of the Galaxy Vol. 2
hits theaters?" says Marvel Editor-in-Chief Axel Alonso. "Fans looking for a clean entry into the comic book need look no further. Plus, the creative team behind
CIVIL WAR II
are giving fans a sneak peek at the criminal mastermind that's awaiting Daredevil, Jessica Jones, Luke Cage and Iron Fist when they explode out of the gate in
THE DEFENDERS #1
."
This May, Free Comic Book Day stretches from the streets of Manhattan to the far reaches of deep space! No fan can afford to miss out on
ALL-NEW GUARDIANS OF THE GALAXY FCBD #1
– available May 6th at participating comic shops everywhere! Plus, look for more information on Marvel's Gold FCBD title to be revealed in the coming weeks!
ALL-NEW GUARDIANS OF THE GALAXY FCBD #1 (JAN170036)Written by GERRY DUGGAN & BRIAN MICHAEL BENDISArt by AARON KUDER/IVE SVORCINA & DAVID MARQUEZ/JUSTIN PONSORCover by AARON KUDER & IVE SVORCINA
Available May 6th!
PATRICK STEWART TO VOICE POOP EMOJI IN 'EMOJI MOVIE'
01/18/17 @ 5:41 pm EST
Source:
The Hollywood Reporter
| Categories:
MIsc
|
Comments
(0) |
E-mail Article
|
Add a Comment
Patrick Stewart is joining Sony Pictures Animation's
The Emoji Movie
as Poop.
The Emoji Movie
follows Gene (T.J. Miller), an emoji born with multiple expressions, who teams up with the notorious code-breaker Jailbreak (Ilana Glazer) on an adventure through a teenager's phone.
Other new voices in the feature are Jennifer Coolidge as Gene's mother, Mary Meh, and
SNL
grad Maya Rudolph as Smiler. Jake T. Austin will be playing
Emoji
's resident teen, Alex. They are joining previously announced stars James Corden, Steven Wright and Rob Riggle.
The new castings were announced as part of SPA's upcoming features presentation on Wednesday morning.
As director Tony Leondis was introduced, Miller, who was on hand for the presentation, pretended to misunderstand the introduction, taking the stage to laughs before giving up the mic to the actual director. "I know what you're thinking -- WTF," Leondis said of the movie. "What is their story? Emoji are expected to be one thing their whole lives. So I thought, what if one was born with not one, but lots of expressions ... and how would that affect the status quo. Everyone has felt different; it's everyone's story."
Leondis wrote with Mike White and Eric Siegel. Michelle Raimo is producing.
The Emoji Movie,
which hits theaters on Aug 4, will be preceded by a new animated short,
Puppy,
a
Hotel Transylvania
-themed short in which toddler Dennis gets a pet.