TRADING UP: THE LONE RANGER VOL. 4: A WILD WEST ADVENTURE THAT KNOCKS YOUR SOCKS OFF
01/10/12 @ 11:23 am EST
Source:
Broken Frontier
| Categories:
The Lone Ranger TPB
|
Comments
(0) |
E-mail Article
|
Add a Comment
In time for the new Lone Ranger series comes this collection of the highly adventurous final issues of the previous series. Gathering The Lone Ranger #17-25 from long time creators Brett Matthews and Sergio Cariello, this collection is a fitting place to start for those new to the masked man of old.
Beginning with a largely silent, Indiana Jones-like sequence involving the Ranger, Tonto and a stolen stage coach is…
For the full review, visist:
Trading Up: The Lone Ranger Vol. 4: A Wild West Adventure That Knocks Your Socks Off
NEW 'STAR WARS' BOOKS FROM DK
07/01/16 @ 10:16 am EST
Source:
ICv2
| Categories:
Star Wars
|
Comments
(0) |
E-mail Article
|
Add a Comment
DK Publishing has announced three new
Star Wars
books for fall release:
Star Wars Year By Year: A Visual History, Updated Edition, Star Wars: Complete Locations,
and
The Amazing Book of Star Wars.
Star Wars Year By Year: A Visual History
is produced in full collaboration with Lucasfilm and written by renowned
Star Wars
experts. The updated edition includes a whole new chapter covering
Star Wars: The Force Awakens
as well as new information on the ongoing
Star Wars Rebels
animated series. It also includes information on the
Star Wars
-themed lands coming to Walt Disney World Florida and Disneyland California. The 368-page hardcover has an MSRP of $50.00. Release is planned for September 6.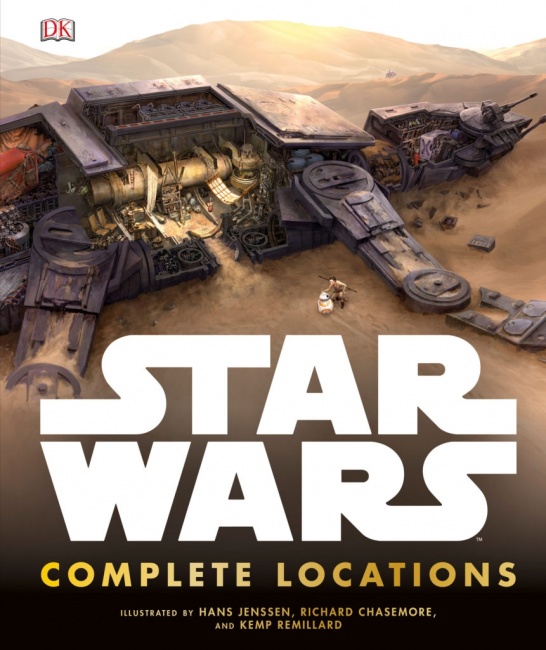 Star Wars: Complete Locations
includes new cross-section artwork and sneak peek behind-the-scenes pages showing how the intricate artworks are crafted. The book includes over 50 key buildings and iconic battle scenes including the Jedi Temple Complex and Yoda's House on Dagobah. The 192-page hardcover has an MSRP of $35.00. Release is planned for September 27.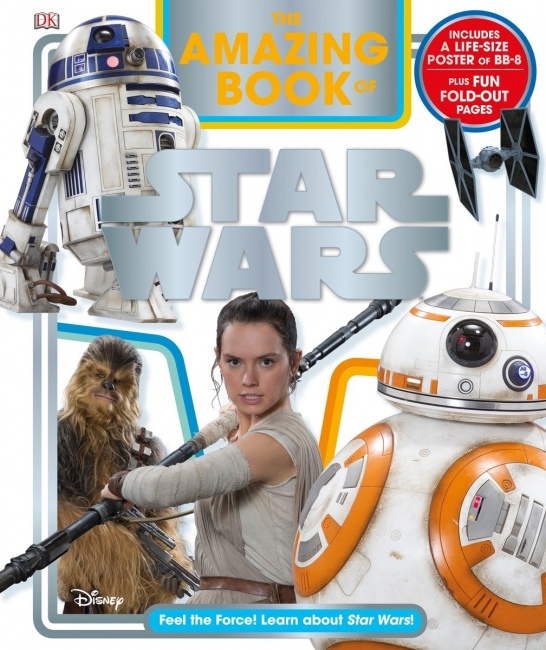 The Amazing Book of Star Wars
is aimed at a younger audience. The book uses large pictures and short, simple sentences to bring
Star Wars
to life for children. The book is aimed at children aged 4 to 6. The 48-page hardcover has an MSRP of $14.99. Release is planned for October 4.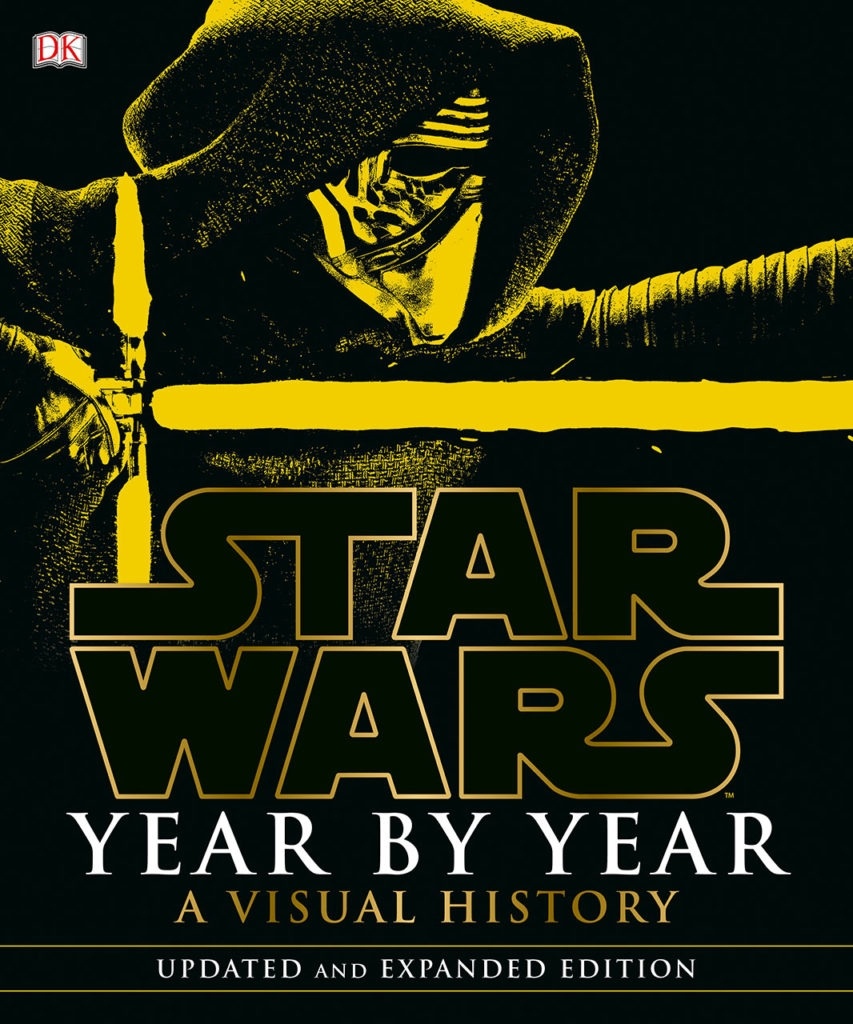 CELEBRATE 'BIG TROUBLE IN LITTLE CHINA' WITH TWO RELEASES FROM BOOM! STUDIOS
07/01/16 @ 10:11 am EST
Source:
ICv2
| Categories:
MIsc
|
Comments
(0) |
E-mail Article
|
Add a Comment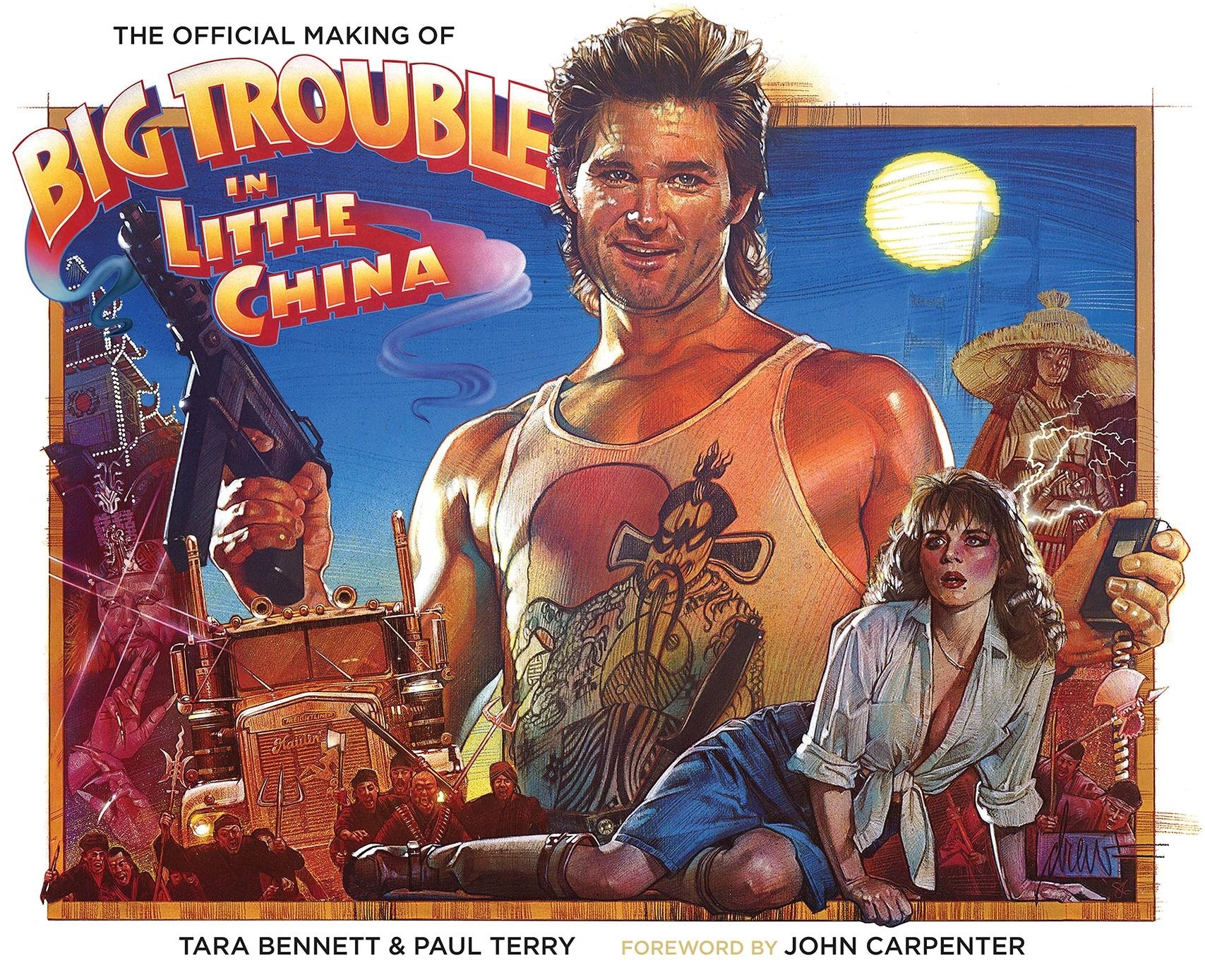 Fans can celebrate the 30th Anniversary of John Carpenter's cult classic
Big Trouble in Little China
with two books from BOOM! Studios this fall.
On August 17, BOOM! will release the
Official Making of Big Trouble in Little China
by Tara Dilullo Bennett and Paul Terry. The book serves as the only official, comprehensive behind-the-scenes look at the making of the film. It will include hundreds of never-before-seen photos, exclusive new cast and crew interviews, filming secrets behind the iconic action sequences, original set designs, and more. It will also include a foreword by director John Carpenter. The 176-page hardcover has an MSRP of $39.99.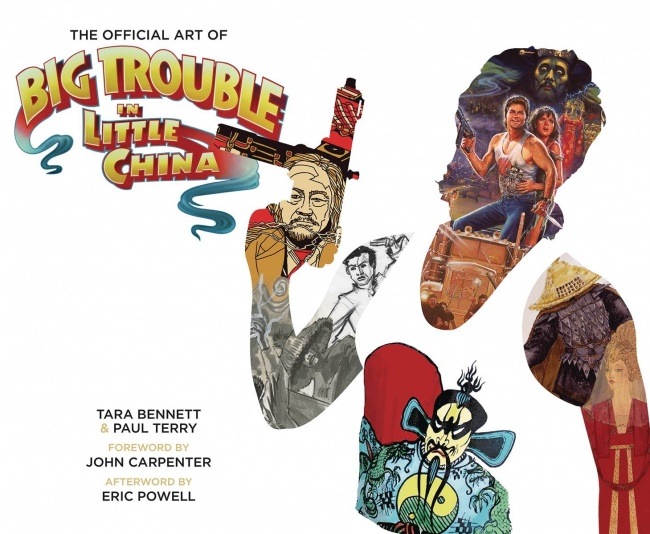 Releasing on November 2 is the
Official Art of Big Trouble in Little China
by Tara Bennett and Paul Terry. The book features art by Drew Struzan, Jay Shaw, Tyler Stout, Eric Powell, Funko, and others. Cover art is done by Jay Shaw.
The book features never-before-seen images, including costume designs by Oscar nominee April Ferry; original set designs by Production Designer John J. Lloyd; original storyboard art by George Jensen; and development art from Funko's
Big Trouble
series. It includes exclusive new interviews with Cinematographer Dean Cundey, Visual Effects Producer Richard Edlund, Special Makeup Effects artist Steve Johnson, and artist Drew Struzan, as well as a look at Struzan's early pencils for the iconic film poster. There is exclusive
Big Trouble in Little China
comic book concept art and new interviews with artists Eric Powell, Rob Guillory, Jenny Frison, Adam Hughes, and others. The book includes a foreword by John Carpenter and an afterword by
Big Trouble in Little China
comics writer and cover artist Eric Powell. The 176-page 12" x 12" hardcover has an MSRP of $39.99.
Upper Deck is releasing a
Big Trouble in Little China
Legendary Deckbuilding Game
in August.
MARVEL GETS PATRIOTIC WITH "U.S.AVENGERS" SERIES FROM EWING & MEDINA
07/01/16 @ 10:07 am EST
Source:
Comic Book Resources
| Categories:
Avengers
|
Comments
(0) |
E-mail Article
|
Add a Comment
As part of its upcoming Marvel NOW! initiative, Marvel Comics has announced a series starring an all-new Avengers team: the "U.S.Avengers." The book comes from writer Al Ewing and artist Paco Medina, the creative team currently on "New Avengers." The book also looks like it will continue where "New Avengers" leaves off once the dust has settled from "Civil War II."
The book will see Sunspot's Avengers Idea Mechanics evolve into the American Intelligence Mechanics, a new organization endorsed by the government and poised to replace S.H.I.E.L.D. In addition to Sunspot and "New Avengers" members Cannonball, Pod and Squirrel Girl, the new roster will include Red Hulk, a new Iron Patriot and a Captain America from the future. The new Iron Patriot is Toni Yinsen, daughter of Ho Yinsen (the scientist that helped Tony Stark build his original Iron Man armor). The new Cap is actually a future version of Danielle Cage, the daughter of Luke Cage and Jessica Jones. Cage Cap previously appeared in the Al Ewing-penned "Avengers: Ultron Forever" storyline.
"We wanted a couple of members that'd speak to the U.S. in the title — hence super-scientist and supporting player Dr. Toni Ho stepping up to the main team as the new Iron Patriot, and General Ross waiting in the wings as the Red Hulk," Ewing told The Washington Post. "And, of course, Danielle Cage, the Captain America of about thirty years in the future, who'll be joining us for at least the first arc, as an enemy from her time comes to ours to stir up trouble."
"U.S.Avengers" launches this fall from Marvel Comics.
GHOST RIDER BEING CAST ON AGENTS OF SHIELD
07/01/16 @ 10:00 am EST
Source:
Comicbook
| Categories:
SHIELD
|
Comments
(0) |
E-mail Article
|
Add a Comment
Maybe
Ghost Rider
is coming to
Marvel's Agents of S.H.I.E.L.D
. after all.
Earlier this month, an
Agents Of S.H.I.E.L.D.
Comic-Con advertisement on the side of a San Diego light rail showed some fiery chains.Most fans assumed that the fiery chains belonged to Hellfire who's got a long history with
Agent of S.H.I.E.L.D.'s
Skye. After all Hellfire's alter ego James "J.T." Taylor did make a brief appearance on
Agents Of S.H.I.E.L.D.
Season 3. Not only that, but Hellfire does share some roots with the original Ghost Rider.
Most fans ruled out the possibility of Ghost Rider assuming the special effects required would either be too expensive for TV or that Marvel would want to save the character for Netflix where they could take a darker tone than network TV. However, a new casting notice suggests that Ghost Rider might actually be coming to
Agents Of S.H.I.E.L.D.
, even though it might not be the one that most fans might expect.
Most people know of motorcycle-riding Johnny Blaze Ghost Rider, which is the version Nicolas Cage played in the movies. However, there are other versions of Ghost Rider that have appeared in the comics.
The characters in the casting notice are listed as a pair of Latino brothers. One is classified as "the most dangerous person in the room" and the other is "paralyzed in a wheelchair". If that sounds familiar, it's probably because it bears an eerily close resemblance to Robbie and Gabe Reyes, who starred in the 2014
Marvel NOW! Ghost Rider
series.
The series, by Felipe Smith and Tradd Moore, was a new take on
Ghost Rider
focusing on the brotherly bond between its main characters Robbie and Gabe. Robbie has a natural talent for mechanics, but nothing is more important to him than the health of his disabled brother Gabe.
In addition to the classic powers we've come to know, Reyes also had access to the Hell-Charger, a hellfire imbued 1969 Dodge Charger. Robbie gets his powers after an unfortunate run-in with Dr. Zabo's hit squad costs him his life, blowing up a car in all the gunfire. Ironically that car is what allows him to come back, as the spirit of Eli Morrow gives him new life and his new powers.
It would be an interesting addition to the show, and if you're going to bring in
Ghost Rider
, this is certainly a unique way to do so.
Also, keep in mind that Agents of S.H.I.E.L.D was shifted back to 10 PM to allow the show to have an edgier tone.
'PACIFIC RIM 2' STARRING JOHN BOYEGA GETS 2018 RELEASE DATE
07/01/16 @ 9:51 am EST
Source:
Deadline
| Categories:
MIsc
|
Comments
(0) |
E-mail Article
|
Add a Comment
With
Star Wars
hero John Boyega now aboard to star, Universal Pictures has roped off a release date for
Pacific Rim 2
. Legendary's action sequel from director Steven S. DeKnight will engage audiences and
kaijus
on February 23, 2018. The film has that post-Presidents Day frame to itself for the time being; it's nestled between the openings of two Marvel movies:
Black Panther
on February 16 and an untitled Fox/Marvel pic on March 2.
Production begins in the fourth quarter on the film based on the world created by Guillermo del Toro and Travis Beacham. The 2013 original starring Idris Elba and Charlie Hunnam shot up $411M worldwide, with its overseas take more than tripling domestic. Del Toro directed it based on a script he penned with Beacham. The sequel has Boyega playing the son of Elba's character.
"THE FLASH" ADDS "HARRY POTTER" STAR TOM FELTON AS SERIES REGULAR
07/01/16 @ 9:47 am EST
Source:
Comic Book Resources
| Categories:
Flash
|
Comments
(0) |
E-mail Article
|
Add a Comment
"The Flash" just got a touch more magical."Harry Potter" star Tom Felton has joined the hit CW show as series regular character Julian Dorn, who TVLine describes as "a fellow CSI at the Central City Police Department who suspects there's more to Barry Allen than just his good guy reputation."
The character sounds very similar to one described in an earlier report, which revealed that "The Flash" was looking to cast "Barry's slightly older, slightly geekier contemporary, a guy who is as smart as he is intuitive. As such, this newcomer doesn't buy Barry's nice guy routine and sets out to learn what he's hiding -- all while concealing some secrets of his own."
Felton is best known for his role as Draco Malfoy in the "Harry Potter" series of films. Since then, he has also appeared in "Rise of the Planet of the Apes" and "The Apparition."
In the Season 2 finale, Grant Gustin's Barry Allen went back in time and prevented his mother's murder, triggering a famous linchpin event from the comics. While we've yet to see how this massive change in the show's timeline will affect the series as it moves into its third season, "Flashpoint" -- the title of the season three premiere episode -- gives fans a major, major hint.
The major DC Comics event from 2011 of the same name saw Barry Allen trying to navigate a totally altered world -- one wherein his mother Nora was alive. "Flashpoint" also served as the lead-in to DC's New 52 relaunch, the effects of which are still being felt today as part of DC's current Rebirth initiative.
After revealing the Season 3 premiere's title on Twitter, Gustin added, "We're definitely doing this ['Flashpoint'] thing our own way…. This will be its own thing."
Starring Grant Gustin, Jesse L. Martin, Carlos Valdes and more, "The Flash" returns to The CWon October 4 at 8 pm EST.
ARCHER & ARMSTRONG HEAD FOR A COULROPHOBIC'S NIGHTMARE… CLOWNTOWN
06/30/16 @ 3:07 pm EST
Source:
Bleeding Cool
| Categories:
MIsc
|
Comments
(0) |
E-mail Article
|
Add a Comment
If you suffer from
Coulrophobia
, you may want to skip this particular article… because
Archer & Armstrong
are going to
Clowntown
.
Valiant sent
Bleeding Cool
an early preview of the next story arc for
A&A: The Adventures of Archer & Armstrong
.
Next Stop Clowntown
starts in issue #6 and is by writer
Rafer Roberts
and artist
Mike Norton
.
They've got lions. They've got bears. Oh, and malformed mutant clones too! Oh my! Valiant's mismatched pair of conspiracy-smashing heroes thought they'd stumbled into an ordinary roadside funfair…but now Archer & Armstrong are about to become the star attractions of a midway where mad science and illicit experimentation rule the day!Archer & Armstrong are on the hunt for Armstrong's long-lost wife, and the clues have put them on the trail of America's craziest traveling circus! But it's not just clowns, carnies, and strongmen lurking under the Big Top… When the world's premier adventure duo discover dozens of mutated Armstrong doppelgängers secretly running the show, all heck is bound to break loose! And it's o
nly going to get worse when Davey the Mackerel returns with a shocking new set of secrets about Armstrong's bottomless satchel…and what else might be soon plotting its escape!
The new arc begins on August 10th and ships with covers by
David Lafuente
(
Ultimate Spider-Man
),
Darick Robertson
(
The Boys
),
Pere Perez
(
Faith
), Rafer Roberts (
Plastic Farm
), and
Diego Latorre
(
Dante's Inferno
).
DAVE MCKEAN PAINTS JIM HENSON'S LABYRINTH COMIC VARIANT COVER
06/30/16 @ 2:57 pm EST
Source:
Bleeding Cool
| Categories:
MIsc
|
Comments
(0) |
E-mail Article
|
Add a Comment
BOOM! Studios is publishing a
Jim Henson's Labyrinth
comic for the 30th Anniversary of the film, and in memory of
David Bowie
.
By
Jonathan Case, Cory Godbey
and others, BOOM is also adding an untiered variant cover by
Sandman
's
Dave McKean
…
TYLER KIRKHAM SHARES HIS RETAILER EXCLUSIVE JUSTICE LEAGUE #1 COVER
06/30/16 @ 2:53 pm EST
Source:
Bleeding Cool
| Categories:
Justice League
|
Comments
(0) |
E-mail Article
|
Add a Comment
Over on his Facebook yesterday, artist
Tyler Kirkham
shared his
Justice League#1 Rebirth
variant cover that was colored by
Tomeu Morey
. This kicks off the new
Extinction Machine
story arc by
Tony S. Daniel
and
Bryan Hitch
. The cover is for us --
Dynamic Forces
-- and can be
ordered here
or a CGC graded version is
available here
.
Kirkham started his career working on the indy comic
The Gift
with
Raven Gregory
before becoming part of
Top Cow
and eventually doing work for
Marvel
and
DC
. Kirkham has worked on titles such as
Strykeforce
,
Tomb Raider
,
The Darkness
,
Transformers
,
Amazing Spiderman
,
X-Men Phoenix Warsong
, and
Ultimate Fantastic 4
to name just a few.
DC COMICS, PROTECTING THE SUPERMAN SHIELD TRADEMARK
06/30/16 @ 2:46 pm EST
Source:
Bleeding Cool
| Categories:
DC
|
Comments
(0) |
E-mail Article
|
Add a Comment
DC Comics does like its Superman shield logo.
And looks harshly at anyone who might come close trying to use it in their own trademarks…Such this registration for the Super Sports League using this logo.
A clothing line from Aqua Beba
The mascot for Move Solutions
Diamond seller Casale, Mitchell
And E-cigarettes company Captain Obvious
Plenty of businesses do seem to use the shield or similar unchallenged.
The rule seems to be – use it, just don't try and trademark it yourself!