TRADING UP: THE LONE RANGER VOL. 4: A WILD WEST ADVENTURE THAT KNOCKS YOUR SOCKS OFF
01/10/12 @ 11:23 am EST
Source:
Broken Frontier
| Categories:
The Lone Ranger TPB
|
Comments
(0) |
E-mail Article
|
Add a Comment
In time for the new Lone Ranger series comes this collection of the highly adventurous final issues of the previous series. Gathering The Lone Ranger #17-25 from long time creators Brett Matthews and Sergio Cariello, this collection is a fitting place to start for those new to the masked man of old.
Beginning with a largely silent, Indiana Jones-like sequence involving the Ranger, Tonto and a stolen stage coach is…
For the full review, visist:
Trading Up: The Lone Ranger Vol. 4: A Wild West Adventure That Knocks Your Socks Off
CITIZEN STEEL DEBUTS IN NEW LEGENDS OF TOMORROW CLIP
10/27/16 @ 9:21 am EST
Source:
Comicbook
| Categories:
DC
|
Comments
(0) |
E-mail Article
|
Add a Comment
The CW has released a new sneak peek at tomorrow's episode of
DC's Legends of Tomorrow
-- and in the clip, two new series regulars get most of the spotlight.
While Vixen -- suspecting one of the Legends is responsible for the death of Hourman last week, stalks her way through the Waverider in the hopes of finding Mick Rory (apparently her suspect), Nate Heywood wakes up from his injuries to find out that things are...not the same.
Clip:
https://youtu.be/HSisGoyZoQQ
NEW FEATURED STORMTROOPER AND REDESIGNS RUMORED FOR STAR WARS EPISODE VIII
10/27/16 @ 9:02 am EST
Source:
Comicbook
| Categories:
Star Wars
|
Comments
(0) |
E-mail Article
|
Add a Comment
New Stormtrooper classes are a staple of
Star Wars
. Whether it's the core films, with unique uniforms for TIE fighter pilots or troopers with flamethrowers, or shows like
Star Wars: The Clone Wars
where new armor variants for the Clone troopers happened practically monthly, variation is key, providing the right suit for the job (and fun for costumers and cosplayers who like to create the new looks).
Star Wars: The Force Awakens
tweaked the Stormtroopers for the new era with the First Order.
Rogue One: A Star Wars Story
adds in the new Shoretroopers and Death Troopers, giving us further variants.
It should be no surprise, then, that a rumor about
Star Wars: Episode VIII
has emerged with new Stormtrooper variants, as reported by
MakingStarWars
. Possible spoilers follow.
According to the report, we'll see a new First Order variant on the red-suited Imperial Guards. Their suits include a new visor and some changes to sleeves and armor under their robes, as described by
MSW
. But those elite soldiers aren't the only special redesign we'll see in
Episode VIII
. The standard First Order Stormtroopers will have a slight alteration to their helmets, giving them a mouth piece slightly closer to the original trilogy armor of the Empire.
But after FN-2199 aka "TR-8R" broke out into the public consciousness with one line and a super cool twirling baton, another Stormtrooper will get the spotlight in
Episode VIII
. He's rumored to be referred to as "The Executioner," and he has a standard uniform, aside from the black streak across half his helmet. He uses a weapon similar to FN-2199, the electrified baton, but even crazier - now it has three spinning blades attached to the end of the baton.
SHERLOCK GETS A RELEASE DATE
10/27/16 @ 8:52 am EST
Source:
Bleeding Cool
| Categories:
Sherlock Holmes
|
Comments
(0) |
E-mail Article
|
Add a Comment
The new season of
Sherlock
has gotten a release date… 1 / 1 / 2017. So new years day we get the return of
Sherlock Holmes
(
Benedict Cumberbatch
) and
Dr. John Watson
(
Martin Freeman
)… at least on
BBC One
. But word is that
PBS
will also have it on the same day here in the U.S.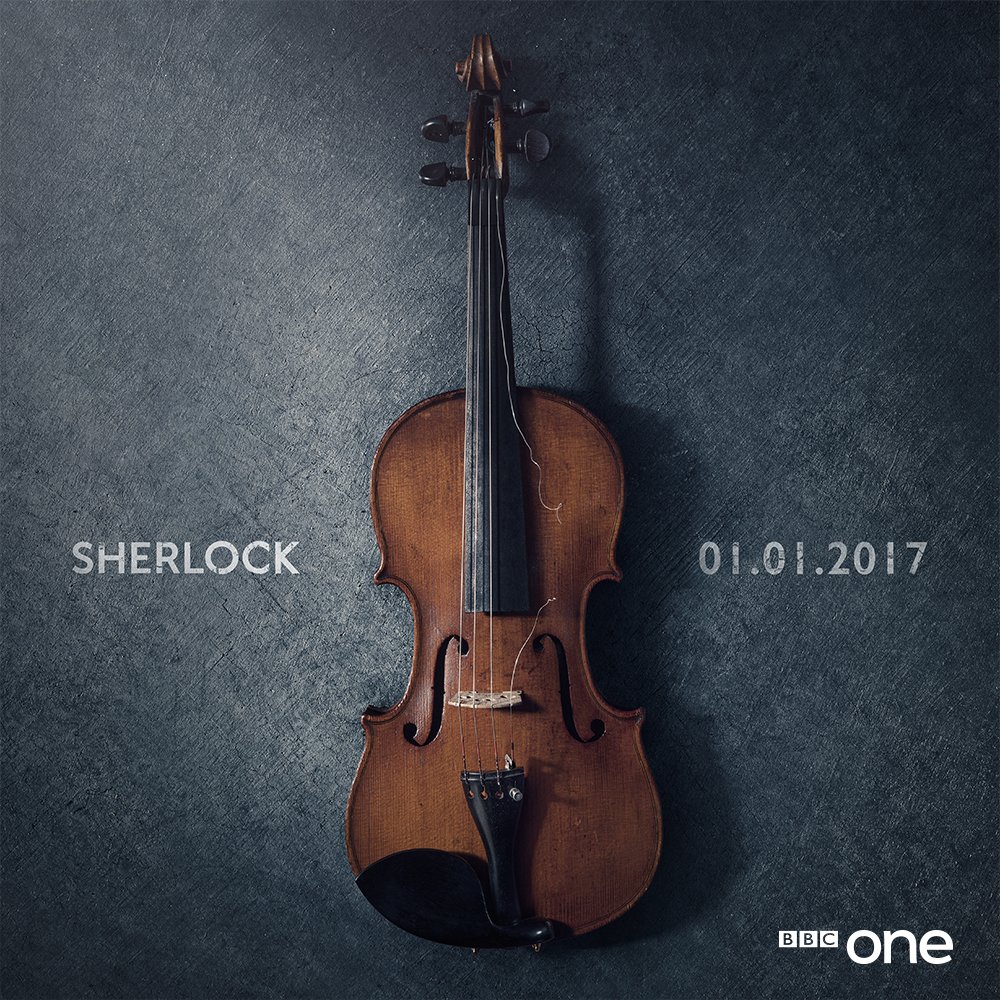 NEW WONDER WOMAN TRAILER SHOULD BE COMING SOON
10/27/16 @ 8:46 am EST
Source:
Bleeding Cool
| Categories:
DC
|
Comments
(0) |
E-mail Article
|
Add a Comment
Wonder Woman
has been a little quiet on the marketing front since SDCC. Obviously we got the great looking trailer from the DC panel, but since then, it has mostly been quiet.
Don't expect that to last.
Trailer Track says a new trailer for the film has been classified, usually meaning it will be released very soon. It's set for a 2:24 minutes runtime, so expect it to be fairly chunky.
MARVEL'S 'THE PUNISHER' EXPANDS ITS CAST
10/27/16 @ 8:41 am EST
Source:
ICv2
| Categories:
Marvel
|
Comments
(0) |
E-mail Article
|
Add a Comment
Five more actors have joined Netflix's adaptation of Marvel's
The Punisher
, set for release on the streaming service in 2017.
Daniel Webber (
11.22.63
) plays troubled young veteran Lewis Walcott. Jason R. Moore (
A Lonely Place for Dying
) has been cast as Frank Castle's friend Curtis Hoyle, one of the few people who know Castle is alive. Paul Schulze (
Nurse Jackie
) will play CIA agent Rawlins. Jamie Ray Newman (
Bates Motel
) plays the wife of former NSA analyst Micro. Michael Nathanson (The Knick) has been cast as Homeland Security agent Sam Stein.
They join previously announced cast members
Emerald City
's Amber Rose Revah (Dinah Madani),
Westworld
's Ben Barnes (Billy Russo), and Moss-Bachrach (Micro). Jon Berthal is set to reprise the role of Frank Castle / Punisher, and Deborah Ann Woll will appear as Karen Page.
'STAR TREK: DISCOVERY': BRYAN FULLER STEPS DOWN AS SHOWRUNNER
10/27/16 @ 8:35 am EST
Source:
Deadline
| Categories:
Star Trek
|
Comments
(0) |
E-mail Article
|
Add a Comment
There is a major behind-the-scenes shakeup on
Star Trek; Discovery
, the upcoming new
Star Trek
series for CBS All Access, CBS' live streaming and VOD service. Executive producer Bryan Fuller, who co-created the series with Alex Kurtzman, is exiting as showrunner. His No.2s, Gretchen J. Berg and Aaron Harberts, will succeed him in running day-to-day on the show.
It's been a rough going for
Star Trek: Discovery
following a splashy announcement, a marquee Comic-Con appearance and a blockbuster Netflix international distribution deal, which paid in full for the show's budget. Casting and pre-production had been going slowly, leading to the decision last month to push the premiere of the series from January to May. After a five-month search, the series still has not cast its female lead, Lieutenant Commander, though it is getting closer. Filming is slated to begin next month in Canada.
THOR: RAGNAROK DIRECTOR SAYS GOODBYE TO CHRIS HEMSWORTH AND TOM HIDDLESTON
10/26/16 @ 6:57 pm EST
Source:
Comicbook
| Categories:
Marvel
|
Comments
(0) |
E-mail Article
|
Add a Comment
The third part of
Thor
's trilogy in the Marvel Cinematic Universe will wrap filming in just two more days. This keeps the film on pace for its November 2017 release date as it will need a significant amount of time for CGI and special effects.
Director Taika Waititi is making his debut in the world of blockbuster films, and has brought fresh life into a
Thor
franchise that many fans felt was dead in the water. By bringing in his big personality, and dry sense of humor, Waititi has found a way for the entire project seem like a party.
If you follow the director on Twitter, you've noticed his jokes aimed at super hero movies, and the Marvel Universe, since he took on the project. One of his first jokes was calling out two other Marvel directors, Peyton Reed and James Gunn, asking how many explosions were required for his film to be released.
Taika's latest troll was a farewell to Chris Hemsworth and Tom Hiddleston, the two stars of the film. On his Twitter account, the director posted a picture of himself between the two set chairs with the names of the characters Thor and Loki. With a smirk on his face, Waititi gives both empty chairs a big middle finger.
The photo is captioned: "Two days left. Gonna miss this pair of idiots." Take a look!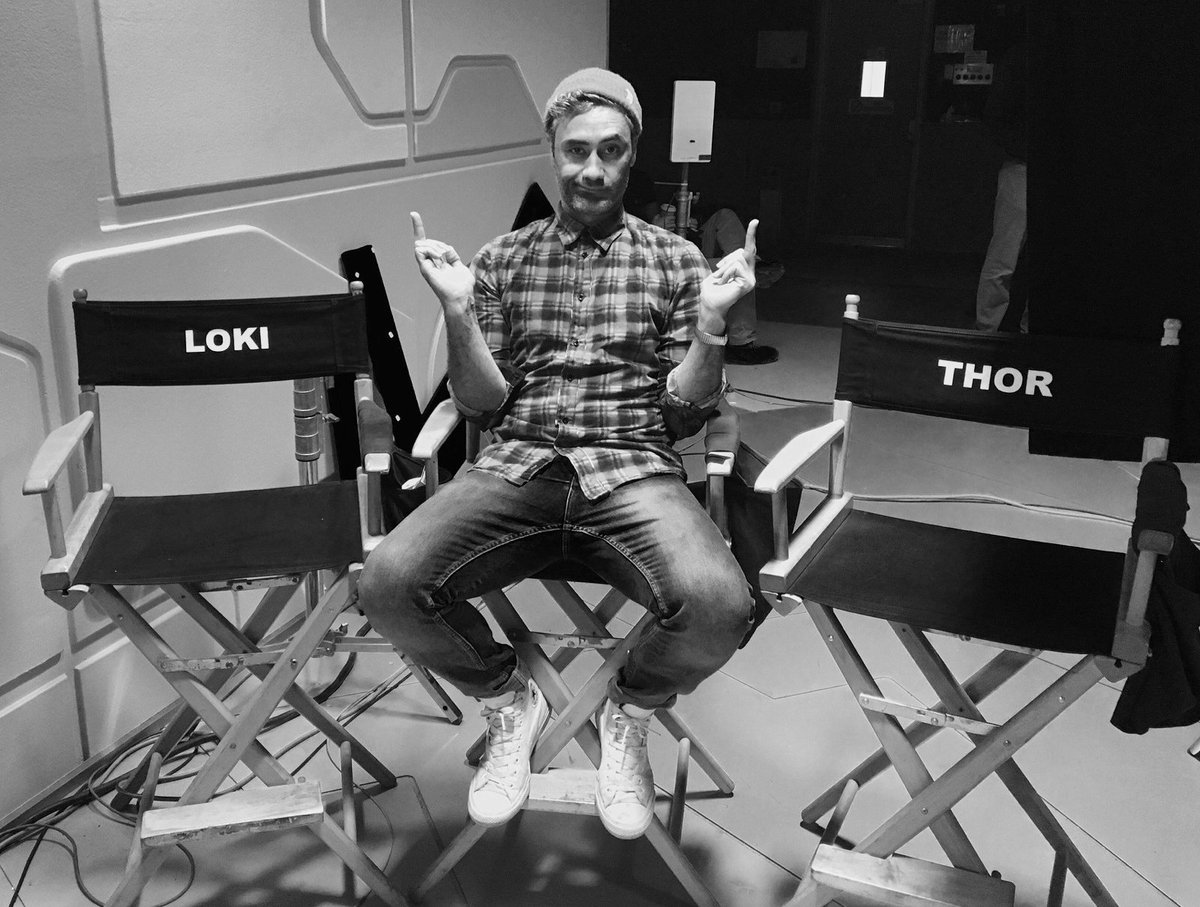 AVENGERS: INFINITY WAR WORKING TITLE REVEALED
10/26/16 @ 6:50 pm EST
Source:
Comicbook
| Categories:
Marvel
|
Comments
(0) |
E-mail Article
|
Add a Comment
The working title for the next Marvel
Avengers
movie,
Avengers: Infinity War
, has been revealed by Production Weekly.
Avengers: infinity War
is operasting under the working title "Mary Lou" during production. This follows
Marvel's The Avengers
, which operated under the working title "Group Hug," and
Avengers: Age of Ultron
, which operated under the working title "After Party."
Avengers: Infinity War
is directed by Anthony and Joe Russo, from a screenplay by Christopher Markus & Stephen McFeely.
Avengers: Infinity War
still does not have a firm plot synopsis, but is expected to bring together most of the characters so far introduced into the Marvel Cinematic Universe. They will face down the threat of Thanos, who has been lurking and scheming in the background since at least as far back as
The Avengers
.
DEADPOOL 2 WORKING TITLE REVEALED
10/26/16 @ 6:47 pm EST
Source:
Comicbook
| Categories:
Marvel
|
Comments
(0) |
E-mail Article
|
Add a Comment
The working title for
Deadpool 2
has been revealed in a new production note. The film, currently looking for a new director and finalizing main castmembers, will be known as "Love Machine" while in production. The name is likely a joke about newcomer character Cable, who has cybernetic parts including an arm and eye that give him an array of additional abilities beyond his mutant powers.
Deadpool 2
isn't exactly feeling the love in the last week, though, as director Tim Miller, who helmed the first film and had a large hand in it even being made with his Blur Studio sample reel, left the movie, reportedly over creative differences with star Ryan Reynolds. Later reports revealed the two couldn't come to terms on casting Cable, Deadpool's mutant pal in the comics who time-travels his way into the X-Men movie universe in the sequel, as well as arguing about the tone of the film. Miller wanted it to be more bombastic than the first, and Reynolds wants a stronger focus on the whit and humor of the first (hopefully he and the new director come to a nice balance).
'FANTASTIC BEASTS AND WHERE TO FIND THEM' GETS CHINA RELEASE DATE
10/26/16 @ 6:42 pm EST
Source:
Variety
| Categories:
MIsc
|
Comments
(0) |
E-mail Article
|
Add a Comment
"Fantastic Beasts and Where to Find Them" has an official Chinese release date,
Variety
has learned.
The "Harry Potter" spin-off will open in the Middle Kingdom on Nov. 25. That's seven days after the fantasy adventure lands in the United States. Last week,
Variety
reported that the picture had been cleared by censors, but a final release date had yet to be determined. "Harry Potter" author J.K. Rowling announced the date on her Chinese Twitter feed.
The most recent "Harry Potter" film made just north of $60 million when it opened in China five years ago. Since that time, the Chinese box office has grown exponentially, spurred by a massive amount of movie theater construction. However, that film hit theaters five years ago, and China's box office has continued to grow exponentially since that time. Many blockbusters make more than $100 million exclusively from their Chinese runs.